So, you've decided you want to honeymoon in the USA — but maybe you don't know where exactly in the USA to honeymoon just yet!
I gathered the opinions of over two dozen savvy travel writers to suggest their top recommendation for a romantic honeymoon in the USA.
These USA honeymoon destinations range from culture-focused city trips to world-class cities like New York, San Francisco, and Seattle, to off-the-beaten-path island getaways like Amelia Island and Sanibel island.
Whether you're looking for a snowy winter honeymoon destination in the USA, like Aspen or Tahoe, or a forever-summer destination like Key West in Florida, these honeymoon destinations in the USA will have you wishing you could get married over and over again!
Kona, HI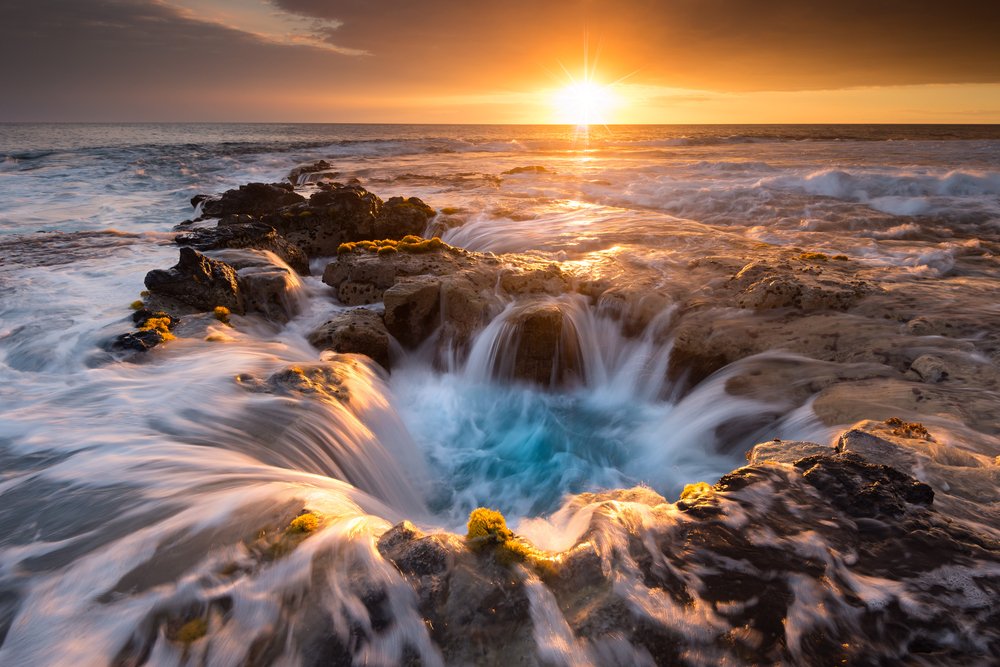 Note: This post contains affiliate links, which means I may receive a small commission if you purchase something through one of these links. Thank you for supporting the free content on this site! For more information on affiliate links and cookies, see my disclosure page for more details.
Contributed by Constance of The Adventures of Panda Bear
The gorgeous, sunny paradise of Hawaii is not only a beautiful place to spend a vacation but it's also a great honeymoon destination in the USA that feels like a world away. Kona, Hawaii, in particular, is an amazing spot full of beautiful beaches, Hawaiian culture, and local eats.
Kona is famous for its dramatic and colorful sunsets lighting up the sky in pinks, purples, oranges, and reds. You can't visit Hawaii without taking in one of these gorgeous sunsets from a beach filled with palm trees and white sands.
Hawaiian culture is known for its "Aloha spirit" and you can expect no less from the Big Island of Hawaii. The locals are friendly as you'd expect from Hawaii. Plus, it is not as touristy as Oahu and much less crowded allowing you and your partner to get relaxed and go with the flow. 
The food in Kona is to die for! This makes it the perfect honeymoon destination for foodie couples, but it provides great opportunities for a romantic dinner by the beachfront or a brunch by the ocean. Be sure to grab at breakfast or brunch at a local spot in Kona, you can't visit Kona without trying some of that famous Kona coffee!
Kona Honeymoon Highlights
Relax on the white sand beach at Makalawena Beach.
Have an oceanside brunch at Papa Kona Restaurant.
Take a romantic after-dinner stroll along the Ali'i Drive waterfront.
Seattle, WA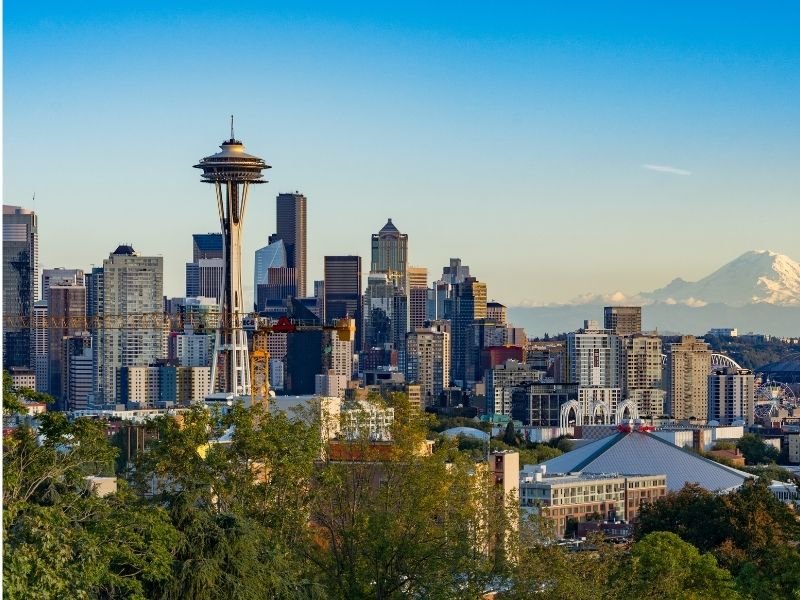 Contributed by Dani of Diapers in Paradise
Seattle, Washington is an ideal honeymoon spot for any couple who loves the outdoors. Surrounded by water, mountains, and a temperate rainforest, Seattle has an endless supply of natural wonders to explore. From hiking, to biking, to skiing, to every watersport imaginable – this is a place where you'll want to get out in nature with your loved one.
Seattle has more to offer than just adventure, however. This is a city that loves its museums, sports teams, music venues, and of course: coffee! (Seattle is home to the original Starbucks and is known for its innovative coffee scene.)
With adorable small-town islands just a short ferry ride away, you can easily take a break from the city life for a few days. Or if the beach is more your style, you can head west to the Pacific coast.
For the couple who wants to spend their days having exciting adventures, and then enjoy the comfort of a world-class city that isn't too big or crowded, Seattle is a perfect choice.
Seattle Honeymoon Highlights
Kayak around Lake Union with a stop at scenic Gasworks Park
Hop on the ferry to Bainbridge Island for a wine tasting walk
Have dinner at the top of the Space Needle
Charleston, SC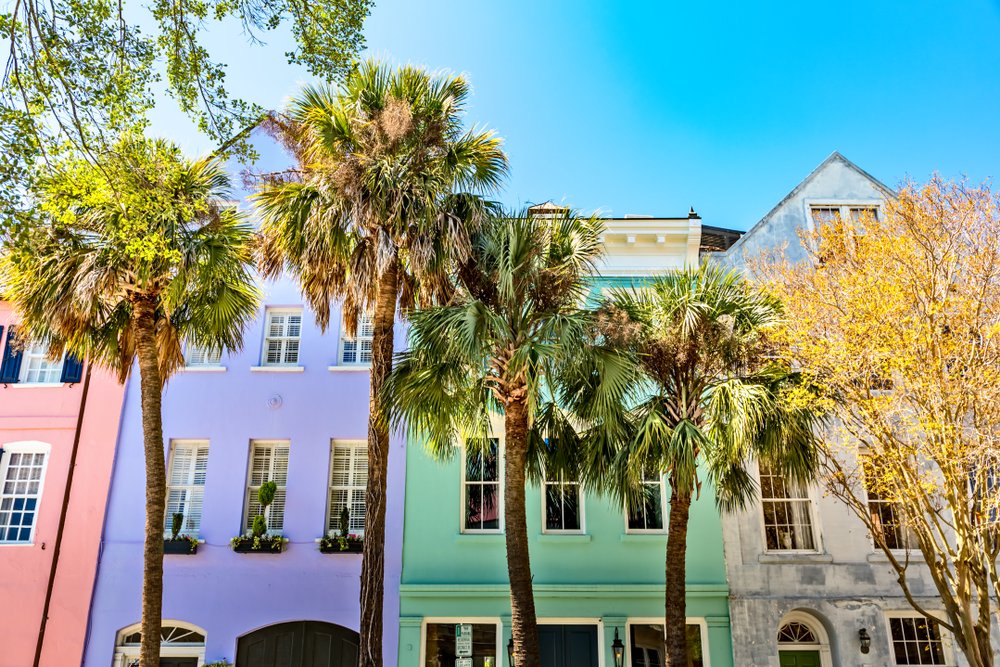 Contributed by Julien Casanova of Cultures Traveled
There is romance peeping around every corner in historic Charleston, South Carolina. The historic homes and intimate gardens turn a simple walk through the city into a romantic adventure.
The South of Broad neighborhood is known for the most exquisite Charleston homes, but if you're up for a longer walk, start on Church Street south of the Market. Zigzag through the neighborhoods until you end up at White Point Gardens along the Battery.
In the evening, set sail on a sunset cruise to admire the city from a different vantage point. The Schooner Pride, Charleston's only tall ship, is powered by three elegant 80 foot sails which allows guests to enjoy a peaceful evening.
To visit the next two picturesque destinations, you'll need to take a short drive out of downtown to John's Island and neighboring Wadmalaw Island. The first stop is Angel Oak, an enchanting live oak tree that is estimated to be 500 years old. Its large branches extend from the trunk and curve around as if to welcome you into its majestic arms. It's the perfect spot for pictures together as newlyweds.
Then venture to the Charleston Tea Garden where rows of tea bushes, each perfectly manicured, extend as far as the eye can see. After a brief tour about the tea process, take a leisurely walk together to explore the grounds of the only tea farm in the United States.
To round out your romantic honeymoon in Charleston, head to Sullivan's Island, one of several nearby barrier islands for a day in the sun. Before spending a day lounging at the beach, enjoy lunch and drinks at Poe's Tavern. Or if you're looking for more adventure with your spouse, explore the trails, lighthouse, and fort on Sullivan's southwest side facing the harbor.
With its rich history and captivating charm, Charleston is an incredible US honeymoon destination.
Charleston Honeymoon Highlights:
Wander the South of Broad neighborhood to admire the beautiful homes and gardens.
Experience a different view of the city during a sunset cruise on the Schooner Pride.
Explore Angel Oak and the Charleston Tea Garden.
Enjoy a day in the sun and sand on Sullivan's Island.
Eastern Shore, VA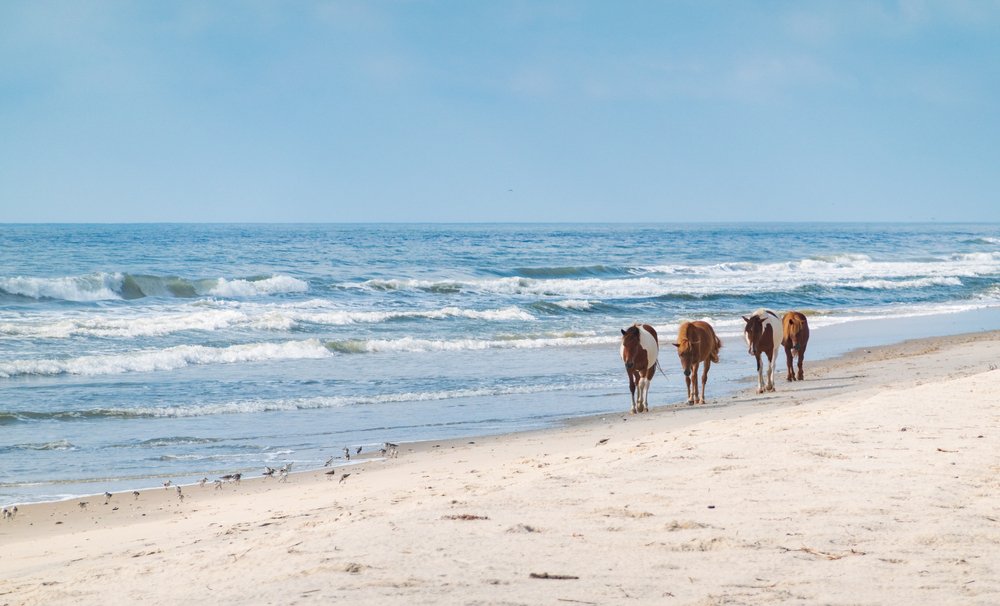 Contributed by Megan Starr of Virginia Travel Tips
One of the most underrated and affordable US honeymoon destinations is Virginia's Eastern Shore. The Eastern Shore is a remote area of the state that is connected to Virginia's mainland by a 17.3-mile bridge-tunnel, one of only 11 bridge-tunnel in the world.
The Eastern Shore is made up of a variety of landscapes and eco-systems but one that is ubiquitous across the region are marshes and low-country. The quiet landscapes leave the opportunity to set off early in the morning with your partner to watch a colorful Virginia sunrise.
If you're looking for activities, there are many things to do in Chincoteague from visiting the Assateague Lighthouse to taking a casual stroll along the trails in the National Wildlife Refuge.
Whatever you choose to do, it will likely be affordable and hotels and home rentals are easy to come by and you will get a lot of value for your dollar.
The Eastern Shore may not be the typical conventional honeymoon spot for most, but it definitely has a lot to offer and if you're looking for a relaxing honeymoon in a quiet place in the US, it is definitely the winning pick.
Eastern Virginia Honeymoon Highlights
Take a boat cruise through Chincoteague to watch the wild ponies
Have a seafood feast at a harborside restaurant in Cape Charles
Find a quiet strip of shoreline along the Assateague Island National Seashore
Sanibel Island, FL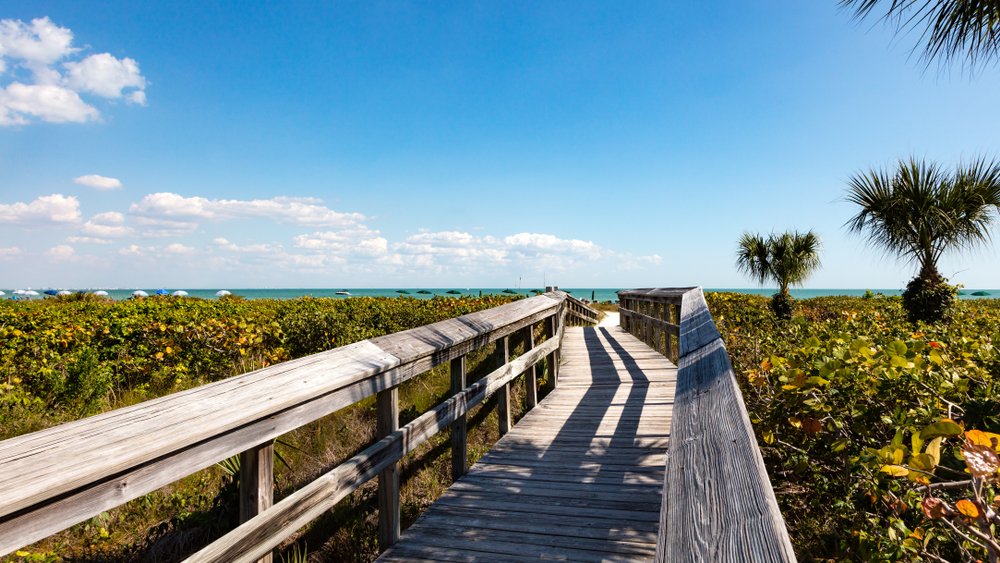 Contributed by Lori of Travlinmad
Looking for a tropical honeymoon without leaving the USA?
Tucked away just off Ft. Myers in southwest Florida is Sanibel Island, a small barrier island that's a world away from the rest of Florida and joined at the hip to its sister island of Captiva by a tiny spit of land.
Sanibel offers one of the most romantic tropical getaways in the US without ever needing your passport!
There's plenty to enjoy on Sanibel if you love a laid-back island atmosphere. It's the quieter things that make Sanibel perfect for a romantic getaway or honeymoon — the Sanibel Island beaches are renowned for their soft white sand and incredible seashells that wash ashore.
Couples can cruise to surrounding islands and explore for the afternoon, cycle the network of quiet bike paths that stretch the entire length of the island, kayak pristine nature settings like J.N. Ding Darling Wildlife Preserve, or visit the charming Sanibel lighthouse at sunset.
If you're looking for a unique honeymoon destination, Sanibel Island is perfect for beach- and nature-loving romantics!
Sanibel Island Honeymoon Highlights
Take a private champagne sunset cruise
Enjoy a couple's massage at Casa Ybel Resort
Have a private beach dining experience on the sand at South Seas Resort on Captiva
Marthas Vineyard, MA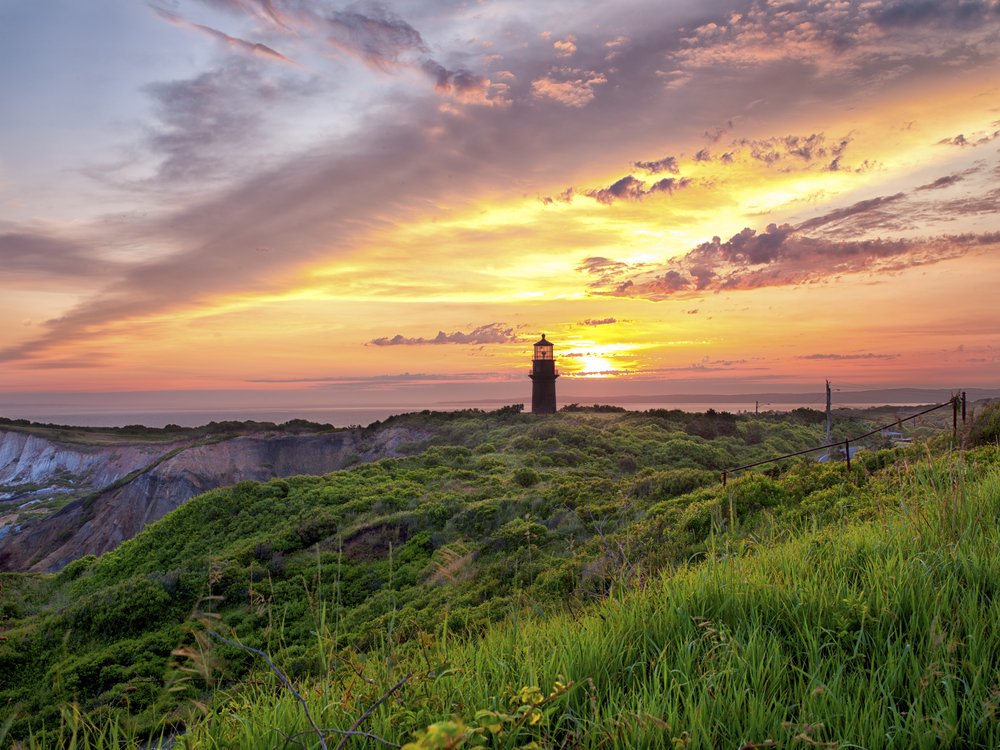 Contributed by Shobha of Martha's Vineyard Tourist
Although many people choose to have their weddings on Martha's Vineyard, the island is also a beautiful place for a honeymoon.
Depending on how private you would like your location, there are several towns on Martha's Vineyard to choose from. The island, however, is not very big so you can easily travel between towns.
Edgartown is full of elegant colonial Captain's houses from the time that the town was flush with whaling money. West Tisbury and Chilmark are more rural and isolated with grey shingle cottages and farmhouses.
Spend your day on Martha's Vineyard lazing on a beach, shopping at boutiques and eating at nice restaurants. For an active vacation, there are plenty of outdoor activities including SUP, kayaking, cycling, hiking and tennis.
Many of the inns on Martha's Vineyard are adults only so you will not have to worry about the excited screaming of children on vacation.
The Hob Knob Inn in Edgartown is a beautiful boutique hotel perfect for couples. The romantic Beach Plum Inn has cottages that are secluded in the woods an have fantastic views of the famous sunset over Menemsha Village and a walk down to the beach.
The Obamas have had their date nights at the Sweet Life Cafe in Oak Bluffs and the Beach Plum Inn in Menemsha. Our personal favourite is sitting outside at the Outermost Inn restaurant under the glow of Aquinnah Lighthouse. In Edgartown, our favourite restaurant is L'etoile.
The joy of a Martha's Vineyard vacation is that there is plenty to do if you so chose, but alternatively, it's perfectly fine to do nothing.
Martha's Vineyard Honeymoon Highlights
Take a sailing trip on the wooden schooner Valora either for sunset or to a secluded beach on the Elizabeth Islands
Pack a picnic for a sunset dinner at Moshup Beach (all the tourists go to Menemsha so Moshup is blissfully empty)
Eat at one of the fine dining establishments in Martha's Vineyard
Nashville, TN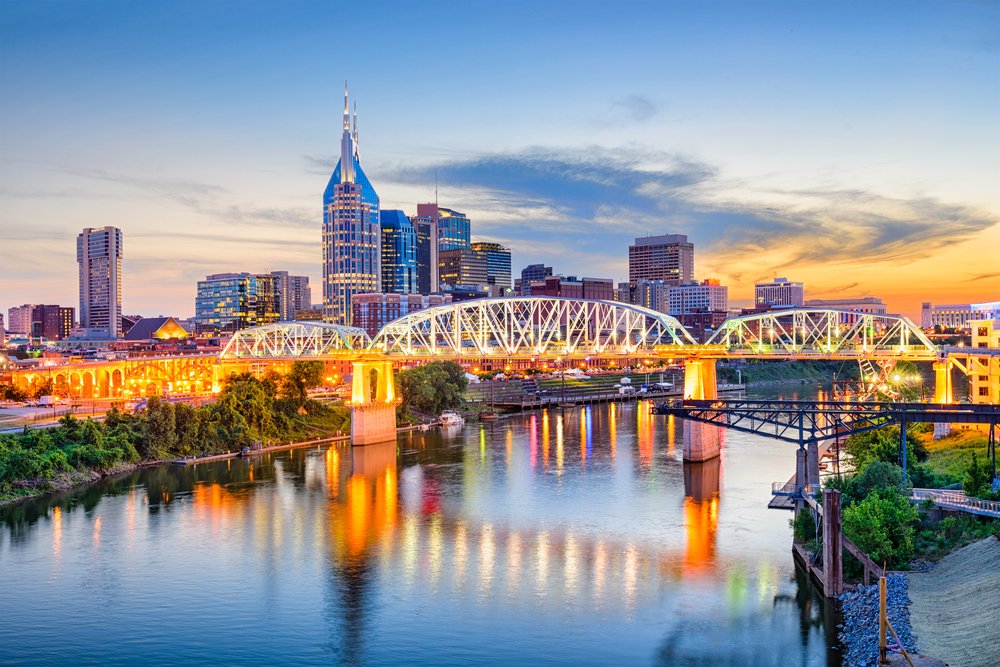 Contributed by Disha Smith of Disha Discovers
There are so many amazing honeymoon destinations in the USA and Nashville is one of them.
Not only is Nashville the "Country Music Capital of the World," but it's also home to an incredible food scene, romantic boutique hotels, and vivacious music venues.
Nashville has everything honeymooners could possibly want: excitement, charm, and relaxation. Nashville has a laid back and relaxing atmosphere.
While there are many adventurous things to do there, there is an equal amount of things to do at a slower pace. Plus, there is always live music to enjoy.
Honeymooners can catch musicians at almost every stage in Nashville from more well-known venues to smaller ones.
Plus, the outdoor scenes around Nashville are epic. Beyond the city, honeymooners can enjoy some solitude and spend time in the rolling hills or kayak in the rivers and lakes around the area.
Lastly, there are so many art galleries, museums, and historical sites that contribute to Nashville's allure.
All in all, Nashville is brimming with things to do and the possibilities are endless here. Whatever honeymooners choose to do here, they'll leave with great memories.
Nashville Honeymoon Highlights
Dance the night away with your newlywed at a honky-tonk
Watch a romantic sunset from Love Circle
Enjoy wine tasting at Arrington Vineyards
See a show at Ryman Auditorium
Revel in luxury at the Hermitage Hotel
San Diego, CA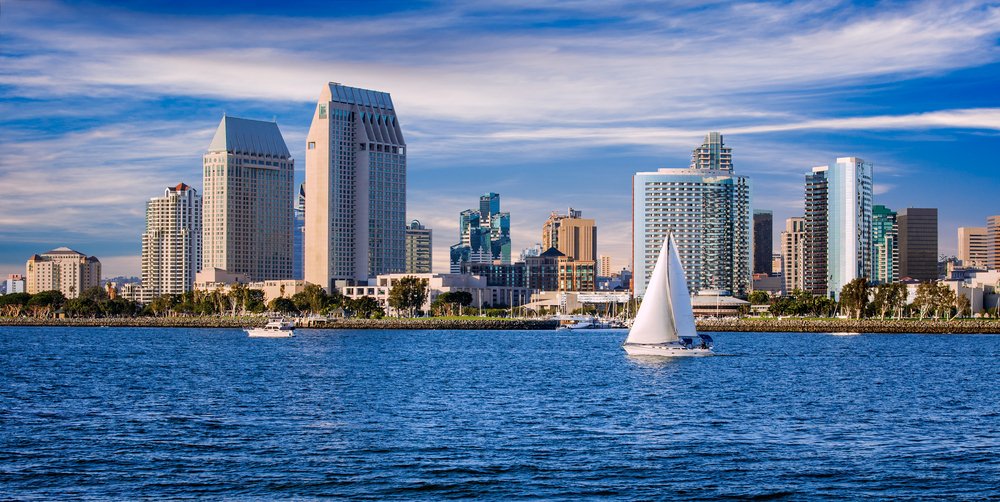 Contributed By Lisa of Planningaway.com
Located on the coast of the Pacific Ocean in Southern California, San Diego is the perfect place for a romantic honeymoon. With its miles and miles of white-sand beaches and amazing weather, the city offers an abundance of romantic and fun attractions.
The Hotel Del Coronado is your ultimate honeymoon destination. This historic beachfront hotel is located just across the San Diego Bay and has hosted presidents, royalty, and celebrities. Why not you and your new spouse?
If you are looking for a little more adventure, exploring San Diego is a great option. There are so many things to do in San Diego!
The San Diego Zoo, San Diego Safari Park, USS Midway, and Balboa Park are great places to start. Old Town San Diego and Little Italy are great places to end your day with a romantic dinner.
San Diego is a great romantic destination to enjoy your honeymoon in the USA!
San Diego Honeymoon Highlights
Take some fun surf lessons with your love
Enjoy a late night campfire on the beach
Explore the lovely Gaslamp District in downtown San Diego
Savannah, GA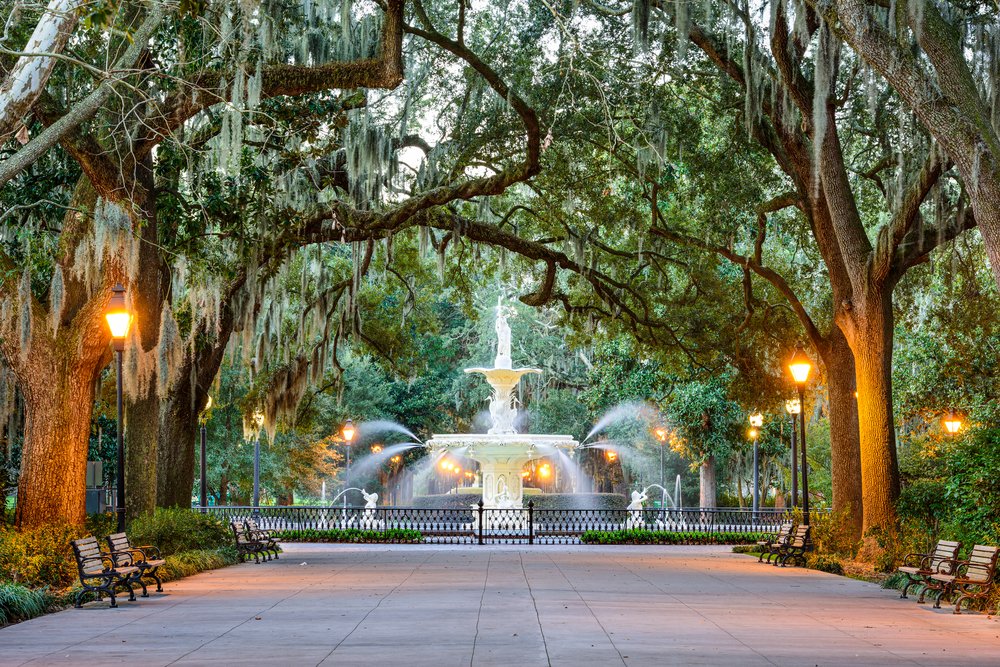 Contributed by Erin Clarkson of Savannah First-Timer's Guide
Savannah is the quintessential Southern honeymoon destination! Its slow pace beckons couples to relax while taking in the city's stunning architecture, beautiful squares, and numerous outdoor cafes.
For those who prefer a faster pace, City Market and the newly developed Plant Riverside District offer plenty of nightlife, while Tybee Island is only 20 minutes away and the perfect spot to dig your toes in the sand.
Narrowing down the best time of year to visit Savannah shouldn't be too difficult, but spring is traditionally the most popular season. There are pros and cons for every month.
Finally, don't forget that Savannah is a major destination for foodies! Plan to eat out as often as possible. The Olde Pink House, Vic's on the River, and Alligator Soul are a few ideal spots for a romantic dinner.
NOTE: Savannah is a very LGBTQ-friendly destination, so all couples are welcome and will feel right at home throughout the city.
Savannah Honeymoon Highlights
Take a romantic sunset stroll down River Street to watch the ships sail into port.
Enjoy drinks at one of the city's many rooftop bars. Peregrin at Perry Lane, Electric Moon Skytop Lounge, and Top Deck at Cotton Sail Hotel are three good options.
Hit up the shops along Broughton Street, and then enjoy a couples massage at Spa Bleu.
Key West, FL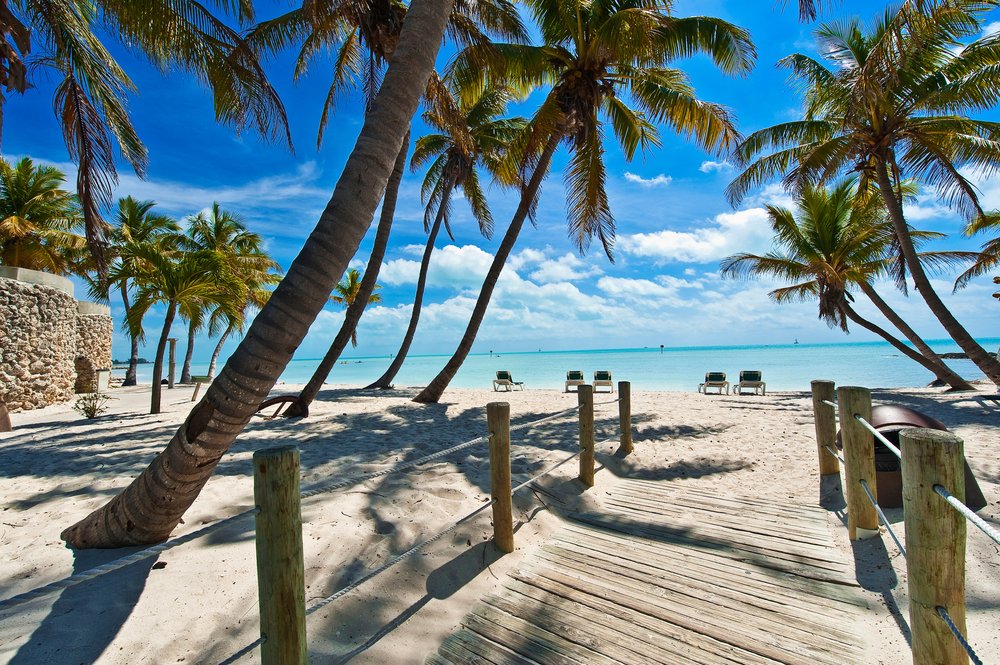 Contributed by Megan Starr at Megan & Aram
A perfect honeymoon spot in the United States is Key West, Florida… and the Florida Keys as a whole.
This unique American landscape offers something completely different than what you'll find in the rest of the United States and it is as adventurous as it is romantic.
The best way to get there is to rent a car and plan a Miami to Key West road trip, stopping by state parks and idyllic beaches along the way. Be sure to put John Pennekamp Coral Reef State Park on your list as it was the first undersea state park in the US. Bahia Honda State Park is also a can't miss once you're in the Middle Keys.
There are several resorts and romantic spots to stop along the way from Islamorada to picturesque spots in Key Largo. In fact, Bungalows Key Largo is the only all-inclusive resort in the Florida Keys. But, Key West tops them all with variety making it the ultimate honeymoon spot.
If you're looking for a luxury place to stay in Key West, opt for Casa Marina Key West, A Waldorf Astoria Resort. If you're on a budget, you can choose to stay somewhere in the Middle or Upper Keys such as Marathon, Islamorada, or Key Largo.
Key West is definitely a fantastic honeymoon spot in the US where you will find a variety of activities and things to do to suit your partner and you.
Key West Honeymoon Highlights
Fort Lauderdale, FL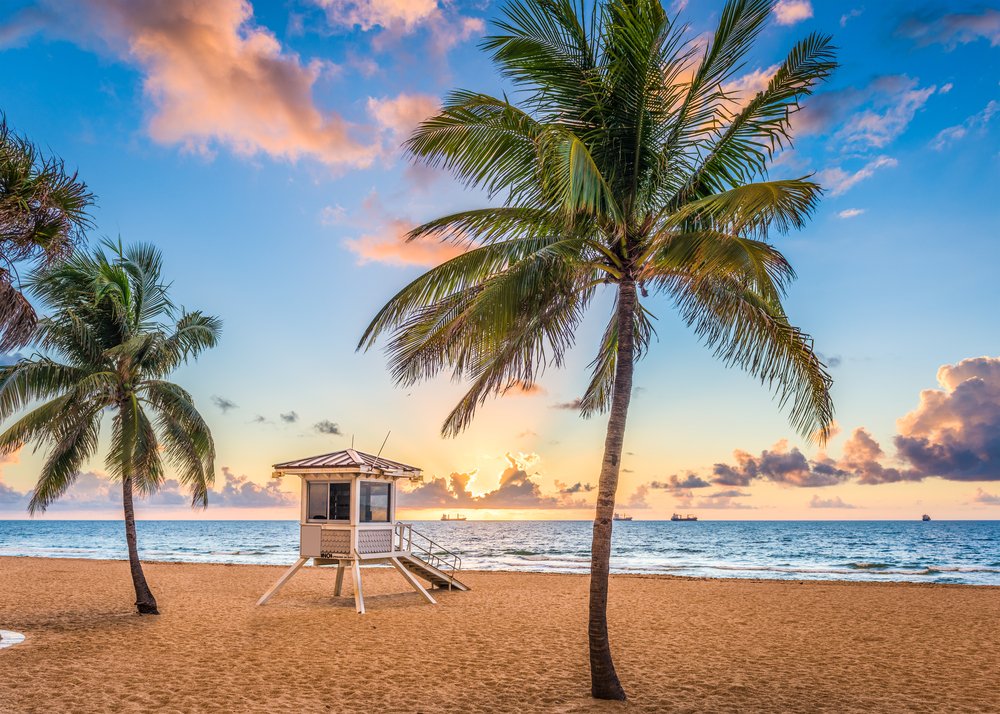 Contributed by Derek and Mike of Robe Trotting
For years, Fort Lauderdale has been one of America's premier LGBTQ+ travel destinations.
It's no surprise that the sunny southern Florida destination is one of the most popular queer honeymoon destinations in the USA!
Gay Fort Lauderdale is full of spectacular beaches, LGBTQ+ nightlife and lodging as well as chic boutiques and fantastic restaurants.
The best gay beach in Fort Lauderdale is located on Sebastian Street and stretches to Castillo Street. It's the perfect place to enjoy the sun and sand on a honeymoon and it's near some of the best gay resorts in Fort Lauderdale. Whether you spend a full day on the beach or visit for a romantic stroll at sunset, Sebastian Street Beach is the perfect place to be in Fort Lauderdale.
Fort Lauderdale is also a popular destination for boating or cruising the intercoastal waterways. A romantic boat ride, dinner cruise or other excursion on the water makes for an enchanting evening with your happily ever after.
Any honeymoon in Fort Lauderdale is incomplete without delicious meals and even some celebratory cocktails. The city's main LGBT nightlife district is in the adjacent village of Wilton Manors. There you'll find the second highest density of LGBTQ+ citizens in the country. This active and vibrant community holds many events throughout the year and has over 200 LGBT-owned businesses. Whether you're looking to go dancing, sing karaoke or just have a romantic dinner on an outdoor patio – you can find your scene in Wilton Manors.
Fort Lauderdale is also home to the Stonewall National Museum and Archive. It's a museum and archive dedicated solely to the preservation of LGBTQ+ history, culture and the fight for civil rights. It's a fitting destination to visit while on a honeymoon to celebrate one's marriage and honoring those who fought to make it a legal right.
Ft Lauderdale Honeymoon Highlights
Celebrate marriage equality at the Stonewall National Museum
Enjoy the gay nightlife scene in Wilton Manors
Take a romantic cruise with your partner out on the water
Temecula, CA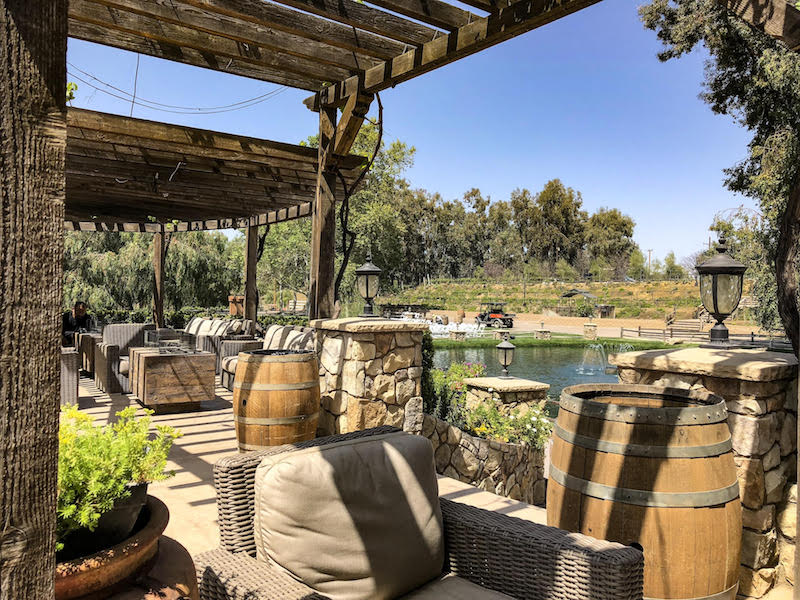 Contributed by Maria Haase of SanDiegoExplorer
Temecula is the perfect romantic honeymoon destination in Southern California for all the newlyweds who love wine!
Located East, about half way between Los Angeles and San Diego, it is an easy destination to reach and gives plenty of opportunity for fun day trips.
The rolling hills and warm, dry climate is very similar to Tuscany, yet when you visit Old Town Temecula, you feel like you entered a charming little Wester town right out of a movie set.
If you are in the mood for a little glitz and glamour, you can check out the Pechanga Casino and Resort for a night of gambling, shows, dancing and more.
Temecula is all about wine. You'll find over 30 wineries, many producing some amazing award-winning wines. There are plenty of organized wine tasting tours to choose from, either private or in a group. Or you can go explore on your own and visit the ones that appeal to you.
To make your honeymoon extra special, stay at one of these amazing winery hotels in Temecula. They have stunning properties, nestled into the rolling hillside.
Wake up early and take your love for a stroll around the grapevines and watch the sunrise over the vineyards. Very idyllic and romantic and perfect for a romantic honeymoon destination in the USA!.
Temecula Honeymoon Highlights
Take a sunrise hot air balloon ride over the Temecula vineyards
Do a motorcycle sidecar wine tasting tour
Go on a food and cocktail tour in old town Temecula
Amelia Island, FL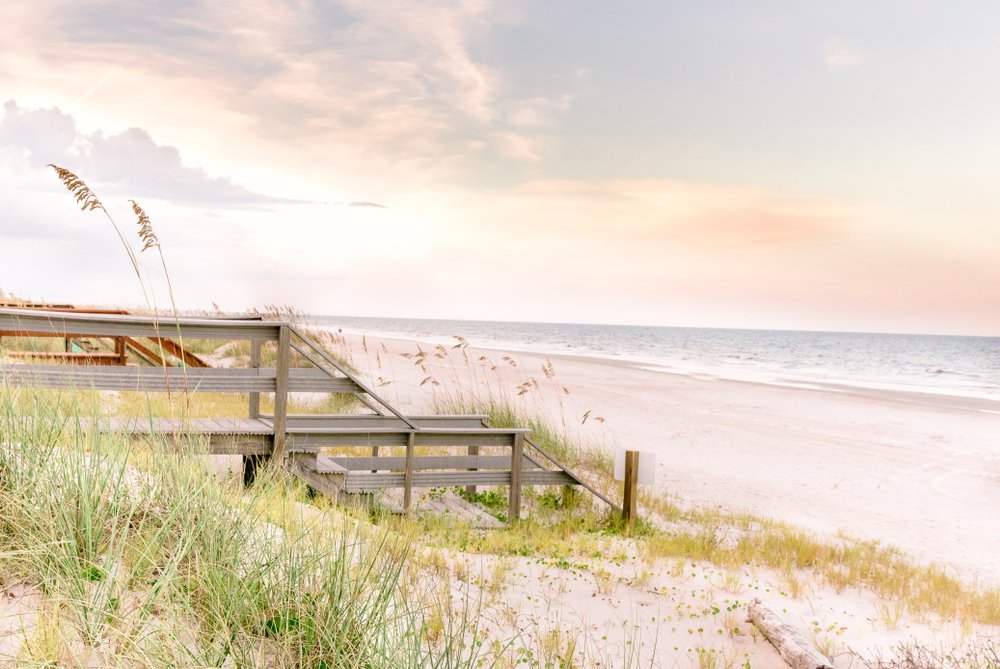 Contributed by Victoria Yore of Florida Trippers
Amelia Island is perfect for your honeymoon because it is home to a lot of romantic hotels and tons of things to do such as paddle boarding, walking the beach, exploring nature parks and more.
Ferdinanda Beach has over 50 blocks of historic city and it is so cute and perfect for a stroll with your sweetheart. There are many restaurants and the seafood on Amelia Island is fresh and tasty!
It is truly one of the best places to spend your honeymoon in Florida! Don't forget to wake up for sunrise!
Amelia Island Honeymoon Highlights
Indulge in a delicious seafood meal with your newlywed
Stroll the beautiful Ferninanda Beach
Wake up for a sunrise you'll never forget
Catalina Island, CA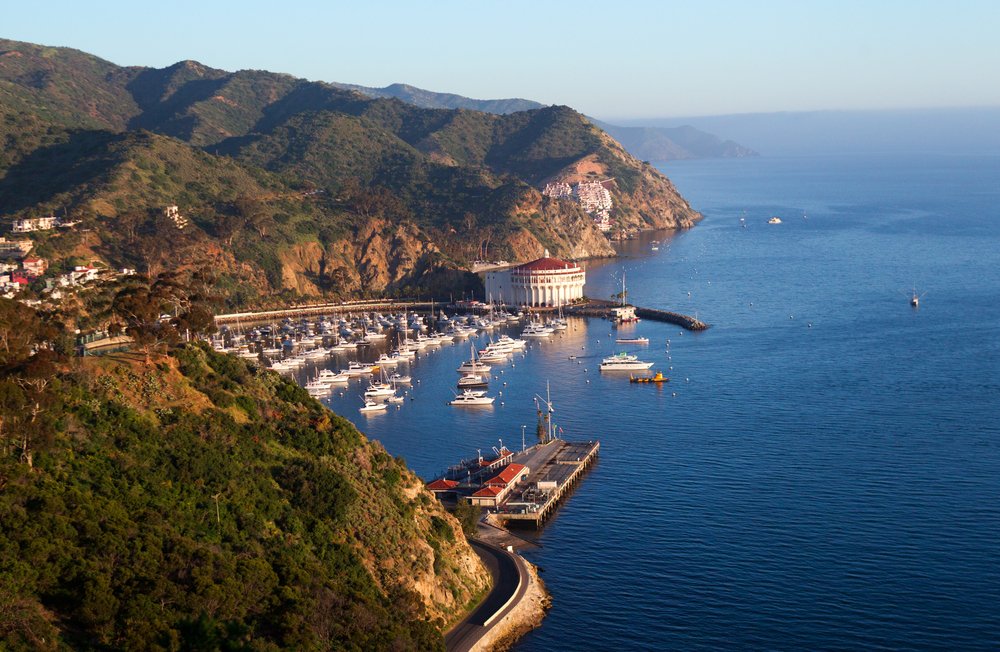 Contributed by Megan Indoe of Bobo & Chichi
One of the best honeymoon spots in the United States sits less than 30 miles off the coast of Southern California depending on where you depart from and even is the subject of a famous old song by The Four Preps, "26 Miles".
Catalina Island has been a haven for Hollywood stars since the Golden Era and is even where Marilyn Monroe was discovered.
One of the reasons why Catalina is so romantic and a perfect honeymoon spot is that you get the type of escapism of a coastal Mediterranean destination without having to leave the US.
The whole island is full of charming colorful cottages and retro buildings that remind you of its Hollywood glam days and gorgeous turquoise waters.
Catalina Honeymoon Highlights
Enjoy a day in a beachside cabana at the Descanso Beach Club
Watch a sunset from the intimate bench on the rocky cliffs overlooking the Pacific Ocean at Buena Vista Point Scenic Overlook or have brunch with the best views in Avalon at the Inn at Mount Ada
Experience an old school date night at the Island's historic and preserved 1920s Casino Movie Theater
Newport, RI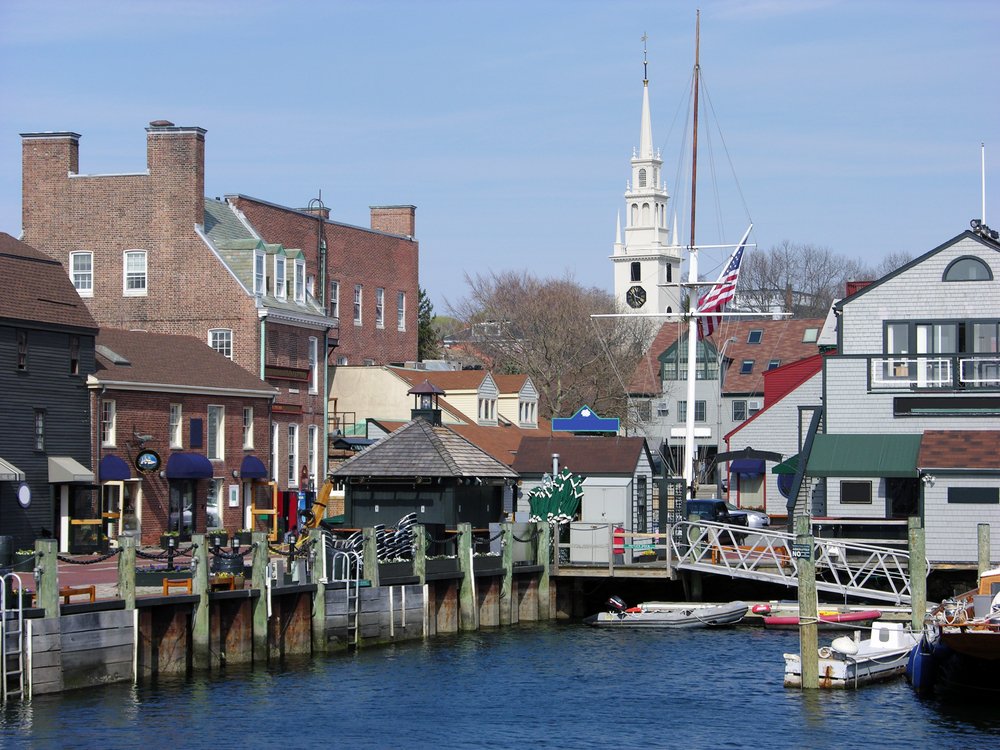 Contributed by Jamie Italiane of Adventures in New England
Newport is one of the oldest trading towns sitting on the bottom of Aquidneck Island. It has forts, some of the oldest colonial houses in the US, and the US' oldest Jewish synagogue.
Newport is also the site of one of the most romantic weddings of this century, that of Jackie and JFK.
Newport is a perfect place to spend a week, exploring its history and relaxing on its beaches, or you can use it as a stop while exploring the rest of New England.
Enjoy a romantic ride in an antique car by the "summer cottage" mansions of America's earliest millionaires, like the Vanderbilts and Asters, and don't forget to try a New England lobster roll!
Newport Honeymoon Highlights
Take a bike ride along Ocean Drive, viewing the Beavertail Lighthouse.
Taste wines among the grapevines of Newport Vineyard.
Take a romantic stroll on cliff walk
Dine on the lawn to see the best views in Newport at The Inn at Castle Hill
Take a sunset cruise of Narragansett Bay, seeing the famous Newport Bridge.
Maui, HI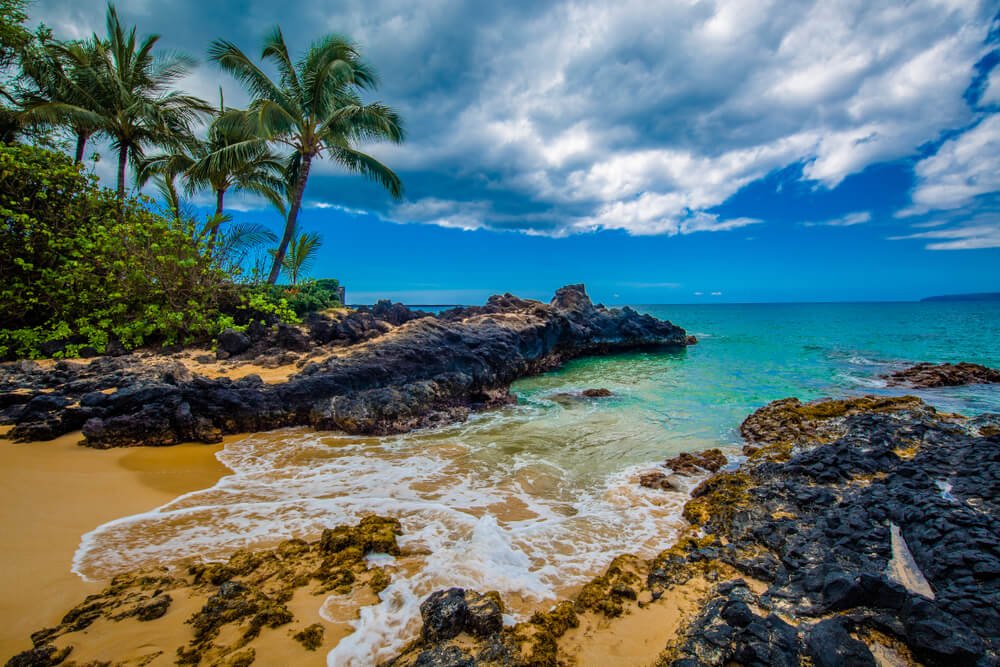 Contributed by Dan Bagby of HoneymoonAlways.com
Maui is a perfect place to relax, unwind, and spend time together after your wedding. The amazing resorts, beautiful beaches and landscapes, delicious food, fun activities, and wonderful weather year-round make Maui an amazing honeymoon destination in the US.
Spend time relaxing on the beach or playing in the resort pool. At several beaches like Maluaka or Wailea, you can even snorkel and find sea turtles.
Take a drive down the road to Hana, stopping along the way to enjoy black and red sand beaches and delicious food like the famous banana bread, chicken from the Huli Huli chicken shack, or BraddahHutts BBQ Grill.
If you are feeling adventurous, go on a helicopter tour of the island, zipline, go surfing, or head to the peak of Mt. Haleakala for sunrise.
Once you have had plenty of adventure, take advantage of some of the more relaxing experiences together. Couples massages are a perfect way to unwind and have a memorable experience together.
You can also enjoy a sunset cruise in the evening or simply rent a convertible to take for an evening drive, parking by a beach and looking up at the stars together.
Maui Honeymoon Highlights
Go on a sunset cruise
See Maui from above on a helicopter tour
Get a couples massage on the beach
Las Vegas, NV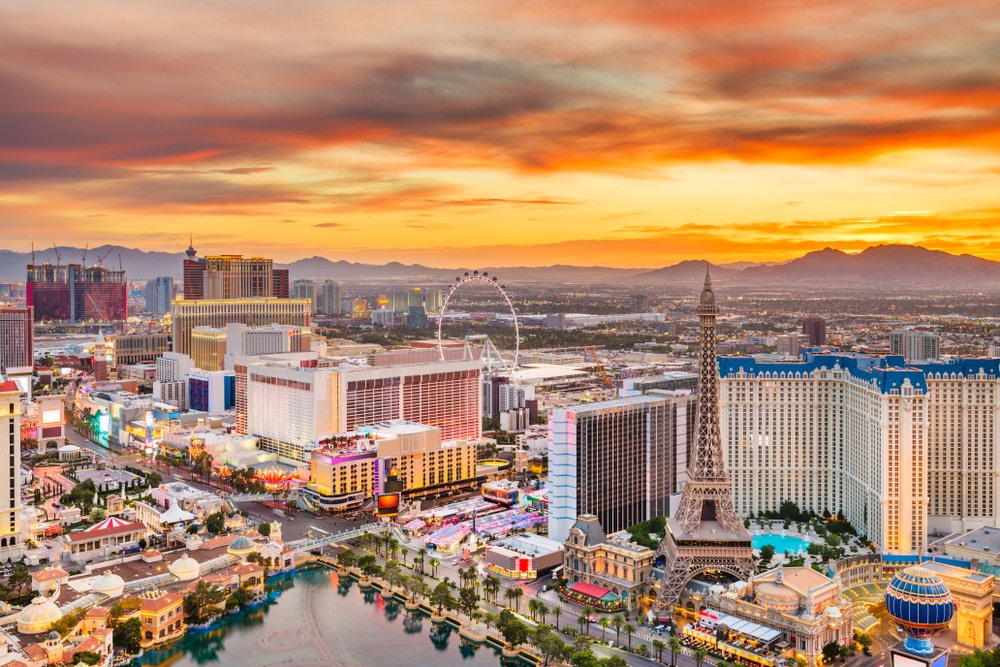 Contributed by Ketki of Dotted Globe
Las Vegas, Nevada is one of the most romantic honeymoon destinations in the USA. Spring and fall are the best seasons to visit Vegas, but Sin City is popular with honeymooners year-round. The city is full of romance and its lights and sounds are just waiting to sweep lovers off their feet!
While Sin City is known for its casinos, there are Las Vegas attractions for couples besides gambling. The city has multiple shows, events, thrilling rides, concerts, pool parties, top-notch restaurants, and even museums. Outdoor Las Vegas offers hiking, ATV riding, desert gardens, water sports, and striking landscapes for adventurous couples.
The luxurious casinos of Sin City make the best honeymoon resorts for couples. Stay in a fountain facing suite at the Bellagio or in a penthouse suite with excellent views of the strip.
A honeymoon in Las Vegas is like having a round trip around the world with your loved one — all while enjoying a honeymoon in the USA! Couples can enjoy the splendors of Eqypt at Luxor and the antiquities of Rome at Ceaser's Palace.
Need more ideas? Here are the most romantic things to do in Las Vegas for couples!
Las Vegas Honeymoon Highlights
Ride to the top of the Eiffel Tower in Paris Las Vegas
Have a romantic dinner in view of the famous Fountains of the Bellagio
Take a gondola ride at the Venetian
Aspen, CO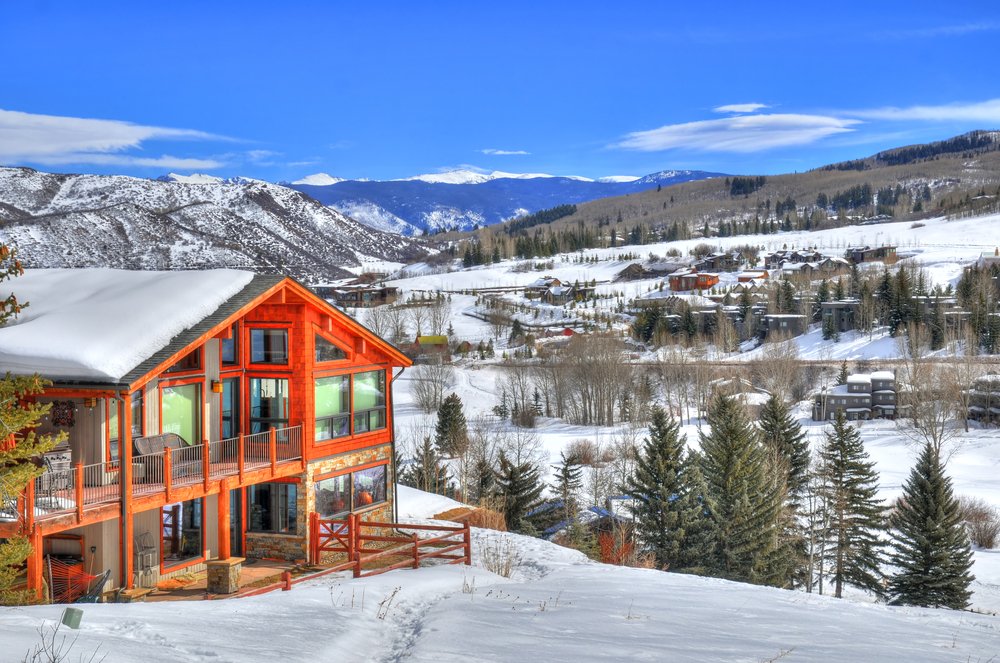 Contributed by Leticia Alleyne of Chictravelaroundtheworld
Aspen, Colorado is such a great city for a romantic honeymoon whether it
be during winter when it's cold and snowing or summer when it's warm and sunny.
All year round, couples can enjoy Aspen's mountainous environment with pristine views. There is so much to do for a couple looking to
experience this city!
No visit to Aspen would be without skiing. Aspen is known to have
some of the best ski trails. What better way to spend the day with your
partner exploring the trails of Snowmass Nordic Trail System?
Not skiers? A gondola ride to view all the splendors of the Aspen Mountain is such a great way to spend your honeymoon without needing to strap on the skis.
For more winter fun, ice skating it is one of the most popular winter activities in thiscity. There's a couple of great places to enjoy a romantic day of ice skating in Aspen these are the Aspen Ice Garden and Lewis Ice are
popular indoor rinks and for outdoors Silver Ice, Snowmass and Maroon
Lake just to name a few.
Aspen Honeymoon Highlights
Go on a hot air balloon as you soar and admire the beauty of the Rocky Mountains.
A romantic dinner on the top or bottom of the mountain is a special and unique way to celebrate your undying love at restaurants such as Steakhouse No. 316 or the French Alpine Bistro.
Get a couple's massage at one of the high-end spas such as the Remede Spa, St. Regis Aspen.
Kawaii, HI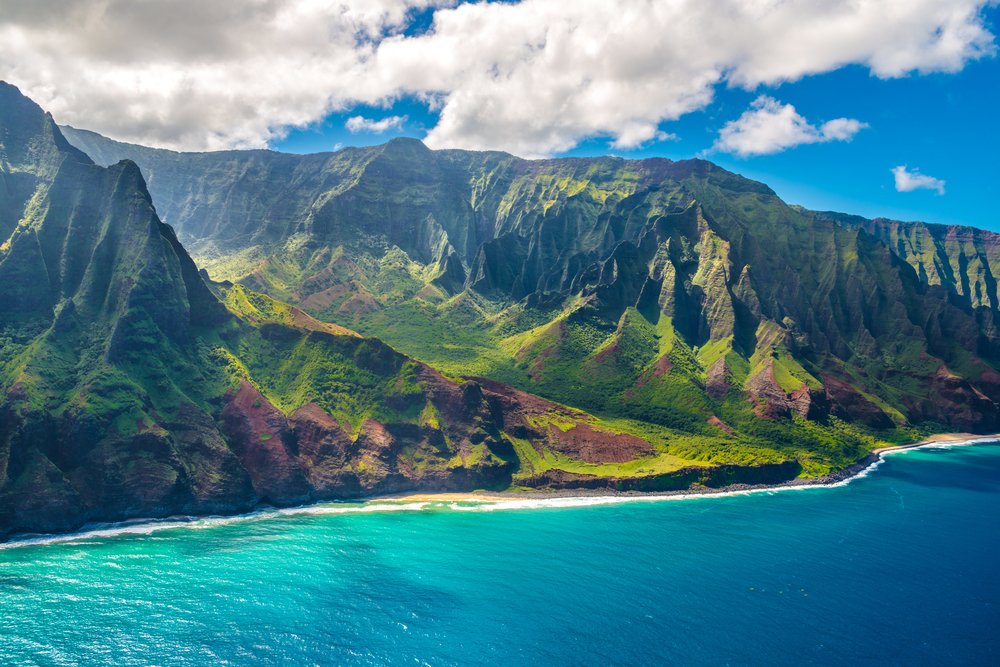 Contributed by Jessica of A Passion and A Passport
Looking for one of the best honeymoon destinations in the US?! Kauai is your answer. Not only is the island full of lush jungle scenes, but the weather is perfect for year-round sunbathing!
Whether you've got 3 days in Kauai (as part of a longer Hawaiian honeymoon) or an entire week, you're sure to find enough activities to fill your time.
The island is filled with tons of natural beauty, and is actually the oldest inhabited Hawaiian island.
Don't miss out on all the fresh pineapple, frequent rainbow sightings, and a sunset dinner cruise. There's also a bunch of hiking opportunities if you're looking to get a bit active on your honeymoon!
Kauai Honeymoon Highlights
Helicopter tour above the Na Pali coastline: You can't visit Kauai without soaring above the famous coastline via heli tour. There's regal mountains and green peaks and turquoise waters to admire! Plus, if one of you is afraid of heights, all the better to hold each other tight.
Dinner and drinks at The Beach House: Come for the (exceptionally fresh) fish of the day, stay for the ambiance and sunset. Be sure to come a bit early to take advance of mai tais on the back patio, complete with stellar beach views!
Take a dip in Queens Bath: Although you'll need to head out on a mini hike, the natural tide pool (known as Queens Bath) is well worth the effort.
Napa, CA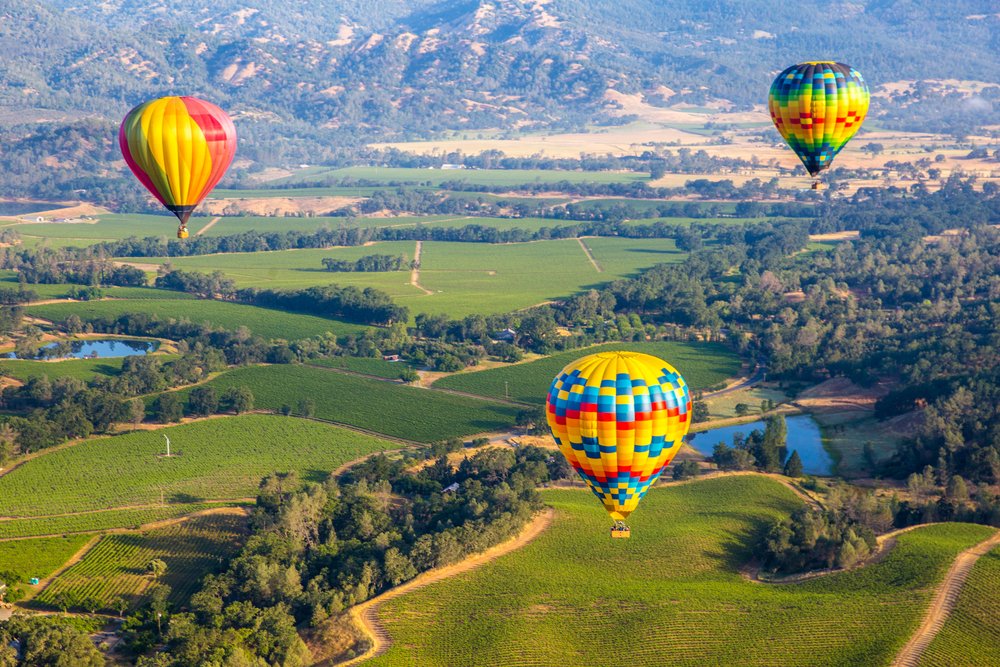 Contributed by Dhara of Roadtripping California
Napa Valley is one of the most incredibly romantic places to visit in California. With beautiful vineyards draped on rolling hills, lots of luxurious resorts and spas, and world-class restaurants, the region makes the perfect honeymoon destination.
One of the most romantic things to do here is to take a tasting tour of the most beautiful Napa Valley wineries. Take the aerial tram to the large terrace of Sterling Vineyards: it's considered one of the best photo spots in the valley. Or enjoy a sunset wine tasting on the covered terrace of Round Pond Estate. Or a flight of sparkling wines in the French salon at Domaine Carneros.
You will be spoiled for choice when it comes to romantic experiences in Napa Valley. If you enjoy adventure, go ballooning over the vineyards at dawn. Want to stay on terra firma? Book the dinner experience on the Napa Valley Wine Train instead. Or enjoy a couples mud bath in Calistoga for a deeply relaxing time.
Napa Valley's restaurants serve seasonal menus in a variety of settings. Try several different venues on your honeymoon, from a romantic dinner at the acclaimed French Laundry (reserve well in advance) to the most luscious tacos at C Casa, served in a casual setting in the Oxbow Public Market in Napa. Don't forget desserts at Bouchon Bakery!
No matter how you choose to spend your honeymoon in Napa Valley, you are guaranteed to have an unforgettable time!
Napa Honeymoon Highlights
Go wine tasting at luxurious Napa wineries
Have a romantic meal at the French Laundry
Enjoy a couples' mud bath in Calistoga
Nantucket, MA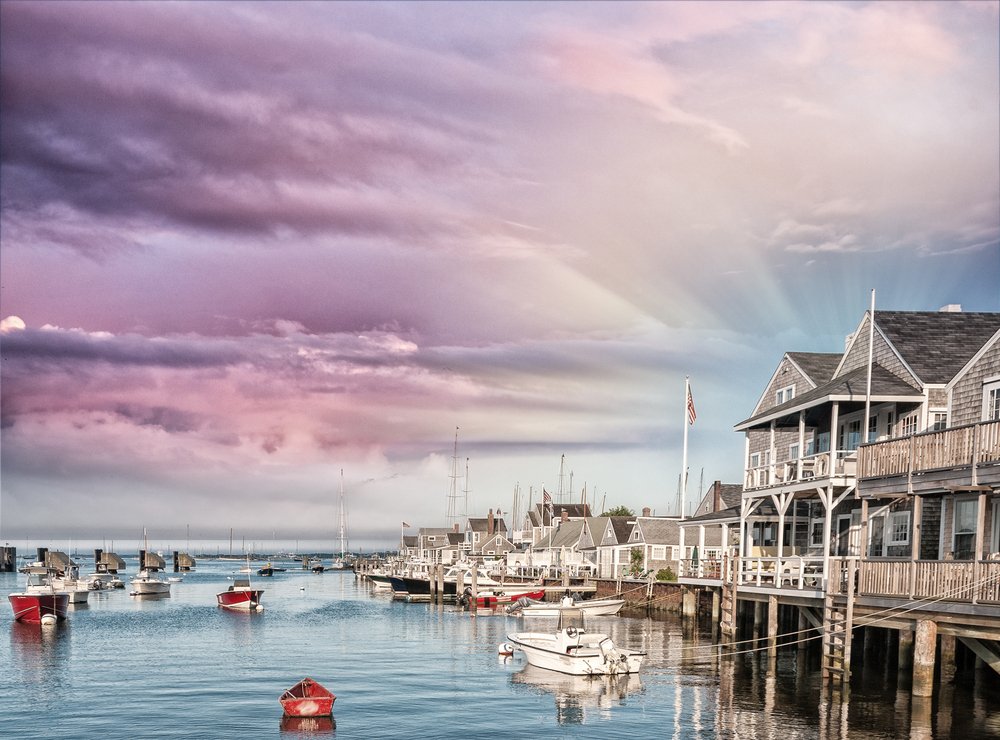 Contributed by Linn Haglund of Brainy Backpackers
Nantucket is the perfect destination for a honeymoon. With the charming houses spotted around the island and downtown being the perfect place for a romantic dinner.
There are many museums to learn more about the history of Nantucket like the Museum of African American History, Nantucket Whaling Museum, and Nantucket Shipwreck and Lifesaving Museum.
But one of the most romantic things to do is to explore Nantucket by bike. The whole island is bike-friendly with bike paths crossing to Siasconset, Surfside, and Madaket. Bring a picnic to enjoy at one of the beaches or go for a walk in the forest to look for wildlife.
Whole days can be spent relaxing on the beautiful beaches if you're up for some lazy days with cuddles and swimming. You should also walk the Sconset Bluff Walk in Siasconset.
It takes you to Sankaty Light House which is the most beautiful spot for sunset at the island. You can round off with a nice dinner in the little town before heading back to Downtown.
Nantucket Honeymoon Highlights
Explore the island by bike
Watch the sunset at Sankaty Light House
Have a romantic dinner in Downtown
Surprise your partner with a romantic picnic at the beach
Los Angeles, CA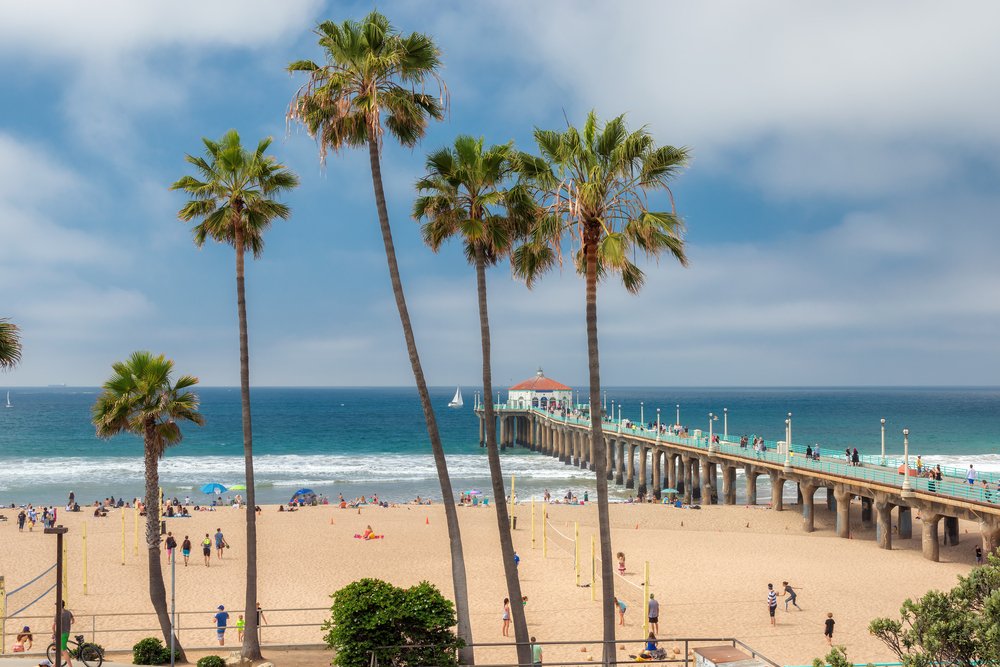 Contributed by Sarah Chetrit of From Lust 'Till Dawn
Los Angeles is a sprawling metropolis best known for its film and television, but there's much more than Hollywood and Universal Studios.
For honeymooners who can't decide between the city, beach and nature, Los Angeles has it all. Here are three romantic things honeymooners can do:
Griffith Park has over 45 trails ranging from easy to hard. All have a gorgeous view of Los Angeles, which makes it a great place to have a romantic picnic.
Set on the West Coast, Los Angeles has the best sunsets. You can hold your loved one close on Manhattan or Venice Beach as you watch the vibrant colors shift with the sun.
For foodies who love to try different cuisines, check out LA's vibrant K-Town. Start out spending a few hours relaxing at a Korean spa, which will get your appetite stirred up for Korean barbecue at Soon Won Galbi.
LA Honeymoon Highlights
Enjoy a picnic and a hike on one of Griffith Park's many trails.
Watch a sunset at the beach.
Spend the day at a Korean spa and grab Korean barbecue afterwards.
New York, NY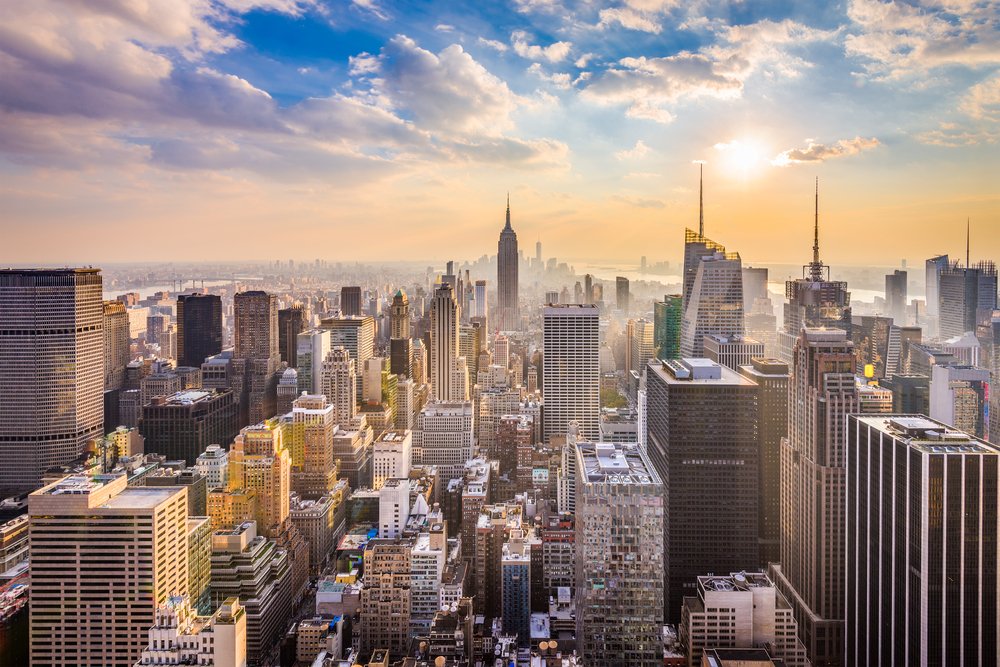 Contributed by James Ian of Travel Collecting
So many romantic comedies are set in New York for a reason; it is possibly the most romantic city in the United States.
Walking the streets of New York City feels like walking in one of your favorite TV shows or movies. There are plenty of amazing things you can do together that will make this the perfect honeymoon.
No matter what time of year you have your honeymoon, there is something romantic to do. Wander under the cherry blossoms in Central Park in spring. Sit on a bench in Washington Square Park in an early summer evening and listen to buskers playing jazz. Watch the Macy's Thanksgiving Day Parade together in the fall. Go ice skating at Rockefeller Center or Bryant Park in winter.
At any time of year, you can take in iconic sights like Times Square and take the ferry to the Statue of Liberty. You can dine in one of the many cozy restaurants that line the streets of the West Village.
Soho and Fifth Avenue have great shopping, and you can pick up some great souvenirs of your honeymoon. Head further up Fifth Avenue to visit some of the most iconic museums in the world. The rooftop at the Met has incredibly romantic views of Central park that you can enjoy together over a glass of sangria.
There are so many romantic things to do in New York City that it is difficult to choose the top three, but my pick of the honeymoon experiences absolutely not to be missed are:
NYC Honeymoon Highlights
Enjoy the view from the top of the Empire State Building. Go up in the later afternoon so you can see the sunset and the lights of the city come out after dark. There is truly nothing more romantic.
Row a boat around the lake in Central Park. This is the perfect activity to do together on your summer honeymoon. Lie back and relax or slowly row around the lake, surrounded by iconic NYC views.
See a show together on Broadway. This elevates the 'dinner and movie' concept to the next level. A night of the best musical theater in the world is the perfect honeymoon 'date night'.
Lake Tahoe, CA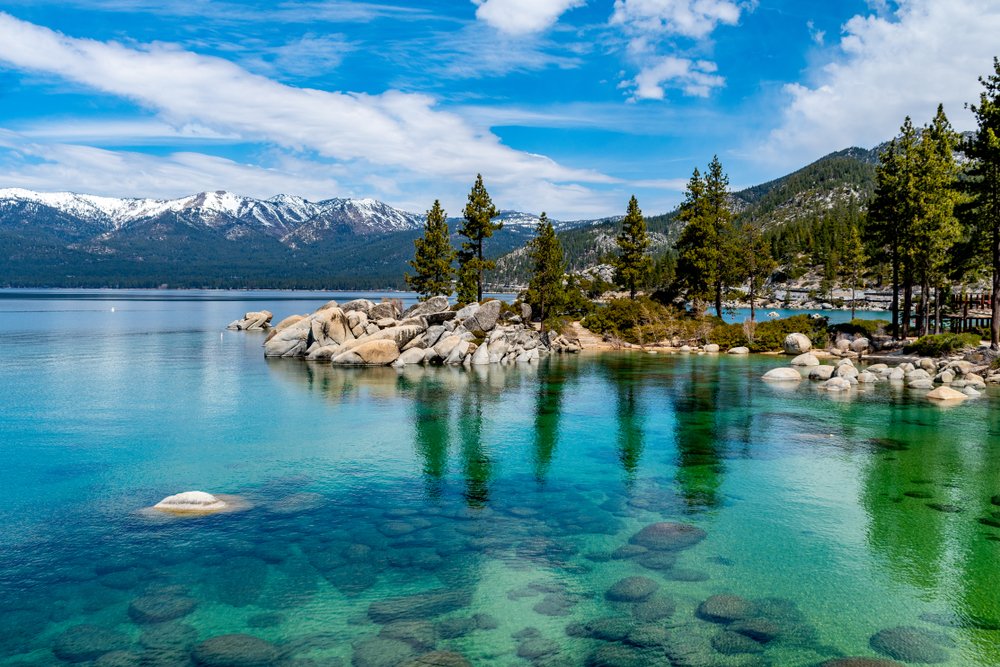 Contributed by Christina of Travel2next.com
In the Sierra Nevadas, Lake Tahoe is a stunningly scenic region that straddles both California and Nevada.
Honeymooning in Lake Tahoe means you can enjoy the charms of two states in a stunning part of the USA, where there is plenty to do. The centrepiece is the lake itself, which is the USA's biggest alpine lake and the second deepest.
With snow-capped mountains, beautiful beaches, and charming lakeside communities, couples won't be wondering what to do in Tahoe for long.
There's plenty to do in this gorgeous spot all-year-round and anytime is a good time to honeymoon in Lake Tahoe. In summer, spring or fall, active couples will love spending time hiking one of the many scenic trails and enjoying activities on the lake such as stand-up paddleboarding, canoeing, and swimming.
The bright lights of Reno, where you can have a flutter at a casino, is only a 30-minute drive away. In winter, Lake Tahoe's ski resorts are incredibly romantic when covered in a blanket of snow.
Tahoe Honeymoon Highlights
Steal a kiss on the slopes in winter before skiing down Heavenly Mountain.
Have a romantic picnic on the beach at Zephyr Cove when the weather is warmer.
Have an unforgettable meal at Café Fiore, which is a small restaurant with only seven tables.
Sedona, AZ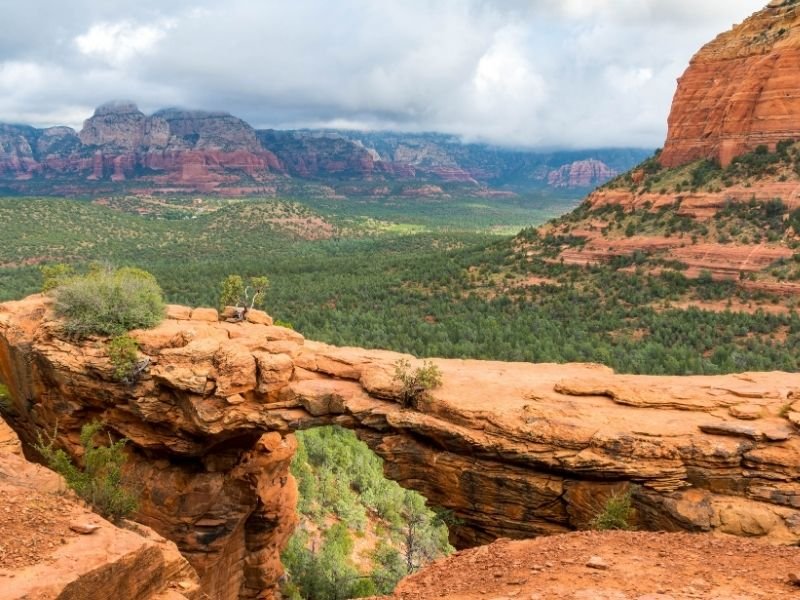 Contributed by Nicole from American SW Obsessed
Sedona is one of those places that will take your breath away. It is a gorgeous place with incredible energy and only a two hour drive from Phoenix. Sedona makes for the perfect active honeymoon spot that is a hidden gem.
For an active honeymoon, Sedona is the perfect place to get out and go hiking. The two most popular hikes are Devil's Bridge and Cathedral Rock. Devil's Bridge is an easy hike that is best done in the morning. The hike is around 4 miles to Devil's Bridge where you can take photos on the bridge.
All along the trail you will see the beautiful red rocks that the area is famous for. Cathedral Rock is another short but steep hike. In a quarter of a mile, you gain 600 feet in elevation. Much of the trail is spent scrambling up the distinct red rocks to the top where you will have stunning views of the area.
If hiking isn't your thing why not try a Jeep Tour of the area to see Sedona's stunning landscapes. This is a popular activity in Sedona and there are several different themes of Jeep Tours you can do. Jeeps Tours usually last half a day or a whole day and you have a tour guide and driver who will take you around and offers adventure at every turn. The tour guides are knowledgeable and experienced to ensure you have a fantastic time off-road in Sedona.
When you hear the name Sedona do you think red rocks or red wine? Well, you should think both! There are several small production vineyards and wineries around Sedona. I recommend going to Page Springs Cellars for their wine and food pairings. You can also take a tour of their vineyard or sign up for a massage by the creek. They also have yoga so this is a great place to spend the day.
Lastly, make sure you check out the Coffee Pot cafe for an amazing breakfast on the patio and one of these Airbnbs in Sedona with luxury pools for your stay.
Sedona Honeymoon Highlights
Take a romantic yet adventurous jeep tour through the red rocks
Go wine tasting at one of the romantic Sedona-area wineries
Have a luxurious massage at one of Sedona's wonderful spas
San Francisco, CA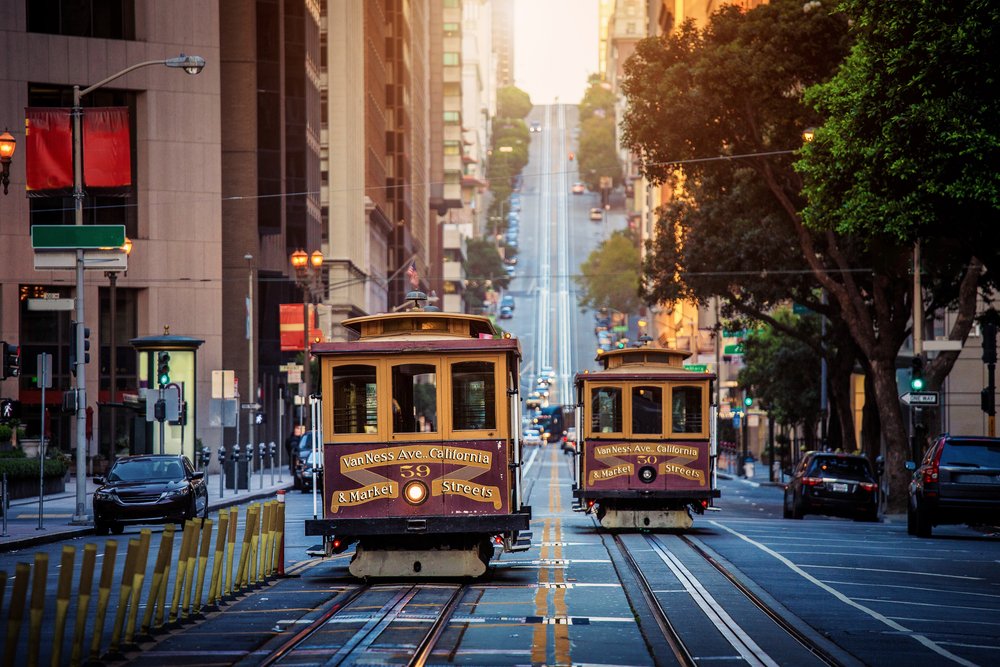 Contributed by Kay of PCH1 Road Trip
When it comes to honeymoon on the West Coast of the US, few destinations can match the allure and enchantment of San Francisco. The city has many romantic hotspots and attractions that are perfect for intimacy.
From its twisting steep streets to historic buildings, San Francisco is the perfect place to spend time with your significant other. The city's most iconic landmarks – the Golden Gate Bridge and the Palace of Fine Arts – are perfect places to begin your trip to this charming city by the bay.
San Francisco has a unique trendy vibe. Its neighborhoods including Chinatown, Haight Ashbury, Mission District, and Russian Hill are perfect for exploring. Take a hand in hand stroll through historic architecture, fascinating murals, boutiques, and eateries. Sip on hot chocolate at the Ghiradelli Square and take a cruise to Alcatraz Island.
Couples need not limit their honeymoon to the urban attractions of San Francisco. Rent a car and take the Pacific Coast Highway to attractions such as Muir Woods, Point Reyes, and Big Sur. If you love wine tasting and vineyards, visit Napa and Sonoma Counties.
San Francisco Honeymoon Highlights
Take a sunset sail under the Golden Gate Bridge
Fly a kite at Crissy Fields
See the city lit up at night from Twin Peaks
Sonoma, CA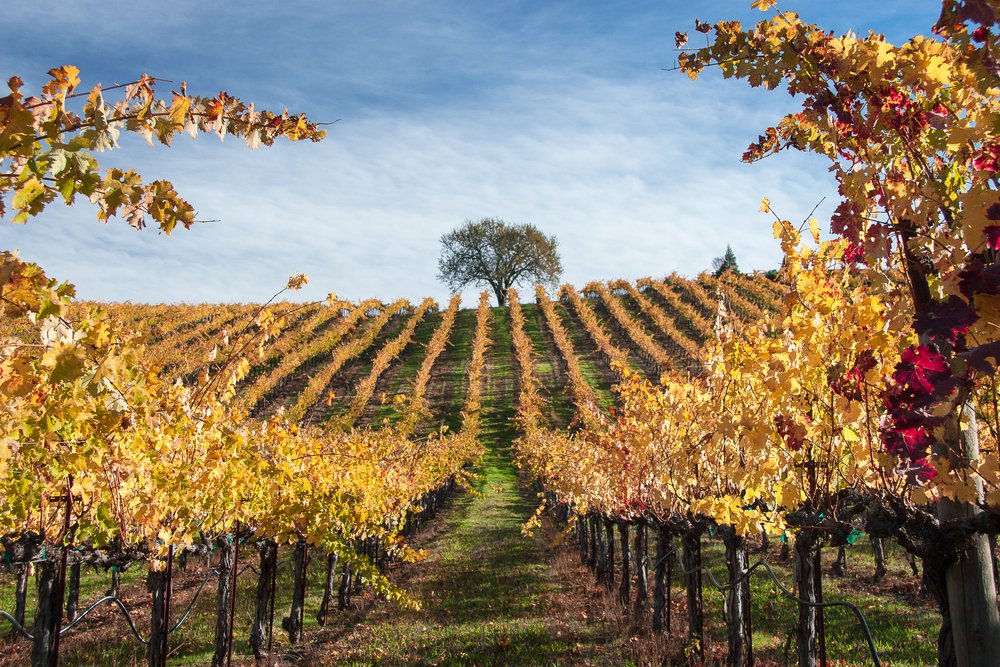 Contributed by Victoria Watts Kennedy of Bridges and Balloons
Sonoma is the laidback alternative to Napa, and a place to while away days feasting on farm-to-table dining, drinking the region's best wines and exploring its abundance of gorgeous nature. Romance comes easy in a place like this.
Sonoma County is home to many small towns and areas, but perhaps the most romantic of all is Healdsburg where you'll find a picture-perfect plaza, and a plethora of high-end restaurants and independent boutiques. It's also home to many tasting rooms from the region's best vineyards. This is an ideal place to base yourself for a Sonoma honeymoon.
Other areas to visit in Sonoma include the Russian River for lots of watersports and adventures in the redwoods; the arty town of Sebastapol; and the coastal area around Bodega Bay and North and South Salmon Creek. The drive from Occidental to the sea is one of the most beautiful in the county. And don't miss the scones at Wildflower Bakery – they alone are a reason to visit Sonoma!
There are many charming guesthouses in Sonoma, such as the friendly Camellia Inn in Healdsburg, or lots of beautiful Sonoma Airbnbs including cabins in the redwoods and rooms on private farms. You could also stay at one of the area's wineries, many of which offer honeymoon packages.
Honeymoon Highlights
Watch the sunset at Bodega Bay
Go full luxury with a room at one of Sonoma's fanciest inns, such as Madrona Manor.
Treat yourself to a romantic meal at one of Sonoma's best restaurants, such as Single Thread or Valette
Pin This USA Honeymoon Guide!
Allison Green is a former educator turned travel blogger. She holds a Masters in Teaching and a B.A. in English and Creative Writing. Her blog posts merge her educational background and her experience traveling to 70+ countries to encourage responsible, enriching travel. She has been a speaker at the World Travel Writers Conference and her writing, photography, and podcasting work has appeared in National Geographic, CNN Arabic, CBC Canada, and Forbes, amongst others. Now a full-time traveler, she has lived in Prague, Sofia, New York City, and the San Francisco Bay Area.