If you're like me (in which case, God help you) you'll do anything to leave home for the weekend and see a new place.
(As in, take a 2:45 AM flight back from Puerto Rico and roll up to work with sea salt still in your hair kind of anything)
So naturally, when I lived in New York, I was obsessed with ways to get away for a quick weekend trip, and guys? If you have 3 days, Montreal is one of the best possible cities you can visit, especially if you're on a budget.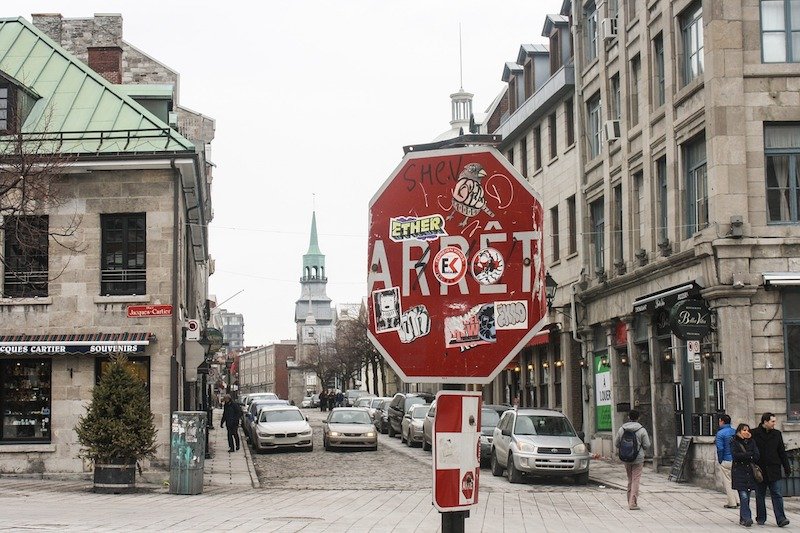 Note: This post contains affiliate links, which means I may receive a small commission if you purchase something through one of these links. Thank you for supporting the free content on this site! For more information on affiliate links and cookies, see my disclosure page for more details.
In fact, I loved my first Montreal weekend trip so much that I actually went back for another trip in the spring and saw even more.
Now I feel doubly prepared to give you the best possible advice for seeing the highlights on Montreal in 3 days.
I'll warn you now that I'm not really a "tick-all-the-boxes" traveler — I'm more interested in experiencing the culture of a city through its restaurants, coffee shops, bars, parks, and maybe a few museums rather than working my way down through the top 10 things to do in Montreal.
This is a leisurely guide to my favorite sights in one of my favorite cities, with a focus on sticking to a budget.
3 Days in Montreal Itinerary: Making the Most of a Quick Montreal Weekend Trip
Day 1: Vieux-Montreal, Downtown Montreal, and Chinatown
Walk around Vieux-Montreal.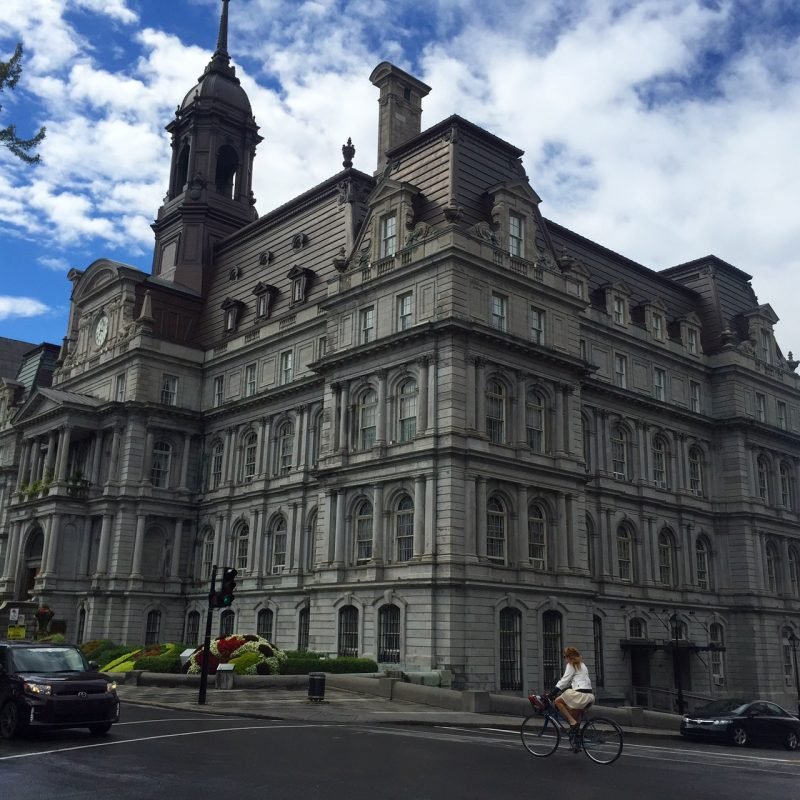 You'll want to dedicate a good portion of your first day in Montreal to explore Vieux-Montreal, the oldest and most photogenic neighborhood in Montreal and one of the top touristic spots in Canada.
This stunning architecture is on steroids: you'll feel transported out of North America and straight into Europe.
There are a few landmark buildings you can't miss, so take yourself on a walking tour of Old Montreal (either self-guided or take an affordable guided walking tour).
One of the sights you can't miss is Montreal's stunning Town Hall, pictured below.
You'll also want to walk down the charming street of St. Paul Street, with its cobblestoned streets and charming façades.
Check out Bonsecours Market.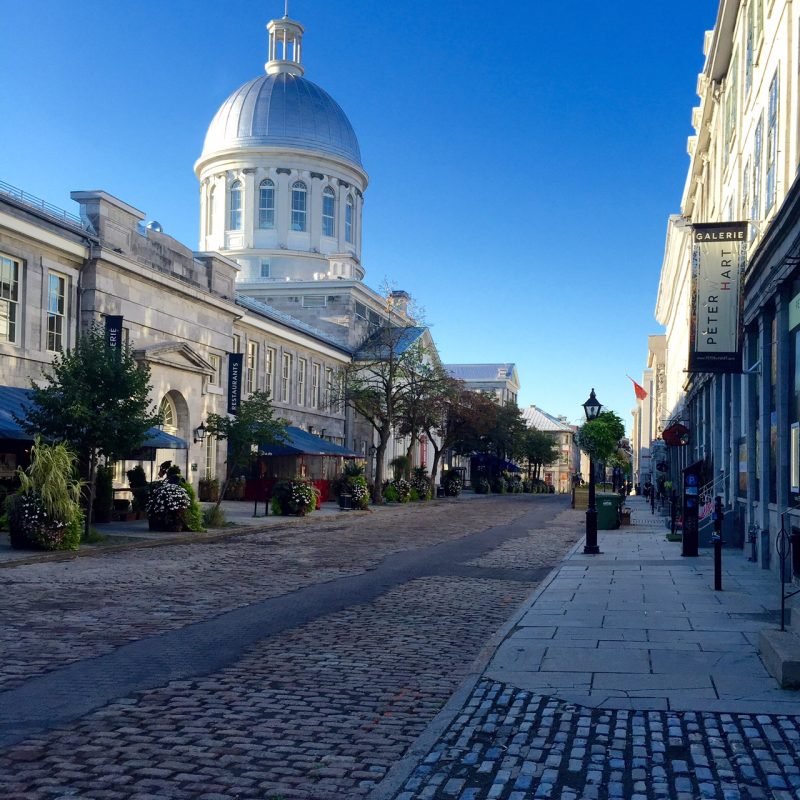 While walking down St. Paul Street, you won't be able to miss the stunning Bonsecours Market, which has been around since 1847 and looks straight out of Vienna or Paris.
While the market is a beautiful building, there isn't too much going on inside — just a few overpriced boutiques aimed at fat-walleted tourists, namely: probably not us.
Don't fret, though — Montreal is home to plenty of other markets with far more energy and life (and better on the wallet) that I'll show you later on in this Montreal itinerary.
Stop at Notre-Dame-de-Bonsecours Chapel.
Just north of Bonsecours Market, you can't miss Notre-Dame-de-Bonsecours Chapel.
No, this isn't the famous Notre-Dame — we're getting to that — but it is the oldest chapel in all of Montreal, founded back in 1678 but restored in 1771 after a fire nearly burned it to the foundation.
Despite not having the same "pull" as the larger, more famous Notre-Dame, it's absolutely worth a stop.
Plus, entry to the chapel is free (though donations, of course, are appreciated).
If you want to check out the Marguerite-Bourgeoys Museum co-located with the chapel, however, you will have to pay an entry fee.
Visit the Pointe-à-Callière Museum.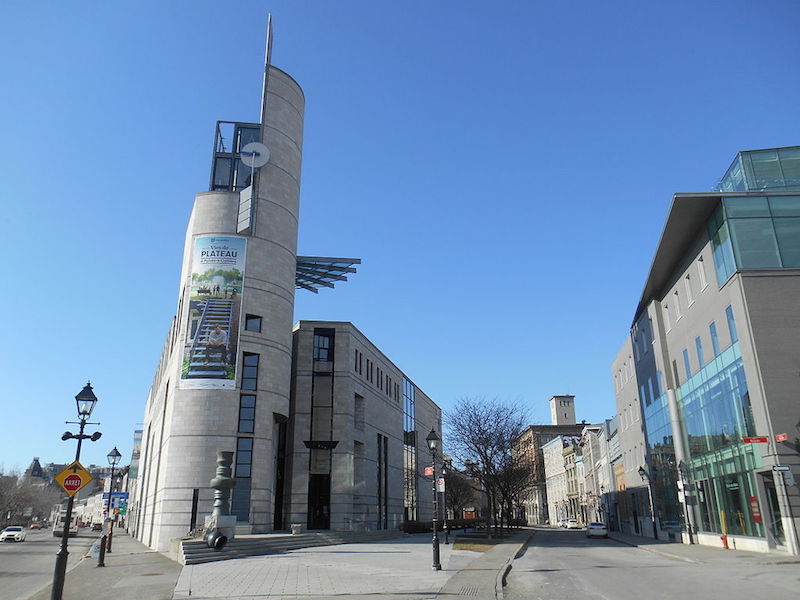 Before you leave Vieux-Montreal, there's one more point I think you can't miss: the Pointe-à-Callière archaeological site/museum.
Vieux-Montreal was officially "founded" by French settlers in 1642. Obviously, though, Montreal's history goes way, way beyond that, and Canada was inhabited far longer than there's been a European presence on the continent.
I think it's important to honor the history of our continent's first inhabitants, and so while I'm not much of a museum girl, I loved the Pointe-à-Callière.
This museum tells and preserves the history of Montreal's indigenous peoples to its European settlers to present-day stories and facts about Montreal.
It incorporates centuries-old archaeological ruins with found artifacts that shed light on indigenous/First Nations life before European settlement, to tell a more well-rounded story of Montreal's "founding."
Tickets are a bit pricey, but in my opinion, it's worth it to preserve this important history.
At the time of update (July 2022), young adult tickets (ages 18-30) cost $17 CAD and adult tickets (31+) cost $25 CAD.
Stop at the Place d'Armes.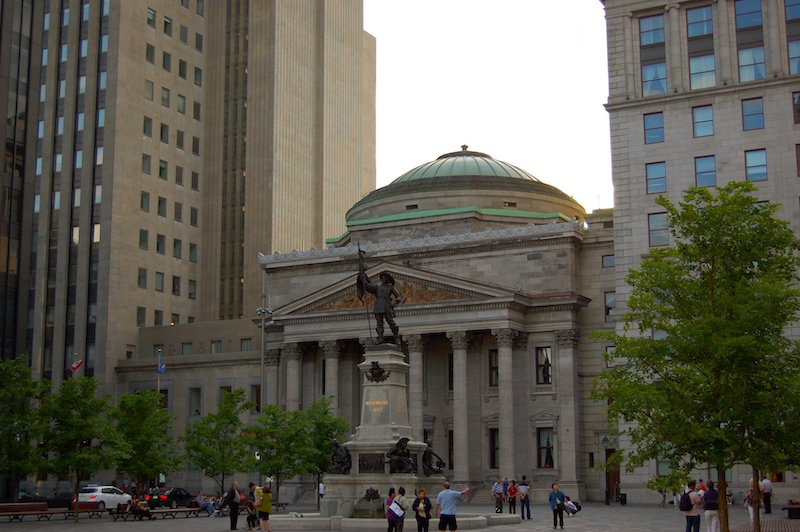 Just outside of Vieux-Montreal in Downtown Montreal, you'll want to visit the Place d'Armes.
This famous square is home to beautiful Montreal bank building on one side, and Montreal's real claim to fame — the Notre-Dame Basilica — on the other.
Check out the interior of the Notre-Dame Basilica.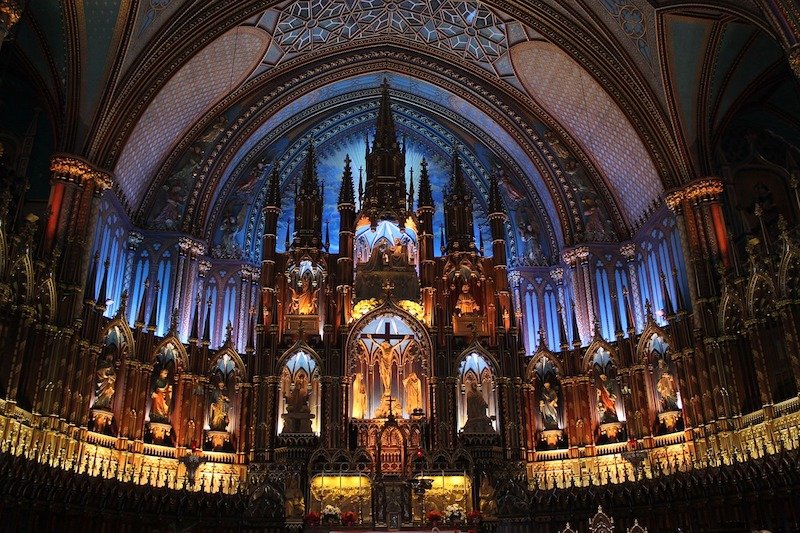 Yes, visiting the Notre-Dame Basilica is a little touristy, and it comes with a modest entry fee to offset the cost of keeping up the church ($6 CAD, cash only).
I mean, just look at that altarpiece. I'm not even religious, but I was gobsmacked.
Head to Chinatown for a delicious meal.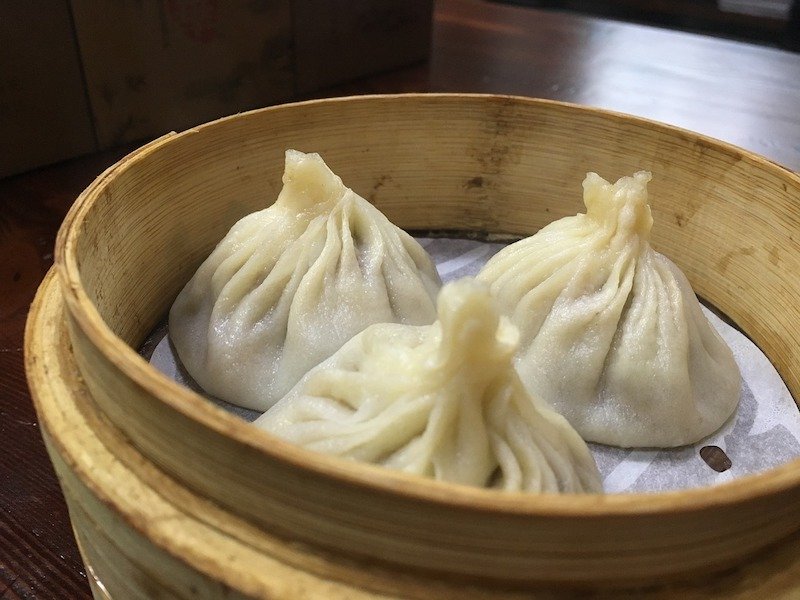 After visiting Vieux-Montreal thoroughly, you're probably quite hungry.
You're in luck — Montreal's small but robust Chinatown is located right by the Basilica.
And if you're visiting Montreal on a budget, this is where you'll find some of the best cheap eats in Montreal.
My favorites?
Pho Bac 97: Great pho and bun noodle bowls. Expect to pay about $10 CAD for an entree (which is $7.50 USD). Pho Bang New York is also pretty good; expect similar prices. Montreal native and Vietnamese food expert Jodi of Legal Nomads recommends Ca Phe Con Leche and Pho Tay Ho. You'd be a fool not to take her up on her suggestions. I, unfortunately, discovered them too late.
Qing Hua: If you want to feel like you never need to eat again and spend less than $8 CAD ($6 USD) doing so, make sure you check out Qing Hua. Their pork dumplings with mushrooms are LIFE. If you don't eat meat, there are also a ton of vegetarian options.
There are also several other worthy places to eat in Montreal, so check out this Montreal restaurant guide if you're a foodie!
Walk off your indulges.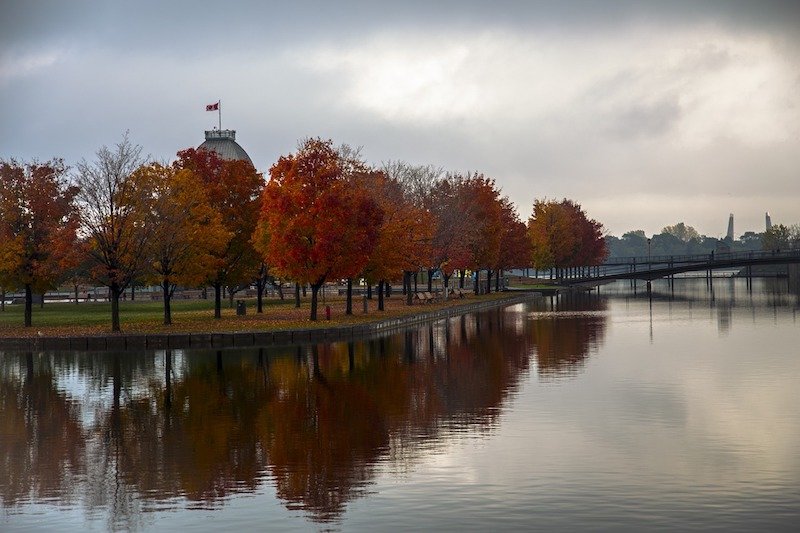 Once you've finished wandering around Chinatown, check out bustling Rue Ste. Catherine where you can shop 'til you drop.
Alternately, you can walk along the Port of Montreal, especially beautiful in the autumn when the trees turn red.
Day 2: Culture, Poutine, and the Latin Quarter
Start your day at one of Montreal's best museums.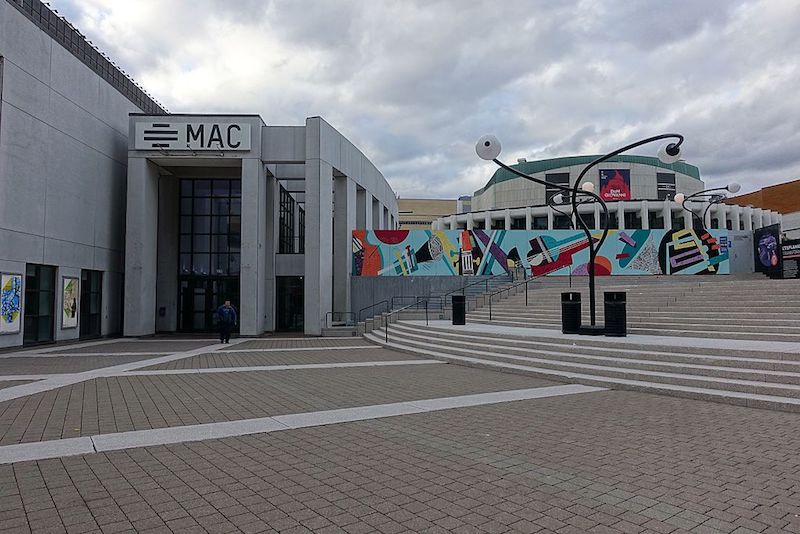 If you prefer modern art, I can highly recommend the MAC / Musée d'art contemporain de Montréal (Contemporary Art Museum of Montreal), which has an excellent rotation of exhibits and installations that are always highly creative and often interactive.
I'm not a huge contemporary art fan in general, but this is one of the best contemporary art museums I've ever been to. It costs $10 CAD for adults.
Alternately, you can easily visit the Musée des Beaux-Arts (closed on Mondays). I highly recommend it if you're a fan of Impressionist paintings, but the cost is a bit expensive if you're visiting Montreal on a budget, so keep that in mind.
You could go to the Biodome, but I personally don't condone it. I didn't feel like the penguin enclosure is ethical in any way, shape, or form.
The penguins had very little room to play and spread out and realizing that I had paid to contribute to that made me feel a bit sick with myself as someone who doesn't support most zoos.
Grab some traditional poutine.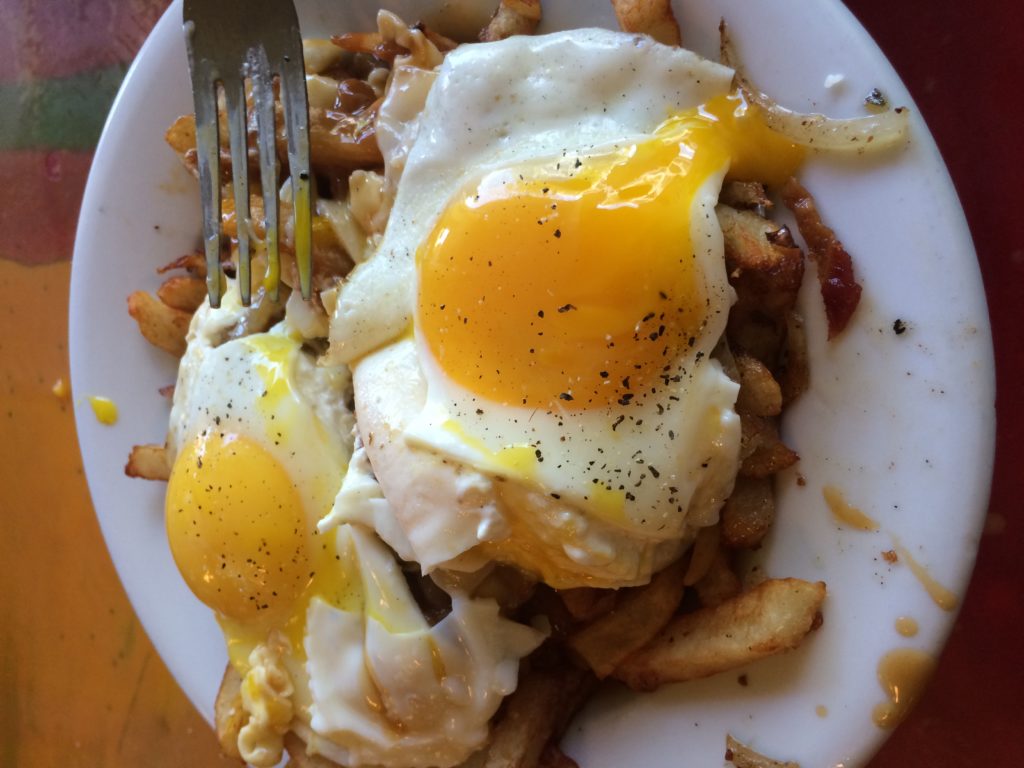 After you've gotten your culture fix, then duh — it's time to eat again!
If you thought I'd let you leave Montreal without eating poutine, you clearly don't know what kind of person I am.
You simply can't miss poutine, Canada's national dish: French fries covered in gravy and cheese curds, which is approximately 10 times more delicious than it sounds.
The standard recommendation is La Banquise and with only 3 days in Montreal, I wasn't going to mess around with subpar poutine.
There are a ton of variations on the classic — and while poutine purists may kill me for saying it, a fried egg on top of anything is never a bad idea.
If you don't want to venture as far as La Banquise, you could just go to Frite Alors! in the Latin Quarter. It also has delicious poutine and it's a little more centrally located.
But La Banquise is a classic for a reason, in my opinion, so I think it's worth it to go.
Plus, after eating at La Banquise you're basically already in one of Montreal's lovely green spaces, Parc la Fontaine, where you can rent boats on a small lake or just sit and people watch.
I also really loved cycling around the neighborhood here, with its cute alleyways and houses.
I used the network of Bixi bikes during my stay in Montreal, which is extremely convenient and affordable, and definitely my favorite way of getting around the city (weather permitting).
Visit Marché de Jean-Talon.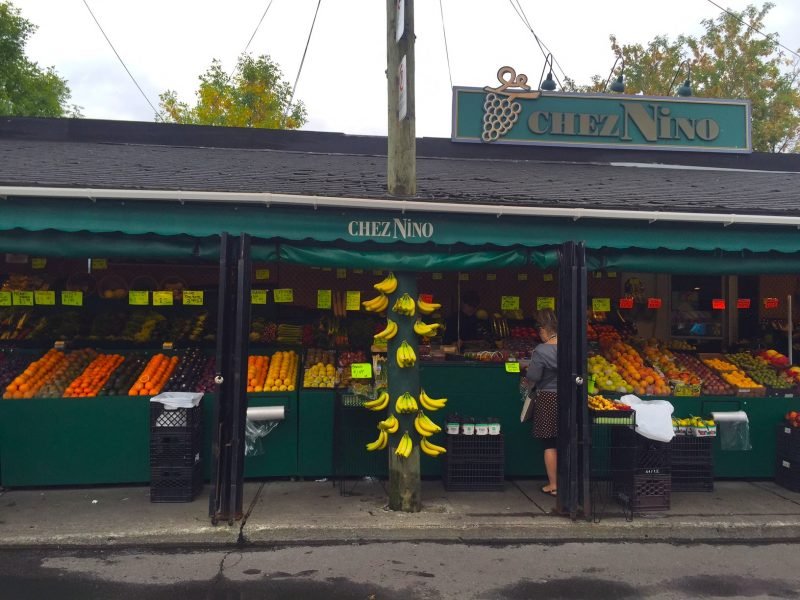 Next, head over to the Marché de Jean-Talon, which is just by Little Italy (also worth walking around if you have the time!).
This place makes basic produce look amazing and is so fun and delightfully French-feeling to walk through.
The best reason to visit? The impeccable array of cheeses.
Much to the delight of my fellow bus riders, I brought some Quebecoise bleu cheese home with me to enjoy for lunch at work the next day.
Suck it, customs, I will not declare my deliciously unpasteurized cheese. Can I live?
Grab a delicious dinner in the Latin Quarter.
In the evening, check out the bars and restaurants of the Latin Quarter.
The Latin Quarter is the heart of student life, so there's plenty of budget friendly food options (the banh mi at Vua is quite good!) and places for a nice drink in the evening.
There's also often live music in the squares, so keep an eye out for that!
If you're vegan, check this guide to how to eat vegan in Montreal.
Day 3: Explore the area around Park Mont-Royal and Le Plateau
Start your day at the beautiful St. Joseph's Oratory.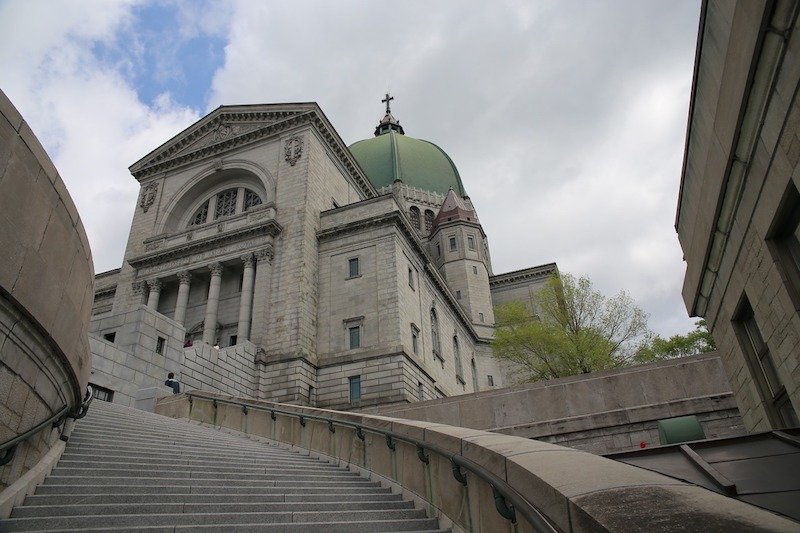 This beautiful building is located near the south end of the Park du Mont-Royal, located a short walk from the Côte-des-Neiges metro.
If you want, you're close to Montreal's largest cemetery, which you can visit if you're a fan of cemeteries.
I'm a weirdo and enjoy visiting cemeteries when I travel (I find them quite peaceful and a lovely place to walk).
Wander through the Cimetière Notre-Dame-des-Neiges.
The Cimetière Notre-Dame-des-Neiges is actually the largest in all of Canada and the third largest in all of North America.
Obviously, it goes without saying that if you visit, do so respectfully (don't photograph people, no loud conversations, and generally respect the somber tone — over 1 million people are buried here).
Wander the Parc du Mont-Royal and hike to its peak.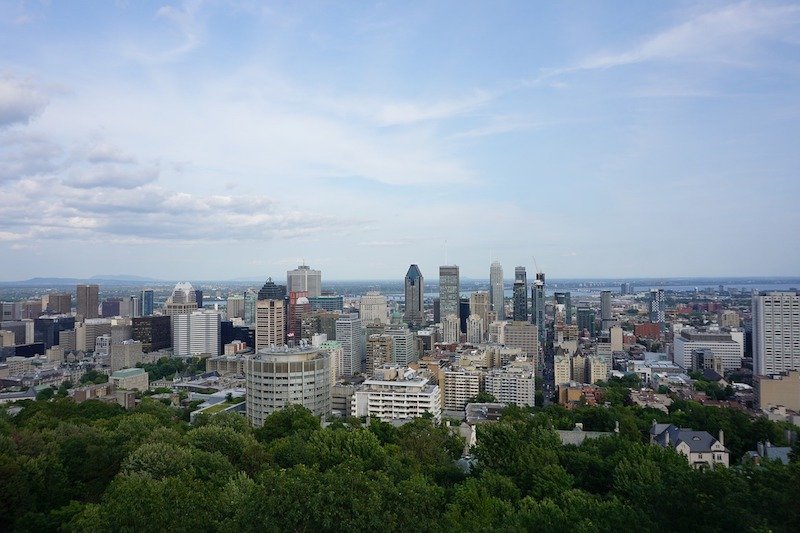 After you've seen the Oratory and/or the cemetery, it's time to explore the largest park in Montreal – Parc du Mont-Royal.
Hike to hike off yesterday's poutine! Mont-Royal is the highest point in Montreal and is the city's namesake.
But don't worry just yet. At only 764 feet, this "mount" isn't much of a feat — it takes about 30-45 minutes to climb up the stairs to the top viewpoint.
The best vista is called the Kondiaronk Belvedere, located by the chalet.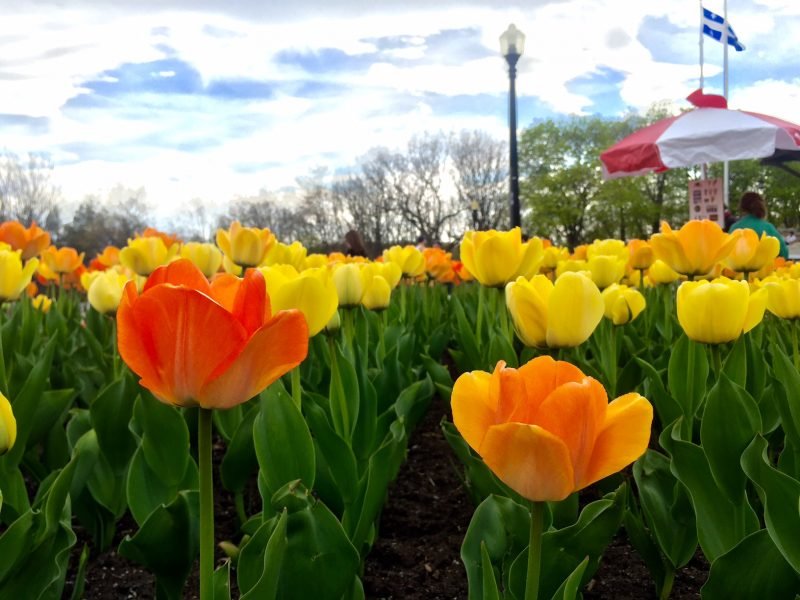 I've been up Mont-Royal twice: both in the fall and the spring. It's a tradition for me every time I visit the city.
Both are lovely, but the area around the chalet is especially charming in the spring, when the tulips are in full bloom.
But the views are spectacular any time of year!
Wander around the Plateau Mont-Royal neighborhood.
After exploring the Park du Mont-Royal, you can walk, bike, or take the metro to Plateau Mont-Royal.
This area is home to some amazing street art as well as some of the best bars and eateries in Montreal.
Grab a meal at Schwartz's Deli.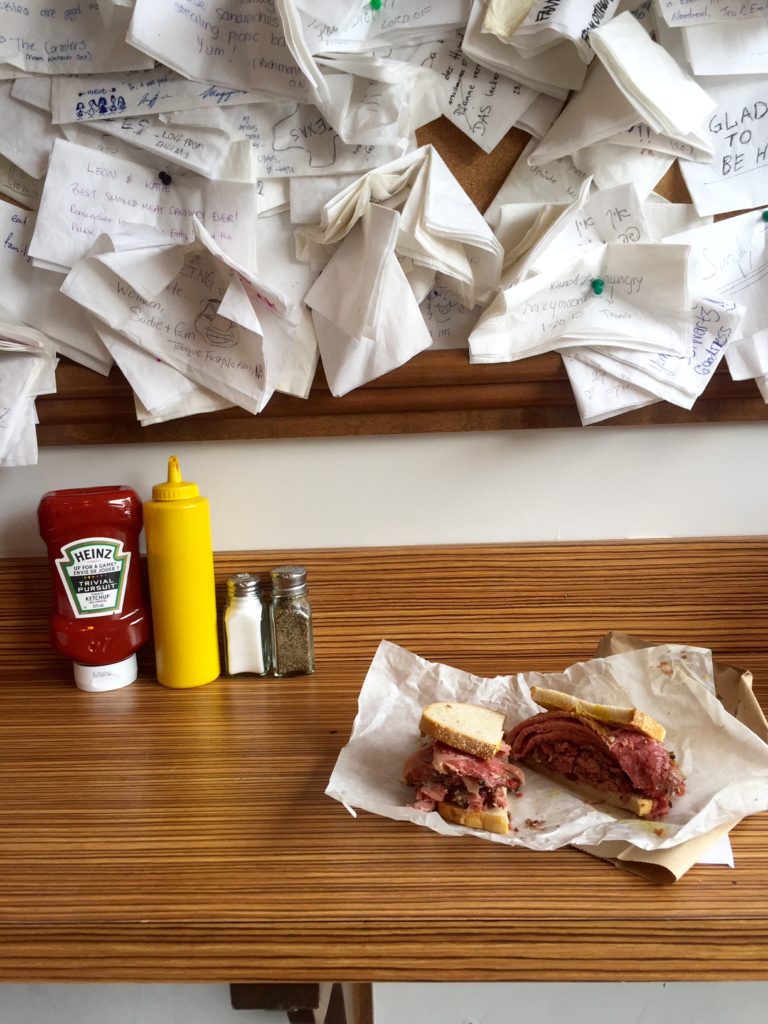 One of the number one things you can't miss in Montreal – even if you just have a few days – is eating a smoked meat sandwich at Schwartz's Deli. Absolutely delicious, and very affordable!
Feel free to leave a napkin — everyone else does — after you stop here for lunch.
Look for Montreal's best street art.
Just a little further from Plateau, there's a smaller sub-neighborhood called Mile End, which is the hipster hub of Montreal. This is one of the best spots for finding street art in all of Montreal.
I can't really recommend specific murals as I last visited Montreal in spring of 2016, and street art is subject to so much change. Instead, I'll direct you to this recently updated article about the best street art in Montreal.
Walk up an appetite — there's more food on the way — with a walk through Mile End. If you want something more structured, consider doing a bike tour through these hidden gem neighborhoods – there are daily tours at 10 AM and 2 PM, seasonally.
Grab a bagel at Saint-Viateur.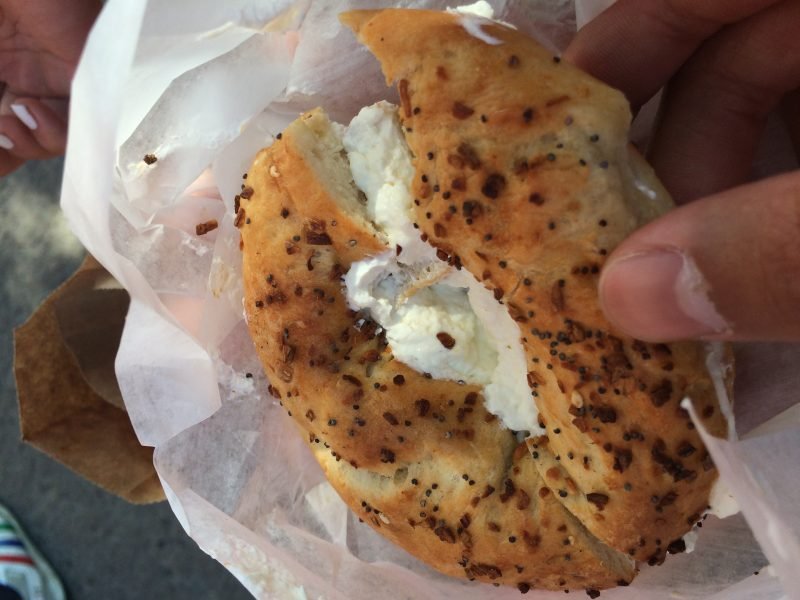 What I do know, though, is that this is where you can find the most famous bagel in Montreal at Saint-Viateur.
Sweet and denser than New York bagels, they're equally delicious — just totally different. Just be sure you get it with cream cheese — this ex-New Yorker insists on it.
Wander through more of Plateau Mont-Royal and have dinner there.
Head back to the more central part of Plateau Mont-Royal before dark so you can see the best of the architecture, as this is one of the most photogenic residential neighborhoods in all of Montreal.
I mean, where else besides Montreal can you find gems like this just waiting to be photographed?
Once the sun has gone down and you've worked up an appetite again (yes, I'm aware this guide is basically all about food), here are a few great spots to eat and drink in Plateau Mont-Royal:
Byblos for delicious Middle Eastern food
Atma for great Indian
Pub Le Sainte-Élisabeth has great surroundings and delicious cocktails
Rouge Gorge for wine lovers
Where to Stay in Montreal
The biggest chunk of your Montreal budget will likely be spent on accommodations. I've stayed in both budget hostels and budget hotels in the city and found that both offered excellent value.
Here, I'll let you know what I think the best options are for each budget. I roughly define the budget categories as follows: budget is under $25 per night, mid-range is $50-150 per night, and luxury is $150+ per night
Budget: I stayed at the Auberge Saint Paul when I first went to Montreal. Pluses include: super clean, great facilities, right in the middle of adorable Vieux-Montreal, and walking distance to cool neighborhoods like the Plateau. It was a bit noisy at night, but many hostels are, unfortunately.
But the hostel scene has improved greatly in the years since I've visited Montreal, and if I were to go back as a solo traveler, hands down I would pick the M Montreal Hostel, located between the Latin Quarter and Vieux-Montreal.
It's insanely decked out, with great shared amenities like a pool table, a cozy in-house bar with log-cabin-like aesthetics, and a literal ROOF DECK WITH A JACUZZI. The dorms are no less well-appointed, with shelves, privacy curtains, and personal outlets — basically, the dream hostel trifecta.
Check rates, reviews, and availability here as it sells out often.
Mid-Range: There are plenty of affordable middle-of-the-road options in Montreal, but they usually aren't that jazzy or exciting. The Hotel de Paris Montreal is an exception, in the trendy Plateau Mont-Royal neighborhood in a traditional old building.
The rooms are very spacious and comfortable, letting in lots of light and white airy details. The rooms are modern and clean (which is not that common in the mid-range price area – the hotel I stayed in before, Hotel Quartier Latin, smelled like smoke and was above a loud strip club).
Luxury: Now, if you have money to spend, Montreal will definitely meet you halfway.
There are plenty of traditionally luxurious 5-star hotels like the Ritz, Sofitel, etc. but if you want something with a bit more character, try Hotel Le St. James Montreal to feel like true royalty.
Tips for this 3 Days in Montreal itineray on a Budget
1. If possible, opt for an overnight bus over the plane or train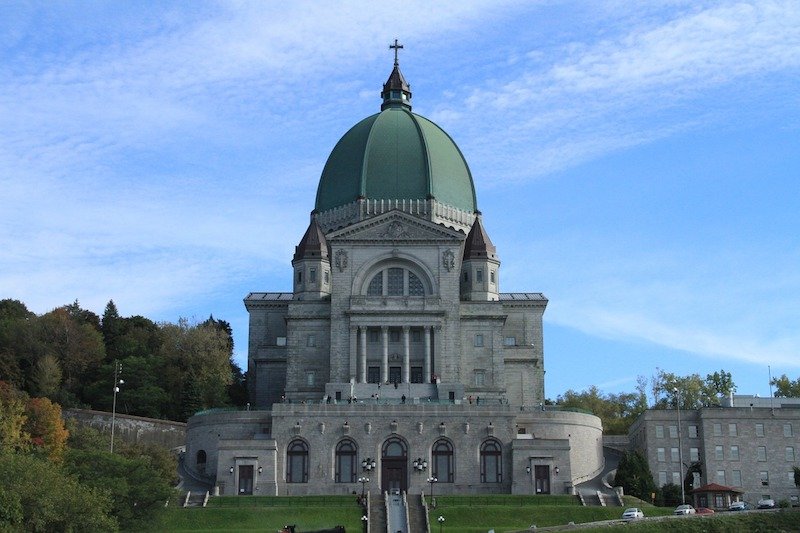 This is assuming you're coming from somewhere on the East Coast of the U.S. (or nearby in Canada).
Planes are quick but pricy; trains are slow, run during the day, and are also pricy. So what are you to do? Try an overnight bus!
I'll be the first to admit it – Greyhound is awful. It's often late, the drivers leave just about everything to be desired, and they once somehow managed to lose my suitcase from underneath the bus (and took over a month to find it).
But if you're obsessed with travel like I am, you'll make it work. If you're coming from New York, you can leave Friday evening around midnight to arrive in time for a full Saturday.
You can leave late Monday at night, just in time to get home for a quick refreshing shower before heading off to work with envy-inducing stories from your 3 day weekend trip to Montreal.
Sounds terrible? Well, yes, it is – but isn't breaking the monotony and crossing a new city off your bucket list worth the neck cramp from trying not to snooze on your neighbor's shoulder? Bonus – it also saves you on two nights' worth of accommodation costs.
One caveat: because America is seriously lacking when it comes to buses, you don't just get to sleep the entire time you're on the bus. Usually, they force you to get off for about 15 or 20 minutes in Albany, at around 3 AM, for a dubious "cleaning stop". You'll also have to get off the bus to go through passport control, but that's pretty standard, and the border is only an hour from Montreal, so this stop is less maddening.
2. Stay in a hostel or budget hotel
There are plenty of cheap places to stay in Montreal. I've included my recommendations above in the section on where to stay in Montreal. If you're truly keeping it to a budget, you'll want to pick a hostel.
However, keep in mind these will probably be loud and likely full of under-21 Americans celebrating their ability to drink legally for a change. Just bring good earplugs – I love my Hearos – and carry a jumbo bag full of them with me everywhere.
3. Use Bixi bike or the metro to get around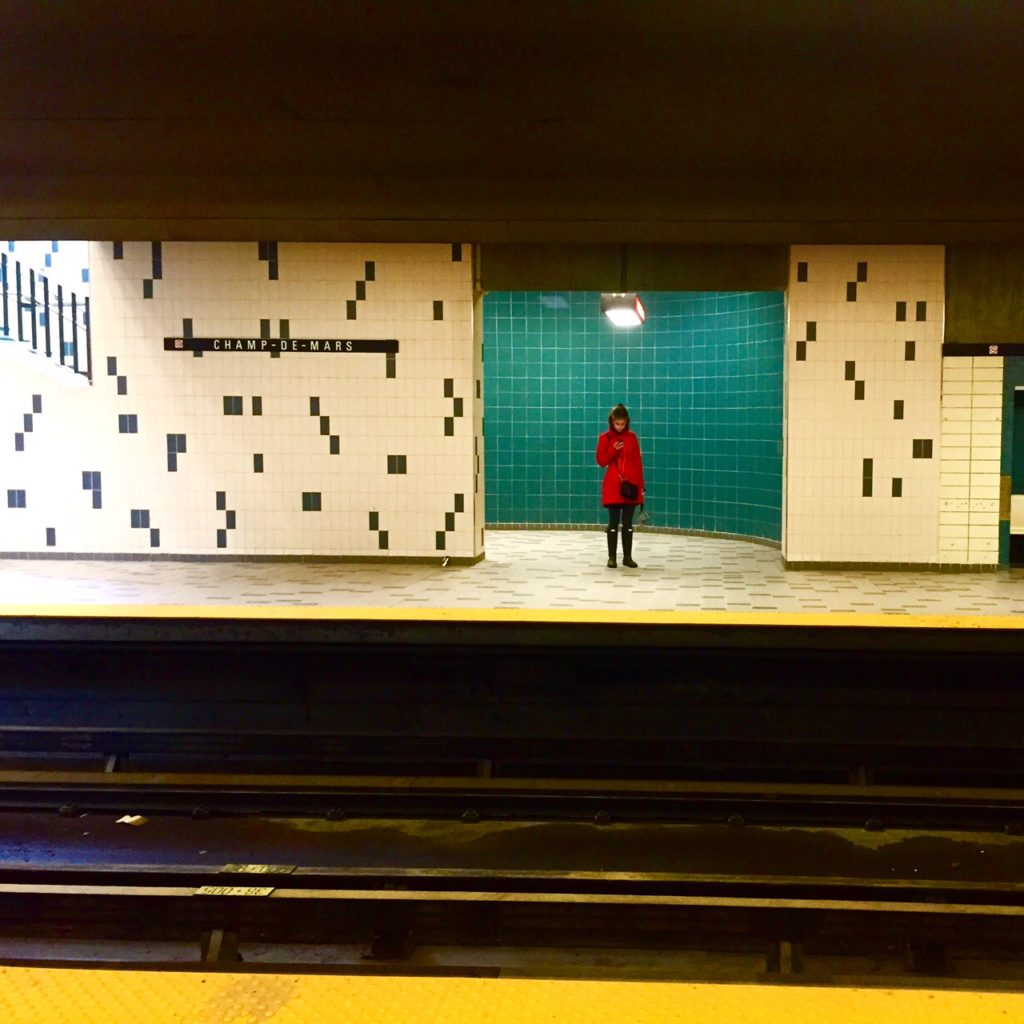 Bixi is one of the original bike share programs, and it's hard for me to think of a city that's done it better. For $14 CAD, you can take unlimited rides within a 72-hour period, or for $5 CAD within a 24-hour period.
The metro is also $3 CAD per ride if you buy two tickets at a time. It goes up to $3.25 CAD if you buy tickets individually, about on par with most city subways.
But unlike most city subways, Montreal's subway is like, really classy, and with 95% fewer rodents, garbage, and general f*ckery.
Why you so fancy, Montreal? You're making the rest of us look bad.
Keep in mind that Montreal is also super walkable, so you may not even need that Bixi or subway pass if you love walking your way through cities.
I can't testify to taxi prices as I never took a taxi during my time in Montreal.
4. There are plenty of ways to eat cheaply in Montreal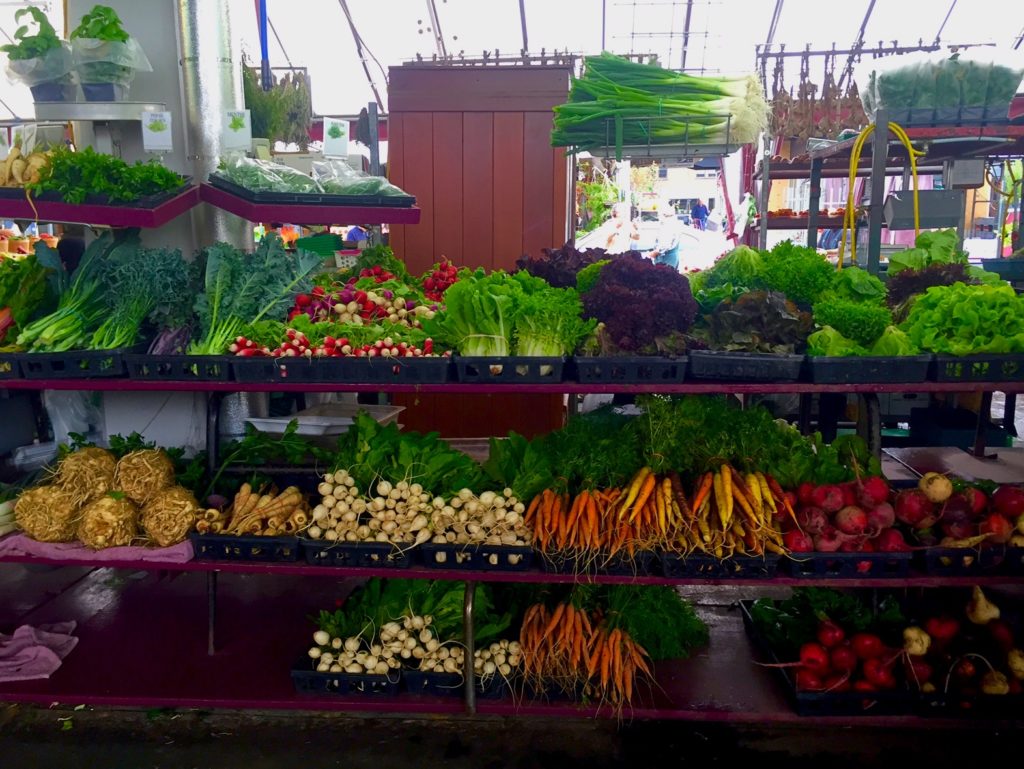 Holy crap, Montreal knows how to eat. I've recommended a lot of budget friendly places above, but in case that isn't enough, this definitive list of the best cheap eats in Montreal can't lead you astray.
The markets are also a great place to buy things like fresh bread, charcuterie, and cheese if you want to make a picnic to take to one of Montreal's many parks.
And always take advantage of a free breakfast if it's an option!
My Montreal Budget Breakdown
So, how much will this all set you back? Here's a low-end estimate for your typical traveler on a budget.
If you eat at pricier places or stay in a fancier hotel, your cost will naturally go up.
Here is a sample cost of a super-budget itinerary for 3 days in Montreal, as a getaway from NYC, priced in USD:
Hostel at Auberge Saint-Paul: $18/night * 2 nights (since you come in on an overnight bus) = $36
Transport to and from Montreal: $100 and up on a Greyhound bus
Food: $15/day * 3 days = $45 (free breakfast, food from markets and various cheap eats around the city)
Transit Within City: $11 for a 3-day Bixi pass
Admission Costs: up to you, there's a ton of free things to do in Montreal, but I did personally opt for some museums. I've excluded them from my base calculation since I'm not sure what you'd choose, but add roughly $10-15 USD per museum you want to see.
Total: $192 USD and up, including transportation to and from NYC. A small price to pay to get away from Garbage Island (as I pseudo-affectionately call New York City) for a glorious weekend in North America's version of Paris.
Want more Quebec? Check out the even budget-friendlier Quebec City!
Tell me: have you visited Montreal before? Are you obsessed with it as I am?
Allison Green is a former educator turned travel blogger. She holds a Masters in Teaching and a B.A. in English and Creative Writing. Her blog posts merge her educational background and her experience traveling to 60+ countries to encourage thoughtful travel experiences that both educate and entertain. She has been a speaker at the World Travel Writers Conference and her writing, photography, and podcasting work has appeared in National Geographic, CNN Arabic, CBC Canada, and Forbes, amongst others. Now based in the San Francisco Bay Area where she grew up, she has also lived in Prague, Sofia, and New York City.