Rome is constantly buzzing with life, from the early hours of the morning when locals head to the bars for their first coffee, until late at night when Rome's nightlife hotspots get filled with foreigners and locals alike.
However, the constant crowds flowing to the tourist spots during the day tend to shrink in the evening.
If you're a night owl, late evenings are great for checking out a different side of Rome, one that allows you to actually enjoy the sights.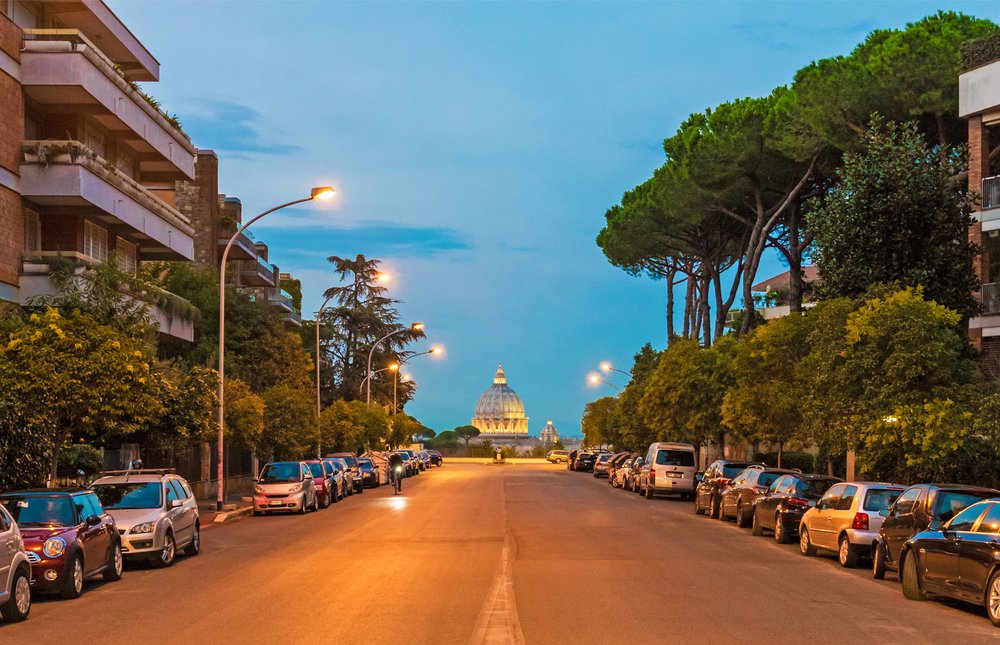 Note: This post contains affiliate links, which means I may receive a small commission if you purchase something through one of these links. Thank you for supporting the free content on this site! For more information on affiliate links and cookies, see my disclosure page for more details.
From going out for dinner to joining evening tours at popular landmarks or having a cocktail in a trendy bar, there's plenty to do in Rome in the evening after you've completed the day's activities on your Rome itinerary.
Check out these activities for a taste of what Rome at night has to offer and all the great things you can do in the Eternal City when the sun goes down!
The Best Things to Do in Rome at Night
Explore the Colosseum under the moonlight.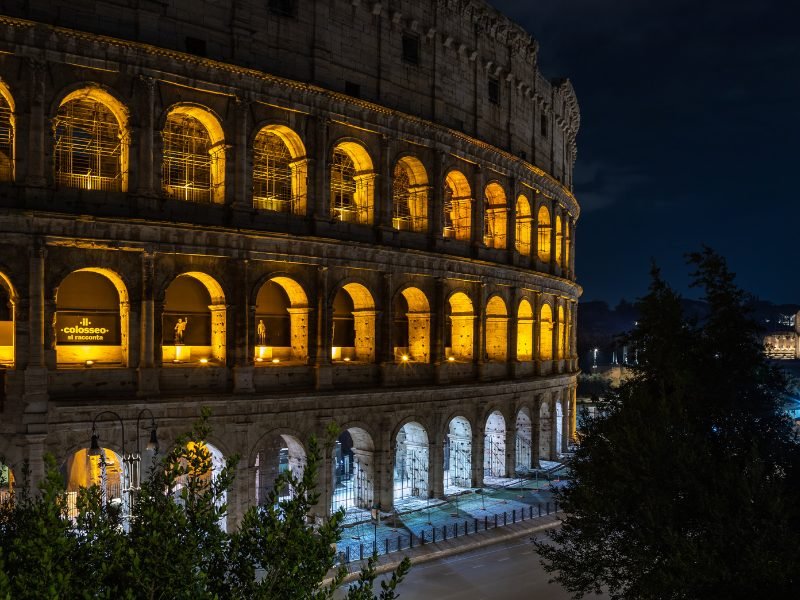 An alternative way to visit the Colosseum is to join a night tour and see Rome's most famous landmark under the moonlight!
This night tour of the amphitheater with a visit to the underground dungeons and arena floor will let you discover the Colosseum without the usual crowds.
The underground area of the Colosseum consists of a network of tunnels with cages for animals and gladiator rooms.
This area was only recently open to the public for sightseeing, and there are limited slots for visiting it.
During the day, it's can be hard to see amongst the swarms of tourists, but not so at night! It's a lesser-known secret of Rome.
By taking a Colosseum night tour, you'll have a complete experience of the ancient Roman Colosseum in a unique, quiet way.
Your guide will tell you stories about the amphitheater as you make your way through the different areas, illuminating ancient Rome's rich history under the light of the moon.
Eat your way through Rome at night.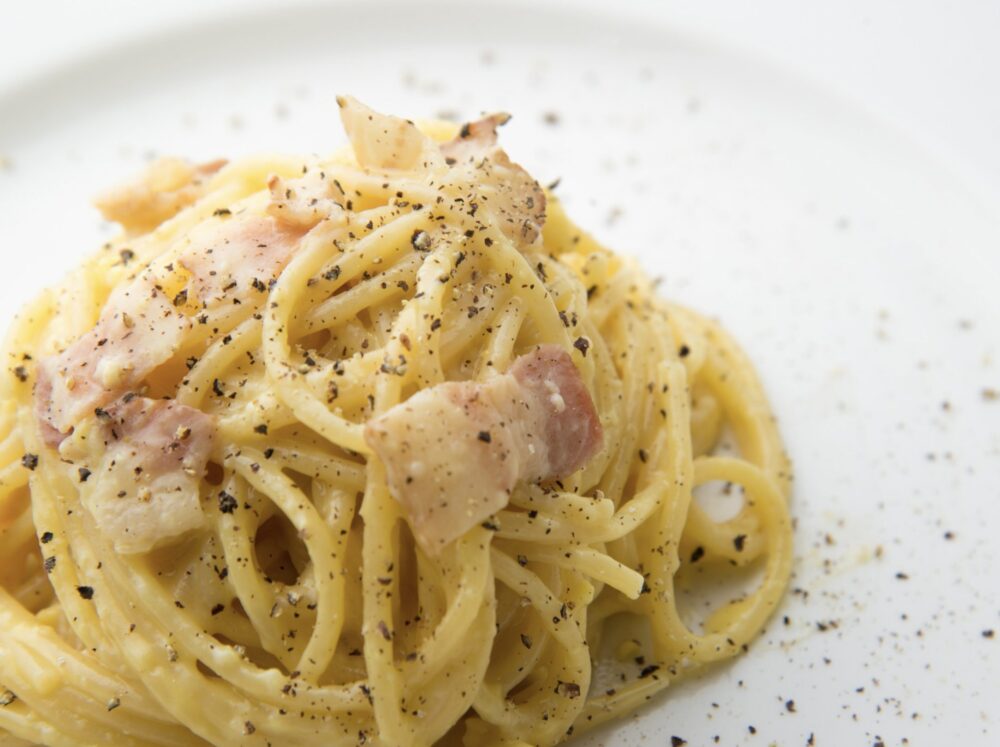 A must for every foodie tourist visiting Rome is to try delicious traditional Roman and Italian food, but finding the best places and knowing which dishes to try can be a bit of a challenge.
With thousands of restaurants to pick from – nearly 14,000 according to a 2017 survey – you'll likely be overwhelmed by choices.
To make matters easier, why not join an evening Rome food tour that will take you to all the right places?
While it's hard to have a bad meal in Italy, a food tour will help you find the truly exceptional places.
This 4-hour food tour by night includes 20 food tastings at some of the best places in Rome, complete with facts and histories about the typical products and dishes of the region.
Start with a taste of Italian cured meats and cheese accompanied by a glass of white wine at La Nicchia Cafè, then indulge in delicious pizza at Pizzarium.
Continue by sampling prosciutto, truffles, and fine wine at Paciotti Salumeria, and, of course, eat handmade Roman pasta at a traditional restaurant.
You'll finish off the evening on a sweet note, with a taste of homemade tiramisu!
Watch a movie at the open-air cinema on Tiber Island.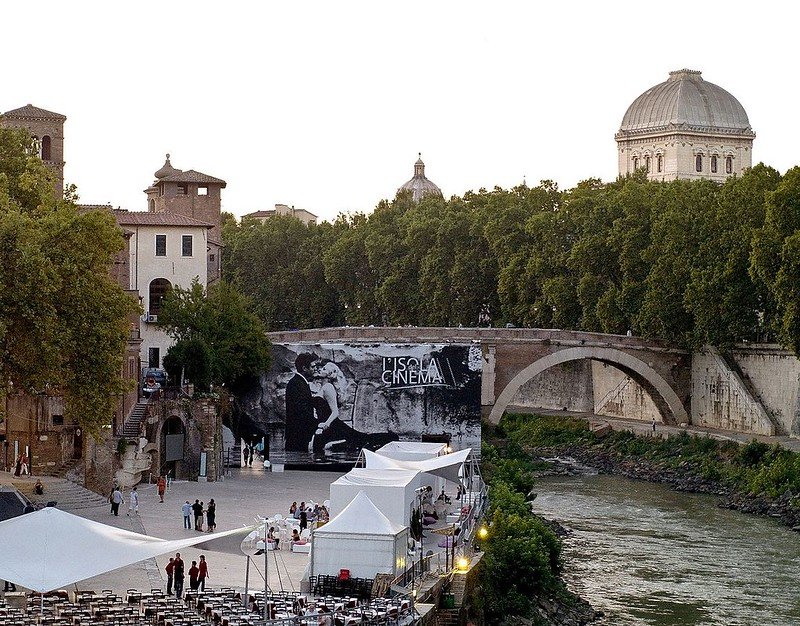 L'Isola Del Cinema is an annual film festival taking place on Tiber Island in Rome and lasts for about two months.
Every evening, you can watch a movie at an open-air cinema in one of the most scenic locations in Rome — one of the best free things to do in Rome!
The film festival celebrated its 28th anniversary in 2022, and it continues to be one of the most awaited summer events.
Between June and early September, the festival features a rich program of film screenings, from classical movies to newly released ones.
Sometimes the director is present at the screening, and on some occasions, you may even meet some of the actors!
Aside from watching movies, you can also listen to movie-related talks or interviews and check out book presentations. Do keep in mind that most events are in Italian, though!
See a quieter side of the Vatican with an after-hours tour.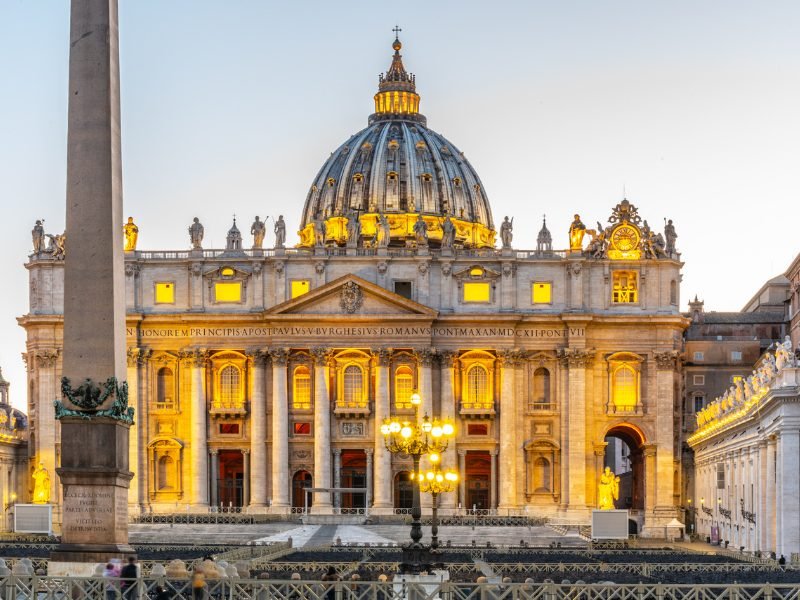 Visiting the Vatican can be tricky (so much so that we wrote an entire guide on it).
If you don't prepare your visit in advance by booking online tickets, you risk missing out on the extremely popular museums and even worse, the beautiful Sistine Chapel!
But there's another way you can explore all the attractions of Vatican City, and it's much quieter and more relaxed.
Join this evening tour of the Vatican Museums for a peaceful visit with a professional guide.
On this tour, you can explore all the museum areas, including the Gallery of the Maps, the Raphael Rooms, the Galleries of the Candelabra, the Hall of the Muses, and the stunning Sistine Chapel with its masterpiece frescoes painted by Michelangelo… all without the crowds!
Remember that the usual rules for visiting the Vatican still apply when going on a guided tour. You should dress appropriately and avoid bringing a big backpack or a suitcase.
Book your night tour of the Vatican and Sistine Chapel here!
Check out the Lungo il Tevere… Roma Expo on a summer night in Rome.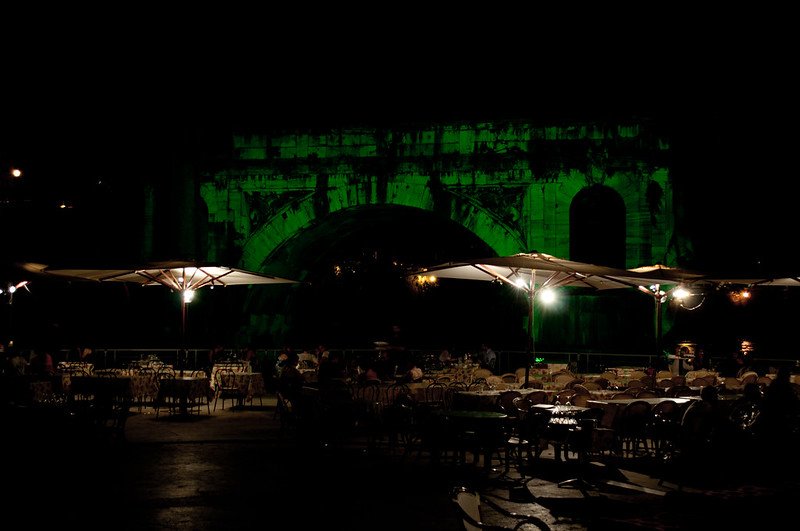 Spending an evening at the Lungo il Tevere… Roma Expo is a must if you visit Rome between June and August.
Every summer, the lower left bank of the Tiber River gets populated with small restaurants, bars, little artisan shops, book stands, and much more.
The summer event draws lots of visitors, both locals and foreigners. Every evening there is something new to check out, from live music to movie screenings!
Have dinner by the river, grab a glass of wine while listening to live music, or simply stroll along the river and check out the artisan stands.
On weekends, the place can get quite crowded so if you prefer a more relaxed atmosphere visit during the week. Either way, make sure not to miss it if you're in Rome in the summer.
Have a drink at the "secret" bar Club Derrière.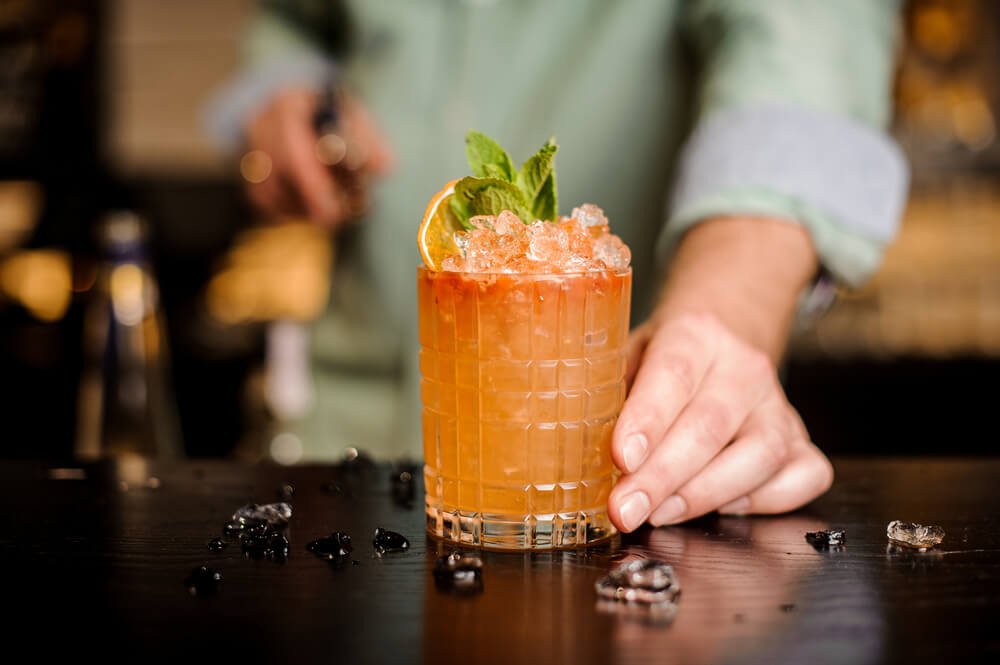 A great alternative to your usual bar for a glass of wine or a nice cocktail, Club Derrière is one of the best speakeasy-style bars in Rome.
The not-so-secret bar has a nice, stylish ambiance and a great mix of locals and foreigners enjoying the nightlife scene.
To reach Club Derrière, you have two choices. You can either enter from the street in Vicolo delle Coppelle or go inside Osteria delle Coppelle and access the bar from an old wardrobe.
You'll find yourself in a relatively small space with dim lights, a mix of vintage and industrial décor, and a nice variety of music.
Despite not being technically a speakeasy, it's a great alternative to more conventional bars.
Local tip: If you're looking for the bathroom, you'll find it hidden behind a bookshelf!
Wander around the historical center undisturbed by the crowds.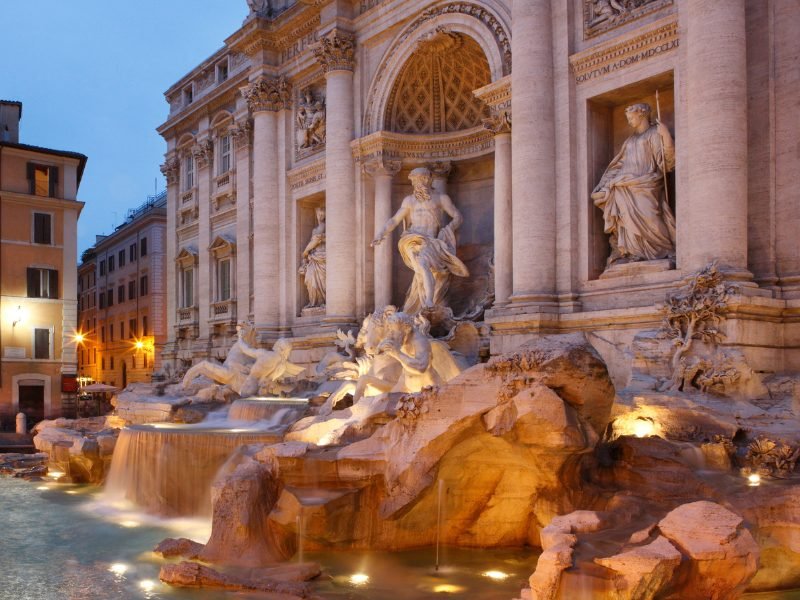 Unless you're visiting Rome in winter, you are guaranteed to find crowds everywhere during the day.
Popular landmarks in the heart of Rome like the Trevi Fountain, the Pantheon, the Spanish Steps (aka Piazza di Spagna), and Piazza Navona can get extremely busy early in the morning and throughout the day.
One way of enjoying the historical city center with much fewer crowds, if not completely empty, is to go on a late evening walk around Rome's historical center.
Start either from Piazza Venezia or Piazza del Popolo and make your way through the narrow alleys on both sides of Via del Corso.
The later you go to these places, the fewer people you'll find. You may even have the Trevi Fountain all to yourself, something quite unusual in Rome'.
Just wander around and enjoy the quiet and beauty of Rome by night!
You can self guide your own walking tour or go on this guided evening walking tour if you prefer a little expert guidance!
Eat traditional Roman food in Trastevere.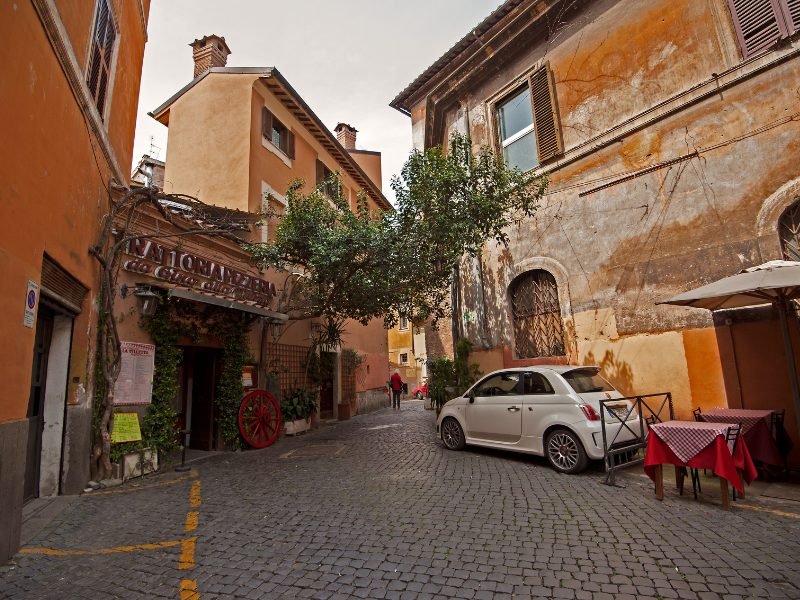 There are a ton of wonderful restaurants in Trastevere to choose from — plus, it's also one of the most charming neighborhoods in Rome!
One of the most popular restaurants in Rome is Tonnarello, in the heart of the lively neighborhood of Trastevere.
With over 35,000 reviews, the restaurant is renowned for its traditional Roman pasta dishes such as Carbonara, Amatriciana, and Cacio e Pepe.
The restaurant has been around since 1876, so you could say they know what they are doing!
Being so popular, you can expect to find a line if you go at the busiest time for either lunch or dinner. You can try to book a table online, but be aware that they go fast.
To have a better chance of finding a table, go there early. The ideal time for fewer crowds at dinner is around 7:30 PM.
Have a cocktail with a view of a Roman temple at Salotto42.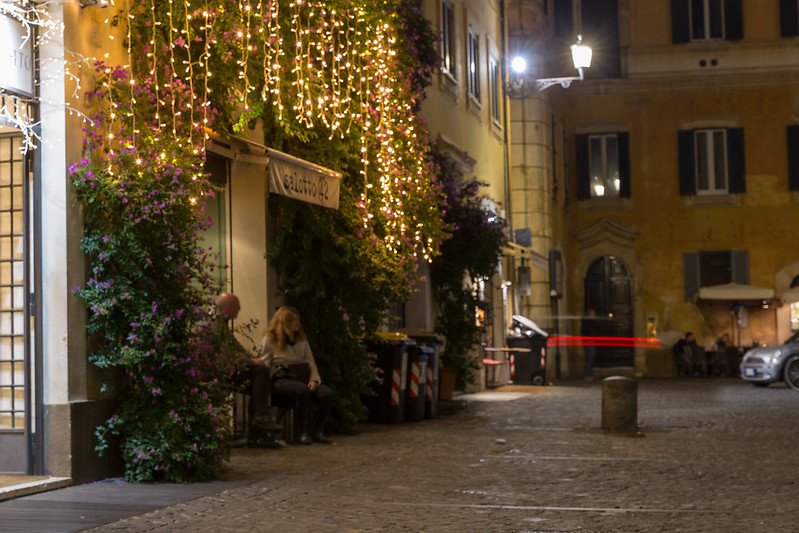 Whether it's summer or winter, a great way to spend an evening in Rome is to have a drink with a gorgeous view.
In Piazza di Pietra, right in front of the Temple of Hadrian, Salotto 42 is a cozy and chic cocktail bar where you can drink some of the best cocktails in town.
The impressive Temple of Hadrian, dating back to the 2nd century CE, appears even more massive in the small square. The cocktail bar has outdoor tables all year round, so you can always sip your cocktail while enjoying the view.
In summer, try a refreshing drink on a warm Roman evening. In winter, warm up near the patio heaters or sit indoors and enjoy the hip setting. Go for aperitivo or a late-night cocktail.
Enjoy a spectacular view of Rome from Belvedere del Gianicolo.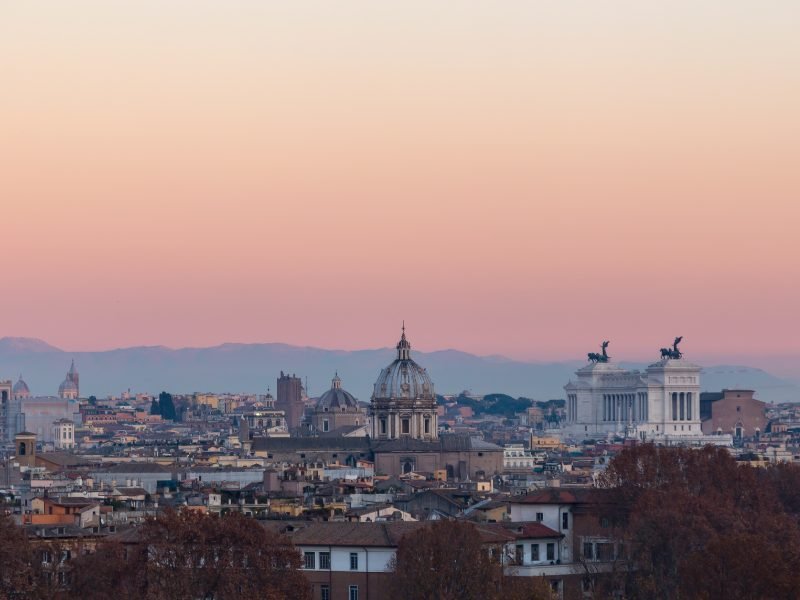 If you're looking for a romantic location or just a nice spot to enjoy a view of Rome from above, Belvedere del Gianicolo is one of the best.
You can climb up the hill from Trastevere or take a bus (115 or 870) that will leave you next to the main square and the Giuseppe Garibaldi Monument.
On one side, from the main terrace, you can see the entire historical center of Rome, with the church domes rising among the rooftops!
On the opposite side, you get a great view of St. Peter's Basilica or, as they call it in Rome, er cupolone which means "the big dome."
Go there for sunset and wait for the city lights to turn on as the night falls for one of the best views of the city.
Better yet, bring a snack and something to drink to avoid buying overpriced food at the food truck in the square!
Have a spritz with a view over Altare della Patria at Secret View rooftop bar.
Fancy a spritz with an amazing view over the impressive Altare della Patria and the ruins of the Roman Forum?
Earning its name, Secret View is one of the lesser-known rooftop terraces in Rome, part of the Oro Bistrot, inside the Hotel NH Collection Roma.
The best time to go to Secret View is around 7 PM, the aperitivo time for Italians. You can have the classic Aperol spritz or a cocktail and enjoy it while looking at the spectacular view.
Given the location, you can expect the prices to be higher than in other places in Rome. However, you'll hardly find another rooftop that beats this view in Rome, so it's worth the price.
Admire the beautiful Castel Sant'Angelo by night.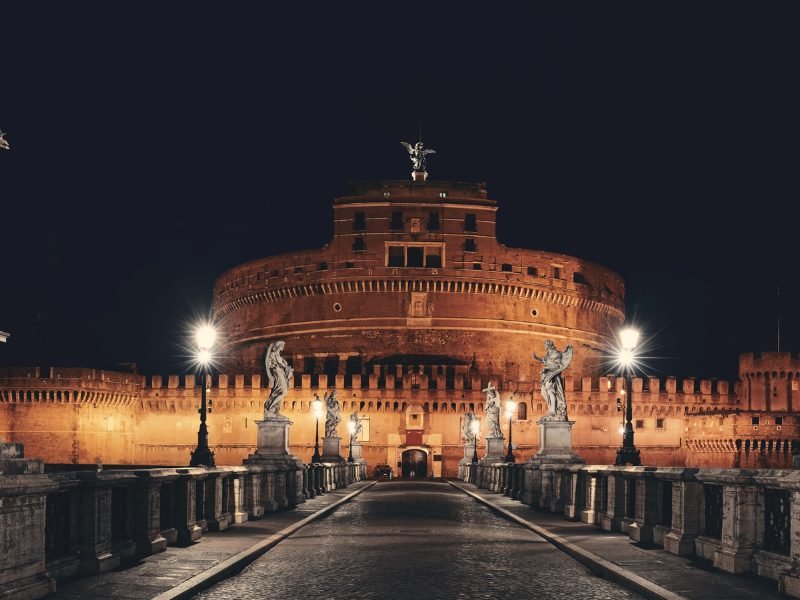 Castel Sant'Angelo is gorgeous during the day, but at night this Rome landmark is even more impressive!
Once the crowds have dissipated and the night has fallen, the area around the castle is magical.
Ponte Sant'Angelo, known in ancient times as Pons Aelius, connects the castle to the Ponte area (Rione Ponte) and is lined with beautiful statues of angels.
At night, the pedestrian bridge is beautifully illuminated by street lamps. Without crowds, it provides a stunning frame to the castle!
If you want to spend a chill evening wandering around Rome, this is one spot that is worth seeing at night.
While you're in the neighborhood, you can also check out Via della Conciliazione, the street that leads to Saint Peter's Basilica.
Watch a show at Teatro dell'Opera or the Caracalla Baths.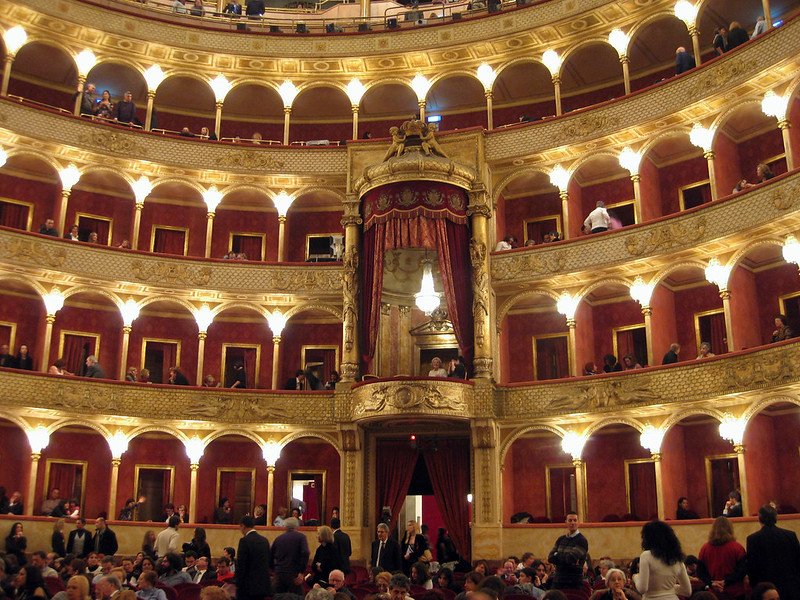 If you enjoy watching opera or ballet, a great way to spend an night in Rome is to see a show at Teatro dell'Opera di Roma.
The opera house, also known as Teatro Costanzi, dates back to 1880 and has gone through several renovations to modernize it.
Nevertheless, it maintains the lavish interior typical of the 19th century, making it a sight worth seeing!
During the summer season, most plays of the opera house take place in a scenic outdoor location, the Baths of Caracalla (book your tickets online here!)
Although watching opera in the middle of Roman ruins is a unique bucket list experience, the indoor theater is just as impressive!
Check the shows of the season before your visit and buy your tickets in advance on the official website.
If you buy them early enough, you can find tickets as cheap as $25 USD, as long as you're okay with sitting a bit further from the stage.
Enjoy a delicious cooking class.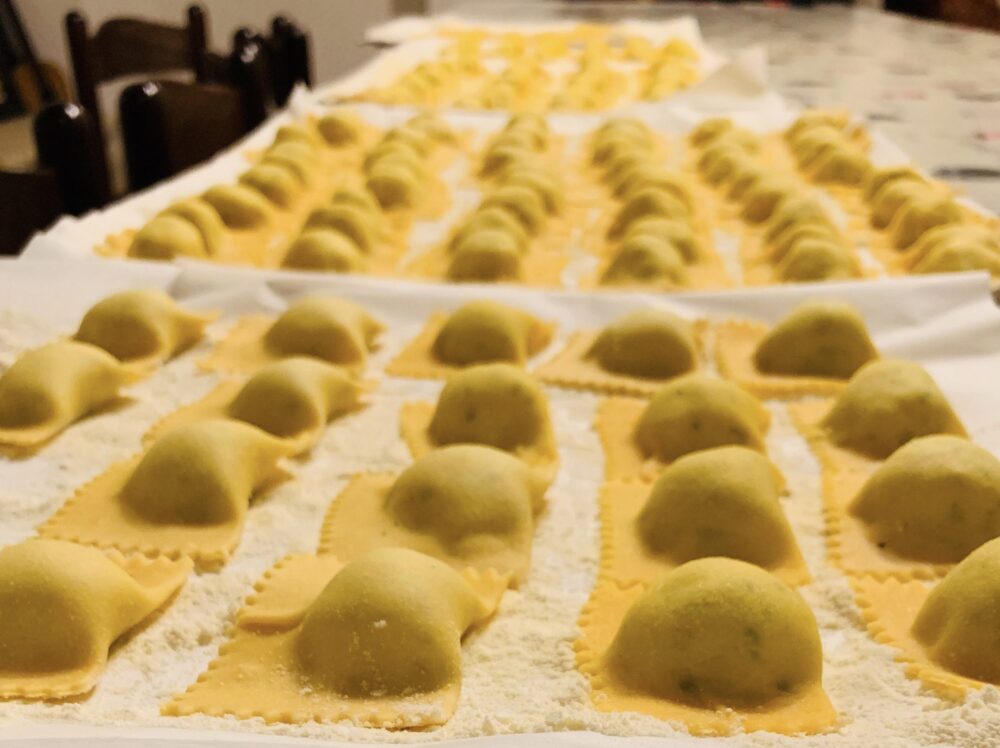 One of the best things to do in Rome at night is eat… but even better yet is taking a cooking class so that you can keep eating like a Roman even when you get back home!
There are a variety of different cooking classes you can take, depending on what appeals to you the most about Italian cuisine.
I suggest either this pasta-making class (that also teaches you how to make tiramisu) or this pizza-making class, both of which end with eating a dinner that you've made yourself!
Dance the night away at Circolo degli Illuminati.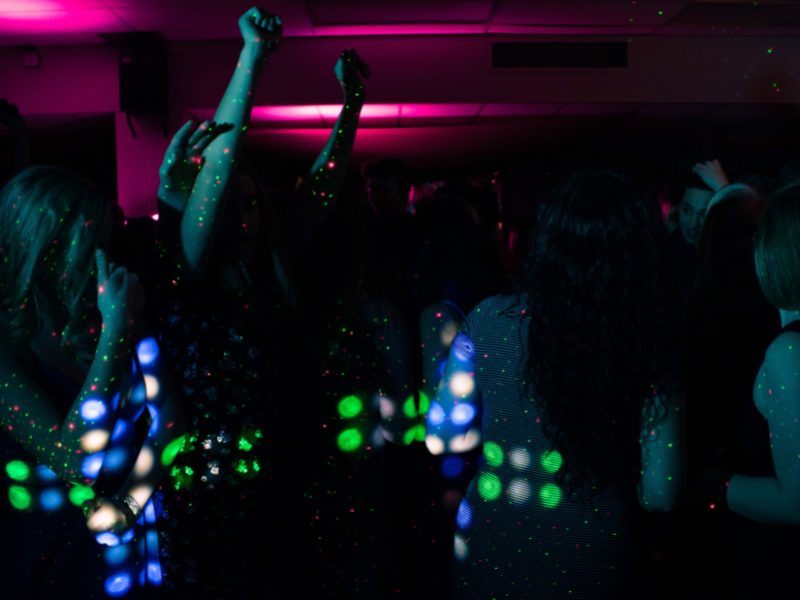 Rome's nightlife offers a nearly endless choice of clubs where you can party until the early hours of the morning! Depending on the season you visit, some locations may be open, others not.
Circolo degli Illuminati, a club in the Ostiense neighborhood, has an indoor area as well as an outdoor garden, so you can check it out all year round.
The club was recently renovated, and it now also features a restaurant as well in case you get hungry while you're dancing the night away.
The club is open from Thursday to Sunday, but the best day for partying is Saturday. Every week there is a different live DJ set with local and international DJs.
Check out the club's website or social media for reservations.
Enjoy an opera performance in a church.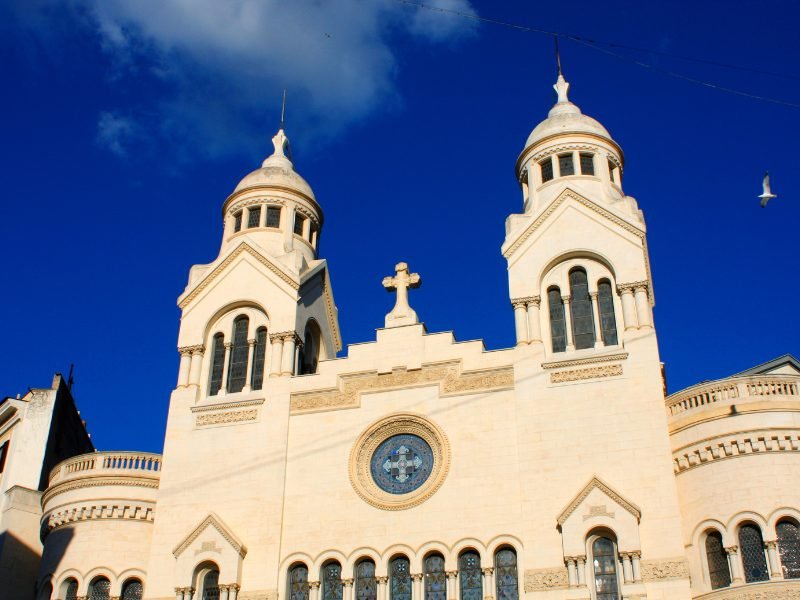 Italy is known for inventing opera in the 16th century — and a great way to cap off a night in Rome in a cultural way is to attend an opera performance!
While you can go to a full opera performance at Opera di Roma or at its Caracella Baths summer location, you can also enjoy an 70-minute opera concert at the beautiful Waldensian Church (Chiesa Valdese), which hosts a concert nightly at 7:30 PM.
This beautiful church has great acoustics and you'll get to enjoy hearing a medley of different arias from famous operas written over the centuries — with a complimentary glass of wine in hand.
Go on a night tour exploring Rome's catacombs.
If you're in for a night of mystery in a slightly creepy setting, go on a night tour of Rome's Catacombs, many of which were built by Rome's early Christians.
This small group tour starts at the Capuchin Crypt on Via Veneto, where you'll visit a crypt decorated with the bones of over 4000 Capuchin monks.
Next off, your guide will escort you to the Basilica of St. Agnes Outside the Walls, where you'll explore the church, then descend into the underground catacombs for a private tour.
In the nearby Mausoleo di Santa Costanza, you'll learn about Emperor Constantine I and this beautiful mausoleum dedicated to his daughter.
While you can visit these sites on your own during the day, joining a small, guided group at night will allow you to enjoy the monuments all for yourself (and the rest of your group) and enjoy a slightly spooky atmosphere!
Grab a delicious gelato and go for an evening walk.
One of the best ways to cap off an evening in Rome is at one of the city's best gelaterias!
There are countless delicious places to go for a good gelato, so I'll list options with the best place to go for a walk with them.
One option is to go to Come il Latte and then take a walk through the beautiful park of Villa Borghese a short distance away.
This well-known gelateria is known for its delicious organic gelatos, frozen yogurts, and cremolatos (similar to a granita, but creamier).
You can get your gelato in a cup (coppetta), cone (cono), or in a broche, the Sicilian way!
Best of all, it's open 'til midnight, so you can get your gelato fix nearly any time!
Another option is Frigidarium in Rome's historical center. Grab a gelato here and then take a walk through Rome's most beautiful squares like Piazza Navona and Campo de' Fiori.
This place is known for their tiramisu ice cream — don't miss it if they have it available!
Take a ghost tour through Rome.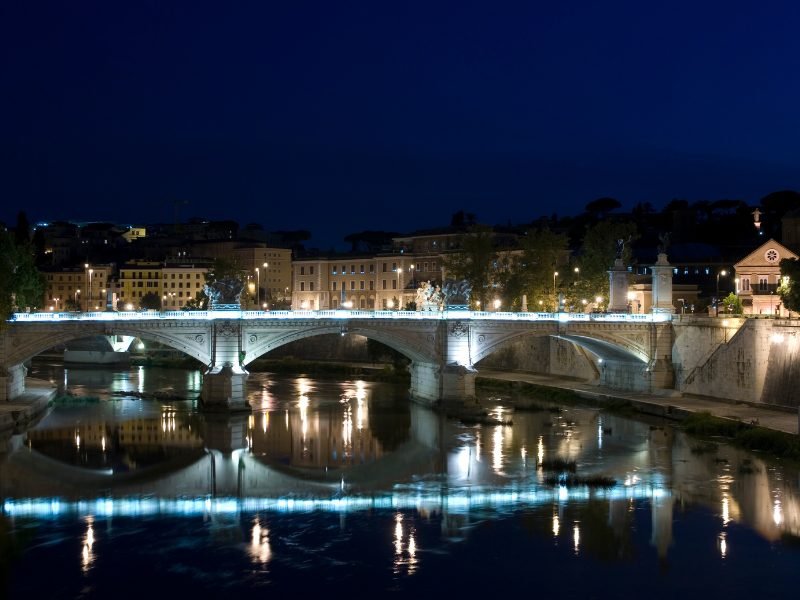 One of my favorite nighttime activities when traveling is going on a ghost tour, and with a city as ancient as Rome, you know there's got to be some spooky stories!
This Rome ghost tour is 2.5 hours long and will take you on a walking tour of Rome that focuses on the dark stories of this beautiful city's long past.
This tour will tell you of the inhabitants who supposedly never left Rome, even after their death — putting a new spin on the nickname 'The Eternal City'!
Tips for Visiting Rome at Night
Rome is safe at night, but stay aware.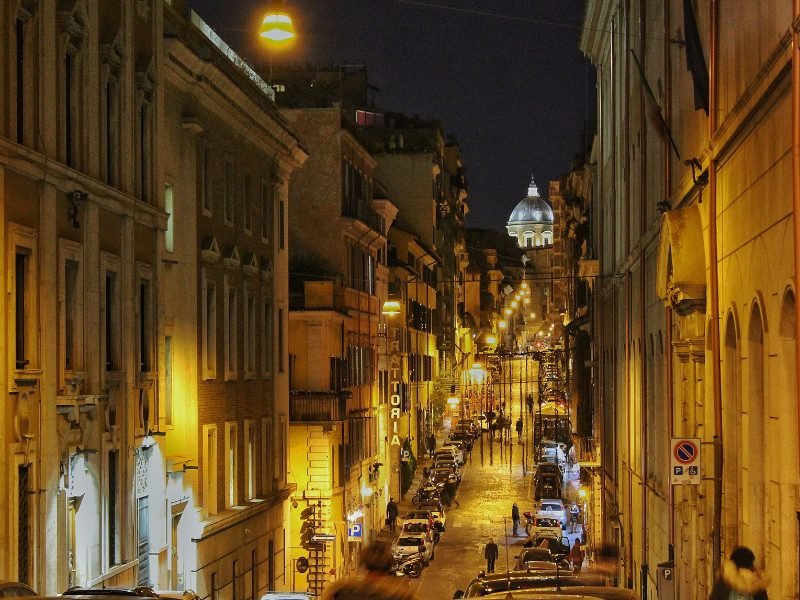 While Rome is as safe a city as you'll find in most European capitals, there are a few safety considerations to keep in mind.
Popular destinations are typically where pickpockets love to operate. While you're distracted snapping photos of a gorgeous sight, they'll take advantage and deftly pick your pocket!
You can protect yourself from this by carrying an antitheft purse or antitheft backpack like this one — both are by PacSafe, my most trusted brand for virtually theft-proof bags!
Plan your transportation home.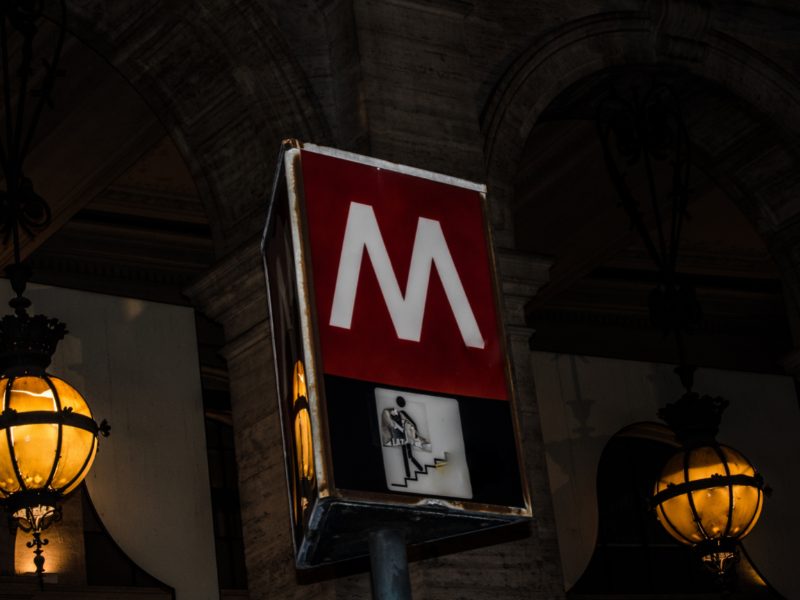 Keep in mind that Rome's metro stops operating at 11:30 PM Sunday through Thursday and 12:30 AM on Fridays and Saturdays.
If you're planning a late night out drinking and dancing, I suggest downloading Uber or having a local taxi company's number on hand to call.
Uber will generally be more expensive but easier to navigate. Taxis often only accept cash and the drivers may not speak English.
Reserve any restaurants you really want to eat at.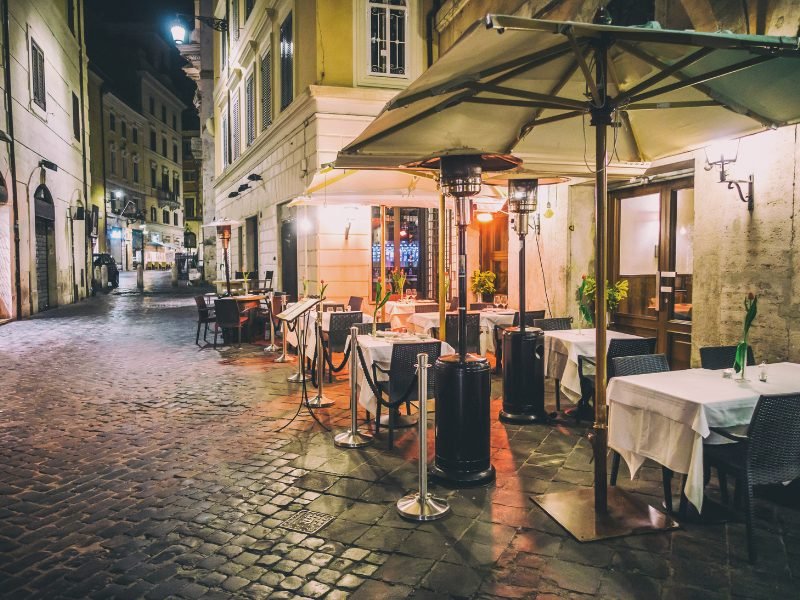 If you are the kind of traveler who thoroughly researches each meal before you go and allocates your stomach space carefully, you'll want to make reservations at the most popular restaurants in Rome whenever possible.
You'll tend to find more restaurant availability at the earlier times, shortly after the restaurant opens, as Italians tend to eat on the later side, around 8 PM or even later, probably because they have a large snack with a glass of wine as an aperitivo.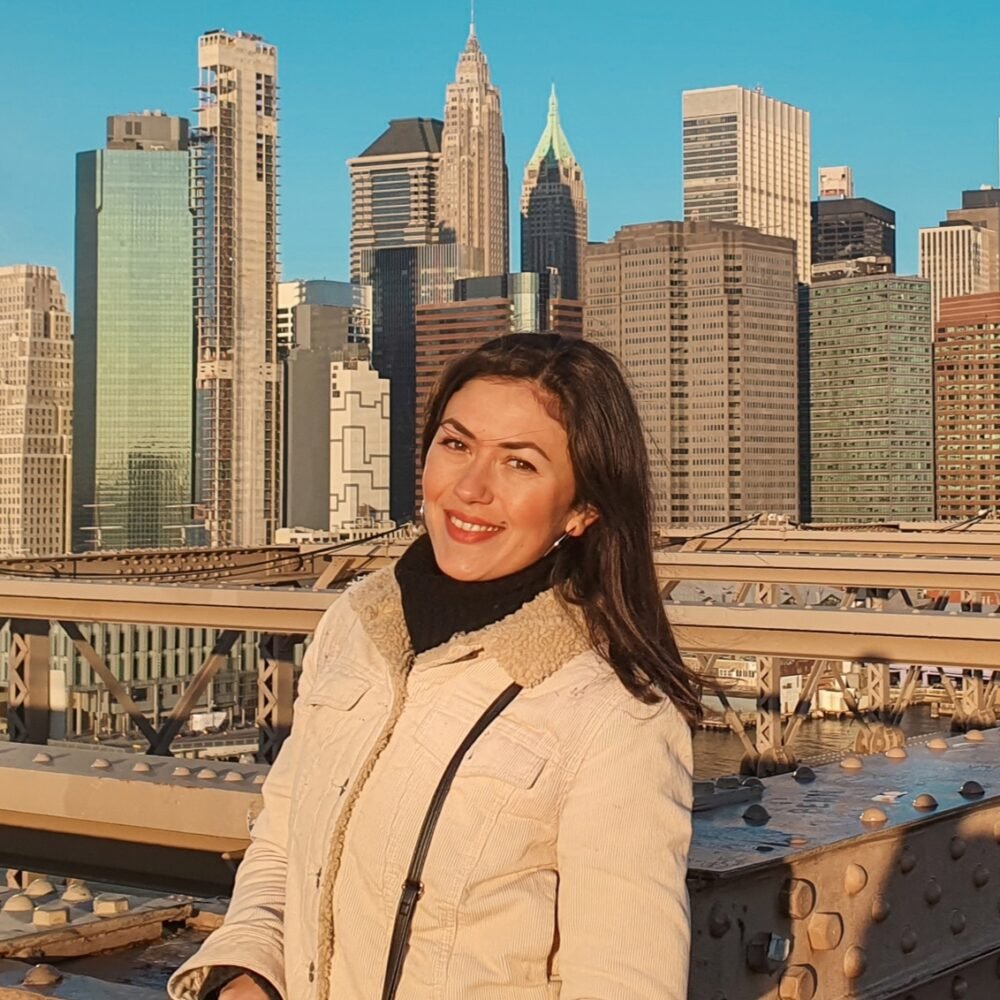 Roxana is a Romanian-born freelance travel writer who has lived in Italy for over 15 years. She has a Master's in Journalism and a Bachelor's in Film Studies. Her mission is to find hidden gems, even in the most popular travel destinations, and to inspire people to explore new places and cultures with the same curiosity! When she is not traveling, writing, or planning her next trip, she is either binge-watching TV shows or reading books.