Rocky cliff walls meet the Atlantic Ocean in Acadia National Park on Maine's Mount Desert Island.
Commonly known as Vacationland, Maine offers everything from delicious locally sourced seafood to beautiful outdoor terrain. There's something for everyone to enjoy here!
Bar Harbor, Maine is the lively gateway community to Acadia National Park. With fun shops, walking trails, and restaurants, Bar Harbor makes a perfect basecamp for your Acadia adventure.
Choose from the many New England-style bed and breakfasts, modern hotels, or even campgrounds when you go to book your trip accommodations.
Grab your map, camera, hiking gear, and National Park Pass for a fun 3-day tour of Acadia National Park and Mount Desert Island — some of the best places to visit in Maine!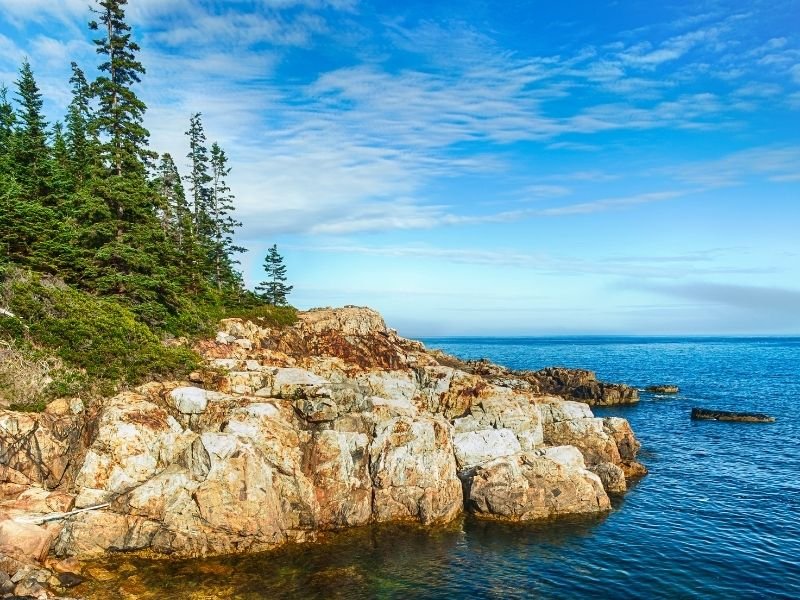 Note: This post contains affiliate links, which means I may receive a small commission if you purchase something through one of these links. Thank you for supporting the free content on this site! For more information on affiliate links and cookies, see my disclosure page for more details.
PLANNING FOR ACADIA AT A GLANCE:  

When to Go: Since the winter temperatures go below zero and the main road through the park closes during winter, early spring, summer, and fall are the best times to visit Acadia National Park. 

Where to Stay: Unlike most National Parks that have park lodges, Acadia has none — except for camping grounds. 

There are 3 developed camping groups but I recommend camping at Blackwoods Campground on the East side of the island or Seawall Campground on the West side. These camping grounds are open seasonally (between May to October) but you'll need to book 6 months in advance from the official website directly.

However, if you find all the campgrounds booked out or you're just not into camping, you can find a number of hotels, lodges, cabins, etc. in Bar Harbor town or other areas of Mount Desert Island like Northeast Harbor, Southwest Harbor, or even Bass Harbor.

If you opt for Bar Harbor, I recommend staying at The Inn on Mount Desert which is not far from the park and it's in a few minutes walk to several shops and restaurants, Holiday Inn Bar Harbor Regency Hotel for a luxurious stay, Chiltern Inn for a romantic treat and Eden Village Motel and Cottages if you're looking for a more affordable option.

If you don't get accommodation in Bar Harbor, another beautiful area to stay on Mount Desert Island is Southwest Harbor. Drydock Inn & Cafe is what I recommend for budget travelers, and Harbor Ridge for stunning views of the mountains of Acadia National Park with a touch of luxury. 

And if you prefer a homey feel, this charming Log Home is a perfect choice. 

How to Get Around: It's easy to get around Acadia since there is only one main road! Park shuttles are available but I don't advise heavily relying on them as they can be crowded and slow. This means that the best way to get around the park at your pace and see all the major spots is by driving. If you're renting a car, compare car rentals and prices here. Alternately, you can rent an RV or campervan via RVShare and save on accommodations.  

3 Things Not to Forget to Pack: Binoculars are key for spotting wildlife -- I suggest these Nikon binoculars. For hikes, you'll want a sturdy pair of hiking boots -- I love my Ahnu boots -- and chemical-free organic sunscreen to protect your skin.

Know Before You Go: If you plan to visit multiple national parks in a year, the America the Beautiful Pass will save you a bundle! It costs $80 for an annual pass (for an entire vehicle traveling together) to all US national parks and federally managed sites.  
Renting a Car for Acadia National Park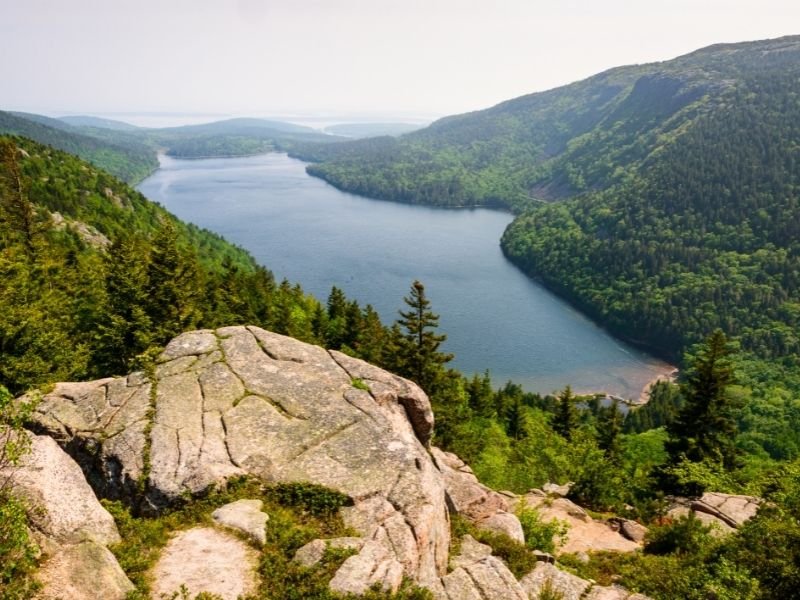 If you're road-tripping Acadia with your own vehicle, you can skip to the next section!
If you plan to fly to Acadia, I suggest flying into Bangor International Airport (BGR) as it's the easiest connection and you can easily rent a car from there to connect to Bar Harbor, Maine.
At Bangor International Airport there are plenty of car rentals available.
Not sure where to get the best deal on your rental? I've rented cars dozens of times through various search engines and have settled on Discover Cars as the best car rental search aggregator – it sifts through dozens of trusted rental companies to find the cheapest price for your rental! Compare prices renting in Maine here.
What to Pack for 3 Days in Acadia National Park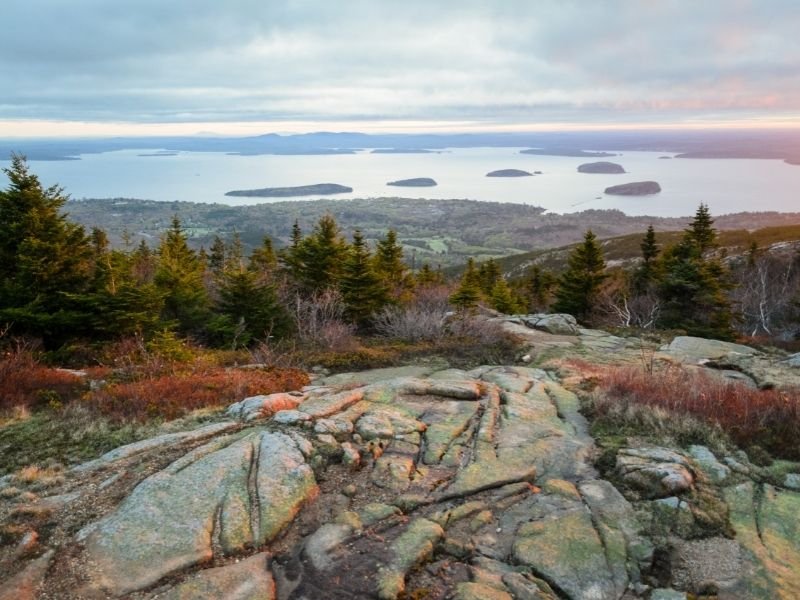 You can check out my complete road trip packing list but for a quick overview, here are the travel essentials you shouldn't leave behind when going to Acadia National pack.
Travel Guides: This 3-day itinerary for Acadia National Park has everything I think you'll need but if you want a more detailed guide, I recommend taking this Acadia National Park & Mount Desert Island guide as it includes every little detail that I may not have been able to fit in one single post. So together with my personal experience and the detailed info in this guide, you'll be on your way to having an amazing time in Acadia.
Layered Clothing: Even in the summer months, Maine is not known for having normal summer temperatures and it's the same for Acadia, so you'll need to pack clothes in layers.
For summer or early fall, I suggest taking at least 2 shirts (synthetic or wool, long and/or short sleeve depending on the season), 2 pairs of leggings or pants, 2 pairs of shorts, 1 fleece outer layer, a waterproof jacket, a beanie, gloves, and 3 pairs of socks.
Comfortable Footwear: Acadia is all about enjoying the outdoors by either hiking or climbing some rocks and you'll need a good and sturdy pair of hiking boots for that. I love my Ahnu Sugarpine boots for women, and for men, I suggest the KEEN Durand boot.
Sunscreen: After being sunburned a few times, I learned not to ever leave sunscreen behind. Bring and wear sunscreen every day of your trip, and be sure to reapply it every couple of hours. I like this chemical-free organic sunscreen.
Sunhat: Take a packable sunhat like this one. It has a strap to prevent it from being blown away and you can easily wear it on your back if you get tired of wearing it on the head.
Day pack: Keep all your daily travel items organized and easy to reach in a daypack. I like this inexpensive and lightweight Osprey daypack and it's not only durable but it also has mesh panels on the back to allow for airflow.
Snacks: To stay strong and energetic while hiking in the park, I recommend taking some snacks. Pack or pick a picnic or throw a number of energy-giving snacks in your daypack. I recommend protein bars (I love CLIF bars), nuts, or other high-density snacks.
Camera: If you want a lightweight and good quality camera, I recommend Sony A6000 — I've been using it for years and I am happy I found it! However, you'll need to bring a zoom lens for wildlife and a wide-angle lens for landscapes since it's just the body.
First aid kit: Don't let blisters or scrapes inconvenience your experience in Acadia. I suggest taking this HART Weekend First Aid kit as it has everything you might need and it's super lightweight.
Water filter bottle: Though there are water fountains at most picnicking areas in Acadia, I still recommend taking a water bottle with a filter so you can fill up anywhere there's a water source.
There are quite a number of water filtration systems but I love GRAYL Geopress! With it, you can filter water from any source, and it filters out 99.99% of microplastics, viruses, bacteria, and other nasty particles making the water instantly safe to drink.
Bug Spray: Don't let bug bites ruin your trip — take this bug spray.
Where to Stay in Acadia National Park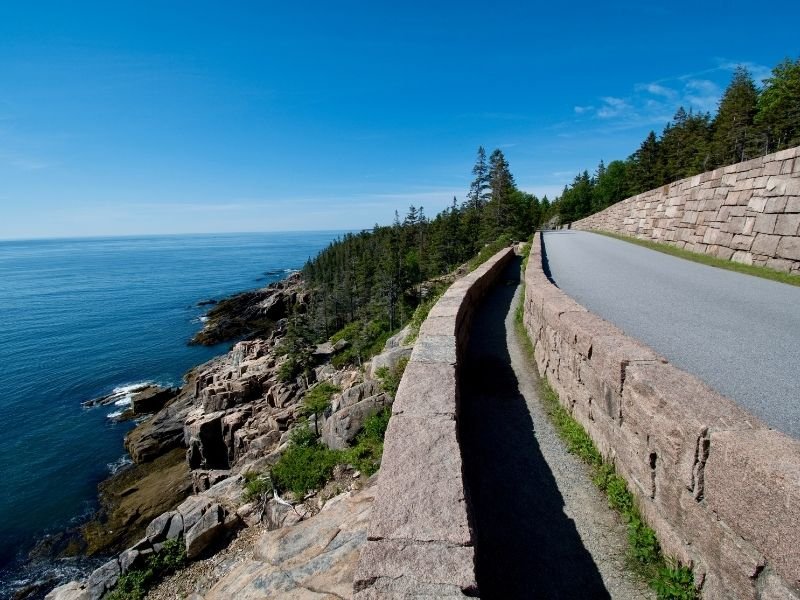 Unlike most National Parks that have park lodges, Acadia has none except for camping grounds.
For campers, Camping in Acadia is a great way to experience the park even better with a touch of luxury as its camping grounds offer a bit more comfort compared to other typical camping grounds.
The park has 3 developed camping grounds with the 2 most popular on Mount Desert Island — Blackwoods Campground and Seawall Campground.
I recommend staying at Blackwoods Campground as it's closer to the main attractions of the park. But Seawall is equally good if you don't find availability at Blackwoods.
These accommodations can only be booked on the official website and way in advance — like 6 months before your trip.
If you don't find a spot at any of those camping grounds or you prefer sleeping in a hotel, lodge, or cabin, then you can find a variety of accommodations in Bar Harbour.
Bar Harbour Accommodations
BUDGET | If you're looking for something budget-friendly (well at least compared to other places in the area), I recommend staying at Eden Village Motel and Cottages.
It is located just 4mi away from Acadia National park, the rooms are clean and they come with basic appliances you might need for your stay — a kitchenette, coffee maker, and a cable TV.
>> Check photos and reviews on Booking.com | Book it on Hotels.com
BOUTIQUE | The Inn on Mount Desert has got to be the highly-rated hotel on Bar Harbor.
Located near the park and within a 5 minutes' walk to various shops and restaurants, this hotel offers both a modern and old charm to its guests.
The rooms are very clean and you don't have to worry about what to do when it rains as there are a number of indoor activities especially for people who want to stay fit and active.
>> Check photos and reviews on Booking.com | Book it on Hotels.com
LUXURY | If you want to enjoy Acadia with a touch of luxury, I recommend staying at Holiday Inn Bar Harbor Regency Hotel.
With soaring views of the Frenchman's Bay, an outdoor pool, and a hot tub, nothing speaks the language of luxury like this resort.
The hotel features big cozy rooms with large windows to enjoy the views. And if you feel like unwinding, you can have a drink at their bar or cozy up next to the fireplace in the lounging area.
>> Check photos and reviews on Booking.com | Book it on Hotels.com
VRBO | If you want a full home to yourself while exploring Acadia National Park, I suggest staying at this beautiful and lovely log home.
With its inviting front porch and large windows, you're bound to fall in love with the house immediately. It offers views of Raccoon Cove, Frenchman Bay, and the mountains of Mount Desert Island.
This 2 floored house can easily sleep up to 6 people and has everything that will make your stay memorable — from a big bathroom with a tub, a walk-in closet, a fully equipped kitchen, a fireplace to direct access to the shore.
>> Check photos and reviews on Vrbo
Day 1 of your Acadia National Park itinerary
Afternoon Sun at Sand Beach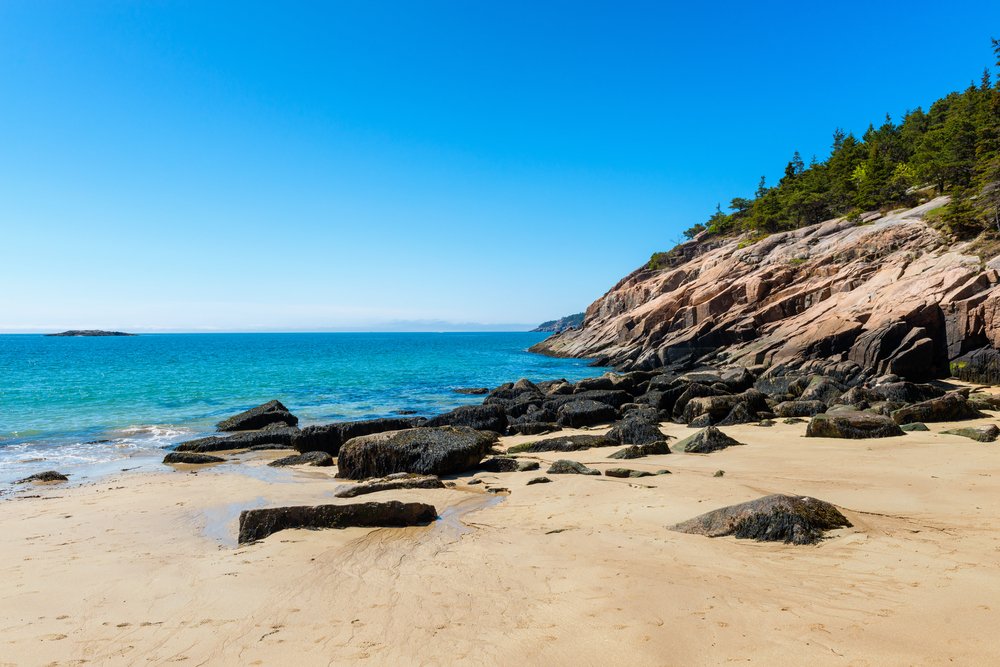 Since you've just arrived on Mount Desert Island, a little relaxation by the ocean is in order before we start tackling all the things to do in Acadia National Park!
Although most of the coastline on the island is rocky cliff faces, there is one sandy ocean beach hidden inside Acadia National Park for all to enjoy!
Sand Beach is about a 20-minute drive from the Bar Harbor town center and is one of the first attractions along the Park Loop Road. The parking area tends to fill up early, so be prepared to scout for a parking spot.
The beach is staffed with park lifeguards to make swimming in the chilly water safe for all the brave souls that choose to do so. Sand Beach is the perfect spot to set up for a sunny afternoon with a cooler, beach chairs, and plenty of sunblock.
If you're not interested in swimming, there's still plenty to do in this area, such as searching through tide pools to see who's swimming around and walking the 290-meter shoreline to search for shells and sand dollars.
There are a couple of fun trails that take off from this area too. One of the nearby trailheads is for the Great Head Loop Trail, which starts on the east side of Sand Beach. The shorter loop option is 1.6 miles around and offers spectacular panoramic views of the area, including a scenic overlook of Sand Beach.
If you want to add a more challenging hike to your Acadia itinerary on the first day, the trailhead for the Beehive Trail, a tough but rewarding 1.6-mile loop, is located right near Sand Beach.
Stroll Bar Harbor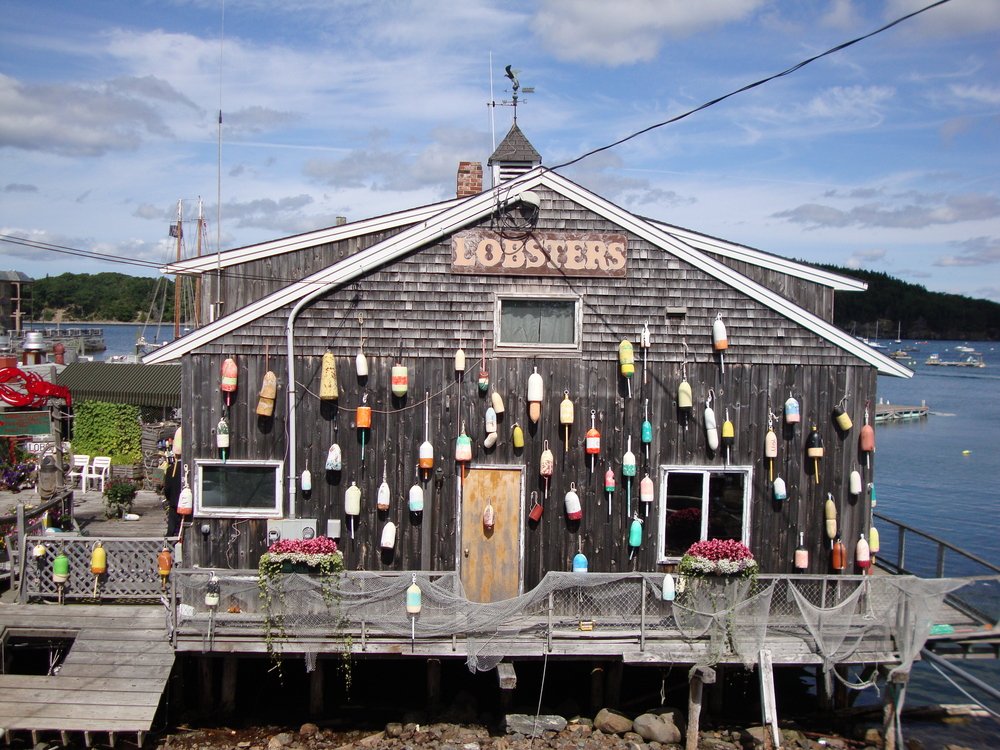 After soaking up the sun and relaxing the afternoon away, it's time to head into town and enjoy all the cool things to do in Bar Harbor.
Bar Harbor is a charming New England coastal community with quirky boutique shops and amazing seafood restaurants.
Before dinner, take a walk along the Shore Path, which begins at the Town Pier. This short path offers beautiful views of the boats anchored in the harbor for the evening.
Dinner at The Terrace Grille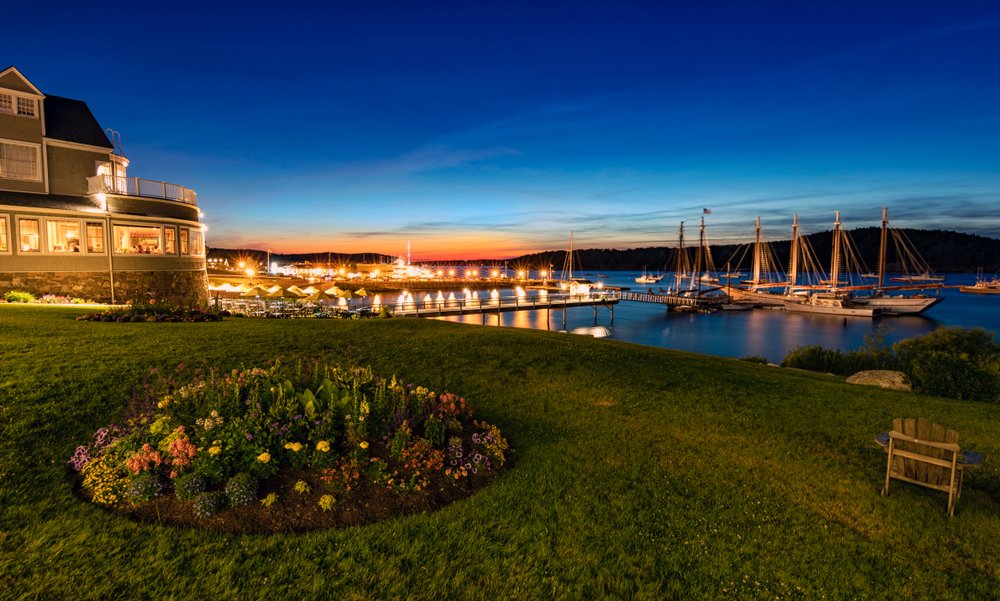 Dine right on the water next to the Town Pier. The outdoor seating is decorated with beautiful yellow umbrellas and offers five-star views of Frenchman Bay and the Porcupine Islands. Not only are the views great, but the food is too!
Keep it classic with a boiled Maine Lobster or indulge and order the Maine Lobster Bake, which comes with all the goods including New England clam chowder, steamed mussels and clams, over one pound of Maine Lobster, seasonal sides, and homemade blueberry pie!
Grab a cone at Mount Desert Island Ice Cream
Hope you saved room for dessert. Is any evening by the ocean complete without an ice cream cone? You already know the answer to that question!
The ice cream from Mount Desert Island Ice Cream is unlike any you've had before. Maybe it's the premium flavors mixed with the ocean air, or maybe it's the care that goes into every homemade batch. Yum!
Day 2 of your Acadia National Park itinerary
Drive the Park Loop Road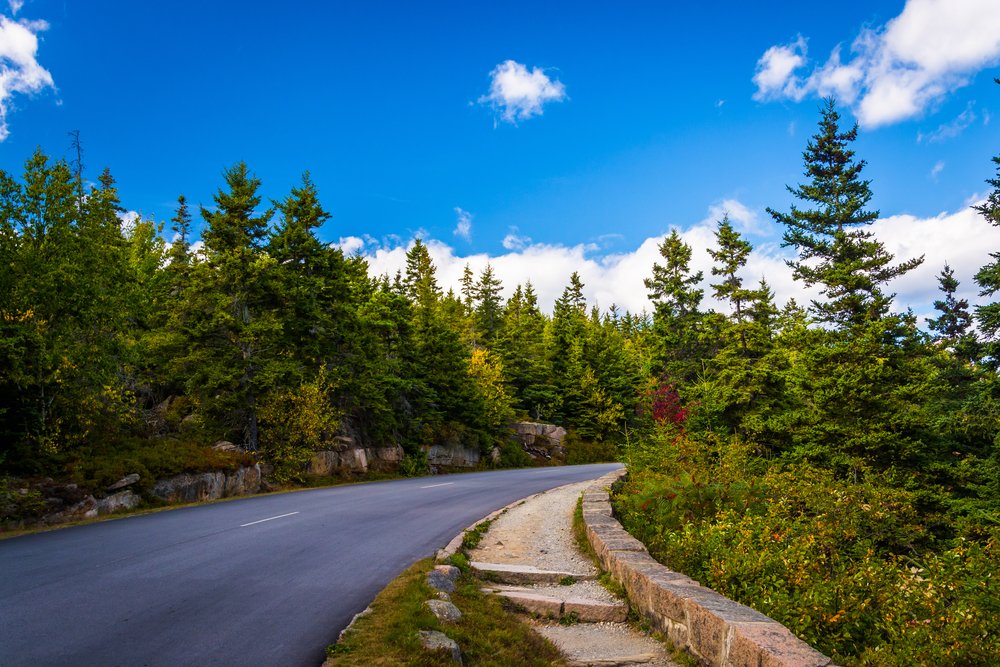 Roll the windows down and let in that warm sea breeze as you head out to tour Acadia's Park Loop Road. Turn on your favorite playlist and enjoy the ride!
The 27-mile road that loops around Acadia National Park is the best scenic drive in the area, taking visitors from the ocean to the mountains and everywhere in between. Set aside at least 4 hours for the drive. There are lots of places to stop along the way, but here are some of the best sights:
First Stop: Hulls Cove Visitor Center
Begin your scenic drive around Acadia National Park at the Hulls Cove Visitor Center.
Here you can chat with a park ranger about your plans for the day, pick up a park map, buy souvenirs, and learn about the park's natural and cultural history. The climb up the center's 52 steps is sure to get your blood flowing!
Second Stop: Sieur de Monts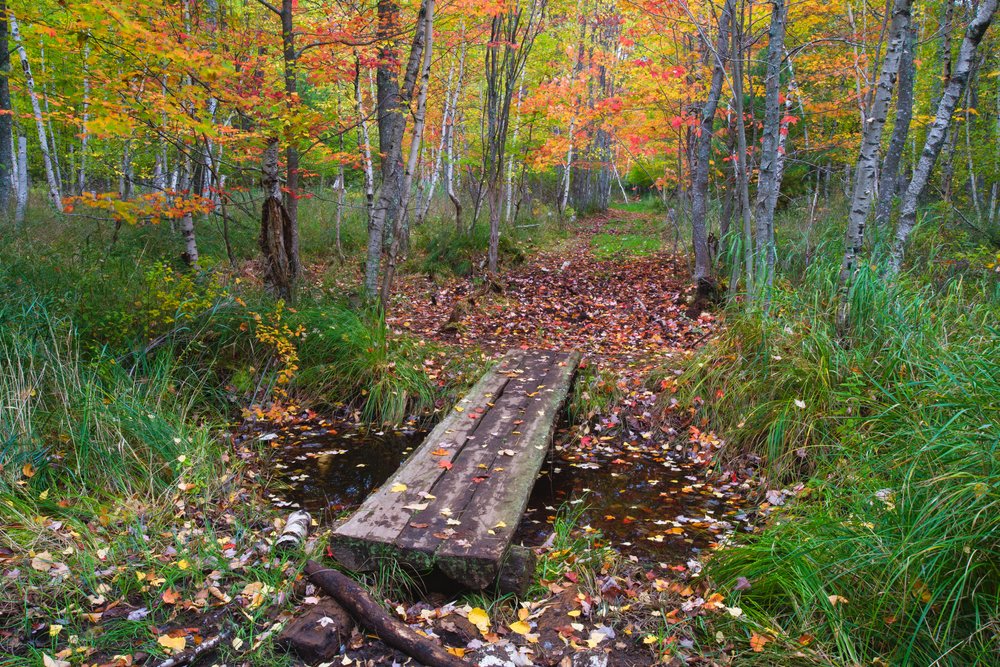 Sieur de Monts is the heart of Acadia National Park and one of the first attractions you'll see when driving the scenic Park Loop Road.
This area is home to many sights, including the Sieur de Monts Spring, Acadia Nature Center, Wild Gardens of Acadia, Abbe Museum, and historic memorial paths.
Hiking around in this area is a great way to spot wildlife and a variety of native plants too!
Third Stop: Thunder Hole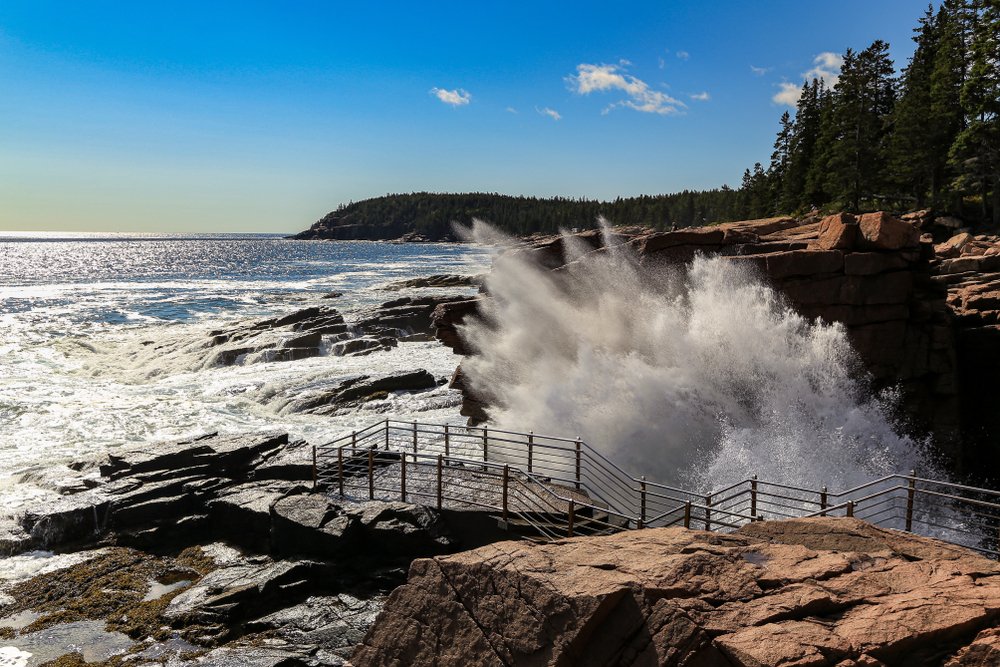 Have your camera ready for this awesome feature!
Thunder Hole is appropriately named after the booming sound the ocean waves make as they slam against the rocky shore while pushing air and settled water to the surface.
The small rocky inlet at Thunder Hole may not be as wild at low tide, but wait for some choppy water to come in with the high tide, and you're sure to hear what all the hype is about.
Fourth Stop: Otter Point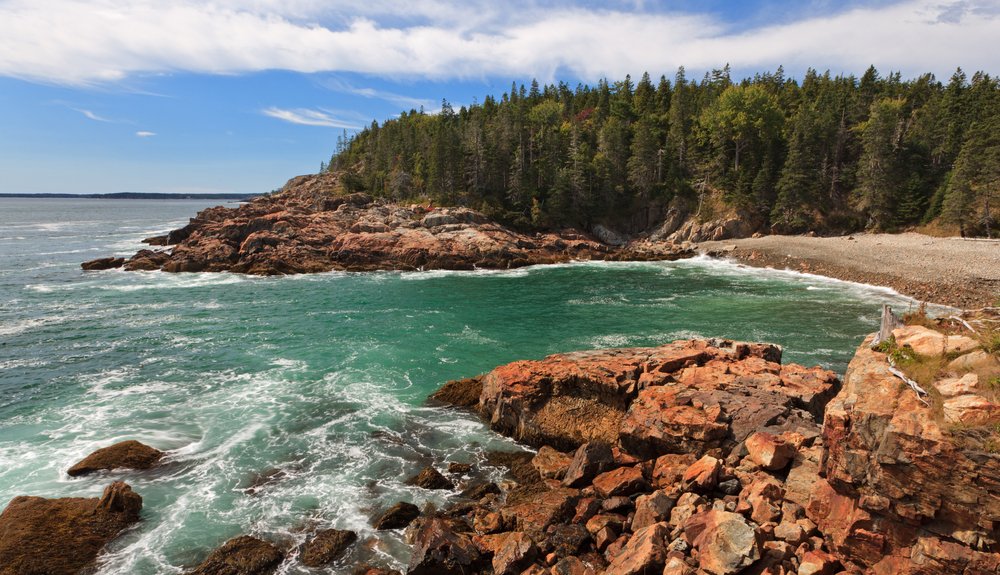 Less than a mile past Thunder Hole, there will be a parking area for Otter Point.
This rocky shoreline is named after Acadia National Park's spunky river otters. The most impressive feature at this stop is Otter Cliff, which stands an impressive 110 ft high!
This is a great spot to hang out in the sun and watch the ocean waves crash over the rocks.
Fifth Stop: Lunch at Jordan Pond House Restaurant
After a morning of sightseeing, it's time for a well-earned lunch break. Famous for their mouth-watering popovers, the Jordan Pond House Restaurant is every foodie's dream come true.
In addition to the freshly made popovers, the menu is also loaded with fresh seafood options and entrees to satisfy every craving.
Last stop: Jordan Pond Loop Trail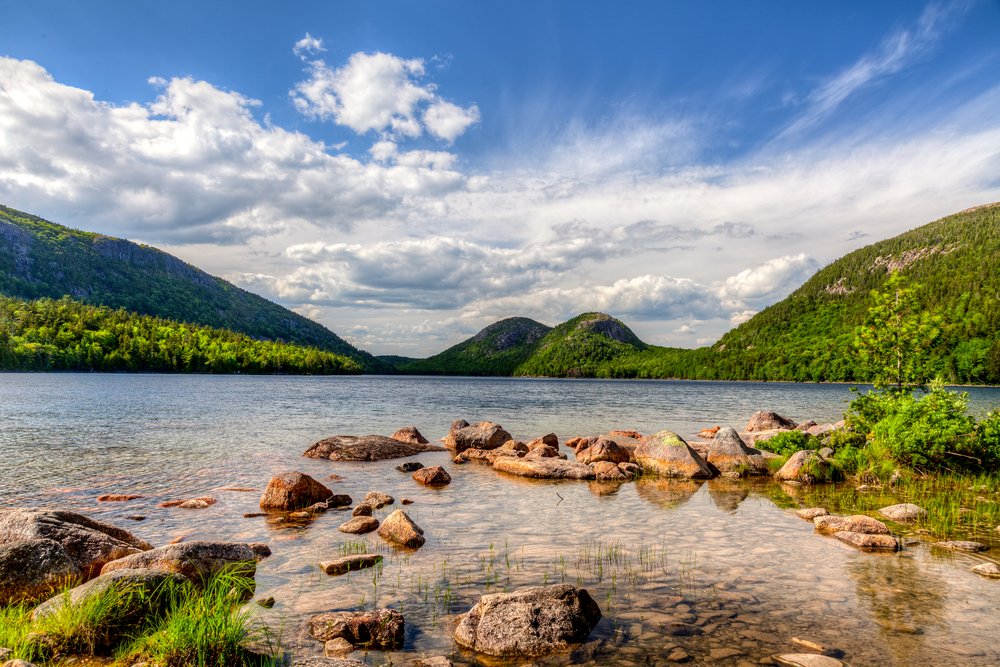 It's time to get a little hike in. Wouldn't you agree?
The beautiful 3.5 loop trail around Jordan Pond is the perfect place. This scenic hike will take you along the shore of the pond. Sturdy shoes are recommended for this trail.
Although most of the terrain is level or boardwalk trail, there are a couple of sections of uneven rocky terrain.
Dinner at Leary's Landing Irish Pub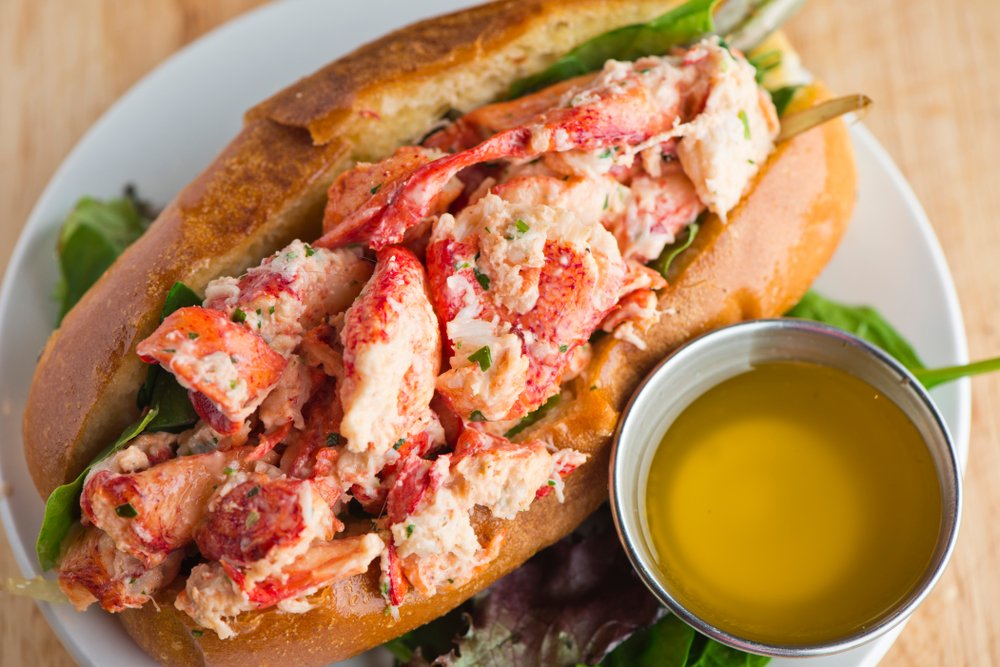 After your drive around the Park Loop Road, take some time to relax at your campsite or hotel before heading out for an evening in Bar Harbor.
There's nothing better than a meal from Leary's Landing Irish Pub. Conveniently located right in town, this lively restaurant offers everything from bangers and mash to hardy Maine Lobster Rolls.
Don't forget to add in one of their specialty cocktails!
Day 3 of your Acadia National Park itinerary
Sunrise at Cadillac Mountain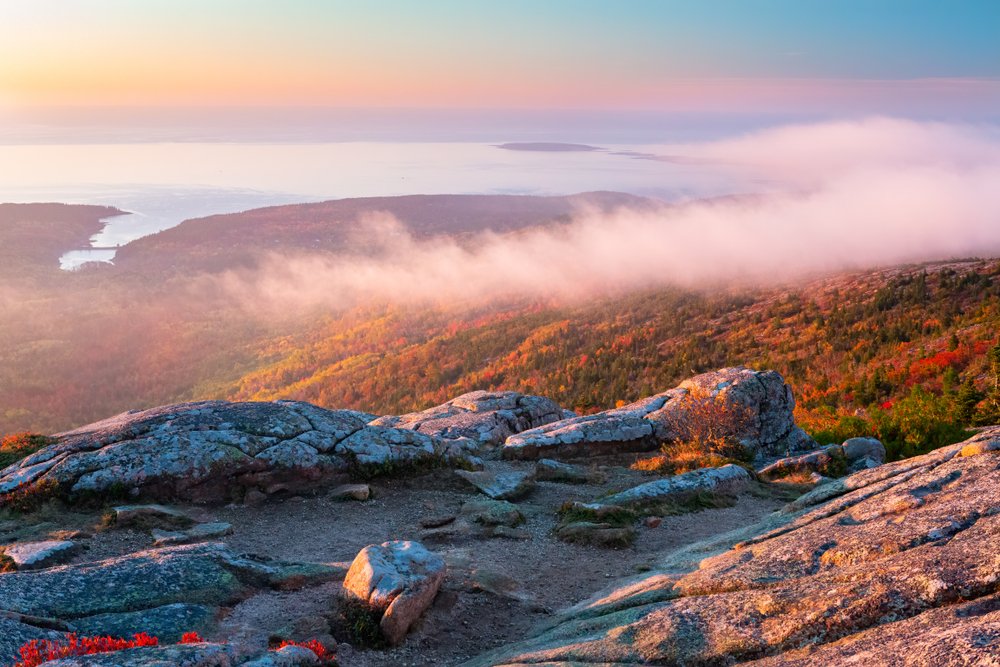 When you watch the sun come up from the summit of Cadillac Mountain, you're watching the first sunrise in the entire country!
I hope you're a morning person or can pretend to be one to experience this phenomenal sight.
Some folks choose to make the 3.5-mile hike to the top of the mountain to watch the sunrise, but you can drive to the lookout to sleep in a little longer.
From Bar Harbor, it only takes about 20 minutes to drive up to the lookout.
Hike the Cadillac Mountain Summit Trail Loop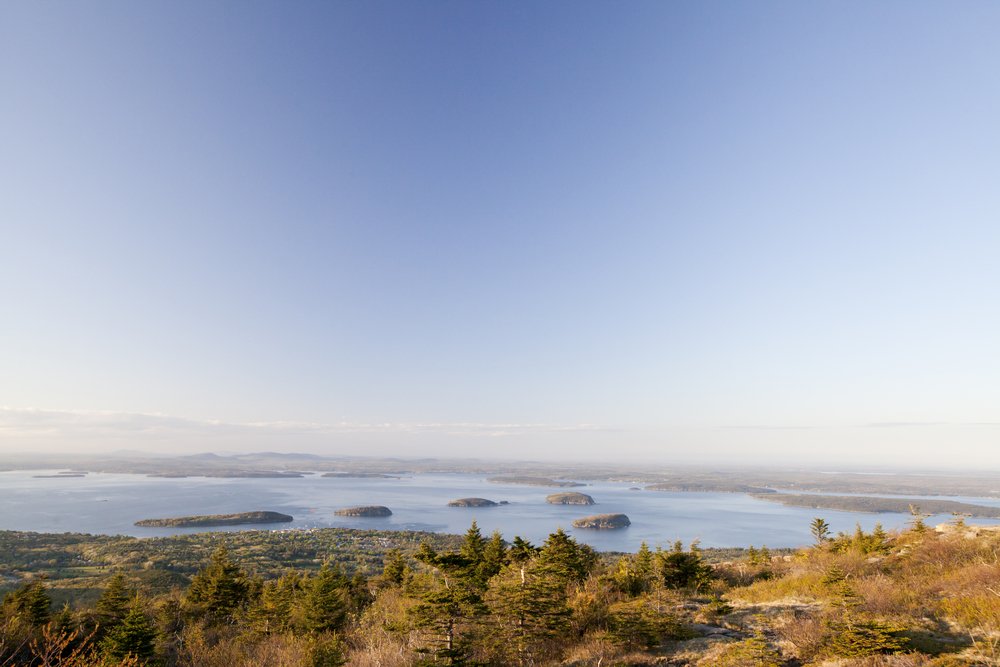 If you chose to drive up to the Cadillac Mountain lookout, there's still a nice hike waiting for you at the top.
The Summit Trail is an easy half-mile loop that offers amazing views of the ocean and rocky shoreline during the golden morning hours.
Hike down the trail before the sun makes its appearance to find a secluded viewing spot. Don't forget warm clothes, blankets, and hot beverages!
Breakfast at the Lighthouse Inn & Restaurant
An early morning adventure must be rewarded by a filling breakfast! Pack in a morning meal that will have you energized for the next fun activity in Acadia National Park at the Lighthouse Inn & Restaurant.
Whether you choose homemade blueberry pancakes with real maple syrup or the Fisherman's Delight specialty omelette, you won't be leaving hungry!
Take a Scenic Cruise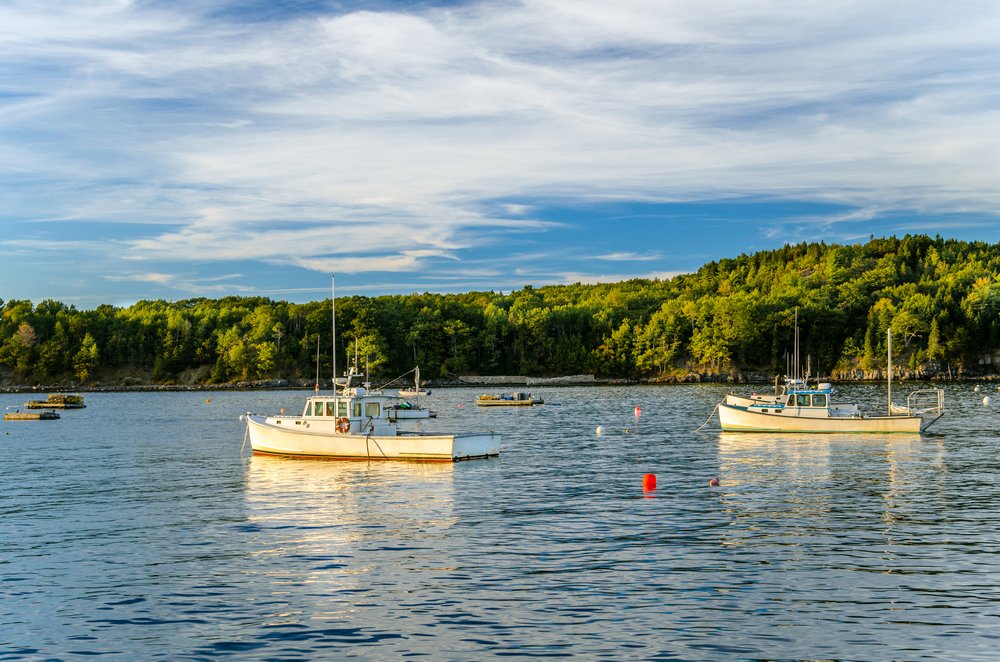 Until this morning, you've been admiring the Atlantic Ocean from shore. It's time to get a new perspective!
At Sea Princess Nature Cruises, passengers can get out on the water for a chance to spot seals, osprey, and other ocean wildlife. The morning cruise is typically 3 hours long, and fills up in advance, so book early!
The boat makes a stopover at Little Cranberry Island, where passengers can see the 200-year-old fishing village and briefly explore the area.
In the last three days, you've watched the first sunrise in the USA, splashed around in the Atlantic Ocean, tried some of Maine's famous seafood, and taken a scenic morning cruise. Now, it's time to discover your next adventure in Vacationland!
Protect your travel investment!

Travel insurance coverage helps you recoup your losses in case of emergency, accident, illness, or theft.

I rely on SafetyWing for coverage when it comes to trip interruptions and cancellations as well as accidents and medical emergencies.

It offers great rates starting around $12/week with clear, easy-to-read coverage.
Pin This 3 Day Acadia National Park Itinerary!
Emily is a freelance travel and outdoor recreation writer from Big Sky, Montana. Her adventurous spirit has led her to the high peaks of the Sierras and the largest wilderness areas in the lower 48. When she's not writing, Emily can be found backpacking, road tripping to outdoor destinations, climbing, or rowing whitewater.