Waking up to a brilliant aquamarine lagoon so close you can simply step off your back deck and go for a sunrise swim…
Is it any wonder that basically every traveler has the same thing on their bucket list: staying in an overwater bungalow in French Polynesia?
You can find these aquatic abodes across the globe, from the Caribbean to the Maldives, Panama to Bora Bora.
But let me let you in on a little secret: Moorea is actually where some of the best overwater bungalows are at!
This may be surprising when you consider that Bora Bora is the overwater bungalow capital of the world, but let me tell you why Moorea edges it out in some areas.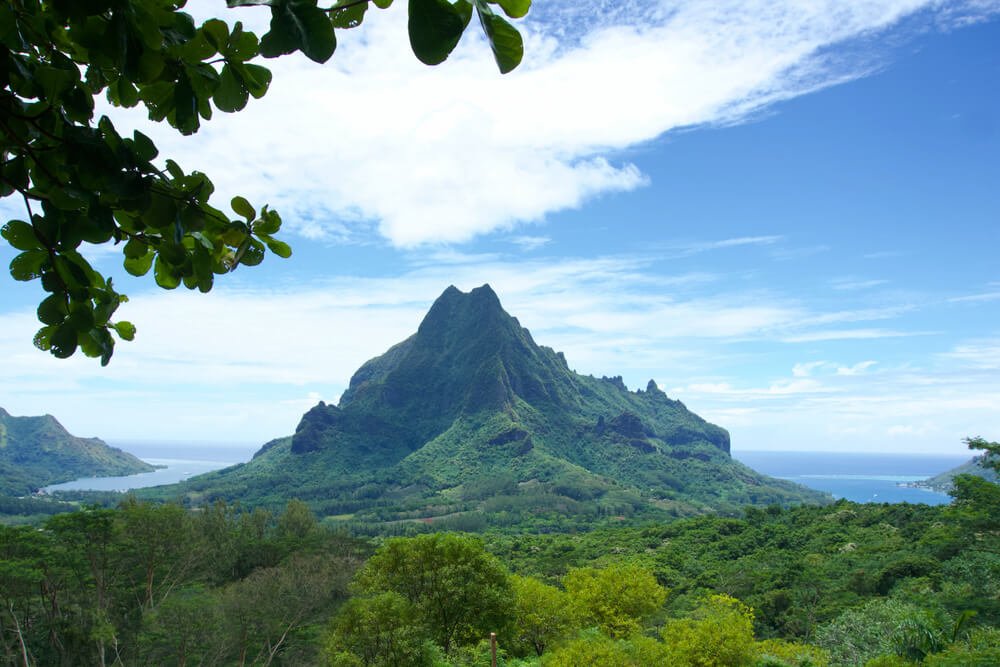 Note: This post contains affiliate links, which means I may receive a small commission if you purchase something through one of these links. Thank you for supporting the free content on this site! For more information on affiliate links and cookies, see my disclosure page for more details.
Moorea is the place to go if you want to stay in an overwater bungalow and experience the local culture.
Because Bora Bora's resorts are all on private motus (islets) isolated from the main island, actually leaving the resort and seeing Tahitian culture is far more difficult, though definitely possible.
Meanwhile, Moorea's resorts are located right on the island, a short distance from great restaurants and food trucks serving up day-to-day meals, local grocery stores and shops, and all sorts of incredible activities you can experience on Moorea, off the resort.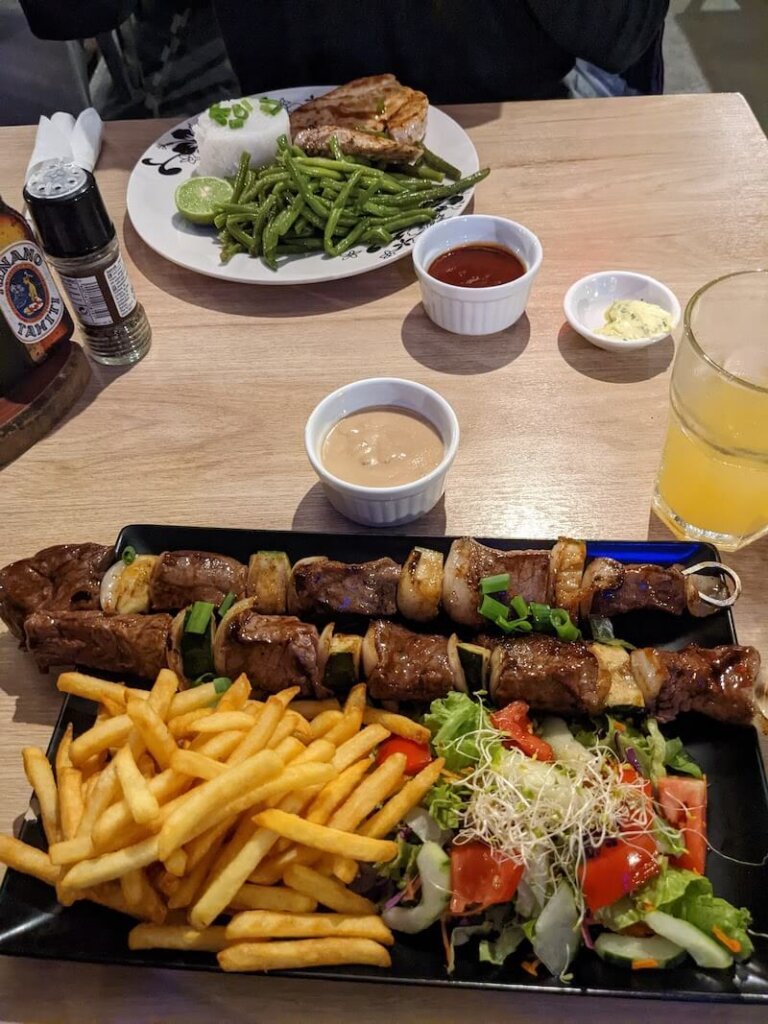 Moorea also has far better snorkeling and diving compared to Bora Bora because it has more coral around the island, whereas Bora Bora has a more pristine lagoon with shallow, crystalline water, but not as many reefs to see.
Plus, staying in an overwater bungalow in Moorea is a fair deal cheaper, since you don't need to spend another $300+ on roundtrip flights, since you can just take a ferry from Tahiti to Moorea (and visit Tahiti while you're at it!)
Plus, the places to stay on Moorea are cheaper than Bora Bora to begin with.
Convinced yet? Here are my top 3 resorts with overwater bungalows on Moorea (well, that's actually all of them).

Sofitel Kia Ora Beach Resort & Spa Moorea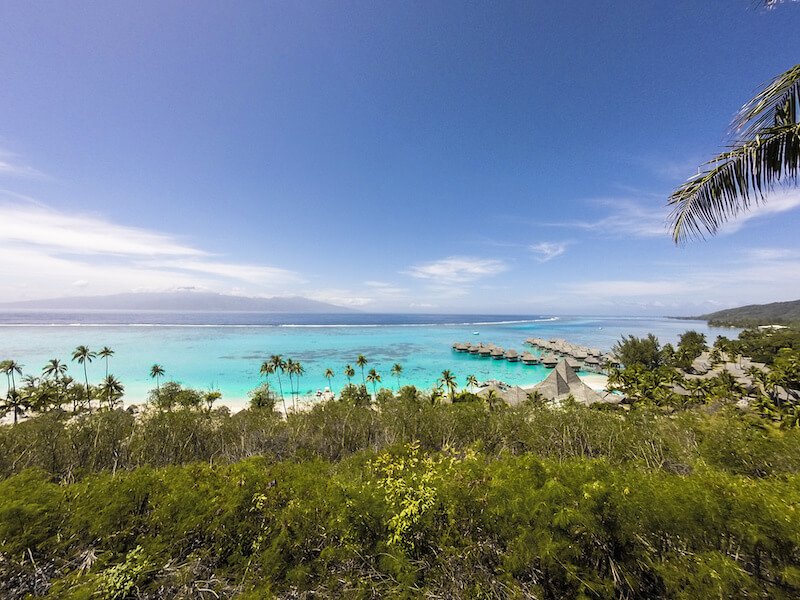 Located on prime land, Temae Beach — Moorea's best beach for snorkeling — the Sofitel Kia Ora Beach Resort & Spa is a fantastic place to stay with overwater bungalows while visiting Moorea.
Plus, they have some of the largest overwater bungalows in Moorea, with beautiful views of the lagoon and sometimes even Tahiti off in the distance.
Due to its incredible location on one of Moorea's best reefs, as well as its gorgeous overwater bungalow selection, it's my top pick.
Location and Layout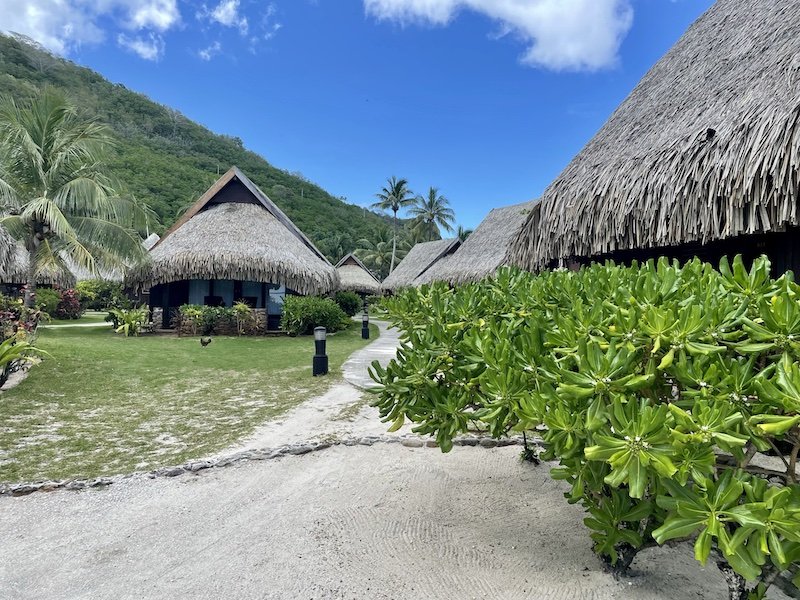 The Sofitel Kia Ora is located in Maharepa just to the right of the popular public white sand beach, Temae Beach, not far from the ferry dock and Moorea's airport.
With tropical landscaping all around it and Polynesian design, the Sofitel Moorea resort has a gorgeous private island feel.
There's a staggering number of room types to choose from: its bungalows on land with garden and lagoon views, and its multiple types of overwater bungalows.
Now, the overwater bungalow types are all a little confusing. There's the superior overwater bungalows, the superior horizon overwater bungalows, the luxury overwater bungalows, and the luxury horizon overwater bungalows.
So what's the difference? Basically, anything with "horizon" has a better view, unobstructed by other bungalows as its located near the end of the boardwalk.
The luxury overwater bungalows are 83 square meters or 893 square feet — utterly massive!
The superior bungalows are still quite large, at 42 square meters or 452 square feet.
For a larger group, there's the Villa, a whopping 161-square-meter (1732 square feet) palatial escape. It has two bedrooms and a sofa bed in the living room, accommodating up to six guests — perfect for a getaway with sanity and friends.
The outdoor deck even has its own Jacuzzi, and there are two bathrooms, one with its own outdoor bathtub!
Inside the Bungalow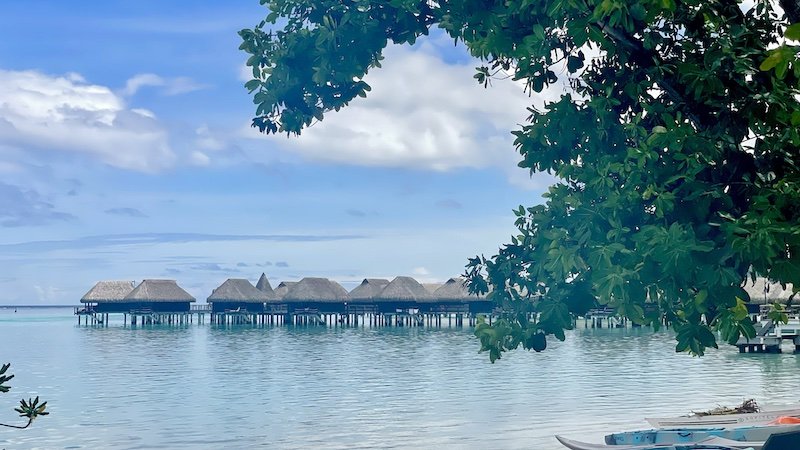 The interiors of Sofitel Kia Ora overwater bungalows are stunning, inspired by Paul Gaugin, the French painter who spent many (controversial) years on the islands.
The king-size beds are beautiful and lush, a dream to sink into, with a beautiful mosquito net canopy (though that's more for aesthetics than anything else, since you have A/C and won't need to keep your doors open!).
They even greet you with a giant beautiful heart-shaped flower arrangement on your bed upon arrival — a lovely romantic touch!
The rooms have large seating areas and glass floor panels to look down below at the sea life through, as well as lovely modern bathrooms with rain showers to enjoy.
All overwater bungalows feature air conditioning, a flat-screen LCD TV, sliding glass doors, a complimentary bottle of Champagne upon arrival, free WiFi, a private terrace leading directly to the lagoon, and a free minibar that's restocked daily with beer, soda, and water.
Activities and Amenities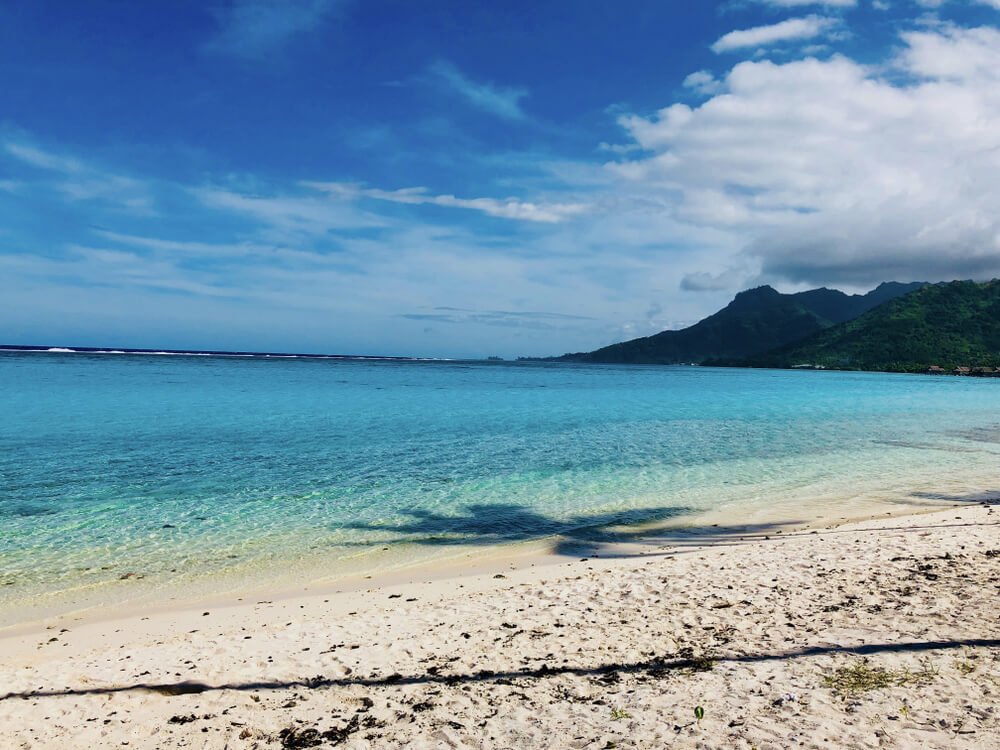 Of course, the best activity you can do while staying at Sofitel Kia Ora is snorkeling their hosue reef just off the bungalows — it's one of the best places to snorkel on all of Moorea, so it's hard to beat these waters!
There's also a beautiful infinity pool that overlooks the lagoon and bungalows, a stunning place to swim, take photos, and relax by the water's edge in the many loungers available.
Of course, with spa in the name, you can expect all sorts of relaxing treatments at Le Jardin Spa!
They offer massages, facials, body scrubs, all inspired by Polynesian wellness techniques and organic local ingredients like coconut oil, vanilla, and mango, all in a tropical garden setting.
Dining Options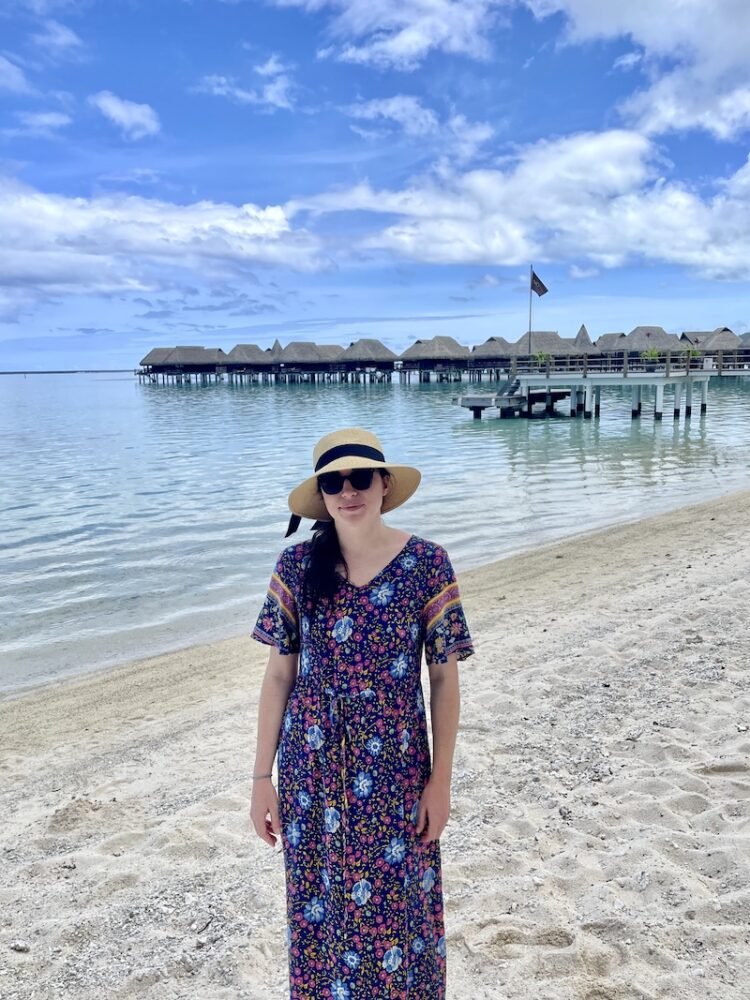 There are 4 restaurant and bar options at Sofitel Moorea, with the most variety of these listed overwater bungalow resorts.
One is Pure, a contemporary restaurant focused on classic French cuisine with an emphasis on Polynesian ingredients and local seafood. It faces the lagoon and serves breakfast, lunch, and dinner.
There's also the Beach Bar, where you can order more casual fare like paninis and cocktails and enjoy a quick lunch just steps from the sand.
Vue Bar is another bar option, with cocktails and tapas served until late in the evening.
The most luxurious option is K, with a frequently-rotating fine dining tasting menu with 5 or 7 courses (with or without wine pairing).
The downside is that it's only open on Thursdays and Fridays by reservation only (and other nights for private events)
Check availability, prices, and details of Sofitel's overwater bungalows here!
Manava Beach Resort & Spa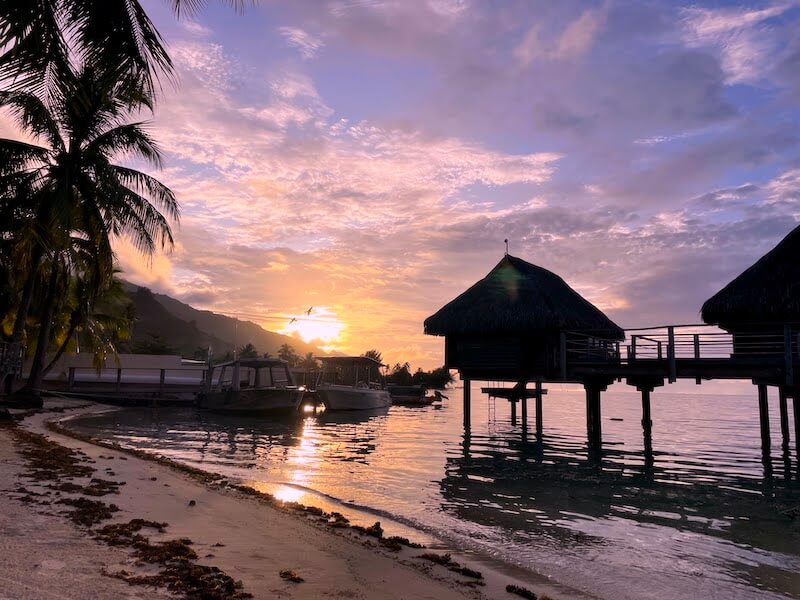 Located in the heart of Maharepa, one of the more bustling stretches of Moorea (though bustling is relative on an island this quiet!), Manava Beach Resort & Spa is a great choice for those who don't want to feel sequestered away on a resort the entire time.
While you'll have all the comfortable resort amenities you'd expect of a luxury hotel in French Polynesia, you'll also have the town at your fingertips, so you can shop the boutiques (Tahitian pearls, anyone?) and stop by the roulotte food trucks for a more casual, authentic meal.
It's also home to a fantastic on-site dive shop, Moorea Blue Diving, which will bring you to some of the best reefs in this patch of the South Pacific.
Location and Layout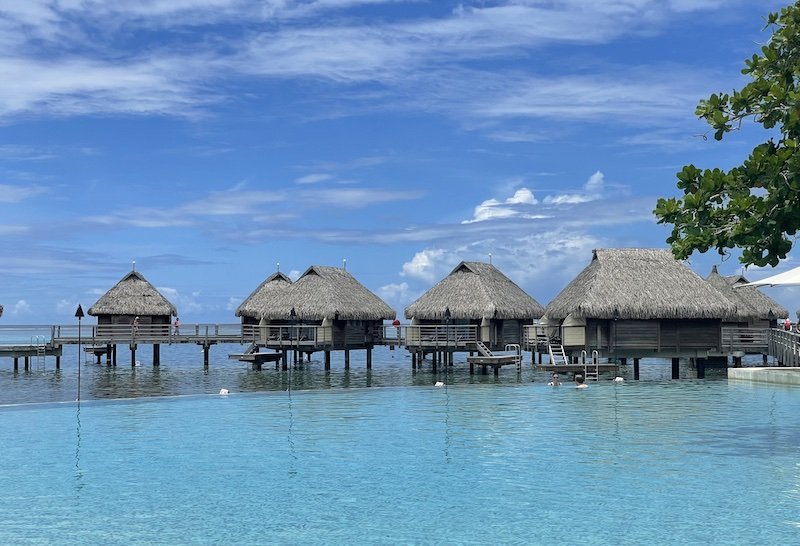 The resort is situated on a small but beautiful stretch of white sand beach and is surrounded by lush tropical gardens, giving it a secluded, Jurassic Park vibe — and with the backdrop of Moorea's mountains behind it, that feeling is enhanced even more.
There's a spa and two restaurants in the main area, which opens up to a gorgeous beachfront infinity pool with views of the overwater bungalows right in front of you.
There are a variety of room types here, from standard hotel rooms to beach bungalows with their own plunge pool to the reason you're reading this post — overwater bungalows.
Those overwater bungalows are floating slices of paradise! Built on stilts over the clearest water you've ever seen, these bungalows offer guests a VIP pass straight to the lagoon.
Each bungalow has a killer private terrace with plenty of outdoor furniture to lounge and sunbathe on. There's even a ladder that plunges straight into the lagoon – how cool is that?
This terrace isn't just a pretty face; it's got the best seats in the house for soaking up the eye-popping views of the scenery!
Inside the Bungalow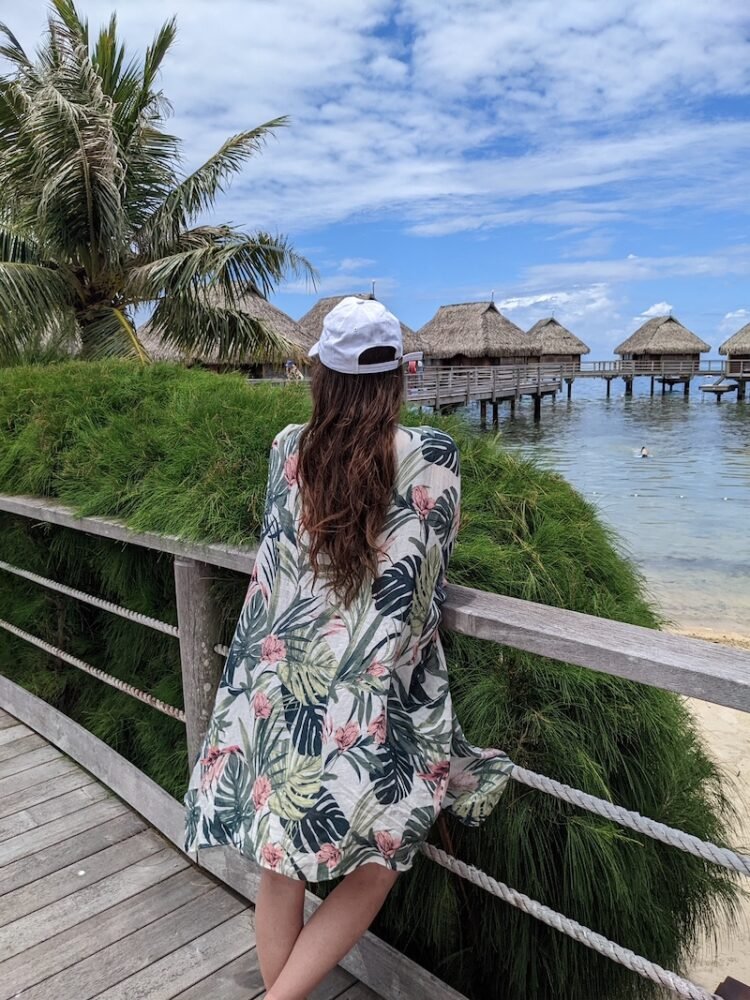 Those overwater bungalows are maybe even more lovely inside than they are on the outside. They're not just comfy, they're loaded with everything you'd need for ultimate relaxation.
Think: a king-size bed so comfy it's like sleeping on a cloud, with top-quality linens and plenty of pillows, so you're guaranteed to sleep like a baby.
Chilling in your bungalow? There's plenty of space in the lounge area, with a flat-screen TV in case you want a little in-room entertainment.
The private bathroom's a dream too, sporting a separate shower and bathtub and stocked up with top-notch toiletries.
One drawback here: unfortunately, these water bungalows at Manava don't have those fancy glass floor panels so you can see into the lagoon.
But honestly, who needs them when the lagoon's waters are so clear that you can sit on your deck and see all the cool marine life doing its thing beneath you?
Activities and Amenities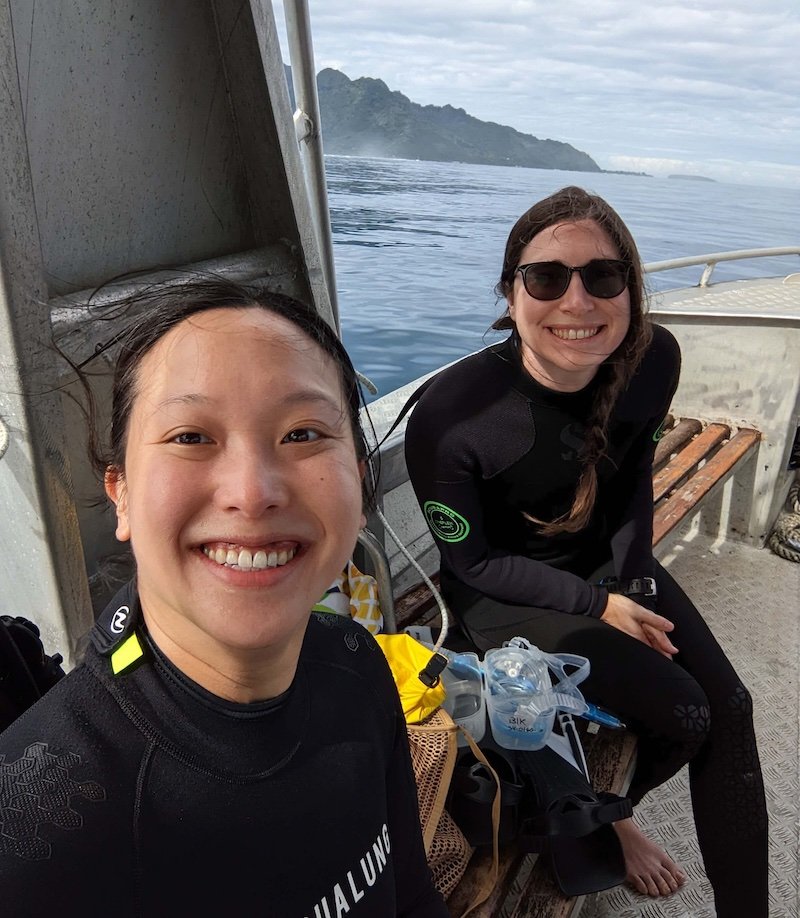 Let's talk fun stuff now – all the activities and amenities that Manava offers!
I've already talked about how Manava is home to Moorea Blue Diving, which is the best dive shop on the island (and where I did every single one of my Moorea dives).
The staff there is incredible, and Diane will help you set up all your underwater adventures, with several dives boats departing daily from their pontoon.
But let's not forget its amazing infinity pool that's a stone's throw from the lagoon, with gorgeous views of the overwater bungalows right in front of your eyes.
With plenty of sun loungers to go around, you won't be looking for a spot with a great view of the swimming pool: they all are!
And if you're looking to really spoil yourself, hit up the spa, one of the best on the island of Moorea.
Tucked away in a little garden oasis, this is the perfect place to treat yourself to some R&R, island-style, with all sort of Polynesian-inspired massages and beauty treatments using local ingredients.
But if you're the type who likes to keep things moving on your vacay, you won't be bored here!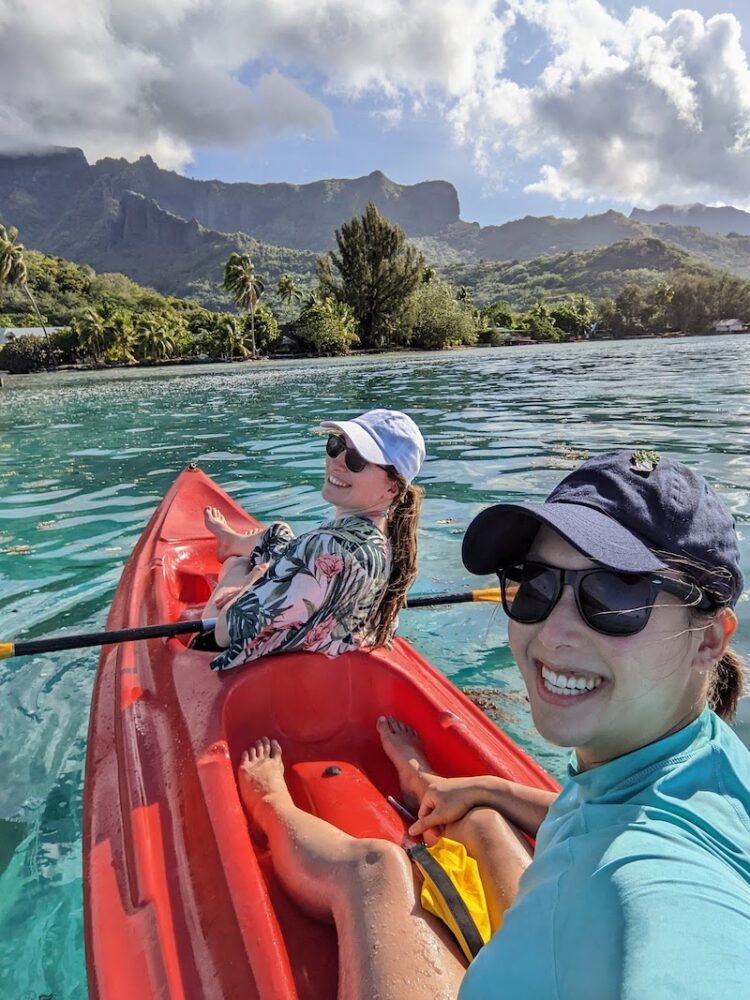 Manava Beach Resort's got all sorts of water sports up its sleeve, like snorkeling, kayaking, and paddleboarding — all gear able to be rented (for free, of course) right on its beach.
And if you prefer to stay dry, there's a well-equipped fitness center with tons of space for yoga and stretching in case you want to keep in shape on your vacation.
Dining Options
The Manava Beach resort has two on-site restaurants: Restaurant Mahana'i offering a more upscale dining experience and Miti Bar & Terrasse for your more casual meals.
Restaurant Mahana'i combines French and Polynesian flavors with a refined flair, and their pastry chef makes incredible desserts.
Mahana'i also hosts Polynesian-themed evening shows every Saturday night, with dancing and singing.
Meanwhile, Miti Bar & Terrasse is a great spot for grabbing some appetizers and a drink in the middle of the day, nestled under the thatched palapas to escape the sun for a bit.
It's a great place to use the free WiFi and catch up on what's going on outside your little water villa cocoon!
Check availability and prices of Manava's water villas here!
Hilton Moorea Lagoon Resort & Spa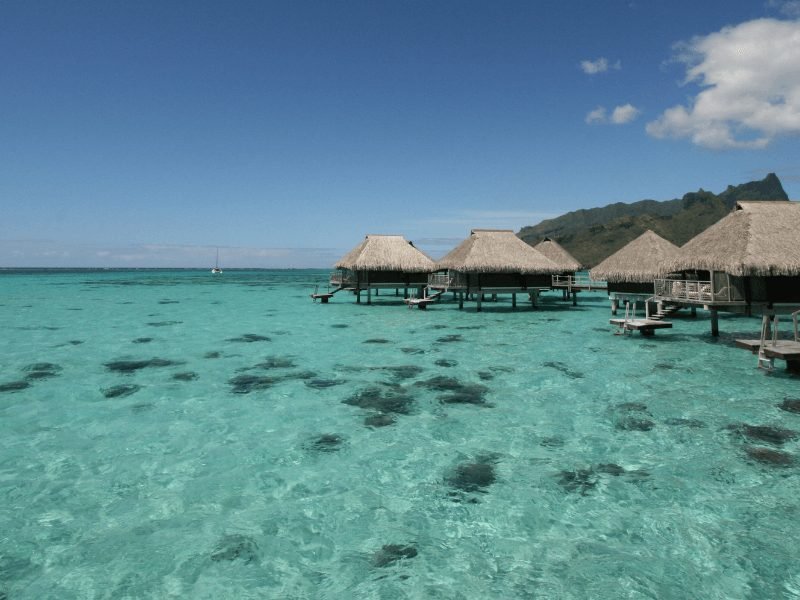 Of course, the Hilton name has been synonymous with luxury travel for ages, and the Hilton Moorea Lagoon Resort & Spa is no exception.
The Hilton is one of the three major resorts on the island that offers overwater bungalows in Moorea.
Besides its bungalows, there are also garden suites, some which also have their own private pool, and also beach bungalows, which are not overwater but are directly on the sand.
Still, the main draw is the luxury overwater bungalows, which are spacious, designed elegantly, and have stunning lagoon views to the horizon with a mountain landscape behind them.
Here's what you can expect if you choose to stay in a Hilton Moorea overwater bungalow.
Location and Layout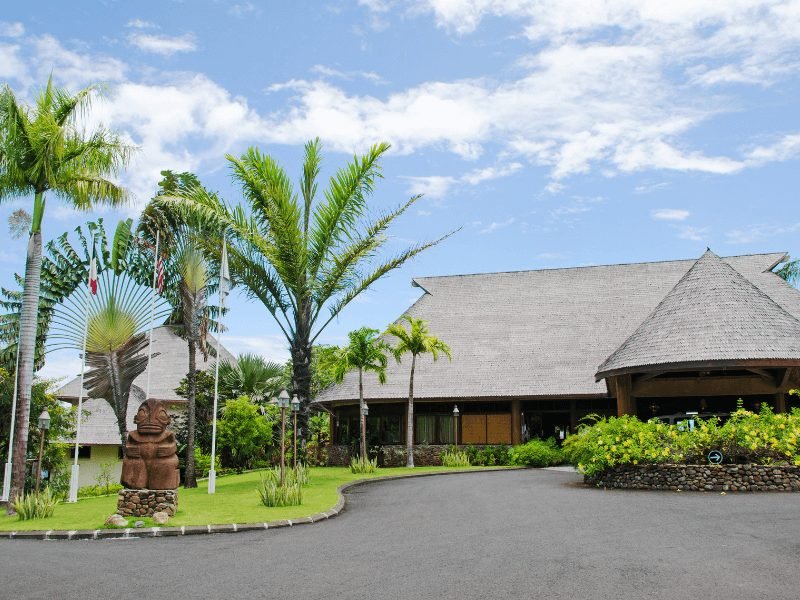 The Hilton Moorea Lagoon Resort is located in Papetoai on the northwest coast of Moorea, near the two main bays of the island, Cook's Bay and 'Ōpūnohu Bay.
The resort is situated on a beautiful white sand beach and is surrounded by lush tropical gardens, so even though you're staying at an international-name resort, it does have a private, secluded feel to it.
Besides overwater bungalows, it has garden bungalows with private plunge pools which are a good deal cheaper, but also quite lush, with bathrooms with their own rain shower and a separate bathtub.
Like most overwater bungalows, the bungalows at the Hilton Moorea are built on stilts posted above the lagoon, which gives those staying in the bungalows direct access to the crystal-clear waters in their backyard.
There's a ladder that leads down from your own private terrace into the lagoon, where one of the better reefs for snorkeling in Moorea is just a short swim away.
This is also your private sundeck to relax and take in the epic panoramic views of the ocean, and you'll catch quite a nice sunset here as well.
Bonus: the Hilton's western-most location gives it the best sunsets of the three resorts with overwater bungalows in Moorea!
They offer 3 types of water villas: king overwater bungalows with or without panoramic views (further out on the boardwalk) as well as the king premium overwater bungalow, which more more private at the furthest edge of the pontoon.
No matter which you choose, all the bungalows are 62 square meters (667 feet) and feature a marble bathroom with rain shower and clawfoot bath tub that can be filled with flowers upon request!
Inside the Bungalow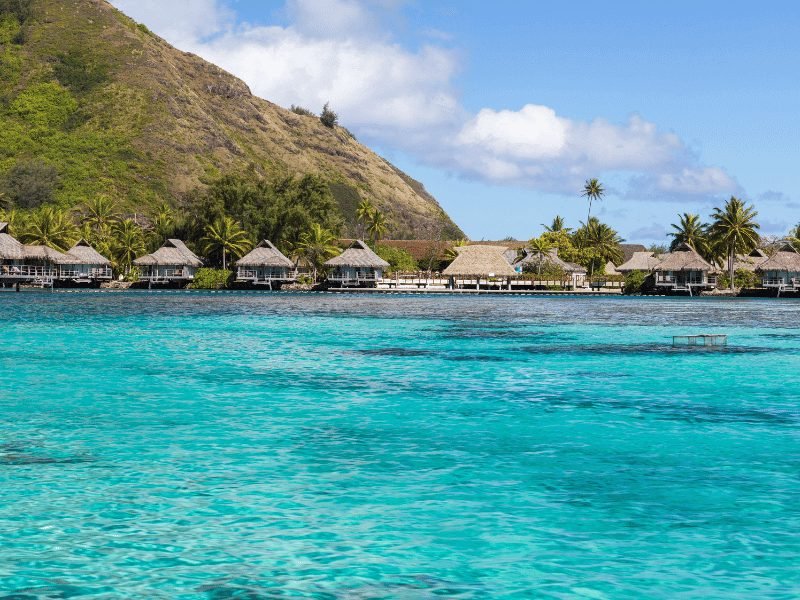 The interior of the Hilton Moorea overwater bungalows is just as luxurious as the exterior.
Inside, the bungalows are spacious, furnished with local hand-crafted Polynesian decor and tropical elements, with plenty of room to relax and unwind during your stay.
For small bungalows, you'll get rather high ceilings, helping with air circulation and giving the bungalow a breezy, airy tropical vibe.
But don't worry, you won't be roughing it — there's A/C (that ceiling fan is partly for show!).
For a good night's sleep, nestle into the plush king-size bed, with high-quality linens and plenty of pillows.
The living area is also comfortable, with ample seating and a large flat-screen TV — if you can tear your eyes away from the views around you to even watch TV, that is.
Meanwhile, the en-suite bathroom is more luxurious than you'd expect of an overwater bungalow, with a separate shower and bathtub and plenty of high-quality toiletries. Plus, it has things like robes and a hairdryer.
One of the most unique features of the Hilton Moorea overwater bungalows is the glass floor panels, which allow guests to look down into the lagoon below and the colorful tropical fish that call Moorea's reefs home!
It's like snorkeling without ever needing to get wet!
Activities and Amenities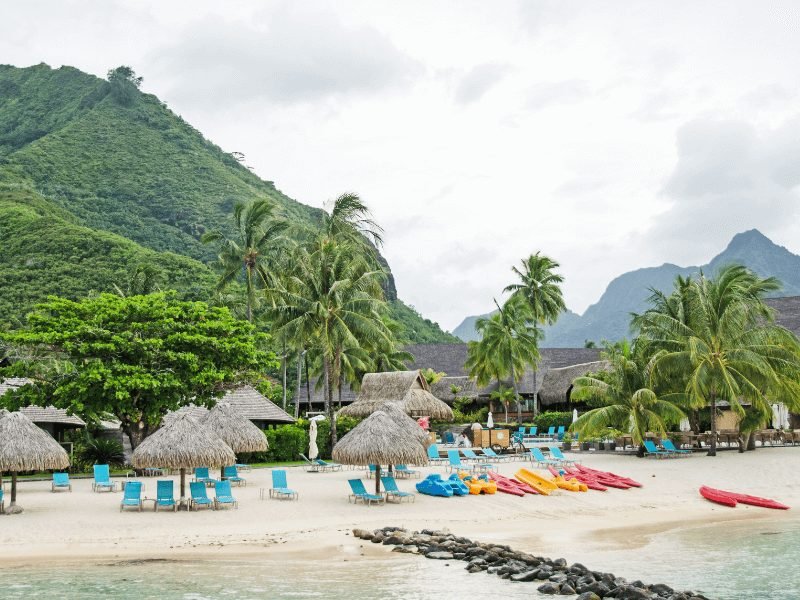 If you can tear yourself away from your private overwater bungalow, there's plenty to do during your stay.
Of course, you can't miss spending some time at the beautiful infinity pool. It overlooks the crystal blue lagoon, and it's surrounded by comfortable loungers and umbrellas so you can sun yourself in between swims.
When it comes time to relax, there is also a spa that offers a range of relaxing treatments with local Polynesian ingredients.
Better yet, the private spa is situated in a beautiful little tropical garden, making it the perfect place to unwind during your stay.
If you'd rather stay active during your trip vacation, the Hilton Moorea offers a range of water sports like snorkeling, kayaking, and paddleboarding — just ask the concierge.
They also have tennis courts in case you'd like to play a round or two while you're there!
There is also a fitness center in case you're the type of person who keeps up with your workouts on vacation (in which case — bravo!)
Dining Options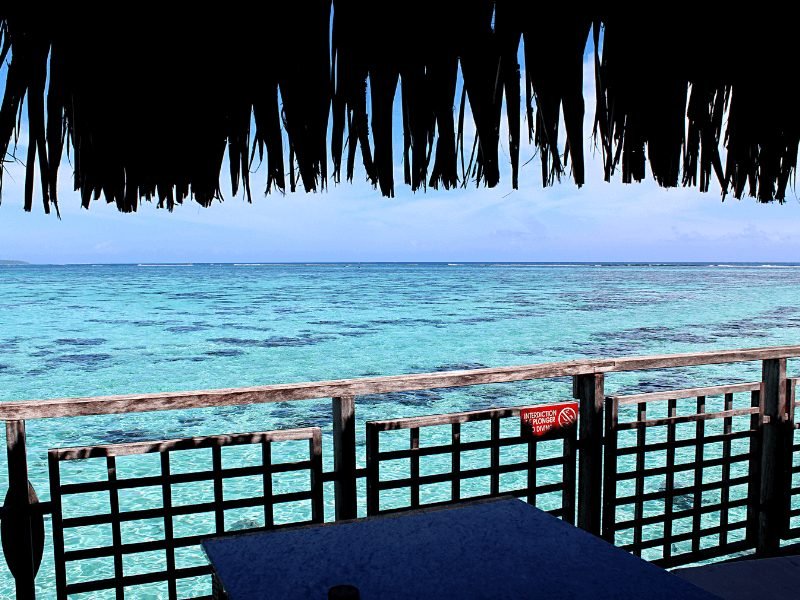 The Hilton Moorea isn't just your typical resort – it's a foodie's paradise with 4 different spots to grab a bite.
Got a serious appetite when you wake up? Head to the Arii Vahine restaurant for a scrumptious breakfast buffet.
They also serve dinner here, featuring the best of local Polynesian and global cuisines.
If you're more the laid-back, snack-on-the-go type, Eimeo Bar & Restaurant's got your back, with light bites perfect by the poolside.
There's the Toatea Bar & Creperie, which is a stunning over-the-water restaurant where you can get delicious sweet and savory crepes (this is French Polynesia, after all!) and other snacks.
There's also Rotui Bar & Grill, a casual restaurant on the waterfront that serves lunch and dinner, focusing on Tahitian flavors and delicious exotic drinks.
And, get this — if you're someone who just likes to lounge around in your overwater villa (who wouldn't, right?), Hilton Moorea has a menu of in-room dining options that won't disappoint.
Picture this: calling room service to have a romantic candlelit dinner on your own private terrace, pop some champagne, or simply enjoy a chill lunch with a view of the lagoon's turquoise waters.
Sounds like a dream? Well, it's a reality here.
Check availability, prices, and details of the Hilton Lagoon Resort here!
Closed: Intercontinental Moorea Resort
A few blog posts incorrectly list the Intercontinental Moorea as one of the options for overwater bungalows in Moorea… but that hasn't been the case since 2020.
You can see it from the water as you snorkel in Moorea, as it's right across from where you go to snorkel with the sharks and rays at the sand bank, and it's also close to the coral gardens tucked between the two motus.
Still, you can't visit or stay at this place, even though you can see its now-defunct overwater bungalows from the water.
Allison Green is a former educator turned travel blogger. She holds a Masters in Teaching and a B.A. in English and Creative Writing. Her blog posts merge her educational background and her experience traveling to 60+ countries to encourage thoughtful travel experiences that both educate and entertain. She has been a speaker at the World Travel Writers Conference and her writing, photography, and podcasting work has appeared in National Geographic, CNN Arabic, CBC Canada, and Forbes, amongst others. Now based in the San Francisco Bay Area where she grew up, she has also lived in Prague, Sofia, and New York City.