Malta is one of Europe's smallest countries, but it packs a lot in its small size, ensuring that even if you only have 3 days in Malta, you'll still end up seeing quite a lot!
Beautiful blue waters rivaling those of Greece, ancient ruins older than Stonehenge, is it any wonder that Malta recently was named one of Lonely Planet's top 10 places to visit?
Long a favorite of British travelers desperately seeking a spot of sun, the secret seems to be getting out, and more and more people are discovering this gem of the Mediterranean for the first time.
Malta is enjoying its spotlight, even despite the loss of one of its most famous tourist attractions, the Azure Window, which crumbled into the sea amidst strong storms a few years back (it's now called the Blue Hole, which has less of a romantic ring to it)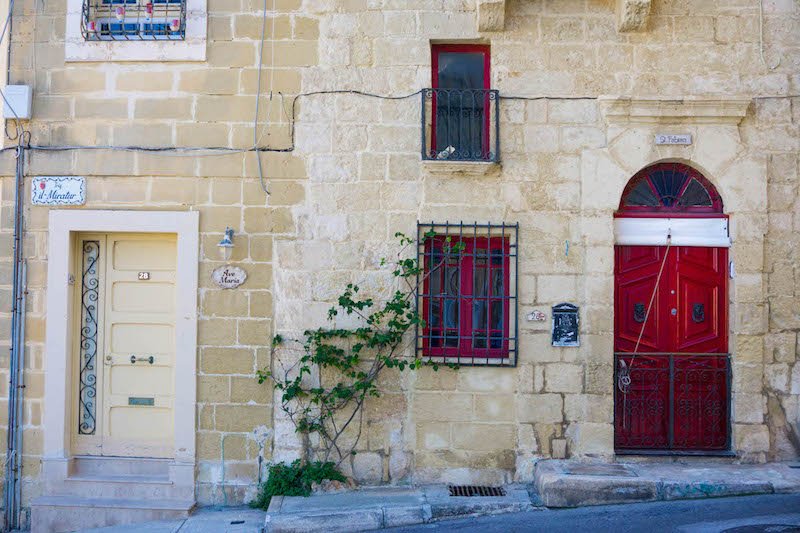 Note: This post contains affiliate links, which means I may receive a small commission if you purchase something through one of these links. Thank you for supporting the free content on this site! For more information on affiliate links and cookies, see my disclosure page for more details.
Even without its most "Instagrammable" spot, the gorgeous island nation of Malta is left with boundless beauty. From the stunning architecture of its ancient streets (with its Maltese balconies) to its cliffs and grottos, this is one gorgeous and unique island.
If the views don't get you, the food in Malta will. I'm still dreaming of fresh octopus, flaky pea-filled pastries, and the most delicious white wine I've tried in recent memory.
Three days in Malta isn't nearly enough, but it's time enough to taste the best of what the island has to offer, and with a focused itinerary, you can end up seeing quite a lot.
If you have an extra day, I highly recommend making the trip out to Gozo to do some scuba diving in one of the best places in Malta.
Malta Itinerary FAQs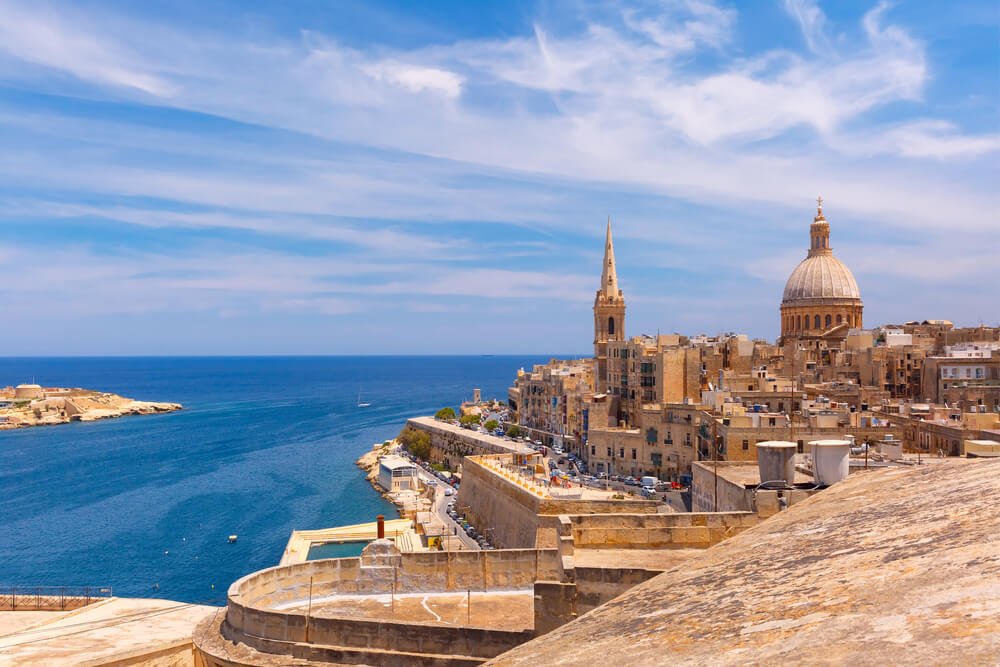 How many days do you need in Malta?
To do Malta justice, 3 days in Malta is the minimum that I would suggest. This will allow you two days in Malta proper as well as a day trip enjoying Comino, the Blue Lagoon, and Gozo.
However, the more days you have in Malta, the better! There's so much to do and see here. You could spend up to a week in Malta and still not run out of things to do, even on these tiny islands!
Is Malta expensive to visit?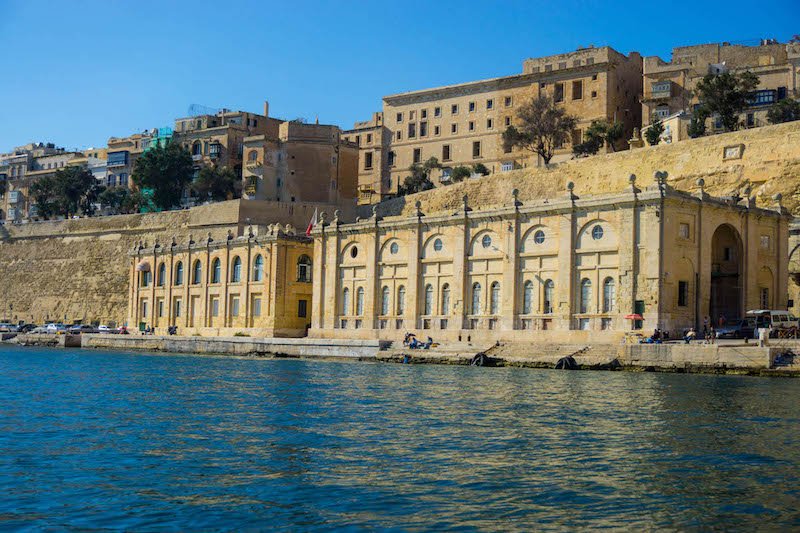 In general, I think Malta is a very reasonably priced destination in Europe.
It is comparable to less expensive parts of Italy such as Puglia and Sicily, and cheaper than more touristic parts of Italy such as Tuscany and the Cinque Terre.
On average, you should budget around $100-200 per day per person in Malta depending on the kind of travel you like to do and what activities you enjoy. However, it could be done for less if budget is a big concern.
Is Malta safe?
Overall, I think Malta is very safe! I traveled to Malta solo and I had no issues as a solo female traveler in Malta. I'd happily go back again solo.
Coincidentally, I just happened to visit Malta during the most high-profile crime that has happened in Malta in decades — the assassination of the journalist Daphne Caruana Galizia.
However, I recognize that is an outlier event that is symptomatic of larger issues facing Maltese people with respect to freedom of the press and organized crime — and not something that would impact tourists in the slightest.
How to Use This Malta Itinerary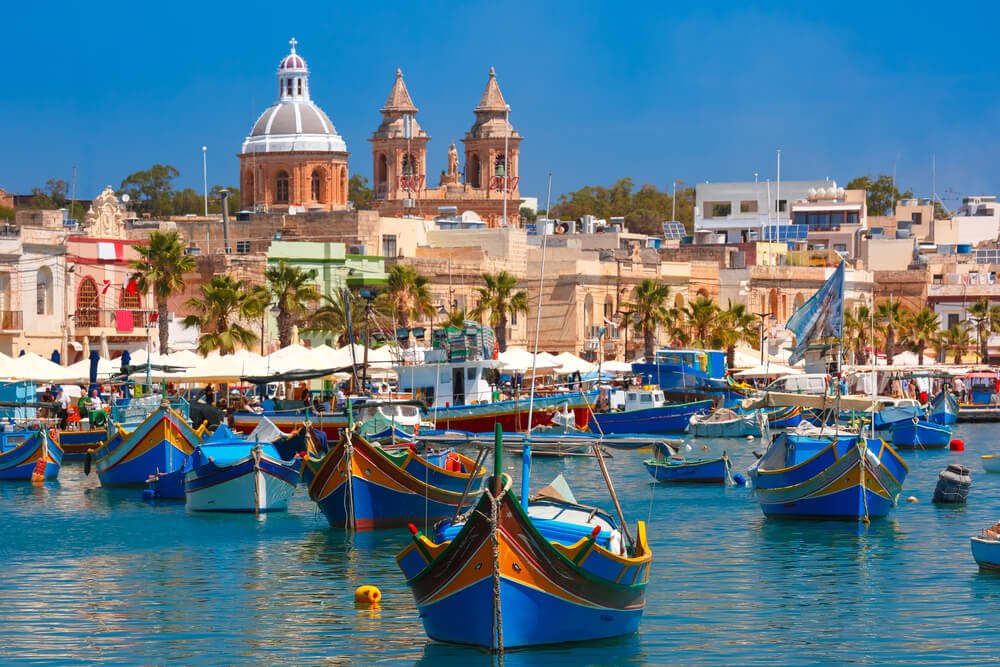 This Malta itinerary goes into detail for 1-3 days in Malta, with activity by activity ideas that it walks you through in depth.
3 days in Malta is really the minimum you should spend, so that's where I focused the most energy.
If you have additional days in Malta, I suggest a few activities for each day to add to your itinerary, but I kept it shorter and broader rather than play-by-play so that you can mix and match an itinerary that suits your needs.
I suggest adding a few guided activities if you have more days in Malta as it'll be less stressful than planning a sightseeing tour all on your own.
Here are a few of my favorite Malta activities I've curated, selected from my preferred tour aggregator, Get Your Guide (I love them for their ample selection of tours and generous cancellation policy!)
What to Do in Malta in 3 Days (+ Ideas For If you Have More Time)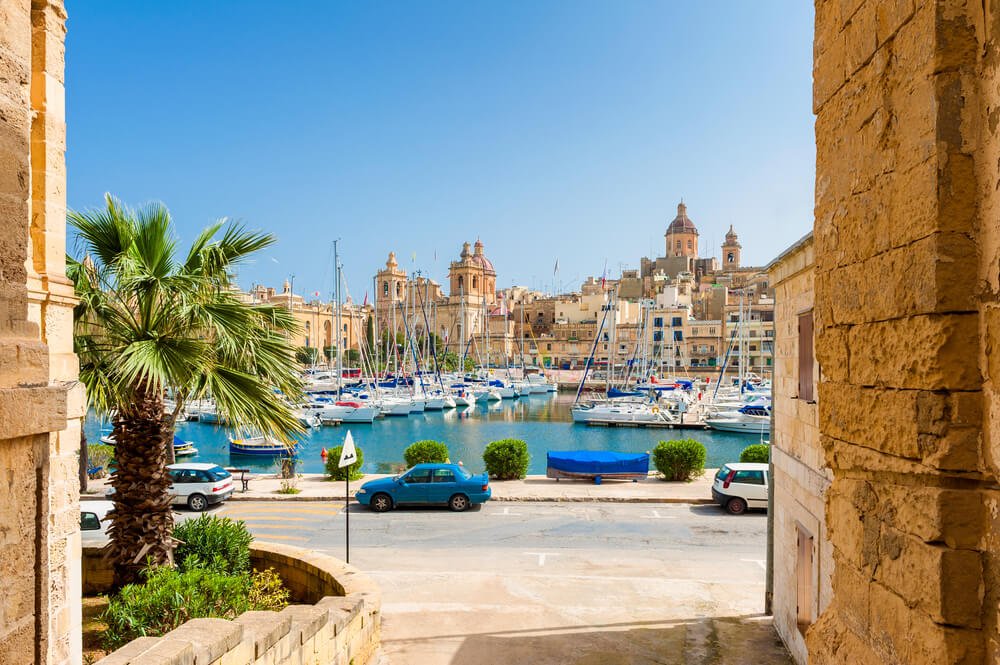 If you want to make the most of a short visit to Malta, I recommend renting a car. It'll make your trip a whole lot easier to plan, as the public transport and bus stops in Malta can be limiting.
Not sure where to get the best deal on your rental? I've rented cars dozens of times through various search engines and have settled on Discover Cars as the best car rental search engine – it searches over 500 trusted rental companies to find the cheapest price for your rental! Compare prices for car rental from Malta here.
Be aware that, as part of its legacy under British rule, all cars drive on the left side of the road, and the steering wheel is located on the right-hand side of the car.
Traffic in Malta can actually be quite bad during rush hour. Malta is one of the most densely populated nations in the world, with around 400,000 people living on an island of less than 100 square miles.
Still, since the only other option to get around Malta is by bus or taxi, you'll be stuck in traffic anyway. So, you might as well have the freedom to pull over and take photos, which I guarantee you'll want to do!
If you don't want to drive or can't, I'd recommend a hop-on, hop-off bus. Hop-on hop-off buses are actually something I rarely advise, especially in cities like NYC, Paris, etc. that have proper metro systems.
It works well for Malta as the attractions are quite spread out on the island, and you'll save a lot of headache of trying to figure out the local bus system this way. You can pre-book tickets here.
Malta Itinerary: Day 1
Visit the old town of Birgu.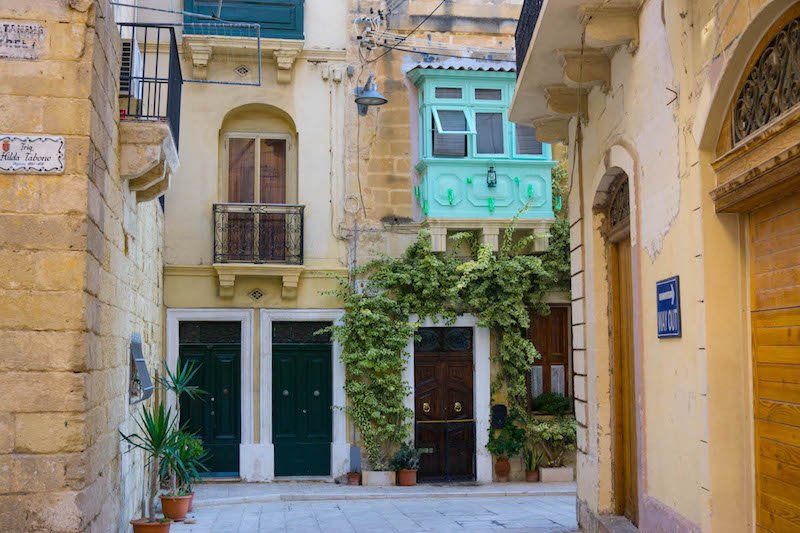 Start your travels in Malta in Birgu. Birgu is one of the oldest inhabited areas in Malta, with tons of history to back it up.
It is the most famous of what is referred to as "The Three Cities," which also includes Senglea and Cospicua.
All three villages are built very close to each other around the Grand Harbor and are marked with traditional Maltese architecture, such as the famously brightly-painted wooden balconies.
Birgu was given the title Citta Vittoriosa after withstanding the Great Siege of 1565, when the Knights of the Order of St. John defeated the Ottoman attack.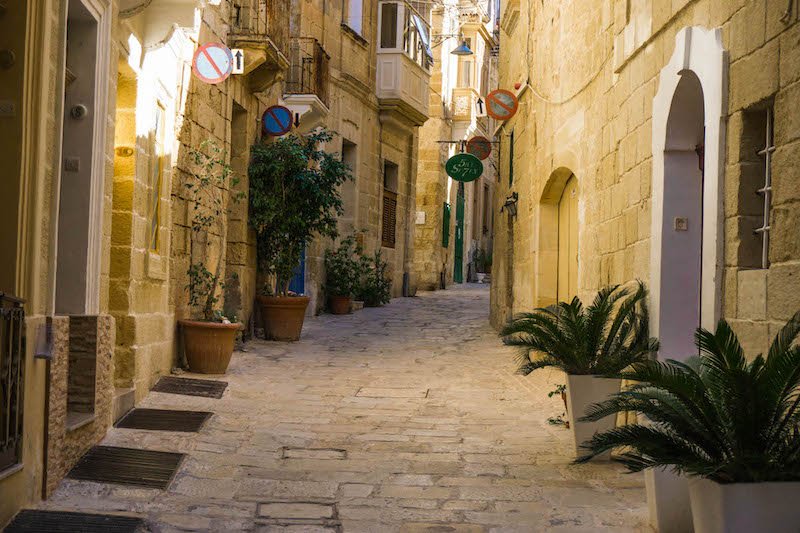 Birgu's other claim to fame is as the former capital city of Malta until 1571, when the building of Valletta was completed. Nowadays, Birgu's population is almost 3,000, making it a sleepy though lovely part of Malta to visit.
While visiting Birgu, be sure not to miss the wine bars, shops, and hole-in-the-wall restaurants that line the streets and alleyways of the city!
I ate lunch at Don Berto, which has a stunning view of the mega-yachts in the harbor. I ordered a glass of Maltese white wine and the stewed octopus and couldn't have been happier!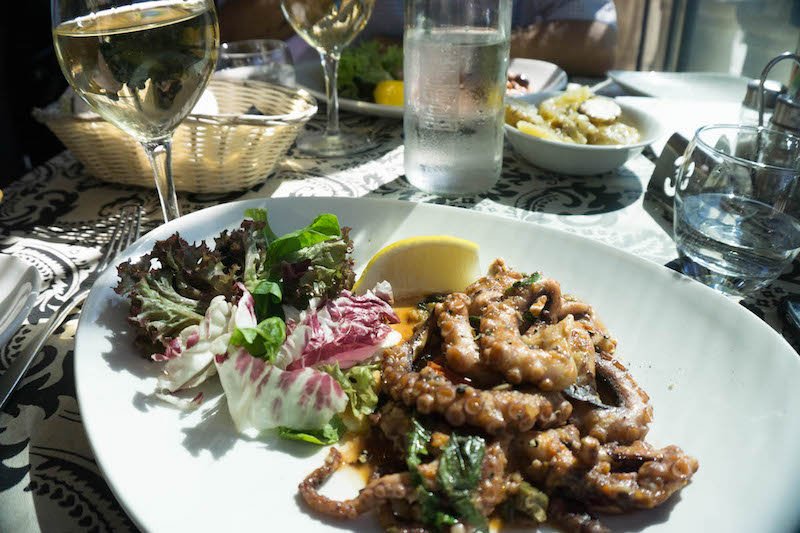 A few other points of interest in Birgu include the excellent Maritime Museum (which I'm a total nerd for) and the Inquisitor's Palace.
Both museums are definitely worth spending an hour or so in.
The Three Cities are one of the most historic places to see when you visit Malta, so it definitely helped to have a guide with me.
I recommend booking a tour (this one in a vintage bus looks adorable and fun!) or hiring a guide to make the most of your experience.
Visit the marvelous Fort St. Angelo.
Before leaving Birgu, be sure to visit the imposing and impressive Fort St. Angelo, a must on any Malta itinerary.
This fortification on the edge of the city of Birgu was built by the Knights, strategically building over the ruins of a Roman castle that dated back hundreds of years.
This fort was what granted safety to the harbor and its occupants due to its strategic position during the Great Siege of 1565.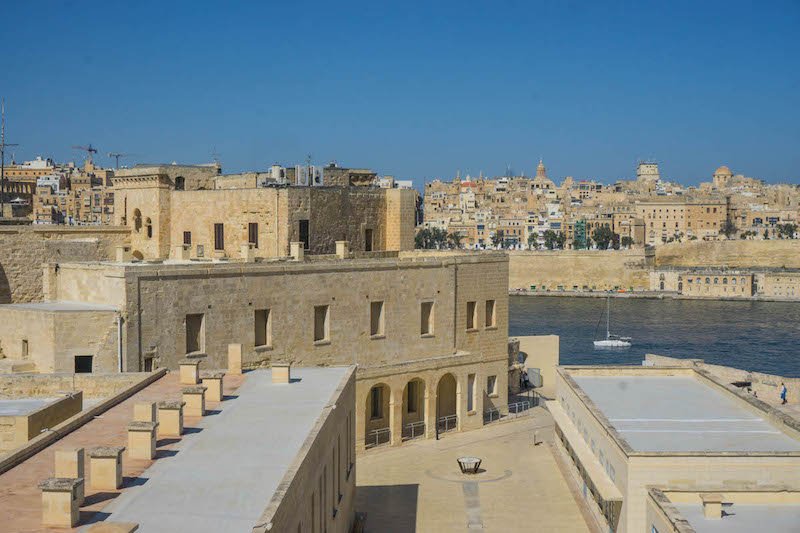 These days the fort is of great pride to the Maltese people and while it has been restored over the years, it still maintains the old military look from when it was last used.
But let's cut to the real reason why you're probably interested: Fort St. Angelo was where some of the scenes from season 1 of Game of Thrones were shot.
Diehard fans of the show can even take a private tour of all the locations in Malta where it was filmed!
Even if you don't care much for the history – the views from Fort St. Angelo overlooking Valletta and the Grand Harbor can't be beaten.
Take a Grand Harbor boat tour.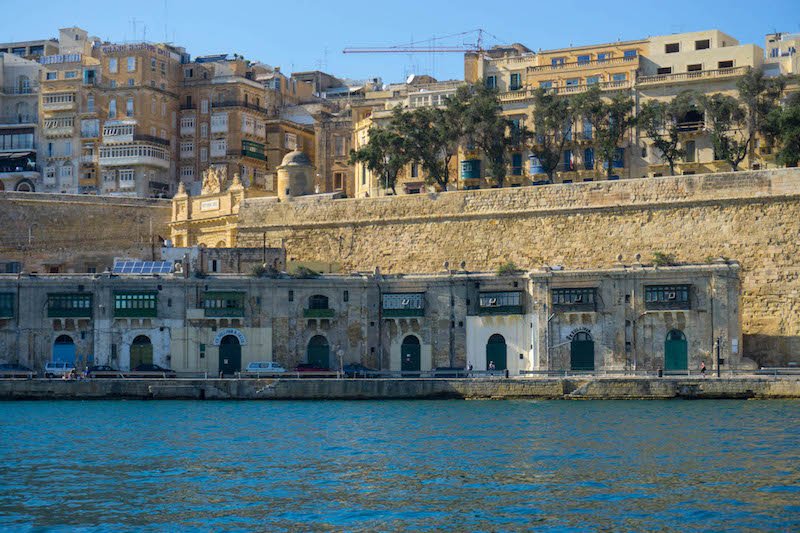 Although you've already got an aerial view of it: there is no better way to experience the Grand Harbor than by experiencing it by boat.
Sit back and relax (or, if you're like me, frantically take photos like your life depends on it) while the tour takes you around some of Malta's majestic natural harbor.
Be sure to look back and take a photo of the fort you were just on!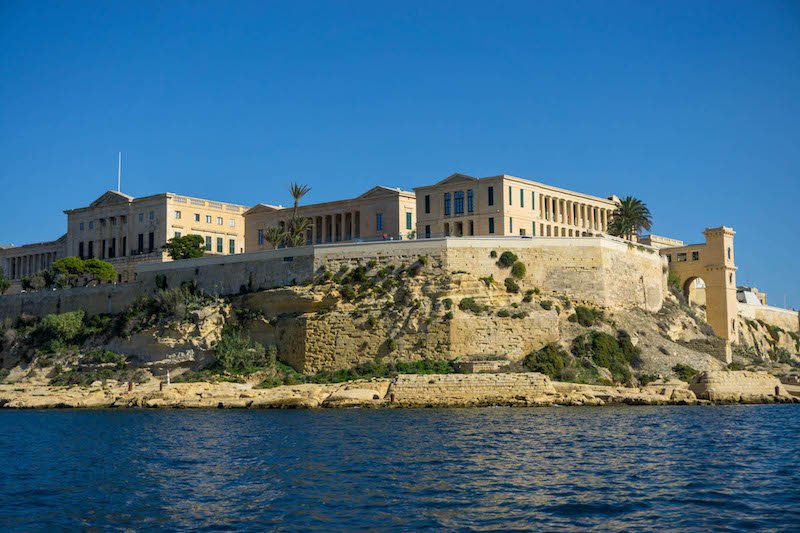 You can take a lovely gondola ride in one of the colorful traditional Maltese fishing boats called the dgħajsa.
(Don't worry, I have no idea how it's pronounced either.)
This will take you over to Valletta, the capital of Malta, to continue your sightseeing.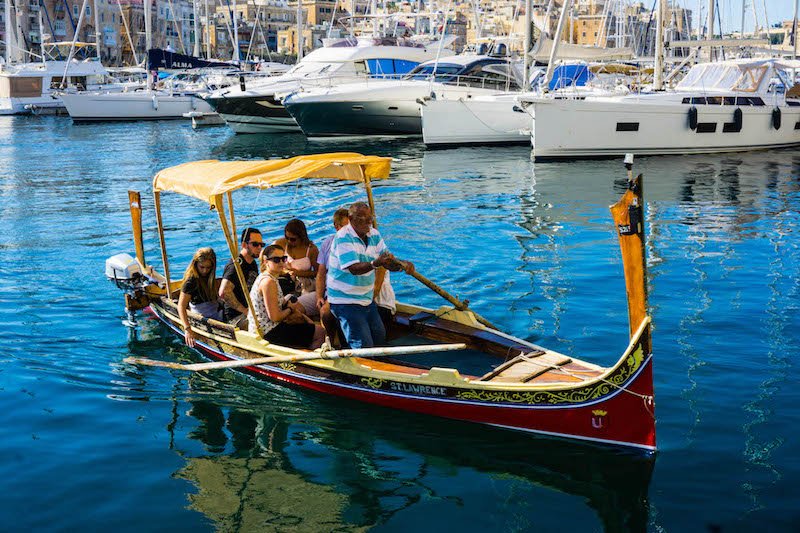 Explore the UNESCO site of Valletta, Malta's capital city.
Valletta is one of Malta's three UNESCO World Heritage Sites – and with good reason. Valletta is one of the most well-preserved cities in Malta, despite the odds, and there are many great things to do in Valletta.
While the city has survived many historical events, including the Siege of Malta which took place during World War II for two years, it has undergone no significant modifications since 1798, simply rebuilding and repairing damage that was done.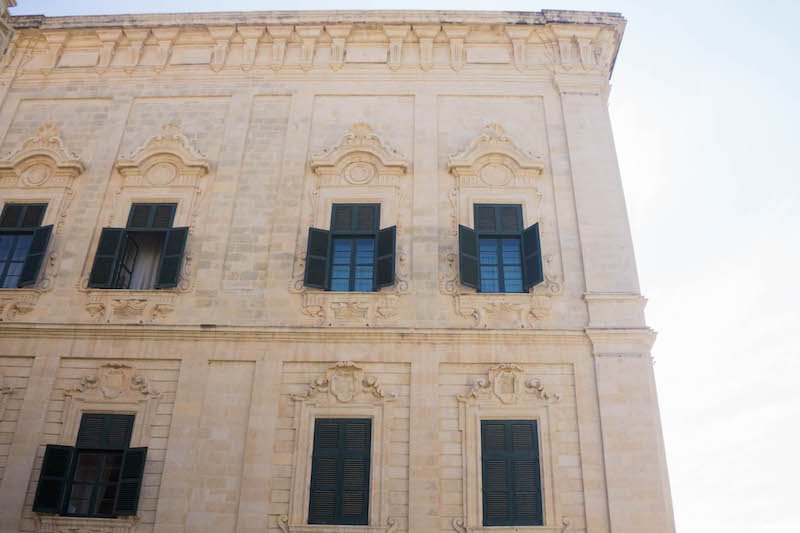 The fortified city of Valletta is one of the most stunning sites in the Mediterranean. The moment you pass through its giant city walls, you'll understand why Valletta is so crucial to Malta's history and identity.
Be sure to walk down Republic Street, the main walking street of Malta which stretches from the City Gate to the Fort of St. Elmo.
The main site that you shouldn't miss in Valletta is the St. John's Co-Cathedral, where an exiled Caraveggio's masterpiece "The Beheading of Saint John" is displayed. This is a site with a lot of history for the Knights of St. John.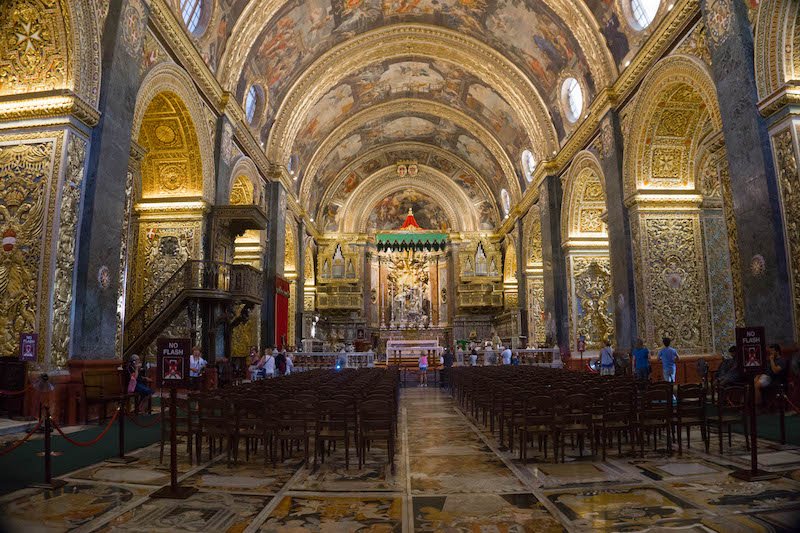 The church is also unique for its tombstone-covered floor, where the epitaphs of over 400 knights and officers of the Order of Saint John were buried after having fallen during the Great Siege protecting Malta.
Maybe I'm just a bit morbid, but I found the epitaphs of the tombs to be incredibly beautiful.
Either way, you'll never again see a church quite like it: it's one of the most magnificent I've ever seen.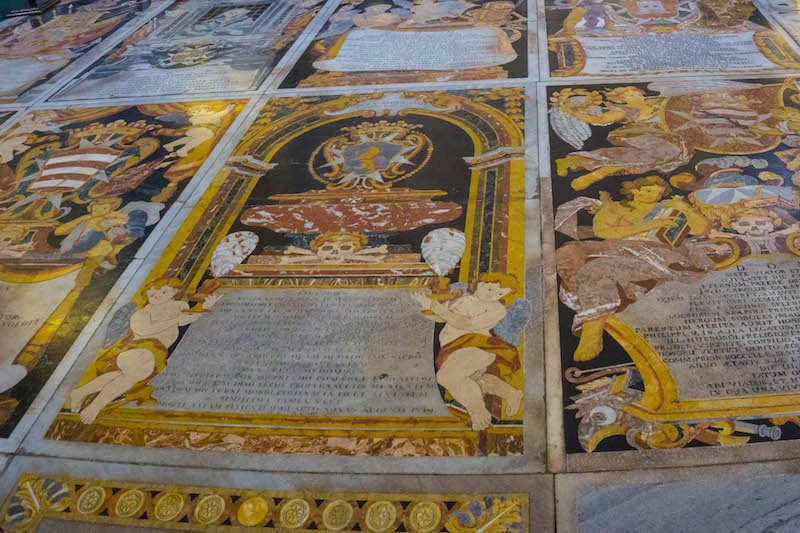 A few other spots of interest in Valletta include the Grand Master's Palace, Casa Rocca Piccola (an ornate house dating back to the late 16th century), and the Valletta Waterfront.
You also shouldn't miss the Fort of St. Elmo which is also located in Valletta, on the other edge of Republic Street.
And of course, don't forget to stop and take as many photos of Valletta's beautiful doors and balconies as possible!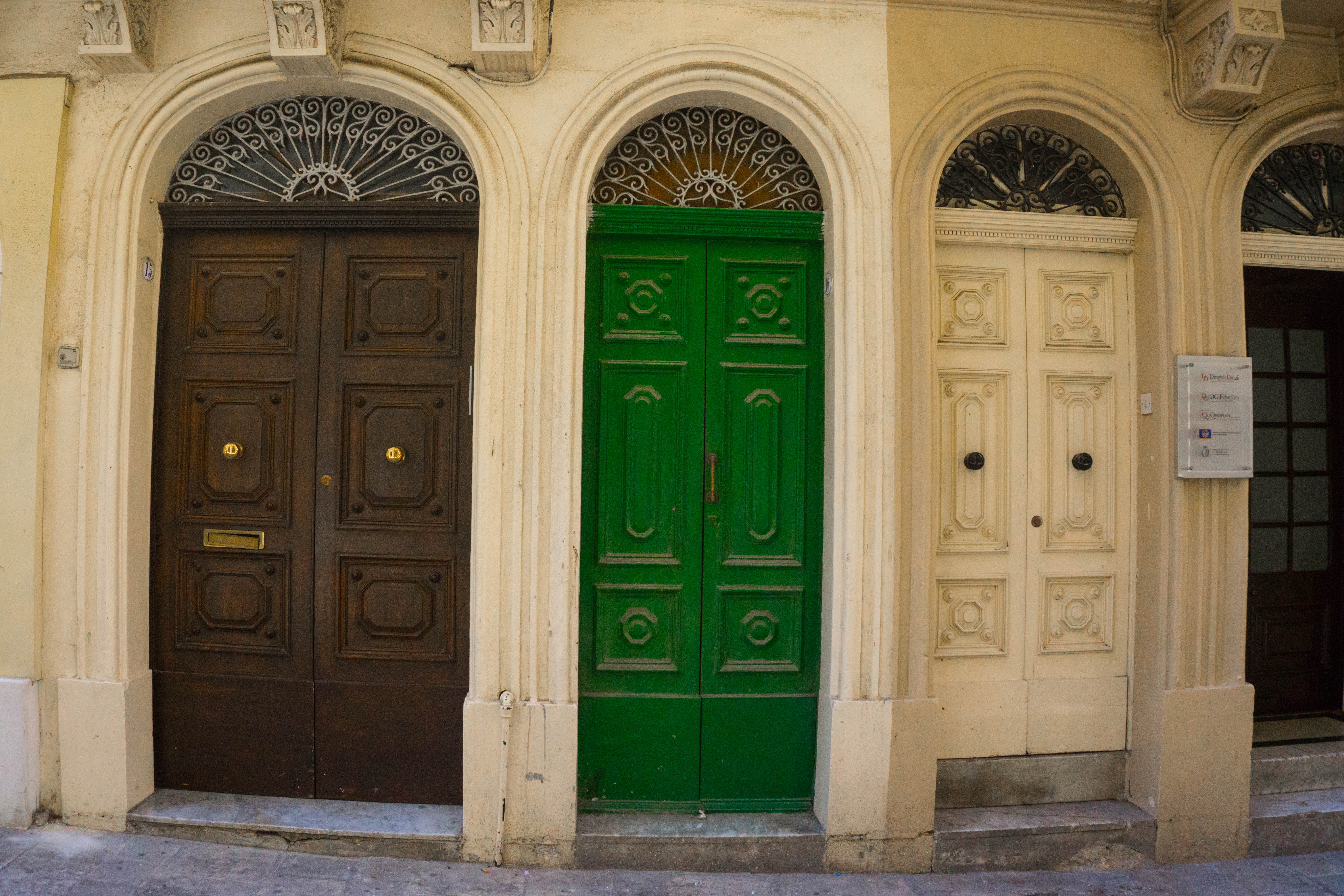 While Valletta is small and easy to navigate on foot, I really recommend going with a guided walking tour of Valletta.
It'll help you understand all the reasons why this city is the European capital of culture and why it's so important to Malta's history.
Shop walking tours of Valletta here.

Valletta: 2-Hour Walking Tour
Valletta City Tour: St. John's Cathedral, Malta Experience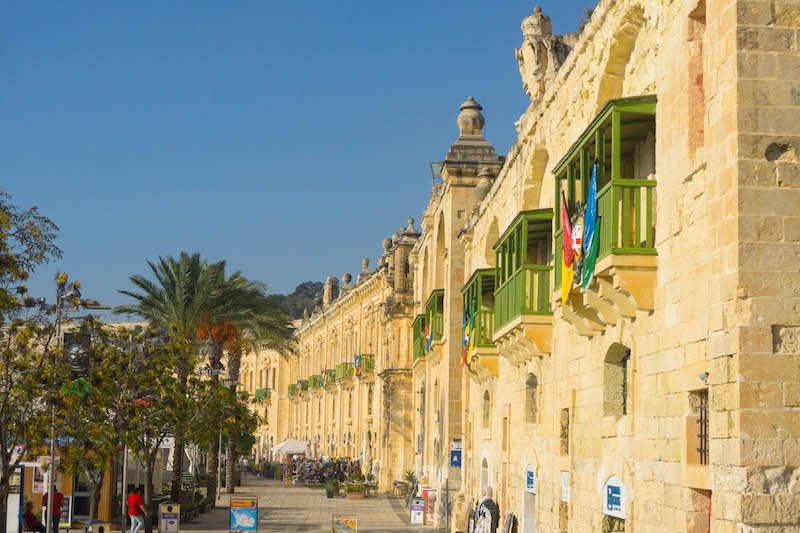 As for where to eat in Valletta, I highly recommend eating at Rampila, a delicious restaurant serving traditional Maltese dishes.
The restaurant has great views of the fortification walls and is a great choice for day or night.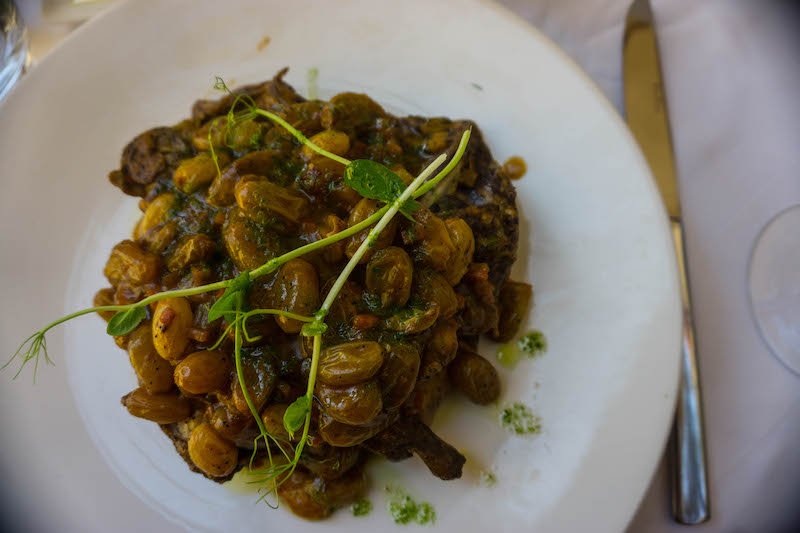 One of the dishes Malta is best known for is its rabbit stew. Here, it was served with an amazing stewed grape sauce.
It was absolutely delicious, especially with a glass of Maltese white wine featuring the local indigenous grape Girgentina.
Be sure to have as much as you can while you're there, as Malta only exports something like 3% of its wine to the world at large — making trying Maltese wines a priority when you're there.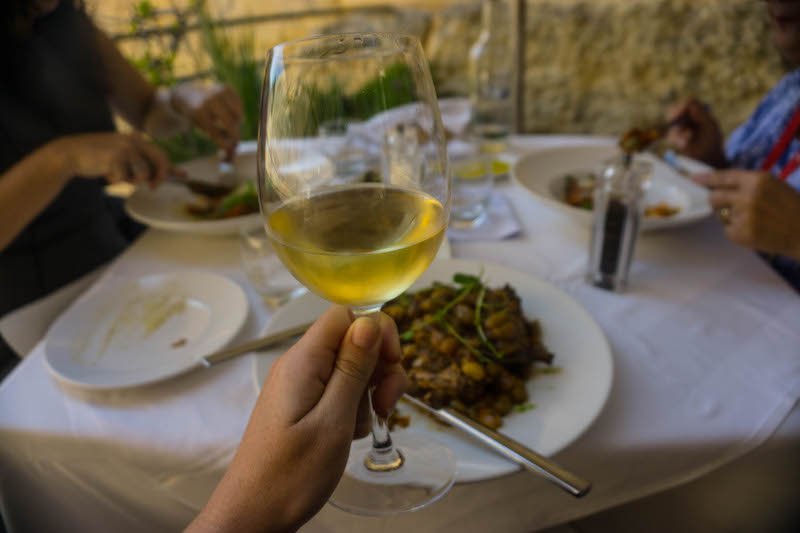 Yup, that's permission to drink like a fish!
Don't forget dessert! I had imqaret, a traditional Maltese dessert.
These diamond-shaped sweet pastry parcels are filled with dates, lightly fried, dusted with powdered sugar, and served with a side of ice cream — perfect for someone like me who doesn't like their desserts too sweet.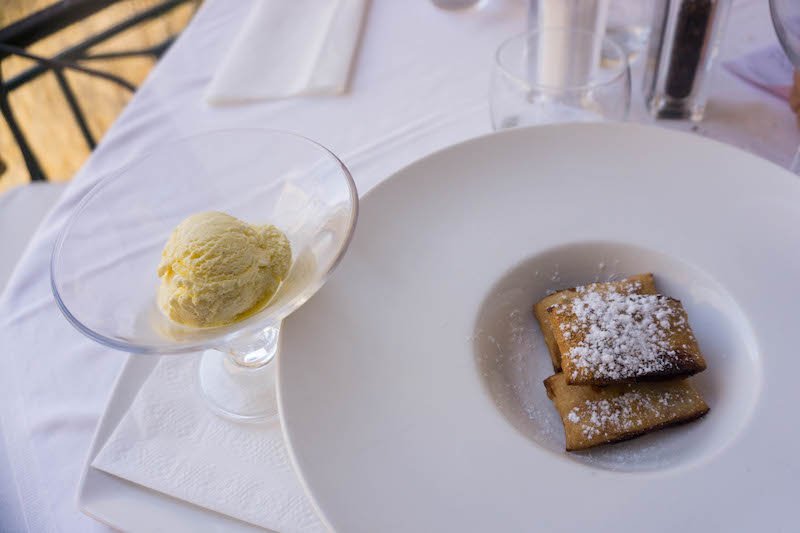 Visit the beautiful Upper Barrakka Gardens.
The Upper Barakka Gardens overlook the Grand Harbor and offer a stunning view.
It is located just opposite from Fort St. Angelo, where you started the day.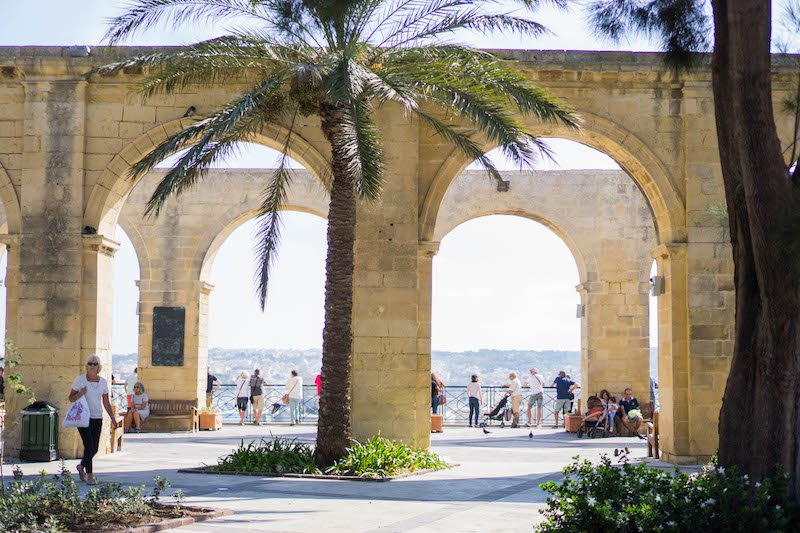 From here, you can take in one of the most beautiful panoramic views in all of Valletta.
Be sure to stop for a coffee at the Upper Barrakka Garden Cafe and enjoy the spectacular views from above.
Try to time your visit with the Saluting Battery, a theatrical ceremonial cannon firing. It occurs at noon and 4 PM daily.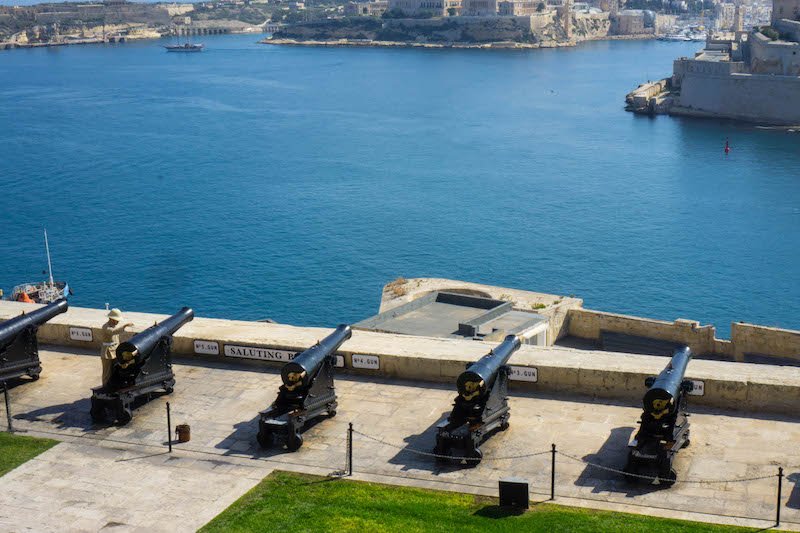 Walk to the Lower Barrakka Gardens.
Just 15 minutes' walking distance away from Upper Barrakka Gardens down St. Ursula's Street, you'll find the equally scenic Lower Barrakka Gardens atop the old Valletta bastions.
From the Lower Barrakka Gardens, you can enjoy stunning views of the Grand Harbour, Bighi Palace, Fort St. Angelo, and Fort Ricasoli.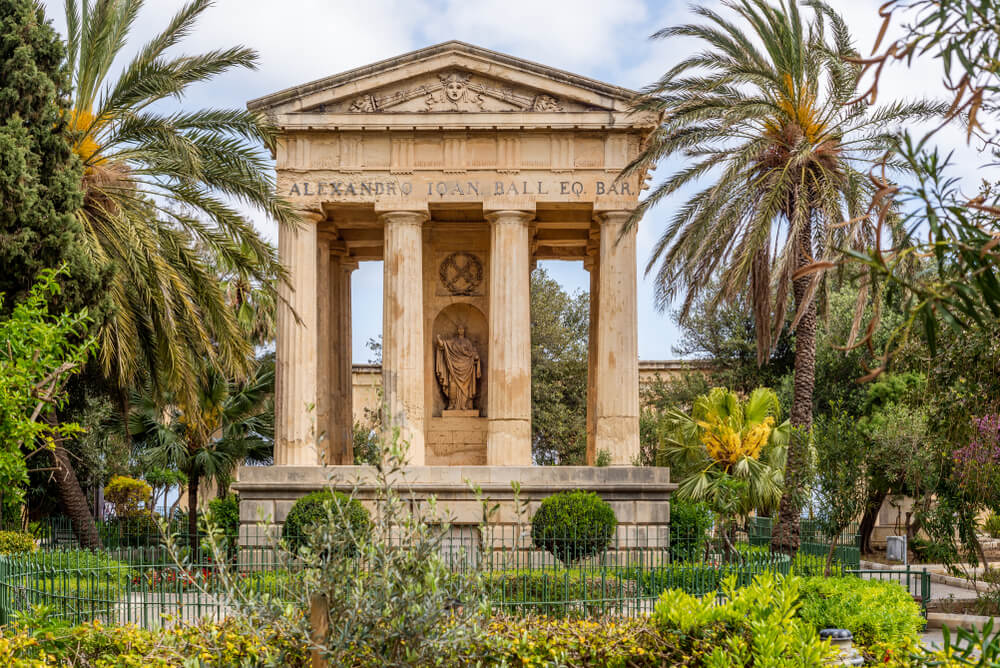 Visit the Marsaxlokk fishing village
Marsaxlokk Bay is Malta's second-largest natural harbor and where tens or even hundreds of colorful Maltese fishing boats dock, and its iconic status means you can't miss putting it on your Malta itinerary.
The fishing village of Marsaxlokk is also home to a famous fish market which gives tourists a fascinating insight into the local life and traditions. Walk along the shoreline of the port in Malta to admire all the adorable boats.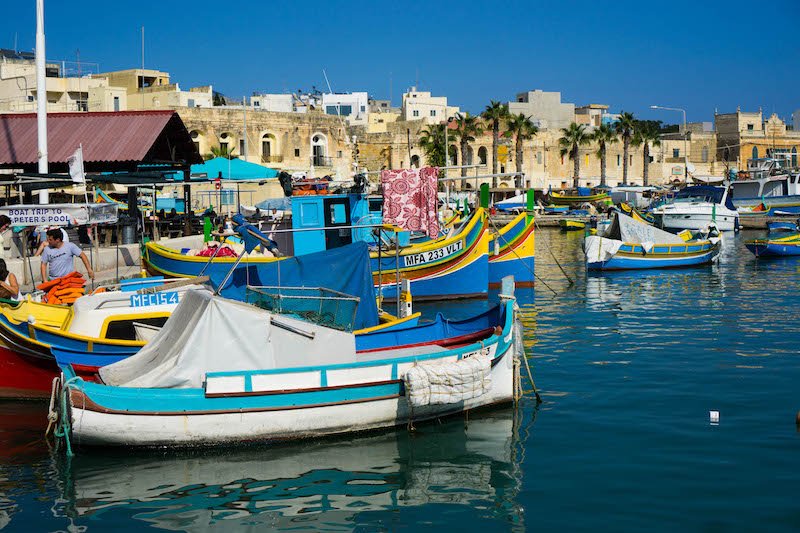 Take a late afternoon dip at St. Peter's Pool
To cap off the first day of this Malta itinerary, take a boat ride from Marsaxlokk to St. Peter's Pool for a quick dip in one of Malta's best swimming areas!
It costs 10 euro round-trip and each way takes about an hour by boat. It's a great view of Malta by sea and arriving at St. Peter's Pool is otherworldly!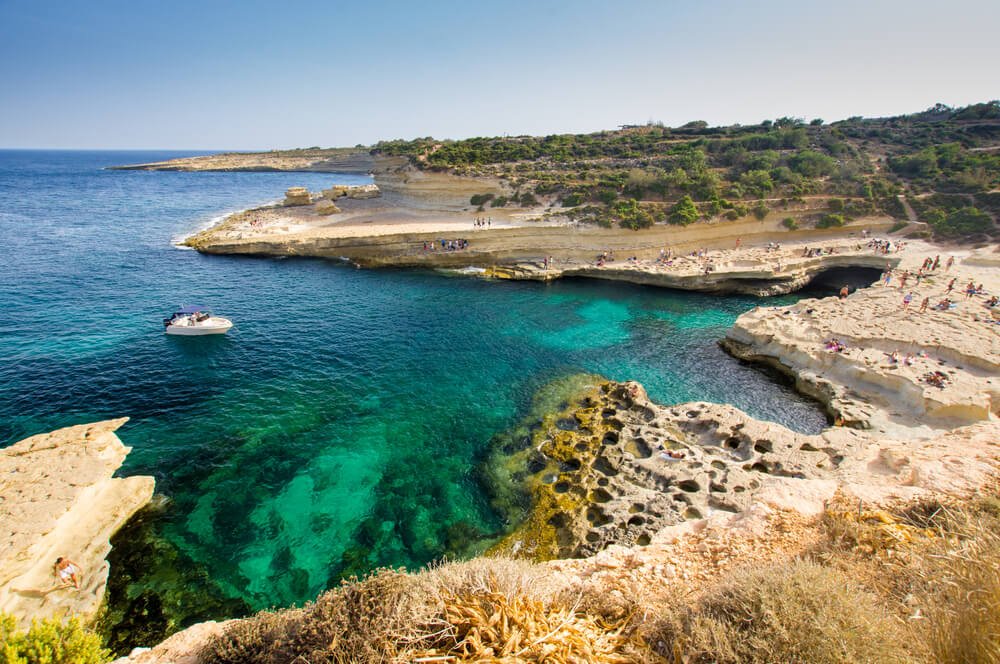 After your dip, return by boat to Marsaxlokk after and dine at one of the seafood restaurants along the harbor or opt to head back to your hotel area and dine there.
Be sure to get a good night's rest: we have an early wake-up call and a full day tomorrow!
Malta Itinerary: Day 2
Spend a day trip on a catamaran exploring St. Paul's Bay, the Blue Lagoon, and Comino.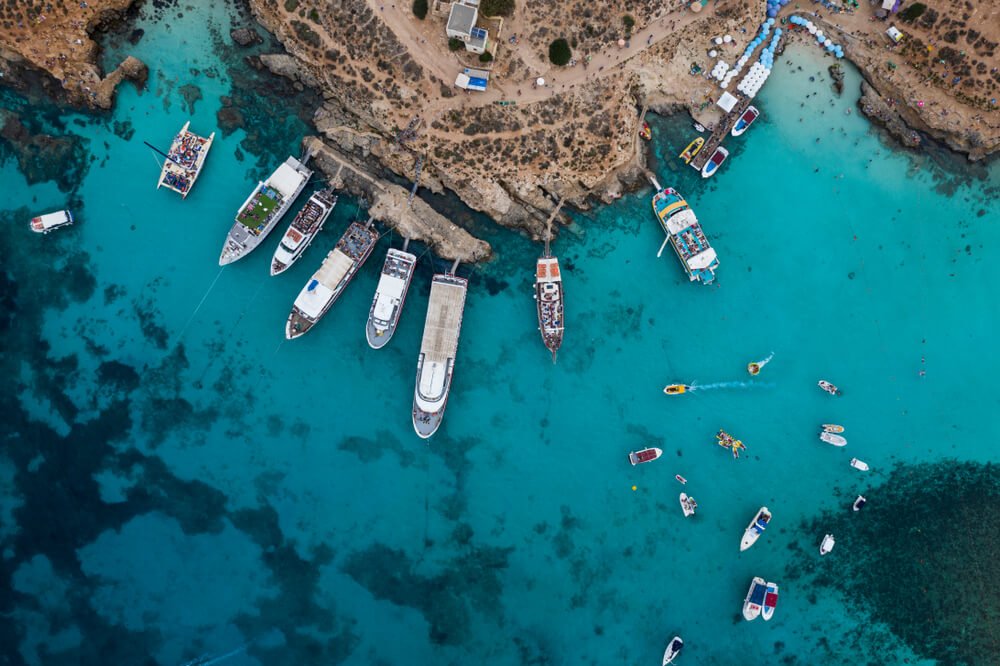 After a day with so much walking, it's time to have a relaxing, mostly hands-off day in between our more sightseeing-heavy days!
On the second day of this Malta itinerary, we'll leave the main island of Malta to explore the islands of Comino and Gozo on a half-day tour.
We'll start by exploring the Blue Lagoon by boat tour. This tour leaves bright and early from Bugibba at 9:30, but you should arrive at least 30 minutes before departure, so start your day early so you can be sure you won't miss the boat (literally!).
I suggest this 6-hour catamaran tour of the Blue Lagoon of Comino as well as several of the nearby bays of Malta.
It includes snorkeling equipment (with a 10 euro deposit), a barbecue lunch (if selected), and plenty of sunbeds and catamaran nets to lounge on! There are also cocktails you can buy on board to truly let loose and relax.
You'll stop at the Blue Lagoon, of course, but you'll also stop at a few hidden gems of Malta, such as the sandy beaches of Golden Bay or Gnejna Bay, or perhaps Mellieha Bay or Ramla Bay — all depends on the winds and weather!

Optional: Visit Popeye Village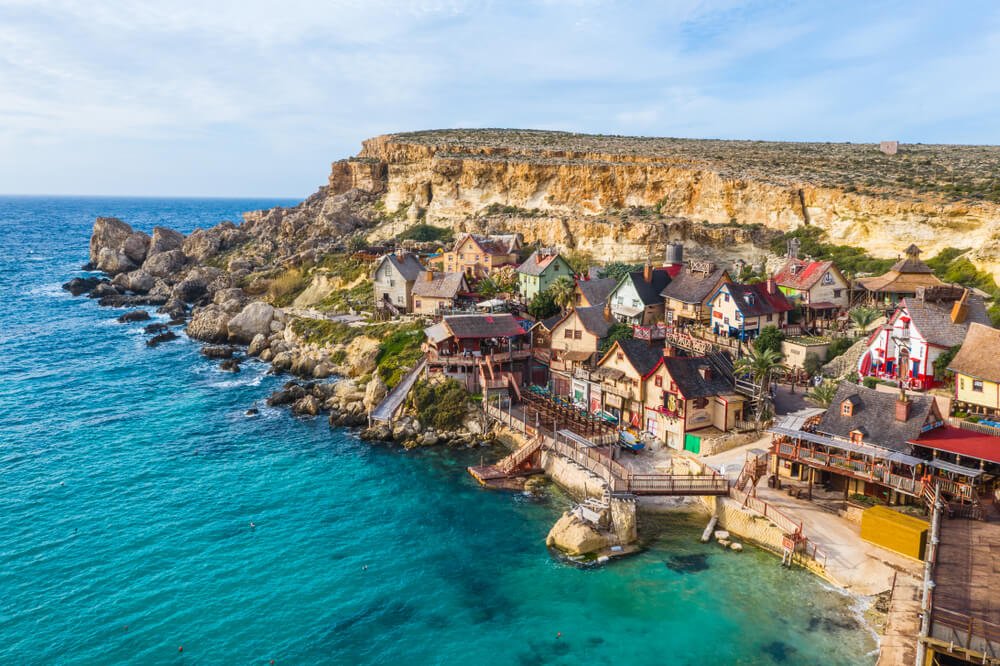 Depending on what you want to do with the rest of your day, you could head to Gozo or you could visit Popeye Village on the island of Malta.
Popeye Village is a purpose-built set that was originally designed for the 1980 production of Popeye (the musical).
It has since been converted into a small amusement park and it's a major draw for Instagrammers because it's just so darn cute.
I didn't have time to visit Popeye Village during my visit to Malta but it's definitely a draw for many.
Optional: Head to the island of Gozo by ferry.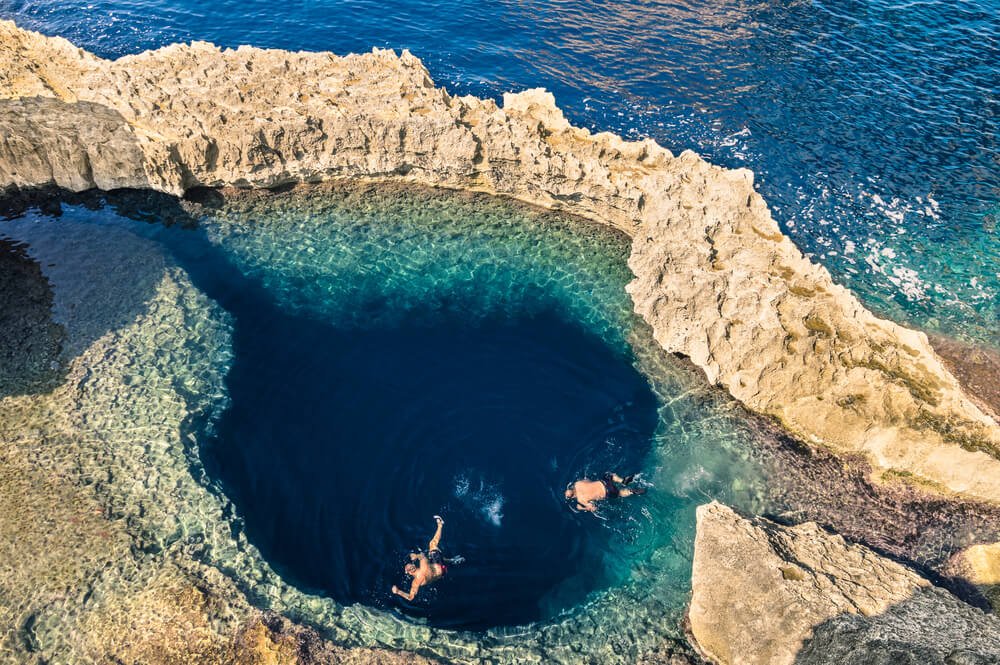 After you've returned from your catamaran, around 3:30 PM, you'll still have plenty of time to continue on with your Malta sightseeing should you choose.
I recommend making your way over to Gozo and getting on the ferry at the Ċirkewwa Ferry Terminal, about a 20-minute drive from Bugibba.
The ferry runs 24/7 and there are ferries every 45 minutes (you can find a schedule here).
It takes 25 minutes to cross the Gozo Channel and it costs about 16 euro (plus an additional 5 euro per additional passenger besides the driver).
Once you arrive in Gozo, there is a lot you could opt to do and see, but with limited time, I'll make a few recommendations.
I suggest checking out the stunning views at Ramla Beach, which is one of the most beautiful places on the island and a great Gozo photo spot!
You can also get a good view of Ramla Beach and Ramla Bay from Tal Mixta Cave.
Another good idea is driving to see the salt pans of Gozo outside the town of Marsalforn on Xwejni Bay. They're really beautiful and it's a great photo spot.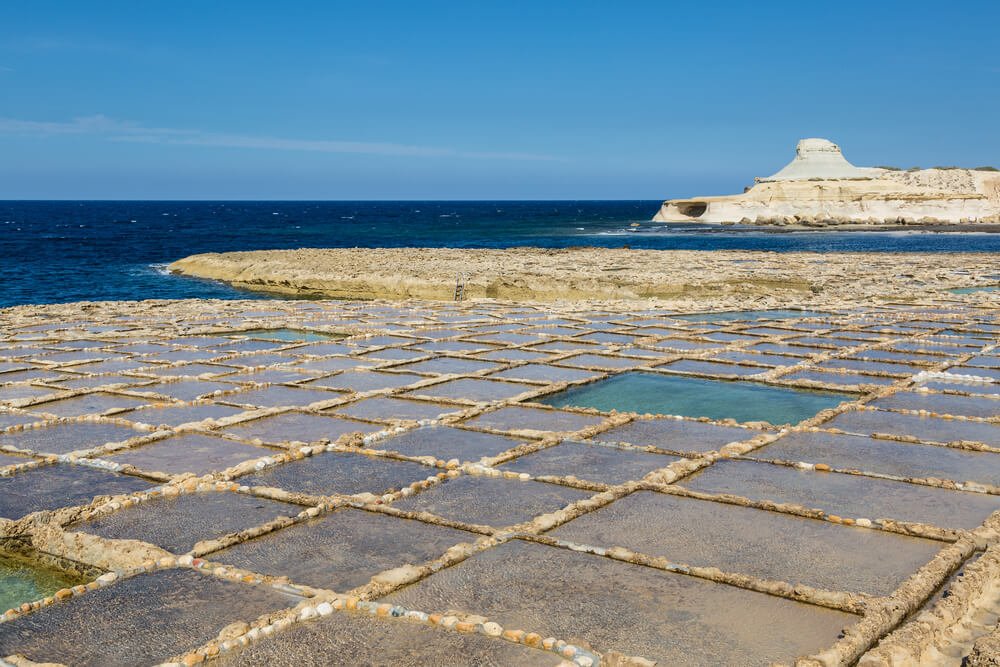 Another point of interest is World Record Rock, where a world record was set by Nicky Faruggia when he clocked the fastest swim between Sicily and Malta, which took 30 hours. He landed at this point!
Of course, you should check out the Blue Hole (formerly the site of the Azure Window) which is located next to Dwejra Bay. The views from here are simply breathtaking.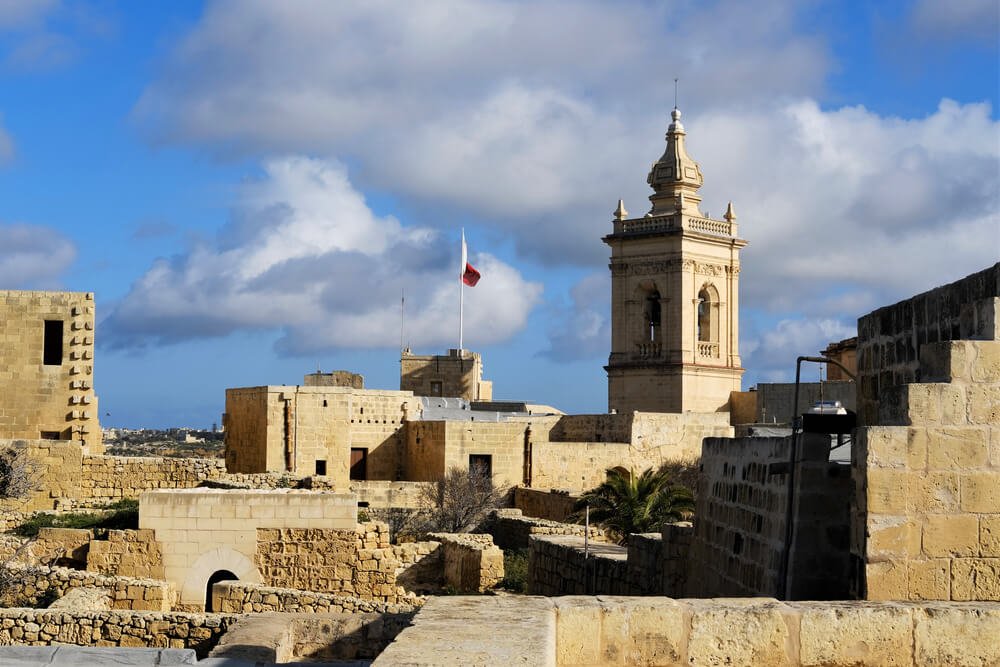 Finally, be sure to check out the city of Victoria, the capital of Gozo Island. The city is also known as ir-Rabat in Maltese. It's home to the Citadel of ir-Rabat, aka Citadella, one of the most famous places in all of Gozo.
Another place worth a visit in Victoria are the St. Paul's Catacombs, the remnants of an ancient Roman burial site.
There is also St. Michael's Bastion (Il-Bastjun ta San Mikiel), St. George's Basilica with its beautiful marble carvings, and lots of great restaurant options to have dinner in before returning to your hotel on the island of Malta.
Malta Itinerary: Day 3
Start the day with Maltese pastizzi and tea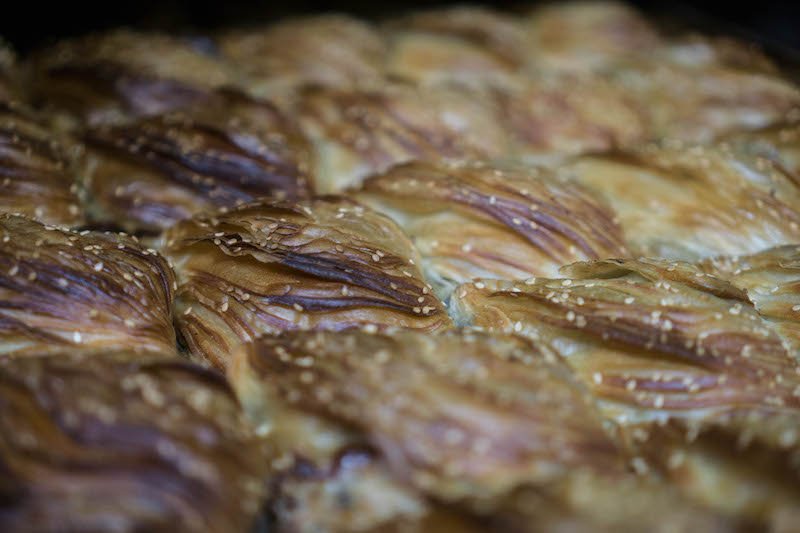 Il-Serkin (also called Crystal Palace) is one of the best places to try Malta's traditional snacks called pastizzi (also called cheese cake)
Maltese pastizzi is typically filled with creamy ricotta or mushy peas and amidst several flaky layers of dough.
Served with coffee or tea in a glass, you can't ask for a better breakfast in Malta.
Visit "the Silent City" — the Old Town of Mdina.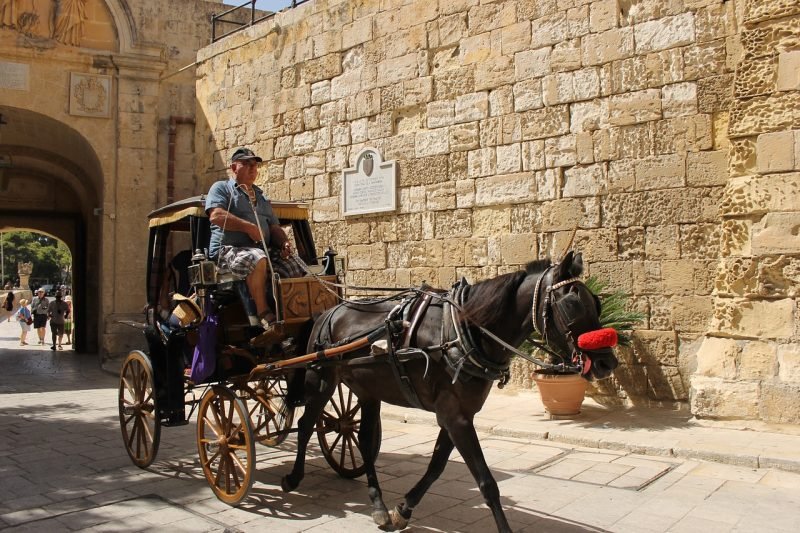 Mdina's history is long and storied, originally settled by the Phoenicians and cycling through many hands as Malta's history progressed.
These days, Mdina is one of Malta's most famous sites, partly due to its mixture of architectural styles, ranging from medieval to Baroque.
Pass through the City Gate at the entrance to the town and you'll feel like you're stepping back in time.
It's also known as "the Silent City", because of its small population (only 300) and lack of car traffic. However, visit during a busy day and you won't find it so silent!
At night, however, it really earns its namesake, and it's quite magical to ride through the city on a karozzin (traditional horse and carriage). It might be worth it to double back for an evening carriage ride!
Something about Mdina in Malta makes you feel like you went back in time, from the rocky and narrow streets to the churches and quiet alleyways. Perhaps that's why it was a filming location for Game of Thrones during the first season!
Don't miss the St. Paul's Cathedral (also known as the Mdina Cathedral) — it's an absolutely beautiful example of classic Maltese Baroque Architecture, which is unique to this part of the world.
Eat a delicious Italian lunch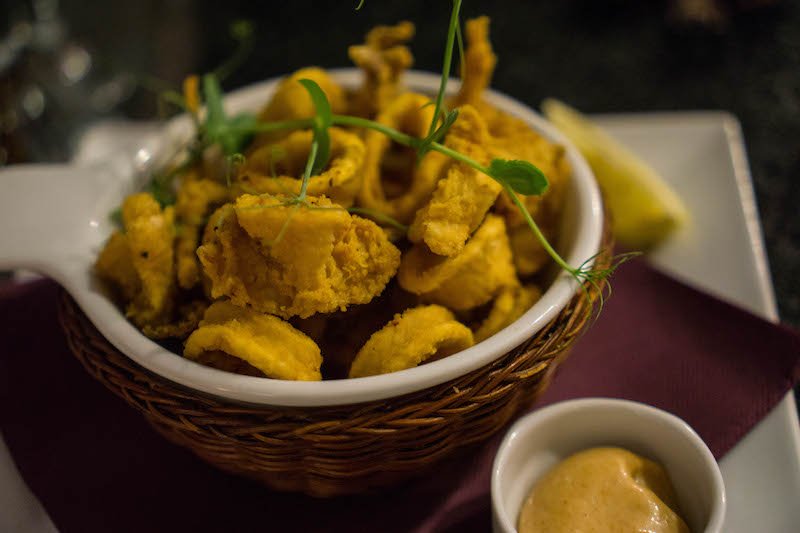 Italian food in Malta? Hey, why not — Italy's only 50 miles away, after all.
Just outside of Mdina in the town of Rabat is Da Luigi, a deliciously authentic Italian restaurant.
You've got to eat as much seafood as humanly possible while in Malta, so I went for the seafood risotto with prawns, clams, and mussels and fried calamari. Both were absolutely delicious.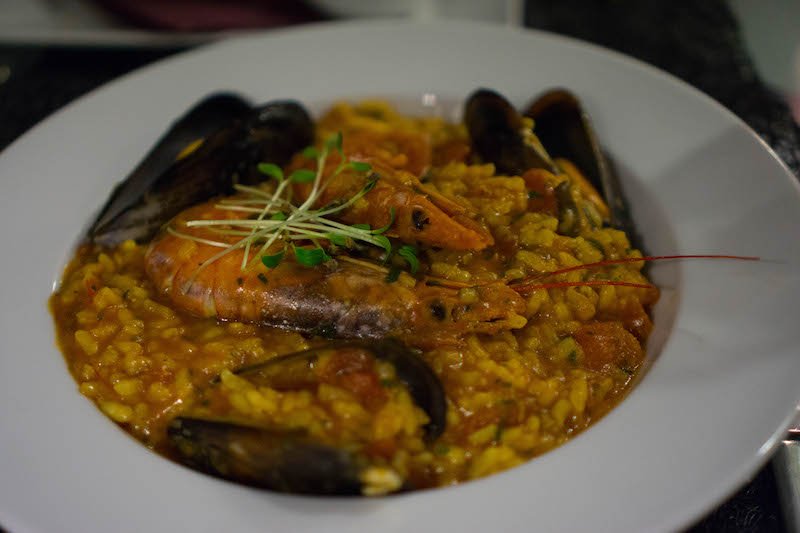 Wine tasting at Meridiana in Ta Qali
Remember how I said that Malta only exports a tiny fraction of its wines? So, what better place to drink Malta's finest than at the source?
Meridiana is one of Malta's most famous wineries and with good reason — the wines are delicious (spoken from someone who guzzled four quite generous pours before noon)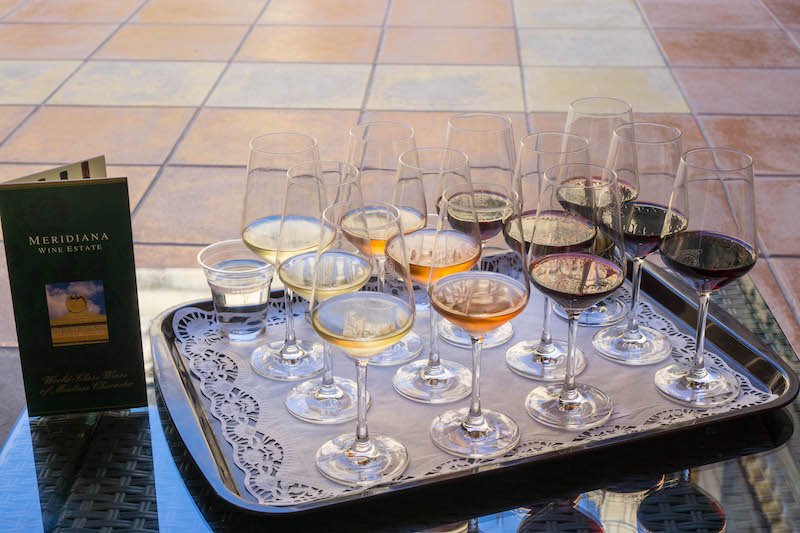 My favorite was the Melqart, a blend of Cabernet and Merlot that was delightfully velvety and soft in a way that I usually don't think of Cabs being able to achieve. But the rosé (a Syrah and Cab blend) was also another stunner.
The grounds are also really beautiful, making a stop at Meridiana a great choice, especially on a warm autumn morning.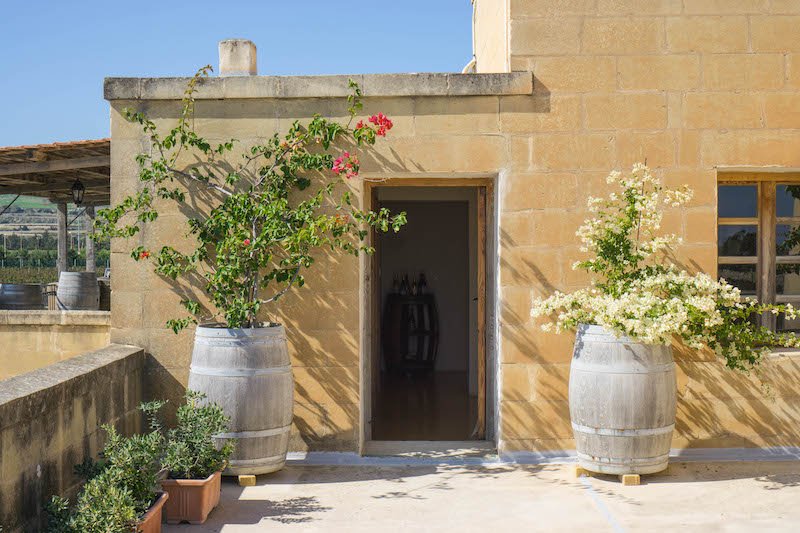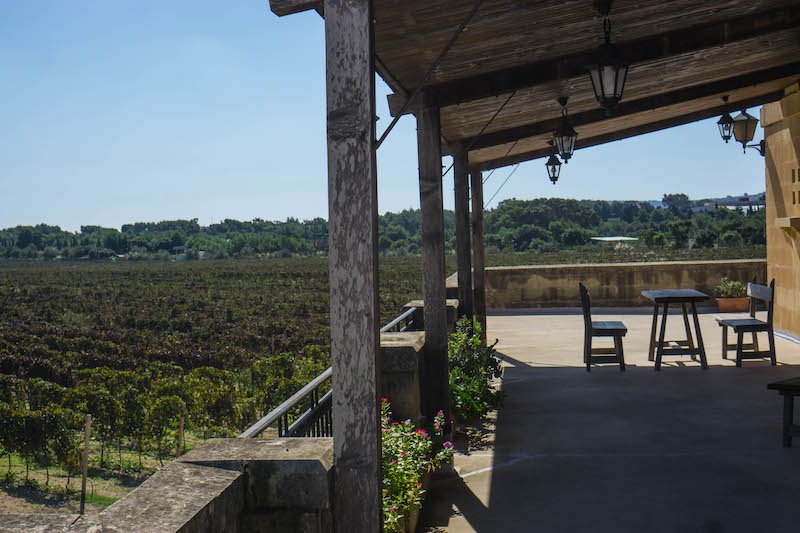 Take a boat ride through the Blue Grotto
The Blue Grotto is yet another incredible natural wonder of Malta!
This picturesque grotto (a fancy word for a series of caves) is located near Wied Iz-Zurrieq, south of the town of Qrendi.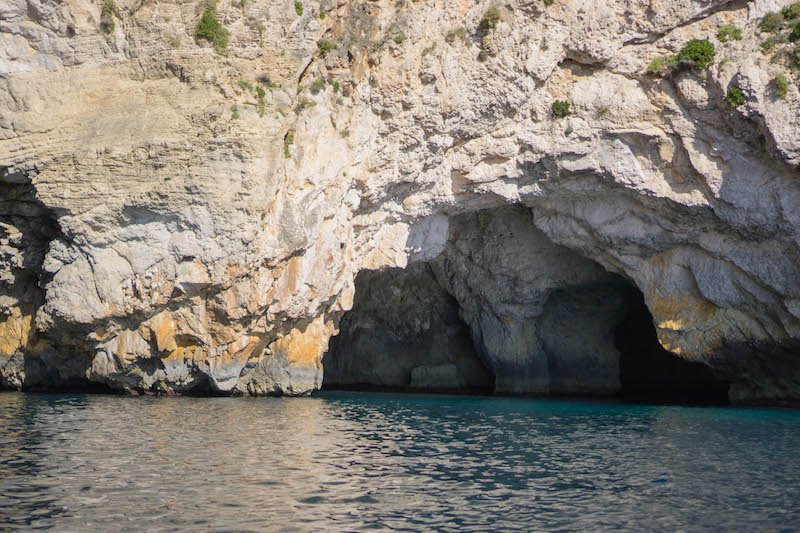 A boat ride will take you through six caves, though I'll admit the pace is quite rushed and the shouting of the boat driver to look and take photos diminished my enjoyment a bit. It's still well worth a visit, though, for waters and natural formations that beautiful.
It's possible to swim at the Blue Grotto, but you'd be dodging tons of boat traffic and I don't think the atmosphere would be ideal.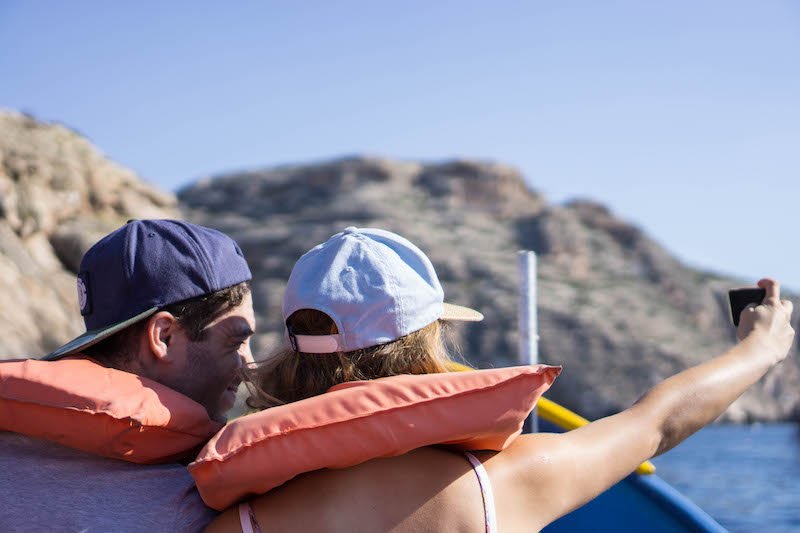 Instead, I'd recommend bringing a swimming suit and swimming nearby at Ghar Lapsi (Ascension Cave).
While nearby, you could also stop at Ħaġar Qim, one of the megalithic temples of Malta, a UNESCO World Heritage Site dating from 3200 B.C.
I'm not a huge temple person so I skipped this, but if you're into history (or pre-history, rather!) you really can't miss it.
Visit the Dingli Cliffs for sunset.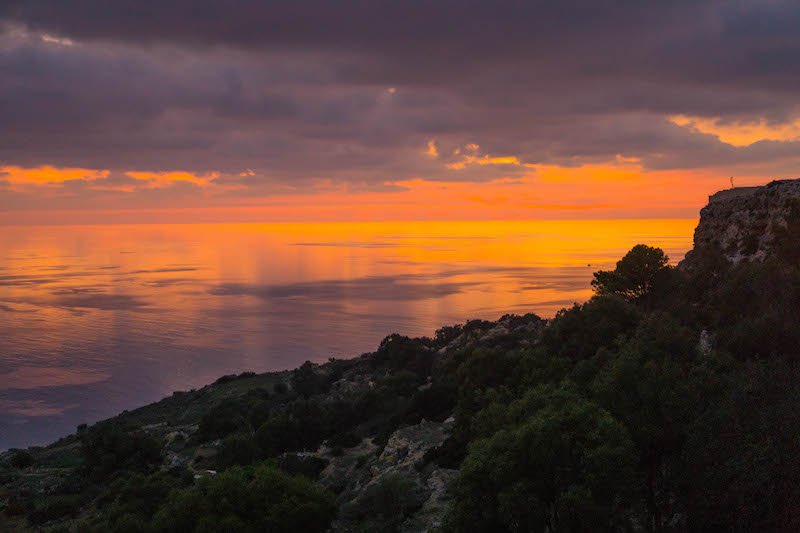 The Maltese islands are known for their beautiful sheer cliffs which are made of layer upon layer of sedimentary rock.
The Dingli Cliffs on the west coast of Malta are an especially impressive sight and one of the hidden gems of Malta.
They are the island's natural fortress, and because of this, the Knights did not have to worry about protecting themselves from invaders the same way they did in the natural harbor of Valletta.
The Dingli Cliffs stretch a massive 250 meters above sea level, protecting this coast of Malta from all sorts of enemies over the years.
While the view is surely beautiful during the day, I recommend aiming for a sunset here.
I mean, do I really need to say any more?
Have a final dinner in Dingli Village.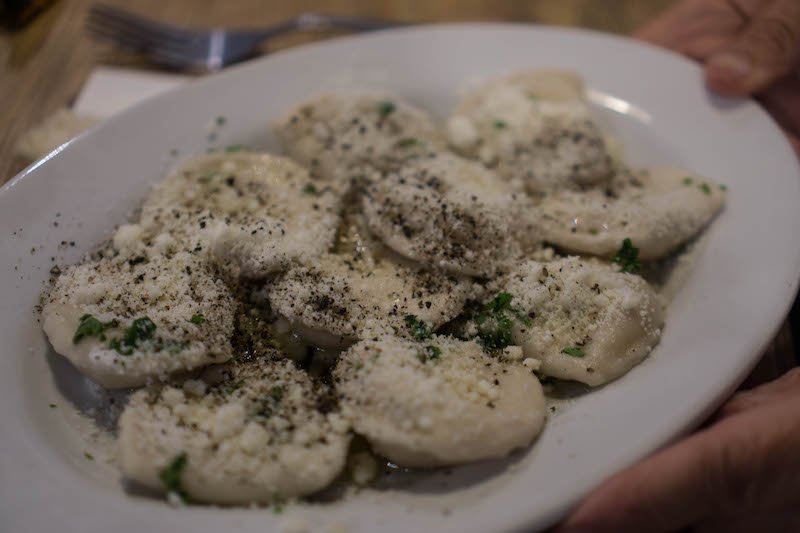 Diar il-Bniet is a delicious agrotourism restaurant near the cliffs of Dingli with tons of vegetarian (and meaty) options.
Their Maltese ravioli is a can't-miss and their house white wine is delicious — and if you're brave, go for the escargot braised in beer!
You can also shop for various foodie gifts inside if you're looking for a one-of-a-kind souvenir to bring home (or gorge on for yourself, no judgments here).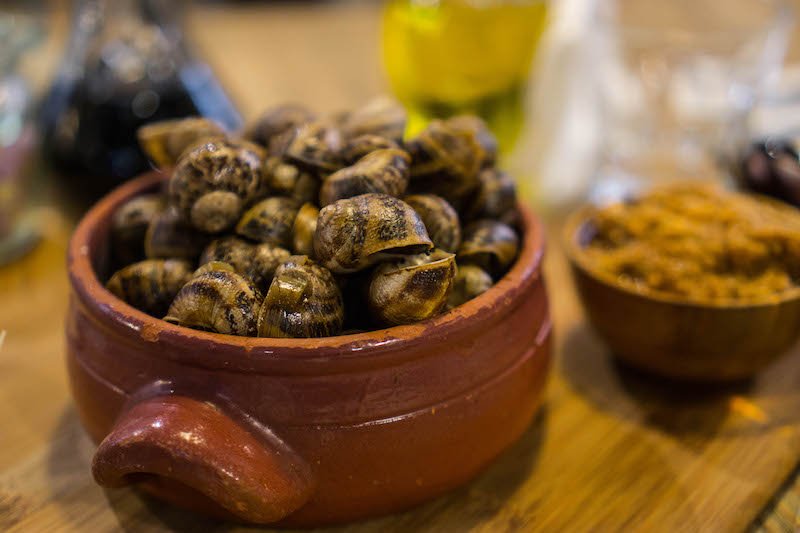 If You Have 4 Days in Malta…
I highly recommend adding more time in Gozo to your itinerary! Gozo is Malta's more laidback, rural cousin. It also has stunning beaches and amazing diving, and it deserves a full day if you have the time for it.
I also did an quad bike tour in Gozo and loved the experience, especially the views of Ramla Bay we got from Tal Mixta cave.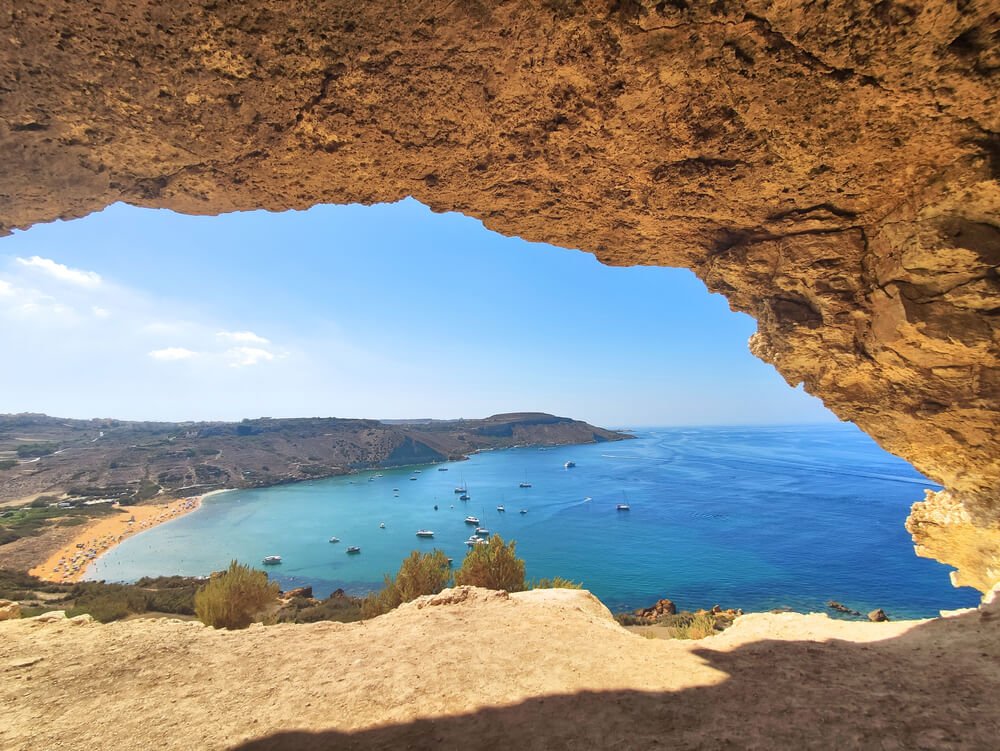 If you're PADI-certified, you should absolutely add diving in Malta to your itinerary!
I dove with St. Andrew's Diver's Cove and highly recommend the company! The divemaster was excellent and really helpful.
We dove through an amazing (and just slightly scary) sea tunnel, marveled at super cool underwater rock formations, and watched tons of sea life including an octopus!
If You Have 5 Days in Malta…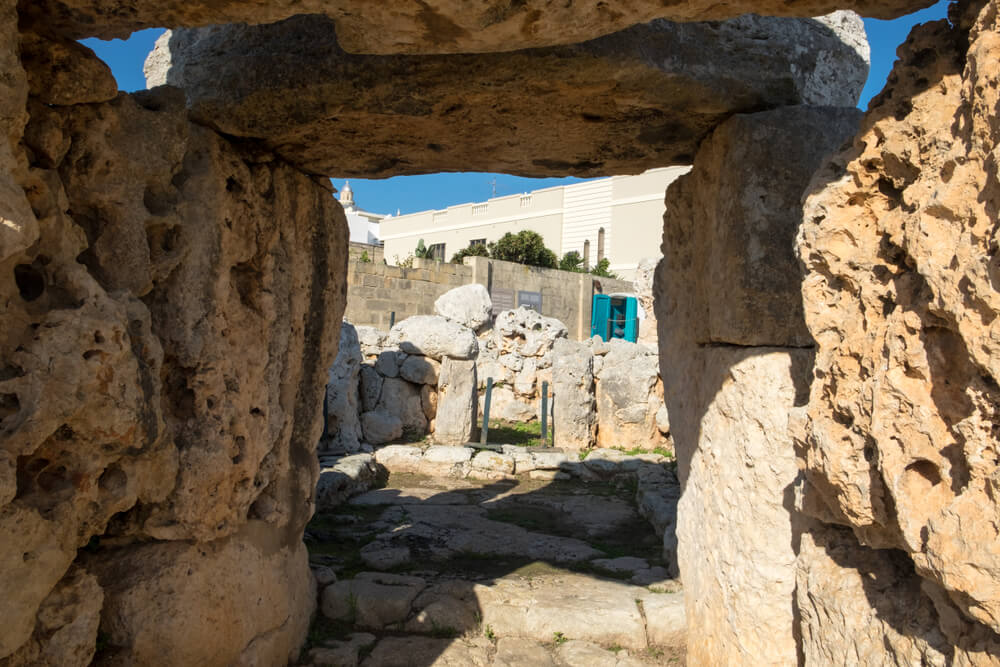 Explore more of Malta's historic side!
Drive to the town of Mgarr where you can find many temples worth visiting. There are the Ta' Skorba Temples, Ta' Ħaġrat Temples, and the Castello Żammitello all nearby Mgarr.
Nearby, there are also the Victoria Lines (a massive fortification built by the British in the 19th century) which makes a nice walking path.
If You Have 6 Days in Malta…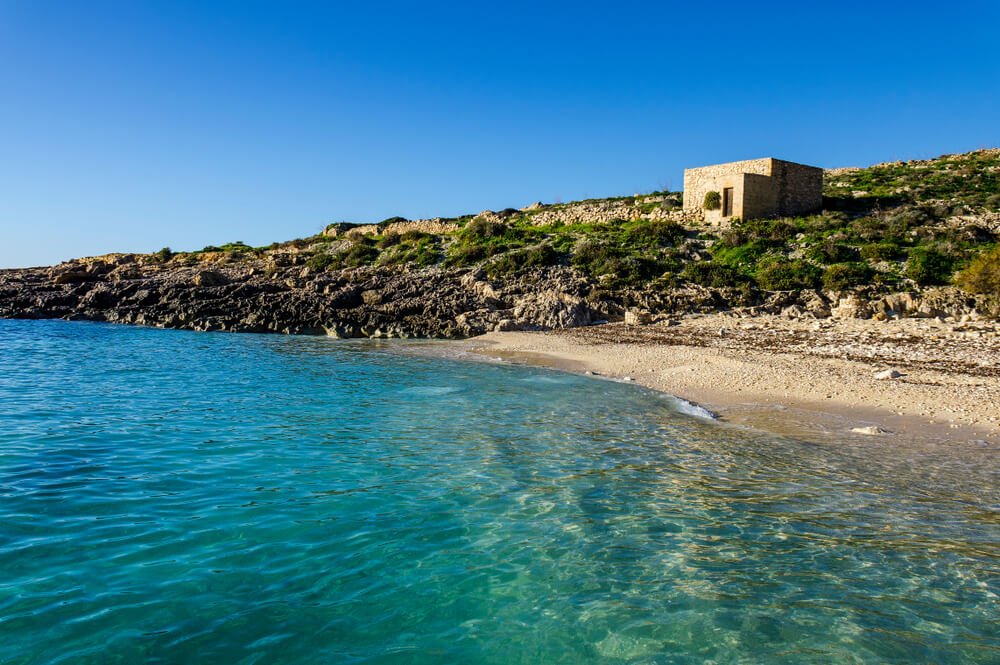 Dedicate an extra day to exploring and relaxing on Malta's beaches, either on the island of Gozo or on Malta.
On Gozo, Ramla Beach, Hondoq ir-Rummien, and Mġarr ix-Xini are all nice options.
On Malta, I suggest Għajn Tuffieħa Bay, Golden Bay, and Ġnejna Bay on the eastern side of the island.
If You Have 7 Days in Malta…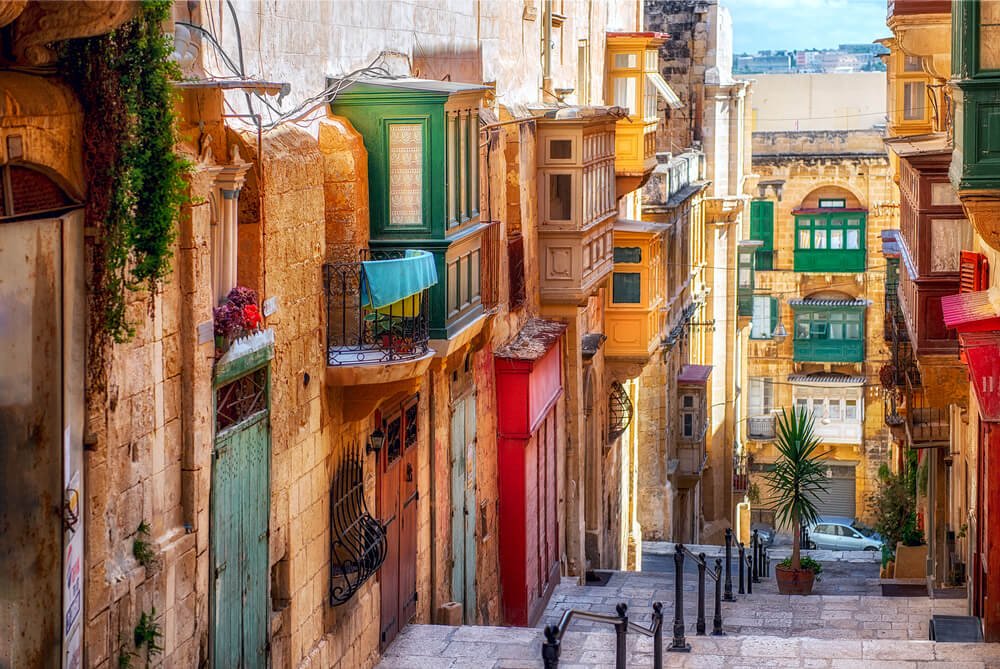 Spend your final day in Malta catching up on whatever you want more of — whether that's time in Valletta exploring the city's culture, beach time, or adventure time exploring Gozo.
You might even want to go back to the Blue Lagoon — it's that beautiful!
Best Time to Visit Malta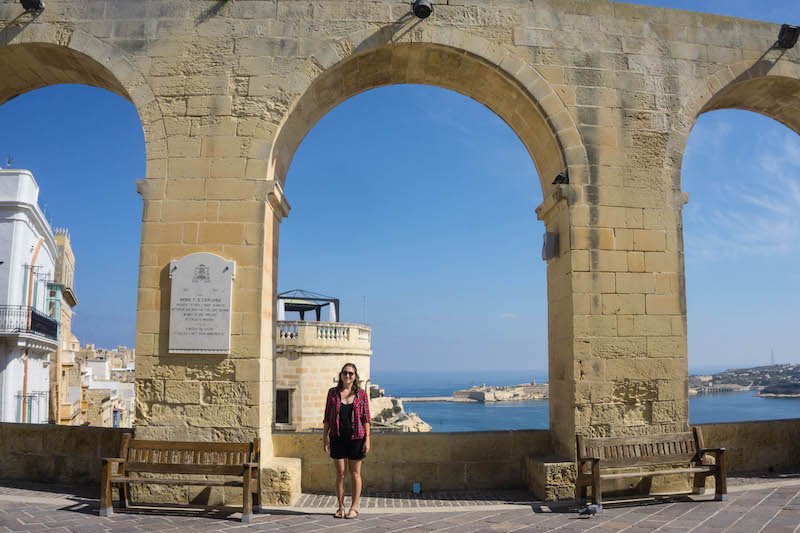 Malta is a popular destination for most of the year.Being one of the southernmost parts of the Mediterranean, its climate is more similar to North Africa's than it is to much of Europe's.
Summer is far-and-away the most popular time to visit Malta's beautiful beaches and have a sunbathing-focused trip. July and August are the busiest times in Malta so expect higher prices and less options in terms of accommodations. Book your tours in advance during this time!
The shoulder season of May/June and September/October are also great times to visit Malta. I personally visited Malta in early October and it was perfect. The water was still warm enough to swim in (I even dove during my trip) but it wasn't too hot nor too crowded and I was able to enjoy the crystal clear waters and normally jam-packed places like the City of Mdina lived up to their "silent city" name!
Malta is very quiet during the winter, but that's for a reason: boat trips, lagoon dips, and sunbathing just aren't the same in the winter. As a result, prices are lower but you won't have as much to do as a lot of Malta is outdoor-focused.
However, if you're a history lover and are just visiting Malta for culture and history with no plans of beach time, winter would be a perfectly lovely time for a Malta getaway.
What to Pack for Malta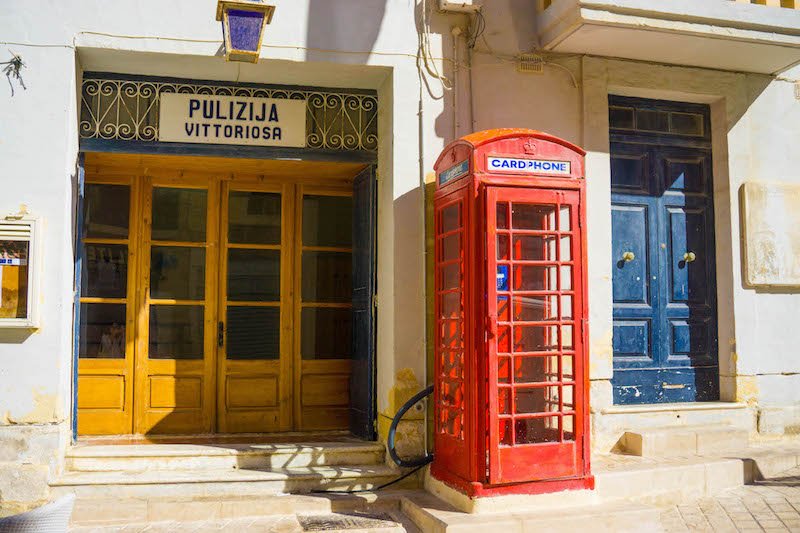 Travel adaptor: Malta is a former British colony, and there are signs of that all over the islands. You'll also see a number of quintessentially British phone boxes, which is a reminder that you need to bring a UK-compatible adaptor!
Water shoes: Water shoes are great for the Blue Lagoon, where the sea bottom can get rocky in places, especially near Cominotto, the small islet near the Blue Lagoon. These shoes are great for both men and women.
A bathing suit or two: Malta is a great destination for swimming, diving, sunbathing, catamaran rides, etc. — don't forget your swimsuit (and bring a spare if you plan to swim on two days back to back). I love cute high-waisted bikinis like these ones. If you plan to dive, bring some stuff to wear under your wetsuit.
Travel towel: A full-size travel towel is really compact, dries ultra-quickly, and is so convenient to have on days when you are visiting beaches, lagoons, and islands! I love this one which is as colorful as it is convenient.
Reef-safe sunscreen: Malta is home to some really beautiful undersea life, making it a mecca for divers and snorkelers. And yes, even though it's not tropical, it's home to coral reefs, including the deepest-growing red coral in the world. Keep Malta as beautiful underwater as it is above and wear chemical-free sunscreen when on the islands. I like this SunBum SPF 50 with Vitamin E.
Comfortable shoes: Day 1 & 3 of this Malta itinerary include a ton of walking around — make sure you bring your most comfortable shoes! I use and swear by Birkenstocks (I've had two pairs of Gizeh sandals over the last 5 years and wear them almost every day that it's appropriate to). Just break them in for a day or two before you arrive as they're more comfortable that way — the cork breaks down under the heat of your foot and molds to fit your arches, so the shoes are totally custom to your feet!
Scarf for covering up: There are a lot of churches in Malta and you'll likely want to go into them during your trip! Be sure to bring a scarf for your shoulders if you are wearing a shirt with exposed shoulders.
Loose pants or maxi skirt: Similarly, you'll want to wear loose pants or a skirt that goes past your knees if you are doing a lot of sightseeing in churches. Loose linen-blend pants are great in the heat, such as these white linen pants. More into skirts? A printed maxi skirt will also liven up photos but still be appropriate for churches.
Travel guide: While I've endeavored to make this blog post as up-to-date and jam-packed with helpful tips as I can, I do always suggest supplementing your online reading with a physical guide. It's great for getting additional ideas, finding some off the beaten path gems, and having an easy-to-access reference point (most have a quick language guide, etc. in the back!). I suggest this Lonely Planet Malta & Gozo book.
Where to Stay in Malta
If you only have 3 days in Malta, you'll want to use them wisely and minimize your time in transport. I recommend picking a central location for that reason!
I stayed at Seashells Resort in Qawra and while the hotel and pool were both lovely and breakfast was delicious, I found that I was spending quite a bit of time stuck in traffic.
The WiFi was also not up to par for my needs – I literally sat in my closet by the hallway door to get work done.
It'd be fine if you're planning a poolside all-inclusive holiday (and would likely be great for kids and families), but if you're looking to explore as much of Malta as possible I'd recommend somewhere a bit more central.
Next time I'm in Malta, I'd opt for Valletta, Sliema, or St. Julian's for their central location for access to other points in Malta – here are my recommendations for the best areas to stay in Malta.
St. Julian's: Beaches, nightlife and luxury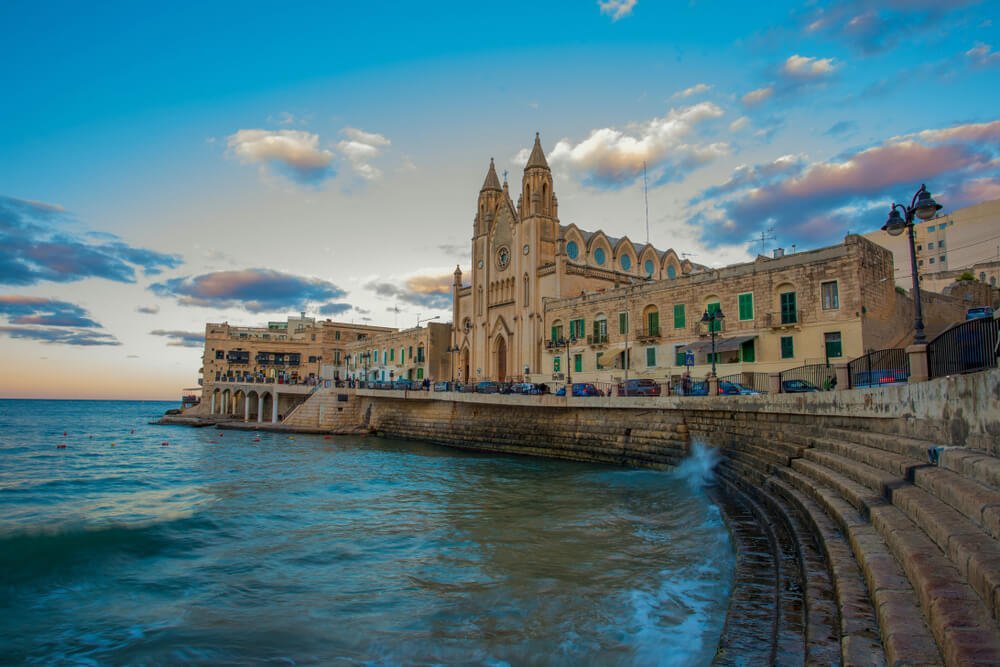 Budget: Malta doesn't have much in the way of hostels and the true budget end of the spectrum, but St. Julian's is a lovely exception.
Trendy design, excellent location, and amenities such as an outdoor pool (great for the hot summer in Malta), Inhawi Boutique Hostel has excellent reviews and its dorm beds are moderately priced.
However, since there's not a lot of competition in Malta for hostels, a dorm bed is still expensive here compared to many European cities despite the overall affordable costs of travel in Malta.
>> Check reviews, availability, and prices of dorms in Inhawi Boutique Hostel here.
Mid-range: Affordable in cost yet modern in design, The District Hotel is your best mid-range hotel you can find in happening St. Julian's.
This trendy boutique hotel has a sleek bar, modern design with elegant midnight blue accented details, and spacious rooms, plus it's just a 3-minute walk from the beach. Sold!
>> Check reviews, availability, and prices here.
Luxury: There are several five-star hotels in Malta but Le Méridien has the most consistently high reviews of the lot.
With both rooftop and indoor pools, tastefully decorated rooms, a huge fitness center, and balconies with sweeping sea views, it's a favorite in St. Julian's for a reason.
>> Check reviews, availability, and prices here.
Sliema: Proximity to Valletta and St. Julian's, harbor views, shopping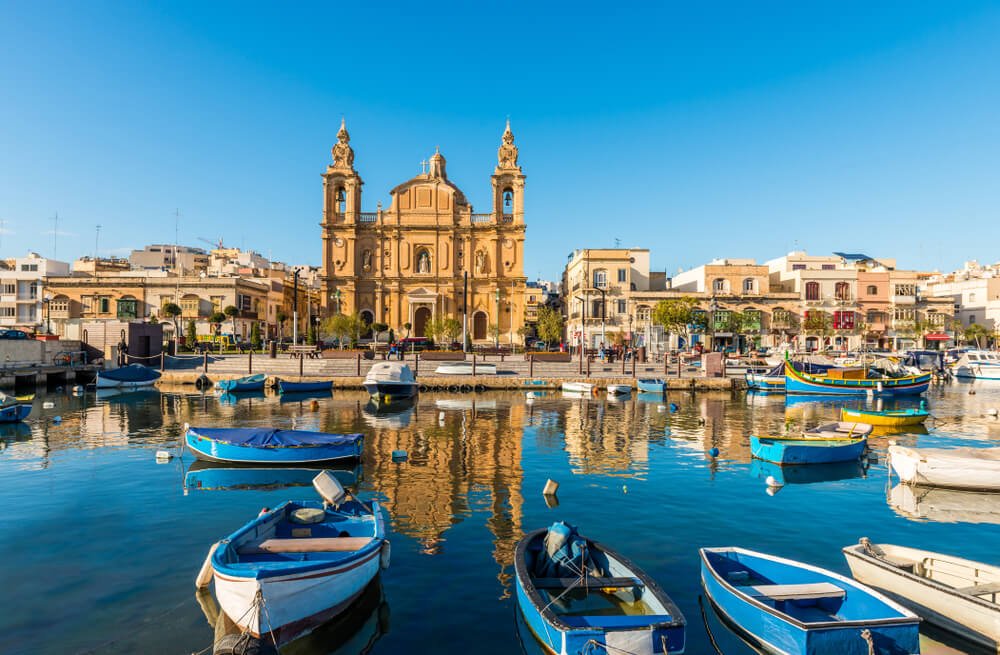 Budget: Sliema also has one of the very few hostels in Malta, which makes it a perfect choice for budget travelers who want a more low-key vibe than St. Julian's, which is a little more upscale.
If you're looking for a good budget option, Two Pillows Boutique Hostel comes highly recommended by solo travelers. The dorms are well-furnished and have free AC – a godsend in Malta's hot summers.
Again, same as before, dorms in Malta are more expensive than in much of Europe but that's because there are basically two hostels on an island that gets over a million tourists a year.
>> Check prices, reviews, and availability of dorms at Two Pillows here.
Mid-range: Again, Malta seems to do best in this price range. The Victoria Hotel has the best balance of high ratings, quiet luxury, and affordability in Sliema.
I love the quirky décor that this boutique hotel offers, plus it has both an indoor and outdoor pool, an excellent fitness room, and a much-loved restaurant.
>> Check prices, reviews, and availability of The Victoria here.
Luxury: Hello, gorgeous infinity pool – I'm never leaving!
The Palace in Sliema is one of the top-reviewed 5-star hotels in the city, with enormous rooms with giant balconies, in-house amenities like your own personal Nespresso, quirky themed rooms, a massive fitness room, indoor/outdoor pools…. you get the gist.
It's kind of got it all, and the price isn't that crazy, surprisingly, given what it offers.
>> Check prices, reviews, and availability here.
Valletta: Capital of culture, good food, quiet nights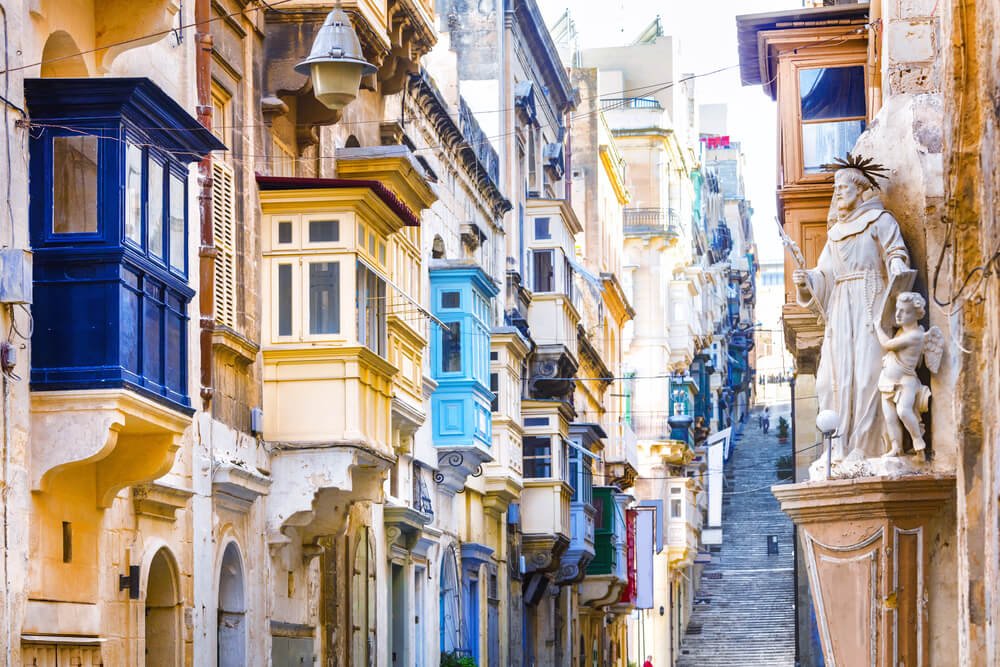 Budget: There is one hostel in Valletta — Valletta Boutique Living — but as it only has a 7.0 rating on Booking.com, it's not something I'd recommend without seriously checking the reviews and seeing if it's worth it to stay there (I'd pick a hostel in Sliema or St. Julian's instead).
>> If you do want to check it out, you can see reviews and prices here.
Mid-range: This is where Valletta shines – there's a ton of accommodation in this price range with beautiful views and comfortable digs.
I'd recommend Palazzo Paolina Boutique Hotel for the best combination of price and high reviews. It's a mere 5-minute walk from St. John's Co-Cathedral, the décor is over-the-top beautiful in a super Maltese way, and the rooms are spacious and comfortable for Valletta.
>> Check prices, reviews, and availability here.
Luxury: Valletta has a lot of really cool upscale boutique accommodations and The Saint John is one of the coolest luxury accommodations out there.
Huge spacious rooms, an in-house gastro pub, balconies overlooking Valletta city, this hotel is one of the newest in Valletta and is well-worth checking out.
>> Check prices, reviews, and availability here.
Don't Forget Travel Insurance!
While Malta is a safe destination, travel insurance is still important to have.
It protects you in case of accident, illness, or injury, and it also covers your belongings in the event that your luggage is lost or something is stolen while you are traveling.
Since a trip to Malta combines a lot of outdoor activities with sightseeing in urban areas, travel insurance is great to have for peace of mind.
I've been a paying customer of World Nomads for five years and use them to insure every trip I have. Their prices are reasonable, their coverage is excellent, and it's super easy to book a policy.
Get your free quote online here!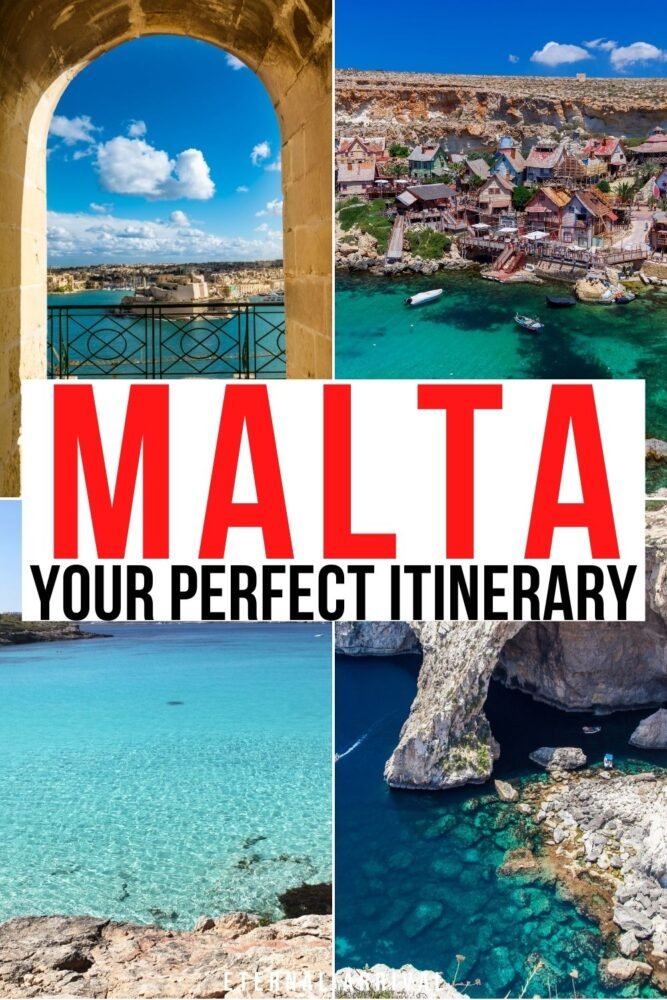 Note: A huge thanks to the Malta Tourism Authority for hosting me during my stay in Malta. All opinions and experiences are 100% my own.
Allison Green is a former educator turned travel blogger. She holds a Masters in Teaching and a B.A. in English and Creative Writing. Her blog posts merge her educational background and her experience traveling to 60+ countries to encourage thoughtful travel experiences that both educate and entertain. She has been a speaker at the World Travel Writers Conference and her writing, photography, and podcasting work has appeared in National Geographic, CNN Arabic, CBC Canada, and Forbes, amongst others. Now based in the San Francisco Bay Area where she grew up, she has also lived in Prague, Sofia, and New York City.