The Riviera Maya is one of Mexico's most enchanting stretches of coastline, drawing visitors of all kinds to this stunning beach-lined area of Quintana Roo.
Technically, the Riviera Maya is the section of coastline that extends from 10 miles south of Cancún in the charming town of Puerto Morelos all the way down to Carrillo Puerto, past Tulum.
However, for the purposes of this post, we're also including Cancún since it's so close by (and the major jumping-off point for all these things to do in Riviera Maya, due to its international airport).
I'm also including islands accessible from the Riviera Maya via ferry, such as Isla Mujeres and Cozumel.
Lastly, this post also includes day trips on the interior of the Yucatán Peninsula, so long as they are reachable from a destination on the Riviera Maya, like Playa del Carmen or Tulum.
Without further ado, here are the best things to do in the Riviera Maya, as contributed by my fellow travel bloggers!
Top Things to Do in the Riviera Maya
Visit the Mayan ruins of Tulum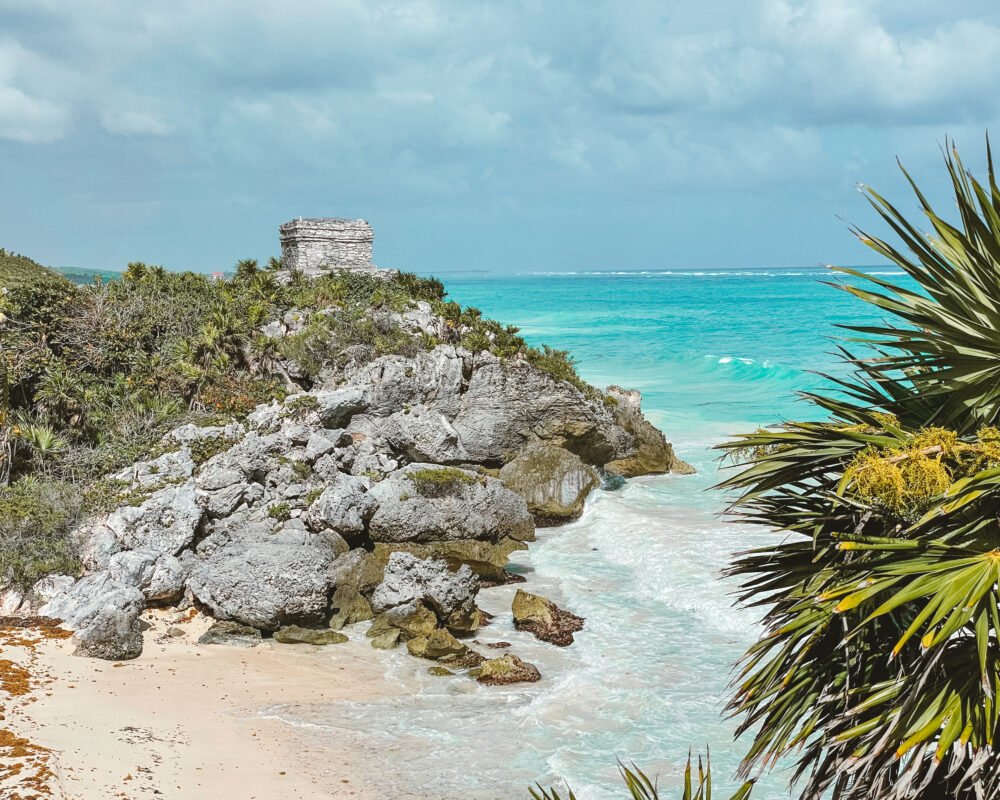 Note: This post contains affiliate links, which means I may receive a small commission if you purchase something through one of these links. Thank you for supporting the free content on this site! For more information on affiliate links and cookies, see my disclosure page for more details.
Contributed by Stephanie Craig of History Fangirl
One of the most important historic sites in Mexico is located right on the Riviera Maya.
The Tulum Ruins are Mayan ruins, but they're much closer to Riviera Maya hotspots than places like Chichen Itza.
Plus the setting of the ruins perched on a cliff above the Carribean means that they're much prettier, too!
This is a can't-miss for all kinds of travelers. Even if you're just coming to Mexico for a fly-and-flop beach vacation, it's worth leaving your resort for a few hours to take in this magnificent site.
You can choose to visit on a guided tour, and most will include hotel pickup. This makes it convenient to visit from nearly anywhere in the region.
If you're staying on Cozumel or in Playa del Carmen, you can grab a taxi in PDC and pre-arrange the driver to come back to pick you up at the end of your visit.
If you do choose to visit independently, you can purchase a self-guided tour ahead of time so that you can learn all about the ruins as you tour the archeological park.
You will also want to purchase a skip-the-line ticket in this instance, as the line to get in can run quite long!
When you choose what to wear to the Tulum ruins, make sure you pick shoes that are comfortable and broken in. You will be doing a lot of walking!
Swim with whale sharks on Isla Mujeres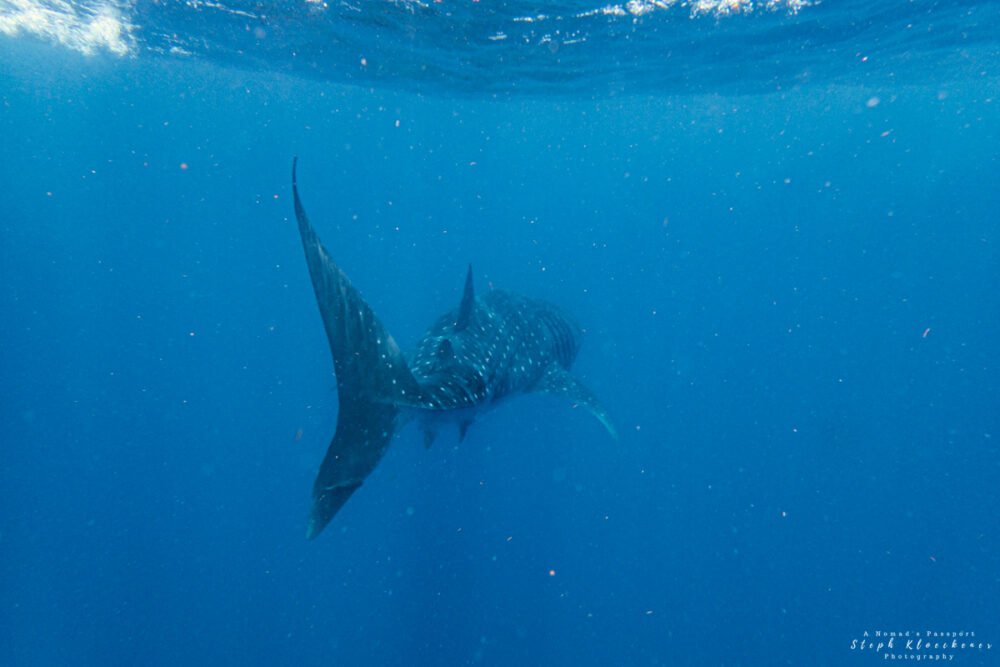 Contributed by Steph of A Diver's Passport
Swimming with whale sharks is a once-in-a-lifetime experience and the Riviera Maya is one of the best places in the world to do so.
From late May to September, these gentle giants, which are the largest fish in the oceans, frequent the area north of Isla Contoy.
To get there, you can join one of the daily boat tours that operate throughout the official whale shark season. Boats depart for the whale shark area from Cancun, Isla Mujeres, and Holbox.
Hereby, the boat ride from Isla Mujeres is the shortest one. While these are the best options, it is also possible to book a tour from Tulum, Cozumel, or Playa del Carmen.
It is the ideal thing to do in the Riviera Maya for adventure lovers as it is a marvelous experience to see these giants glide through the water.
And thanks to governmental regulations that regulate these encounters off the coast of the Yucatan, it is an ethical animal encounter. Therefore, you can enjoy it without concern for the morality of the activity.
During the whale shark tour, you have the opportunity to swim with the majestic creatures up to three times.
Hereby, the individual encounters vary in length according to the sharks' speed. Nevertheless, the encounter remains an extraordinary and magical experience that you will never forget.
After the encounter, the boat heads to Playa Norte, where everyone on the boat can swim in the crystal-clear water while the boat crew prepares ceviche and guacamole, culminating in a perfect end to an unforgettable day.
Prices for whale shark tours departing Isla Mujeres start upwards of $125 USD and cost more if you depart from other areas of the Riviera Maya.
Visit the Mayan Museum in Cancún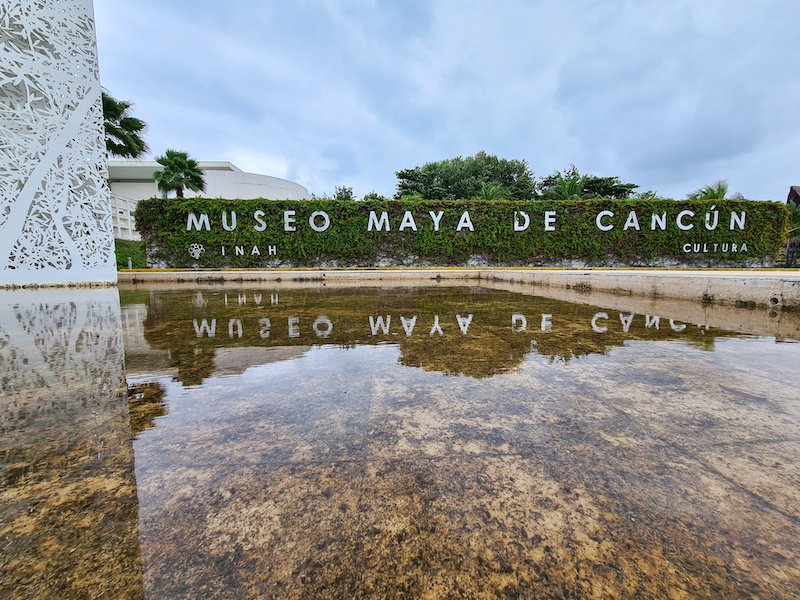 Contributed by Lucy and Dan of Thoroughly Travel
Cancún may be a popular holiday destination for its sprawling beaches, luxury resorts and vibrant nightlife, but any visitor with an interest in history may be surprised to know that Cancún is also home to an important archaeological site.
Nestled in the middle of the hotel zone, Museo Maya de Cancún (Cancún's Mayanhistory museum) contains some of Mexico's most important Mayan ruins.
The museum features exhibitions of artefacts that were discovered on the site, as well as interesting displays of Mayan settlements throughout the rest of Mexico.
The jungle paths leads you around a collection of preserved buildings from the San Miguelito community, who lived here about 800 years ago.
The largest pyramid is 8 metres (26 ft) tall, but most buildings were houses. Placards line the path and describe each ruin's function in English and Spanish.
A visit to Cancún's Mayan Museum takes 1-2 hours and costs 85 pesos per person.
The site is easily accessible on foot if you're staying in the hotel zone and it's worth noting that no large bags are allowed inside.
Those on a budget could take the bus from the hotel zone and downtown, which costs about 15 pesos.
Alternatively, the site can be reached by car (there's a free parking lot on-site) or taxi.
Guided tours are also available to book and include transfers to and from your hotel and a guided walk.
Cool off with a day pass to a rooftop pool in Playa del Carmen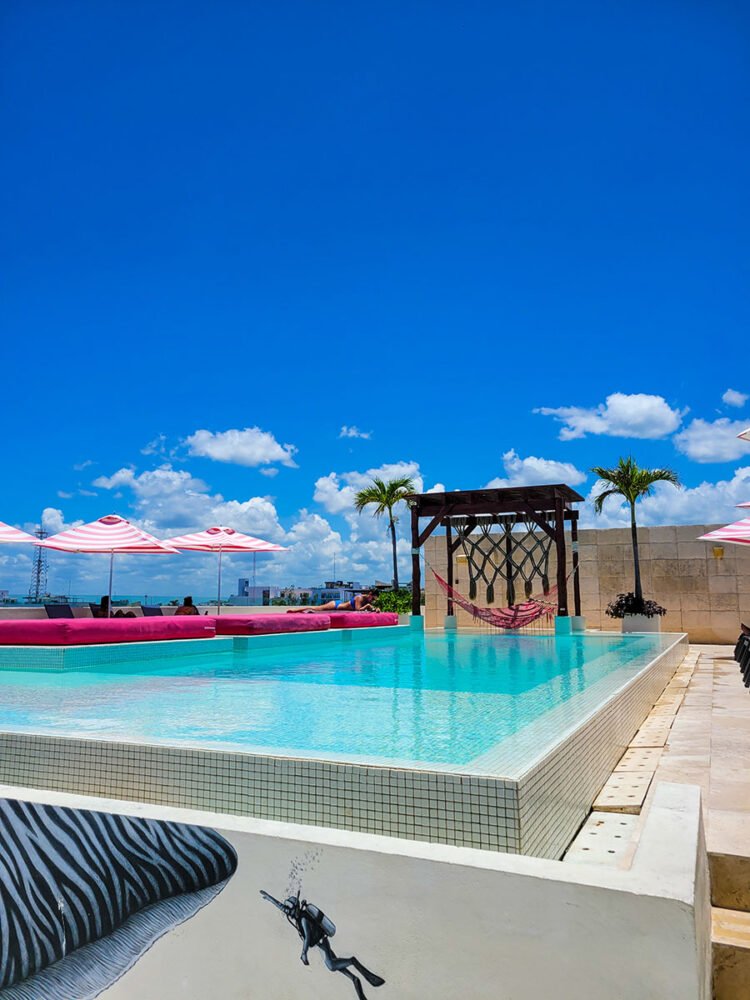 Contributed by Ashlea J. Russell of She Roams About
Everyone knows the Riviera Maya has beautiful beaches, but there's another way to take a dip and cool off.
A rooftop pool is a great way to spend the day unwinding in comfort and one of Playa Del Carmen's best kept secrets is the Roof Club at the Palm.
Tucked away atop The Palm Hotel on Calle 8 Nte, only a few steps from the bustling Quinta Avenida, this rooftop pool offers everything you need for a full day of relaxation.
The Roof Club is strictly 14+ which makes it the ideal spot to sip a cocktail in the overwater hammock or lounge on the pool beds.
They also offer friendly poolside service, a bar and kitchen, sun loungers, and a view of the ocean.
Amazingly, the Roof Club is not a tourist hotspot but is popular with locals and travellers in the know which means the prices are really reasonable!
Typical day pass entry is 400 pesos (around $20 USD) and includes 300 pesos credit to be used on food and drink, access to the main pool and dip pool, facilities for changing, pool towels, and loungers.
For a clubbier vibe, check out Alessia Dayclub, the largest and chicest rooftop pool in town.
If your vibe is more boho and chill check out Be Roof which is low key and extra affordable.
Explore the Coba ruins by bike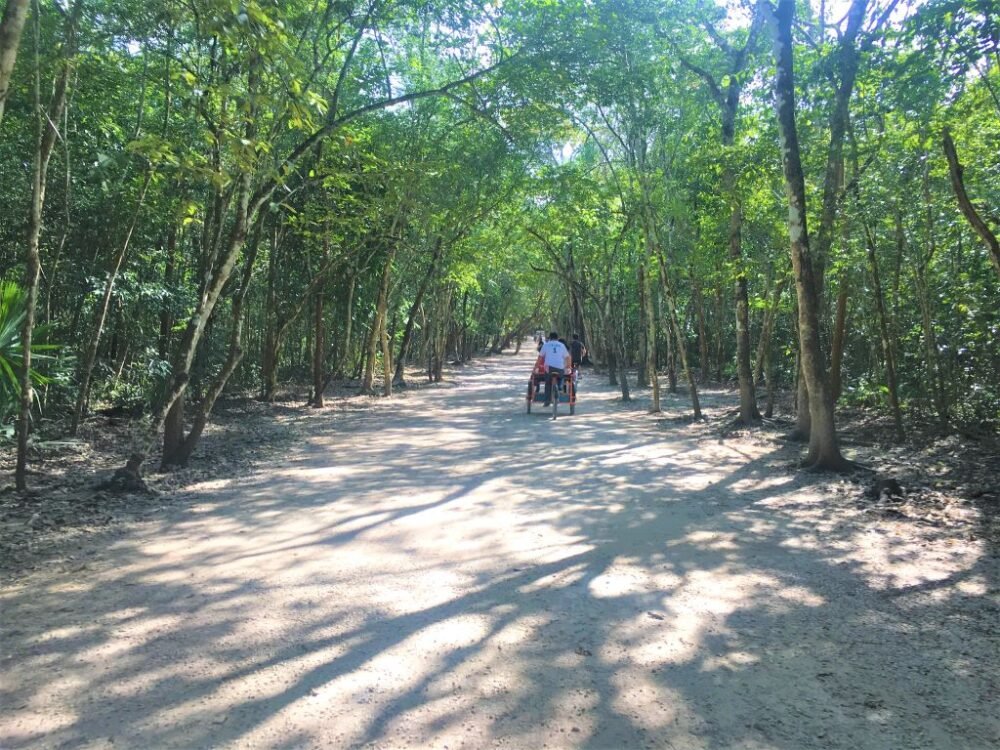 Contributed by Brodi Cole of Our Offbeat Travels
Visiting the Coba ruins is one of the best things to do in Riviera Maya, Mexico. The Coba ruins are an ancient Mayan city located in the Yucatan Peninsula, making them a must-see for history fans and adventurous travelers alike.
With its proximity to popular resort towns like Tulum and Playa del Carmen, it's easy to make a day trip out of visiting the Coba ruins.
The Coba ruins are open from 8 AM to 5 PM every day, with the last entrance at 4:30 PM. It's best to arrive as early as possible in order to beat crowds and heat!
The ruins offer a unique experience that can't be found anywhere else in the region. Visitors can explore temples scattered around the area by walking or biking on paths surrounded by lush jungle vegetation.
Getting to the Coba ruins from Tulum is relatively easy. You can take either a colectivo (shared van) or an ADO bus from Tulum to Coba. These usually cost $5 and $15 respectively.
From Playa del Carmen it takes about two hours by car or bus, while from Cancun it takes about three hours by car or bus.
Numerous tours visit Coba from throughout Riviera Maya as well.
Take a golf cart ride around Isla Mujeres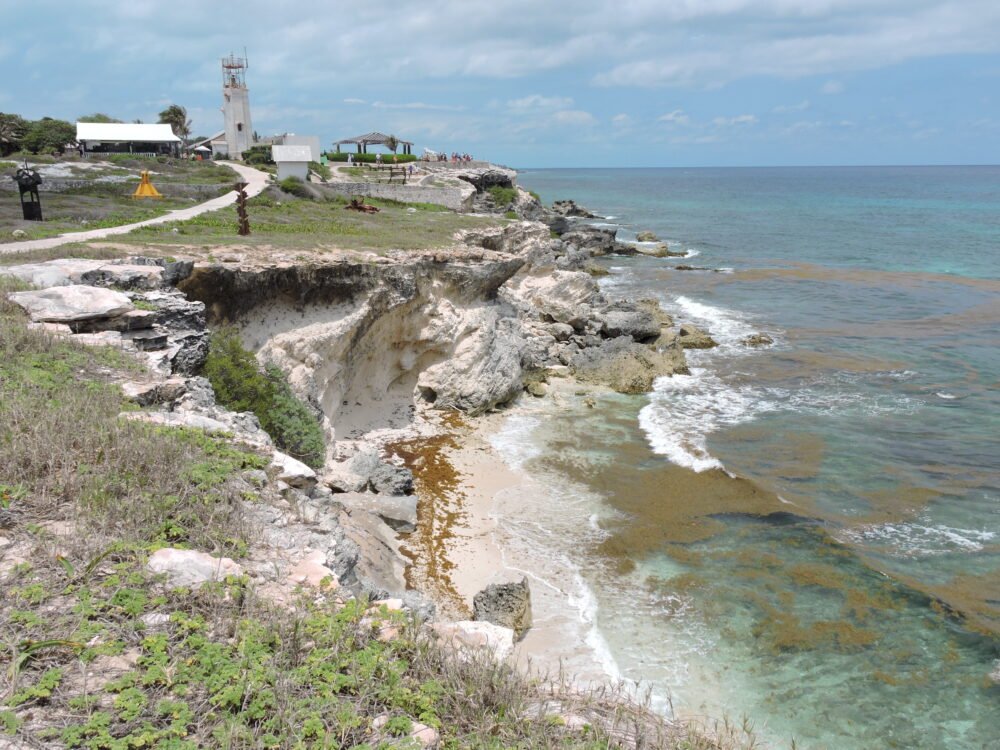 Contributed by Ruby Escalona of A Journey We Love
Isla Mujeres is a quick day trip from Cancun, but the best way to get around the island is to ride around a golf cart.
It is best to reserve a golf cart in advance since most tourists staying on the island have the same idea!
If you don't have a golf cart reservation and you are in one of the earlier ferries for the day, you can reserve a golf cart from the ferry employees.
They will give you a receipt that you can then show to the rental place, and you're out and about with the golf cart within 15 minutes.
Renting a golf cart means you have control of how long you want to stay in a certain area – be it the downtown/shopping district, the beaches, or the Ixchel temple ruins and Punta Sur, which is a highlight of the trip.
Punta Sur is the easternmost part of Isla Mujeres, where the first sunlight hits Mexico!
It is a great place to walk around and see natural wonders as well as small Mayan ruins.
From there, you can see the famous shell house that's available to rent on Airbnb!
Spend the day having fun at Xcaret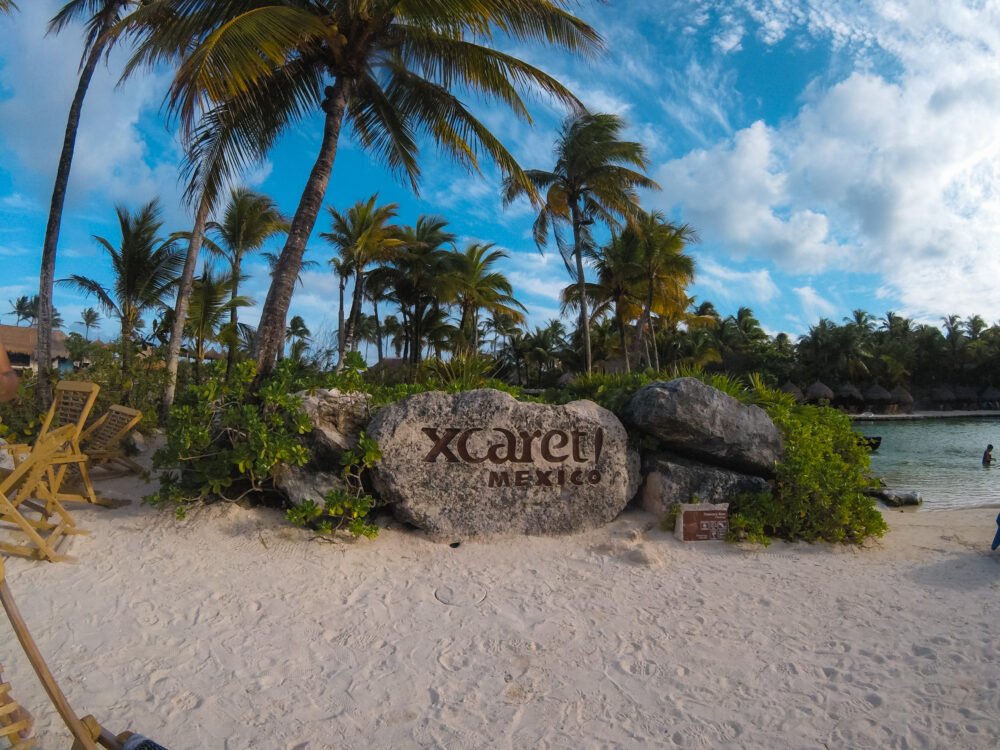 Contributed by Michelle of Adventures Abound
Xcaret is a family of ecological and adventure theme parks in the Riviera Maya area.
The Xcaret, Xenses, and Xel-ha parks are great for families who want to bring their kids.
Couples traveling to the Cancun and Riviera Maya area will also find these are a great option for an excursion, especially on a honeymoon in Mexico.
Adventurous travelers are not left behind however, as they will enjoy the thrills at Xplor, Xavage, and Xplor Fuego.
The namesake park, Xcaret, is a classic excursion that makes a great day trip!
Visitors can snorkel, float through an extensive lazy river, and watch a show exhibiting the history of Mexico.
Tickets, which start at $110 for adults ($83 ages 5-11, free ages 4 and under) include access to the entire park for the day.
There is so much to do, it will be hard to pack it all in: relaxing by the pool or oceanside, exploring the butterfly house, aquarium, and aviary, pre-Hispanic cultural presentations, even a build your own taco bar.
The easiest way to get to Xcaret is to book the transportation option at the time of ticket purchase.
Transportation is provided from hotels in Cancun, Riviera Maya, and Playa del Carmen for an additional $30.
Night dive with crocodiles in Sian Ka'an Reserve.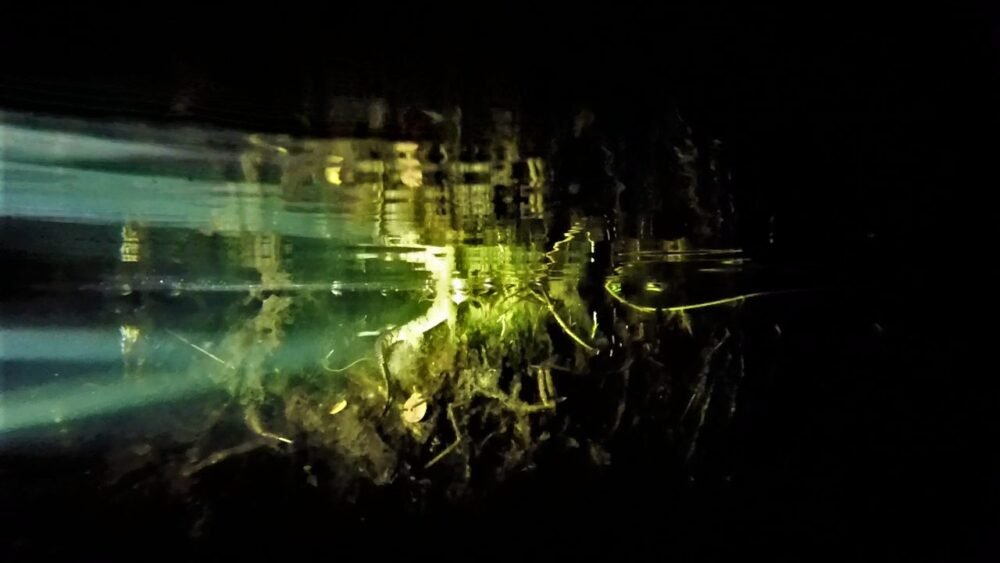 Contributed by Claire of Tales of a Backpacker
f you're looking for a unique thing to do in the Riviera Maya, a night dive with crocodiles certainly fits the bill! 
A must for adventurous nature lovers, night diving with crocodiles in Sian Ka'an Biosphere Reserve is an incredible opportunity to observe saltwater crocodiles in their natural habitat, without cages, feeding, or disturbing them in any way.
The crocodiles vary in size, from small young ones to up to two meters long, which is relatively small in crocodile terms.
You can see them from below as they rest on the surface, or at eye level if you surface to see them a bit closer.  It is an exhilarating experience! 
Koox Diving run small group night-time tours to dive with crocodiles from Tulum, Playa del Carmen, or Puerto Aventuras from their respective meeting points, and transport you to the Sian Ka'an Reserve for your dive. 
You'll need a PADI Open water certification or equivalent to dive, or they also have a snorkel option if you're not qualified to dive.
The tours cost about $215 USD per person and include all your dive gear and torches, as well as transport and your guide. 
It might sound terrifying, but it is completely safe – although no doubt the adrenaline will be flowing as you dive in complete darkness! 
Visit the lesser-known ruins of Muyil
Contributed by Christen of Travel Wander Grow
If you are looking for an excursion on the Yucatán Peninsula that is relatively under the radar, you should consider the Muyil Ruins.
Muyil is one of the oldest Mayan settlements in the Yucatán, and was also one of the longest inhabited.
The site features impressive temples, such as El Castillo and the Muyil Pink Palace, pictured above.
I recommend that you book a tour in advance or that you book a tour with one of the onsite guides as it will help "bring the site to life" and show you what life was like here when the Mayans were a thriving civilization.
In addition, behind the ruins you'll find the Sian Ka'an Biosphere, which is full of lush jungle fauna and flora.
This Biosphere leads to the Muyil (Chunyaxché) Lagoon, where you can experience the Muyil river float in lagoons carved out nearly 2000 years ago. Overall, if you are a history and nature lover, this tour would be an ideal choice for you.
You will need to drive to reach this site – it is about an hour from Tulum.
If you pre book a tour, this is likely included in your booking fee. If you prefer public transportation, the ADO bus and taxis can also both take you here. Otherwise, there is parking onsite if you prefer to drive.
The entrance fee is 45 pesos, and that price goes to about 600 pesos per person if you include the tour / entry to the river float.
Swim with sea turtles in Akumal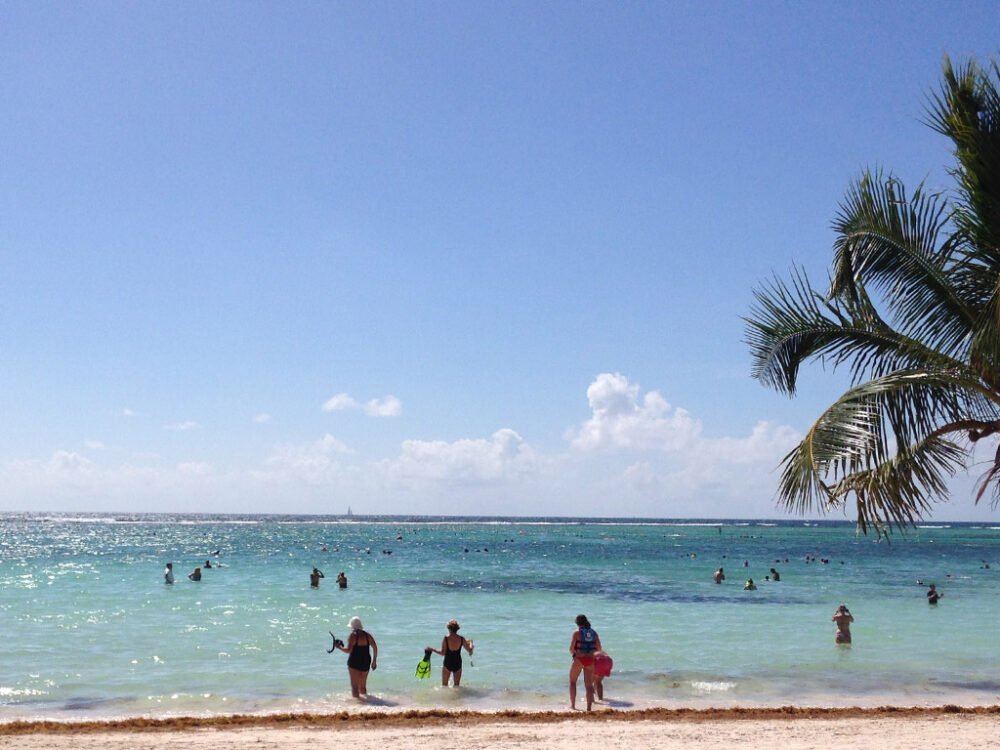 Contributed by Daniel of Layer Culture
Snorkeling or swimming with sea turtles is one of the best things to do in Riviera Maya if you are looking for a natural activity that can connect you with the sea life.
Many travelers including solo travelers and families visiting this region head down to Playa Tortuga in Akumal for the chance to snorkel with turtles in some of the region's clearest waters.
On arrival at the beach, there are local organizations and cooperatives that provide you with all the information needed to be able to do this activity safely.
There are also some rules to respect and follow before you enter the water so you can understand more about turtle welfare.
The great thing about this activity is that you will also get the chance to see stingrays, sea urchins, corals, reefs as well as many other colorful sea creatures.
Most visitors looking for things to do in Akumal will visit this beach as part of a guided tour, which usually includes transport from Cancun, Tulum or Playa del Carmen and takes around 40 minutes.
You'll also get equipment such as snorkeling and safety gear included, that way, you don't have to think about transport to and from the beach or rent anything when you arrive.
The great thing about visiting Playa Tortugas in Akumal is that you get a chance to be closer to nature than other parts of the region!
Explore the restaurant scene in Tulum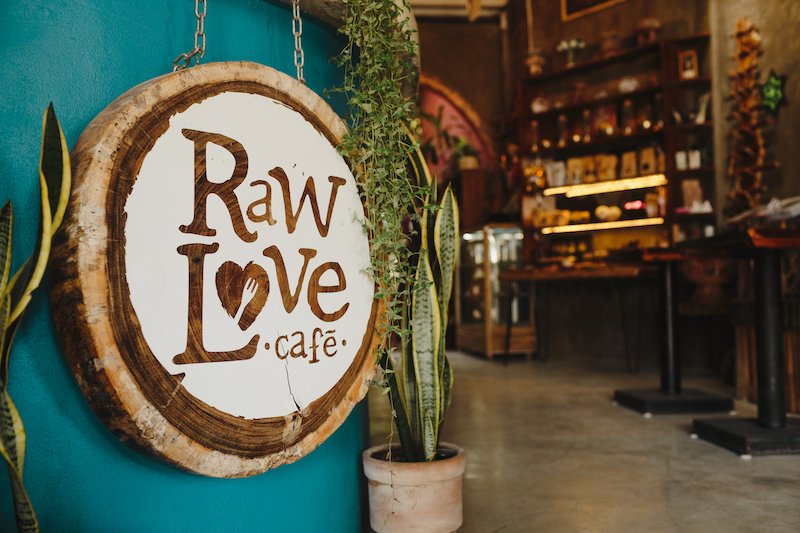 Contributed by Daria of The Discovery Nut
Tulum is a popular destination in Mexico's Riviera Maya famous for its white-sand beaches, amazing cenotes and stunning Mayan ruins along the Caribbean Sea.
This town is also home to a wonderful restaurant scene where you can find anything from traditional Mexican food like tacos and tamales to elaborate international dishes.
Spend some time enjoying the amazing gastronomy in this destination. Downtown Tulum (or Tulum Centro) is home to many budget-friendly restaurants like Tacos El Bajón and Mi Burrito Amor, where you can try authentic tacos, burritos and other staples from Mexican cuisine.
Downtown Tulum boasts the best street food in town. and you can enjoy delicious tacos for less than $5 USD. Here you can also find establishments like Antojitos a La Chiapaneca where you can sample regional Mexican food.
If you are more in the mood for international dishes, you can grab some Middle Eastern food at Pasha or enjoy pad Thai at Curry Thai by Po or newly opened Tomizen that has flavorful ramen noodles and crispy spring rolls.
Aldea Zama is a new area of Tulum that also has some restaurants like Rossina where you can grab a hearty breakfast or brunch. Their menu has delicious club sandwiches, waffles, pancakes and a variety of smoothies.
Tulum Hotel Zone boasts some of the most fancy restaurants in Tulum like Rosa Negra, Arca, and Bal Nak which are perfect for a special occasion like a birthday celebration or dinner date.
Mina is another popular restaurant in the Tulum Hotel Zone that offers a variety of seafood and elaborate cocktails like strawberry mojito and pisco sour.
Mina boasts superb views of the Caribbean and is a great place to have a meal with the view.
Whatever food you like, you can be sure that you will find it in Tulum! 
Visit Playa Mia Grand Beach Park on Cozumel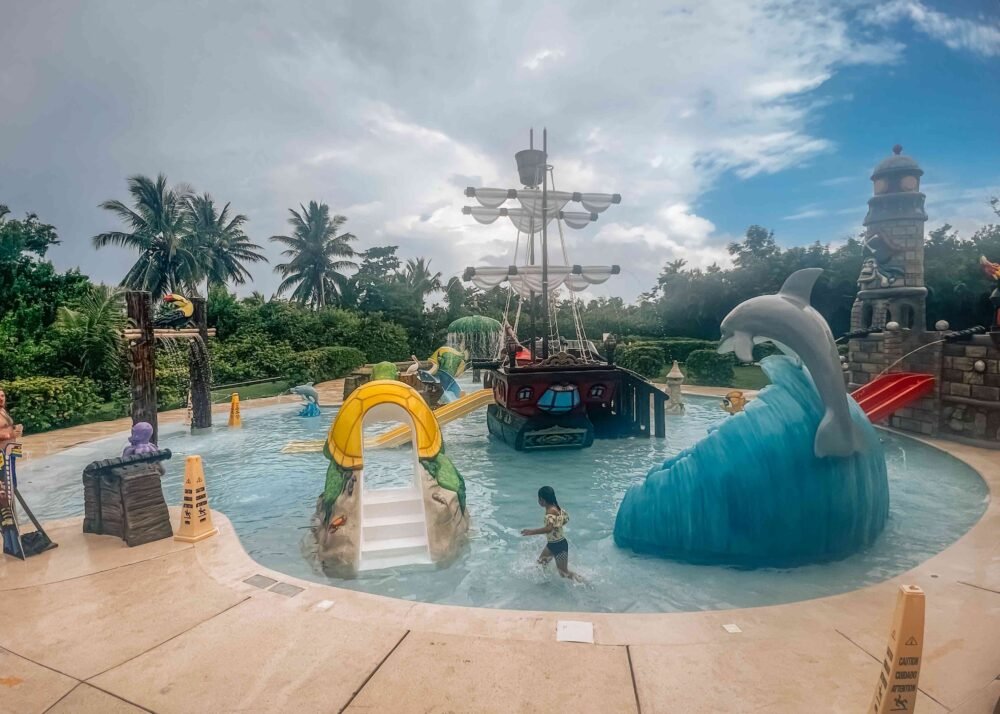 Contributed by Saskia from Sas Crossing Countries
Cozumel is one of the highlights in the Riviera Maya, an island only a 30-minute ferry ride away from Playa Del Carmen.
When visiting Cozumel with kids, visit Playa Mia Grand Beach Park. From the pier in Cozumel, it's only a 20 minute drive to this waterpark.
Tickets cost between $40 and $124, depending on the amount of add-ons. From kids' pools filled with fun attractions to a floating park in the sea, there's something for everyone here.
Included in the ticket price are the pools, snorkeling and kayaking in the sea and the floating park. The massage tub and water bicycles can also be enjoyed without paying extra.
Playa Mia offers add-ons like snorkeling tours, parasailing and lounge beds. And when it's time for a meal, go the restaurant for a reasonably priced lunch.
When visiting this waterpark bring hats, sunglasses and (long-sleeved) UV filtered beachwear.
To protect the ocean's environment, sunscreen isn't allowed. We weren't allowed to use our reef safe sunscreen, either. Make up is also forbidden, basically anything that can harm the reef is.
Secondly, kids under 8 aren't allowed to snorkel and kids under 12 must always be supervised by an adult.
Lastly, transportation back to the pier from Playa Mia leaves every hour on the hour from noon to 6pm.
Spend a full day here to enjoy all Playa Mia Beach Park has to offer.
If you love road tripping with kids, check the family travel blog Sas Crossing Countries for family road trip itineraries from countries all over the world.
Take a day trip to Laguna Kaan Luum from Tulum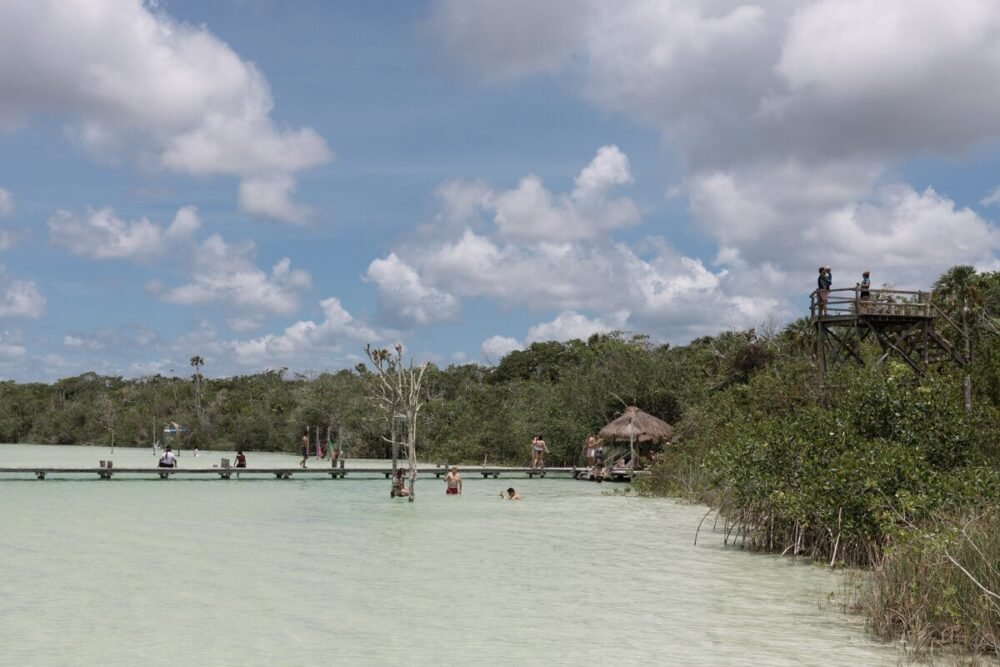 Contributed by Katie from KatieCafTravel.com
Laguna Kaan Luum is a breathtakingly beautiful lagoon located just a short distance from Tulum in the Riviera Maya region of Mexico.
The lagoon is renowned for its crystal clear waters, which range in color from light turquoise in the perimeter to deep emerald green in the center, and its peaceful, unspoiled surroundings.
Visiting Laguna Kaan Luum from Tulum is an easy and enjoyable day trip that can be arranged through a variety of local tour companies, by taking a taxi, or by renting a car and making the journey independently.
Once at the lagoon, visitors can spend their time swimming, scuba diving, paddle boarding, and lounging on the hammocks and swings that surround the perimeter of the lagoon.
While you can buy the occasional cerveza, it's important to note that there are no restaurants or food vendors located at Laguna Kaan Luum, so visitors should plan to bring their own food and drinks for the day.
Packing a picnic is a great option many people, especially families, pack a lunch and come and spend the whole day lounging lagoon-side.
The perimeter of Laguna Kaan Luum is relatively shallow at around 3 feet, perfect for non-swimmers, but the center of the lagoon is very deep and roped off for safety, prohibiting swimming.
While there is no swimming allowed in the center of the lagoon, certified scuba divers can explore the center of Laguna Kaan Luum, however, due to the lack of visibility and limited marine life in the deep area, there may not be a lot to see.
Take a cooking class in Tulum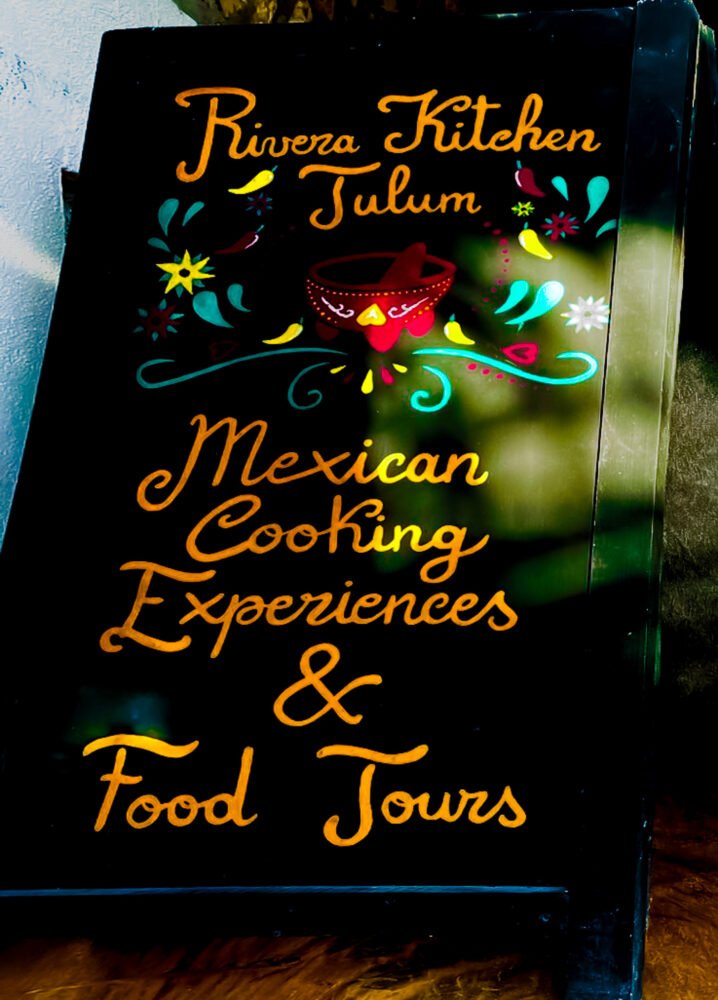 Contributed by Catrina of 24 Hours Layover
If you're a foodie, a culture-junkie or an adventurous traveler who loves Mexican food (who doesn't right?!) then going to a Mexican cooking class is one of the best activities to do in the Mayan Riviera!
Not only will this enable you to understand and appreciate the culture more, but it's really fun, unique and educational too!
Get immersed in Mexican culinary history, learn traditional recipes along with the staple ingredients so you can bring a bit of Mexico home with you and impress your friends and family with your newly-acquired Mexican cooking skills!
The Rivera Kitchen Tulum share their own family recipes with you in their classes – which take place in the comfort of their home.
They'll meet you at a convenient spot in Tulum and bring you to their home where you'll help to prepare a 5 course meal.
Plus once you've finished cooking you'll of course get to enjoy the delicious meal along with a beer and mezcal – perfecto!
Make sure to get some photos of the fun to post to social media, along with a great Tulum caption!
At $75 USD per person, this is a great activity that you are sure to enjoy!
Take a 4WD to Punta Allen and enjoy the Reserva de la Biosfera de Sian Ka'an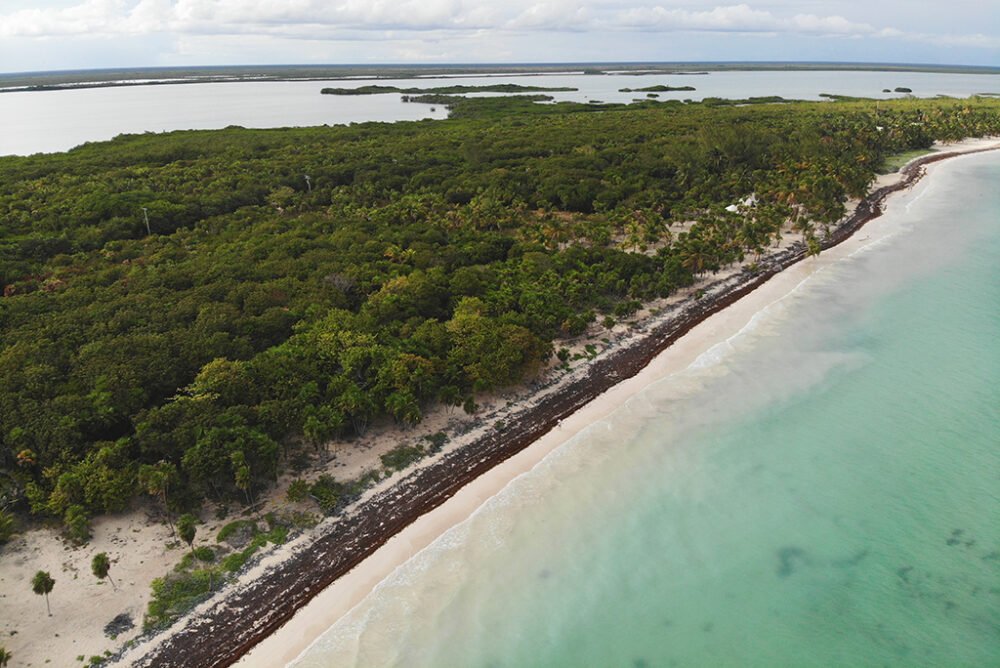 Contributed by Agnes from The Van Escape
Driving to Punta Allen and enjoying the Reserva de la Biosfera de Sian Ka'an is a perfect idea for a day trip from Tulum, but only if you like a bit of adventurous thrill.
This excursion is something for those with strong nerves, as driving through the jungle on a narrow dirt road covered with potholes is a real challenge.
To complete this 60 km route, you need not only a 4WD car but also an experienced off-road driver.
You'll need at least 1.5 hours to complete the route, but it can take up to 2 hours if it rains. If it rains heavily, you could risk getting stuck in the mud, in which case you should return to Tulum!
However, the easiest and most comfortable way to get to Punta Allen is to take an organized tour from Tulum. You can choose a local tour from Maya-run Community Tours Sian Ka'an or Laguna Muyil in Tulum.
Why all this hassle? What is Punta Allen?
It's a small village at the end of the narrow peninsula, isolated from the world, where only solar panels provide electricity, only accessible via the Sian Ka'an Biosphere Reserve.
The Sian Ka'an Biosphere Reserve, located south of Tulum, encompasses over half a million hectares of lowland jungle, mangroves, and savannas.
Sian Ka'an means "place where heaven was born" or "gift of heaven" in the Mayan language.
Because of its unique biological and historical diversity, it was added to the World Heritage List by UNESCO in 1987.
Sian Ka'an Biosphere Reserve is picturesque, with diverse flora and fauna. You can spot spider monkeys, howler monkeys, tapirs, crocodiles, peccaries, and over 300 species of birds here.
On-site, you can take a boat tour through the reserve. The place is ideal for snorkeling and watching dolphins and turtles in the azure waters of the Caribbean Sea.
Be sure to pack a swimsuit, sun protection, and snorkeling kit.
Take a day trip to Valladolid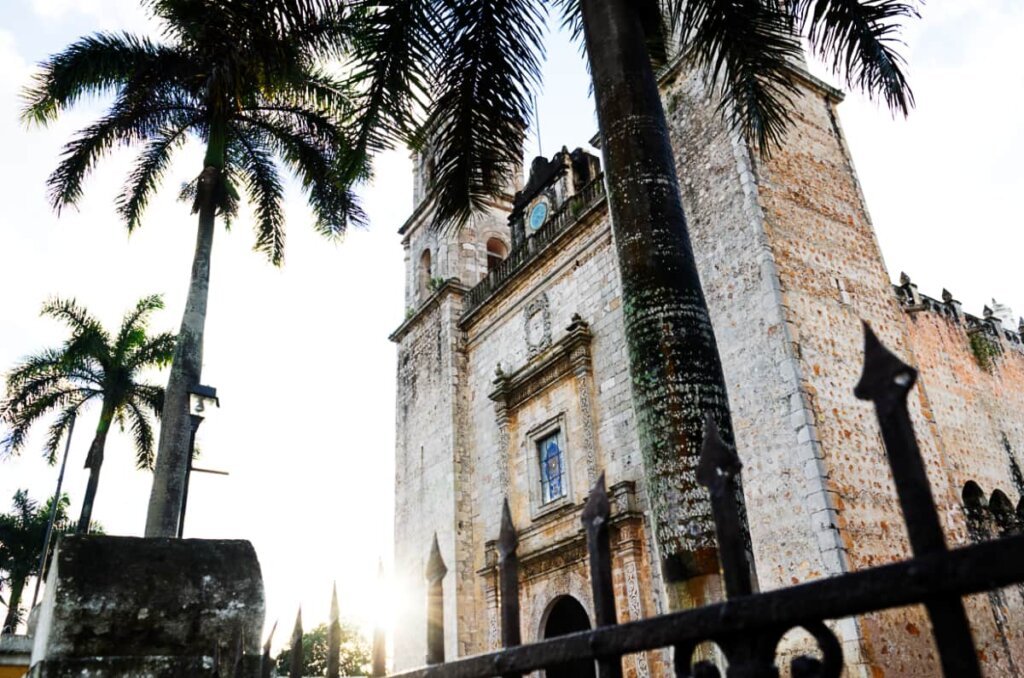 Contributed by Julien Casanova of Cultures Traveled
If you want to explore the history and culture of the Yucatan Peninsula, take a day trip to Valladolid from Cancun, Playa del Carmen, or Tulum.
Valladolid is a small town in the Yucatan that is known for its colonial architecture and traditional Yucatecan food.
Whether you prefer to explore an ancient ruin, cool off in a cenote, or simply eat, shop, and explore, you will find multiple things to do in Valladolid and the surrounding area.
Valladolid is located within a two-hour drive from the popular destinations of Tulum, Playa del Carmen, and Cancun in the Riviera Maya.
If you prefer to take a bus, ADO regularly travels to Valladolid from all three destinations for a cost of about 150-200 pesos depending on your departure city.
You'll also find several tours leaving from Cancun that include visiting Chichen Itza, swimming in a cenote, and exploring the town of Valladolid.
Visiting Valladolid as a day trip is one of the best things to do in the Riviera Maya for families and couples that want to take a break from the beaches to explore the cultural heritage of the Yucatan Peninsula.
Go wind-surfing on Xpu-Ha Beach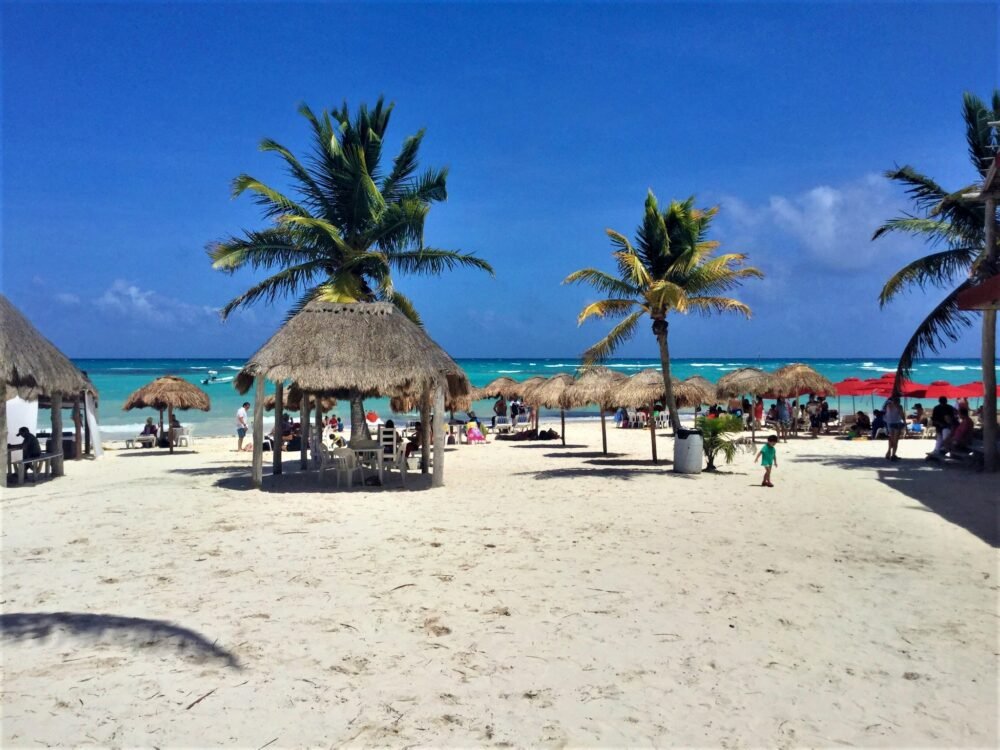 Contributed by Christine Rogador of Journey to Mexico
Xpu-ha Beach is a tranquil and beautiful stretch coastline near Playa del Carmen and Tulum in Riviera Maya, Mexico.
This pristine beach is famous for its clear turquoise waters, white sandy beaches and lush green jungle surroundings.
There are many ways to get to Xpu-Ha beach via Playa del Carmen that it would take 24-30 mins of time travel.
You can book a taxi, which may be a little expensive; expect to pay around 250-350 pesos ($13.50-$19 USD) one way.
If you are on a budget, you can also take a collectivo; it's a shared taxi in Mexico that costs 30-40 pesos (about $2 USD).
Xpu-Ha Beach is a popular destination for tourists seeking a relaxing beach getaway with the family. It offers a range of activities to suit all tastes, including some fun adrenaline activities!
One of the best things to do in Xpu-Ha Beach is windsurfing; the beach is an ideal spot for water sports providing a great challenge and an enjoyable experience.
The beach has a shallow but wide sandbar just a few hundred meters from the shore, making it the perfect spot for beginners to practice their skills.
There are also several nearby reefs and other windsurfing spots for more challenging conditions.
Take a day trip to Chichen Itza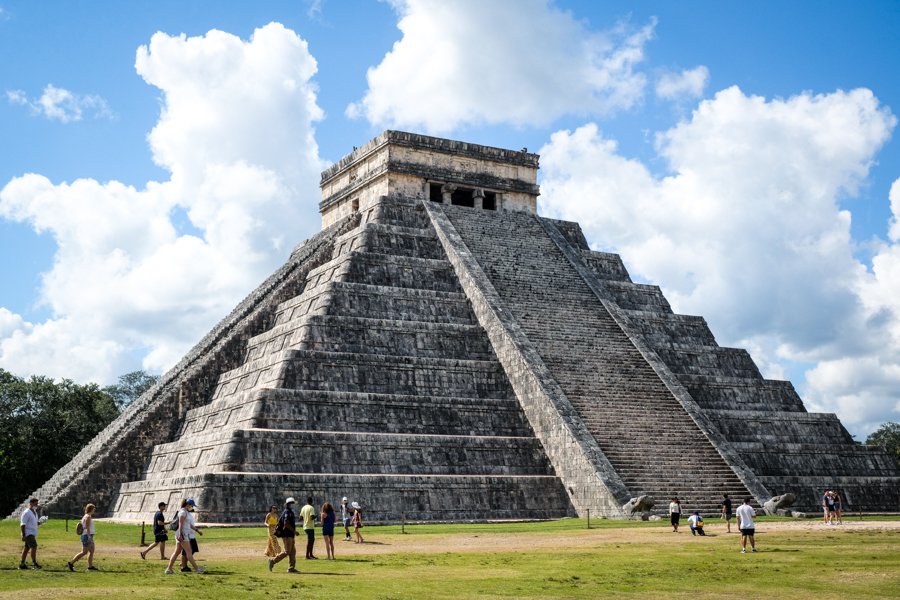 Contributed By David & Intan From The World Travel Guy
One of the best things to do in the Riviera Maya would have to be a day trip to Chichen Itza, the ancient ruins left over from one of the Mayan civilization's most important cities.
Among other things, Chichen Itza has a giant pyramid that served as a temple from 600 AD to 1200 AD.
It's easy to get to Chichen Itza from Cancun, Tulum, or elsewhere in Riviera Maya.
You can rent a car and drive yourself, take the ADO public bus, book a private tour, or join a group tour shared with other travelers.
Generally people go with a tour from Cancun, but any of these options work great.
Even though Chichen Itza is a very popular and busy tourist attraction, there's a lot of wide open space surrounding the ruins, so it doesn't feel as crowded as you might expect.
You can easily spend a half day seeing all of the pyramids, carvings, and other sights here, and everything is very photogenic.
This day trip is arguably one of the best activities in Riviera Maya for families, adventurous travelers, history buffs, and just about any other traveler!
It has very broad appeal because the sights are so spectacular.
Take a tour of Gran Cenote from Tulum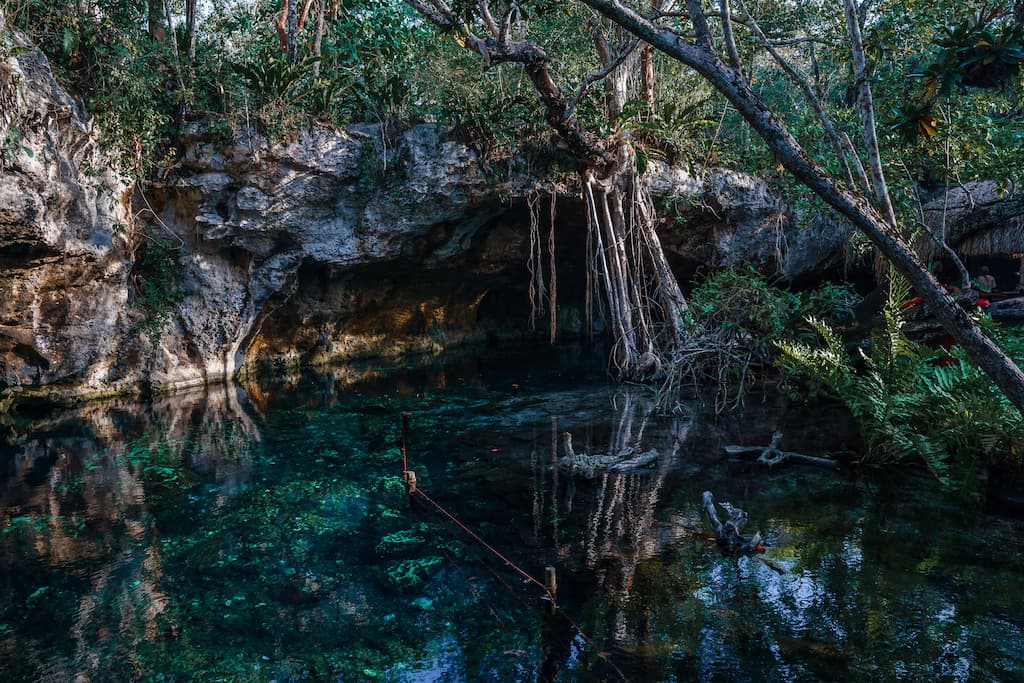 Contributed by Mal of Raw Mal Roams
If you're looking for a unique and unforgettable experience in Riviera Maya, Gran Cenote near Tulum is the perfect place to visit.
With its incredibly clear water, Gran Cenote provides visitors with opportunities to swim, snorkel and dive among various pools of crystal blue waters filled with colourful fish and tinny turtles.
Thanks to its rich fauna, this cenote is super special and a perfect place to visit for all nature-loving travelers.
Apart from swimming in the fresh azure waters of the cenote, you can also explore cenote's cave that features captivating stalactites and bats flying around inside its walls.
Gran Cenote is located 5 km from the downtown Tulum and 7 km from the Zona Hotelera, and there are various ways to visit it.
If you're staying in Tulum you can rent a car, or a bicycle or take a taxi there. Or if you prefer something more organised, various cenote tours from Tulum can take you on a fun day trip that combines a visit to a few best cenotes.
The entrance ticket costs 500 pesos or $27, and it includes a snorkel and mask rental – a must to see the cenote waters which are teeming with life!
Scuba dive in Cenote Angelita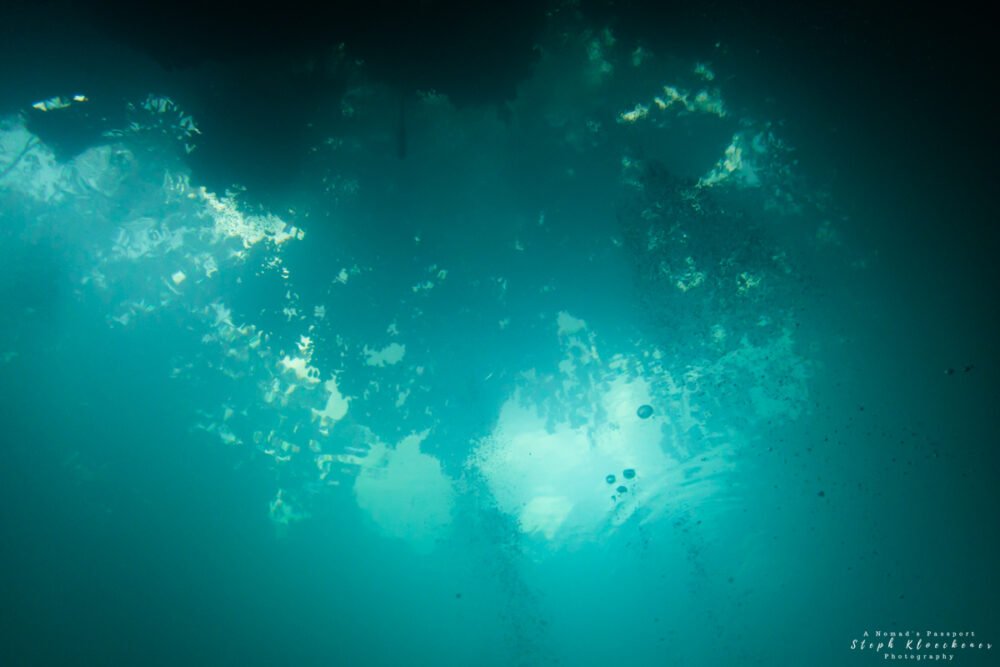 Contributed by Steph of A Nomad's Passport
There are plenty of great cenote dives for recreational divers, but Cenote Angelita is unlike any other dive at the Riviera Maya.
It is unique thanks to the 3 meters (9.8 ft) thick hydrogen sulfide cloud that rests on the halocline and the debris mount that arches out of it like an island.
Therefore, diving in this cenote feels like flying over an eerie underwater river.
After flying over the white cloud, you can then dive through it until you reach the pitch-black area beneath it.
Most dive centers limit the maximum depth of the dive to 35 meters, so you will not be exploring this area for long.
As you ascent near the end of the dive, you can spot large stalactites including the Angel stalactite that gave this cenote its name, and swim through a small tunnel.
Given the depth of Cenote Angelita, this activity is only for experienced scuba divers with a depth certification.
Additionally, all divers have to be accompanied by a cave diving certified guide.
Cenote Angelita is located south of Angelita, and while you could drive there yourself, most dive centers will take you there.
As a result, Tulum is the best starting point if you want to avoid a long drive.
The costs for this dive depend on the dive center and how many dives you are booking with them.
If you are only planning one day of cenote diving and two dives, you can expect to spend $175 to $215 USD. The camera fee for this cenote is 500 MXN ($25 USD).
Take an adrenaline-pumping ATV and zipline tour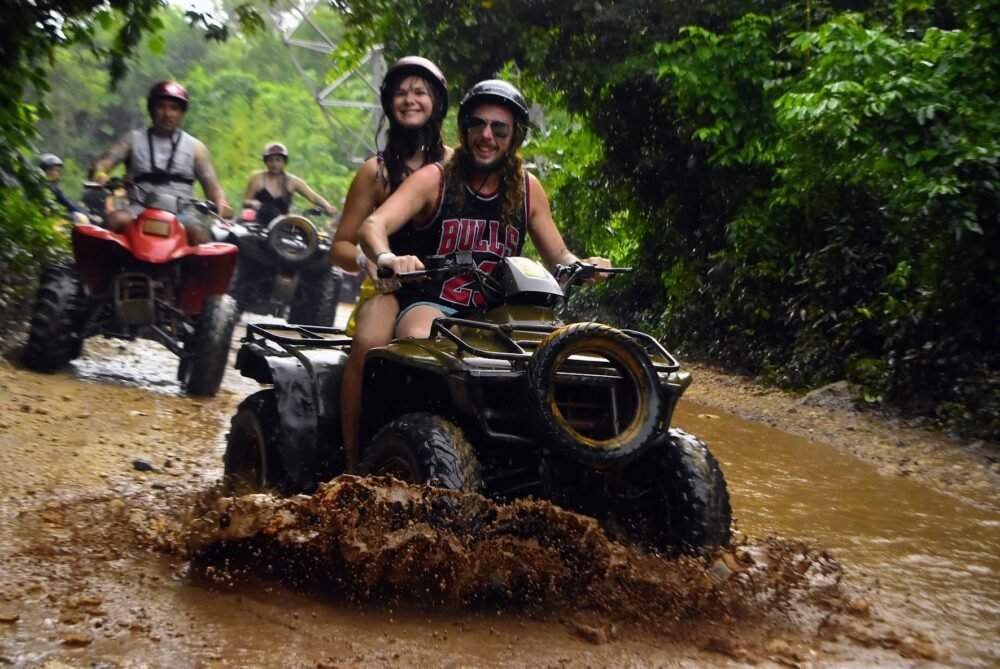 Contributed by Kerry Reed from Adrenaline Junkiez
One of the best things to do in Riviera Maya is to take an all-weather adrenaline-fuelled ATV, Zipline and Cenote Tour.
These day trips provide the best of everything as they couple a few exhilarating experiences with nature and relaxation.
One of the most popular areas to enjoy this experience is in Puerto Morelos. Not only do you surround yourself with the lush tropics of the Mexican rainforest, you also have the natural splendour of an open-air freshwater cenote. 
Whether you're travelling with friends, your partner or your family, there is something for everyone on this tour.
If your children are 7 or over then they can ride the ziplines and tiptoe the rope bridges. Younger children could even be seated with you on the ATV ride through the jungle.
The cenote is suitable for all ages and there are three ways to get in; walk into the waters from the steps, jump from the top or zipline into the refreshing green waters. 
Tours booked in advance will include return travel to hotels within the Riviera Maya, however you can also get there by taxi or car and just pay the entrance fee.
The experience also includes a tequila tasting and a few free tacos to re-energise you after a fun-filled day.
Admire the old Mayan city of Ek Balam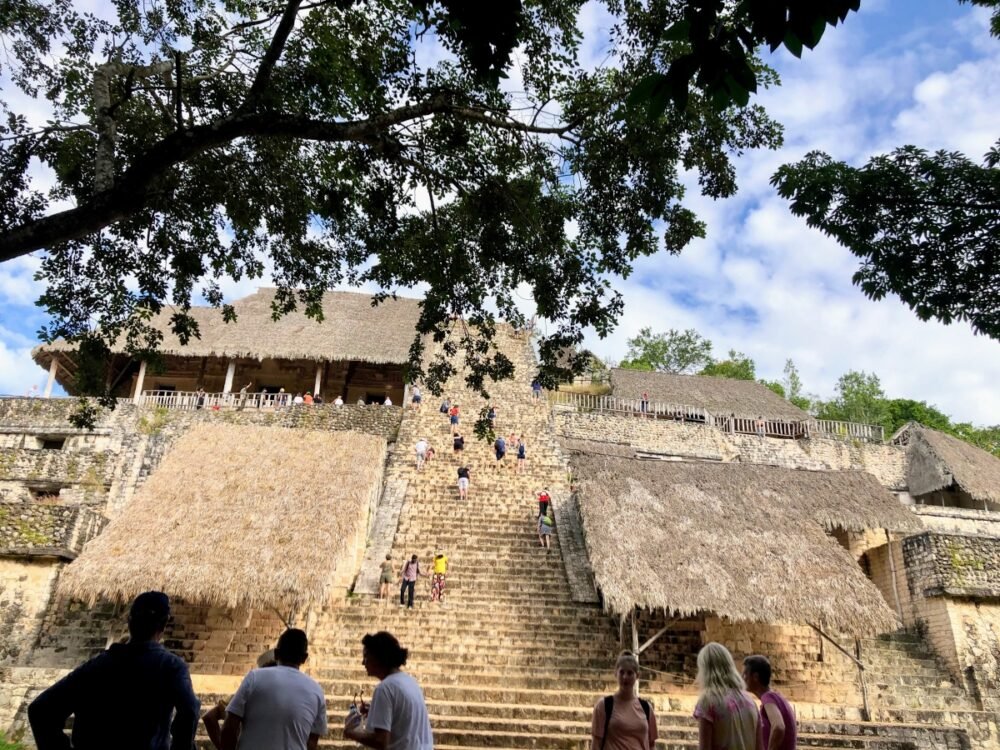 Contributed by Anu Agarwal of Destination Checkoff
Ek Balam is an ancient Mayan city located in the Yucatan Peninsula of Mexico and is known for its Mayan ruins, pyramids, and ancient stone buildings and structures.
Ek Balam is around 2 and half hour drive from Cancun making it ideal for a day trip. You can drive there yourself or take a tour from Cancun.
Ek Balam's main attraction is the Acropolis which stands over 100 feet tall and is the largest structure at Ek Balam. This is one of the pyramids that you can still climb on!
Its steep staircase leads to the top, where you can enjoy panoramic views of the surrounding jungle.
The jungle surrounding Ek Balam is home to several species of birds, making it a popular spot for birdwatching.
Other notable structures are the west wing of the Acropolis, which served as a palace or administrative center, and the Oval Palace, which features detailed carvings depicting important events in Mayan history.
There are several local restaurants and food stands in Ek Balam that serve traditional Yucatan cuisine.
Ek Balam is a great attraction to visit for everyone including families and history fans.
Overall, a visit to Ek Balam offers a fascinating glimpse into the ancient Mayan civilization and its impressive achievements in architecture, art, and culture.
Book a private (yes, private!) cenote for the day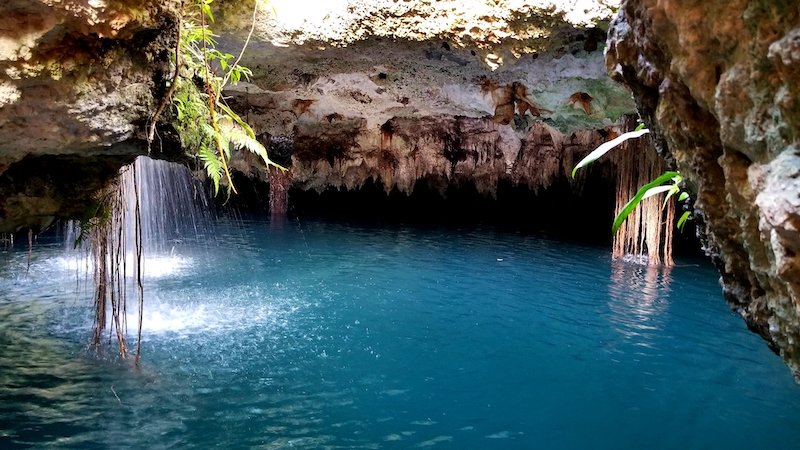 Contributed by Sarah of Live, Dream, Discover
The Riviera Maya is full of mystical water-filled sinkholes called cenotes and visiting at least one is a must when in this region of Mexico.
But how about a day at a private cenote for just you and your friends and family?
Cenote Elvira provides that special experience just a short drive from Cancun at KM 20.8 on the La Ruta de Los Cenotes. 
Cenote Elvira is a semi-open cave cenote nestled in the lush Mayan Jungle!
Visitors can access the cool waters by stairs or by jumping through the large hole in the cave roof.
The land the cenote sits on has been beautifully outfitted with everything you need while preserving the natural vegetation and its inhabitants. 
Amenities include loungers, hammocks, picnic tables, restrooms, an outdoor shower and an open-air kitchen and bar.
Food and drink are not sold on-site but you can bring your own or add Elvira's catering services.
The minimum daily rental rate is just $600 MXN ($300 USD) for up to 10 people which means you can have a day at a private cenote for as little as $30 USD per person.
If you have more than 10 people the cost is $30 USD for each additional person. 
We booked Cenote Elvira twice while we were living in Playa del Carmen and both days are highlights of our time in the gorgeous Mayan Riviera.
Explore the pristine cenotes of Cristalino and Azul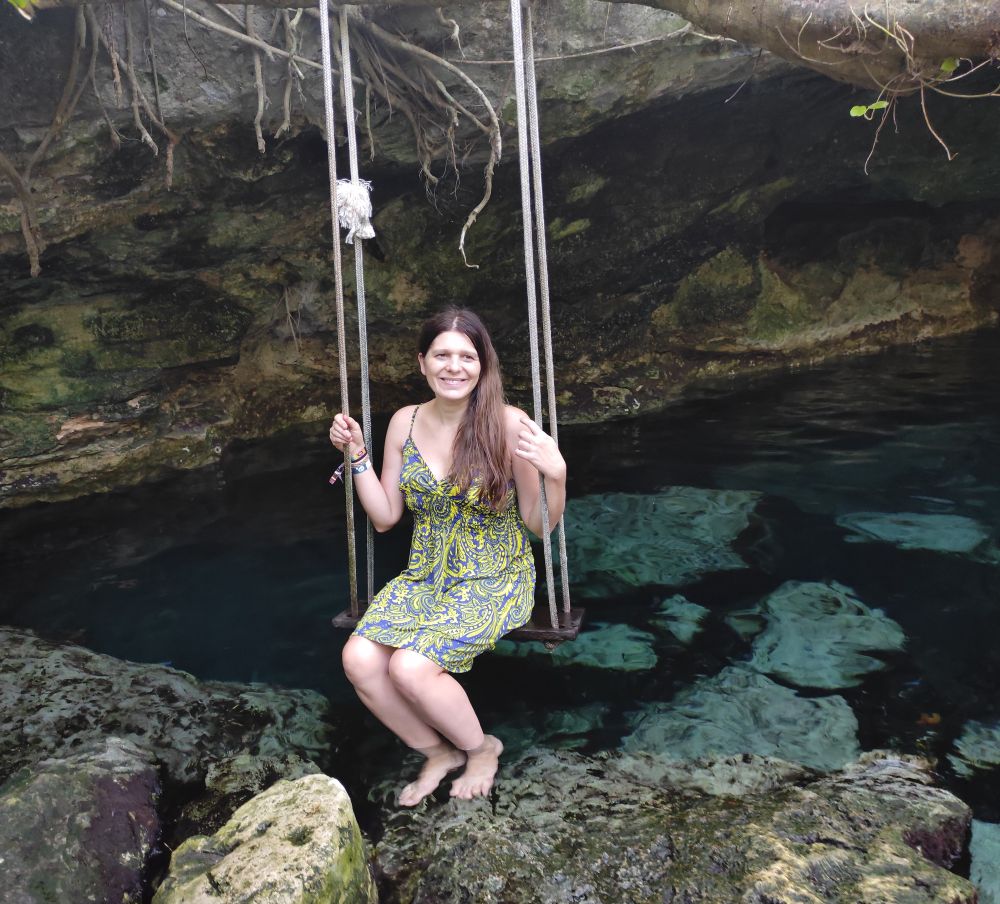 Contributed by Gabi of Under Flowery Sky
Four stunning cenotes keep each other company on the way between Playa del Carmen and the enchanting Tulum: Azul, Eden, Cristalino and Yax-kin.
It's better to come in the morning as Cenote Azul might be busy and not accessible at other times of day.
In any case, the marvelous Cenote Cristalino should be accessible. Cenote Cristalino and Azul are both located on the main highway.
It's easy to reach them and the cheapest way is by collectivo from Playa del Carmen or Tulum.
You can take this shared van from 2nd street in Playa del Carmen. Their schedule is roughly every 15 minutes, according to their capacity.
Cenote Cristalino is relatively less crowded and cheaper, compared to other cenotes.
This cenote has good amenities, offering clean toilets and showers, locker rentals and life jackets. It's also possible to rent sun loungers and have a relaxing day.
The crystal clear waters at Cenote Cristalino cover several lovely pools.
Some areas of the cenote hold miniature caves. With the adjacent swing, it's just so fun spending time here.
Cenote Cristalino is not very large or deep (so it's not suitable for going diving), but it's quite picturesque and tranquil.
The incredible allure of Cenote Azul belongs to its divine colours. It's pretty large and perfect for jumping in!
The small fish entertain the visitors and you may even feel them nibble at your feet, like a free fish spa.
Allison Green is a former educator turned travel blogger. She holds a Masters in Teaching and a B.A. in English and Creative Writing. Her blog posts merge her educational background and her experience traveling to 60+ countries to encourage thoughtful travel experiences that both educate and entertain. She has been a speaker at the World Travel Writers Conference and her writing, photography, and podcasting work has appeared in National Geographic, CNN Arabic, CBC Canada, and Forbes, amongst others. Now based in the San Francisco Bay Area where she grew up, she has also lived in Prague, Sofia, and New York City.