Road tripping in Arizona is a dream. With miles of open road, endless desert skies and natural wonders around every turn, it's no wonder Arizona tops the list as one of America's most visited states.
I've put together a comprehensive one week Arizona road rip itinerary for you to steal and replicate for yourself.
In this post, I've highlighted the best Arizona road trip spots, including the most lively cities, tastiest restaurants, and — of course — the state's most awe-inspiring natural wonders!
You'll begin in the warm southern climates of Tucson and make your way north through Phoenix, Sedona, Flagstaff, the Canyon Canyon, and eventually loop your way back.
So pack up the car with all your road trip essentials and hit the road to experience everything The Grand Canyon state has to offer!
PLANNING FOR ARIZONA AT A GLANCE:  

When to Go: With over 300 days of sunshine, Arizona is perfect for visiting all year round! But even with that, some months are better than others! So if I had to choose, I'd say May through October are the best months to visit this beautiful state.

Where to Stay: For this itinerary, you'll have overnight stays in Tucson, Scottsdale, Sedona, and the Grand Canyon.

For your first night in Tucson, I recommend staying at historic Hotel Congress, a luxurious hotel, The Downtown Clifton Hotel for a more affordable option, or this Charming Southwest-Style vacation home if you want a homey atmosphere. 

And while in Scottsdale, I recommend staying at The Westin Kierland if you're all about being pampered or The Hermosa Inn if you prefer a more solitary option. 

For Sedona, I recommend staying at one of its most unique accommodation options like this Turtle House or this dome-shaped home that comes with stunning views.

And for your last overnight stay in the Grand Canyon, you can camp at one of its beautiful campgrounds if you didn't book the lodges in time.

How to Get Around: You'll need a car while road tripping Arizona. If you don't know where to rent one from, you can compare car rentals and prices from here. Alternately, you can rent an RV or campervan via RVShare and save on accommodations. 

Best Activities: Want to fully enjoy your Arizona road trip without the hustles of planning? Booking some activities will help you with that. You can book a Pink Jeep tour through the Red Rock Canyons, a Helicopter ride over the Grand Canyon, or a helicopter ride over Horseshoe Bend.

3 Things Not to Forget to Pack:  A sturdy pair of hiking boots will serve you well -- I love my Ahnu boots. A dual-purpose phone mount and charger will come in very handy and you'll be happy to have a roadside emergency kit should your car break down while road tripping.
Road trip pro tip: Purchase an annual pass (AKA the America the Beautiful Pass) to save money on the entrance fees for the multiple locations in this itinerary run by the NPS!
When to Plan Your Arizona Road Trip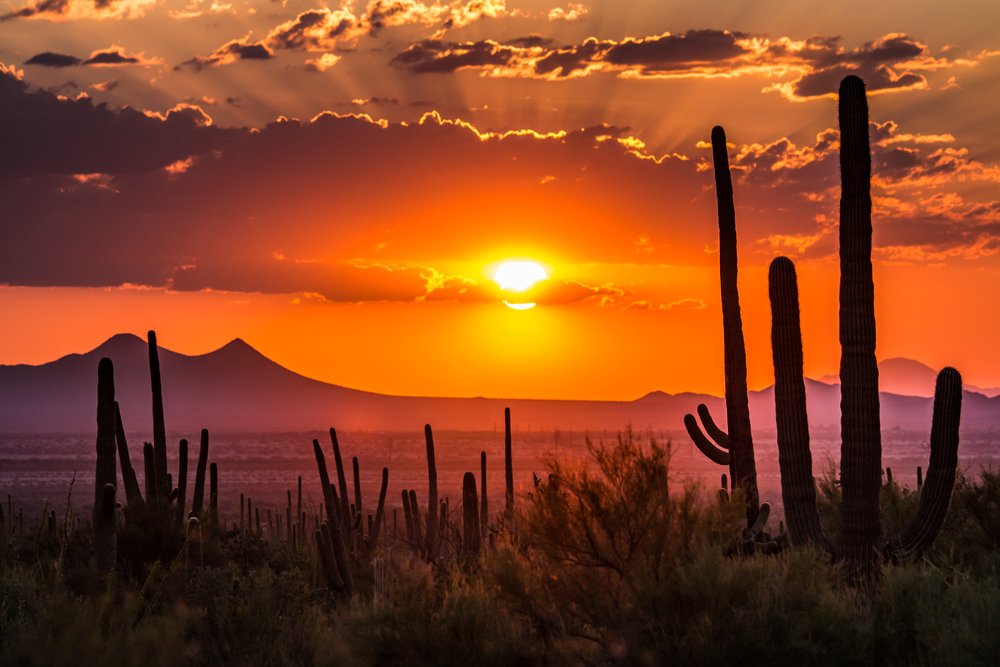 Note: This post contains affiliate links, which means I may receive a small commission if you purchase something through one of these links. Thank you for supporting the free content on this site! For more information on affiliate links and cookies, see my disclosure page for more details.
From the arid, dry climate of Tucson to the snow-covered mountains of Flagstaff, Arizona has weather for everyone.
In fact, Arizona sees about 300 days of sunshine a year making any time of the year great to visit!
But, if I had to nail down a few months that stand out in terms of temperatures, it would be May through October where temperatures generally range from 90 degrees in the day, down to 66 degrees at night.
As you cruise from the South end of the state to the North end, be prepared to experience ever=changing temperatures and be sure to pack layers, as a 40-degree temperature drop is quite normal for this mostly desert state!
Your Arizona Road Trip Itinerary
Day 1: Start in Tucson
It's only natural to begin your Arizona road trip by flying into the Southern Arizona city of Tucson.
Tucson International Airport offers multiple flights a day to connecting cities and is a hub for tourist activities.
It makes the most sense to go ahead and book a rental car and pick it up at the many rental car companies that are connected to Tucson International.
Not sure where to get the best deal on your rental? I've rented cars dozens of times through various search engines and have settled on Discover Cars as the best site to rent with in the USA – it searches dozens of rental companies to find the cheapest price for your rental! Compare car rentals for your trip here!
Tucson prides itself in its Southwest style which shows in its local street art, restaurants, and surrounding desert landscape.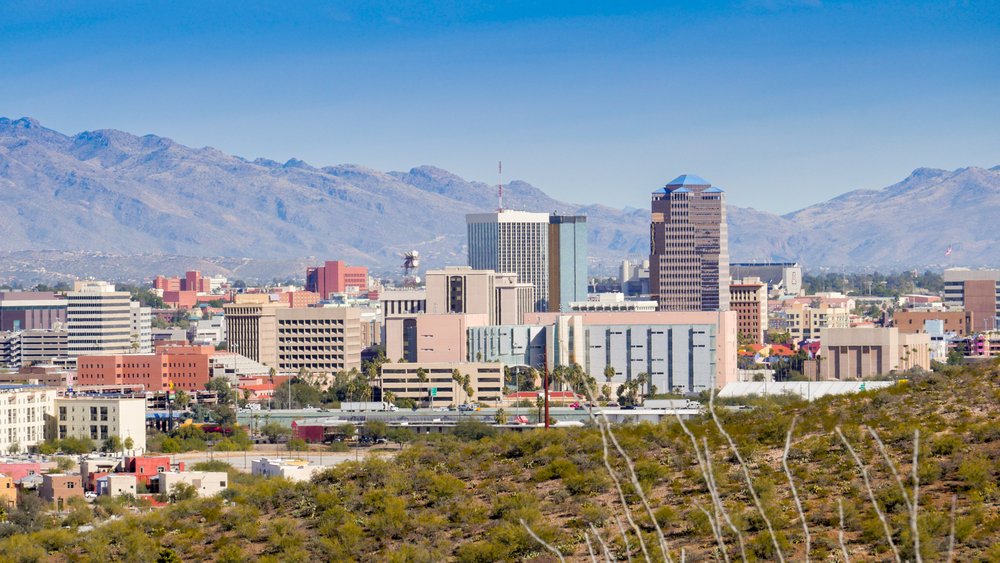 Check into your cool hotel
As you land in Tucson, check-in to the historic Hotel Congress. This luxurious hotel has kept its vintage vibes and makes for a great central location in downtown Tucson.
As you walk into the foyer of Historic Hotel Congress you can't help but admire the Southwest charm that decorates the walls. A perfect mixture of wood and turquoise gives this hotel a quaint but hip feel. It's guest rooms also hold on to the vintage vibes with stylish old-world radios, antique iron bed frames, and classy black and white tiled washrooms.
The Historic Hotel Congress will sweep you back into the Jazz Age and captivate your imagination!
>>> Book your stay at the Hotel Congress here! <<<
However, if you're looking for something on the lower end of the budget, I recommend The Downtown Clifton Hotel. The hotel is highly rated with previous residents raving about its charming ambiance, spacious and clean rooms, welcoming staff, and a general warm feel that will relax you from a long day of activities.
With a mix of woody and colorful decor, this hotel is bound to make you feel comfortable.
>>> Book your stay at the Downtown Clifton Hotel here! <<<
Forget the home away feel in a hotel when you can feel right at home in a real home! Yes, this charming vacation home guarantees that and much more.
Located next to Tucson Mountains and in the middle of saguaro and cacti, this home will give you the ultimate dessert and mountainous vibe while still enjoying the modern finishes on the interior.
>>> Book your stay at this Vacation home here! <<<
Grab enchiladas at El Charro
Every weary traveler knows that airplane rides are exhausting, but El Charro Cafe has just the antidote.
After you unpack and unwind, take a 15-minute walk from Historic Hotel Congress to El Charro Cafe. El Charro has some of the best Sonoran-style Mexican food in downtown Tucson.
Located in a charming historic home in its original location, El Charro is still run by the same founding family so you know the food is top-notch.
Try their Bandera Enchiladas. A trifecta of enchiladas each flavorfully colored with their in-house green, red, and white sauce. Top it off with their Prickly Pear Margarita and you're fueled up to hit some of Tucson's iconic sights.
Go for a cacti-filled hike in Saguaro National Park
To walk off some of your Sonoran style indulgences make the half-hour drive over to Saguaro National Park for some sightseeing and easy hiking.
Take the Tanque Verde Falls Trail hike to see some of Tucson's stunning Saguaro cacti. These cacti dominate the mountainsides and stand at a whopping 40 feet tall!
Tanque Verde Falls is an easy 1.8-mile hike that really highlights the best of Tucson's beauty. Waterfalls, swimming holes, and canyons are set among the desert landscape making it the perfect place to snap some unforgettable pictures.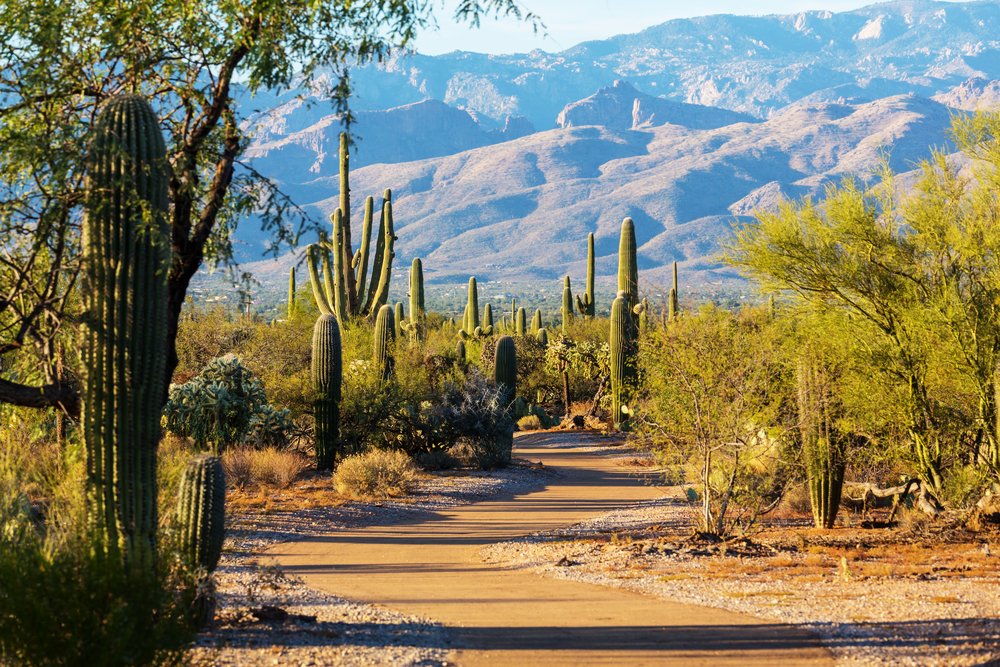 Grab some chocolates at Monsoon
As you head back to Historic Hotel Congress stop at Monsoon Chocolate for some sweet treats to take back to your room.
Monsoon Chocolate makes some of the most colorful award-winning chocolate in the world. Located just six blocks from Hotel Congress, Monsoon Chocolate is a fun place to shop for chocolates.
This quaint, bohemian style shop offers specialty chocolates, desserts, and beverages that are the sweetest ending to your first day of this Arizona road trip!
Day 2: Head to Phoenix and Scottsdale
Rise and shine, because your next destination is 1 hour and 40 minutes away in the state's capital city of Phoenix.
Phoenix is known for its year-round sunshine and warm temperatures. Often referred to as the Valley of the Sun, Phoenix is a mecca for all things cultural including historic neighborhoods, an outstanding selection of attractions, and a diverse array of food.
With all sorts of museums and parks to visit, there's also lots to do in Phoenix with teens and kids.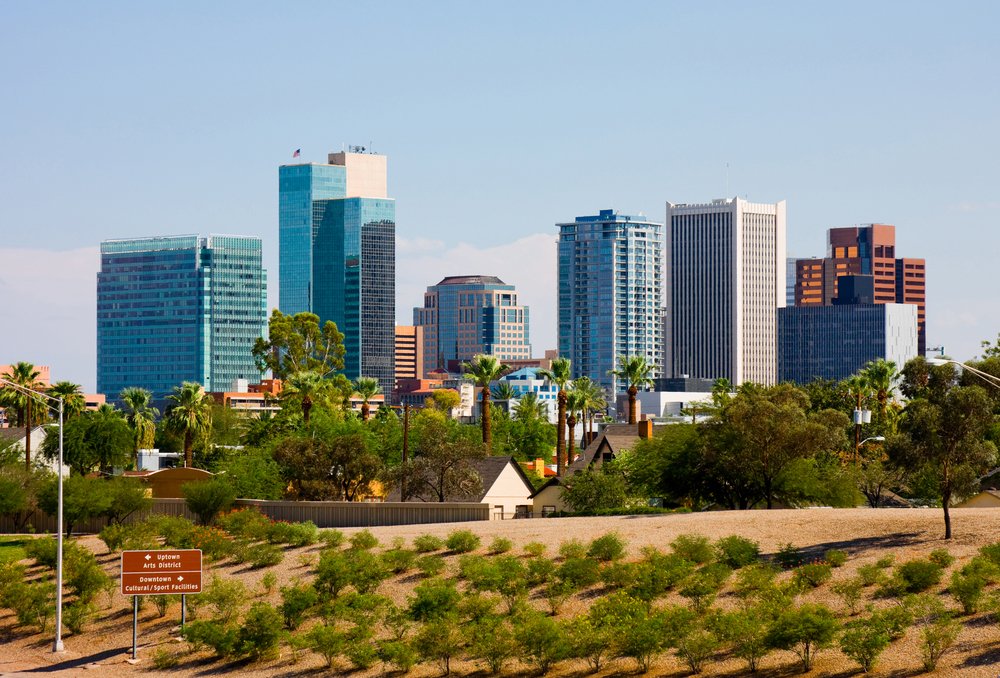 Grab breakfast at Songbird
As you roll into the sprawling city of Phoenix, stop at Songbird Cafe for your daily dose of coffee and nostalgia.
Songbird is a brightly lit cafe located in a small historic house built in 1904. The owner takes pride in sourcing its coffee and teas from local roasters located in the Tempe and Tucson area.
Because it's located in the Arts District of Downtown Phoenix there is a good chance you'll find a local artist displaying their craft. Try Songbird's Golden Milk Latte on their outdoor porch and enjoy a warm, sunshine-filled morning in the heart of Phoenix.
Visit the marvelous Desert Botanical Garden
After a kick of caffeine, take the 15-minute drive over to Desert Botanical Garden. This botanical garden is beyond anything I've ever seen.
Desert Botanical does a wonderful job of combining art and nature throughout their miles of trails that wind along the desert landscape. It's best to arrive early as Phoenix gets hot rather quickly.
Pack a good pair of shoes, sunscreen, and of course your camera because you'll be wandering around this desert oasis for hours!
If you're fortunate enough to arrive in the springtime, the colors of the cacti are blooming and hummingbirds can be seen buzzing around the entire complex.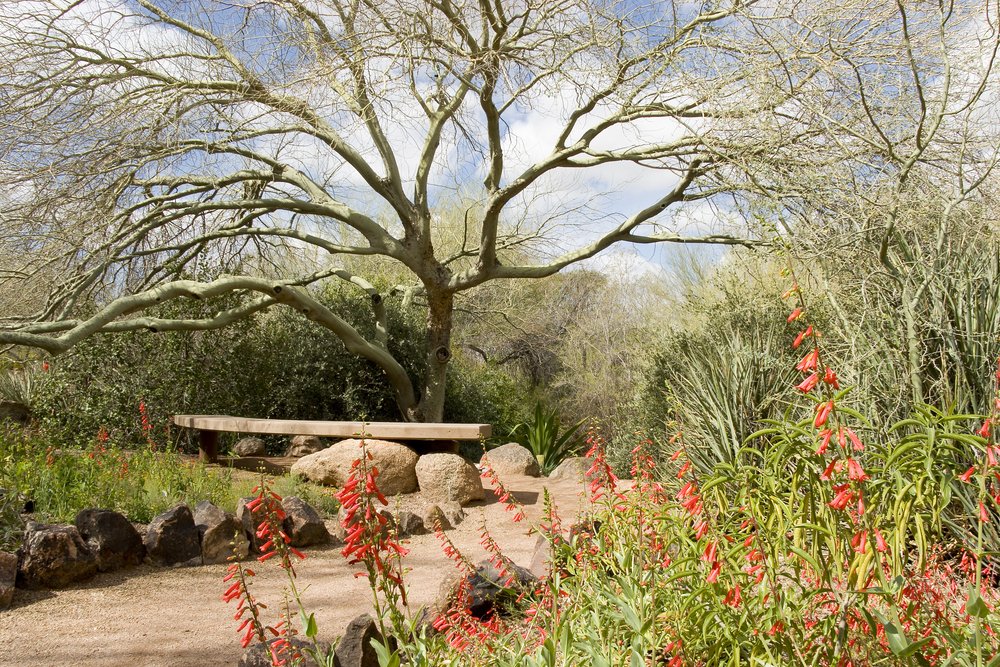 Grab a burger in Scottsdale
Wrap up your morning at the botanical garden and head to the neighboring city of Scottsdale for some delicious food and shopping.
Just a 12-minute drive down N Scottsdale Road is the best burger joint in Arizona. Rehab Burger Therapy is not your typical run of the mill burger joint. Rehab Burger Therapy is the be-all and end-all of burger places.
Each burger is a towering, carefully crafted masterpiece that's not only pleasing to the eye but is exploding in taste. Their menu is expansive with wild combinations such as the peanut butter jelly bacon burger and the mac and cheese burger.
They deliver on satisfaction and to top it off, they serve everything in a beach-themed atmosphere that ensures you're having a good time!
Shop til you drop
With a belly full of burgers, burn some calories in downtown Scottsdale by shopping around the world-class shopping districts.
Scottsdale has multiple different shopping squares to please every type of spender.
If money isn't a consideration, head to the upscale district of Fashion Square where you'll find name brand designers such as Prada and Gucci.
If you're more into the boutique type stores, hit up Old Town Scottsdale where you'll find more locally-owned, unique-to-Arizona type stores.
Check into your chic Scottsdale hotel
Wrap up your shopping and drop your bags in one of Scottsdale's beautifully designed hotels. Downtown Scottsdale also has some of the most lovely resort spas in the area: a great way to end your second day of an Arizona road trip!
If you're in the mood for a head to toe pampering experience check out The Westin Kierland.
This place has everything you need all packed into one resort. You'll find delectable dining, a world-class golf course, full-service spas, and bougie bars. It even has a 900-foot-long lazy river!
>>> Book a stay at the Westin Kierland <<<
If you're more of the laid back, solitude-seeking type check out The Hermosa Inn. The Hermosa Inn was once a Western studio — now it's been converted into a 43-room boutique hotel.
The grounds are perfectly manicured with native flora, speckled with elegant water features and paved walkways to show off the gardens. It's easily one of my favorite places in the Valley of the Sun!
>>> Book a stay at The Hermosa Inn <<<
Day 3 & 4: Sedona
The vortex vibes will lead you out of Phoenix and two hours up the road to the red rock city of Sedona.
This fun and funky place is definitely a top place to visit on your Arizona road trip itinerary!
With beautiful weather, endless outdoor activities, and some of the most stunning sunsets in the world, it's easy to fall in love with Sedona. If you plan to spend more than a day here, check out my two day Sedona itinerary for a more detailed guide.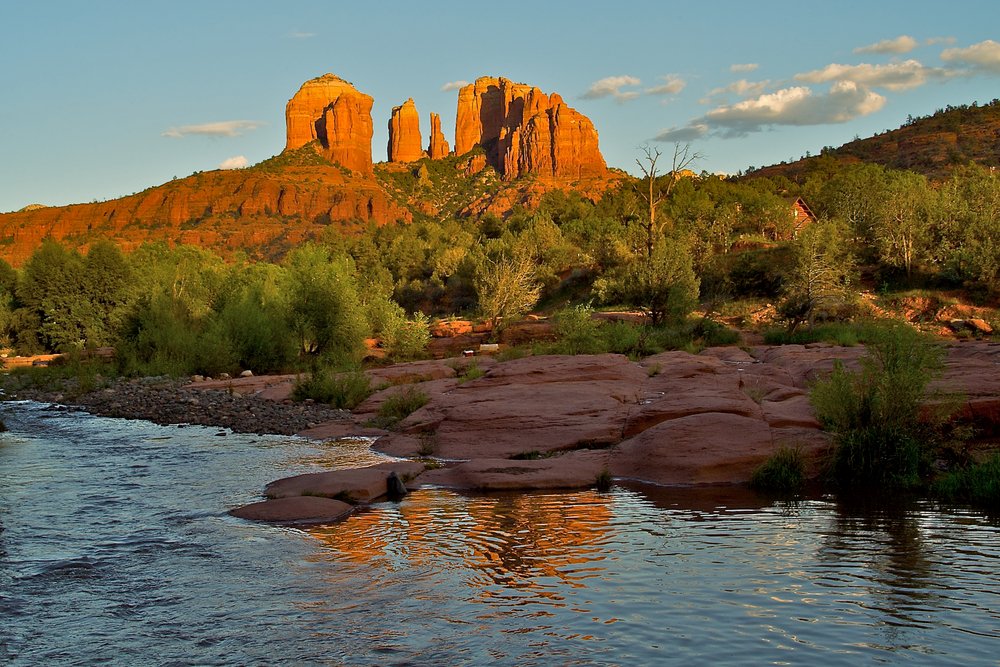 Start the morning at Indian Gardens
Hiking and restaurant hopping is what Sedona is known for, so start your day with a fabulous breakfast and hike it off at one of the many trails around Sedona.
Grab breakfast at Indian Gardens. This picturesque restaurant is located right on Oak Creek Canyon and serves some of the best health-conscious breakfast in town on a beautifully shaded patio.
The breakfast burrito is an absolute must, or if you're more of a morning sweets type, the homemade muffins with espresso are delightful.
Hike the West Fork
A short 15-minute drive up Sedona's scenic 89A highway is the top hiking trail of Sedona, West Fork of Oak Creek.
This 7-mile trail winds and weaves through the towering canyons and follows a shaded stream through some of the most beautiful landscapes.
West Fork is a highly sought-after trail, so if the trail seems too populated for your liking, head back to town to conquer Cathedral Rock Trail or Seven Sacred Pools.
Both of these trails have exquisite views of the surrounding canyons and are easy enough to tackle both in the same afternoon.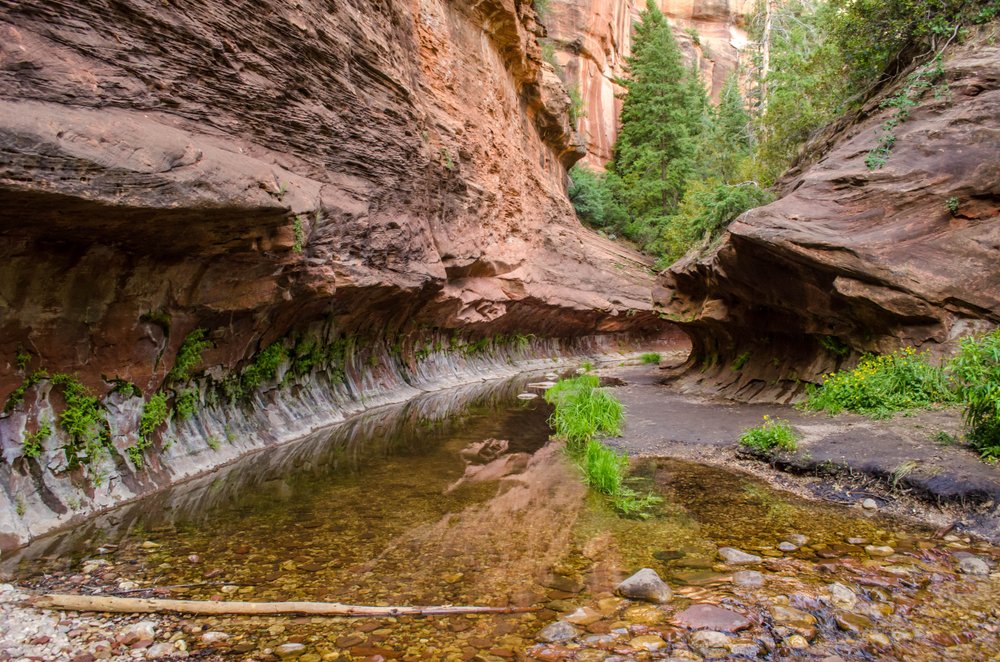 Hop in a swimming hole
If you're visiting Sedona in the spring and summer months, consider finding a swimming hole to cool off in.
Sedona has tons of natural swimming holes filled with cool, clear spring-fed water. Grasshopper Point, Slide Rock Park, and Red Rock Crossing are a few popular spots for an afternoon dip.
If you're in for more of an adventure, try hiking the 3.3 miles to "The Crack" at Wet Beaver Creek, which is an absolutely gorgeous spot where you can lay out in the sun, cliff jump, or explore the surrounding waterfalls.
Choose your own adventure
There are several other options for outdoor adventures just outside of Sedona as well.
These include horseback riding through the Sonoran desert with Wild Western Horseback Adventures, Pink Jeep Tours through the Red Rock Canyons, and hot air balloon rides with Red Rock Balloons company.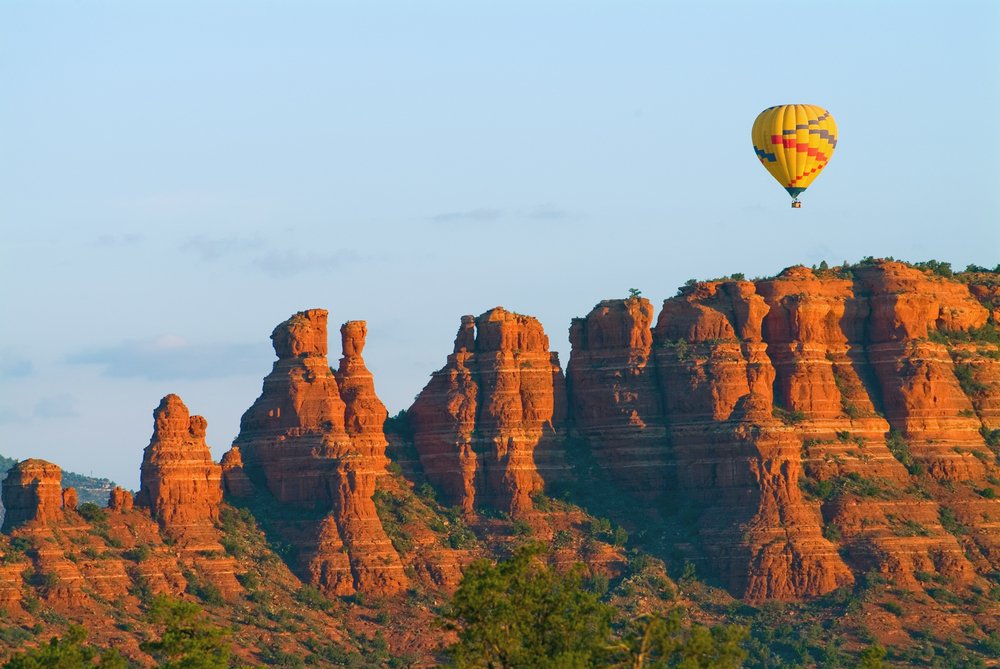 Check into a scenic resort spa or cool Airbnb!
Sedona is a hotspot for resort spas as well. Check out the Kimpton Amara or L'Auberge de Sedona for some top-quality spa treatments.
Alternately, if you're truly in the mood for a unique Sedona stay, check out the hundreds of Airb&bs in the area.
Many residents rent out their one-of-kind mountainside hideouts and creekside stays for a truly secluded atmosphere. Many of these Airb&b provide unrivaled views, private pools, and patios that'll amaze.
Check out this Turtle House, or stay in a dome-shaped home like this one!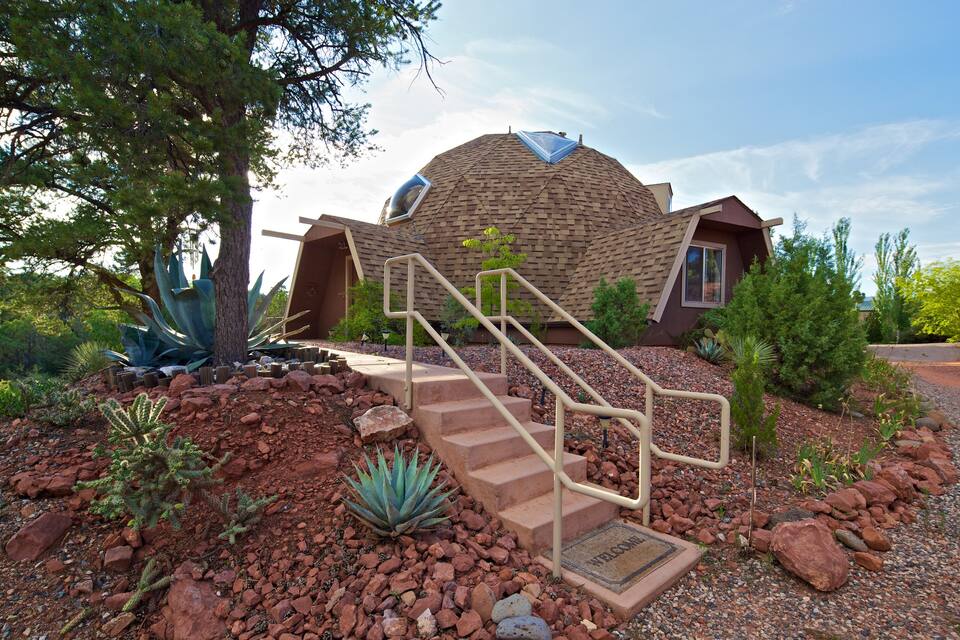 Grab a delicious Southwestern dinner
After a long day of outdoor activities consider some fare at Mesa Grill (southwestern style).
Two other great options include Oak Creek Brewery and Grill (American with a Taproom) or 89Agave (great margaritas and Mexican).
Stargaze at Airport Mesa
To seal the deal on an epic Sedona day, end the night at Airport Mesa for a sunset and stargazing.
A short hike to the top of Airport Mesa will give you uncompromised panoramic views and the dark skies offer unrivaled sights of the desert stars!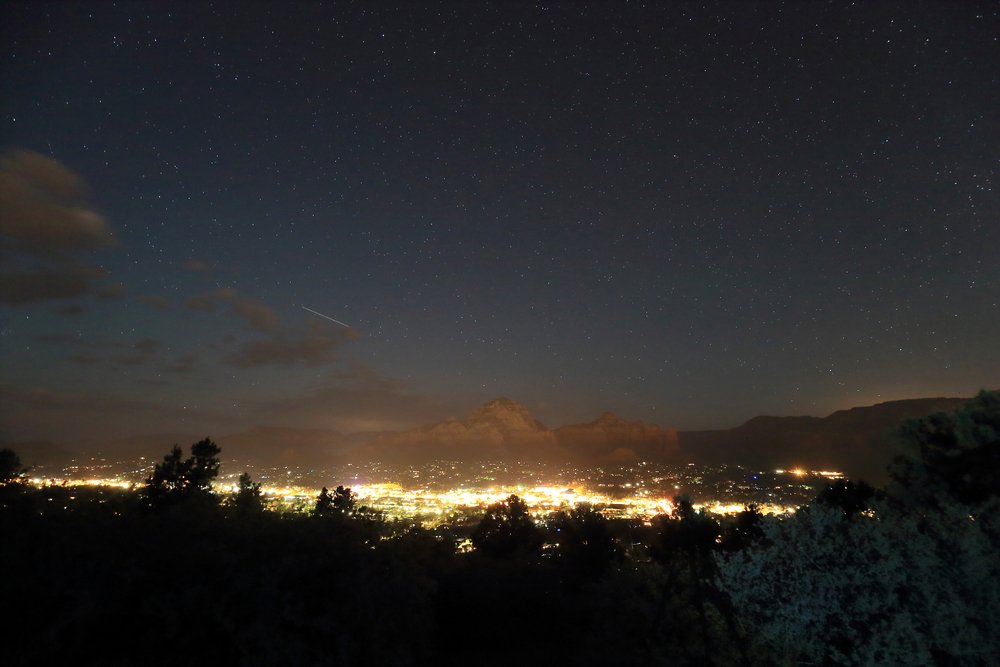 Day 5 & 6: Flagstaff to the Grand Canyon
The landscape dramatically changes as you head up 89A to Flagstaff in one of the most dramatic scenery changes on this Arizona road trip.
In an instant, the red rock canyons give way to towering pine trees as you enter the Coconino National Forest. This is one of my favorite highways in America because of the stark contrast of landscape.
Take time to soak in the views as you wind your way up the mountain and away from Sedona and into the boisterous young town of Flagstaff. Flagstaff is the perfect stopping place for breakfast before heading to the Grand Canyon.
Flagstaff experiences actual season changes so depending on the time you're there, you may get to experience the changing of the colors in fall, ski season in the winter, or hiking in the spring.
But since you're on a limited timeframe with just one week in Arizona road tripping, I suggest just a quick breakfast stop before heading out to the Grand Canyon.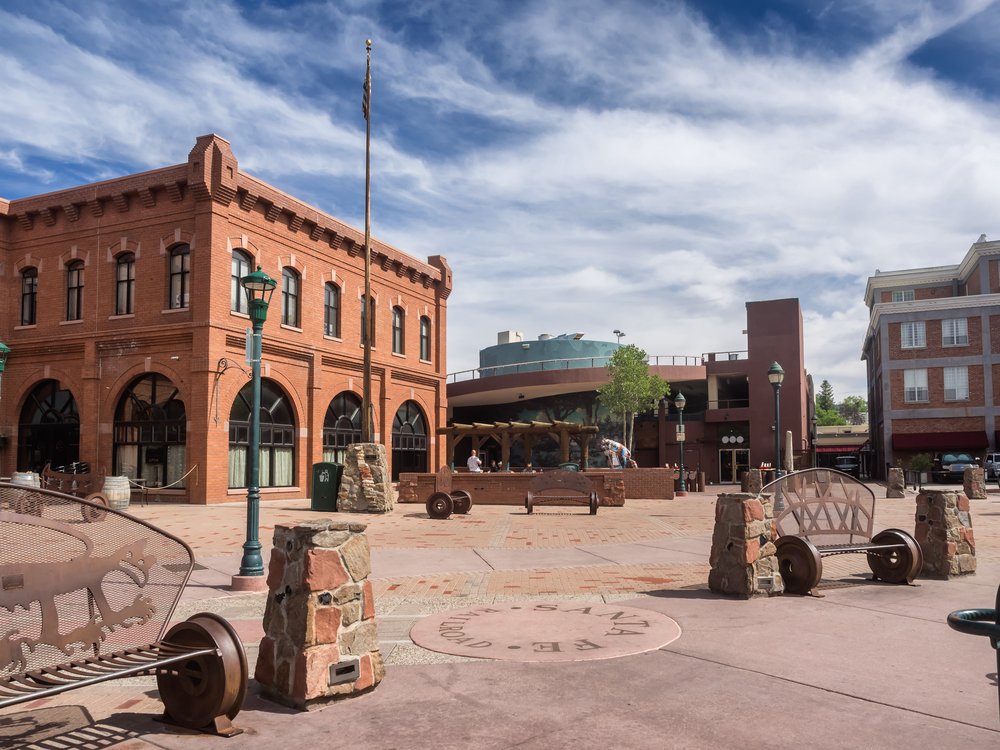 Grab breakfast at the Toasted Owl
The Toasted Owl is a phenomenal breakfast joint that embodies the funky college vibe of the city.
Located in what looks like a vintage antique shop, The Toasted Owl is a total owl-themed restaurant that brings out your best mood!
Their menu features the typical breakfast fare with a twist of Southwest options along with mimosas and Bloody Marys. Their indoor and outdoor seating is extensive and the service is excellent.
Head to the Grand Canyon
The Grand Canyon lies just a short 1.5-hour drive from Flagstaff. Just enough time to sip on a to-go coffee and enjoy the open road into The Grand Canyon!
The South Rim of The Grand Canyon is the most visited, most awe-inspiring rim. It has multiple accommodations (check out these Grand Canyon Airbnbs for inspiration!), look-out points, and amenities.
Your first stop upon arriving at the park should be the Visitor Center. The park itself is vast and bustling, so it's best to get a decent idea of where you are and where you want to go.
I recommend the Rim Trail for everybody who's newly arriving to the park. This paved hiking trail traverses the rim of the trail and offers several look out spots for all the fantastic pictures you see speckling your social media.
You can also rent a bike through Bright Angel Bicycles and take the 7 mile route from Hopi Point to Hermits Rest. It's a fun way to skip the long shuttle rides and not worry about limited parking.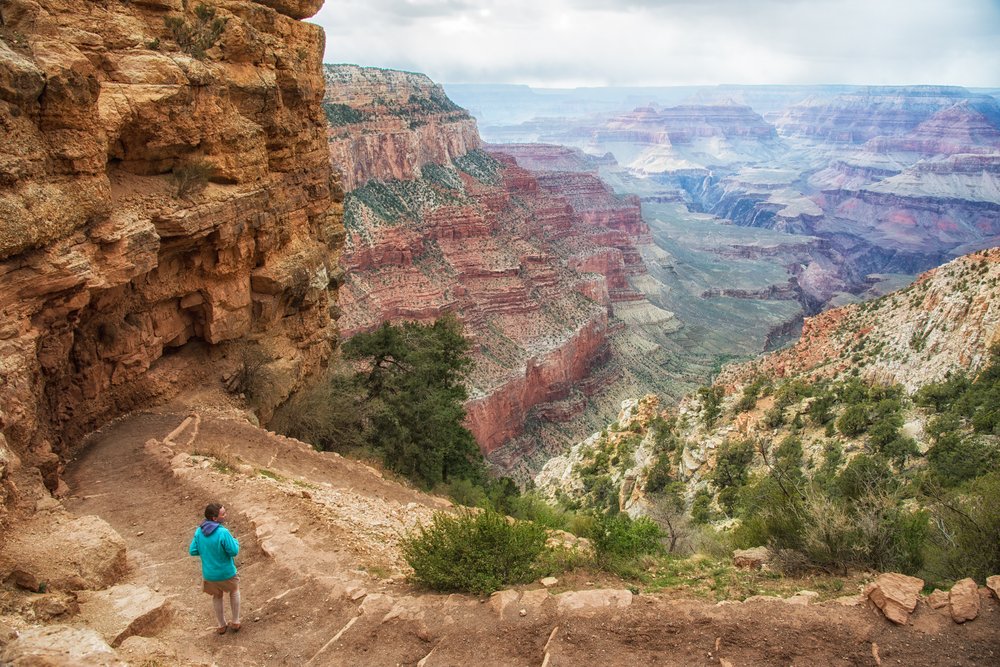 Hike below the Rim
One of the most exciting experiences is hiking below the rim. There are plenty of trails that will take you down into the canyon for a one of a kind view.
Look into the Bright Angel Trail to Plateau Point (12 miles) or South Kaibab Trail (7 miles). Both of these trails offer viewpoints broken into several sections if you don't want to tackle the entire length of a trail. I cover several of the best day hikes below the Rim in this post.
If hiking isn't your forte, consider taking a mule ride down into the canyon! Xanterra is a company based in the South Rim that offers mule rides on a lottery-type system.
Alternately, you could fly high in the sky with one of the Grand Canyon helicopter tours that leave right from the South Rim — this is the helicopter tour I recommend, which flies over the canyon first before descending into the canyon and touching down at the bottom for incredible views!
>>> Book this helicopter tour! <<<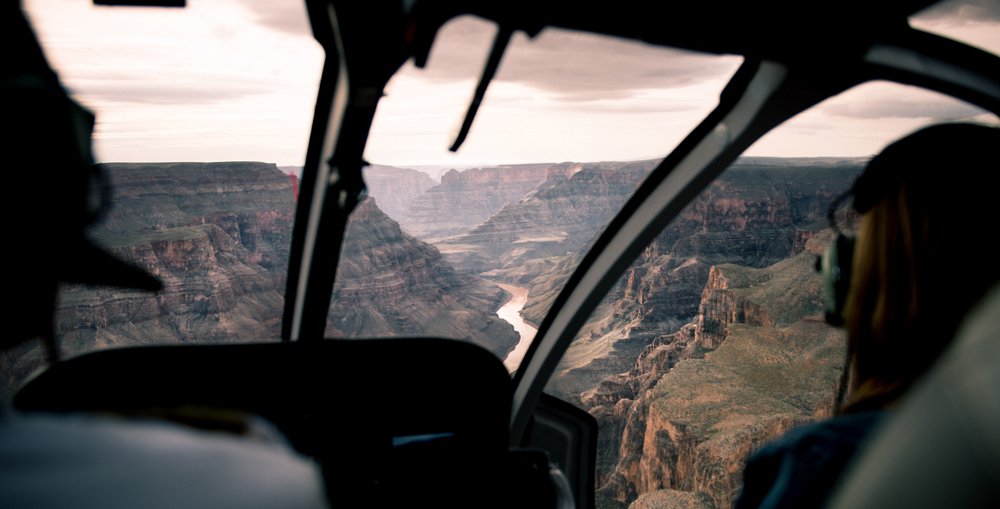 Stay the night at the Canyon
The Grand Canyon has five different accommodations scattered throughout the park. These include the Thunderbird Lodge, Kachina Lodge, Maswick Lodge, El Tovar, and Bright Angel Lodge.
Each lodge has its own flair and amenities and can be booked months in advance. If you find yourself without accommodations, I recommend camping in one of the many beautiful campgrounds in the area or checking Airbnb instead.
Some of the campsites require online reservations but they also have a few first-come-first-serve sites.
If you decide to camp on a whim, visit the Canyon Village Store to stock up on food and supplies. This old-timey grocery store has everything you need for a successful night under the stars!
Alternately, you can book an RV or camper stay on Airbnb or pick an Airbnb outside the park but close to the Grand Canyon.
Day 7: Horseshoe Bend & Antelope Canyon
Three hours north of the Grand Canyon is your last stop on your Arizona road trip!
Horseshoe Bend and Antelope Canyon are both located in Page: a once in a lifetime destination that is going to leave you speechless.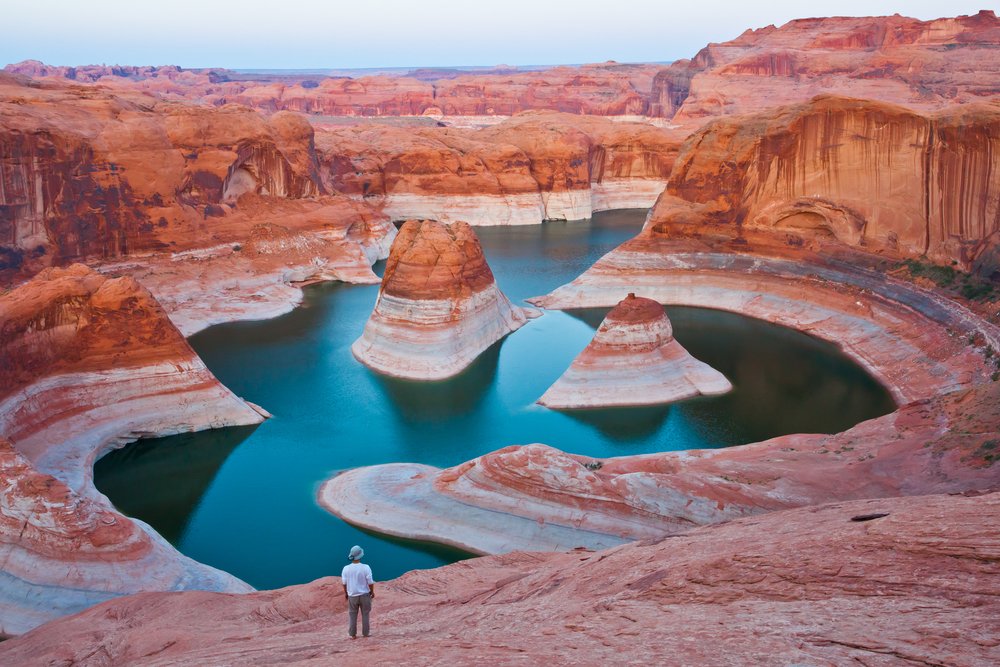 Start the day at Glen Canyon & Horseshoe Bend
Wake up early and head out to the Glen Canyon Recreation Area of Page, Arizona. The drive will take you back through Flagstaff and straight up highway 89.
This highway passes through the glorious south end of the Grand Staircase-Escalante National Monument so there's no lack of views as you meander your way through Northern Arizona.
Horseshoe Bend has become one of the most recognized destinations on social media,a so be prepared for a small crowd. Don't let this deter you, you absolutely need to visit Horseshoe Bend as it's absolutely awe-inspiring.
A short half-mile walk (now paved) will take you to the rim of Horseshoe Bend. Here, you can sit in silence as you take in the massive stillness of this natural phenomenon or get creative with pictures that you will remember for a lifetime.
You can also take a helicopter ride over Horseshoe Bend for amazing views!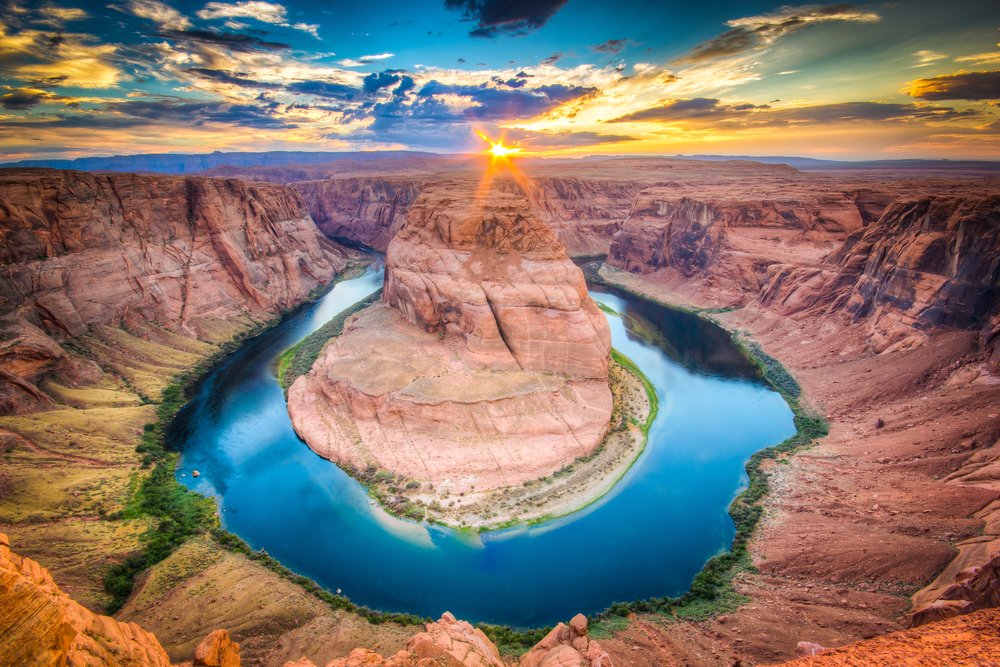 Head to Antelope Canyon on a tour
After you've soaked in Horseshoe Bend, take the 30-minute drive down to Antelope Canyon. Antelope Canyon is the famed slot canyons located on the Navajo reservation near Page.
You can pick Upper, Lower, or both: I went with Lower and loved it, but Upper is supposed to be beautiful as well.
A reservation is required for these canyons, so be sure and reserve your spot a couple of weeks in advance. Note that it is impossible to visit without a tour guide, and that you will have to pay both for the tour and for a tribal land permit, about $8.
A Navajo Guide will take you into the depths of the canyon and give you a safe, educated tour through the slots. Antelope Canyon is pure magic!
The way the water has carved out these beautiful slot canyons is absolutely incredible. Be sure to have a camera on hand because the slots are worth every picture.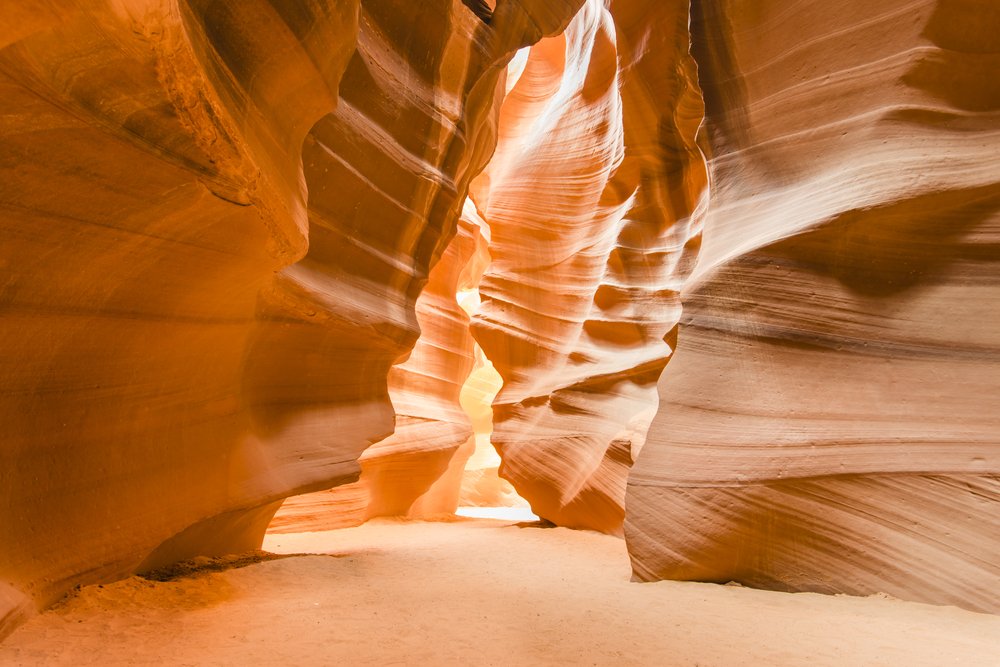 Hit the road heading back to Phoenix or Tucson
After seeing Arizona's finest natural wonders, make the 4-hour drive back to Phoenix Sky Harbor Airport or Tucson for your departure back home.
As you make your way back home, you'll pass through the major cities of Flagstaff, Sedona, and Phoenix so if there are any restaurant, shopping center or activity you didn't get to hit earlier in your trip, you'll have a second chance to do it now!
Arizona is full of endless exploration. It's a state with the perfect balance of city and nature. Hopefully, this one week Arizona road trip itinerary will spark your imagination and lead you through the Grand Canyon State.
What to Pack for Your 7-day Arizona Road Trip Itinerary
You can check out my USA road trip packing list for a complete guide on what to pack for your trip.
Travel guides
On top of my detailed guide, I recommend taking this Arizona guidebook! This guidebook explains every little detail you might want to know while road tripping in Arizona. Together with my first-hand experience I've shared in this article plus all the details of the guidebook, you can be assured of an amazing trip to this beautiful state.
Phone Mount & Car Charger
Whether it's listening to your favorite playlist or taking photos, you'll drain your phone battery while road tripping Arizona, so it's important to have a car charger. And for navigation, a phone mount is a lifesaver and it takes away the pressure from the front-seat passenger. But taking 2 different gadgets is not practical when you can just take this dual-purpose phone mount and charger! I've used it on all my road trips and it has never let me down!
Snacks
There is a hilarious road trip quote I read once — I can't remember the exact words but it was something like "It doesn't matter how old you get, buying snacks for a road trip should always look like an unsupervised 9-year-old was given $100."
I am yet to find out who said it but it's 100% true! Road trips are no fun when you're hungry! Pack up a few snacks, but don't just take only sweet ones — throw in a few salty ones as well. You don't want to have major headaches from only sweet snacks or get dehydrated from salty ones if you didn't carry enough water.
Rehydration packets
Scorching sun, long hikes, overly salty snacks, there are so many ways to get dehydrated while road tripping in Arizona. And if you're like me who gets nasty headaches from dehydration, you'll want to avoid this at all costs by taking rehydration packets. These are the ones I recommend.
Bug spray and after-bite care
They might be tiny, but those little bugs don't joke around when it comes to biting. And if you have sweet blood, they'll be all over you as soon as you step foot in the outdoors — and that's no fun at all. Take this lemon eucalyptus-based mosquito repellent which is a natural DEET-free solution that works even on the most persistent mosquitos!
Sunscreen
If you've been sunburned before, you probably know the use of sunscreen! But do you know that you need it even when seated in your car driving under the sun? Yes, you do! What most people don't know is that while windshields block UVB rays (which cause sunburn), most don't block UVA rays, which cause aging and skin cancer.
And of course, you'll need it when you go hiking or spend some time on the beach. I love this sunscreen as it prevents my face from breaking out but I also know that it's pricey, so I use a cheaper one for the rest of my body.
If you go into the outdoors, don't forget about your scalp! A burned scalp is no fun and it can lead to a headache. Take this special sunscreen for hair and scalp to avoid that.
External batteries
Of course, you can charge your phone with the car charger we talked about earlier! But what happens when your camera, drone, portable speakers, an e-reader, etc, run out of battery or if you're out hiking and your phone runs out and you can't run back to the car to charge? That's why you need external batteries and this Anker external battery pack is a must-have regardless of where you go.
Protect your travel investment!

Travel insurance coverage helps you recoup your losses in case of emergency, accident, illness, or theft.

I rely on SafetyWing for coverage when it comes to trip interruptions and cancellations as well as accidents and medical emergencies.

It offers great rates starting around $12/week with clear, easy-to-read coverage.
Pin This Arizona Road Trip Guide!
Sabra is an adventure-hungry outdoor enthusiast originally from Dallas, Texas. She has been to 33 states, 3 countries, and has traveled America while living out of the back of her truck. Besides writing, Sabra can be found powerlifting, running her online personal training business, and enjoying time with friends and family.