Music blasting on the stereo, windows rolled down and hair mussed by the wind, singing with your road tripping besties: there's nothing better than a road trip. It's my favorite way to travel.
I've done road trips all over the world: from Brazil to the Faroe Islands, the American Southwest (Nevada, Arizona, and Utah) to Azerbaijan.
Nothing beats having your own set of wheels beneath you and everything you need in your car!
When planning a road trip, it's crucial to consider not only what you want to wear and bring to your final destination, but all the little things that will make your road trip more comfortable along the way. That includes necessities, like an annual travel insurance policy and safety gear for hitting the road, as well as frivolities like road trip games and a killer Spotify road trip playlist
After all — on a road trip, the destination is the journey!
EXPERT TIP: Not sure where to get the best deal on your rental? I've rented cars dozens of times through various search engines and have settled on Discover Cars as the best car rental search engine – it searches over 500 trusted rental companies to find the cheapest price for your rental! Compare prices for car rental in your destination here.
Here are the things that I think are absolute road trip necessities, to help you plan and pack for hitting the open road.
Below is your ultimate road trip packing list for all occasions!
Note that this is a road trip packing list that assumes you'll be staying in hotels along the way. If you're also camping, you'll need to add other items like a tent, sleeping bag, etc. — check out my car camping packing list which will tell you all the things you need to bring!
Road Trip Packing List: 50 Key Road Trip Necessities to Bring
Road Trip Essentials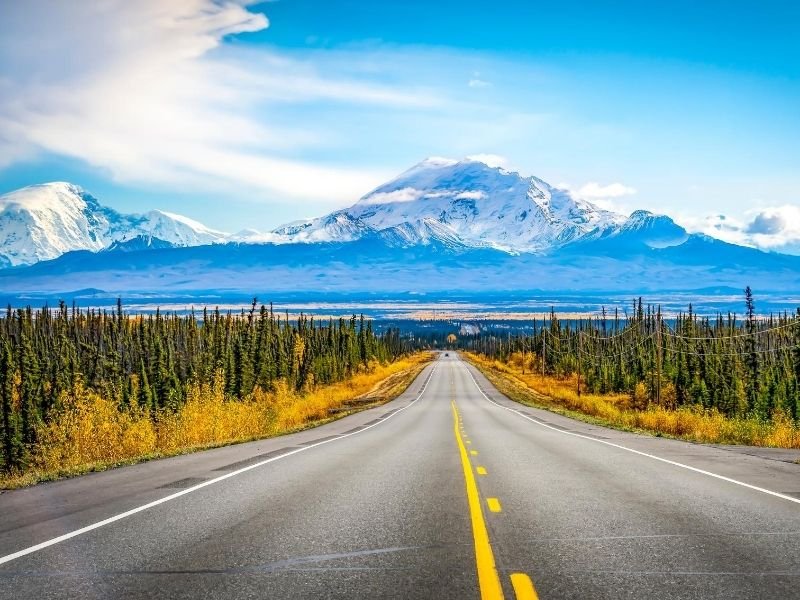 Note: This post contains affiliate links, which means I may receive a small commission if you purchase something through one of these links. Thank you for supporting the free content on this site! For more information on affiliate links and cookies, see my disclosure page for more details.
These are the absolutely mission-critical items to have in terms of safety and physically being able to go on your road trip, and making sure you have the items on this list is one of my top travel tips for planning a long road trip.
They're not that interesting, sure, but they are all the road trip essentials you need to remember, so be sure to scan this part of the road trip packing list carefully to make sure you haven't omitted anything vitally important!
Car documents & driver's license
This should be rather obvious, but you'll need your driver's license, car documentation, AAA card if you have a membership (or other similar roadside assistance program), and insurance papers ready for any road trip you take.
If you have an America the Beautiful National Parks pass, don't forget that at home. If you don't have one and you plan to visit 2 or more national parks during a USA road trip, I strongly suggest buying one. At just $79.99 for the year, it typically pays for itself after the third use and it covers 2,000 parklands in the U.S. National Parks system.
Make sure you double-check that you have all this information easily handy in case you need it on your trip.
If you are renting a car at your destination, make sure you get all the paperwork from the car rental office and ensure you're sufficiently insured for the trip.
Travel insurance
If your road trip includes going to another state or country where you are not insured locally, you may need travel insurance in order to cover you in case of incident.
Double check with your health insurance plan and car insurance plan to ensure you're within their coverage; if not, travel insurance will fill in the gaps.
Roadside emergency kit
You should already have an emergency kit in your car with things like a reflective triangle, rain poncho, emergency blanket, safety vest, safety whistle, etc. in case of an emergency.
But if you don't, know is a good time to invest in a roadside emergency kit that also includes a first aid kit.
If you're bringing your own car from home, you'll want to make sure you have things like jumper cables, etc. in case you have a battery die on you on the road.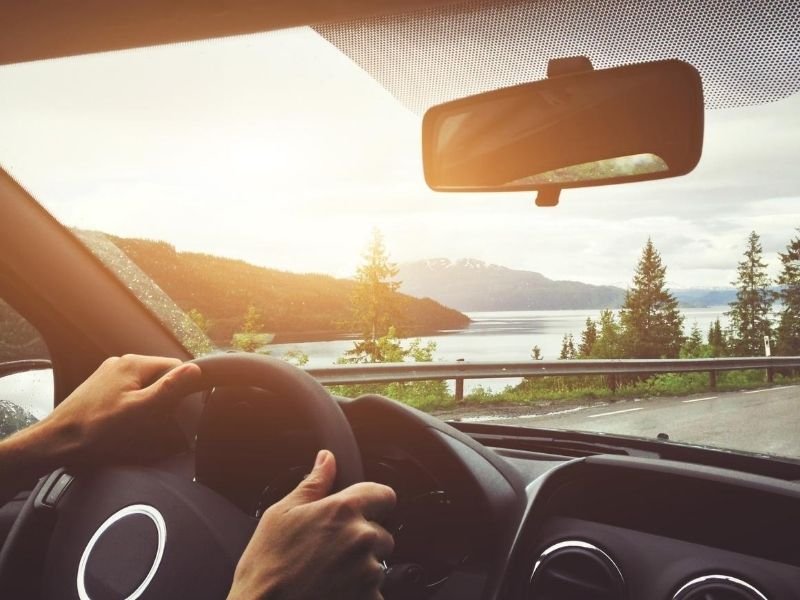 Car manual
Have your physical car manual handy or download an electronic version of it before you set out on your road trip — it's essential in case any funky lights turn on and you're not sure what they mean, or if you have trouble with some function.
Once on a road trip in Utah, I managed to lock the steering wheel of a rental car, and it was really counterintuitive to understanding how to unlock it. I almost got stuck out there for hours! Be sure to have access to a car manual, whether physical or electronic, before setting out on your road trip.
Spare tire & tire changing kit
Having a spare tire isn't much good if you don't have a jack or kit to change out the tire. Make sure your tire changing kit is complete (or buy your tire changing kit before you head out), and make sure you know how to use it!
Flashlight or headlamp
In case you get somewhere poorly lit after dark, have an emergency in the night, or just go on a sunset hike and need to light your way back, a flashlight or headlamp is key (and make sure to bring some extra batteries, too!)
I love a headlamp to keep my hands free when I'm hiking — a rechargeable one like this is a great travel must-have.
Any seasonal car gear
For the most part, this packing list is geared towards summer road trips, but if you happen to be planning a winter road trip, don't neglect seasonal car necessities like an ice scraper, tire chains, etc.
Basic Road Trip Necessities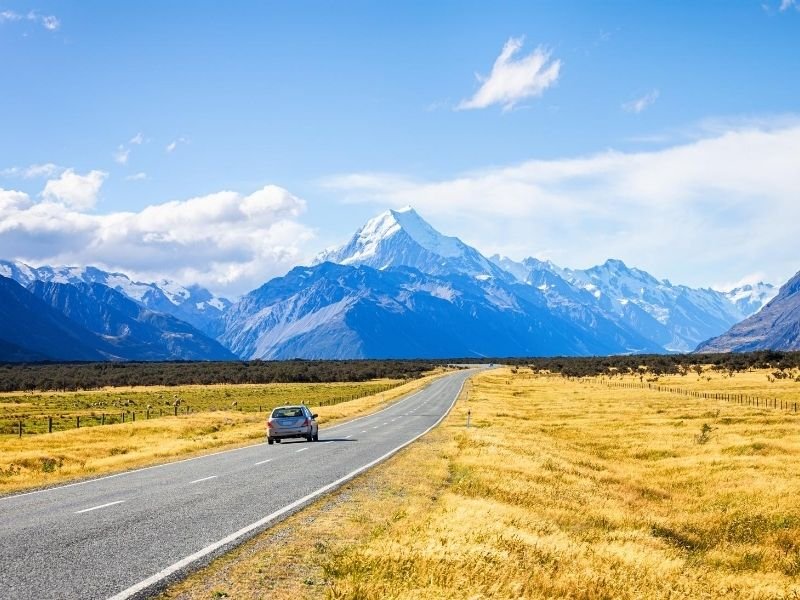 These are the little things that are easy to accidentally skim over and forget.
They aren't as vitally important as the above, because they're easy to replace on the road, but save time by packing these road trip necessities before you go!
Car cell phone charger
You will zap your cell phone battery FAST while on a road trip, so it's essential to have a car charger.
I like this dual purpose phone mount and portable charger!
USB cords
Of course, it's pretty hard to connect your phone and charge it and do all sorts of other necessary 21st-century things without USB cords.
Bring 1 or 2 more than you need, it's always a good idea.
Handsfree phone holder
I recommended this 2-in-1 phone mount/charger above — if you don't already have a phone mount, or you want one that chargers, this is clutch!
Coins & small bills
There are places in the world that still use only cash… shocking, I know.
When you are ready to hit the road, don't get caught off guard without any cash for a park entrance fee, bathroom fee, road tolls, or little odds and ends along the way like buying tasty produce from a local roadside farm stand!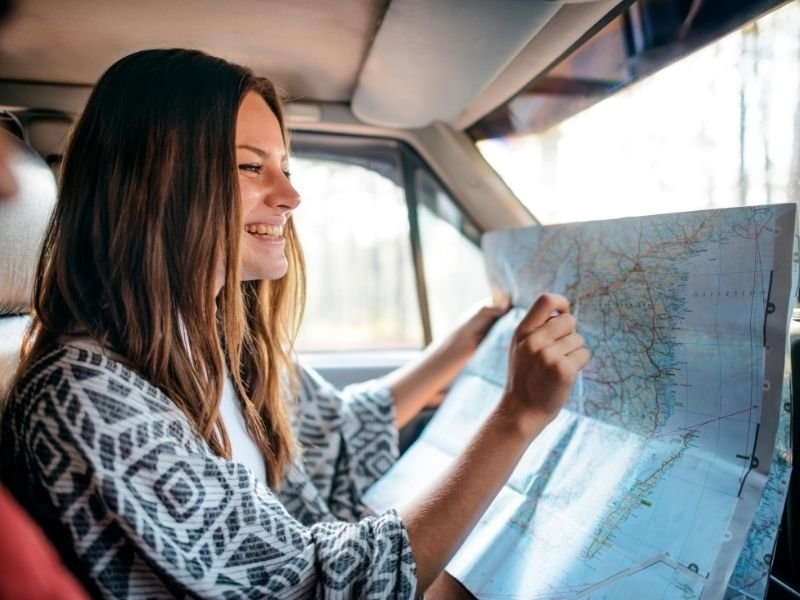 Paper map or offline map
Yes, paper maps still exist and not just as an Instagram prop… although they do make awesome Instagram props, too.
Or if you just want to use your phone, that's OK too, but be sure to download all the offline maps using Google Maps or Maps.me
A killer road trip playlist!
OK, what good is a road trip without some awesome music? Be sure to have an epic playlist ready to go.
My friend Stephanie gathered all the best road trip songs — download some before you go in case you need some tunes when you don't have any data or WiFi.
If you prefer podcasts, have your favorite shows downloaded and ready to go.
Road Trip Items for Hygiene & Travel Safety
In the current public health crisis, it's important to bring plenty of sanitizing gear with you when you're on a road trip!
There are lots of high touch-point surfaces you may not think of immediately, like a gas station nozzle, which can be high-risk on a road trip.
Here's what I recommend you pack for a road trip in 2023 in the current hygiene context.
Alcohol wipes
It's best to try to source alcohol wipes in a store from a brand you trust or from a verified brand seller on Amazon, such as from the Clorox store.
Use alcohol wipes on high-touch surfaces as needed and not excessively — soap and water should be your primary line of cleaning and defense.
I suggest you use these when not otherwise possible, such as when at a gas station or using a touchpad at an ATM or grocery store.
Hand sanitizer
Hand sanitizer as well is another great thing to have on hand when on the road, as sources of hand sanitizer cannot always be guaranteed and there may be times where it is difficult or less safe to go to a public restroom.
Again, it's better to try to source hand sanitizer in a store from a trusted brand, but in the absence of that being possible, this brand available online looks to be safe, FDA-approved, and with a high-enough level of ethyl alcohol to be safe.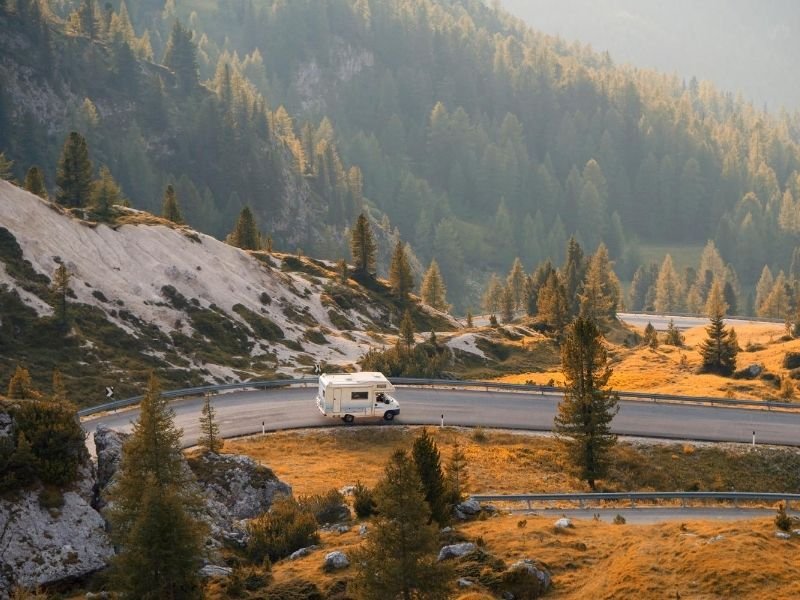 Spare liquid soap
Liquid or bar soap is still the gold standard for washing your hands and should be chosen over hand sanitizer whenever you have access to water.
Some gas stations, park bathrooms, etc. may not be well-attended, so bring some spare liquid soap with a locking top or a bar of soap in a Ziploc baggie just in case.
Be sure to wash your hands for 30-40 seconds, every part, in order to get the full sanitation benefits.
Face mask
When in places where distancing is not possible, you will need to wear a face mask to keep yourself and fellow humans safe.
Bring multiple cloth face masks and circulate them, allowing face masks ample time in the sun when possible (such as leaving them on your dashboard) or washing them in between uses in order to sanitize the masks.
Extra water
Not specifically hygiene-related, but worth putting in this section nonetheless.
Be sure to have a few gallons of extra water in your car for emergencies. Whether it's replacing the water to cool down your engine or emergency drinking water if you're stranded, it's a cheap and simple thing to add to your road trip packing list with no downside.
Personal Comfort Road Trip Items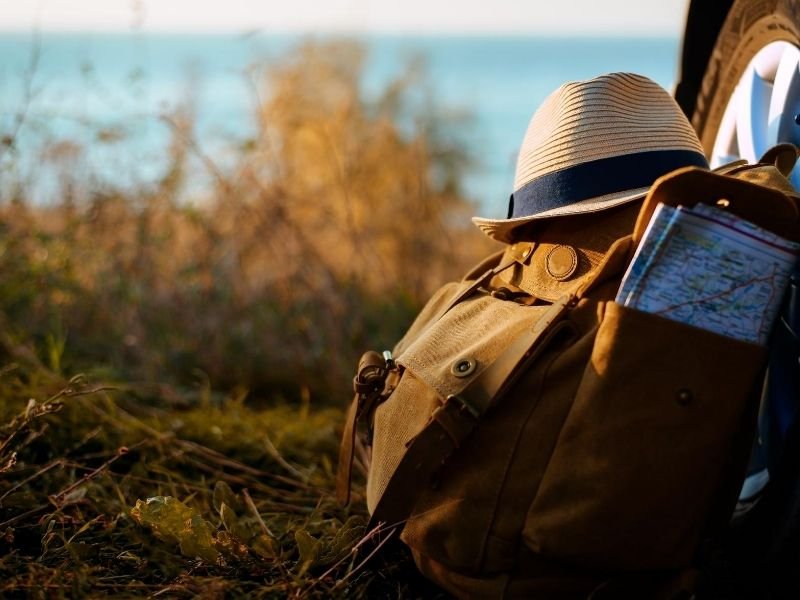 These are the little things when packing for a road trip that make your time much more comfortable on the road.
From snacks to sunscreen, travel towels to travel pillows, these are the little things that you probably already have at home that you should make sure not to forget on your long road trip.
Road trip snacks
There's a funny quote about snacks for road trips… it goes like this: "It doesn't matter how old you get, buying snacks for a road trip should always look like an unsupervised 9-year-old was given $100."
I'm not sure who originally said it, but it's true. Nothing ruins a road trip faster like hanger… so be sure to avoid it!
Have a good mix of snacks and not just sweet ones. I find that too many sweets on an empty stomach is a recipe for major headaches. Likewise, too many salty snacks and not enough water will also do you in!
I like having things like KIND bars, trail mix, granola bars, chips when I need something salty, RXBar protein bars, etc. for my trip.
Toilet paper / Kleenex
Don't be caught off guard by a poorly stocked restroom! Bring your own toilet paper from home, or have a resealable pack of Kleenex with you.
Basic medicines
At a minimum, you should have motion sickness tablets, painkillers like ibuprofen/paracetamol, and something like Pepto-Bismol tablets for upset stomachs while you're on the road.
Rehydration packets
Impromptu hikes, lack of schedule, random meal times, salty snacks, sunny days, hangovers from wine nights after driving duty is done: there are many reasons it's easy to get dehydrated while road tripping.
I always pack some rehydration packets with me on my travels as I'm prone to getting dehydrated and getting headaches, and they're a lifesaver. I recommend these ones.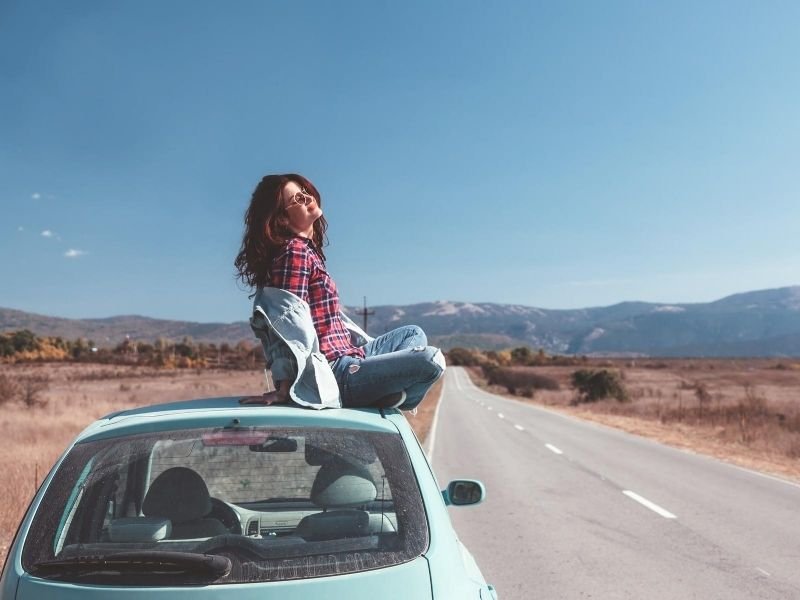 Microfiber towel
I can't express to you how much I love microfiber travel towels!
They pack up to nearly nothing and they're super effective at soaking up moisture… plus they quick-dry so fast compared to standard home towels!
Whether you take a dip in a lake or river, are staying in a hotel or Airbnb that doesn't provide enough towels, or need an impromptu picnic blanket or beach touch, a microfiber travel towel is a road trip must pack.
Bug spray
Nothing ruins a scenic sunset worse than being inundated by bug bites! For a natural DEET-free solution, try this lemon eucalyptus-based mosquito repellent.
After-bite care
Some bites are inevitable no matter how diligent you are with bug spray. Keep itchiness at bay with an After Bite itch eraser, which instantly soothes any bug bites.
Sunscreen
Did you know you should always wear sunscreen while driving? The windshield doesn't protect you against all UV rays — while they protect against UVB rays (which cause sunburn), most do not block UVA rays, which cause aging and skin cancer.
Plus, you'll want it for hikes, days out in the sun, beach days, and that sort of thing. This is the sunscreen I use on my face daily, and I use a cheaper basic sunscreen for my skin.
No matter what your skin tone or race, Black, white, or Asian, you need to wear sunscreen daily — and on a road trip it's no different!
If you're hiking, don't forget about your scalp either — I often end up with a burned scalp and it's no fun, often leading to headaches. Buy a special sunscreen for hair and scalp to avoid this!
Lip balm with SPF
Be sure to bring a hydrating lip balm that also has SPF on your road trip! Poor hydration and lots of sun can both cause dry, chapped lips which are no fun when traveling. I like the key lime Sun Bum chapstick best.
Sunglasses
There's nothing worse than squinting through the windshield as the sun nearly blinds you while you drive! Seasoned roadtrippers know to bring your favorite sunglasses, plus a cheap spare pair as backup.
Travel pillow
You hopefully have someone to divide the driving duties with, so while you're on a break from manning the road, you'll want to have a comfortable way to kick back and enjoy your time off of driving duty.
This cozy memory-foam travel pillow also comes with an eye mask if you need to catch some Zs while another driver takes over!
Travel blanket
A cozy-soft travel blanket, whether it's just a blanket you love from home that you don't mind taking on the road or a specialty travel blanket, will make your time on the road that much more comfortable.
Also great for impromptu picnics, sunset hikes that get surprisingly chilly, and taking a nap while you're off duty! Here are some of the best travel blankets.
Insulated travel mug
I use and swear by Contigo travel mugs — they're leakproof and pretty much indestructible and they're inexpensive to boot. This one is vacuum-insulated and fits standard cupholders easily.
Reusable water bottle
Don't waste plastic or money constantly buying new water bottles at obscene prices!
Get a reusable water bottle and either refill it from your extra-large water containers mentioned above (safer given the current situation) or fill up in sinks and fountains along the way.
This one is insulated, stainless steel, and convenient to drink from. Another good choice would be a collapsible water bottle like this one which you can take with you when hiking.
It's a great zero waste travel item.
Tote bags
In case you need to buy groceries or other things along the way, bring some reusable tote bags to decrease your plastic footprint.
Day pack
Day packs are essential when hiking or leaving the car for a bit to do some sightseeing and needing to bring essentials like bug spray, sunglasses, water, and sunscreen with you.
This Osprey day pack is the perfect size and it's designed by a company that specializes in ergonomic solutions for backpackers, so you know it'll be comfortable.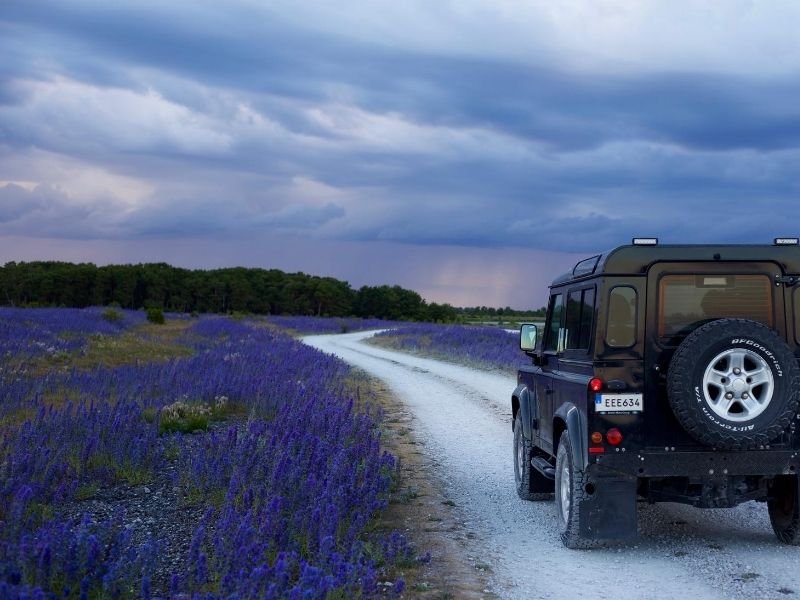 Wet wipes
As opposed to alcohol-based wipes which are primarily for sanitizing things, wet wipes are nice to have on hand for a quick freshening up before proper showers or face-washing.
These biodegradable wet wipes are easy on the environment and your skin, with aloe vera and Vitamin E.
Vaseline
Vaseline is a traveler's miracle, perfect for everything from fixing flyaways to helping super-chapped lips or hands (common when hyper-sanitizing!) to preventing chub rub, a summer affliction for the thicker-thighed ladies out there like me.
I always make sure I travel with Vaseline and while you don't walk as much on road trips as on other forms of travel, it's still such an easy addition to your bag that I say bring it!
Haircare
For ladies with long hair, a brush and hair ties are a must, especially on hot days. I also tend to take advantage of the fact that I'm not flying and thus don't have to adhere to liquid restrictions when I'm road tripping by bringing my favorite shampoos from home.
Your hair care needs will vary depending on your hair length and hair texture, so bring whatever you know you need for your personal hair care, including any heat styling tools you want, because space isn't an issue when road tripping!
Toiletries
Whatever toiletries you need from home, bring it on the road with you because the great thing about a road trip is no checking luggage! Here's a quick list of toiletries you likely want with you.
Shampoo & conditioner
Body wash
Razor & shaving cream
Deodorant
Toothpaste & toothbrush
Face wash
Any acne or anti-aging skin treatments
Moisturizer
Body lotion-
Makeup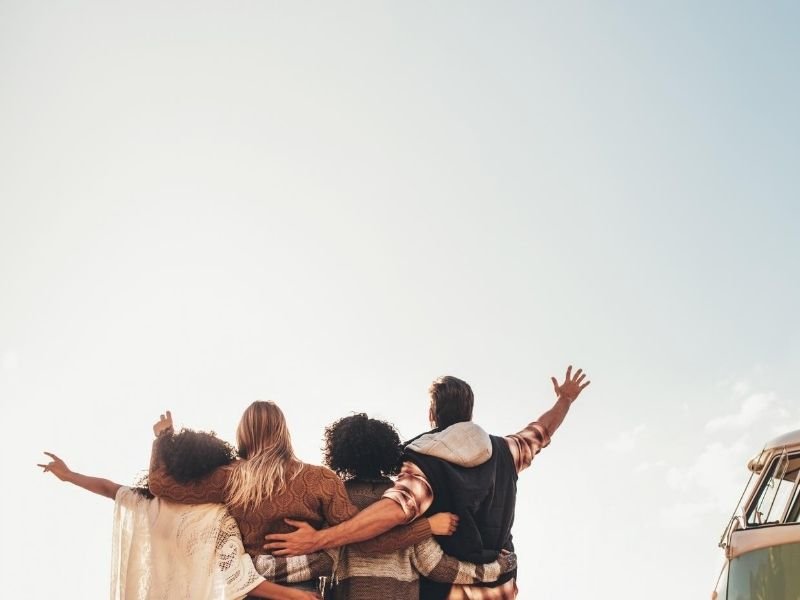 Comfortable clothing
When road tripping, think loose, comfy clothing that's easily breathable which transition from car to outside easily.
For women, I suggest the following at a minimum for car/outdoor comfort. Yoga pants or leggings with a comfortable waistband, tee shirts with a sports bra, hiking boots or sneakers depending on activity, some sandals or flipflops for quicker rest stops: these are some road trip clothing essentials.
You'll also want to bring layers like a jacket for any needed warmth, depending on the temperatures of your destination.
You may want to also bring some packing cubes (I like these from Eagle Creek) for your clothes and a laundry bag for dirty clothing to add a little organization to your trip, especially if you're stopping in different destinations each night.
Rain jacket
I included this separately from the comfortable clothes section because I wanted to highlight and underline how important a good rain jacket is. Rain is inevitable at times, so might as well dress for it!
I love the Marmot PreCip rain jacket (there's a women's version and a men's version). I used mine for years biking in all sorts of rainy NYC weather and it always kept me dry without making me too hot and uncomfortable like some other rain jackets can, due to the zippered arm-pits which provide ventilation.
This is key if you plan to do anything outdoors like hiking or other active day trips while it's raining.
Umbrella
In addition to a rain jacket, grab an umbrella from home and toss it in the car in case of rain!
Kids Equipment & Entertainment
If you're hitting the road with kids in tow, you'll want to be prepared for the inevitable "are we there yet?" with plenty of road trip games and entertainment for your little ones.
I'm childfree so I don't know exactly how to handle this, but here are some tips for surviving long drives with kids!
You'll also want to research what the best travel car seat is, as well as other kid necessities!
And if you're traveling with a baby, you'll want all the baby items from A-Z that you know you need!
Road Trip Electronics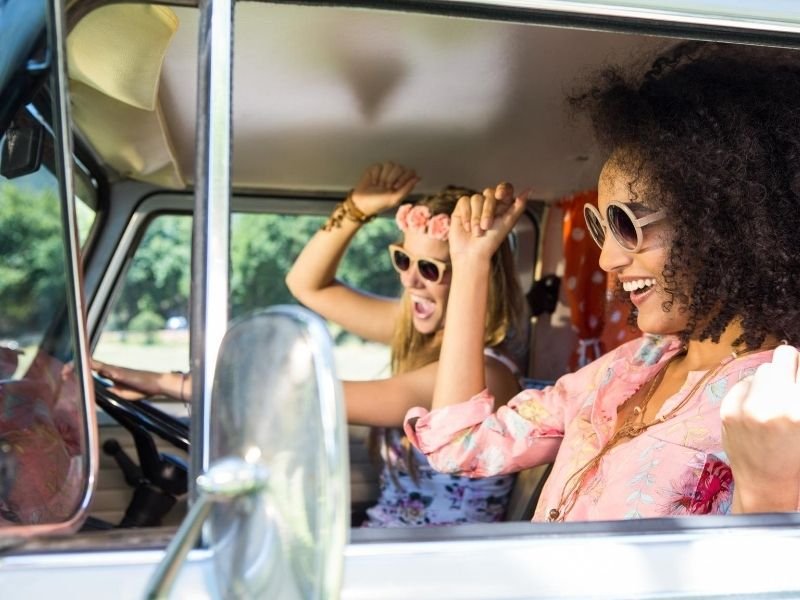 These are the electrics odds and ends that you'll most likely want with you on your road trip!
External batteries
The Anker external battery pack is a travel must. While you can charge your phone while driving, you may want to charge other devices — a camera, a drone, portable speakers, an e-reader — as well.
Or if you notice your battery is running low while you're out hiking or sightseeing, you can just start charging right away without having to return to your car. It holds several charges on a single battery pack and will last days at a time.
Camera & extra batteries
For all my years of running this travel blog, I've relied on my Sony A6000 to take nearly-professional quality images. I don't sell my photography, but I do love having wonderfully preserved memories, and this camera is the perfect middle-ground above a smartphone yet below the 5-figure kits that most photographers give.
Whatever camera you choose, be sure to have plenty of extra batteries and the battery charger as well — plus extra memory cards! I rely exclusively on 64GB Sandisk memory cards.
Laptop & charger
I bring my Macbook air and charger with me everywhere, but you may not need this set up if you don't need to do any work while you travel.
Portable speaker
I love having a Bluetooth speaker with me on road trips. They're great for when you find an isolated spot you want to chill with friends at (though of course, make sure to be a decent citizen and don't blast your music when other people are around enjoying nature).
Kindle or inspiring audiobooks
I bring my waterproof Kindle e-reader with me everywhere, but I can't read while people are driving or I get motion sickness badly! So I love listening to inspiring adventure books on Audible while I travel.
Portable WiFi device
If you need to work while on your road trip or want to have a WiFi device handy so kids can connect to their devices (and you can stay sane), a portable WiFi hotspot is a road trip essential.
I like this GlocalMe WiFi device which is compact and easy to set up. Note that it won't work all the time, as there need to be cell towers around, but on the plus side, it doesn't need to access a specific network so even if your phone does not have signal, it might!
Fun Road Trip Accessories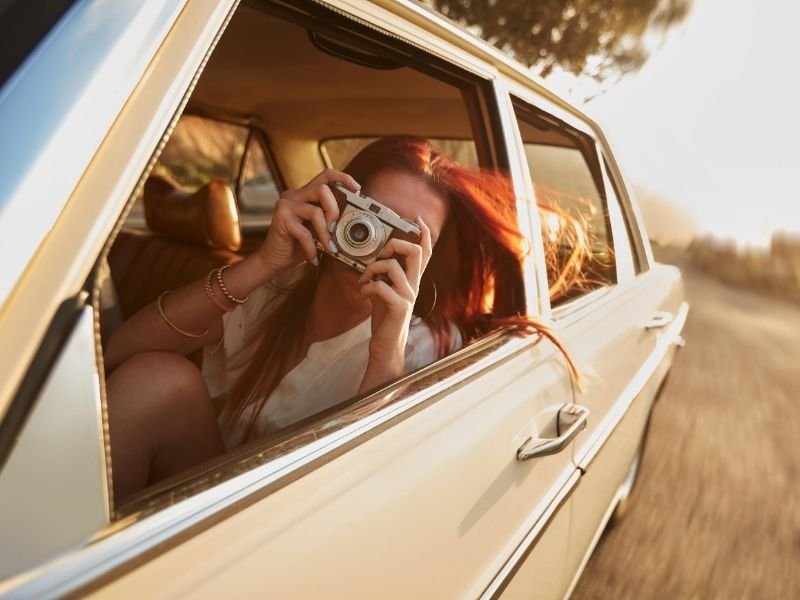 These aren't strictly necessary, but these little items will make your road trip much more memorable and a whole lot more fun!
Instant camera
I love this Instax mini instant camera for printable memories on demand! It's the modern version of a Polaroid and it's a great way to preserve memories of your trip.
Because face it, how often do you develop digital photos?
Car cooler
There are two routes when picking a car cooler: one that's powered by the electric unit in your car (like this one) or a standard ice cooler.
Either makes it possible to enjoy food that needs to be refrigerated on-the-go, ice-cold drinks, or keep essential things stored at fridge temperature.
Travel corkscrew or Swiss army knife
Because what good is end-of-the-driving-day wine or beer if you have trouble opening it?
This is the classic Swiss army knife by Victorinox, but if you just want a corkscrew/bottle opener, you can have a simpler set-up like this 'waiter's friend' style corkscrew.
Just make sure that if you're flying before starting your next road trip, you don't want to pack it in your carry-on!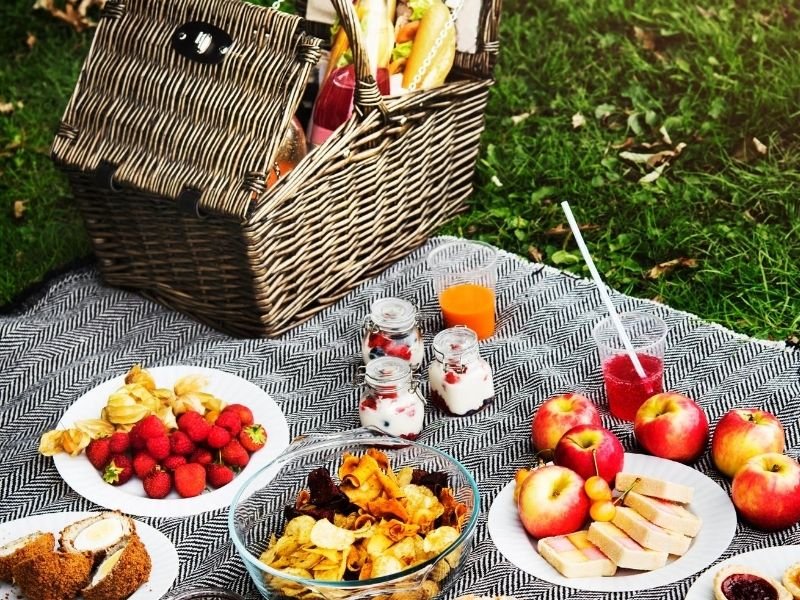 Picnic basket
Extra? Absolutely. But how cute and romantic is this picnic basket setup?
If you're road tripping with a loved one and want to have romantic picnics, with the family and want to make special memories, or you just want some darn cute pictures of you and your friends enoying a road trip picnic, a picnic basket is an excellent choice.
Want something equally enjoyable but far more practical if you're hiking? This picnic backpack is an excellent alternative.
Lumbar support
If you get back pain a lot — holler at my over 30 crowd — lumbar support for your car will be an absolute game changer!
Is it cute? No. But neither is being hunched over for days because you didn't take care of your back, either.
Travel notebook & pen
This page-a-day travel journal is the perfect sidekick for remembering your travels and jotting down notes from the open road.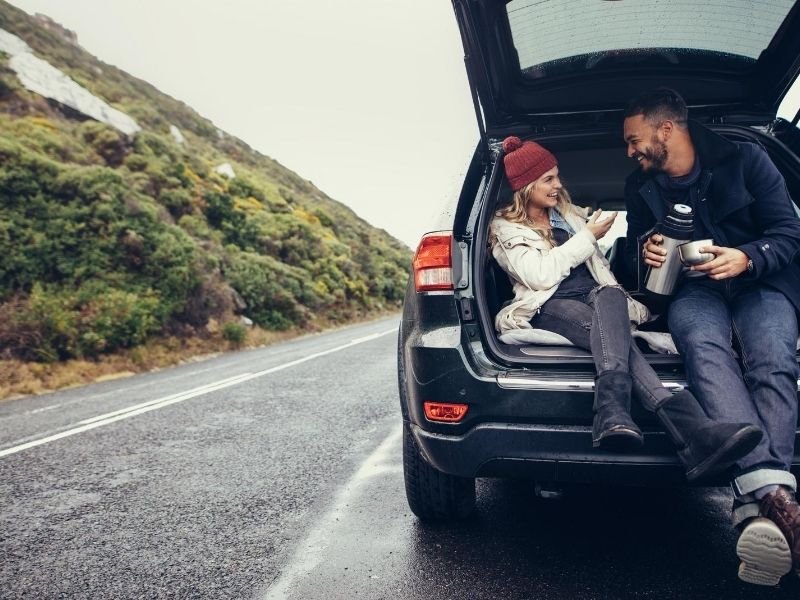 Tasty instant coffee
If you're a coffee geek reading this, you probably want to throw something at me for the contradiction in terms that is "tasty instant coffee."
But don't stop reading! Joe Coffee, a NYC-based coffee shop, has delicious instant coffees which they dehydrate in small batches so that your cup tastes like a freshly-brewed one. Buy it online on Amazon here.
Better yet, they work in either cold or hot water so you can have an iced coffee or hot coffee fuss-free (most hotels you stay at should have an electric tea kettle).
Not sure how to make coffee on the road? Read my guide to the best travel coffee products — certified by a former barista!
Folding chairs
Plan to have some days where you just relax lakeside or riverside and enjoy the scenery, or even some beach days?
Folding camping chairs are cheap, easy to pack, and amp up your road trip experience to the next level.
Mad Libs & other games
Did anyone else play Mad Libs all the time as a kid on road trips and planes? To me, this is the ultimate childhood nostalgia game — and it's really a load of fun!
Other fun road trip games include a deck of cards, Bananagrams, etc., though a lot of these are better suited for rest stops and hotel nights than the open road.
Quick Road Trip Checklist
Want the above list in bullet form? Find all your road trip essentials and necessities below!
Road Trip Essentials:
Car documents
Driver's license
Travel insurance
Roadside emergency kit
Car manual
Spare tire & tire changing kit
Flashlight or headlamp
Any seasonal/winter car gear (scraper, chains, etc.)
** If car camping, check this car camping packing list and read my camping tips for beginners post.
Other Road Trip Necessities:
Car charger
Spare USB cords
Handsfree phone holder
Coins and small bills
Paper map / offline maps
An awesome road trip playlist (or Spotify, podcasts, etc.)
Road Trip Items for Hygiene:
Alcohol or bleach wipes
Hand sanitizer
Hand soap
Face masks
Large multi-gallon jugs of water in case of emergency
Personal Comfort Items:
Road trip snacks (granola bars, nuts, chips, etc.)
Toilet paper & Kleenex
Basic medicines
Rehydration packets
Microfiber towel
Bug spray
Afterbite care
Sunscreen
Lip balm with SPF
Sunglasses
Travel pillow
Travel blanket
Insulated travel mug
Reusable water bottle (metal or collapsible for hiking)
Tote bags
Day pack
Wet wipes for face
Vaseline
Haircare products
Comfortable clothing
Rain jacket
Umbrella
Kids entertainment
Toiletries:
Shampoo & conditioner
Body wash
Razor & shaving cream
Deodorant
Toothpaste & toothbrush
Face wash
Any acne or anti-aging skin treatments
Moisturizer
Body lotion-
Makeup
Essential Road Trip Electronics:
External battery packs
Camera & camera batteries
Laptop & charger
Portable speaker
Kindle and/or Audiobooks
Portable WiFi device
Fun Road Trip Extras:
Instant camera
Car cooler
Travel corkscrew or Swiss army knife
Picnic basket
Lumbar support
Travel notebook & pen
Instant coffee
Folding camp chairs
Mad Libs, board games, etc.
Allison Green is a former educator turned travel blogger. She holds a Masters in Teaching and a B.A. in English and Creative Writing. Her blog posts merge her educational background and her experience traveling to 60+ countries to encourage thoughtful travel experiences that both educate and entertain. She has been a speaker at the World Travel Writers Conference and her writing, photography, and podcasting work has appeared in National Geographic, CNN Arabic, CBC Canada, and Forbes, amongst others. Now based in the San Francisco Bay Area where she grew up, she has also lived in Prague, Sofia, and New York City.