Toulon is mostly famous for its major naval base, and its talented rugby team. But more than that, it's also a stunning city set on the French Riviera.
Often overlooked by tourists who prefer visiting Cannes or Nice, two places France is famous for, Toulon is a great place to explore if you're looking for an off-the-beaten-path destination on the Côte d'Azur.
There are many things to do in Toulon outside of the Old Town, but for this quick Toulon itinerary, the focus is on the attractions in the Vieux Toulon and the harbor area.
Your Toulon Itinerary At-A-Glance
Here is a quick list of the top 12 places to visit in Toulon we'll cover on this one day in Toulon itinerary, in the order that we'll see them.
Place de la Liberté
Kiosques à Livre
Opera House
Place Puget
Boat Sculpture
Rue Pierre Semard
Musée de la Marine
Harbor
Maison de la Photographie
Place Raimu
Cours Lafayette
Cathédrale Notre Dame de la Seds
Your Toulon Itinerary: Walking Tour of the City
Stop #1: Place de la Liberté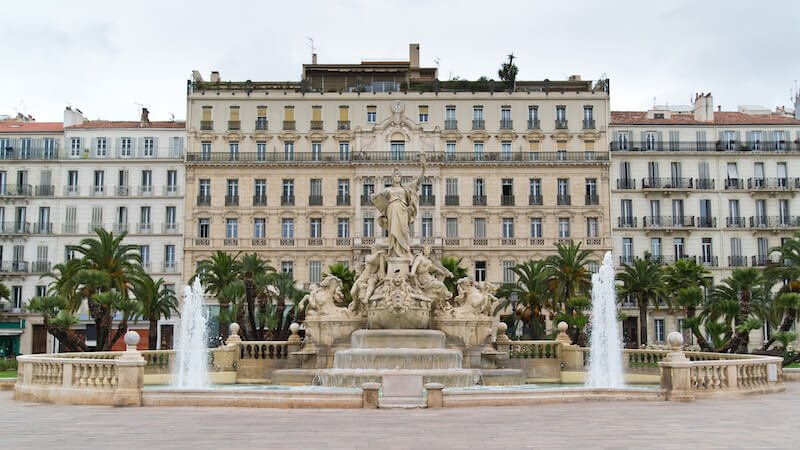 Note: This post contains affiliate links, which means I may receive a small commission if you purchase something through one of these links. Thank you for supporting the free content on this site! For more information on affiliate links and cookies, see my disclosure page for more details.
Place de la Liberté (Freedom Square) is by far the most beautiful square in Toulon.
Located in Upper Town, the place has a stunning fountain (Fontaine de la Fédération) which is a symbol of force and justice.
It also has its own version of the Statue of Liberty!
Behind the fountain is one of the most iconic buildings of Toulon, the Grand Hôtel. Built in 1870, this stunning building is now home to a theater.
Stop #2: Kiosque à Livres
Toulon is home to a couple of typical bookstands where you'll find a large selection of rare books, old postcards, and even music albums.
It's really typical of the city, so I think it's a great place to visit as a tourist. You'll be impressed by all the (very) old books and treasures of these shops. These bookstands are located on Rue Prosper Ferrero.
On your way to the kiosques, you will find Galeries Lafayettes, a great department store which offers French and european items at a reasonable price.
If you're looking for quality French clothes, bags and accessories, I definitely recommend visiting this shop as an addition to this Toulon itinerary.
Stop #3: The Opera House
With its nearly 1,800 seats, the Opera of Toulon is the second-largest opera house in France.
Built in 1862, the opera house is one of the most beautiful buildings in Toulon.
I definitely recommend going to one of the performances held there just so you can see the interior of this amazing place!
Stop #4: Place Puget
Head to Place Puget where you can grab lunch or stop for coffee in one of the many restaurants and bars.
Here you'll also see the Trois Dauphins fountain, a beautiful fountain covered in moss and leaves. It was built in 1782, and it is one of the most iconic fountains in Toulon.
Place Puget is always animated with life, and it really is a pleasant place to stop on your walking tour.
Stop #5: The Boat Sculpture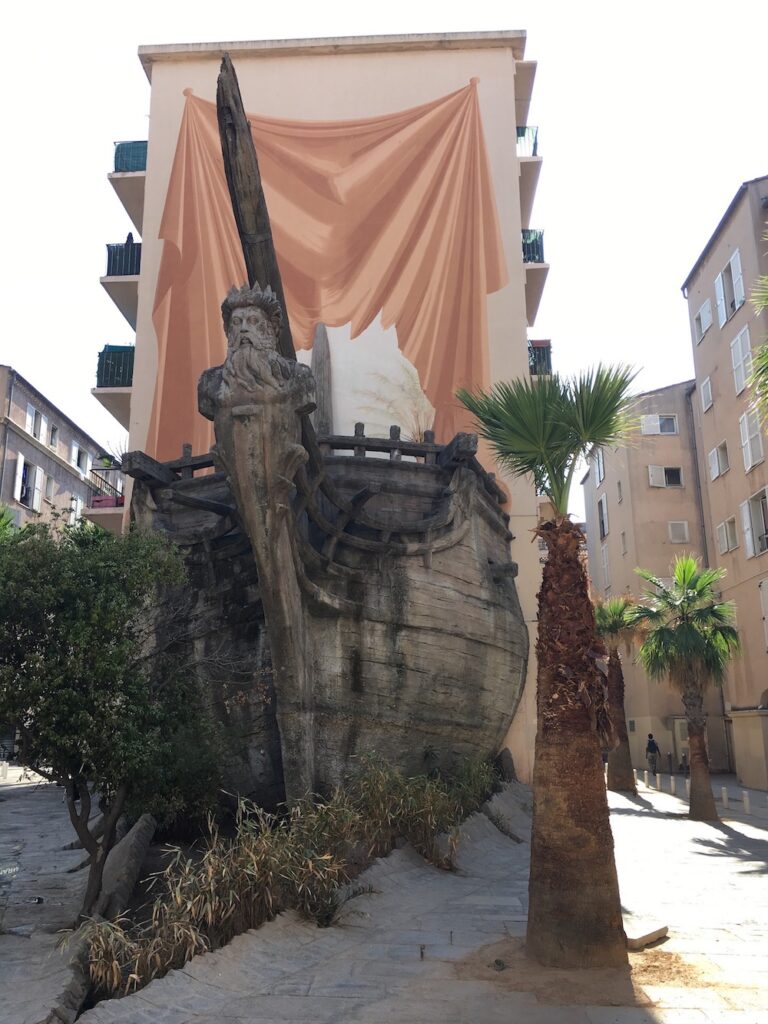 Located right in the center of old Toulon, the boat sculpture on Place Vatel is a stunning piece of art.
This huge sculpture, placed against a building, is quite unusual. Being 10 meters high, the sculpture is a replica of the frigate "La FLore" which was based in Toulon in the 18th century.
Don't miss it when you visit the old town of Toulon!
Stop #6: Rue Pierre Semard
Rue Pierre Semard, also called Rue des Arts, is located in Le Petit Chicago.
This district gave Toulon a bad reputation for a long time. Indeed, 'Chicago' used to be the sailors' favorite place to visit at night because of its many bars!
Today, Rue Pierre Semard is bustling with art galleries and artisan shops, and it has become one of the most pleasant streets of Toulon.
Right next to rue Pierre Semard, you'll find the beautiful Place de l'Equerre.
Recently refurbished, Place de l'Equerre is home to some of the best bars in the city. During summer, there are often events and concerts held in this square.
Stop #7: Musée de la Marine
Located in the arsenal gatehouse, the Musée de la Marine displays French naval history from the 17th century to the present day.
You don't need to be a history geek to enjoy your visit at the Musée de la Marine!
If you want to see some of the best artifacts about the French navy such as maps, model ships, and paintings from the 17th and 18th centuries, then you should definitely go to this museum.
The museum has a good selection of exhibits, and the entry fee is only 6.50 Euros for adults. This is a great stop for curious travelers who want to learn more about the city!
Stop #8: The Harbor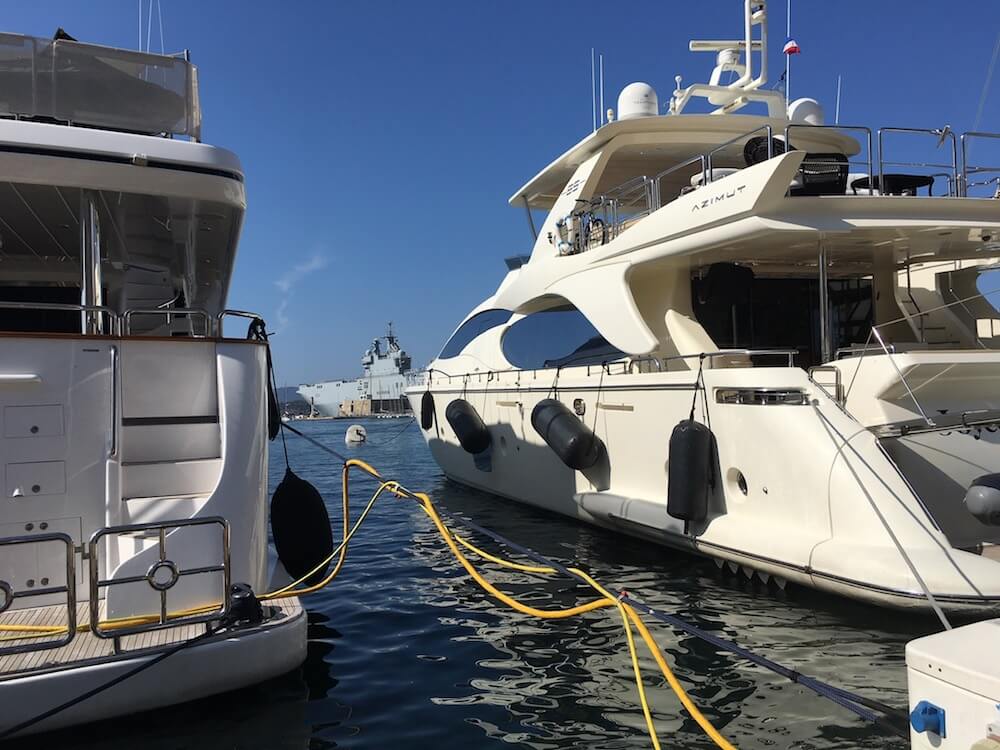 The harbor of Toulon is very popular for many reasons.
Here, you'll find stunning boats, including fishing boats and naval ships, but also some of the best restaurants in town as well as cute souvenir shops.
Also, you'll see the beautiful statue of the Genie de la Navigation, a sculpture from French artist Louis Joseph Daumas. The sculpture represents the exploration of the sea.
The harbor is also the starting point of the little tourist trains of Toulon that offer guided sightseeing tours around the city. The trains even go to the famous Mourillon Beach.
The tours offer bilingual commentary (in both French and English) and will give you the opportunity to see more than just the city center of Toulon.
Tickets for the trains are only 7 Euros for adults, and 4 Euros for children. During the tour, you can hop on and hop off whenever you want, so it's great to use as transit in between stops on this Toulon itinerary in case you get tired of walking on foot.
Stop #9: Maison de la Photographie
If you're a photography lover, then head to the Maison de la Photographie, located right in the city center.
Opened in 2002, the place offers different exhibits with pictures from local artists.
This place is not very well known by tourists, so if you like to travel off the beaten path, I definitely recommend a visit to the Maison de la Photographie!
Stop #10: Place Raimu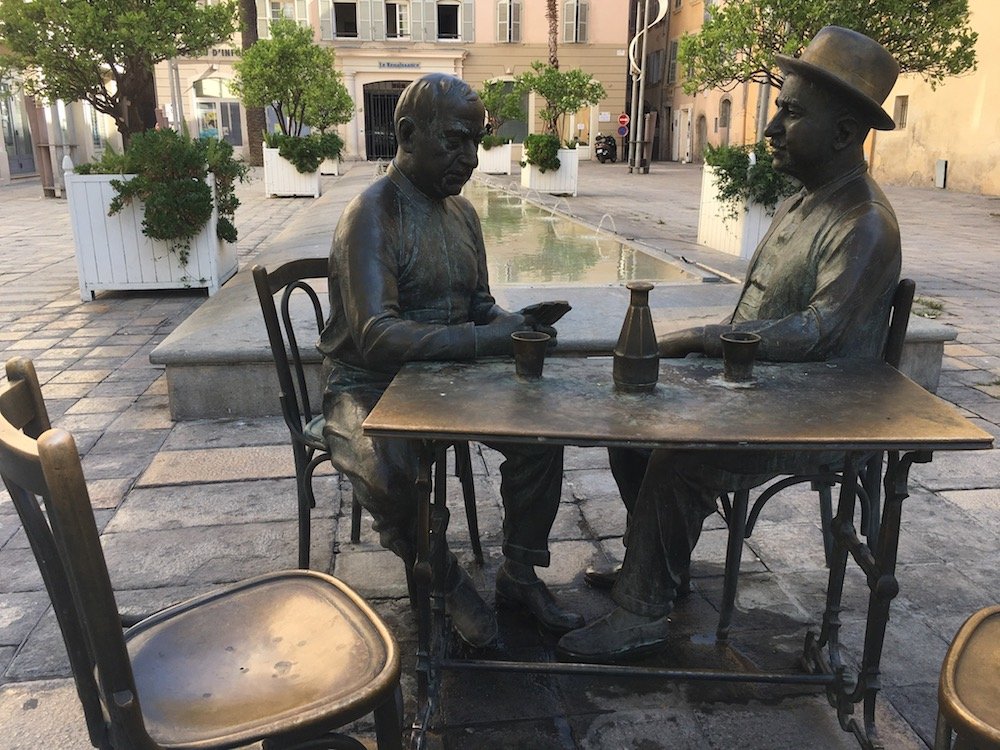 Place Raimu is famous for the statue of the card game between Raimu and Panisse. You can even sit at the table with them and take a picture!
Right behind this square, you will find a fantastic restaurant called Tables de la Fontaine.
With its top-quality food, friendly staff, and cozy atmosphere, this quirky little restaurant is definitely one of the best in Toulon. On top of that, they cater well to vegetarians and even bake their own bread.
Stop #11: Cours Lafayette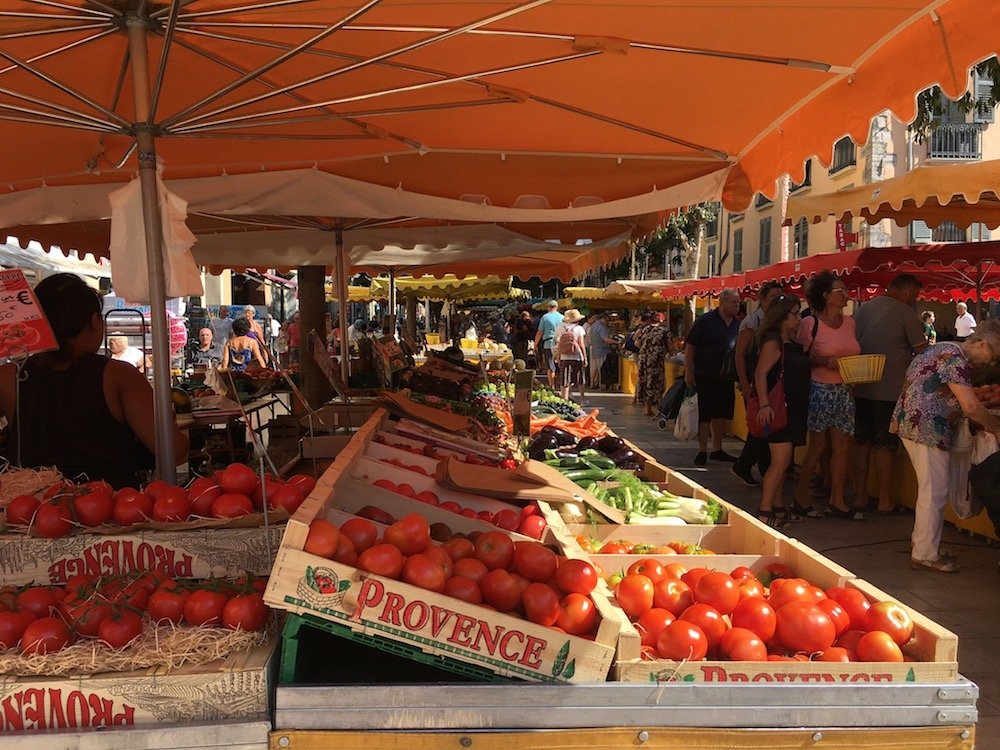 The iconic Cours Lafayette, where the Provencal market is held every morning, is full of colorful fruits and vegetables and is definitely a must-see if you're visiting Toulon.
At the bottom of the market, right in front of the church, you'll find a small stand called "La Cade à Dédé". This stand sells cade, a French delicacy typical from Toulon.
As you go up the street on the market, you can also visit the many shops there. I highly recommend Oceane, a crystal and fossil shop located in the heart of Toulon.
It's a beautiful little store where you can find unique gifts and souvenirs. Whether you want to buy crystals, seashells, or other mineral items, you'll surely find something interesting to bring back from Toulon.
Stop #12: Cathédrale Notre Dame de la Seds
Finally, you can stop at the cathedral of Toulon, also called Notre Dame de la Seds. The cathedral is located close to the Cours Lafayette.
Construction of the cathedral began in the 11th century and finished in the 18th century. Today, it is a national monument.
The cathedral has a very interesting history and is home to some work of art notably a baroque retable made by Pierre Puget.
Final Words on Visiting Toulon
Toulon is definitely an underrated tourist destination, and I definitely recommend visiting it if you're planning a trip to the French Riviera.
With its beautiful harbor, fabulous Mediterranean market, and historical buildings, you'll have a great time exploring this town full of history.
If you want to spend a few more days in the city, you can also go to the local beach, hike the Mont Faron, or take a day trip to beautiful Porquerolles.
About the Author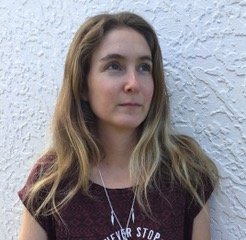 Camille is a jewelry maker and blogger over at Crafty Explorer. Dedicated to traveling sustainably, she has been roaming the world and living abroad for over 7 years. When she's not traveling, you'll find her hiking or reading a good book.
Allison Green is a former educator turned travel blogger. She holds a Masters in Teaching and a B.A. in English and Creative Writing. Her blog posts merge her educational background and her experience traveling to 70+ countries to encourage responsible, enriching travel. She has been a speaker at the World Travel Writers Conference and her writing, photography, and podcasting work has appeared in National Geographic, CNN Arabic, CBC Canada, and Forbes, amongst others. Now a full-time traveler, she has lived in Prague, Sofia, New York City, and the San Francisco Bay Area.