Barcelona is a beautiful and one-of-a-kind city that tops many people's travel bucket lists… but it's also the most popular and crowded tourist destination in all of Spain.
This article assumes that you know about places like Las Ramblas, La Boqueria Market, and the Sagrada Familia. It bypasses some of the more famous Gaudí sites like Casa Battló and Park Güell in favor of some equally beautiful but less visited sites.
Nothing in Barcelona is ever truly that off the beaten path, but this guide will give you a good balance of getting a flavor of what makes Barcelona distinctive while avoiding the worst of the crowds. To further get off the path, I recommend staying in one of Barcelona's neighborhoods that are just a bit off the tourist zone, so you can see a local side to life there.
Casa Museo Amatller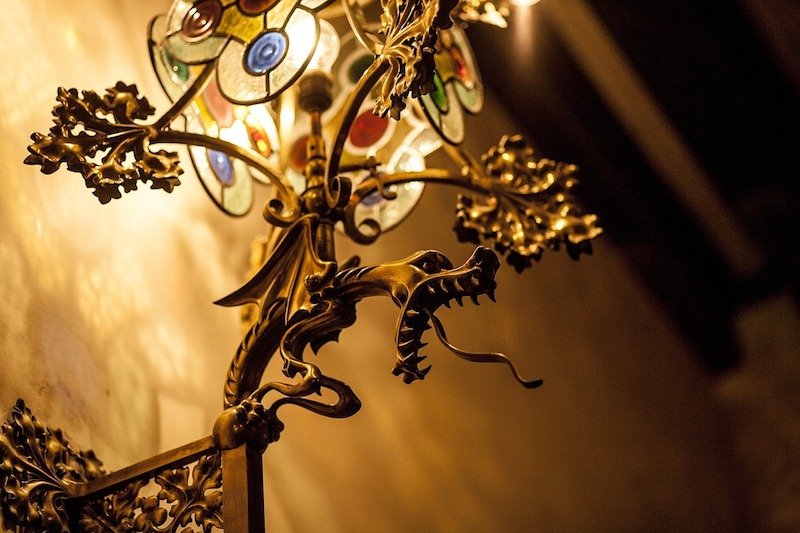 Note: This post contains affiliate links, which means I may receive a small commission if you purchase something through one of these links. Thank you for supporting the free content on this site! For more information on affiliate links and cookies, see my disclosure page for more details.
While Barcelona is synonymous with the architecture of Antoni Gaudí, who designed some of the city's most iconic buildings such as the Sagrada Familia and Park Güell, its architectural cred goes so much further. Barcelona was the heart of the Catalan Modernism style that was booming in the late 19th and early 20th century. The rebellious forms of Catalan Modernist architects signified a greater resistance to Spanish assimilation and a desire to cement to a unique Catalan identity.
To see this intersection of architecture, history, and identity, Barcelona's "Illa de la Discòrdia" (Block of Discord) is its most emblematic. This is where you'll find Casa Batlló, easily identifiable by its distinctive windows — and its massive crowd. While the façade of Casa Museo Amatller certainly attracts cameras, the interior is far less visited, especially when compared to the crush of people flooding Casa Batlló. While Casa Batlló is definitely worth seeing, even with its hefty admission fees (I recommend purchasing skip-the-line tickets to avoid the inevitable lines), Casa Museo Amatller is far less crowded and a good way to get slightly off the beaten path in Barcelona while still enjoying what it is most known for.
Originally built for Antoni Amatller — best known as the industrial chocolatier who introduced new methods for making chocolates en masse — to be his private residence in the final years of the 19th century. Built sometime between 1898 and 1900, it's one of the key works of modernist architect Josep Puig I Cadafalch, and it's considered one of the best and most unique buildings in all of Barcelona. As you enter, be sure to note the odd carvings in the façade, including a rat with a camera. Inside, the architecture is a delightful mix of traditional and anti-traditional, with geometric stained glass windows and gorgeous spiral pillars.
Walking in this beautiful residence can feel downright amazing, as you'll feel like passing through living history, while trying out some of the most delicious chocolates ever made in the world.
Shop guided tours and priority entrance tickets here:

Casa Museo Amatller Guided Visit with Chocolate Tasting
Arc de Triomf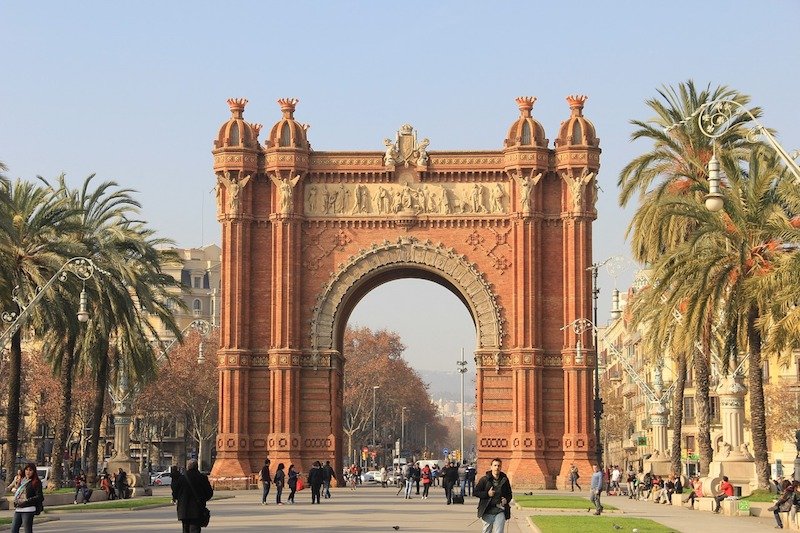 While Paris is the city most synonymous with triumphal arches, you'll find them all over the world — from Bucharest to yes, even Barcelona. This arch was constructed in the late 19th century, and as a result, its form has similar hallmarks to other examples of Catalan Modernisme.
It's distinct from other cities' triumphal arches for its red color, four decorative pillars, and intricate carvings which celebrate Catalan identity. You can find it in Ciutadella Park, where you'll also find other important landmarks.
Dark History Tour
The history of Barcelona has not always been the lively, carefree tourist mecca it is today. Quite the contrary — there's been plenty of bloodshed and violence raged in ages past, and this tour will guide you in two medieval neighborhoods where you'll see and understand everything about Barcelona's dark past.
As a significant medieval city in Spain, Barcelona has a lot of connections to the history of the Spanish Inquisition, one of the darkest chapters in Spain's history. The neighborhoods you'll visit, although beautiful and lovely, have seen their share of executions and torture. The tour itself is meant to educate, not frighten, giving you a chance to learn in depth about one of the bloodiest periods of Spanish history.
Check out available history tours here:

Barcelona: The Dark History 2-Hour Walking Tour
Sant Pau Recinte Modernista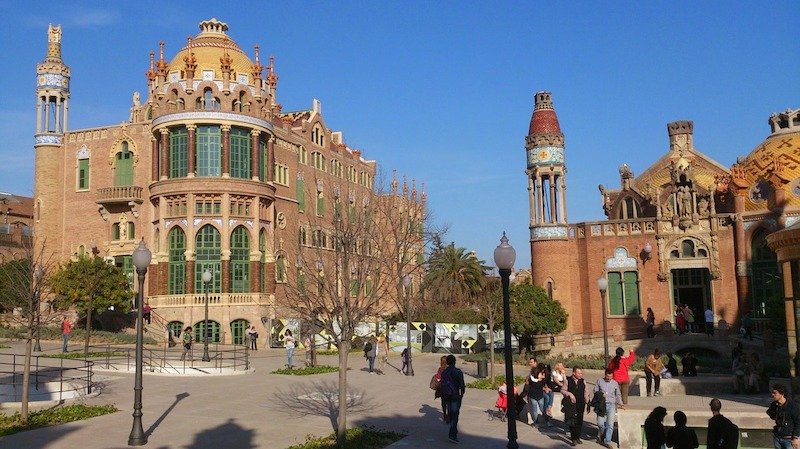 While it's not unknown – it is a component of a UNESCO World Heritage Site, after all – the other component sites tend to get far more notice. Instagrammers flock to the Palau de la Música Catalana and all the Gaudí sites, while the Sant Pau Recinte Modernista doesn't get nearly as much love as its fellow UNESCO compatriots in Barcelona.
Designed by Lluís Domènech i Montaner, this 27-building complex takes up nearly 10 city blocks, making it the largest single example of Art Nouveau architecture in existence. Despite this superlative – and partly because its large size means that you'll feel away from the crowds even if this site is well-known – Sant Pau feels relatively peaceful in busy Barcelona.
This massive, striking building complex was conceived of in 1898 as a place for healing and tending to the ill, the result of a merger of six other hospital buildings in the quickly expanding Barcelona area. However, due to its ambitious size, it took over 30 years to finish construction.
It was subsequently used as a hospital for nearly a century, and recent refurbishments have continued its upkeep. The original hospital was kept functioning until 2009; however, it has since moved to another part of the building complex. Today, you can experience the splendor of its pavilions, gardens, and underground passages, and escape the crowds of Barcelona's more popular tourist sites.
Pre-purchase a ticket online to save time here:

Sant Pau Recinte Modernista Entry Ticket
Monastery of Pedralbes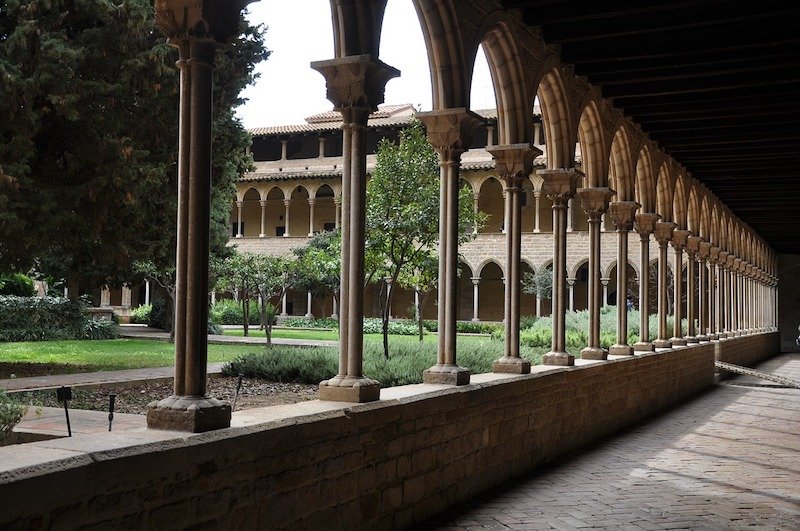 Named Pedralbes for its white-stone walls, this former Gothic monastery now functions as a museum, featuring artifacts from Barcelona's history. The cloister is in excellent shape, with three floors of beautiful archways and a central garden filled with fruit trees.
While visiting the former monastery, you shouldn't miss the impressive Chapel of St. Michael, which hosts frescos which date back to the 14th century.
Mercat de Sant Antoni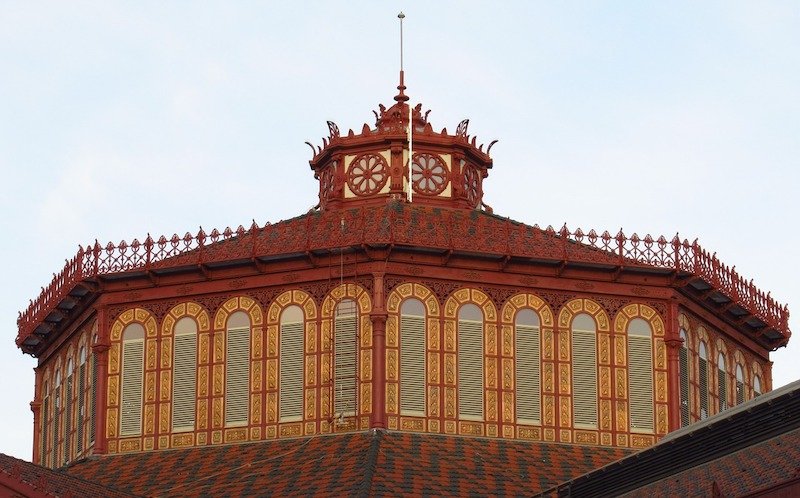 La Boqueria is the most popular market in Barcelona, given its prime location on the tourist promenade of Las Ramblas. During the summer, it's almost impossible to even pass through the market (it is slightly better in February, but even then – still super crowded).
If you'd like to experience a market in Barcelona with significantly fewer crowds, check out the Mercat de Sant Antoni, with a beautiful historic market with much fewer tourists. The neighborhood of Sant Antoni is beloved as well, so stop by some of the local bars and restaurants after checking out the market.
Picasso Walking Tour
The name Picasso is so intertwined with being an artist that we throw it around as if the two are synonyms. To walk in the literal footsteps of one of the 20th century's most famous artists, take a 2-hour walking tour that highlights destinations that were significant to the art of his youth and formative years.
On this tour, you'll visit some little-known places that put Picasso's life into context. You'll see his favorite restaurant where likeminded, creative individuals often gathered, see the Llotja de Mar – the art school where Picasso studied – as well as the only piece of public art that Picasso has ever made. You'll also see the stunning Museu Picasso, set in an old mansion, where you'll see and understand just how his style evolved before his invention of Cubism.
Bundle together a walking Picasso tour & museum entry here:

Picasso Walking Tour & Picasso Museum of Barcelona
Casa Milà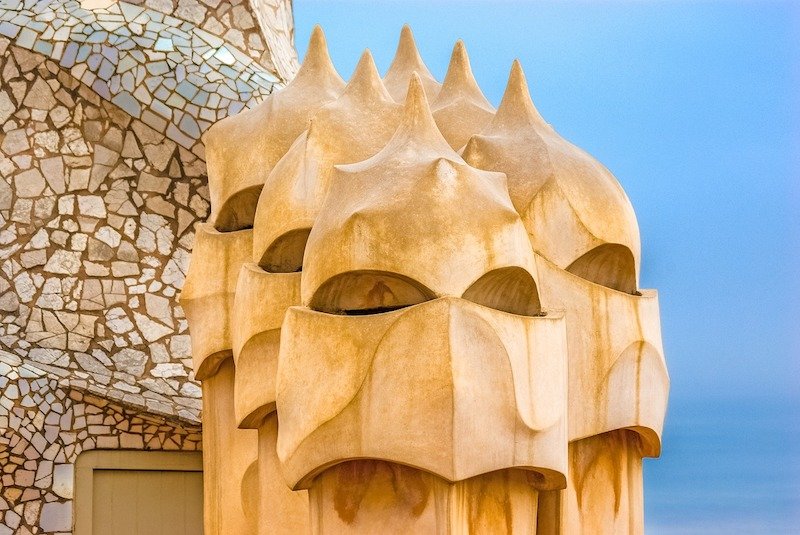 Of the seven UNESCO-inscribed Gaudí sites, Casa Milà is among the less visited. However, that being said, it's still quite common on many tourists' itineraries, given that many people try to see as many of Gaudí's works as they can. But it definitely comes in after Sagrada Familia, Casa Batlló, and Park Güell, meaning that you'll have to dodge slightly fewer other tourists to get your shots.
A building with a very quirky, if a bit peculiar, appearance, Casa Milà – or also known as La Pedrera, or "The Stone Quarry" in English, is one of Gaudí's most interesting buildings. To me, a lot of Gaudí's works have the appearance of highly ornate sand castles, and this one is no different. Casa Milà is most famous for its intriguing rooftop, with turrets that look almost like faces. In the attic, take time to peruse the exhibition about Gaudi's life, also known as Espai Gaudi, where you'll see the fascinating evolution of his work.
Pre-purchase a skip the line ticket & audio guide here:
Craft Beer Tasting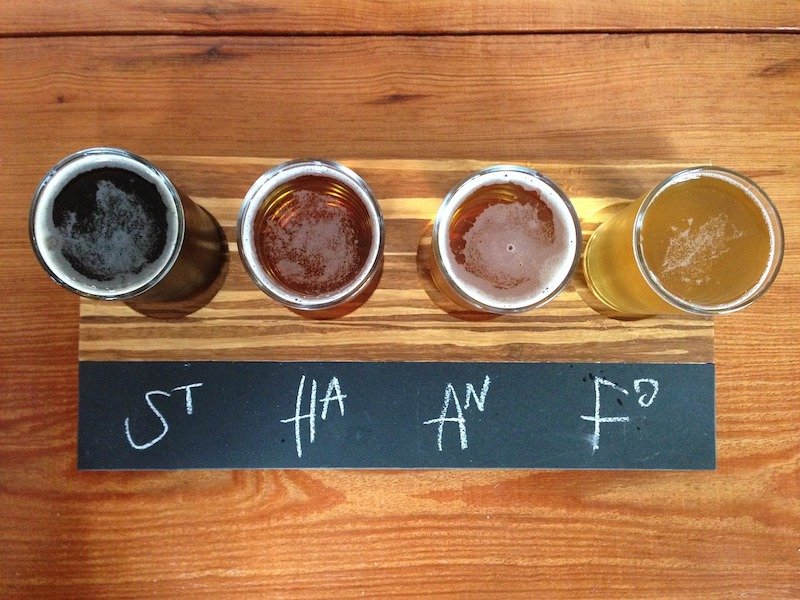 Barcelona is no stranger to excellent gastronomy and delighting in celebrating new, unique tastes. While Barcelona has always been surrounded by delicious wine, in the recent years, there's been quite an innovation when it comes to craft beer.
If you're interested in sampling what the beer scene in Barcelona is looking like, you can check out a microbrewery tour (see prices and availability here) in the neighborhood of Gracia that offer unique flavors of beer — chocolate beer, truffle beer, and even oyster beer. If those aren't wild enough for you, many new flavors are being worked on and discovered all the time. There are also several bars specializing in craft beer (Abirradero, Bar Centro, and Barcelona Beer Company all come highly recommended).
Tibidabo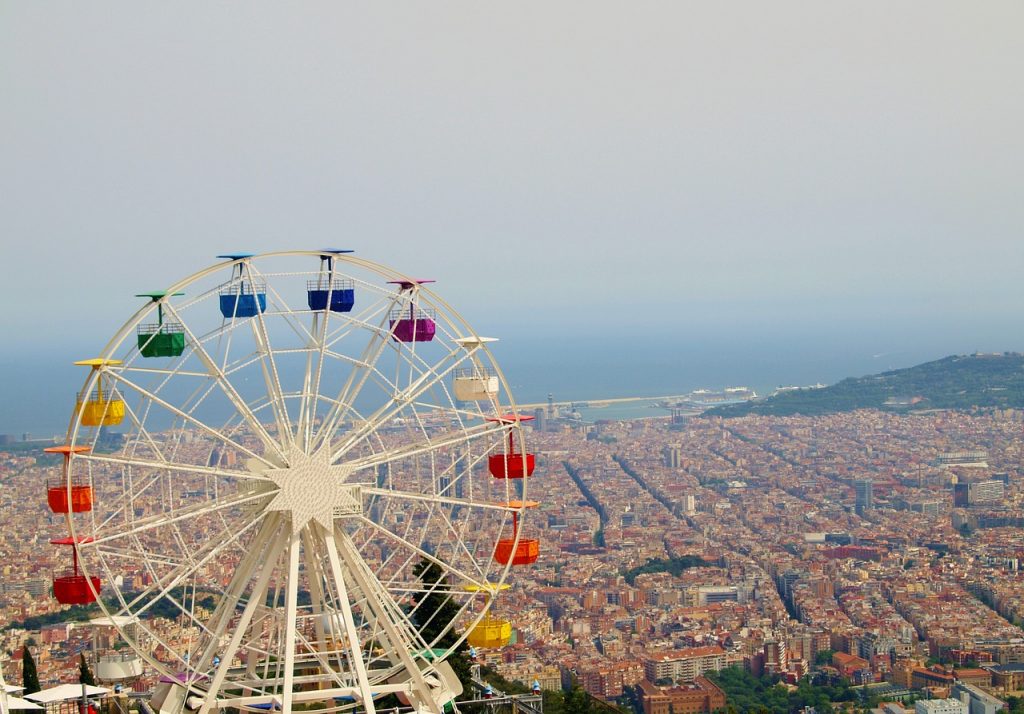 One of the best views of Barcelona can be had at Tibidabo, an amusement park on a hill on the outskirts of the city. This retro amusement park is the better part of 90 years old and has a gorgeous view overlooking not only Barcelona but the beach in town as well.
Despite how easy the Ferris wheel is to see in Barcelona's skyline, not many people make the trip out, so it's a bit of a hidden-in-plain-sight gem in Barcelona.
Allison Green is a former educator turned travel blogger. She holds a Masters in Teaching and a B.A. in English and Creative Writing. Her blog posts merge her educational background and her experience traveling to 60+ countries to encourage thoughtful travel experiences that both educate and entertain. She has been a speaker at the World Travel Writers Conference and her writing, photography, and podcasting work has appeared in National Geographic, CNN Arabic, CBC Canada, and Forbes, amongst others. Now based in the San Francisco Bay Area where she grew up, she has also lived in Prague, Sofia, and New York City.