Growing up in California, it's easy to take how beautiful the state is for granted. But the longer I've been living away from home (11 years now, more than a third of my life), the more I've come to appreciate just how beautiful and diverse the state is.
With a land mass just about the size of Spain, California is home to a stunning variety of landscapes: from arid deserts to lush pine forests. It's grand on a scale that can't be believed, home to both the tallest tree in the world (Hyperion in Sequoia National Park) and the tallest mountain in the contiguous United States (Mount Whitney in the Sierra Nevadas). It's no surprise that California hikes are some of the most beautiful in the world as a result.
While I'd like to think I'm a California expert, sadly, it's far from the case. More than a decade away from my home state has made California seem almost foreign and exotic when I go home. Though I know a lot about the Bay Area and Lake Tahoe, having grown up just outside San Francisco, so much of the state is still a mystery to me outside my one tiny area of awareness.
To help fill in the gaps, I got some travel bloggers to help me fill in my knowledge gaps of the top hikes in California that intrepid explorers simply can't miss on their trip to the Golden State.
Southern California Hikes
Lost Palms Oasis, Joshua Tree National Park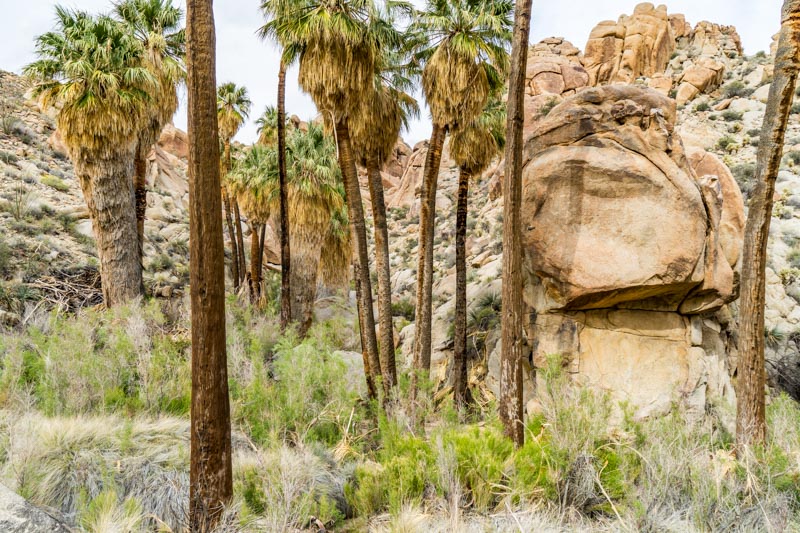 Note: This post contains affiliate links, which means I may receive a small commission if you purchase something through one of these links. Thank you for supporting the free content on this site! For more information on affiliate links and cookies, see my disclosure page for more details.
By Michael of Time Travel Turtle
Most people, for obvious reasons, think of Joshua trees when they hear the name of Joshua Tree National Park. But in the south of the park, as the Mojave Desert turns into the Colorado Desert, the flora changes. In this part of the park, it's all about the palms.
The best place to see the palms that grow in Joshua Tree National Park is at the Lost Palms Oasis. The hike to get there is a fantastic walk that is about 6 kilometers (3.5 miles) in each direction through some stunning desert landscapes with cacti, rock formations, and colorful flowers.
Even though it's very dry here, palm trees are able to grow because of cracks in the ground that allow water to come up from subterranean reserves. It means you won't see many of the palms until you get to the final destination – a large ravine where the tall trees are clumped together along the bed.
The hike begins from near the Cottonwood Spring Visitor Centre in the south of Joshua Tree National Park. There is a car park at the trailhead. It's not one of the busiest hikes, which means the path isn't too crowded. However, you will probably never be too far away from other hikers, which makes it nice and safe.
The return hike will probably take around 3 hours at a decent pace with a break at the oasis and is moderately difficult – there are some rough patches when you'll need to scramble up and down rocky hills. It can be hot at any time of the year but especially in the summer. You should always carry sunscreen and lots of water. You may even want to reconsider hiking it on very hot summer days.
Willow Hole, Joshua Tree National Park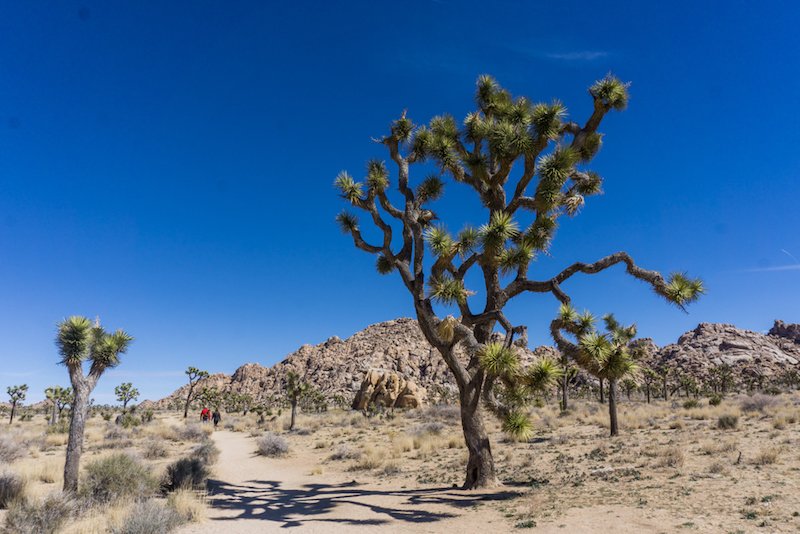 By Taryn of Happiest Outdoors
There are plenty of popular short hikes and nature trails in Joshua Tree National Park. But if you want to get off the beaten path, you have to hike to the Willow Hole. It's an oasis in the middle of a remote part of the park. Most of Joshua Tree is open desert dotted with cactus, Joshua trees, and the odd rock outcropping.
But the Willow Hole is nestled in the middle of the Wonderland of Rocks, a huge labyrinth of strangely shaped rocks, boulders, and canyons. This watering hole attracts lots of wildlife so you might to be lucky enough to spot a coyote, jackrabbit or even the resident herd of bighorn sheep. I was thrilled to see a fox on my hike.
This moderate hike is about 7 miles round trip and will take most people 4-5 hours to complete. Be sure to bring plenty of water, a hat, and sunscreen as it can get really hot out there. Start your hike at the southern trailhead of the Boy Scout Trail on Park Boulevard. The beginning of the hike is on a sandy trail through Joshua trees and cacti. After a few miles, you'll reach the Wonderland of Rocks and leave the desert.
For the rest of the hike, you wind through the rocks following dry streambeds called washes. There are a few signs to keep you on track, but pay attention to make sure you stay in the main wash as it can be easy to get off course. After a mile of meandering through the rock formations, you'll arrive at the treed oasis of the Willow Hole. Take a break in the shade and stay quiet to see if you can spot some animals. When you're ready, turn around and retrace your steps to the car.
Torrey Pines State Reserve, San Diego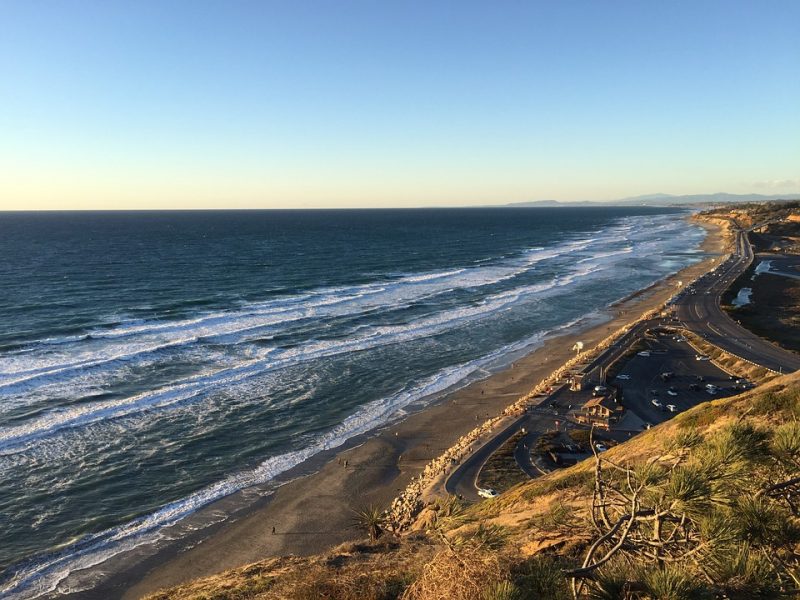 By Mimi of The Atlas Heart
Torrey Pines State Natural Reserve is one of the many spots where you can enjoy beautiful coastal hikes in San Diego. The park is located in north county and offers two easy and relaxing hikes with plenty of coastal breezes, and a little shade from the nearby eucalyptus trees (although I'd still recommend bringing a hat, sunscreen, and water for the desert environment). 
One aspect I love about the Torrey Pines hike is that although you still have desert fauna around you while you're hiking, it's not as dusty and hot as other hikes around San Diego – probably because of the proximity to the ocean. 
The park offers two hikes – the Razor Point Trail and the Yucca Point Trail – and you could easily complete both in a day. Between the views of the golden-tinged cliffs and the turquoise color of the breaking waves, they both make you sigh and remember just how pretty San Diego is. 
The Razor Point Trail is 1.3 miles and the Yucca Point Trail is 1.25 miles, and neither one of them have more than a 200-foot change in elevation. They each take about one hour to complete. Both offer great views of the coast, but if you actually want to go down to the beach, the Yucca Point Trail is the one to do. 
Torrey Pines Reserve is located between La Jolla and Del Mar, north of downtown San Diego. If you're driving, you can use I-5 to take the Carmel Valley Road exit.
Keep in mind that the fee for parking in the South Beach entrance can be anywhere from $10-$20, depending on if it's a weekend or not (hint: go during the week when possible). Try and avoid the times of 10 AM – 1 PM when the reserve is most crowded. 
If you don't want to pay for parking, it's free to simply walk into the reserve. Take the 101 bus or park along the beach. Alternatively, the North Beach entrance only costs $3-$6 for parking. 
Potato Chip Rock, Mount Woodson
By Patrick of German Backpacker
You might have seen the iconic picture of people standing on the thin "Potato Chip Rock" somewhere on Instagram before. This fun picture opportunity is close to Poway at the Mt. Woodson summit, and therefore, it's a nice day trip in southern California.
Make sure to start your day early, since the hike can get quite exhausting due to the heat and the elevation gain – there's absolutely no shade on this trail. Another reason for an early start is to beat the queue to actually take a picture on the rock, which can get long especially on weekends. But it's worth it!
The actual summit of the mountain isn't very exciting and full of antennas blocking the view, so keep going a little bit further until you reach the famous rock. The whole trail takes about 4 miles one-way until you get there. Be careful when you actually climb on the rock – it's not very high up in the air, but it's still a little bit scary to climb over to the edge. I enjoyed the hike a lot and it's a nice city escape for a day, just make sure to bring a lot of water and to get there as soon as possible in the morning.
Griffith Observatory, Los Angeles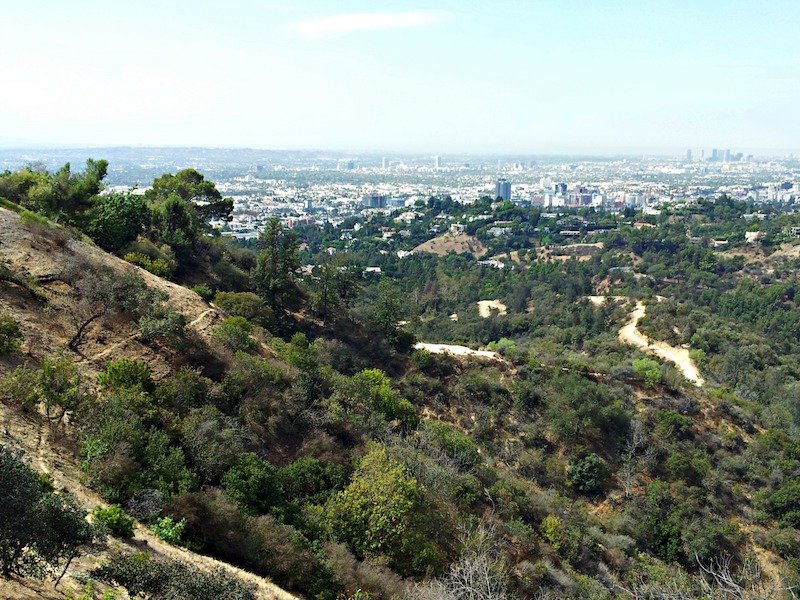 By Sofie of Wonderful Wanderings
The Griffith Observatory in Los Angeles is a fun place to learn about our universe, but what makes it even better is the great views it offers and the fact that you can hike there! There are two trails at Griffith Park leading up to the observatory: the West Griffith Observatory Trail and the East Griffith Observatory Trail.
My friend and I drove up to the starting point of the West Trail and hiked the short 1 mile from there up to the observatory. Yes, the path goes uphill quite a bit, but it's broad and flat so all-in-all it's an easy hike.Just make sure to put on some sunscreen before you start if it's a sunny day, because there's no shade and it can get really hot over there.
The West Trail starts at the Greek Theatre, the East Trail at Ferndell Drive. There's public parking by the start of both trails and if you want, you can take one trail up and the other one down, which results in a 2.1-mile hike. If you park by the start of the West Trail, make sure to use the free parking lot (watch out, it closes at sunset!) by the part of Ferndell Drive that has no street parking. If you go further up, there's paid street parking. If you start your hike at the Greek Theatre, you can park there for free but only when there's no event going on.
Mount Wilson, Pasadena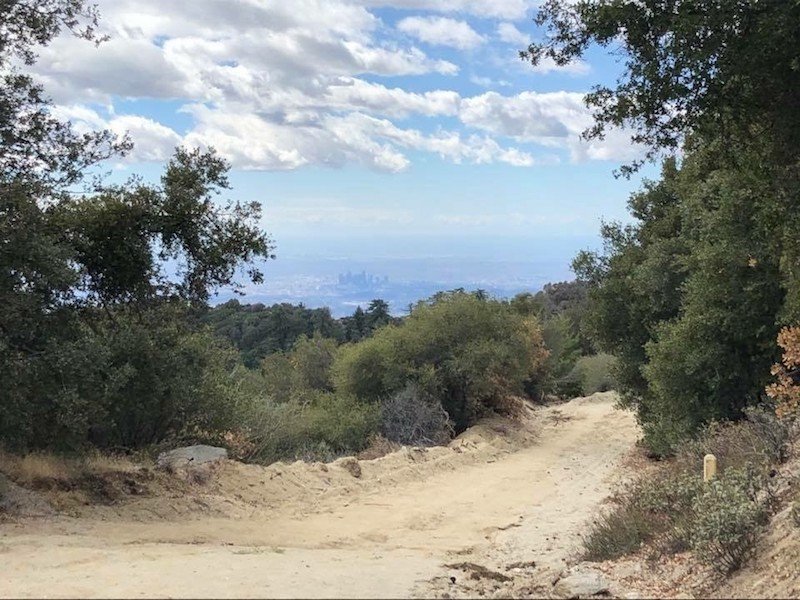 By Nancy of We Go With Kids
Located in Pasadena, California, Mount Wilson sits 5,710 feet above sea level and affords an amazing view of Downtown Los Angeles on a clear day. There are a number of trails you can take to the summit, but one of my favorites is to start at the Chantry Flat trailhead in Arcadia. Although the trailhead is quite popular and fills up quickly on the weekends, you will want to get an early start as the roundtrip journey of approximately 14 miles will take you a full 6-7 hours.
My favorite thing about the hike is the visually interesting things you see along the way. There's a short one-mile detour to Sturtevant Falls, which I highly recommend, and numerous cabins and campgrounds along the way. And of course, when you reach the top, you'll find Mount Wilson Observatory, where there is a handy water fountain that you can refill your bottles with. Although this is a hike that can be accomplished in one day, the availability of campgrounds makes this an easy introduction to backpacking, if you are so inclined.
The trail is popular among mountain bikers so it's important to be on high alert. Although I personally love this hike, it is not one that I would recommend for new hikers or those that are not in physical shape. It is an arduous 6 miles to the top, a generous mile across the observatory grounds, and then another 6 or so miles back down. Instead of going back down the Chantry Flats trail, you can take the Observatory's toll road to the Winter Creek trail which will lead you to about 1/2 mile from the Chantry Flats trailhead. My personal preference is always to avoid an out and back if possible, so I particularly like the availability of numerous options.
In general, the trail narrows at numerous points and is too steep to recommend for young children. Moreover, there is virtually no cell service (although there are pay phones at Mount Wilson Observatory), so you really are on your own once you embark.  If you don't feel up to the complete hike, it is possible to drive up to the Observatory, so a one-way hike would be an option, if you are able to arrange transport ahead of time.
Northern California Hikes
Rodeo Beach, Marin Headlands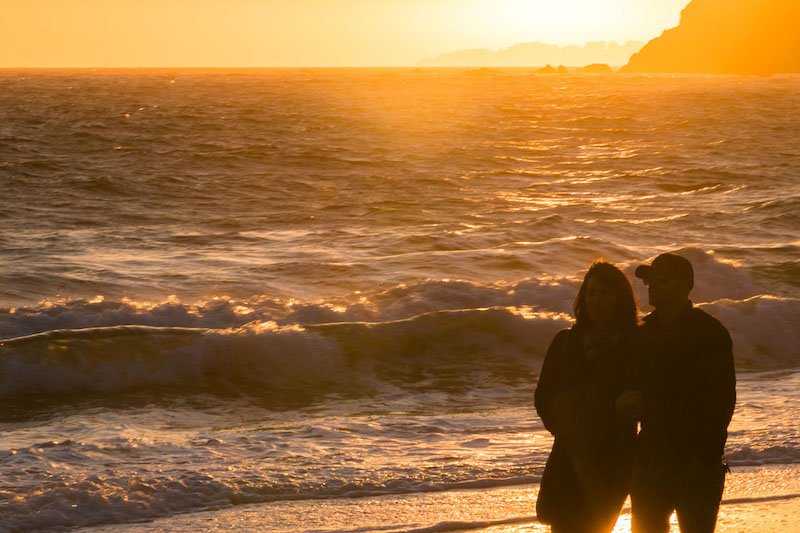 By Jessica of Longest Bus Rides
Rodeo Beach lies in the Marin Headlands facing the vast Pacific Ocean. Arrive by car, bike, or bus just 20 minutes north of San Francisco. Take the first exit north after the Golden Gate Bridge. Both routes to the beach are really fun! The first route is flat and has a long 1-way tunnel through a hillside. Don't go in if the stoplight is red!
The second route is hilly and phenomenal, especially at the golden hours just after sunrise and just before sunset. The whole world pulls off the road for photos of the Golden Gate Bridge from Hawk Hill. Be careful if you're a photographer, as the area has become known for people getting their high-end cameras stolen at the sunrise hours.
The hiking is beautiful at all times of year, whether with a blue sky and turquoise waves crashing, or with the famous San Francisco fog rolling in. There's a reason Instagram Meetups are held here! Your two hiking options both take you to cliff's edges. The shorter, but less crowded option is accessed by first crossing the beach, then heading uphill.
Alternatively, head up the steep hill straight from the parking lot for a for a gorgeous view of the ocean and surfers below. Follow the cliffside trail high above the ocean. Or, keep inland and explore the old military bunkers used during World War II to triangulate the exact location of approaching enemy warships.
Hike for miles, stopping along the way for a picnic, if you like. Do an out-and-back hike, or a loop. Apart from the initial short steep uphill from the parking lot, the trail is flat. You can climb up steep hills to more bunkers for more views. This area is off leash dog friendly. Unlike other beaches, there aren't many dogs, and all the owners are great about picking up after their dogs, so there's no poop to step in.
Another hiking area in the Marin Headlands is Mt. Tamalpais, which has many trails, most of them with long steep sections.
Land's End, San Francisco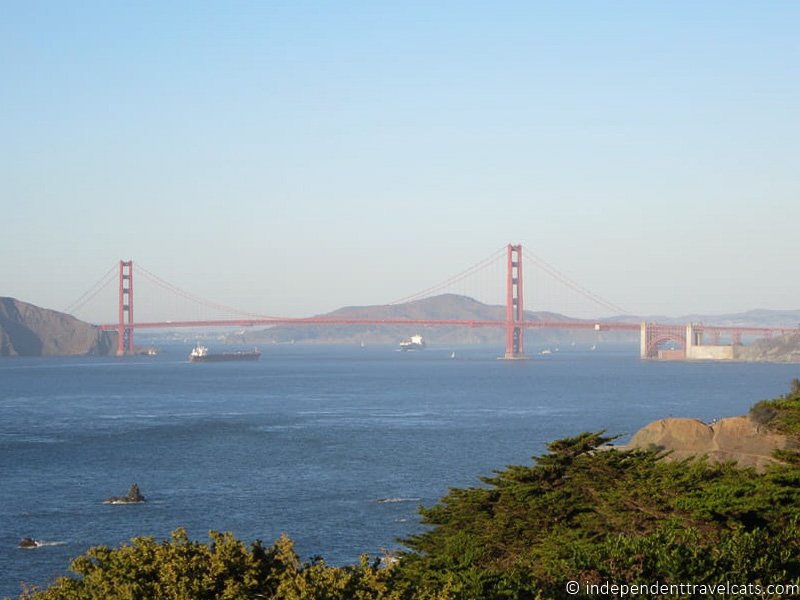 By Jessica of Independent Travel Cats
Land's End is a short coastal trail in San Francisco that offers great view fo the Golden Gate Bridge. Along the Land's End hike you can see the ruins of Sutro baths, old shipwrecks, a war memorial, and small rocky beaches. I walked this trail a number of times when I lived in the SF Bay area and it was one of my favorite places to walk in the city.
Near the trailhead is a lookout point and a visitor center that you can visit before or after the hike. There is both parking available as well as a nearby bus stop near the trailhead.
The trail is less than 2 miles long and you can turn back whenever you wish. It is a relatively easy hike although there are steps and rough sections. The first section of the trail is ADA accessible. The trail is just a section of the California Coastal trail so you can keep going and make it into a much longer hike. You can keep going all the way to the Golden Gate Bridge but that is a much longer hike, about 4 miles. The Land's End section of the trail also has small paths off of it at a few places where you can visit beaches, a war memorial, or even the Legion of Honor (a fine arts museum).
Popular places to visit nearby include Ocean Beach, the Camera Obscura, Golden Gate Park, Legion of Honor, the San Francisco Zoo, and Golden Gate Bridge.
Mount Whitney, Sierra Nevadas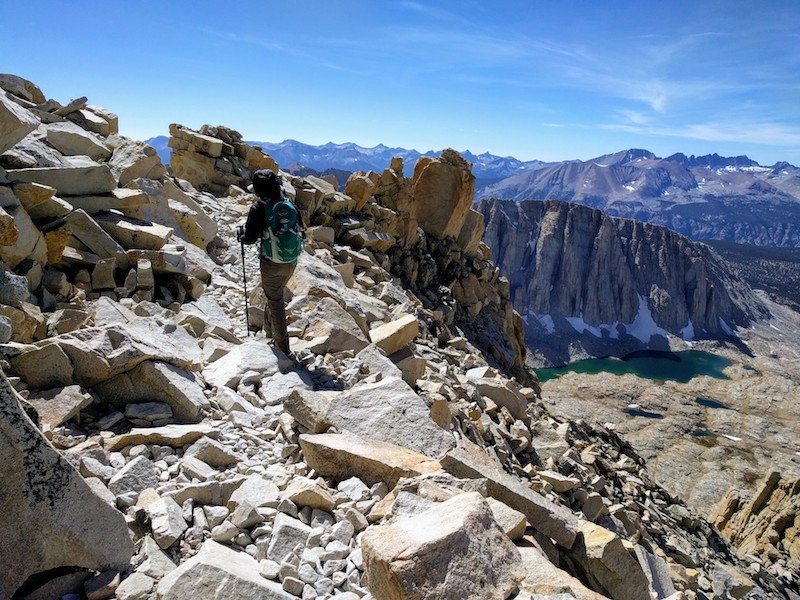 By Jackie of Life of Doing
Hiking Mount Whitney is a once in a lifetime experience. It's the highest mountain in California and the Sierra Nevadas at 14,505 feet/4,421 meters and over 7,100 feet/2,165 meters elevation gain. The strenuous day hike is 22 miles or 35 kilometers round trip and an out-and-back route. However, the hike is recommended over two days. Completion time varies based on altitude sickness, the number of breaks, weather, and training. Remember to stay hydrated, eat, and not overexert the body too hard.
Hikers will enjoy the various terrain along the route. Everyone starts at Whitney Portal which is a 15-minute drive from the main city, Lone Pine. Hikers go through waterfalls, forest areas, 99 switchbacks, potential snow, and jagged rocks. Along the Trail Crest, hikers may see the turquoise water from Guitar Lake in the distance. Reaching the summit is a huge milestone. Admire the surrounding mountainous views and take a photo with the Mount Whitney plaque.
Due to the trail's popularity, all participants need to enter a lottery for a hiking date. Lottery occurs from February to mid-March, and hikers are notified of their date in April. Choosing a fall or winter date has a great chance of securing a date, albeit the weather will be unpredictable. Hikers must pick up their permit at the Visitor Center (at US-395 and CA-136) 1-2 days before the hike.
Visitors stay overnight in one of Lone Pine's motels. The main street has a few restaurants, gas stations, a grocery store, and a Lone Pine Film History Museum. Camping is an option if hiking overnight. Reservations are required at the official Whitney Portal Campground. Reservations are not needed if camping along the trail at Outpost Camp (mile 4) or Trail Camp (mile 6). It's an exhausting day, but we hope you enjoy this hike!
Half Dome, Yosemite National Park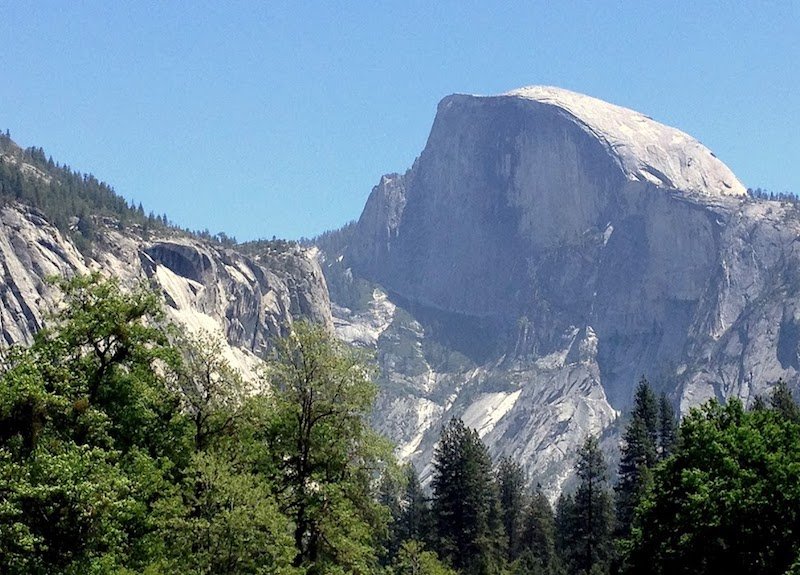 By Jill of Jack and Jill Travel
Half Dome is the highlight of Yosemite National Park and hiking to the top of the formation should be on the bucket list of any hiker. There are various ways to do the hike, but the shortest one is still a 14-mile roundtrip hike with major elevation gain (4,800 feet from the Yosemite Valley trailhead). The last section of the hike involves pulling yourself up a steel cable on the flank of the granite dome. Wooden steps have been laid on to help with footing, but it's still an upper body workout for sure.
Because of its popularity, a permit system has been implemented. You can get a permit to Half Dome by entering a lottery held in March, or rely on the 50 or so first-come-first-serve daily permits. You can only do the hike when the cables are up (early summer), and I recommend an early start to get the hardest part of the hike out of the way before the heat sets in.
Even though getting to the top of Half Dome is the goal of this hike, the getting there part is also part of the attraction. If you take Mist Trail, you'll pass 2 of Yosemite's famous waterfalls: Vernal Fall and Nevada Fall. There's a reason this section of the hike is called Mist Trail. The trail takes you so close to these falls, there's often a mist of water blowing in your face. So make sure you wear proper footwear and something quick-drying.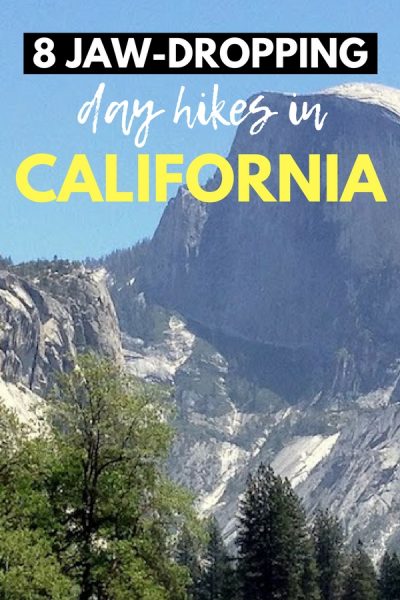 Allison Green is a former educator turned travel blogger. She holds a Masters in Teaching and a B.A. in English and Creative Writing. Her blog posts merge her educational background and her experience traveling to 60+ countries to encourage thoughtful travel experiences that both educate and entertain. She has been a speaker at the World Travel Writers Conference and her writing, photography, and podcasting work has appeared in National Geographic, CNN Arabic, CBC Canada, and Forbes, amongst others. Now based in the San Francisco Bay Area where she grew up, she has also lived in Prague, Sofia, and New York City.