Western Canada, specifically locales in and around Banff and Lake Louise, Alberta, offers blue lakes, rugged terrain, and dramatic mountain vistas worthy of the best hikes.
Much of the terrain is found Banff National Park, Canada's first National Park and a UNESCO World Heritage Site which welcomes over 3 million visitors each year.
While Banff is a skiing mecca in the winter, in the summer, hiking in the mountains is the thing to do.
The Park encompasses just over 2,500 square miles of Alberta's Rocky Mountains and sits adjacent to the Trans-Canada Highway, a primary East-West artery connecting the towns of Banff and Lake Louise.
Just an hour and a half's drive west of Calgary, Alberta, Banff National Park should be included on any itinerary of must-visit hiking destinations, and it's one of the main reasons to love Canada and all the incredible nature it has to offer.
Banff and Lake Louise proper are typically what com to mind when thinking of outdoor excursions in the National Park because the towns are central to the best day hikes and trailheads and each offer wide ranges of accommodations, restaurants, and amenities to make a Canadian Rockies adventure complete.
With this scenery at your fingertips, obviously, going for a hike is one of the things in do in Banff!
There are countless hikes you can do in the Banff area, but these are the best day hikes in Banff for all difficulty levels, from easy to experienced.
9 Best Hikes in Banff National Park
Lake Louise Lakeshore Trail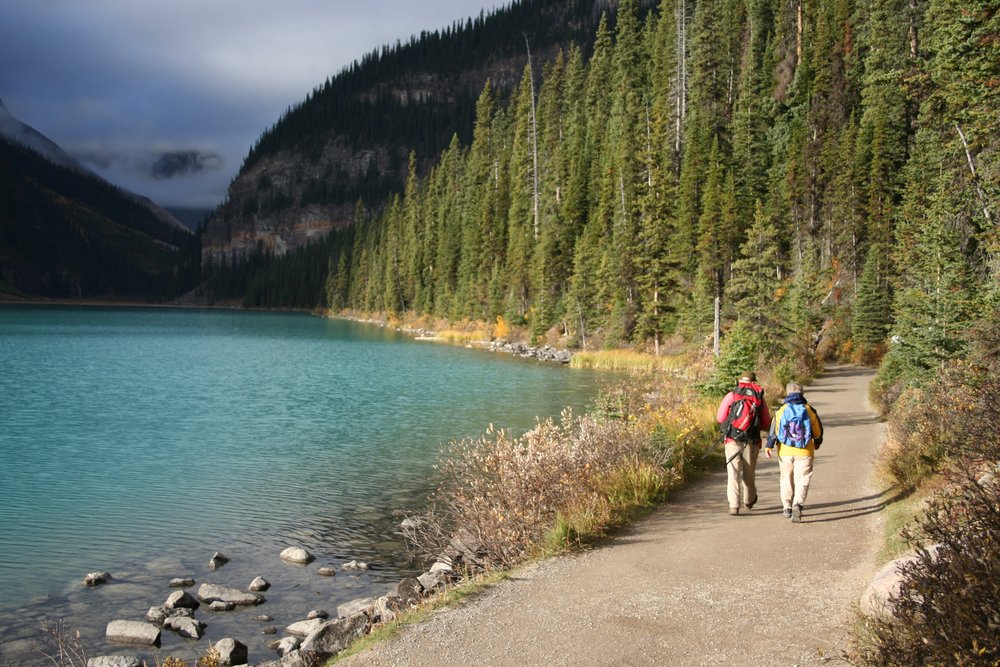 Note: This post contains affiliate links, which means I may receive a small commission if you purchase something through one of these links. Thank you for supporting the free content on this site! For more information on affiliate links and cookies, see my disclosure page for more details.
Even if you don't recognize the name Lake Louise you have probably come across pictures of its pristine turquoise water, red canoes, and mountain backdrop before.
It is undoubtably the most popular spot around Banff National Park, the primary image of Banff on Instagram.
Tackling the 2.9 mile out-and-back trail is an easy trek with minimal elevation gain. 
It is heavily trafficked but paved for a majority of the way before transitioning to a packed dirt path making it stroller accessible and family-friendly.
It offers stunning views of Mt. Collier and Mt. Victoria North Peak on your way out and of the picturesque Fairmont Chateau hotel on the return.
Lake Louise Lakeshore trail is partially shaded in a dense forest and follows the water's edge which makes for cool temperatures even on hotter days.
While there is parking at the hotel, visitors often find the lots at capacity so plan on going quite early or in the late afternoon, particularly in summer months.
Lake Louise Lakeshore trail is also well suited to transition into a longer hike by combining with other nearby spurs like Devils Thumb, Beehive Circuit, or The Teahouses trails.
Each begin and end at the Fairmont Chateau and follow the initial path along the Lake Louise's shore.
The Teahouses Trail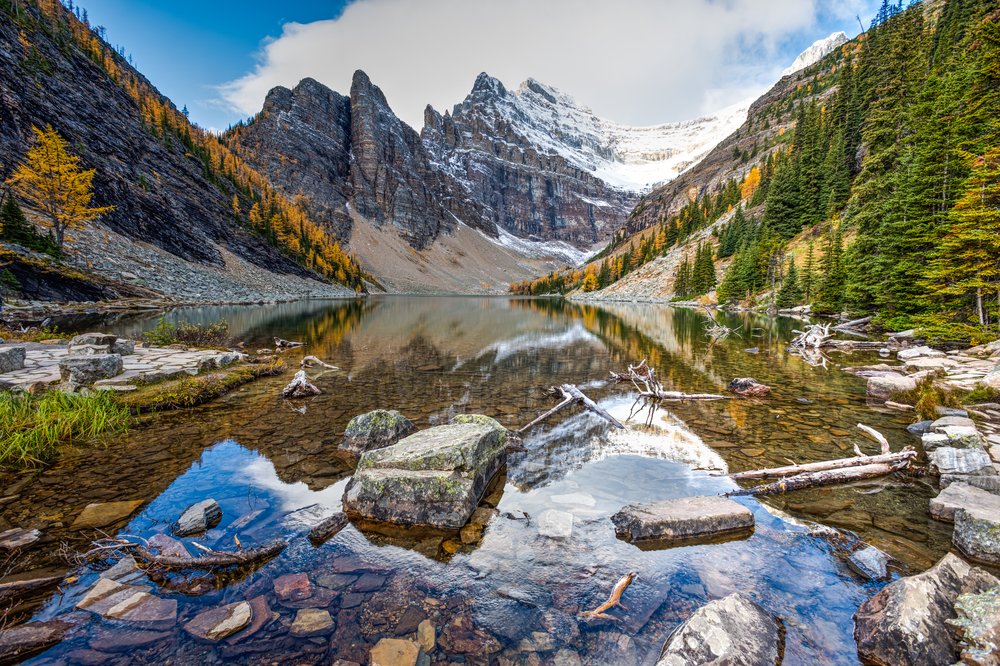 The Teahouses trail is a 12.3-mile loop with substantial elevation gain at 3,530 feet affording arguably the best views of the Fairmont Chateau and Lake Louise in the distance.
Glacier scenes, waterfalls, alpine lakes and, of course, a visit to two historic backcountry teahouses are all experienced on the moderately steep loop.
The small log cabins which now act as privately-owned cafes, were originally built in the early 1900s to service the Canadian Pacific Railway.
Today, both the Lake Agnes and Plain of Six Glaciers Teahouses serve hot and cold beverages (coffee and tea are go-tos) as well as sandwiches and assorted sweets.
There are some tradeoffs as Lake Agnes Teahouse has a slightly larger menu and is better suited for families, but Plain of Six Glaciers is more remote with fewer crowds.
It might be hard work to make it to the spots but certainly worth the trip, once you grab a quick rest and a well-deserved treat before the return hike. Make sure to take cash for the transaction if Plain of Six is your destination.
Beehive Circuit Trails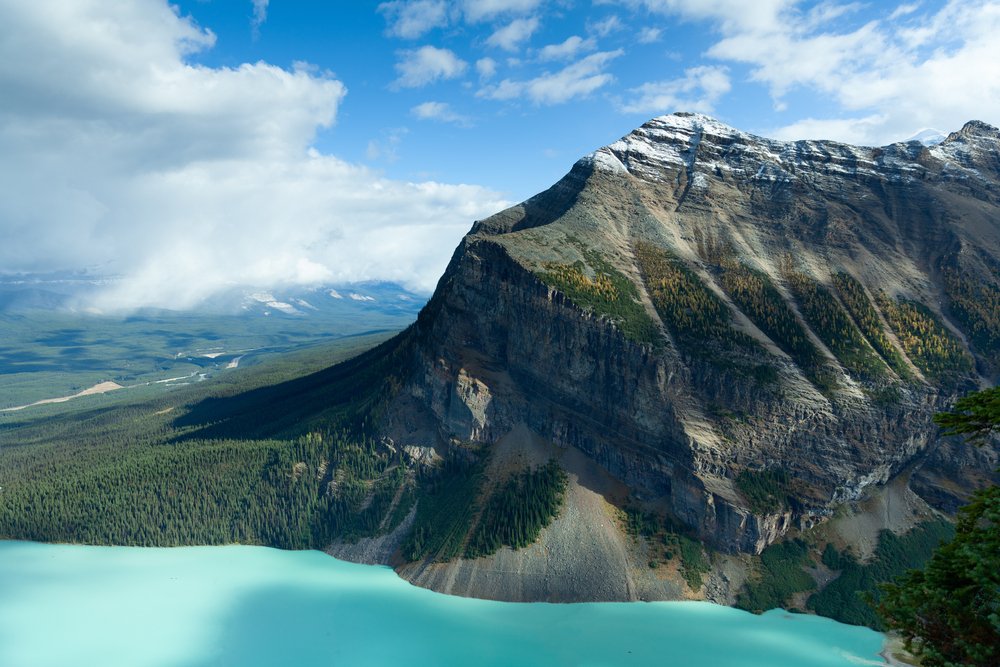 Another convenient variation to the Lake Louise Lakeshore trails are the Beehive Circuits.
Little Beehive (5.6 miles out and back) and Big Beehive (6.4 miles loop) take you from the shore of Lake Louise to nearby unique "beehive" rock formations.
The routes can be combined to form an 8-mile loop by following some portions of each path.
No matter the final combination, you are rewarded with stellar views of Lake Louise and the Fairmont Chateau, where your hike began. 
When paired together, the trails cover slightly less elevation than the Teahouses but in less distance. In total, the circuit covers around 3,000 feet so prepare for a steeper ascent.
Any variation which follows Big Beehive also takes you near Agnes Lake Teahouse where a full lunch or brief refreshment is up for grabs.
Devils Thumb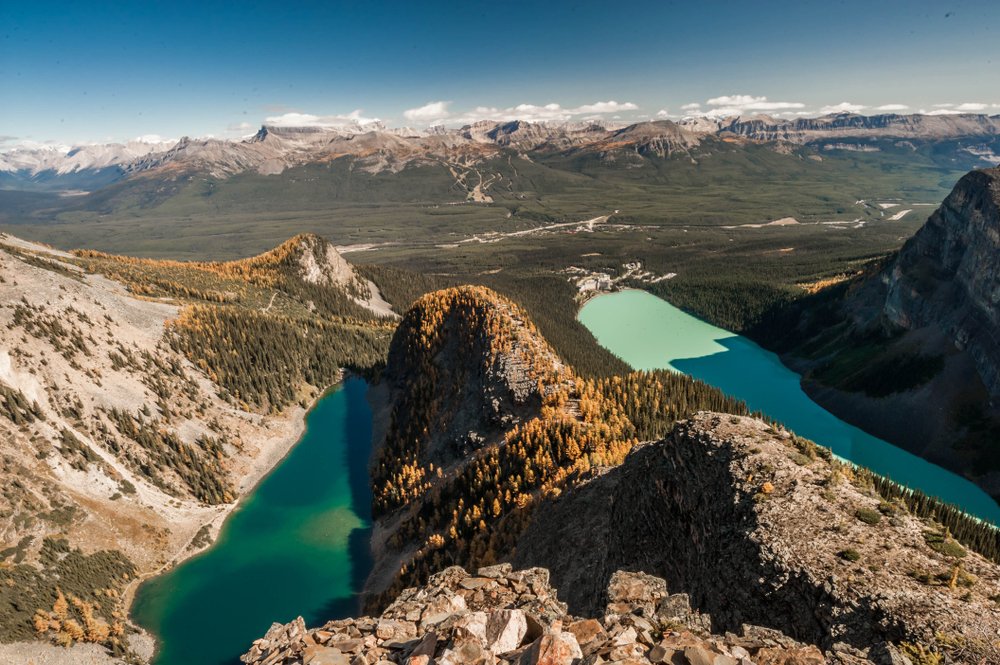 One last variation to check out from Lake Louise Lakeshore trail is Devils Thumb.
Do note this is a very technical hike and requires significant skill to do, so it's not a hike to do unless you are a skilled hiker.
Ask at the Visitor Center for more information about the hike to see if it's the right one for you.
This route, which also starts from the Fairmont Chateau, is an alpine lake hike covering 7.4 miles and nearly 2,900 feet.
The trail is quite similar to Big Beehive, in fact you will be able to catch glimpses of the same incredible rock formations and pass the Lake Agnes Teahouse too, but Devils Thumb takes you a bit higher and deeper into the backcountry.
Devils Thumb is a perfect option for those hoping to tag some rock climbing onto their hike.
Giant Steps via Paradise Creek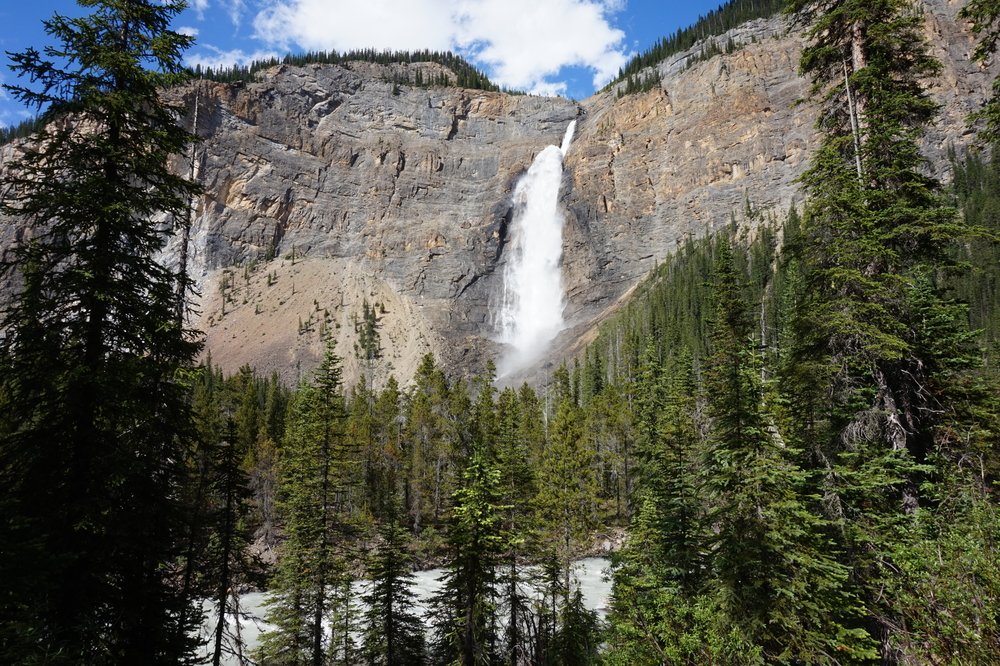 In close proximity to the Lake Louise grouped trails, but beginning from a separate trailhead, is Giant Steps. Giant Steps is a 12.8-mile hike with difficult rating.
Hikers are rewarded by reaching the trail's namesake waterfalls, a cascading series of alternating water features and pools.
The trail and falls are spectacular anytime May through October, particularly during the spring melt when water levels are at their highest and most intense before slowing toward the end of summer and fall. 
Depending on your schedule and transportation, and because parking at the Fairmont Chateau and Lake Louise can be a challenge, it may be helpful to checkout Parks Canada and Roam Transit websites for shuttle schedules before heading toward the hotel.
The shuttles are convenient, well-timed, and cost-effective. If you choose to stay in Banff, there are also several great hikes that begin closer to town and you won't have to guess at crowds, timing, or parking availability.
Sulphur Mountain (near Banff town)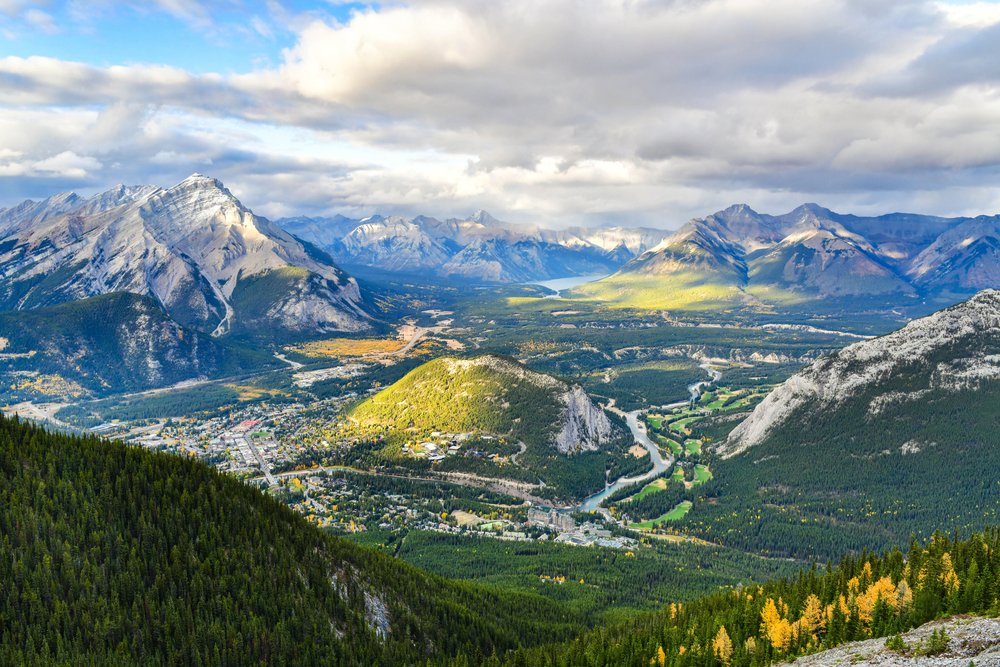 One such hike takes you up Sulphur Mountain, a steep, but moderate 6.3 mile out and back trail rising 2,400 feet and accessible right from downtown Banff.
It's a tough one, but it's one of the most scenic hiking trails in Canada!
It offers panoramic views including those of town, the Banff Upper Hot Springs, Sulphur Mountain, and the Banff Gondola.
Plan to stop for lunch at the Gondola top at one of three restaurants – Sky Bistro, Northern Lights, or Peak Patio.
The trail includes several switchbacks and areas for scrambling, thus can be quite technical at places. Check the gondola schedule if you wish to cut the trail in half by downloading by machine power!
Spray Loop Trail and Bow Falls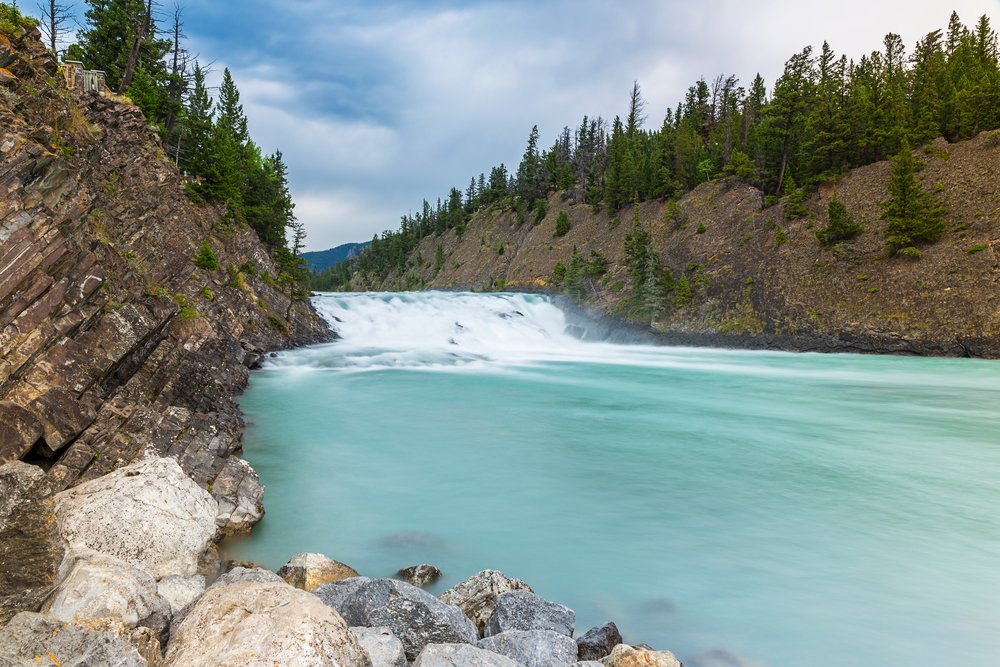 Also easily accessible right from downtown Banff is the Spray Loop Trail.
The 7.6-mile path follows Spray Creek south from town and Bow Falls, with passing views of the Banff Gondola, Sulphur Mountain. Bow Falls viewpoint is located just near the trailhead and makes a perfect pair to the hike.
Elevation stays fairly steady creating a good route for trail running and several river access points lead from trail to water's edge, although you stay fairly removed from the water throughout the hike.
The trail is very shaded and wonderful for warm days with no cloud cover. Spray Loop is prime for river and falls views but does not afford many of the mountain vistas found on other Banff National Park routes.
Cory Pass Loop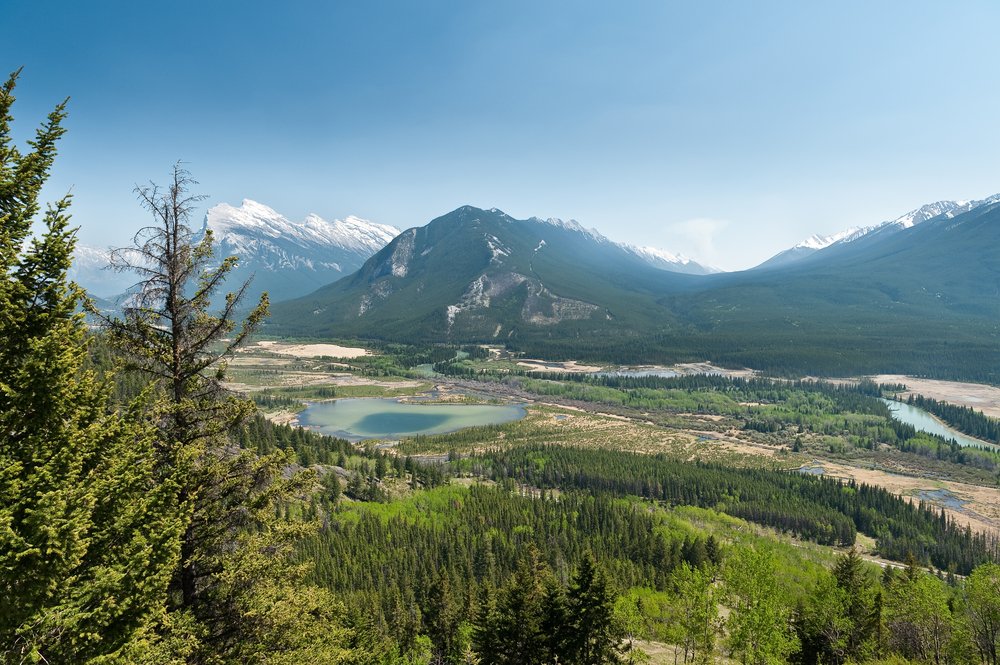 If you are on the hunt for more advanced terrain, including difficult rock-climbing routes, look no further than Cory Pass Loop.
The trail circumnavigates Mount Edith with views of neighboring Mount Norquay. It is similarly close to downtown Banff, about 10 minutes' drive, and easily accessible from the Trans-Canada Highway but the terrain is only suggested for experienced travelers.
The trail covers an elevation gain of over 3,800 feet in just over 8 miles and is steep and exposed at times. Most who have hit this trail before will tell you taking the loop counterclockwise is best because the alternative sets you up for quite a steep descent. In fact, this is one route for which you don't want to forget your trekking poles.
Cory Pass rewards hikers with stellar views of Mt. Cory and the valley below. Pay close attention to weather patterns before heading out. Rain can make the slopes muddy difficult to navigate, especially on steep sections.
Eiffel Lake and Tower of Babel routes
Last but not least, Eiffel Lake and Tower of Babel routes should top off your list of Banff area hikes before departing the National Park.
Access is partway between Lake Louise and Banff but closer to the Lake Louise side and the turnoff to Moraine Lake Road is just before reaching the final drive to the Fairmont Chateau.
Eiffel Lake is a 7.3-mile-high-alpine trail beginning at the base of Moraine Lake. A moderate elevation gain of 1,870 feet ends at a quiet backcountry lake and serves as an easy resting point before the return hike. Plan for around 3 hours in and back.
The trail is narrow, making passing other hikers inconvenient at times. This can be avoided if you choose an early morning start or late afternoon return. The trail opens up after a series of switchbacks and is a decent mix of tree cover and open space.
Tower of Babel Route begins at the same trailhead but shoots off in the opposite direction from Moraine Lake covering much more technical terrain. In fact, the route should be reserved for advanced climbers.
Novice hikers will prefer the tower views from Eiffel Lake route as the terrain consists of rock scramble with little path options. The route covers 1.8 miles, not so short when you're primarily scrambling, and it is ideal for rock climbing and bouldering.
These trials and routes are just a small portion of the vast adventure opportunities available in Banff National Park but fully representative of the beauty of Alberta and its surrounding terrain.
Pin These Best Banff Hikes for Later!
Originally from the Southern U.S., Katelyn Page currently launches adventures from Ketchum, Idaho and Revelstoke, BC. She spends most of the time when outside skiing, hiking, or cycling. As an Urban Planner by training, she understands the connection between cities and outdoor resources and the importance of getting out and exploring.