Planning a summer outdoors and want to see the best USA national parks the country has to offer?
I've curated my bucket list national parks in the USA from East Coast to West (staying in the lower 48 states, as I know many people this year are trying to avoid flying).
I've covered national parks in all the regions of the USA so you can find a beautiful bucket-list worthy US national park close to you!
Here are my picks for the absolute best US national parks to check off your national park checklist!
Getting to the National Parks
Most of these national parks require renting a car in order to move around freely and easily, though some parks such as Zion and Yosemite have great shuttle services.
I still recommend renting a car regardless whenever possible as there's always plenty to explore near the national parks and getting between your hotel, the park, and restaurants can sometimes be a pain otherwise.
Not sure where to get the best deal on your rental? I've rented cars dozens of times through various search engines and have settled on Discover Cars as the best car rental search engine – it searches over 500 trusted rental companies to find the cheapest price for your rental! Compare prices for car rental from your arrival destination here.
USA National Parks Bucket List: West Coast
Yosemite National Park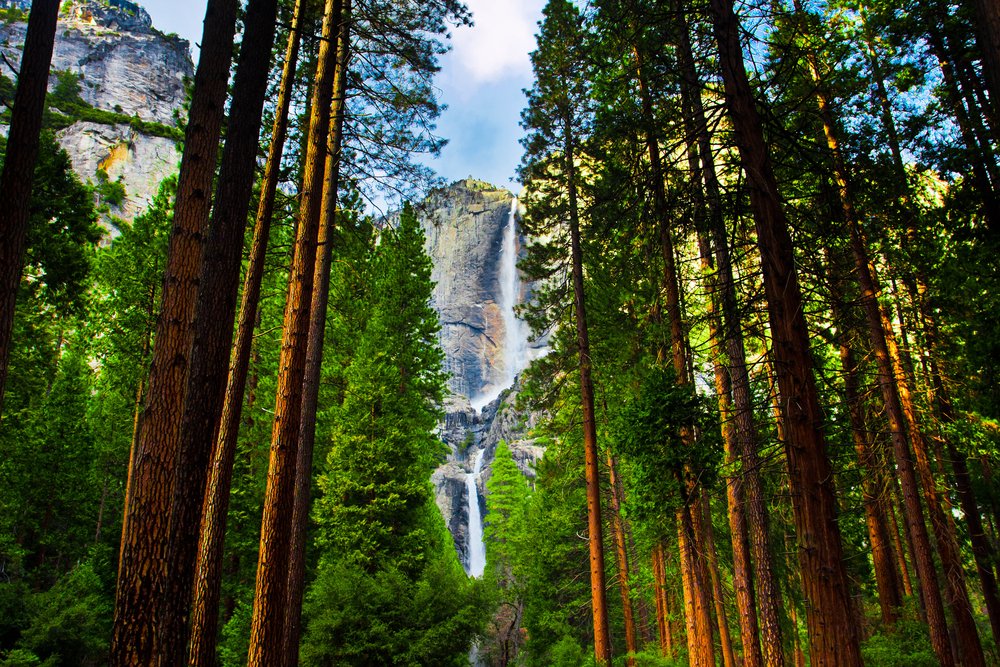 Note: This post contains affiliate links, which means I may receive a small commission if you purchase something through one of these links. Thank you for supporting the free content on this site! For more information on affiliate links and cookies, see my disclosure page for more details.
With its iconic Half Dome, Yosemite National Park in central California is one of the defining national parks in America.
Yosemite is home to countless waterfalls, the most beautiful of which are Yosemite Falls, Bridalveil Fall, and Vernal Falls. It's also the starting point of the gorgeous John Muir Trail which follows one of the most stunning stretches of the Pacific Crest Trail.
Other stunning points of interest in Yosemite National Park include Tunnel View, Glacier Point, and El Capitan.
Redwood National & State Parks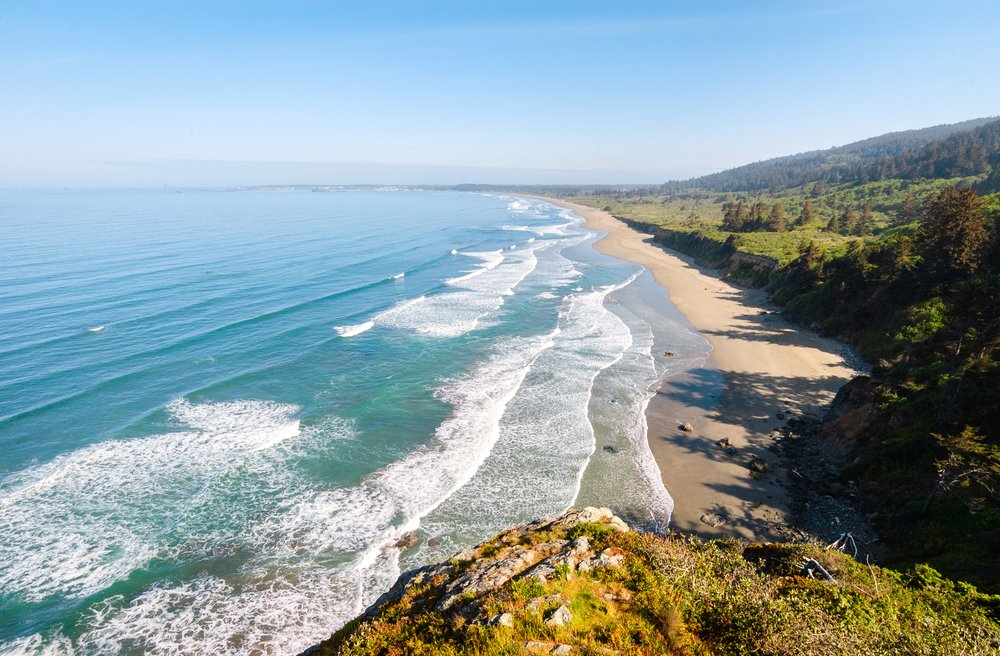 Not to be confused with Sequoia National Park further south, Redwood National & State Parks are a series of protected lands which can be found in the far north of California not far from the border with Oregon.
While it covers many redwood forests and is home to Hyperion, the tallest redwood tree on the planet (whose location is kept secret to avoid damage), Redwood National Park also is home to miles and miles of beautiful rugged California coastline.
Other points of interest within the parks system include Fern Canyon, Lady Bird Johnson Grove Trail, Rockefeller Forest, and Prairie Creek.
Death Valley National Park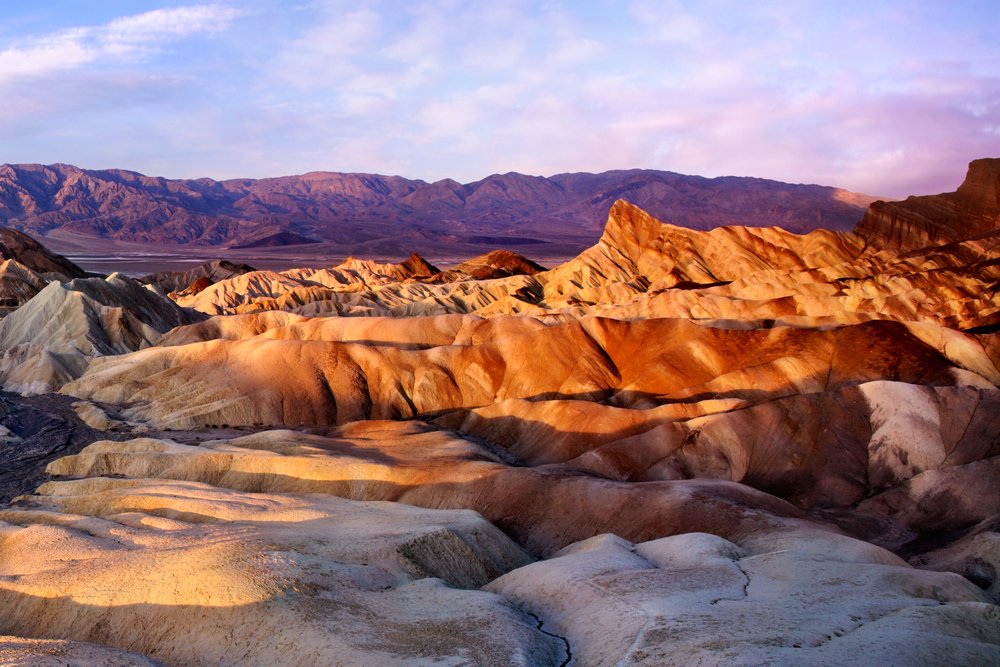 Death Valley National Park is a place of extremes: home to the hottest temperature ever recorded (Furnace Creek) as well as the lowest point in all of North America (Badwater Basin).
But it's also a place of supreme beauty, as places like Zabriskie Point, Ubehebe Crater, Mesquite Flats Sand Dunes, and Telescope Peak all vying for position as some of the most beautiful places in Death Valley National Park.
Joshua Tree National Park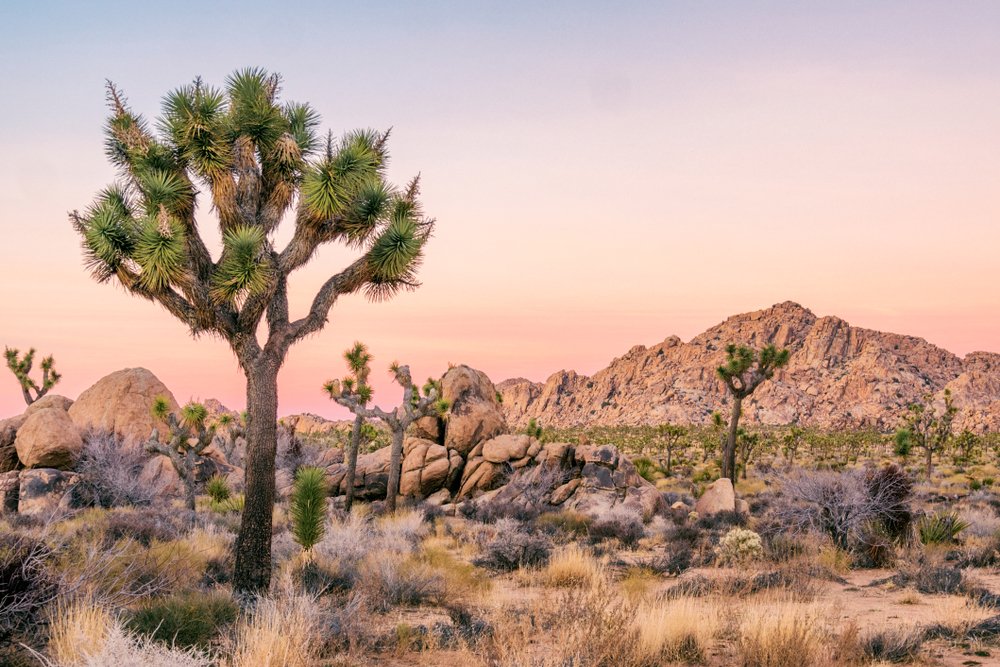 These curious Dr. Seussian Joshua trees dot the landscape all over this national park, and the Mojave Desert is the only place on Earth you can find this unique tree.
But Joshua Tree has plenty to see beyond its eponymous trees: the Cholla Cactus Garden, Skull Rock, Keys View, Keys Ranch, and other interesting old mining sites which add a historical element to your national park travel.
Crater Lake National Park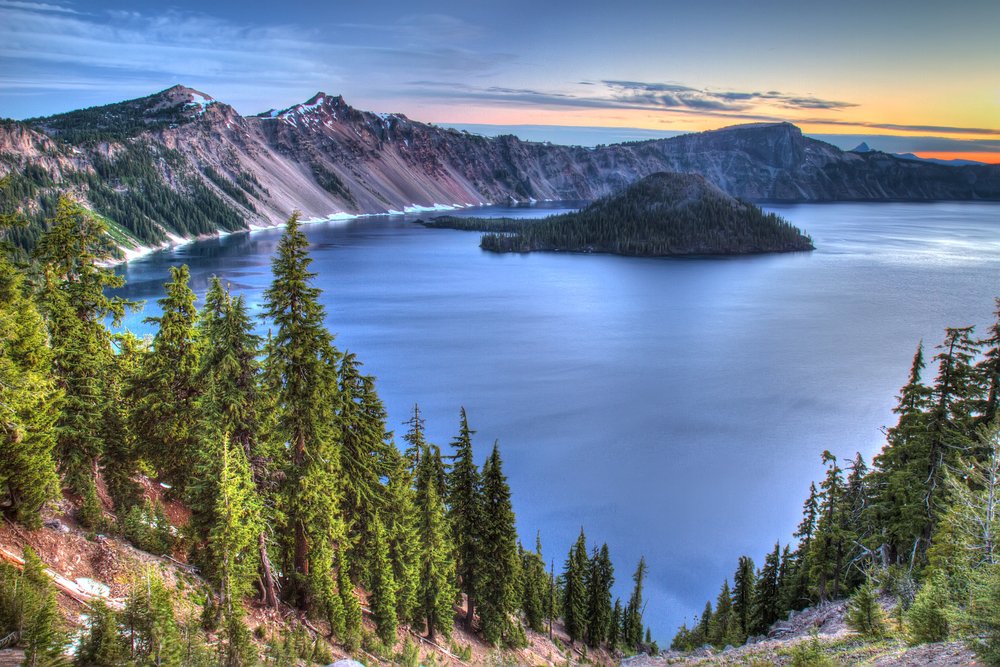 Crater Lake in Oregon is the deepest lake in the entire United States, at a depth of 1,943 feet [592 meters]. The water is so crystalline, you can see a hundred feet deep or more.
The lake is a caldera, the relic of a former volcano, and there are numerous incredible trails around the volcanic landscape. One of the prettiest is The Watchman trail; Garfield Peak and Lightning Spring are also lovely hikes.
Olympic National Park
Located along the wild landscape of Washington's Pacific coast Olympic Peninsula, Olympic National Park is a true stunner, with Ruby Beach being one of its most iconic sights.
Hikers will love Hurricane Ridge and the challenging hike up to Mount Olympus, as well as the beautiful Hoh Rainforest — one of the only rainforests in the United States. Lake Crescent and Olympic National Forest are also stunning points of interest.
Mount Rainier National Park
Mount Rainier is technically an active volcano, and while Yellowstone gets far more attention, geologists actually think Mount Rainier to be the one to keep their eyes on. While it hasn't had a true explosion in over a thousand years, it's still very much active and will eventually roar to life again.
But if that doesn't scare you off (and it shouldn't!) Mount Rainier National Park is one of the most exquisite national parks along the West Coast and an iconic part of the Pacific Northwest landscape. Be sure to check out Narada Falls and Christine Falls for some beautiful waterfalls, Mowich and Tipsoo Lakes for relaxing scenery, and Chinook Pass for a drive with epic views.
USA National Parks Bucket List: Southwest
Zion National Park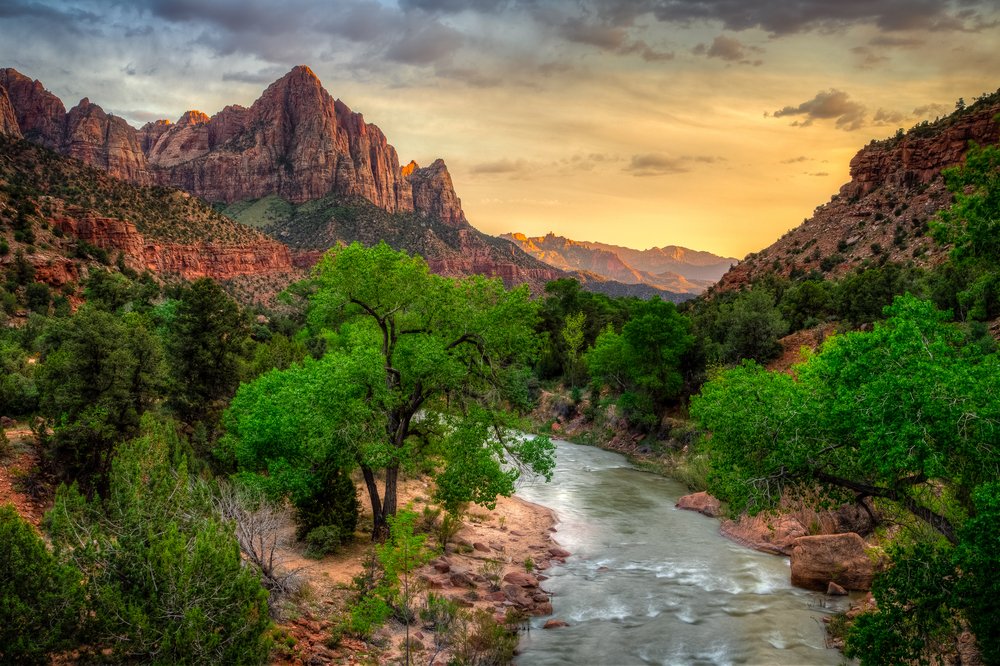 Zion National Park is one of the most famous national parks in the United States for good reason. It's home to two of the most famous American hikes, Angel's Landing and the Zion Narrows.
But Zion has several other hikes that are less sought-after and therefore less busy. The Watchman trail is exquisite and offers beautiful views of the Watchman mountain, whereas Observation Point offers sweeping views similar to Angel's Landing but without the crowds.
Bryce Canyon National Park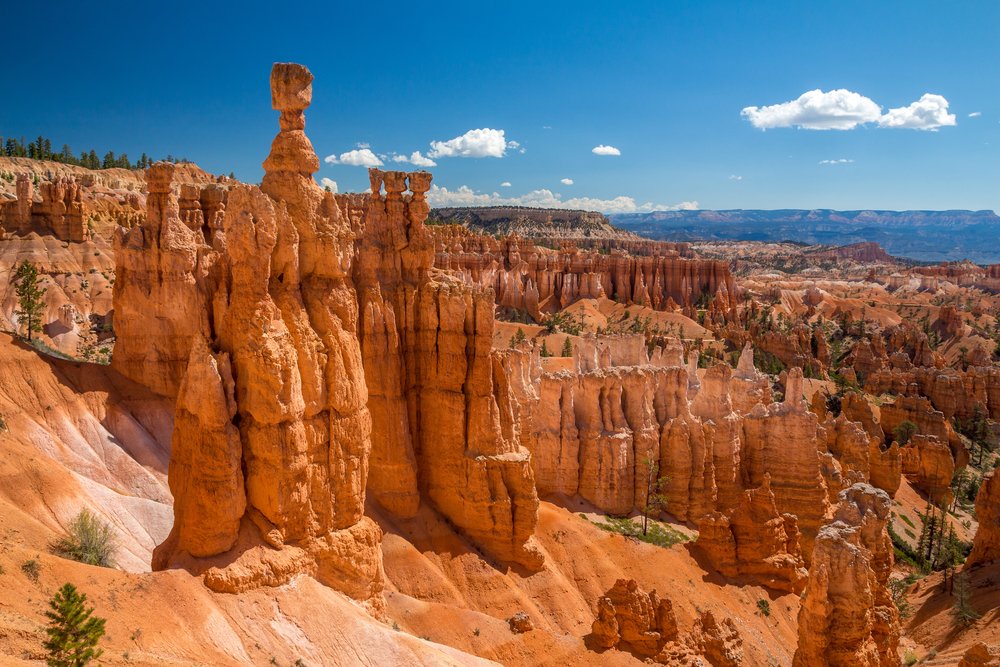 Known for its hoodos, eroded rock columns also delightfully called "fairy chimneys," Bryce Canyon National Park is a marvel. The hoodoos of Bryce are unique and the high-elevation climate offers a cool break compared to some other Utah national parks which tend to be a lot hotter.
The Navajo Loop trail in Bryce is extremely popular and with good reason — you'll walk past some of the scenic stretches of hoodoos you can imagine, and the hike isn't too difficult. Other excellent hikes are the Queens Garden Trail, the Rim Trail, and Fairyland Loop Trail. Be sure to check out Sunrise Point for sweeping sunrise views if you can handle the early wake up call!
Arches National Park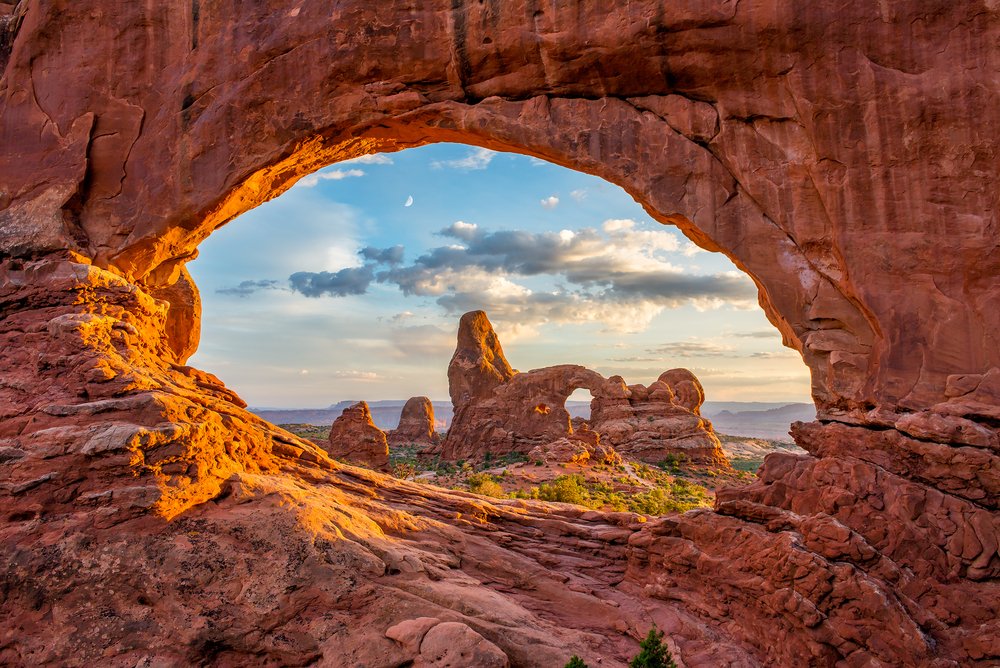 Arches National Park is best known for Delicate Arch, but that's one in over two thousand natural stone arches you'll find in this national park!
Other arches worth noting are Landscape Arch, Double Arch, Navajo Arch, and Turret Arch. But beyond these arches, there are also some other interesting sights, such as Balanced Rock, Devils Garden, Courthouse Towers, and the Three Gossips.
Grand Canyon National Park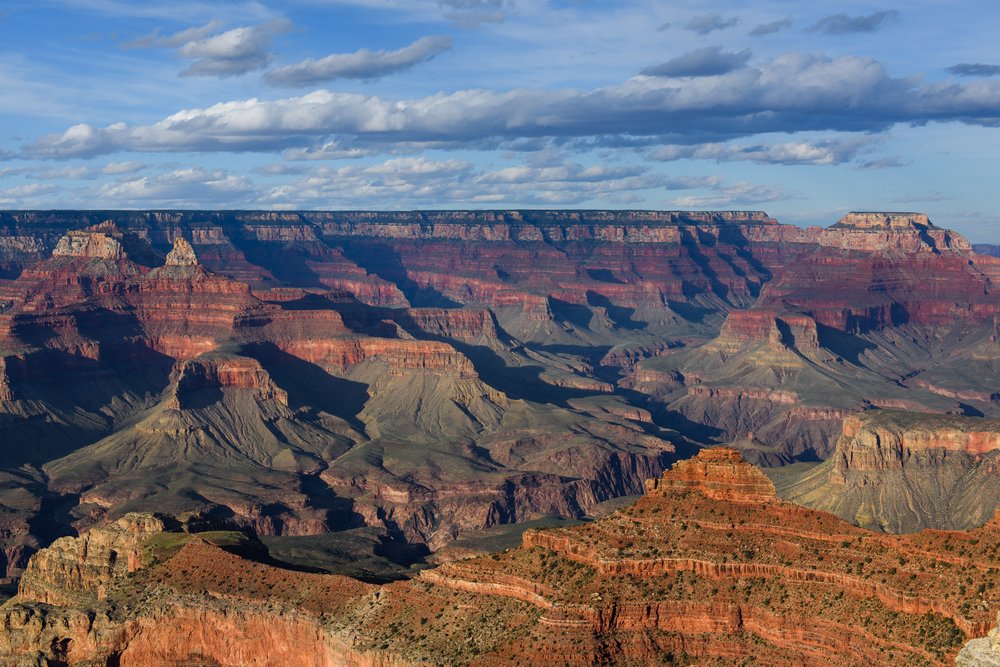 Nowhere boasts more exquisite landscapes ore more superlatives than the Grand Canyon.
It's the largest canyon in the world. We're talking average depths of 1 mile straight down, and a massive volume of over 4.17 trillion cubic meters. There are so many incredible places and vantage points to look out over the Grand Canyon, but the most popular are the often-crowded South Rim and the lesser-visited North Rim.
Do note that the North Rim is more difficult to access and definitely not advisable in inclement weather.
A few things to do when in the Grand Canyon: catch the sunrise at Mather Point, walk the Trail of Time, hike a portion of the Rim Trail, and visit the lovely Hopi House to peruse and buy jewelry made from the Grand Canyon's original inhabitants, the Native Hopi people, who were displaced from the land.
Saguaro National Park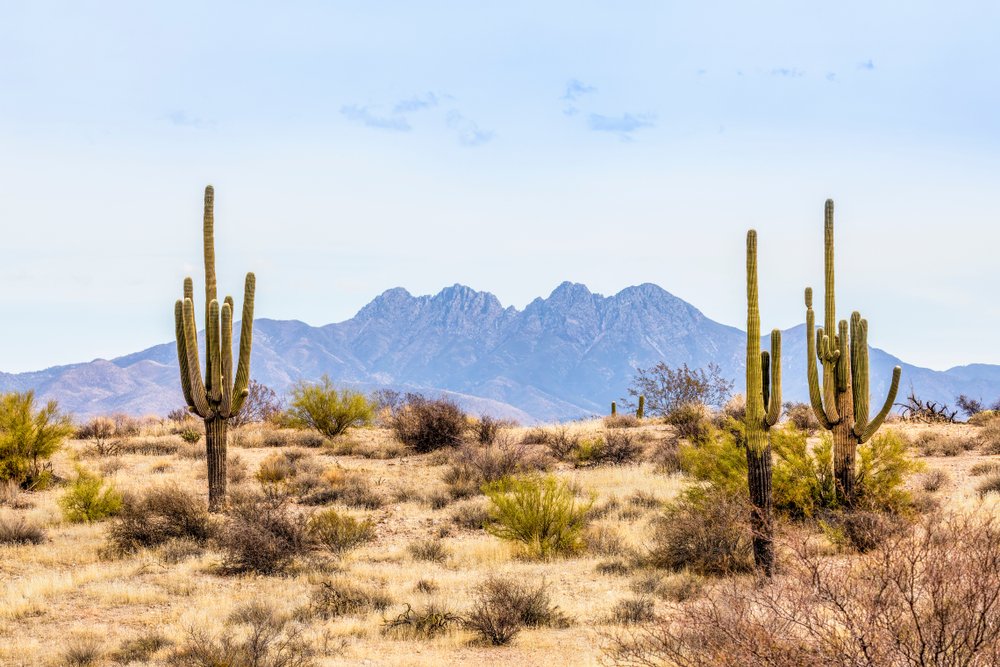 For some of the most serene desert landscapes in all of America, you'll have to visit Saguaro National Park in Arizona.
Unlike Death Valley, which encompasses desert but has much more extreme landscapes like the Badwater Basin and Mesquite Dunes, Saguaro National Park is more of a traditional desert landscape marked wtih plenty of beautiful cacti, particularly the namesake Saguaro cactus.
Saguaro are particularly interesting flora. They often grow to 40 feet tall (12 meters), live more than 150 years on average, and they can store enough water in their structure to weigh between 3,000-5,800 pounds (that's 1,500 and 2,200 kg for you metric folk). These plants are only found in Arizona and a small tidbit of Mexico, so they're well worth seeking out.
Besides the eponymous Saguaro cacti for which the U.S. national park is named, you can hike or drive the scenic Gates Pass, visit the informative Visitor Center at Rincon Mountain, walk the trails of Tucson Mountain Park, and visit the excellent Arizona-Sonora Desert Museum to learn more about this unique landscape.
Great Basin National Park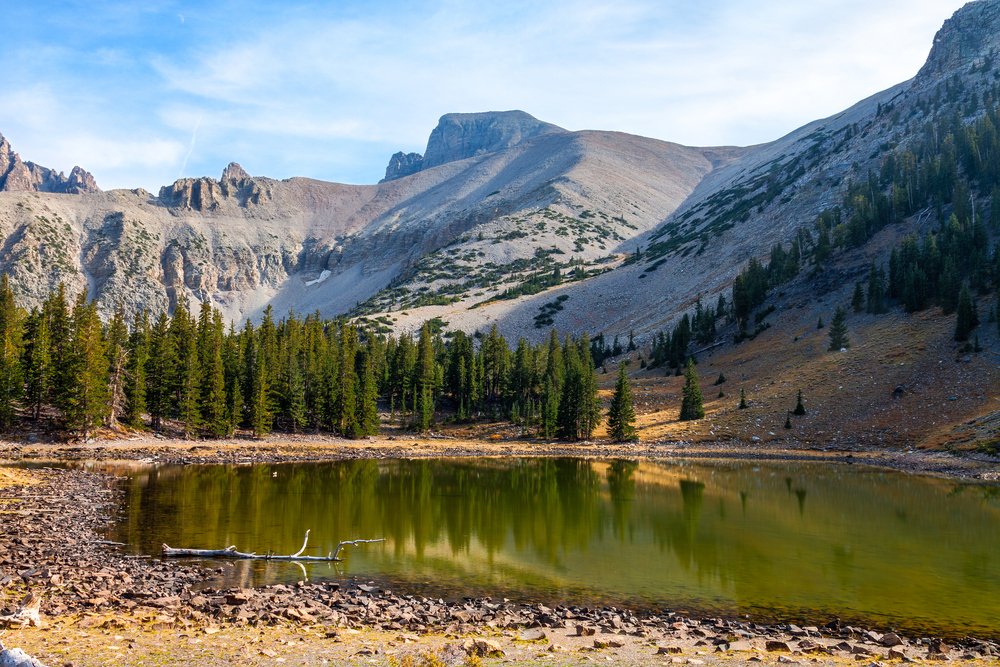 This Nevada national park is often overlooked by its more famous national parks to the west and east. I mean, when you're surrounded by Yosemite and one side and the Mighty 5 in Utah on another, it's quite easy to get lost in the shuffle.
But the relatively unpopularity of Great Basin National Park works well to your advantage as a tourist exploring the U.S. National Park system, as you'll rarely encounter issues with overcrowding or parking as you will with other national parks like Zion, Arches, or Yosemite.
A few of the best things to see in Great Basin National Park include the following: hiking the massive Wheeler Peak with an altitude of over 13,000 feet (not for the uninitiated hikers), exploring the magical Lehman Cave system, visiting the marvelous Rock Glacier, relaxing on Stella Lake (where you can hike the Alpine Loop trail, featured in the image above), and driving through scenery like the Wheeler Peak Scenic Drive.
Carlsbad Caverns National Park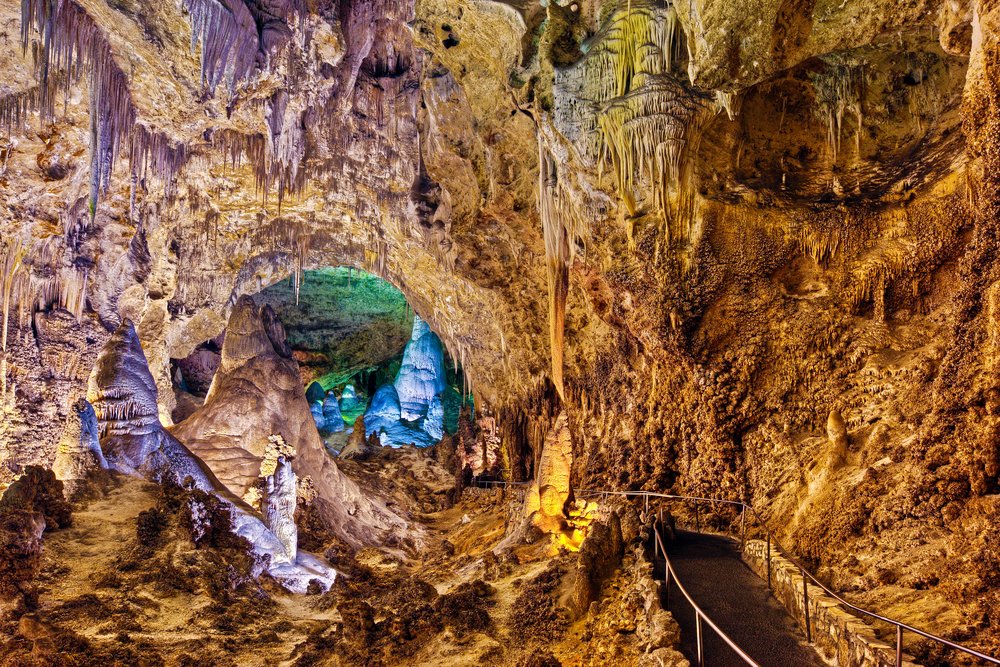 The Carlsbad Caverns are a USA National Park unlike any other, as most of its most interesting sights are, well, underground!
Deep in the Chihuahuan Desert located in the south of New Mexico, not far from the Mexican border, this national park in the USA is home to a record-defying 100 cave systems, many of which have been made safely accessible for tourists.
The most famous part of these caverns is the Big Room, a massive underground chamber full of incredible stalagmites and stalactites shaped by the millennia.
But Carlsbad Caverns is more than just a bunch of incredible caves. Here, you'll also find Walnut Canyon Desert Loop, an incredible scenic drive in the resert, and you'll also be able to find a wildlife viewing paradise at Rattlesnake Springs, which despite its ominous name is a mecca for birdwatching.
USA National Parks Bucket List: Mountain West
Yellowstone National Park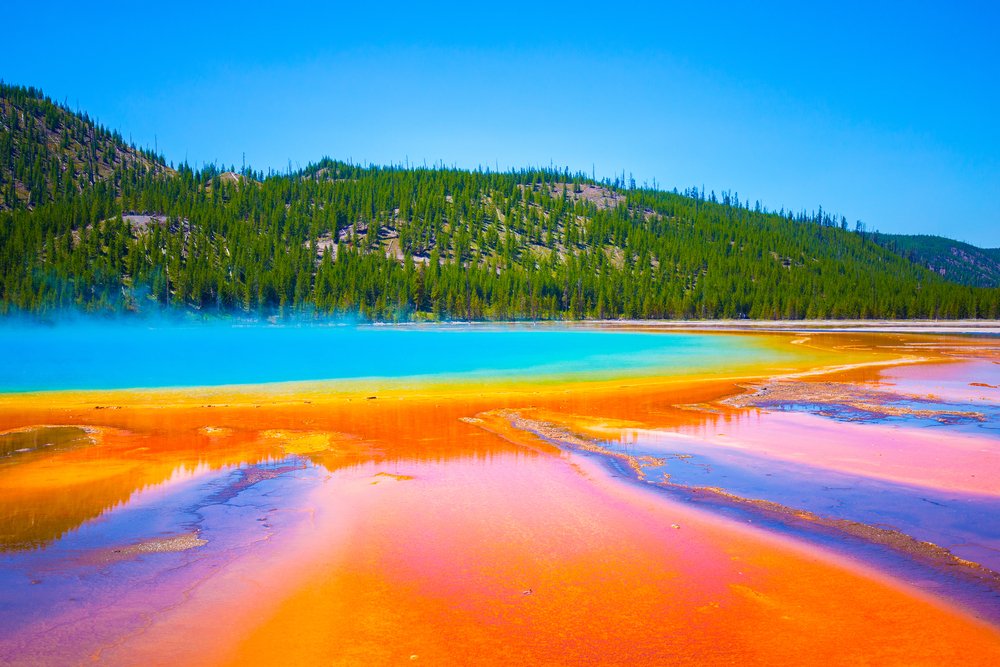 Easily the most famous National Park in the United States, Yellowstone National Park takes up space at the intersection of 3 states. While 96% of the park is located in Wyoming, a small part of the park can also be found in neighboring Idaho and Montana.
Famous for its technicolor hot springs, particularly the Grand Prismatic Spring and Old Faithful geyser, Yellowstone also has a wealth of other springs, hikes, canyons, and landmarks worth planning a trip around.
For those planning a Yellowstone trip, I have an excellent 2-day itinerary that covers all the best things to see in Yellowstone.
To quickly summarize the other sites, you'll definitely want to prioritize these as well as the main draws to Yellowstone: Fountain Paint Pots, which is less crowded than Grand Prismatic Spring but no less cool, West Thumb Geyser Basin (another incredible hot spring), Grand Canyon of the Yellowstone, scenic waterfalls at Lower Falls and Gibbon Falls, and Mammoth Hot Springs, just to name a few of the many things to do in Yewllostone.
Grand Teton National Park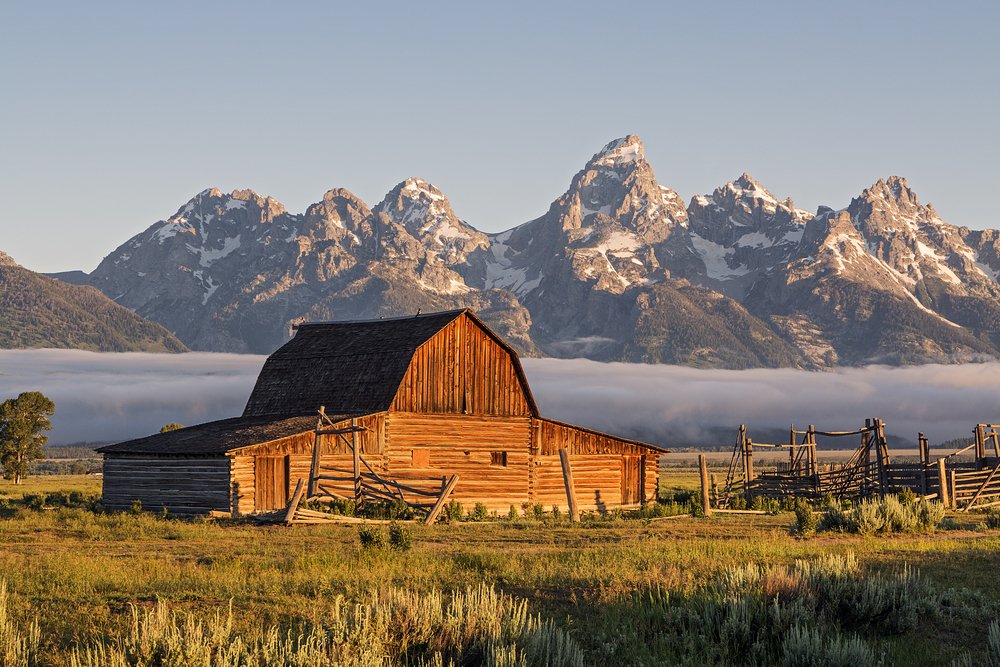 Not far from Yellowstone — literally, 30 miles away — is Grand Teton National Park. Unless time is incredibly short, I highly recommend combining both a trip to Yellowstone and Grand Teton National Park simultaneously. Where else can you find so much beauty compiled in one small stretch of land?
The Grand Teton National Park is lesser-known that Yellowstone so you can expect fewer crowds; however, due to its proximity, it's still rather popular, so that's not to say crowds won't be there!
A few of the most epic things to see in Grand Teton National Park are as follows: National Elk Refuge just outside the national park, Moose Junction for epic views over the Snake River, the glacial Taggart Lake, the serene Jenny Lake, the peaceful String Lake, and the lovely offbeat Christian Pond Loop trail.
I have a 2-day itinerary for this national park, written by a local expert, which you can find linked above.
Glacier National Park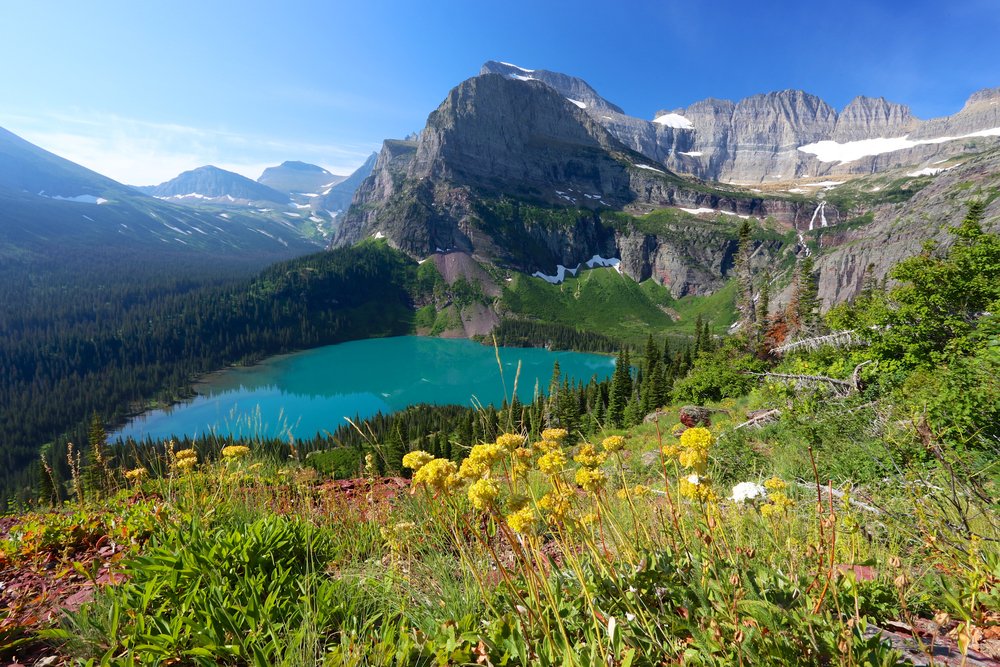 This epic Montana National Park is one of the most scenic national parks in all of America. You'll find mountains, glaciers, incredible hikes, and so many Instagrammable spots your camera may just overheat.
I've gathered all the best things to do in Glacier National Park into an easy-to-follow 2-day itinerary, but I'll summarize the best things to do there here as well.
First up is Many Glacier, a starting point for many visitors to this pristine national park and one of the most incredible places in the US. Epic lakes also abound in Glacier National Park, the most impressive of which are Grinnell Lake, Lake Sherburne, Saint Mary, and the too-beautiful-to-be-real Avalanche Lake.
Trails of interest include the Grinnell Lake Trail, Swiftcurrent Pass Trail, Rising Sun Trail, Sun Point Nature Trail, and the Trail of Cedars Nature Trail.
Rocky Mountain National Park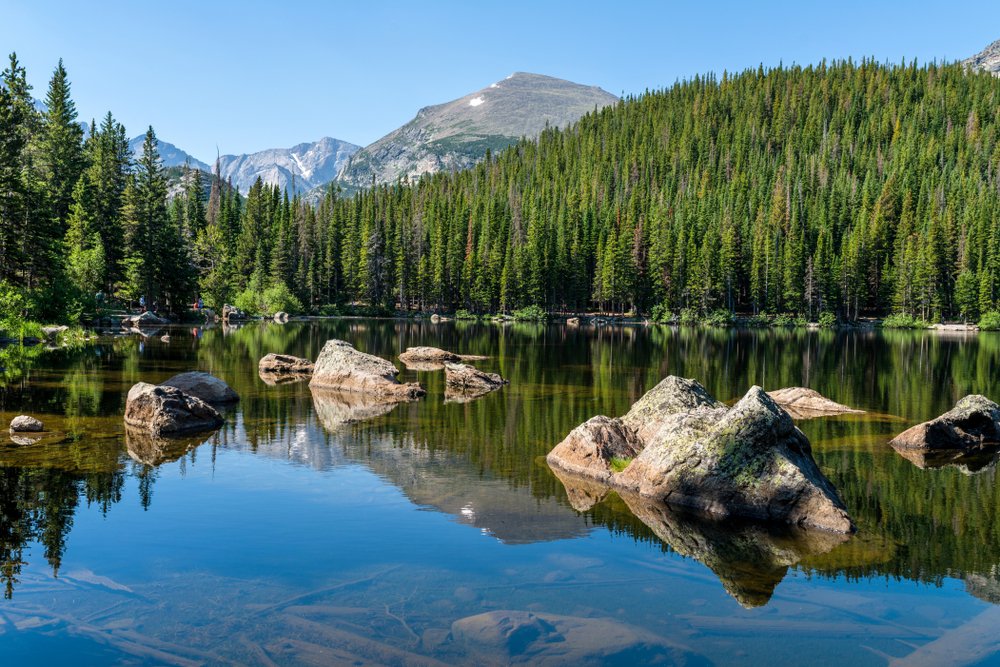 Colorado is synonymous with the Rocky Mountains, and therefore, a visit to Rocky Mountain National Park is simply a must-do when visiting Colorado.
A few must-see spots in Rocky Mountain National park include: Bear Lake, Sky Pond, Trail Ridge Road, Glacier Gorge, Sprague Lake, the Mummy Range, and so much more.
Wildlife include elk, bighorn sheep, moose, many types of deer, coyotes, bobcats, and two types of bears — so it's a wonderful place for wildlife photographers (though of course, be extremely cautious especially with more aggressive wild animals).
Visit in the fall to see the beautiful aspens turn vibrant yellow for fall colors like you've never seen before!
Mesa Verde National Park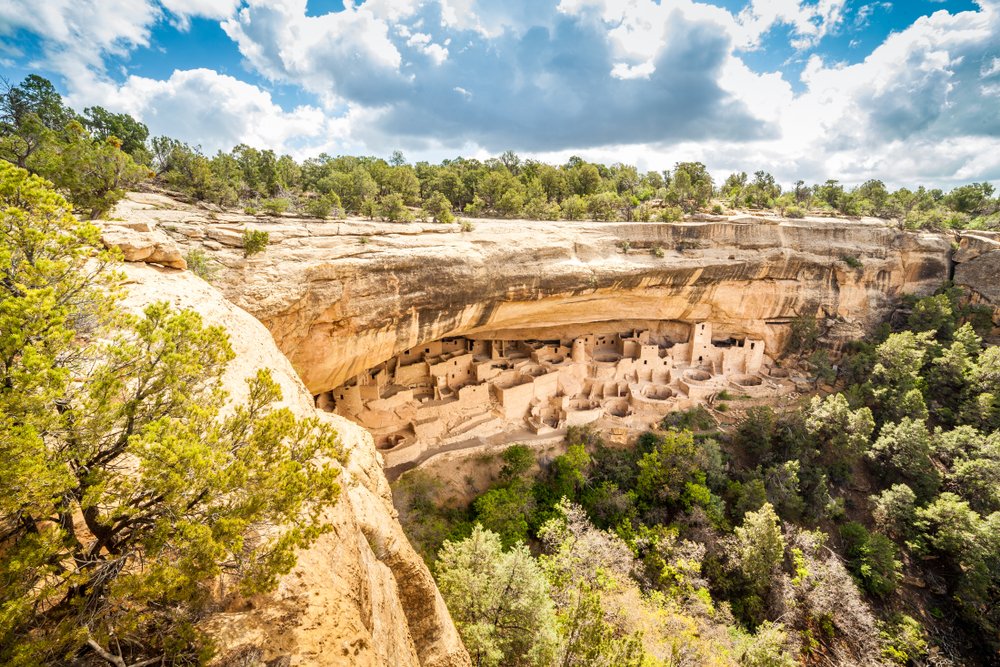 While lesser-known than some of Colorado's other national parks, Mesa Verde National Park is extremely interesting and worth a visit because it has some of the best preserved Native American dwellings in all of the United States.
These stunning ancestral Puebloan cliff houses, and in particular the exceedingly impressive Cliff Palace, make this US national park wildly different than many of the other national parks which tend to focus on nature over history or culture.
Other sides worth seeing in Mesa Verde National Park include the stunning canyon views from Sun Point Overlook, incredible rock carvings which can be found along the Petroglyph Point Trail, and the Soda Canyon Overlook trail.
USA National Parks Bucket List: The Midwest
Badlands National Park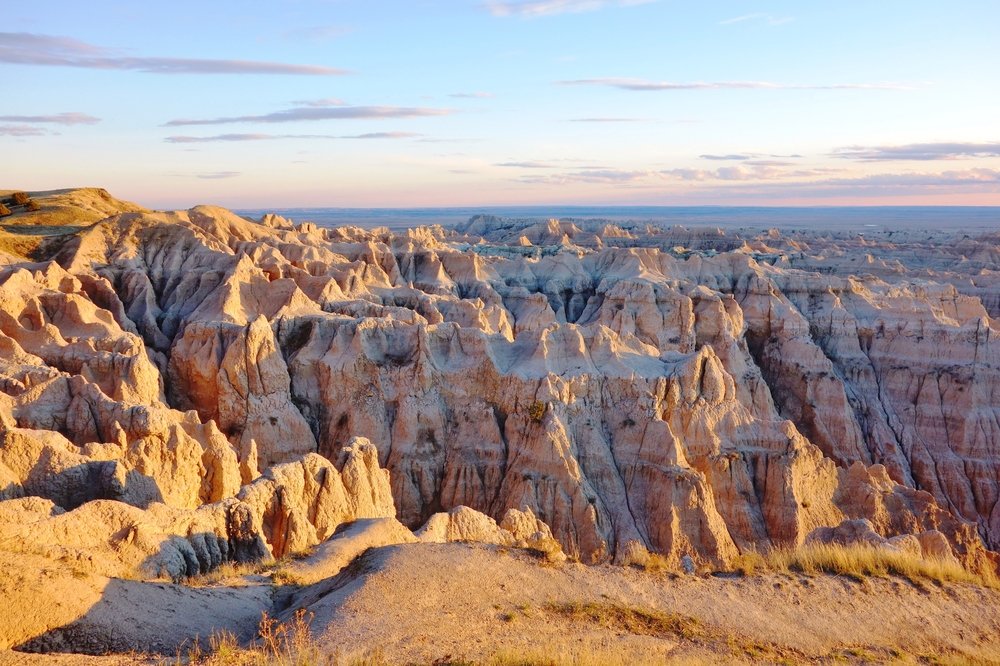 I'll be honest, South Dakota was never high on my USA travel bucket list… until I discovered Badlands National Park on Instagram. This slice of the Southwest is located in a discrete corner of South Dakota, and it's not widely known outside of the immediate area — making it an incredible place for distanced visits.
This national park in the US is home to some of the best-preserved fossil beds in the world. Today, it's home to incredible wildlife like bison, pronghorn, bighorn sheep, prairie dogs, and the adorable but endangered black-footed ferrets.
In terms of scenery, you're in for a treat: the Notch Trail is exquisite, as is the Pinnacles overlook, the Big Badlands overlook, and the colorful Yellow Mounds overlook. Another interesting spot is the Minuteman Missile Visitor Center, which hosts a Cold War-era exhibit.
Indiana Dunes National Park
This national park in Indiana is little-known but rather unique, as it looks like a Caribbean-style beach but is actually on the banks of Lake Michigan, not far from Chicago — just a 1 hour drive. It's also the newest national park in the USA.
It's home to rolling sand dunes, as the name would anticipate, as well as plentiful bird life along its 15 miles of shore-hugging coastline. It's a rather small national park in the US, comparatively, with a mere 15,000 acres, but within it it holds 15 miles of incredible trails to immerse yourself in nature close by the city.
Landscapes include wetlands, sand dunes, prairies, shoreline, rivers, and forests, all in a small stretch of national park. It has some of the greatest biodiversity in the USA (the 7th best in terms of 400+ National Park Service designated locations), and it sees as many visitors as Mount Rushmore!
It's most interesting sights are Mount Baldy, a massive sand dune, the Dune Ridge trail, the Great Marsh, and the West Beach 3-Loop Trail.
Isle Royale National Park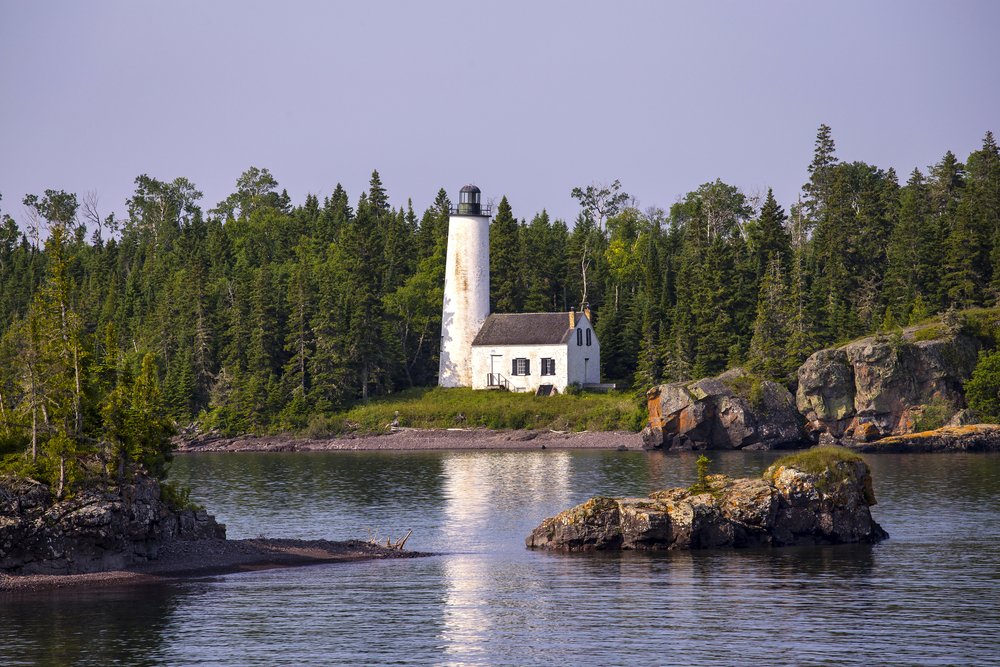 This stunning Michigan U.S. National Park is located in a quiet part of the state, located on an island in Lake Superior right on the border with Canada. Its remote location in the middle of the lake make it one of the lesser-visited national parks in the USA, but that doesn't mean you should skip it!
The whole island is entirely car-free and extremely peaceful, with plenty of peace and quiet for wolf and moose to roam free and undisturbed by civilization.
There are some great trails for hikers, such as the Greenstone Ridge Trail where you can walk from Windigo Harbor to Rock Harbor along beautiful scenic overlooks. The incredible Rock Harbor lighthouse is an icon of the island and definitely worth a look.
But a lot of the interesting places in this national park are actually under the water! If you're PADI-certified, there are some really interesting wreck dives worth your time.
Voyageurs National Park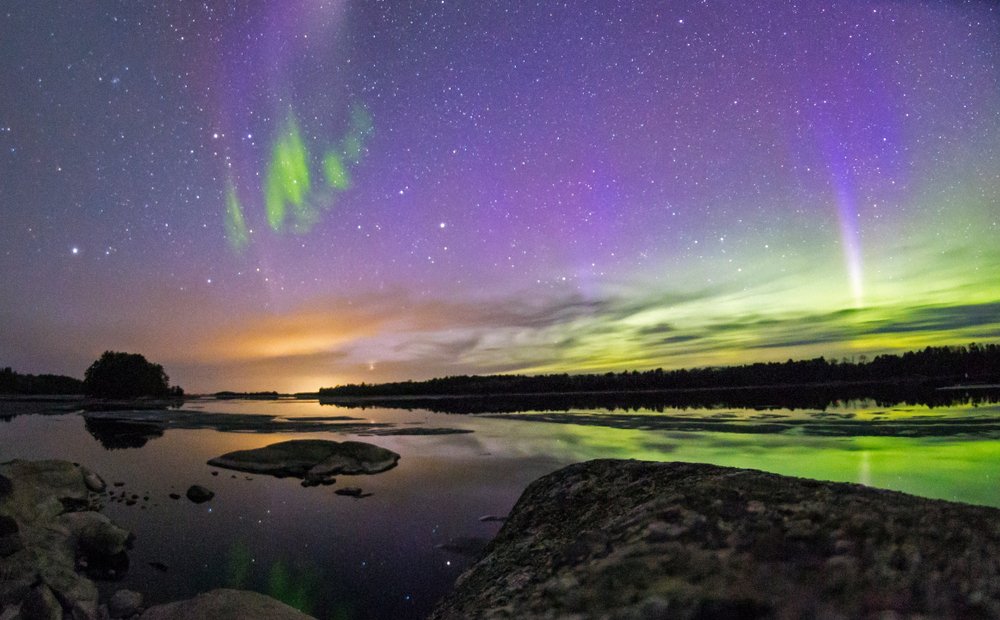 Located near the Canadian border, Voyageurs National Park in Minnesota is one of a few rare places in the continental United States where, on strong solar activity nights, you can actually see the Northern lights dance overhead!
Of course, you need a lot of luck and a strong solar storm, but it's still pretty cool that you can see the Northern lights without needing to leave the lower 48.
Other reasons to visit Voyageurs National Park include three of its beautiful lakes: Rainy, Kabetogama, and Namakan, which all have cute islands dotting the middle of the lakes.
There are also the Ellsworth Rock Gardens, built by the abstract artist Jack Ellsworth, which merges nature and culture in an organic way. The Kettle Falls are also a stunning photography spot located in the national park proper.
USA National Parks Bucket List: The South
Big Bend National Park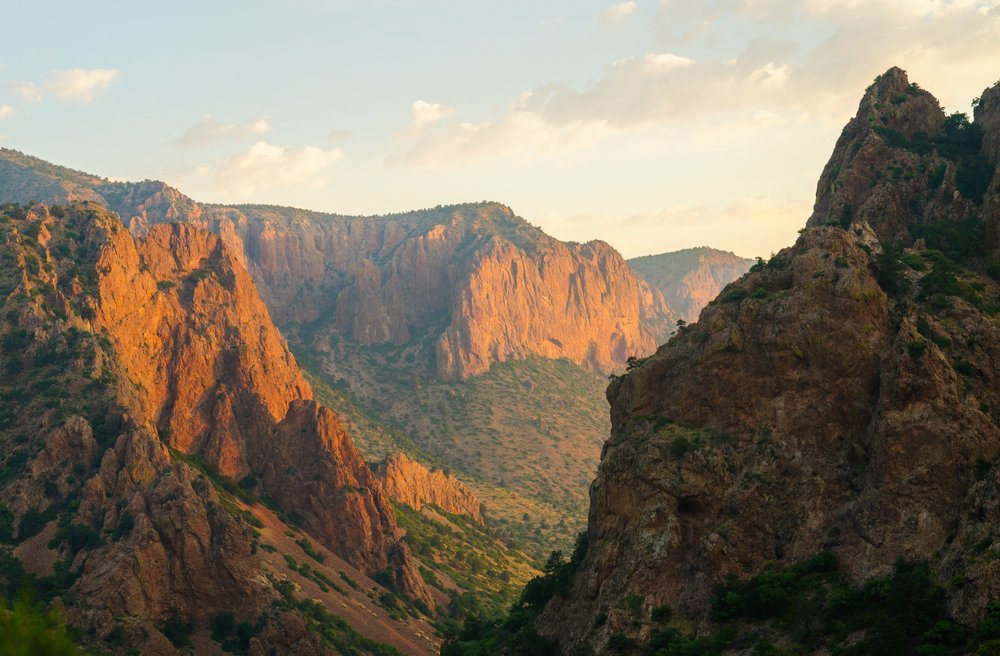 Grand Canyon? Nope, this is Big Bend in Texas: particularly, the Chisos Mountains.
There are countless places worth a visit in this epic Texas US National Park, so we'll limit it to a few here. Some of the must-visit places in Big Bend are as follows: Emory Peak, Santa Elena Canyon, the beautiful Lost Mine Trail, the South Rim Trail, and Boquillas Canyon.
There are also hot springs worth soaking in, scenic drives like Ross Maxwell Scenic Drive if hiking isn't your speed, museums like the Fossil Discovery Exhibit, and epic sunset views at The Window.
Guadalupe Mountains National Park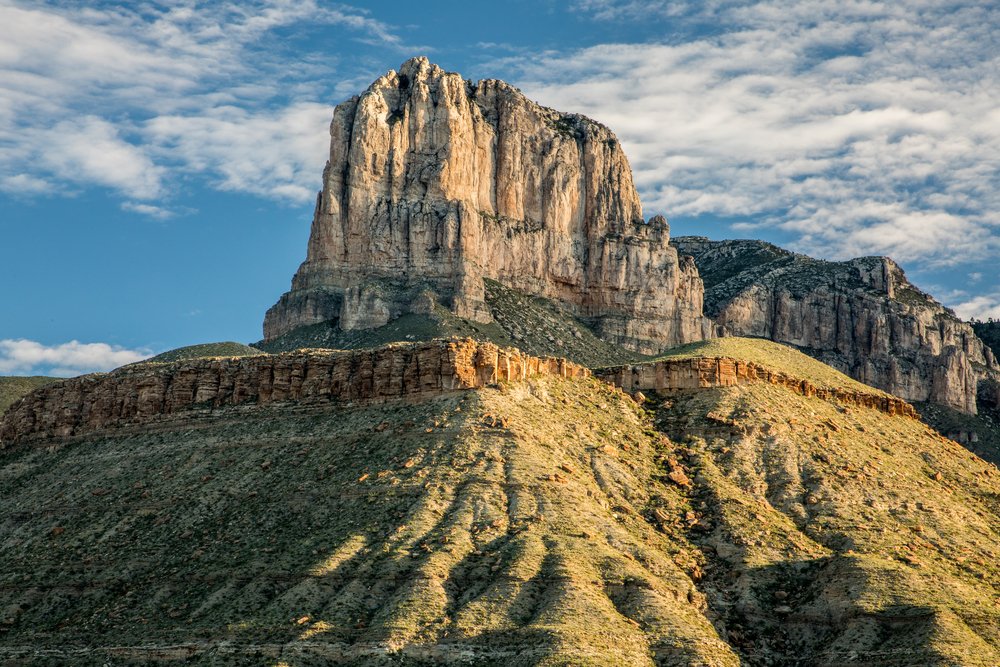 This other national park in Texas, Guadalupe Mountains National Park, offers quite a diversity in landscapes compared to Big Bend, so even though they're in the same state you can expect quite a difference between these two national parks.
The most famous site in Guadalupe Mountains National Park is the rock formation El Capitan (pictured), an imposing rock structure in the heart of the park.
Some incredible trails to seek out in the park include: Mckittrick Canyon (best in fall, with incredible fall colors), Devil's Hall trail, Smith Spring trail, and the walk to the beautiful Salt Basin Dunes.
Biscayne National Park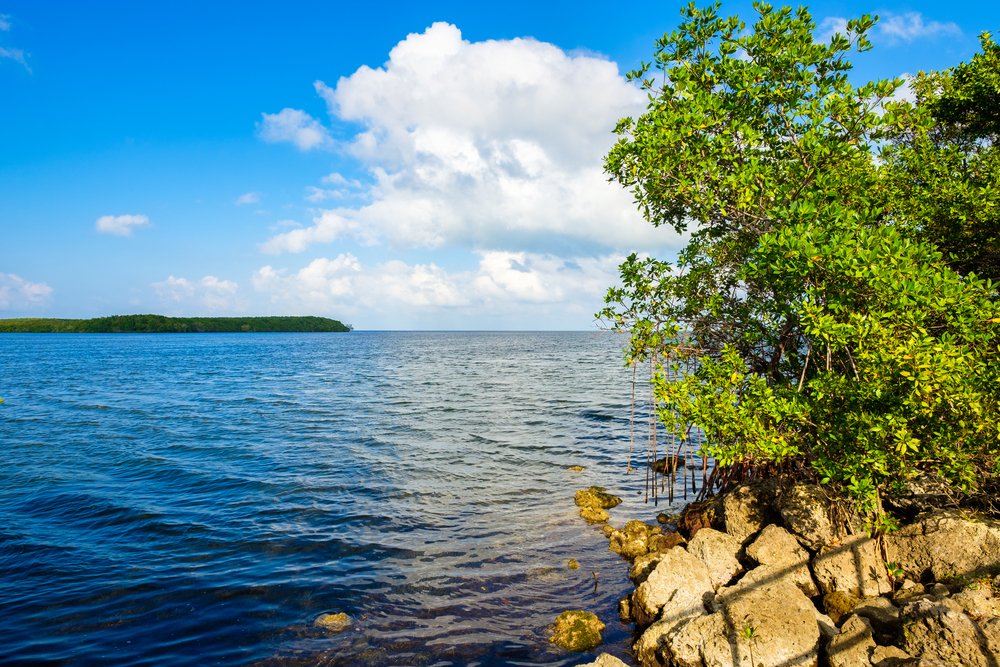 One of two national parks in the Florida Keys, Biscayne National Park is a land of beautiful blue waters with vibrant coral reefs undersea, as well as stunning shoreline mangrove forests. You can only access this National Park by boat, making it less crowded than many other national parks in the USA.
Wildlife here includes dolphins, sea turtles, pelicans, and all sorts of reef-dwelling fish. You'll also find incredible dive sites, many of them wreck dives for advanced divers. This national park spans nearly 175,000 acres which makes it the largest marine sanctuary in the country.
Several keys are worth a visit while in Biscayne NP, particularly Boca Chita (with its gorgeous lighthouse) and Virginia Key, but there are dozens of others also worth visiting.
Dry Tortugas National Park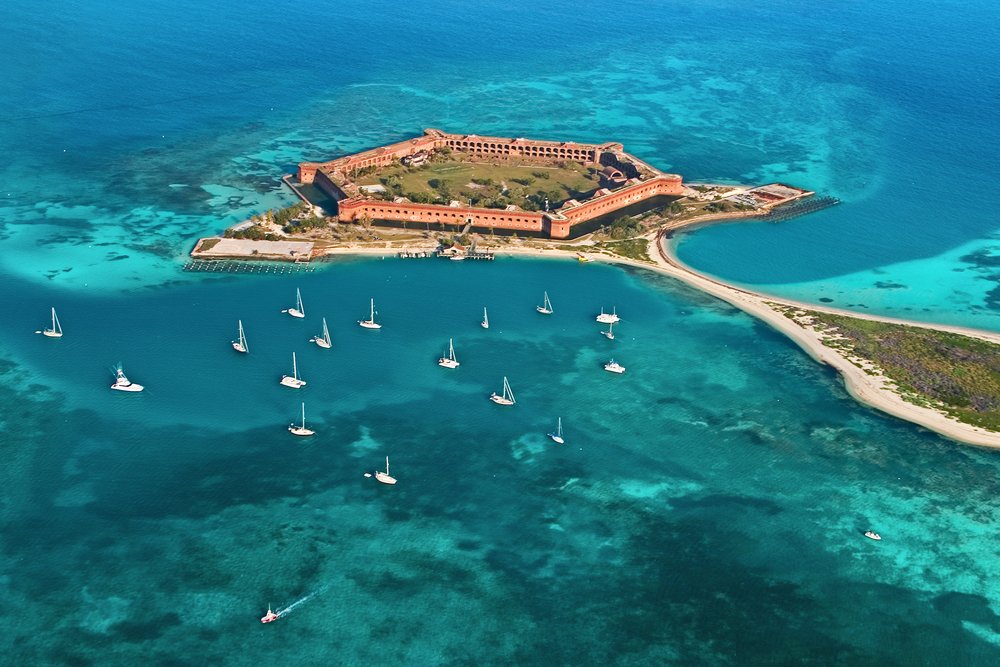 This is another epic National Park located just west of Key West, actually, not far from Cuba!
Dry Tortugas, as the name would suggest if you speak Spanish, is home to several turtles (particularly loggerhead turtles). There are many reefs available for diving, and Loggerhead Key has lots of incredible dive sites and snorkel spots for encountering marine life.
There are a few other keys (small coral islands) that make up the national park, though most of the interesting things in this natural park are actually below the surface! However, there are also lighthouses, an island fort, visitor centers to learn about this unique national park, and more to discover in this little-known national park.
Everglades National Park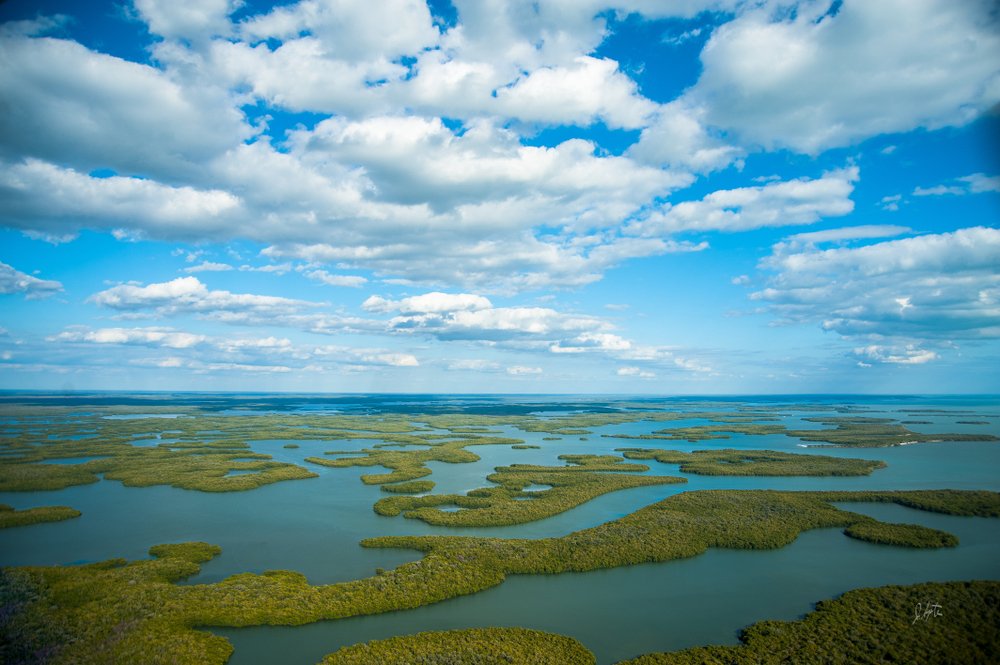 For many, the Everglades are synonymous with swamps and gators, but Everglades National Park is so much more than that! Just look at the Ten Thousands Islands (pictured above) and try to tell me you don't want to be there like, right now.
There's also the John Pennekamp Coral Reef State Park, where you can take a glass-bottom boat to see the incredible marine life from the dry comfort of a boat! Braver souls can snorkel or kayak.
There are also boardwalks where you can walk above the swamplands and see alligators chilling beneath your feet. Anhinga Trail is the largest boardwalk where you can walk above the swamp. There are also airboat tours where you can get swamp-level amongst gators for the brave amongst us!
Mammoth Cave National Park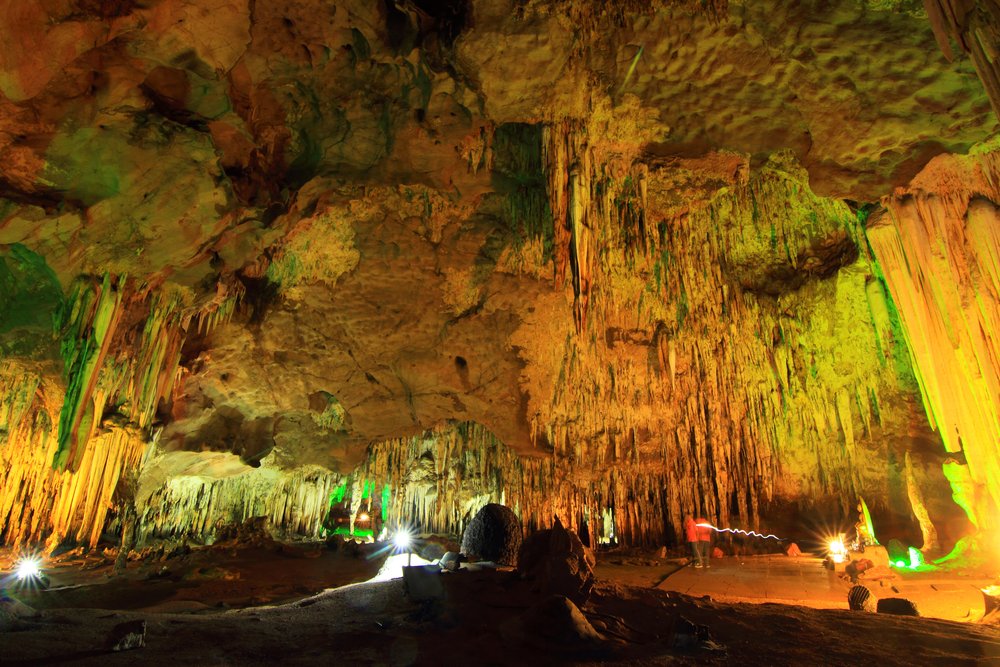 This beautiful Kentucky National Park will surprise you! It's home to the world's longest cave system, but it's also home to other surprises like beautiful rolling hills perfect for hiking and stunning valleys with rivers flowing through it.
You can't miss the obvious Diamond Caverns, but there are other things worth a visit while in this lesser-known USA national park.
Nolin Lake is a great place for relaxing after visiting the caves, and there are some excellent museums and visitor centers (especially the Mammoth Cave Wildlife Museum) which are worth a visit especially if you are traveling with family.
USA National Parks Bucket List: East Coast
Acadia National Park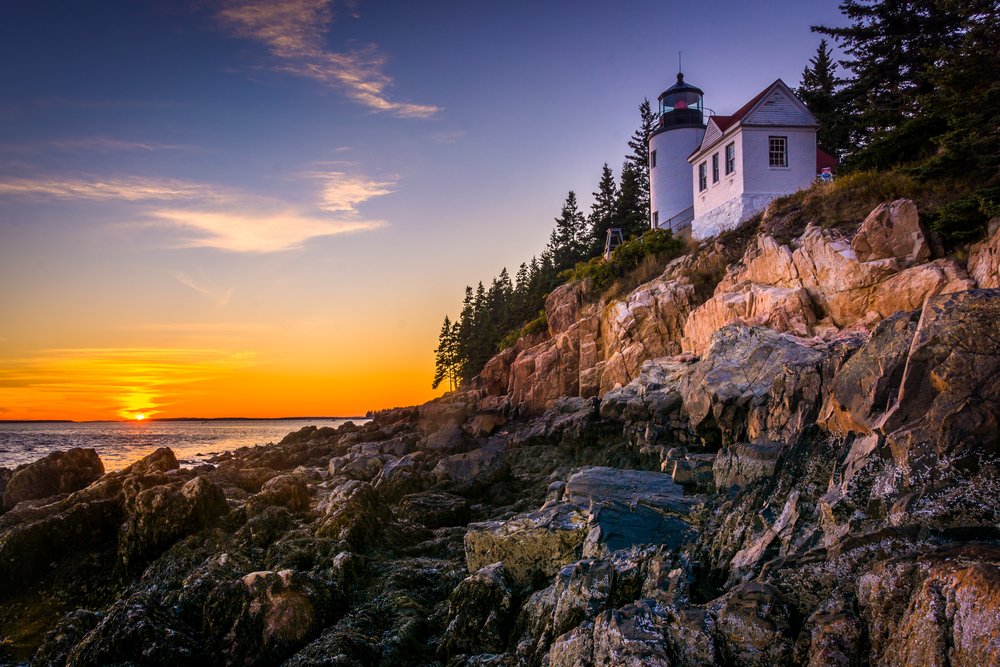 This Maine national park is one of the best national parks in the USA on the East Coast, hands down!
It has a lot of iconic photo spots, namely Bass Harbor Lighthouse (a phenomenal sunset spot), the still Jordan Pond, the rocky stretches of coastline, the North Bubble viewpoint, and the many photogenic bridges in the National Park.
Don't miss a hike to the top of Cadillac Mountain, the highest point on the East Coast — not for the faint of heart — and cool down and reward yourself with a relaxing day on the shore of Sand Beach, a Caribbean-blue beach you won't believe is in Maine.
Great Smoky Mountains National Park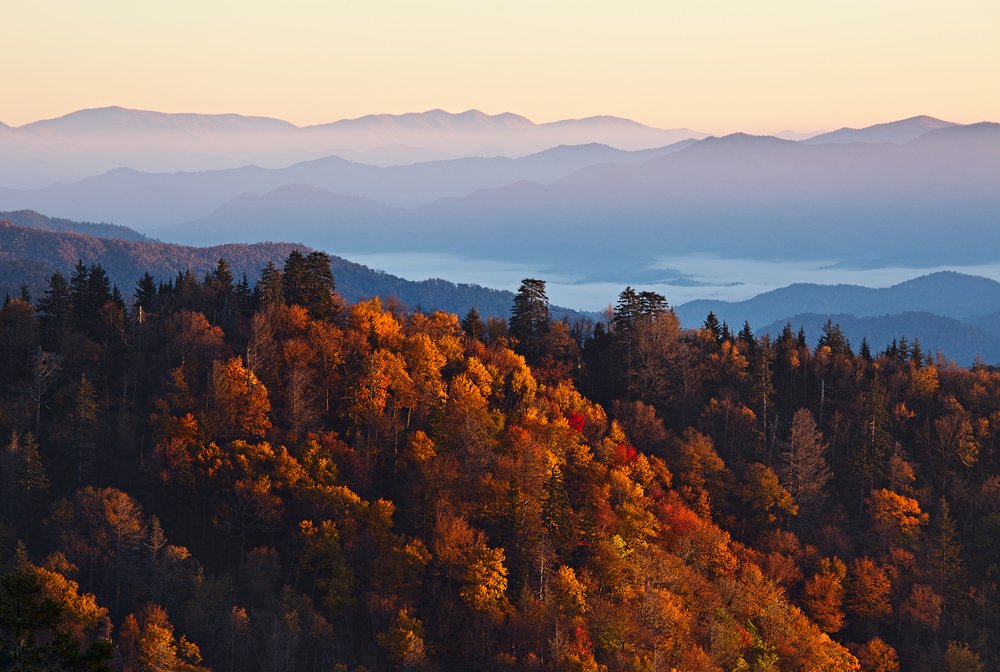 Without a doubt one of the best places for fall colors in the USA, this stunning park located between Tennessee and North Carolina is absolutely worth a fall trip.
But it's worth a trip any time of year, as there's plenty to do here year round. There are several unique points of interest in this park, namely, John Cable Grist Mill, Clingmans Dome, Cades Cove, Newfound Gap, and more. It's also the gateway to many hikes along the Appalachian Trail if you're up for a short or long thru-hike along this famous trail
For kids, they'll enjoy the Great Smoky Mountains Railroad and the unique Ripley's Aquarium of the Smokies.
Shenandoah National Park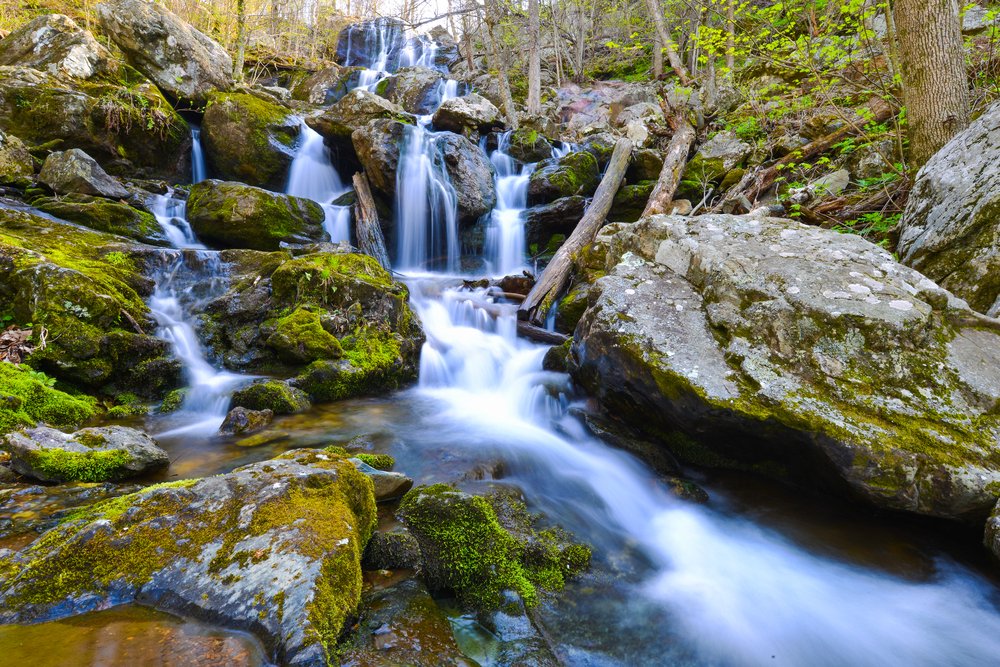 Stretching along the glorious Blue Ridge Mountains and Parkway, Shenandoah National Park — one of Virginia's national parks — includes sections of the Appalachian Trail as well as having one of the best drives in all of the USA, Skyline Drive.
Major points of interest include Dark Hollow Falls, hikes around Old Rag Mountain and Hawksbill Mountain, stretches of the Appalachian Trail, the Grand Caverns, and the Stony Man trail.
Pin This USA National Parks Bucket List!
Allison Green is a former educator turned travel blogger. She holds a Masters in Teaching and a B.A. in English and Creative Writing. Her blog posts merge her educational background and her experience traveling to 60+ countries to encourage thoughtful travel experiences that both educate and entertain. She has been a speaker at the World Travel Writers Conference and her writing, photography, and podcasting work has appeared in National Geographic, CNN Arabic, CBC Canada, and Forbes, amongst others. Now based in the San Francisco Bay Area where she grew up, she has also lived in Prague, Sofia, and New York City.