Breckenridge, Colorado is home to world-class skiing in the winter months and exceptional hiking in the summer.
In the summer, hiking in Breckenridge means beautiful views of the surrounding mountains, a myriad of wildflowers, and great forests to immerse yourself in. 
There is truly something for everyone in Breckenridge in the summertime. You can walk down Main Street, window shopping and eating delicious food, or you can dive into the vast trail network in the area.
There are over 100 different hiking trails in Breckenridge, Colorado. The five trails in Breck I will be talking about are a few of my favorites and offer a wide variety of terrain and scenery to enjoy.
A Note Before Hiking in Breckenridge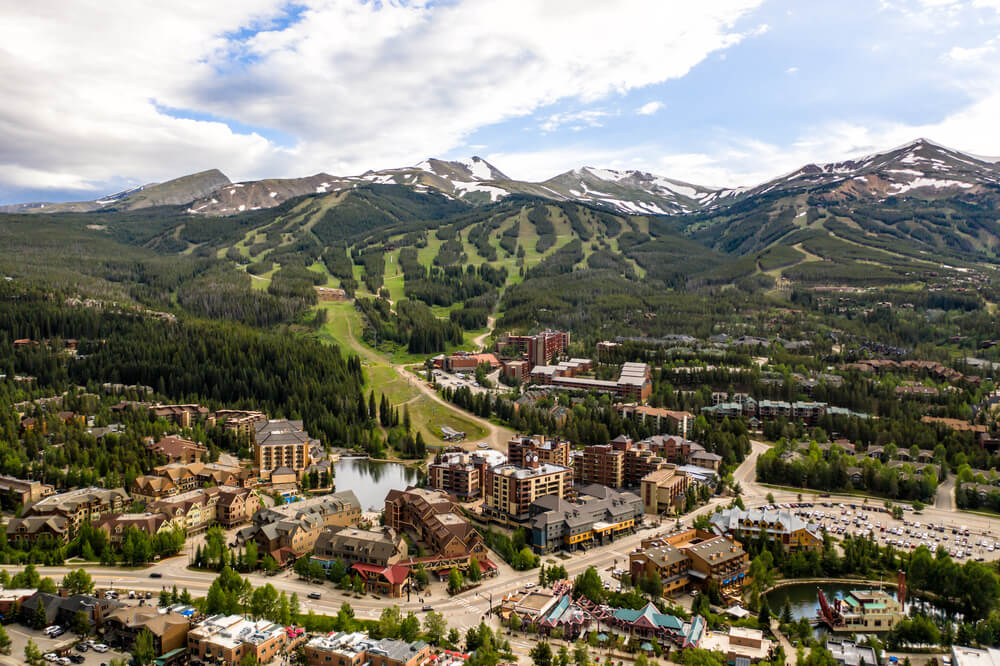 Note: This post contains affiliate links, which means I may receive a small commission if you purchase something through one of these links. Thank you for supporting the free content on this site! For more information on affiliate links and cookies, see my disclosure page for more details.
Hiking and mountain biking are very popular in and around town. Many trails in the summer do become very saturated with mountain bikers.
If you do find yourself on a trail with a ton of bikers make sure to stay alert, always listen for bikes and keep your eyes up.
If you are hiking and encounter bikers, it is always helpful for hikers to step off the trail and let the bikers through so they don't have to dismount, especially if the bikers are climbing.
The town of Breckenridge is located at an elevation of 9,600 feet. It is important to drink plenty of water in the days leading up to traveling into town as well as continue to hydrate when getting to town. 
Some signs of altitude sickness are headache, fatigue, and trouble breathing in adults.  For children, altitude sickness often manifests as a stomach ache. 
It is important to give yourself time to acclimate before pushing yourself on a challenging hike.
Make sure to bring plenty of water and snacks with you on the trails. It is helpful to carry a backpack on all of your hikes.
It is also extremely important to pack a few extra layers. The weather in the mountains can change extremely fast, and oftentimes it does not matter what your weather app says.  Be prepared for anything!
If you have some binoculars, I would pack them as well because there is no shortage of wildlife in this area.
Enjoy your trip!
The Best Hikes in Breckenridge
Bald Mountain Trail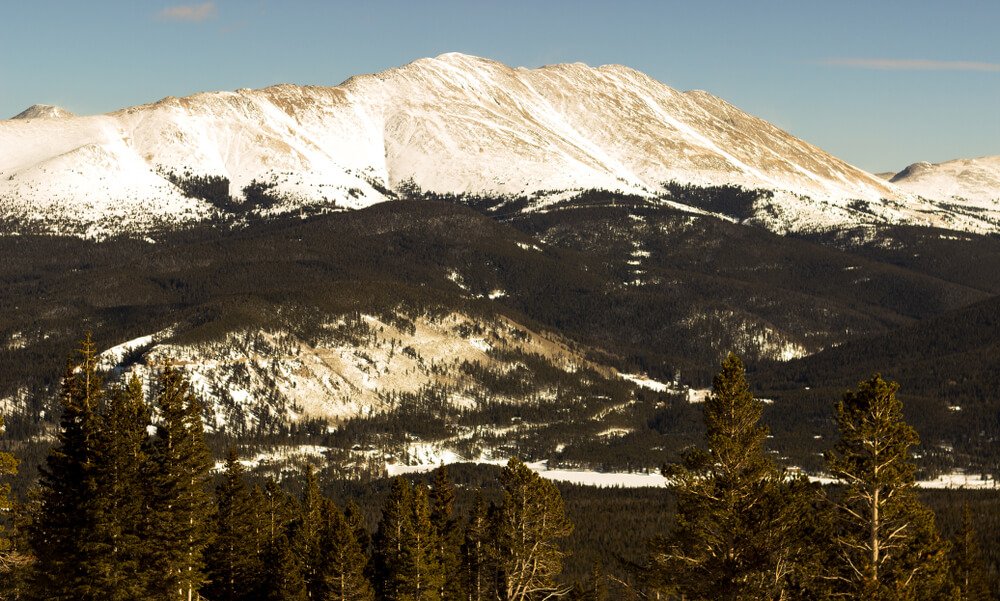 Distance: 10.5 miles out and back
Difficulty: Moderate
Elevation gain: 3,075 ft
The Bald Mountain Trail leads you to the top of one of the infamous 13ers in the community, Bald Mountain.
The Bald Mountain trailhead is located just east of town. On the drive to the trailhead, you get a tour or the beautiful homes in the community. 
For this trail, you park at the intersection of Baldy Rd (Rd 520) and Goldenview Dr, right by the Summit Stage bus stop. After you park look to the other side of the road, for the dirt road that is the Bald Mountain Trail.
This hike is best accessed from June through October.  Snow can still be found along the trail in June as you get higher in elevation. 
This trail offers expansive views of Breckenridge Ski Resort, The Ten Mile Range, and  Mt. Guyot, as well as beautiful wildflowers and some wildlife. 
Look for a cabin in the woods on your right within the first 0.5 mile of the hike! Further along the hike, about 1.5 miles in you will pass by Iowa Mill, which was built in 1935.
When you get to the top, be prepared to put on extra layers as you will be at the top of a 13,000-foot mountain and it can be a bit breezy up there.
When you are finished, you can head back down the same way you came to get back to the car!
Quandary Peak Trail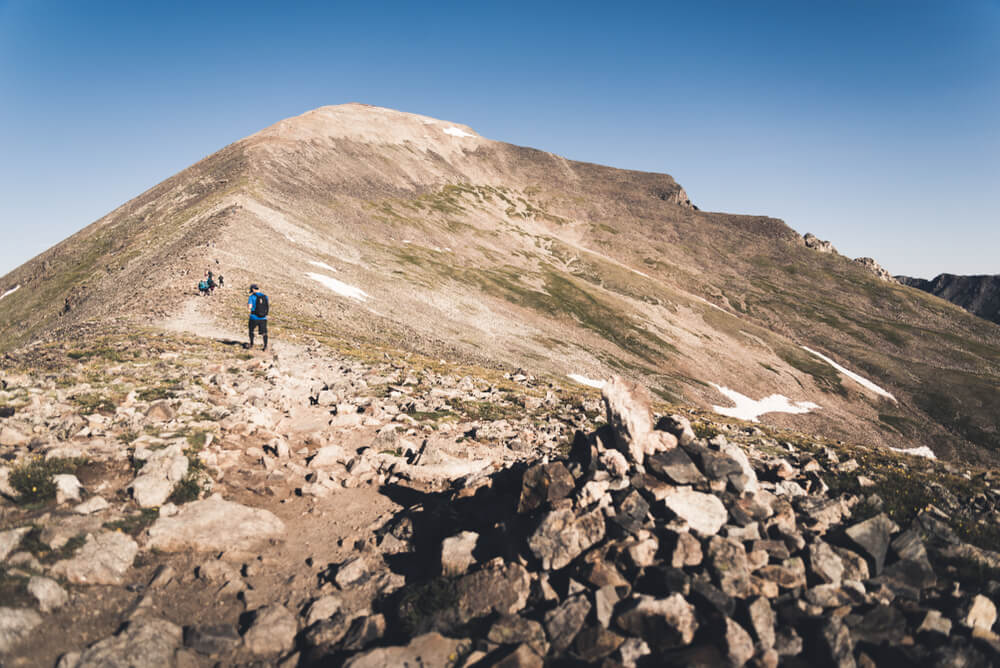 Distance: 6.6 miles out and back
Difficulty: Difficult
Elevation gain: 3,570 ft
Quandary Peak is the only 14er in the Ten Mile Range and is a great  introductory 14er. 
This is a heavily trafficked hike near Breckenridge, best accessed July through September, that offers a spectacular journey through various landscapes. 
When attempting to do any 14er, make sure you are acclimated to the elevation that you are starting at, because you will be going to an elevation of over 14,000 feet. 
Start early, not only because the parking lot can fill up fast, but you want to give yourself ample time to get to the top. 
In the mountains, it is typical for afternoon showers to come in, so getting up and down the mountain as early as you can is helpful. 
Bring layers! Sometimes it can feel like a different climate on the top than it did at the parking lot. A wind/rain layer and an extra mid-layer can help you stay warm at the top so you don't have to cut your time short.
Last but not least, pack snacks and more water than you think you will need.  Anything can happen on this adventure. You want to be prepared for weather, injuries, and anything else you can think of. 
Parking for The Quandary Peak Trail is located off of Rt 9 on Blue Lakes Road. Once you park you walk onto McCullough Gulch Rd for a short while until you come across the Quandary Peaks Trail on your left.
At this point, you will be on a single-track trail that switchbacks through the amazing forest.  After you get above the treeline, you are hiking an exposed ridge with 360-degree views. The trail gets extremely rocky and the wind will start to howl! 
As you get closer to the top you might see some mountain goats. Once to the top, you get great views of the Gore and Sawatch Ranges.
Once you're done taking in the views, head back down the same way you started. Take your time on the way down and watch your footing.
Spruce Creek Trail to Mohawk Lakes Trail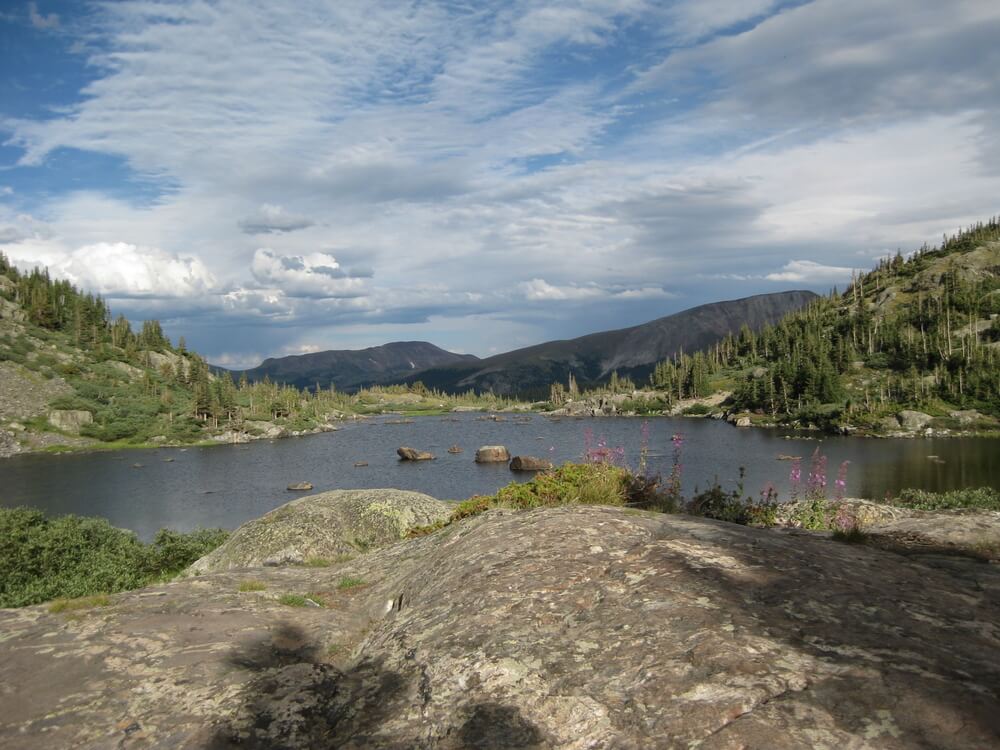 Distance: 8.4 miles out and back
Difficulty: Difficult
Elevation gain: 2,106 ft
The Mohawk Lakes Trail is a must! This is a heavily trafficked trail, best used from July through October.
You start at the Spruce Creek Trailhead and begin gradually gaining elevation.  Once you get to an intersection of the Wheeler Trail and McCullough Gulch Rd, continue straight to get to the Mohawk Lakes Trail.
There are seven lakes along this trail and you can see all of them if you would like. First you will get to Mayflower Lakes. 
After this, the trail begins to get steeper, but it is worth the effort to keep going to see the biggest lake, Mohawk Lake. Once you get to Mohawk Lake you can turn around to make the hike shorter, or you can continue on to see three more lakes.
I do recommend hiking to all seven lakes if you have the energy to get there as there are not many hikes in the county to see that many alpine lakes!
Gold Hill (Colorado Trail seg 7.1 & 7.2)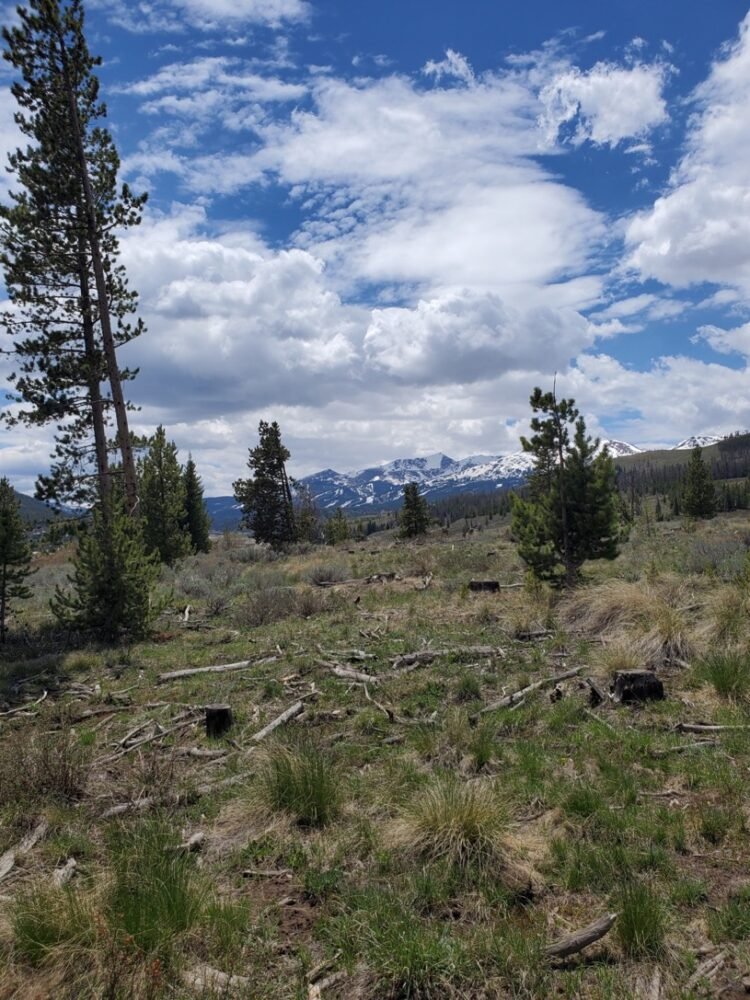 Distance: 7.2 miles out and back
Difficulty: Moderate
Elevation gain: 1,466 ft
The Upper and Lower Gold Hill Trails offer you an opportunity to hike a small section of the Colorado Trail. The Colorado Trails runs 567 miles from Denver to Durango.
You park just off of Route 9 at the bottom of Sherwood Trail Road.  From there you get on the Gold Hill Trail. 
You start to climb on the trail and continue to gradually climb for 3.6 miles until you reach the Peaks Trail. 
Just a quarter-mile into the trail, you get amazing views of Breckenridge ski resort.  When you look back across Route 9, you can see the Colorado Trail switchbacks.
The sage in the area smells amazing and the wildflowers in peak season are incredible. 
You can go as far as you would like on this trail, and even add extra miles on the Peaks Trail if you're feeling good!
B & B to Reiling Dredge to Minnie Mine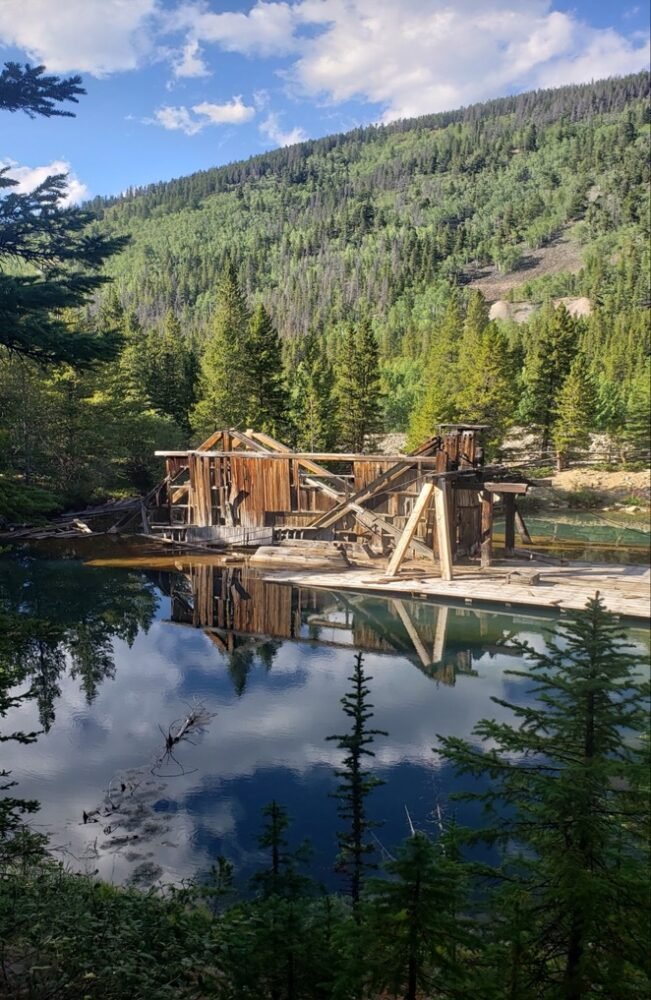 Distance: 3 mile loop
Difficulty: Moderate
Elevation gain: 413 ft
This 3-mile heavily trafficked loop trail in Breckenridge offers you a view into history!
Breckenridge started as a mining community. On this loop, you are able to see The Reiling Dredge, which used to mine gold in the area, as well as all of the rock and sediment the dredge left behind.
You park at the B & B trailhead off of French Gulch Road and make your way to the B & B Mine Trail. 
After hiking for about 1 mile, you will come across the Railing Dredge, which has sunk and now sits in the most beautiful water.  
After leaving the dredge you will cross the road and head to the Minnie Mine Trail.  Once you get back to French Gulch Road, make a right to head back to your car.
This is a low-intensity trail in Breck you can do if you just want to get out for a nice walk. You will come across many old artifacts around the trail so keep your eyes peeled! This is the trail to do if you are interested in seeing history.