Denver is a great location to access so many different places from, making it a great base for day trips in Colorado.
There are just so many great things to do and see within a few hours from Denver!
In this article, I hope to give you some great ideas on how to spend some of your days trips from Denver — in both the summer and the winter, because Denver is truly an all-season destination!
No matter what you like to do, you can find somewhere to do it on one of these incredible Denver day trips.
13 Best Day Trips from Denver, CO
Lookout Mountain Park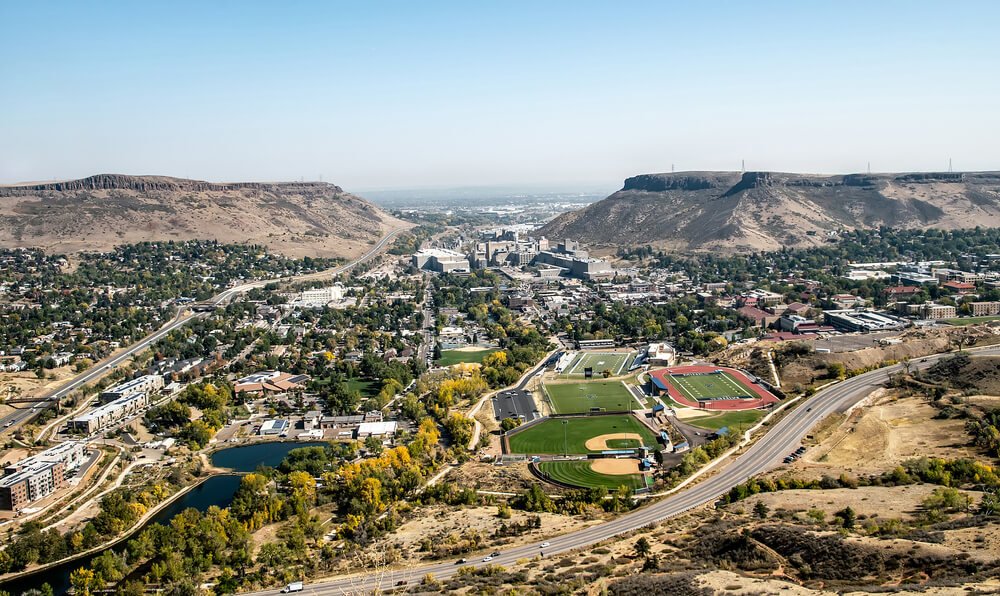 Note: This post contains affiliate links, which means I may receive a small commission if you purchase something through one of these links. Thank you for supporting the free content on this site! For more information on affiliate links and cookies, see my disclosure page for more details.
Drive Time: 30 minutes
This is a great place to visit for awesome views of Golden, CO, and to immerse yourself in the wilderness just 30 minutes outside of Denver.
This foothill of the Rockies is a road bikers heaven! The northern part of Lookout Mountain Road is curvy and often has a lot of road bikers climbing to the summit at 7,377 ft.
If you're not feeling cycling to the top, you can drive your car to Lookout Mountain Park by taking I-70 to exit 256 to Lookout Mountain Road, one of the most scenic drives in Colorado.
If you want to take the more scenic, longer route get on to W Sixth Ave and make a left on 19th street until it turns into Lookout Mountain Road. You can follow that road all the way to the park.
There is some hiking in this area, but I recommend packing a picnic and just hanging out and enjoying the views.
Bring a good book and a hammock and find a nice spot to take in the peaceful atmosphere so close to Denver!
The summit of Lookout Mountain is home to the gravesite of Buffalo Bill. There is a museum and shop you can visit here as well.
The Coors Brewing Factory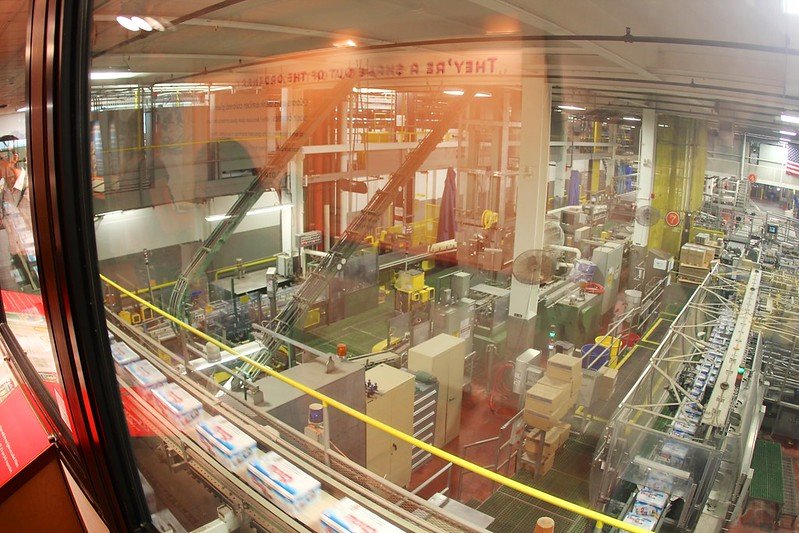 Drive Time: 30 minutes
The Coors Brewing Factory, located in Golden, offers a 30-minute self-guided tour of their facility showcasing the malting, brewing, and packaging process while offering you a look into history.
The Coors Brewing Factory has been in operation since 1873 and is a staple in Colorado. The tour is $10 for out-of-state residents and $5 for Colorado residents.
At the end of your tour, three 8-ounce samples of your choosing are included, as well as a commemorative glass.
This is a great afternoon activity to do with a group of any size!
Boulder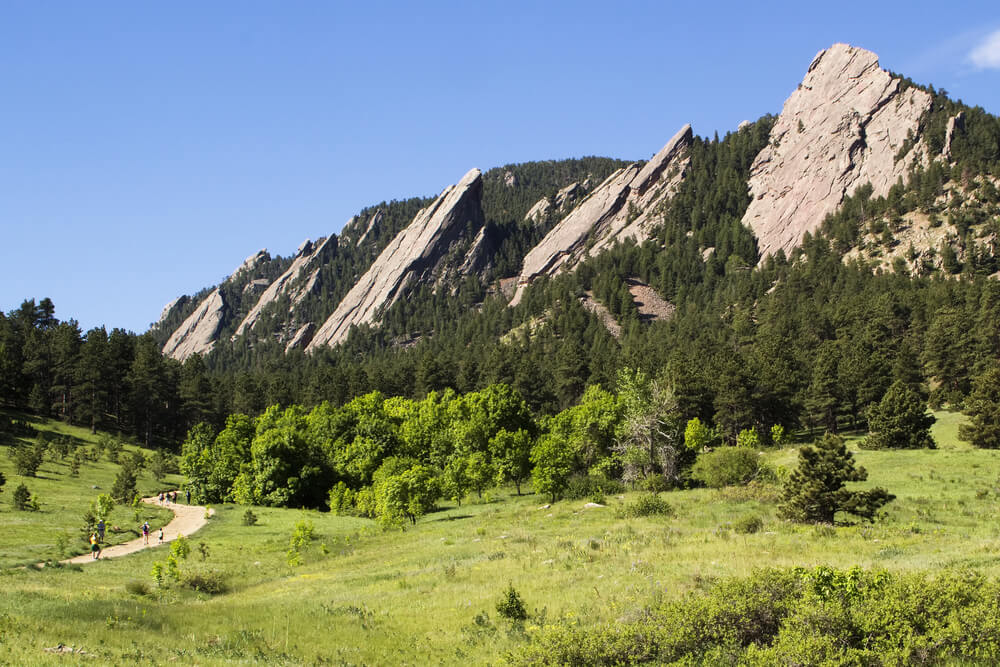 Drive Time: 40 minutes
If you're looking to check out a historic street with a myriad of shops and restaurants, check out Pearl Street in Boulder. There are over 1,000 places to shop and dine on this pedestrian-only street!
There is artwork all around, beautiful architecture, and festive lights to catch your gaze. Be on the lookout for musicians and performers as well!
Boulder is known for its high-quality restaurants and has ample breweries for you to visit. You can also go to see the historic Boulder Theater which has been around since 1906 and has hosted many world-class shows.
If you love tea, don't forget to check out the tour of Celestial Seasonings. The tour is free and you get a tour of the production floor to see how teas are blended and packaged. Then you get to taste any of their 90 varieties of tea.
Another great destination for tea lovers is the Silk Road-style Dushanbe Boulder Teahouse, a gift from Boulder's sister city which is the capital of Tajikistan. It was hand-made there, shipped to Boulder in pieces, and assembled on-site!
After having some tea, you can check out the Museum of Boulder. This museum is full of interactive exhibits which will show you how Boulder became the outdoor enthusiast, health-crazed, tech-savvy mecca it is today.
While at the museum make sure to check out the rooftop views of the Flatirons. If you want to explore more, consider checking out the Boulder Creek Path, which is a paved recreational path that runs along the river with plenty of shade.
If you want more activity, consider hiking around the meadows of the Flatirons, starting at the Chautauqua Trailhead.
Boulder has no shortage of activities to do. It might take you more than one day to do all the things you want, so make sure to leave yourself enough time!
Red Rocks Park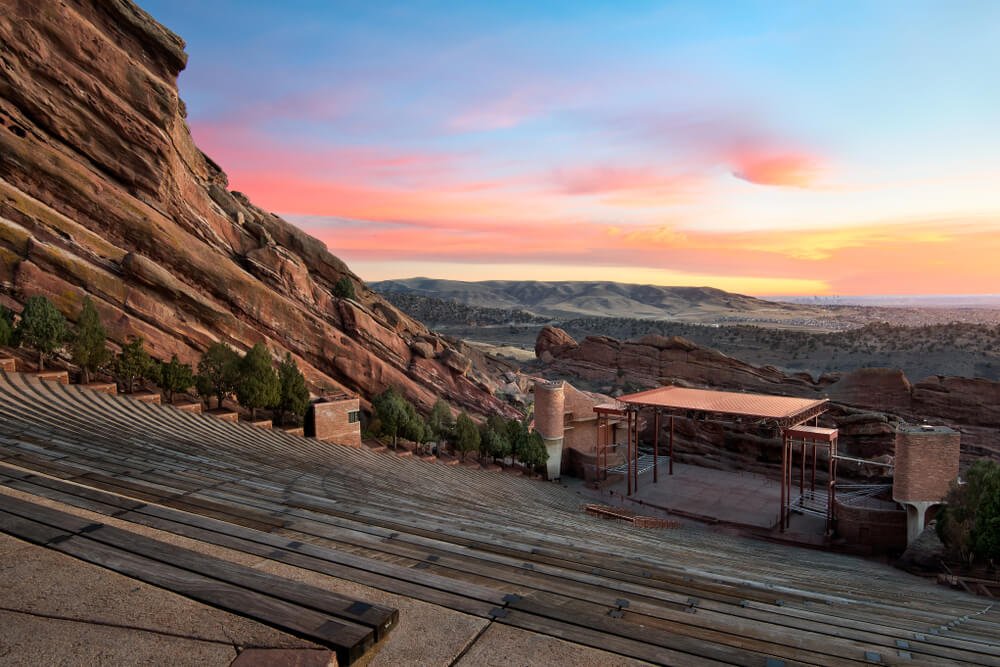 Drive Time: 40 minutes
Red Rocks Park is home to The Red Rocks Amphitheater, a must on any Denver itinerary.
I highly recommend planning your trip to the amphitheater to see a live concert. This venue is known for its amazing acoustic sounds. Pick your favorite artist and get ready for an emotional ride at this venue!
If you look out over the stage, you can see the hustle and bustle of the city while you enjoy the great sounds. It is the most epic venue I have ever been to.
Even if you can't make it to The Amphitheater for a show, I would recommend taking a day trip from Denver to the park to go see it. It is a magical place!
The Trading Post Trail, a short 1.4-mile loop will take you around all the must-see rock features in the park.
Indian Hot Springs
Drive Time: 40 minutes
When visiting Colorado, going to a hot spring is a must!
Indian Hot Springs is just 40 minutes from Denver. There is a mineral water pool, geothermal caves, outdoor jacuzzis, and indoor private baths.
Be sure to check out their website for pricing and combo deals to use multiple amenities!
If you want to spend the night, they do offer lodging as well as a spa, so you can have a relaxing getaway.
Central City / Black Hawk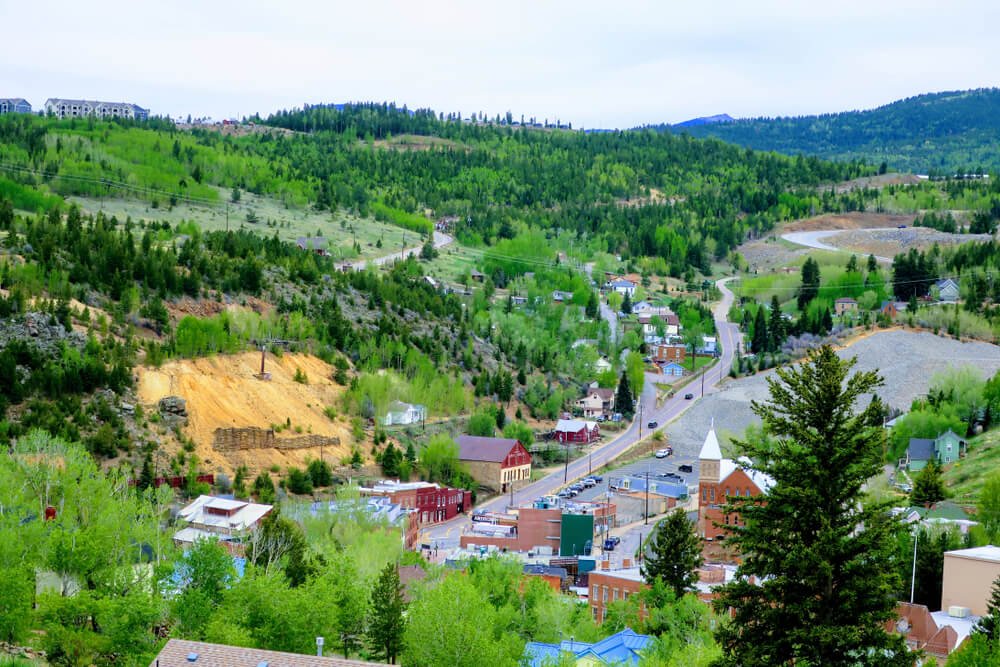 Drive Time: 45 minutes
Love to gamble? Then you should make the trip to Central City and Black Hawk.
The two towns have been designated the Central City/ Black Hawk National Historic District. This is one of the three places in Colorado gambling is allowed!
There are over 18 casinos in operation in this area. Ameristar's Blackhawk Casino is the largest in Colorado.
With these casinos only being 45 minutes outside of Denver, it's easy to go for just the day, but if you want to spend more time, there is plenty of lodging in the area.
The drive to this area is very beautiful and offers great views so I would recommend making it in the daytime! Have fun gambling and come home a winner!
Fort Collins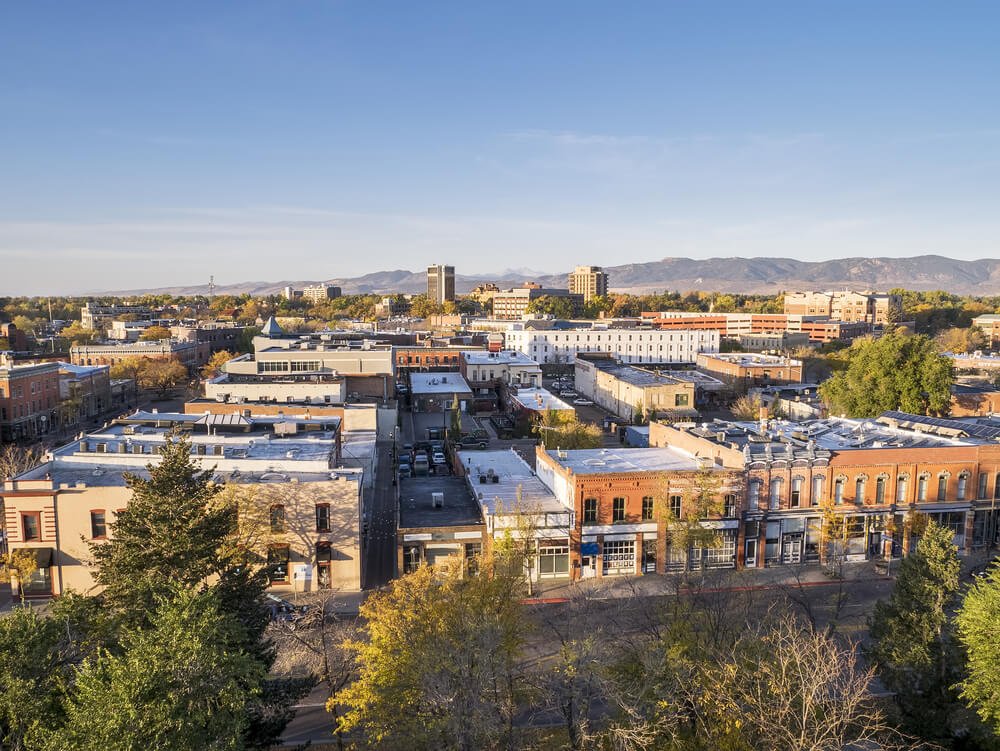 Drive Time: 1 hour, 10 minutes
North of Denver, Fort Collins is a historic town with an old-fashioned trolley, buildings from the 1800s, and a plethora of shops and restaurants.
Fort Collins is also the home of Colorado State University, so it can be very crowded during the school year.
Make sure to visit the Horsetooth Reservoir, just minutes outside of Fort Collins. This reservoir offers you all the summer activities you can think of including swimming, scuba diving, and paddleboard rentals.
Take the family here for the day to escape some of the heat and maybe think about renting a boat or getting a tour!
There is plenty of places to hike and bike in this area, and you can even go for a ride high in the sky on a hot-air balloon.
If you want to escape the elements, check out the many museums and art galleries located throughout Fort Collins. There is also plenty of live music and shows going on in town.
No matter how you choose to explore this wonderful place, there is something for everyone to enjoy.
Garden of the Gods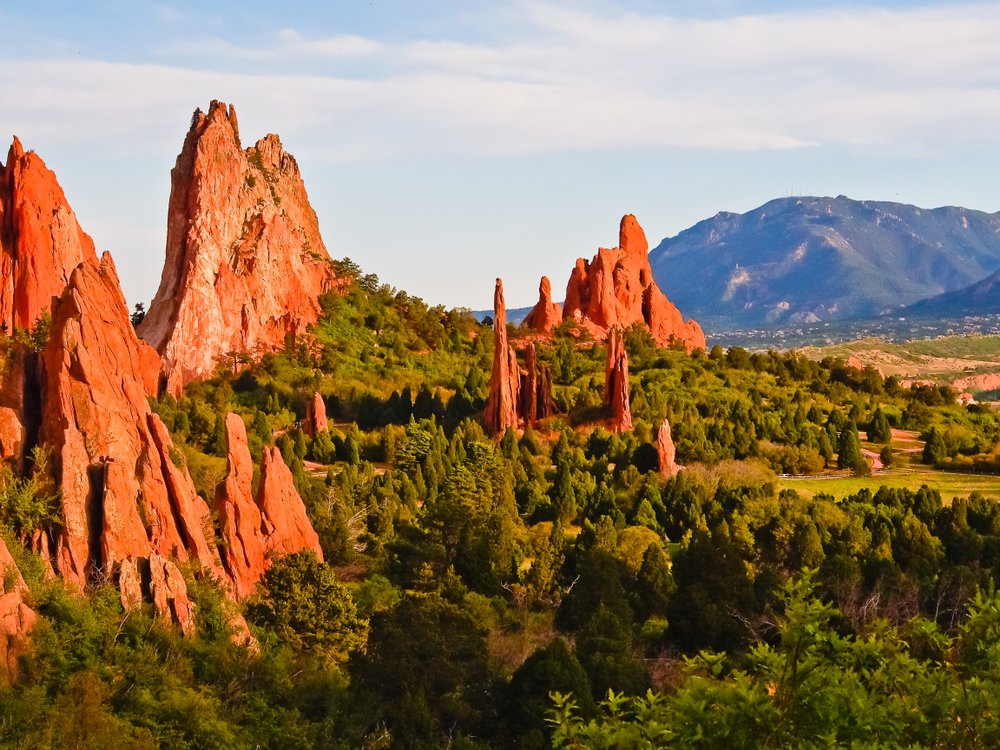 Drive Time: 1 hour, 15 minutes
Garden of the Gods is located in Colorado Springs. It is a 1,300-acre public park full of sandstone formations. There are plenty of activities to do in the park and there is no fee to enter!
The park's best attraction is its Visitor and Nature Center and museum. There are interactive exhibits where you can take the whole family to learn about the rock formations and enjoy a 20-minute movie about the park.
There is also a restaurant in which you can dine inside with amazing views of the park and Pikes Peak. When you are ready to get away from the Visitor and Nature Center there are plenty of adventures for you to participate in.
The park offers front-range climbing trips, jeep and segway tours, bike and e-bike tours and rentals as well as other adventure programs.
If you're not feeling like participating in any of the tours, you can also grab a map and do some hiking on your own within the park.
Rocky Mountain National Park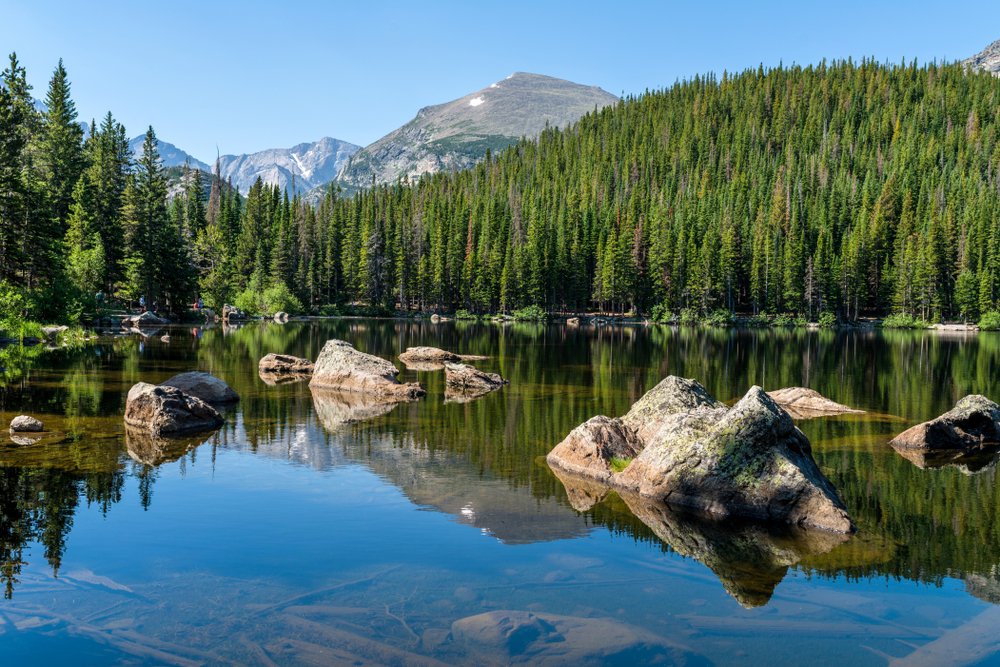 Drive Time: 1 hour, 30 minutes
Rocky Mountain National Park is the most popular of the four National Parks in the state, and it's an easy day trip from Denver.
This park showcases what Colorado is all about! There is plenty of wildlife, wildflowers, and beautiful mountain views to look at.
There is a $25 entrance fee per vehicle unless you have an annual National Park Pass which you can purchase for $80 at the park or ahead of time.
I would recommend the annual park pass if you are planning to visit more than one National Park in a year — it quickly pays for itself!
I recommend driving Trail Ridge Road in the park. It is the park's most heavily trafficked road because of the epic journey it takes you on.
11 miles of the 48-mile road take you above the treeline at over 11,500 feet! This road winds through alpine meadows with a myriad of wildflowers, near rivers, through aspens and lush forest, and offers wildlife viewings.
Be on the lookout for bighorn sheep, pikas, and ptarmigans, and other Colorado wildlife.
On this journey, you will cross over the continental divide at Milner Pass. The Trail Ridge Road is one of America's Byways.
Leave yourself at least half a day to do this drive so you can take in all that the park has to offer right from your car. There are plenty of pull-offs to take in the views if you need to stretch your legs.
If you're looking to get away from some of the crowds and off of a paved road, consider checking out the Old Fall River Road.
This 11-mile road is primarily a gravel road, with no guard rails that take you up to Fall River Pass which is 11,796 feet above sea level. The road is narrow and has many switchbacks.
Be on the lookout for elk feeding in the meadow after passing Willow Park. Eventually, this road joins with Trail Ridge Road near the Alpine Visitor Center.
Rocky Mountain National Park is a must-visit if you are in Colorado because it gives you a look into many of the landscapes in Colorado all in one place.
High alpine tundras, lush meadows, aspen forests, winding rivers, a variety of wildlife, and amazing wildflowers. Don't miss out on these views!
Summit County
Summit County is a great getaway with so much to offer that you might need more than one day to explore it.
The county is home to Keystone, Silverthorne, Dillon, Frisco, and Breckenridge. Below, I am going to talk about some of those towns because they all offer something so unique!
Dillon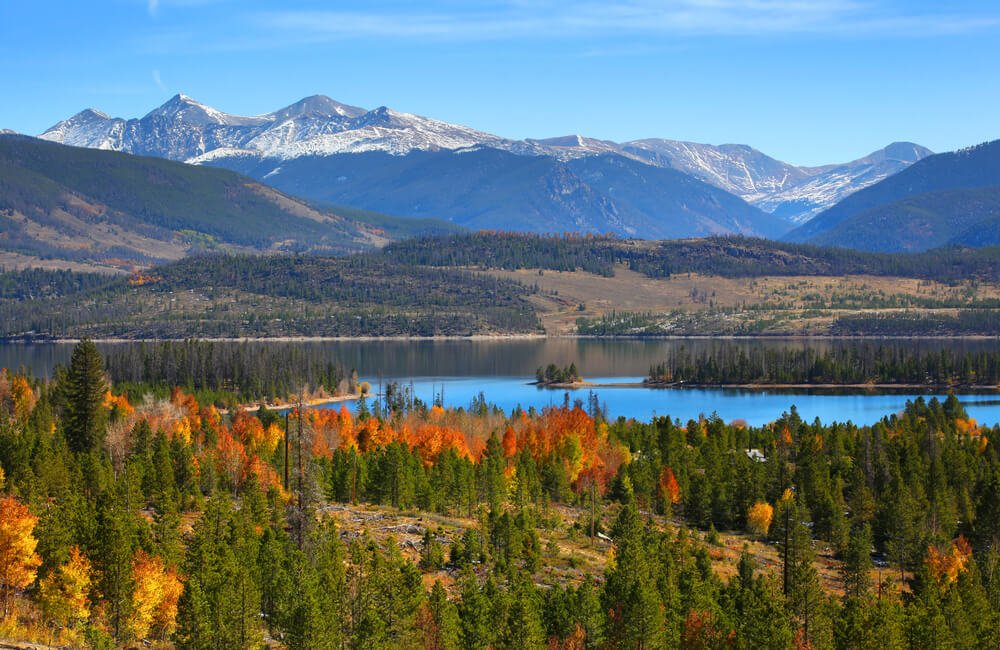 Drive Time: 1 hour, 15 minutes
Dillon, Colorado is a small town nestled off of Exit 205 on I-70 that has some of the best views in Summit County!
Dillon has a spot right on the Dillon Reservoir, which is Denver's largest water supplier. The reservoir has 26.78 miles of shoreline and is bordered by Dillon, Silverthorne, and Frisco.
The reservoir is a great place to recreate. You can head to the Dillon Marina and rent a vessel of your choosing: anything from paddleboards and kayaks to pontoon boats and sailboats.
If you're feeling like being chauffeured around what the locals call Lake Dillon, you can hire a captain for the day. After you're done exploring the lake, you can have lunch and drinks lakeside at the Tiki Bar, or you can head into town for other options.
There is a lakeside park for the kids to play in as well as an amphitheater right on the Lake to catch a show! Bicycle and e-bike rentals are another option for your group. There is a rec path that runs around the whole lake.
You can pack yourself lunch, and cycle somewhere around the lake to find a sweet secluded spot for a picnic. You can even ride your bike over the Dam!
If you love to shop, head one town over into the Silverthorne to check out the outlet mall, just off of exit 205 for some great deals!
Heading up to Sapphire Point Overlook for the sunset is something you don't want to miss. The Sapphire Point Overlook Trail is a 0.6 mile, easy loop that offers you 180-degree views of the Lake and surrounding towns.
In the winter, Dillon is home to the Dillon Ice Castles, one of the most magical places in Colorado in winter, making in an absolute must on a winter day trip from Denver.
Keystone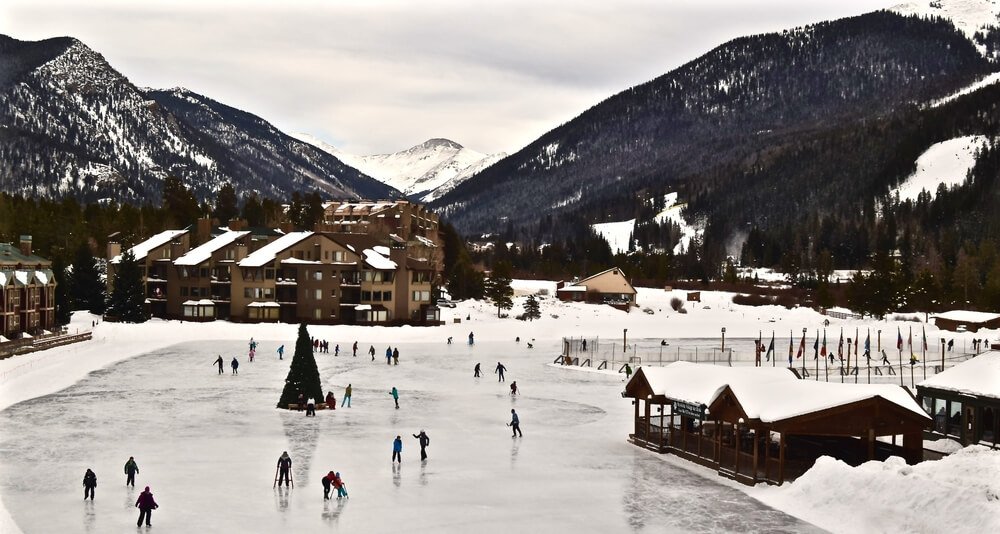 Drive Time: 1 hour, 20 minutes
Keystone, CO is home to Keystone Ski Resort, one of the best family ski resorts around!
Keystone Resort offers three peaks to ski with 4 hike-to bowls, steep tree skiing, and exceptional groomed runs that feel endless. Keystone also is known for its 3.5-mile green trail, Schoolmarm.
Every Saturday, Keystone hosts a parade where kids can walk and dance along with staff members, and Keystone's mascot, Ripperoo the dog. They even give out cookies at the end!
In the summertime, Keystone offers a downhill Mountain Bike Park. The green trails take you on a 7-mile journey, winding throughout the mountain.
If you are not interested in mountain biking, you can take a scenic gondola ride to the summit, do a little hiking and have some lunch. The Keystone Village offers a variety of restaurants and lodging.
If you are in the mood to walk, walking along The Snake River on the rec path is a great way to spend the afternoon.
If you want to experience mountain golf, Keystone has two world-class golf courses. The River Course is an 18 hole true mountain golf course. The front nine winds along the Snake River, while the back nine offers elevated tee boxes and greens and amazing views of Lake Dillon, Buffalo Mountain, and the Gore Range.
The Ranch plays like a links-style course tucked away in a beautiful valley. There were many homesteads on this property in the 1900s and many are still standing on the course today.
If you want a fine dining experience, consider checking out the Ranch Restaurant for a multi-course meal inside one of the homesteads.
Keystone is a quiet, serene place to go and relax for the day or the weekend. If you are looking for some more activity, be sure to check online for their schedule of festivals.
Breckenridge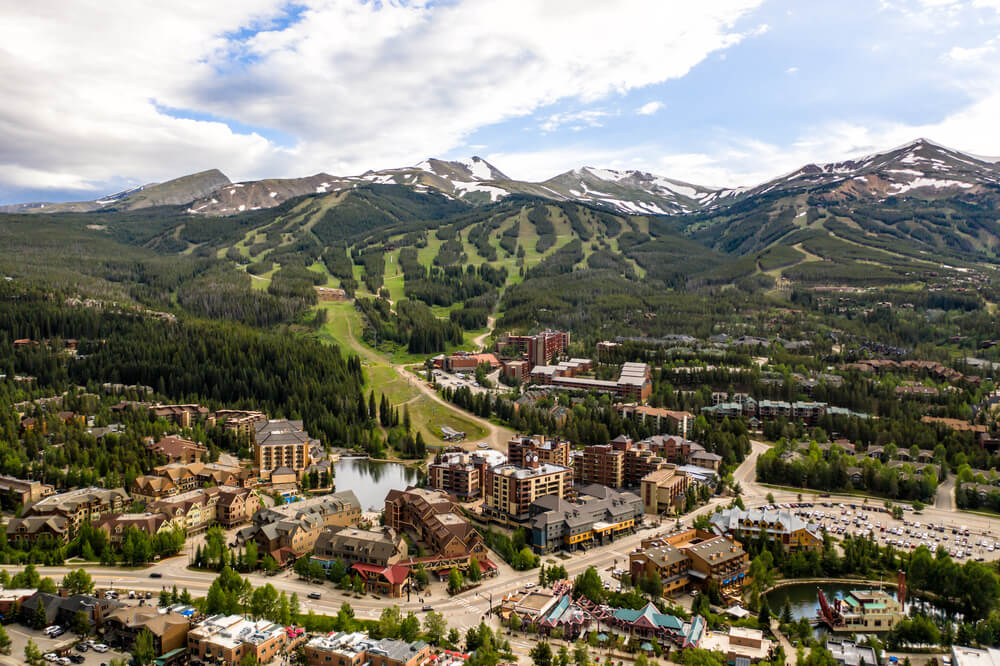 Drive Time: 1 hour, 30 minutes
Breckenridge used to be a mining town in and 1880s and 90s; now, it's an outdoor paradise all year round!
Breck, as the locals call it, sits at the base of the 10 Mile Range. It is a must-visit for its 2,908-acre ski resort, its vibrant main street, and a myriad of trails to recreate on!
There are plenty of lodging and dining options in the area as well as breweries and distilleries to visit.
In the winter, Breckenridge is home to Breckenridge Ski Resort which offers skiing off of 5 different peaks with multiple bowls to ski in as well as hike-to terrain.
There are plenty of ski-in ski-out lodging opportunities in the area!
In the summer, Breckenridge is a lively community with plenty of places to shop and eat locally on its victorian style Main Street.
If you want to get away from the pedestrian crowds, Airport Road is an alternative to Main Street. You can visit Broken Compass Brewing Company or the Breckenridge Distillery to check out local products.
If you are a road biker, Breckenridge, and Summit County as a whole is the place for you. The red path allows you to take a journey on your bicycle around the whole county.
If you start in Breckenridge, you can ride to Frisco, get some coffee and check out the shops. If you want to ride more you can either ride to Copper or Silverthorne. If you ride to Silverthorne, you will ride right next to Lake Dillon and Cross over the Dam into Dillon.
You can even continue on the path all the way into Keystone! It is quite the journey, and there is no other rec path like this.
There are plenty of bike and e-bike rentals in the county. If you are not a road biker, rent an e-bike and take the epic journey around the county.
Mt. Evans Summit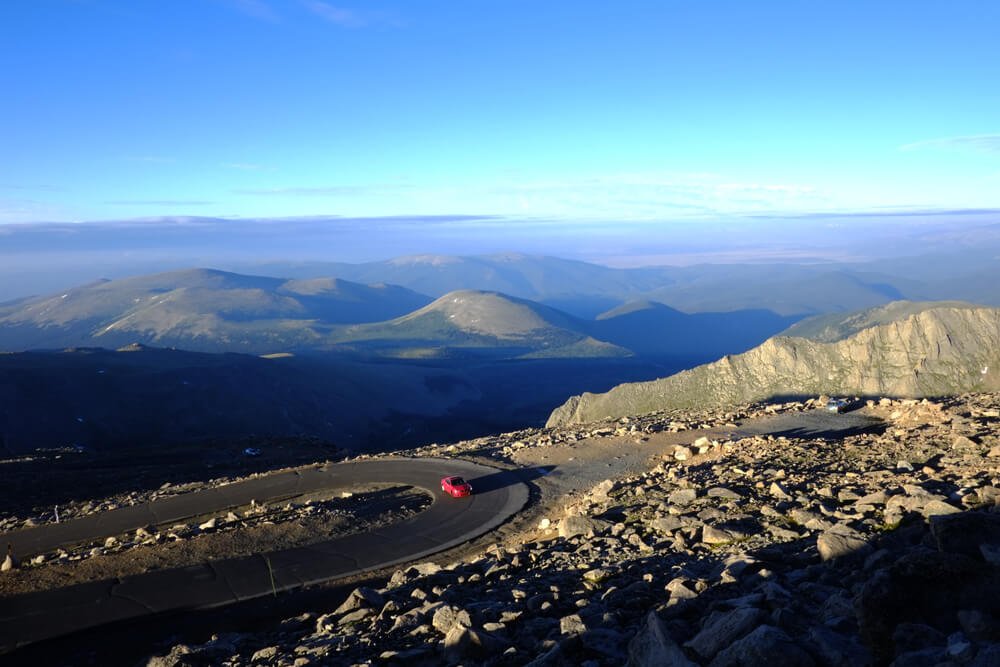 Drive Time: 3 hours, 10 minutes
This may seem like a far drive for a Denver day trip, but this is an amazing journey!
Just outside of Idaho Springs, Mt. Evans towers 14,265 feet above sea level and you can drive your car right up to the top in the summer!
This is the highest paved road in North America winding through vast meadows, with great views of the surrounding area. You pass right next to Summit Lake which sits at 12,860 ft.
After passing Summit Lake, the road begins to change to switchbacks as you begin the final ascent to the summit. Look out for mountain goats on the switchbacks — if you're lucky you might even see some babies!
If you're feeling really adventurous you can ride your bicycle to the summit, which many people do. If you do choose to ride your bike, you can park at Echo Lake, starting your journey above 10,000 feet.
It's a 30-mile round trip ride with 3,800 ft of elevation gain. The road has many cracks and bumps in it because of the high alpine environment it is in, so be mindful of that as you descend.
I also recommend packing extra layers for the summit, because the wind may be howling and it can be a chilly ride down.
If you are not feeling like driving up to the summit of Mt. Evans, Echo Lake Park, just 55 minutes from Denver, is near the base of Mt. Evans and is a great place to go fishing, hiking, or have a picnic.