In fall all over the United States, trees light up in all different colors of red, orange, yellow, and purple as they begin their yearly metamorphosis.
Each state's fall has its own charms, but some places stand head-and-above the best places to see fall colors in the USA.
While New England road trips are an obvious favorite in fall for many, I've gathered some incredible fall foliage destinations all over the USA curated by fellow travel bloggers, included unexpected spots in California, Alaska, the Southern USA, and beyond!
Best Places for Fall Foliage in the USA: Northeast
New England is probably what comes to mind when thinking of fall foliage in the US, but where exactly should you go for the best foliage?
Here are a few of the best spots in New England and the Northeast for fall foliage!
Green Mountains, Vermont
Note: This post contains affiliate links, which means I may receive a small commission if you purchase something through one of these links. Thank you for supporting the free content on this site! For more information on affiliate links and cookies, see my disclosure page for more details.
Contributed by Amy Hartle of New England with Love
As a Vermonter, I might be a bit biased, but many travelers and publications agree with me that Vermont (perhaps most in all of the New England region) is where to go for stunning fall foliage.
When you see a stunning image of vibrant fall foliage, it's very likely that photo was taken in Vermont.
It's northeastern location, cold climate, and heavily forested landscape create the perfect ingredients for rich autumn foliage to appear each year. In fact, roughly 75% of Vermont is forested land.
In the remaining 25% you'll find charming villages, picture-perfect farms, rolling hills, and more, with the fall foliage always providing a beautiful background.
Vermont's mountains are called the Green Mountains, because in summertime they are blanketed with a rich green hue. But when fall arrives, the colors transform to gold, yellow, orange, and even bright red.
When you're not driving around gawking at the leaves, there is plenty to do in Vermont during the fall. Apple picking is a great outdoor activity in September, while October brings pumpkin patch season.
There are lots of farms where you can do these classic fall activities. Make sure to sample apple cider donuts if they are available. They are a Vermont autumn staple, and truly one of the best things I've ever eaten. 
To see the peak of Vermont's fall foliage, try to plan your trip for early October, when the leaves are generally at their best.
The Adirondacks, New York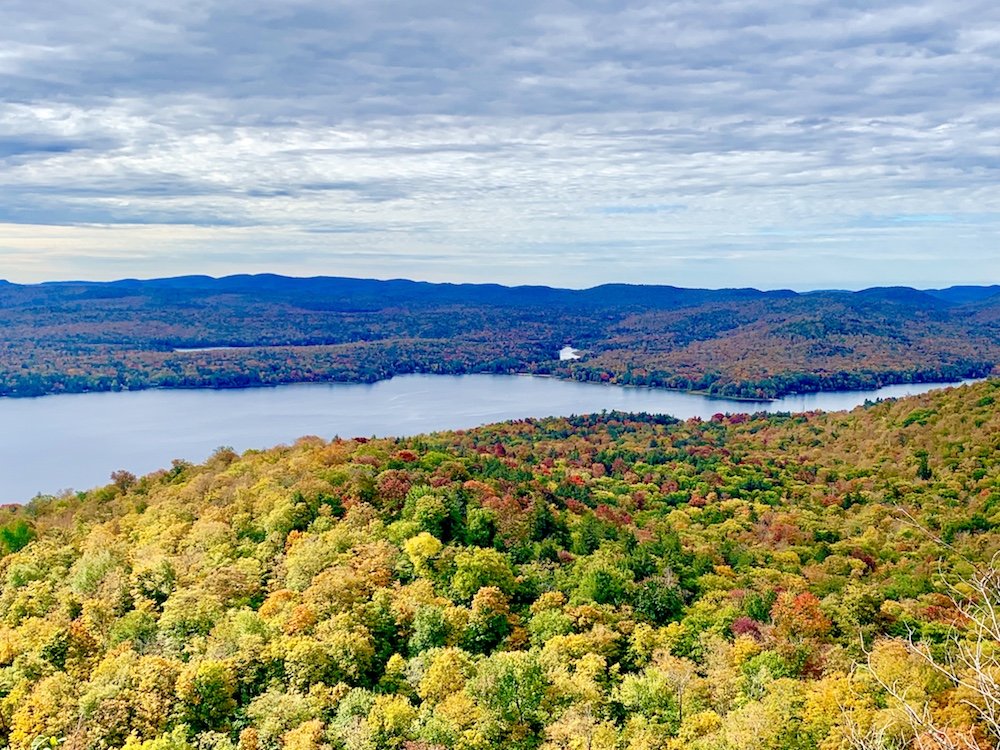 Contributed by Melissa Luther of Navigation Junkie
The Adirondack Park in New York State spans over 6 million acres of wilderness, making it the perfect destination to catch the stunning display of colors that makes its appearance every fall.
Whether it be a scenic drive, train ride, boat ride, or hike, there are plenty of ways to see the colors! 
Take a scenic drive along any of the roads in the Adirondacks and you will be delighted. For some great small towns check out Old Forge or Speculator. Old Forge offers many great hikes!
Bald Mountain and McCauley Mountain are both great options. If you would rather not hike, take the McCauley Mountain chairlift up for some great views of the changing leaves. 
Speculator also offers some great hikes that will again lead you to some stunning views of the fall colors. Panther Mountain is a great option for any hiking skill level.
Both towns also offer plenty of quaint shops, restaurants, and water views. The Adirondack Scenic Railroad or a boat ride of Lake George are great alternatives for viewing the fall foliage from ground level. 
If visiting in September, be sure to stop at the Adirondack Balloon Festival, an annual event that occurs in different areas throughout the Adirondacks.
You can admire the colors and designs of the balloons as you watch them launch, a great photo op! You can also find food vendors, live music, and plenty of kids' activities. The best part-this event is free!
Acadia National Park, Maine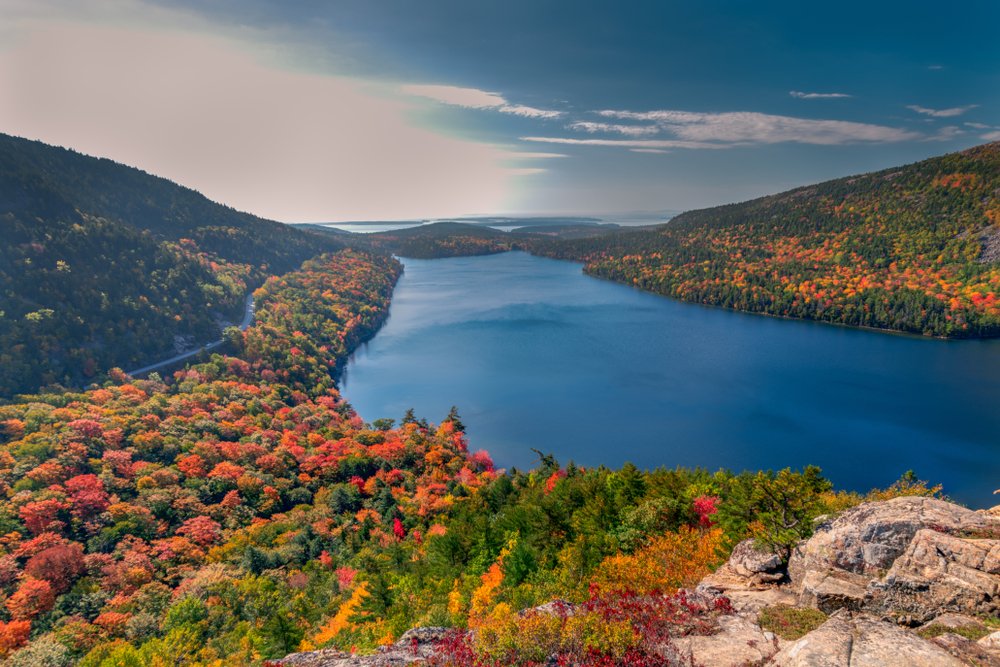 Contributed by Neha Kulshrestha of Travelmelodies
Fall is one of the best times to visit Acadia Naional Park when it is abundant with the foliage colors.
One of the best things to do in Acadia National Park is driving on the Park Loop Road that will give you an insight into the beauty that is spread across the park.
The park loop road is a 27-mile loop beginning near the Hulls Cove Visitor Center that traverses through a diverse terrain of ponds, rocky cliffs, mountains, beaches making it a memorable drive.
Another great way to explore the fall is to hike the trails across the park. Hike or drive at the summit of Cadillac mountain to get a breathtaking view of the park, the lakes, and the mountains in colors of red, yellow, and orange.
Visit the Jordon Pond for some spectacular sight of the colorful trees around the pond. And don't forget to eat at the Jordon House restaurant amidst the scenic vistas.
And if you can splurge, then don't miss taking a scenic flight over the park. It is truly worth it.
The magic begins to unveil in early September and gains peak by the end of September to October. The weather is crisp and fewer crowds as compared to summer. Do carry jackets and winter wear.
Hudson Valley, New York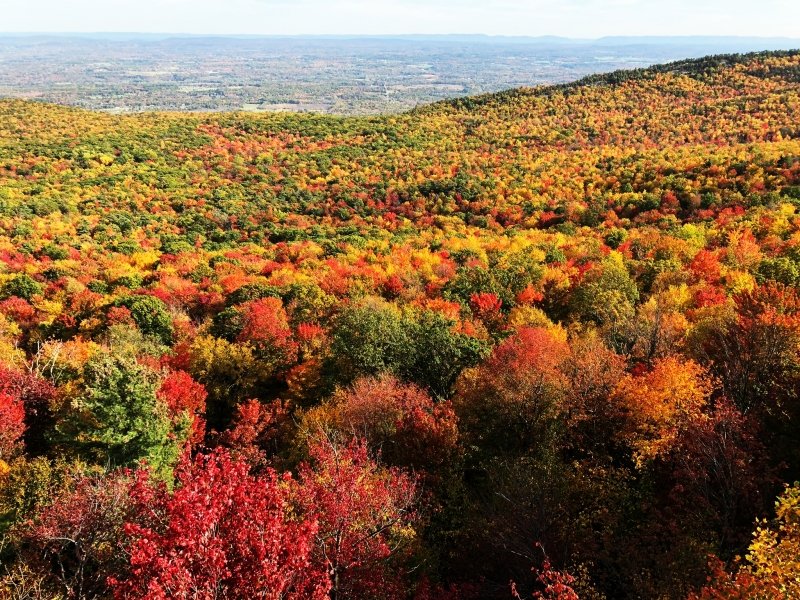 Contributed by James Ian at Travel Collecting
New York's Hudson Valley is stunning in the fall!
There are multiple places to see the fall foliage and with different elevations and the fact that the river valley stretches north to south, different areas are at peak at throughout the fall, so there is always somewhere to see amazing color for the whole season. 
One of my personal favorites is Minnewaska State Park!
There is a large lake with beautiful color around it, but the best place is a short side trail about 1/3 of the way around the lake to an overlook with breathtaking views of the forest spread below, ablaze with reds, oranges and yellows. 
Other top spots include Mohonk Preserve; the 22-mile Walkill Rail Trail (perfect for hiking or cycling); and the Ashokan Reservoir, where a wide flat path across the top of a dam provides incredible views of the foothills of the Catskill Mountains completely covered in fall-hued forests.
There are many more amazing things to do in the Hudson Valley in the fall.  Several farms in the area are open for U-Pick apple picking. 
Some of them are also cider houses, and you can sample cider and eat freshly baked wood-fired pizza beside the orchards. 
There are also corn mazes for the kids (and kids-at-heart), farm stands selling fresh fall produce and pumpkin patches to find the perfect Halloween Jack o' Lantern.
Berkshires, Massachusetts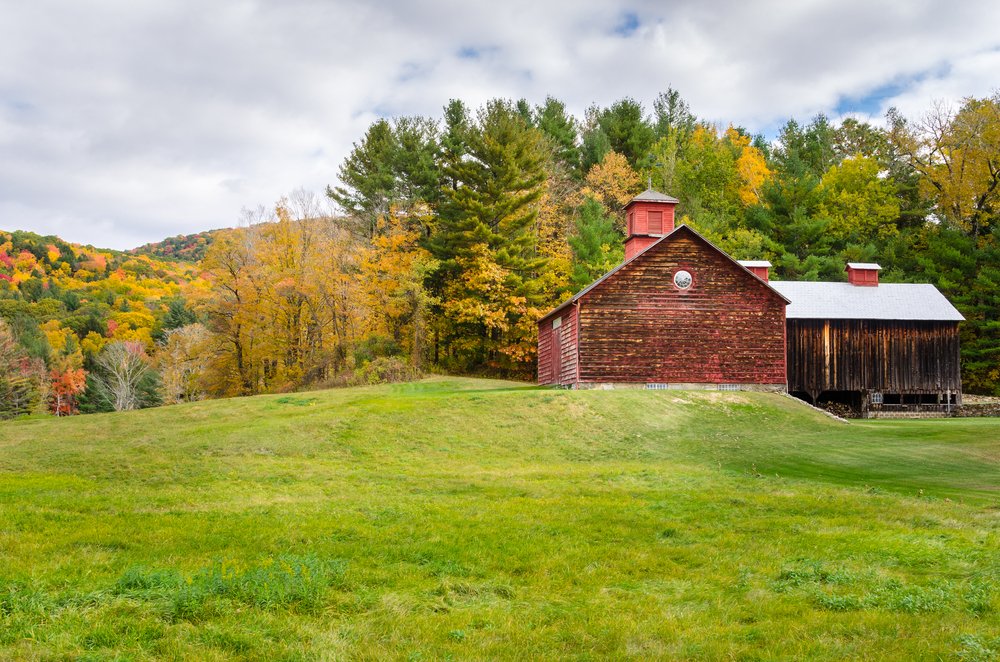 Contributed by Bharat and Supriya of Funtravelog
New England is one of the premier fall destinations in the USA. Berkshires, located in western Massachusetts, is a local favorite with leaf peepers on the East Coast.
Surrounded by mountains, Berkshire County is only a two-hour drive west of Boston. The region has several farms and small towns, and various trails, parks, and outdoor spots for travelers to witness the arrival of autumn. North Adams, Williamstown, Pittsfield, Great Barrington, and Lenox are the known small towns in this region.
Start your journey by first driving up to the top of Mt. Greylock. This 3,941-foot mountain is the highest summit in the region.
In the fall, the trees on each side of the road leading to the top of this peak are brimming with gorgeous colors. If you're an art lover, head next to Mass Moca, a museum with a rotating collection of eclectic art and installations.
Another great trail to visit during the fall is the 11-mile long Ashuwillticook Rail Trail that connects North Adams with Lanesborough.
Two must-do activities during the fall season include tasting cider donuts and apple picking. There are several farms in the area but the donuts at Lakeview Orchards are delicious!
For apple picking, pick between Bartlett Orchards or Hilltop Orchards, the latter also offers wine tasting on-site.
Berkshires is also home to several farm-to-table restaurants. The best souvenir to take back home would most definitely be cheese from Rubiner's Cheesemonger!
The Poconos, Pennsylvania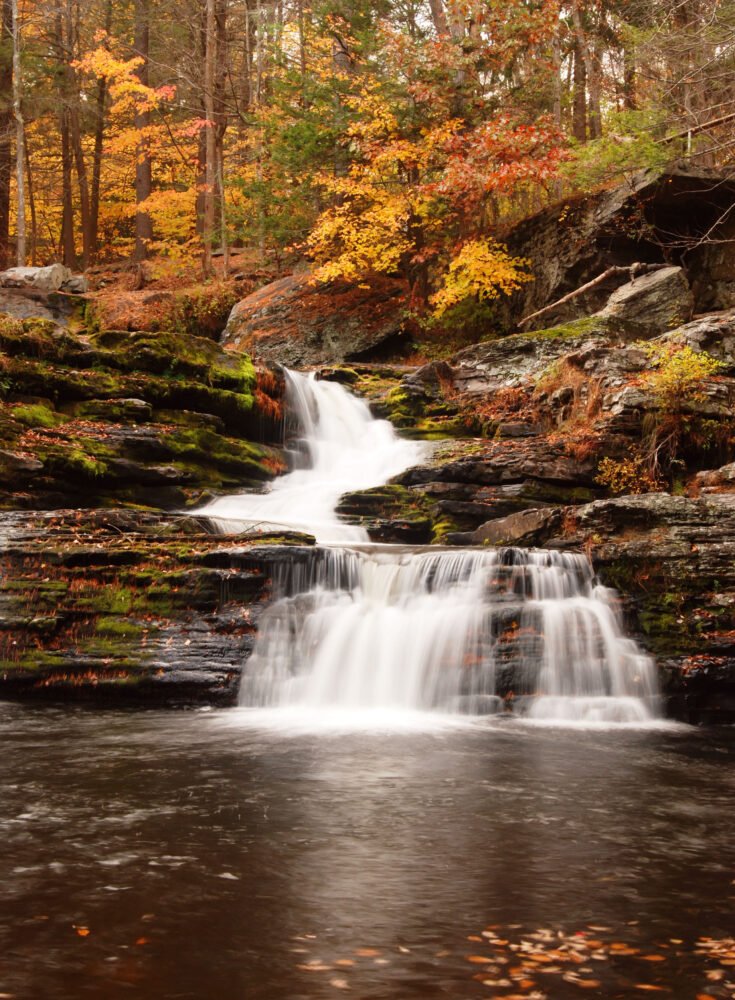 Contributed by Derek and Mike of Robe Trotting
One of the best fall foliage destinations in America is found in the northeastern region of Pennsylvania. There you'll find cooler temperatures and additional rainfall that result in brilliant fall colors!
The rolling Pennsylvania hills and Pocono mountains are unbeatable in the Fall months. 
In the area, you can find couples resorts, family-friendly hiking trails and all sorts of outdoor activities. The area is known for its boating, fishing, hunting and hiking.
Travelers can experience all of these activities in Ricketts Glen State Park. There you'll discover miles of gorgeous hiking trails that lead you to waterfalls and scenic bridges.
One of the easiest treks is a simple loop of low-level hiking but there are 10 other moderate to difficult hiking trails to embark on.
Another incredible destination in the region is Bushkill Falls, a private hiking area with even more waterfalls. Bushkill's tallest waterfall is over 100 feet in height and will take your breath away when it's surrounded by autumn leaves.
Be aware, the land and waterfalls are privately-owned so an entry fee is required to hike the trails of Bushkill Falls.
When you take in the red, orange and yellow hues of the foliage, you will find it's worth the admission. The Poconos are the perfect fall foliage destination in America and one of the best day trips from Philadelphia!
You can reach the region in under two hours from both Philadelphia and New York City, making it ideal to visit for an autumn getaway.
The Best Places to See Fall Foliage in the USA: The South
While it's generally true that the further south you go, the less intense the fall foliage will get, there are plenty of places in the Southeast USA that have beautiful fall colors!
From fall in Kentucky to along the Blue Ridge Parkway, here are some of the best places in the South for beautiful fall foliage.
High Country, North Carolina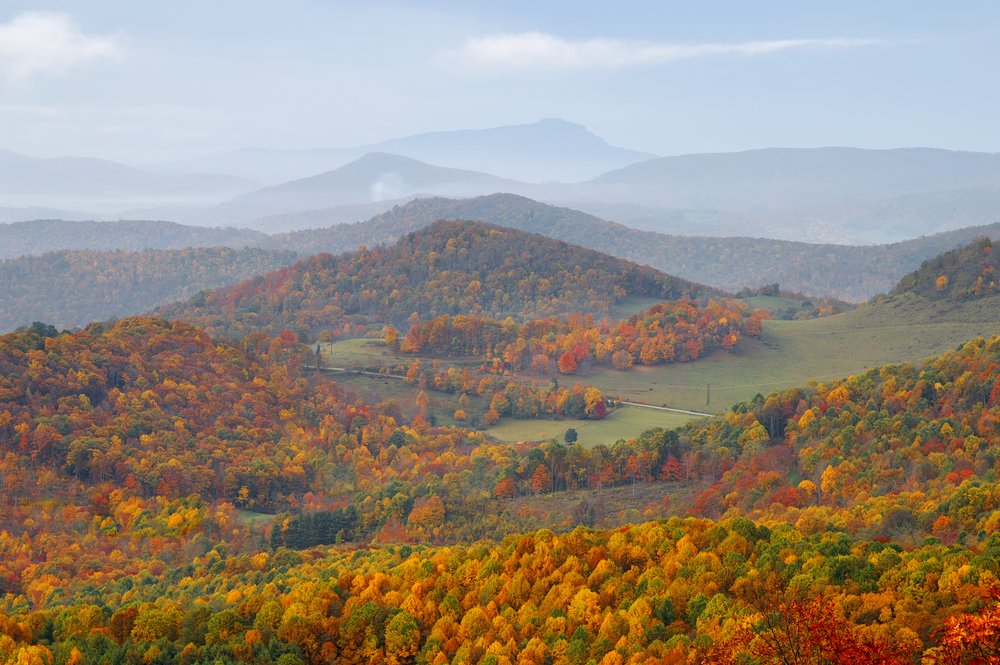 Contributed by Christina Riley of NC Tripping
The High Country is a portion of Northwestern North Carolina's Blue Ridge Parkway that is one of the most stunning destinations for Fall colors.
Made up of the adorable towns of Boone, Blowing Rock, and Pisgah National Forest, there are plenty of mountain trails to escape and view leaves.
Just driving along the Blue Ridge Parkway, you will be surrounded by yellows and reds as the leaves sway in the wind.
There are plenty of overlooks along the Parkway to stop and soak up mountain ridges for miles.
If you are an outdoor enthusiast looking for more ways to peak at the colors, there are plenty of hikes near Boone that give unique views.
One such favorite is Beacon Heights- a short and moderate trail that gives 360º views from a bald rock including the iconic Grandfather Mountain.
Not into hiking? Grab a ticket to Grandfather Mountain National Park and cross the Mile High Swinging Bridge, America's highest suspension footbridge, for more stunning Fall foliage.
The bridge is a mile high in elevation and spreads across an 80-foot chasm that only the bravest cross!
There are plenty of adorable cabin rentals in North Carolina's High County which offer a peaceful retreat nestled in dense towering forests. 
The Great Smoky Mountains, Tennessee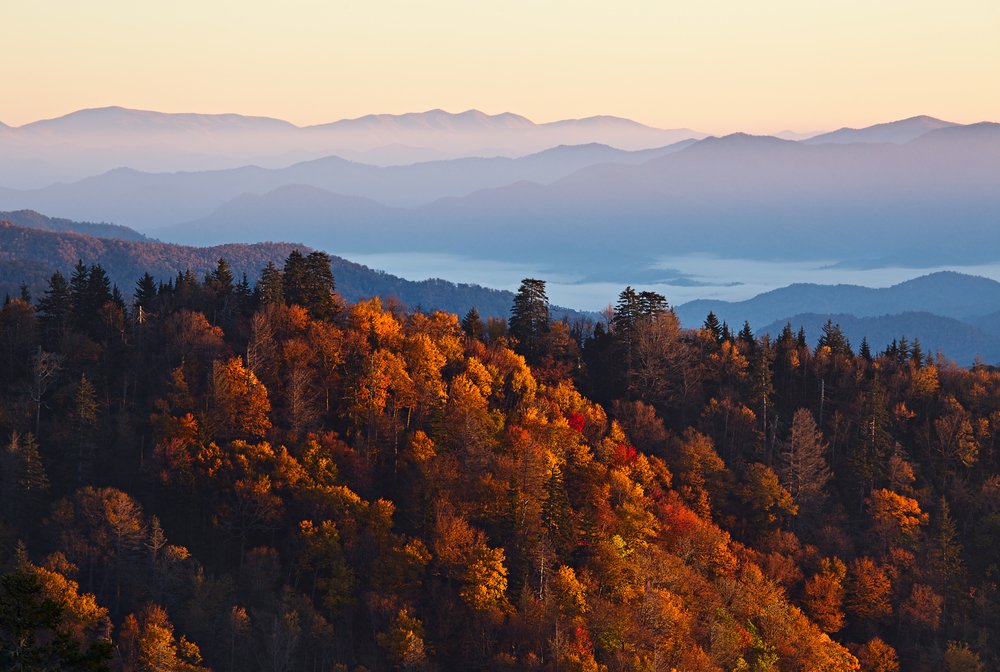 Contributed by Rai of A Rai of Light
Without a doubt, fall is one of the best times of the year to explore this region. T
his is when the air begins to cool and the foliage of the red maples, scarlet oaks, sugar maples, and birch trees turn from deep greens to vibrant shades of yellow, red, and orange.
Timing is crucial when it comes to viewing the changing seasons. Arrive too early or too late and you miss the show.
The fall colors start at the highest elevations around the middle of September and continue down the mountains and hills in the weeks that follow.
This is all dependent on temperatures, the length of the day, and other factors, making it difficult to determine a peak foliage forecast.
Generally though, the best time to visit is between the middle of October to early November.
Scenic overlooks are a great way to view the changing landscape and hiking is a popular activity in the fall. Other activities include fly fishing, horseback riding, and zip-lining.
Recommended scenic drives include Newfound Gap Road, Cove Creek Road, Foothills Parkway, and Balsam Mountain Road.
The Great Smoky Mountains are well worth the time and effort required to visit and should be on everyone's USA bucket list in the fall.
Wintergreen, Virginia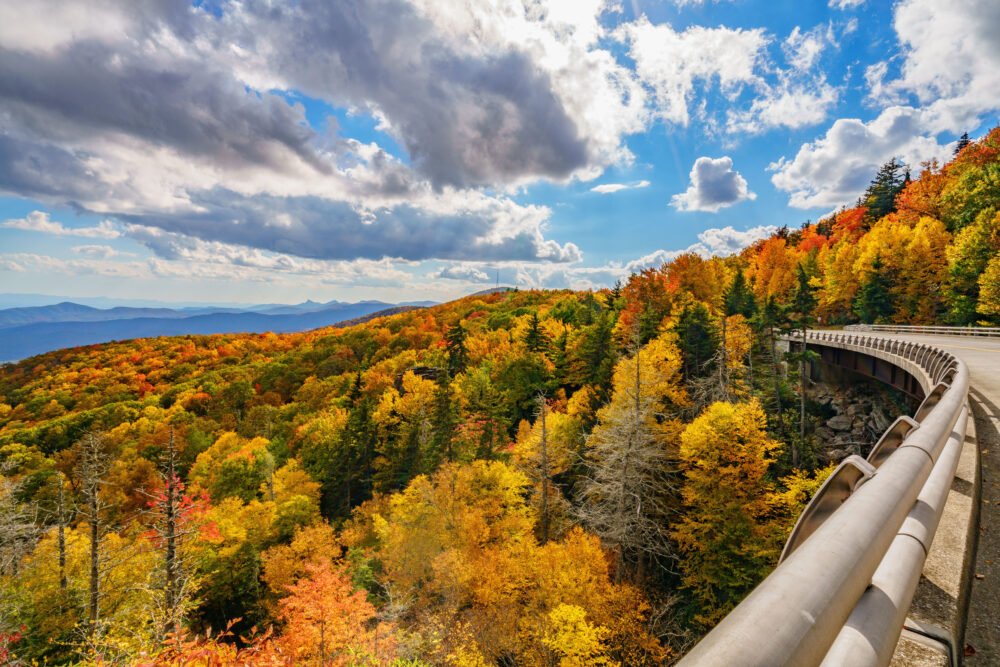 Contributed by Nicole Sunderland of Eat Live Travel Drink
One of the best places for fall colors in the USA is the Blue Ridge Parkway in Virginia and North Carolina.
This has been rated a top drive within the USA for many years due to its elevation increase from 600-6000 feet and the range across two states.
The drive itself is the destination and activity. A popular spot along the Blue Ridge Parkway is in Wintergreen, Virginia.
About two miles off the parkway is the entrance to Wintergreen Resort, which also offers breathtaking views of the Blue Ridge Mountains.
But this area is also known to be the Monticello Wine Trail. If you stay a couple days you can visit some of the incredible wineries, breweries and cider houses in Virginia! 
Charlottesville wineries are some of the best in the state and should not be missed!
One of the biggest questions when taking on this fall foliage drive is when do the leaves change?
The answer is not simple and depends on the weather. However, in the mid to end of October, you will see at the higher elevations that the leaves are changing faster than the lower.
If you don't see colors immediately where you are driving, there is 469 miles of driving path and you may need to get to a higher elevation. 
Lookout Mountain Parkway, Alabama & Tennessee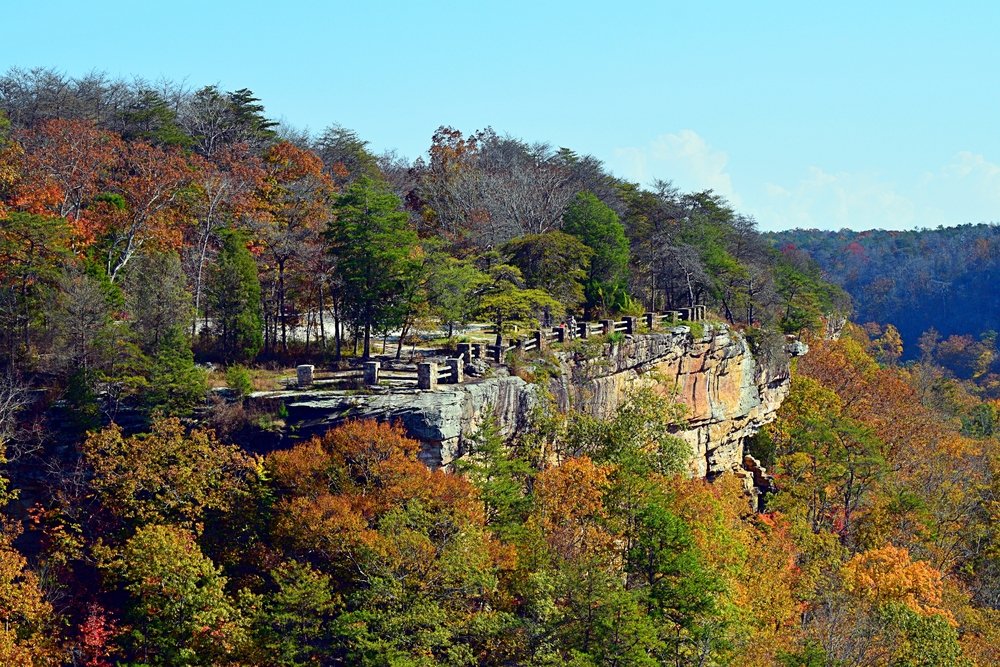 Contributed by Apryl Chapman Thomas of Southern Hospitality Traveler Magazine.
Believe it or not, the South, even the Deep South, has an autumn season, and the fall colors produced from it can be spectacular.
One of the best places to view fall foliage is along Lookout Mountain Parkway atop Lookout Mountain.
Extending from Noccalula Falls Park in Gadsden, Alabama, to Chattanooga, Tennessee, the 93-mile drive makes for the perfect day or weekend trip.
The scenic byway offers not only picturesque views but also quaint destinations, natural wonders and outdoor activities. While looking at the changing colors on Lookout Mountain Parkway, don't overlook what's around you!
You don't want to miss visiting Little River Canyon National Preserve in Fort Payne, Alabama.
It holds the distinction of being one of the deepest canyon systems east of the Mississippi River. Even if you can't spend all day here, don't miss Little River Falls.
(A side note: if you want to see more waterfalls, check out nearby DeSoto State Park.) From there, check out the charming town of Mentone, Alabama, and enjoy lunch at Wildflower Cafe.
If you are feeling adventurous, it might be a great time to try hang gliding at Lookout Mountain Flight Park in Rising Fawn, Georgia, or you could opt to stay on the ground and take in the views from Cloudland Canyon State Park, also in Rising Fawn.
As you head toward Chattanooga, be sure to catch the vibrant fall foliage while exploring either (or both) Rock City or Ruby Falls. 
Lost Maples State Natural Area, Texas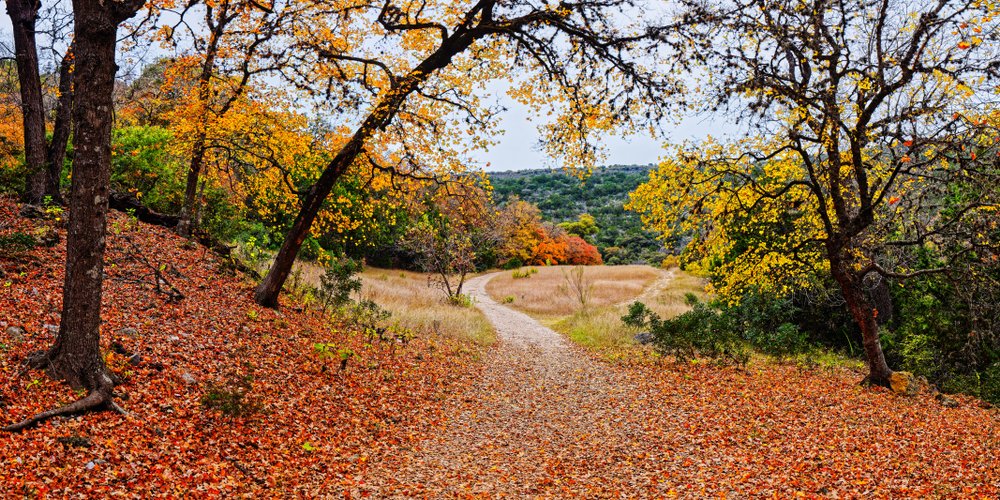 Contributed by Kate Storm of Lone Star Travel Guide
Texas may be more likely to be associated with summer heat than autumn leaves, but there's no doubt that the local gem of Lost Maples State Natural Area is one of the best places for fall colors in the USA!

Named for the beautiful maple trees that decorate the park in shades of red and orange each autumn, Lost Maples State Natural Area is a fantastic place for hiking, camping, and admiring views of the Sabinal River.
With over 10 miles of trails and several scenic overlooks to choose from, there are plenty of ways to enjoy fall colors in the Lost Maples State Natural Area.
For a great combination of admiring the trees up close and getting great overviews, consider hiking the beautiful East trail.
Since Lost Maples State Natural Area is located so far south, its fall colors tend to come a bit later than those in most of the country–a bonus for travelers who still want to go foliage-hunting later in the season!
Peak foliage season varies a bit depending on the year, but you can typically expect to see some of the best fall foliage well into November.
Located about 2.5 hours southwest of Austin and 2 hours northwest of San Antonio, Lost Maples State Natural Area can make an excellent mini-Texas road trip from either city.
Best Places to See Fall Colors in the USA: Midwest
The Midwest is a sleeper hit for fall color, with some explosively colorful fall foliage that rivals New England's — without the crowds.
Head to Door County, Wisconsin or Michigan's Upper Peninsula for spectacular fall foliage and affordable prices!
Door County, Wisconsin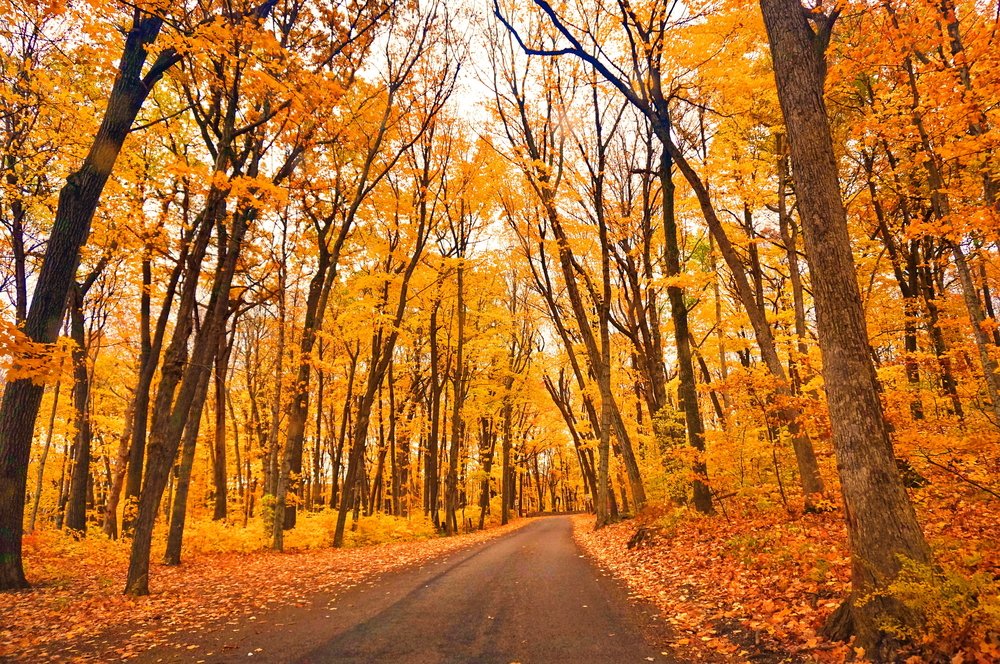 Contributed by Paulina of Paulina on the Road
If you are looking to visit the best place for fall colors in the USA, then nothing can be a better destination than Door County, Wisconsin.
Escape to the astonishing Door County, Wisconsin, this pre-winter between late-September to mid-October to view probably the most delightful and dynamic fall hues along with experiencing the excellent eateries, spectacular shopping, and exciting live exhibitions and performances.
There are countless things to do in Door County, WI, including learning the art of glassblowing, and skipping the chain coffeehouses and opting for a local favorite, touring the Door County Coffee & Tea Company or others.
Additionally, you can get to explore within a corn maze market, go for a two-hour trip of the peninsula's shadowy areas, explore the stunning views and caves of the peninsula, or even visit beautiful orchards.
Besides that, try out these popular fall activities when you're in Door County, like Harvest Fest and Street Art Auction, Autumn Fest, Pumpkin Patch Festival, Fall Fun Fest & Cider-Pressing Party.
Now, coming to foods that you can taste while staying there are Pecan Rolls, White Fish Fry, and Corsica Bread.
You can also plan a hike or take a drive from urban parks to striking nation streets at Wisconsin. A few particular unimaginable scenic drives are Marinette County's Waterfall Tour, Hayward Lakes Area, and Wisconsin Lake Superior Scenic Byway.
Otherwise, go hiking at Peninsula State Park, Door Bluff Headlands County Park, or Rock Island State Park.
Talimena Drive, Oklahoma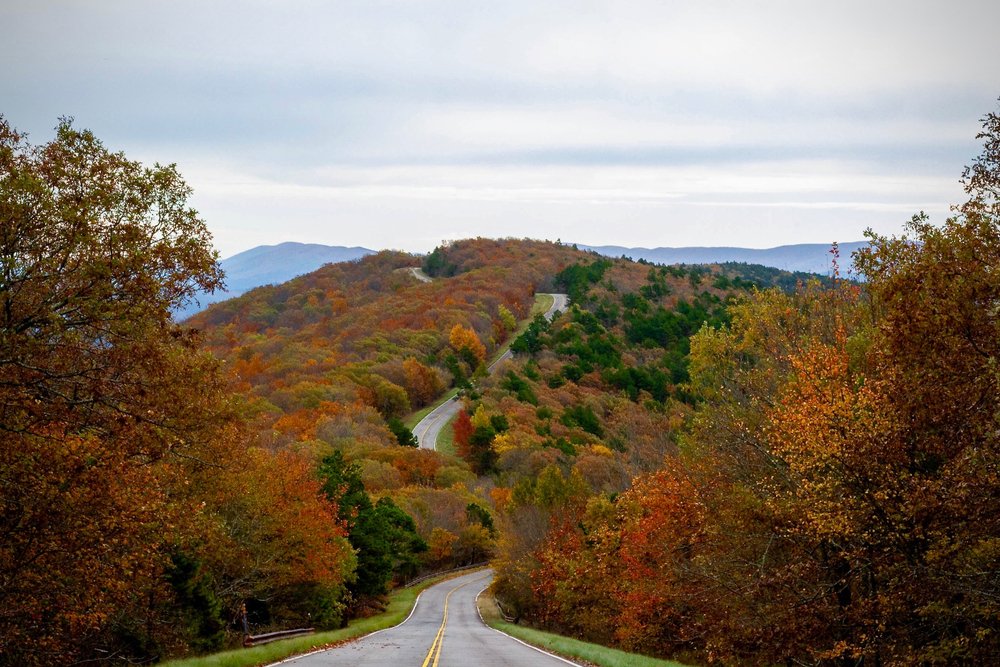 Contributed by Stephanie Craig of Oklahoma Wonders
One of the most beautiful places in Oklahoma and Arkansas, Talimena National Scenic Byway is fifty-four miles of beauty that goes through the Ouachita National Forest along Winding Stair Mountain and Rich Mountain.
In autumn, the elevation and winding roads create the perfect opportunity to enjoy the marvelous fall colors on the drive. You might even think you're in New England instead of Oklahoma!
Starting in Talihina, Oklahoma, and ending in Mena, Arkansas, you can easily access this scenic drive from Oklahoma City, Little Rock, and even Dallas-Fort Worth.
If you have extra time, there are several state parks along the drive, including the famous Robbers Cave State Park in southeastern Oklahoma.
You can also learn about Native American history on the route, since Wheelock Academy, the first Chocktaw National Academy, is located here.
For those short on time, at least allow yourself enough time to get out at the various viewpoints along the way to appreciate the beauty of the drive.
If you want to explore more of the surrounding area, the Ouachita National Forrest offers opportunities for hiking and camping.
The Upper Peninsula, Michigan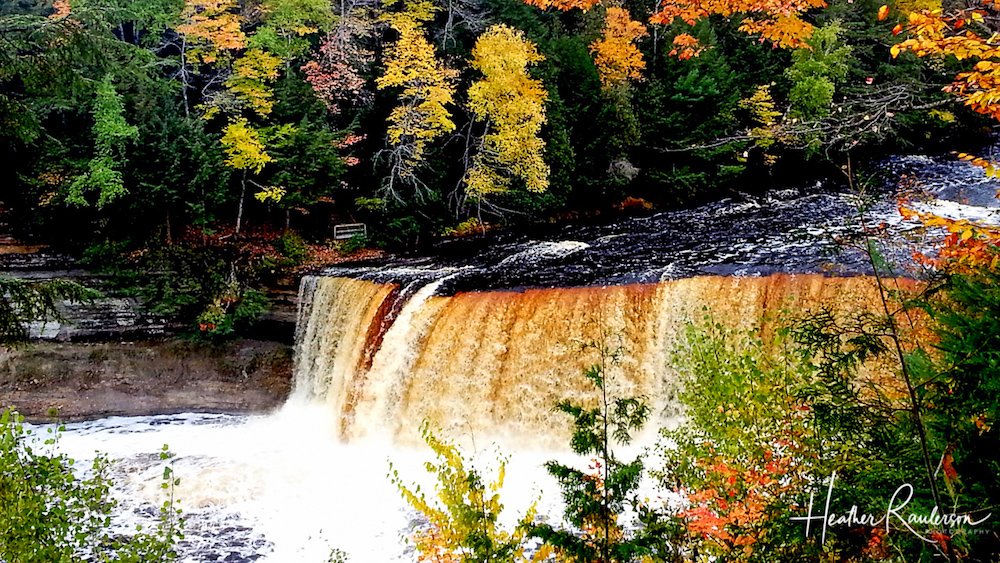 Contributed by Heather Raulerson of RaulersonGirlsTravel
One of the best places to see fall colors in the USA is in the Upper Peninsula of Michigan.
The whole state is pretty incredible in the fall, but the U.P. has some fantastic spots to see spectacular colors! 
Colors usually peak between the last week of September and the first two weeks of October.
With numerous lighthouses and more waterfalls than you can count, the Upper Peninsula is the perfect place to hike or drive to find gorgeous fall colors.
If you are driving from the southeast area of Michigan, it will take approximately 4.5 hours to get to the Mackinac Bridge. Once you cross the bridge, you have a couple of choices for which direction to go.
Going west on U.S. Highway 2, you can see vibrant reds, yellows, and oranges, especially by the Cut River Bridge. But the coup de gras is taking the M-123 north (1.5 hours) to Tahquamenon State Park.
Here you will be able to see an explosion of colors at Tahquamenon Falls. The upper waterfall is the largest waterfall east of the Mississippi beside Niagara Falls dropping 50 feet.
There are also multiple smaller falls located a short four miles down the road.
And in the fall, with the trees turning orange, amber, and yellow surrounding the river, they make the perfect backdrop to the coppery color of the waterfall, which puts this State Park in Michigan, as one of the best places in the USA to visit to see the fall colors.
Best Places to See Fall Colors in the USA: Southwest & Mountain West
While the Southwest and Mountain West is generally more associated with red rocks and rugged landscapes, you'll also be able to find some beautiful fall colors.
The Mountain West region is particularly known for its concentration of beautiful yellow aspen trees, which put a beautiful golden spin on fall color!
Kenosha Pass, Colorado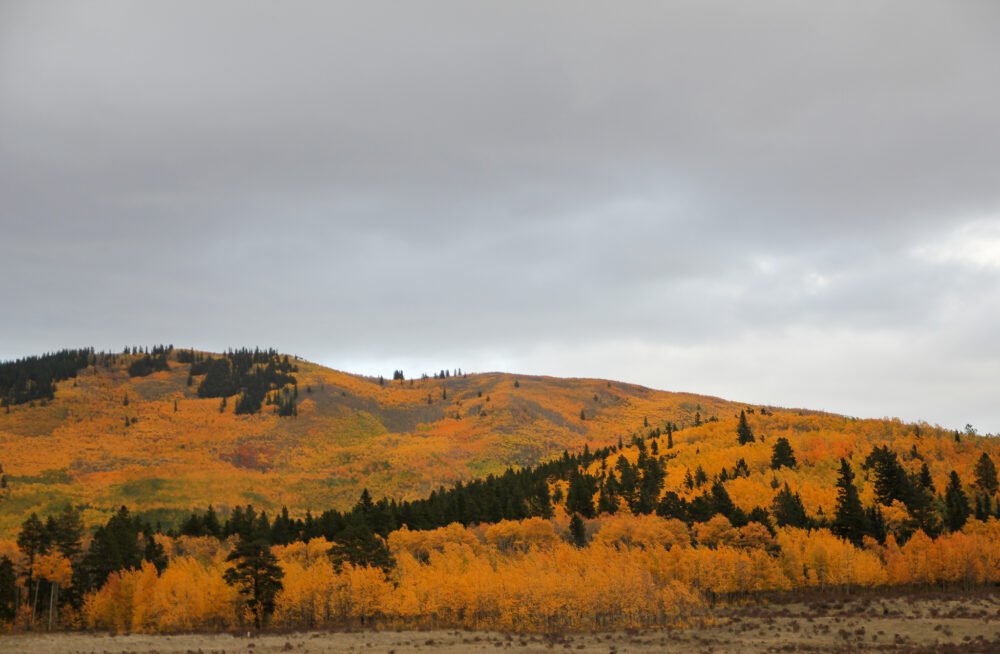 Contributed by Meg Atteberry of Fox in the Forest
Touted as one of the best fall hikes in Colorado, Kenosha Pass is a must-see attraction. Every year, around the third week of September, the entire mountainside is on fire with the color of the Aspens.
The drive up to Kenosha Pass is scenic in its own right, but get there early and step out of the car for a magical jaunt along the Colorado Trail.
Hike for as long as you want (the trail is hundreds of miles long) and soak in the incredible views. Most of the walking is easy to moderate.
Be sure to arrive early or visit during the week, this place is no longer a secret and it isn't uncommon to see hours of traffic on either side of the pass.
Sunrise is simply the best! Find a spot to put up your tripod and click away as the sun rises over this magical landscape.
Next, put the camera away and wander through the aspen groves and the light filters gently through the fluttering leaves. Truly a magical experience.
Afterwards, beat the crowds and head to Bailey or Conifer for brunch at one of the many cute cafes. Alternatively, head west towards Fairplay and head back on Highway 9 to I-70 for a scenic loop that's teeming with mountain magic.
Located just under an hour and a half from Denver, this must-see fall color explosion is the perfect getaway from the city.
With plenty to see and do nearby, Kenosha Pass offers a great place to enjoy the fall colors in the US and explore the mighty Rocky Mountains.
Rocky Mountain National Park, Colorado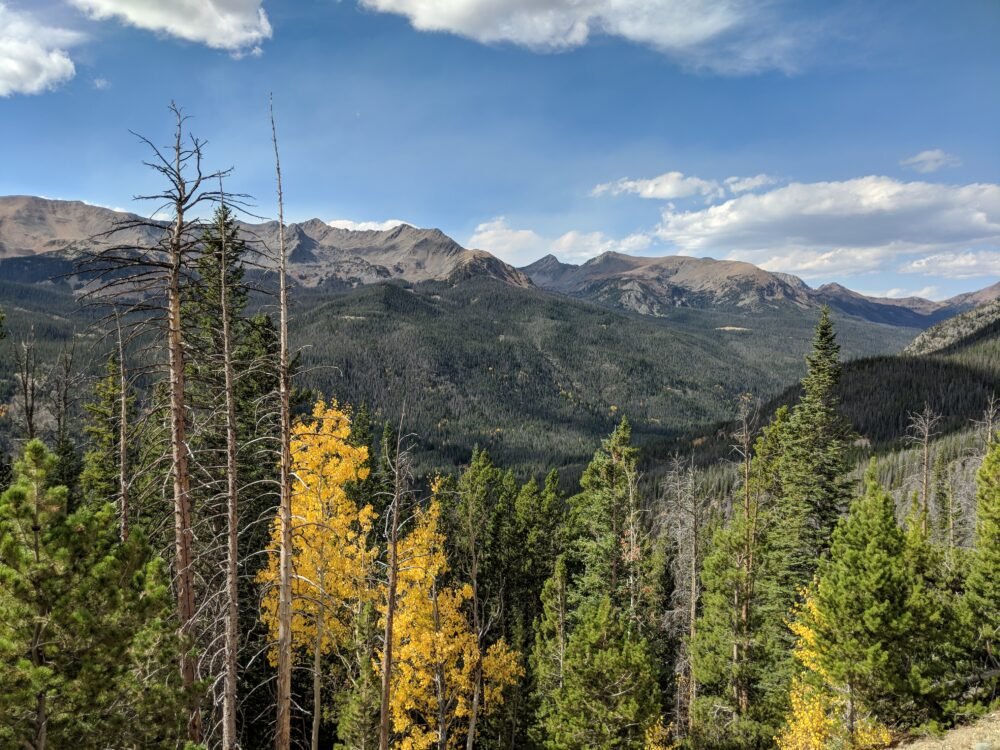 Contributed by Stephanie of Explore More Clean Less
Rocky Mountain National Park outside Denver, Colorado is a wonderful place to hike or drive and see fall foliage.
Unlike the reds and oranges on the east coast, RMNP is covered in bright yellow aspen trees!
Visitors have to monitor the color forecast before visiting but typically the peak viewing is in late September, sometimes overlapping with the popular elk rut season where you can hear them bugling.
Aspen groves are common throughout the park but there are some more colorful areas along the neighboring scenic byways. Two popular hikes to see the aspens are around Bear Lake and to Ouzel Falls.
The Bear Lake hike is an easy, flat, partially paved one with tranquil lake views; this area is very popular and busy so arrive early.
The Ouzel Falls hike in the wild basin area is much less trafficked and a more challenging trail, but alongside a rushing stream and ending at a tall waterfall.
In addition to the golden leaves, there are plenty of wildlife spotting opportunities for bighorn sheep, black bears, and moose in addition to scenic viewpoints within the park.
Don't miss driving the Trail Ridge Road, with the highest-altitude visitor center in the country.
Before you go, read more about the area and some tips for visiting Rocky Mountain National Park in Fall in order to get the most out of your trip!
Cottonwood Canyon, Utah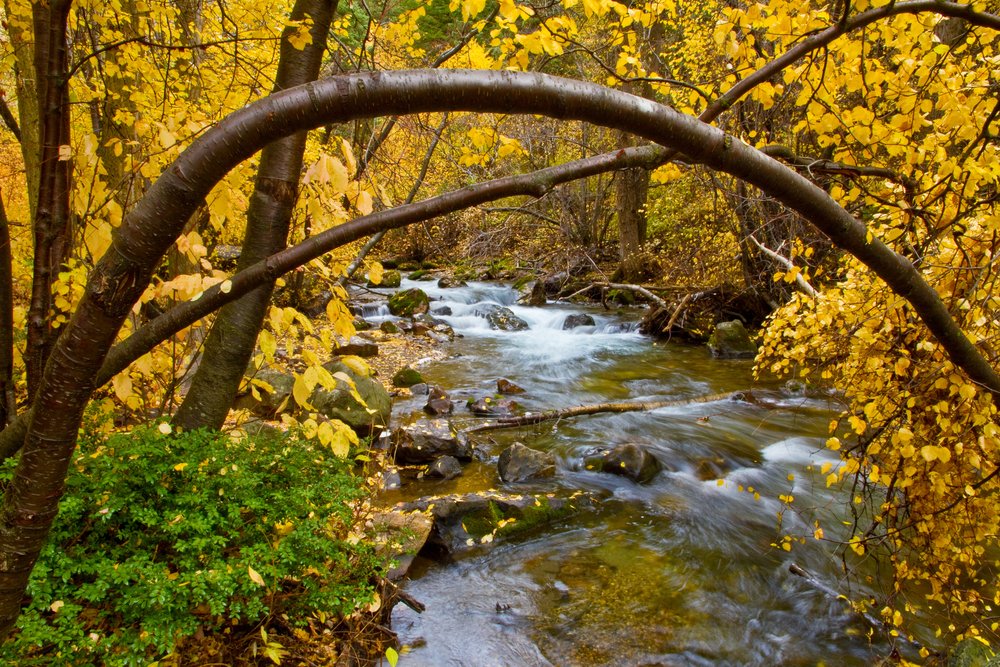 Contributed by Nicole from American SW Obsessed
Visiting Salt Lake City in the fall is the ideal time.  The weather is a bit cooler and you can see the change in colors around the city. 
It is stunning to see the reds and yellows of the leaves in the hills around Salt Lake City.
One of my favorite places to go hiking and take in the fall colors is Cottonwood Canyon outside of Salt Lake City.  This canyon was carved by a glacier and is stunning any time of year but fall is my favorite. 
It is also a beautiful, scenic drive to get there.  There are plenty of fun, easy hikes and pretty picnic spots from which to enjoy the colors.
There are several hikes in this area that are for all activity levels.  Many are great for the family as well.  I would recommend the Horsetail Falls trailhead. 
Not only will you have a beautiful hike, but you will also make it to Horsetail Falls which is one of the prettiest waterfalls in Utah. 
The first part of the hike is exposed but then you are in the pines.  The total hike is less than 4 miles and you only gain 400 meters in elevation.
No matter what you end up doing in Cottonwood Canyon you are sure to enjoy it!
Sante Fe National Forest, New Mexico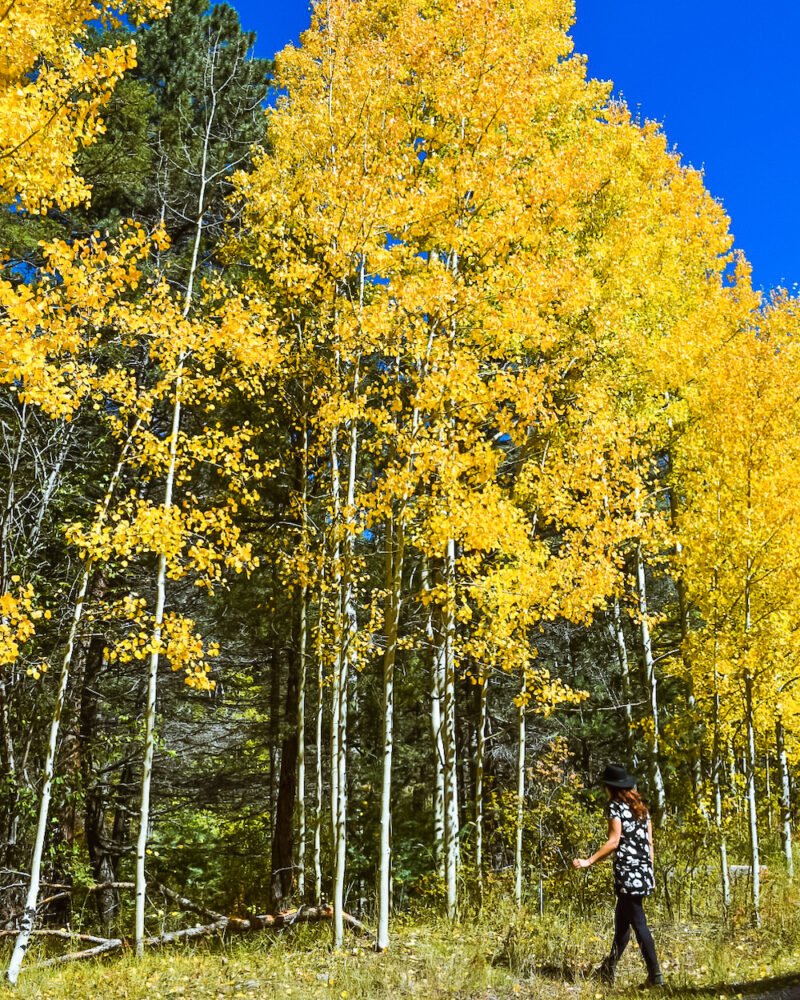 Contributed by Jeanine Romo of Le Wild Explorer
Santa Fe is the artsy capital city of New Mexico, and there is truly no place quite like it. It's wonderful to visit any time of year however the fall season is quite unique!
With over 300 days of sunshine each year, you won't be disappointed. And if you love the outdoors you'll definitely want to head to the Santa Fe National Forest during fall.
The National Forest is about an hour away from the downtown Santa Fe area and is perfect for day hiking, camping, stargazing, and much more. During the fall season, the foliage is a must-see!
The forest is known for its golden-yellow aspen trees. You can simply take a drive down New Mexico State Highway 475 and see the beautiful aspen trees from your car. However, a hike in the forest is the best way to see them.
Hiking along the Aspen Vista Trail is a great way to see the aspens on foot. The trail will lead you all the way to Tesuque Peak which is just under a 12-mile hike, out and back. There are also plenty of other shorter trails in the forest and Aspen Trees along the highway.
After a day of hiking head back to the city and check out some of the many museums or stroll down Canyon Road for an array of art galleries.
And if you're hungry be sure to try something with hatch chili, it's a New Mexican specialty!
For classic New Mexican cuisine be sure to check out Tomasita's, a family-owned restaurant, and then head to Thunderbird Bar & Grill for drinks overlooking the plaza.
There are plenty of things to do in Santa Fe during the fall season so enjoy your visit!
Best Places for Fall Colors in the USA: West Coast
The West Coast may be more known for its coastline and endless evergreen trees, but if you know where to look, there's some beautiful fall foliage that can be found out west!
From the Eastern Sierras of California to the Columbia River Gorge, here's where you can find some beautiful fall color on the West Coast.
Columbia River Gorge, Oregon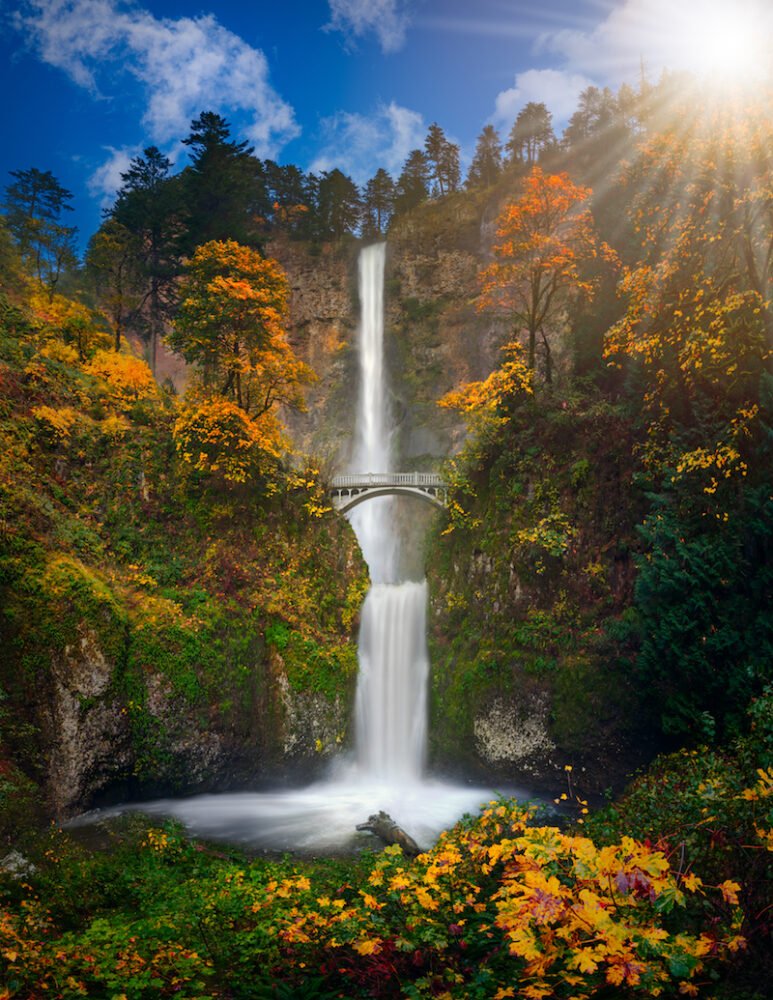 Contributed by Jenifer Byington of The Evolista
Oregon is the West Coast's well kept secret for fall foliage. Multiple locations around the state rival the autumnal display typically found on the East Coast. The peak time for fall color in Northern Oregon is late September to Mid-October and there is no better place to see nature's masterpiece than along the Historic Columbia River Highway.
If you're staying in Portland, head toward Columbia River Gorge on the scenic byway and you'll be treated to beautiful color for the whole drive.
Bridal Veil Falls, Horsetail Falls and Oregon's crown jewel, 620 foot Multnomah Falls, are all picture perfect places to see stunning waterfalls surrounded by yellow, orange and red leaves from top to bottom. 
Another fun fall activity is the Hood River Valley Harvest Fest where 125 food producers, wineries, and artisans sell their goods.
From pumpkin carving to delicious food and fall crafts, it's a great way to celebrate the fall season. Another option is to drive the Hood River County Fruit Loop to visit cideries, U pick orchards, farms, and restaurants. 
While the Columbia River highway and Hood River Valley is full of incredible sights, it's also worth a drive to nearby Willamette Valley. Oregon's wine region has more seasonal harvest festivals and vineyards full of golden yellow vines.
You'll also be able to see striking foliage at Silver Falls State Park, along the McKenzie River and the famous Tamolitch Blue Pool. Oregon is definitely the place to be for fun and fall colors in the USA.
June Lake, California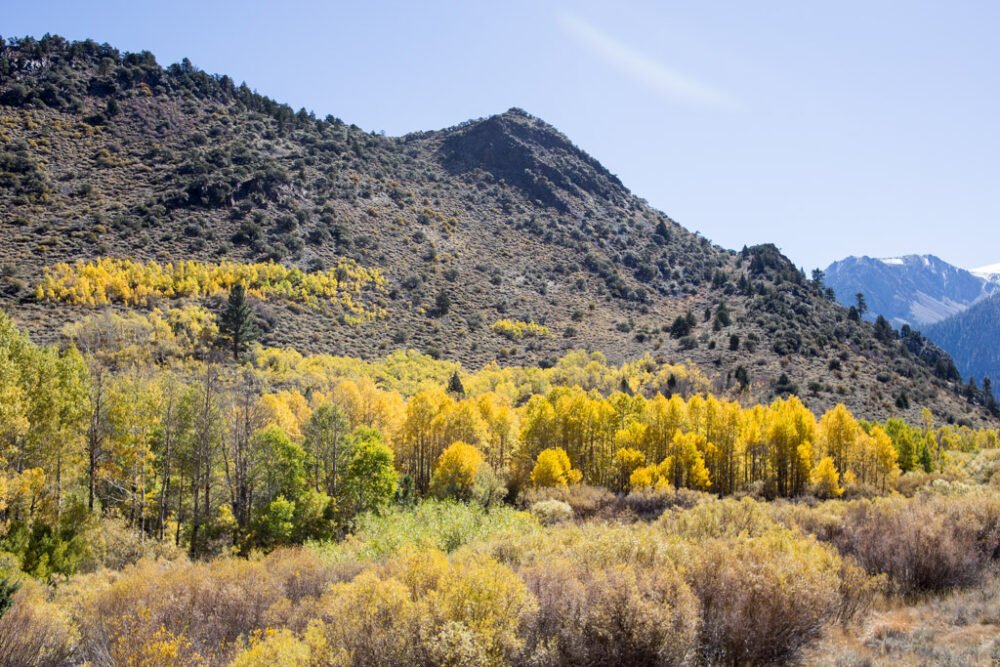 Contributed by Erin McLaughlin from The Gal On The Go
June Lake is a hidden gem in California hosting some of the best fall colors in the state and the United States.
Only 20 minutes away from Mammoth Lakes in the Sierra Nevada mountains lies June Lake featuring a spectacular color show of bright yellow and orange leaves during the season's peak in mid-October.
This location is also known for great hiking trails, a variety of water activities, and delicious food too! If you are looking for an easy hike and incredible views, the Parker Lake Trailhead is a must on your visit.
This 3.6-mile roundtrip hike brings you to secluded Parker Lake that is its own little oasis.
There is no shortage of other hikes to explore since June Lake Loop consists of 4 different lakes including June Lake, Gull Lake, Silver Lake, and Grant Lake.
Pack your swimsuit because the water is crisp and calm on June Lake where the whole family can rent a boat or kayak for the day. Double and single kayaks are available to rent at the Silverlake Resort General Store for $25 a day.
End your night at the local brewery called June Lake Brewing and bring over a bit to eat from the featured food truck vendor on-site.
Lake Tahoe, California/Nevada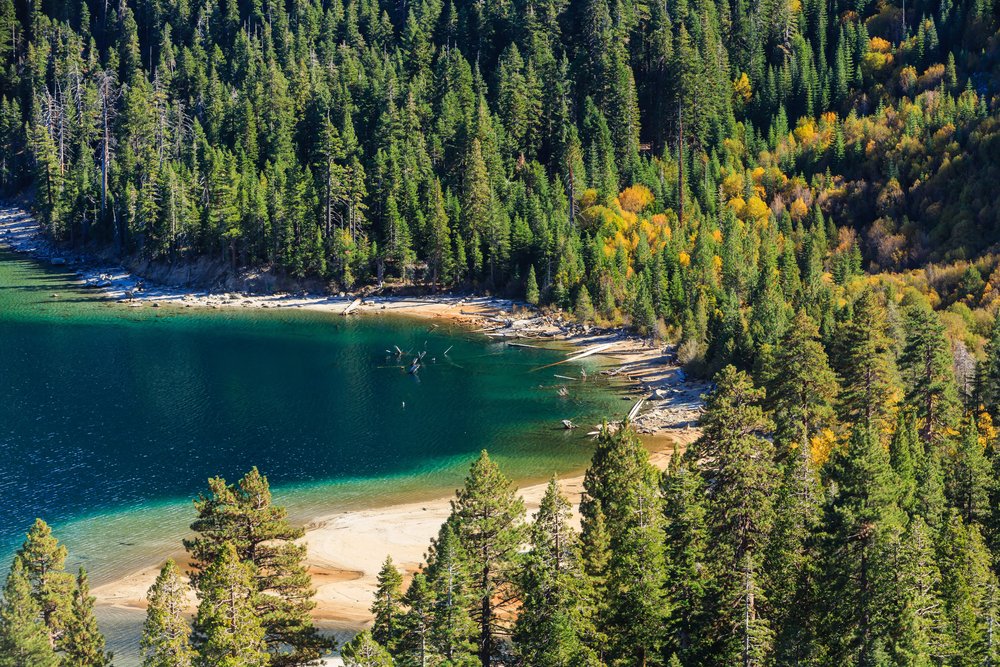 Contributed by Dhara from Roadtripping California
As one of the prettiest lakes in California, Lake Tahoe makes for a worthy destination any time of year. But fall is an especially beautiful time to visit this alpine lake in the High Sierra, because there are many leaf-peeping opportunities in and around Lake Tahoe.
On the Nevada side of the lake, Sand Harbor State Park is a great place to see leaf color.
The boardwalk trail that follows the lake shore is both easy and scenic. On the east side, drive to Spooner Lake, and do the easy lake shore loop to see lots of yellow aspen.
On the south side, head to Fallen Leaf Lake near Mt. Tallac for fabulous fall colors. You can go boating on the alpine lake as well!
Some of the best colors around Lake Tahoe can be seen in Hope Valley, about a 30-minute drive from South Lake Tahoe.
You will see whole hillsides covered with yellows and oranges, and lots of bright yellow mature aspen at peak. You can drive further along CA-89 to see even more color.
Seeing the kokanee salmon run is one of the most fun things to do in Lake Tahoe in the fall. Visit Taylor Creek to see the salmon and leaf colors as well. If you visit early or late, you might see a bear fishing for salmon!
Denali National Park, Alaska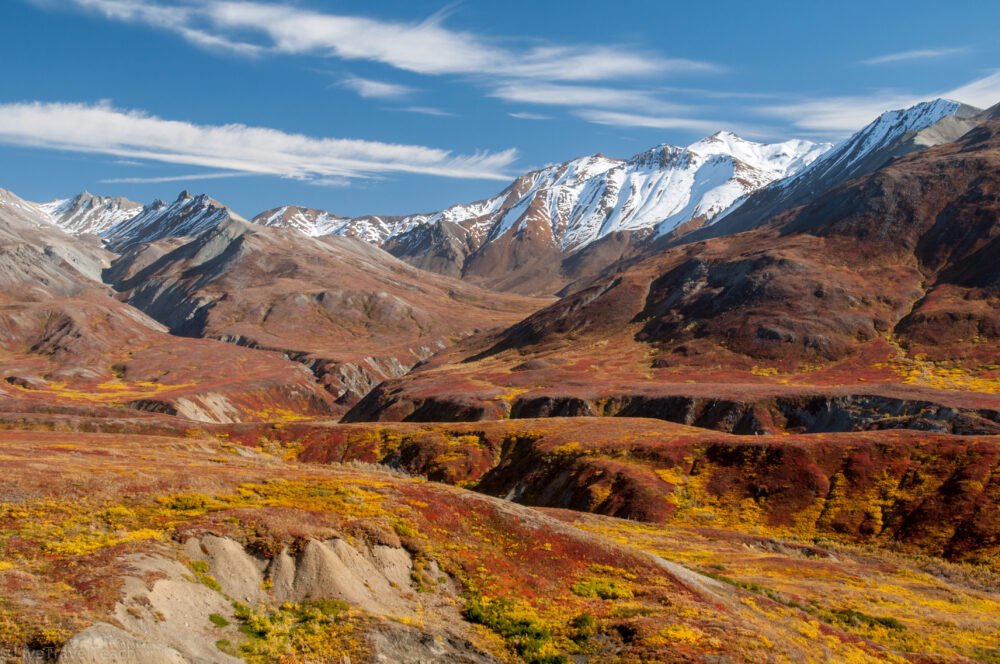 Contributed by Mike Still of Live Travel Teach
Denali is the best place to visit for fall colors, especially when you consider that the fall colors arrive before the rest of the country so you can still make a trip to picturesque Appalachia after you come back from Alaska.
Fall turns the lichen and trees in the tundra throughout Denali National Park into gorgeous shades of yellow and red.  Colors change in early September making it a great time to visit, especially if you're lucky the Denali park road lottery will match with your post-pandemic travel plans next year!
If you can't get in the road lottery you should definitely book a ticket on the park buses. From there you can hike or bike to your heart's content. 
Another great reason to visit Denali for fall colors is you're more likely to see wildlife as the leaves disappear from the trees!  I've visited twice in the fall and saw grizzly bears, caribou and moose!  
If you're lucky enough to visit Denali in September then you'll also have a good chance of seeing the aurora borealis! We camped overnight at Riley Creek and had northern lights dancing above our tent now that the summers midnight sun can finally set.
If you're looking for a bite to eat after your visit to the park check out 49th State Brewing in Healy, Alaska.
Allison Green is a former educator turned travel blogger. She holds a Masters in Teaching and a B.A. in English and Creative Writing. Her blog posts merge her educational background and her experience traveling to 60+ countries to encourage thoughtful travel experiences that both educate and entertain. She has been a speaker at the World Travel Writers Conference and her writing, photography, and podcasting work has appeared in National Geographic, CNN Arabic, CBC Canada, and Forbes, amongst others. Now based in the San Francisco Bay Area where she grew up, she has also lived in Prague, Sofia, and New York City.