Joshua Tree National Park is one of Southern California's iconic parks, known for its trails and hikes. Its dreamy terrain expands over 800,000 acres providing 114 hiking trails, running tracks, viewing trails, and much more.
The stunning views and rewarding hikes attract thousands of visitors to Joshua Tree each year.
If you are planning to visit the park, you can go for the best hikes in Joshua Tree for a good workout. It will be unjust to the magnificent setting if you won't lace up your hiking boots once you are there.
While it is not easy to pick a favorite, here are seven best hikes in Joshua Tree that will make your trip worthwhile.
All About Joshua Tree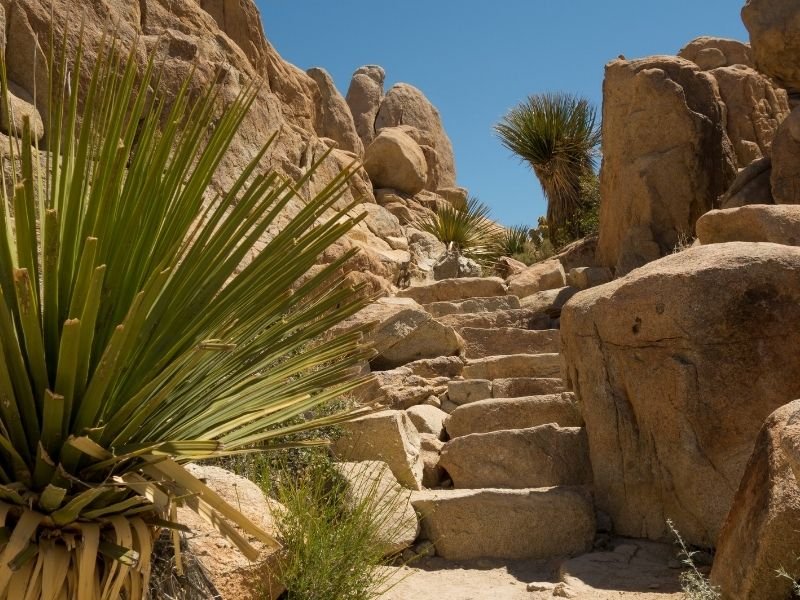 Note: This post contains affiliate links, which means I may receive a small commission if you purchase something through one of these links. Thank you for supporting the free content on this site! For more information on affiliate links and cookies, see my disclosure page for more details.
The Joshua Tree National Park gets its name from the Yucca brevifolia or Joshua tree. With about 800,000 acres of park, Joshua Tree provides dozens of experiences for people from around the world.
Apart from the park's namesake trees, you will find other exotic flora, whimsical rocks, and dozens of trails waiting to be explored. The amazing hiking, biking, and horse riding trails make Joshua Tree one of America's most attractive rock climbing places.
In spring, the place is laden with wildflowers so tourists can enjoy wildflower viewing and appreciate the exotic wilderness.
When the night comes, the desert sky clears out, revealing thousands of stars worth gazing at. The park is an ideal site for photography as every design looks like an artist sketched it.
It makes for a great fit for any type of trip whether that's family, solo or as a couple. Use the awesome family travel hacks if you plan to go as a family to ensure you have everything prepared to make for an amazing trip.
7 Best Hikes in Joshua Tree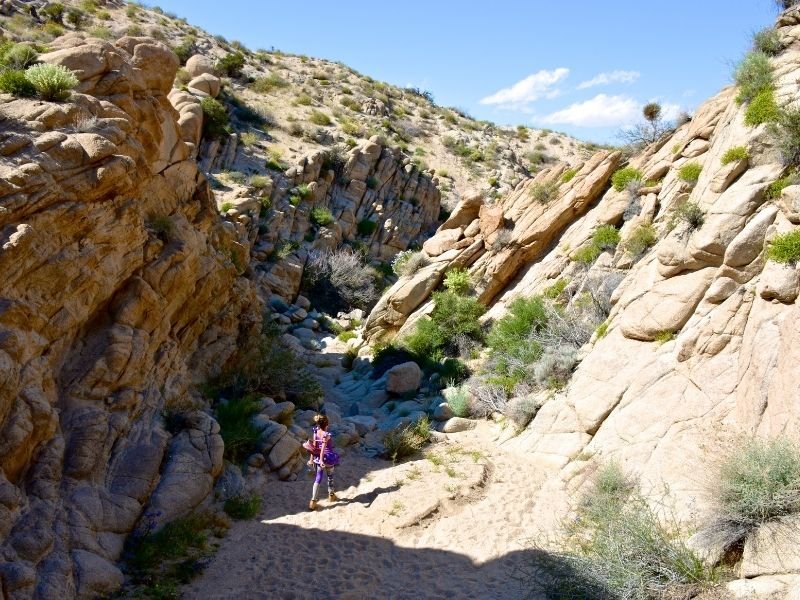 One of the best experiences of Joshua Tree is hiking along the magnificent trails of the park. If you are seeking a steep hike, you've got ten mountain peaks rising to the skies with an elevation of 5,000 ft.
Or, you can explore Joshua Tree's five fan oases that display the most splendid sights.
Lace-up your shoes and bring your favorite travel backpack because we have listed down seven best hikes in Joshua Tree that are too tempting to resist.
Hidden Valley Trail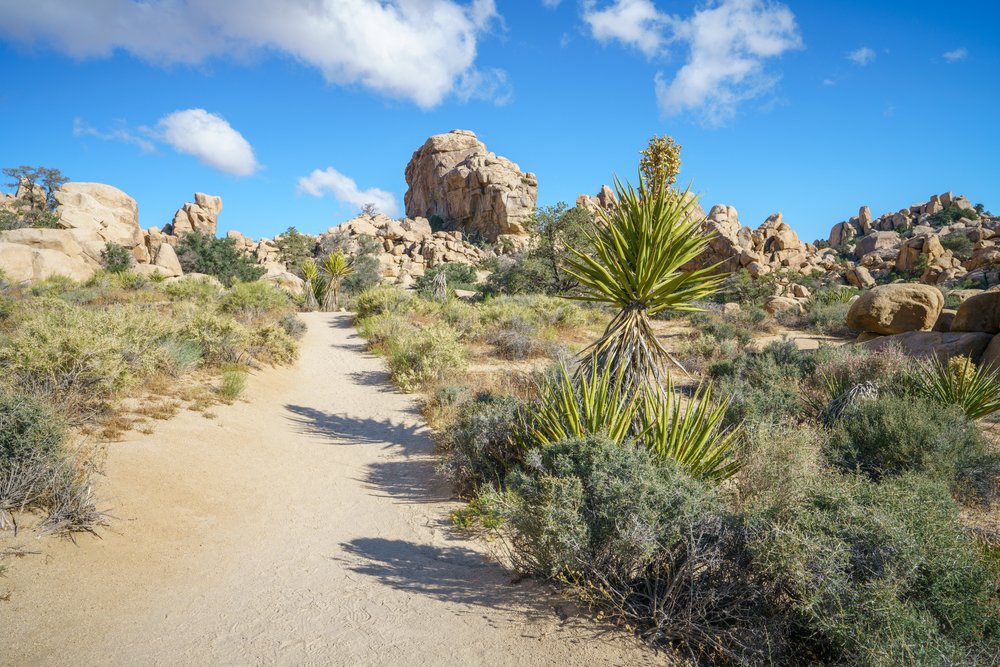 The Hidden Valley Trail lies in the heart of Joshua Tree Park, right after Park Blvd. While you hike around the 1-mile loop, you can experience a little piece of history in the Hidden Valley, which was once popular with castle thieves who would hide their loot there.
Natives strongly believe that the entrance of the Hidden Valley — the beginning of the trail — was created by Keys, who wanted to make a larger entrance for his castle.
The Hidden Valley Trail is an easy hike through giant rocks and boulders adorned by different trees and cacti varieties. You will also find picnic tables and BBQ grills along the trail to stop and have lunch. It is a great hike for people of all ages looking for an easy and fun hiking adventure.
Barker Dam Nature Trail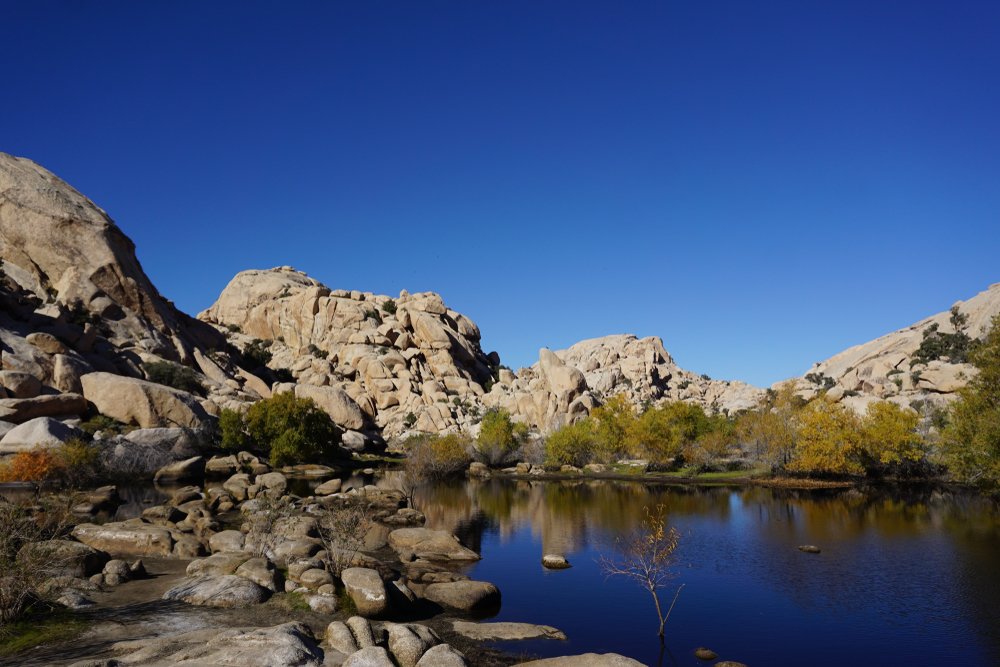 Barker Dam Nature Trail is another short 1.4 miles hike located east of the Hidden Valley. The trail is almost like a stroll through splendid scenery with giant rock formations. There is also a wide variety of flora along the trail as you enter into the open valley where you will find the dam.
The Barker Dam was built a long time back to collect water for livestock. There is also an old stone horse trough by the dam, and the water collected there attracts all kinds of birds.
When the dam is filled up, you are likely to find wildlife along the hike too. It's a good hike when the dam is full, but make sure to look out for the bighorn sheep.
Ryan Mountain Trail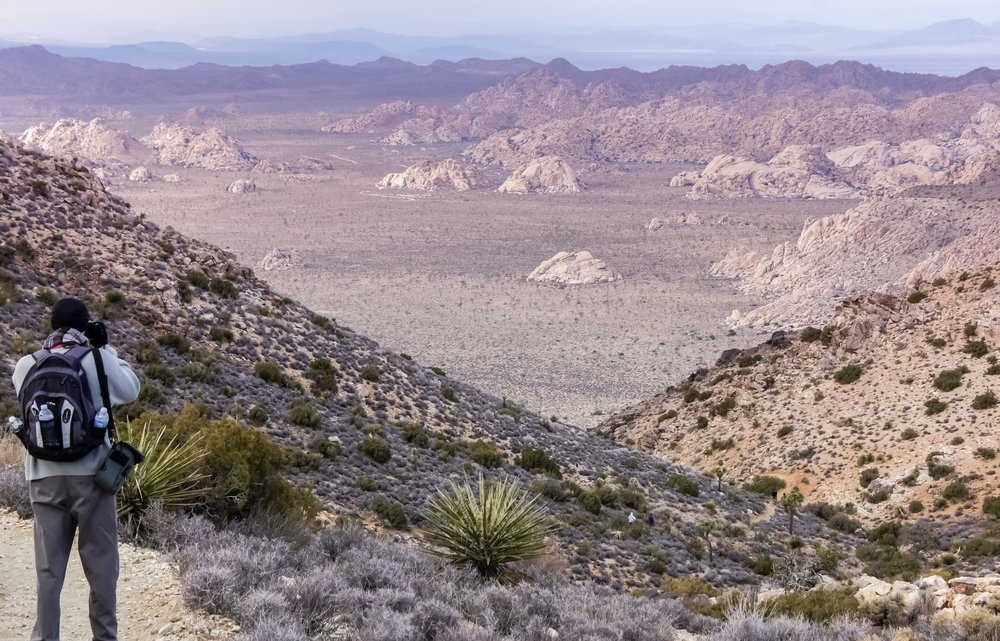 One of the most popular and best hikes in Joshua Tree is the Ryan Mountain Trail. It is a 3-mile hike to reach the summit of the mountain. While it's a short trail, you will have to climb over a 1000 ft for 1.5 miles from the desert sands to the summit.
The hike is nowhere near a stroll. But, once you get to the top, it will be well worth the effort. From the top, you can have a panoramic view of Joshua Tree Park and even enjoy a snack while watching the sunset.
Boy Scout Trail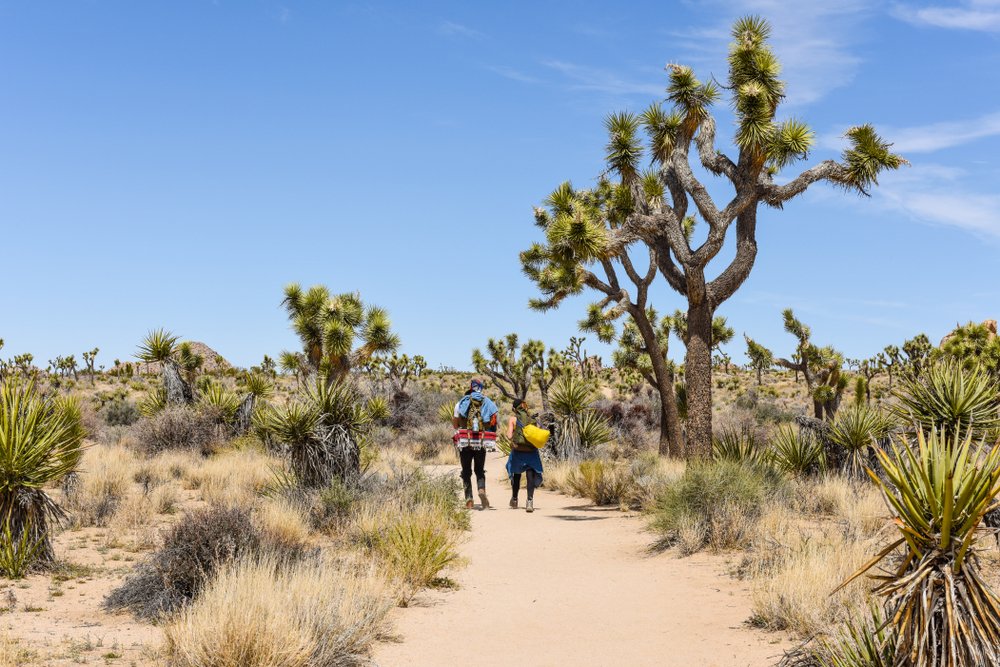 A classic hike in Joshua Tree Park, Boy Scout Trail is a seven-mile trip that lets you discover the Wonderland of Rocks. If you hike deeper into the rocks, you will find the secret haven of dense willow trees.
With only 400 ft of elevation, the hike is a favorite of photographers and backpackers who are looking for some solitude and, of course, wildflowers.
About 3.5 miles in, your turn-around spot will be Willow Hole. It is a water source circled by lush green vegetation and desert wildlife. If you see some water there, you might want to stick around the area as you might encounter the bighorn sheep too.
Cholla Cactus Garden Loop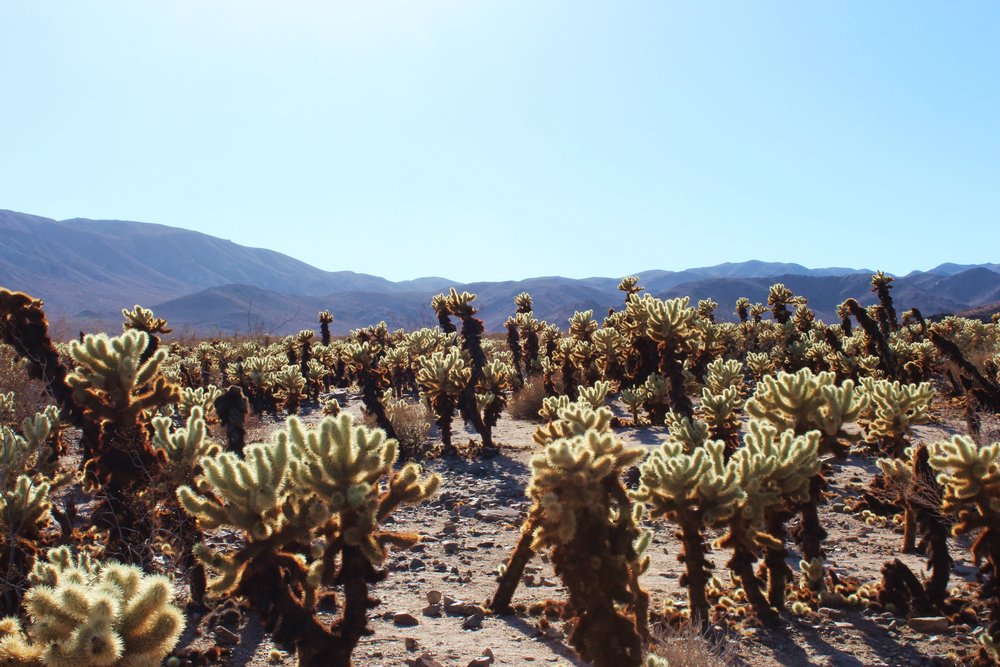 One of the shortest and best hikes in Joshua Tree, Cholla Cactus Garden Loop, is a hike through the Colorado Desert cactus garden. The view of thousands of natural cholla cactus makes the trail a must-see for every park visitor.
If you walk too close to the Cholla Cactus, it might jump onto your skin or clothes, which is why it is also known as Jumping Cactus.
The area is great for photography throughout the day. But, watch out for the cactus needles in the dark as they are a bit hard to get off.
Warren Peak Trail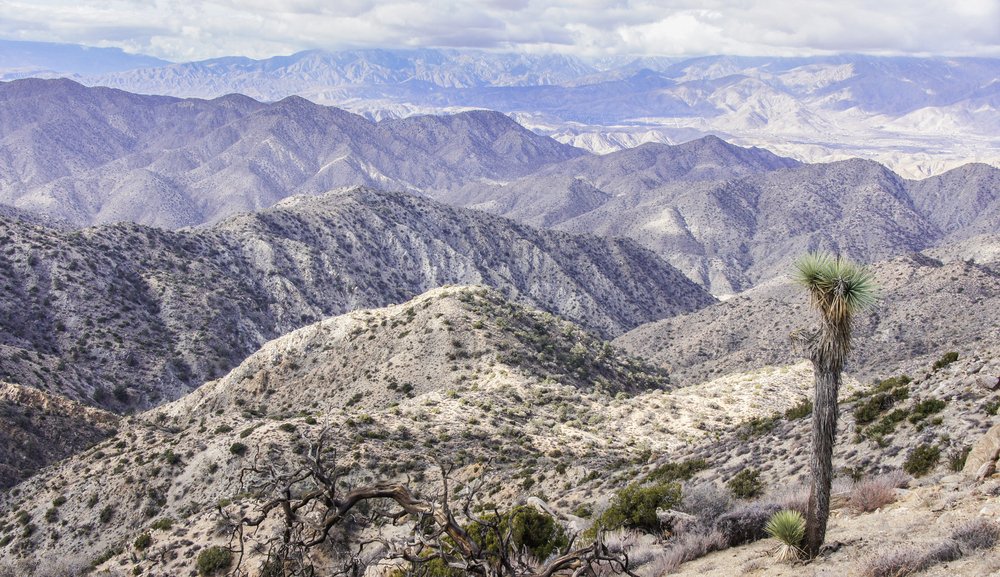 If you are looking for a longer hiking experience, the six-mile Warren Peak Trail is the one for you. Although the last few miles are very steep, the trail is moderate for the most part.
The route is unique because you will find fewer Joshua trees and more pinyon, oak, and juniper trees along the way. You will also come across the Black Rock Spring, a source of water for the wildlife.
At the end of the trail, you will have a view of the western part of Joshua Tree. You will also be able to admire the Santa Rosa, San Jacinto, and San Bernardino Mountains.
Before hiking the Warren Peak Trail, you want to plan out a few things.
As the trail is exposed to the sun, you have to stay prepared with enough water and sunscreen. Some parts of the trail are more sandy, which might affect your pace. Therefore, pick your timings wisely.
Wall Street Mine Trail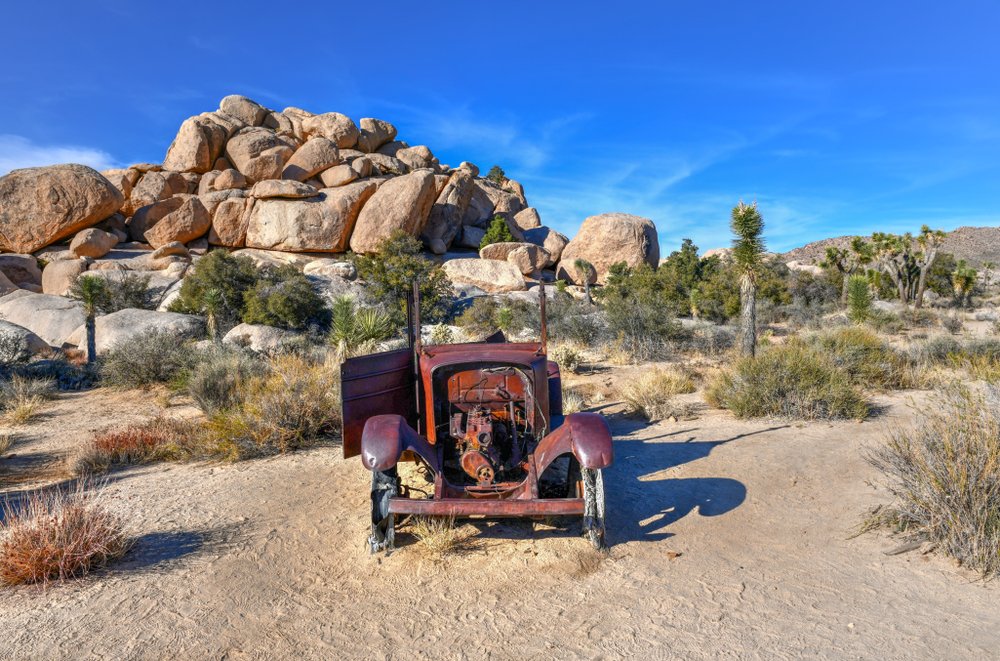 All the history lovers out there will love the 2.8 mile Wall Street Mine Trail. It is one of the best hikes in Joshua Tree for learning the history of the park. In the 1900s, Bill Keys processed gold ore in the Wall Street Mine.
The miners carted the ore to the top of the hill, where they crushed it into the sand. They mixed the sand with water and mercury to wash away the useless gravel with water.
If you hike the trail, you can explore the ruins of the gold past. These include the preserved gold mine area and a gravestone. On your way to the mine, you'll come across the ruins of Wonderland Ranch and an old windmill that pumped water from the mill.
Make sure you have at least two hours to fully explore all the colorful ancient history.
Know Before You Go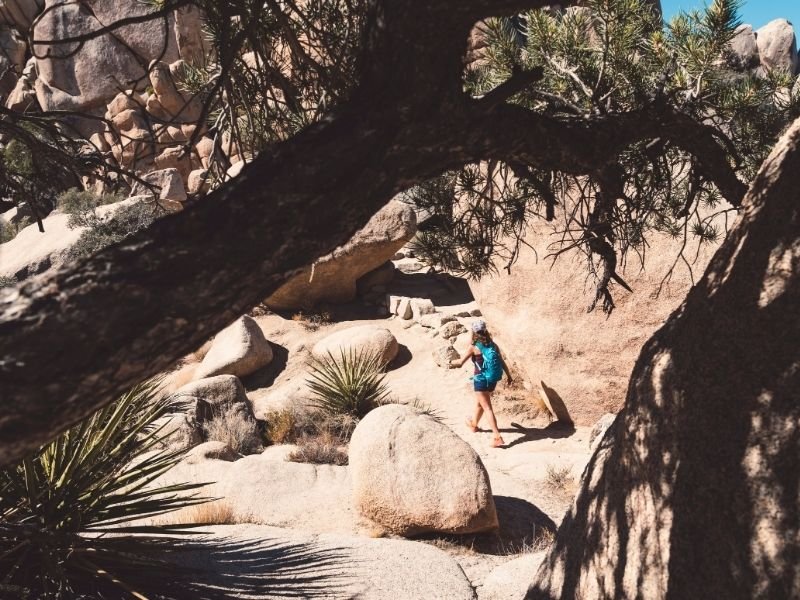 Before you go hiking in Joshua Tree, you should know a few things about the location and climate.
Since the park consists of two deserts, the temperature can soar up pretty quickly during summer, early fall, and late spring. The high temperature and dry air can make hiking extremely difficult for some people. So, try to apart yourself to the climate before going for longer or tougher hikes.
If you are visiting Joshua Tree in summer, you can also eliminate any potential risks by an early start, carrying plenty of water, and wearing enough sunscreen to stay protected.
We recommend that you visit the park in spring when the temperature is mild, and the flowers are blooming everywhere. Fall is also a good time to visit the park, but the air can be dry during this time, so stay prepared. In winters, the area gets cold enough to force you to put on layers of clothing.
Another thing to keep in mind is that there are no services in the park. So, you will have to carry everything you will need during the day, including water, food, sunscreen, and a first-aid kit. Since the area is pretty rocky, you also want to carry your best hiking boots for a tension-free adventure.
Conclusion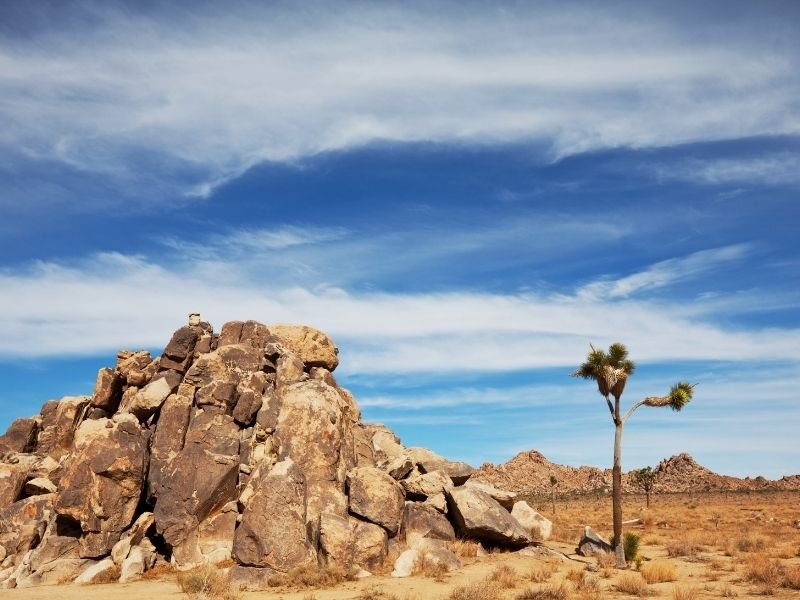 Joshua Tree is a great place for nature lovers seeking adventure, beauty, and some action in their hiking boots. The park provides its visitors with endless opportunities to explore the history of the region to its depths.
No matter which hike you pick from our list of best hikes in Joshua Tree, you will fall in love with the scenic views, unique flora, and impressive wildlife in the park.
Author Bio: Via Travelers is a modern travel blog providing the best tips, hacks, and itineraries to ensure you have an amazing adventure! Follow us on Instagram, Pinterest, Facebook, and Twitter.
Pin This Guide to Joshua Tree Hikes!
Allison Green is a former educator turned travel blogger. She holds a Masters in Teaching and a B.A. in English and Creative Writing. Her blog posts merge her educational background and her experience traveling to 60+ countries to encourage thoughtful travel experiences that both educate and entertain. She has been a speaker at the World Travel Writers Conference and her writing, photography, and podcasting work has appeared in National Geographic, CNN Arabic, CBC Canada, and Forbes, amongst others. Now based in the San Francisco Bay Area where she grew up, she has also lived in Prague, Sofia, and New York City.