If you're planning a Christmas getaway in the USA, we're here to help you plan the best festive trip!
This blog post is all about the best places to spend Christmas in the USA, as chosen by top travel bloggers and travel experts.
There are festive Christmas destinations for everyone on this list: from small towns to big cities, from warm weather getaways that are no less festive to cold paradises even Santa would approve of!
From Aspen to Alaska, from Disneyworld to D.C.: here is where to celebrate Christmas in the US!
Colorado Springs, Colorado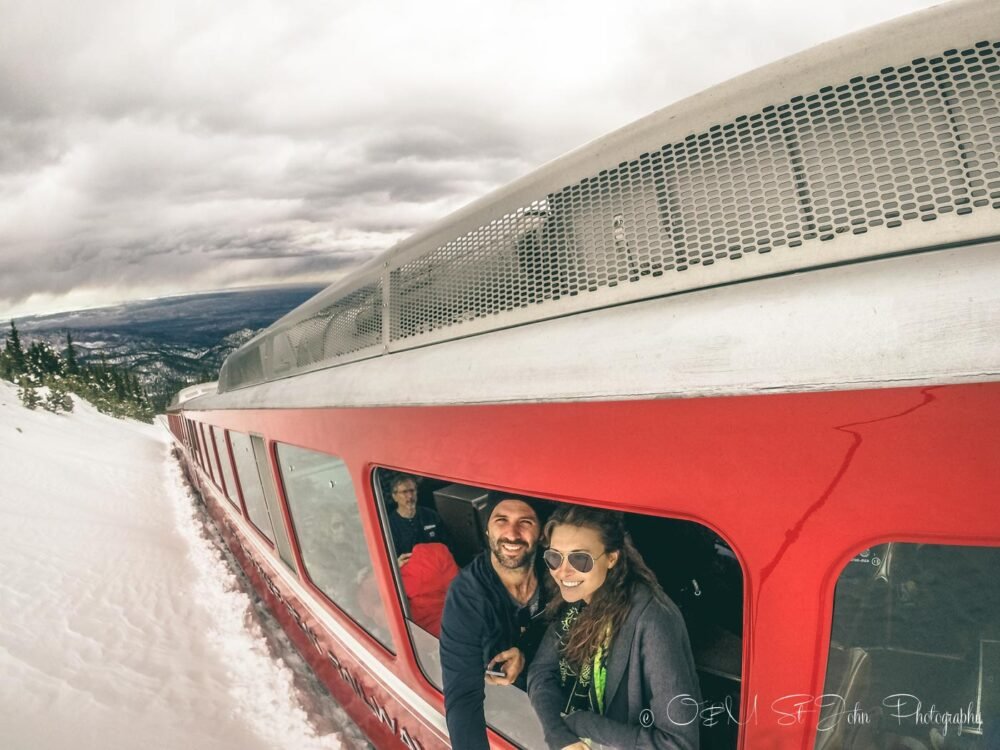 Note: This post contains affiliate links, which means I may receive a small commission if you purchase something through one of these links. Thank you for supporting the free content on this site! For more information on affiliate links and cookies, see my disclosure page for more details.
Contributed by sustainable travel bloggers Oksana & Max from Drink Tea & Travel
Colorado Springs is the perfect place to combine holiday cheer and outdoor activities.
In downtown Colorado Springs you'll find a robust schedule of holiday activities and light displays while outside the city you can find some of Colorado's most breathtaking scenery.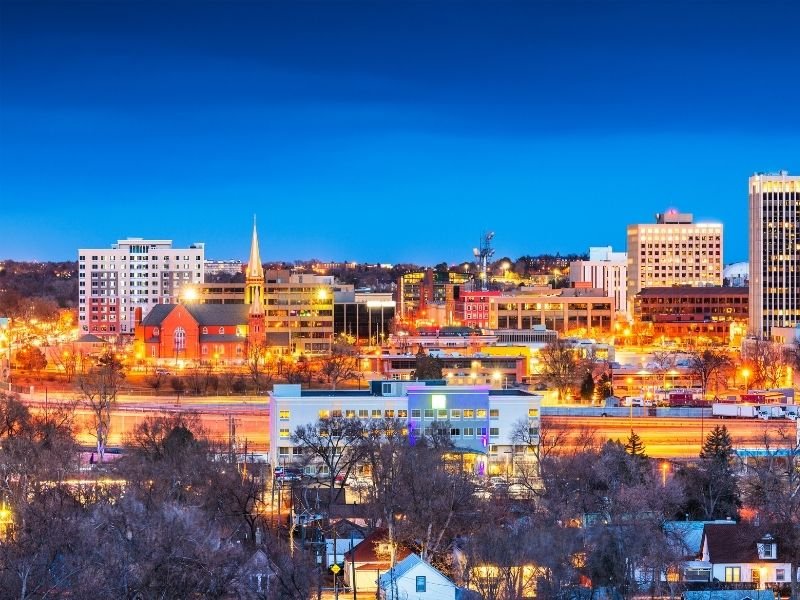 The Festival of Lights is an annual festival in Colorado Springs whose proceeds go to a local NGO.
It is made up of a series of holiday events and culminates in the Festival of Light Parade each December.
The outdoor skating rink at Acacia Park is a popular place for both locals and out of towners to visit.
You can hear holiday music as you do laps around the rink and you can rent skates at the rink if you don't have your own. 
Colorado Springs is known for having some incredible light displays during the holiday season.
The Broadmoor Hotel lights up Seven Falls with dazzling Christmas lights.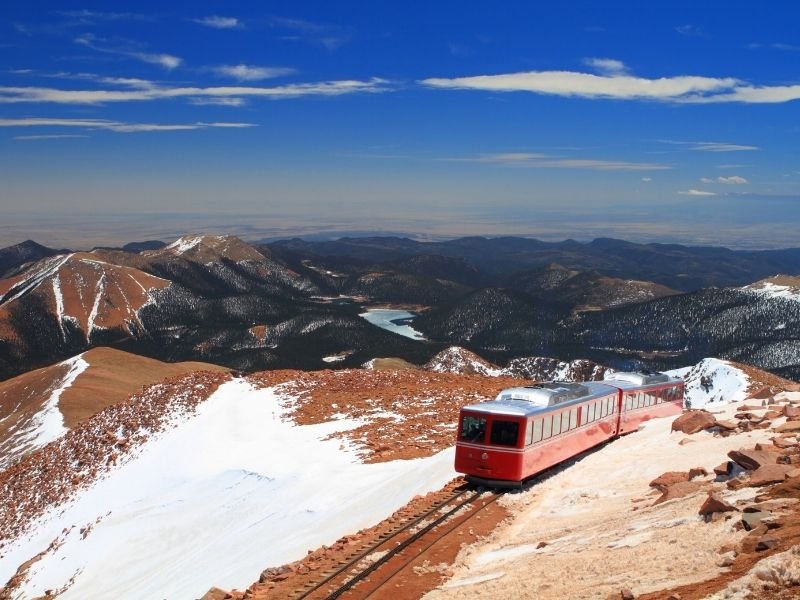 Just outside the city is Pikes Peak. It is one of the tallest mountains in the area and a great place to explore year round.
However, Pikes Peak's Cog Train takes on another dimension during the holiday season especially if you choose to take Santa's Train.
On it you'll find Mr. and Mrs. Claus and their elves along for the ride. It's a great activity for families with smaller children.
Fairbanks, Alaska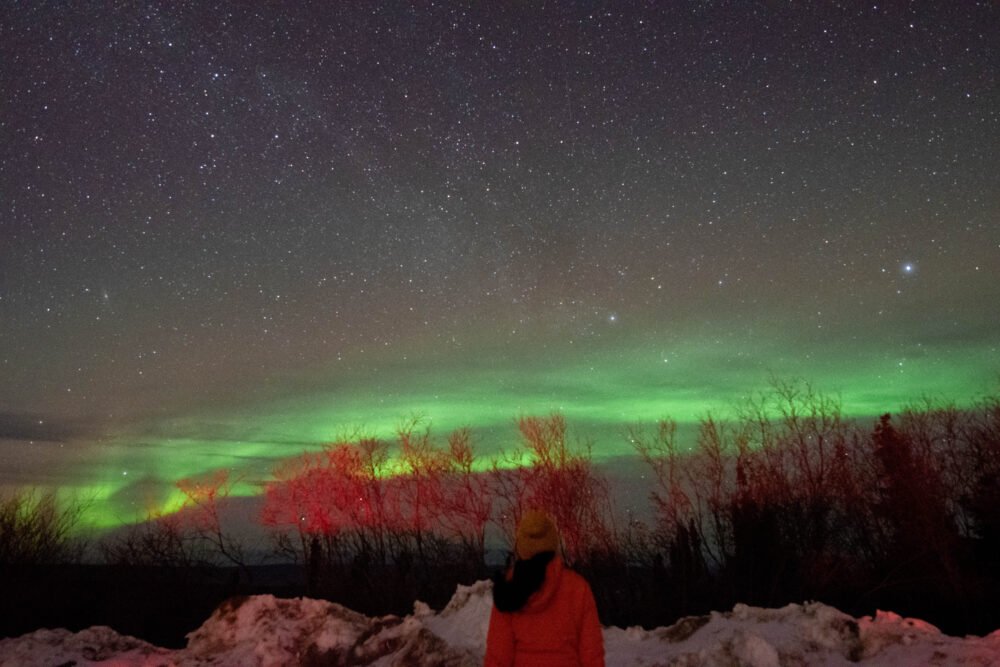 Contributed by Kay of The Awkward Traveller
Hands down, one of the best places to celebrate Christmas in the USA is Fairbanks, Alaska.
It just doesn't get more "Winter Wonderland" than dog sled rides, candy cane street lamps, reindeer farms, ice sculptures, and maybe even a visit from jolly ol' Saint Nick himself.
Fairbanks is the second-largest city in Alaska, but one of the most Northern cities in the world.
In fact, it is just a few hours south of the Arctic Circle.
But once Winter Solstice begins, the entire city is transformed into a scene out of The Polar Express.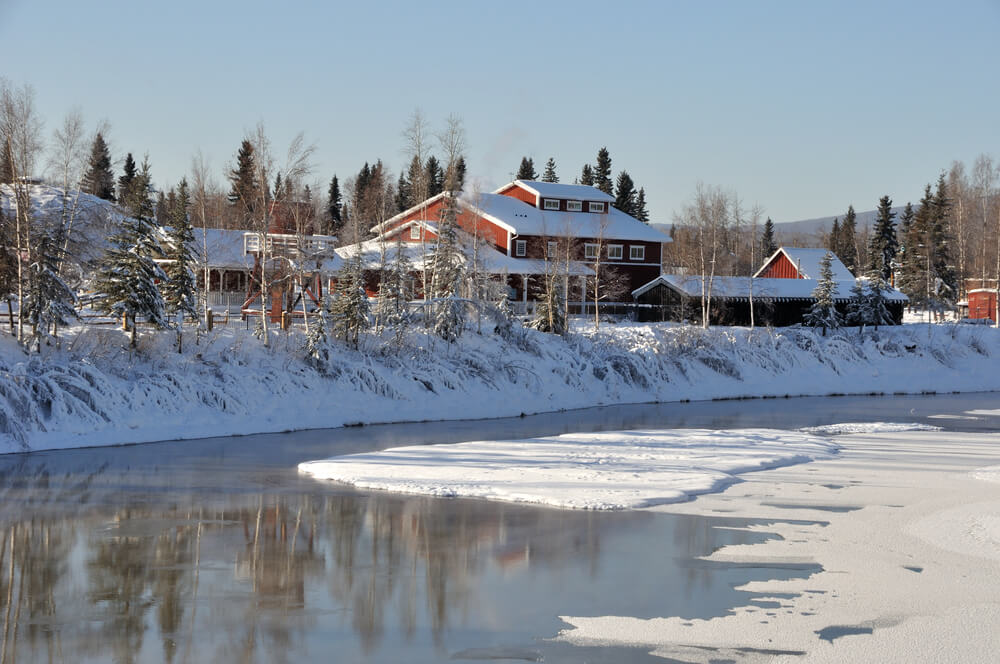 Storefronts along the downtown area are decorated with lights, while tinsel and garland embellish lamp posts, railings, and street signs.
Along with dressing up for the holidays, Fairbanks also boasts fun winter activities that is appropriate for any age group.
For dog sledding, Chena Hot Springs has a kennel of retired and rescued sled dogs that love a good run in the snow.
Or, for a calmer experience, visit Running Reindeer Ranch, a family-owned farm that offers reindeer walks, reindeer yoga, and unique reindeer gifts to take home with you.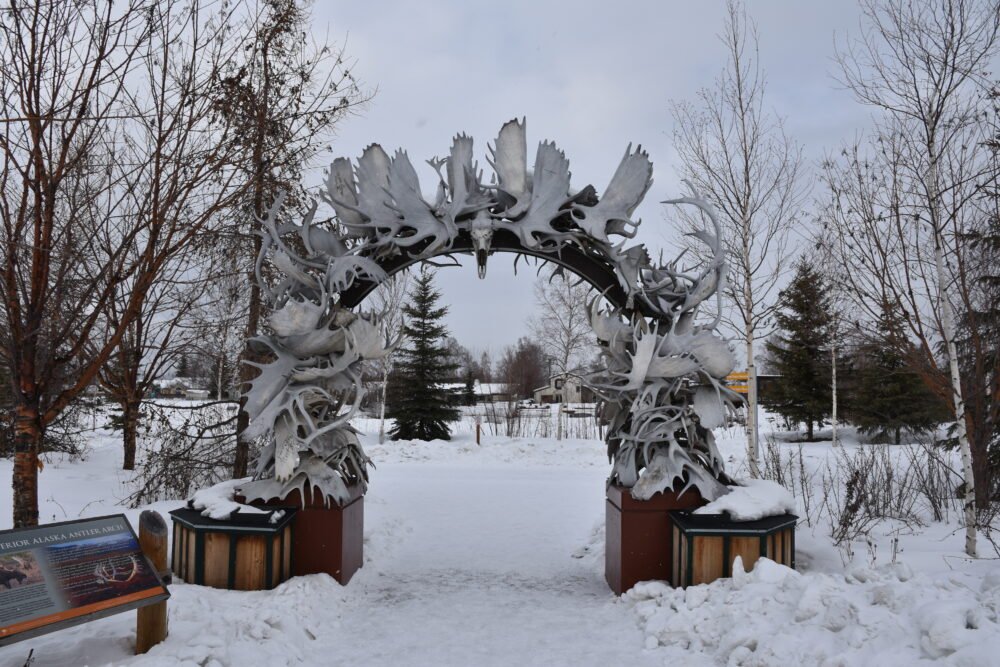 To spot some incredible ice-sculpting talent, check out "Christmas in Ice," an annual competition that draws sculptors from all over the world; there is also an ice maze and ice slides.
But we can't forget about Santa! Just twenty minutes outside of town, in the small town of North Pole, you can visit Santa's workshop.
There are tons of gifts, decorations, and even a Santa letter station!
If you've been good the whole year, Santa might even appear to get your wishlist in person.
After you're all worn out from activities, grab a hot drink as the sun sets and head to one of the many parks to catch a glimpse of the Northern Lights – the perfect end to the day's festivities.
Woodstock, Vermont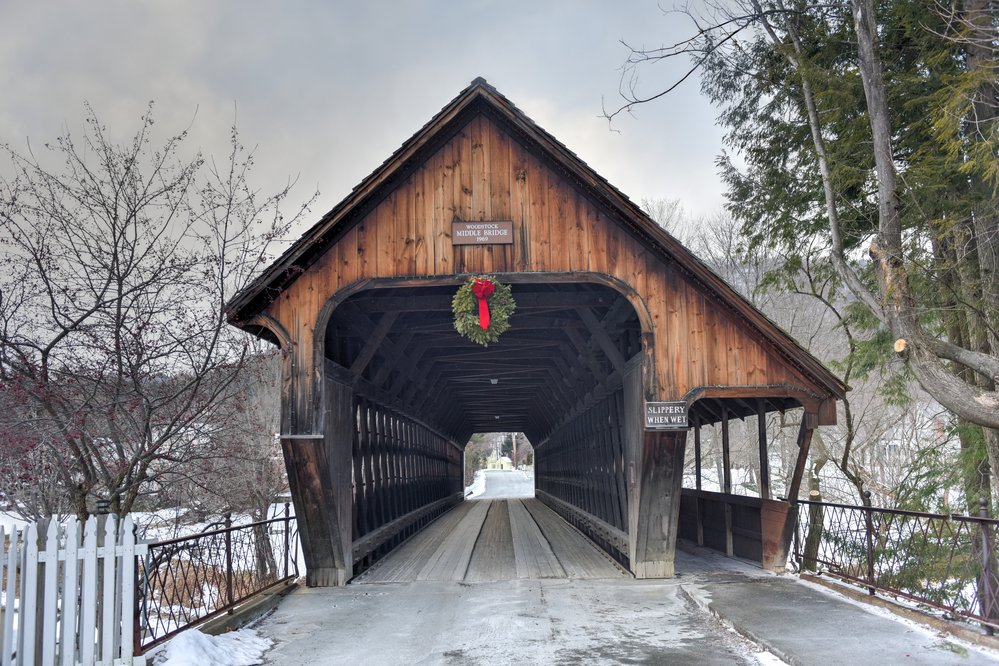 Contributed by Amy Hartle of New England with Love
Woodstock, Vermont is one of the best places to have that classic Christmas that you've always dreamed of.
In Woodstock, you'll find a small, old-fashioned village, antique homes, one of Vermont's oldest general stores, several covered bridges, snow-laden trees, cozy restaurants, crackling fireplaces, and so much more. 
Woodstock is one of the top places to celebrate Christmas in New England.
Without adding any trimmings or festivities, Woodstock is already totally charming.
Originally chartered in 1761, this is an old place with a great deal of history.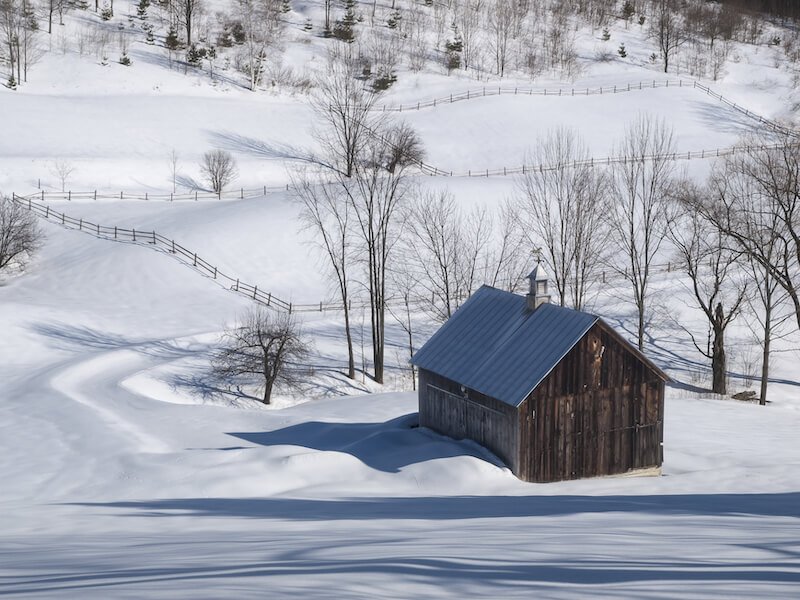 A pleasant downtown forms the center of the town, with many unique shops and eateries.
Tucked in between these businesses and the surrounding streets is a collection of picture-perfect homes, many of them white farmhouse-style buildings.
To say that Woodstock is pretty as a postcard would be quite accurate!
And this area becomes even more delightful when covered by a thick blanket of snow, which can be expected with regularity every year.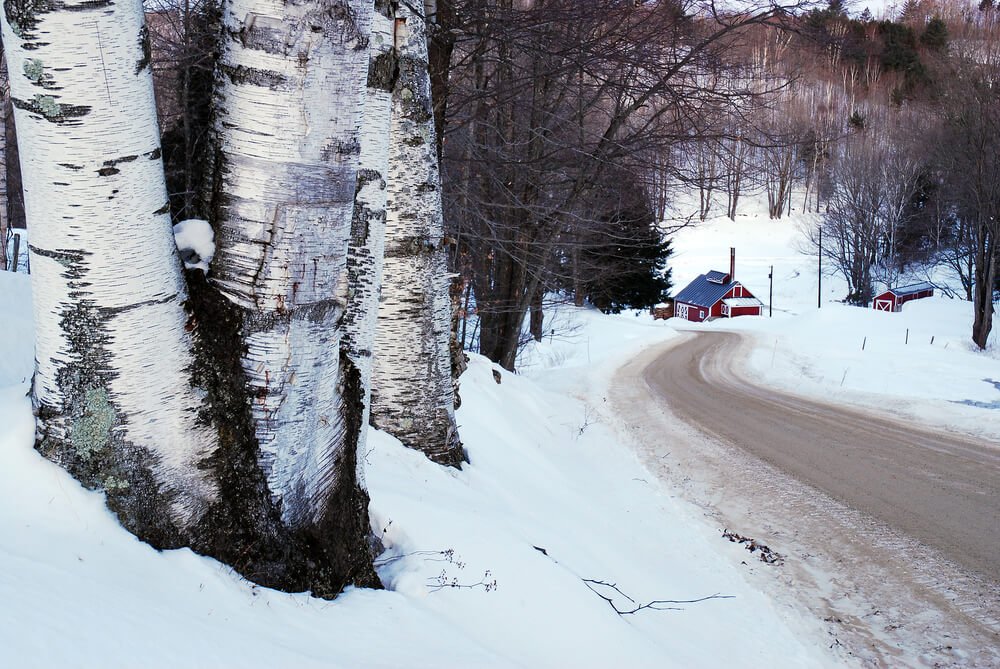 The Wassail Weekend is one of Woodstock's top Christmas activities.
Around the holidays, this event brings a 19th-century Christmas to life along the streets of the town.
Horse-drawn carriages bedecked with sleigh bells and driven by folks in period dress , transport visitors back in time during the Wassail Parade.
Kids can enjoy breakfast with Santa at the nearby Billings Farm, which is a working dairy farm.
In the evening, make a reservation at the Woodstock Inn for their 4-course Wassail Feast. So much fun in Vermont at Christmas!
Mammoth Lakes, California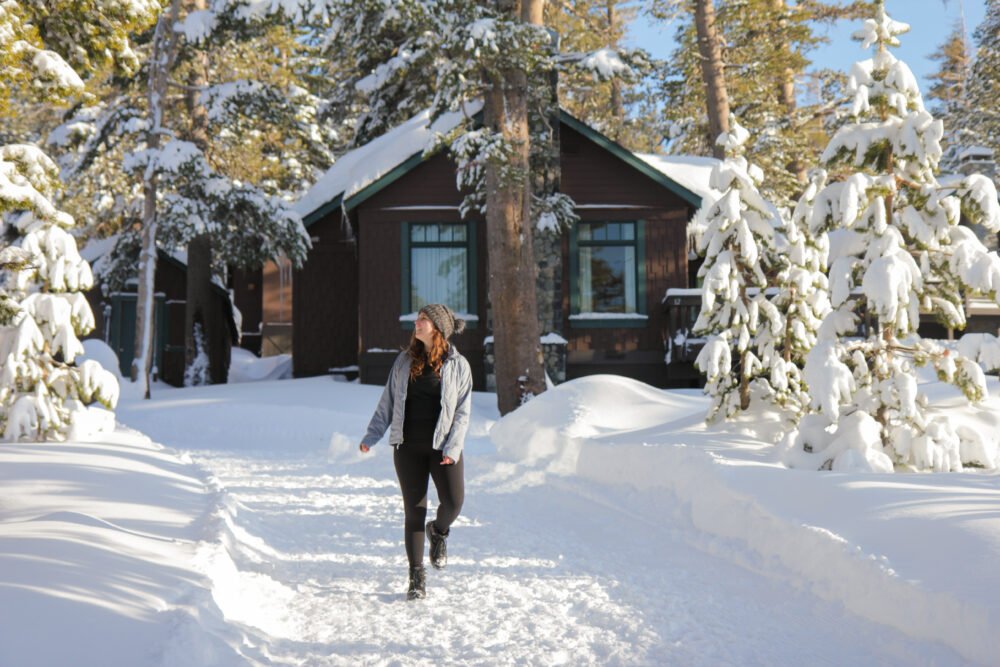 Contributed by Jenny Kotlyar of Campsite Vibes
The holiday season in Mammoth Lakes usually kicks off with the tree lighting ceremony at the Village, which is usually shortly after Thanksgiving.
Through the month of December, there are concerts, pop-up holiday shops, and Santa Claus events.
The whole town is decorated in lights with Christmas lights twinkling and snow falling.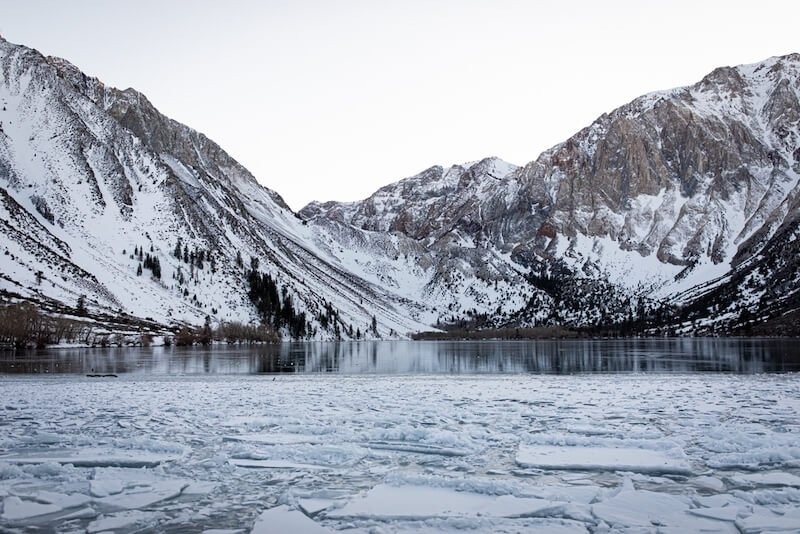 It's truly a winter wonderland nestled in California.
One of the best holiday events that Mammoth puts on is Night of Lights.
The whole town gathers at Canyon Lodge for a light show put on by the staff, and for a grand firework show.
Dress warmly and wear good insulated boots. It can get chilly!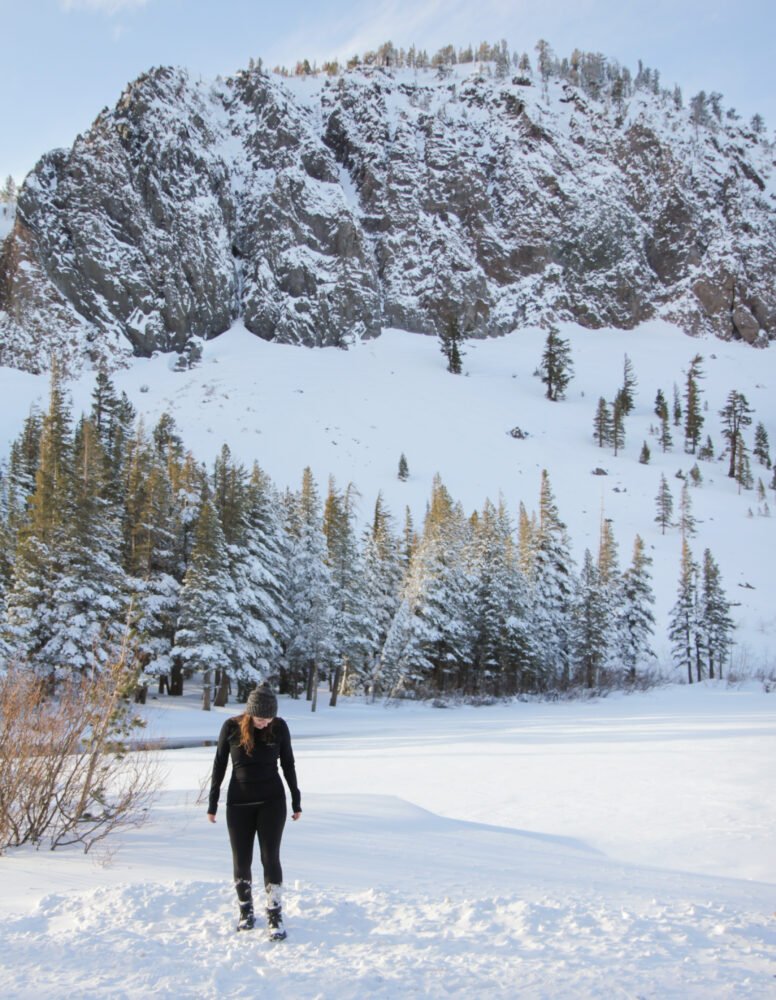 After the firework show, you can stay at Canyon Lodge for the live concert, or head down the Village where there is usually another live concert going on.
Kids, adults, teenagers, everyone is just having a blast and dancing around in their snow clothes.
For more things to do in Mammoth Lakes during the winter months, read through this blog post.
Aspen, Colorado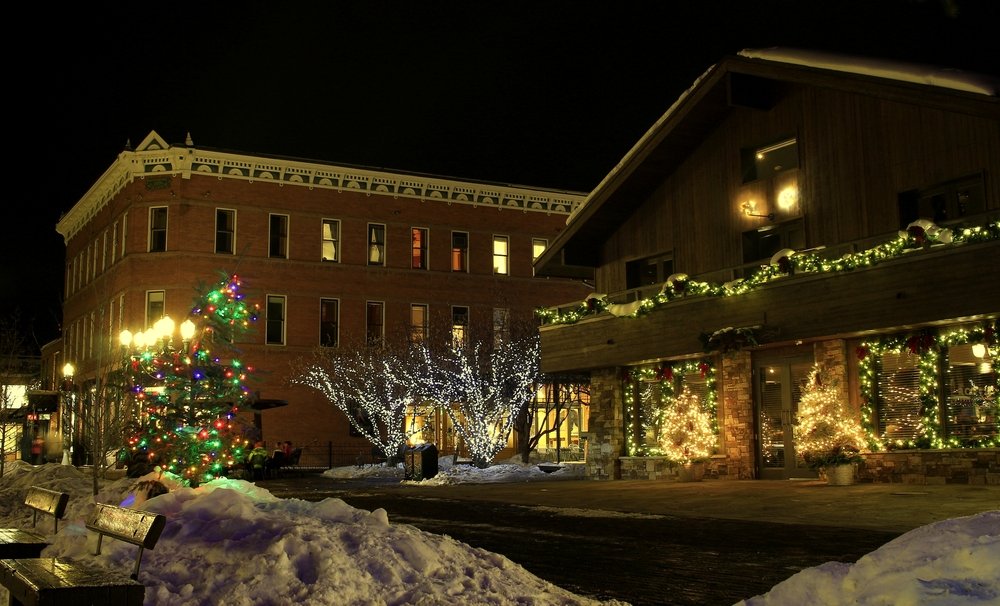 Contributed by Daria Bachmann of The Discovery Nut
If you are looking for a white Christmas, Aspen is one of the best places in Colorado and the entire United States for that matter.
This ski resort located in the heart of the Rocky Mountains transforms into a true winter wonderland during the holiday season.
Visitors enjoy Aspen's most special time through its festive atmosphere complete with colorful decorations and sleigh rides.
Plus, all the typical winter activities such as skiing, tubing and ice skating – after all, that's what Aspen is known for!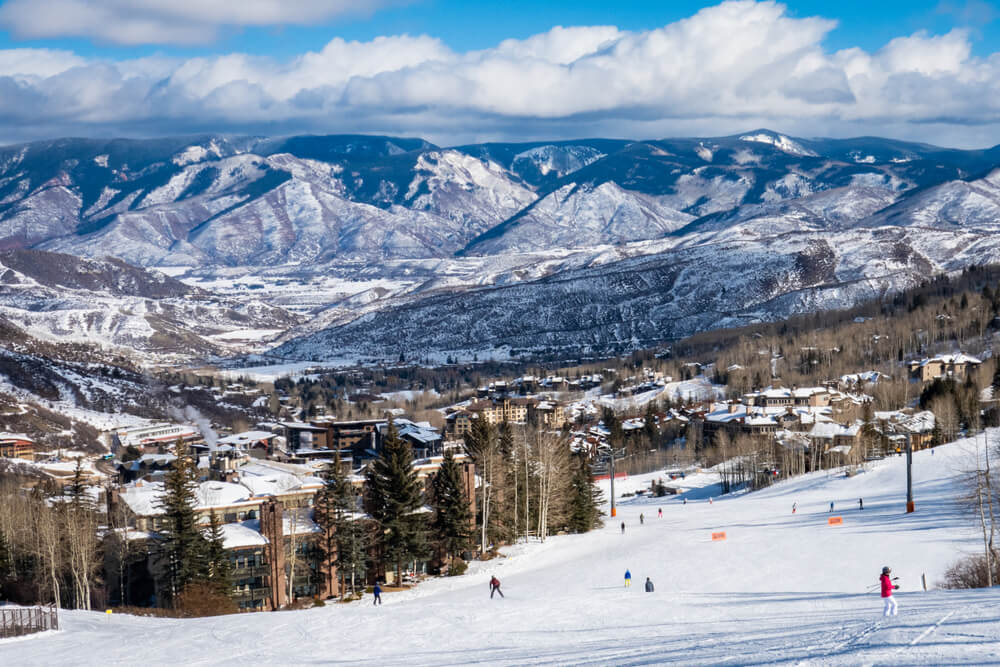 Other popular wintertime activities include the Breathtaker Alpine Coaster that takes you on a wild ride at nearly 30 miles per hour area through the forested area near Elk Camp!
This is a relatively new addition to the town's slew of winter activities that opened in 2017. 
While Aspen is definitely on the pricey side, spending Christmas there is a must-have experience at least once in your lifetime.
Located along Colorado's Western Slope, Aspen has daily flights from Denver and many other cities in the Western United States and beyond.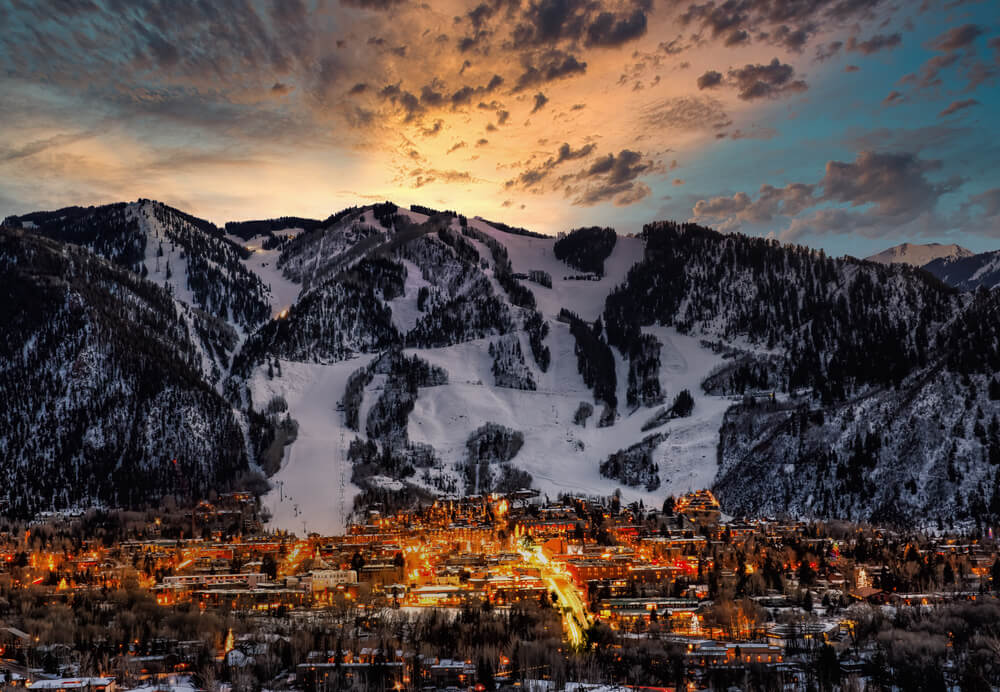 However, if you want to enjoy Christmas time at this popular resort, make your reservations ahead of time.
This is the busiest time in Aspen, and scores of people from all over the world come here to hit the slopes and enjoy the remarkable holiday spirit.
This is why Aspen is one of Colorado's best mountain towns and one of the best places to spend Christmas in the USA!
Pittsburgh, Pennsylvania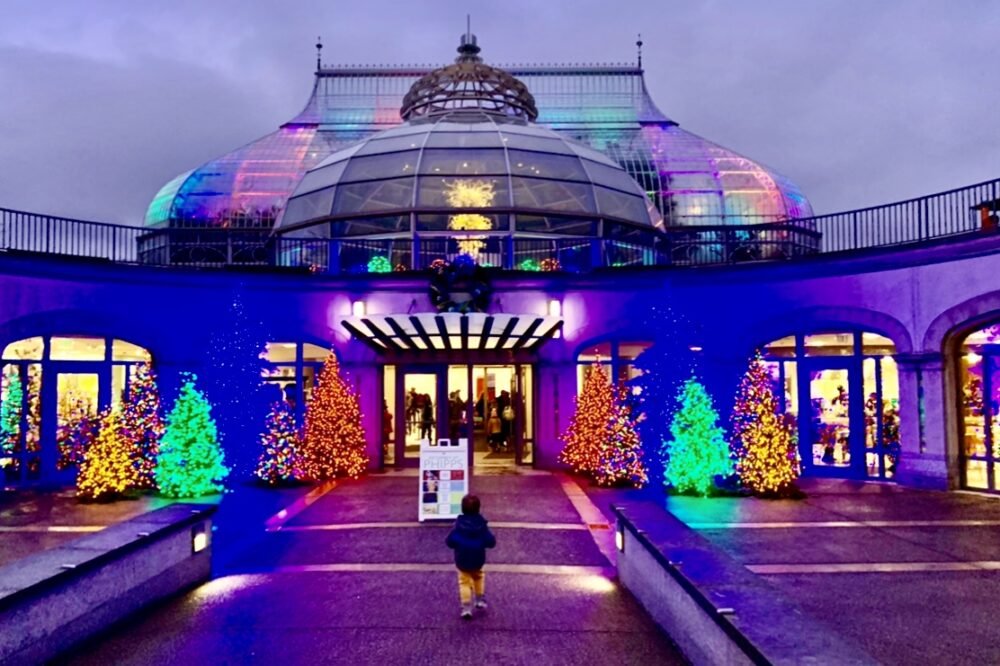 Contributed by Amanda Emmerling of Toddling Traveler
For a traditional white Christmas with a variety of unique events, Pittsburgh, Pennsylvania is an amazing place to celebrate Christmas in the USA.
The holiday season in Pittsburgh officially starts with "Light Up Night" in Downtown Pittsburgh.
The focal point of this Christmas celebration is the huge tree and Christmas lights being lit up across the city.
It also marks the opening of Pittsburgh's holiday market.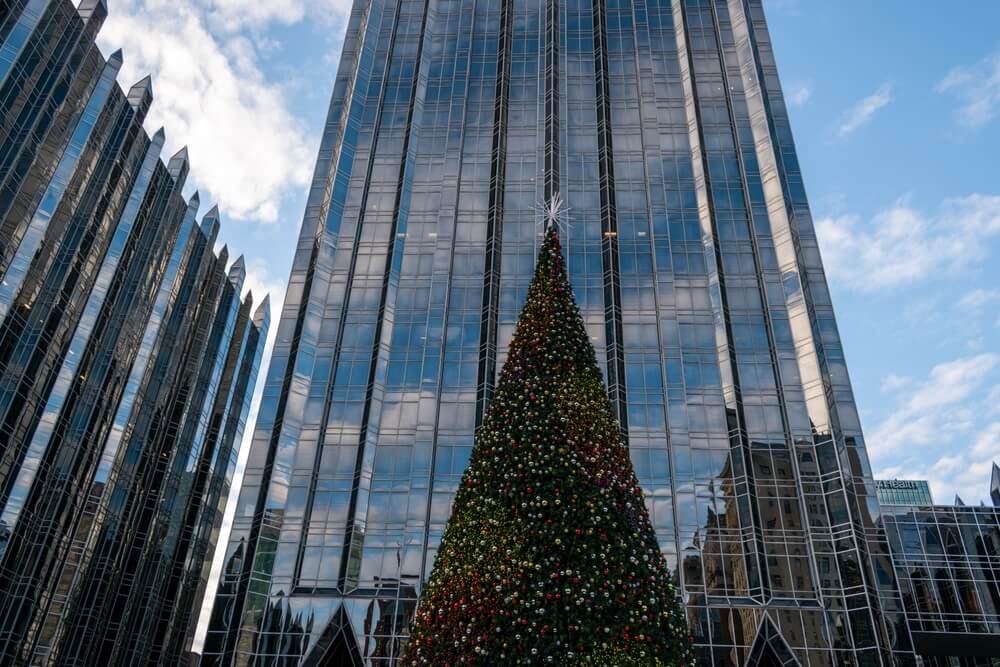 Here you can find Santa and a variety of Christmas shops that you'd typically find at Christmas markets in Germany. 
In addition to the Christmas Market, there are also dozens of amazing places to see Santa in Pittsburgh.
Unique Santa sightings include Santa and his penguin helper at The National Aviary to breakfast with Santa on the Gateway Clipper boat cruise. 
Santa also makes a visit to the Pittsburgh Zoo each year and is accompanied by a parade of penguins – another fun Christmas outing in Pittsburgh for the whole family.
There are also several great places for Christmas lights in Pittsburgh.
Phipps Conservatory & Botanical Gardens has beautiful lights throughout, along with an annually changing Christmas train display.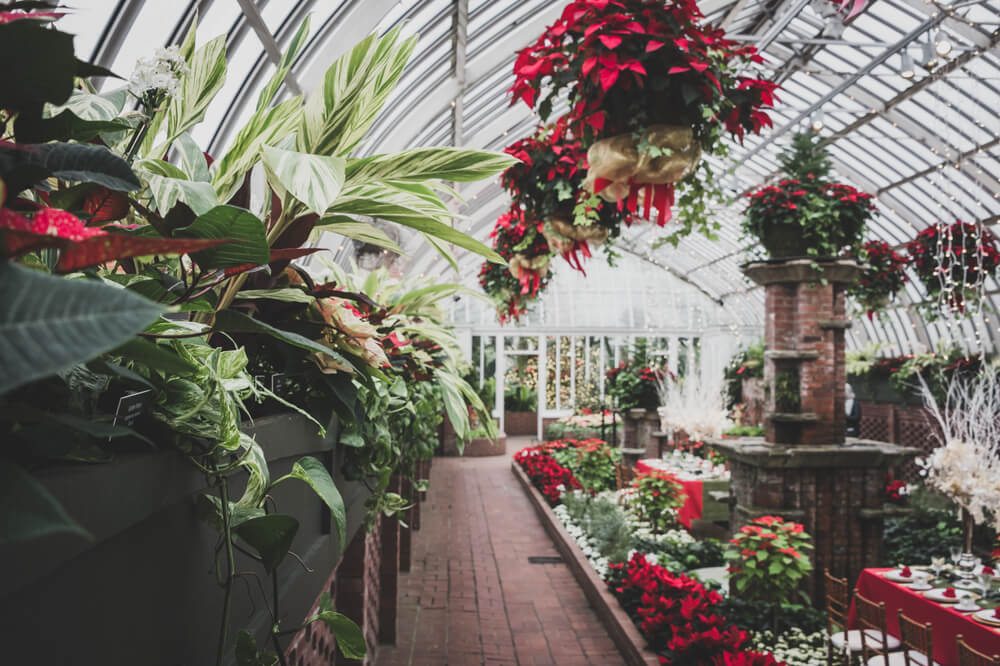 Past light shows in Pittsburgh include Lumaze indoor lights, Shadrack's drive through lights and Overly's Country Christmas. 
Between the Christmas lights, snow, and holiday events, you won't be disappointed with celebrating Christmas in Pittsburgh, PA.
It's one of the most fun places to celebrate Christmas in the United States!
Seattle, Washington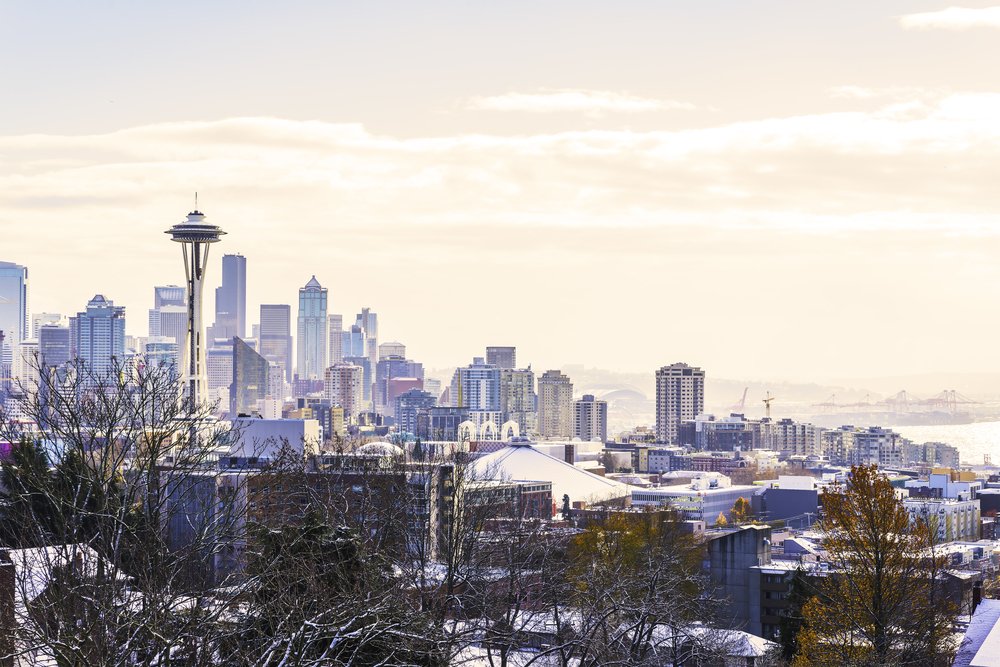 Contributed by Marcie Cheung of Marcie in Mommyland
One of the best places to celebrate Christmas in the USA is in an unexpected place: Seattle.
While there may not always be a white Christmas there, it has some of the coolest Seattle Christmas activities and holiday events.
At the Fairmont Olympic hotel, they host a Teddy Bear Suite where people can take magical photos in a room filled with hundreds of adorable teddy bears while supporting local non-profits.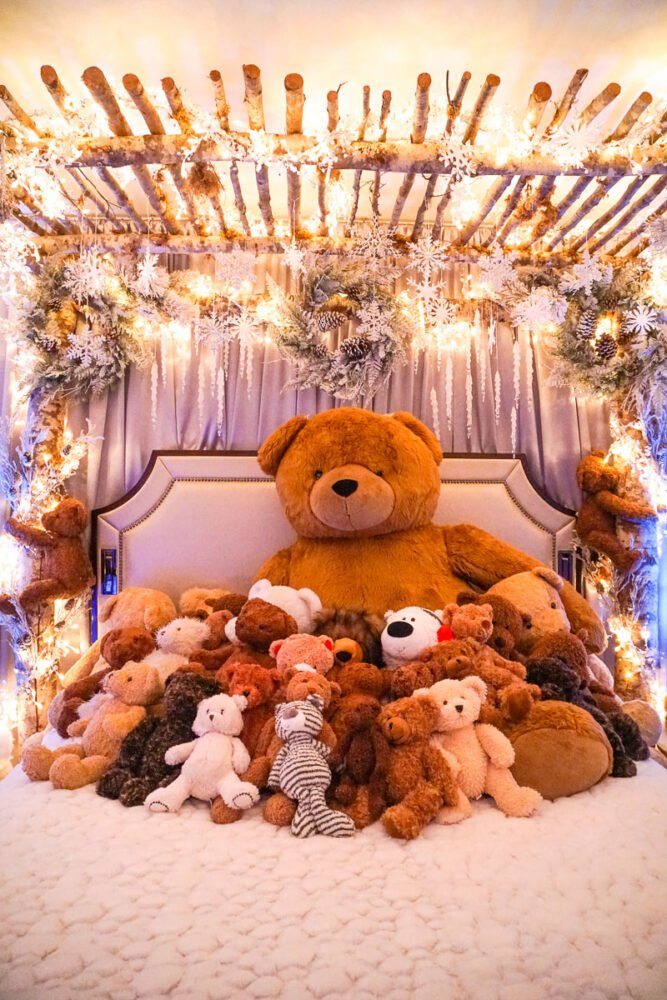 They also have the Festival of Trees in their lobby and a walk-through gingerbread house you have to see to believe!
Speaking of gingerbread, head over to the Seattle Sheraton to marvel at their gingerbread house displays.
Each year they have a theme, like the Grinch Who Stole Christmas or Star Wars!
And if you plan to visit Seattle over Thanksgiving weekend, make sure to attend Magic in the Market at Pike Place Market.
Not only do they have lots of holiday activities, but you can take free photos with Santa right in front of the iconic Pike Place Market sign.
It's also close to the harbor where you can enjoy the lit-up boats!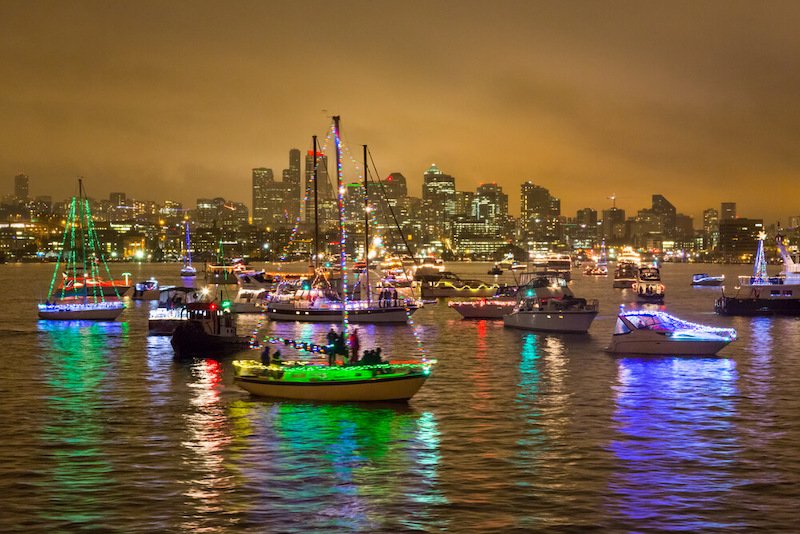 Another fun thing to do in Seattle at Christmas is take a ride on the holiday carousel outside Westlake Center while supporting Treehouse, a non-profit for foster kids.
And if you like festive lighting events, Seattle is the place to be! There are 2 Christmas light events, Lumaze and Enchant, that will blow your mind!
Both are indoors and feature Santa Claus, Christmas Markets, and tons of fun for the entire family!
Whatever you decide to do, you won't regret celebrating Christmas in Seattle!
Saint Augustine, Florida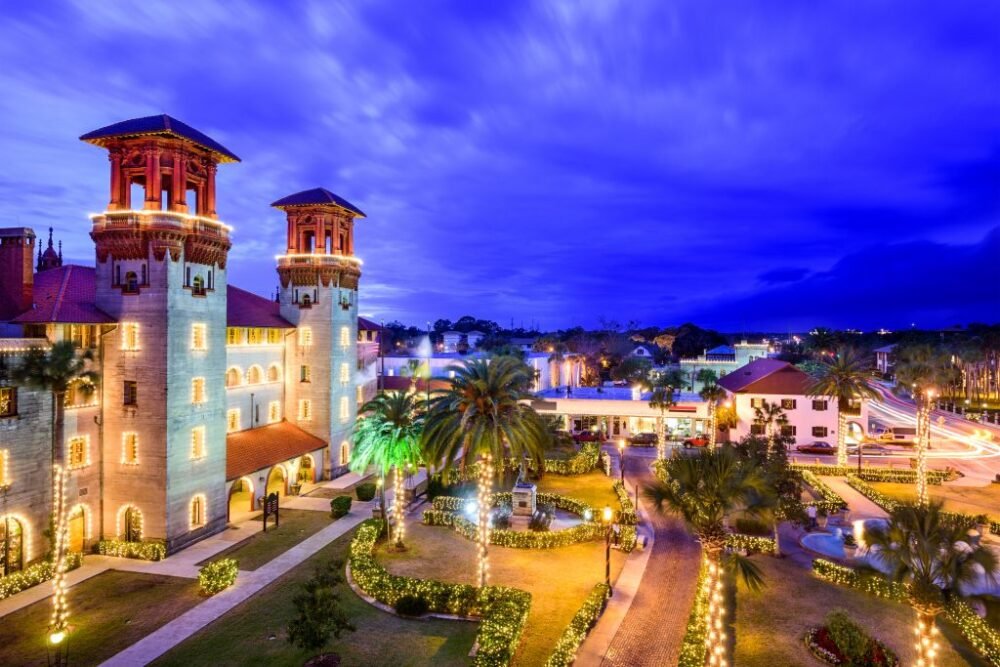 Contributed by Victoria Yore of Florida Trippers
Saint Augustine is one of the very best places to celebrate Christmas in the USA! First, it is the oldest city in the USA, so why not visit here?
Of course, Christmas season is all about the cozy weather, but you can get cozy in Saint Augustine because it is so historic and then you can head to the beach right after. It is a win win!
One of the best ways to celebrate Christmas in Florida is at the Night Of Lights in Saint Augustine.
It begins in November and runs all the way through the new year.
It celebrates the old Spanish tradition of putting a white candle in your windows during the holiday season.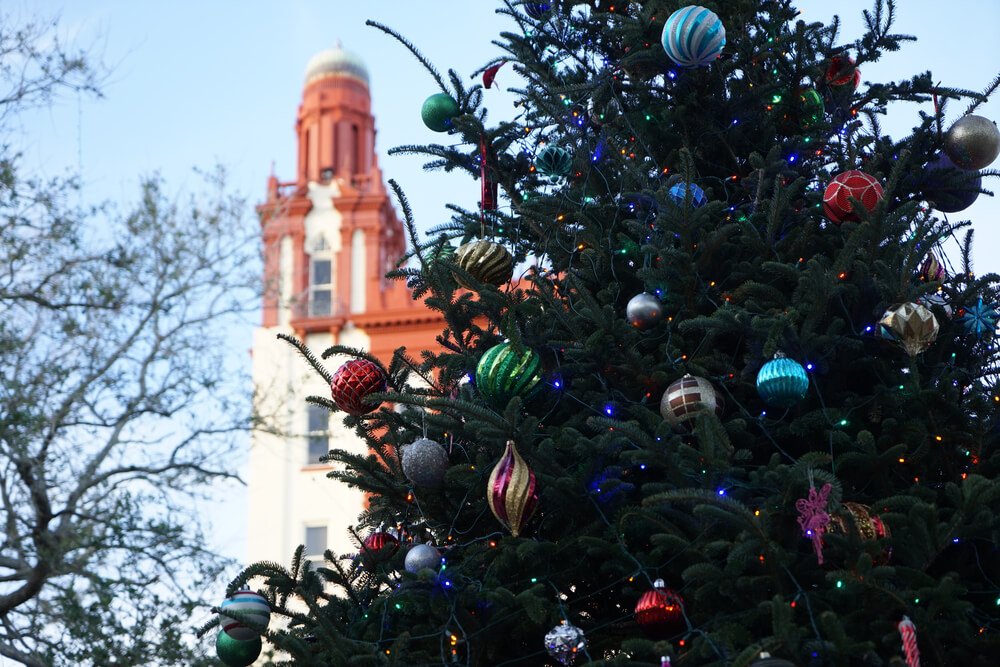 The entire city is decorated with millions of lights and Christmas decorations.
The train and trolley tours also offer special tour options that highlight the unique aspects of the festival!
Visiting Saint Augustine and the Night Of Lights is 100% free which makes it even better!
Chicago, Illinois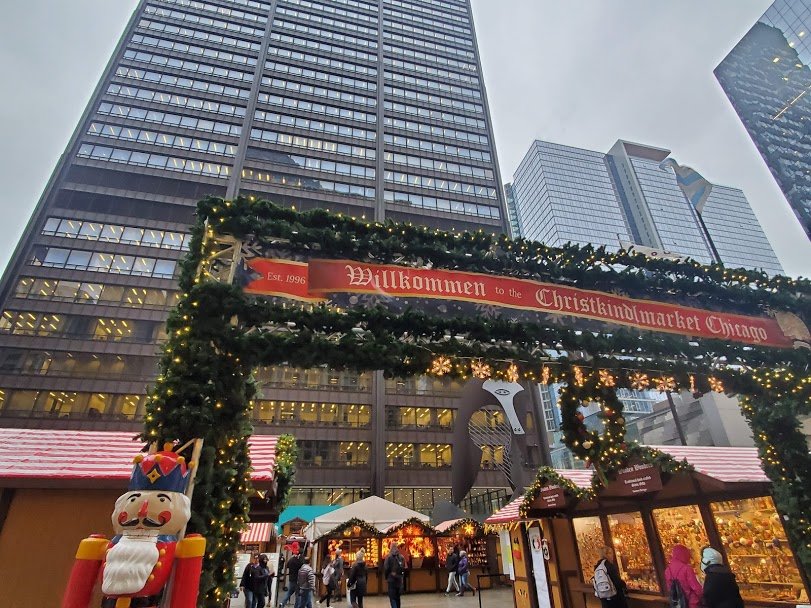 Contributed by Patti of The Savvy Globetrotter
Chicago is one of the best cities to celebrate Christmas in the United States.
Many festive activities and events can be found in Chicago during the holidays including lighting ceremonies, holiday lights, holiday themed trains, Christmas markets, and more!
One of the best things to do in Chicago during the Christmas holiday season is to visit Christkindlmarket, a large outdoor German style Christmas market.
This is where vendors sell various gifts and souvenirs including holiday decorations, handicrafts, and even a commemorative souvenir mug decorated with the market's signature logo and year.
Visitors can purchase warm beverages and various types of food including traditional German food and drinks.
Admission to Christkindlmarket is free so anyone can walk around and enjoy the music and performances without making a purchase.
The Magnificent Mile Lights Festival takes place every November and kicks off the holiday season in Chicago.
The festival features two days of free, family-friendly activities, events, live musical performances and ends with a popular tree-lighting parade down Michigan Avenue.
Another lighting ceremony takes place for the large Christmas tree the city puts up in Millennium Park, which is home to the famous Cloud Gate sculpture and a free outdoor ice skating rink.
Other family friendly things to do is to ride a special holiday train decorated for Christmas and to visit the Museum of Science and Industry.
You can see its large tree surrounded by smaller trees and displays representing holiday traditions from other cultures around the world.
There are also large holiday light displays in and around Chicago, including ZooLights in Lincoln Park Zoo, and Lightscape, an after-dark illuminated trail at the Chicago Botanic Garden.
Disneyworld, Florida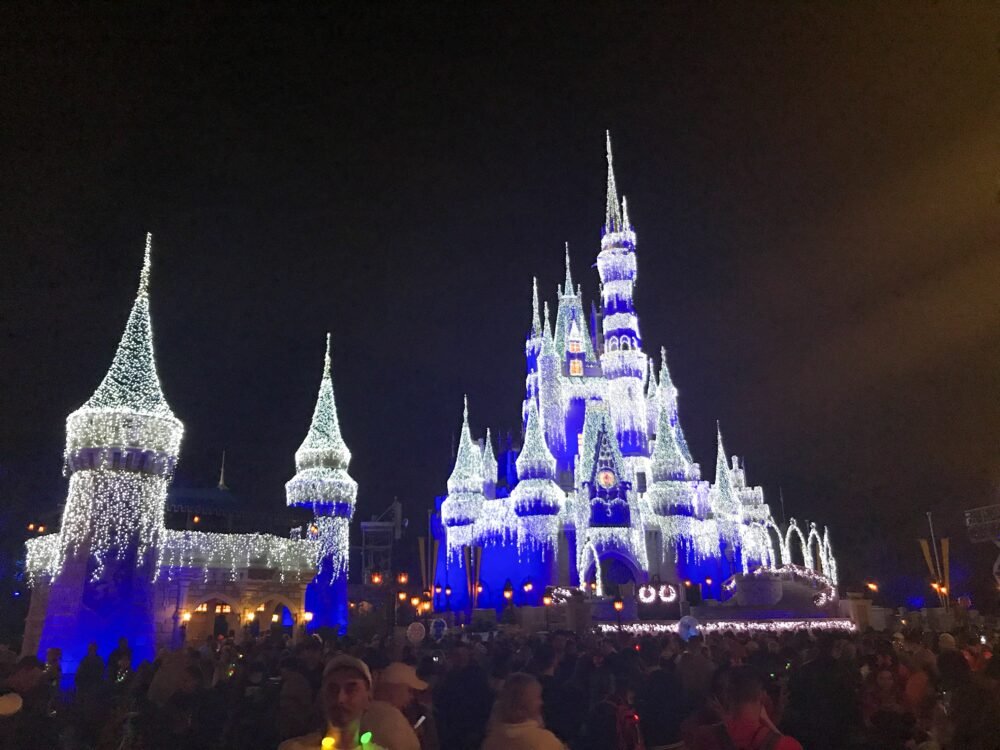 Contributed by Victoria Yore of Disney Trippers
There is no better place to celebrate Christmas than at Disney World!
Disney at Christmas is one of the most magical times of the year! First, the weather in Florida has gotten so much better. Hurricane season is over and the rain is few and far between.
Next, you will get to experience all of the amazing things that Disney has to offer!
Of course there are large parties like Mickey's Very Merry Christmas Party that cost extra money to attend and they are very popular with families!
But there are tons of free things to do at Disney during Christmas too! One of the best is the Christmas Tree Trail at Disney Springs!
It is 100% free and parking is free as well.
You can walk along and see 20+ Christmas trees all decorated in Disney themes. You can even meet Santa!
There are so many things to do and see, you can't miss visiting Disney during the Christmas season!
Las Vegas, Nevada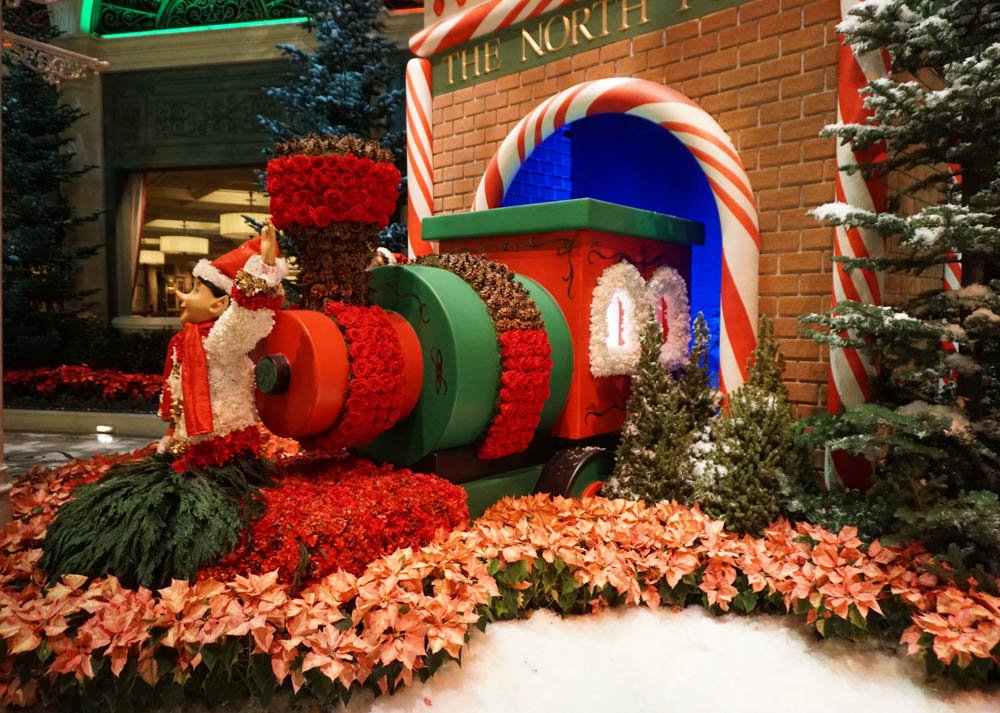 Contributed by Dhara from It's Not About the Miles
Looking for a fun and festive place to visit at Christmas? Consider Las Vegas!
With lots of holiday events, lighting, shopping, and special Christmas menus at restaurants, there are tons of things to do in Las Vegas over the holidays.
Real snow is rare in Vegas, but it does get pretty cold.
Bundle up, get some hot chocolate, and watch the Bellagio fountains, the water swaying to the strains of popular holiday melodies.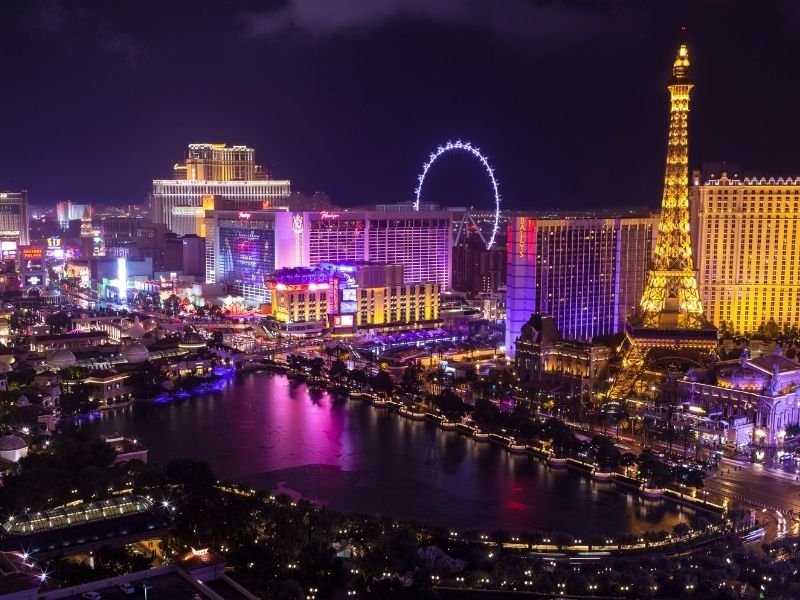 Then step inside and tour the Bellagio Conservatory, decked up with Christmas-themed decorations, including Santa and his elves. The Wynn has gorgeous holiday decorations as well.
Walk the LINQ holiday promenade (you might run into carollers and other live performers!), and take a ride on the High Roller, decorated with red and green lights for the holidays.
If you love lights, or you are visiting with kids, don't miss the Magical Forest! The outdoor theme park has over a million lights, including dozens of decorated trees, rides, great food, and entertainment.
Another great place to enjoy the outdoors is Ethel M's Chocolate Factory and Garden. Grab some hot cocoa and enjoy the cacti strung with lights.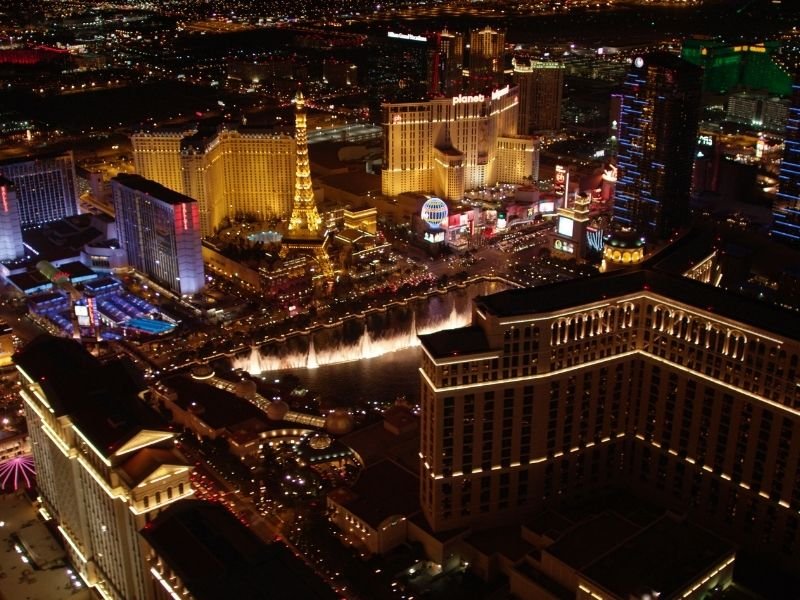 Visit the Cosmopolitan if you enjoy ice skating: they have a huge indoor skating rink.
And if you can't do without snow on Christmas, head to Town Square, where snowfall is created Vegas style!
The shopping malls and squares are lively during the days leading up to Christmas.
If you enjoy retail therapy, you'll find plenty to stores to browse.
And when you visit Vegas during the holidays, be sure to bring your appetite, because most restaurants feature special menus, including on Christmas Day.
Mobile, Alabama
Contributed by Wendy Werneth of The Nomadic Vegan
Mobile, Alabama may not get white Christmases very often (it only snows about once every five years here), but it's full of the Christmas spirit nonetheless.
And if you use your imagination, the white sand at nearby beaches like Gulf Shores almost looks like a blanket of snow.
The best Christmas attraction in Mobile is the spectacular "Magic Christmas in Lights" display at Bellingrath Gardens and Home.
At other times of the year, the blooming azaleas and other flowers are the star attraction at the 65-acre gardens.
But for the whole month of December, the gardens become the backdrop for a very impressive light display featuring more than 3 million lights.
The display changes every year, so there's always something new to see.
Another great thing to do at Christmas time is to visit Oakleigh, an old mansion in downtown Mobile that was built in 1883.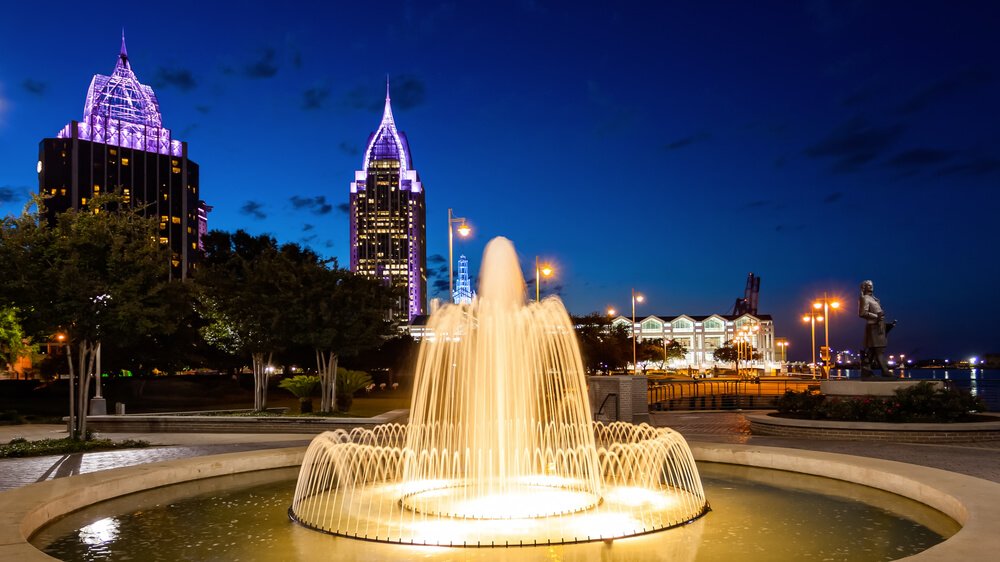 Each year, it hosts a special "Christmas at Oakleigh" night, when staff dressed in 19th-century period costumes tell the story of this historic place.
With the estate decked out in old-fashioned Christmas decorations as it would have been long ago, it's a very atmospheric place to celebrate the holidays.
But unlike the Bellingrath Gardens display, which lasts for a whole month, Christmas at Oakleigh is a one day only event, so check the date before scheduling your trip. 
While you're here, be sure to check out some of Mobile's many great restaurants.
In addition to the local seafood specialties, a number of eateries also cater well for vegan and vegetarian visitors.
Crossroads Village, Michigan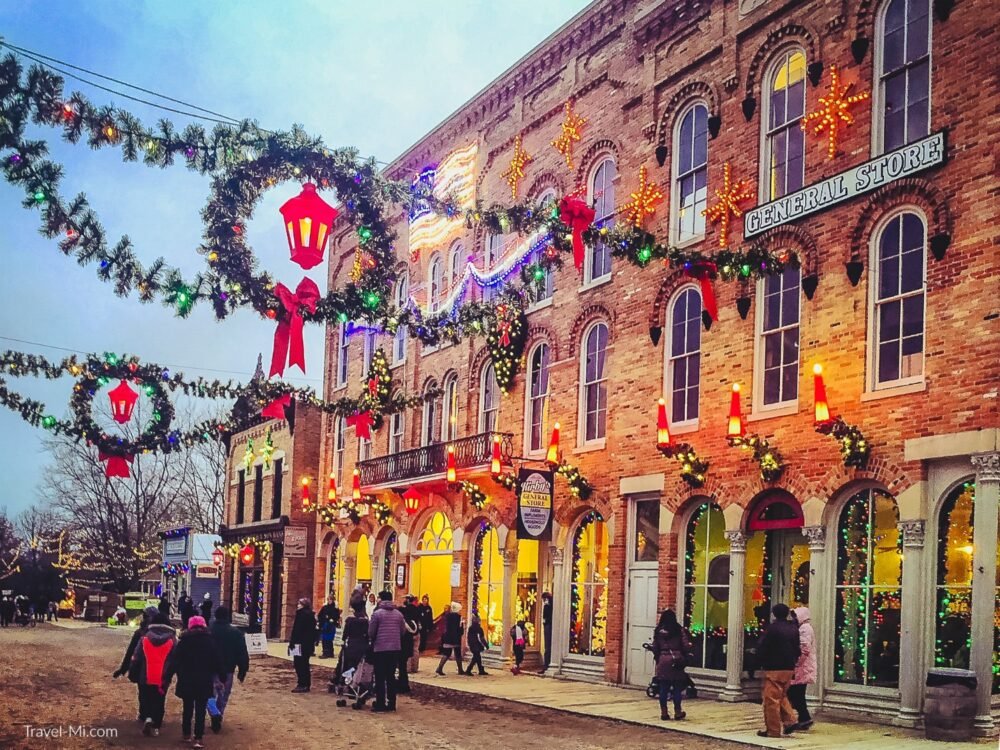 Contributed by Sherry Trautman of Travel-Mi.com
Crossroads Village and Huckleberry Railroad is a quaint and nostalgic village located in Flint, Michigan.
From the moment you arrive, you will wonder if you have mistakenly stepped into a Norman Rockwell painting.
This cheerful 1800's era village will immediately spark your Christmas spirit. 
Bundle up warmly and wander the paved pathways throughout the village.  
You will pass several historic buildings, many of which you can tour, including a post office, general store, mill and church with beautiful stained-glass windows.
Don't miss the picture-perfect church when covered in snow!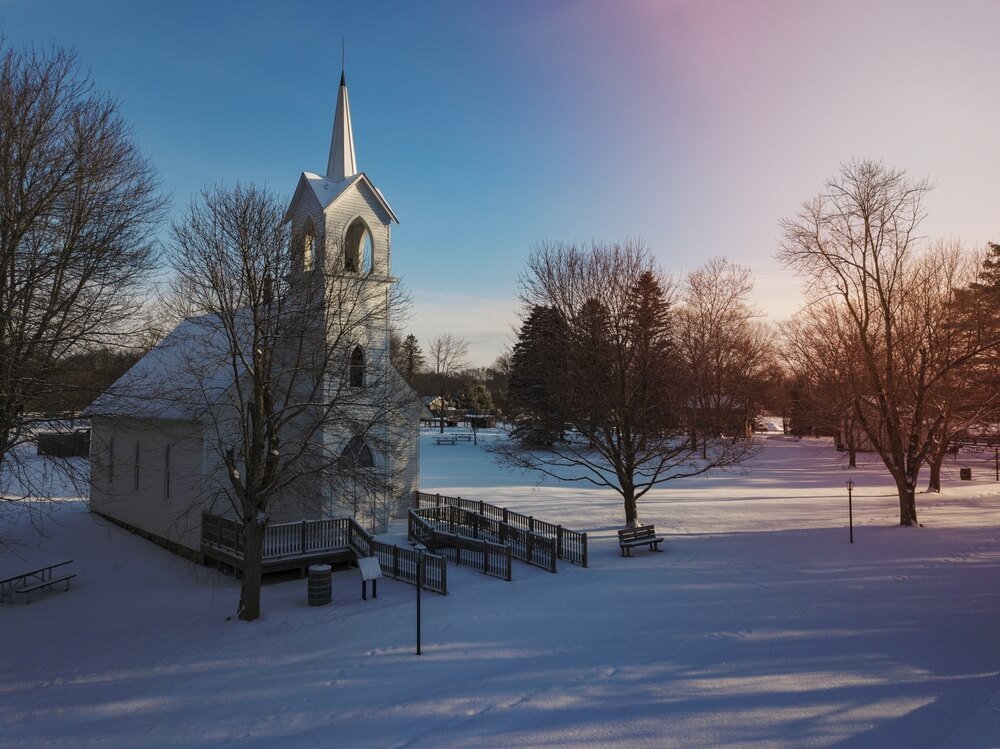 If you are brave, enter the small dental office to learn what kind of tools were used on terrified patients in the early 1800's.  
The metal tools are definitely cringe worthy and makes one grateful for our friendly dentist!  
For something a bit more cheerful (and a chance to warm up a bit), take a ride on the colorful indoor vintage carousel. 
 If you want something a bit more daring, the nearby Ferris wheel creates shrieks and gales of laughter from its riders. 
Another nostalgic thing to do at Crossroads Village is to hop aboard the Huckleberry Railroad for a glimpse of how people traveled in the 1800s.
Be sure to grab a bag of warm freshly roasted almonds before you go.
Once aboard, hold on tight as the train rocks and sways along the tracks while passing through dark forests and sleepy towns.  
Twinkling Christmas lights will delight you around every bend. 
There's a lot of great things to do in Michigan in winter and this is just one of the best spots to be!
Washington, D.C.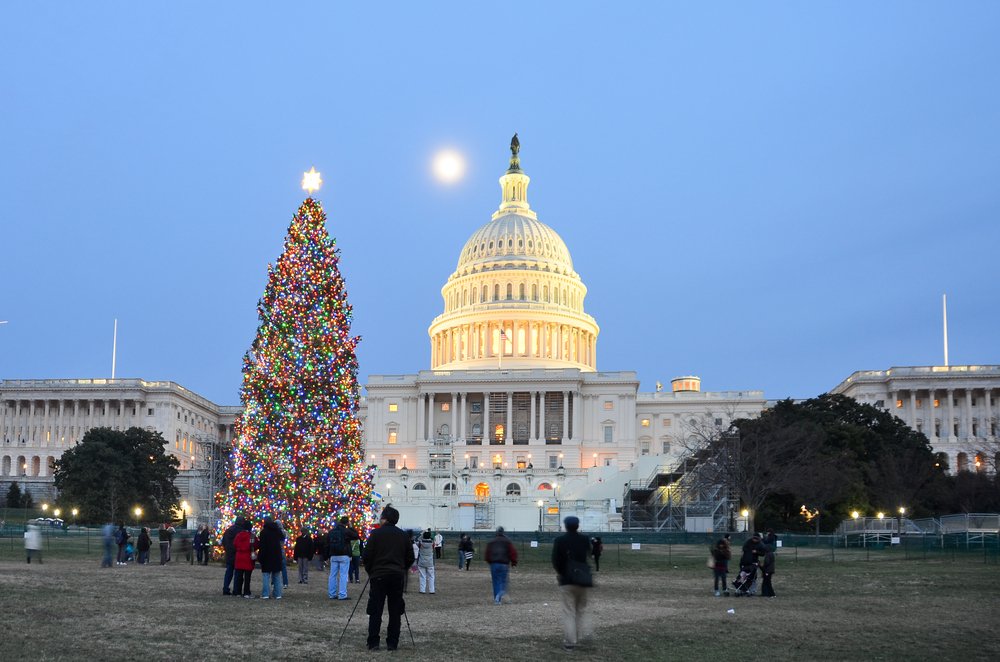 Contributed by Maggie McKneely of Pink Caddy Travelogue
Christmas in Washington, DC is unlike any other place in the US!
The nation's capital goes all out for the holiday season, and it celebrates in the way only DC can.
Like decking out the White House. Yes, THE White House.
During Christmas time, visitors can tour the Presidential residence and see the annual White House gingerbread cake, the dozens of differently decorated Christmas trees, and an 18th-century nativity scene.
(Tip: make tour reservations through your Congressman's office 3 months in advance).
Regardless of your political affiliation, a tour of the White House at Christmas is an amazing experience.
Another can't miss experience is seeing the National Christmas tree and its surrounding 56 mini trees (one for each state and territory).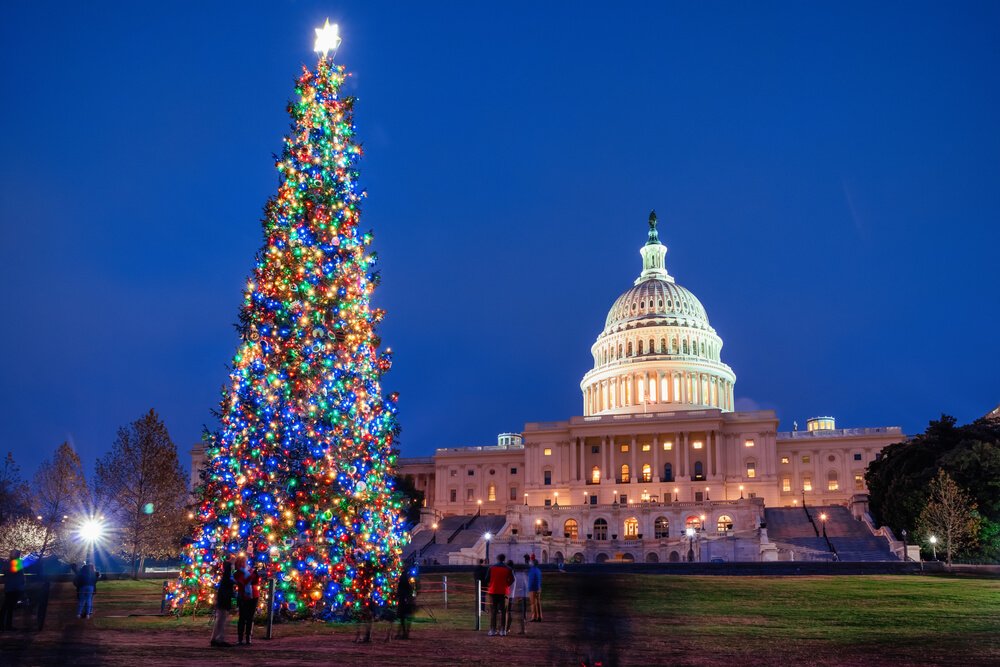 The annual lighting has been a DC Christmas tradition since 1923 when President Calvin Coolidge lit the first tree.
The Capitol also has its own decorated tree located just below the east steps.
Other must-dos include attending a performance of Handel's Messiah at the National Cathedral and visiting the special Christmas exhibit at the U.S. Botanic Garden (they recreate DC landmarks using just plants!)
If you're traveling with kids, definitely check out "Enchant DC" (the world's largest light maze, hosted at Nationals Park), and Zoolights at the Smithsonian Zoo.
San Diego, California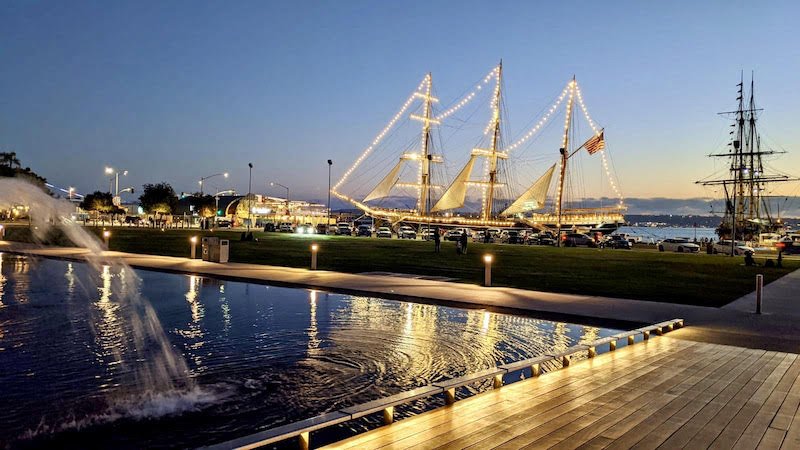 Contributed by Maria Haase of San Diego Explorer
Christmas in San Diego has a unique spirit. Santa Claus and palm trees, ice skating on the beach and many other seemingly paradox activities.
It is also the perfect holiday getaway, if you don't like the cold.
Temperatures in December range from mid 50s to low 60s, but if you are lucky you will get some sunny days in the mid to high 70s – a great temperature to go out and explore.
Christmas in San Diego is full of contrasts. It's one of the few places where you can go skiing and surfing in one day.
Maybe that is why we celebrate the start of the Christmas season in San Diego with the arrival of Surfin' Santa rather than Christmas carols.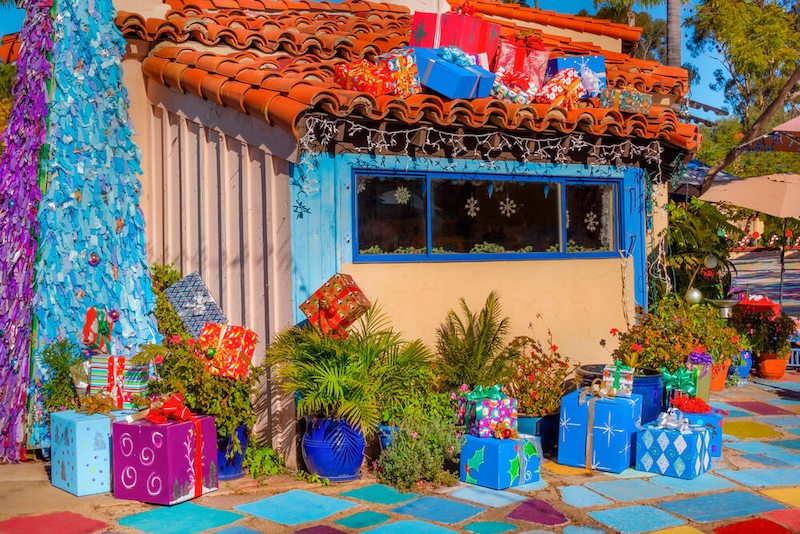 And I already told you that we have an actual ice skating ring on the beach. Nothing cooler than hitting the ice, while looking at palm trees and hearing the ocean waves crash in the background!
Another really beautiful, and more traditional Christmas-y event that will put you in the Christmas spirit is December Nights in Balboa Park – our San Diego Christmas Market.
It takes place at the beginning of December each year. You will find beautiful Christmas lights and decoration, booths selling treats and gifts, Glühwein, and delicious snacks.
Parking is a nightmare, so I recommend taking either public transportation or Uber/Lyft. 
Did you know that Theodore Seuss Geisel aka Dr. Seuss lived most of his life in San Diego?
Each winter, the Old Globe Theater in Balboa Park – a replica of the Globe Theatre in London – puts Dr. Seuss' How the Grinch Stole Christmas on its schedule and I highly recommend it. 
Philadelphia, Pennsylvania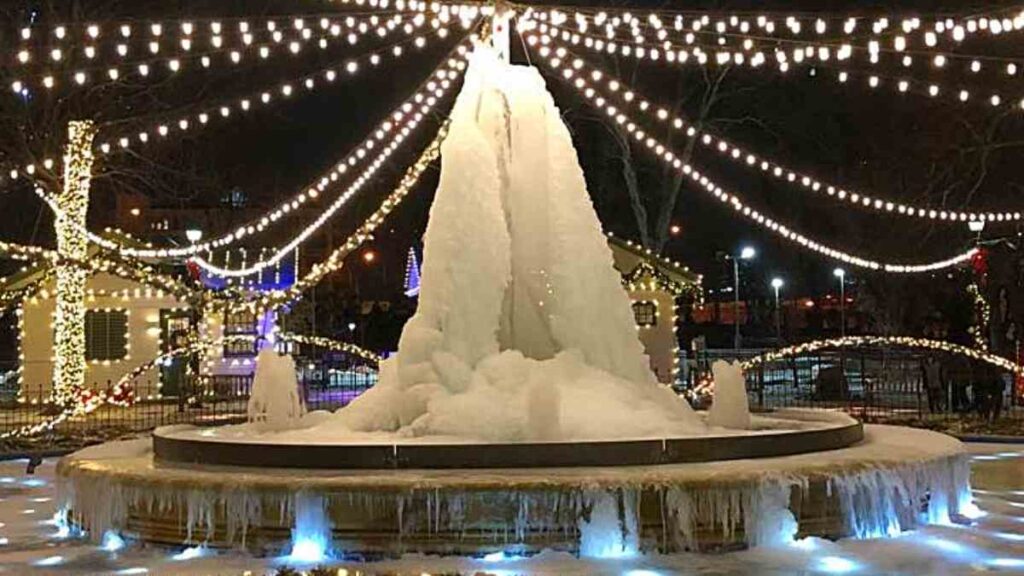 Contributed by Derek and Mike of Robe Trotting
Philadelphia is one of the best places in America to visit during the Christmas season.
It's full of holiday activities, light displays, seasonal events and more. 
One of the best things to do during Christmas in Philadelphia is visit the Christmas Village at LOVE Park.
This landmark space in Philly's center city is beautiful all year, but during the holidays it's transformed into a charming Christmas Market.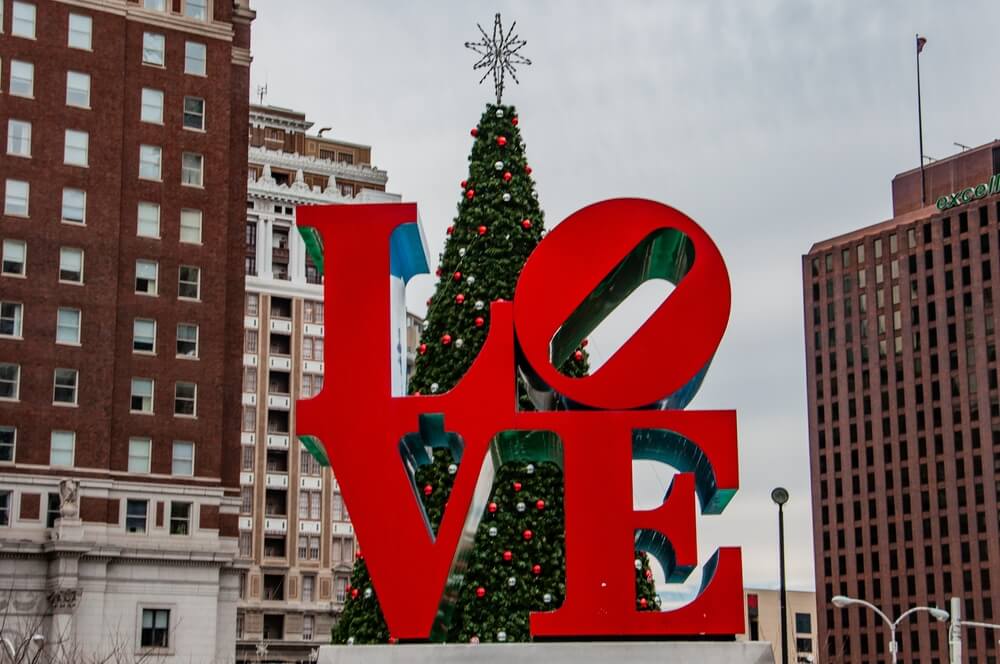 The centerpiece is the beautiful Christmas tree – make sure to snap a photo of the iconic LOVE statue with the lit Christmas tree behind it.
Across the street from LOVE Park is Dilworth Park, the plaza beside Philadelphia CIty Hall.
On this gorgeous public space you'll find a pop up ice skating rink and more vendors selling local crafts and gifts.
In the courtyard of City Hall is another stunning Christmas tree with a carousel and entertainers.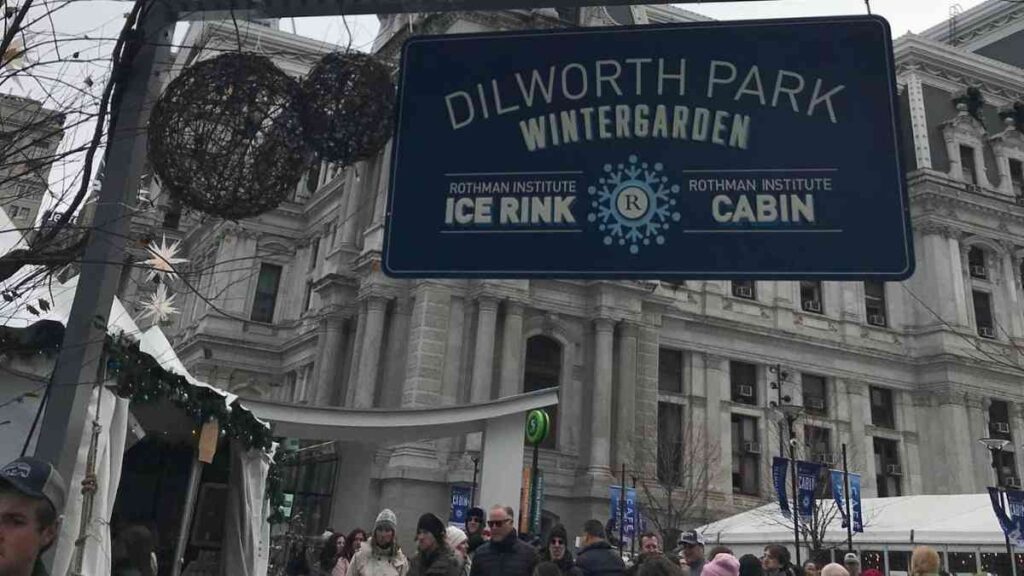 If you walk down Market Street to Macy's Department Store you'll find plenty of Christmas attractions.
On the third floor is the famed Dickens Christmas Village, a display of animatronic characters that make the pages of A Christmas Carol come to life.
Stick around the store for the marvelous holiday light show that entertains kids and adults alike.
Another great light show occurs a few blocks away at The Comcast Center. In the lobby of this busy building you'll find an hourly light display to put you in the Christmas spirit.
On weekends it's even visited by Santa Claus himself!
Philadelphia comes alive during the Christmas season and there's plenty more to do in the city when you plan your own Christmas trip to Philly.
Milwaukee, Wisconsin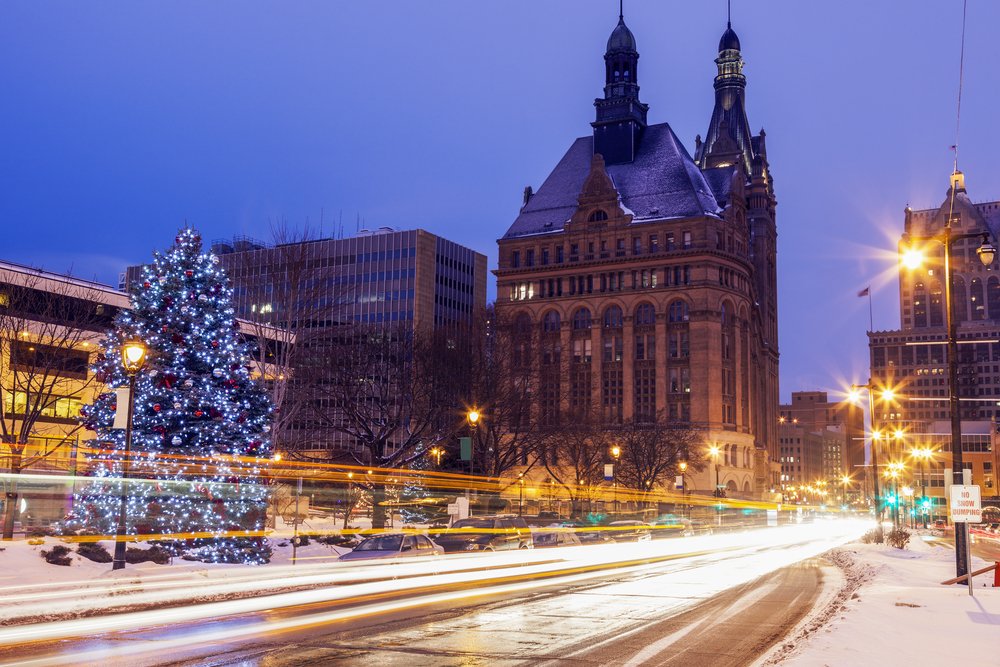 Contributed by Paulina of Paulina on the Road
If you happen to be in the US for Christmas, you must visit the Milwaukee this winter, which is one of the best places to celebrate Christmas in the USA.
This city offers such a large number of opportunities for making your mood cheerful!
Regardless of whether you're in the state of mind for enjoying the occasion lights, a classic season show, something unique and a little snarky, or only getting outside to appreciate the Christmastime!
So, visit Milwaukee to experience the festive lighting, events, or festivals, which includes:
The Milwaukee Holiday Lights Festival- This stunning celebration fills three midtown parks with occasion light shows, where you can ride the Jingle Bus and likewise explore the Milwaukee Food and City Tours.
Winter Wonders- This sparkling new drive-through lights show comes to you from the makers of China Lights! You can appreciate 80-holiday shows, set up in Whitnall Park, highlighting decorated trees, glimpses of Christmas scene, etc.
Country Christmas– Witness over a million occasional lights, enlightening the Christmas-night as you drive along Wisconsin's most large driveway, and sideways explore the lanes of Bethlehem.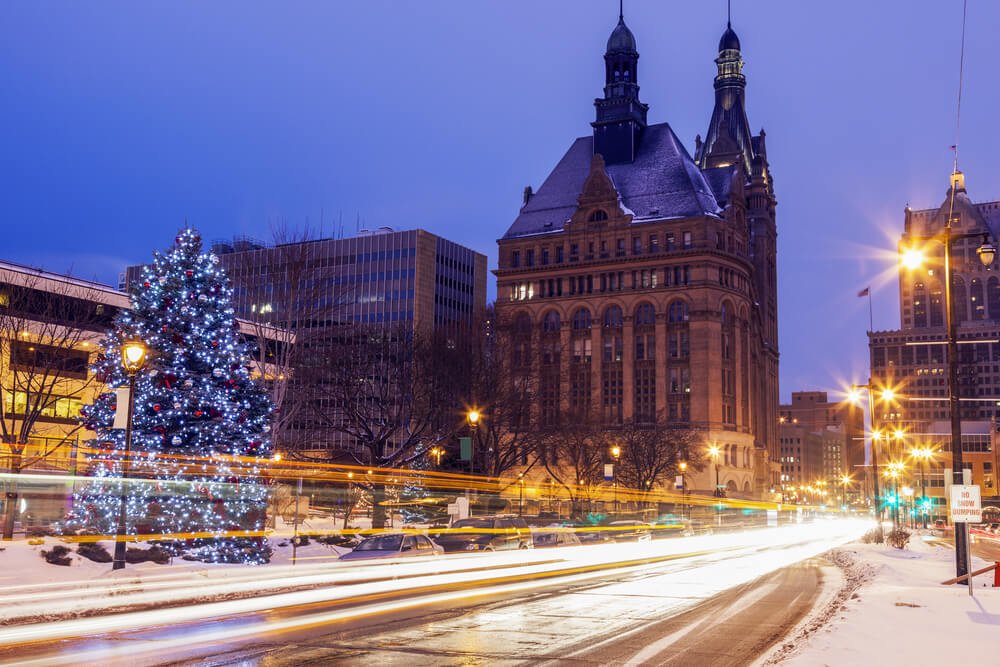 Further, if you ever prepare a list of things to do in Milwaukee, adding the Christkindlmarket is a must.
It's a magical market, located in the heart of the city that offers an artistic touch of various flavors, colorful ornaments, spectacular performances, and many more.
Plus, being rooted in the German tradition, the Christkindlmarket offers several collectibles and gift items that cannot be ignored.
However, this Christmas tour won't be complete without trying the unique, delicious cultural cuisines alongside the spiced wine, being served in collective mugs.
Additionally, The Iron Horse Hotel is one of the best luxury resorts in Wisconsin, providing the best-amenities. 
Moreover, the best time to visit Milwaukee is from November to December to feel the magical atmosphere of Christmas in Milwaukee.
Key West, Florida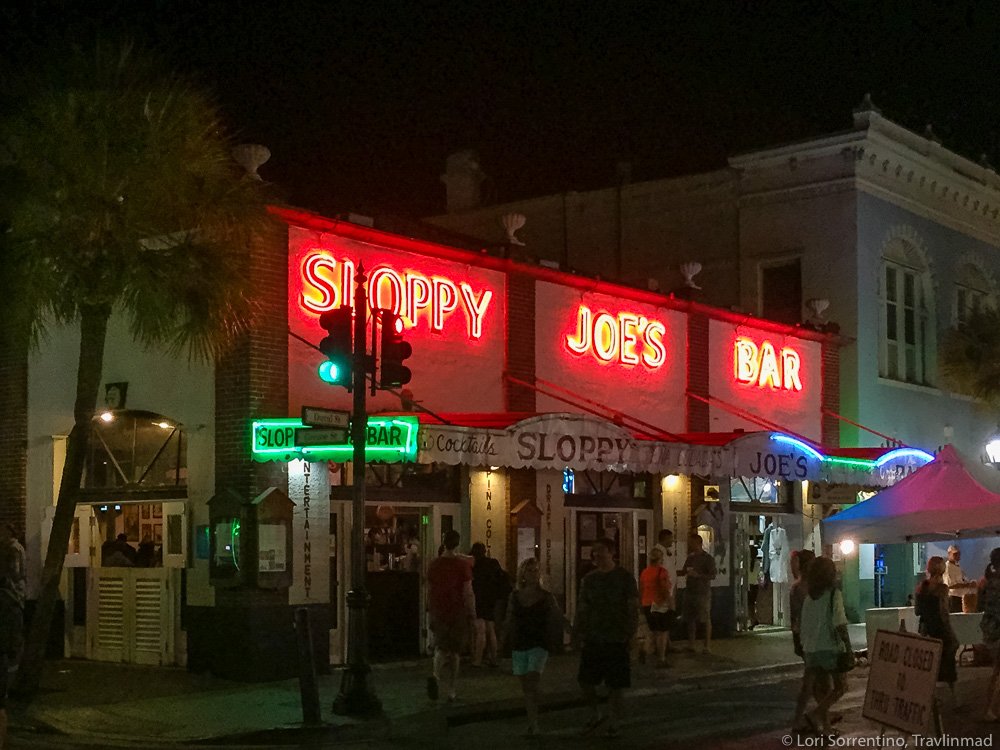 Contributed by Lori Sorrentino of Travlinmad
Tired of the stereotypical Christmas celebration? You know, the snow, frosty weather, a decorated evergreen tree, and requisite hot chocolate.
If you're looking for someplace new to celebrate Christmas, Key West, Florida is the perfect change-of-pace holiday destination.
Trade in that green Christmas tree for decorated palm trees, the snow for warm azure water, and hot chocolate for umbrella drinks!
Key West is easy to get to with many air carriers serving the Key West Airport.
If you have the time, head down Highway 1 through the Florida Keys to the southernmost point from Miami.
Key West always has a laid-back vibe and the holidays are the perfect time to get in, on, or under the water.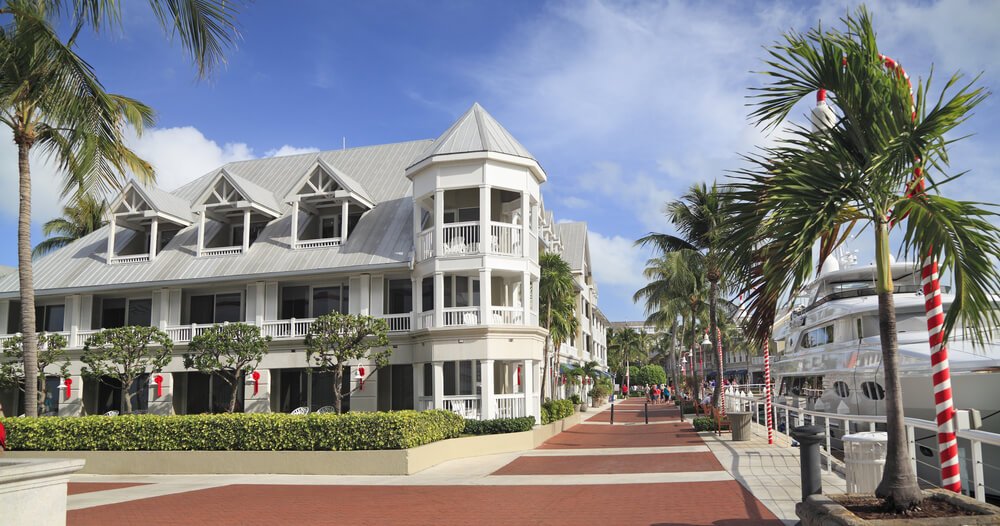 Take a champagne sunset catamaran cruise to celebrate the holidays, where you'll snorkel and watch the fiery sunset show.
For that Christmasy feeling, check out the Christmas lights around town.
Start at Mallory Square by catching the sunset, then board the Old Town Trolley Tour or the Conch Train as it winds its way through Old Town underneath a tropical canopy of twinkling lights.
You'll enjoy Christmas cookies and cider as the narrated tour takes you past fun Christmas displays and holiday revelers. Don't forget to wear the "special" holiday glasses they give you. Do a rum tasting at the Key West Distillery to really get into the holiday spirit!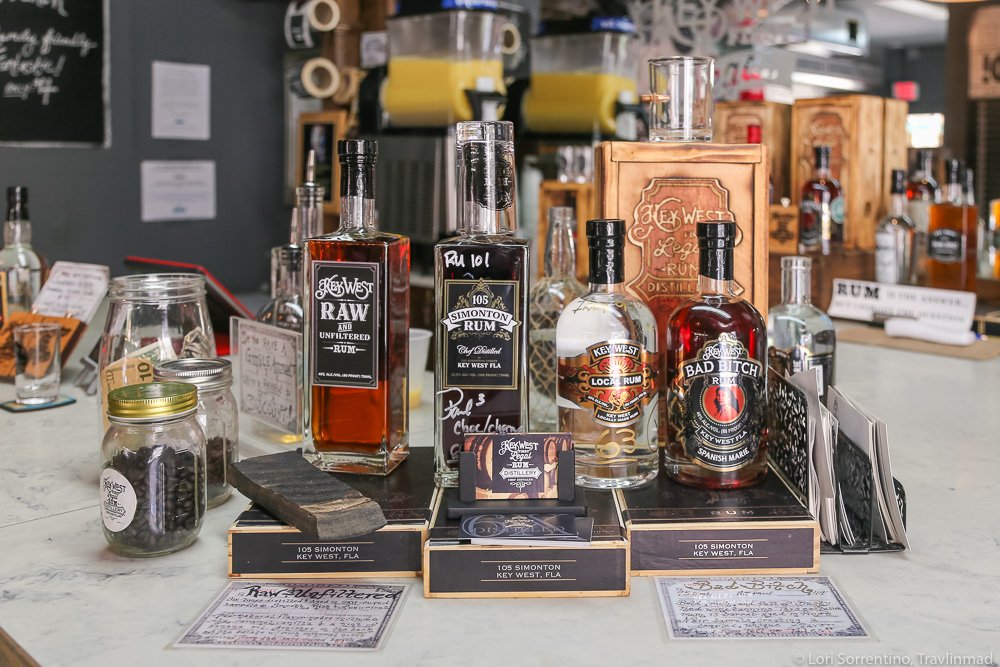 If you plan a Key West Christmas, many of the local hotels and Airbnbs in Key West will already be decorated with a tree so you'll feel right at home. But be sure and stick around to ring in the New Year in Key West.
The celebration is like no other with the giant conch shell drop at Sloppy Joe's, a Pirate Wench lowered from the mast of a tall ship at Schooner Wharf Bar, and Sushi, everyone's favorite local drag Queen being lowered in her red high heeled shoe outside of the Bourbon Street bar on Duval Street.
It's always a fun Christmas party in Key West! Just be sure to make your lodging reservations early.
Boston, Massachussets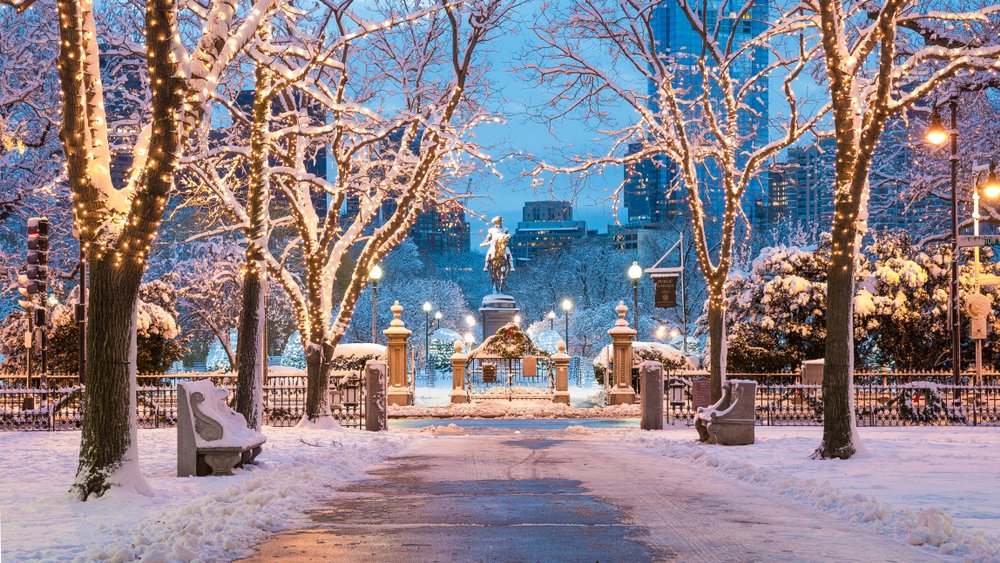 Contributed by Sally Lucas of our3kidsvtheworld
As Australians deciding on where to spend Christmas in the USA with the highest chance of seeing snow but keeping to a 7-week itinerary that had us in New York City for New Year's Eve was difficult.
How far north? How much travel? What would we do there that will make it feel like Christmas we see in all the American movies?
When we chose Boston, I knew the snow factor was going to be a gamble. Boston has a 60% chance of snow and they were odds I was willing to chance.
If it didn't snow, it would still be freezing and we would still experience the Christmas atmosphere we were so desperately seeking…. so I hoped, anyway.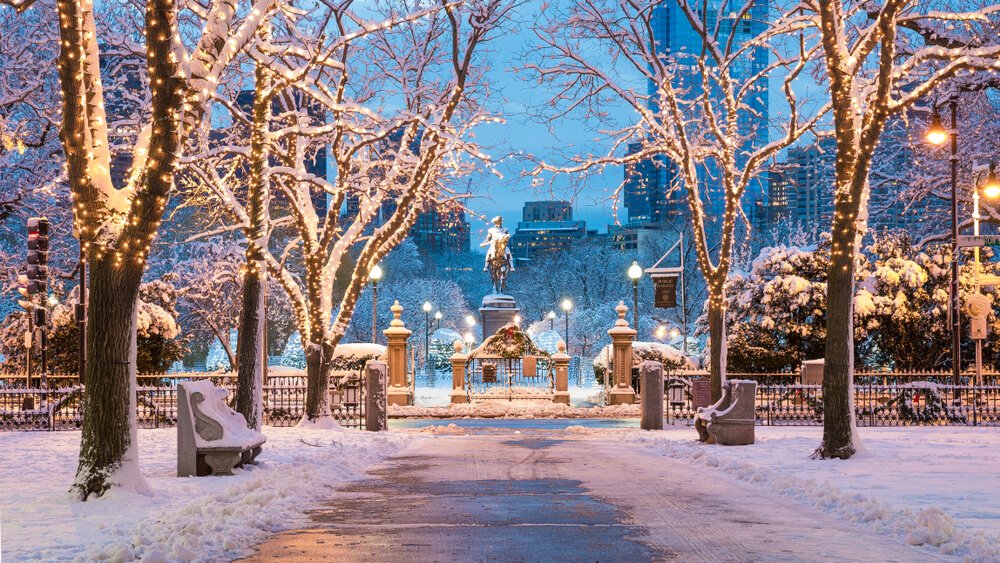 We spent Christmas Eve in Boston at Faneuil Hall, the heart and soul of Downtown Boston.
Faneuil Hall is a marketplace for food stalls and you can choose what you want to eat then head out into the snow-covered square to see the giant Christmas tree and experience the Blink lights and sound show played hourly where people gather around and sing Christmas carols.
Boston is famous for clam chowder so make sure you give that a go from the Boston Chowda Co in the Faneuil Hall Marketplace!
Boston definitely delivered the White Christmas: at 8 AM on Christmas morning the snow started to fall and the city received 4 inches of snow — just enough snow to play in and not enough to stop us doing everything we wanted to do.
Pin This Guide to the Best Places to Celebrate Christmas in the USA!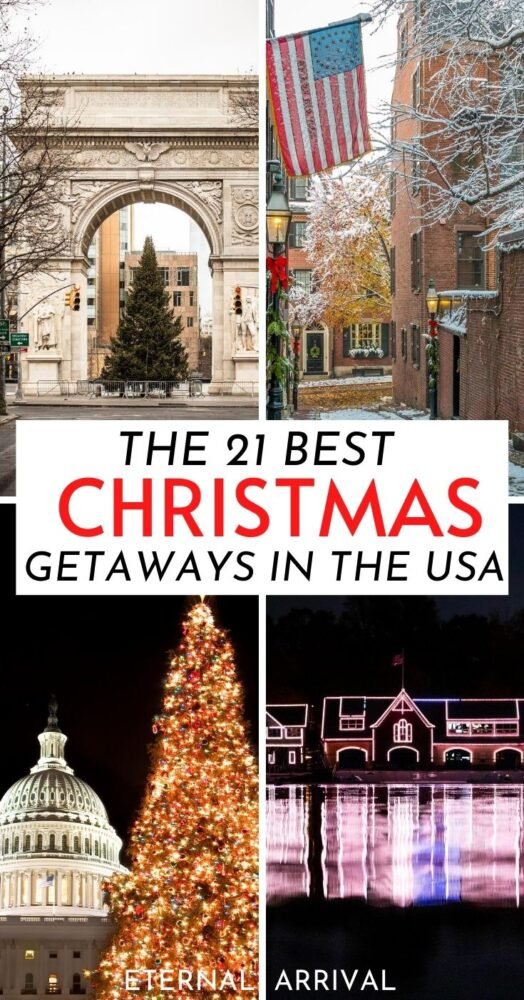 Allison Green is a former educator turned travel blogger. She holds a Masters in Teaching and a B.A. in English and Creative Writing. Her blog posts merge her educational background and her experience traveling to 70+ countries to encourage responsible, enriching travel. She has been a speaker at the World Travel Writers Conference and her writing, photography, and podcasting work has appeared in National Geographic, CNN Arabic, CBC Canada, and Forbes, amongst others. Now a full-time traveler, she has lived in Prague, Sofia, New York City, and the San Francisco Bay Area.