If you're planning to spend a few days in Naples, it's also a good idea to consider some of the best day trips from the city.
Of course, there's the spectacular Amalfi Coast and its small towns like Positano and Ravello, as well as the small but scenic islands of Capri and Ischia.
However, you'll certainly want to devote at least half a day to visiting the historic ruins of Pompeii, one of the most impressive archaeological sites in Italy.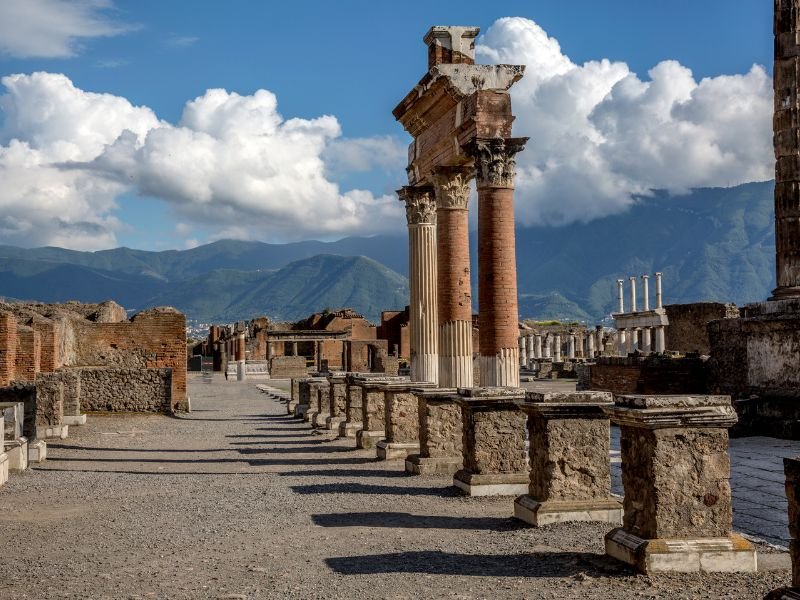 Note: This post contains affiliate links, which means I may receive a small commission if you purchase something through one of these links. Thank you for supporting the free content on this site! For more information on affiliate links and cookies, see my disclosure page for more details.
Luckily, it's quite easy to visit Pompeii from Naples, whether you do it as a guided small group day trip, self-guided excursion by train or car, or even by private tour.
If you are eager to visit but still uncertain about how to get to Pompeii from Naples, then this is the right article for you.
Keep reading to learn everything you need to know to plan a Pompeii day trip from Naples!
This post was written by Gabi Ancarola, a full-time blogger and tour guide living on the Greek island of Crete. She spent a decade living in Italy and is happy to share her knowledge of Pompeii with you in this guide!
Tips for Visiting Pompeii from Naples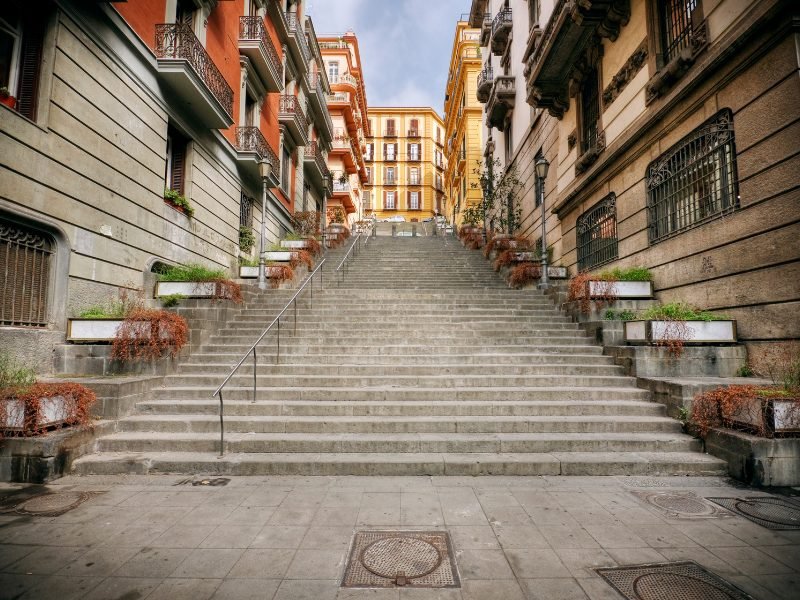 What's the best way to get to Naples?
In order to reach the ancient Roman city of Pompeii, the first thing to keep in mind is that no matter where in Italy you are, you should first head to Naples, an important city and capital of the Campania region.
Located in the southern portion of the country, the city is about 2 hours from Rome. If you catch a high-speed train (such as the Frecciarossa), the trip can be even shorter, about 90 minutes.
There are also daily trains from Milan (about 4 hours), Florence (about 3.5 hours), and Venice (about 5 hours). You can check timetables on Trenitalia.
You can also get to Naples by plane, flying from other Italian cities including Milan, Venice, Turin, and of course, Rome.
However, when you factor in the time involved in getting to the airport, through security, and then into the city of Naples when you arrive, taking the train is usually a better value in terms of both time and money.
If you're looking to save money, you can also look into low-cost buses such as Flixbus, etc. which take more time but are typically cheaper than train tickets.
Is Naples safe?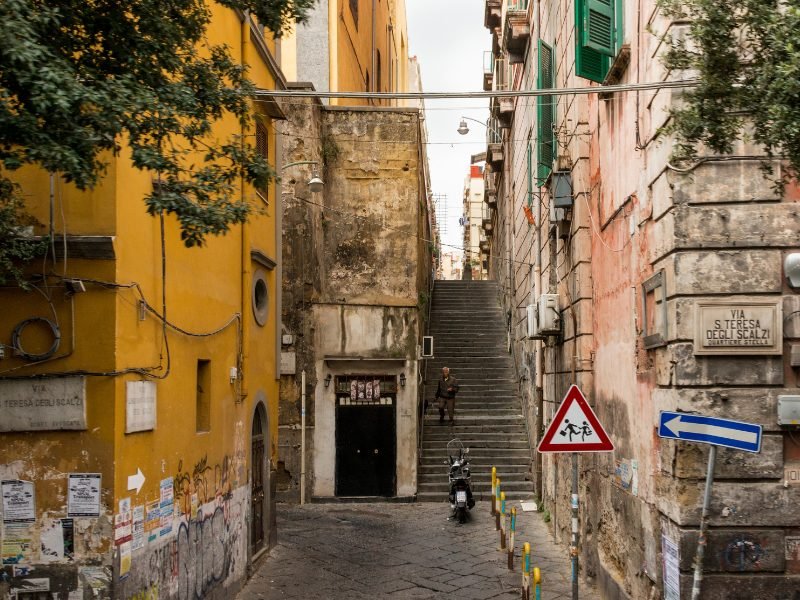 Even though in the past, the city was often described as unsafe, things have quite improved.
Naples is no less safe than any other important European city, where common sense will be the most important tool you need to explore the area risk-free.
As with any major European city where pickpockets operate, avoid crowded places (or be vigilant while in crowds).
Exercise additional caution when hanging out near big stations or the port late at night.
Always keep a vigilant eye on your personal belongings, invest in an anti-theft backpack such as this one, and whenever possible, opt to pay with a credit card instead of using cash.
When is the best time to visit Pompeii?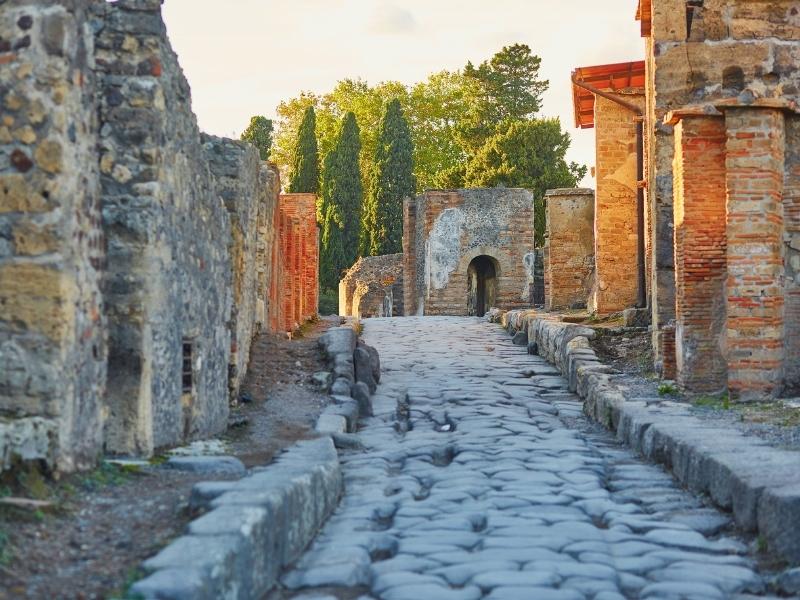 Located in the southern area of the country, the region surrounding Pompeii has great Mediterranean weather with long summers — though often very hot — and short, cold winters, with some rain and little snow.
For these reasons, the best seasons to visit the archaeological site tend to be spring and autumn.
I did visit in January and although it was quite cold I did take advantage of the virtually empty site. In fact, not many people visit Pompeii in winter!
Autumn is also a quiet season in terms of crowds, while spring is quite popular.
How to Get to Pompeii from Naples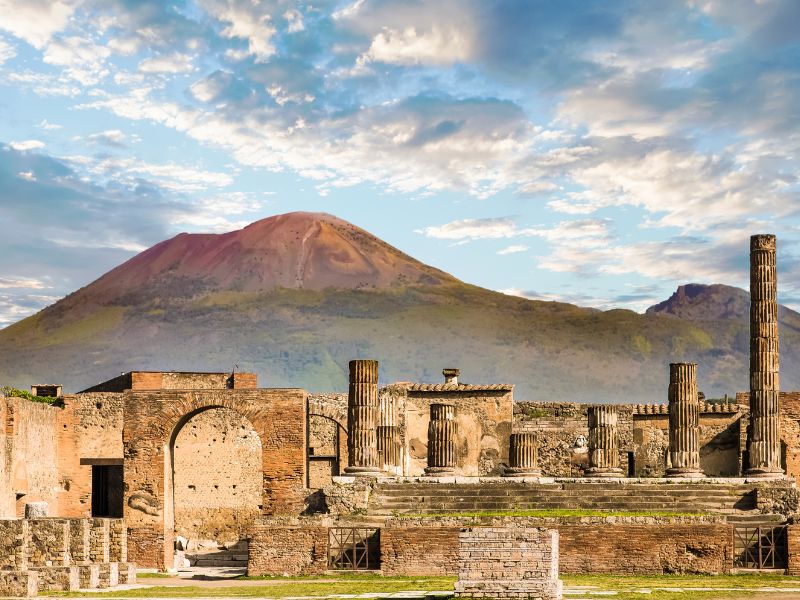 Let's begin by saying that Pompeii is just 26 km from the center of Naples, which makes the trip short and fairly straightforward.
Although the area of Naples tends to be quite chaotic when it comes to traffic, an early departure will guarantee that your journey to Pompeii won't be more than half an hour.
Keep in mind that Naples and the surrounding region are known for the heavy traffic, so the earlier you depart, the better.
It is possible to get there by public transport, as there are buses and trains connecting both towns.
Either of these two transport options are convenient and affordable if you're traveling on a budget.
For a stress-free experience, it is also a good idea to check out the different organized tours that depart from Naples and save you on transportation.
These tours can also add in other sites, such as Mt. Vesuvius.
This can be a good compromise as everything will be included (including a tour guide) and you will save a few Euros on transport, while also reducing stress!
Tip: No matter whether you're traveling by car or public transport, when reading the signs, keep in mind that Pompeii is spelled Pompei in Italian.
Let's see all the ways to go from Naples to Pompeii in detail!
Getting to Pompeii from Naples by Car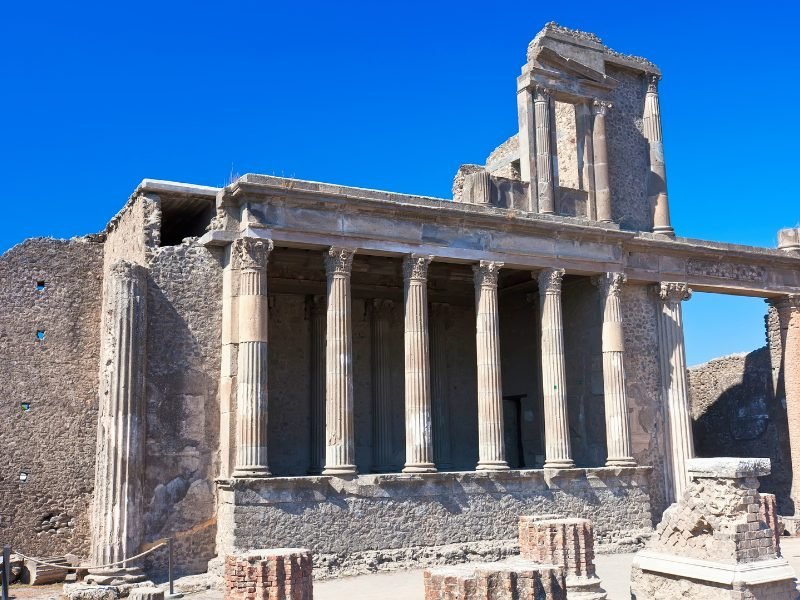 There is no need to rent a car strictly to visit Pompeii from Naples, as the public transportation is quite efficient.
However, if you are already renting a car, perhaps because you are also planning an Amalfi Coast road trip, going by rental car is likely the most economical option.
If you haven't yet rented a car, I suggest doing your search with Discover Cars — they comb through over 500 rental agencies to compare prices and get you the best deal on your rental.
Being no more than a 30 to 45-minute drive, the trip from Naples to Pompeii can be quite pleasant as it is quite simple.
You'll be driving mostly along the highway or autostrada in Italian (Autostrada A3 Napoli-Pompei-Salerno) and your exit will be Pompei Ovest (which means Pompeii West exit).
Along the drive, you will find a toll (pedaggio in Italian), starting at €2.10 and increasing if you are driving a bigger car, such as a van.
Parking at the site: Do not worry about parking as the site has very efficient parking facilities that accommodate hundreds of cars, even during the busiest visiting hours!
Getting to Pompeii from Naples by Train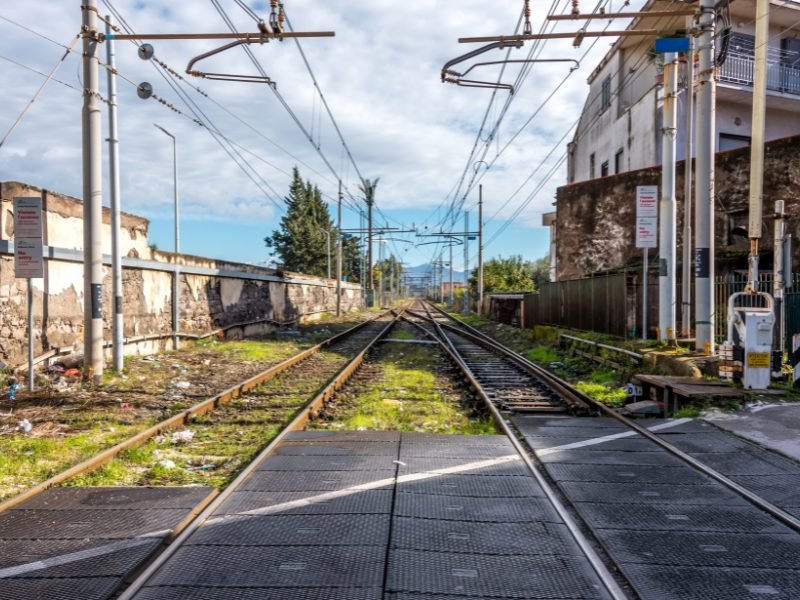 Traveling by train is by far my favorite way to travel in Italy, especially in the Campania region, well-known for its chaotic traffic.
Train services in Italy are quite easy to navigate. This particular train ride is short and sweet as there is no need to change trains along the way, making it a quick, direct trip without any risk of getting lost.
To travel to Pompeii, your departure station will be Naples Central Train Station (Napoli Centrale Station).
There are trains leaving for Pompeii every half an hour and you need to buy the train ticket before the departure, as it's not possible to book in advance.
Although trains start running from 6 AM, the site does not open until 9 AM.
Therefore, getting the 8 AM train is a good idea to get to the site early, in case you've not booked the entrance ticket in advance and need to visit the ticket office.
However, I don't recommend doing this — it's far more convenient to book a skip-the-line ticket, plus you can sleep in a bit more!
There are two direct trains available, the so-called Circumvesuviana line (a 35-minute ride to "Pompei Scavi – Villa dei Misteri" train station) and the regular Metropolitano commuter train which takes a couple of minutes more and your station is "Pompei".
As both take more or less the same travel time to get from Naples to Pompeii, let's check which is the best train in terms of a comfortable journey.
Circumvesuviana Train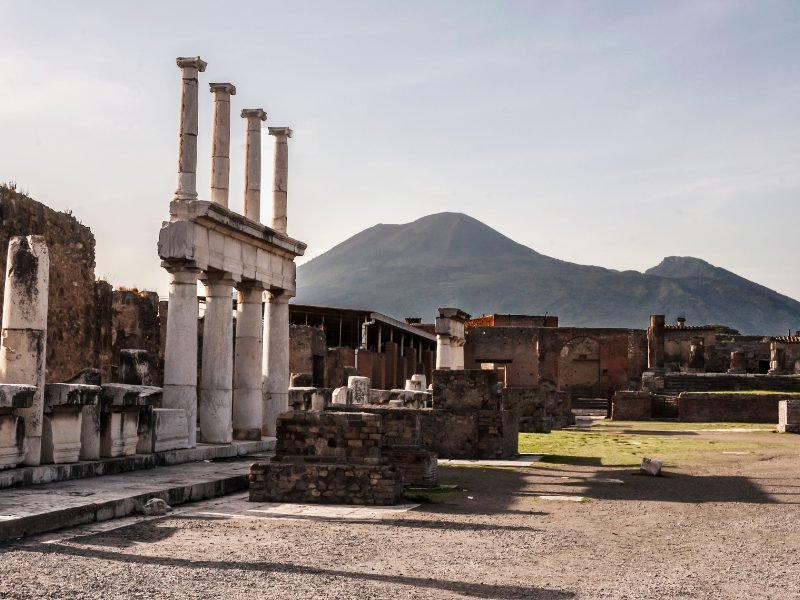 The Circumvesuviana local train stops very near the main entrance to the ruins; however, it is the most popular train and chances are that you'll travel standing as people rush on the train to sit.
You can board the Circumvesuviana Train at either the Porta Nolana Station or the Napoli Piazza Garibaldi Station, which is near the main Napoli Centrale Train Station.
Take the blue line towards Sorrento, exiting at Pompei Scavi. From there, it's a short walk to the Porta Marina entrance of Pompeii.
You'll have to buy your ticket at the train station — you can not book it prior to arrival at the train station. It costs €2.80 (€5.60 round trip) and cash is recommended.
Note that there are no seat reservations, so you are likely going to have to stand if you pick a popular travel time.
You can check the most recent timetable here.
The last train back to Naples from Pompeii Scavi departs at 10 PM.
However, we wouldn't suggest you be near Naples Central Station at night if you're traveling alone, so if that's the case, try to leave on an earlier train if you can.
Metropolitano Train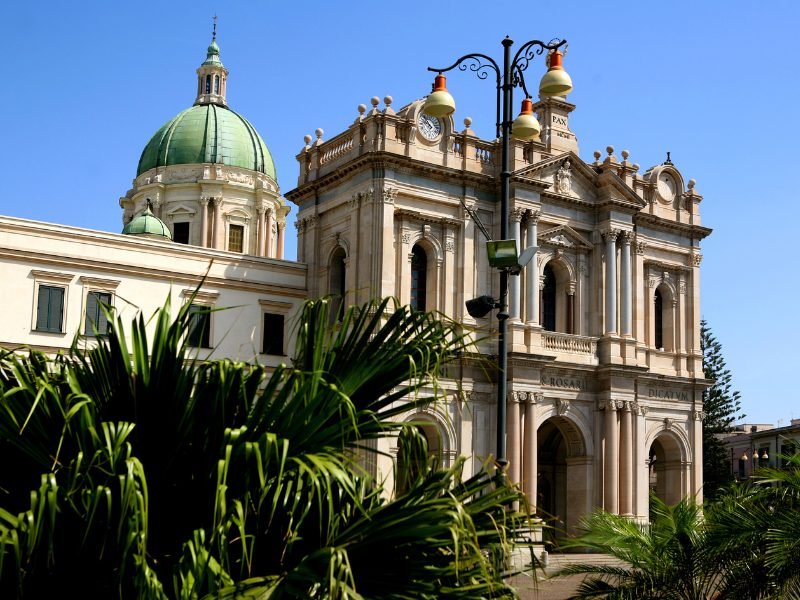 The Metropolitano train will leave you about 10 minute walk from the ruins, in the new town of Pompei, which has a beautiful cathedral and central square.
Because of the longer walk, it's not quite as popular, so you will find a seat more easily than you will on the Circumvesuviana Train.
Tickets cost €2.80 each way, and tickets can be bought with cash or online via TrenItalia or ItaliaRail in advance.
Keep in mind that this train will drop you off at the new city of Pompei, which is about a 10-minute walk from the ruins entrance.
If you want to check out the new city, this is a good option, and it's also a good option if you plan to stay overnight in Pompei so you can spend more time visiting the ruins.
It's also a good option if you are wary of crowded trains where you are unlikely to get a seat, as this is a less-trafficked train.
Getting to Pompeii from Naples by Bus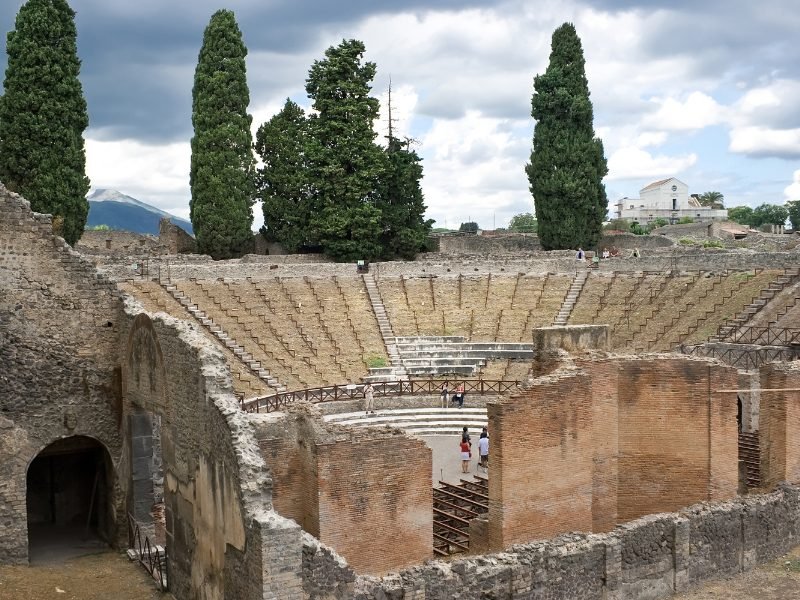 Another affordable way to get to the ancient Pompeii site is by bus.
The bus company that handles the trip is SITA, and the trip takes just a bit more than by train (about 40 minutes).
There are buses each hour in high season with fewer departures daily during the autumn-winter low period.
The tickets must be purchased at the port and buses depart from the SITA bus station, a few minutes on foot from the Nuova Marina port.
The arrival station is Pompei Scavi SITA, a few steps away from the entrance to the excavation site, and the first bus leaves at 7 AM. The last bus departs from the same bus stop at 8 PM.
Getting to Pompeii from Naples by Organized Tour
There are endless organized tours covering the route from Naples to Pompeii and also offering a value-for-money experience, such as a guided tour led by an archaeologist, skip-the-line tickets, and a lot more!
Let's see the most convenient options:
Half-Day Tour of Pompeii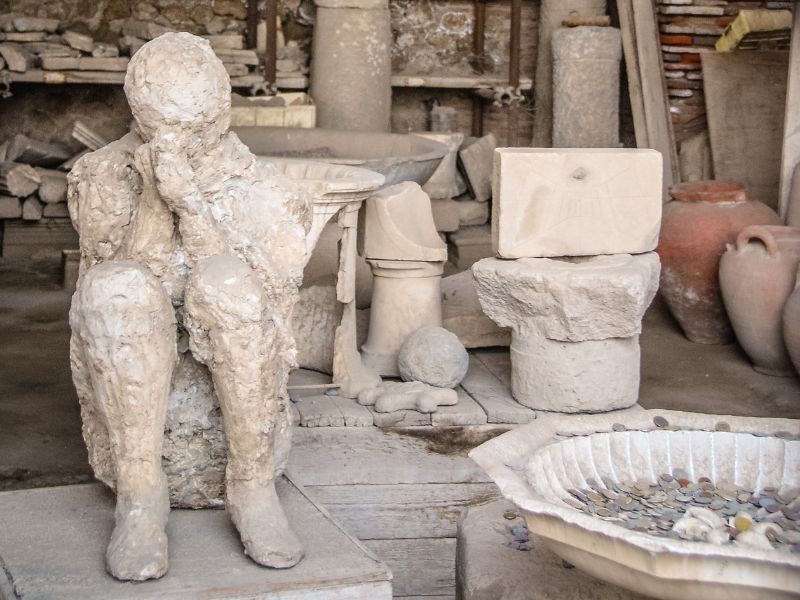 If you want to see just the highlights of Pompeii or if you do not have plenty of time available to devote to the visit, check this small group tour.
It includes a selection of the most intriguing tourist attractions for in Pompeii, including the paved streets, the most luxurious villas, and some of the imposing public buildings, such as the temples, the thermal baths, the forum, and the ancient amphitheater, among a few others.
This is a short, half-day tour (about 2 hours sightseeing at Pompeii itself) and you can take it either early in the morning or right after midday, then get back to Naples in time to enjoy the rest of your day.
Keep in mind that if you are visiting in the summer, Pompeii is largely uncovered and can get very hot. If that's the case, I recommend timing your Pompeii day trip for the morning, rather than after midday.
Full-Day Tour of Pompeii and Mt. Vesuvius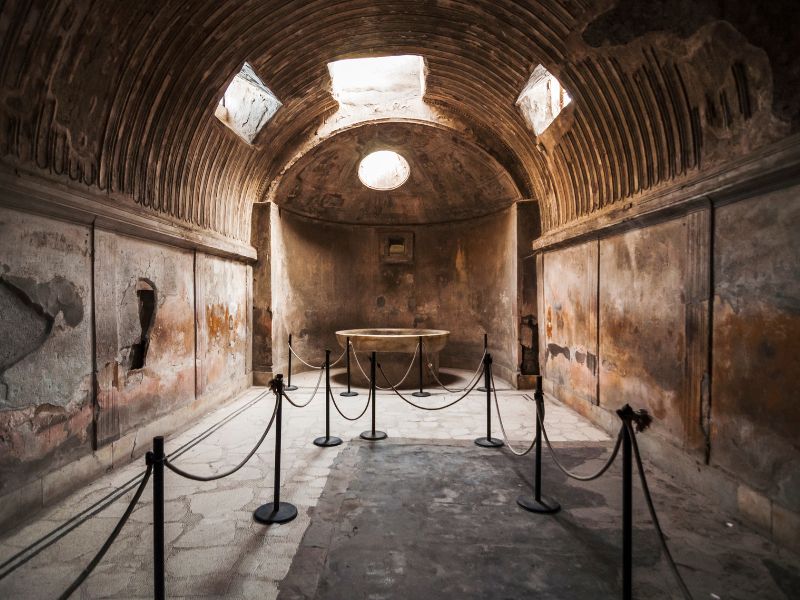 If you're looking to upgrade your Campania experience, why not visit another top landmark in the area, one that's closely connected to the fate of the ancient city of Pompeii… Mount Vesuvius!
This organized day trip is a 7-hour experience that includes a visit to the archaeological sites, checking out the Forum, the thermal baths, the Lupanar Villa, and the theater.
You will also check out the famous plaster casts of bodies burnt by volcanic ashes after the eruption of Mount Vesuvius… surreal and a little eerie, but very interesting to see.
After the guided visit, you will enjoy a local pizza lunch at one of Pompeii's cafés and then the van will take you close to the summmit of Mt. Vesuvius.
From there, you can take a short walk to the ridge of the crater and enjoy the stunning views over the Bay of Naples while pondering the contrast of the beauty of this mountain and the destruction that the eruption of Vesuvius wrought on the once-thriving city of Pompeii.
Private Tour of Pompeii & Beyond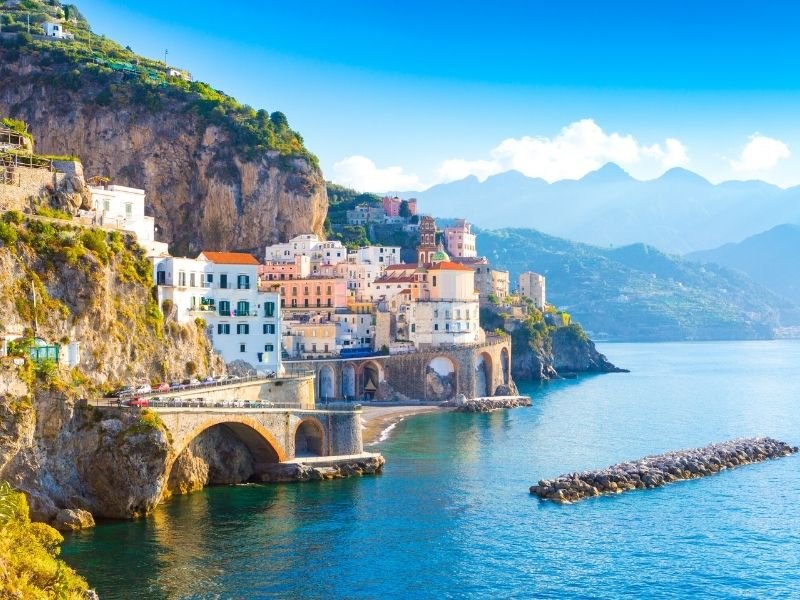 Another option is booking a private tour. This can end up being a fairly economical option with the right sized group, and it offers you the utmost privacy and flexibility.
There are a few different options that you can pick, such as combining a tour of Pompeii, Herculaneum, and Mt. Vesuvius or a tour of Pompeii and the Amalfi Coast.
Overall, it's a more expensive option, but it is the most convenient and will typically allow you to see more in one day than you could otherwise with a group tour.
Check private tours of Pompeii & Herculaneum or of Pompeii & Amalfi here!
Hiring a Guide for Pompeii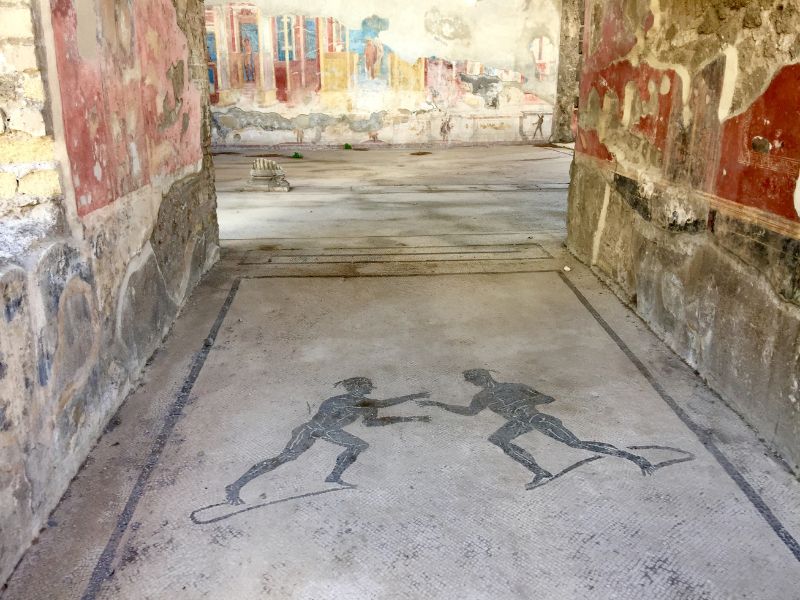 If you have decided to get to Pompeii on your own (either by car, bus, or train), this does not mean that you won't need a tour guide to discover the gems hidden in the archaeological site.
Although sometimes it can be simple to visit different landmarks on your own, I often recommend joining an official guide for ruins and archaeological sites.
As a tour guide myself operating tours in Crete, I often takes my clients to archaeological sites from ancient Greek and Roman times.
From firsthand experience I can tell you: a well-educated and licensed tour guide is the only way to make real sense out of what otherwise could look like nothing but a bunch of stones and columns that tell you nothing about the past of the place.
This is particularly true when talking about Pompeii, in such a vast archaeological park with seemingly endless points of interest scattered all over a massive area — 108 acres, to be exact.
Rest assured that a professional guide will take you directly to the must-see spots in Pompeii, explaining all the relevant details, and without the risk of getting bogged down in less-interesting areas of the archaeological site.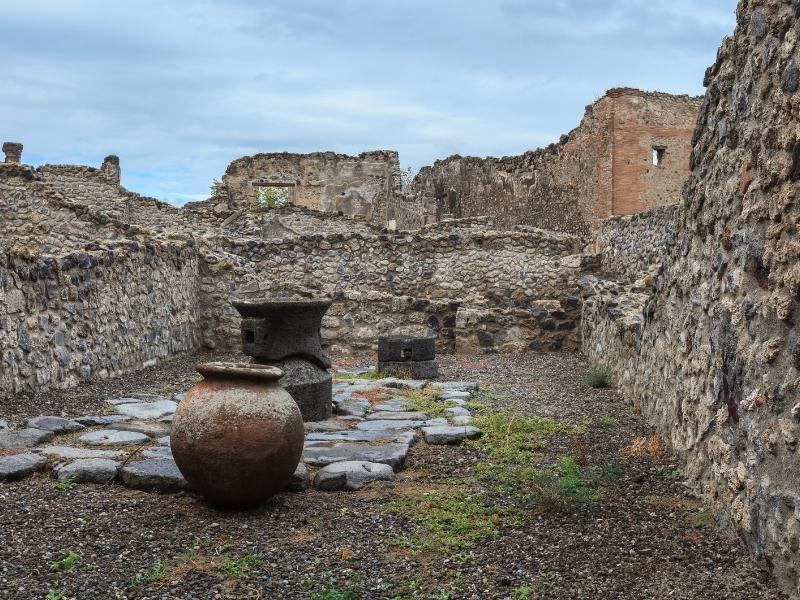 Pompeii is massive, and while there is some signage, it isn't sufficient to tell the full, rich story of this once-bustling metropolis and the twisted fate it experienced after the eruption of Mt. Vesuvius.
When it comes to picking your guide, touring Pompeii with an archaeologist is my #1 recommended choice — it's not expensive, and it's worth every penny!
This 2-hour tour with an archaeologist includes skip-the-line Pompeii tickets and a guide, but does not include transportation (i.e., you will have to get to Pompeii yourself).
If you like the independence of getting yourself to Pompeii via public transit, but want the knowledge of an expert guide once you arrive, this is the best option.
However, if you want to save a few extra Euros, or you think that you've done enough research and know what places you want to visit once inside the park, then opt for a simple skip-the-line entry.
You can add on an audio guide for an additional charge once you arrive at the site.
What to See in Pompeii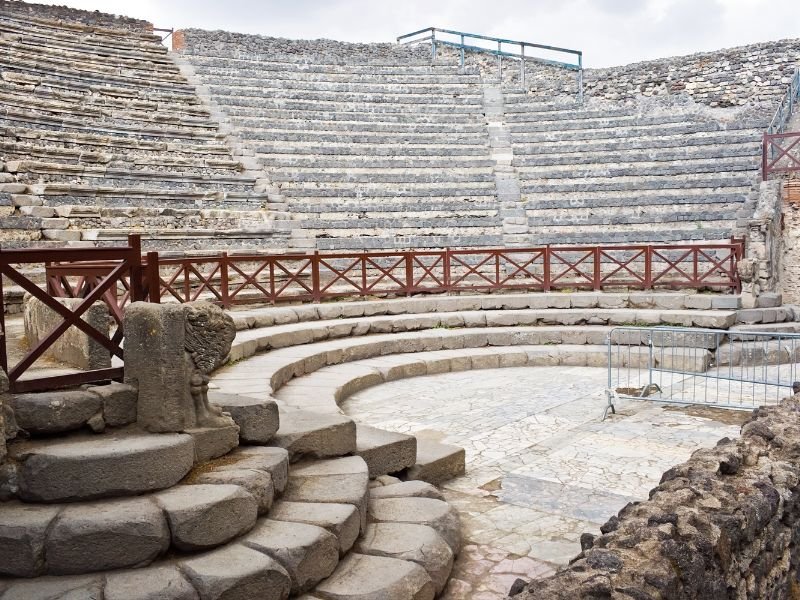 Pompeii is one of Europe's most important UNESCO World Heritage Sites, as well as one of the biggest archaeological parks in all of Italy — a country full of them!
Among the important things to see are the impressive ruins of luxurious Roman villas, with rich mosaics, fountains, and impressive open patios and galleries.
There are also several theaters, the market area (or agora), the forum, and the incredible cobblestoned roads that remained intact even after the furious volcanic explosion!
Also, you should check the remains of unique artwork, mosaics, and frescoes, as well as plaster casts of the people who perished during the 79 AD eruption of Mt. Vesuvius.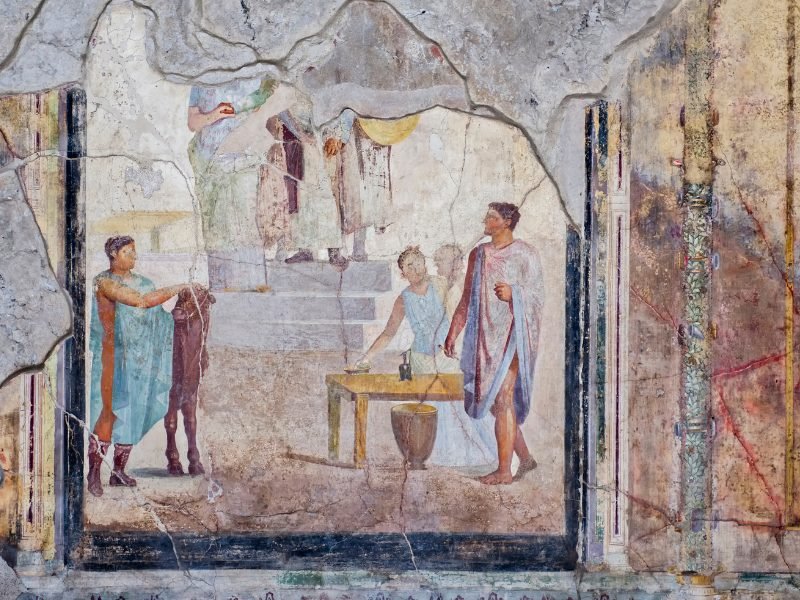 The preservation of these works is rather remarkable!
Visiting with a knowledgeable guide will put the visit into a historic perspective, give you the right chronological details, and direct you to the right places you should visit in your limited time.
However, if you have decided to visit on your own, keep in mind that the site was an actual city, covering about 440,000 square meters!
If you tried to visit all the streets, temples, villas, theaters, and baths, it could take days to explore.
However, going with a guide — or a detailed, pre-planned route — you can get a general glimpse of the formerly buried city if you are conscientious with your use of time.
Tip: If you're self-guiding, be sure to get a good map beforehand in order to mark the places you want to visit to avoid wasting time. The stops I recommend you to visit are:
The Large Theater and the Odeon: You will find two theaters in the same area, which will give you the opportunity to compare them. The Large Theater was probably devoted to the performance of plays. It is believed that the Odeon was probably used for musical exhibitions, since it boasts incredible acoustics.

The Garden of the Fugitives (in Italian, Orto dei Fuggiaschi): This is an old quarter named after the bodies of 13 victims that perished as they were trying to escape from the volcano eruption, in fact, a "fuggiasco" is a fugitive in Italian.

The Lupanar: One of the most visited spots in the archaeological park, this was believed to be the city's brothel. It features small cells and erotic frescoes, and it is easy to find by following the phallic symbols on the facades of several nearby buildings!

The Villa of Mysteries: Locally known as Villa dei Misteri, this is probably the most important place in Pompeii. This captivating and mysterious villa probably belonged to a powerful family and was located just outside the city walls, overlooking the sea.

The House of the Faun: Considered one of the largest residences in Pompeii (around 3,000 square meters), among the most curious findings here are the special areas that were used as servants' quarters.

The Forum: This is an imposing large square with triumphal arches, public buildings, and some unique landmarks including the basilica, the market, different temples, and other buildings. This area hosted the main civic, religious, and commercial activities of the ancient city of Pompeii.

Visiting Herculaneum from Naples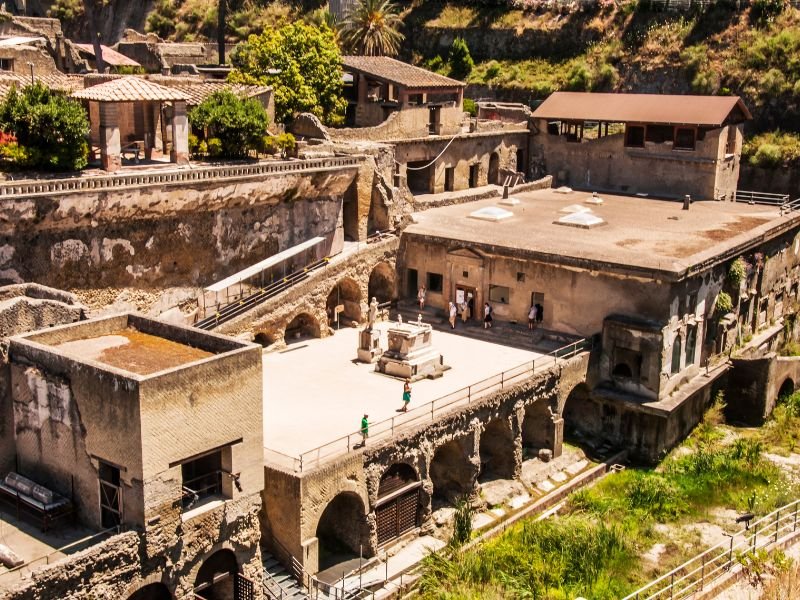 If you are a huge fan of ruins and ancient history, there is also the option to visit Herculaneum from Naples either as a separate day trip or on the way back from Pompeii if you don't mind getting an early site and cramming in two sites in one day.
Here is a guide detailing the differences between Herculaneum and Pompeii — as you can see, each has its pros and cons!
If visiting Herculaneum, it's very easy to combine it with Pompeii. It is also along the Circumvesuviana train line — simply get off at Ercolano Scavi, which is in between Naples and Pompeii.
Where to Stay When Visiting Pompeii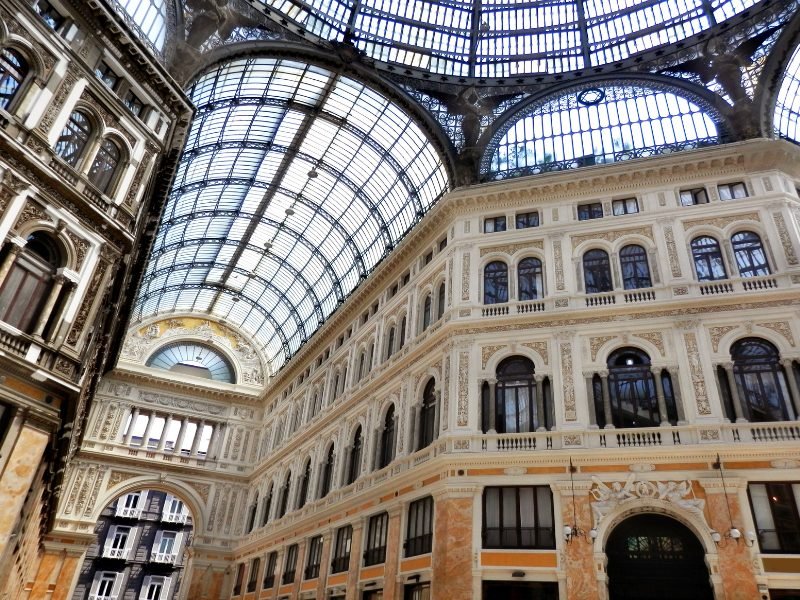 The new city of Pompeii, "Pompei Nuova" is a relatively small town with just a few interesting places to see, including the main square and its cathedral.
However, many visitors to Pompeii are history and archaeology fans that need more than one day in the archaeological park. In that case, spending the night in Pompeii can be a logical idea.
For most tourists, however, staying in the city of Naples is the most reasonable option. Here are a few good options:
Accommodations in Naples
City Center: Decumani Hotel de Charmeis a mid-range hotel in the historic center of Naples that is perfect for someone who wants to be in the heart of the action in Naples.
Despite being quite affordable, the place features elegant rooms with private balconies, some of them with seating areas, and bathrooms with a spa bath!
>> Check prices, reviews, and availability at Decumani here!
By the Sea: If you're more for a sea view or would rather stay only steps from the sea, Vacanzella is located in the popular Lungomare Caracciolo.
At the same time, there are also several important landmarks nearby such as Galleria Borbonica, Piazza Plebiscito, and the popular road Via Chiaia.
>> Check prices, reviews, and availability at Vacanzella here!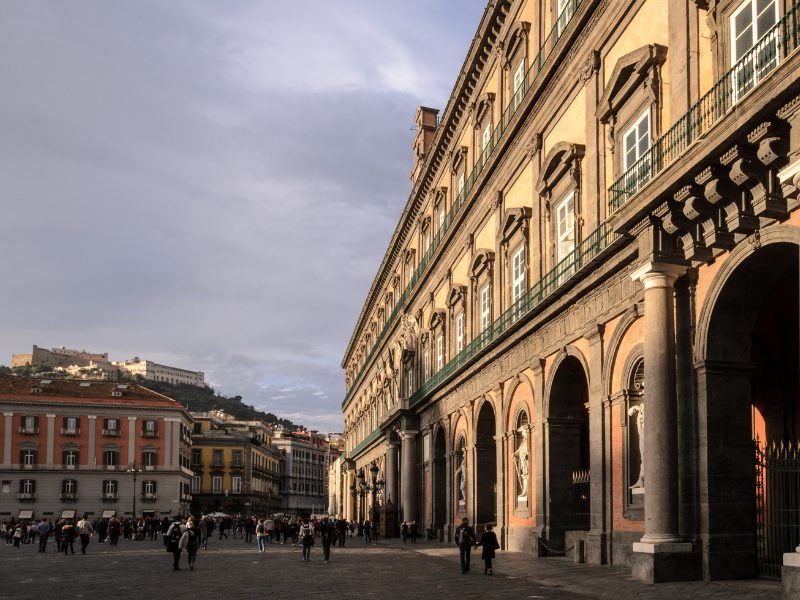 Accommodations in Pompeii
Near the Ruins: Located right opposite the archaeological site, Hotel del Sole offers affordable accommodation with air-conditioned rooms, and free WiFi. Some rooms come with a panoramic balcony.
On the premises, there are also a restaurant, a bar, and a shared garden. The breakfast features sweet and savory items as well as gorgeous views of the Pompeii archaeological site. The hotel has a restaurant that is open for lunch and dinner and serves typical Italian specialties.
>> Check prices, reviews, and availability at Hotel del Sole here!
Further from the Ruins: About 700 meters from the ruins of Pompeii, Maison de Julia Pompei is another good option in the area. This is a mid-range hotel with garden views, a shared lounge, and a terrace.
The bed and breakfast features both WiFi and private parking free of charge. The units are fitted with a balcony, air conditioning, and flat-screen TV. There are also continental and buffet breakfast options.
>> Check prices, reviews, and availability at Maison de Julia Pompei here!
What to Pack for Pompeii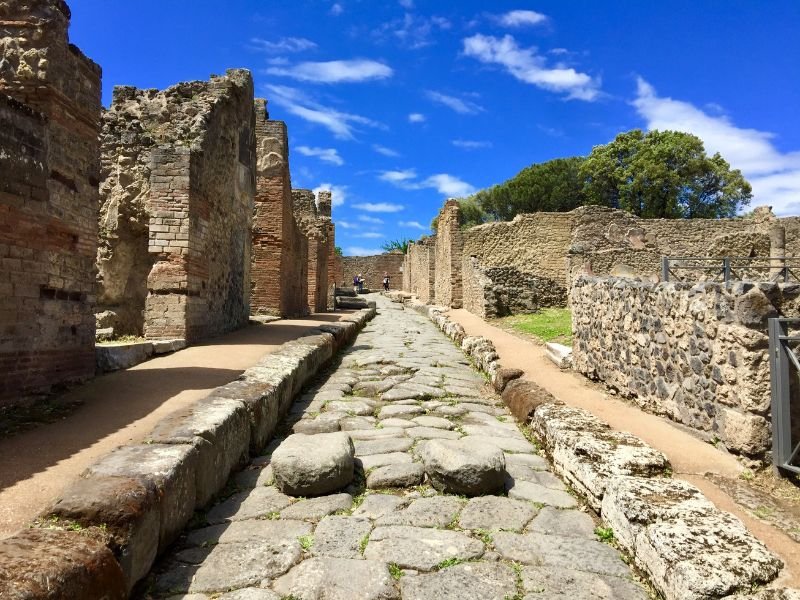 Wearing comfortable clothes and footwear is essential when spending so many hours walking on ancient cobblestoned roads!
This is especially true if you're traveling by public transport or if you're also climbing Mt. Vesuvius.
Good walking shoes or hiking boots if climbing Vesuvius offer enough support to spend an entire day visiting the area.
In terms of what to wear, comfortable shorts made of breathable material are perfect for summer and spring, while long hiking pants, leggings, or even soft jeans and flat boots will make a great winter outfit.
No matter the season, also pack sunscreen, sunglasses, your camera, and a crossbody bag or an anti-theft backpack, which are always safer than regular shoulder purses and also allow for more freedom of movement when exploring the archaeological site or Mt. Vesuvius.
I use and love my anti-theft backpack from PacSafe — it's ultra-secure and slashproof, and it even has interlocking zippers that will befuddle even the most savvy of pickpockets. Plus it's stylish to boot!
And of course, add a good travel guide and a map of the ruins to plan every detail of the visit!
Gabi Ancarola is a full-time travel blogger, tour guide, and freelance writer currently living in Crete, Greece. She spent decade of her life living and traveling Italy, and she shares her knowledge of Italy in her writings as an Italy expert on Eternal Arrival. She also shares her knowledge of Crete and Greece on her blog, TheTinyBook.com, where she has also published several digital travel guides.