If you ask a local when is the best time to visit Taiwan, you won't get a straight answer.
Each season offers different activities and landscapes, unique festivals and weather patterns, and distinct pluses and minuses.
The best time to visit Taiwan ends up depending on what you want, and so knowing that is key to deciding what you want to do.
There are so many things you can do in Taiwan that are dependent on the different seasons.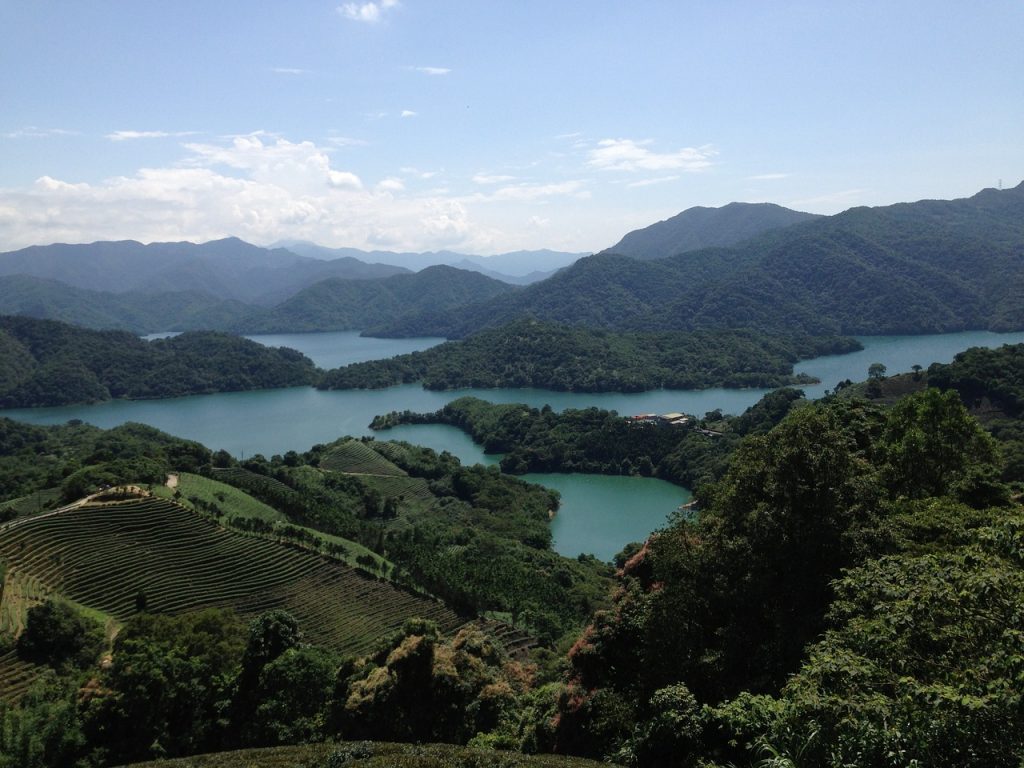 Note: This post contains affiliate links, which means I may receive a small commission if you purchase something through one of these links. Thank you for supporting the free content on this site! For more information on affiliate links and cookies, see my disclosure page for more details.
To truly answer the best time to visit Taiwan, you just have to basically know what you want to do so that you can select the perfect season to book that trip.
If you want to see turquoise water, white sand beaches, and pristine seascapes, then summer is the perfect time to visit.
If you like long walks and hiking amongst a kaleidoscope of rust-colored trees, then autumn will be best.
If soaking in warm hot springs is something you enjoy, then winter (which is rather mild in Taiwan) will be a delight for you.
And if you're rabid for cherry blossoms, then you can't miss visiting in spring!
As you can see, every season offers a memorable experience, so it's more of a matter of picking the experience that most resonates with your interests and travel style.
To further narrow down when to visit Taiwan, I have listed some key information about each season that can help you plan your trip.
Summer (June – August)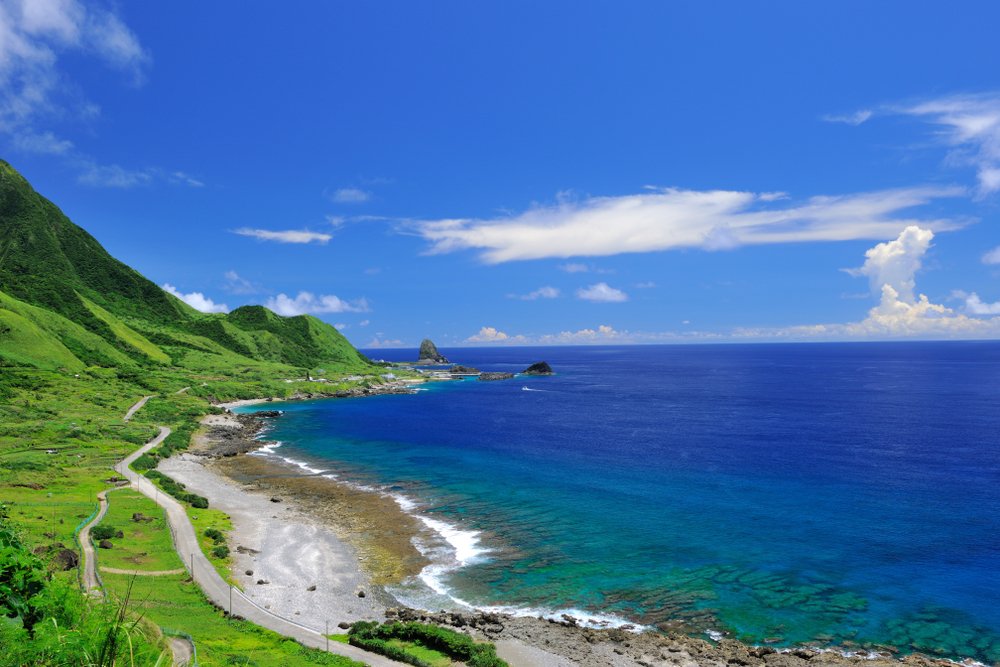 As an island, many people would think that Taiwan is a perfect island getaway and thus perfect to visit during the summer.
However, there are pros and cons to this.
Budget travelers will enjoy slightly cheaper flights and accommodation in Taiwan during the summer season.
However, this is for a reason, as this is the most hot and humid time of the year, with rampant mosquitos and the occasional typhoon!
Be sure to check online weather forecasts before booking that Taiwan trip and be sure to bring proper rain gear.
I always bring my Marmot PreCip jacket and a compact travel umbrella when traveling places with unpredictable rain patterns.
The temperature can rise up to around 97° F (around 36° C), though temperatures around 93° F (around 34° C) are more common.
However, that doesn't factor for the punishing humidity, which can push the heat index into the 100° F range (nearly 40° C!).
If you visit Taiwan in summer, you should bring lightweight and comfortable clothes (I have more suggestions on my Taiwan packing list here).
Quick-drying fabrics, like linen and silk, will do better than clothing that stays damp, like cotton.
Whatever you do — get ready to sweat from the heat! Think of it as a free sauna… that you can never escape from.
However, if you can brave the high temperatures, summer is the perfect time to visit Taiwan's beaches!
If possible, try to go during a weekday to avoid the crowds. Still, regardless of the day of the week, expect a lot of local students in July until August, when schools are on break.
Kenting National Park in the very far south of Taiwan is a fantastic option for beaches.
One of the most popular beaches there is Little Bay (Xiaowan) but frankly, you can barely go wrong with anywhere in Kenting!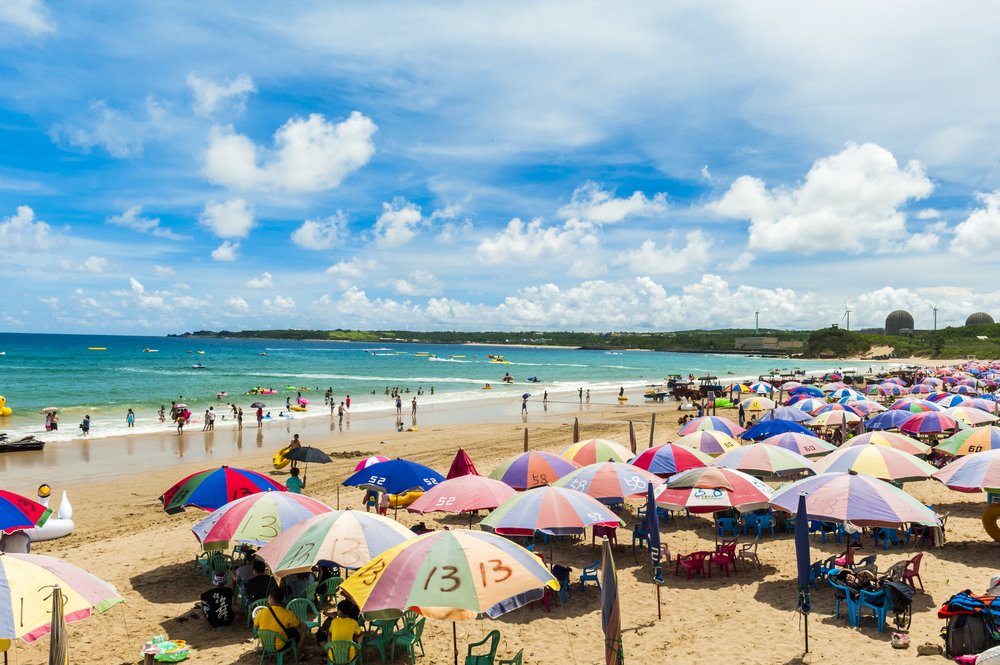 The nearest beach you can go from Taipei Main Station is Fulong Beach, a quick ride on the TRA.
You will definitely cool down once the ocean waves hit you with the refreshingly cold water!
There is an entrance fee to the beach, approximately $NTD 100 (around $3.50 USD).
If you're visiting sometime between mid-April and mid-July, there is the Fulong International Sand Sculpture Festival going on — you may want to come for this, or you may want to avoid it!
Make sure to bring food or try the popular Fulong Bento, as there is only one café once you enter the premises.
If you are the type of person who loves serene views of nature and lovely beaches, I suggest getting out of Taipei and heading to one of the beautiful islands of Taiwan.
The most gorgeous islands are Xiao Liuqiu, Lanyu Island (Orchid Island), Matsu Island, and the Penghu Islands.
The most interesting of the bunch is perhaps Penghu, which is actually an archipelago of islands.
Virtually all of these beautiful islands will make you feel like you are in a time capsule away from the city!
The culture is well-preserved and not a lot of tourists are there, due to the limited capacity of people these small islands can accommodate.
Lastly, who says you can't enjoy springs during the summer? While Taiwan is famous for its ubiquitous hot springs, cold springs are also a thing in Taiwan!
There are a few ones like the Su'ao Cold Spring in Yilan and the Sishierfeng Cold Spring in Miaoli.
Fall (September – November)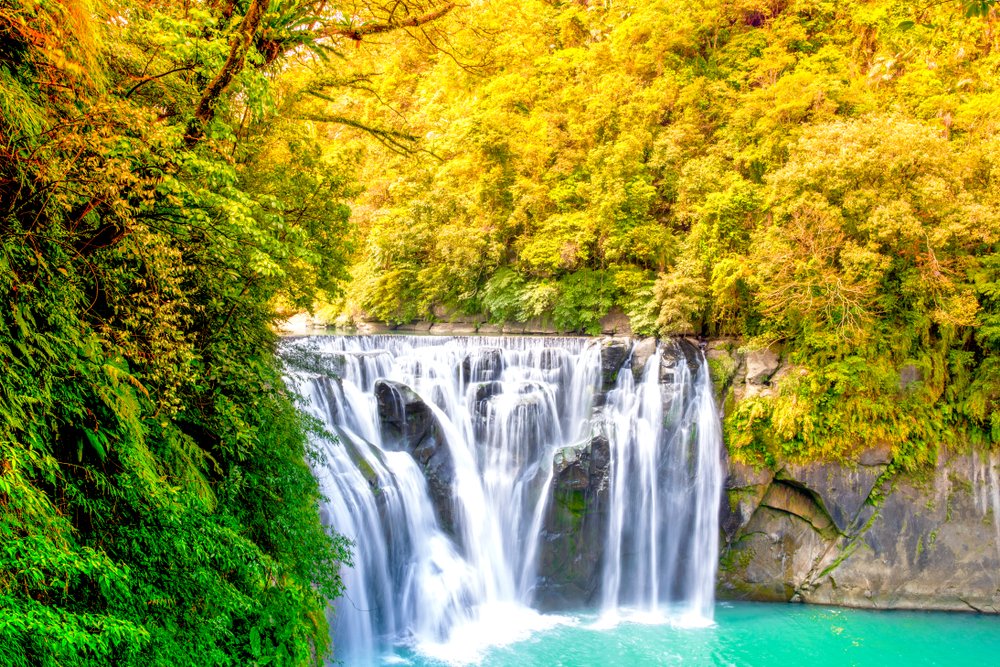 If pressed, Taiwanese people might say that this is the best time of the year to visit Taiwan.
The weather starts to cool down (finally), and it is perfect for trekking or hiking. Temperatures can go from 68-79° F (around 20-26° C), much more humane!
As a result, flights and accommodation costs can skyrocket rather high during this season.
September is generally considered the most expensive time to visit. Budget travelers should look elsewhere during this month!
But it's priced high for a reason: there's also less rainfall when compared to summer and spring, so autumn is a more convenient time to visit.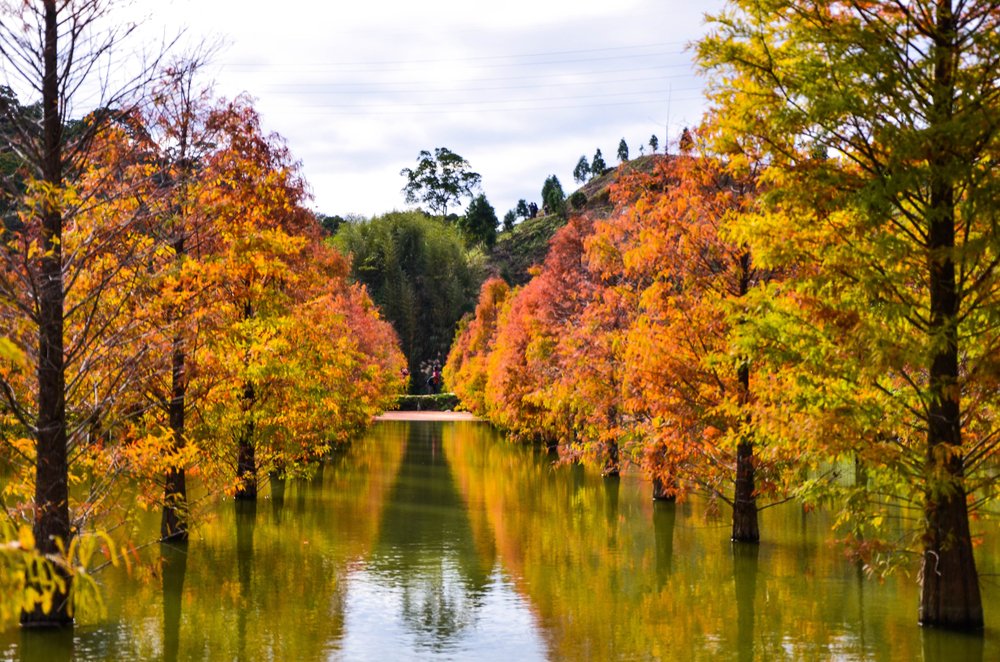 Plus, landscapes start to flourish into fall colors around this time of year, with leaves turning to beautiful shades of red, brown and yellow.
Note that the Moon Festival or the Mid-Autumn Festival is a really significant holiday, when prices and crowds can get quite crazy.
But it's also quite fun, as moon cakes and Taiwanese BBQ treats will be served under the full moon!
This is a good time to do some day trips from Taipei, as the weather isn't too hot to explore, and Taiwan's lush countryside isn't a far ride away.
I asked a Taiwanese local what was the best place to go to during the fall, and he recommended the Aowanda National Forest Recreation Area.
I personally have not been there (yet), but it just looks amazing in photos!
Winter (December – February)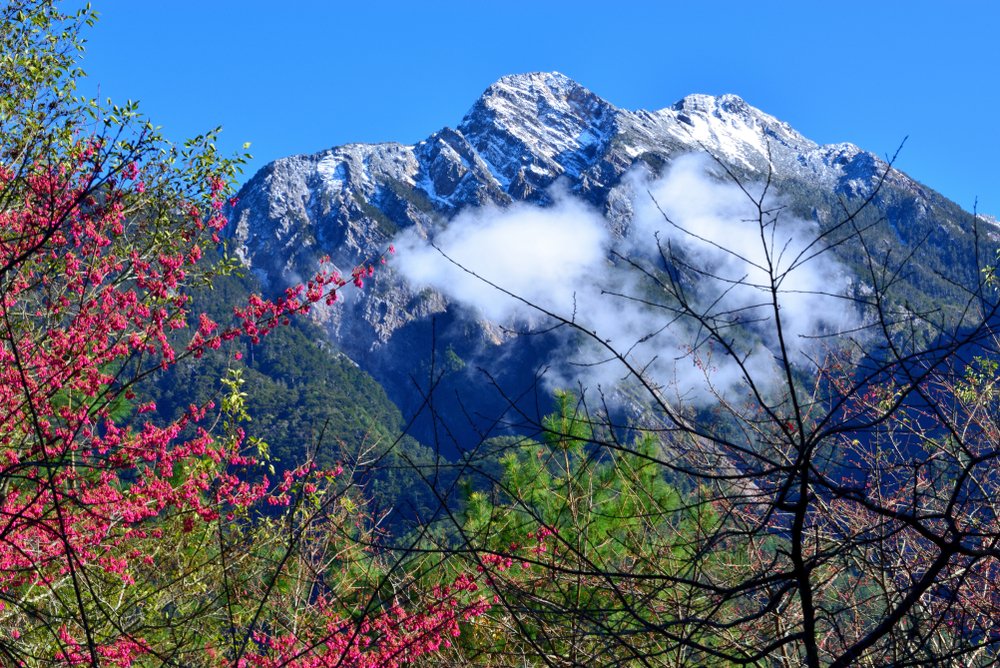 December is when the temperatures start to drop, going as low as 50°F (around 10°C).
The coldest month of the year is January; however, I spent two weeks in January in Taiwan, and I found the weather rather lovely (but I'm from the Bay Area, and that's a typical winter weather day for me!).
Taiwan is not as cold as the winter in most western countries, and it is definitely warmer than other East Asian countries such as China, Japan, and South Korea!
If you are from North America, and you want to experience a warmer winter (but not stifling heat and humidity the way you would in Southeast Asia), then it will be a good idea to travel to Taiwan at this time of the year.
Snow in Taiwan is quite rare, and when it does snow, it's only in some mountainous areas.
This is the perfect time to get your cozy and warm clothing ready! While Taiwan isn't particularly cold compared to other places, you'll still want to be layered up appropriately.
Again, I've covered winter in Taiwan clothing recommendations on my Taiwan packing list.
However, while December and January are more affordable months to travel, keep in mind that flights and accommodation inflate like crazy in February due to the Lunar New Year.
This holiday is very festive and unique, so it's definitely worth visiting if you don't mind paying higher prices!
On the first full moon of the Lunar New Year, the Pingxi Lantern Festival takes place — it's a truly once-in-a-lifetime experience, but expect crazy crowds and prices.
If you're on a budget, aim for December or January instead — these months are much more reliable.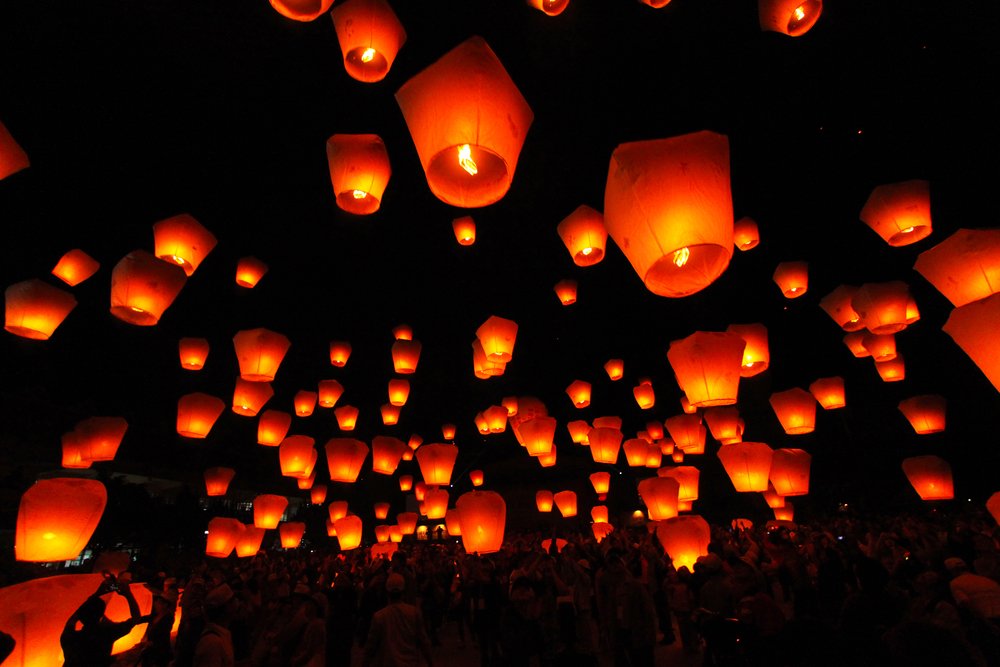 Remember that during the Lunar New Year holidays (which can last for a week around early February), stores are mostly closed.
To warm up, there are a ton of hot springs, especially in Beitou, where you have the unique opportunity to stay at a hot spring hotel — many hotels even offer your own personal hot spring in your room!
There are public springs as well. Local people love to flock to the hot springs in winter, so expect a crowd at the public ones, but they are quite cheap.
I suggest you pre-book a hot spring hotel in Beitou in advance and enjoy your time there!
Spring (March – May)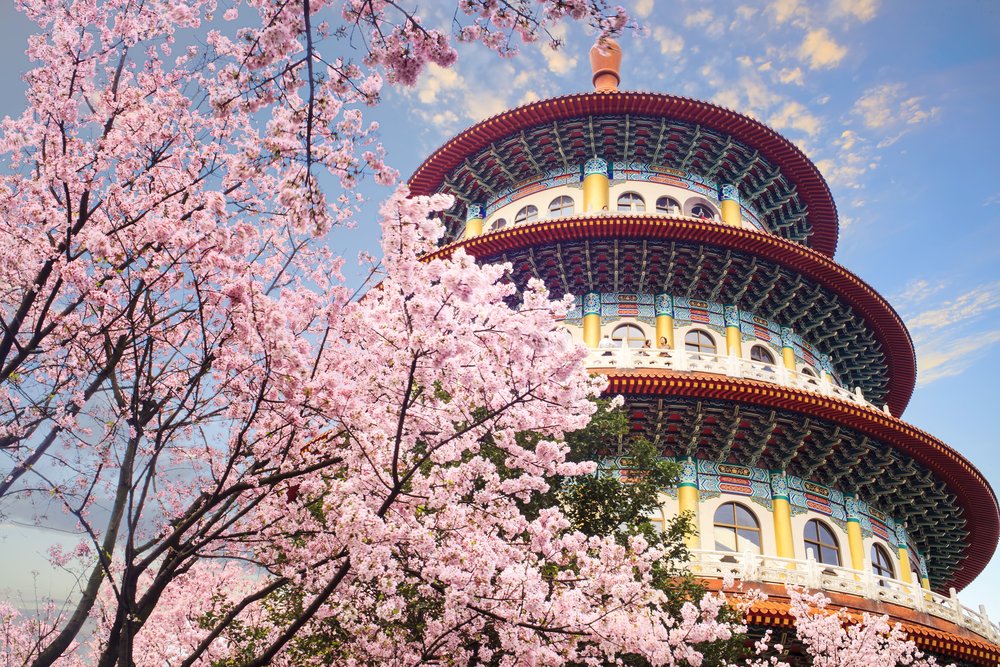 Spring starts and all of a sudden, the flowers of Taiwan are gorgeously blooming!
This means endless Instagram-worthy pictures, rich with stunning pink cherry blossoms and colorful hydrangeas.
Yangmingshan National Park is one of the best places to find cherry blossoms in Taipei!
If you want to go further afield in Taiwan, there are other national parks and scenic areas such as Alishan, Wulai, and Wuling Farm as well.
Another popular spot that's easy to get to from Taipei is the Tian Yuan Temple in Danshui, which is especially beautiful when the cherry blossoms erupt.
If you are planning to have a less expensive trip while enjoying the weather, then spring can be a good time to visit Taiwan.
However, the peak cherry blossom season can be a bit more expensive than the rest of spring.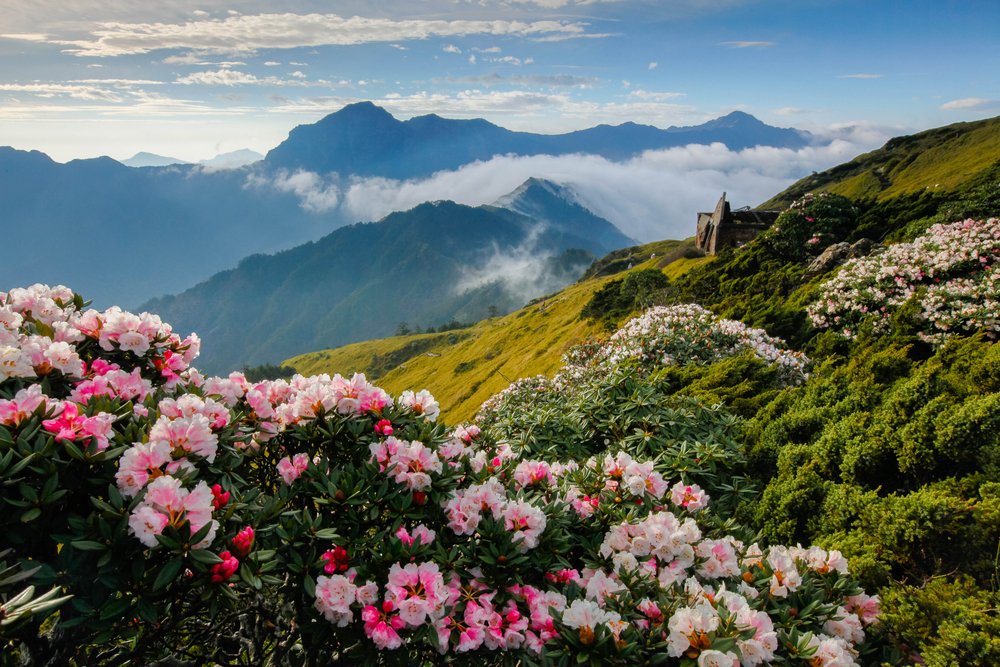 In general, spring is not as warm and humid as the summer season and not as rainy as well, though May is when the rainy season starts to kick in.
Generally, temperatures stay around 75° F (around 24° C) and some national parks in mountainous areas can have temperatures going around 68° F (around 20° C).
In terms of festivals, the Swimming Carnival of Sun Moon Lake takes place during this season.
Unsurprisingly, the festival makes accommodations near the park in high demand, and thus rather expensive — plan and book accordingly!
Strolling around Jiufen and Shifen Old Streets will be a spectacular choice during this time of year.
It's not too hot, nor too cold, nor will there be too many tourists! You can check my article about traveling Shifen and Jiufen here.
General Notes about Festivals and Holidays in Taiwan
Taiwan has two calendars: the national calendar and the lunar calendar.
While most of the time they follow the national calendar, for most holidays and festivals Taiwan follows the Chinese lunar calendar.
The holidays and festivities are sure to give you a taste of Taiwan's culture at its finest, but keep in mind that there is a cost proportional to this experience!
Allison Green is a former educator turned travel blogger. She holds a Masters in Teaching and a B.A. in English and Creative Writing. Her blog posts merge her educational background and her experience traveling to 60+ countries to encourage thoughtful travel experiences that both educate and entertain. She has been a speaker at the World Travel Writers Conference and her writing, photography, and podcasting work has appeared in National Geographic, CNN Arabic, CBC Canada, and Forbes, amongst others. Now based in the San Francisco Bay Area where she grew up, she has also lived in Prague, Sofia, and New York City.