While there is so much to do in Taipei itself, one of the best things about traveling to Taipei is the sheer abundance of day trip possibilities there are in the region.
The small town of Shifen with a train track running straight through it is one of the best-loved day trips from Taipei, especially because the gorgeous Shifen Waterfall is just a short walk or electric scooter ride from the train stop.
Jiufen is also a hugely popular day trip, especially in the evening, when the orange lanterns come to life and you can watch the sunset from one of the magical teahouses on the hill.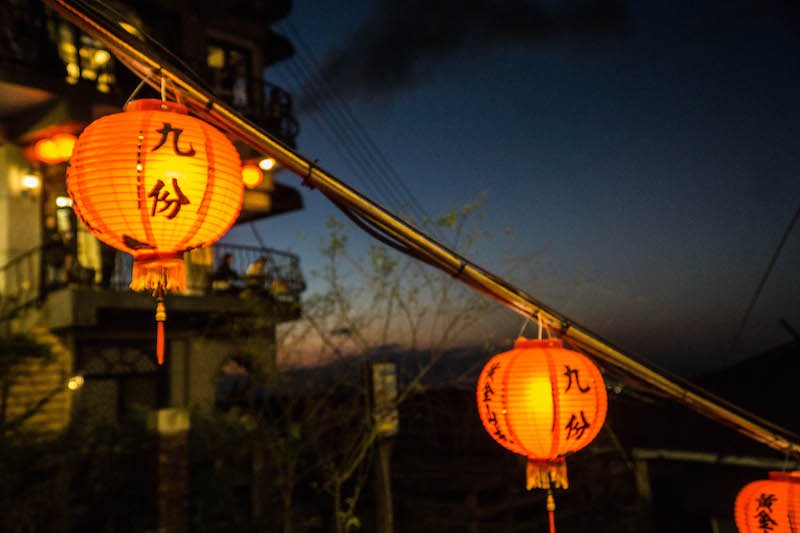 Note: This post contains affiliate links, which means I may receive a small commission if you purchase something through one of these links. Thank you for supporting the free content on this site! For more information on affiliate links and cookies, see my disclosure page for more details.
While you can go to both towns in one day on a guided tour, I think it's better to go from Shifen to Jiufen independently to give yourself more flexibility to explore, photograph, and enjoy these towns all on your own.
Plus, public transportation in Taiwan is very affordable and reliable, although signage can sometimes be a bit difficult due to the written language barrier.
However, I never really found the language barrier to be that much of an issue, as Taiwanese are some of the most helpful and kind people I've met on my travels, and they were always willing to go above and beyond to help no matter what their proficiency in English was.
That said, if you don't want to stress getting there with public transportation, there are convenient shuttle buses that allow you the freedom of visiting independently with the convenience of point-to-point transportation.
This means you can visit each site independently rather than traveling like a herd with your tour guide, but you have a comfortable coach bus transiting you between the sites.
At around $20 USD, it's inexpensive and cost me pretty much exactly the same as visiting independently using public transport as I ended up taking a pricier shared taxi back from Jiufen because the public buses were so packed.
Here's the shuttle bus company I recommend as it's been reviewed positively nearly 3,000 times!
How to Get to Shifen from Taipei via Ruifang
In case you're not in Shifen yet, here's how I recommend going independently on public transport from Taipei.
Start at Taipei Main Station, which is accessible on both the Red and Blue MRT lines.
Walk towards the train section of the station. You can buy your ticket at one of the machines (if you do, use cash rather than a card, as many foreign credit cards don't work properly in Taiwan) or you can wait in line to buy your ticket from a staff member.
We chose the Tze-chiang class, which is a limited express train, and it takes about 45 minutes to get to Ruifang. The cost was 76 Taiwanese dollars, which is about $2.50 USD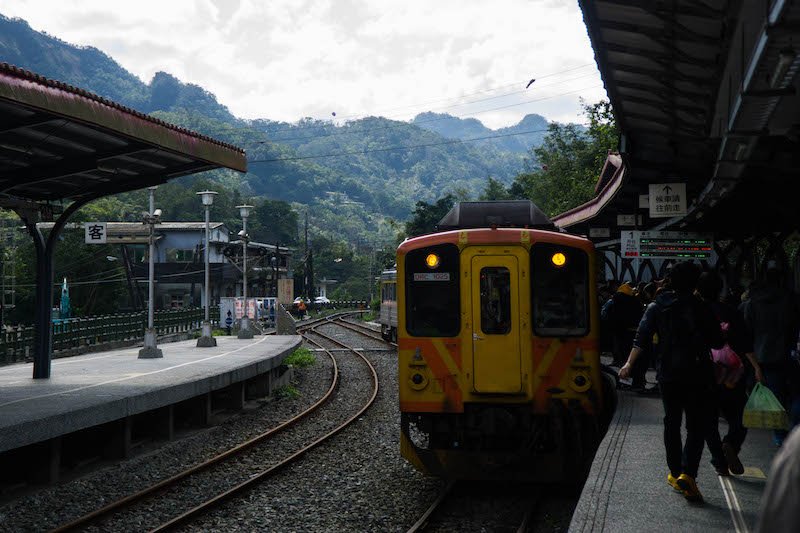 From Taipei Main Station, you'll need to take a train to Ruifang (in Chinese: 瑞芳站). You can take any northbound train that is not headed towards Keelung. 
Don't be afraid to ask for help from locals when finding your train, as it can be a bit confusing to find the right train, as only the ending destinations are listed.
Just ask people for Ruifang and perhaps have the Chinese translation saved in your phone notes so you can show people. Locals will be glad to point you in the direction of the right train.
From Ruifang, you can easily transfer to the Pingxi line. Buy a one day pass from the stand; it's the best option and it costs only 52 Taiwanese dollars ($1.75 USD). Ride the train from Ruifang to the end of the line at Shifen– easy!
When you're in Shifen, be sure to see the Shifen Waterfall, the Old Street, the suspension bridge, and watch the people setting off lanterns on the train tracks.
Optionally, you can stop at Houtong Cat Village on the way from Shifen to Jiufen, as it's located on the Pingxi line as well.
I didn't have a chance to visit (I slept in too late that day, as I am likely to do!) but it would have been as easy as getting off the train, checking out the town for a bit, and getting back on when I was finished.
How to Get from Shifen to Jiufen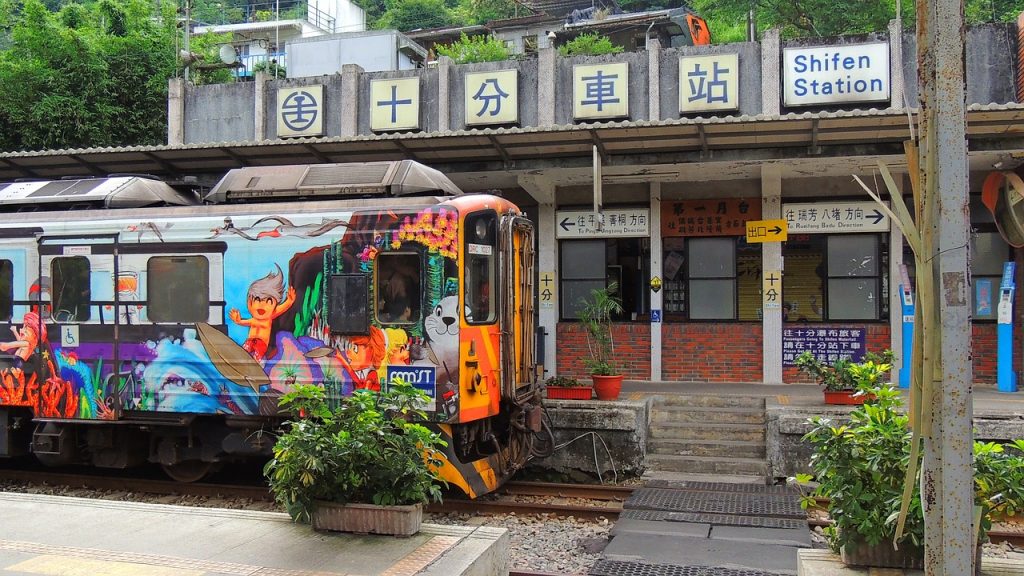 If you're already in Shifen, luckily it's pretty easy to get to Jiufen from there.
Using your one-day train ticket on the Pingxi Small Railway line, you'll want to ride the train back to the terminus at Ruifang.
You won't have to pay again as you will have already bought the one-day pass.
Once you get back from Ruifang, you'll need to exit the train station and head to the bus stop. After exiting the train station, walk to the main street, then turn left.
Walk about two blocks. (You can find the exact location of the bus stop by inputting Jiufen as your destination in your Google Maps).
There are three different buses which will bring you to Jiufen, the #788, #827, or #1062. I don't recall the exact cost of the bus but it was quite cheap.
There is signage on the bus stop that is translated into English as well, making it easy to figure out which bus route to take.
It'll take about 25-30 minutes to go from Ruifang to Jiufen. Don't let yourself get lost in your phone: the views on the way to Jiufen are simply incredible.
It'll let you off right by a temple that looks like this.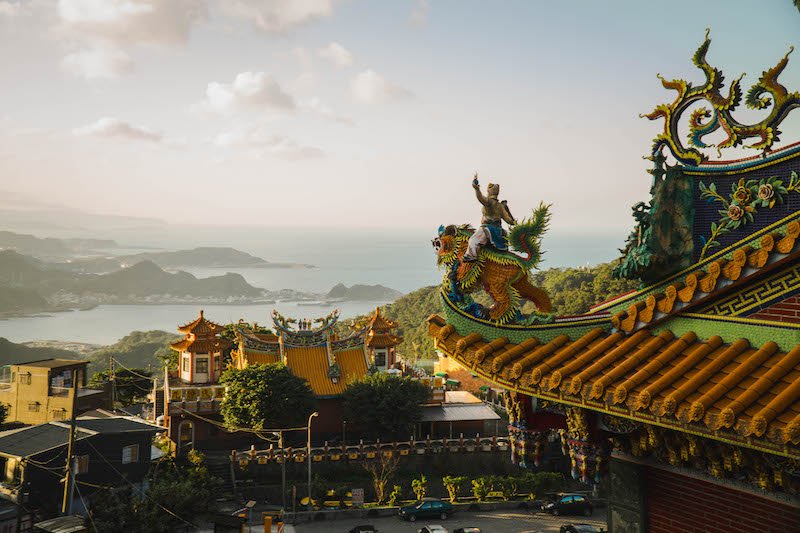 Not a bad view, eh?
Walk up the street past the temple and you'll see the start of the Jiufen Old Street area! Keep walking up, passing the food stalls, until you reach the iconic teahouses everyone visits Shifen for.
It's especially stunning right around sunset — just look at that landscape overlooking the sea, with Mount Keelung in the distance.
Now you can see why everyone loves it (just be prepared for the massive crowds that descend on Jiufen virtually every night — it was packed when we visited in January, the lowest of the low season!)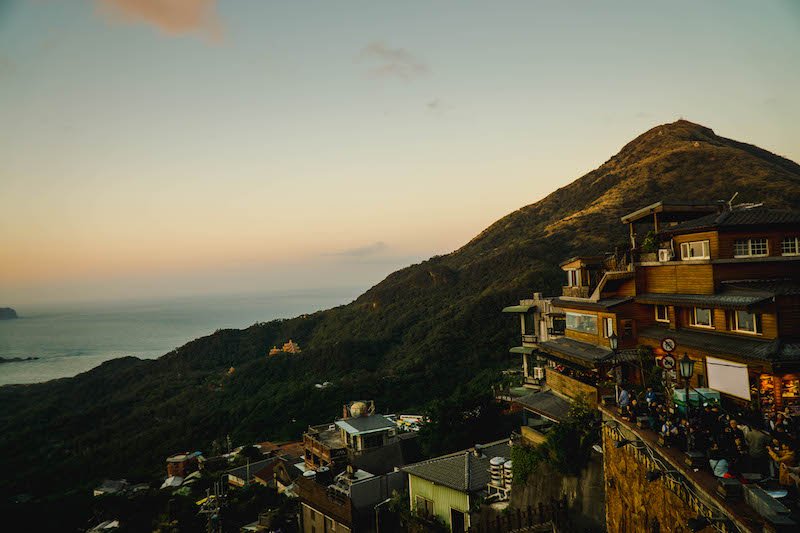 Getting Back to Taipei from Jiufen
This part can be a real pain in the neck, because Jiufen is such a popular nighttime destinations and the buses only run about once every 30 minutes.
We waited at the bus stop for a while, only to find every bus going back to Taipei (#1062) completely full. Another option would be to take the #788 to Keelung Station and then take the 4107 shuttle to Songshan Station.
Instead, we were really tired, so we opted for a collective taxi, which cost 300 Taiwanese dollars per person (approximately ~$10 USD). For a comfortable and convenient ride back to Taipei minus all the waiting, it was well worth the extra price.
Allison Green is a former educator turned travel blogger. She holds a Masters in Teaching and a B.A. in English and Creative Writing. Her blog posts merge her educational background and her experience traveling to 60+ countries to encourage thoughtful travel experiences that both educate and entertain. She has been a speaker at the World Travel Writers Conference and her writing, photography, and podcasting work has appeared in National Geographic, CNN Arabic, CBC Canada, and Forbes, amongst others. Now based in the San Francisco Bay Area where she grew up, she has also lived in Prague, Sofia, and New York City.