Travelers and digital nomads in search of a ultra-hip hot spot in Bali need look no further than Canggu, on the west coast of Bali.
It's located just 40 minutes north of the airport, making it the perfect hub for travelers.
What will you find in Canggu? All the fun and buzz you could hope for, right in the middle of the party paradise of Bali.
But don't worry! Even with all that going on, we still lead pretty relaxed lives here!
What truly made me fall in love with Canggu was the fact that there's  endless options and opportunities, whatever your interest or mood might be.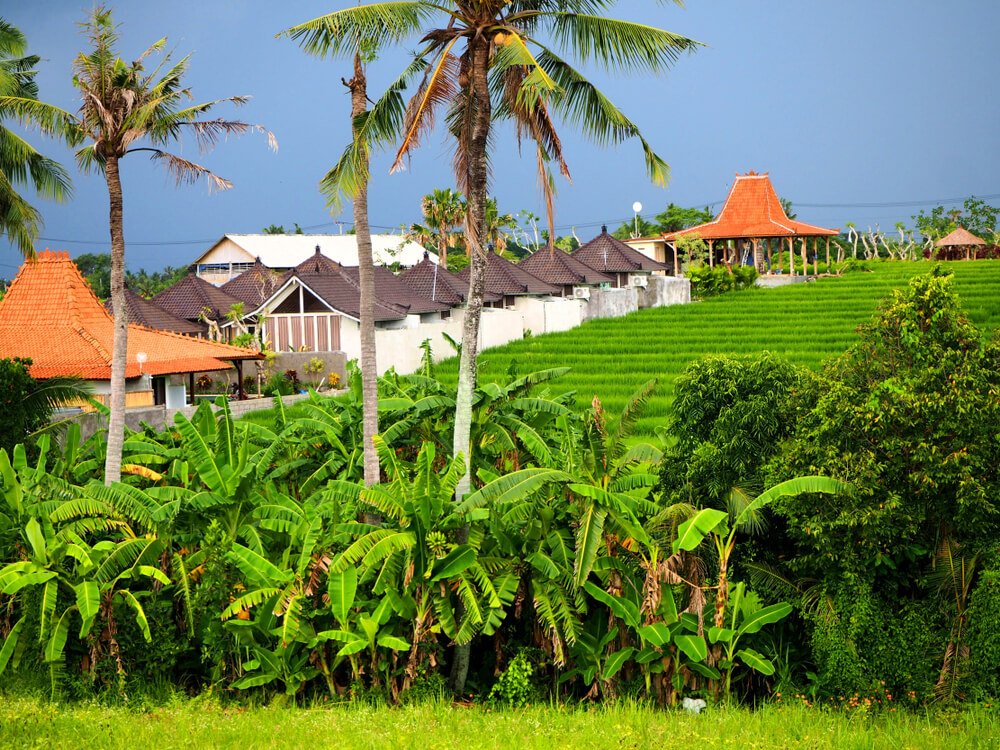 Note: This post contains affiliate links, which means I may receive a small commission if you purchase something through one of these links. Thank you for supporting the free content on this site! For more information on affiliate links and cookies, see my disclosure page for more details.
Need to unwind and recenter yourself with some meditation and yoga? You're in the right place.
More in the mood to sweat it out at a boxing gym and live the excitement of attending a Fight Night? Canggu's got you covered.
How about salsa dancing, board game cafés, and high-end co-working spaces? Yep, you guessed it, it's all here.
To top it all off, you'll have no shortage of great places to eat during your stay, as Canggu is full of top-quality restaurants from every cuisine imaginable.
I've spent the last 2 years living in Bali and I'm so happy that Canggu is the place I get to call home. So, keep reading, and let me show you with this Canggu itinerary.
Day One of Your Canggu Itinerary
Wake up with yoga.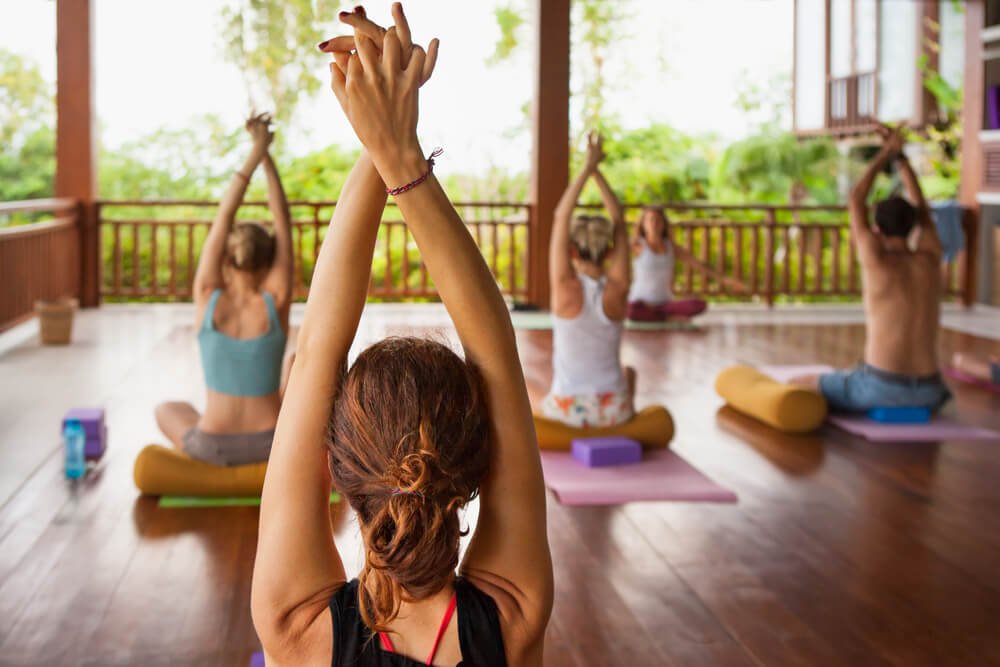 As you probably know, yoga is one of the top reasons people come to visit Bali.
Even if a whole spiritual retreat isn't exactly your thing, check out a class or two at Samadi Wellness Community!
The class you take will depend, of course, on the day and your personal preferences, so check their website for a fully updated schedule to see all the options.
Personally, I love starting my Tuesdays and Thursdays with Abdi's chakra flow class.
This beautiful space hosts many daily classes in the shala, and features an outdoor cafe as well as two stores with yoga apparel and grocery products.
Grab a coconut after class and you might even see some chickens walking around the property!
Samadi also hosts a Sunday market with different shopping stalls, as well as monthly events such as tea ceremonies and ecstatic dance, so be sure to check that calendar when planning your stay!
Have a delicious breakfast at Front Cafe.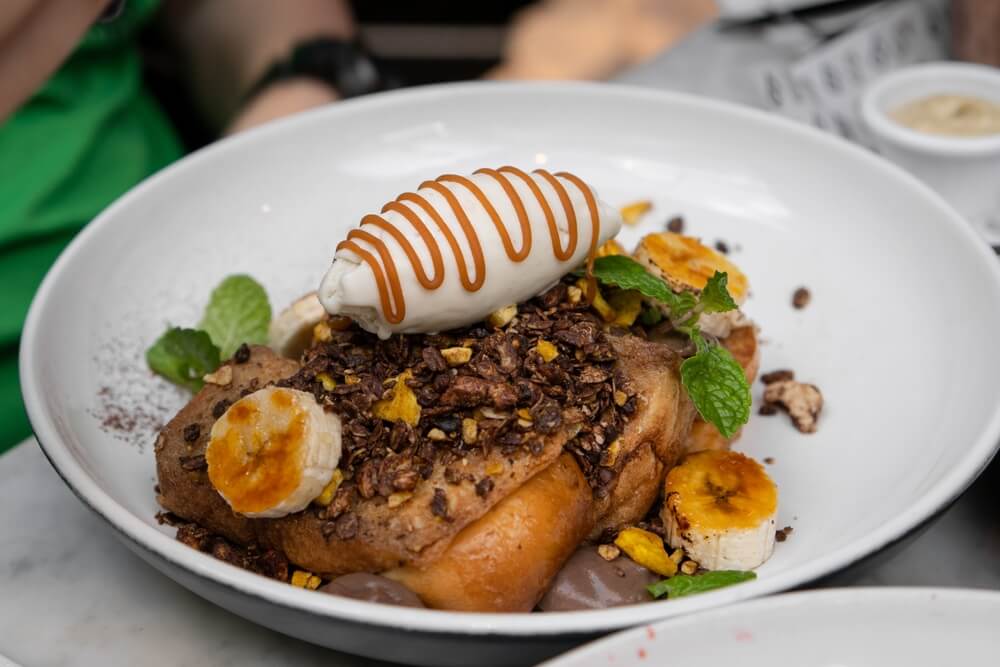 For a fantastic breakfast, head on over to the nearby neighborhood of Pererenan, just a quick 5 minute motorbike ride away.
This area slightly north of Canggu has some incredible cafes and restaurants, and is quieter than busy Batu Bolong and Berawa streets.
Front is a little bit tucked away, but this little hidden gem with great coffee and breakfast fare is absolutely worth a visit.
They close up shop around 3 in the afternoon, so be sure to come in the morning to enjoy their offerings!
Whether you're in the mood for a breakfast burrito or a smoothie bowl, they've got you covered with their tasty fare.
Bonus perks include fast WiFi (perfect for those of us who work online!), and some of the best coffee in Canggu.
Receive a blessing at Tanah Lot Temple.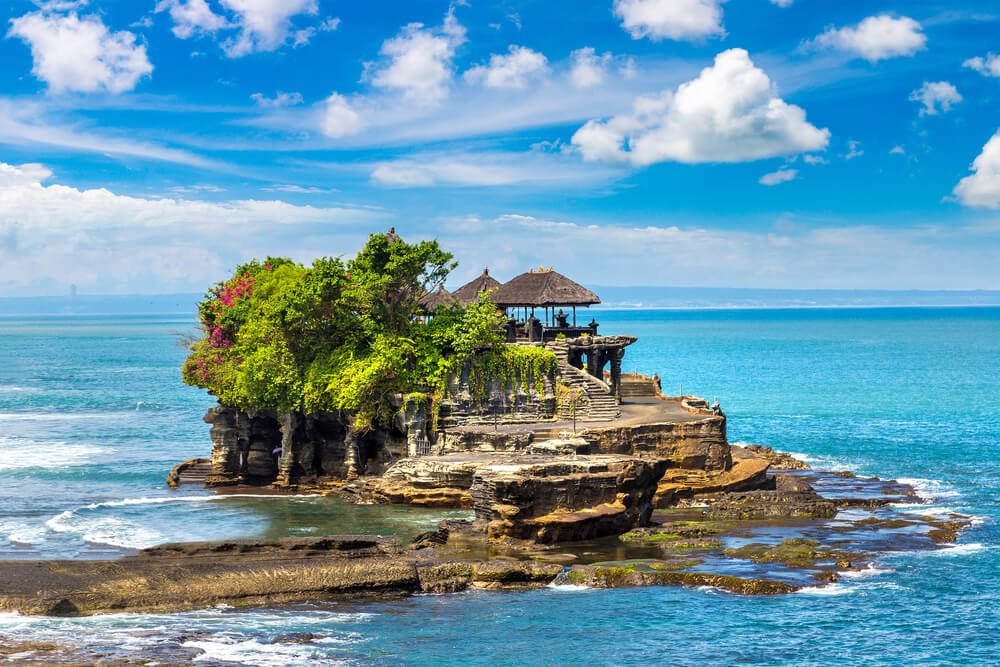 Since you're already up in Pererenan, let's keep going a bit further north to experience Tanah Lot Temple – a traditional Balinese temple literally situated in the ocean. 
Be sure to check the tides before you visit (this is a good resource) and plan your trip for low tide so you can walk out to the small island. 
As a sign of respect, remember to cover your shoulders and legs with a sarong.
Then, cross the sea to the temple grounds and receive a blessing by a local priest!
Have lunch at Zali.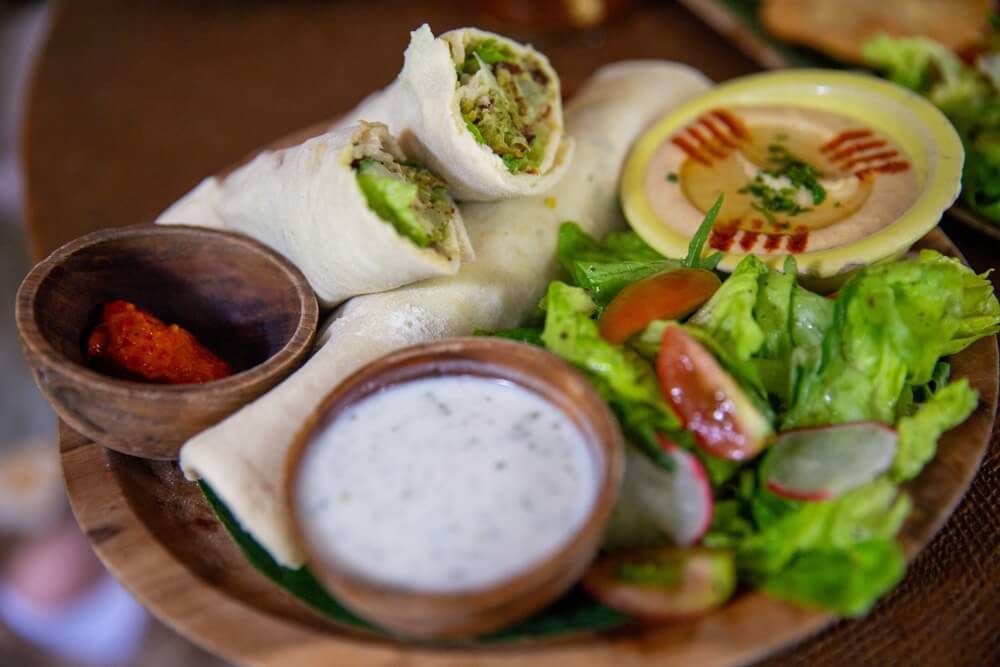 Let's stop off again in Pererenan on the way back from Tanah Lot for a meal at Zali.
This Lebanese fusion place has a delicious array of small plates and mezze, as well as larger portions for when you're really hungry.
The hummus and babaghanoush are highly recommended by me!
I once had a friend visit me in Bali, and after our first meal here, he loved this restaurant so much, he ate there almost every day!
Unwind at a local spa.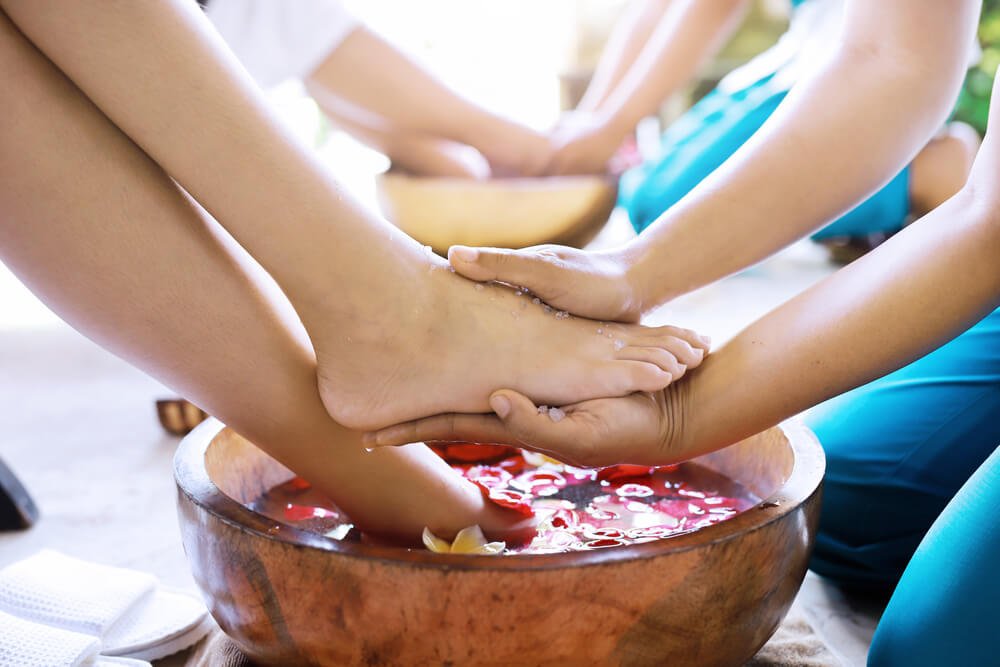 The incredible Amo Spa is a favorite destination to unwind in the Canggu area.
This beautiful building is home to experts in massage, hair care, nails, waxing, facials and more. You can even get a tarot reading here!
All the massages are done in private, comfortable rooms with your choice of scented oil for ultimate relaxation.
It's my absolute favorite place to go on the island for a treatment!
Amo also has a sauna and ice bath downstairs that you can purchase a day pass to, plus a cafe serving healthy and delicious meals and snacks so you can really take your time and unwind.
Have a delicious dinner at a local warung.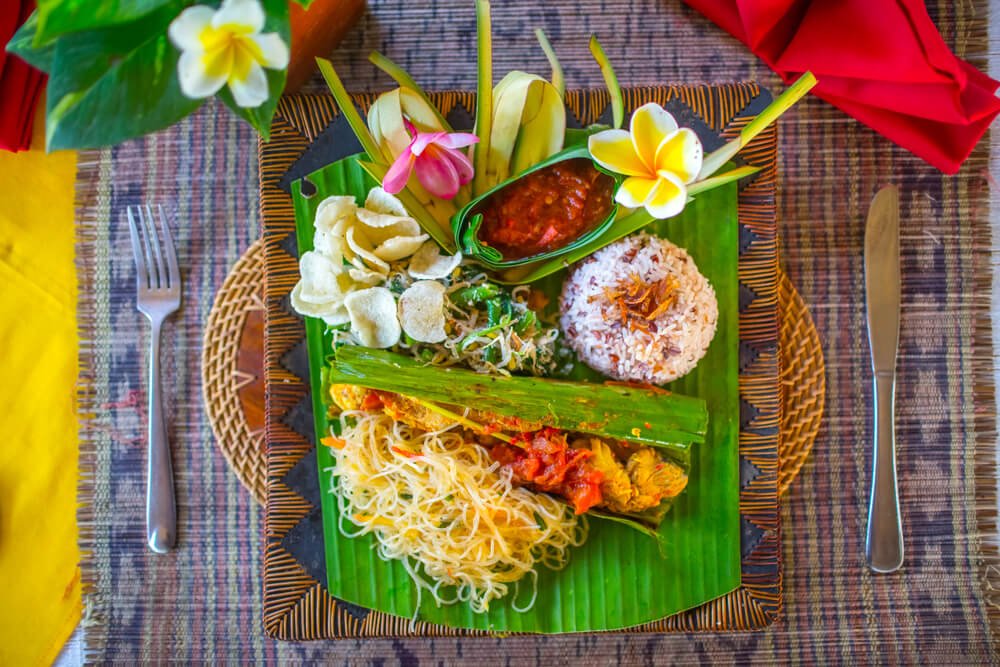 The tasty Warung Sika is just up the road for some local Indonesian food sure to please both your stomach and your wallet.
You can order off the menu, or I recommend going up to the counter and trying a few different things behind the glass for a well balanced meal.
Just point at what looks good to fill your plate, and you'll get some rice to go with it!
Go out for drinks and dancing.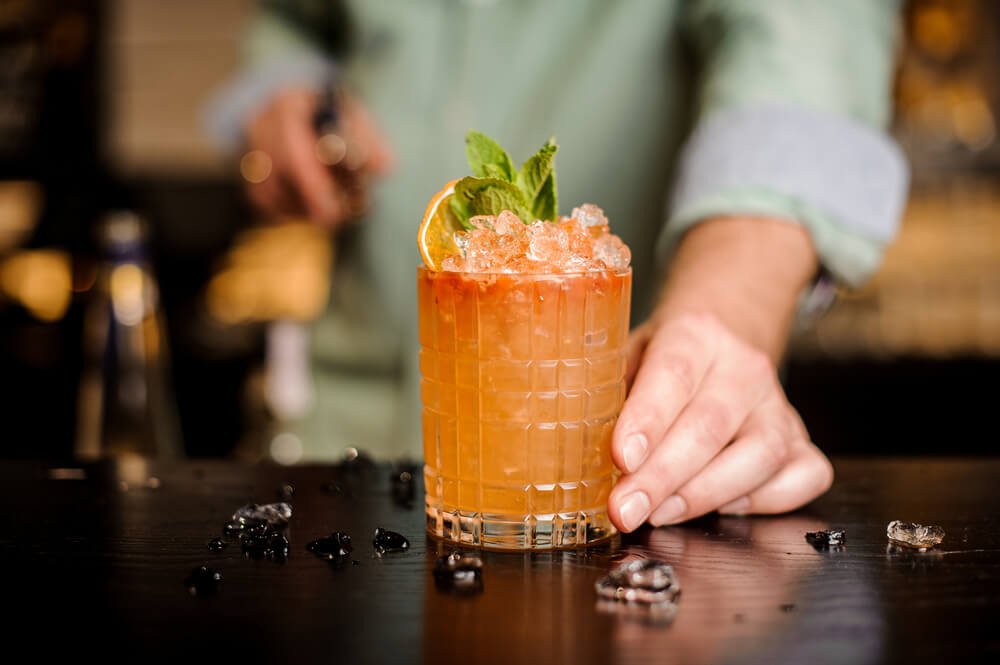 The nightlife scene in Canggu is pretty popular, so there's a lot to choose from. A good bet to start the night is Black Sands Brewery.
This casual but trendy spot is the perfect place to meet friends to catch up or maybe even play a card game.
It's open-air, mostly outside, and the spacious setting is perfect for a relaxed night out.
They also serve food in case you need a snack, and are open until 12.
If you want to go to a proper club for some dancing, Vault is a fun one!
It's located in Berawa underground in an old converted bank vault, hence the name.
On Wednesdays and Saturdays they play hip hop, and Fridays are for house and techno, so no matter what your preference is, you're bound to hear something that'll get your body moving.
Day Two of Your Canggu Itinerary
Take a beach walk or a surf lesson.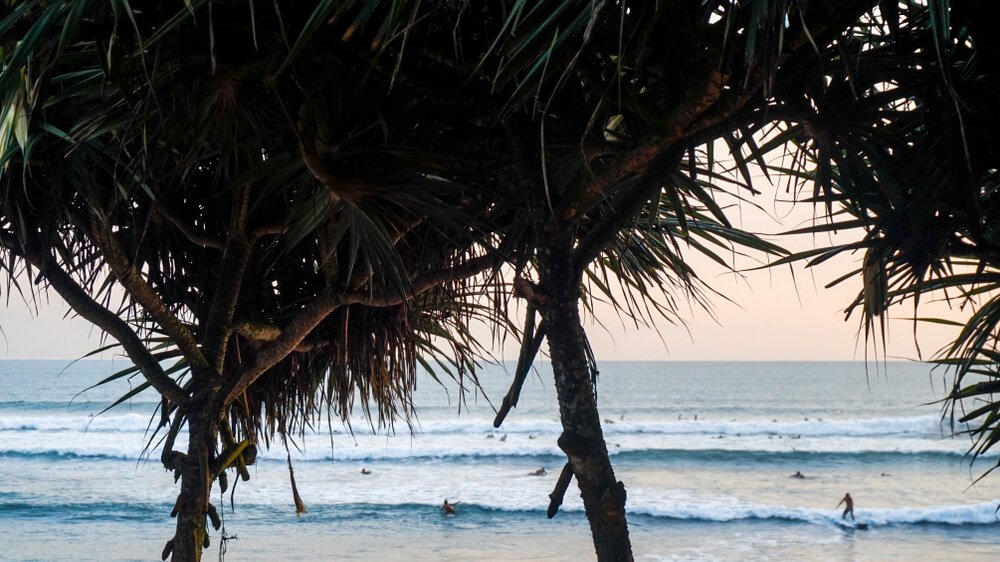 Canggu is on the west coast, which means lots of beaches and lots of surf.
While these beaches aren't the best for swimming with the waves crashing close to the shore, they are great for taking a walk or learning to surf. 
You can head down to the shore to take a lesson!
You can easily rent a board and find an instructor willing to teach you the basics. It's one of the most popular pastimes in Canggu after all.
Batu Bolong Beach is usually the most popular for beginner's surfing in this area, while Berawa is a bit quieter. 
Seaweed Restaurant on the beachfront is a great place to chill on a beanbag with a coconut for a front row seat to the surfing action — but don't eat yet, because one of my favorite Bali restaurants is next up!
Have brunch at Milu by Nook.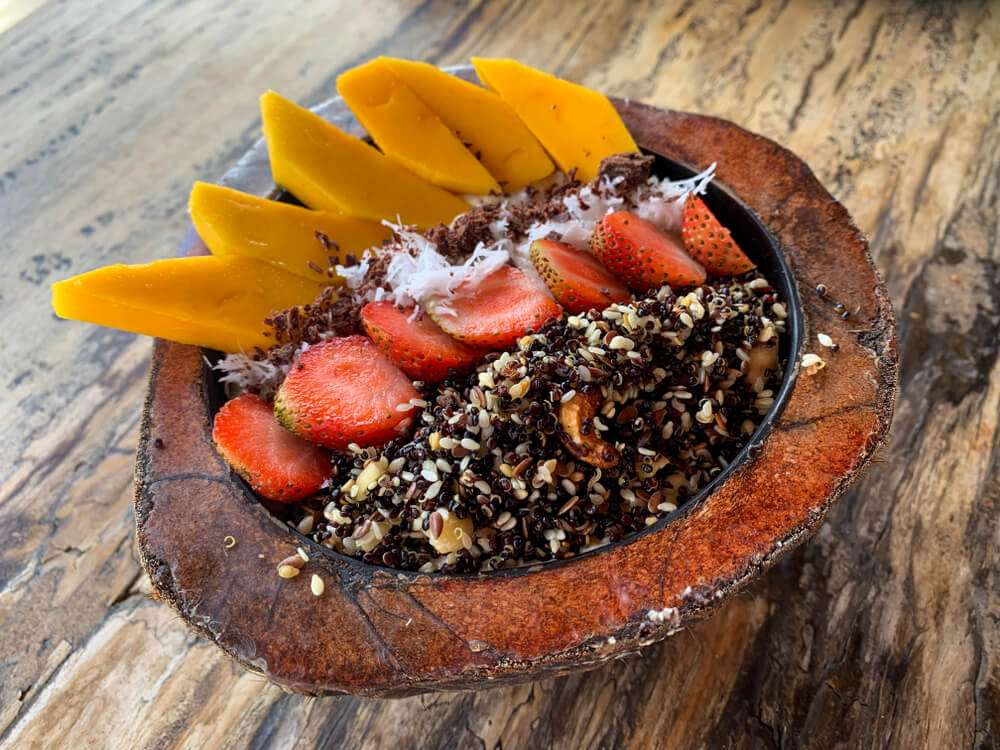 Did all that surfing (or surf-watching) leave you hungry? Milu by Nook is sure to cure you of that! 
They have a range of different cuisines, from local favorites to lots of Western dishes, with plenty of vegan and vegetarian options. I love their pulled pork sandwich and their bahn mi! 
The scenery is beautiful as well. If you sit outside, there's a lovely green garden area sure to brighten your day.
Check out a famous beach club.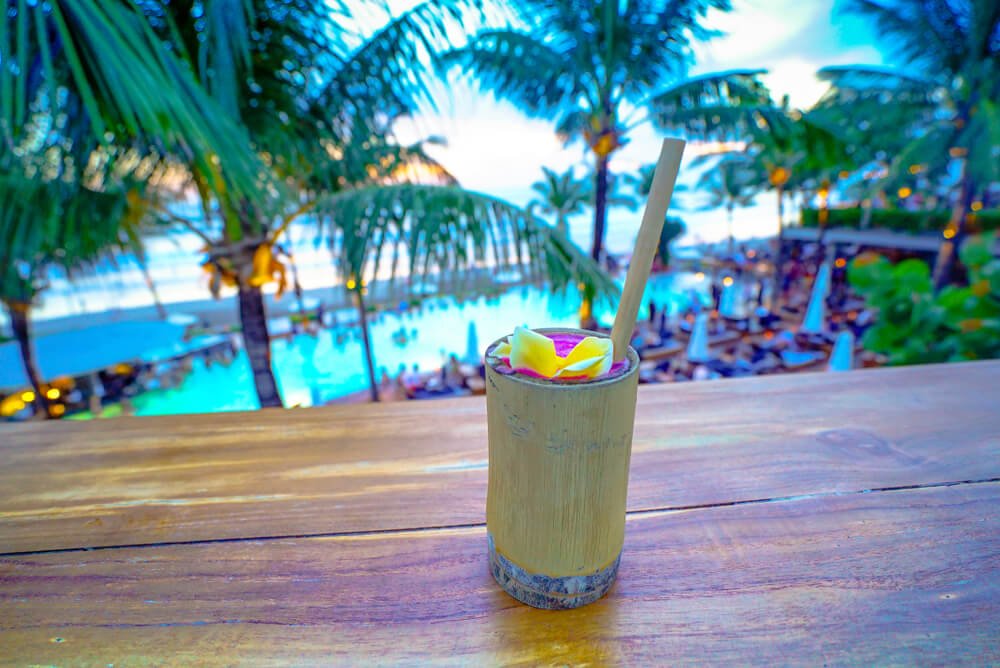 One of the big draws in the Canggu area are the beach clubs.
Sunset time is the best to see a beautiful view over the water, but they are also popular for relaxing by the pool during the day or partying in the evening. 
Located in nearby Seminyak, one of the most popular options is the upscale Potato Head Beach Club.
Drinks are pricy here, but they're delicious, and the amenities are great.
When it comes to beach clubs in Canggu, Finn's Beach Club on Berawa Beach is probably the most famous. There are multiple pools to swim in, while you eat, drink, and relax.
If you want a sun bed to lounge on, there is a minimum spend, so it's best to go with a few friends to share the cost.
But don't worry — you use this charge on their delicious sushi and cocktails, or anything else on their menu. 
La Brisa is another beach club up the coast in Echo Beach.
The design is stunning, an old wooden boat theme with low lighting.
La Brisa is a bit calmer than the flashy Finn's. They also host a Sunday Market here every week with nice shopping!
If you like to stay up on the latest trends, Atlas Beach Club is for you.
This new addition to the Berawa coastline is the biggest beach club in the area and brand new.
They host a kecak fire dance every evening at 6, so you can experience some traditional Balinese culture in between DJ sets. 
Whichever beach club you decide to check out, cheers to a beautiful sunset over the waves of the Bali Sea!
Enjoy dinner on the sand.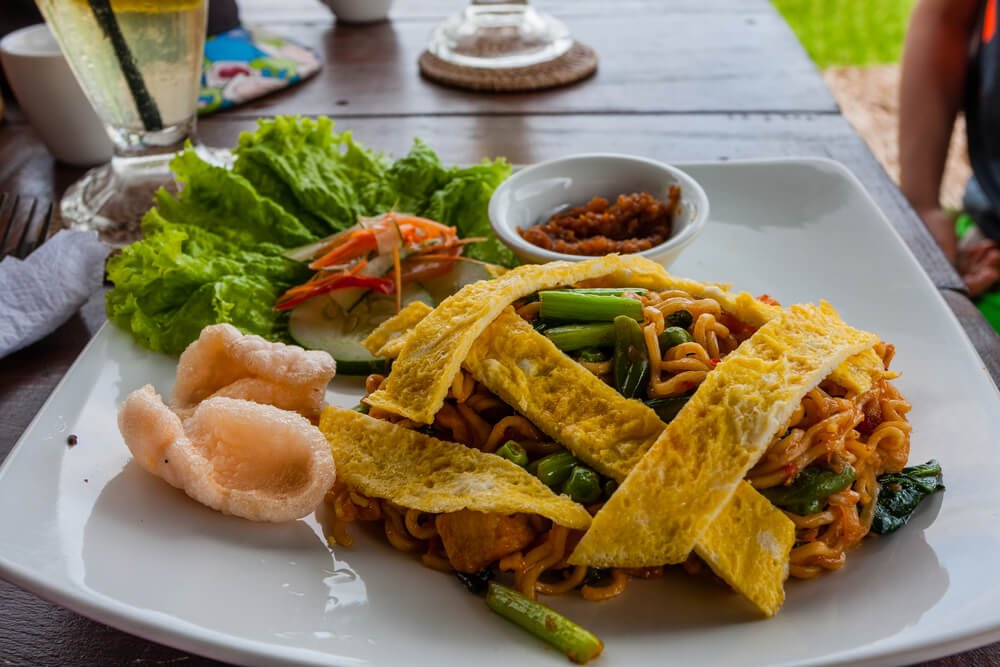 With a sunset view like this, why would you want to leave? Times Beach Warung on Echo Beach is a great spot for a bite. 
It's a great middle ground, with relaxed beach vibes (you can keep your toes in the sand if you choose, or hop up into their covered deck area) and a nice menu.
I always enjoy their fish of the day. You can people-watch (and dog-watch) and soak in the beauty of the area.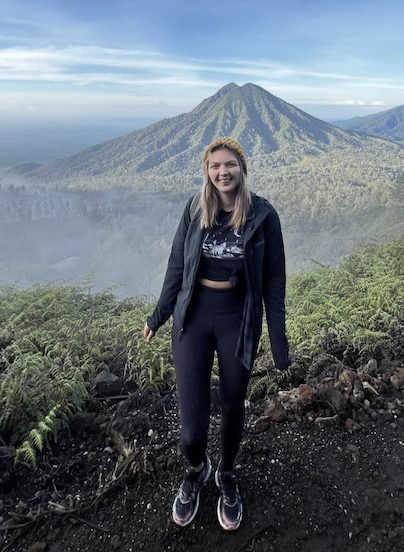 Meg is a writer and editor from San Francisco, California, with a passion for travel and adventure. She worked for several years as an TESOL-certified English teacher in Barcelona, Spain and in Southeast Asia. Currently based in Bali, she enjoys hiking, seeing live music, and curling up with a good book.