Each year, millions of tourists flock to the eclectic city of Austin to experience its funky music atmosphere, miles of pristine hiking trails, and endless options for swimming and soaking up the Texas sun.
But if you've grown tired of the lively city, these five Austin day trips are a great alternative to slow down and experience just what the Texas Hill Country has to offer.
Whether you're looking to sip some of the finest Texan wines or spend the day dipping in the cool waters of the Guadalupe, you're sure to find an appealing place on this list. So fill up your gas tank, roll down those windows and get out of town on these incredible day trips from Austin.
The 5 Best Austin Day Trips!
Driftwood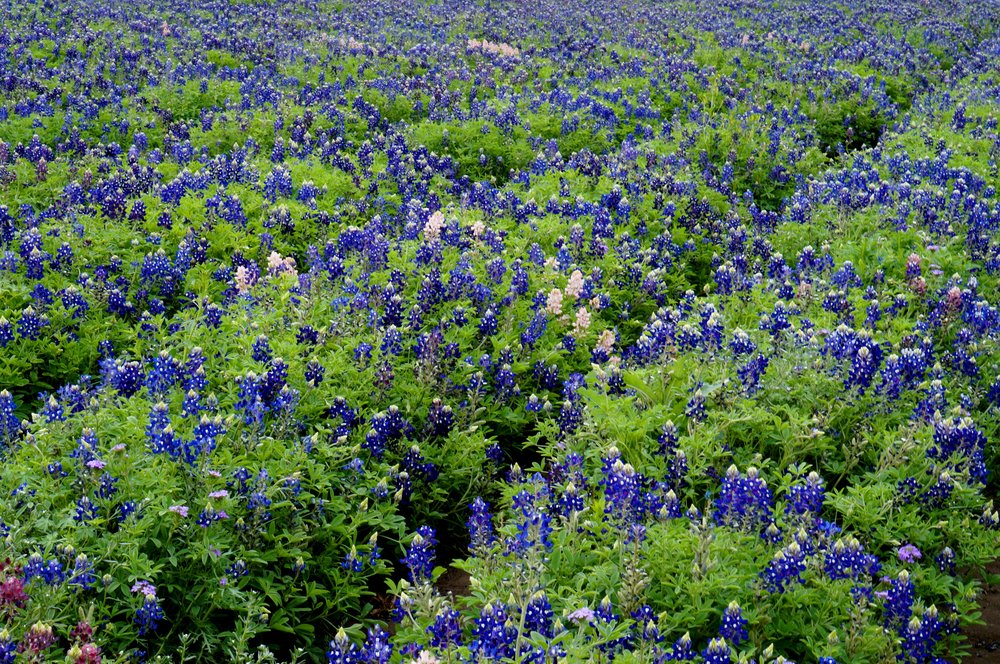 Note: This post contains affiliate links, which means I may receive a small commission if you purchase something through one of these links. Thank you for supporting the free content on this site! For more information on affiliate links and cookies, see my disclosure page for more details.
Distance from Austin: 24 miles
Highlighted Activities: Eat, Drink and Sightsee
Driftwood, Texas is known for beer, BBQ, and beautiful wildflowers! Located just 24 miles southwest of Austin, Driftwood is the perfect town to kick off a day tripping adventure.
If you're staying in downtown Austin, wake up early and grab a quick coffee at Cuvée Coffee Bar and hit the road!
Your first stop in Driftwood should be Lady Bird Johnson Gardens. Lady Bird Johnson Gardens is the perfect way to see the Texas wildflowers in all their glory. Known as the botanical garden of Texas, Lady Bird Johnson is an active wildflower conservatory with miles of trails and educational museums that's perfect for soaking in some Texas beauty.
After walking around the fields of wildflowers, you're going to be ready to eat. In true Texas fashion, BBQ is what's on the menu. Driftwood is home to one of the world's most famous BBQ joints, Salt Lick. When you arrive at Salt Lick you better be ready to eat! They offer all you can eat options as well as meats by the pound. Bring cash, as that's all they accept!
Take a walk around Charro Park to empty your belly a bit and then head over to Jester King Brewery for a Texas brewed beer. Jester King Brewery has a great community atmosphere with amazing views of the surrounding Hill Country and even has a garden area where you can hang out with the local goats!
Local Tip: If beer isn't quite your thing, Driftwood is full of wineries, distilleries, and amazing restaurants!
Comal River
Distance From Austin: 48 Miles
Highlighted Activities: Float the River
Every true Texan has floated the river. There are several different float rivers to choose from but if you're day trippin' from Austin, the Comal River is the best choice.
Not only is it one of the closest options to Austin, it allows the perfect amount of float time. At just 3 miles long, it generally takes about 2.5 to 3 hours to float.
The Comal River is crystal clear, mostly shaded, and maintains a consistent temperature of 72 degrees. It's the perfect way to sit back, relax, and enjoy the sights.
If you're considering tubing the Comal River there are several different companies that can assist you in making the most of your trip.
You can expect to pay anywhere from $10 to $30 to float the river. This includes your tube and a shuttle drop off/pick up.
If you're really wanting to elevate your tube game, rent a cooler tube! River companies have tubes specifically for your cooler so you can bring your own food and drinks. Let's be honest, there's nothing more refreshing than sipping a cold Texas beer as you float down the river!
Local Tip: If you're looking for food post-float, it doesn't get much better than Alpine Haus for authentic German food. Or before heading back to Austin, stop in at the Red Oak Bakery for some pastries to take back home.
Bastrop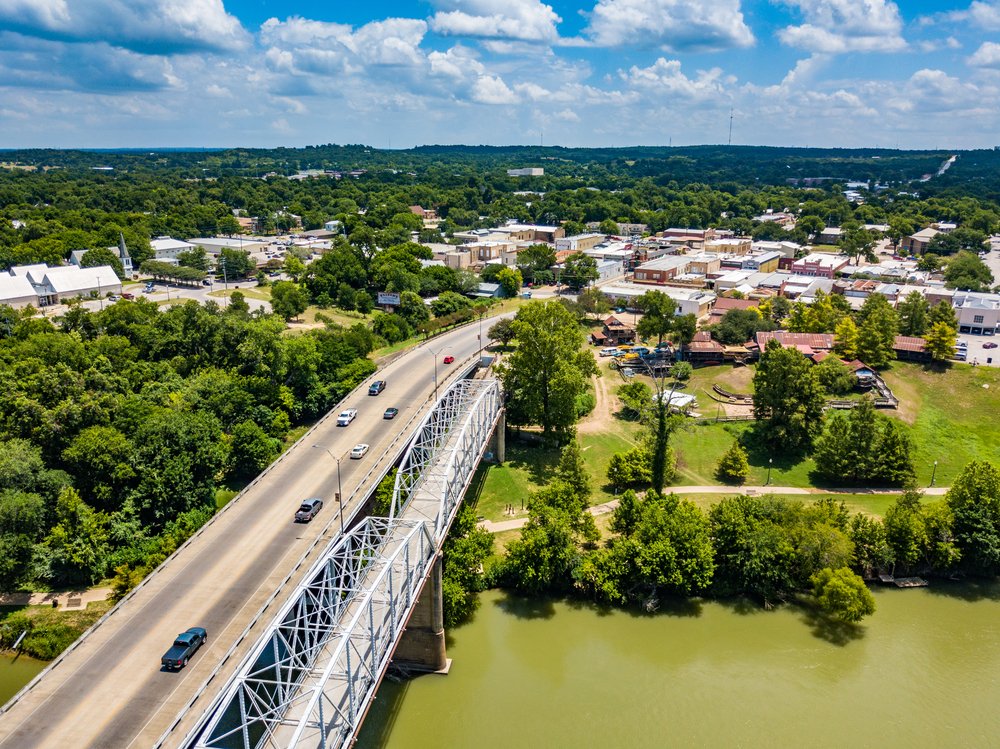 Distance From Austin: 34 miles
Highlighted Activities: Shopping, historic museums, restaurants and libations
Texas Hill Country is surrounded by small towns but Bastrop takes the cake when it comes to Texas history. The streets of Bastrop are lined with brick storefronts, cozy diners sit at every corner, and charming local artistry fills every shop.
As you cruise into Bastrop, one can't help but notice the meticulous historical properties that welcome you into the town. You can easily spend an hour winding down the friendly streets taking in the beauty of history.
In fact, there are more than 100 homes that are Nationally Registered Historic Properties. While you're soaking up the history, consider stopping in at the Bastrop County Museum and Visitors Center. Displays and exhibits abound in this original 1930's fire station.
If you're looking for some true Texas swag to take back home, head to the heart of Downtown Bastrop. Not only will you feel like you've been transported back in time, you'll be delighted to find local handcrafted goods in every store. From home decor to homemade jewelry, there's something for everyone in the 30 plus shops that line Main Street.
You can't visit a small Texas town without trying some local cuisine. The local cuisine of Bastrop comes in the form of comfort food!
Paw Paws Catfish House reigns supreme when it comes to true comfort food. Located in the heart of downtown, Paw Paws specializes in serving up seriously good catfish.
The walls are lined with family pictures, the menu is simple and the atmosphere is inviting. It's a refreshing change of pace from the swanky restaurants of downtown Austin.
Bastrop also has an endless array of beer, wine and spirits to top off your dining experience. My favorite place to experience local wine is Colorado River Winery. Located on the banks of the Colorado River, this local historic American winery offers a collection of rotating, small-batch wines for tasting.
If you're looking for something a little harder than wine, head over to Copper Shot Distillery. Copper Shot is known for whipping up their own handcrafted distilled spirits that are sure to please. They have a wonderful patio area where you can enjoy different flavors of moonshine, vodka, and in-house bourbon.
McKinney Falls State Park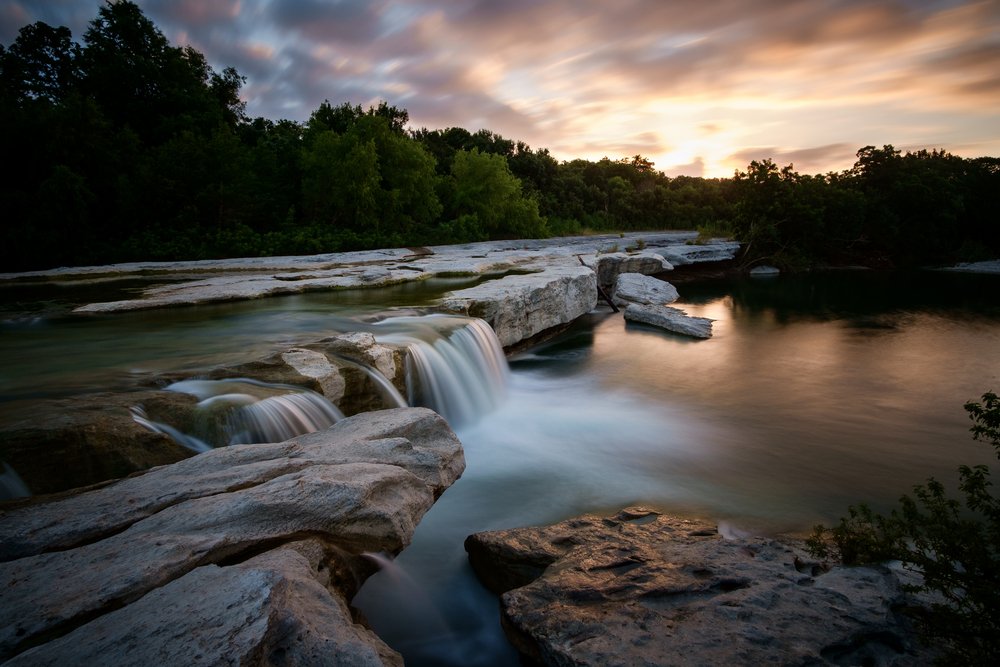 Distance From Austin: 13 Miles
Highlighted Activities: Water, Hike, Fish, Picnic
There's no better way to get away from the hustle and bustle of the city than by connecting with nature. McKinney Falls State Park is the perfect way to do this!
Located just 20 minutes southeast of the Capitol, McKinney Falls is a great option for a day of relaxation. There are tons of options when it comes to activities in this 641-acre park. McKinney Falls welcomes visitors with hiking, biking, birdwatching, fishing, and of course plenty of cool water to swim in to beat the heat.
If you're considering making the trip to McKinney Falls, grab a swimsuit and pack a lunch basket! The shores of Onion Creek and Williamson Creek are lined with smooth boulders that are perfect for stretching out a blanket and dining on some fresh-packed snacks.
After lunch, hit the trails for some light (or long) hiking. The park is covered in beautifully maintained trails that range from 0.7 to 7 miles long. When you return, head straight for the water and soak your tired feet in the clear cool water that pours over the small waterfalls.
If you plan on visiting McKinney Falls State Park I recommenced visiting the State Park website first so you can plan your trip accordingly. There is a $6 dollar guest fee for using the park as well as State Park rules that all visitors need to be aware of. You can learn more here.
Georgetown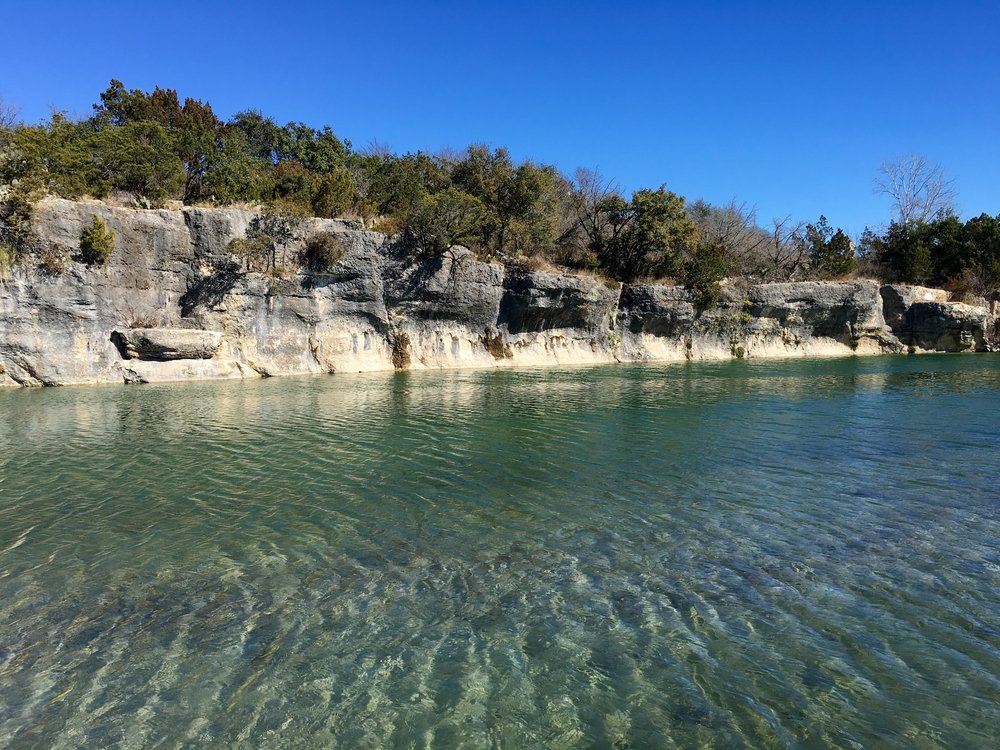 Distance From Austin: 30 miles
Highlighted Activities: Family-friendly town square with shopping, observatories, and swimming
Thirty miles north of Austin lies Texas' "Most Beautiful Town Square." Georgetown is a great town if you're visiting Austin with a family in tow.
There's no shortage of entertainment in this small Texas town. Much like Bastrop, Georgetown has its own historical downtown speckled with brick storefronts, local shops and mom and pop restaurants.
The gems of Georgetown, however, lie outside of Main Street. Georgetown has some of the most iconic swimming holes, such as Blue Hole Park and Lake Georgetown.
Blue Hole Park is an oasis-like lagoon surrounded by towering limestone ledges and abundant waterfalls. Shallow wading areas make it perfect for families with young children or adults wanting a place to lounge.
Not much further up the road is Lake Georgetown. Lake Georgetown is known for its clear waters, cliff jumps, and water activities. Miles of trails surround the area and even lead to a breathtaking waterfall known as Crockett Falls. There's no lack of water around Georgetown, so be sure to pack a bathing suit and expect to get wet in this classic Texas town.
Another option for a family-friendly adventure is the Inner Space Caverns. A perfectly preserved cave that's over 10,000 years old. You'll find prehistoric remains, beautiful cave formations and cave rooms large enough for an entire party! Inner Space Caverns offers several tour options differing in lengths. You can find more information here.
As the sun begins to set, continue your spacey adventure with a trip to the Fountainwood Observatory. Gaze at the stars, moon, and other galaxies through a research-quality telescope. Southwestern University periodically allows free public viewing nights throughout the year. Learn more about their program here.
***
As you can see, Texas is filled with magical small towns hidden all along the miles of backroads, many of which make perfect day trips from Austin!
So put on your boots, blast some tunes and get ready to experience the true charm of the Lone Star State!
Sabra is an adventure-hungry outdoor enthusiast originally from Dallas, Texas. She has been to 33 states, 3 countries, and has traveled America while living out of the back of her truck. Besides writing, Sabra can be found powerlifting, running her online personal training business, and enjoying time with friends and family.