Oh, New Orleans. You're a city that knows that the quickest way to my heart is through my stomach.
I arrived in New Orleans deflated — my bag lost by Greyhound, exhausted from being overstimulated from too much socializing at a travel conference, generally just over it.
And then I ate my first po'boy, and everything was right again in the world. New Orleans food is just that good.
I truly think the best way to experience New Orleans is by eating as much food as is humanly possible… and so I've gathered all my top recommendations for what to eat in New Orleans, as well as the best place to try it, and I've also included my favorite food tour in New Orleans to try as much of this food as possible!
The History of Diversity in New Orleans' Food Scene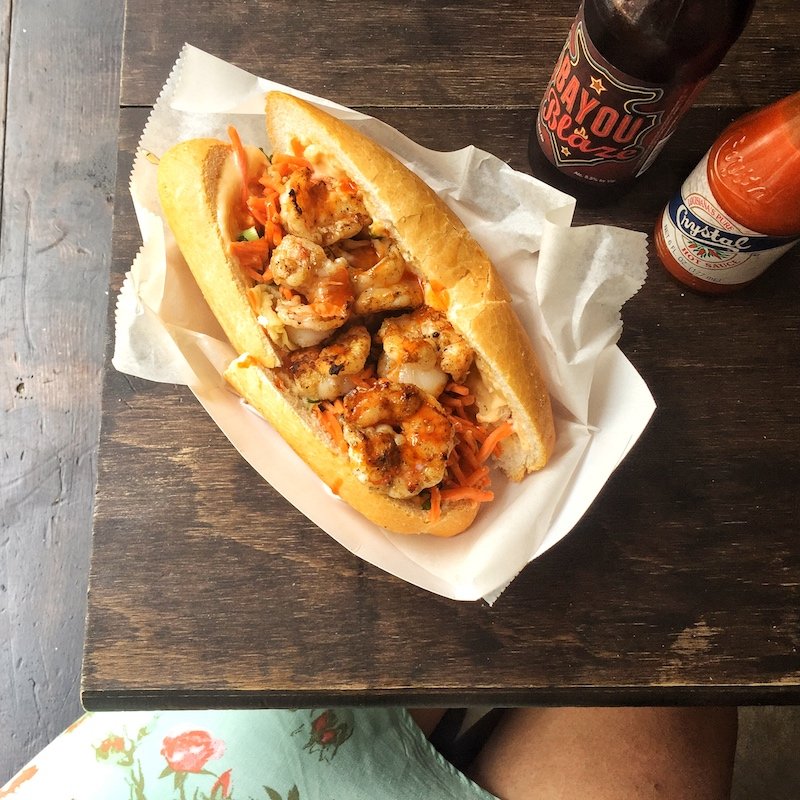 Note: This post contains affiliate links, which means I may receive a small commission if you purchase something through one of these links. Thank you for supporting the free content on this site! For more information on affiliate links and cookies, see my disclosure page for more details.
New Orleans' food scene reflects the diverse migration patterns of the people who settled (or, in the case of enslaved Africans, were brought by force) in Louisiana.
There's a lot of influence from Louisiana Creole people — in this context, this is defined as people who descended from those living in colonial Louisiana during French and Spanish rule.
But what is Creole? The term was used first by the French to differentiate those born in Louisiana from those born in France or other French colonies.
However, the term Creole came to envelop pretty much anyone who was born in Louisiana. This included enslaved Africans who were born in Louisiana and Native Americans whose land was stolen. So when speaking of Creole, we are speaking about those who descended from people living in the same place (French/Spanish colonial era Louisiana), rather than people of a specific ethnic or racial background.
In the Louisiana context, Creole can apply to people of European descent, African descent, Native descent, or mixed descent.
But there's also a lot of more recent immigration which has influenced New Orleans' food culture. A few of those include large waves of Haitians, Irish, Germans, and Italians, among others.
Many people from those waves of immigration intermarried with Louisiana-born Creoles, intermingled their food traditions, and birthed a unique New Orleans food culture you won't find anywhere else in the world.
More recent waves of immigration include Southeast Asians, particularly Vietnamese, and Latin Americans
The Best Way to Experience New Orleans' Food Scene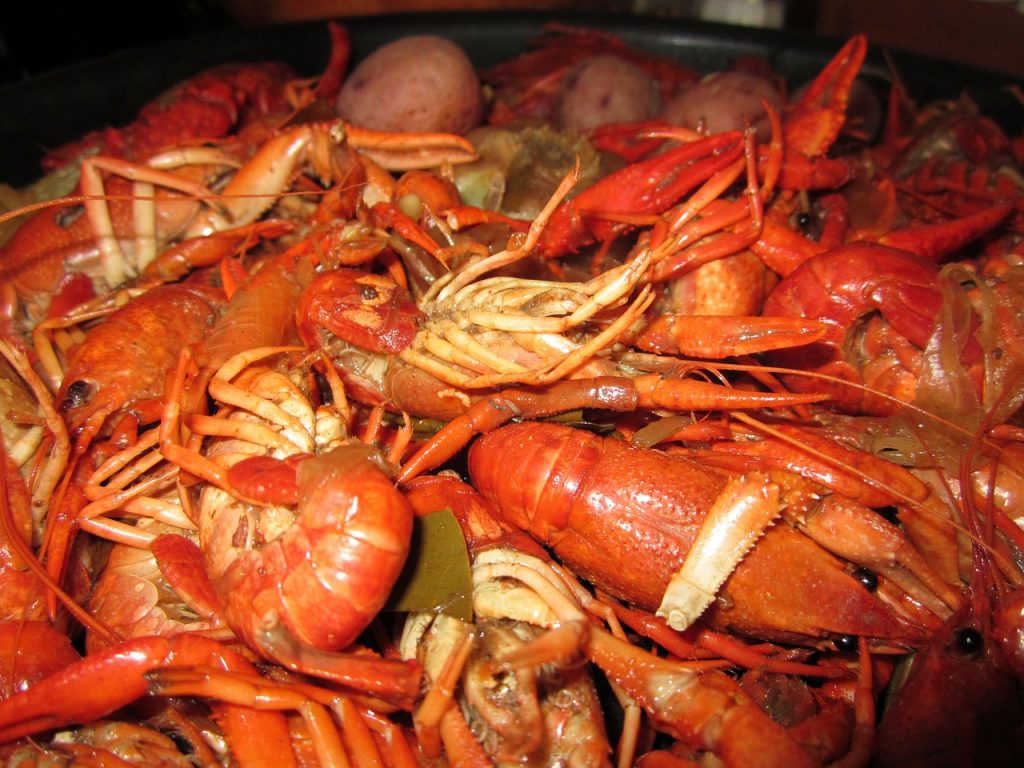 To understand the patterns of migration that have marked New Orleans and made it so unique, it's best – and most delicious – to do so via a culinary history tour.
Have a light breakfast and save lunch for a food tour. It's the best way to eat your way through New Orleans if you only have a short amount of time, so you can taste as much as you possibly can without wasting time or food.
I highly recommend taking a tour with Doctor Gumbo if possible (this is the exact food tour I took) – it's one of the best food tours I've taken literally anywhere, and I'm a huge fan of food tours. Dylan was our guide, and he was hilarious and managed to weave together food, politics, and history in an engaging way — while making sure delicious eats are never far away to maintain your attention.
Some of the things we ate on the tour: pork cracklings, boudin balls, sweet potato beignets, po'boys, muffuletta sandwiches, hot sauces, pralines, beef brisket (also often called "debris") and naturally, gumbo!
But another important part of New Orleans' culture is the drinking scene. Forgo the enormous slushies in to-go cups on Bourbon Street and save what's left of your liver for some classic New Orleans cocktails.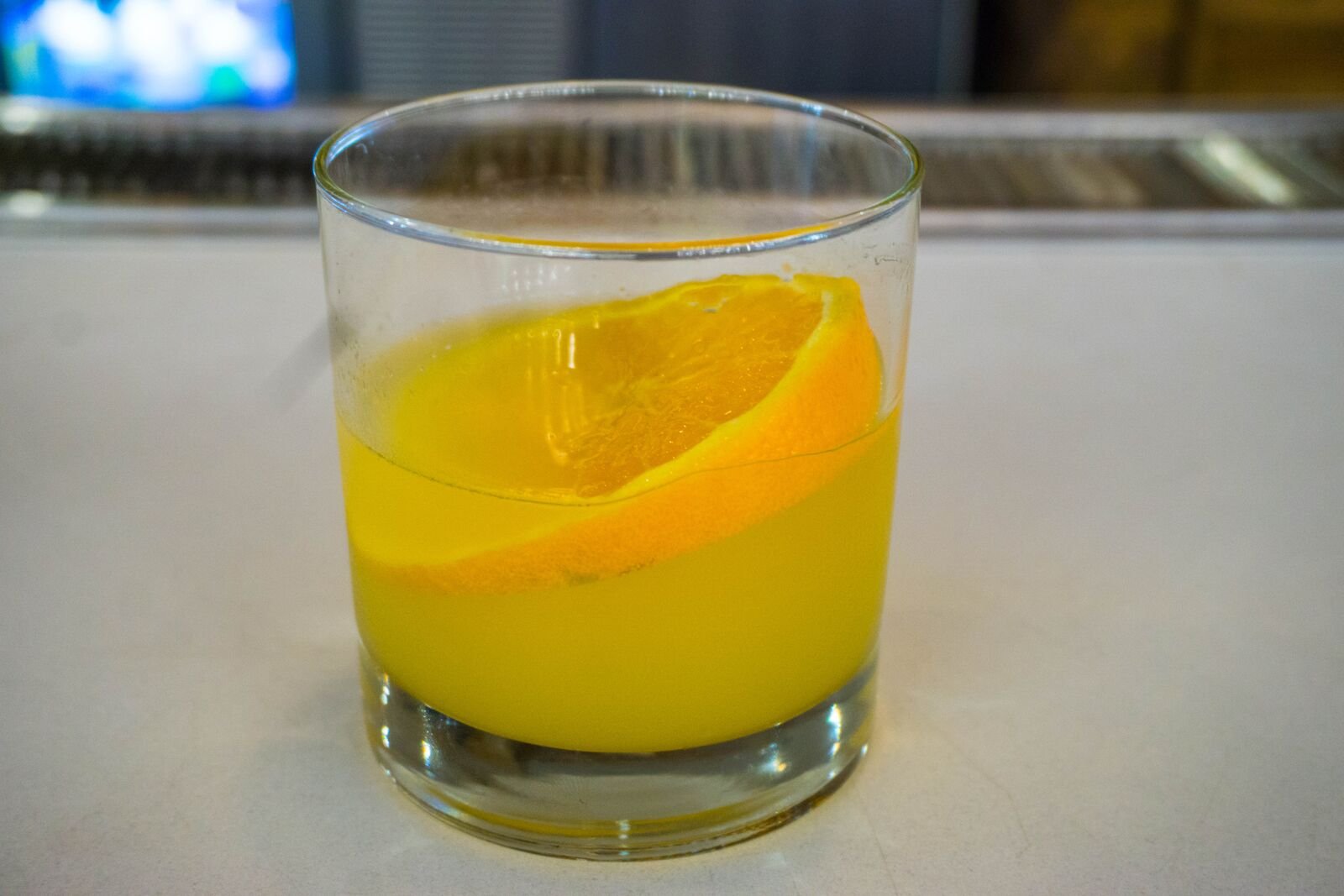 New Orleans quite literally invented America's cocktail scene. Among its greatest contributions: the Sazerac, the Vieux Carré, Ramos Gin Fizz (my personal favorite), and the Hurricane.
Go on a self-guided cocktail tour, being sure to sample the above-mentioned cocktails and others. Alternately, opt for a guided cocktail tour to make your New Orleans getaway slightly more educational (while just as boozy).
I didn't have time to go on a proper cocktail tour in New Orleans, but since I had such a good food tour with Doctor Gumbo, I'd trust them to deliver on the cocktail & history tour (check time, availability & pricing here). You can also do a combo food + cocktails tour and save a bit of money by combining the two – check it out here.
What to Eat in New Orleans: Must-Try New Orleans Food
Muffaletta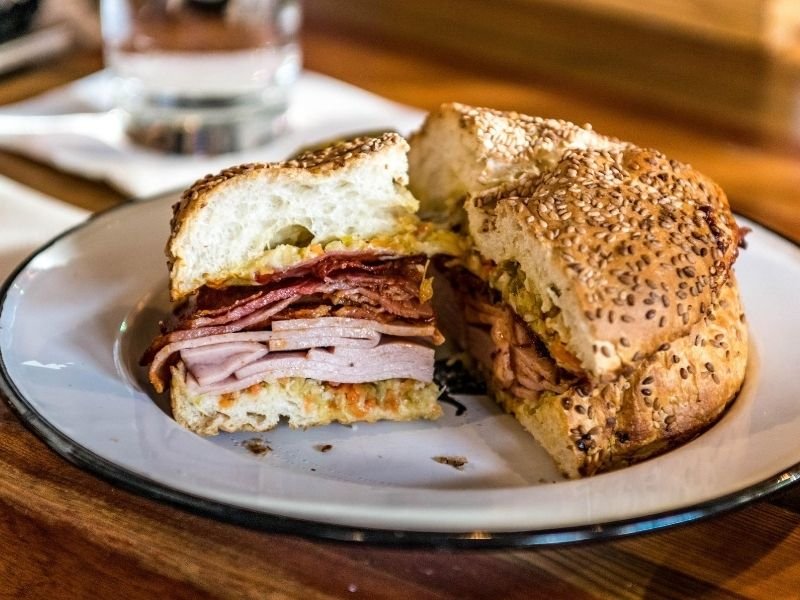 Originally brought to New Orleans' food scene by Sicilian immigrants, the muffaletta (also written muffuletta with two u's) is a quintessentially New Orleanian sandwich.
It's made on a sesame bread that Sicilians call muffaletta, which they brought to New Orleans when settling here. The sandwich is prepared with chopped olive-caper based salad, plenty of sliced provolone cheese, and a mix of different cold cuts — typically at least salami, mortadella, and capicola.
The above pictured is a rather small and dainty muffaletta — it's often sold as an entire loaf of bread turned into a sandwich, and you'll eat just a portion and share the rest!
Try it at: Central Grocery and Deli, 923 Decatur St
Red Beans & Rice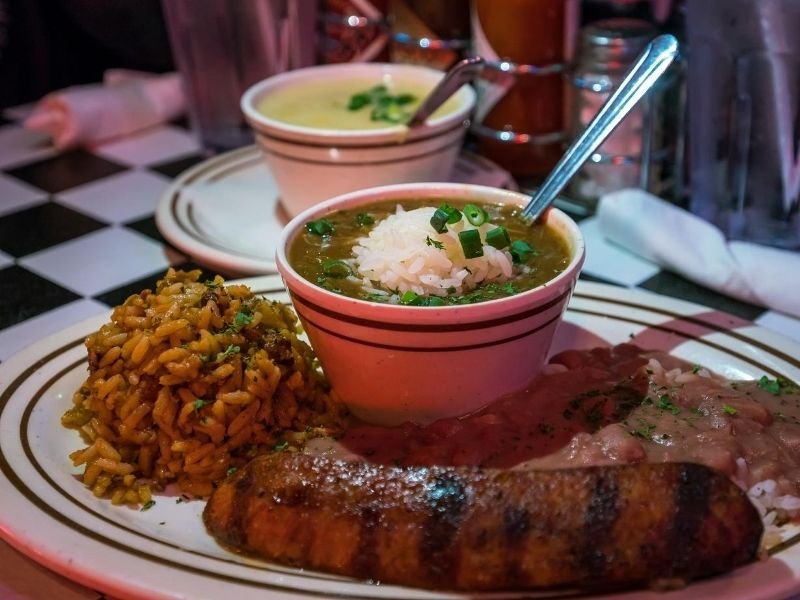 One of the most classic New Orleans dishes, red beans and rice tastes so much more exciting than it sounds!
Typically, it's made with small red beans (similar to kidney beans, but a bit different in size and shape), andouille sausage (a slightly spicy smoked sausage common in Cajun dishes), and the 'holy trinity' of Cajun cooking: celery, green bell pepper, and onion, and served with long grain white rice.
Traditionally, it's made on Mondays with bones and meat left over from Sunday dinner…. but it's tasty enough to just about any day of the week!
Try it at: Gumbo Shop, 630 St Peter
Gumbo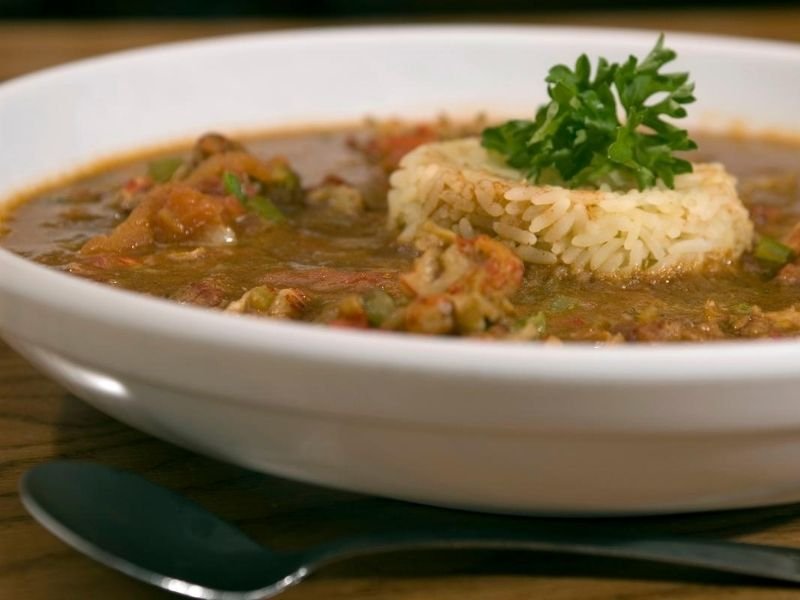 At first glance, gumbo may seem similar to red beans and rice, but the two New Orleans foods are quite different.
So what is gumbo? Essentially, it's a thick chicken and sausage soup (sometimes with shrimp as well). The base is made with a roux with stock added to it to thicken it up and add flavor, and the vegetables used are again that holy trinity of bell pepper, onion, and celery.
It's served with white rice and it is absolutely delicious.
Try it at: Gumbo Shop, 630 St Peter
Jambalaya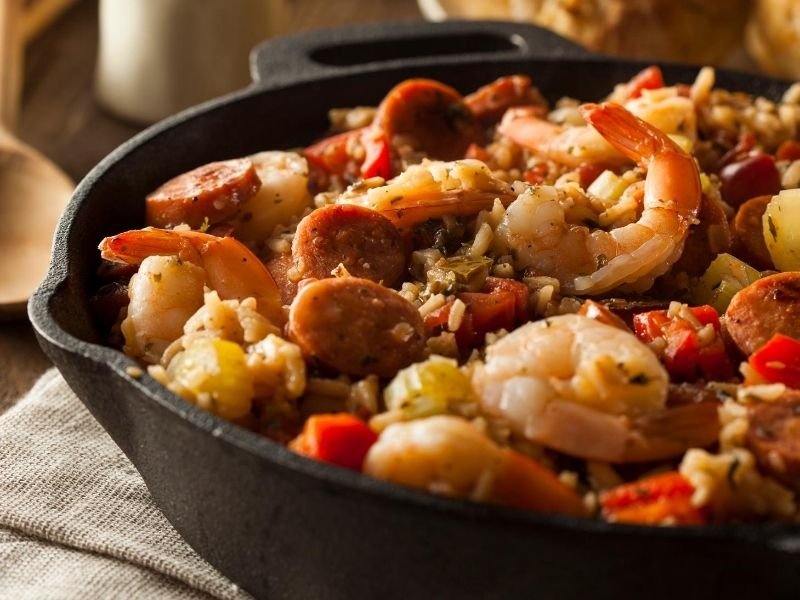 Jambalaya is also a bit similar to gumbo in terms of ingredients, but the method and texture are quite divergent, resulting in very different dishes.
Jambalaya is a bit similar to paella or jollof rice, if I had to draw a parallel, which makes sense as it has some mixed origins from Spanish food and West African food… as well as French and Native American influences, so basically your classic Creole influences!
It's made of several types of meat — usually smoked sausage like andouille, chicken or pork, and seafood such as shrimp or crawfish — mixed together with rice and stock and cooked on the dry side as a paella would be.
Whereas gumbo is soupy and stewy and rice is served on the side, jambalaya is drier and more focused on the rice. Both are absolutely delicious.
Try it at: Mother's Restaurant, 401 Poydras St
Fried Alligator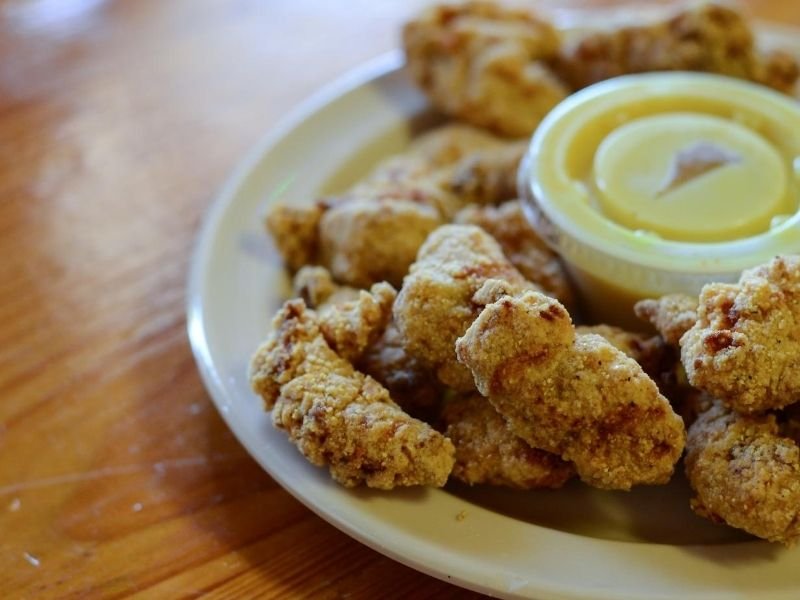 Never had alligator before? Me neither, until I visited Alabama, and I liked it so much I had it again in New Orleans!
Alligator meat is perfectly healthy to eat and is commonly eaten in many southern US states, such as Louisiana and Alabama.
At the risk of sounding like a cliche, it truly does just taste like chicken. Which is probably why it's so delicious fried up like popcorn chicken and served with a dipping sauce!
If you're an adventurous eater, you really ought to try this food in New Orleans. I think you'll be surprised how much you like it!
Try it at: Cochon, 930 Tchoupitoulas St
Po'Boy
The po'boy is one of my favorite sandwiches in the world… well, when it's stuffed with delicious fried shrimp or other seafood, at least!
Po' boys are basically the generic name for a traditional New Orleans sandwich, made on a fluffy baguette and stuffed with either deli meat or fried seafood.
You can ask for your po' boy "dressed" — complete with lettuce, tomato, pickle, mustard, and mayo. Seafood po' boys, on the other hand, are generally served with melted butter, lettuce, and pickles.
Roast beef po' boys are quite popular but not really my favorite. Give me a fried shrimp or fried catfish po' boy any day of the week!
For a really New Orleanian twist, try it with fried oysters (an 'oyster loaf') or fried crawfish.
Add a Louisiana hot sauce and you're in for one of the best sandwiches of your life
Try it at: Domilise's Po-Boy & Bar, 5240 Annunciation St
Shrimp, Crab, or Crawfish Boil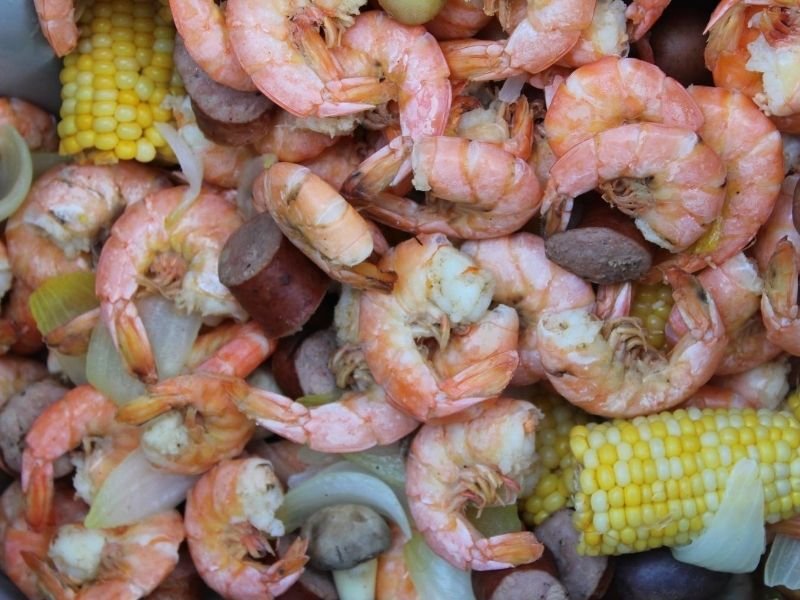 Simple yet classic, a Louisana shrimp, crab, or crawfish boil is just a few ingredients.
We're talking shrimp, crab, or crawfish, chunks of corn on the cob, andouille sausage, new potatoes, onion, and some key spices. That's it. Added together at the right time, seasoned perfectly, and you've got a meal fit for a crowd.
In New Orleans, crawfish is the most common type of boil, mostly because it tends to be the cheapest — great when you're feeding large groups, as most boils are (this isn't really a "meal for 1" situation).
Try it at: Clesi's Restaurant and Catering, 4413 Banks St
Crawfish Étouffée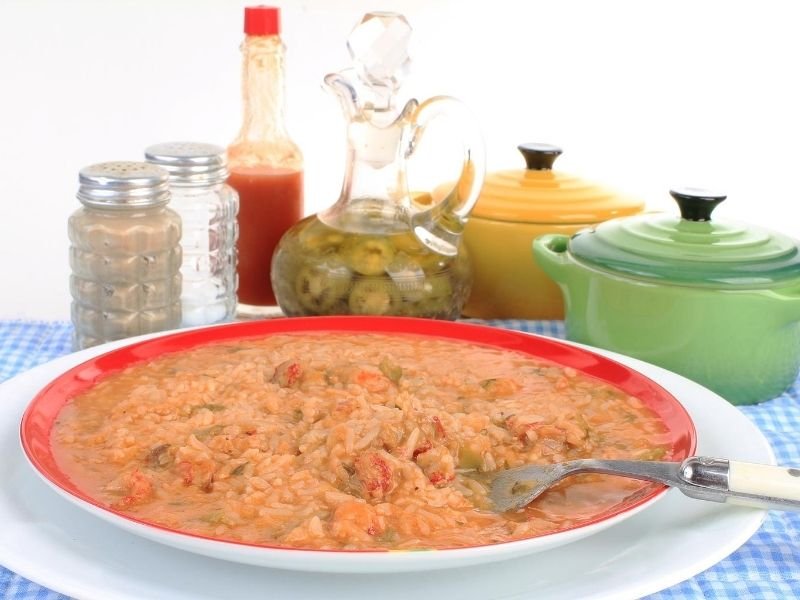 As you might guess from the name 'Étouffée,' this dish draws its origins more from its French history.
The technique used is called "smothering", a common technique in Creole cooking, and "Étouffée" means literally that!
To make it, a light roux is made and then the seafood is simmered in it. Sometimes tomatoes are added for a more stew-y dish. It is typically served over rice.
The dish originated in Cajun cooking around the bayous nearby New Orleans, and was brought to New Orleans in the 1980s, when Galatoire's on Bourbon Street introduced it to the New Orleans food scene.
It's been a classic since.
Try it at: Mambo's, 411 Bourbon St
Shrimp Étouffée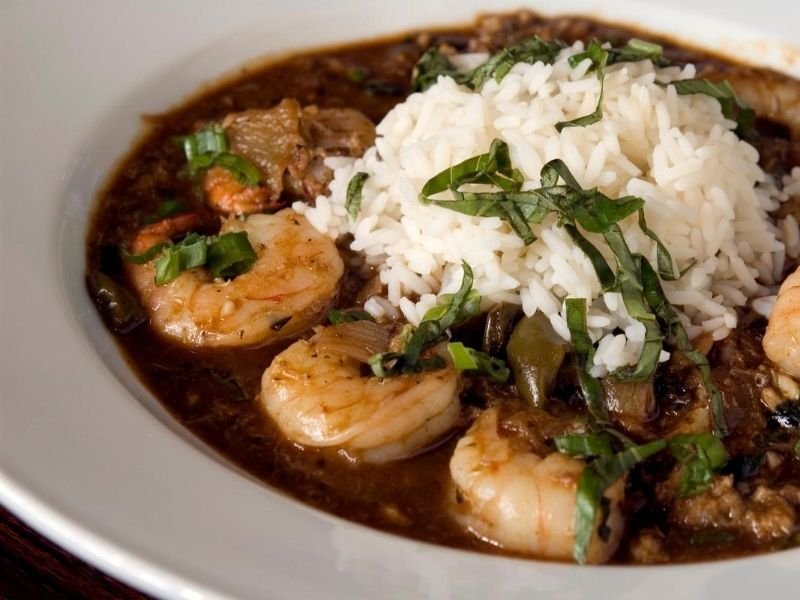 Just like crawfish étouffée, the technique is similar but shrimp is used in its place.
Typically it is made with a darker roux when using shrimp, which takes more time (about 30 minutes) to get the deep brown color on the roux, though a light roux can also be used.
Try it at: Bon Ton Café, 401 Magazine St
Shrimp Creole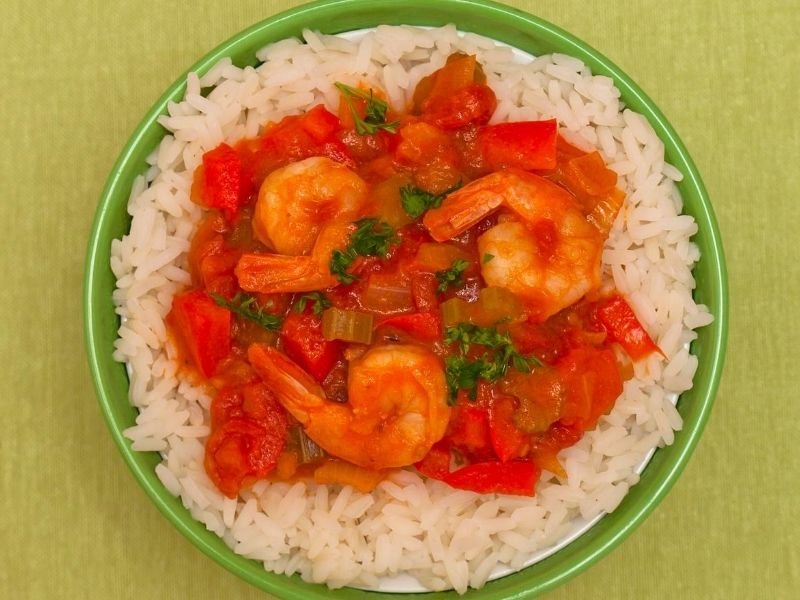 Shrimp creole is a delightfully spicy and simple dish made with chopped tomato, the 'holy trinity' (bell pepper, onion, and celery), plenty of hot pepper sauce or cayenne, and shrimp.
Unlike other somewhat similar dishes like gumbo or jambalaya, there is no roux, but rather the dish is just simmered together quickly, making it an easy dish.
Try it at: Neyow's Creole Café, 3332 Bienville St
Oysters Rockefeller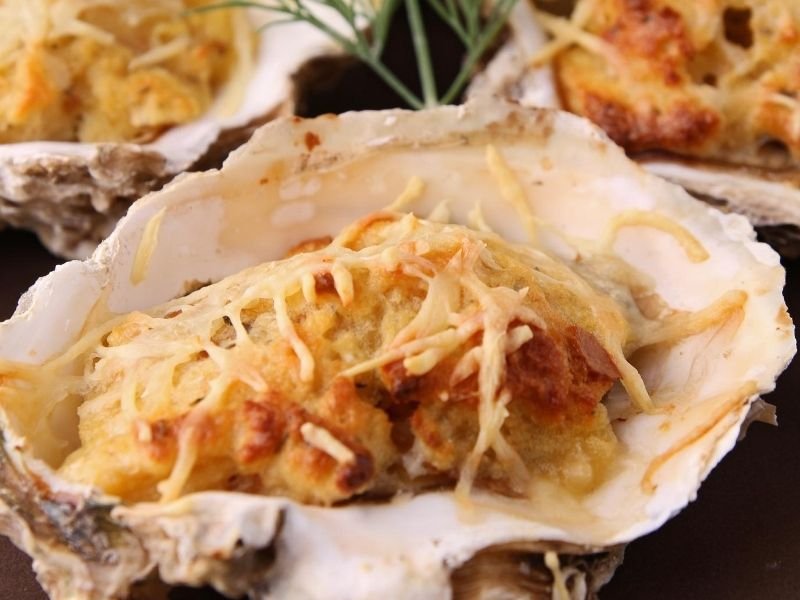 There are several kinds of baked oysters popular in New Orleans, but oysters rockefeller are a classic!
I'll be honest — I like them better than raw oysters (which I've never been a huge fan of).
Oysters rockefeller are served as follows: on the half shell, topped with. butter, herbs, bread crumbs, and ample parmesan cheese, and baked to perfection! Simple but so, so delicious.
Try it at: Acme Oyster House, 724 Iberville St
Dirty Rice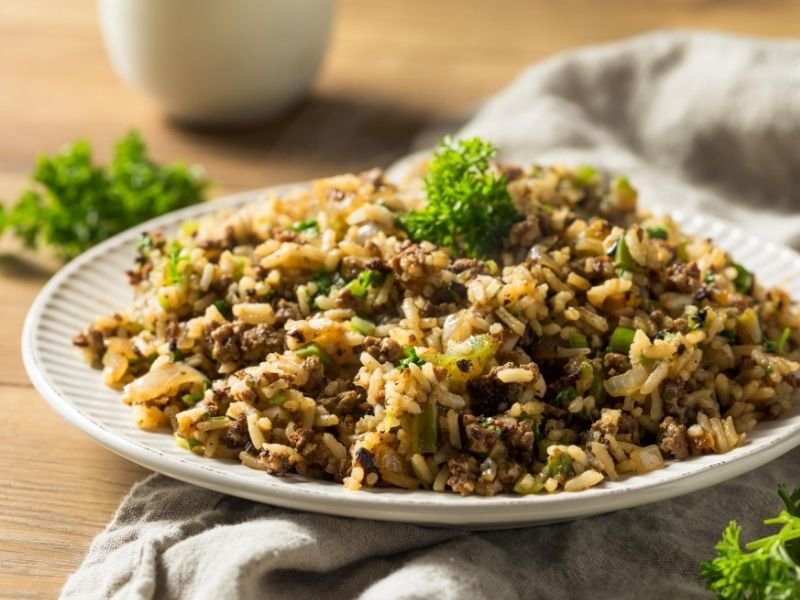 Dirty rice is a flavorful rice dish made 'dirty' by finely minced chicken liver and ground beef.
As with so many other New Orleans dishes, it's flavored with the 'trinity' of aromatics and livened up with a sprinkle of cayenne and black pepper to give it a little kick.
Try it at: Mother's Restaurant, 401 Poydras St (Saturdays only)
Blackened Redfish (or Salmon)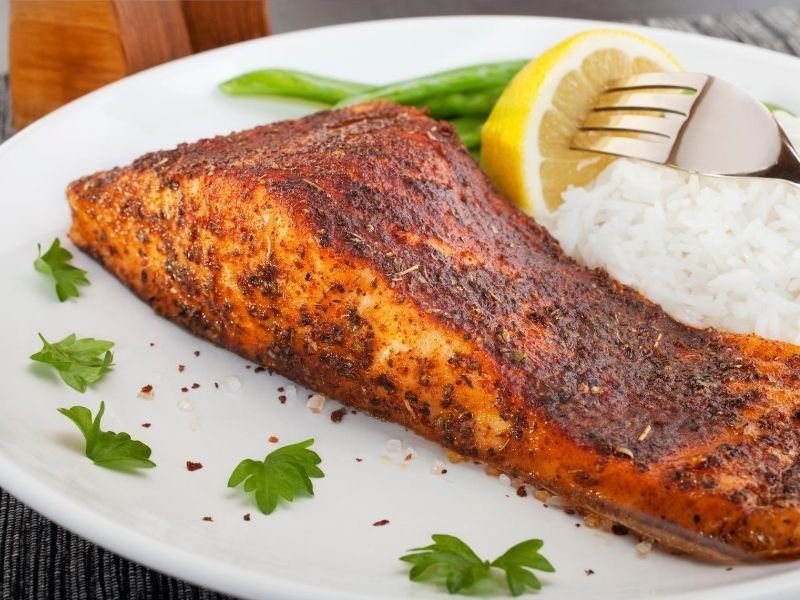 Redfish (also known as red drum) is a type of fish found often in waters around the Gulf of Mexico.
Typically, this dish is made with redfish in New Orleans; however, outside of New Orleans, salmon has become a popular substitute, and so you'll also find blackened salmon in New Orleans restaurants as well.
The preparation is ultra simple: the fish filets are dipped in butter, dusted with cayenne pepper and herbs, and then seared in a hot skillet until a nearly black crust forms on the fish.
It's tasty, hot, and fresh — what more could you want?
Try it at: Red Fish Grill, 115 Bourbon St
Fried catfish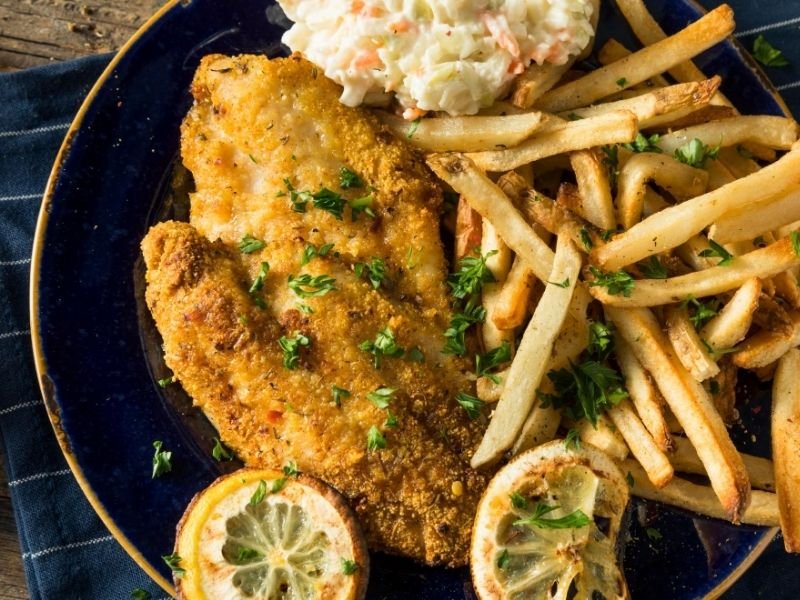 Fried catfish is one of the most common kinds of fried fish you'll find in New Orleans, and it's well-loved by nearly everyone in the city.
It's different from other fried fishes as it's typically dredged in flour and cornmeal rather than beer-battered or dredged in breadcrumbs as other places will fry their fish.
Try it at: Clesi's Restaurant and Catering, 4413 Banks St
Soft Shell Crab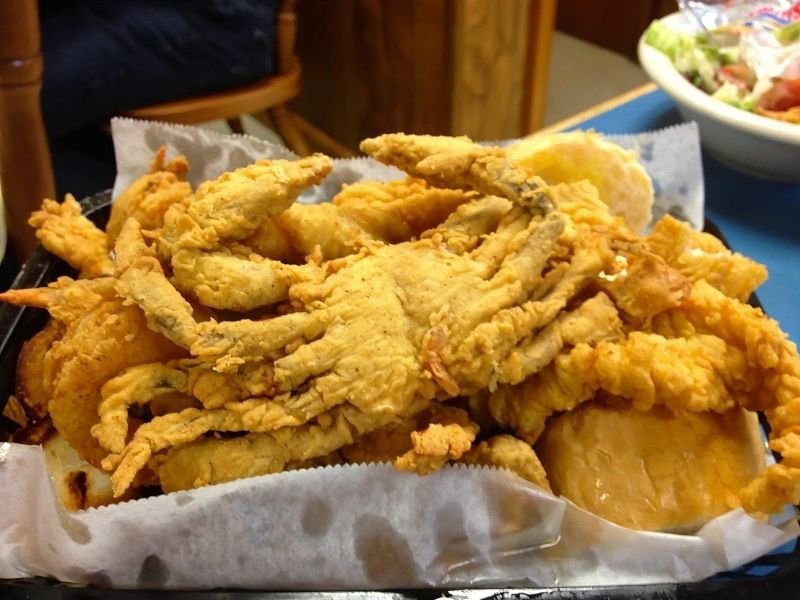 You won't find soft shell crab at all times of the year in New Orleans, but if you see it… order it!
As a rule of thumb, if it's between June through August, it's likely fresh. Outside of that season, it's most likely frozen… which is still tasty, but not quite the same.
Try it at: Acme Oyster House, 724 Iberville St
New Orleans Desserts to Try
Beignets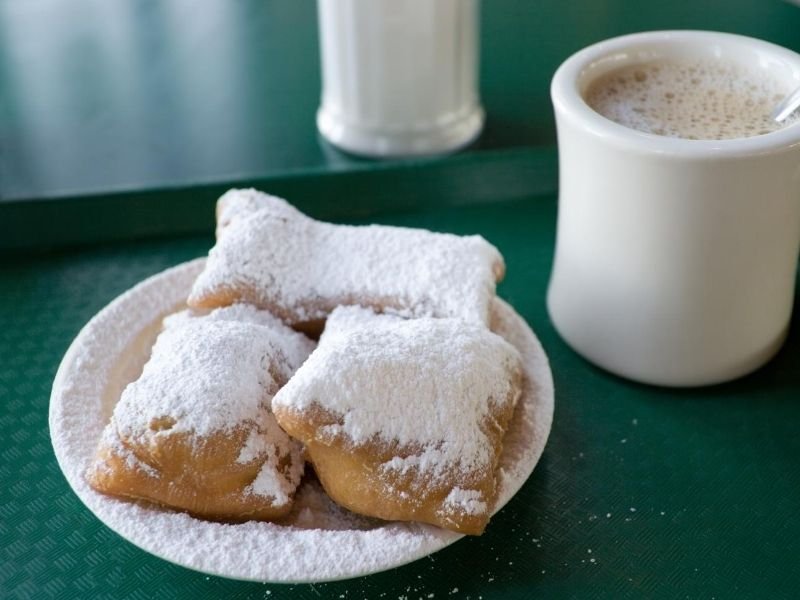 Beignets are delicious fried choux pastry donuts covered in a heavy, heavy dusting of powdered sugar.
They go phenomenally with a cup of steaming hot coffee.
Need I say more?
Try it at: Cafe du Monde, 800 Decatur St
Pralines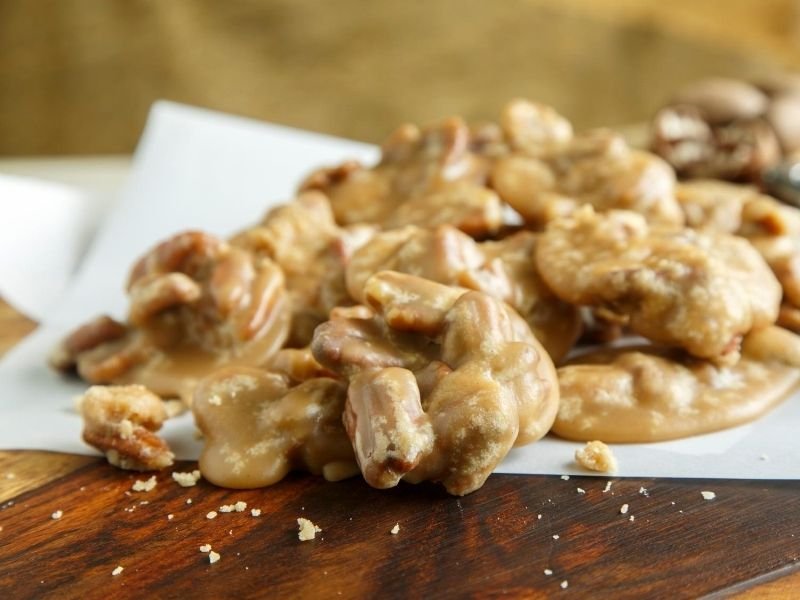 New Orleans style pralines are tasty classic made of a few simple ingredients: sugar, corn syrup, milk, butter, and nuts, typically pecans.
In New Orleans, they're generally flat-ish and quite large, as opposed to pralines in other places which are more similar to truffles.
Try it at: Leah's Pralines, 714 St Louis St.
King Cake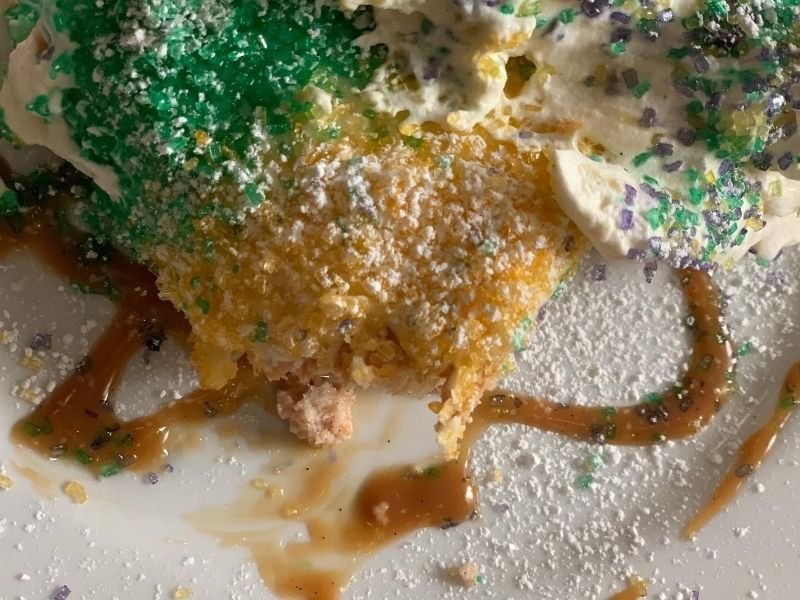 King Cake is a New Orleans institution made of brioche dough and covered in colorful decorates in the typical Mardi Gras colors (green, gold, and purple). And in the middle? Often, perplexingly, a toy baby.
According to tradition, "At a party, the King Cake is sliced and served. Each person looks to see if their piece contains the "baby." If so, then that person is named "King" for a day and bound by custom to host the next party and provide the King Cake."
It's thought to have been brought over from France in the 19th century and integrated into New Orleans Mardi Gras culture. It's now a popular cake served between early January and available up until the day after Mardi Gras, Ash Wednesday, which begins Lent.
Try it at: Manny Randazzo's King Cakes, 3515 N. Hullen Street, Metairie
Bananas Foster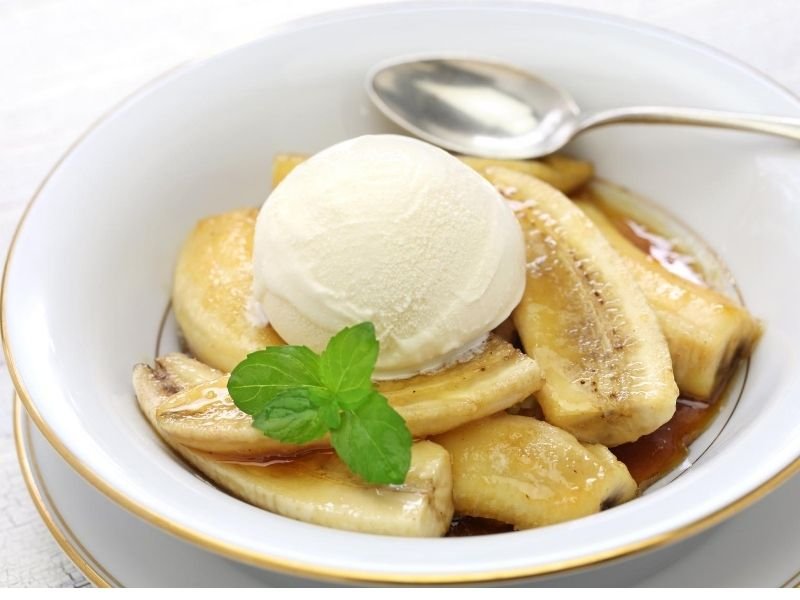 Now a popular dessert around the United States, originally, bananas foster were from New Orleans. It's a simple dessert: bananas served with brown sugar, butter, and rum.
It was originally created for and named for Richard Foster, who was a friend of a restaurant owner who made this dish for him at the restaurant Brennan's in the French Quarter.
Try it at: Brennan's, 417 Royal Street
New Orleans Cocktails
Sazerac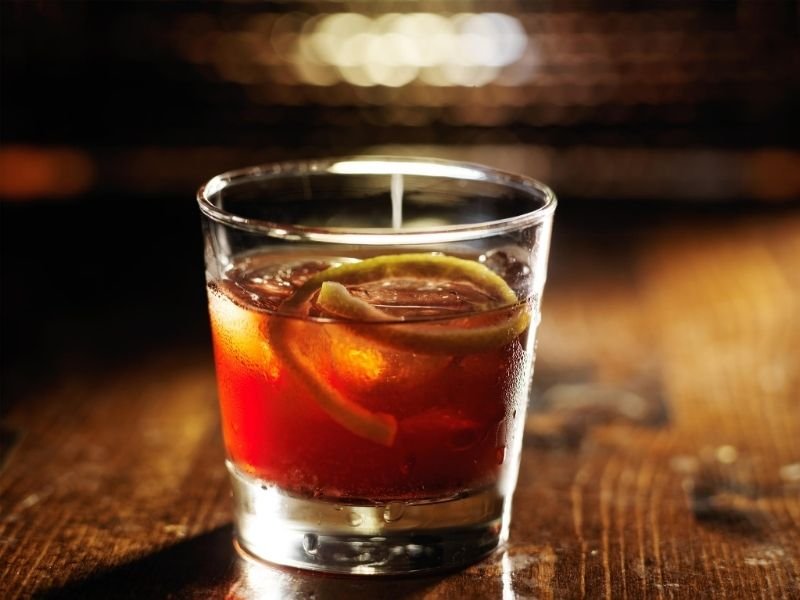 This classic New Orleans cocktail is made of rye whiskey (or cognac), absinthe, a single sugar cube, and Peychaud's bitters, served with a lemon peel garnish.
It's the official cocktail of Louisiana and if you're a drinker, you shouldn't leave New Orleans without sampling it (don't let the absinthe scare you off — it's just a touch, and we don't get the good stuff that makes you loopy in America, anyway)
Try it at: The Sazerac Bar, 130 Roosevelt Way
Hurricane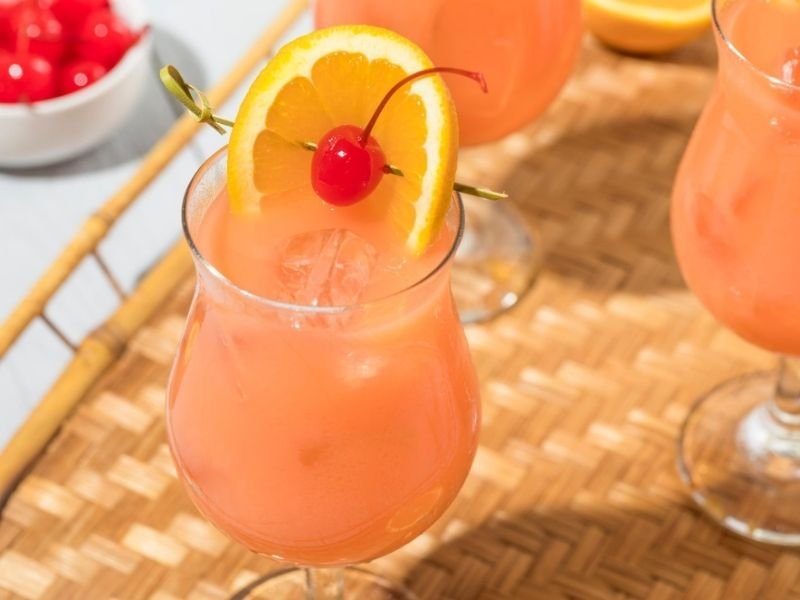 No cocktail in New Orleans has been done as dirty as the Hurricane — you'll see it offered in horrific slushie forms all over Bourbon Street.
But the classic is delicious, made with dark & light rum, lemon juice, and passionfruit syrup. Try it at the bar who invented it and skip the crappy ones up and down Bourbon Street.
Try it at: Pat O'Brien's, 718 St Peter
Ramos Gin Fizz
Another classic New Orleans cocktail, and my personal favorite, is the Ramos gin fizz.
Made with gin (obviously), club soda, simple syrup, lime, orange flower water, heavy cream, and egg white (which whips up into a lovely foam)… the Ramos gin fizz is a dream to drink, like a gin-infused creamsicle without the treacly sweetness.
Try it at: The Sazerac Bar, 130 Roosevelt Way
Vieux Carré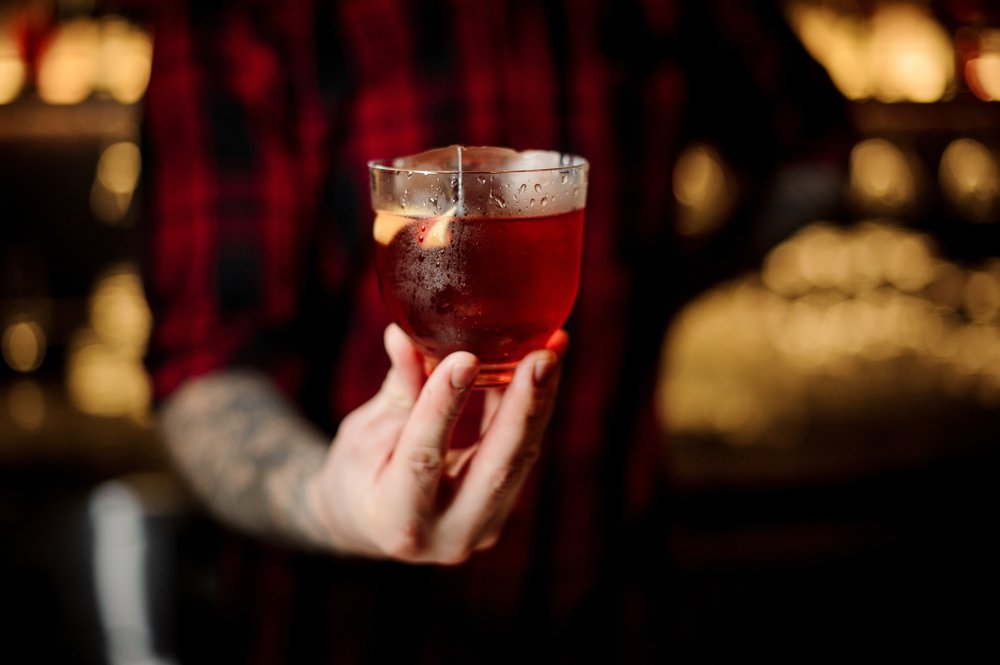 The final New Orleans cocktail on this list (though of course, there are others!)
It's a tasty, unique drink: made with rye whiskey, cognac, sweet vermouth, benedictine liqueur, Peychaud's bitters, Angostura bitters, topped with a maraschino cherry.
Try it at: The Carousel Bar, 214 Royal St., where it originated!
Pin This New Orleans Food Guide!
Allison Green is a former educator turned travel blogger. She holds a Masters in Teaching and a B.A. in English and Creative Writing. Her blog posts merge her educational background and her experience traveling to 60+ countries to encourage thoughtful travel experiences that both educate and entertain. She has been a speaker at the World Travel Writers Conference and her writing, photography, and podcasting work has appeared in National Geographic, CNN Arabic, CBC Canada, and Forbes, amongst others. Now based in the San Francisco Bay Area where she grew up, she has also lived in Prague, Sofia, and New York City.