Golden is one of Colorado's underrated mountain towns — and it should be your next stop for a great hike near Denver!
A former gold rush town that sits at 5,629 feet, Golden is located at the foothills of the Rocky Mountains.
Historically, it was the capital of the Colorado Territory from 1862 to 1867; it is the ancestral home of the Núu-agha-tʉvʉ-pʉ̱ (Ute) and Cheyenne Indigenous peoples.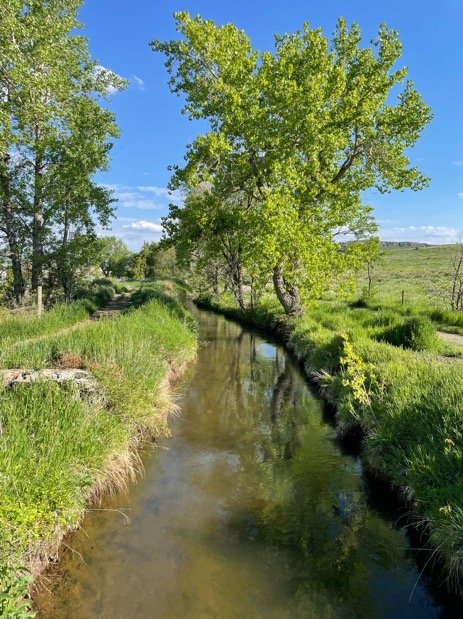 Note: This post contains affiliate links, which means I may receive a small commission if you purchase something through one of these links. Thank you for supporting the free content on this site! For more information on affiliate links and cookies, see my disclosure page for more details.
Currently, it is known for being the home to the infamous Coors Brewery and the Colorado School of Mines.
The hiking in Golden is a hiker's playground, offering a whopping 70 trails, ranging from easy to moderate.
Whether you want to take a leisurely stroll or push yourself, there is a trail for every adventurer. Here are some of the best hikes in Golden, Colorado!
The Best Hikes in Golden, Colorado
South Table Mountain Trail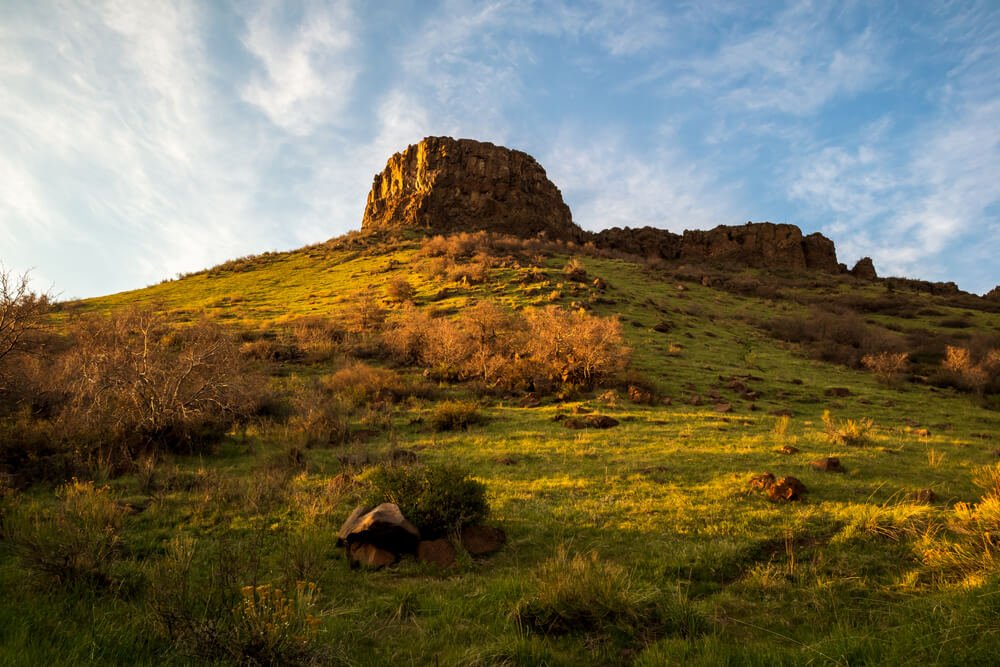 Mileage: 2 miles
Elevation Gain: 482 feet
A shorter hike in Golden is South Table Mountain, a two-mile loop that starts at the edge of downtown.
The hike brings you to the top of Castle Rock, a popular landmark in Golden that you can view from all over the area!
This spot is recommended for sunset hiking in Golden and the breathtaking views you'll find there. The trail is a bit steep going up, but the scenery makes it worth it.
North Table Mountain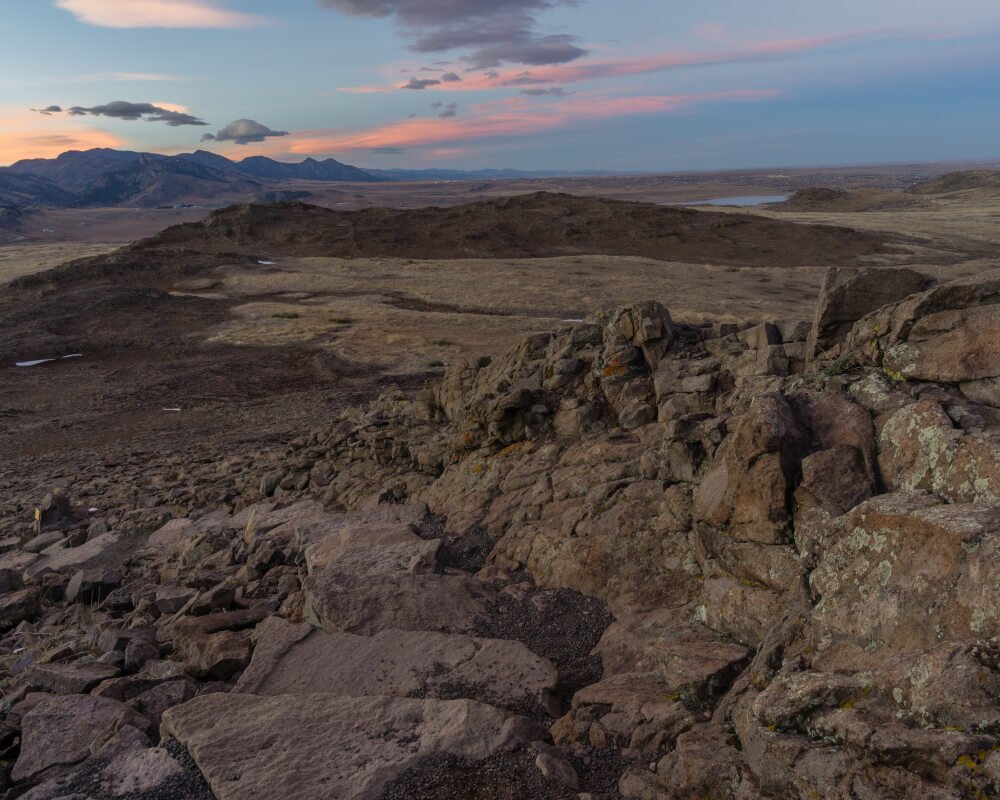 Mileage: 8.3 miles
Elevation Gain: 1,125 feet
If you are looking for a longer workout, hiking North Table Mountain and Rim Rock Loop will be a better pick for you!
This mountain is known for its mountain biking, but it is also great for hikers in Golden looking for a challenge.
The trailhead starts at Tony Grampsas Memorial Sports Complex – Golden Bike Park. Be aware and share the trail with the cyclists!
The 360-degree views at the top make the distance well worth it! You can even spot Coors Brewery on your way to the top.
Chimney Gulch Trail from Highway 6
Mileage: 6.5 miles
Elevation Gain: 1,755 feet
This is an out-and-back trail in Golden that brings you to the top of Lookout Mountain, one of the most popular mountain roads in the area!
You will be crossing Lookout Mountain Road a few times during this hike, and it is important to be alert for cars and cyclists when crossing.
The hike is rated as moderate but it does have a higher elevation gain.
To get to the trailhead drive up W 6th Ave, towards Lookout Mountain. This scenic spot will show you all of Golden and even Denver in the distance!
Terry Park at Clear Creek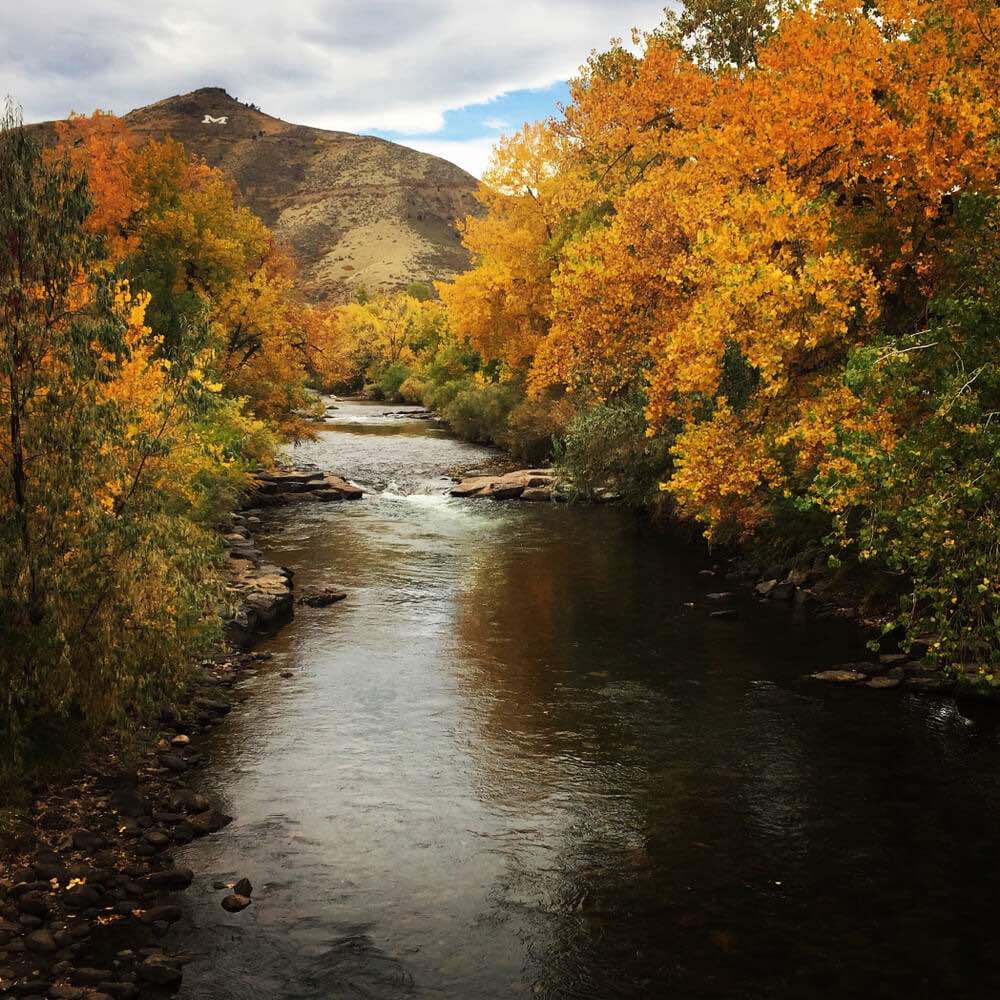 Mileage: 1.6 miles
Elevation Gain: 65 feet
This is one of the easiest hikes in Golden; in fact, it is a more of a nice stroll through the town!
Terry Park at Clear Creek is a shorter route with very minimal elevation gain. We recommend it for all skill levels, and it is great for families.
It is a paved path along Clear Creek, which is a branch of the South Platte River, making it the perfect option for winter hiking as well.
In December, you can see the town lit up with holiday lights! Marvel at statues and trees surrounding downtown Golden on this relaxing path.
Mt Galbraith Park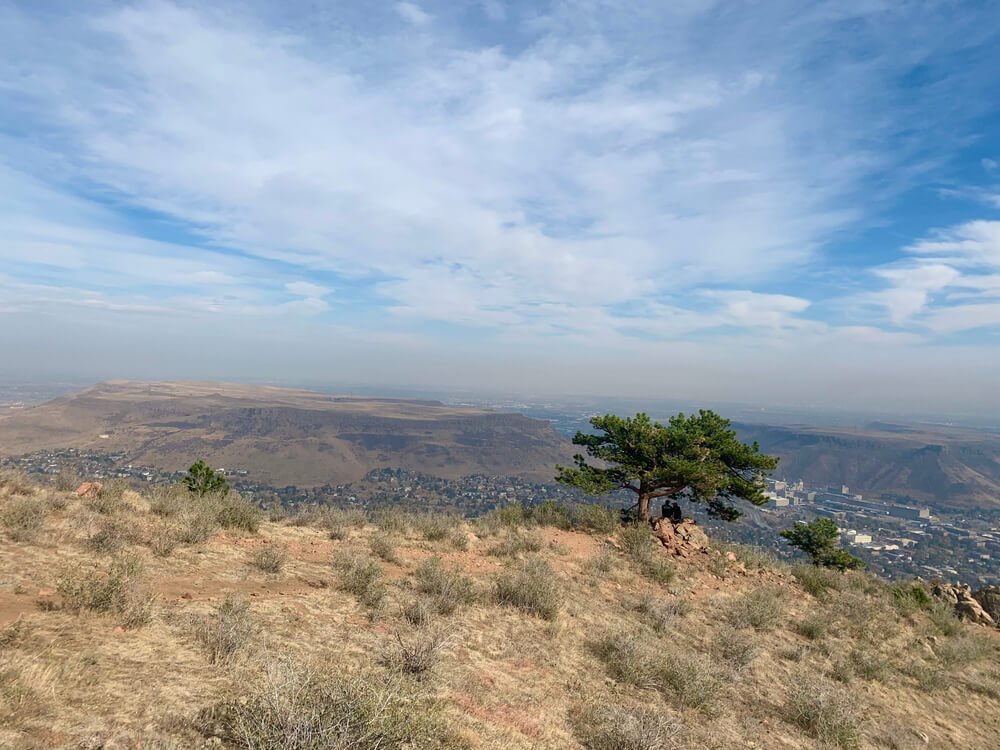 Mileage: 4.0 miles
Elevation Gain: 928 feet
Located off of Golden Gate Canyon Road is Mt Galbraith Park, a Golden hiking area with over five miles of gorgeous trails.
Mt Galbraith Loop via Cedar Gulch Trail is the most popular in the park, a 4-mile loop that circles the top of the peak. Certain parts of the hike do become narrow, so keep that in mind when planning this hike.
There is a dirt parking lot right off the main road at the trailheadm making this trail is a great option for those living in Denver.
Get a break from the city life and soak in those mountain views, while getting a good workout among this scenic spot known for its unique rock formations.
Golden Gate Canyon State Park – Racoon Trail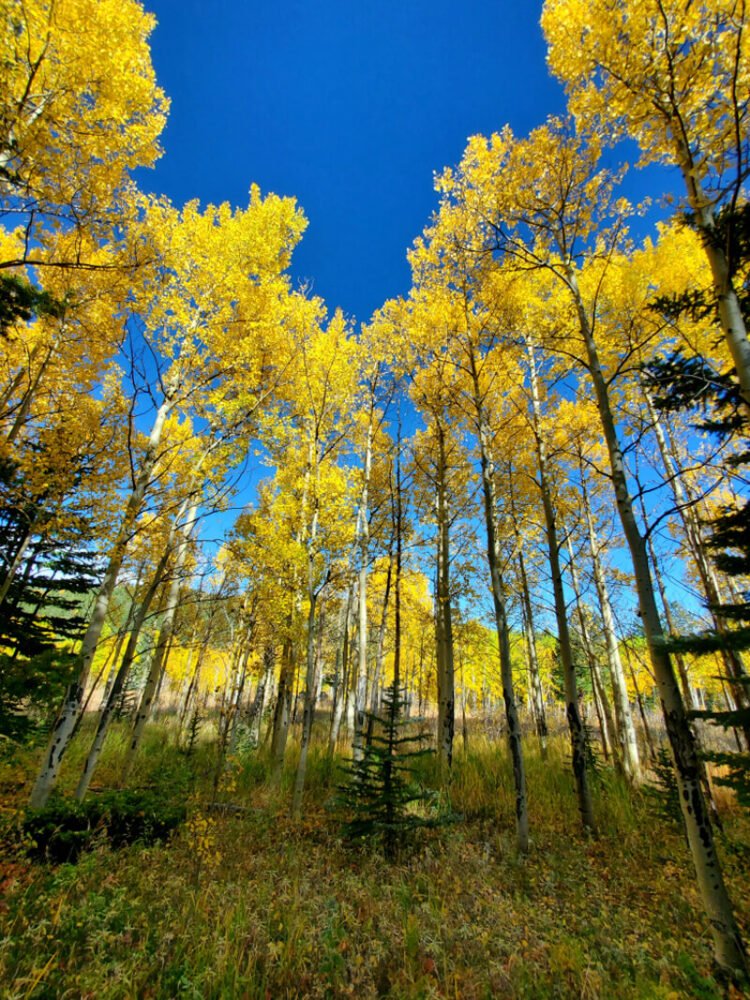 Mileage: 3.4 miles
Elevation Gain: 754 feet
When summer begins to turn to fall, Colorado becomes an even more picturesque landscape!
The aspen trees turn from green to golden in early September in Colorado, as the leaves began to change colors at higher elevations.
In Golden, the colorful aspens normally turn yellow in early October, though this is depending on the year.
Golden Gate Canyon State Park is rated one of the top places in the state to view this once-a-year event!
Hike through the golden aspens on Racoon Trail, located in the northern part of the park. This is a scenic loop that is a little over three miles with moderate elevation gain.
Parking can be limited near the trailhead, particularly during the fall, so it is recommended to get an early start!
If parking is unavailable, you can use other lots in the park for added mileage.
Keep in mind, this is a state park. That means there is a $10 entrance fee, unless you have a State Park Pass.
Beaver Brook Trail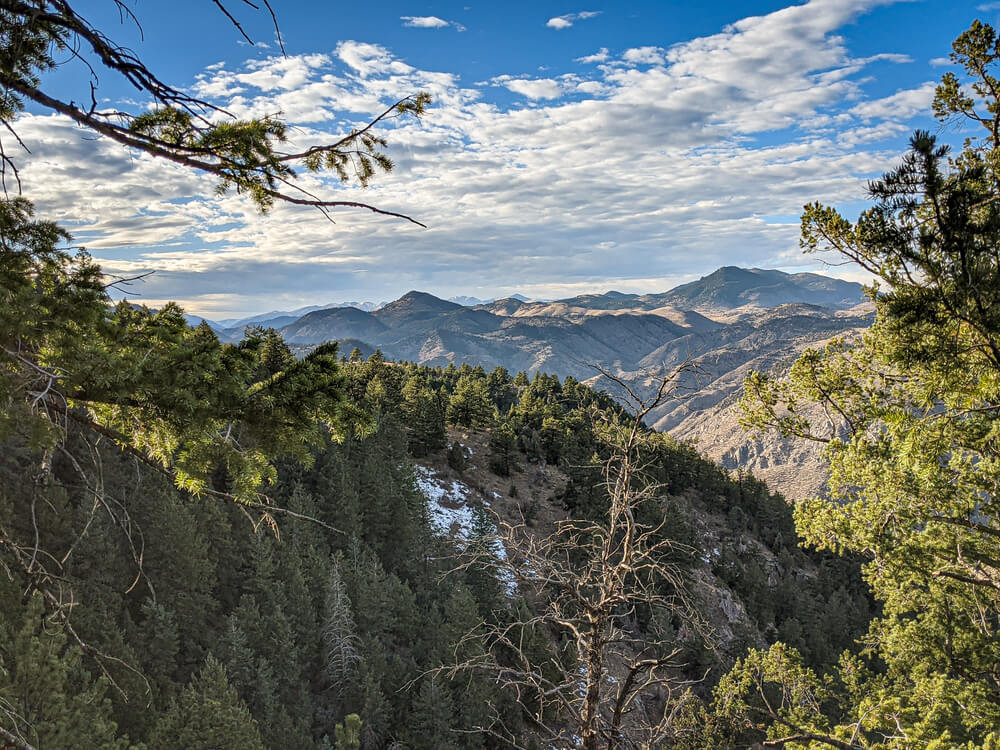 Mileage: 13.4 miles
Elevation Gain: 3,297 feet
Those looking for a challenge can take on this difficult hike in Golden!
Unlike most trails, the elevation gain is mostly on the way back, making it a unique challenge for experienced hikers.
The trail starts in Golden and eventually drops you down near Clear Creek. After a few miles through the forest, you eventually drop even further out to Chief Hosa.
It is important to make sure you have enough energy and fuel for the climb back to the trailhead! Packing high-energy snacks like nuts and protein bars is a smart idea.
Take your time on this one and soak up the views of the canyon throughout the trail. It is tough, but it is worth it!
Apex & Enchanted Forest Loop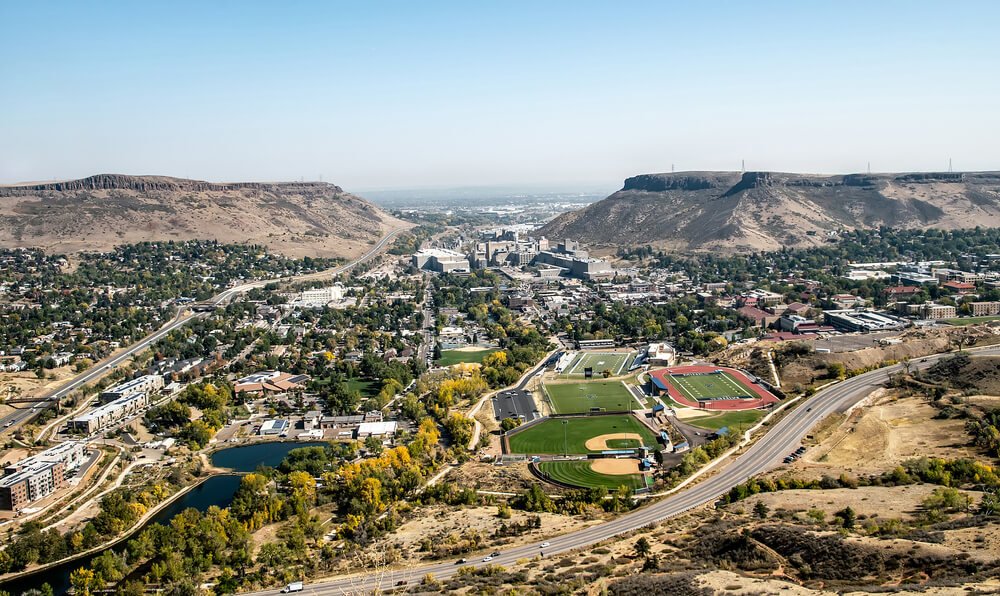 Mileage: 5.5 miles
Elevation Gain: 1,234 feet
Apex Open Space Park is located only a few minutes from downtown Golden. Follow Lookout Mountain Rd to the trailhead.
Note this park has unique rules to help mountain bikers and hikers share the road. Even calendar dates (for example, the 2nd, 4th, etc.) are reserved for bikes only, no hikers or equestrians.
Odd calendar dates (ex: 1st, 3rd, etc.) are reserved for hikers and equestrians only, no bikes.
This is a perfect summer hiking destination in Golden, since half of the trail is in the sun and the other half in the shade.
Enjoy the colorful wildflowers along the dirt path in the spring and early summer!
Clear Creek Trail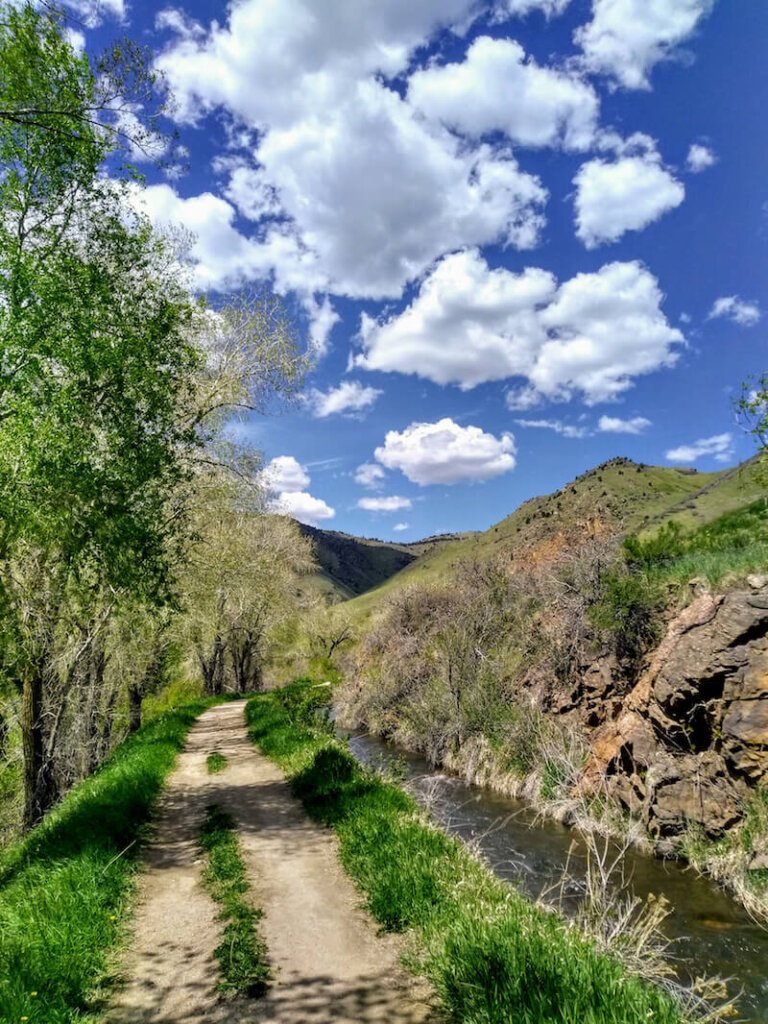 Mileage: 20.1 miles
Elevation Gain: 226 feet
This is a great option If you are looking to improve on distance hiking, without massive elevation changes.
This long trail starts off of US-6 west of downtown Golden. The trail follows the twenty miles of Clear Creek all the way from Golden to Adams City.
Along the hike, pass the Colorado Railroad Museum, the adorable Prospect Park, and the Lowell Ponds Wildlife Area.
This is a unique hike that actually runs opposite of the mountains towards the city. The path is paved and is ideal for biking or cycling.
Hikers recommend this during the winter months for a long walk along the river. Of course, you can just do a small portion of this hike if the full 20 miles aren't for you!
Golden Open Space Trail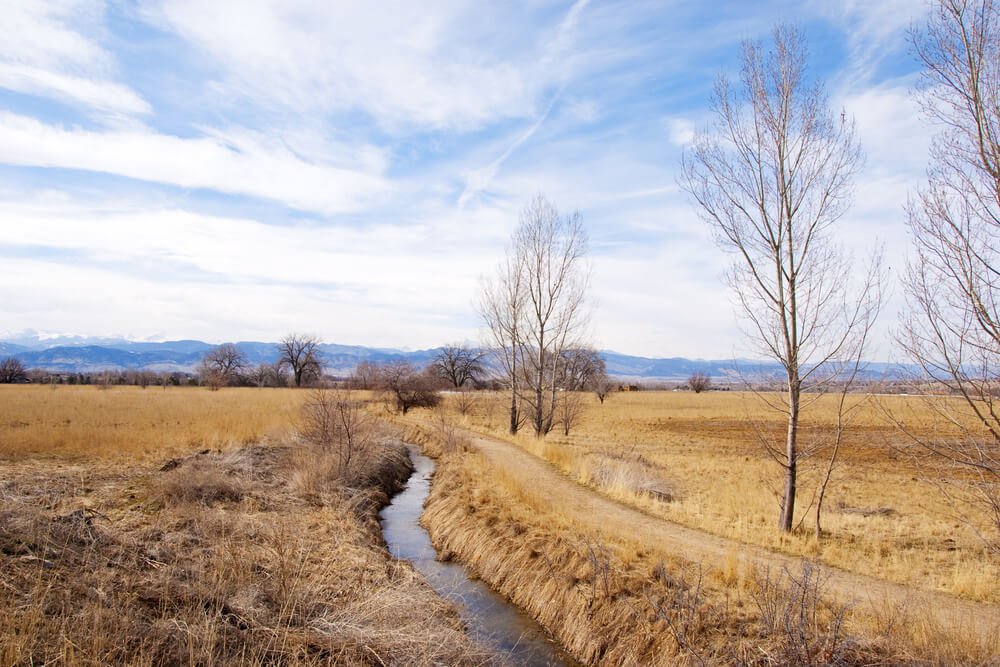 Mileage: 2.6 miles
Elevation Gain: 101 feet
Park on the left side of Tony Grampas park and follow the sign for the bike park.
This short and sweet trail brings you by the Golden High Country Archers Range and the Golden Bike Park. Bring your dog since there is a dog park you will be passing as well!
You even walk through local neighborhoods, all while getting in those hilly views. The dirt path is mostly shaded taking you through the forest, while the other half is out in the sun through the neighborhood, offering you a little bit of everything.
Mother Cabrini Shrine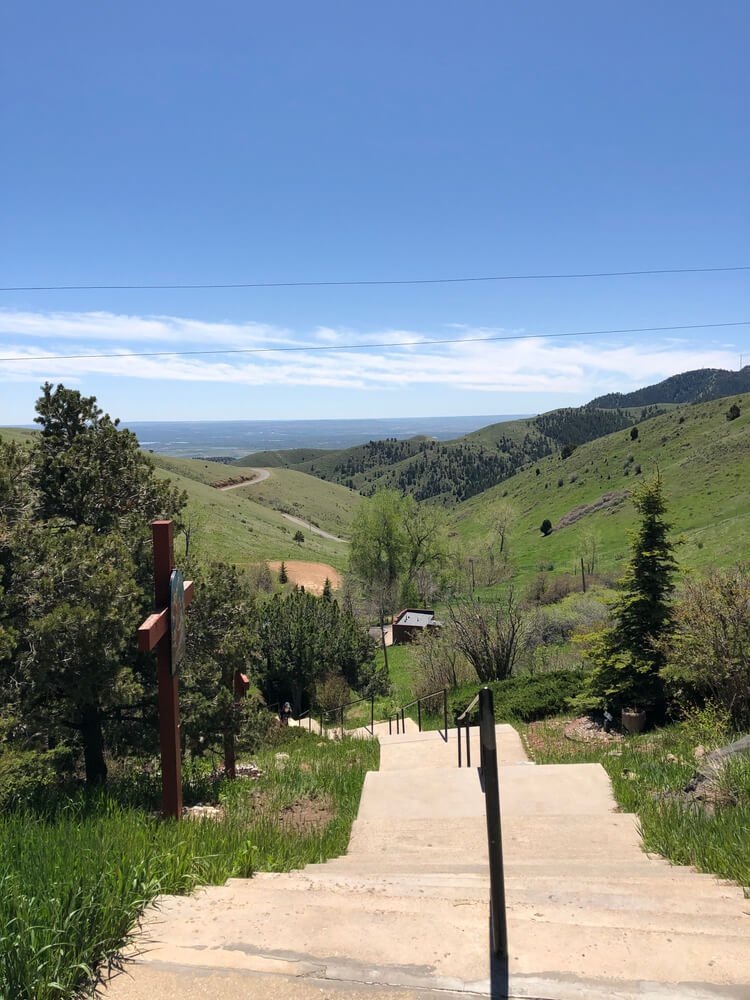 Mileage: 0.4 miles
Elevation Gain: 173 feet
This hike in Golden leads you to a shrine to Saint Frances Xavier Cabrini, known as Mother Cabrini, where you can hi up to the 22-foot statue of the Sacred Heart of Jesus.
Mother Cabrini found this property in 1902. It was used as a summer camp for the Queen of Heaven Orphanage. The purpose was to provide outdoor activities to the girls at the orphanage.
It was built in 1954 at the highest point of the site. You can now trek up the 373-step stairway that leads you to the statue. This is a short but sweet hike that is very historic to the area.
Dakota Ridge Trail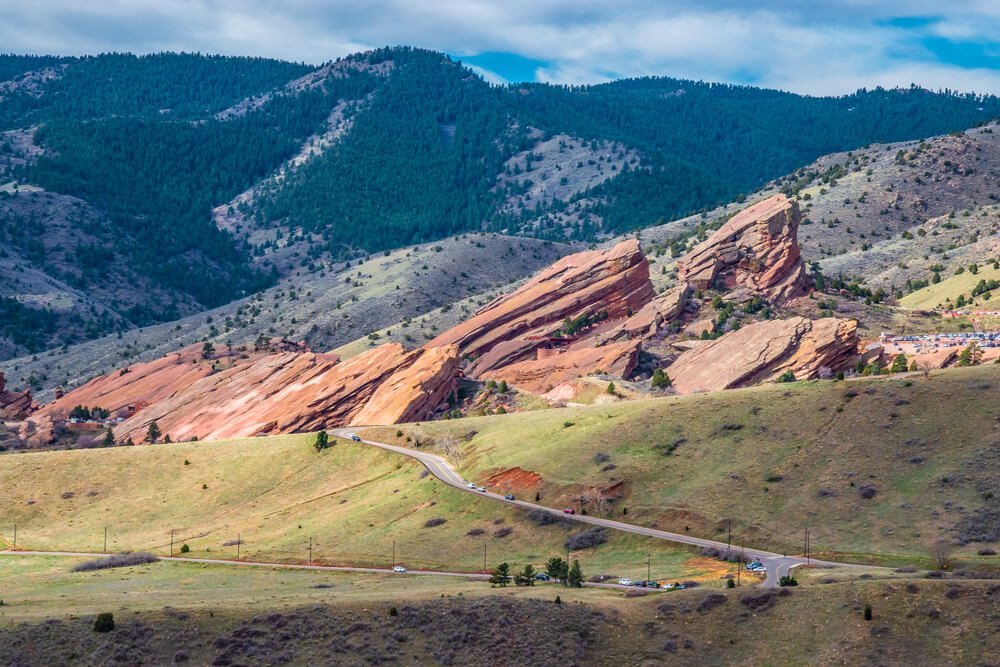 Mileage: 5.4 miles
Elevation Gain: 1,099 feet
Located right off Highway 70 west is North Dinosaur Open Space Park, a great place for a hike near Golden.
This hike starts you uphill and then drops you down, making it another uphill journey on the way back.
Follow the ridge between Red Rocks Amphitheatre and Green Mountain. You can do the trail in either direction!
This is a fun workout that makes you feel as if you are hiking in the sky once you reach the top. Enjoy the scenery of the famous Red Rocks Amphitheater — it's simply stunning!
***
The foothills near Golden, Colorado are a convenient option for those looking for a day hike only 25minutes outside of downtown Denver.
Take an easier stroll downtown for those looking for an easy and relaxing day, or for those seeking a challenge, head into the mountains for that steep uphill climb!
Since most of these trails are in the foothills, be aware of rattlesnake activity, which are commonly reported from early spring through mid-fall. Always watch the path and never pick up large rocks where they could be hiding.
In the winter months, take advantage of the snow-capped mountain vistas, but be sure to pack and dress appropriately for the weather.
Golden, Colorado has a hike for every season and every skill level. Lace up your boots and head into the foothills. Afterward, take advantage of the delicious dining options downtown. You earned it!