Oh, Bologna… what a happy accident you were.
You see, I was never planning on going to Bologna. I was just trying to make my way from Switzerland to Bulgaria, only that flights leaving Switzerland were outrageously priced.
So, travel hacker that I am, I used Kiwi's radius search function and found a 20 euro flight leaving Bologna.
Just like that, I was booking train tickets to Italy for 72 hours, determined to try as much food in Bologna as I could fit in my stomach in that time frame.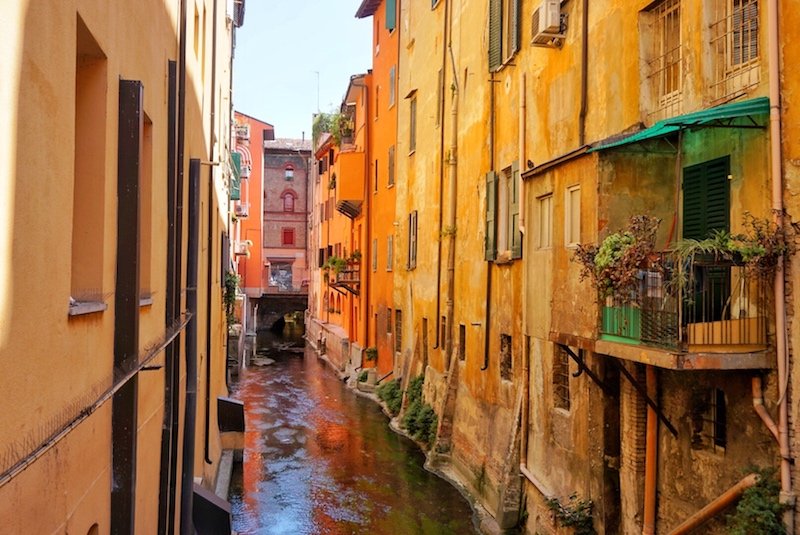 Note: This post contains affiliate links, which means I may receive a small commission if you purchase something through one of these links. Thank you for supporting the free content on this site! For more information on affiliate links and cookies, see my disclosure page for more details.
My Italian grandmother was from Piemonte, but she always had a special love in her heart for the cuisine of Emilia-Romagna. Her homemade gnocchi con ragú alla bolognese is and forever will be my favorite dish of all time (but only when she makes it, naturally, although my American-born dad does a close second).
Rich in dairy and egg pastas, the food of Emilia-Romagna is humble, filling, and proud. And there's no better place to start exploring the variety of Northern Italian cooking than by sampling the Bologna cuisine.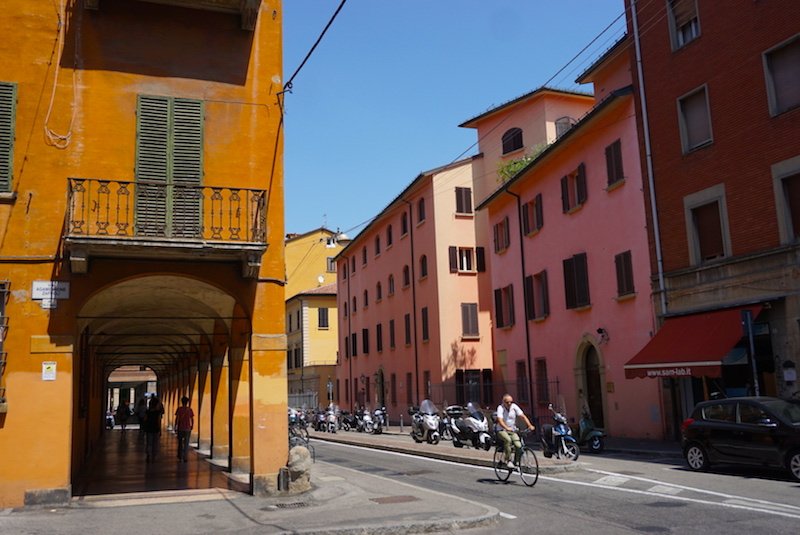 I went on two food tours while in Bologna; one with Italian Days Food Experience, which runs a small group food tour that'll check off all the boxes on your Emilia Romagna foodie bucket list, and other with Yummy Italy, which organizes bespoke custom tours centered on your particular interests.
Both are excellent but appeal to different audiences. Italian Days is great if you want to be a part of a small group tour and learn about all the major foods of the region and leave with a solid overview of what food in Bologna is like. This is the exact tour that I did if you want to replicate what I did and ate!
You'll go to a Parmesan factory, a prosciutto factory, a small balsamic operation, and a delicious vineyard restaurant for lunch where you'll try a variety of traditional Bolognese food and wine. Everything is organized for you, which is perfect if you don't know what you want to see but want an overview of the region and to eat some amazing food.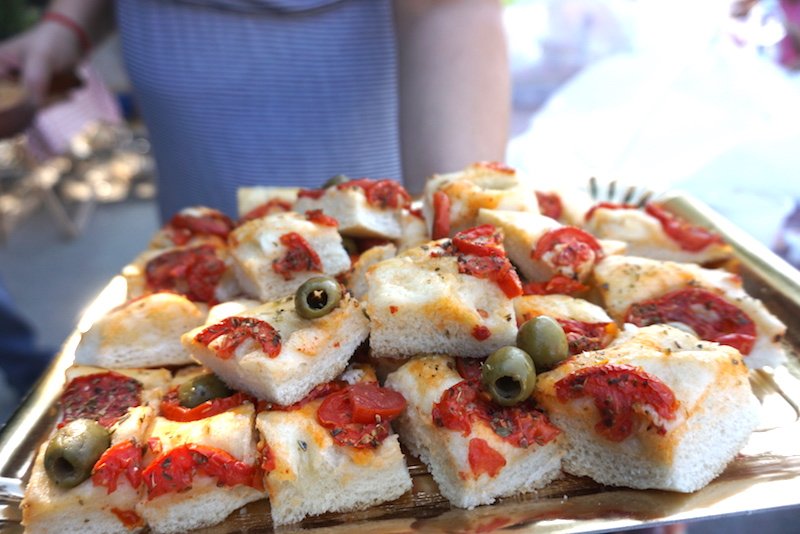 Yummy Italy is more specialized, as Helena custom organizes each tour to appeal to what her clients want to experience. Having done the Italian Days food tour first and having seen all the major D.O.P. products that make food in Bologna so famous, I asked Helena to organize a custom wine tour for me.
I'm a huge fan of Lambrusco and Italian wine in general, and wanted to see some wineries in the region. She set up an amazing tasting for me where I got to sample some lesser-known varietals in the house of one of the region's best small winemakers, followed by a Lambrusco pairing with lunch.
It was an amazing day and I learned so much about winemaking in the region – she's a sommelier, so if you're at all into wine, I highly recommend contacting her to arrange a Bologna wine tasting by e-mailing Helena at [email protected].
Wanna step up the fancy factor on your trip? Try a food and Ferrari tour in Bologna!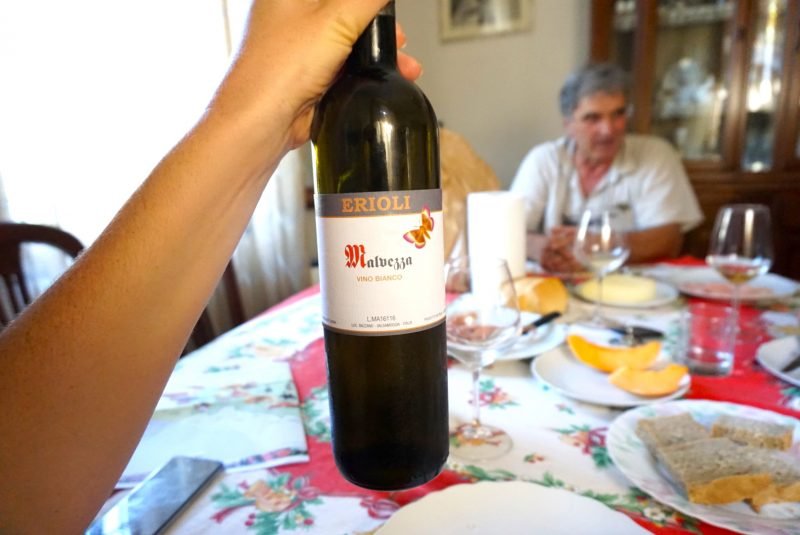 The Foodie Bucket List: Must-Eat Food in Bologna
Parmigiano Reggiano (D.O.P) 
A trip to Parma, one of Bologna's best day trips, is a must-do for cheese lovers, as it's where Parmigiano Reggiano is from: Italy's most famous cheese. A small sprinkling of this delicious, flavorful cheese will brighten up any dish it garnishes. There's a reason Parmigiano Reggiano is essential in so many traditional Italian dishes.
Nutty, complex, and delicious, true parmigiano is a world away from what we call parmesan back in the U.S. – that powdered cheese sold in a green container just won't fly in Bologna.
Aged a minimum of twelve months, Grade 1 parmigiano reggiano can be aged indefinitely. As it ages, it develops crystals with a sharper, more concentrated cheese flavor. On my Italian Days tour, we got to sample three separate ages of cheese: one year, two year, and five year cheese.
My personal favorite was the five-year cheese, which had tons of concentrated cheesy crystals with a nice salty crunch between your teeth. That was my personal favorite snacking cheese, although I'd say that the one- or two-year varieties are better suited for being grated over a pasta, where the flavors won't compete quite as much.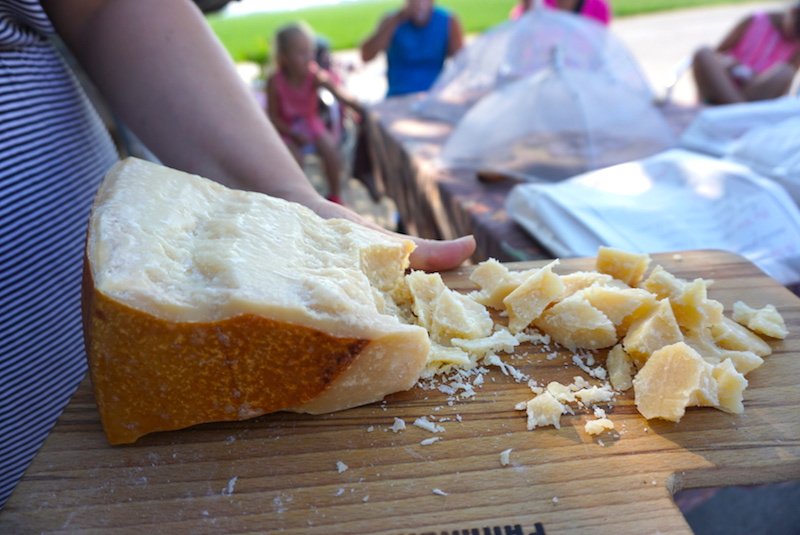 We also got to tour the organic farm where the cheese was made, which was a fascinating insight into just how much love goes into these cheeses. The farm places a premium on animal welfare, milking the cows only once per day to increase their quality of life and lifespan (a normal dairy cow only lives 6-8 years; their cows live to be up to 15).
While obviously people's opinions on the ethics of the dairy industry vary, I was happy to see the cows were treated well. As someone who chooses to eat meat and cheese, I feel like it's a good thing to know where our food comes from.
The matter of scale is really important when you're talking animal welfare: the smaller the dairy factory, the more likely it is that care will be given to its animals. The dairy farm we visited with Italian Days is a small operation, with a maximum production capacity of 24 wheels of cheese in one day – though that all depends on how much milk the cows have to give.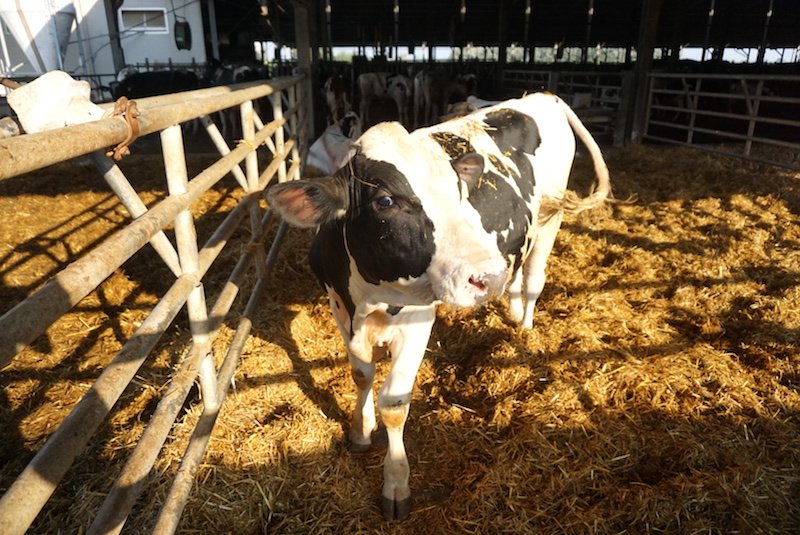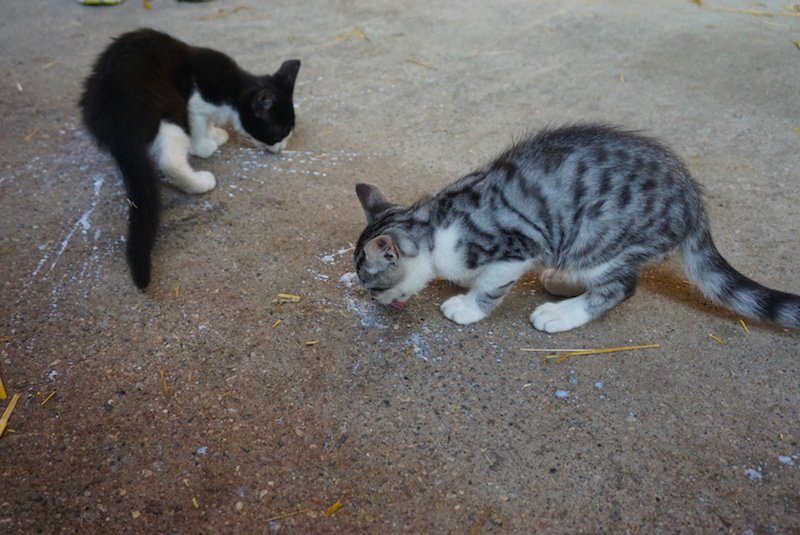 We watched pretty much the whole process of heating, straining, and stirring the cheese, and it was pretty magical to see the enormous pile of curds — Parmigiano-to-be — get lifted out of the vat with incredible coordination.
We also got to see a hall of over 7,000 wheels of cheese, aka where I want to get married one day.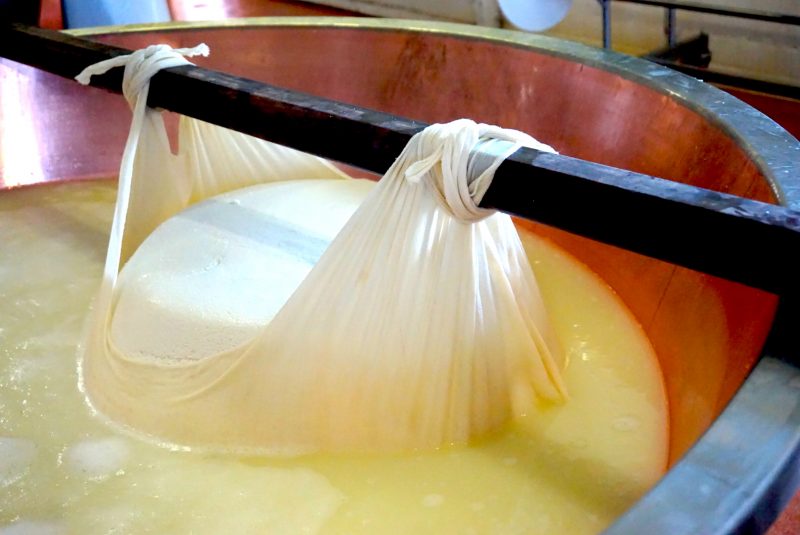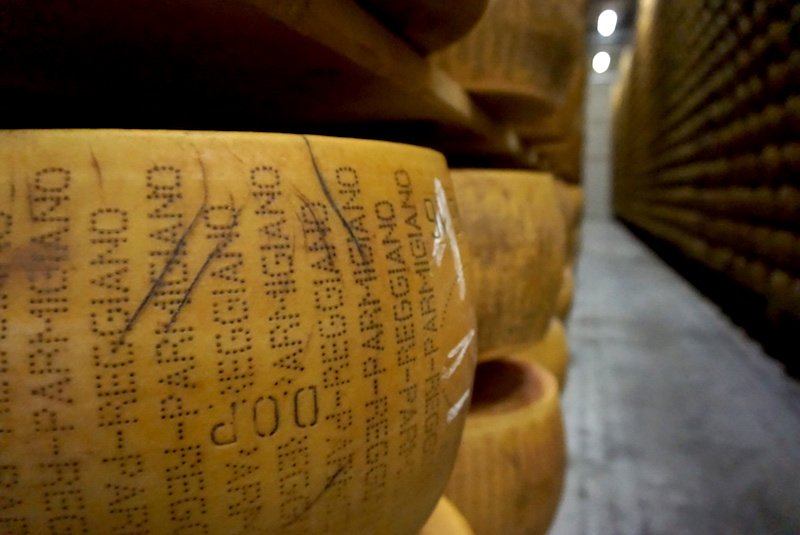 Prosciutto di Parma (D.O.P.) and other cured meats
Food in Bologna is very pork-centric. I'm obsessed with pork products, so I was super thrilled to see a real live prosciutto factory in Parma! You'll see proscuitto on the menu of virtually every Bologna restaurant, so it's cool to see its source.
Prosciutto di Parma refers only to one specific cut of pork (the leg), so this factory also produces meats from the other parts of the pork as well, including some of my personal favorites: culatello (which is actually rarer and more expensive than prosciutto di parma, go figure!), guanciale (the fatty pork cheek), and pancetta (pork belly).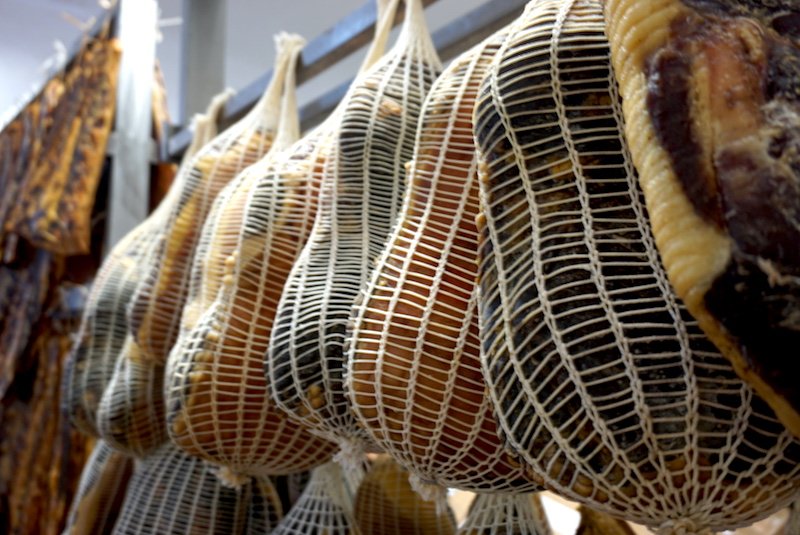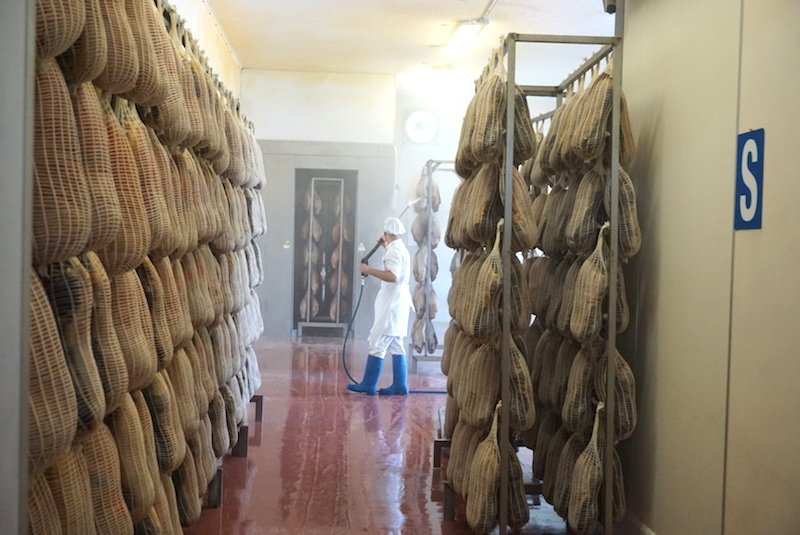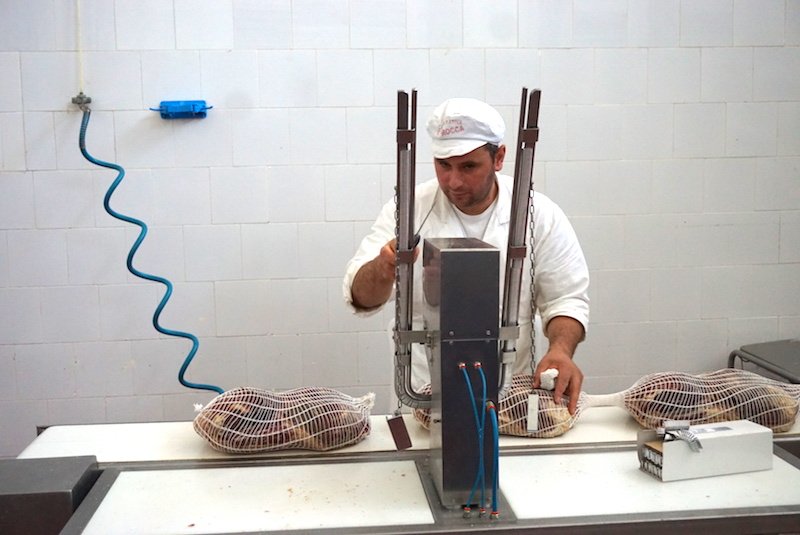 We got to try pretty much every kind of pork product they make at the factory at a little makeshift picnic in the parking lot.
The charcuteries paired perfectly with some Lambrusco and Pignoletto — a sparkling red and white, respectively. I'm a huge fan of lambrusco, especially with charcuterie, but I was surprised by how nicely a white sparkling wine paired with the meat as well. I shouldn't be surprised – Bolognese food is all about the pairings of food and wine, so they definitely know what they are talking about!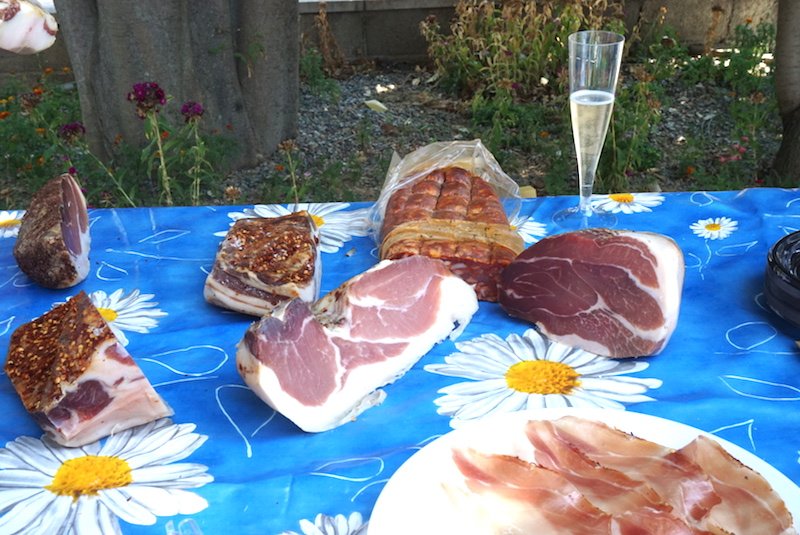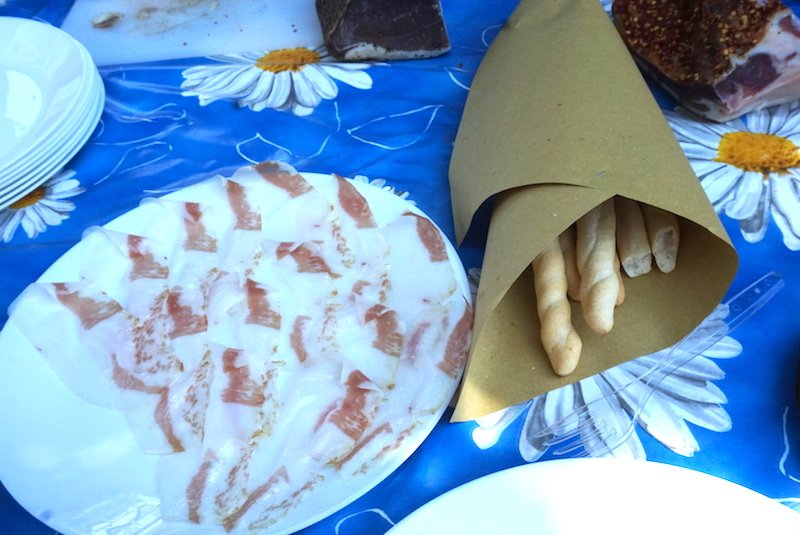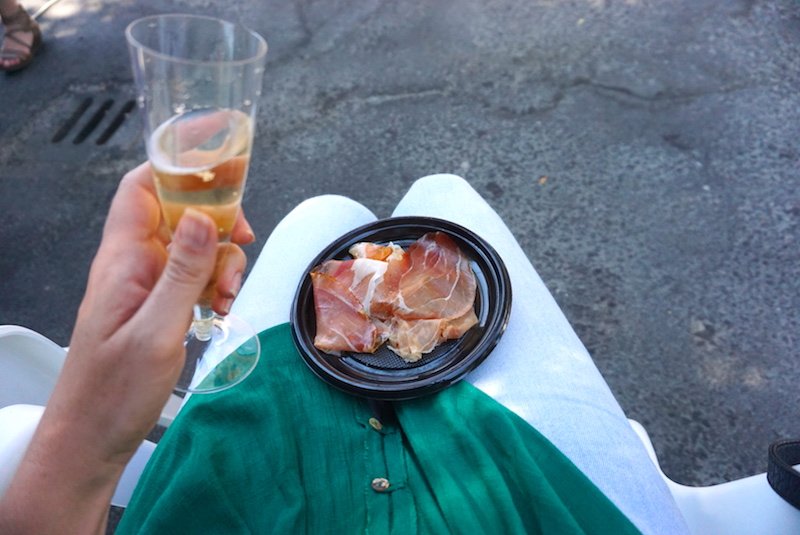 Mortadella
What we think of as bologna, Bolognans think of as mortadella. A far cry from what passes for mortadella or bologna in the United States, true Italian mortadella is rich and smooth, dotted with circles of creamy, melty lard. I wish I could make it sound better than that, but it tastes outrageously good, especially with some white wine. I never thought I liked mortadella until getting trying the cuisine of Bologna, in fact!
On my tour with Helena of Yummy Italy, we paired some funky wine varietals few people ever get to try, let alone hear of – an Alionza, which is a cousin of the more famous Pignoletto grape, and a Negretto, a temperamental and obscure grape that dedicated winemakers like Erioli are nurturing out of near-obsolescence.
Helena told me how mortadella is made: the loin, shoulder, and cheek are boiled together for 24 hours, then ground and mixed together with spices. Fat from the neck is added at the end before being put in their cases, then sliced thin to order. That's how the sausage gets made (in Bologna, at least!).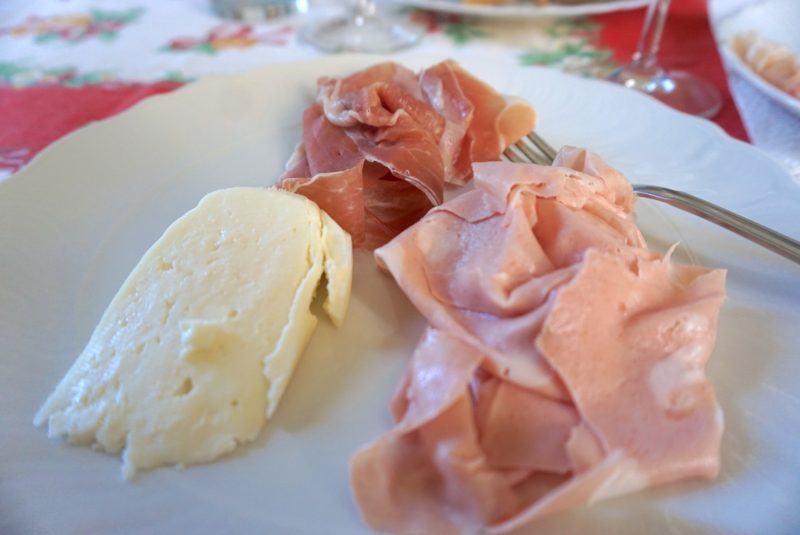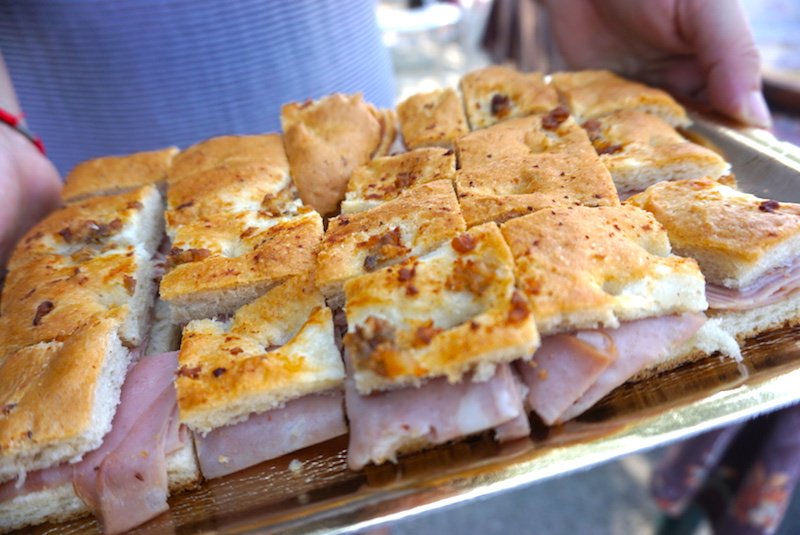 Aceto Balsamico Tradizionale di Modena (D.O.P.)
Again, what we think of as balsamic vinegar is a far cry from the real deal. Food in Bologna is often this way; there's a real version, and then the bastardized American version (see: Kraft parmesan). The truth is in the numbers: balsamic vinegar of Modena (IGP) that you buy at the grocery store is aged two months; traditional balsamic (DOP), 12 years (or more!). 98 million liters of balsamic vinegar are produced annually versus a mere 10,000 liters of traditional balsamic vinegar. So you can see why the real traditional 12+ year product is worth quite a bit of money.
The real deal is dense, sweet, and syrupy; a condiment rather than an ingredient. It's delicious drizzled over fresh ricotta or on tortelloni with cream.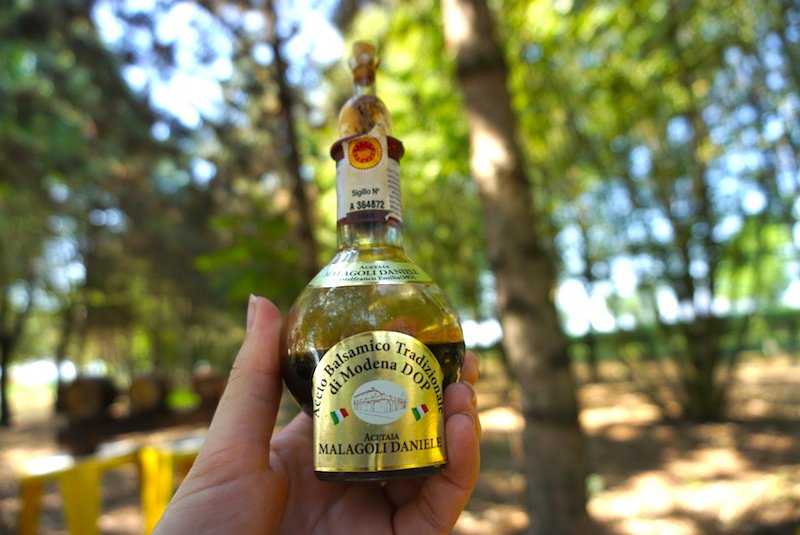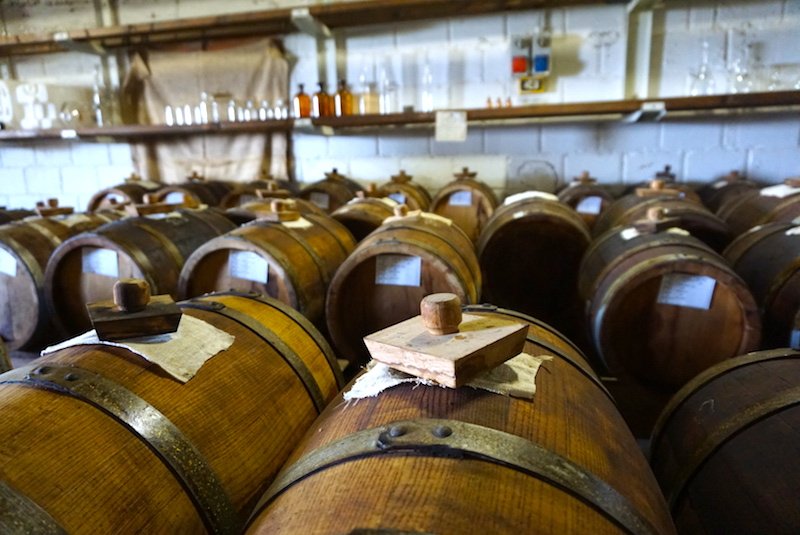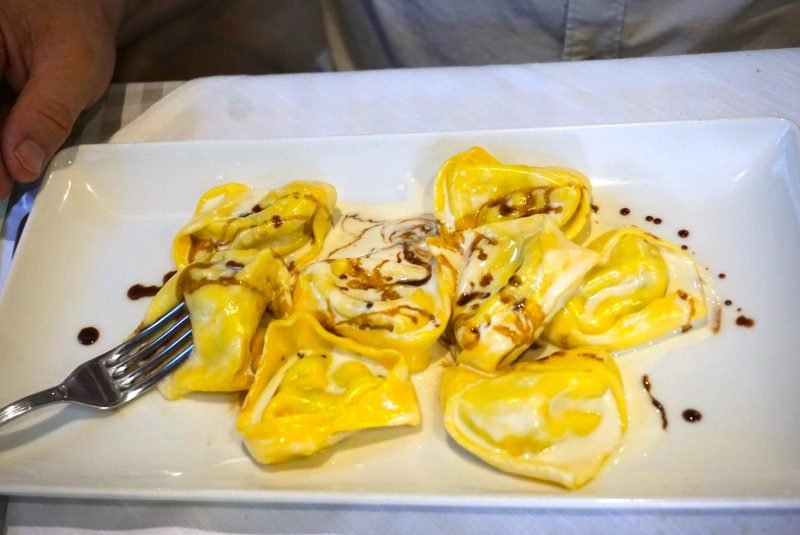 Gramigna alla salsiccia 
Lest you think I forwent the pasta… HAHAHA never. One of my favorite things about food in Bologna is that true Italian pasta has a dizzying number of shapes and sizes. Each pasta shape is specifically suited for the sauce it goes with. Purists of Italian food will scoff at certain sauce and pasta combinations, knowing how important the combination of pasta sauce and noodle texture are.
For example, the curlicue gramigna, with its nooks and crannies, is perfect for a creamy sausage-based sauce, as little bites of the sausage get swept up with every bite.
It's not the most famous pasta in Bologna (that would be the namesake bolognese) but it was definitely one of my favorites.
Maccheroncini con pesto
Pesto is a Genovese creation, but it's made its way throughout all of Italy with good reason. Served with maccheroncini (little macaroni, essentially), basil pesto, fresh tomatoes, and lightly toasted pine nuts, it's a delicious summer dish.
I tasted some when eating with Helena of Yummy Italy and I must say, it went absolutely perfectly with a cold glass of Lambrusco!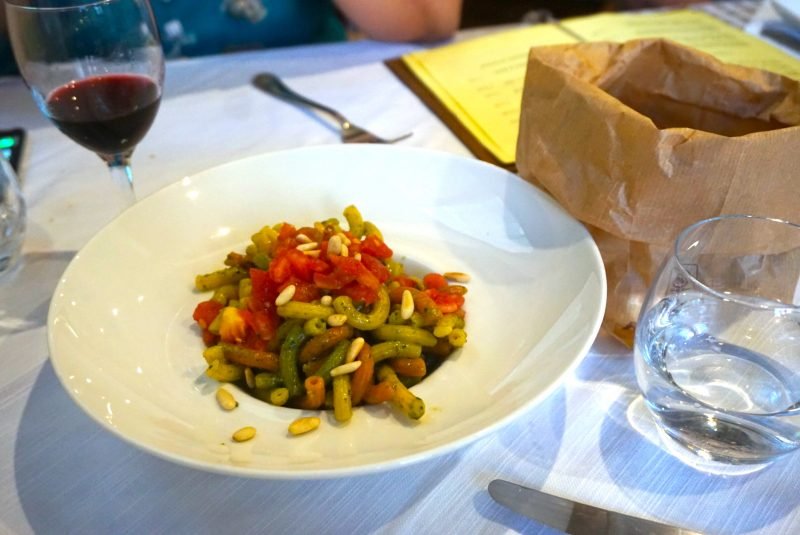 Tortellini en brodo
This dish is so simple, it's genius. A capon (a castrated rooster) is made into a rich, simple broth, in which perfectly shaped meat-filled tortellini float delicately.
It is traditional to offer parmesan on the side, but my waiter requested that I not add the parmesan – that the dish is more pure and delicious without it. Even this cheese-lover had nothing to complain about: each bite of the tortellini burst with meat flavor, enhanced by the subtle capon broth. No cheese necessary (and that's saying something from a cheese-lover like me)
Helena told me that according to tradition, the tortellini should fit seven to one spoon: I'm happy to report that this place hit the mark exactly!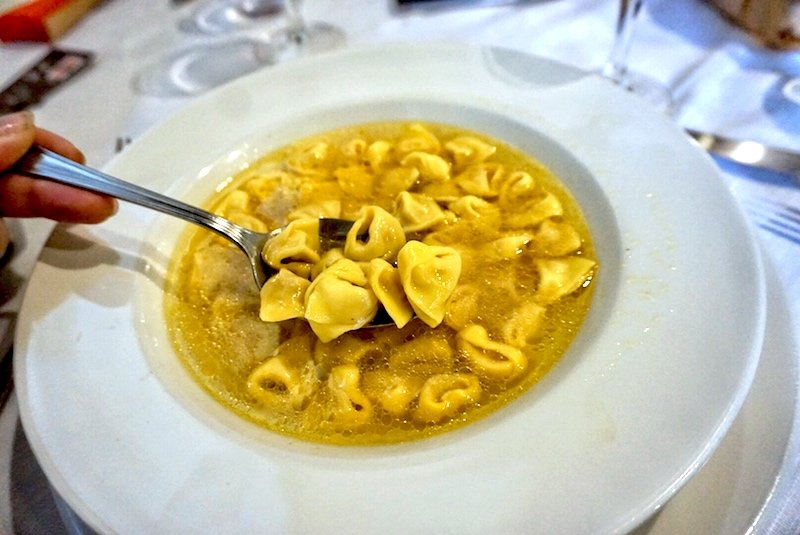 Tortelloni (with sage or cream sauce)
Tortellini with an i are small; tortelloni with an o are big. The filling varies, but in general, tortelloni are typically stuffed with fresh ricotta and served with a simple sauce, such as a butter and sage sauce or a light cream sauce with balsamic drizzle.
The richness of the egg pasta mixed with the softness of the ricotta and the simple sauces…. Italian food, why are you just consistently the best?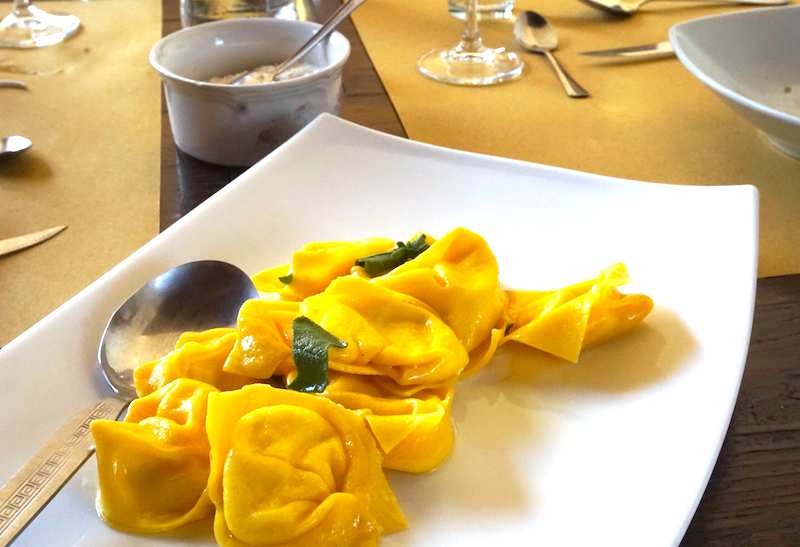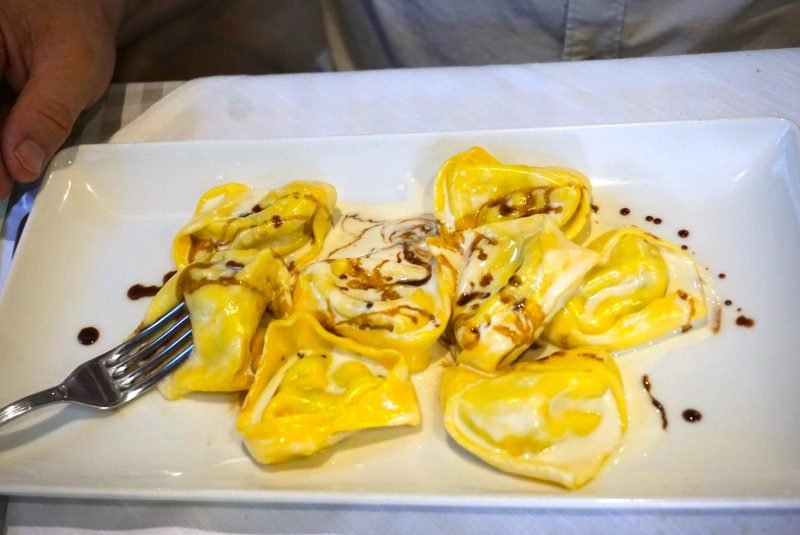 Tagliatelle al ragu bolognese
When you think of food in Bologna, you'd be forgiven (though not by Italians) for thinking of spaghetti bolognese. But seriously, forget spaghetti bolognese — if you spend your time eating that in Bologna, you may well get deported.
Kidding, but maybe you should.
The real deal bolognese is served with tagliatelle, not spaghetti: a hand-made ribbon cut egg pasta that catches little bites of minced (not ground!) meat on each forkful. It is every bit as delicious as it sounds, and trust me, the tagliatelle is so much better suited to catching the bolognese sauce than spaghetti (hence the Italian obsession with matching noodle to sauce).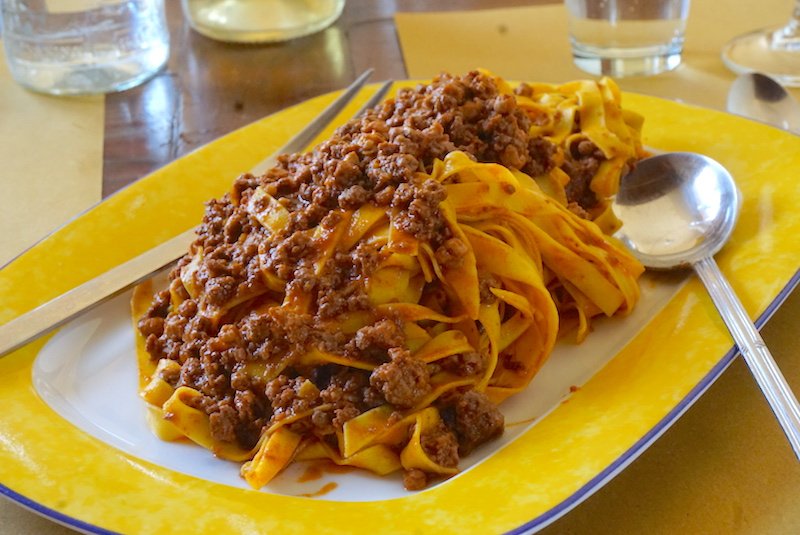 Grigliata mista di carne
Oh yes, a mixed grill – because only Italians are crazy enough to think that pasta is a starter.
When you've eaten enough food in Bologna to make your stomach whimper, be prepared, because in all likelihood another course is coming right at you. A mixed meat grill (mercifully served with some grilled vegetables as well) is delicious and common at large events or gatherings. Not heavily spiced or sauced like American barbecue, Italian grilled meats are done simply so that the char of the meats and the meat flavor can shine through.
They are often, mercifully, served alongside grilled vegetables.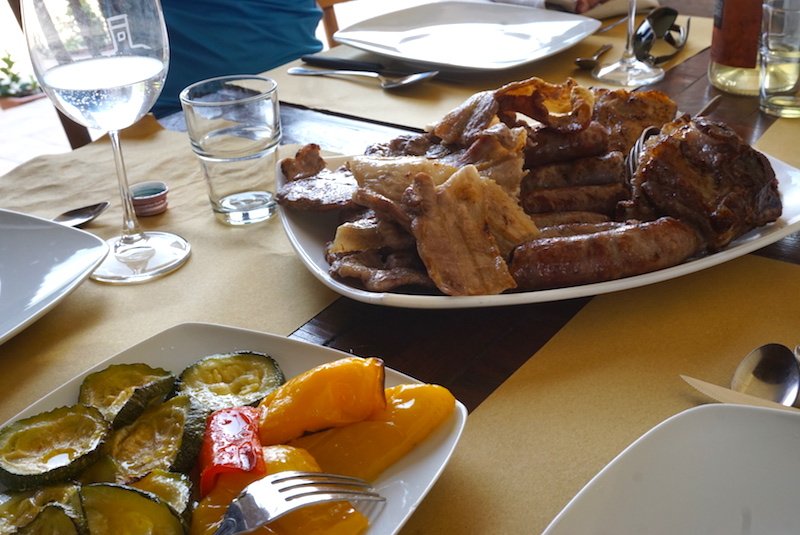 Salsiccia con friggione
This was one of my favorite dishes — a freeform, caseless sausage served with a side of a simple Bolognese classic made of tomatoes and onions cooked until melty soft and sweet, almost like a tomato jam.
I'll readily admit that the presentation isn't the most elegant, but when it tastes so good, who freaking cares? Food in Bologna is about simple ingredients put together with love.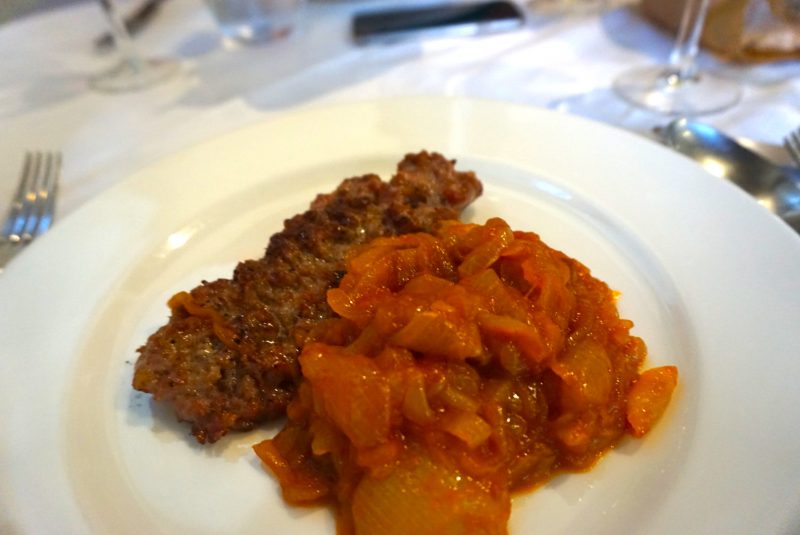 Gelato
DUH. You don't go to Italy without eating gelato, unless you're vegan, allergic to dairy, or have some other horrible affliction that prevents you from indulging in gelato. And even then, you better double up on the sorbet to make up for all the creamy goodness you're missing.
My favorite gelateria was recommended to me by Helena of Yummy Italy: Gelateria Galliera 49. All the flavors are incredible, trust me: I tried six different ones in my time in Bologna… for research, obviously. I know, my job is the worst.
Standouts were the salted caramel, pistachio, and mascarpone. Especially good when mixed. You're welcome.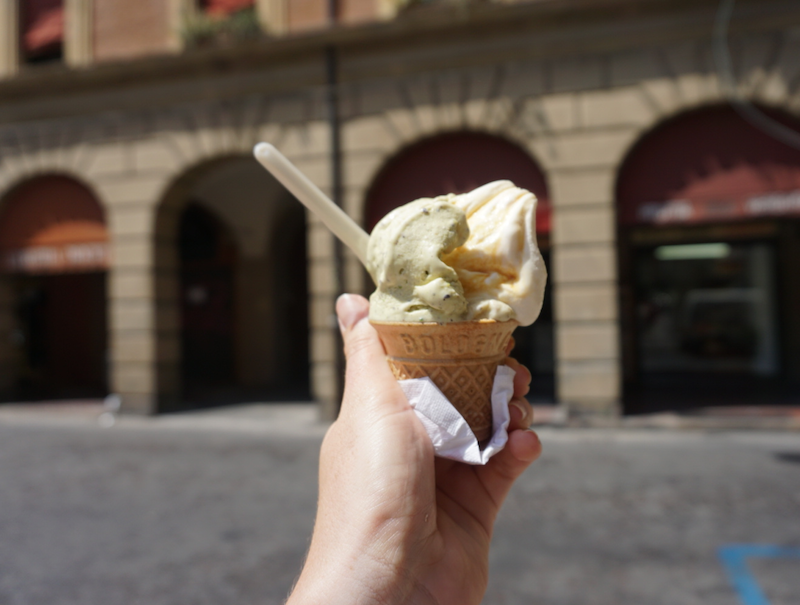 Espresso
Fact: Italians don't drink cappuccinos after breakfast, and doing so will get you some serious side-eye.
Instead, finish your meal with an espresso – it settles the stomach, encourages digestion, and will lift you out the serious food coma you just got yourself into.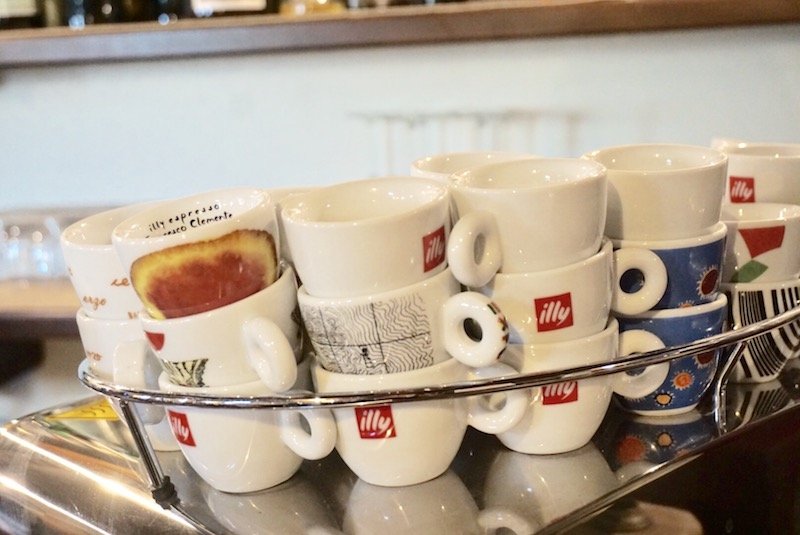 Must-Try Wine in Bologna
Of course, talking about food in Bologna would be incomplete if I didn't discuss all the delicious wine there is to drink alongside it. Italy is famous for its countless varietals its maintained throughout centuries of vinification. Whereas the tendency in much of the world is to streamline towards fewer, more internationally recognized varietals, Italy is doing something different (thank god). It's focusing in on its unique indigenous grapes and trying to get them to shine and show the characteristics of the terroir rather than conforming to international standards.
As a result, you'll find less varietals you recognize in Bologna (though of course plenty of winemakers will grow grapes you've heard of) – my advice is to ask for a something from a local Bologna winery and try something you've never tasted before.
Lambrusco
Part of the reason I was so excited to come to Emilia-Romagna was to try all the different wines, particularly as I'm a huge fan of Lambrusco. Lambrusco is an Italian red grape served cold and frizzante, which is not quite as bubbly as champagne but definitely fizzy. There are four different grapes which make up the general "Lambrusco" category: Sorbara, Reggiano, Grasparosso, and Salomino. To be honest, I coudn't tell you the differences between them, but I do know that most I've tried are the Reggiano variety, and they've all been delicious.
Lambrusco goes perfectly with Italian meats and is lovely with lunch outside on a hot summer day. The flavors vary, but typically it's very fruity and rich, sometimes earthy, with all the red fruit flavors undercut by the nice punch of bubbles.
Pignoletto
Pignoletto is the yin to Lambrusco's yang: a tangy, fruity sparkling white that also goes perfectly with cold cuts and cured meats. When done properly, Pignoletto has great tartness and acidity to balance out all the aromatics and fruit.
Pignoletto is a bit thicker-skinned than a lot of grapes, which lends it more tannic structure – making it hold up to hearty Bolognese food as well as an interesting wine to enjoy on its own.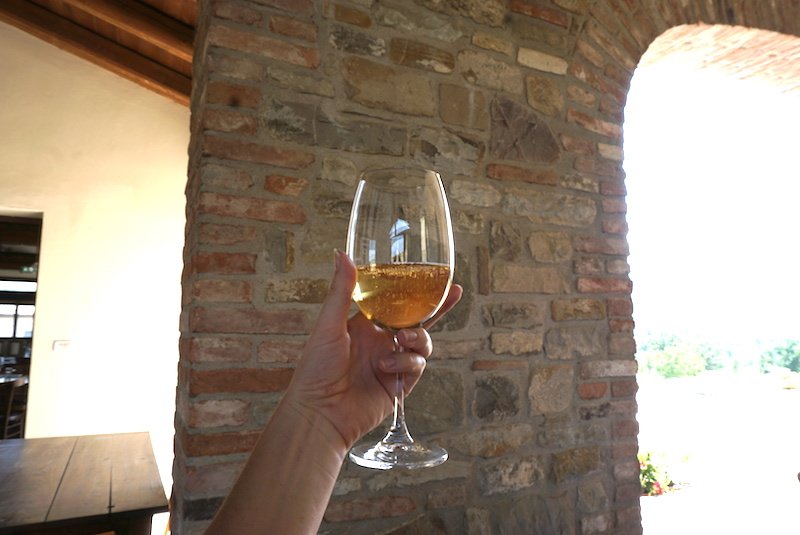 Alionza
Alionza is a cousin of Pignoletto that's fallen a bit out of fashion, as winemakers everywhere rush to produce more Chardonnays and Cabernets. The good news is that those who do grow Alionza do so not because it's a gold mine, but because it's a passion project for them.
Erioli is one such winemaker. He's famous for his Pignolettos, but when given the choice I opted to try Alionza, as it was such a rare opportunity. It was absolutely delightful: smelling of tropical fruit and honey with some pleasant oxidative notes, great acidity, and some minerality for good measure.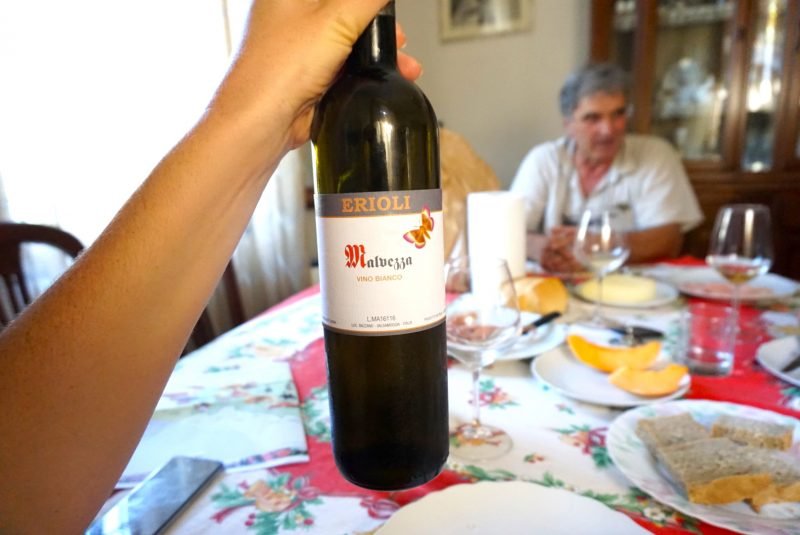 Negretto
Another rare varietal slowly coming back into fashion, negretto is considered one of Italy's secret wines as only a handful of winemakers, all in the Emilia Romagna region, make it. It's quite tannic, fickle when it comes to the heat, and it's fussy — sometimes it works, sometimes it doesn't. You gamble a bit when you vinify Negretto.
But oh, do I wish more people did. Erioli's Negretto was a masterpiece: chocolate, blackberry, coffee, olives, all swirling together on the nose and changing as the wine opened up. It was silky smooth, the tannins tamed by the hand of a master winemaker. One of my favorite wines I've ever tasted, no lie.
Top Restaurants in Bologna
I was too stuffed after my food tours in Bologna to eat dinner two nights in a row, so here are some more thoroughly researched resources:
Where to Stay in Bologna
If you're planning a trip to Bologna, Hotel Novecento is one of the best four star hotels in town. My single room was clean and comfortable, with thoughtful amenities like cookies, coffees, and teas refreshed daily (not that I ever needed to eat any with all the food I gorged on). I appreciated the artful details like the funky pillows, floor-length curtains and stylish lamps.
Plus, the fact that it had a proper workspace was a huge bonus for me! More and more as I blog, I find myself needing a place where I can sit down with my laptop and bang out some work. The great workspace plus excellent wifi (hard to find at times in Italy, oddly) made it a perfect mini home office for the time.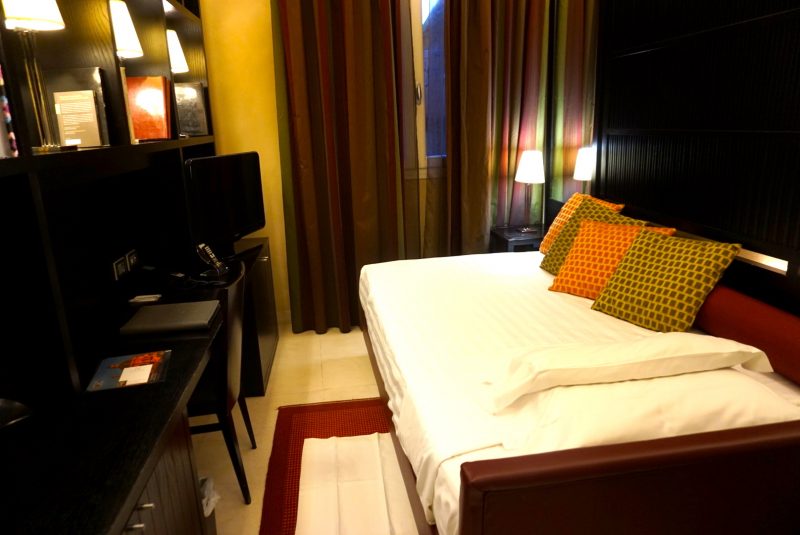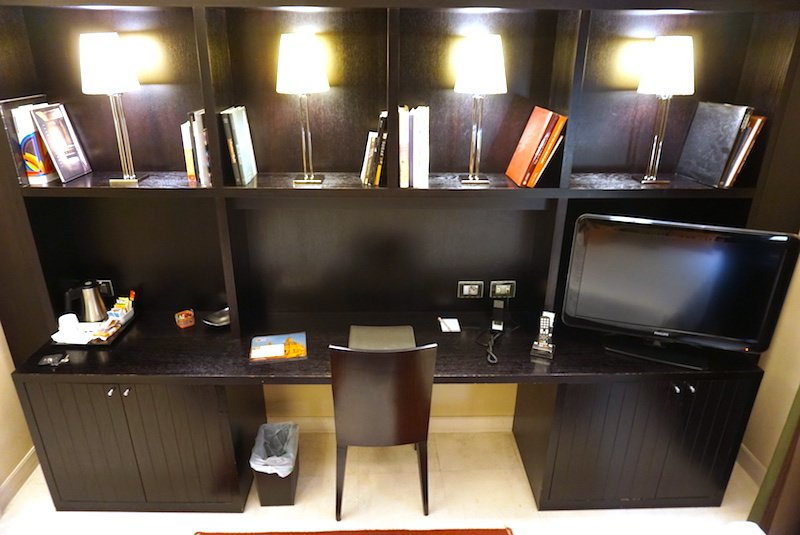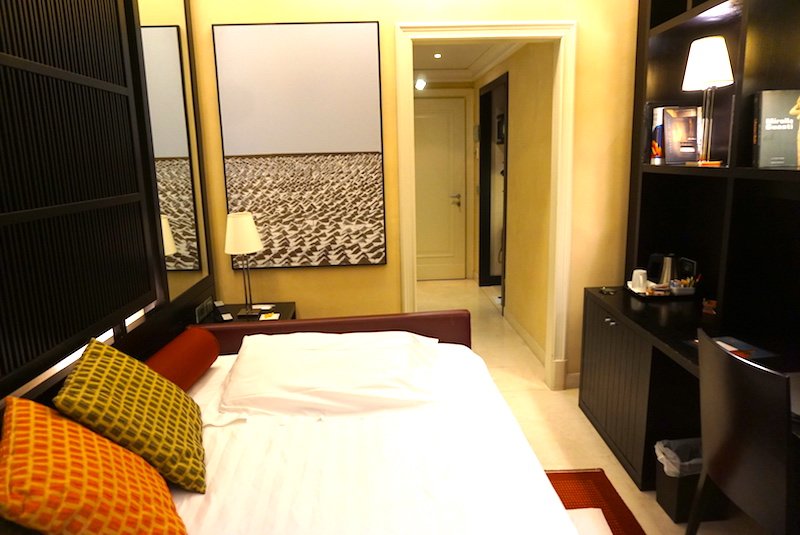 The rooms are small (most rooms in the historic centers in Italy are), but my single was comfortable and plenty of space for one. They also have double rooms if you're traveling with a partner or just want extra space to stretch out in.
Check out rates and availability now.
Note: Thank you to Yummy Italy and Italian Days Food Experience for providing me with complimentary tours during my stay, and to Hotel Novecento for hosting me for two nights. As always, all opinions are my own.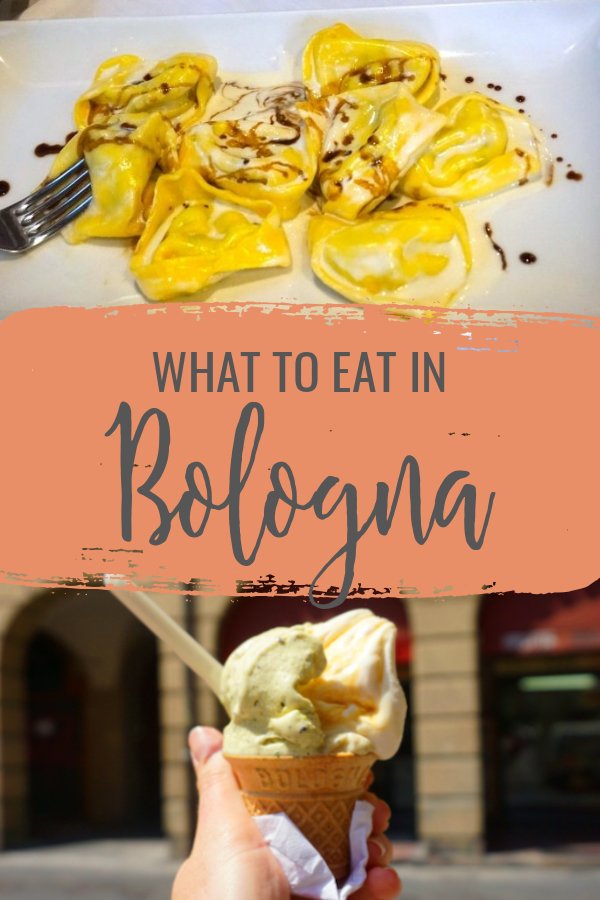 Allison Green is a former educator turned travel blogger. She holds a Masters in Teaching and a B.A. in English and Creative Writing. Her blog posts merge her educational background and her experience traveling to 70+ countries to encourage responsible, enriching travel. She has been a speaker at the World Travel Writers Conference and her writing, photography, and podcasting work has appeared in National Geographic, CNN Arabic, CBC Canada, and Forbes, amongst others. Now a full-time traveler, she has lived in Prague, Sofia, New York City, and the San Francisco Bay Area.