I hadn't thought much about Flagstaff until I started planning a road trip through the U.S., and what a mistake that was.
For all my overseas ventures, I'm not a very experienced domestic traveler. My road trip through the southwest U.S. has me wanting to change this, and no place more so than funky little Flagstaff, Arizona.
This hidden gem in northern Arizona has it all: mountains, proximity to national parks, stunning national monuments, funky breweries, and so much more.
Wondering what to see in Flagstaff? You're not alone – read on to see all that this great city has to offer!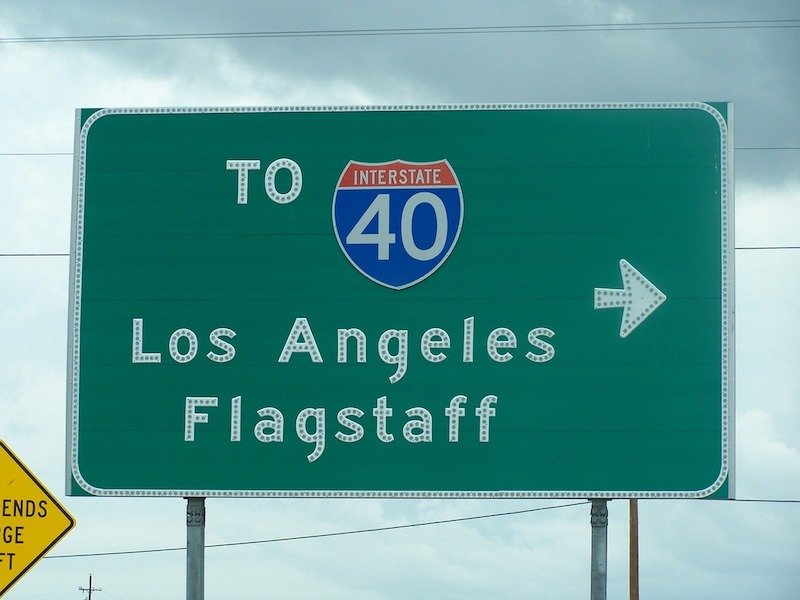 Note: This post contains affiliate links, which means I may receive a small commission if you purchase something through one of these links. Thank you for supporting the free content on this site! For more information on affiliate links and cookies, see my disclosure page for more details.
To the shock of the U.S.-geographically challenged (aka me), Arizona is not all desert. Quite the contrary, in fact: Flagstaff is located at an altitude of nearly 7,000 feet, and it's surrounded by mountains reaching higher than even 12,000 feet! As such, it's actually a ski resort in winter.
I always brag to people who aren't familiar with California that we have amazing mountains just 3 hours from San Francisco where you can ski and snowboard; I had no idea Arizona could boast the same! So, if you're wondering what to see in Flagstaff, Arizona, there are plenty of outdoorsy activities with stunning mountain views — not to mention the fact that the Grand Canyon is just a 90-minute drive away!
What to See in Flagstaff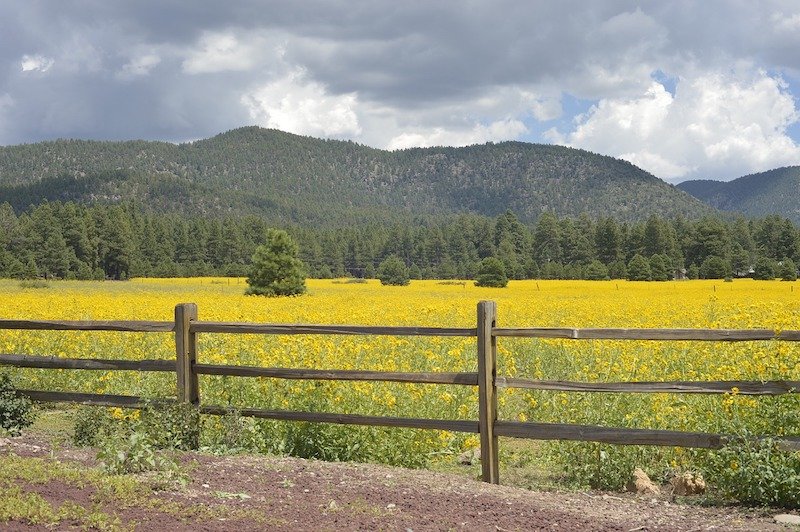 Go ziplining with Flagstaff Extreme
Since Flagstaff is mostly a winter destination for Arizonians (I'm assuming that's a word, as Grammarly isn't correcting me), Flagstaff Extreme opened to have an activity that people visiting Flagstaff can do in the summer when the ski season is over. They offer adventure courses and ziplining through the forests of Flagstaff, and it's without a doubt one of the most fun things to do in Flagstaff.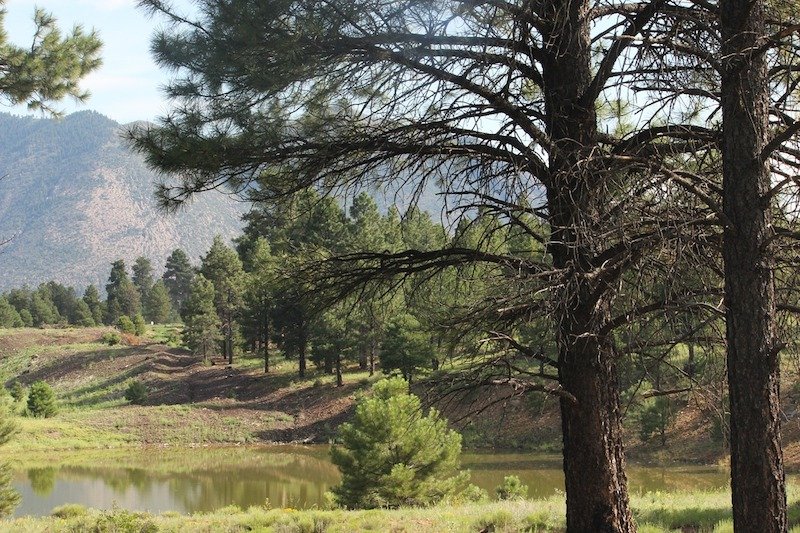 It was actually my first time ziplining — I'm not the world's most gutsy adventurer, to be frank — and I had a surprisingly good time channeling my inner flying squirrel and shooting between the trees. Just be sure to dress warm if you start early in the morning — that Flagstaff altitude will get you!!
Curious about ziplining? My travel buddy Janet filmed a video — please excuse my demonic, possessed scream as my life flashes before my eyes.
Catch the sunset (what else?) at Sunset Crater Volcano National Monument
We arrived in the early evening in Flagstaff from Vegas and quickly booked it over to Sunset Crater Volcano National Monument just in time for one of the most beautiful sunsets of my life!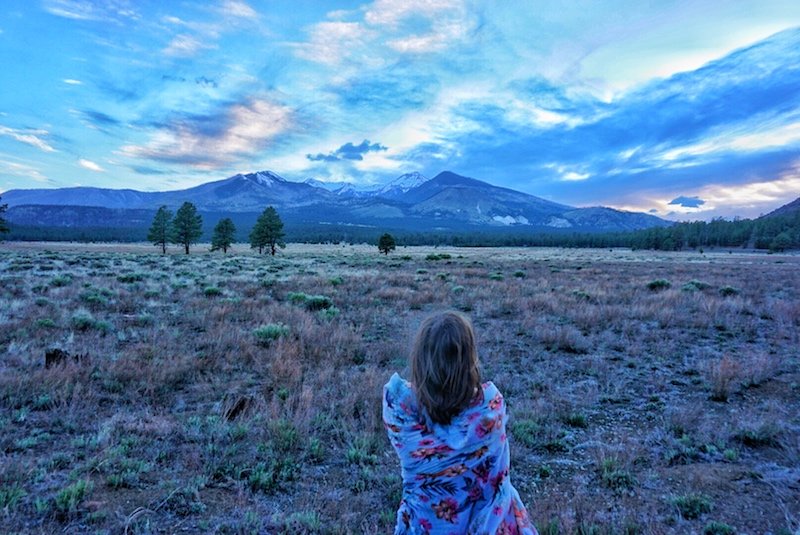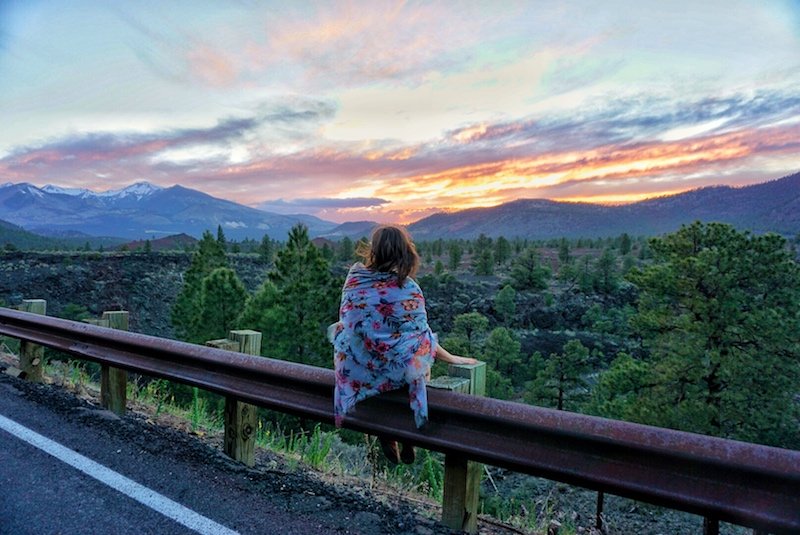 Seriously, this place is the best sunset spot in all of Flagstaff – just look at those views of the mountains!
Sunset Crater also has tons of hikes and trails you can take, including the Lava Flow trail which should take you approximately one hour. There are some other popular trails — the Lenox Crater trail and the Aa Flow trail — plus you can hike to the top of O'Leary peak if you want a more physically challenging hike. If you're wondering what to see in Flagstaff — this is it.
Check out the craft beer scene
Flagstaff is home to some fantastic breweries which also serve delicious food. Flagstaff Brewing Company is a local favorite, as is Mother Road Brewing Company.
It's a great way to unwind with friends after a day of hiking and exploring, so definitely don't forget to check out the local scene!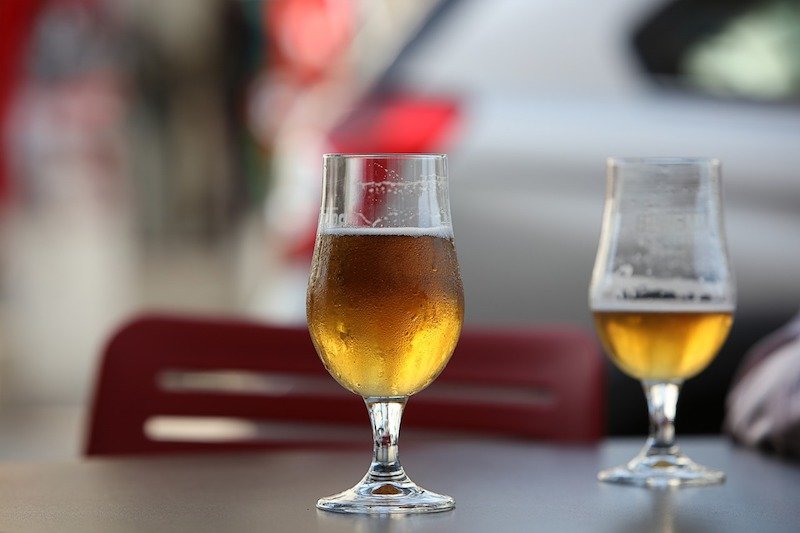 Take a day trip to Sedona
A mere 30 minutes from Flagstaff are the famous red rocks of Sedona, Arizona. Here, you can find tons of hippie art galleries, delicious restaurants, spas galore, and — what appeals to me most — tons of amazing hikes among stunning red rock formations.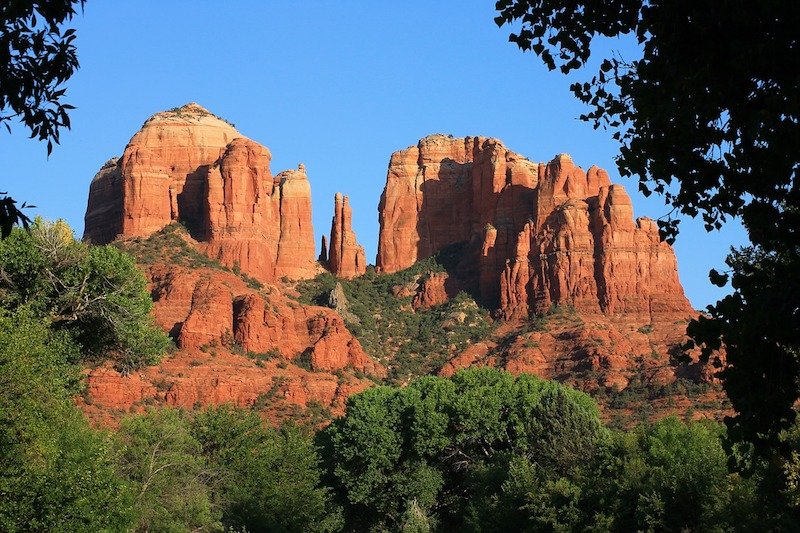 A cool off the beaten path thing to see in Sedona is the Church of the Holy Cross – a chapel built into the side of a mountain. I've been traveling a lot, but I've never seen anything quite like it!
Just look at how crazy that architecture is!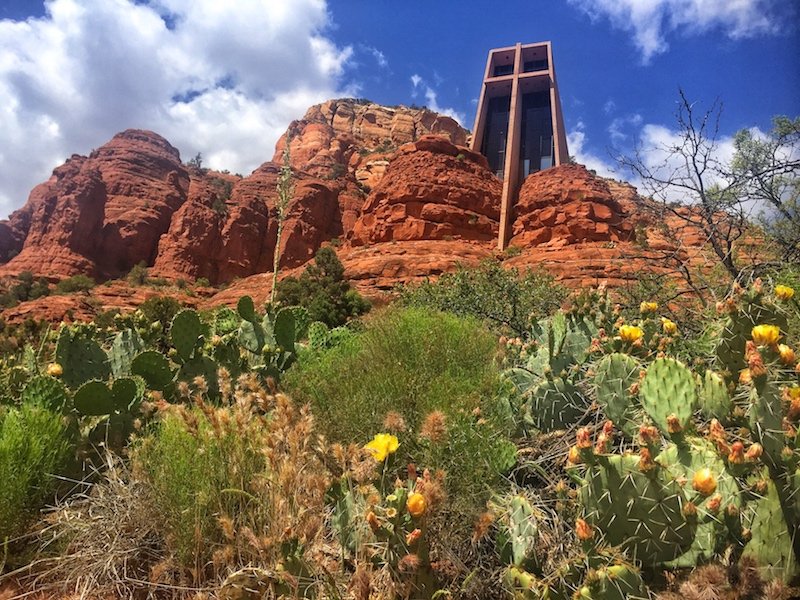 Visit the Grand Canyon, of course!
But let's get real — the real reason tourists flock to Flagstaff is to be close to the Grand Canyon, the most famous of Arizona's national parks, while still enjoying the perks of a large, funky city.
The South Rim of the Grand Canyon is perfect for sunset. Walk about 25 minutes from the visitor's center, towards the left once you hit the main path, and you'll find one of the most perfect sunset spots you can imagine.
It's easy to drive to, but if you are unable to drive, you can take a day trip – check rates and availability here.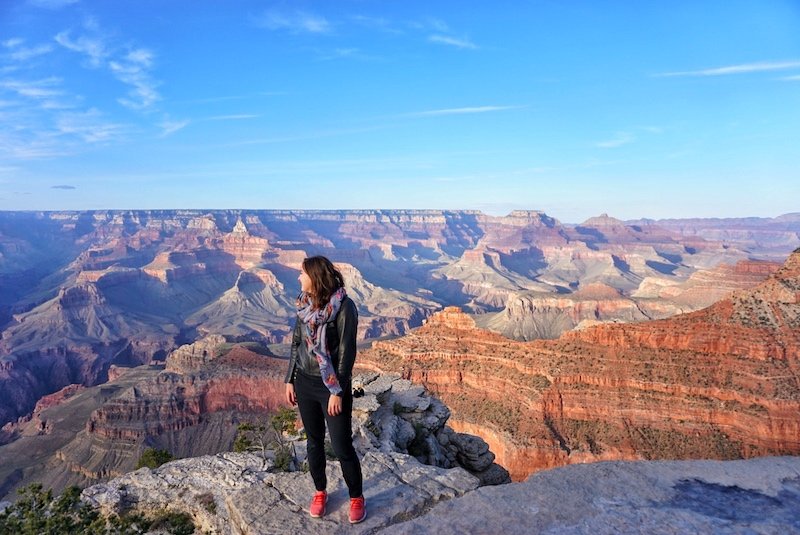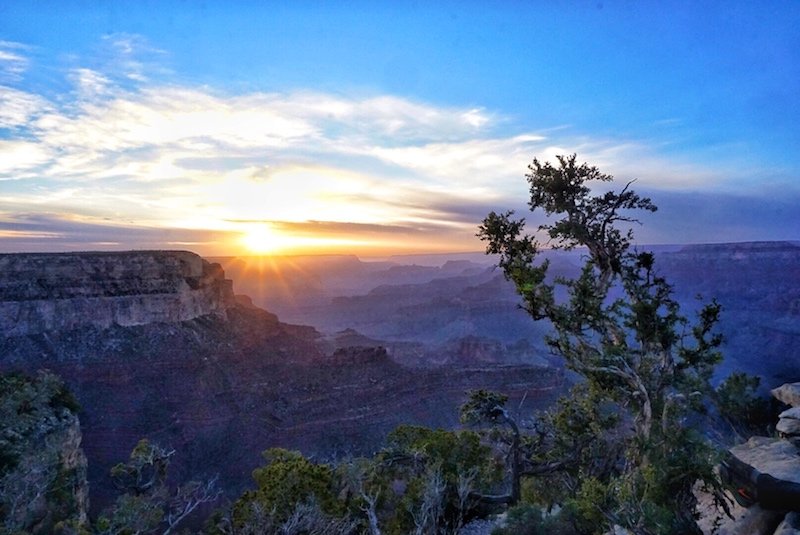 Going from Flagstaff is also one of the better ways to get to Havasu Falls, if you're interested in seeing one of the most beautiful hikes in Arizona. Be aware that this is a difficult hike – 10 miles in total and quite difficult – and you'll need to arrange reservations and permits, as the hike is on Native American land (the Havasupai people to be precise, who have lived in the Grand Canyon for at least 800 years).
Where to Stay in Flagstaff
If you're looking for a central location with all the standard amenities (and then some!) the Hilton Doubletree Flagstaff will suit you perfectly. With cozy double beds, ample office space, and oh yeah — warm home-baked cookies on arrival — you really can't complain.
There's a delicious on-site restaurant serving standard fare as well as delicious Japanese sushi and hibachi plates, which is perfect for when you're beat from a day's exploring and want high-quality food without having to stray far from your comfortable bed.
Check rates, reviews, and availability here.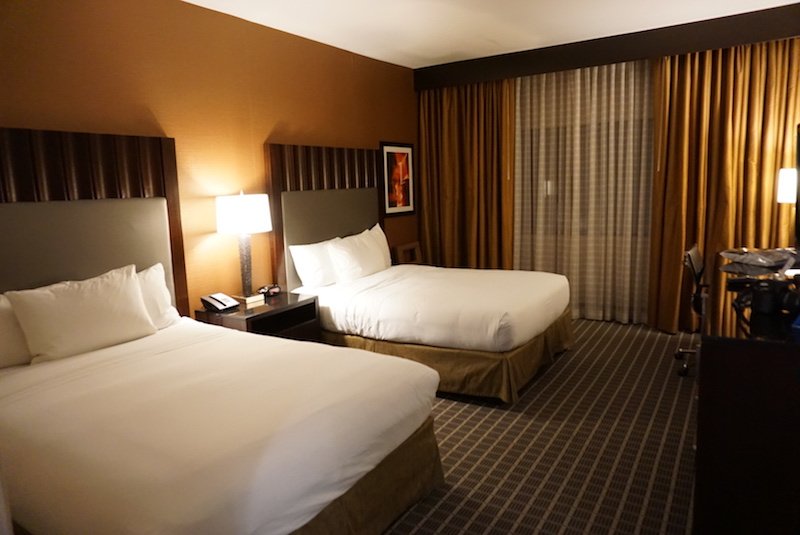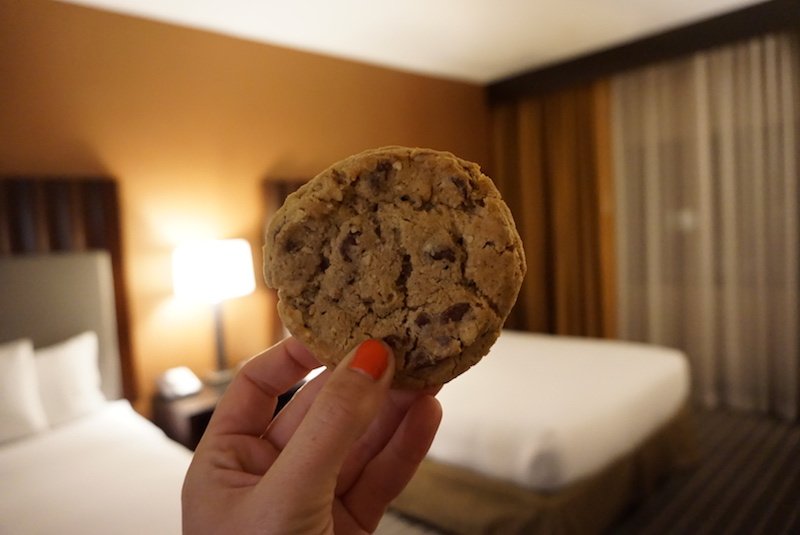 Travelers on a budget, be warned: the U.S. and especially the Southwest is not a friendly place for budget travelers. The cheapest option in town is the Motel 6 and even that is around $100 per night.
If you have a bit more money to spend, Little America Hotel Flagstaff is one of the top-rated hotels in town, and it isn't that much more than other options in the city. Check rates and availability here.
Note: A huge thanks to Visit Flagstaff and Hilton Doubletree Flagstaff for hosting us during our magical stay in Flagstaff.
Allison Green is a former educator turned travel blogger. She holds a Masters in Teaching and a B.A. in English and Creative Writing. Her blog posts merge her educational background and her experience traveling to 70+ countries to encourage responsible, enriching travel. She has been a speaker at the World Travel Writers Conference and her writing, photography, and podcasting work has appeared in National Geographic, CNN Arabic, CBC Canada, and Forbes, amongst others. Now a full-time traveler, she has lived in Prague, Sofia, New York City, and the San Francisco Bay Area.