Perhaps no architect in the world is identified with one city as much as Antoni Gaudí is with Barcelona.
His iconic style gives the city much of its unique character, and it's impossible to talk about its architectural history without paying tribute to his work
His works are dotted throughout the city – both world-famous masterpieces, and lesser-known early contributions just waiting to be found.
Most Interesting Gaudí Buildings in Barcelona
Sagrada Família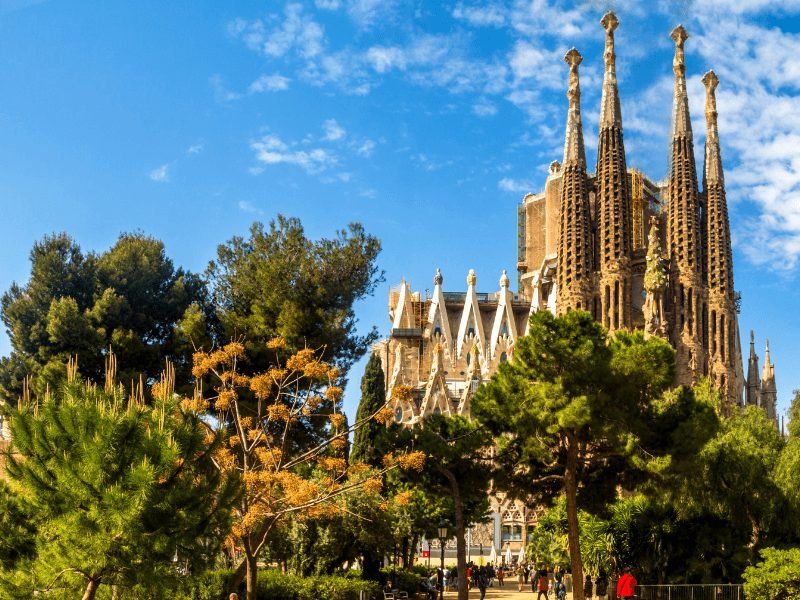 Note: This post contains affiliate links, which means I may receive a small commission if you purchase something through one of these links. Thank you for supporting the free content on this site! For more information on affiliate links and cookies, see my disclosure page for more details.
Let's start with the most obvious Gaudí site, the Sagrada Família.
This basilica – not a Cathedral, by the way – is arguably the most iconic building in all of Spain. 
Set to finally be completed in 2026, exactly 100 years after Gaudí's untimely death in a traffic accident, La Sagrada Familia is an ever-changing masterpiece.
That means that even if you have seen it before, a repeat viewing will never disappoint!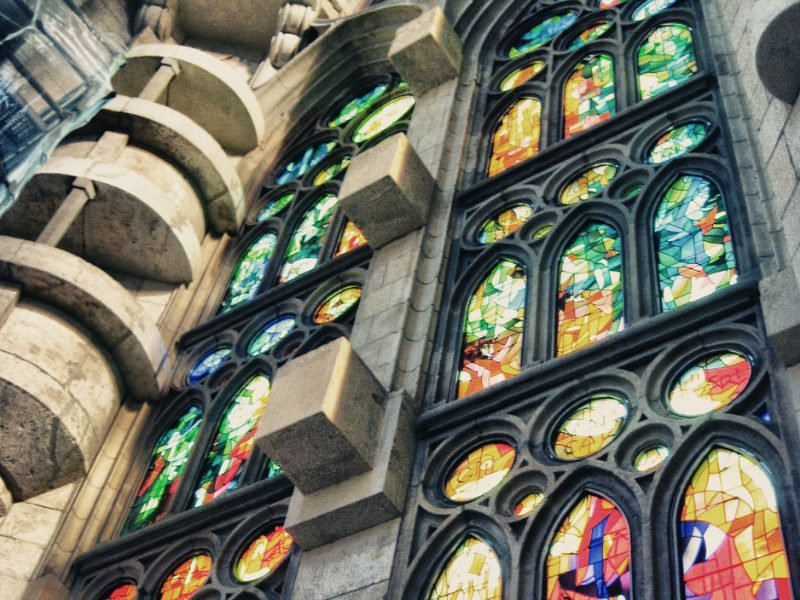 Its exterior can be admired in comfort, with parks either side of it affording plenty of opportunities for photographs and leisurely contemplation, but its interior is just as arresting.
A trip inside is a must for architecture fans (as well as aesthetes, photographers, and anyone who likes color).
The colorful rays of light from the stained glass mixed with undulating architecture is like nothing you've ever seen before!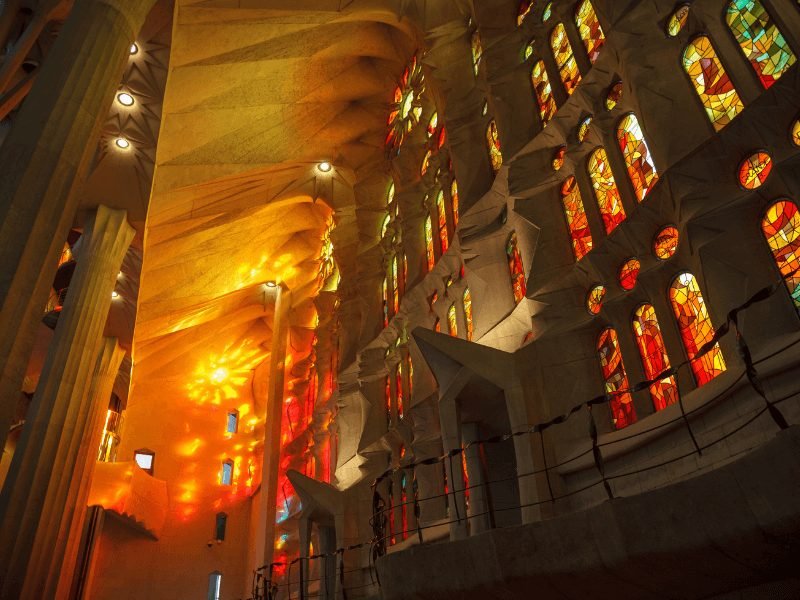 Tickets are not cheap – €26 for individuals – but in spite of the price, they're in high demand, so book in advance on the official website.
Tickets to climb the basilica's vertiginous towers cost more, but for anyone looking for an amazing climb and view, it's definitely worth considering!
Casa Calvet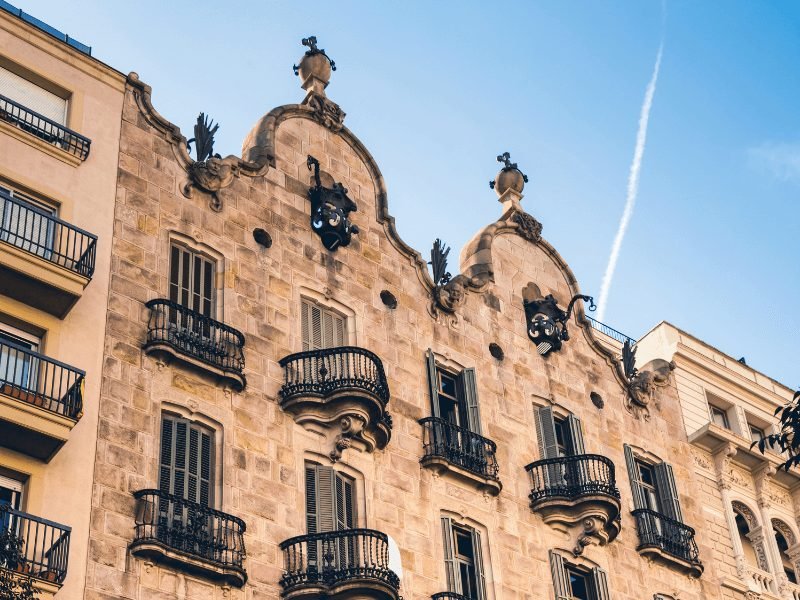 A visit to Sagrada Família can also be combined with a visit to Casa Calvet, a lesser-known Gaudí sight in Barcelona.
About a 25-minute walk south from La Sagrada Família, or a block north from Urquinaona metro, Casa Calvet is an early work by Gaudí.
It's not often visited, and it's vastly overlooked by the majority of tourists who walk past it each year, blissfully unaware of its significance. 
The building is attractive and sinuous in the way that hundreds of moderniste buildings are in Barcelona. 
However, this is testament to its influence on where Barcelona's architecture would later go: a trend-setter, so to speak.
Several of the motifs here – sensuously bulging balconies, ornate rooftops and imagery from the natural world – went on to become staples of the city's most upscale architecture at the time!
Park Güell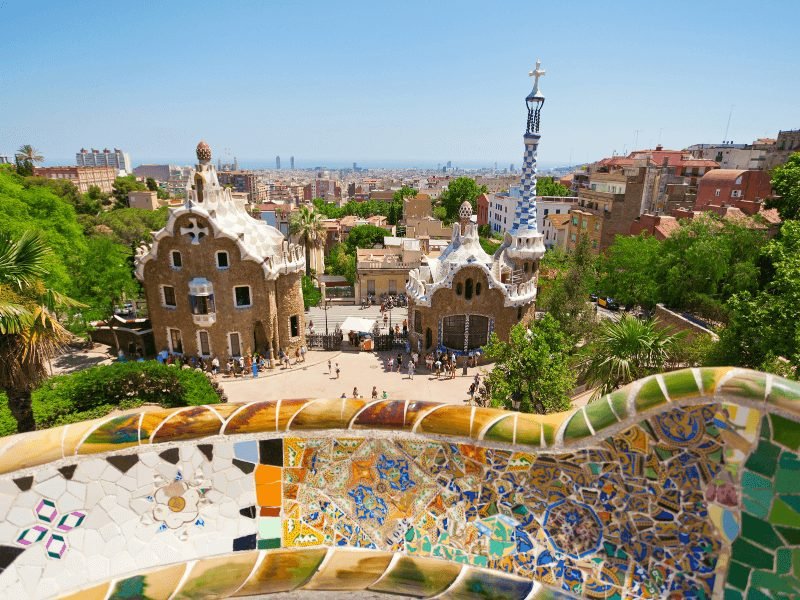 Speaking of upscale, Park Güell has a very curious history, quite different from its current status as the city's most visited public park.
Time for a little history lesson!
Eusebi Güell was an entrepreneur who commissioned a number of works by Gaudí, and this park was originally conceived as a British-style retreat from the city – hence the English spelling of "park".
This origin also explains why it is a little bit removed from the city center: to be remote, away from the crowds.
Brace yourselves: it's at the top of a hill, which means you either want to take a taxi from a nearby metro (Lesseps or Vallcarca) or hail the cute 116 Bus from Plaça de Lesseps.
To get some steps in, put on a pair of decent sneakers and haul yourself up the San Francisco-steep Baixada de la Gloria (with a little much-appreciated help from the available escalators).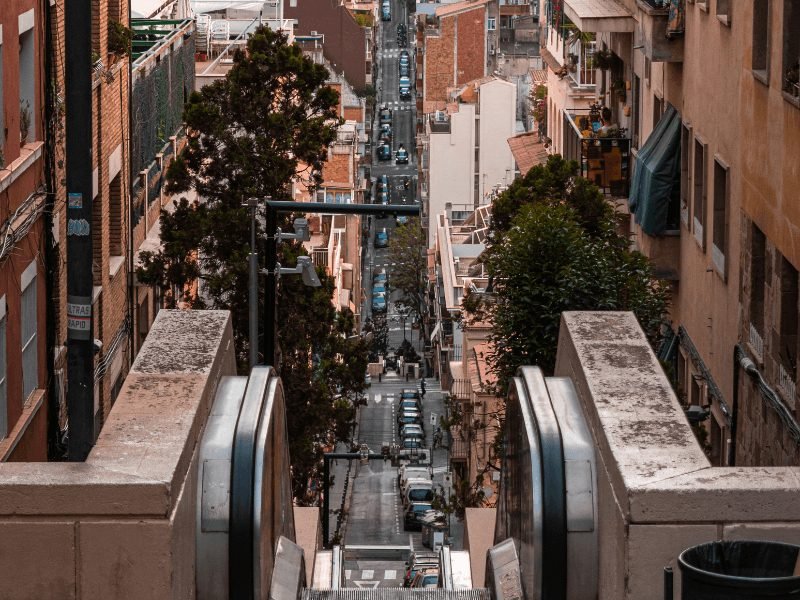 The park's entrance is straight out of a fairy tale: two buildings, originally gate houses for the park, look like they have been carved out of gingerbread.
Today, they house a gift shop and restaurant: convenient, since you can sneak a peek at its interiors for free while you pick up a couple souvenirs or grab a quick bite.
Once inside the park, you can keep going up, taking the stairs past the park's famous salamander sculpture, to the shaded marketplace-like space under the Plaza de la Naturaleza terrace.
Buskers often play here, taking advantage of the amazing acoustics and inspiring views.
If you take the winding stairs uphill you will get to the plaza itself, which is dominated by an endless winding mosaic bench.
Entrance to this area costs €10, but it's worth it for the photo opportunity!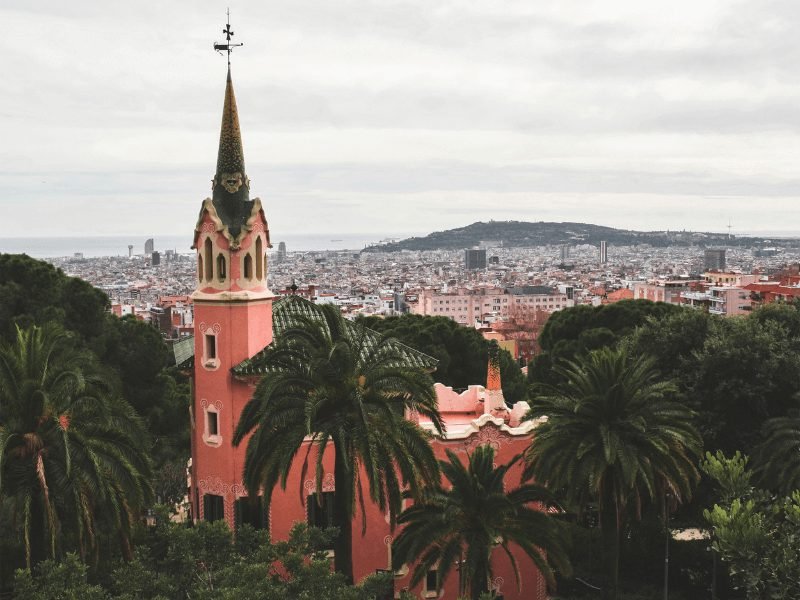 Still further uphill, you'll find the Gaudí House Museum, where Gaudí lived until his death.
Fascinatingly, the park never really worked out as a commercial concern.
It was handed over to the city to become a public park, and the rest, as they say, is history.
Palau Güell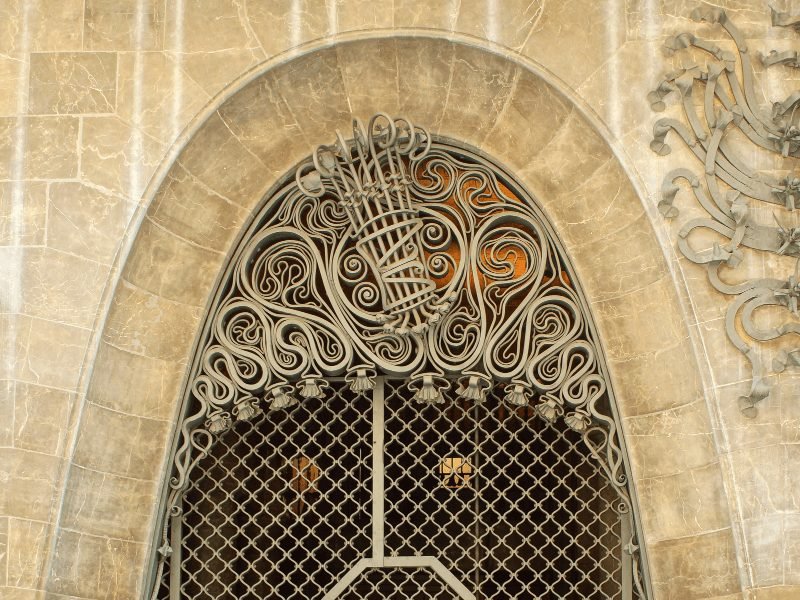 Güell's collaborations with Gaudí don't end there.
In 1886, Güell commissioned Gaudí to design Palau Güell, a mansion just off the Rambla and a stone's throw from the famous La Boqueria market.
As an earlier work, it's not as identifiable as Gaudí's major pieces.
Perhaps its interior has more examples of Gaudí's touch and flair than the outside, which is grand and imposing.
That said, in a part of town where many buildings are grand and imposing, it's easy to miss.
Güell Pavilions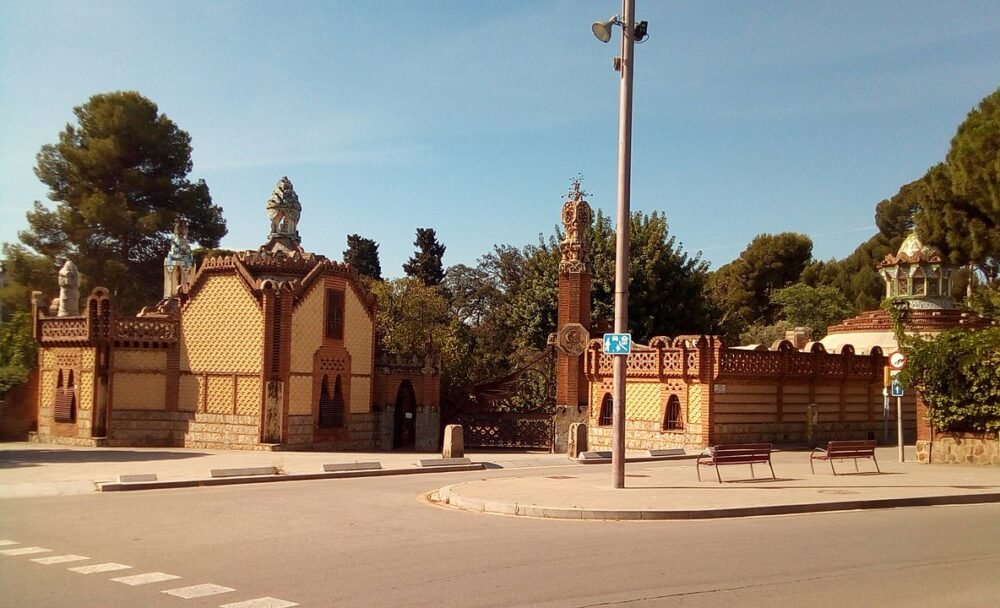 Uptown, in an entirely more serene area, you find the Güell Pavilions, a series of small buildings at the top end of the gorgeous Palau Reial park.
These buildings showcase a mixture of influences, with some parts resembling Gaudí's trademark style and others demonstrating an interest in Eastern, Gothic and Moorish architecture.
Palau Reial is a bit out of the way for most tourists, but I think it's worth it.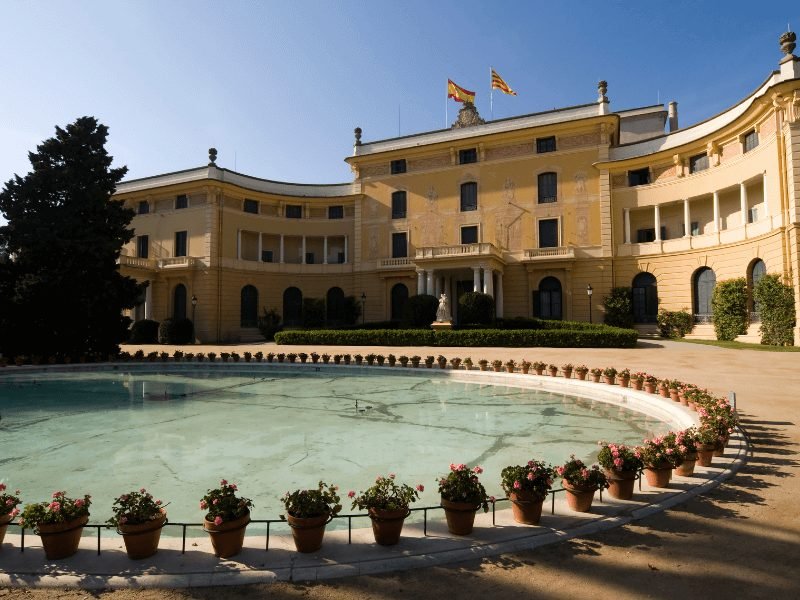 Especially if you're considering making the journey to Camp Nou, this is a nearby attraction worth combining.
Palau Reial has a totally different feel from the rest of the city, tranquil and – as the name suggests – regal.
Casa Milà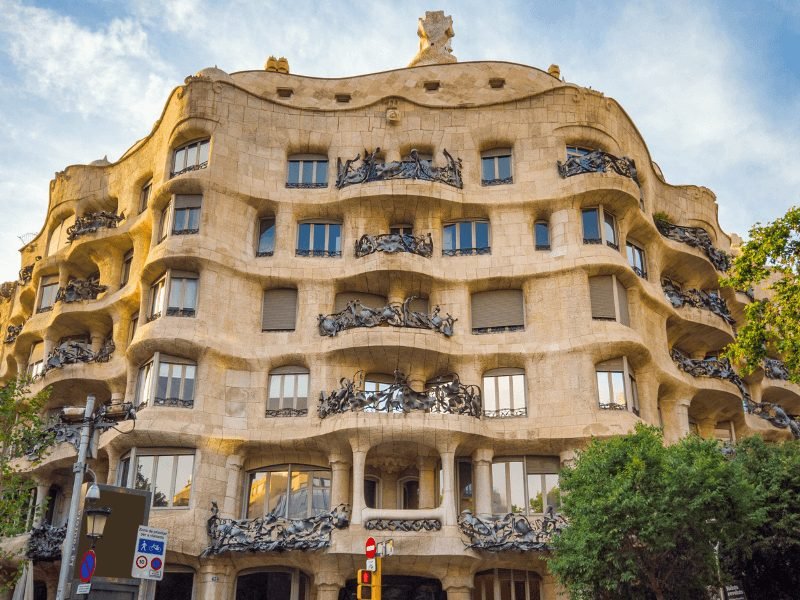 Next, our tour of Gaudí's Barcelona moves on to Passeig de Gracia, one of the city's most elegant high streets.
At the Diagonal Metro station end of the street, you'll find Casa Milà, also known as La Pedrera.
Like Güell, Pere Milà was a Catalan big-shot.
He commissioned Gaudí to design a show-stopping residential building, with the idea being that the Milà family would occupy one floor while renting out the others.
"La Pedrera" means "the quarry" and is a very apt name: even by today's standards the building looks totally unique, as though it has been hewn out of the face of a cliff and sanded into its audaciously winding shape.
The rooftop is particularly unique too, and definitely worth a visit.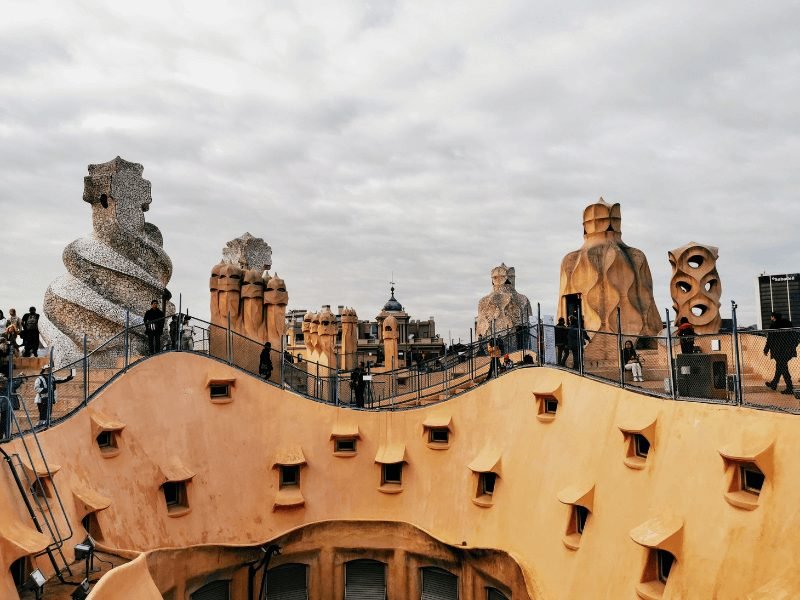 At the time of its completion, it was so revolutionary that it was the target of heavy criticism.
It has passed through periods of neglect since then – at one time it even served as a bingo hall!
Since 1986, it has been owned by the Catalan building society Caixa Catalunya, which has restored Casa Milà and turned it into a fully-fledged tourist attraction. 
Entry costs €25, and though the building can be enjoyed from outside, a quick Google Image Search will give you an idea of how special a tour of the interior can be.
Casa Batlló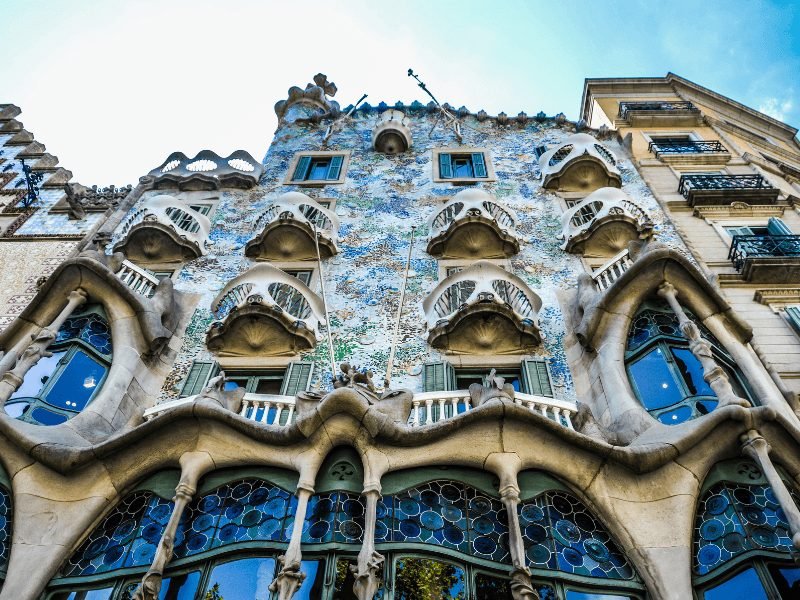 Still in Passeig de Gracia, a few blocks down from Casa Milà, is Casa Batlló. 
In 1906 – around the same time he was designing La Pedrera – Gaudí was approached by industrial magnate Josep Batlló.
He wanted to convert his unremarkable family home into something more suited to a man of his status. (Are you noting the common theme here?)
Gaudí actually talked Batlló out of demolishing the site and starting over.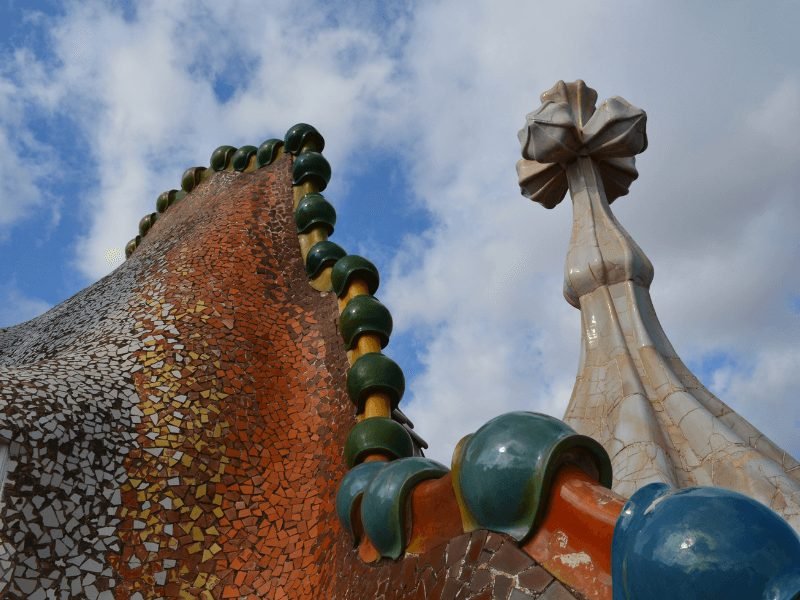 Instead, he totally renovated the building, and today its colorful façade, curvaceous windows and fairytale rooftop are all unmistakably Gaudí.
What exactly the rooftop resembles is up to your personal interpretation, but I see the shape of a dragon's back!
Tickets cost €29 for adults, with children under 12 admitted free of charge.
Hidden Gem Gaudí Sites in Barcelona
The rest of this article is written for those travelers among you who just love to seek out destinations off the beaten path, so get ready for some hidden gems.
Yes, even with a name as recognizable as Gaudí, he does have some buildings that still fly under the radar: here they are.
Casa Vicens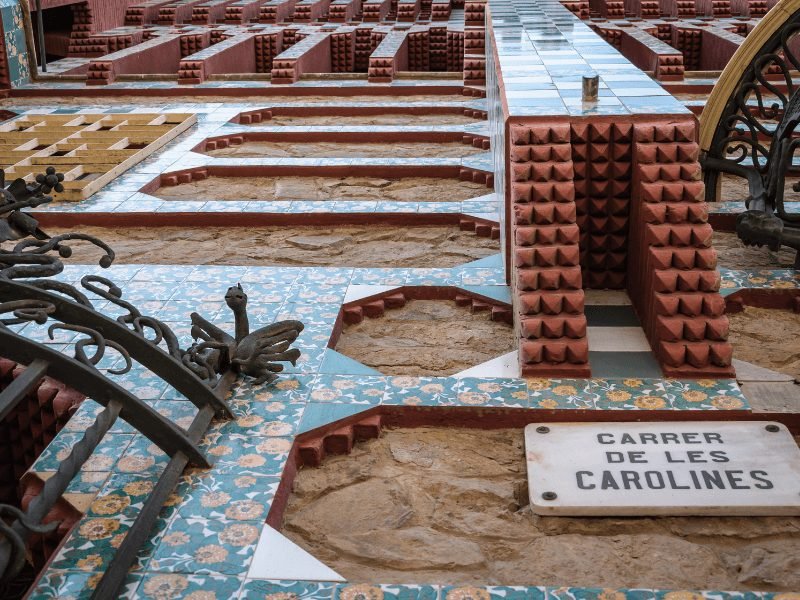 The beautiful Gaudí construction, Casa Vicens, is not far from the action.
It's a few minutes' walk from Fontana, the metro station which serves the lovely Gracia neighborhood.
That said, it's often missed because it is tucked away on an otherwise unremarkable street, Carrer de les Carolines.
Considered to be Gaudí's first major project, Casa Vicens is quite different from his more famous pieces.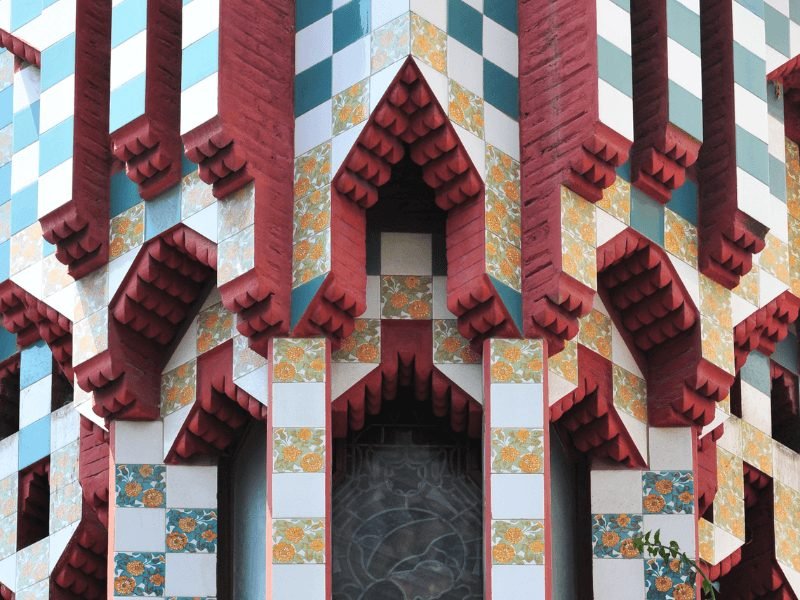 While the use of vibrant colors is certainly eye-catching, the design is dominated by straight lines and geometric patterns, just like the window detailing seen in the above photo.
More than his other works, this particular Gaudí building is perhaps more remniscent of the Muslim-influenced architecture of southern Spain.
The building has changed hands many times and was used as a family home as recently as 2014, but it is now recognized as a UNESCO World Heritage site.
College of Saint Teresa-Ganduxer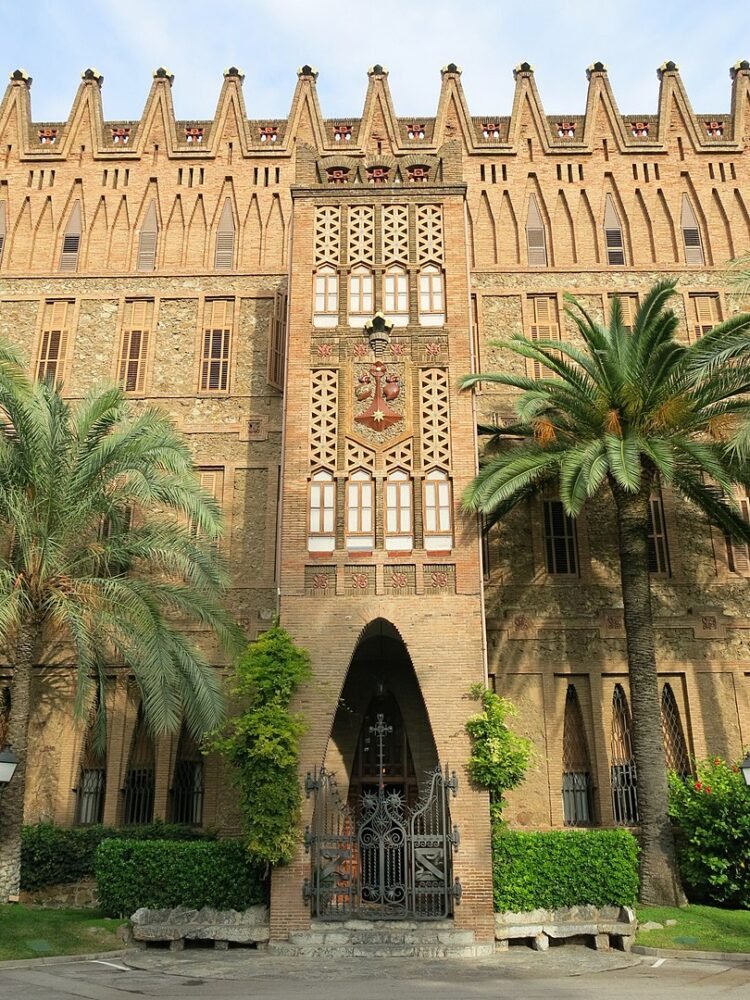 Photo Credit: By Enfo – Own work, CC BY-SA 3.0, via Wikimedia Commons
Further uptown is the Bonanova neighborhood, where the city meets the foot of the Tibidabo mountain range. 
This area is full of huge, extravagant mansions, which gives it a ghostly charm of its own.
This atmosphere might be why it is the setting for much of Carlos Ruiz Zafon's thriller The Shadow of the Wind!
The College of Saint Teresa-Ganduxer, a private Catholic school completed in 1889, certainly contributes to that atmosphere. 
Gaudí's commission was to build an economical base for the city's Teresian nuns, and that sense of austere function is reflected in the form of the resulting building.
Despite its otherworldly austerity, the building still features some of Gaudí's lighter touches, especially in the ornamentation of the rooftops.
Bellesguard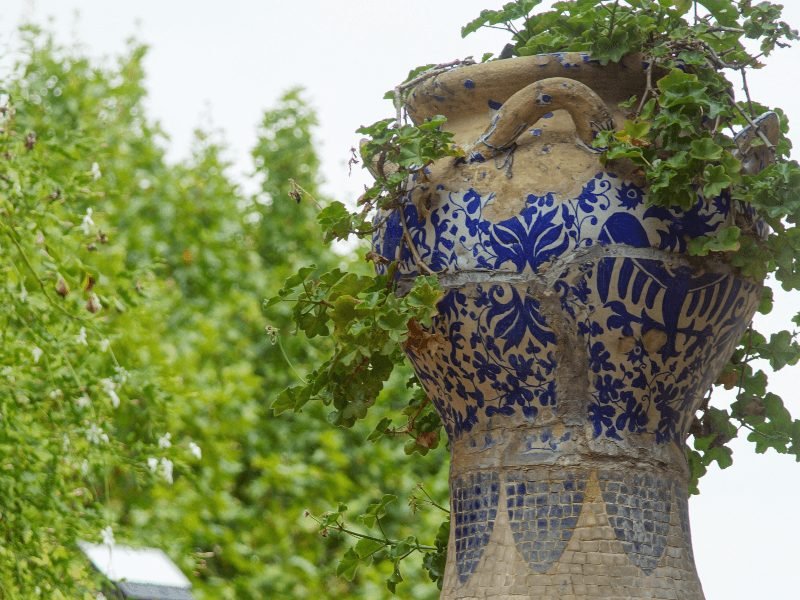 About a mile uptown from the college, you will find Bellesguard, a mansion house also known as Casa Figueres.
Meaning "beautiful view" in Catalan, Bellesguard was commissioned in 1900 by the Figueres family.
They wanted Gaudí to take inspiration from the ruins of the medieval castle located on their land.
More recognizably a Gaudí work than the College of Saint Teresa-Ganduxer, Bellesguard has elements which call to mind the college's classical lines.
However, it also more characteristic flourishes on the windows and tower, foreshadowing what Gaudí would go on to do in the later works that made him famous.
A visit inside is recommended, mostly to see the building's quite idiosyncratic roof! 
The story of Saint George is very important in Catalonia, and Catalans actually exchange books and roses on Saint George's Day every year.
Gaudí makes a playful nod to this tradition here, with the roof and windows specially formed to resemble the snout of a (hopefully benevolent) dragon.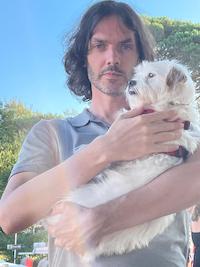 Leo McPartland flew to Barcelona on a romantic whim in 2009 and never made it home. He spends his time wandering the city's streets, beaches and mountains and is at his happiest discussing language learning, comedy and his creative pursuits. He is still more than capable of getting totally lost in Barri Gòtic.