When it comes to picking out the best dive computer, there's a lot of noise to cut through.
Air integration this, trimix that: it can get quite confusing if you don't know all the proper terminology, especially if you're a beginner diver looking for your first dive computer.
Don't worry, though: this post aims to demystify the best dive computers for beginners, without all the technical mumbo jumbo, because that has me running screaming for the hills.
I'll admit it: I'm a proud Luddite, which is a bit ironic for being a person who makes her living online.
However, technology and I have never gotten along, and my ADHD means that my frustration tolerance equals that of a toddler.
I want something easy. I want something intuitive. I want something affordable.
But I also don't want something that will break or be useless in a few years, because let's face it: dive addiction is a disease and it's terminal.
Your relationship with your dive computer will be one of the most important relationships you have. OK, I'm being a little extra here, let me get serious again.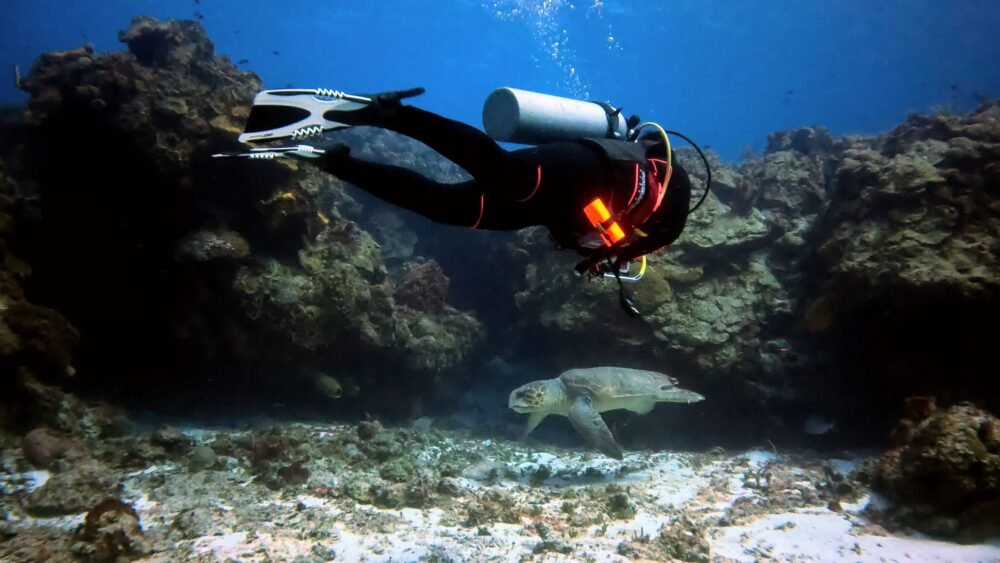 Note: This post contains affiliate links, which means I may receive a small commission if you purchase something through one of these links. Thank you for supporting the free content on this site! For more information on affiliate links and cookies, see my disclosure page for more details.
Ahem. After your regulator, your dive computer is the most important safety tool in scuba diving there is.
However, regulators are bulky, difficult to transport, and often easier to rent at your destination.
They're expensive and they need to get serviced about once a year, which can also add up costs.
They're not the first thing I recommend people buy when they're getting their dive gear all squared away.
A dive computer, however, is something you should have from the get-go: it's one of the few essentials on my dive trip packing list.
While you can borrow a dive computer from a dive shop (I did for my first 15 or so dives), having your own dive computer that you are intimately familiar with will bring your diving up a level.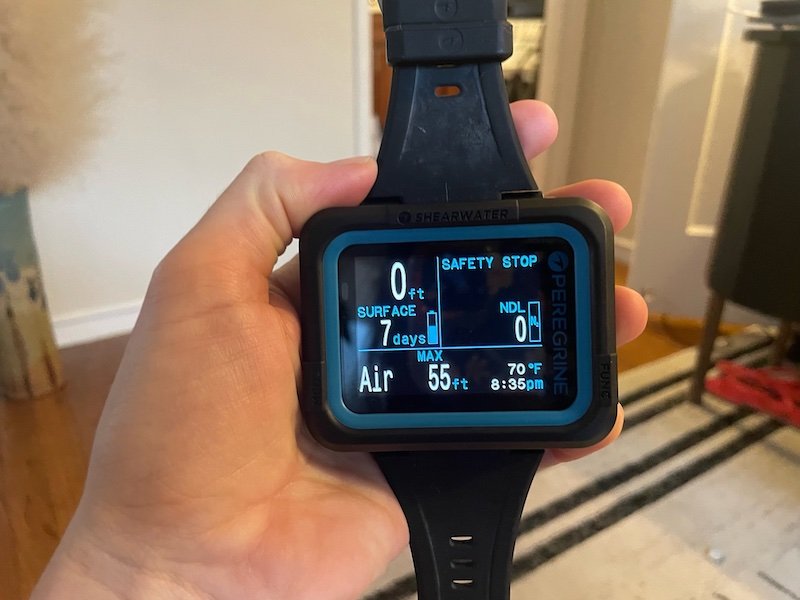 Your scuba diving computer is exactly that: a complex machine that calculates RGBM dive tables, informs your dive plan, monitors every aspect of your dive from current depth to ascent rate, and more.
It helps you know that your surface interval has been sufficiently timed, and as you become a more advanced scuba diver, you'll learn its other features like gas switching and entering in the right gas blend for nitrox mode, NDL planning, and checking your dive profiles.
For this post on the best beginner dive computers, I'm going to focus on what a recreational diver needs.
This post will only look at entry-level dive computers, since that's my current knowledge area and where I focused my research while I was deciding what dive computer to buy.
It may not be the longest list on the internet, but I think that's probably better — there's already a lot of information out there and decision overwhelm, so I've tried to simplify it as much as possible.
Beginner Dive Computers at a Glance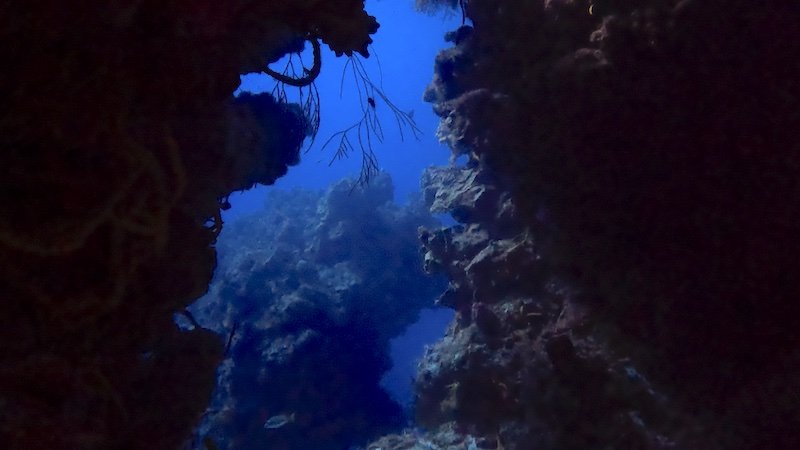 I'll go into more detail about these dive computers in the review section below, but here's a quick table to compare them.
Since the prices do change, I chose to categorize them in a price range from $ (cheapest) to $$$$ (most expensive).
Click the link to see current, most-up-to-date prices.
| | | | | | | |
| --- | --- | --- | --- | --- | --- | --- |
| Model | Shearwater Peregrine | Aqua Lung i300c | SUUNTO Zoop Novo | Deepblu Cosmiq+ | Garmin Descent | Leonardo Cressi |
| Display | Full color LCD | Backlit LCD | Backlit LCD | Full color LED | Full color OLED | Backlit LCD |
| Algorithm | Bühlmann ZHL-16C | RGBM / Bühlmann ZHL-16C [dual] | RGBM | Bühlmann ZHL-16C | Bühlmann ZHL-16C, GFN | RGBM |
| Depth Rating | 120m/394ft | 100m/330ft | 80m/262ft | 100m/330ft | 100m/330ft | 120m/394ft |
| Wireless Connectivity | Bluetooth | Bluetooth | None [USB connection with cord purchased separately] | Bluetooth | Bluetooth, ANT+ | None |
| Battery | Rechargeable | User-Replaceable | User Replaceable | Rechargeable | Rechargeable | User Replaceable |
| Compass | Not on wrist dive computer; only on console | None | Not on wrist dive computer; only on console | None | 3-axis tilt-compensated | None |
| Price Range | $$$ | $$ | $$ | $$ | $$$$ | $ |
Best Beginner Dive Computers: What I Picked + 5 Other Great Options
Overall Best Dive Computer for Beginners: Shearwater Peregrine Dive Computer
However, it has several features that are far superior to the most budget dive computers on this list, so I'll explain why this is the dive computer I personally chose to buy…. and why I have not a single regret.
First and foremost, the Shearwater Peregrine is for recreational divers who want a dive computer that will grow with them, without being too intimidating to use from the get-go.
It has all of the basic features a beginner diver needs (multi-gas usage with nitrox and trimix modes, NDL dive planning, depth monitor, ascent rate monitor) but several other advantages over other dive watches.
The main perk is its large, easy to read interface. It is a bit bulky with a more rectangular face as opposed to the round, wristwatch-style dive computers.
However, that larger size (a little over 2" wide) means that you have lots of room for the important data you need to monitor during a dive, without any need to toggle between modes or screens.
You likely won't need to touch your dive computer a single time during your dive, which is ideal for new divers.
Another reason I love the Shearwater is its crisp color display that draws your eye to the most important parts of the watch and the sheer (heh) readability of the watch.
It's very clear what numbers mean what, whereas I've used other dive computers as rentals from dive shops where I'm not always clear what number means exactly what on first glance.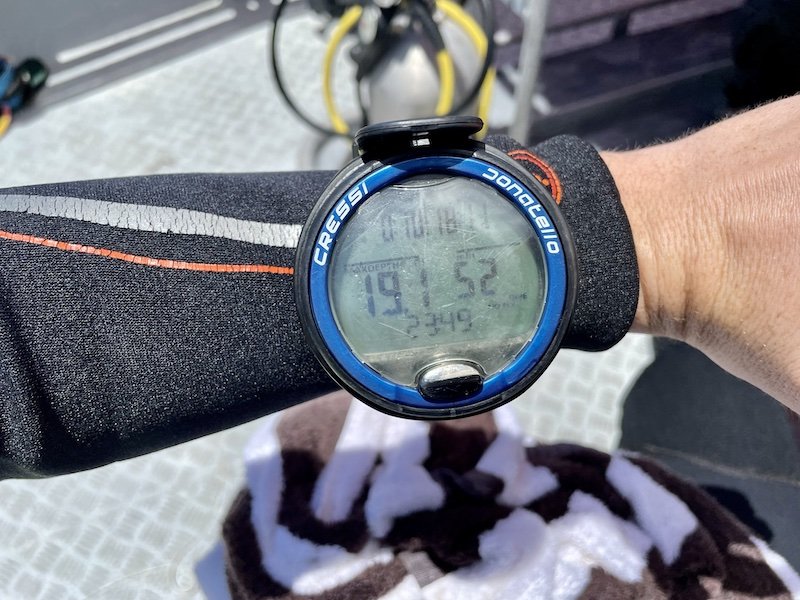 The backlight display is very bright, to the point where it was completely visible without any assistance from my dive torch when I did my first night dive.
That was really cool and helped me reduce the anxiety of being the pitch-black waters, since I always knew my depth and dive time.
Another huge perk of the Shearwater is its long battery life. I took it on 15 dives while on a 10-day dive trip to Cozumel, and I still came back with a nearly-full battery, and I don't think I even charged it once during my trip.
I looked at my dive computer 7 days later and it was still on, not close to running out of battery!
Plus, when it does run low on battery, you can simply recharge it on a wireless charger powered by a USB (just place the dive computer on top of it — no need to plug anything into the computer itself).
I also appreciated that instead of having a loud, annoying beep for ascent and safety stop alerts, it uses strong vibrations / haptic notifications.
The vibration alerts were strong enough that I noticed them even through a 5mm wetsuit, so I wasn't at risk of not seeing an important notification.
There are visuals too, like an intuitive color-coded ascent graphic that shows your ascent rate, so you can know how fast you're ascending before your dive computer alerts you that you're ascending too quickly.
But I've saved my favorite feature for last: the excellent Shearwater app that you can use to upload all your dives to via Bluetooth with a few simple button clicks.
In just moments, you'll have a digital cloud copy of all your dive logs, including detailed graphs of your dive profiles, water temperature, bottom time, etc.
There's plenty of room for you to take notes on your dive (from problems with gear to things you spotted underwater).
It's so easy to log your dives right on the trip — forget about that water-damaged paper logbook you got with your PADI certification course.
One final pro is that it has two-strap design, so you can really "lock in" the wrist strap so that it's nearly impossible to fall off during a dive.
Single-strap designs are inherently a little risky, as a nudge or two in the wrong direction can lead to your dive computer being lost to the deep blue!
The only complaint I can reasonably have about this dive watch is that the two-button interface isn't the most intuitive to use.
Again, I am a Luddite, but I did find it a little tricky to do things like switch up my nitrox gas percentage in the settings.
My dive instructor was similarly perplexed by it, but we figured it out after some fiddling.
That said, these are problems you only will have above water — you won't really need to touch your dive computer underwater.
In 15 dives, I only needed to touch my dive computer underwater once, on a deep dive when I approached the 5-minute mark before I needed to ascend a bit to increase my NDL limit.
The only other negatives are features that beginner dive watches don't really have. Namely, it doesn't have wireless air integration or a dive compass feature.
However, dive computers that also have compasses typically exceed $1,000 (though the Garmin is an exception!) — and if you have air integration, that typically requires buying a wireless transmitter for your tank, costing several hundred dollars more.
The full monty with air integration and digital compass would be triple the cost of what I paid for my dive computer. For not having those two features, I'm okay.
For now and into the foreseeable future, I'm happy to use my pressure gauge to monitor my air consumption, and to use a dive compass if I ever do a shore dive without a divemaster.
The last and final drawback I can say is that it's not the most aesthetically pleasing watch. I wouldn't wear it out and about above the water, let's just say that.
But I'm also not looking for a dive smartwatch that I can wear both in the water and out of the water, so that's not a problem for me.
Runner-Up for Best Dive Computer: Aqua Lung i300c Dive Computer
The Aqua Lung i300c is the dive computer I also considered, and I almost bought it because my girlfriend who is an avid diver has a discontinued version of this dive computer and loves it.
It's less expensive than the Shearwater, but it's still a fantastic choice for recreational divers as it has most of the modes you'd need — air, nitrox, free diving — although it doesn't have a trimix function.
However, that's not something you'd use as a rec diver; it's strictly for technical divers who exceed the AOW depth limit way beyond 30 meters / 100 feet.
That's not really relevant for beginner divers, as only technical divers will need this functionality.
Like the Shearwater, the Aqua Lung i300c has an excellent Bluetooth pairing to app cloud storage solution.
You can wirelessly log your dives for easy data retention, note taking, and analyzing your dive specs.
While it's not as obviously bright as the Shearwater, it does have a backlit display that does allow for viewing in low light conditions like caves and swim-throughs.
However, others have said (and my girlfriend agrees) that the watch isn't backlit enough to read during night dives, and you still have to use your dive torch to see your dive computer properly.
The dive computer is definitely more sleek and watch-style than the Shearwater; that said, I wouldn't say you'd look cool wearing it on land, it is a lot less bulky and the strap is quite long.
It is really a dive computer first and foremost, and not an interchangeable dive computer-smartwatch combo (and there are those as options, if that's something that appeals to you — check the Garmin Descent).
A few downsides are: it does not have haptic/vibration alerts, only audible alerts. These are a bit annoying for me personally, and I prefer the quiet but easy-to-notice vibration of my Shearwater.
Another downside is that it has user-replaceable batteries instead of being rechargeable like the Shearwater.
While Aqua Lung assures that the batteries are globally available, found at markets around the world, I would hate to be stuck in a situation on a dive trip (or much worse, a liveaboard) where my battery is running low and I don't know where to buy a new battery.
It also only has a single-strap design, which is not as secure as two-strap designs that make it extremely hard for your dive computer to fall off underwater.
The strap is so long many people consider cutting it, so it seems somewhat foolish to me that it doesn't have a two-strap design for added security and to be able to tuck in the strap's excess length.
Lastly, as mentioned above, the display is not as bright as my Shearwater, and there is only gray and black, no color.
Visually, the round matrix of data is not as easy to read as the rectangular matrix of the Shearwater, which also has color to draw your eye to the most important parts, such as any alerts.
That said, the Aqua Lung i300c is a couple hundred dollars cheaper than the Shearwater.
It's definitely not the absolute cheapest dive computer out there, but it does offer probably the best bang-for-your-buck at this price point.
Best Smartwatch-Meets-Dive Computer: Garmin Descent G1
If you want a dive computer that integrates well with your life on land, the Garmin Descent G1 Rugged dive computer is the way to go.
The Garmin Descent dive watch is ultimately a smart watch that also helps you engage in safe diving, with all the features you need from a beginner dive watch.
But it's also a watch you can grow into: it has multiple dive modes, including nitrox, trimix, freediving, and even rebreather modes.
So if you think you might be getting hooked on diving and will need more advanced features eventually, the Garmin Descent is a great choice because it's not as expensive as the next-level dive watches specifically built for technical diving.
Another big perk of this dive watch is its durability… I mean, it literally has rugged in the name.
It's been tried and tested to withstand the toughest of conditions, both underwater and on land.
It's also rechargeable, like the Shearwater and unlike the Aqua Lung i300, which is extremely handy.
Like I said above, you don't want to have to search for replacement batteries while you're on a dive trip; it's much more convenient to have a rechargeable dive computer.
Its battery life goes up to 80 hours, so unless you've been extremely lazy about charging your device, you won't need to worry about running out of power mid-dive.
There are two really cool dive features that the Garmin Descent G1 has that other dive computers at this price point don't have.
For one, the Garmin Descent has a 3-axis compass built into it. This is a pretty insane perk at this price point — normally, dive watches that have a compass integration have a price tag that reaches 4 digits.
Even cooler, the Garmin Descent also has GPS functionality, which is perhaps not at all surprising given that Garmin started off as a GPS company.
You can mark your entry and exit points while you're diving, which makes shore diving a lot safer and easy to navigate as you'll have coordinates as well as a compass to look to.
Because of these two excellent features, I would say that the Garmin Descent may even have the slight edge on the Shearwater if you do a lot of shore diving and not a lot of boat diving.
When you're not on the water, you'll still get use out of your Garmin smartwatch: the watch mode tracks your heart rate during workouts like walking and running, and it also monitors your sleep and gives you a sleep score.
And of course, Garmin is well-known for its excellent functionality between the devices themselves and their proprietary apps (with Bluetooth connectivity).
Like the Shearwater and the Aqua Lung, you can easily log your dives wirelessly and on the go, adding your dives to the cloud where you can see detailed graphs of your dive profiles.
That said, there's also a good amount of storage on the dive computer itself: you can store up to 200 dives before you start needing to move them off your watch and onto the cloud.
The Garmin Descent has a two-strap design, making it very sturdy and hard to dislodge from your wrist on accident.
However, there are a few cons. The main one is that Garmin is not primarily a dive company — and that has a few ramifications.
While the Garmin is absolutely capable of handling the depths you'd dive as a recreational diver, it is not quite as intuitive and streamlined in terms of its display as similar dive computers made by dedicated dive companies.
Additionally, some users have complained that the interface is hard to customize, so you may not see the exact display that you want to while diving.
One final note against it is that while it is backlit, it is not very bright compared to some other dive computers, and you will likely need to shine a dive torch on it to see it properly if you are doing a night dive, something I didn't need to do with my Shearwater.
In summary, if you're serious about diving as well as your overall fitness and health, and want a computer that can keep up with you both above and under the water, the Garmin Descent G1 Rugged Dive Computer is the way to go.
Best Budget Entry-Level Dive Computer: SUUNTO Zoop Novo
For beginner divers who don't want to shell out the cost of an entire dive trip on a new dive computer, the SUUNTO Zoop Novo is an affordable yet reliable option that also happens to be rather aesthetically pleasing (it's made in Finland, so you know they're going to work their Nordic design magic).
This dive computer offers a range of modes – including air, nitrox, gauge, and free diving – making it versatile for any type of recreational diving. And with the ability to customize your nitrox settings, you'll have the flexibility to match your diving needs.
The Zoop Novo features audible alarms (but unfortunately, no haptics/vibrations) as well as a backlit display, which makes it easy to read underwater in low-light conditions.
That said, similar to other devices, it's not as bright as some other full-color displays, or its fancy older sibling, the SUUNTO D5 (which is almost three times the cost).
Another thing that sets the Zoop Novo apart is its 4-button navigation system, which is more intuitive to use than similar systems like the 2-button Shearwater Peregrine, which is initially a little tough to figure out.
It also comes in some fun bright colors, like this neon yellow!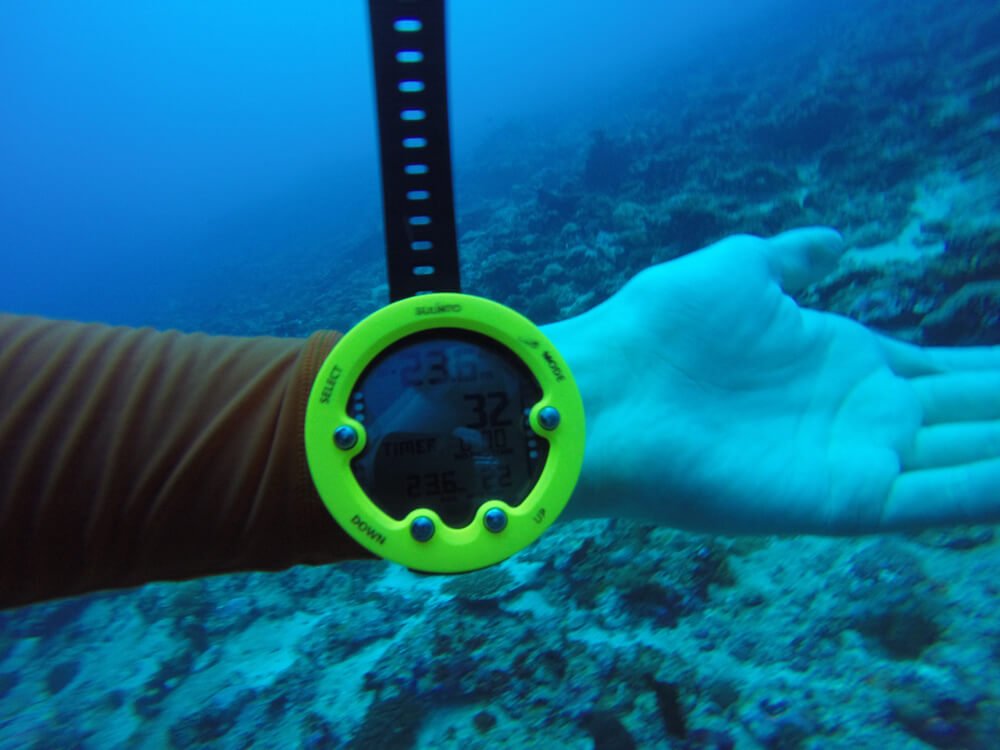 Some users did report that the buttons are a little stiff and sticky, but that eventually, they got used to how to press the buttons and it wasn't a long-lasting issue or something worth returning the dive computer over.
Another cool perk of the Zoop Novo is that you can make your own adjustments to the dive algorithm to be more or less conservative depending on whether or not you you DCS risk factors (or just your own personal preference).
There are three modes that progressively get more conservative. Keep in mind that on the most conservative mode, you'll have decreased bottom times, though!
From the visuals, it appears that the Zoop Novo has a two-strap design for added security, or at the very least, a more secure strap can be purchased separately.
One thing to note is that the battery is replaceable (user-changeable) rather than rechargeable.
While generally, the batteries are quite long lasting — some not needing to be replaced for even a full year — this is not the kind of issue you want to have at the last minute, before (or worse, on!) a dive trip.
Another thing to note is that there are only audible alarms and no haptic alarms. While I prefer the vibration alerts, this may not be a big deal for other divers, who aren't as annoyed by audible alarms.
One final con against this is that there is a USB cable that you have to buy separately from the watch itself, in order to upload your dive logs to PC or Mac. There is no phone compatibility, nor any Bluetooth functionality.
That said, you can save about 100 dives worth of data if you're doing SCUBA (fewer if you are freediving) before you need to upload it to your computer.
One thing that is neither a pro or a con but something to consider based on your needs is the fact that the SUUNTO's display is rather large, with a nearly 1.5" diameter.
The digits are really large and clear — which is great if your eyes aren't as good as they used to be — but that does make this a watch that you won't really want to wear out of the water, so it's not a good all-purpose smartwatch.
All in all, the SUUNTO Zoop Novo is one of the leading entry-level dive computers for a reason, and at its price point, it's hard to find another contender that does as much for as little.
For one of the cheapest dive computers that is also reliable and easy-to-use, many people opt for the Cressi Leonardo.
At one of the cheapest price points, this dive computer has all of the features that you need to make your dives safe and enjoyable.
The single-button design is extremely simple to use underwater (that said, as with my Peregrine Shearwater, it does sometimes take some time to understand how to navigate through the settings while on land).
It has three operating modes (air, nitrox, and gauge) and you can adjust the nitrox settings with different air percentages and oxygen toxicity threshold settings.
While the dive computer technically has a backlit display good for low light conditions, it's not as bright as some other devices.
You can press down the button for 5 seconds to get it to light more brightly. However, the numbers are still rather large and easy to read underwater.
Personally though, I don't like the blue-lit backlighting of this device. I prefer a more matte lighting where the background is gray and the numbers are black.
However, for some people, the blue-lighting may be just the kind of contrast they prefer. It depends on your preference, I guess!
Like most dive computers, it uses only audible alarms and no haptics. For better or worse, the alarms will almost certainly get your attention!
I have used this dive watch as a rental on a few dives before I bought my own dive computer, and wow, this one is loud.
It gave me quite a scare when it beeped, so it's not the most Zen choice, if you're the kind of diver who likes to bliss out underwater.
It has a decent amount of storage for an entry-level dive watch, with about 60 dives worth of logging capable of being stored.
At that point, though, you'll have to transfer everything over to a paper logbook or a digital logbook app, as there is no syncing functionality with this dive computer and any sort of device (phone, tablet, laptop, etc.), unlike the others on this list.
And Bluetooth? Definitely not.
Similar to the SUUNTO above, there are three algorithms you can select between when it comes to how conservative you want your dive profile to be.
Some divers did complain about having very conservative NDL limits that made them have to abort their dives early while others were going strong.
That said, I can't be sure what level of conservative-ness these reviewers had selected: it's possible that they had selected an overly conservative mode and this caused this.
It also uses a user-replaceable battery instead of having recharging functionality, so the same cons to that apply here.
However, users have generally said it has good battery life, though you should expect to change it perhaps once a year or so depending on usage.
Another con is that users are really not a fan of the wrist strap — it's extremely long and even the tightest settings can feel a little loose on slimmer wrists.
Especially considering its single strap design (my Peregrine has a two-strap design for added security), that's a bit of a risk!
Even though it might be the cheapest beginner dive computer on this list, you'd still feel the sting of the loss if it landed on the bottom of the ocean!
Most Similar to Shearwater, But Cheaper: Deepblu Cosmiq+
For a dive computer that truly stands out (with bright visuals and a surprisingly elegant design), the Deepblu Cosmiq+ looks far more expensive than it is.
At its price, the Deepblu Cosmiq+ underpromises but overdelivers — something we love to see in the dive world, where everything is so expensive.
It's extremely modern, with its rechargeable lithium ion battery (a rarity in dive computers at this price point), its large rectangular display, and brightly illuminated screen that makes it perfect for low light conditions and night dives.
The two button design and audible, visual, and buzzing alarms ensure that you can operate the device with ease and stay aware of important dive information at all times.
Yes, buzzing alarms like my beloved Shearwater Peregrine, but about a third of the price cheaper.
Not only can this beauty store up to 200 dive logs on the computer itself, but it also offers Bluetooth connectivity for seamless uploading to your profile.
But what really sets the Deepblu Cosmiq+ apart is its app.
With the ability to plot photos from a camera to your profile at the exact depth and duration, you'll be able to keep track of all your memorable diving moments in stunning detail.
I don't think I can emphasize enough how cool that is — and how badly I wish my own dive computer did that!
Plus, like the Shearwater, it uses a cordless magnetic charger, which provides 7-12 hours of dive time (condition-dependent) and a 30-day standby period.
It's not as long-lasting of a charge as my Shearwater, but there's a reason why this computer is cheaper.
I'll admit that on Amazon, it doesn't have the most stellar reviews, and a handful of people have reported it failing.
That said, one of my neighbors used to run a dive shop and this was the only dive computer he liked enough to sell.
Respectfully, he's a salty sea dog who eschews most modern technology, thinks a zip-tie will fix just about anything, and tries to get his customers the cheapest equipment possible, even if it's not the fanciest.
Yet this was the one dive computer he liked enough to stand behind, and I think that says a lot more than anonymous reviews which can potentially be gamed.
While I ended up opting for the Shearwater Peregrine, I did look at this one for a long time because it's a good deal cheaper than the Shearwater without sacrificing many of the things I liked about it.
However, at the end of the day, I wanted the security of a more highly-trusted brand, and I was willing to pay extra for it because I only ever want to buy one dive computer!
***
I see a dive computer as an investment in your safety, your memories, and your overall dive experience.
And that's why I wrote this post with as much attention to detail as I did, because I'm invested in other people having as great of a time diving as I do.
For new divers who are just starting their SCUBA journey, that means having a reliable, beginner-friendly dive computer that they trust implicitly and know intuitively.
At the end of the day, any dive computer on this list (and frankly, any dive computer on the market) will have you diving as safely as humanly possible.
While nothing can ever fully prevent the risk of DCS, these dive computers all use reliable, trusted algorithms that will have you diving well within safe, conservative diving profiles.
The big differences here are not in the safety of these dive computers — all these computers have the ultimate safety standards in common — but rather in the little details.
The comfort of the strap, the crispness of the display, the sound or feel of the alerts, the brightness of the screen, the seamlessness of connecting the computer to the cloud: these small things are what you should factor in when picking the right beginner dive computer for you.
Happy bubbles!
Allison Green is a former educator turned travel blogger. She holds a Masters in Teaching and a B.A. in English and Creative Writing. Her blog posts merge her educational background and her experience traveling to 60+ countries to encourage thoughtful travel experiences that both educate and entertain. She has been a speaker at the World Travel Writers Conference and her writing, photography, and podcasting work has appeared in National Geographic, CNN Arabic, CBC Canada, and Forbes, amongst others. Now based in the San Francisco Bay Area where she grew up, she has also lived in Prague, Sofia, and New York City.