Glacier National Park is an impressive wilderness destination that's growing in popularity every year.
The western entrance to the park is located in Northwest Montana, near Columbia Falls. From there, the park extends all the way up to the Canadian Border.
It's no wonder that visitors want to see the famous crystal blue water of the lakes in the area.
The forest is a lush green, drawing hikers from all over the world to bask in its natural beauty. 
Wildlife roam through the park freely, making it an ideal destination for photographs and outdoor enthusiasts.
Due to its growing popularity, the park has introduced a reservation system for visitors. 
This guide will tell you the do's and don't of planning your trip, along with your can't-miss itinerary for the famous Going-to-the-Sun Road.
The Reservation System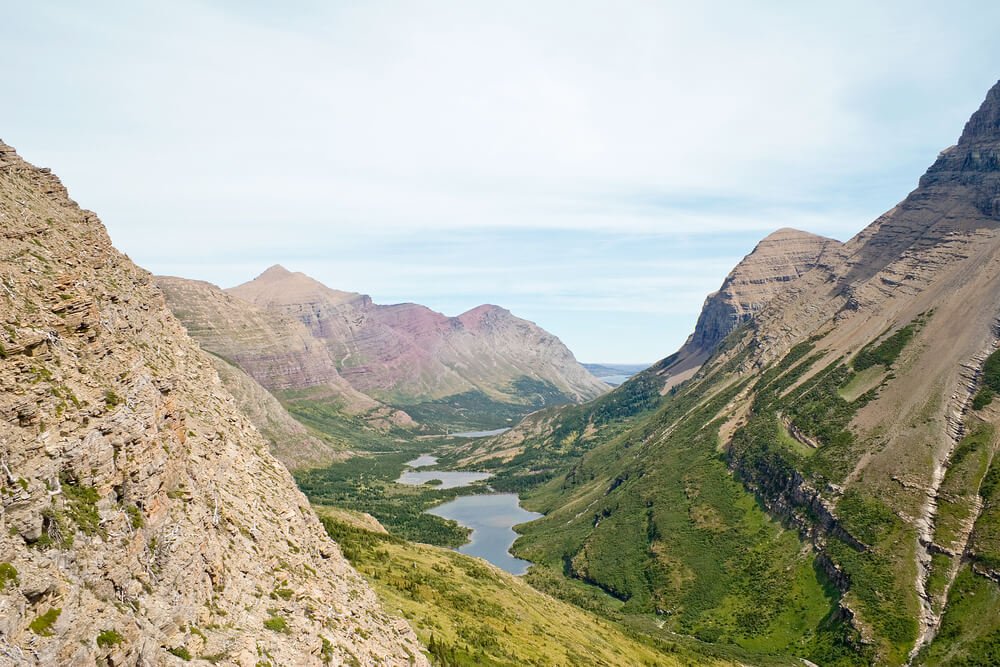 Note: This post contains affiliate links, which means I may receive a small commission if you purchase something through one of these links. Thank you for supporting the free content on this site! For more information on affiliate links and cookies, see my disclosure page for more details.
Over the pandemic, national parks started to implement reservation systems to help with social distancing.
This allowed guests to be able to keep their distance from other visitors and follow federal guidelines. 
Glacier National Park has a similar system, but for a very different reason.
Theirs was put in place to preserve the land from the impact of the increasing number of people visiting each year. 
Demand for the park has grown by over a million visitors per season over the past couple of years.
Even though the reason for the timed entry is valid and important to keep the land well, it can make visiting a bit harder, especially if you've got your heart set on seeing everything the park has to offer. 
It's a bit of a challenge to get tickets to enter the west entrance, which includes Going-to-the-Sun Road and many of the park's most iconic sights, like Avalanche Lake.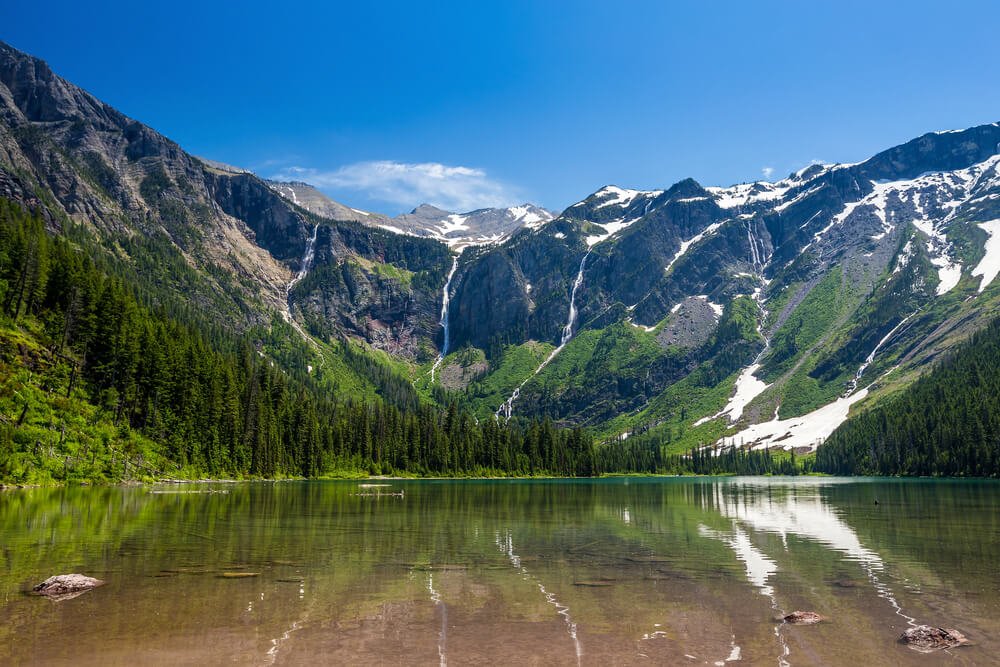 In short, you'll need both a National Park Pass and an Entry Ticket or Service Reservation to fully access the park.
Sound complicated? Don't worry! I'm here to walk you through the ins and outs of making your Glacier National Park trip possible.
First, let's start with the basics: just try to get tickets! You'll see the option on recreation.gov to buy entry passes to the park.
Don't be fooled, entry passes won't get you into the Going-to-the-Sun Road entrance. In order to enter the west entrance, which is the most popular, you'll need both the entrance ticket and the sun road ticket.
If you have a National Park Pass, it'll allow you to waive the entrance ticket, but it doesn't get you the Going-to-the-Sun Road Ticket either.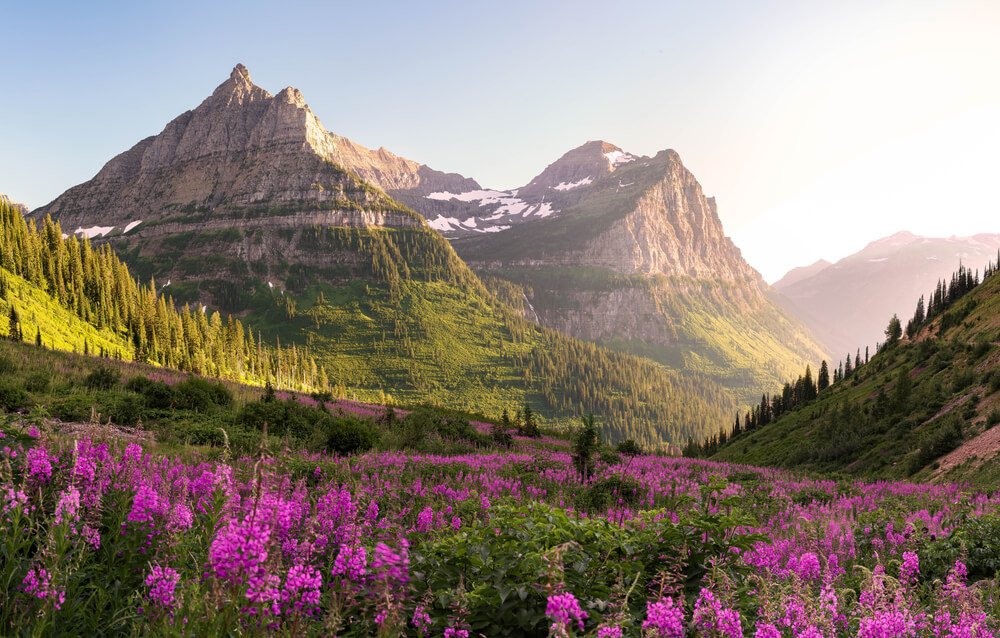 Landing a rare ticket to that specific entrance is the hardest part of the whole process.
The tickets are released online, sixty days in advance from the desired date.
That means if you need to buy a seven-day reservation ticket for July 1st, youcan purchase that ticket 60 days before July 1st. It is then valid for that whole week. 
These advance tickets typically sell out within just a few minutes, especially for dates in high demand.
The park also releases a small batch of tickets two days before their entry date at 8:00 AM MST, giving visitors a second chance to score a chance to see Glacier National Park. 
Most of the time, both options sell out, leaving travelers frustrated and hopeless.
Luckily for you, there are a few tricks to get around this, with exceptions listed on recreation.gov.
1. Have overnight reservations at Fish Creek Campground & Apgar Campground group sites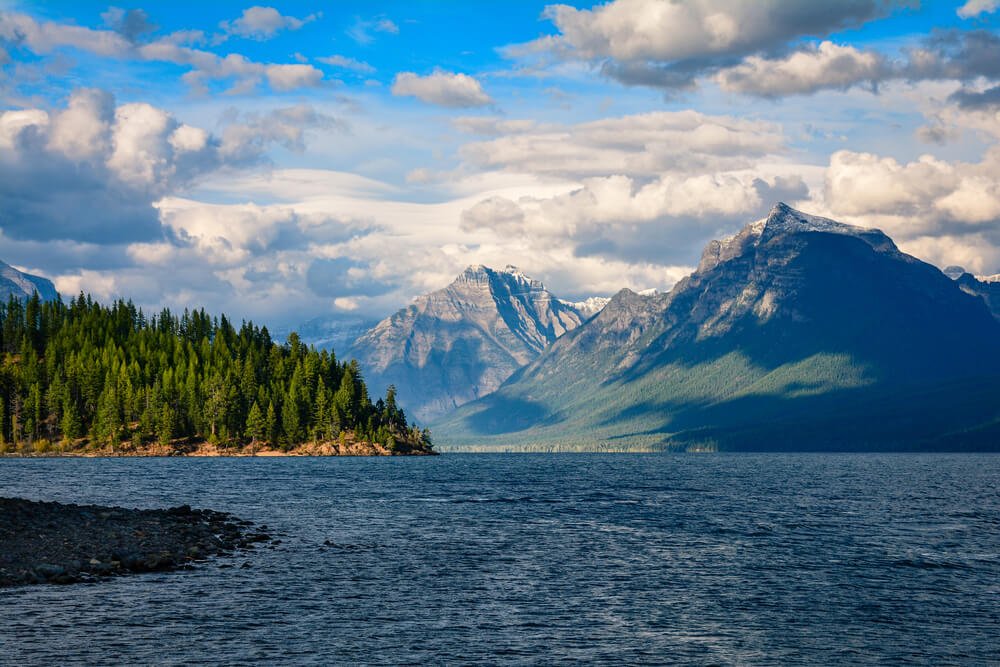 Try to score a camping reservation!
Tent sites are typically cheap and can be reserved online at Fish Creek Campground and Apgar Campground.
Even if you weren't planning to camp originally, it's still a possibility to get into the park.
You can also take advantage of these tent site deals if you do get a ticket; just bring your tent and spend your night under the Montana stars!
2. Have reservations at any lodges, motels or chalets located within Glacier National Park's GTSR corridor.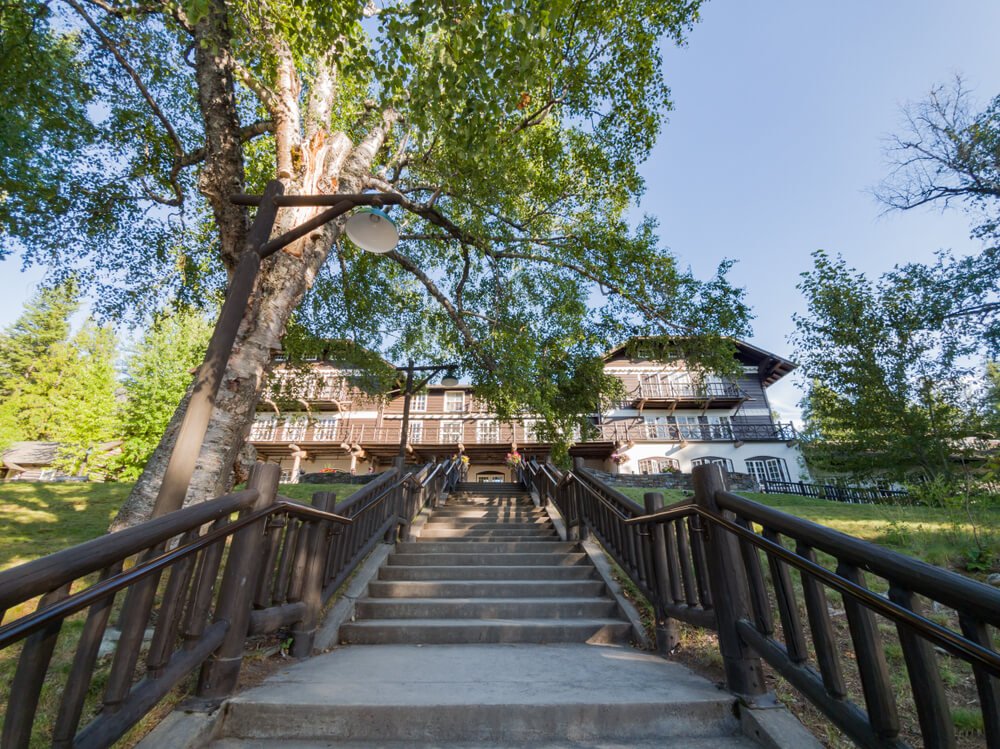 Get a reservation at Lake McDonald Lodge, but be warned. It's a popular lodging option, so it does sell out relatively quickly. 
Checking daily up until your travel date could help you score a night at the lodge, since last-minute cancellations can be common.
This is one of the few accommodations in the park, making it a once in a lifetime opportunity to spend the night there. 
3. Have reservations for horseback rides, guided hikes or boat tours within Glacier's GTSR corridor.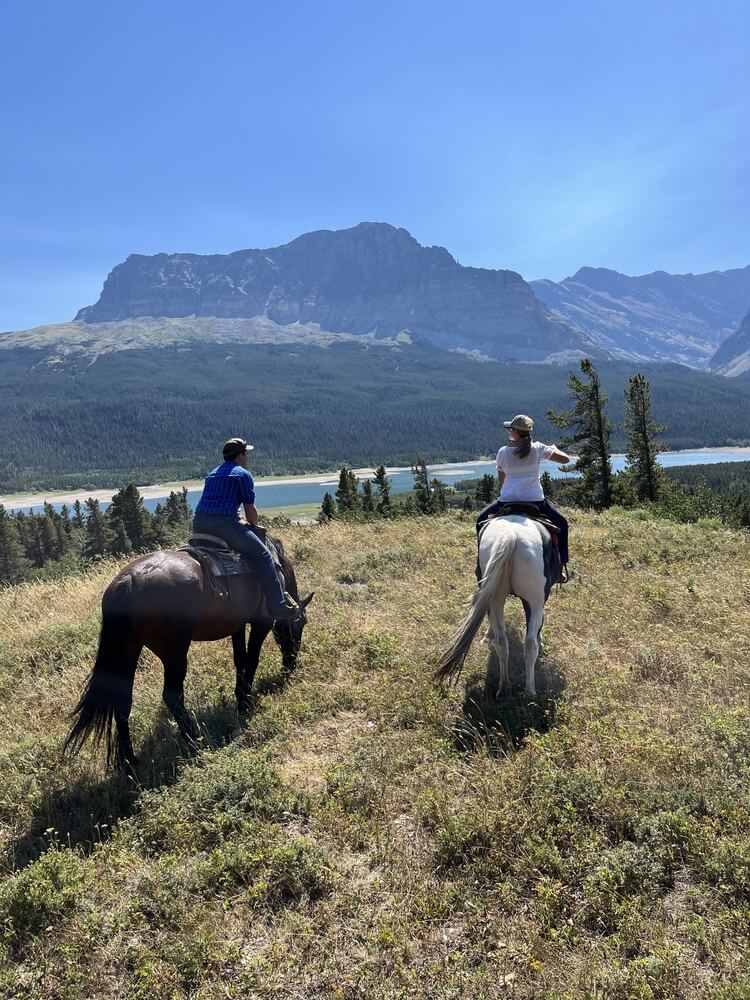 If riding a horse through a national park is the only way to get in, well, that sounds like a win-win to me. Swan Mountain Outfitters is the only horseback riding offered in Glacier National Park.
A one-hour trail ride starts at $55 per person. They have other tours including ride and dine, which is an hour trail ride with dinner included, all for only $85 per person.
Other tours range from 3 hours to even an all-day tour. This is a unique way to see this park on a guided tour, so why not check it out?
Glacier Park Boat Company offers tours of Lake Mcdonald. The tours are offered five times a day and leave from the Lake Mcdonald Lodge Dock.
Tickets for the tour are $22 for adults and $11 for children.
The boat tour is an hour-long educational journey on a historic boat. Each tour has their own guide who teaches you about the area and wildlife.
If you can't attend the tour but need the ticket to get in, that's fine. If you'renot there 15 minutes prior to your reservation they'llgive up your ticket to those waiting.
The boat tour is a great way to break up your day of hiking and exploring. Take a relaxing ride on Lake Mcdonald and then enjoy some lunch at the lodge afterwards.
4. Have a bus Ticket-to-Ride for the park's internal shuttle.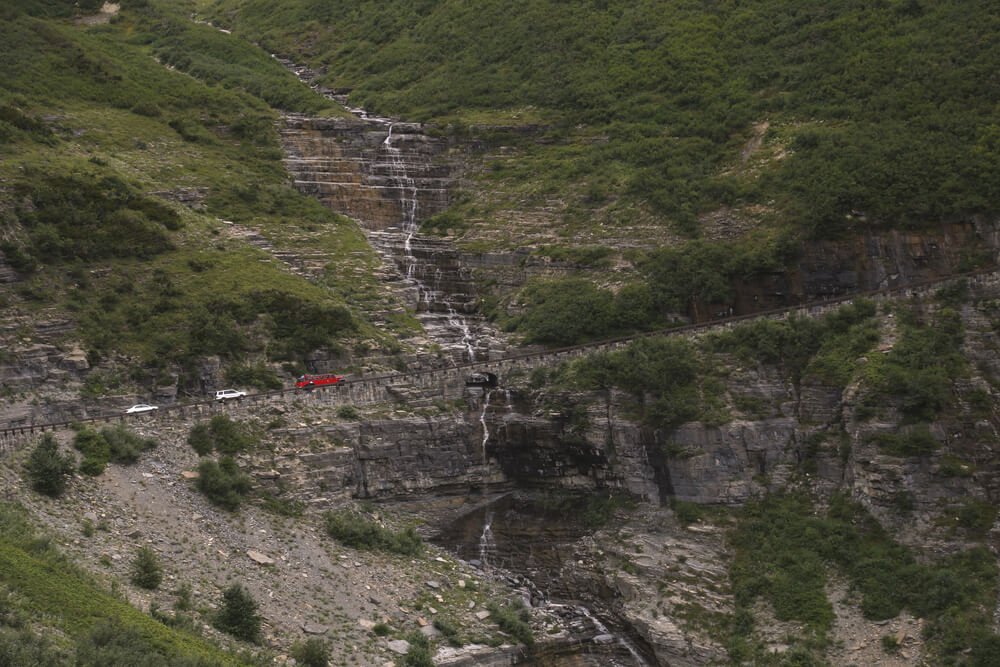 If your heart's truly set on getting into the park but you don't want to commit to an activity, then try to get a reservation for the Ticket To Ride Shuttle, for only $2 a ticket!
The shuttle leaves from Apgar Campground and has drop off locations through Going-to-the-Sun Road, making it perfect for travelers who aren't comfortable with mountain driving.
The stops include Apgar Campground, Lake Mcdonald, Avalanche, Logan Pass, Sun Point, Rising Sun, Rising Sun Boat Dock, and the St. Mary Visitor Center.
For those looking to go to Logan Pass or further, you'll have to transfer shuttles at Avalanche Trailhead. You will transfer to a smaller van which is allowed on Going-to-the-Sun Road.
The shuttle tickets are reserved in one hour intervals, so that will be the time you're allowed to enter. If your shuttle isn't until later in the day, the pass will still get you into the park.
Shuttle Tickets can be purchased in advance. If tickets are sold out, new ones will be released 48 hours prior to the departure date.
What Happens If I Show Up Without a Going-to-the-Sun Road Ticket?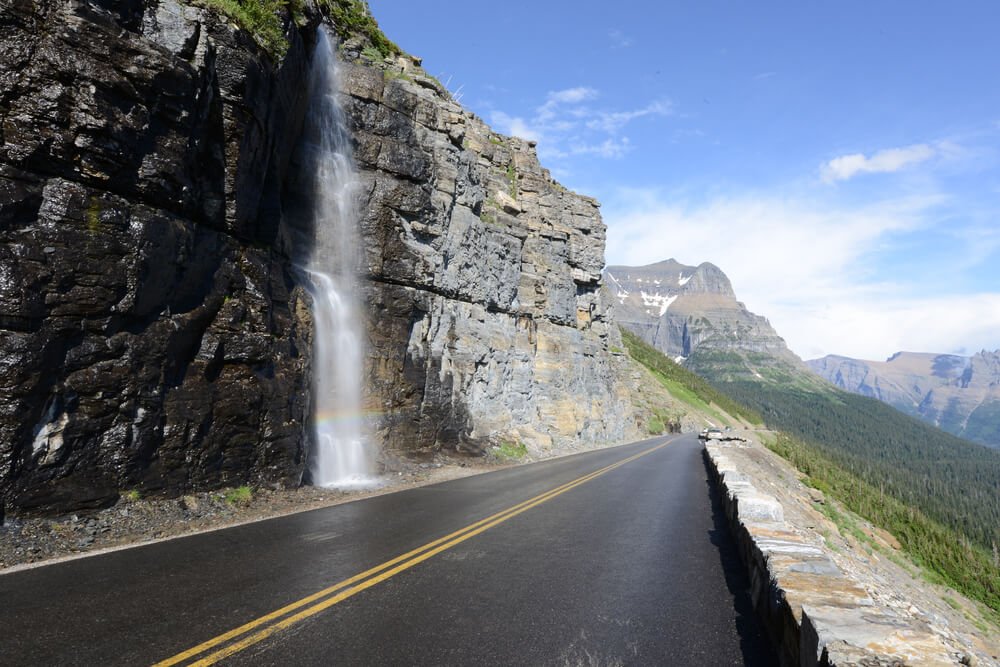 I know what you're thinking. How bad could it be if I just… show up?
Maybe the Ranger will be in a good mood. Maybe the person working at the booth will only be half paying attention to their job.
Don't count on it!
This was by far the strictest and organized system I have seen yet at a national park.
Upon entering the park there are rangers lined up on the side of the road. They'll ask you if you have both the entry pass and the Going-to-the-Sun Road reservation.
If you say no to either of those questions, they'll have you follow a line of cars to the ranger station. There, a ranger will come up to your car to explain your options.
If you don't have a ticket or an exception then you have to leave the park. The Ranger will recommend you drive to the Two Medicine entrance which is on the East Side of the park.
To access this entrance you would need to drive out of the park and go an hour east to the other entrance.
Even though this side of the park is also beautiful, it won't bring you near Going-to-the-Sun Road.
They don't sell any tickets at the ranger station; they just give you options of other ways to see different sides of the park.
The Best Going-to-the-Sun Road Stops: A Driving Itinerary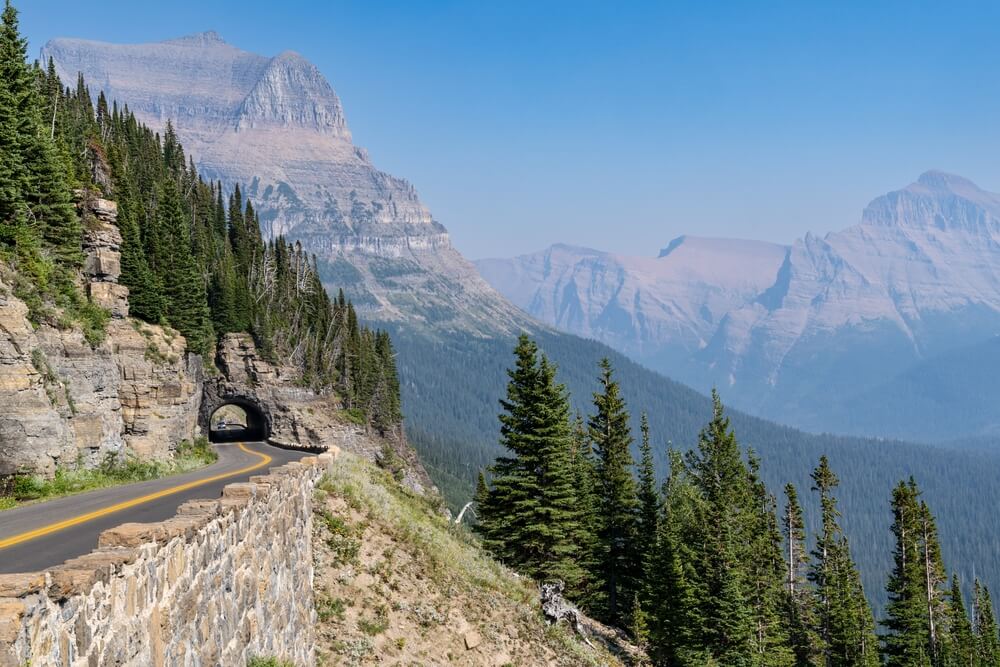 After you get through the entrance gate with your proof of reservation and entry ticket, it's finally time to explore the park!
You'll follow the road that brings you to Apgar Campground, but right before the campground you'll turn left and begin your journey on Going-to-the-Sun Road.
Since it's a 49.7-mile journey on a windy mountain road with stunning views and stop offs, the road may seem overwhelming at first. Having a plan and knowing where to stop will be your go to on making sure you see everything.
Stop One: Lake McDonald – Glacier's Largest Lake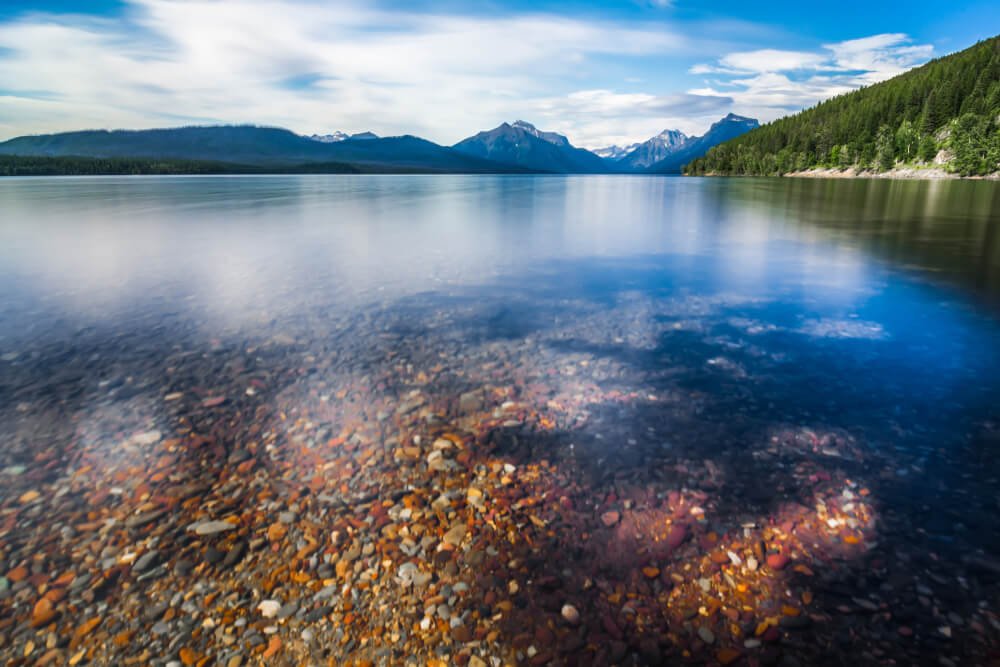 First on your list is gorgeous Lake McDonald.
This is the largest lake in Glacier National Park, which automatically makes it a must-see destination for traveling photographers. 
If you're lucky enough you can even grab a reservation at Lake McDonald Lodge.
The reservations sell out relatively quickly, but early planners can normally reserve a room. 
The lodge was built in 1913 and it's on the eastern shore of the lake. There are 82 guest rooms between the main lodge rooms and guest cabins.
You can always visit the lodge for a quick look around, even without having a reservation.
Reserving a boat tour is a great way to learn about the history in the area. Glacier Boat Tours hosts three tours a day and can be booked in advance.
As previously mentioned, this tour also gets you entry to Going-to-the-Sun Road.
The boat tour is about one hour long. Your guide will bring you out onto Lake Mcdonald while sharing facts and history about the area.
The lake is known for its vibrant rocks. When the sun hits just right, you can see the rocks glistening underneath the crystal blue water.
Stop Two: Avalanche Lake – The Prettiest Hike In The Park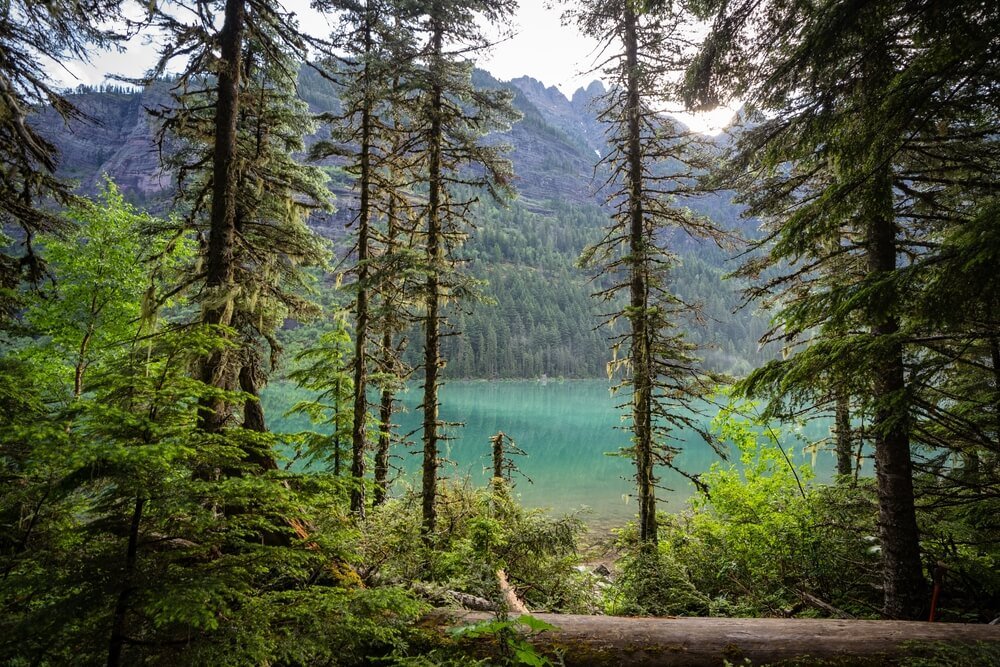 Shortly after leaving Lake Mcdonald, you'll see signs for the Avalanche Lake Trailhead.
The Avalanche Lake hike is probably one of the most popular hikes in the park, and for good reason!
The trail starts from the Trail Of Cedars, a stunning trail that leads you through the vibrant green forest on a wooded boardwalk trail.
You can spot deer and various birds all while enjoying the beautiful sound of waterfalls.
After that, you'll walk along cascading waterfalls and clear blue creeks. This part of the trail is flat and good for all skill levels.
When the trail breaks off from Trail of Cedars you begin your actual hike to Avalanche Lake. The hike is mainly uphill and is rated as moderate.
The trail is mostly on dirt with lots of steps near the end, making it mildly strenuous but worth every step once you reach the top.
Personally, I have to say Avalanche Lake is the prettiest hike I've ever done.
One you reach the end of the uphill climb you find yourself surrounded by what looks like a green rainforest of trees.
A short distance away you will see the vivid turquoise water with a mountainous backdrop.
Most people kick off their hiking boots and soak their feet in the ice cold water. Others sit down on the sandy beach and take in the view.
This is a great place to enjoy your lunch or hiking snacks. The hike averages about 757 feet of elevation gain with a distance of 5.9 miles.
Prepare for a bit of extra mileage due to filled parking lots.
If you only have time for one hike in Glacier National Park this should be it, since it's an unforgettable once in a lifetime hiking experience.
Stop Three: Weeping Wall- The Most Unique Stop In The Park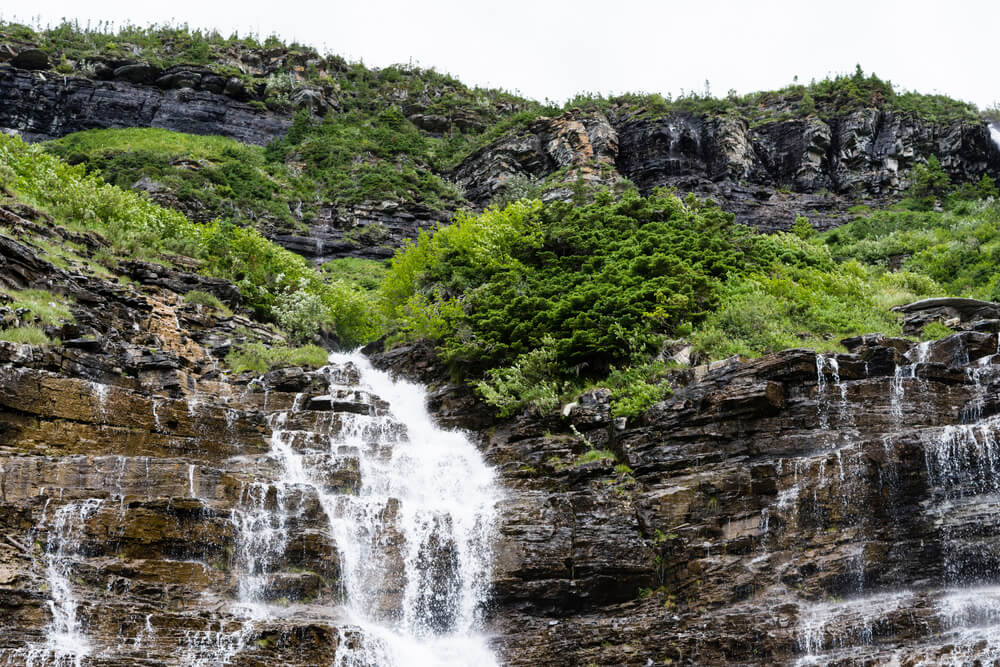 If you continue on Going-to-the-Sun Road you'll begin to leave the forest and start driving up into the mountain pass.
Along the way, you'll be treated to the beautiful sight of three hundred sixty degree mountain views with waterfalls flowing along the rocks. 
The road itself has bricks that form a small barrier so the drop-offs aren't as terrifying as other mountain roads.
One must-see spot is Weeping Wall.
Sitting on the left side of the Going-to-the-Sun Road when heading east, Weeping Wall is one hundred feet of cascading water that is only visible in the early summer. 
The combination of melting snow and natural spring water causes the falls to ramp up in the early summer months, shortly after Going-to-the-Sun Road opens for the season.
This wall of waterfalls is a popular stop off for those looking to cool off on hot days. Some even hang out of the car windows when driving by, to catch the mist of the waterfalls.
Be mindful that mudslides could happen here on rainy days. Only approach the falls in good weather.
Most importantly, have fun here and enjoy! This natural phenomenon brings photographers and hikers to the area, but Weeping Wall is a Glacier favorite.
Note that it can sometimes get overlooked by visitors seeking the more popular trails and viewpoints.
Stop Four: Logans Pass – The Highest Elevation By Car In The Park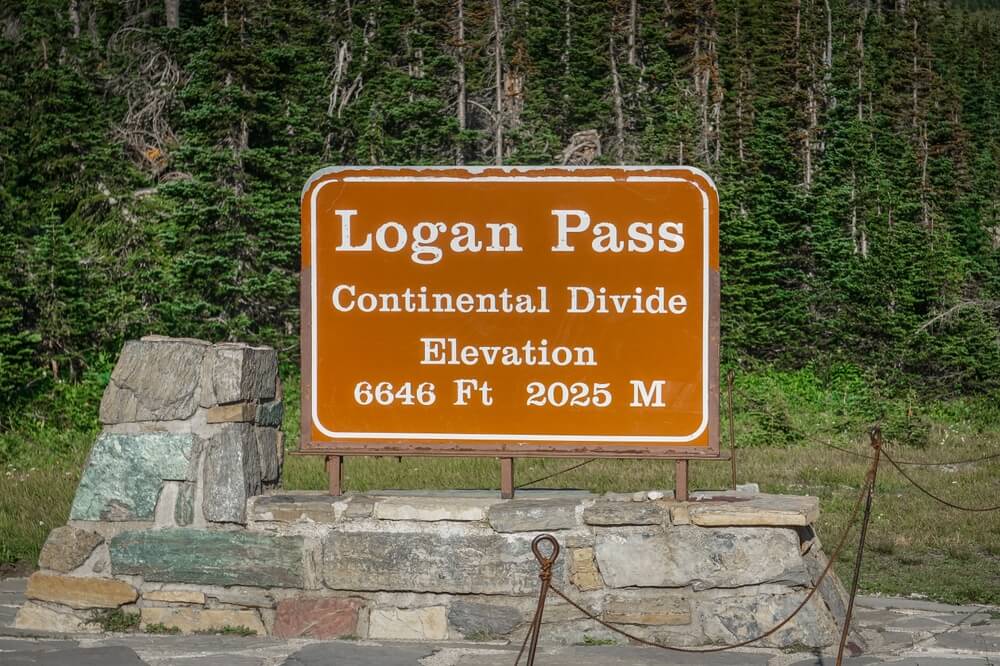 Logan's Pass is the highest elevation that can be reached by car in the park. This distinction makes it a busy destination .
Due to the demand there are free shuttles that bring you to Logan's Pass throughout the park. The popularity of this location is also because of the two popular trails nearby, Hidden Lake Trail and the Highline Trail.
If the parking lot is full, you can find additional parking about a half a mile back down the road.
Hidden Lake Trail is a 5.3 moderate trail with 1,374 elevation gain, a gorgeous hike that has full mountain views the whole time.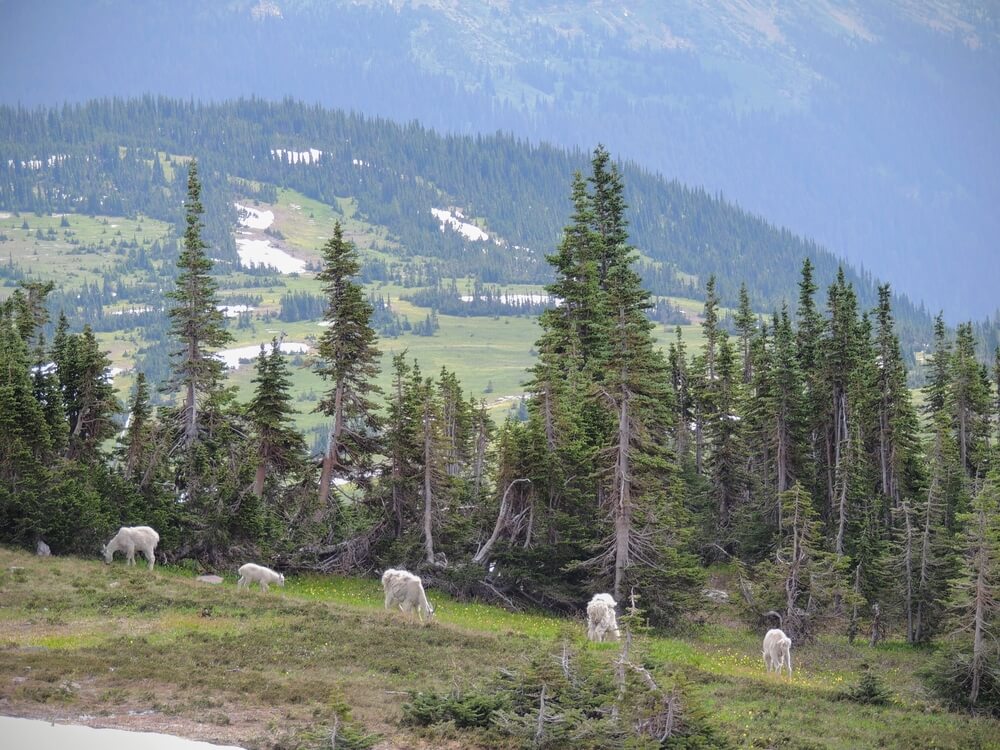 Unfortunately, this trail was closed when I visited due to extreme grizzly bear activity (always check with a ranger before hitting the trail!)
If Hidden Lake is closed head across the street to the Highline Trail for a fun 14.9 mile hike. Go as far as you'd like to adventure on this trail.
In the beginning, the trail is quite narrow as you stay close to the large rocky mountain. There's a rope available for anyone who wants a little extra security.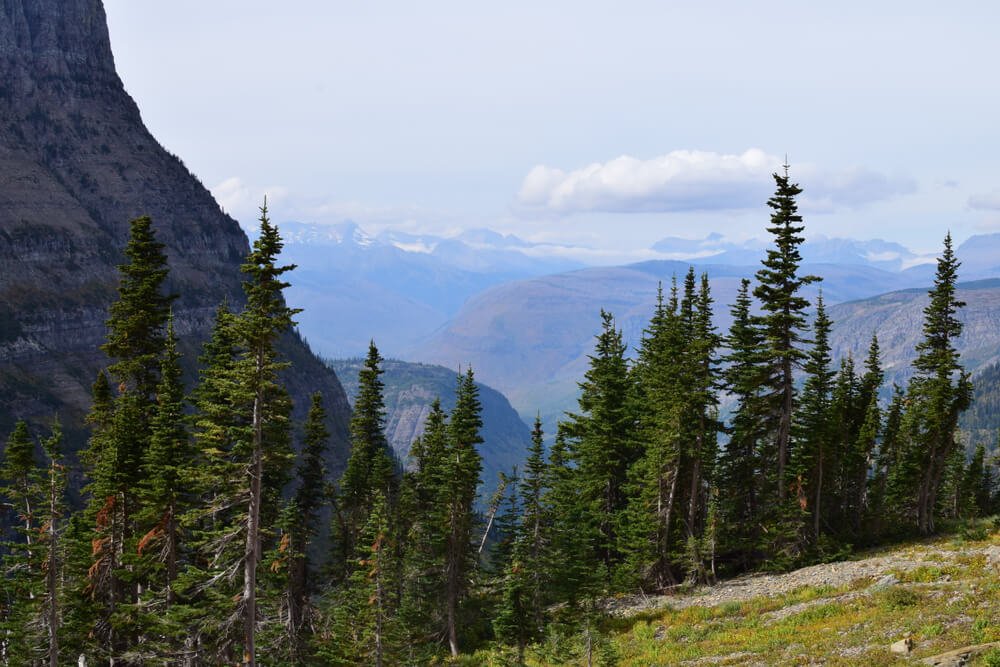 Certain areas do have large drop offs, so staying close to the edge is not advised. Once you make it around that you will enter a more wooded area.
The trail is narrow and can be slippery due to the mini waterfalls and rocks on the trail. Go slow and enjoy the views.
Be mindful of other hikers and switch off on giving the right away for passing.
This trail was fabulous for spotting wildlife including adorable mountain goats.
Enjoy watching them and take as many pictures as you'd like, but remember to give all wildlife enough space while you're a guest in their home.
Stop Five: St Mary's Lake – A Beautiful Ending To Going-to-the-Sun Road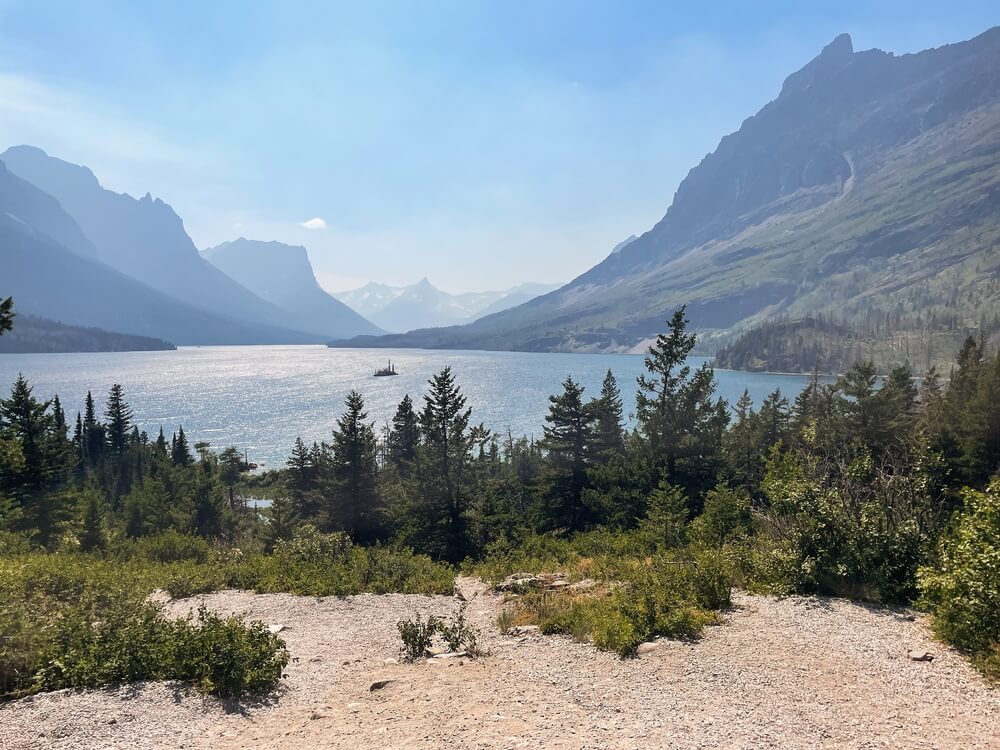 Coming down from Logan's Pass is St Mary's Lake. The second-largest lake in Glacier National Park, St Mary's is located near the east entrance of the park and sits along the north shore.
The lake is ten miles long and provides fun activities for everyone. This lake also has a boat tour similar to Lake Mcdonald.
End your Going-to-the-Sun Road tour by stopping at the St Marys Lake Visitor Center.
This is a great place to ask the rangers any questions you have. They will also provide you a hiking map and let you know about recent bear activity.
Two grizzly bears with their cubs were spotted in the distance on our way to the lake, so there were rangers around to ensure nobody got too close to the bears.
Even though grizzlies are present in this area, the rangers are continuously reported of any sightings from visitors. Always be bear aware but still go out and see the beauty of the lake and surrounding areas.
St Mary's Lake also has lodging options available, making this a great place to stay if you want to explore the east side of the park.
Safety Note: Be Bear Aware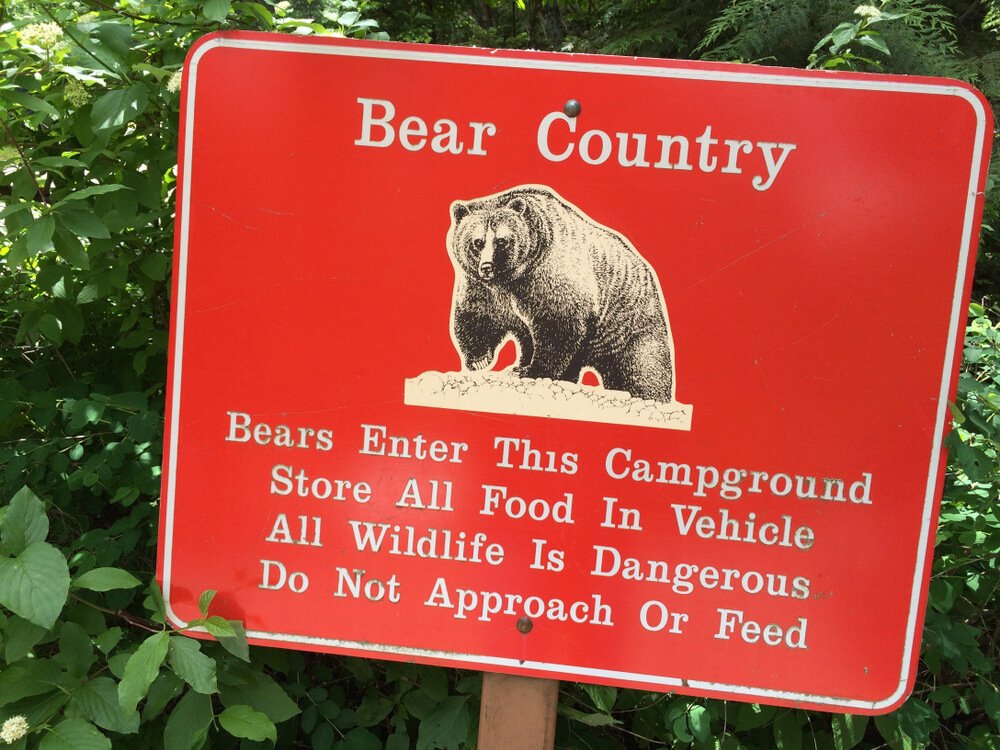 Part of what makes Glacier so amazing is the way that they protect the wildlife in the area. Northern Montana is bear country, and the rangers make the park feel safe and educational.
Not every visitor will spot a grizzly bear even though it can be common from a distance.
Glacier is home to both grizzly and black bears. While they do look alike, grizzly bears have hump on their back and tend to be a lighter color. Black Bears have no hump and tend to be darker colors.
The best thing you can do when you encounter a bear is to keep your distance. The park rangers recommend that you keep within 100 yards away.
Be sure to keep the bear in your line of sight, but back away slowly. If you are planning on hiking, be sure to hike in large groups or on more popular trails.
Joggers and runners need to be especially careful since they could surprise a bear. Surprising a bear is the most common cause of bear attacks.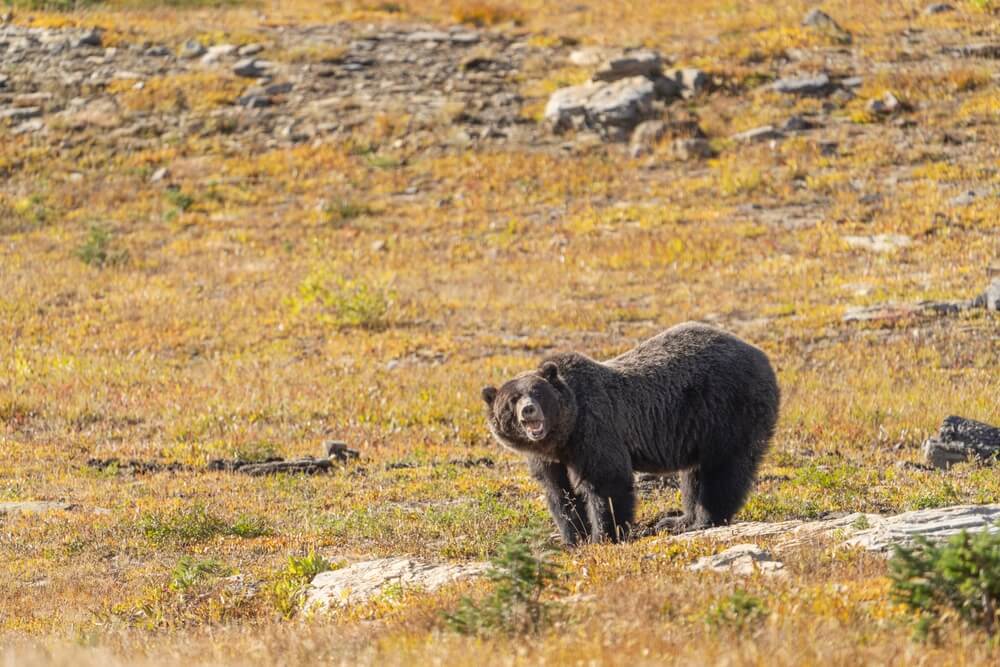 The park recommends that you carry bear spray with you at all times in case of an encounter.
Making noise is a great way to let the bear know you are there.
Bears don't want to see people as much as we don't want to run into them. They're mainly peaceful animals unless you approach a cub or catch them off guard.
Whatever you do, if you happen to stumble across a bear up close and personal, do not run. This will agitate the bear and they will feel threatened.
If you find yourself in that position, talk calmly and back away slowly and do not make eye contact.
Out of the two million visitors the park gets a year there are only two non lethal bear attacks each year. Only ten related deaths have happened in the park since it opened in 1967.
Glacier should be a place where you can learn about nature and enjoy your surroundings. Bear attacks are uncommon and shouldn't cause fear for visitors.
Just be bear aware since we are visitors in their home!