While you may think that you have to head to the northeast for the best fall foliage in the United States, you'd be wrong!
You can make your way to none other than Colorado, one of the most stunning southwestern destinations, for some beautiful colors as well.
In Colorado, most of the state gets all four seasons, including autumn, with one of the most breathtaking shows of color in the country.
Because of that, there are countless epic fall foliage destinations in Colorado, from beautiful drives to small towns and even cities.
By the end of this post, you'll be planning your next fall trip to Colorado. Be sure to save the post for later to make sure you don't lose it!
Here are the best places for fall foliage in Colorado!
Best Places for Fall Foliage in Colorado
Aspen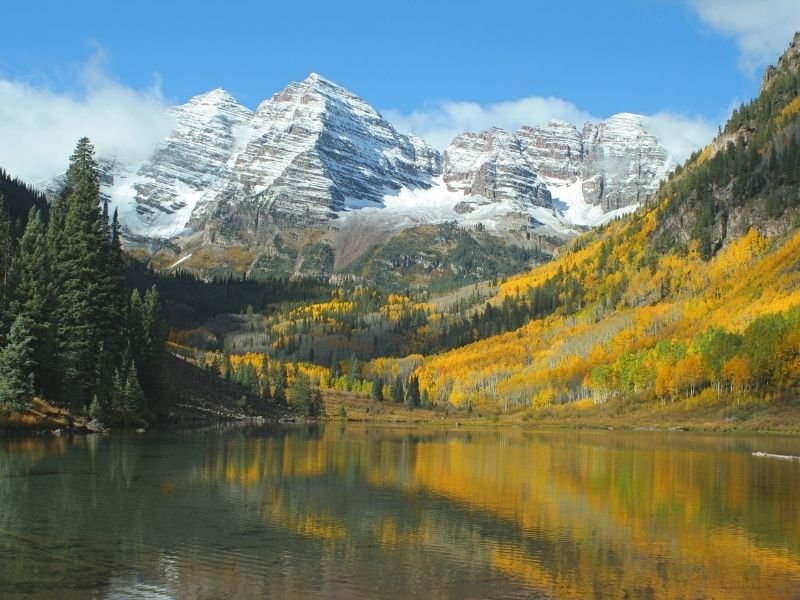 Note: This post contains affiliate links, which means I may receive a small commission if you purchase something through one of these links. Thank you for supporting the free content on this site! For more information on affiliate links and cookies, see my disclosure page for more details.
First up is none other than Aspen, one of the top destinations in Colorado to visit if you're on the hunt for fall foliage.
Most people hit up Aspen in the winter for its skiing and snowboarding, but the fall colors are honestly more magical than the winter snow!
Fall foliage in Aspen starts around September. Because of the different elevations in Aspen, part of the town sees a lot more fall colors than the rest, making for some unique photos and experiences.
Around Aspen, there are quite a few spots to check out the fall foliage.
The most popular spot is Maroon Bells, which you've probably seen a photo of online already without even realizing it!
This area is surrounded by beautiful aspens set against Maroon Lake.
Other significant areas for fall colors in Aspen include Castle Creek Road, Aspen Mountain (try one of the hikes!), and Smuggler Mountain. No matter which you pick, you'll truly be rewarded with epic views and beautiful fall foliage.
Breckenridge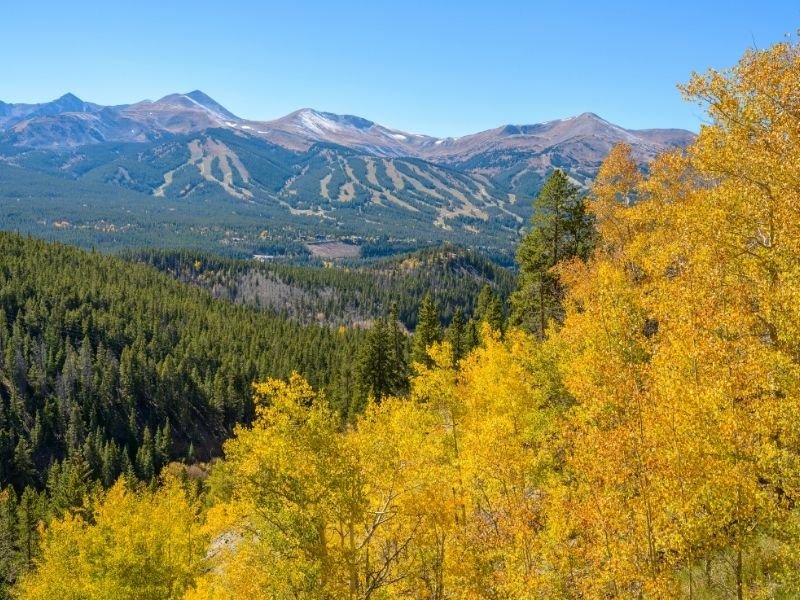 This post would not be complete without including Breckenridge! Famously known as a ski and snowboard winter destination like Aspen, Breckenridge is easily one of the best fall foliage spots in Colorado.
During the fall, Breckenridge's mountains get covered in the most beautiful colors from top to bottom.
Whether you like going hiking and want to go to high altitudes to take in the colors from above on one of these great Breckenridge hikes, or you'd rather stay in the town, you'll be able to witness it all.
One of the best spots to see fall colors in Breckenridge is at the French Gulch. This area is filled with great trails and is near the Golden Horseshoe.
Here, you can check out the aspens as they change colors in the fall!
Idaho Springs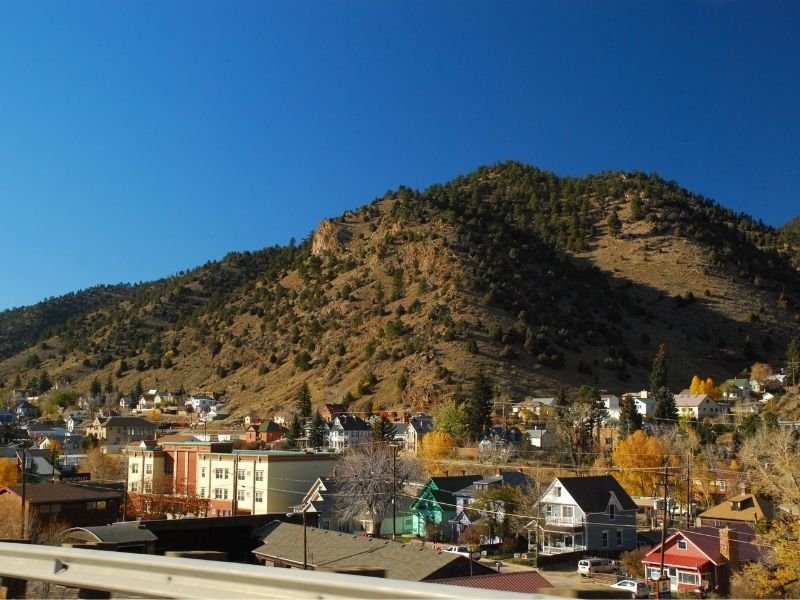 Idaho Springs is one of those destinations that is often overlooked as a place to visit in Colorado.
With a population of less than 2,000, people think that this probably that there isn't much going on in this small town!
However, it's a beautiful small town in Colorado that's perfect for checking out fall foliage in the state.
If you're up for doing a bit of a drive to get fall colors here, consider going on Squaw Pass.
It goes between Idaho Springs and Evergreen and goes near the beautiful Echo Lake. It even passes Mount Evans Byway, another excellent road trip spot.
Should driving not be what you're interested in, head to St. Mary's Glacier, which you can get to from Fall River Road. Many events are held in the fall in Idaho Springs so that you can take in the colors from downtown!
Estes Park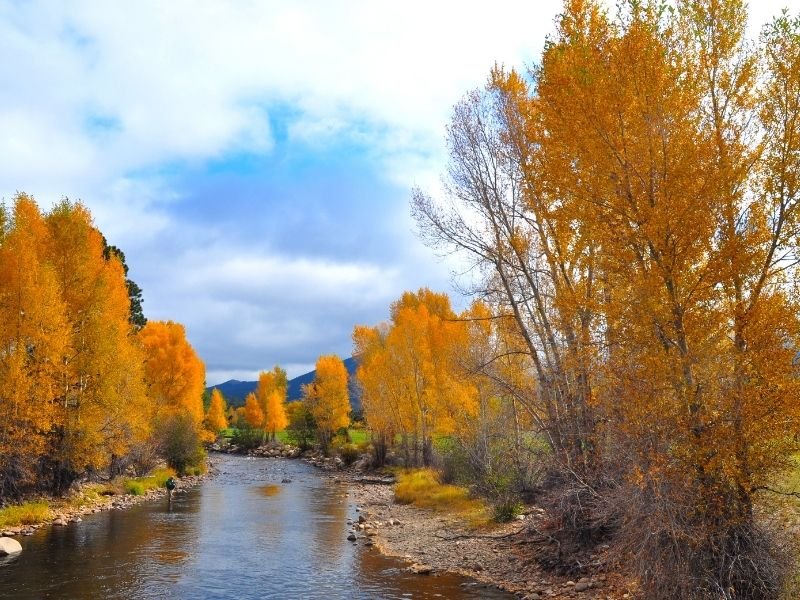 If you've heard of Colorado, you've probably heard of Estes Park. It's located in the northern part of Colorado and is a perfect home base for those who want to visit Rocky Mountain National Park.
The best spot to see fall foliage here is to take the Estes Park Aerial Tramway! This tram brings you to the top of nearby Prospect Mountain.
From here, you can look out and see the town and surrounding mountains covered in fall colors.
You can also enjoy the fall foliage by just exploring the town of Estes Park itself. It's filled with great restaurants and fall events that you won't want to miss out on!
Rocky Mountain National Park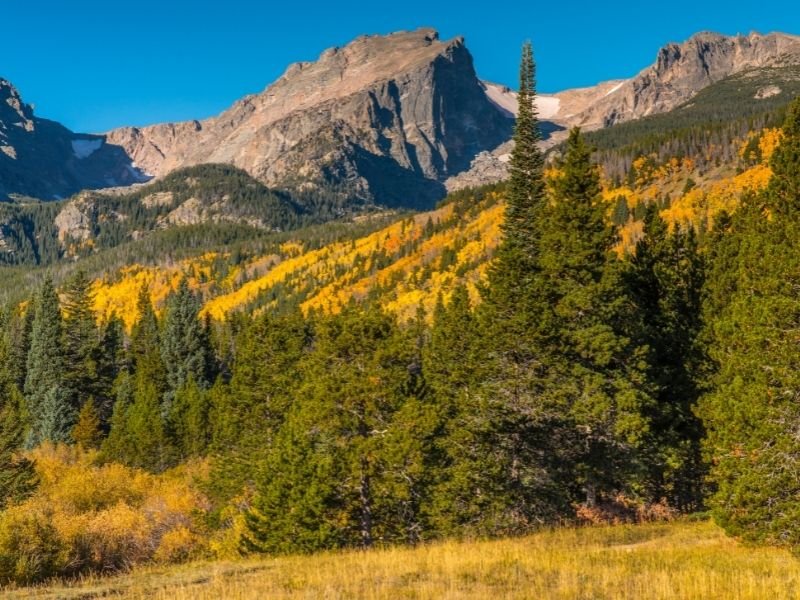 Another absolute must-visit spot in the fall to see fall foliage is Rocky Mountain National Park.
Most people situate themselves in Estes Park while visiting, but you can also opt to stay in Grand Lake, which is another great town.
The absolute best spot that Rocky Mountain National Park is pretty well known for is Trail Ridge Road. Along this drive, you can see so many amazing views of the fall foliage, and they don't even compare to other spots on this list.
You could also consider doing one of the many hikes located in the park, like the Keyhole Route, which is recommended for only the most experienced of hikers. A decent portion of it is just climbing rocks, but the view is fantastic!
Steamboat Springs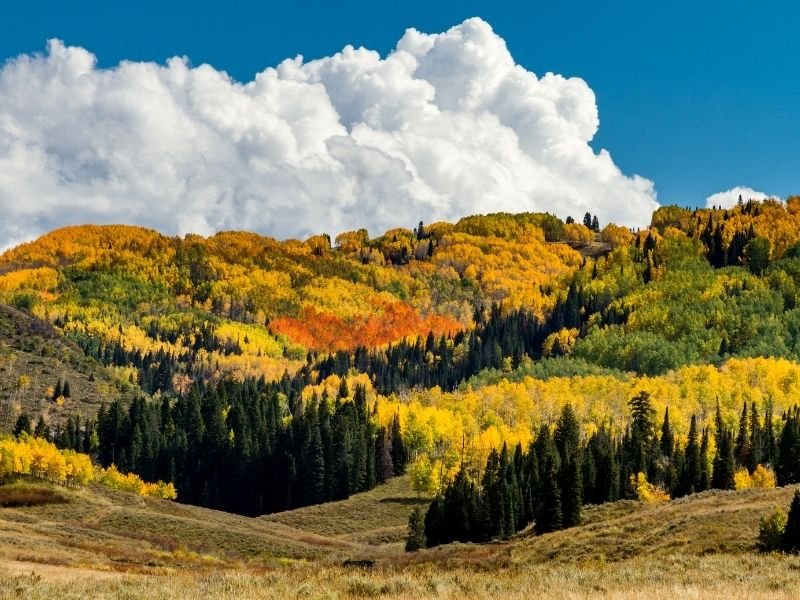 Next is Steamboat Springs, located in Yampa Valley. This mountain town has a very small-town feel, but it's still much larger than Idaho Springs, with a population of around 13,000 people.
When visiting Steamboat Springs, be sure to stop by the Old Town Hot Springs.
This is one of the best places for fall foliage, and you'll be able to relax outside in beautiful hot springs while looking around and checking out the colorful mountains.
If outdoor adventuring is more your style versus relaxing, you can go biking on the Steamboat Brew Trail or other trails in the area. You can also consider going hiking or camping!
Independence Pass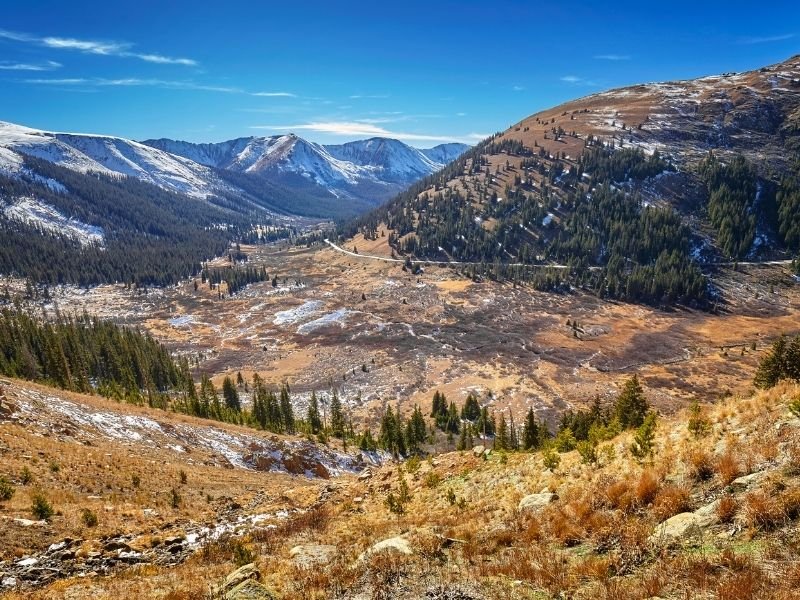 Independence Pass is one of the most unreal mountain drives that you can do while visiting Colorado in fall!
As you might imagine, you'll be able to get unparalleled views during the entire drive, which is why it's such a great spot to see Colorado's fall foliage.
This drive which also sometimes still goes by its former name, Hunter Pass, has an elevation of about 12,000 feet.
It goes right through what's called the Continental Divide and passes near Aspen, Colorado, another great spot on this list.
The entire drive only takes about an hour or two, but of course, that depends on the number of times you stop along the drive. Parts of the drive are very steep, so if you're not a fan of heights, you might want to skip out on this drive!
Golden Gate Canyon State Park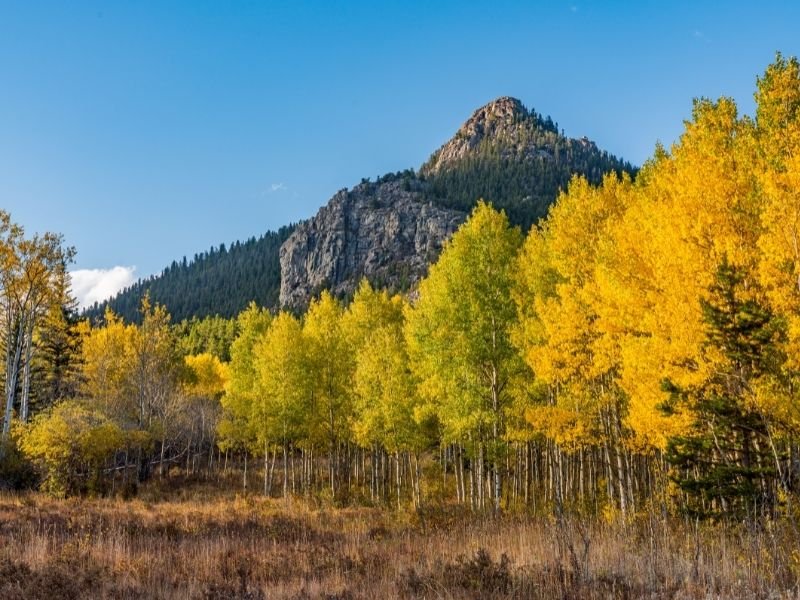 While most people know Colorado for its four national parks, it has terrific state parks that are perfect for visiting if you want to see fall foliage with fewer crowds. Golden Gate Canyon State Park is no exception to that!
The park covers around 12,000 acres and has more than 40 miles of trails that you can hike if you're an outdoor lover.
Each one of these hikes provides the perfect opportunity to witness Colorado's fall foliage firsthand.
It's located near Golden, a delightful small town that's not that far from Denver. This is a great place to stay while exploring the park.
While in Golden, be sure also to check out the local breweries and maybe even tour Coors Brewery if you have the time.
San Juan Skyway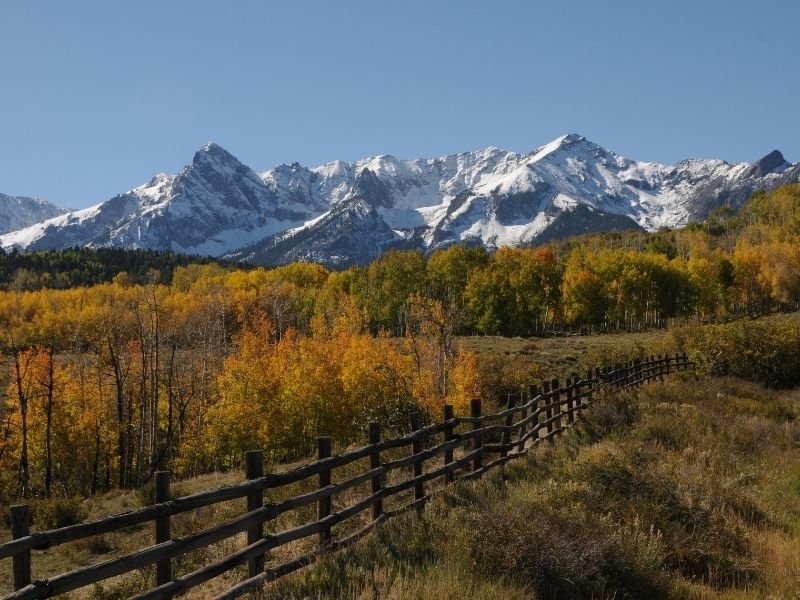 The San Juan Skyway is one of the most unique drives on this list just because of the fantastic views of the San Juan Mountains.
If road trips are your thing, then you're going to love this drive for checking out the fall foliage.
This is a rather long drive compared to other ones on this list. It's just over 200 miles long, and you'll be able to finish the entire drive in about seven hours tops.
However, it could take longer if you make lots of stops along the way. Because of the views, you just might want to!
Great spots to stop off in the area include Telluride and Durango.
Durango, in particular, is home to an amazing railroad that allows you to see fall colors from a unique perspective: from a locomotive twisting through the mountains!
Durango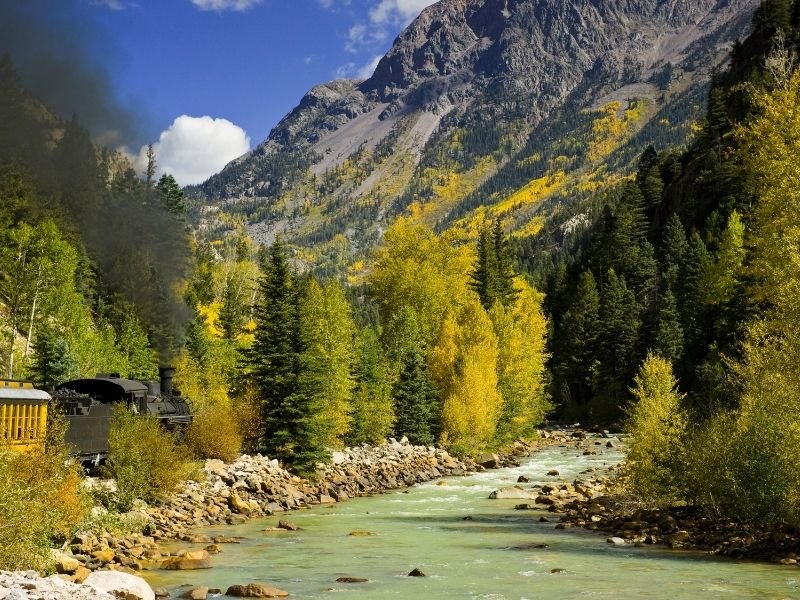 Next up is Durango, which is a spot near the San Juan Skyway! This town is located in southwestern Colorado near New Mexico.
While it's a lot further south than most of the other locations on this list, it's still an epic spot for fall colors in Colorado.
The best way to witness the fall colors here is to ride the Durango & Silverton Narrow Gauge Railway.
It offers scenic viewpoints the entire way, and you will honestly love the whole experience. Plus, it's about five hours long, so you get your money's worth from it.
Another way to witness fall foliage here is to go on one of the many hiking trails! Some of the most popular include the Cascade Creek Trail, Colorado Trail, and Hermosa Creek Trail.
Each one is great, but they range in difficulty, so be sure to pick one based on your hiking experience.
Ouray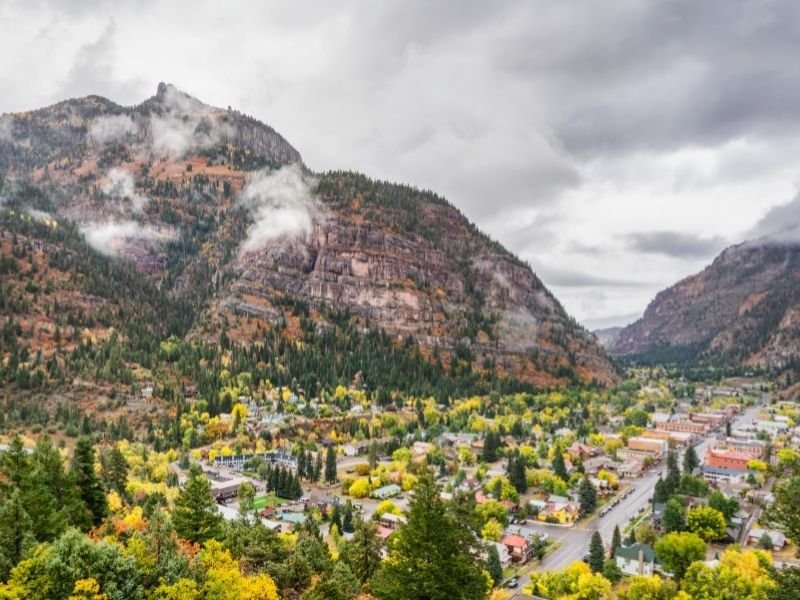 Ouray is probably the smallest town on this list, with a population of fewer than 1,000 people.
However, it's nestled right in the mountains, making it a beautiful destination if you plan on witnessing fall foliage in Colorado.
It's also another destination near the San Juan Skyway.
Fall foliage is an absolute must-see in Ouray just because mountains surround it; you can't possibly miss the changing of the leaves here, even if you tried.
The best time to catch fall foliage here is between September and October.
If you come too late in the season that everything may have already fallen off the trees as winter starts to come early sometimes, depending on the year.
Some of the most popular things to do while visiting here are to check out Perimeter Trail, Box Canyon Waterfall and Park, and the Yankee Boy Basin.
Kebler Pass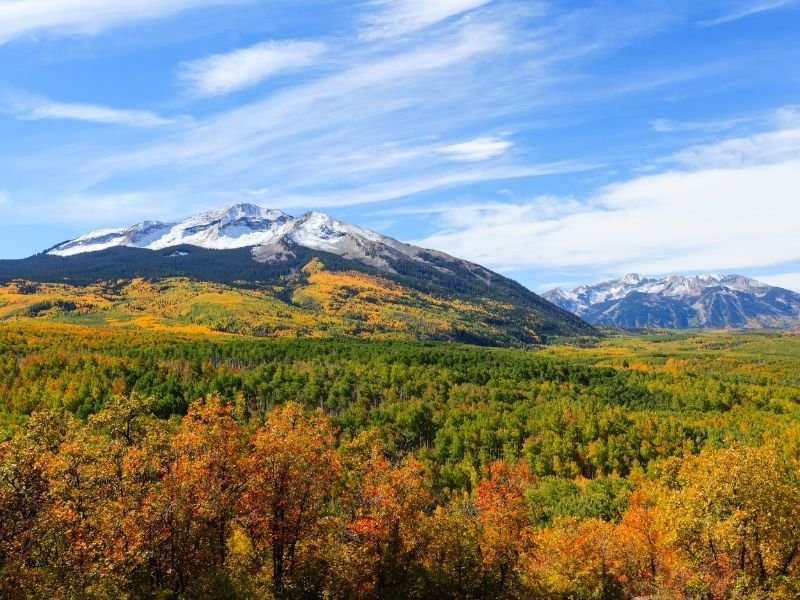 For a beautiful mountain drive, look no further than Kebler Pass.
This mountain pass is located at just over 10,000 feet high in elevation, and the drive goes through the mountains and is surrounded by beautiful trees.
To do the drive, you can start in either Panoia or Crested Butte. Both are great starting spots.
The entire drive is just around thirty miles long, so it's not the longest drive. However, there are some fantastic viewpoints along the way, so you may want to make consistent stops.
In total, the drive takes about two hours. Be on the lookout for the beautiful aspen and evergreen trees, which turn into beautiful colors in the fall.
Keep in mind that the majority of the road is not paved, so some spots of the road may be kind of rough.
Boulder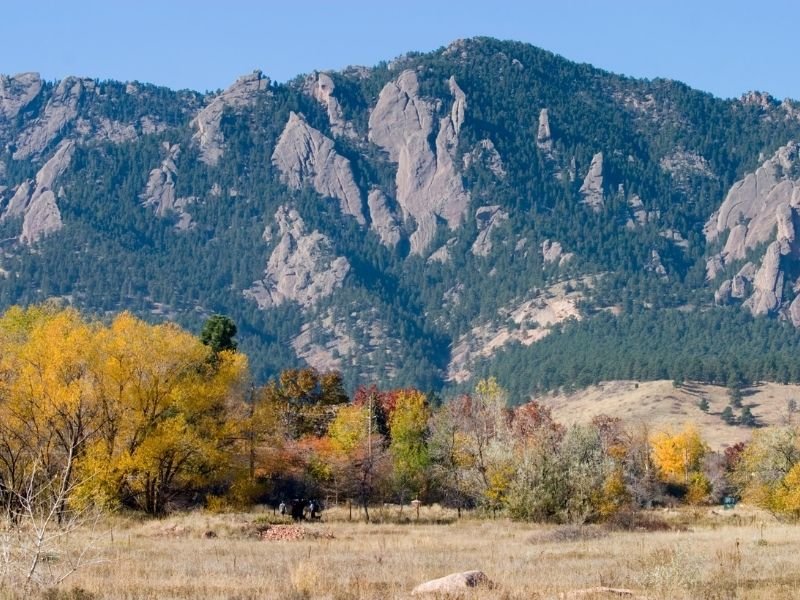 Known for being one of the best day trips from Denver and also for being home to the beautiful Flatirons, Boulder is one of the top spots to check out fall foliage in Colorado.
Boulder is at the foothills of the Rocky Mountains and turns gorgeous colors in the fall.
Easily the most incredible way to check out the fall foliage in Boulder is to do one of the incredible hikes through the Flatirons.
There is a wide range of trail options, and each one will bring you right along the beautiful mountain range here.
Another great way to enjoy the fall foliage here is to head downtown. This is a great option if you're not much of an outdoors person. Check out Pearl Street Mall and walk along the street to enjoy some great shops and beautiful trees.
Arapaho and Roosevelt National Forest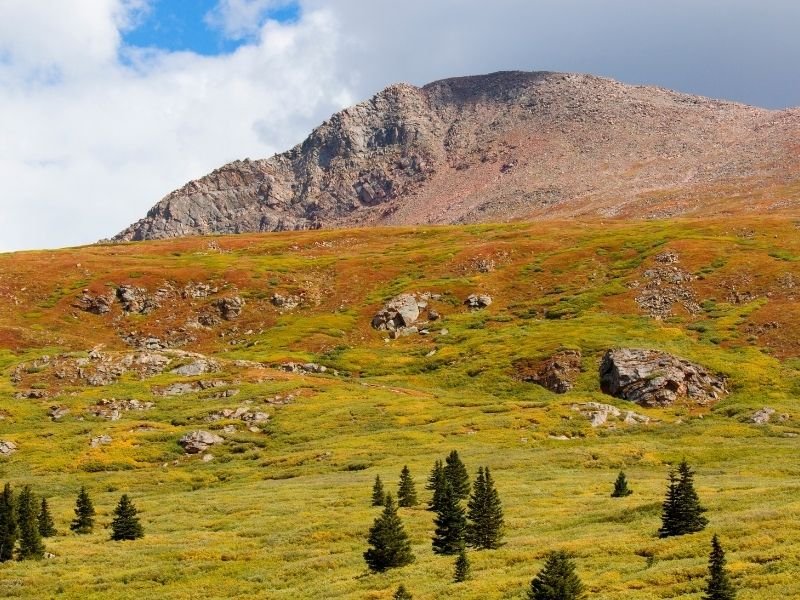 Colorado is also home to a beautiful national forest called Arapaho and Roosevelt National Forest.
It's located near Boulder and Fort Collins, two great spots to situate yourself while exploring this area.
As you might imagine, this is an incredibly epic spot to witness fall foliage because it's a forest. Almost everywhere you look, you can see the trees in mystical fall colors that will truly take your breath away.
The easiest way to witness the fall foliage here is to go hiking on one of the many trails. They range in distance from three miles all the way to fourteen miles or so.
The most popular hikes here include the Chicago Lakes Trail, Grays Peak National Recreation Trail, Chief Mountain Trail, and Cascade Creek Trail.
Telluride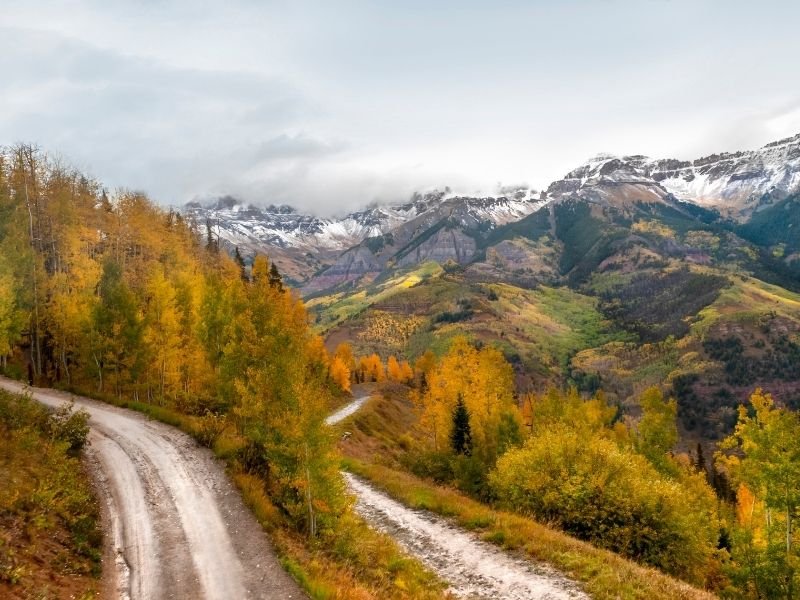 Telluride is another one of the most popular winter destinations like Aspen and Breckenridge that's located in the Rocky Mountains.
It used to be a mining town during the Victorian era, so it has a fascinating history that you won't want to miss out on.
Because it's located in the mountains, it's surrounded by excellent fall foliage spots. It starts here around late September and lasts through October. Sometimes it begins in early September, too; it depends on the year.
To get an unforgettable view of the fall foliage while visiting Colorado, you're going to want to take a ride on the Telluride and Mountain Village Gondola.
It will give you genuinely unparalleled views because the gondola is so high up compared to other spots in the area. Plus, all you have to do is sit and relax in the gondola!
Crested Butte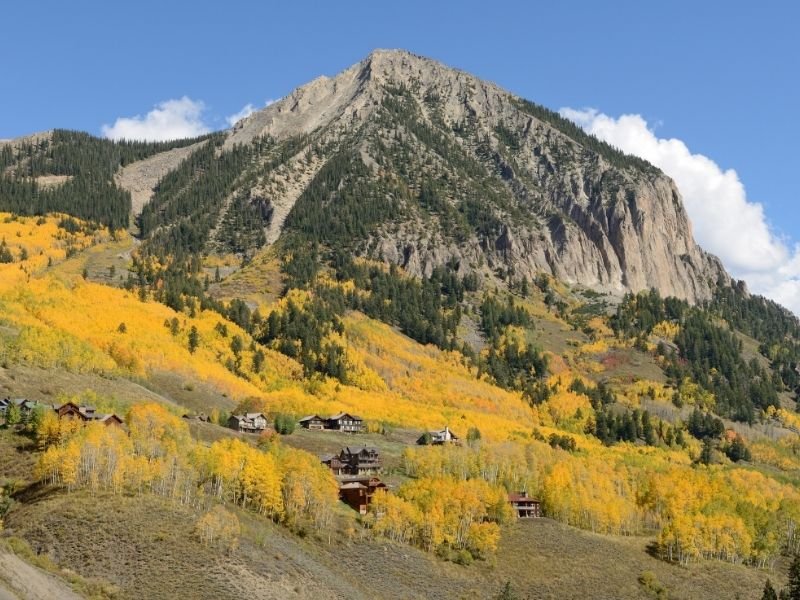 Crested Butte is easily one of the most recognizable spots in Colorado.
It's a great spot that people flock to for winter because of the many Nordic ski routes in the area, but it's amazing during autumn if you want to check out Colorado's fall foliage.
There are stunning drives that are incredibly scenic in Crested Butte to witness fall colors.
The West Elk Loop is a great one that people love driving, and it can take about a full day or so. Other fantastic rides include Kebler Pass, which was mentioned earlier in this post.
For small-town fall colors, head downtown. The downtown area is filled with great restaurants and fun little local shops worth exploring.
Plus, the streets are lined with trees, so you can witness the fall foliage in a fun way. You may even be able to meet with some locals!
If you want an even more amazing time while in Crested Butte, try renting one of the beautiful wooden lodges in the area.
Each of them is situated in a spot with great views of the mountains, and they're all pretty large so you can travel with a large group of people.
Vail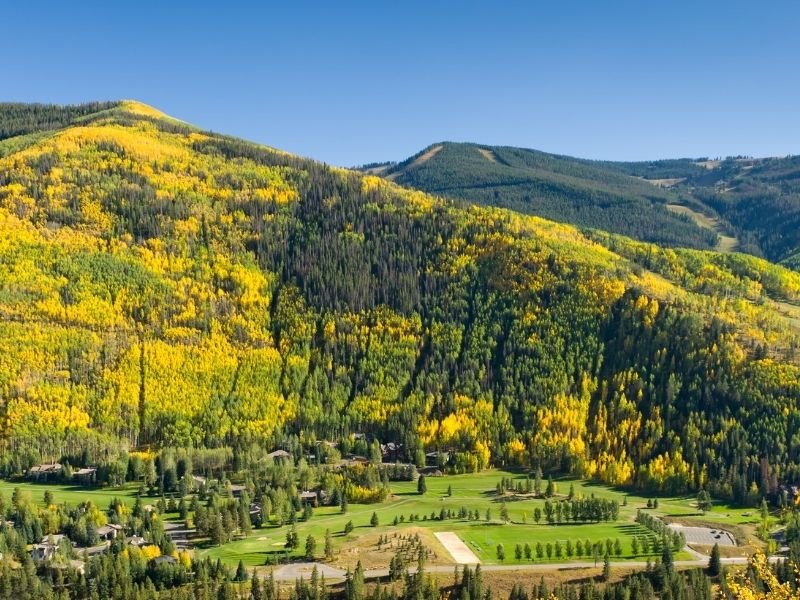 Vail is famous for its skiing trails because it's home to its epic ski resort of the same name.
It's a place that almost feels European when you visit it, making you forget that you're just in Colorado. However, it's also a fantastic spot to go and check out fall colors in the state.
Fall colors in Vail are pretty easy to spot, but here are a few of the best-recommended spots to check out.
A super-easy way to check out fall colors is to hop on the gondolas, which will bring you up and down the mountain range.
The Eagle Bahn Gondola is a popular one to check out, as is Gondola One, located in Vail Village.
If you love the outdoors, you can also consider checking out the many biking and hiking trails. Vail is pretty well known for its excellent mountain biking, so even if it's entirely new for you, you'll enjoy it here.
Frisco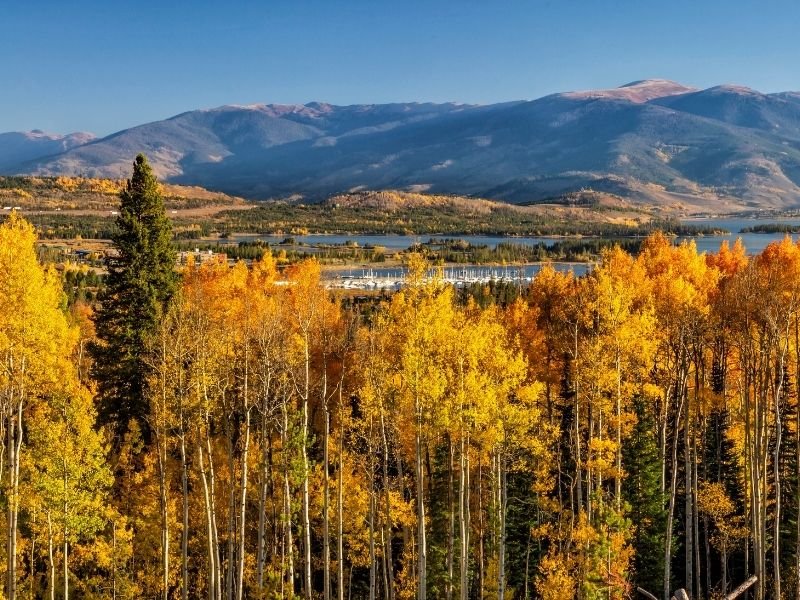 Frisco, Colorado, is a small town with a population of around 3,000 people.
It's near Breckenridge but is just as much worth visiting if you're on the hunt for excellent fall foliage in Colorado!
Frisco is a top-rated destination among skiers because it's right in the mountains — which also makes it perfect in fall in Colorado as well!
For outdoor enthusiasts, be sure to witness the fall colors on the Vail Pass Bike Shuttle.
It's about fourteen miles long and will bring you to downtown from Vail Pass. Plus, it's a well-paved bike path, so you won't have to worry about accidentally biking into rocks.
If you're traveling with kids or you just want to have some fun, you'll want to hop on the Rocky Mountain Coaster.
It's located at Copper Mountain and is one of the longest coasters of its kind. It's just shy of 6,000 feet long and will provide you with epic views of the surrounding area while getting your adrenaline pumping!
Georgetown Loop Railroad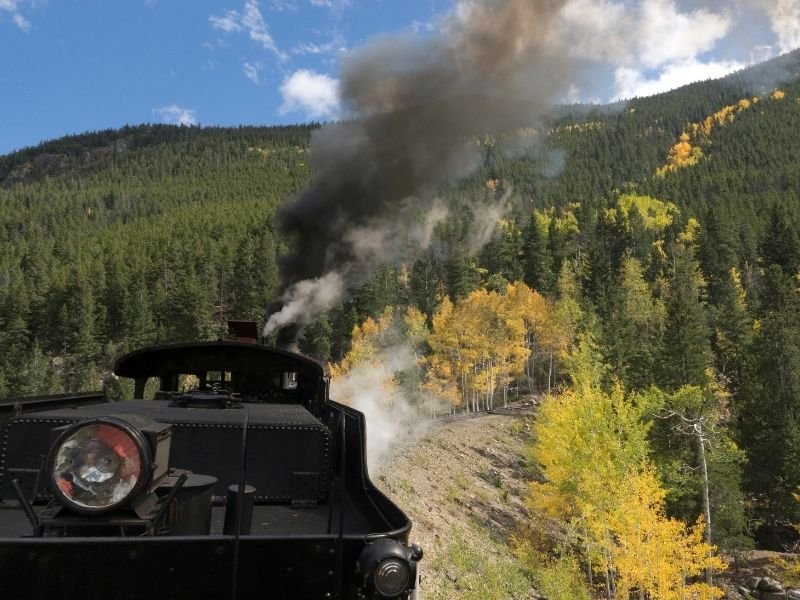 While this may seem like a bit of a weird thing to include on this list of the best places for fall foliage in Colorado, it truly is a place with incredible views!
It's located about an hour or so from downtown Denver, making it a great destination to check out.
The train runs between Silver Plume and Georgetown and is only about two miles long. However, the views along the way are amazing.
It crosses some great bridges too, so you'll be able to look out and take some photos of the landscape.
They only run the train a certain amount of times each day, so you'll have to check their online schedule to see when you can catch it.
While it's not the longest train to take in Colorado, it sure does offer a fun way to see the scenery.
Denver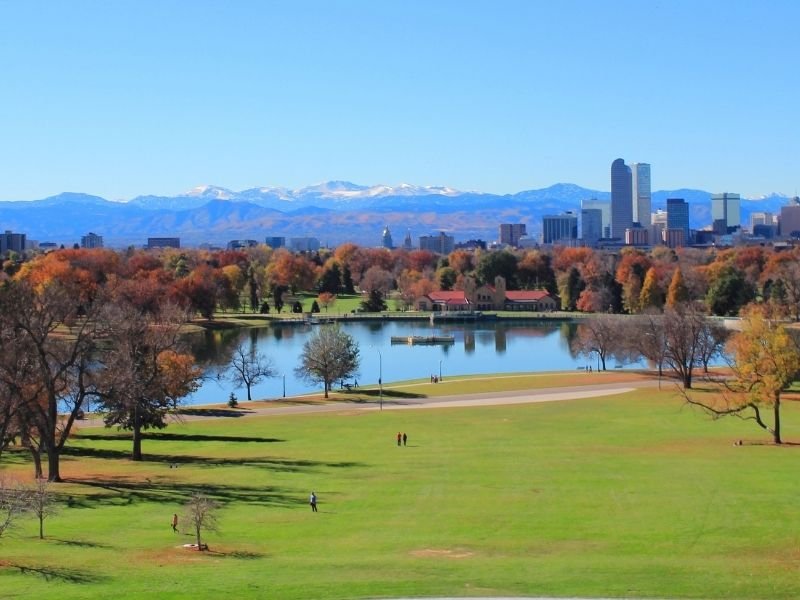 Yes, the city of Denver is actually on this list!
You probably think that being a big city, Denver would not be a good spot for checking out leaves and the changing colors, but it totally is. The secret is that you have to check out the many parks in the area.
City Park is one of Denver's largest parks, and it's also home to the Denver Zoo. This is a great spot to bike or walk the trails.
It's perfect for outdoor recreation, so you really can't go wrong here. You can check out the fall colors with all the surrounding trees.
Other amazing spots to check out the fall colors here include Sloan's Lake Confluence Park.
Confluence Park, in particular, has some great hills that look out into the surrounding mountains in the Denver area.
If you really want to enjoy the fall colors while doing something outside in Denver, you could head to Wash Park.
This park has a great lake in it where you can go boating on kayaks, canoes, or even pedal boats. Just head to the boat rental center right by the lake and take your pick of boats!
Krystianna is a brand and web designer who runs her own studio and is always chasing her wanderlust. After studying abroad in Dublin for six months, she was bitten by the travel bug and hasn't looked back. She runs the travel blog Volumes & Voyages.