Whatever you have at the top of your bucket list, give it a nudge to make room for one of the best experiences I've ever had: seeing the Grand Canyon by helicopter with 5 Star Helicopter Tours.
Words aren't sufficient to describe the feeling of seeing the most beautiful and iconic landmark in all of the United States from a helicopter. But seeing as I'm a professional travel writer… I've got to try. And luckily I snapped a few photos along the way to help a sister out.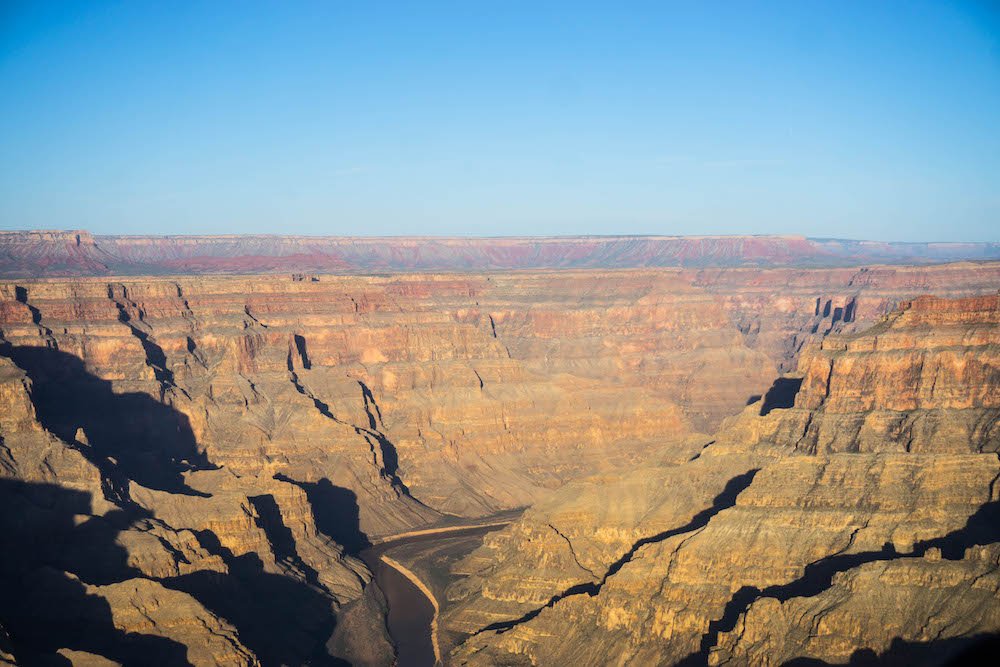 Note: This post contains affiliate links, which means I may receive a small commission if you purchase something through one of these links. Thank you for supporting the free content on this site! For more information on affiliate links and cookies, see my disclosure page for more details.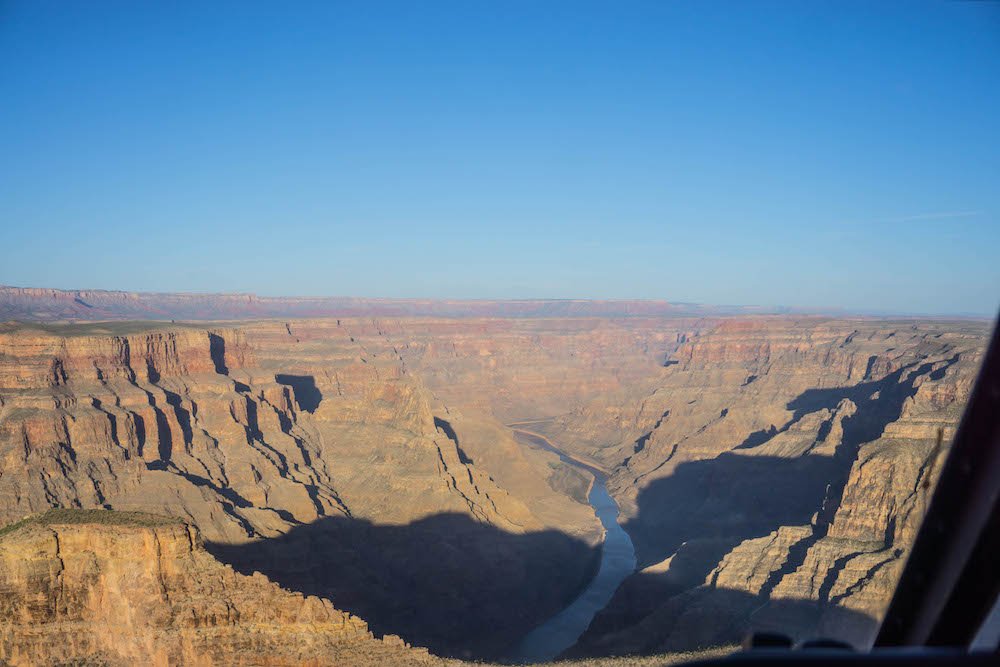 It's a humbling feeling, seeing with your own eyes the endless strata of rock that date back nearly 2 billion years — nearly half the lifetime of our earth.
It simultaneously makes you feel so small and unimportant in the timeline of our planet, yet so lucky that you happen to live in an age where you can harness the power of flight to see it from a helicopter.
Flying over the Colorado River, I couldn't help but think: all that was carved from that tiny little stream? The magnitude of the stacks of rock of the canyon next to the relative puniness of the Colorado River is a sight to behold. It's awe-inspiring to say to least to see how the twin forces of water and wind collaborated over the years — some 5 or more million of them, it seems — to carve out this insane view.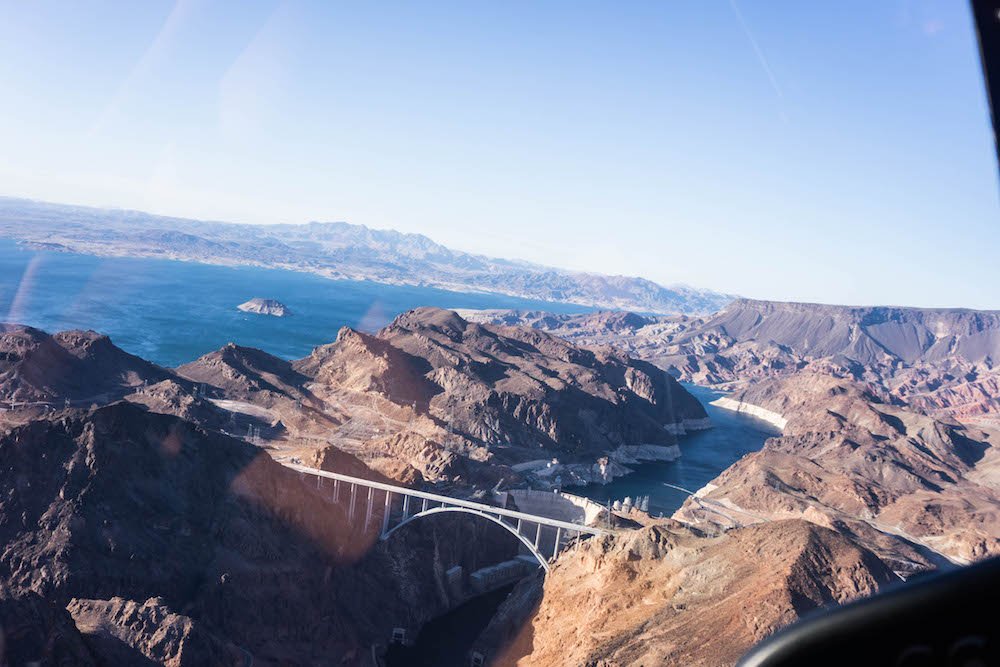 En route to the Grand Canyon on your helicopter tour, you'll see the impact that another force has had on America's landscape: human determination. Over the span of just a few hundred years – a millisecond compared to the Grand Canyon's timeline — we've quite literally created something from nothing.
An oasis in the middle of the desert, the creation of the Hoover Dam and Lake Mead – the tallest dam in the U.S. and the largest manmade lake in the U.S. respectively – was crucial to expansion in this inhospitable corner of the country.
It's beautiful to see how anthropological forces combine with the geological, trying to tame our earth to eke out an existence. Oddly, it made me rather emotional, feeling — for a change — faith in the drive of the human spirit and our ability to collaborate in pursuit of a common goal.
I know, I know — only I would get this philosophical on a freaking helicopter tour over the Grand Canyon.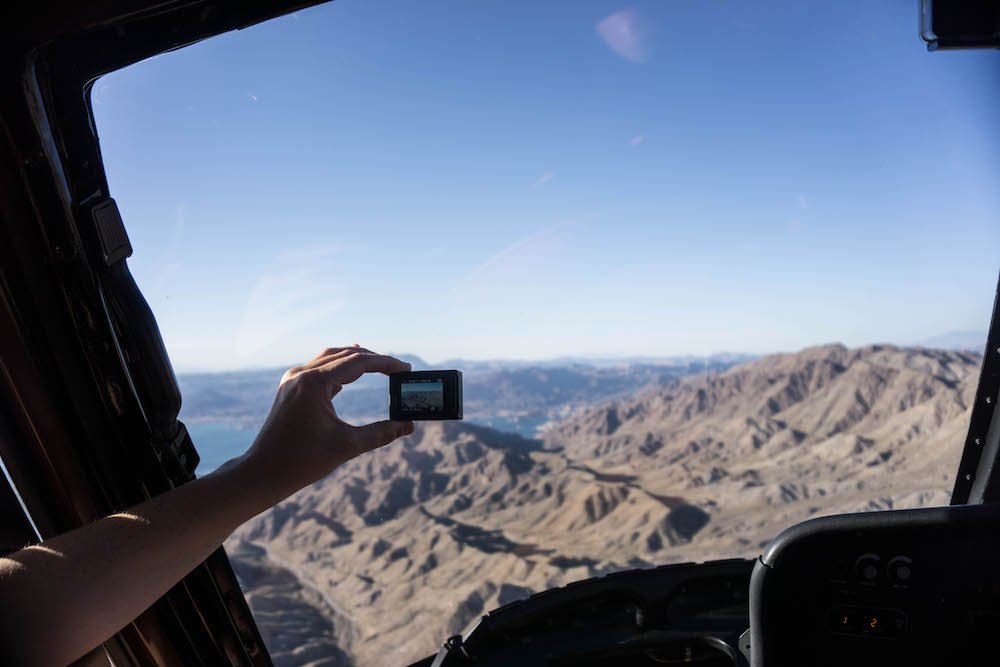 Yet as jaw-droppingly beautiful as the Grand Canyon was, I wasn't prepared for what would actually be the show stealer: flying over the Valley of Fire by the light of sunset.
I had visited the Valley of Fire by day previously and was blown away by its landscape, but nothing could have prepared me for how amazing it would look approaching by helicopter with the sun setting the red rocks ablaze.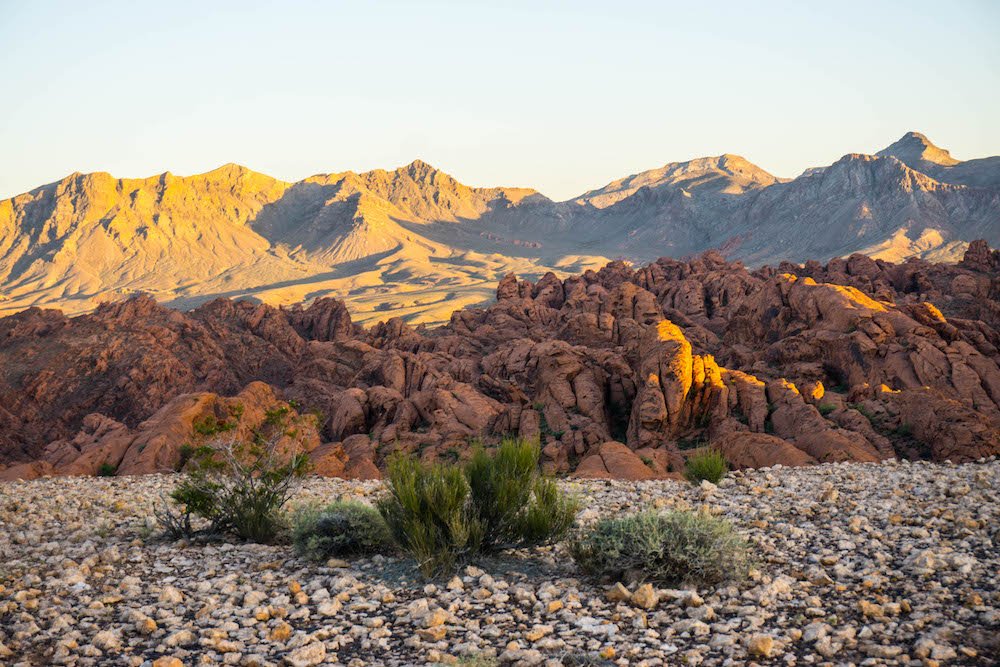 Luckily for me, all my philosophizing about the grandness of our planet, our tiny place in the grand scheme of it, etc. was interrupted by a call for happy hour.
Oh, I didn't mention that this was a sunset and champagne helicopter tour?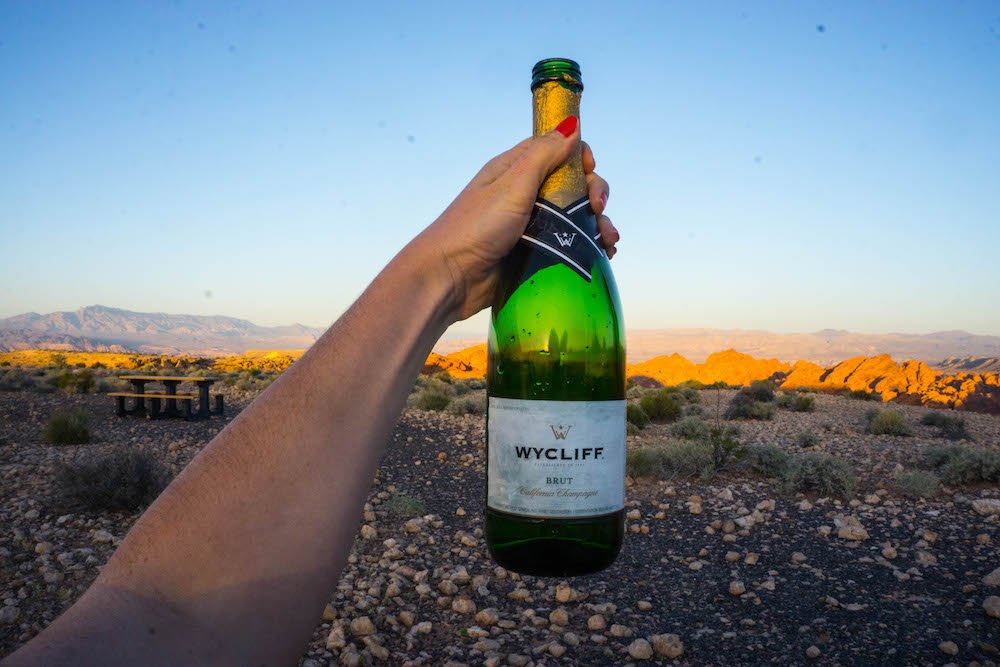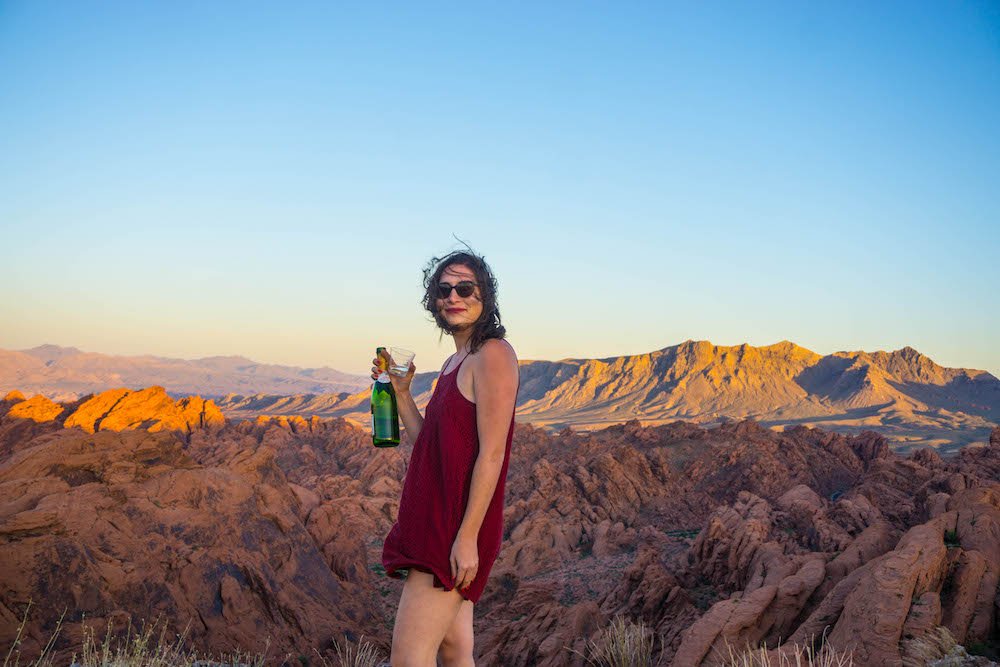 I stole away the bottle for some photo opportunities because I'm a professional. Much to the surprise of the couple who did the tour with us, I returned it just as full as I left it — it was all for the 'gram, baby.
(Also, pro tip – don't wear a dress on a helicopter tour if you have this little thing I've heard people talk about called shame. Oops)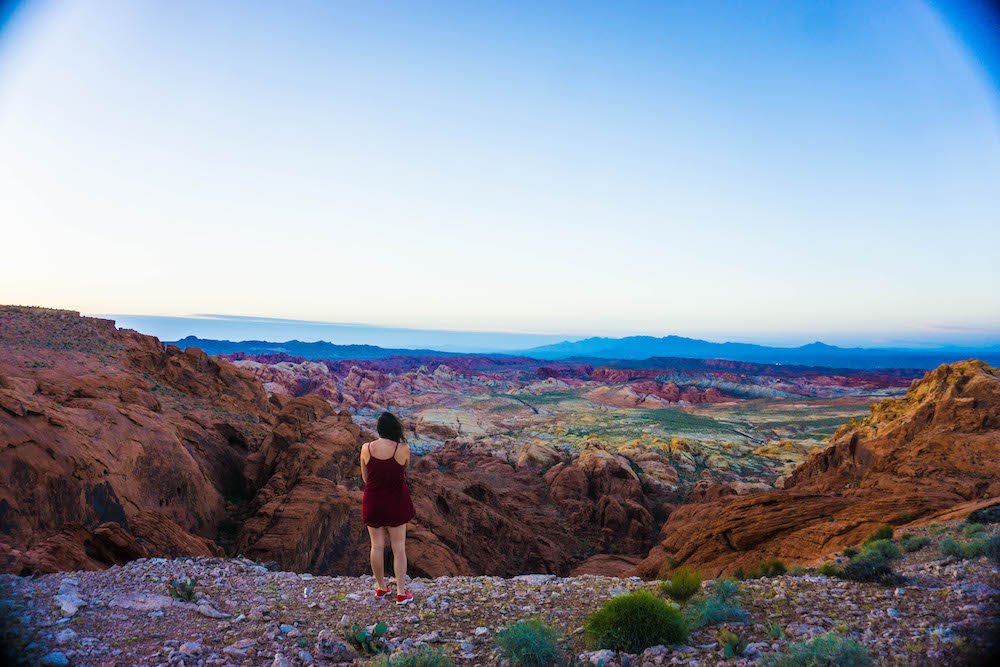 The more the sun set, the more it cast insane light on the amazing viewpoint we had landed at — drawing out all the colors of the Valley of Fire's Rainbow Vista. It was, dare I say, even more beautiful than the Grand Canyon.
As we wistfully got back onto the helicopter to say goodbye to the Valley of Fire, all four of us let out an audible whoa — then a big belly laugh at our nearly choreographed response — as we shot up, up, up and saw the colorful beauty of the Valley of Fire laid bare before us.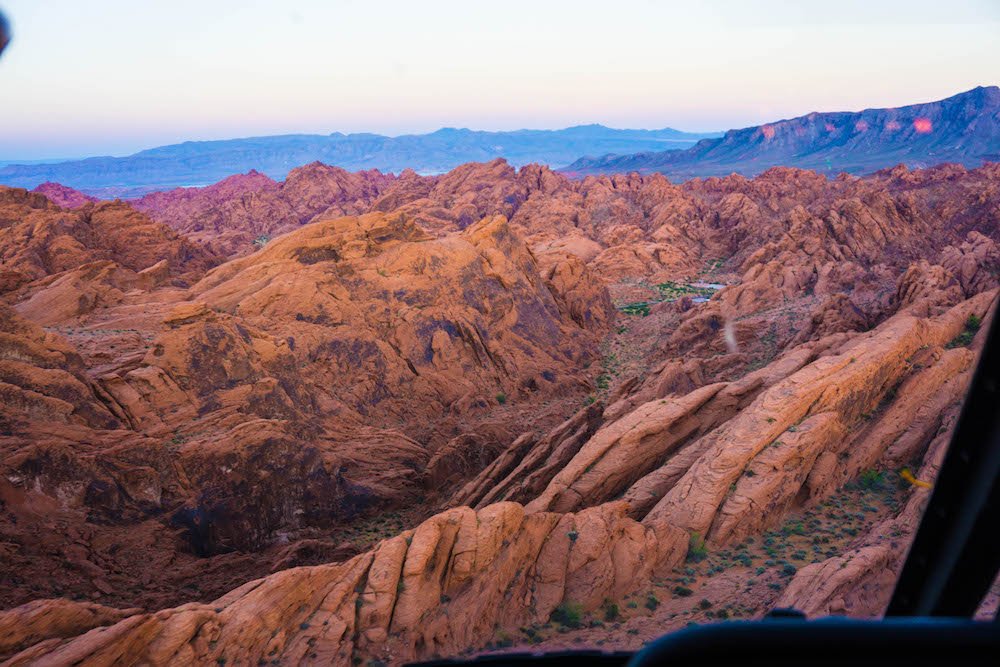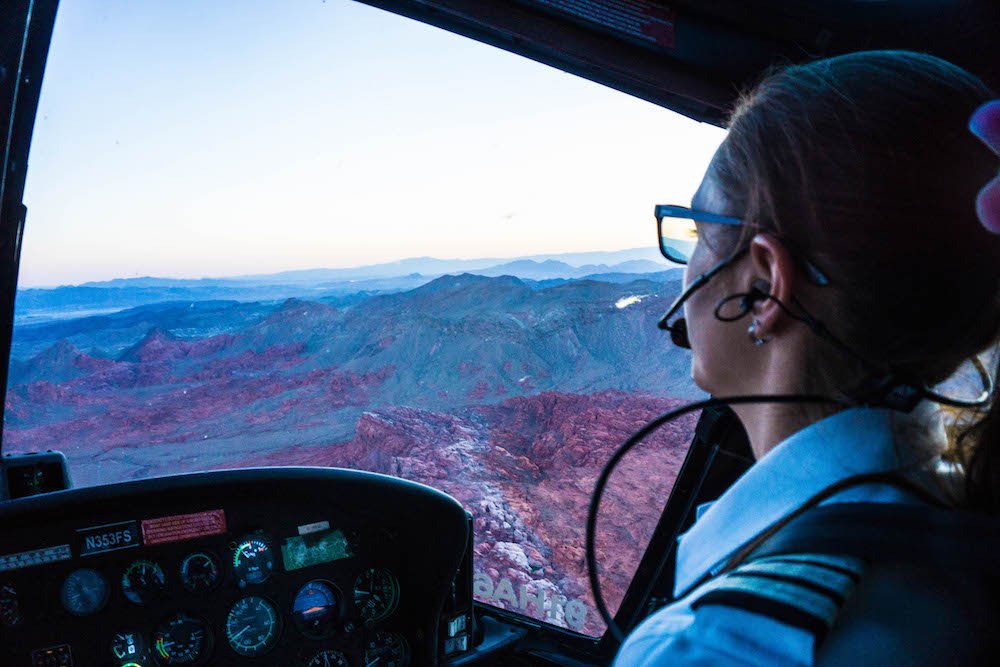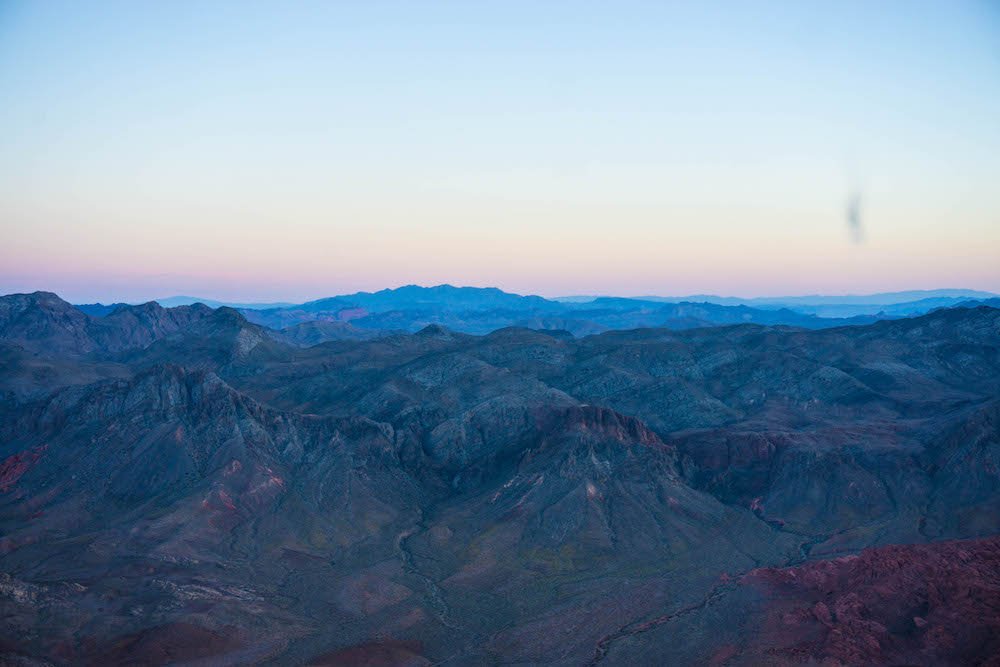 As our kickass female pilot flew our helicopter back to Vegas, I felt sadness well up in me that one of the most amazing experiences of my life was nearly over.
Luckily, I was quickly distracted by the shiny lights of the Strip as we passed overhead.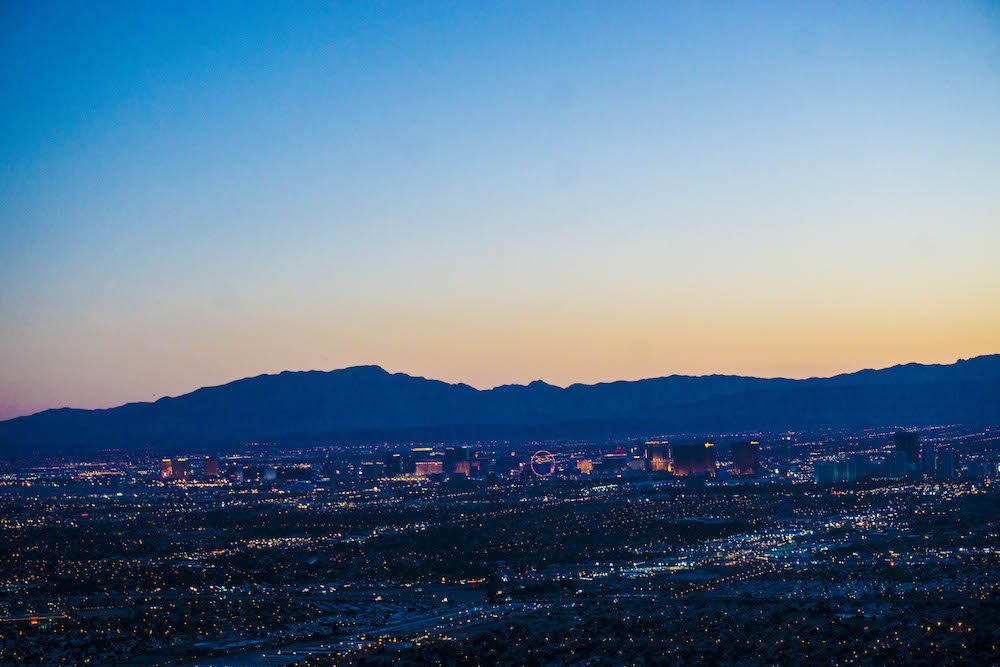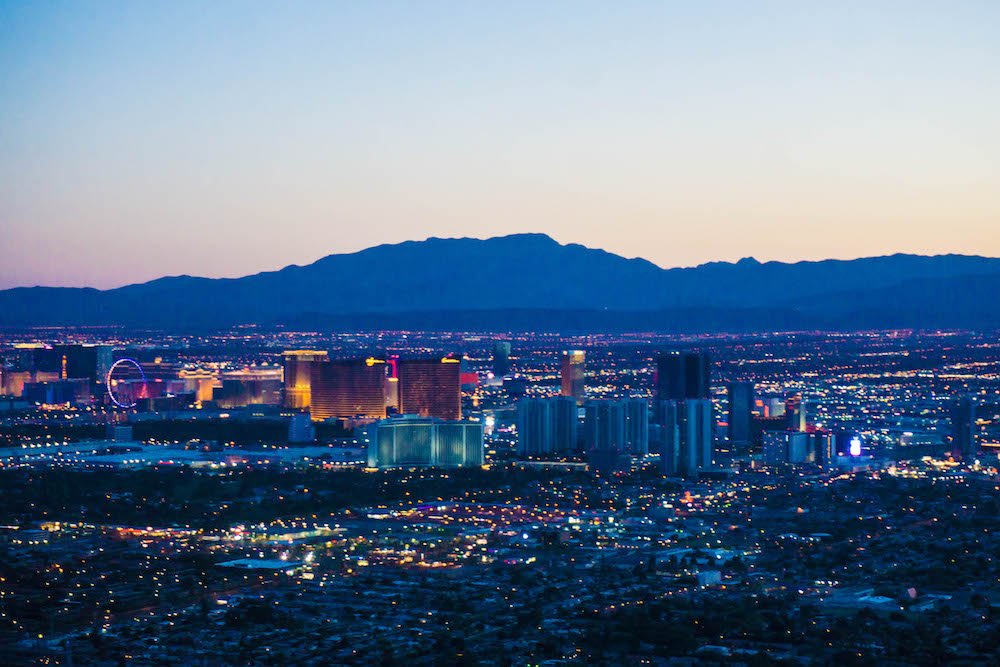 I'll admit, I came to Vegas not expecting much. As someone who prefers Netflix and onesies to club hits, and a miserly gambler who feels like losing $6 is the end of the world, I thought I'd be sorely out of place.
But Las Vegas – this madman's hallucination in the middle of the desert – is so close to some of the most beautiful places in this entire country that you'd be hasty to write it off as just an adult Disneyworld.
Get off – or at least above – the Strip, and you'll see just what I'm talking about.
I've partnered with 5 Star Helicopter Tours to offer a 10% discount to my readers on any helicopter tour they offer – just mention that you were referred by Eternal Arrival to get the discount. Prices range from $149 per person for a Las Vegas Strip helicopter tour for those visiting Vegas on a budget to $499 for this tour, the Grand Canyon and Valley of Fire sunset tour which lasts about 4 hours.
Note: Many thanks to 5 Star Helicopter Tours for the complimentary helicopter tour. All opinions are entirely my own.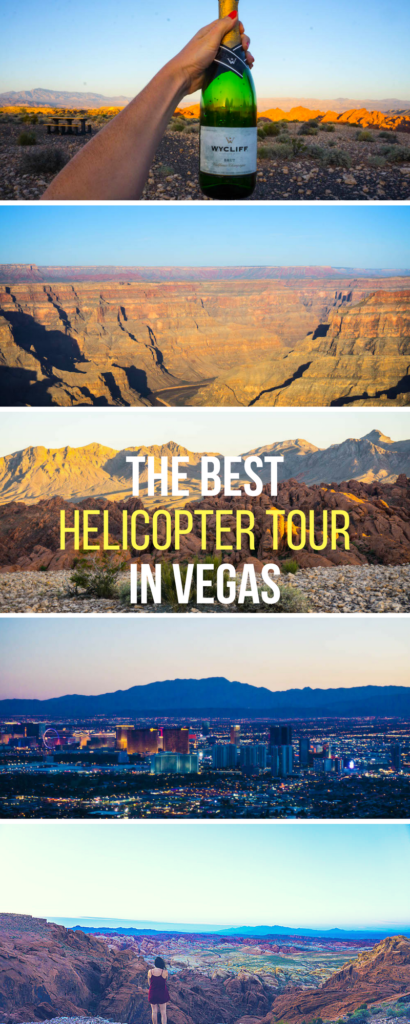 Allison Green is a former educator turned travel blogger. She holds a Masters in Teaching and a B.A. in English and Creative Writing. Her blog posts merge her educational background and her experience traveling to 60+ countries to encourage thoughtful travel experiences that both educate and entertain. She has been a speaker at the World Travel Writers Conference and her writing, photography, and podcasting work has appeared in National Geographic, CNN Arabic, CBC Canada, and Forbes, amongst others. Now based in the San Francisco Bay Area where she grew up, she has also lived in Prague, Sofia, and New York City.