If you have always dreamed of gazing into the Grand Canyon, you have probably pictured its 6,000-foot tall cliff walls, glowing red landscape, and unparalleled desert scenery.
Looking down into one of the world's largest canyons and the many layers of rock revealed by the force of the Colorado River is like looking back in time millions of years.
Although Grand Canyon National Park sees unbearably hot temperatures in the summer, the winter in Grand Canyon is a little more bearable… and sees fewer crowds.
Snow blankets the North Rim, accenting the overhanging red rock, and visitation dips quite a bit compared to the steady traffic of summertime.
Although the shift in seasons may change the scenery, there are still many fun activities to do while bundled up in Grand Canyon National Park in the winter!
Grand Canyon Winter Road Closures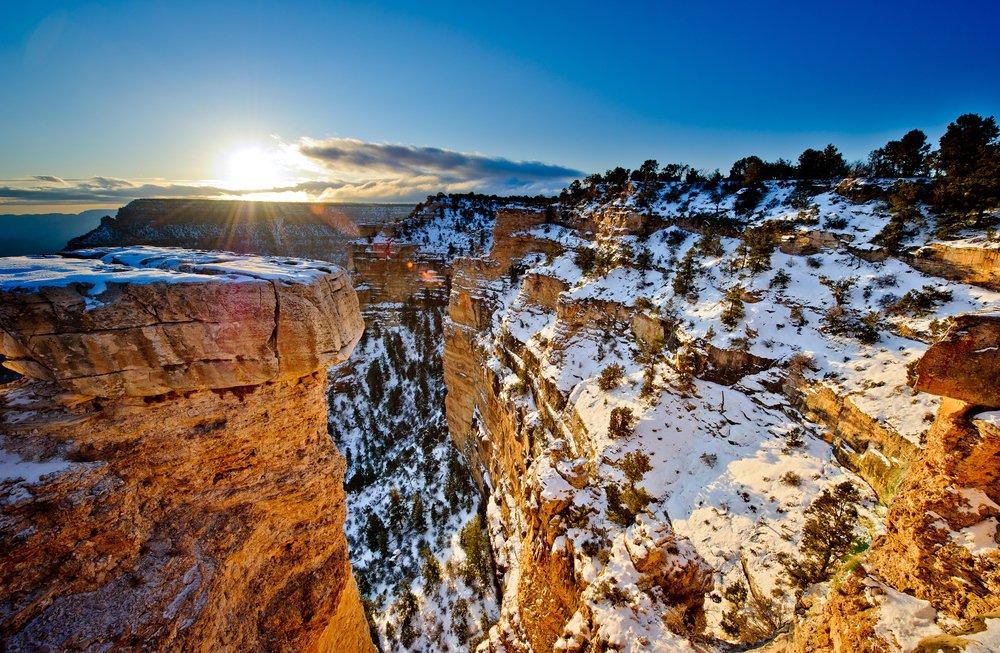 Note: This post contains affiliate links, which means I may receive a small commission if you purchase something through one of these links. Thank you for supporting the free content on this site! For more information on affiliate links and cookies, see my disclosure page for more details.
North Rim Scenic Drive and All North Rim Roads
If you were hoping to visit the North Rim in Grand Canyon National Park, you will have to wait until mid to late spring.
The North Rim Scenic Drive and all amenities in the North Rim area close down during the winter months.
In fact, this road is only open for a short window of time: between May 15th and October 15th. (Read more differences between the North Rim and the South Rim here.)
This scenic road is a common access point for visitors arriving at the park from northern states, but be warned, the South Entrance is over 4 hours driving from the North Entrance if you end up on the wrong side of the canyon.
Desert View Drive (South Rim)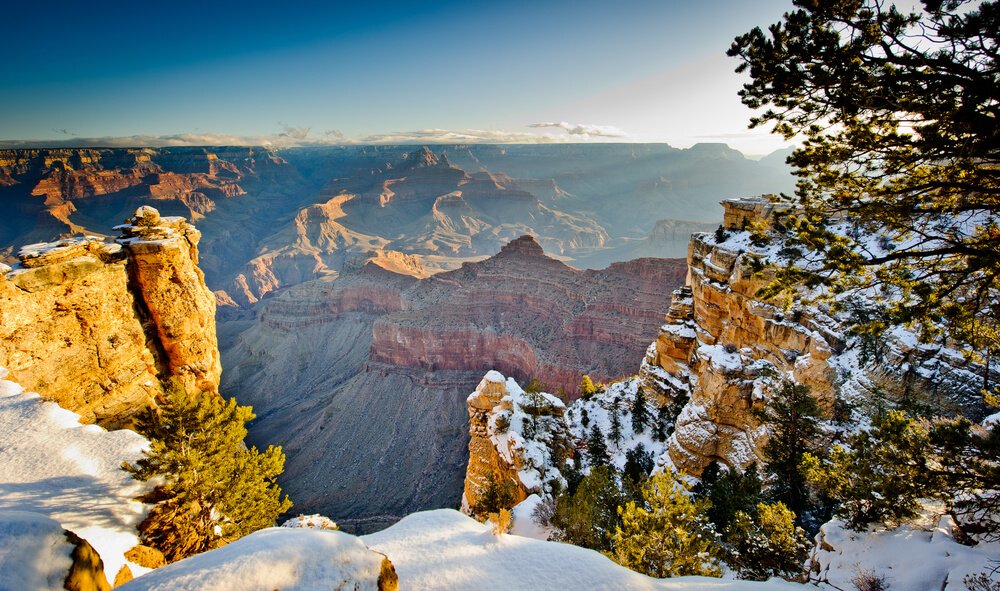 The scenic stretch of road known as the Desert View Drive or East Rim Drive is open year-round to private vehicles.
The drive travels along State Route 64, connecting the South Entrance of Grand Canyon National Park near the town of Tusayan to the East Entrance in the neighboring Navajo Nation.
Although the road is technically open 365 days per year, the park service may elect to close the road due to inclement winter driving conditions.
The weather can change quickly in Grand Canyon National Park in winter, so it is important for visitors to frequently check for weather updates as they prepare to drive to the park.
Hermit Road (South Rim)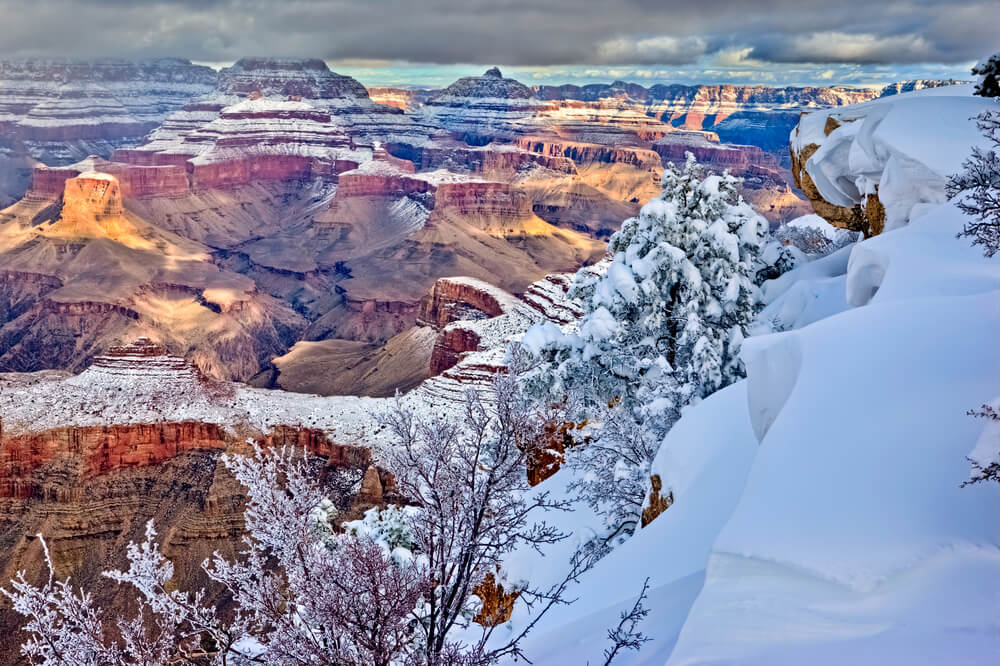 During peak visitation, the Hermit Road, which spans from the South Rim area to Hermit Trailhead where the road dead-ends, is closed to private vehicle traffic.
From March through November, the road can only be traveled by biking, walking, or hopping aboard the free Hermit Road (Red Route) Shuttle.
Once the season of high-visitation is over, the road opens up to private vehicle traffic.
For the months of December, January, and February, visitors can drive along the Hermit Road and park in designated parking areas to access hiking trails and viewpoints.
Grand Canyon Winter Hours of Operation and Facilities
Although the South Rim of Grand Canyon National Park is always open to the public, some of the facilities undergo reduced hours of operation come wintertime.
Remember the North Rim and all facilities are closed between mid-October and mid-May.
If you are visiting Grand Canyon National Park in the winter, you will want to be aware of these changes to facility hours and seasonal closures:
Grand Canyon Village (South Rim) Facility Hours
Grand Canyon Visitor Center: 9:00 am – 4:00 pm
Grand Canyon Visitor Center Park Store: 9:00 am – 6:00 pm
South Rim Backcountry Information Center: 8:00 – noon; then, 1:00 pm – 5:00 pm
Yavapai Geology Museum: 9:00 am – 5:00 pm
Verkamp's Visitor Center: 9:00 am – 5:00 pm
Desert View (South Rim) Facility Hours
Watchtower Kiva Shop: 8:00 am – 6:00 pm
Watchtower Stairs: 8:00 am – 5:30 pm, stairs always close 30 minutes before the store
Tusayan Museum: 9:00 am – 5:00 pm
North Rim
All facilities and roads are closed for winter at the North Rim of the Grand Canyon, so don't even factor this into a winter trip.
Visitor Centers in Winter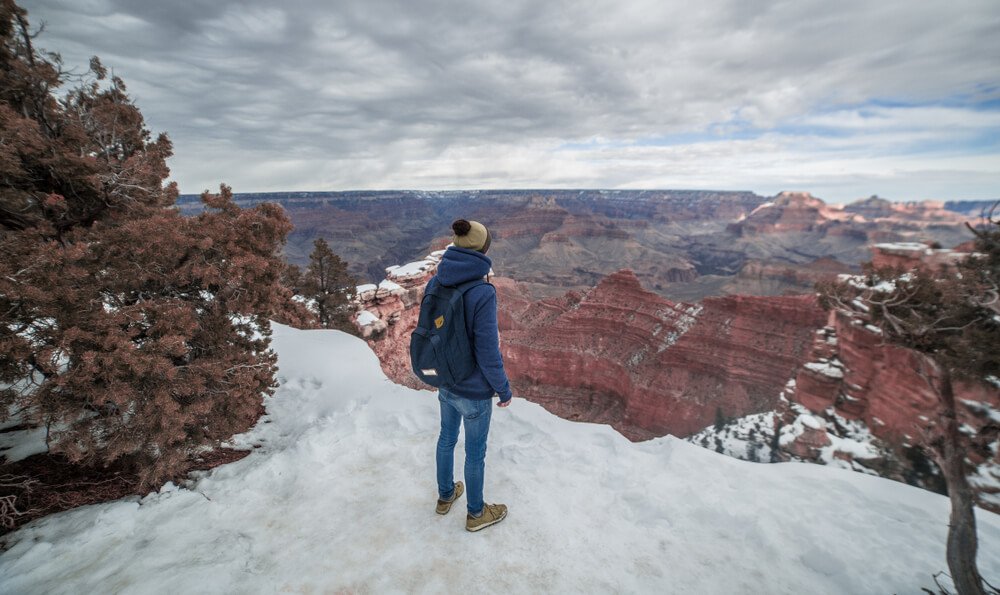 Visitor centers in Grand Canyon National Park are open in the winter, except select holidays. It is always a good idea to begin a national park trip with a stop at the visitor center.
This is a great way to make sure you have the most up to date information, and it allows you to review your itinerary with professional park staff.
They may even have some insider tips to share with you!
Winter Camping in Grand Canyon National Park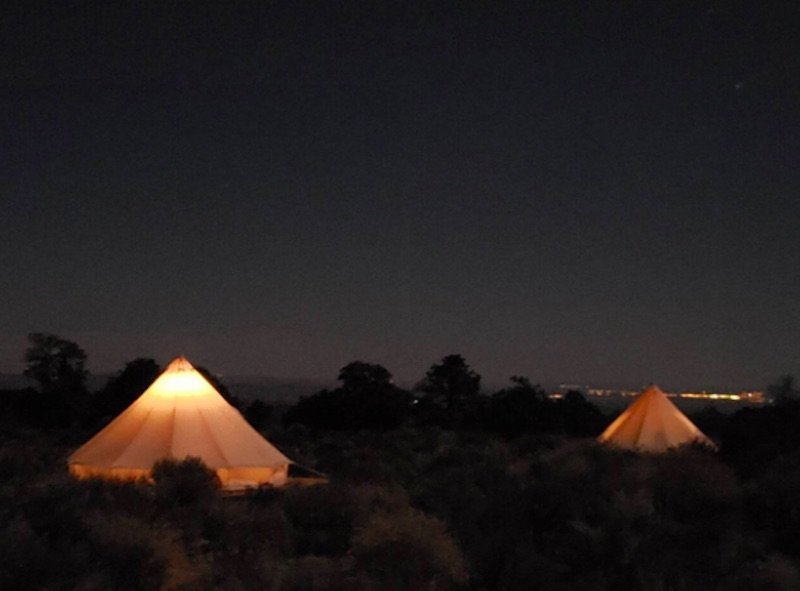 Many who come to Grand Canyon National Park choose to camp during their visits.
During the summer months, there are three different campgrounds to choose from: North Rim Campground, Desert View Campground, and Mather Campground.
However, North Rim and Desert View Campgrounds both close in October.
Mather Campground on the South Rim as the only front country year-round camping option in Grand Canyon National Park.
For those planning to stay at Mather Campground during their winter visit, advanced reservations are highly recommended.
As the only open campground in the park, spaces fill quickly! Reservations can be made online up to 6 months in advance.
Not into camping? There are also great Grand Canyon Airbnbs available in the winter.
Winter Safety in Grand Canyon National Park
Icy Trails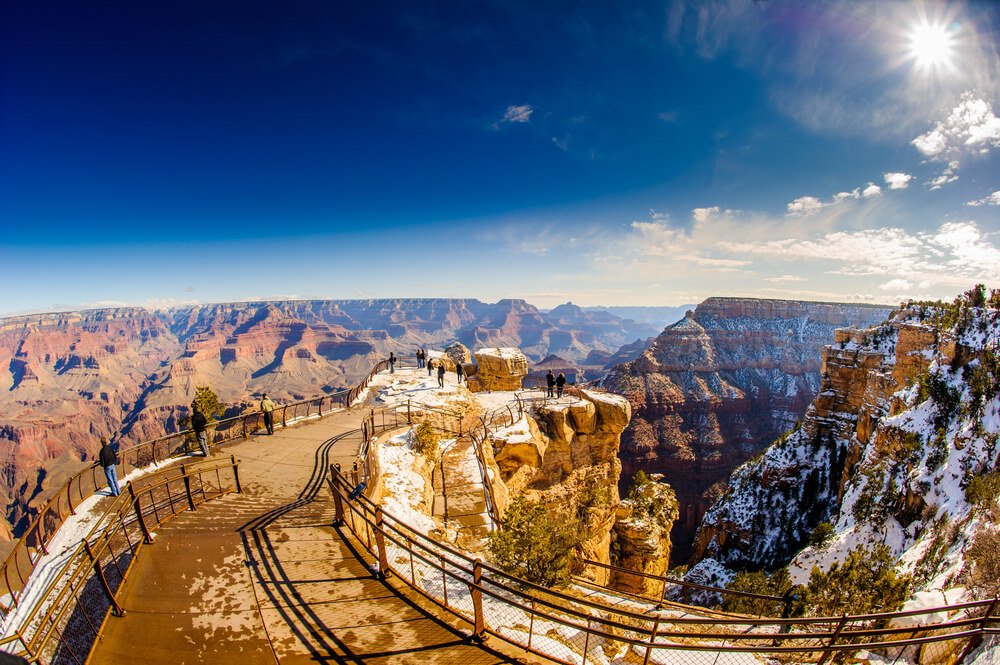 With limited daylight, cold nighttime temperatures, and limited sunlight in the deep canyon during the winter, one of the greatest cold season hazard in winter in the Grand Canyon becomes icy trails.
Many of the most popular trails remain open year-round. It's not uncommon to have clear dry trails. However, ice may be lingering in the shaded areas.
To prevent slipping on icy trails, many hikers choose to carry along Yaktrax or spikes. These handy accessories will help you keep your footing on slick surfaces!
Hypothermia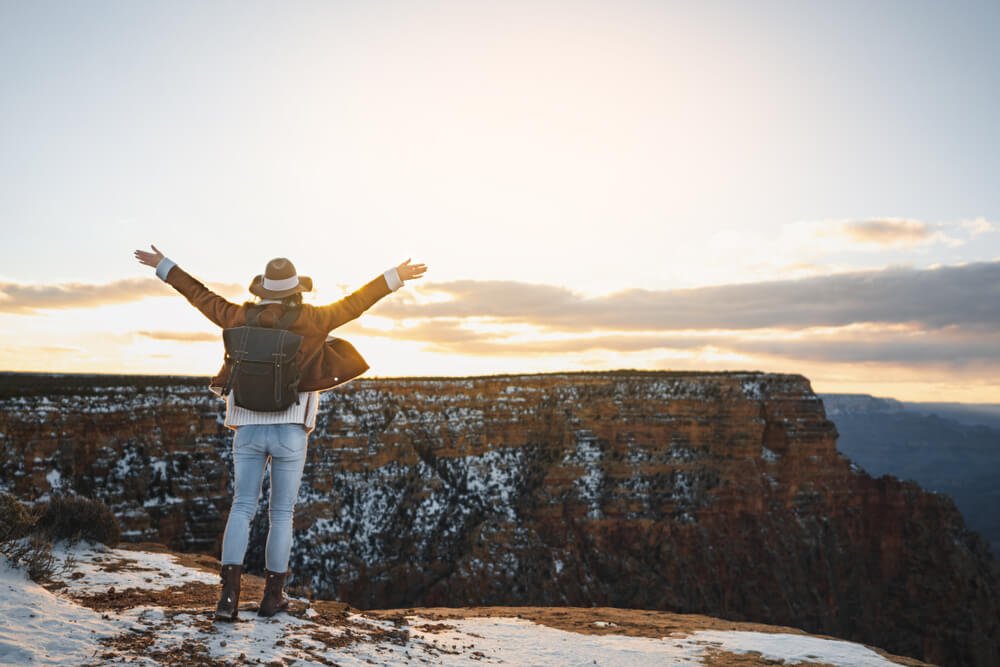 When your body temperature falls to dangerously cool levels, you begin to experience hypothermia. Wet clothes from snow or rain combined with cold winter temperatures can create a high-risk.
To avoid hypothermia, the park service recommends wearing non-cotton clothing, eating high-energy foods before chill takes effect, and staying dry. Hypothermia is five times more likely to occur in wet conditions!
Rockfall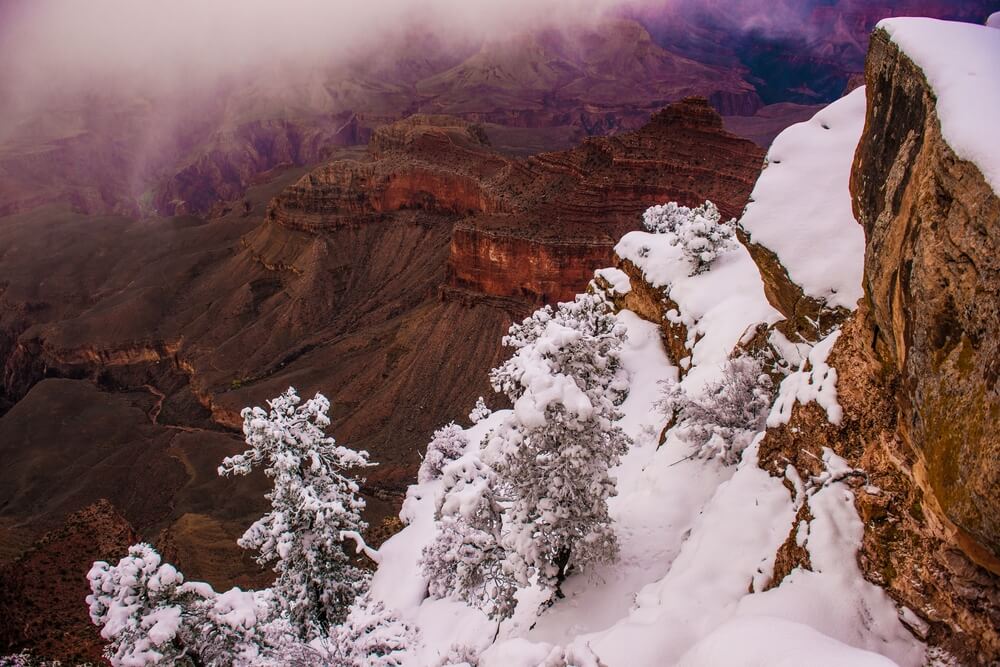 Rockfall is a year-round hazard in Grand Canyon National Park. When recreating within the steep canyon, be aware and alert.
If a rockfall occurs, the park service advises visitors to safely move out of the way. If it is not possible to move out of the way of falling rock, seek shelter behind a large and stable rock feature and place your backpack over your head.
Although rockfall can occur at any time, the risk can become increased due to water freezing behind the cliff walls.
When the water freezes, it can cause the cracks behind rocks to expand occasionally lodging the rocks out of place.
Winter Driving Conditions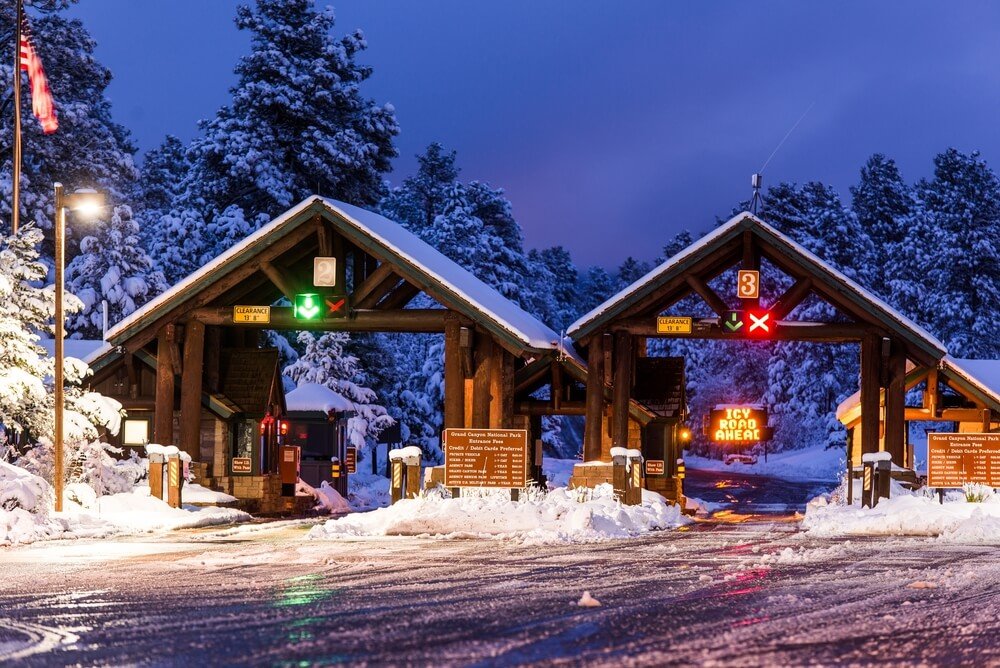 The elevation on the South Rim is 7,000 feet, and winter weather conditions are not uncommon!
Throughout the winter months, visitors driving the park roads should use caution and slow down. Snow and ice may be lingering on the roads.
Things to Do in the Grand Canyon in Winter
Backpack into the Grand Canyon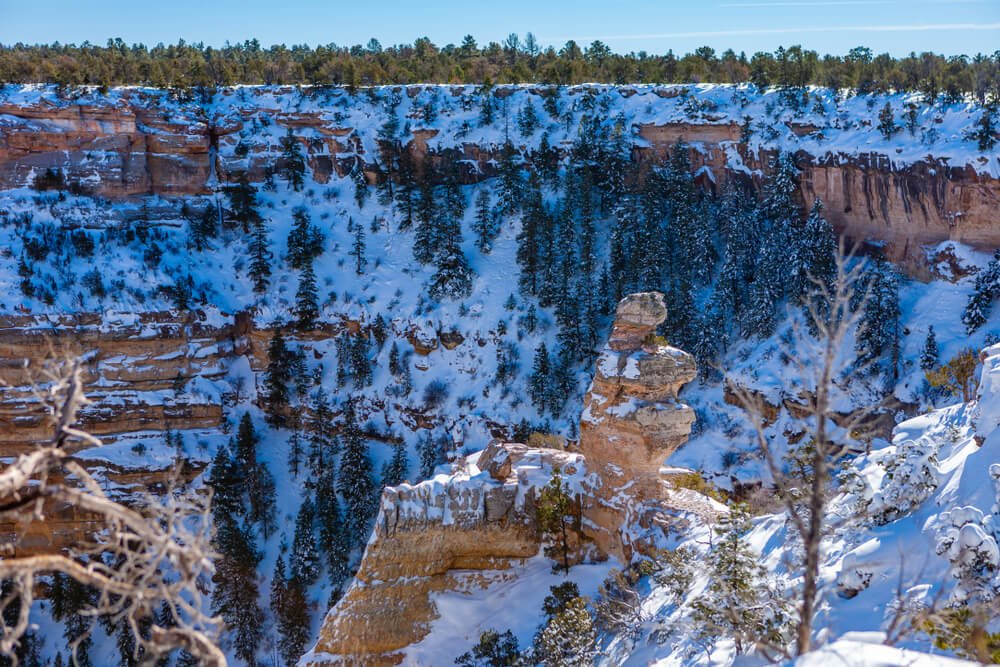 Backcountry permits are hard to come by during the busy season. Once the winter months come around, a permit to camp in the backcountry is a little easier to come by.
Backpacking is one of the best ways to experience the vastness of the Grand Canyon while exploring more remote terrain.
One of the most recommended overnight backpacking trips in the Grand Canyon is to Bright Angel Campground.
This trail has a lot of sun exposure making it difficult to do in the heat of summer, but comfortable during the wintertime!
This backcountry camp offers potable water and toilets year-round, and it is at the very bottom of the canyon about 1/2 mile from the Colorado River.
Bright Angel Campground is about 10 hiking miles from the South Rim.
Keep in mind the first day would be primarily hiking down into the canyon, while your second day would be mostly uphill! The trail's high sun exposure keeps it free of snow and ice most of the time.
Mule Trips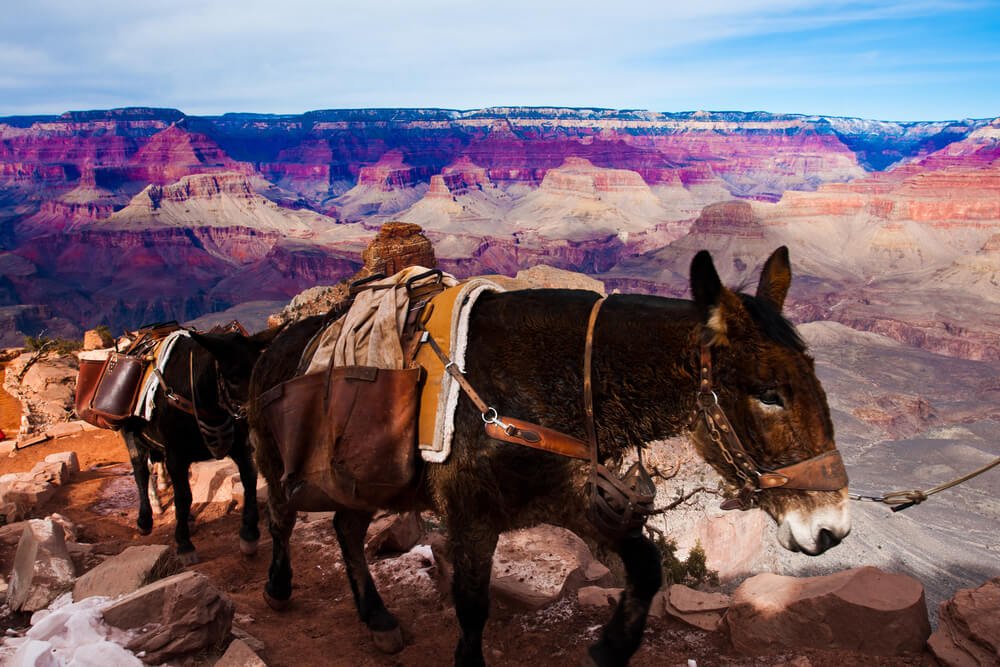 There are mule trips offered year-round on Grand Canyon National Park's South Rim.
Going on one of these excursions in the wintertime offers a welcome relief from the hot summer sun!
Winter mule trips vary in length and type of terrain. If you are short on time and not a fan of traveling steep terrain on a mule, you may enjoy the Canyon Vistas Ride. This excursion is a short 3-hour scenic trip along the canyon rim.
Visitors with more time to spare can choose to book a multi-day trip that includes an overnight stay at the Phantom Ranch.
The historic and well-known ranch sits at the bottom of the Grand Canyon on the east side of Bright Angel Creek.
A mule trip to Bright Angel Creek is a great alternative to backpacking!
Winter Landscape Photography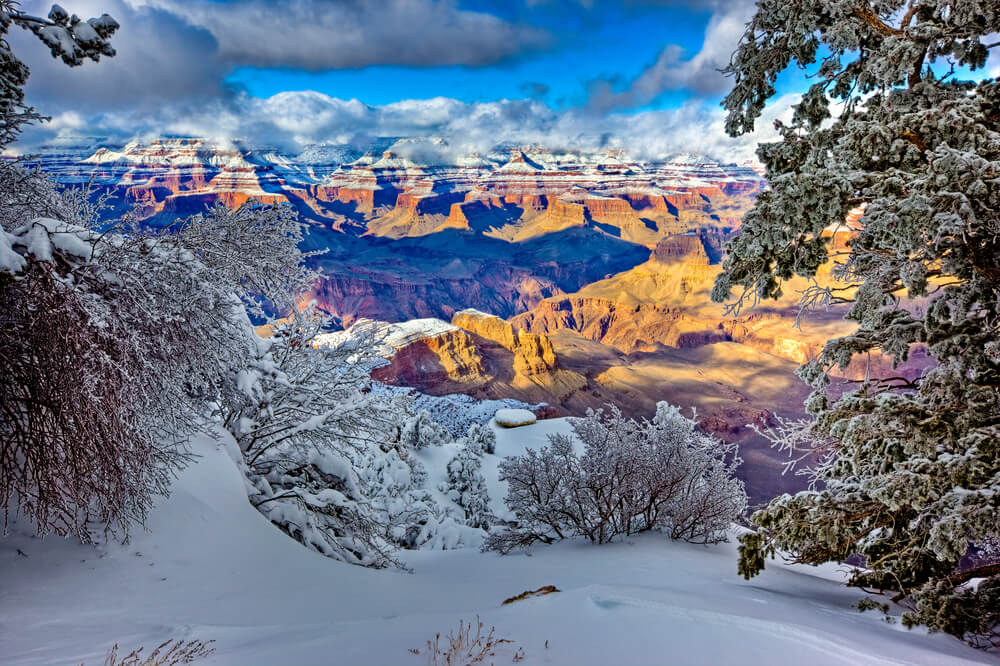 Grand Canyon National Park's breathtaking landscape becomes something even more picturesque once the snow begins to fall. The tall canyon walls become dusted with snow and the cliff's red colors pop.
Visitors hoping to capture Grand Canyon's winter landscape can travel the Desert View Drive along State Route 64 while using the marked turnouts and designated parking areas to find the perfect angles.
Since many of the trails stay open year-round, photographers can also hike to scenic vistas, such as Grandview Point and Mather Point.
Pin This Guide to Winter in the Grand Canyon!
Emily is a freelance travel and outdoor recreation writer from Big Sky, Montana. Her adventurous spirit has led her to the high peaks of the Sierras and the largest wilderness areas in the lower 48. When she's not writing, Emily can be found backpacking, road tripping to outdoor destinations, climbing, or rowing whitewater.