Among the five iconic national parks in Utah, often referred to as the "Mighty Five" or "Big Five", Arches National Park may be the most recognizable.
From Delicate Arch's feature on the Utah state license plate to influential photos of natural arches from the park across social media, Arches National Park is widely advertised.
In the summertime, the park is bustling with visitors in hot weather attire eager to see all the top attractions in the park. During the warm season, the trails are active in the morning and quiet down by high-sun in the afternoon.
Winter presents a much different version of Arches National Park. In the winter, fresh snowfall accents the red canyon walls and natural arches. Although visitation tends to drop with the daily average temperature, there is still much to see and explore in Arches National Park in the wintertime.
Winter Weather in Arches National Park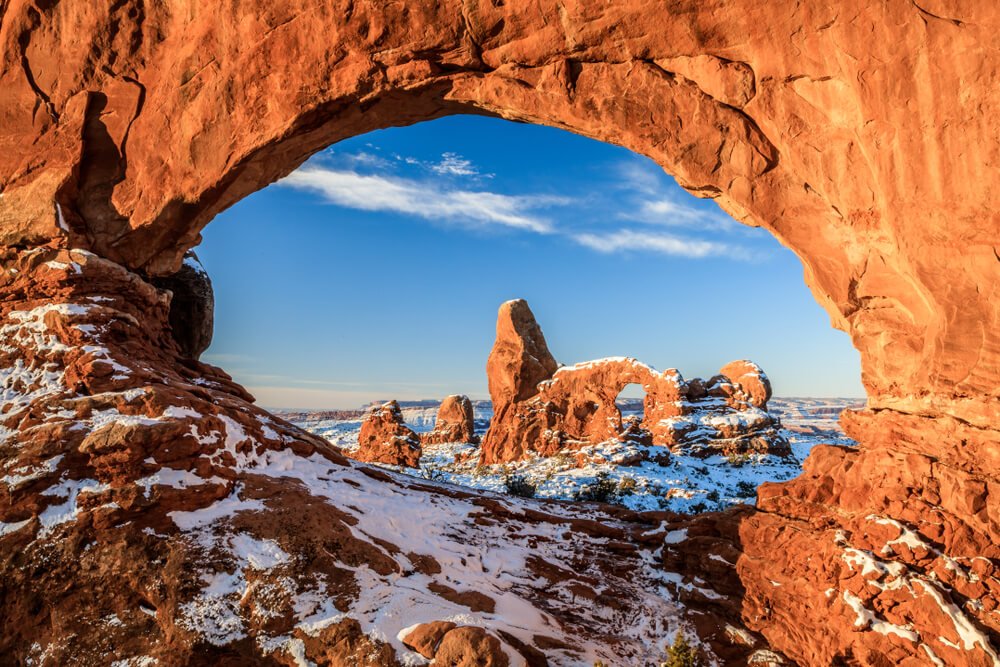 Note: This post contains affiliate links, which means I may receive a small commission if you purchase something through one of these links. Thank you for supporting the free content on this site! For more information on affiliate links and cookies, see my disclosure page for more details.
Arches National Park in winter is generally pleasant and not too cold, with periodic (though not guaranteed!) snow.
While Arches isn't extremely cold in the winter, it is at a relatively high elevation. The lowest elevation part of the park is 4,085 feet at the Visitor Center; the highest elevation is at 5,653 feet. Therefore, Arches experiences more snowfall than lower-elevation parks at a similar latitude.
The table below shows average temperatures in Arches National Park during the winter:
| | | |
| --- | --- | --- |
| Month | High Temperature | Low Temperature |
| December | 41° F | 20 °F |
| January | 40° F | 18° F |
| February | 49° F | 25 °F |
In addition, it rains or snows approximately twice a month, so while it is certainly possible for there to be snowfall in Arches National Park in the winter time, it's by no means guaranteed, and warm daytime temperatures means there is a chance it will melt quickly!
Arches Entry Price in Winter
The price to enter Arches National Park in the winter is the same as the rest of the year, $30 per vehicle for a 7-day pass (see more info on the NPS website).
However, most people combine a trip to Arches and Canyonlands National Park at the very least, and often, they'll also add on other Utah National Parks to their trip.
If you plan to see more than two national parks in a year, then I highly recommend investing in an America the Beautiful pass! It gives you one year of free entry to all National Parks and other federally-administered protected areas (National Forests, National Seashores, etc. — over 2,000 sites!) for the low price of $79.99.
Plus, 10% of that goes back into the National Park Foundation to keep the land pure, beautiful, and accessible for all.
Winter Road Conditions
Arches Scenic Road
The Arches Scenic Road is the main paved road through the park. From this main road, visitors can access the most popular attractions in the park, such as Balanced Rock, Devils Garden, Double Arch, and more! As the main access route in the park, the Arches Scenic Road remains open year-round.
Closures can occur on the Arches Scenic Road for snow removal operations. Call or visit the Arches Visitor Center for a current road conditions report. Be sure your vehicle is suited to travel the potentially icy roads following winter weather.
Salt Valley Road
In warm season's dry conditions, the Salt Valley Road, which connects Arches National Park's main paved road to the Klondike Bluffs and Tower Arch Trailhead, is a two-wheel-drive road fit for most vehicles. Although come wet or snowy conditions often seen in the off-season, the road can become impassable even with four-wheel-drive capabilities.
This road is not well-marked and is entirely unpaved. The 10-mile stretch connecting the Devils Garden area of Arches National Park to Highway 191 outside of the park makes a great alternative entrance or scenic detour during promising weather. The road also offers a faster and more direct exit from the park toward the amenities of town.
Arches Winter Hours of Operation and Facilities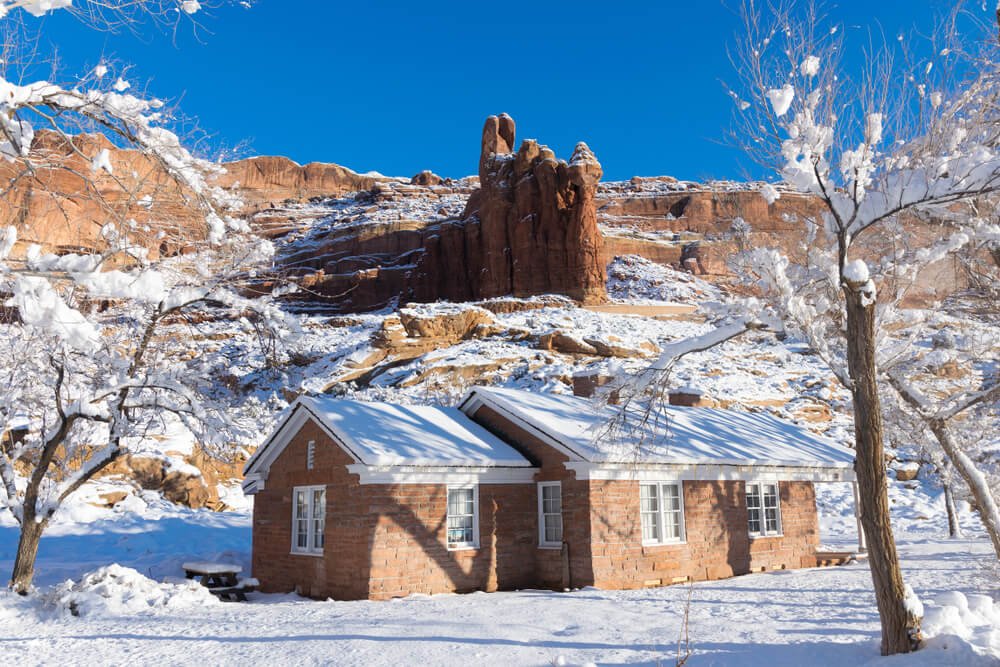 Although Arches National Park is normally open year-round, some of the facilities do undergo reduced hours of operation come wintertime. Drinking water and restrooms are available to the public 24 hours per day regardless of the season. If you are planning to visit Arches National Park during the off-season, which is between the end of November and mid-March, you will want to be aware of these changes to facility hours:
Arches Visitor Center: 9:00 am – 4:00 pm
Park Store at Arches Visitor Center: 9:00 am – 4:00 pm
* The Park Store and Arches Visitor Center are both closed on December 25th
Since Arches National Park is such a fragile environment, it is a good idea to begin your trip with a stop at the visitor center.
At the Arches Visitor Center, you can learn all about the importance of black soil in the area and why you must stay on maintained trails at all times.
The rangers at the visitor center can also provide updated park information and a complete review of your travel itinerary. They may even have some insider tips to share, such as where to spot winter wildlife or the best places to watch the sunset!
Winter Camping in Arches National Park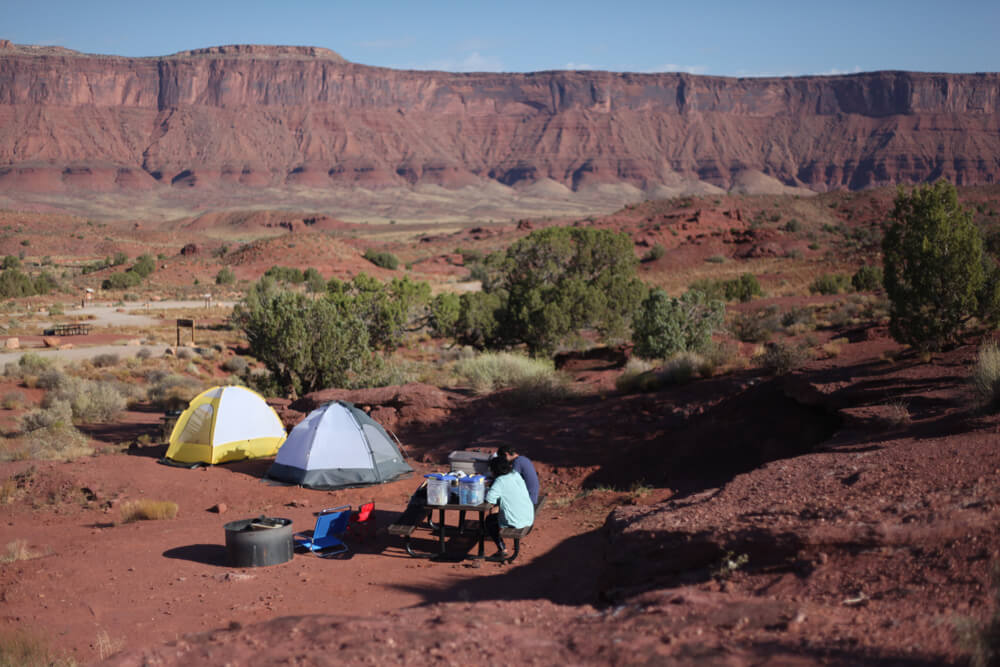 Many national park travelers like to camp during their outdoor adventures. Arches National Park is home to only one front-country campground, the Devils Garden Campground.
During the busy season between March and most of November, the campground is on an online reservation system and is full every night. However, outside of that timeframe, the Devils Garden Campground transitions to a first-come, first-served system.
There are 25 campsites available during the winter season, which is reduced from the usual 51 sites. It is wise to arrive early to claim a spot! Of course, you'll need to come equipped with plenty of winter camping gear — it gets below freezing at night!
There are also options for free dispersed camping in Utah!
Luckily, if you are unable to snag a site inside the park, there are plenty of camping opportunities and lodging accommodations ranging in levels of luxury nearby in Moab, UT.
Best Places to Stay in Moab, Utah
Luxury Glamping: Under Canvas Moab knocks it out of the park in terms of comfort, style, and entertainment, and is frequently cited as one of the best glamping lodges in the entire United States!
Budget: Aarchway Inn is just a tiny bit outside of Moab and has gorgeous settings with that classic Utah red rock all around, a lovely swimming pool, and well-appointed rooms. Check out rates, reviews, and availability here.
Winter Safety in Arches National Park
Icy Trails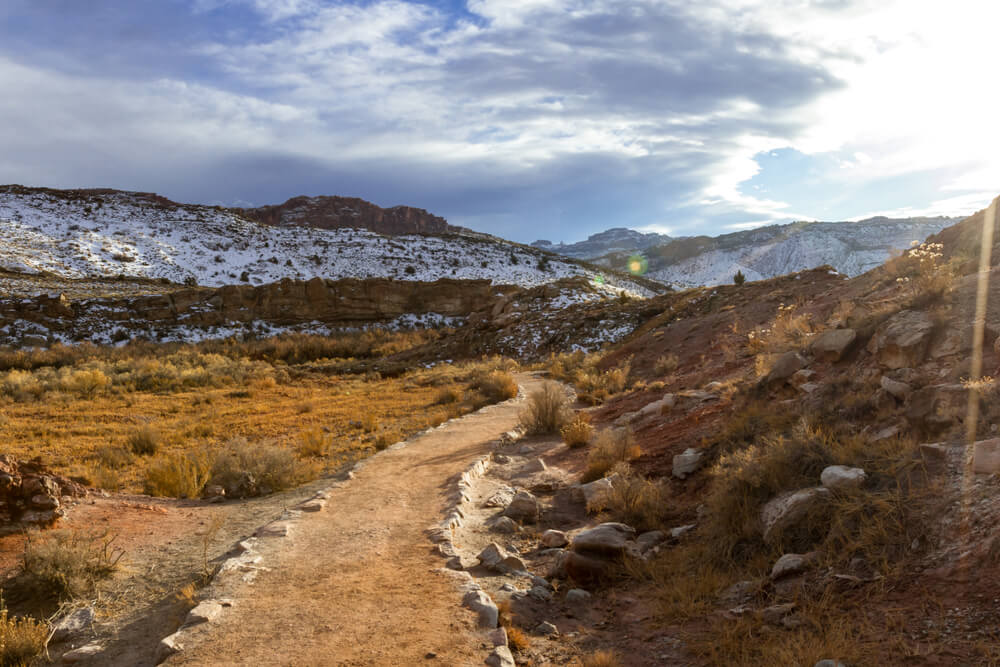 With limited daylight hours and colder temperatures in the wintertime, one of the greatest hazards in Arches National Park in winter is icy trails. Many of the most popular trails, including Devils Garden, remain open year-round. It is not uncommon to have clear dry trails a few days after a snowfall. However, ice may be lingering in the shady sections of shady trails like the Delicate Arch Trail.
Yak-tracks or spikes are a good idea for keeping traction on slick trails. Always wear shoes with good traction and use extra caution along steep sections of trail where there is a fall risk.
Dehydration
Although there is a decreased risk of heatstroke in the wintertime, the cool weather can be deceiving. Dehydration is a risk during all seasons! When recreating in Arches National Park during the winter months, make sure you drink plenty of water throughout the day. Water is available year-round outside of the Arches Visitor Center and the Devils Garden Campground and Trailhead.
Staying Found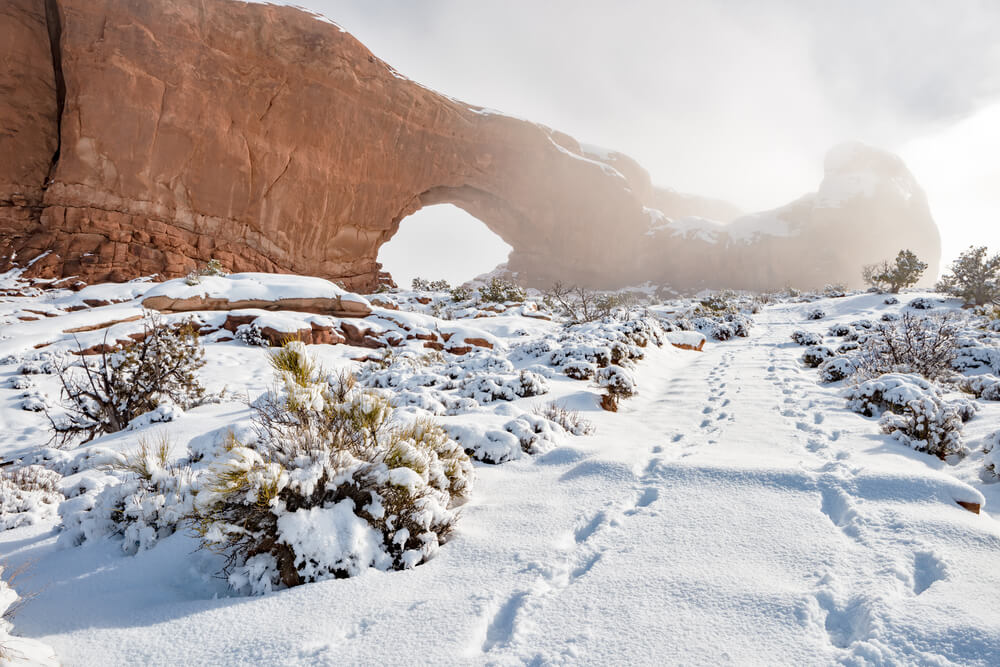 Trails covered in a fresh layer of snow can become difficult to follow. As you hike along, pay close attention to cairns and junctions signs. Cell phone coverage is spotty to nonexistent in most areas of Arches National Park. If you do become lost, stay where you are and wait for rescue.
Always pack a map with navigation tools, and remember to tell someone where you are going before departing for the trail. If you are unsure of your hiking abilities, go with companions.
Rockfall
Rockfall is a year-round hazard in Arches National Park. When hiking along the steep trails and cliff walls, always stay aware and alert. If a rockfall occurs, the park service advises visitors to safely move out of the way. If it is not possible to move out of the way of falling rock, seek shelter behind a large and stable rock feature and place your backpack over your head.
Although rockfall can occur at any time, the risk can become increased due to water freezing in cracks in the sandstone. When the water freezes, it can cause the cracks behind rocks to expand, occasionally lodging the rocks out of place.
Things to Do in Arches National Park in Winter
Take a Scenic Drive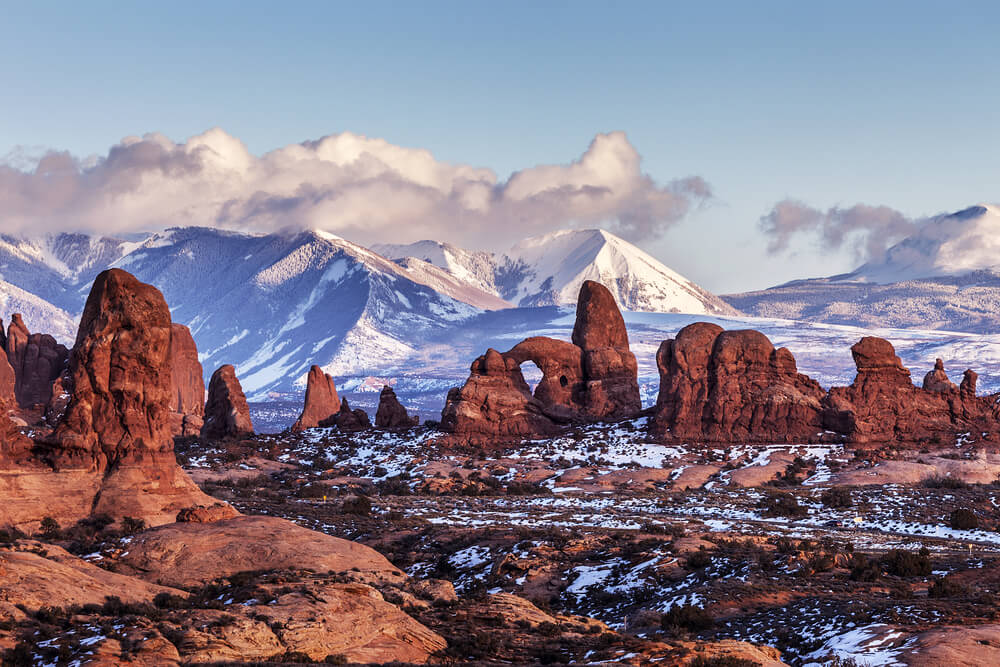 Tour Arches National Park with a scenic drive through the remarkable red rock landscape. It is possible to see some of the well-known attractions in the park right through your car window. Taking a scenic drive is a great option for chillier winter days, so you can turn up the heat and sip on hot chocolate!
From the Arches National Park main entrance, drive up in elevation on the main scenic road after a quick stop at the Arches Visitor Center. If you have around 4.5 hours to spare, then you have plenty of time to explore all the paved roads in the park with a generous 10 minute stop at each viewpoint!
On your scenic driving tour of Arches National Park, be sure to detour toward The Windows Section, Wolfe Ranch, and Delicate Arch Viewpoint. These are, without a doubt, some of the best attractions to drive to in the park!
If you would like to pair a hike with your scenic drive of Arches National Park, plan to arrive at the trailhead parking early in the day. Trailhead parking for Delicate Arch and Devils Garden can fill early in the day on weekends and holidays.
Tackle Some Arches Winter Hikes
Throughout the winter season, hiking trails in Arches National Park remain open to visitors.
Here are our three favorites!
Delicate Arch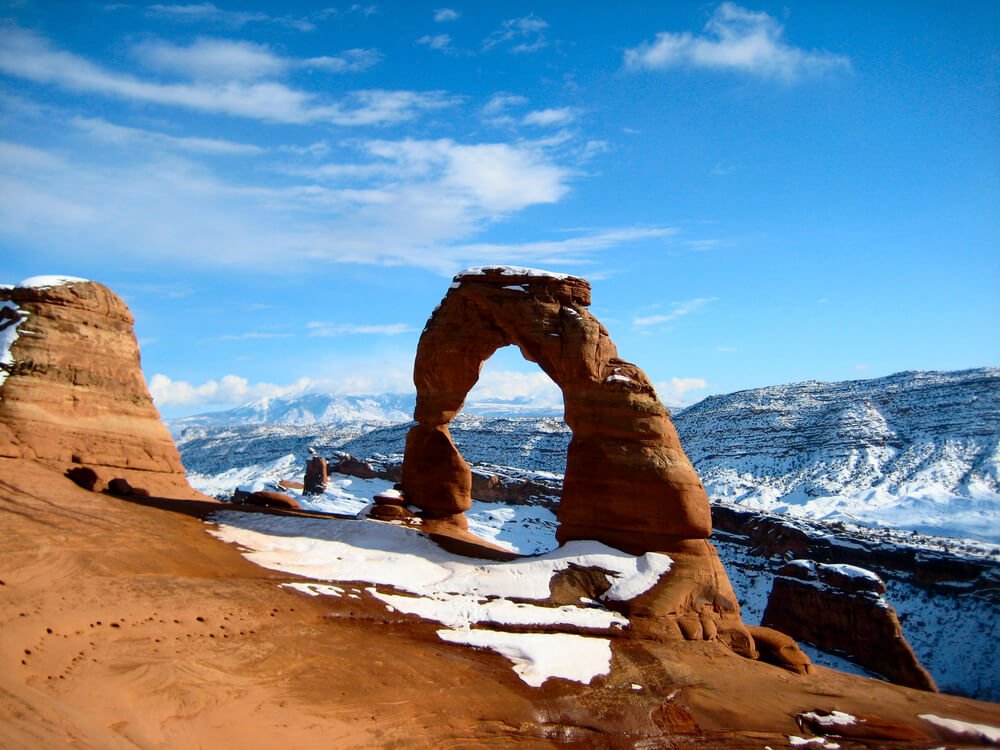 If you only have time for one wintery hike while visiting Arches National Park, make sure you explore the trail to Delicate Arch!
The 3-mile roundtrip hike to see Delicate Arch up close and personal can take about 2-3 hours depending on conditions. This trail has many shaded sections with steep drops and can become icy. You may want to carry yak-tracks along to use across icy sections, but avoid using them on bare sandstone.
Why is this the best winter hike in Arches National Park? Delicate Arch, with the snow-covered La Sal Mountains lining the background, offers amazing scenery! This arch is arguably one of the most recognizable in the national park.
Landscape Arch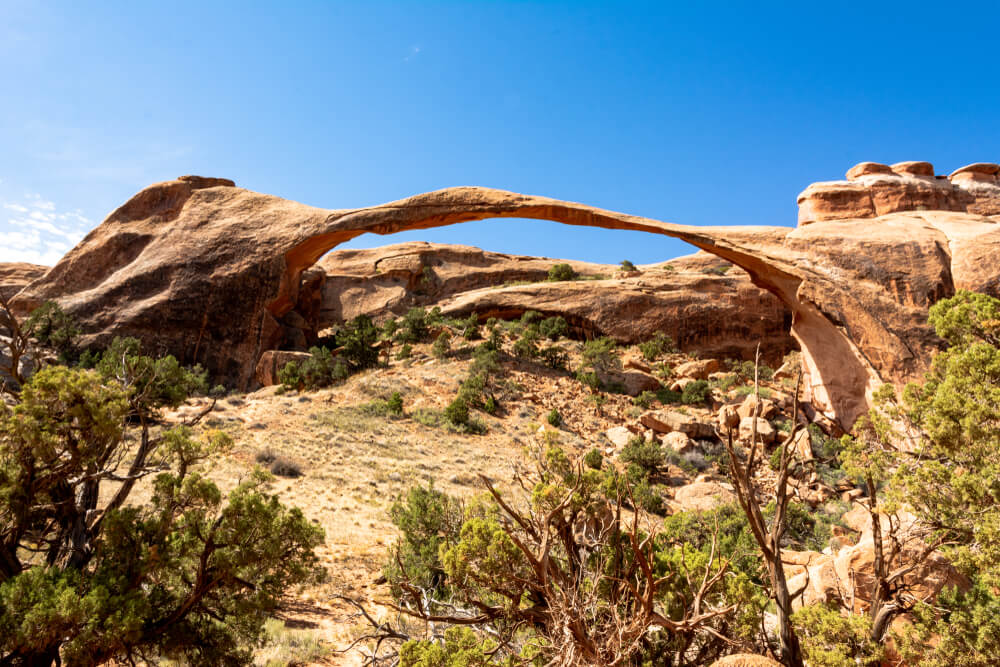 Devil's Garden is one of the best hiking areas in Arches National Park in the winter due to its easy terrain and see one of several gorgeous arches all along one easy trail.
There are two main hikes here: one to Landscape Arch, one to Double O Arch (more on that below)
One of the coolest arches you'll find in the Devils Garden area is Landscape Arch, the longest arch in North America — with a massive opening of 306 feet in between its two sides!
This arch won't be around forever (in fact, much of the arch already collapsed in the 1990s, but it still remains intact, despite being just 6 feet wide at its narrowest points)
It's a 2-mile roundtrip hike to Landscape Arch, which is a great turnaround point if you don't want a challenging Arches winter hike.
Double O Arch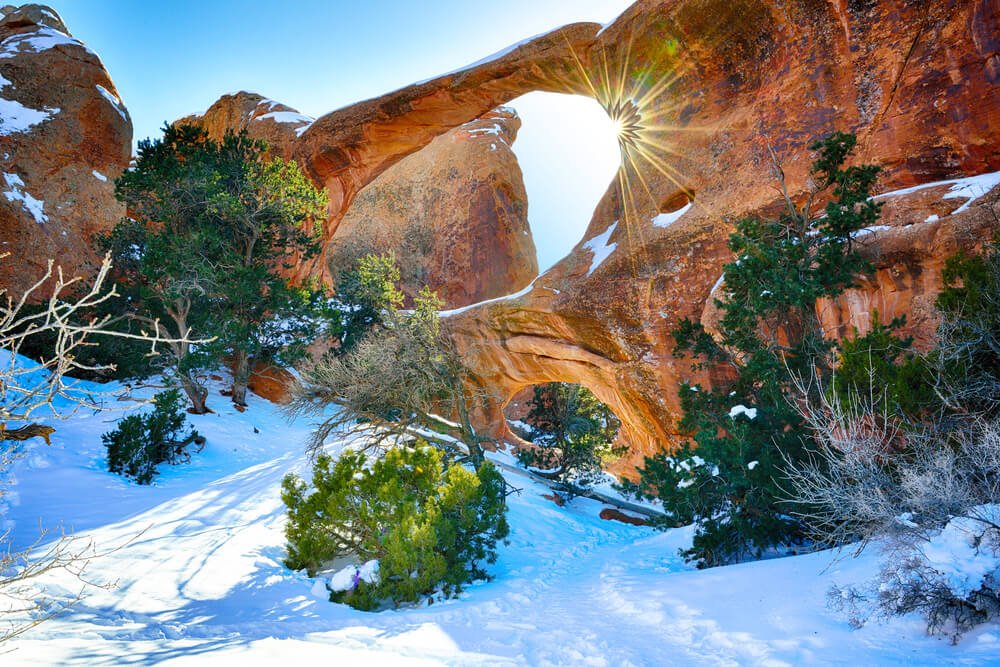 if you want to make it a bit harder for yourself, continue on to the Double O Arch — cautiously, especailly if there is snow. The footing is rocky and at times there are narrow sections with steep drop-offs on either side.
Only attempt this hike in the snow if you are a confident and experienced winter hiker! If there isn't snow, you should still exercise caution, but it will be less challenging as the tricky footing will be easier to spot.
The hike to Double O Arch is 4.1 miles roundtrip, and while it's a doozy of a hike, it is well-worth it even if it presents some extra challenges in winter.
Indulge in Some Wintry Landscape Photography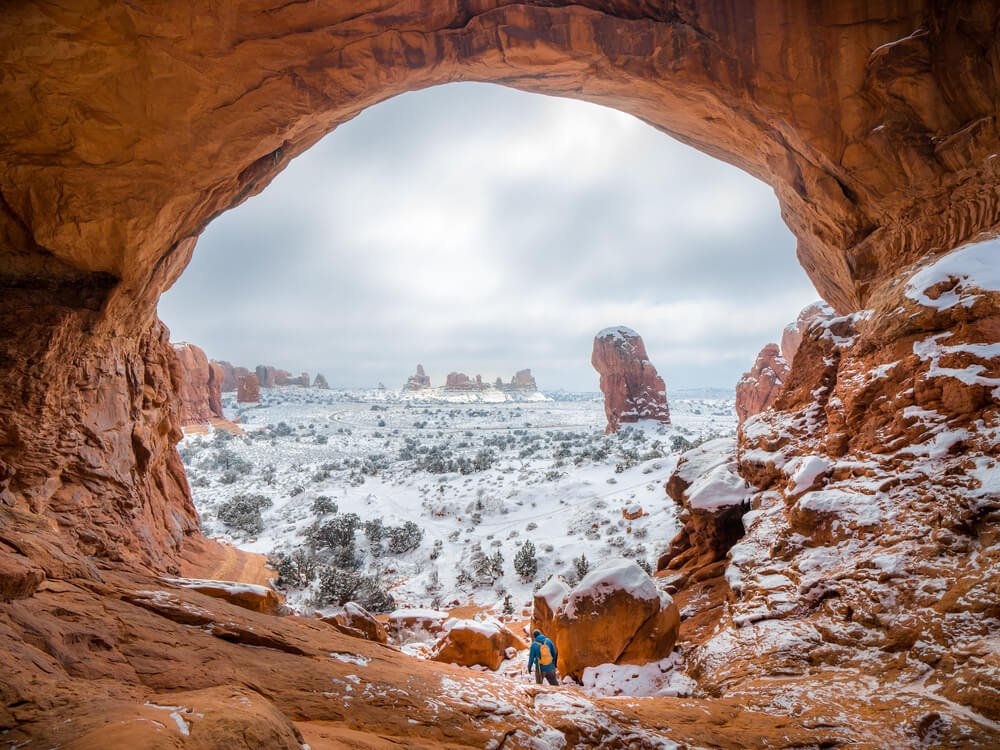 If you are lucky enough to visit Arches National Park soon after a fresh snowfall, you simply must explore the park with a camera in hand! The fresh powdery snow lining the red rock features and magnificent natural arches is something that very few people are lucky enough to see in person.
Although Arches National Park does typically receive a half-foot of snow each year, it melts quickly once met by sunshine.
Some of the best places to explore for winter landscape photography are The Windows Section and Devils Garden. Both of these areas offer maintained hiking trails and opportunities to photograph snowy arches.
Take a 4×4 Tour of Arches (and Maybe Canyonlands!)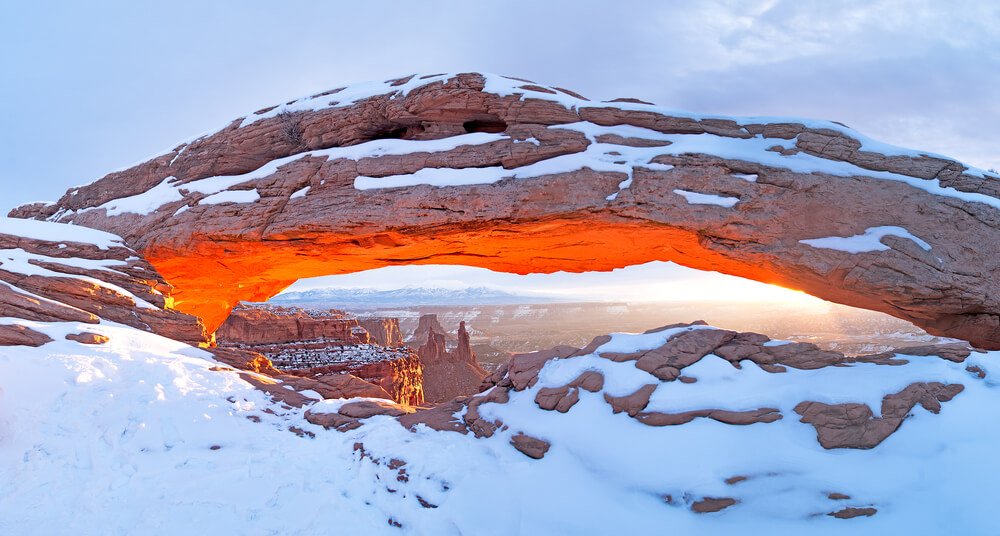 If you'd like to take a break from winter hiking in Arches National Park, another great way to see the epic Utah winter landscape is by 4×4 tour!
You can take a half-day 4×4 tour leaving from Moab, which will tour Arches off-road and you'll get to see several spots that car-trippers will never get to see, including Tower Arch, Eye of the Whale Arch, the Marching Men, and more.
Alternately, you can opt for a full-day 4×4 tour that encompasses both Arches and Canyonlands, ticking two Utah National Parks off your bucket list with one off-roading adventure.
In addition to seeing Arches, you'll also get to explore the massive Canyonlands park. This tour covers the Island in the Sky part of the park, one of the more accessible parts of the park, and includes driving along Shafer Trail, seeing Tower Arch, and getting to check out ancient fossilized dinosaur tracks!
Marvel at Dead Horse Point State Park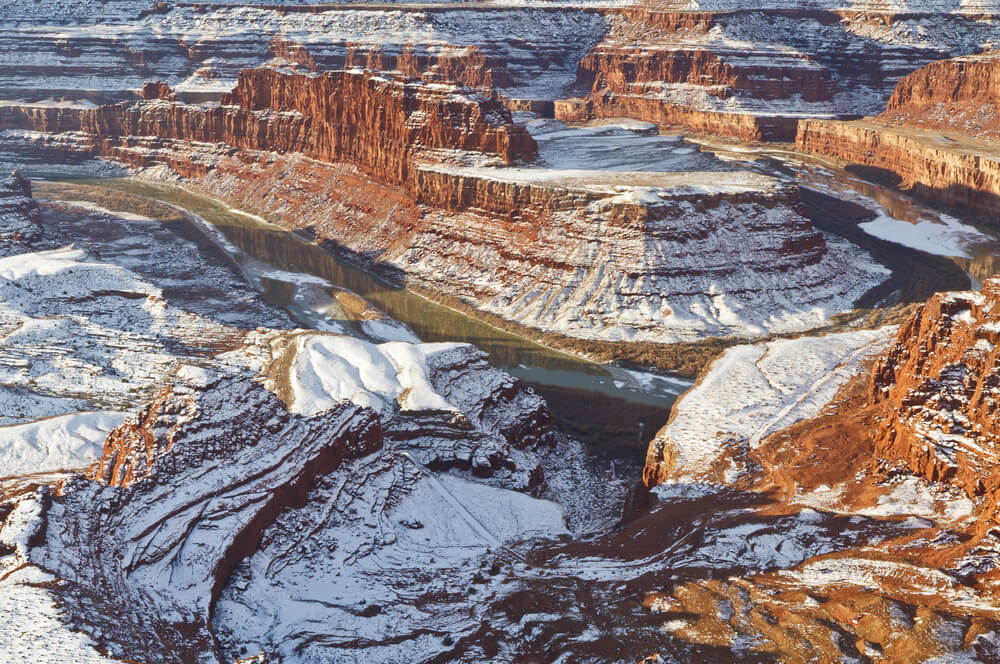 While this guide covers traveling to Arches National Park in winter, one of the best things about Moab is just how close it is to several incredible national parks and state parks.
Head outside the park for a half-day trip to Dead Horse Point State Park, which is one of the most beautiful places to visit in Utah — and it's even more spectacular in the winter if you've been lucky enough to get a bit of snow!
What to Pack for Winter in Arches National Park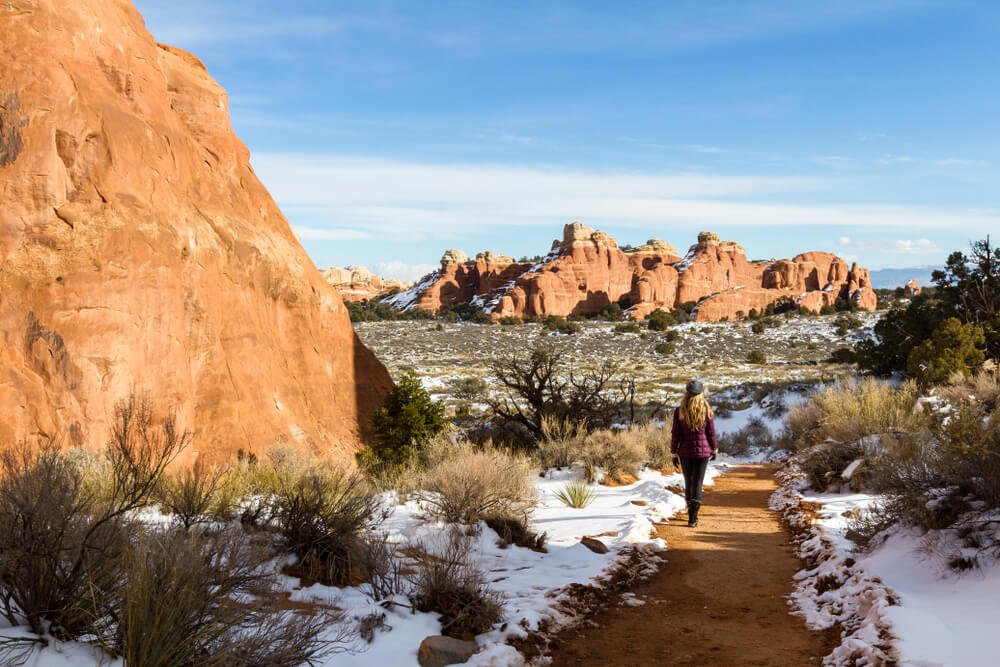 Warm Jacket: In the cold weather of Utah in winter, you'll want a high-quality jacket with down like a North Face parka. It's pricy to be sure, but it comes with a lifetime guarantee. It may be a little warm for day use or use when hiking, so a fleece layer underneath is a great choice so you can mix and match to keep yourself comfortable.
Snow Boots: I suggest these cute and cozy Sorel boots for women, which are waterproof and warm but also have plenty of traction, and they work just as well for regular hiking. Add some Yaktrax to the bottom for grip on icy surfaces if you're doing any tougher hikes.
Warm Leggings: I own several pairs of these fleece-lined leggings in a variety of colors (I have black, gray, and maroon) – I love them under jeans for winter hiking. For people who like wool, merino wool leggings are the way to go – the absolute warmest you can get!
Fleece-Lined Knit Hat: I like a snug knit hat lined in fleece and with a pom pom that does absolutely nothing to add warmth but tons to add cuteness!
Thermal Top Layer: You don't need crazy warm thermals for Utah in winter, but I like this Heat Plus layer from 32 Degrees.
Touchscreen Friendly Gloves: Taking off your gloves to use your phone when navigating on GPS, looking up something you've bookmarked, etc. is so annoying. Most gloves these days tend to be touchscreen friendly, but check before you buy. These gloves are adorable, touchscreen-compatible, and affordable.
Headlamp (and Extra Batteries): Arches National Park in winter can get dark early — and quickly — due to the early sunset time. Bring a headlamp in case any hikes take longer than expected! This Petzl headlamp is highly-rated and affordable.
Waterproof Backpack: You'll want to keep your belongings dry, especially if you're doing long hikes and it starts to rain or snow. Bring a waterproof backpack — you won't regret it, especially if you're carrying pricy camera equipment.
Camera: You'll want a camera to capture all that Arches winter beauty. I use and love my Sony A6000! It's mirrorless, so it's lightweight and perfect for a high-quality camera that won't weigh your pack down. Bring extra batteries as they burn out faster in the cold.
Battery Pack: Cold weather depletes cell phone batteries insanely quickly, so if you're using your cell phone as your primary camera and navigation device (and who doesn't these days?) you'll absolutely want the ability to power up without a wall outlet while you're out enjoying nature.
I rely on an Anker battery pack to keep all my devices charged in the cold — and as a blogger who takes frequent winter trips to the Arctic and beyond with way more gear than a normal person needs, it's served me very well!
Pin This Guide to Arches in Winter!
Emily is a freelance travel and outdoor recreation writer from Big Sky, Montana. Her adventurous spirit has led her to the high peaks of the Sierras and the largest wilderness areas in the lower 48. When she's not writing, Emily can be found backpacking, road tripping to outdoor destinations, climbing, or rowing whitewater.