Many people travel to Grand Teton National Park to get a glimpse of the iconic Teton Range, scout out some of the area's diverse wildlife, and go on a scenic hike in the Tetons.
With over 200 miles of beautiful hiking trails in Grand Teton National Park, there's no shortage of choices.
Every experience level and age group can find a trail they will enjoy from a family-friendly nature walk in Colter Bay to challenging mountain passes that offer rewarding views of the pristine landscape below.
Load up your backpack, grab your camera, and don't forget to pack the bear spray. These are the best day hikes that Grand Teton National Park has to offer!
Best Day Hikes in Grand Teton National Park
Taggart and Brady Lakes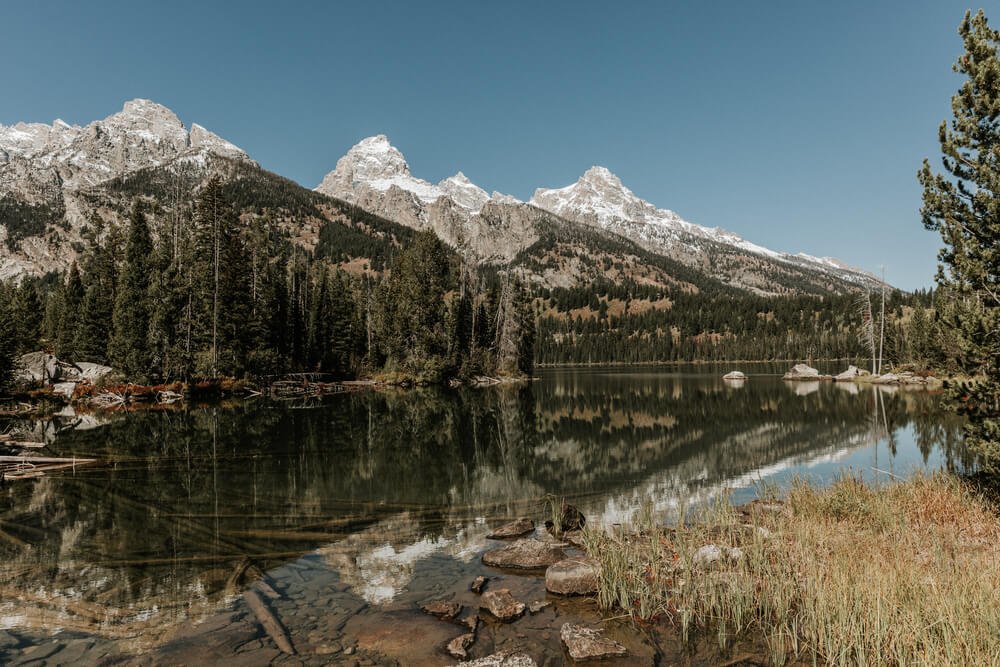 Note: This post contains affiliate links, which means I may receive a small commission if you purchase something through one of these links. Thank you for supporting the free content on this site! For more information on affiliate links and cookies, see my disclosure page for more details.
Distance: 6 miles
Elevation Gain: 585 feet
A trip to Grand Teton National Park is not complete without a hike to Taggart and Brady Lakes. These lakes are nearby each other and are both worth visiting.
Being such a scenic hike, this is a well-well-trafficked trail. With that said, there is limited parking at the Taggert Lake Trailhead, and arriving early is highly recommended so you can find a parking spot easily.
Take in the stunning views of Grand Teton, the tallest mountain in the Teton Range, from the parking area. When you are ready to get your blood flowing, depart from the trailhead and hit the trail. When you come to the first trail junction, veer right and follow the sign toward Taggart Lake Trail.
A little farther down the trail, you will come to yet another junction. The trail is very well marked. Just remember you are following the signs to Taggart and Brady Lakes! A map helps too!
Next, cross the sturdy footbridge over Taggart Creek. Look upstream to get a glimpse of the cascading waterfall. The trail begins to climb a bit starting here. Make your way through the forest of lodgepole pines and thick aspen groves.
After you've hiked about 1 mile, you will come to another trail junction. Heading left will take you to Taggart Lake. However, if you wish to visit both of the lakes keep right and check out Brady Lake first. Just a little way farther, and you will be rewarded with multiple scenic overlooks of Taggert Lake!
Once you come to the Valley Trail Junction, keep right and you will shortly arrive at the shores of Bradly Lake. When you are finished soaking up the Teton views, head back to the Valley Trail Junction and take the Valley Trail this time to get a closer look at Taggart Lake and complete the loop back to the trailhead.
String and Leigh Lake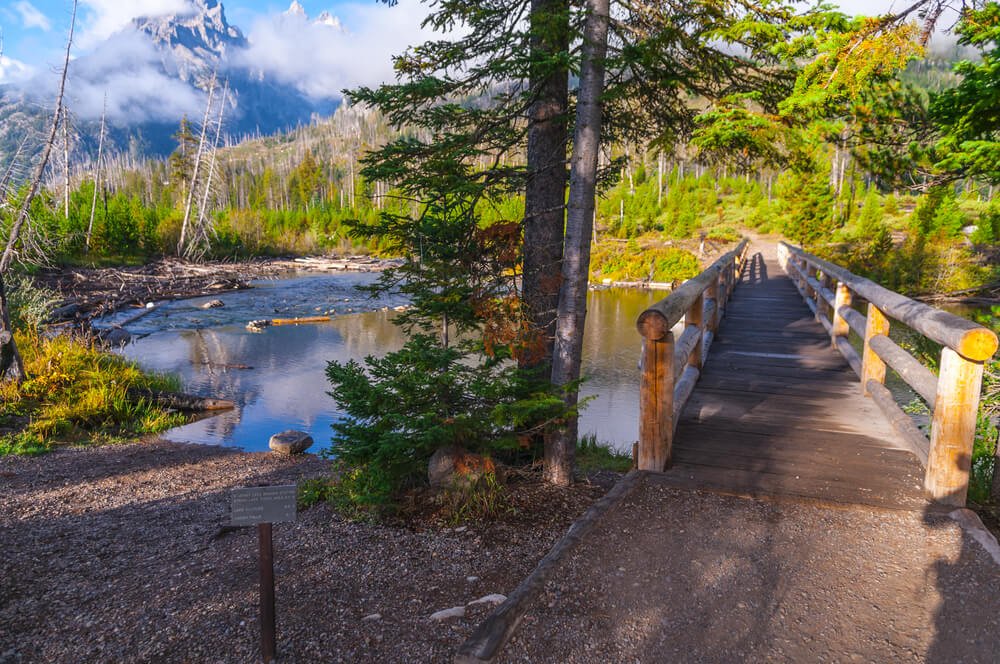 Distance: 4 miles
Elevation Gain: 50 feet
Begin your hike at the String Lake Picnic Area. At the trailhead, you will find stunning mountain views from the sandy beach at String Lake. This is a great spot to refuel with some lunch or cool off with a dip in the chilly lake.
The trail wraps around the shore of String Lake until you come to a junction that will lead toward Leigh Lake. Unlike String Lake, accessing the shore of Leigh lake can be a little trickier. Keep an eye out for a well-used trail down to the lakeshore.
From Leigh Lake, continue back the way you came and complete the loop around String Lake. For a much longer hike, you can choose to hike to Bear Lake from Leigh Lake. This would add an additional 4 miles to the hike.
Jenny Lake: Inspiration Point and Hidden Falls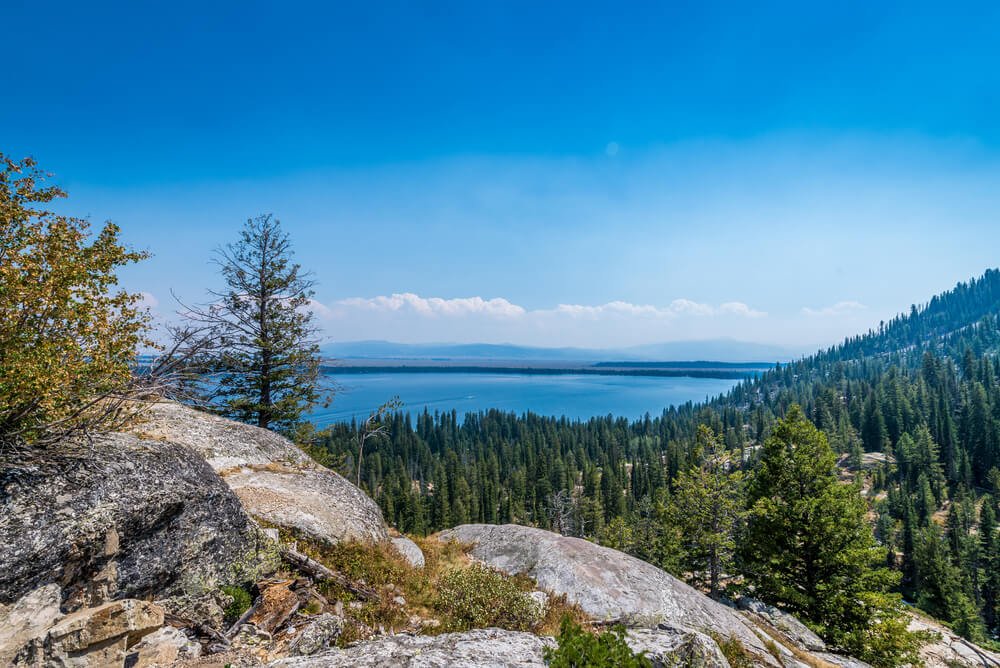 Distance: 2.5 miles
Elevation Gain: 330 feet
If you make a visit to hike in Grand Teton National Park, definitely plan for a stop at Jenny Lake! There is so much to do at Jenny Lake, it is well worth dedicating a half-day to.
Who doesn't love a waterfall hike? The hike to Hidden Falls is one of the most beautiful in the park. This trail is short enough that it is considered a novice and great for families. Hop on the boat shuttle at the docking area. This will cut off about 5 miles from the hike and offer beautiful mountain views as you cross the lake. There is a small fee for taking the boat shuttle.
Once on the other side of the lake, begin your hike on the Cascade Canyon Trail. The trail climbs quite a bit before reaching Hidden Falls and the viewing area. Hidden Falls is a towering 100' and is often regarded as the most scenic waterfall in Grand Teton National Park!
Continue on your way up to Inspiration Point. Since it is less than a half-mile from Hidden Falls, it's worth the climb, but if your legs are exhausted, you can always choose to turn back to the boat dock. Inspiration Point offers a great view of Jenny Lake and the distant mountains.
Jenny Lake Loop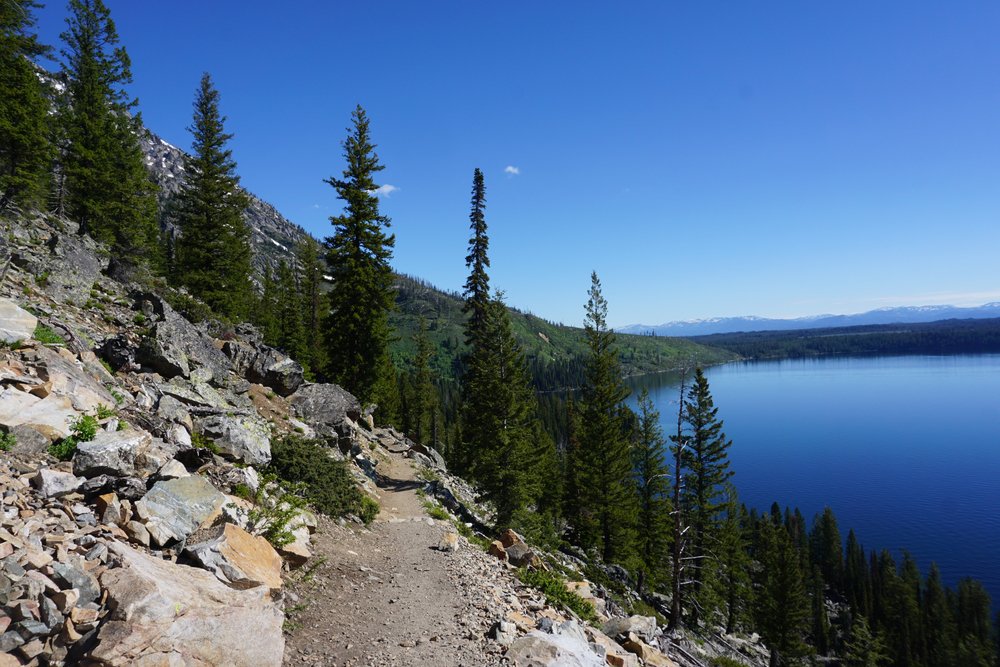 Distance: 7.5 miles
Elevation Gain: 275 feet
This scenic loop around Jenny Lake offers countless photo opportunities and chances to gaze up at the stunning peaks known as the Cathedral Group in the Teton Range!
The loop begins at the Jenny Lake Trailhead and stays fairly close to the lake throughout the entire hike. This is a great long hike for those hoping to avoid super strenuous hills or elevation gain.
Along the way, you can choose to veer off to visit Hidden Falls and Inspiration Point, which are mentioned previously.
If you were hoping to experience solitude while hiking in Grand Teton National Park, this may not be the ideal trail for you. Although scenic and rewarding, this is a very popular trail. The road is nearby part of the trail too, and it can interrupt the quiet of nature at times.
Phelps Lake Overlook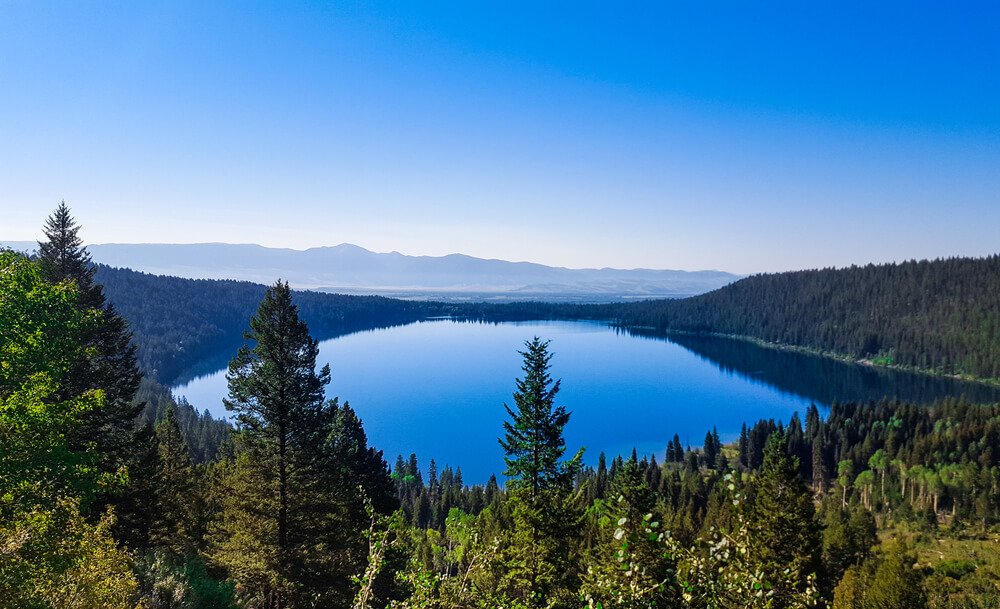 Distance: 2 miles
Elevation Gain: 400 feet
The Phelps Lake overlook is a fairly easy hike that wanders through a pine forest and aspen groves before opening up to a scenic viewpoint. This hike begins at the Death Canyon Trailhead, which is located at the end of a rutted dirt road.
From the trailhead, you will enter the forest and follow the well-maintained trail for 1 mile. Phelps Lake sits at over 7,000' in elevation and is a common place to spot moose and waterfowl.
Surprise and Amphitheater Lakes Trail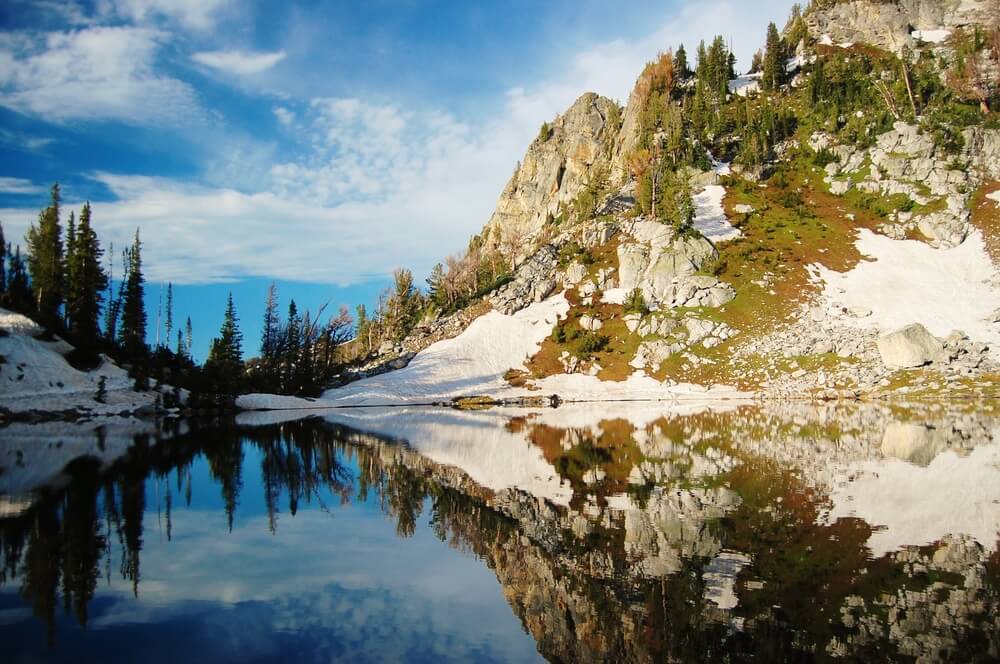 Distance: 10.2 miles
Elevation Gain: 2,900 feet
This hike is perfect for anyone looking for a low-mileage overnight backpacking trip or a challenging day hike! At just over 10 miles round trip, you can expect the first half of the trail to be an uphill slog. However, the dessert of this rugged incline is two pristine alpine lakes surrounded by beautiful rocky cliffs.
Begin the trek at the Lupine Meadow Trailhead and head toward Glacier Gulch. After many switchbacks, you will first reach Surprise Lake. A little farther down the trail awaits Amphitheater Lake.
Lake Solitude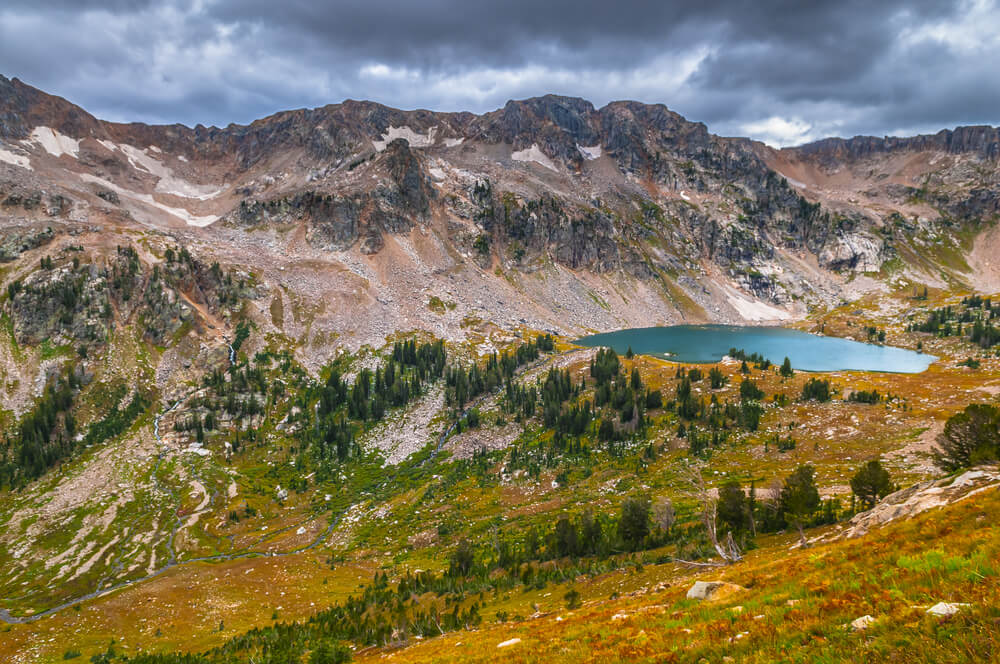 Distance: 7.5 miles
Elevation Gain: 2,350 feet
Another hike that begins at Jenny Lake is the beautiful hike to Lake Solitude. Surrounded by mighty peaks, Lake Solitude is a great challenge for anyone looking to experience an alpine lake, possible wildlife sightings, and seasonal wildflowers.
The hike to Lake Solitude begins just like the hike to Inspiration Point, with a boat ride across Jenny Lake. This time, when you make it up to Inspiration Point, you will continue climbing on the trail instead of turning around.
The trail will level out a bit after Inspiration Point as you enter into Cascade Canyon. In the early summer, you will see a variety of colorful wildflowers. As you always should while hiking in Grand Teton National Park, be bear aware as you make your way deeper into the canyon.
The trail passes by a series of ponds before the scenery transformed into a pine forest. Keep trekking along until you finally arrive at the lake!
Lake Solitude sits just above 9,000' in elevation and should only be tackled by experienced hikers that are prepared for a challenge.
Christian Pond Loop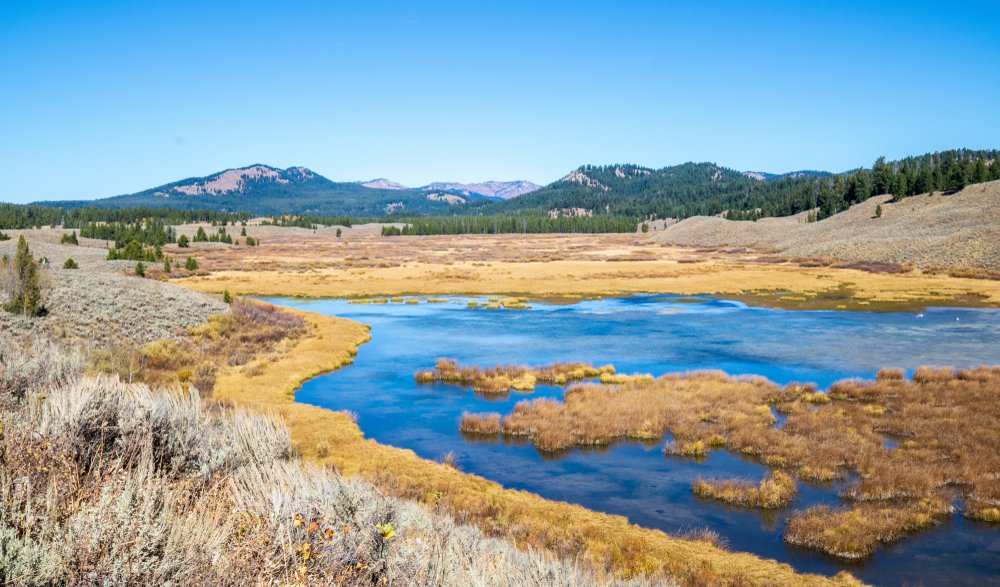 Distance: 3.5 miles
Elevation Gain: 250 feet
This easy loop is well-known for wildlife and wildflowers!
Begin your hike to Christian Pond from the trailhead parking next to the horse corrals at the Jackson Lake Lodge. As you approach the pond, be on the lookout for moose and elk grazing as well as trumpeter swans gliding through the shallow water.
The trail leads to the shores of Emma Matilda Lake before looping back toward the trailhead. Take a little detour and hike along the lake's edge. Another great spot for wildlife viewing! When you've taken in all in head back to the Christian Pond Loop and back to the trailhead.
Colter Bay Lakeshore Trail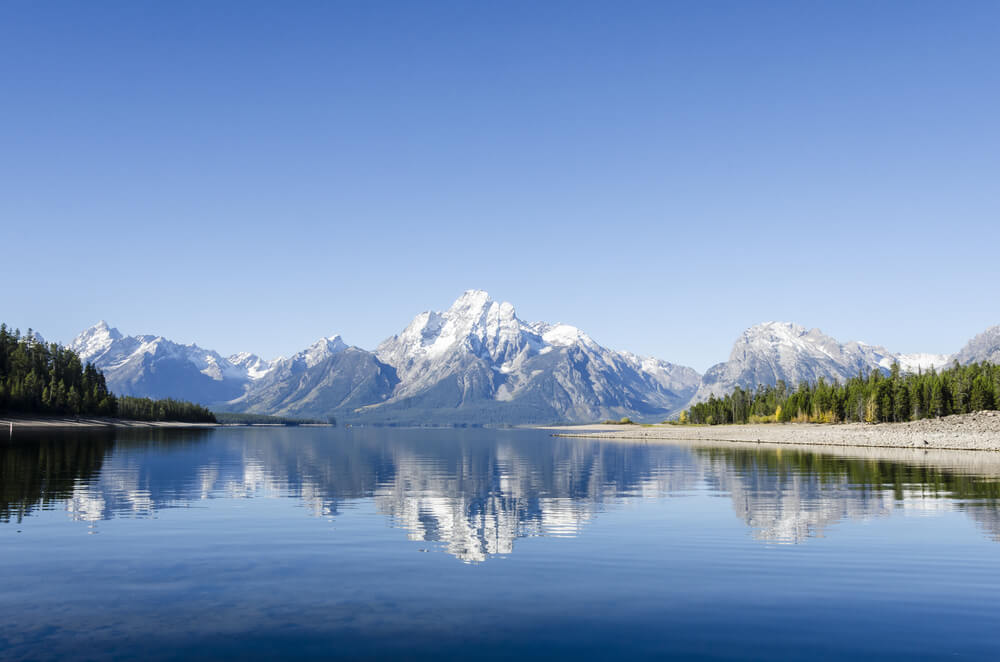 Distance: 2 miles
Elevation Gain: 150'
The Lakeshore Trail in Colter Bay is a perfect walk for families or anyone new to hiking in a national park! The trail is made up of two scenic loops and can be shortened as necessary to meet your experience and comfort level.
From the Colter Bay Visitor Center, walk toward the marina and find the trailhead for the Lakeshore Trail. From the trail, hikers can easily access the rocky shore of Jackson Lake to take photos or scout for wildlife.
Pin This Guide to Grand Teton Hikes!
Emily is a freelance travel and outdoor recreation writer from Big Sky, Montana. Her adventurous spirit has led her to the high peaks of the Sierras and the largest wilderness areas in the lower 48. When she's not writing, Emily can be found backpacking, road tripping to outdoor destinations, climbing, or rowing whitewater.