Many outdoor enthusiasts argue that winter in Zion is the best time to visit this beloved national park in southwest Utah!
Home to Angels Landing and the famous Emerald Pools, Zion National Park is often ranked as one of the most visited national parks in the United States.
However, in the winter, Zion's tall canyon walls become accented in powdery white snow, and the crowds of summer become a distant memory.
Although the shift in seasons may change the scenery, there are still many fun activities in Zion National Park in the winter! However, there are a few things you should know about visiting Zion in winter, first.
Zion Winter Road Closures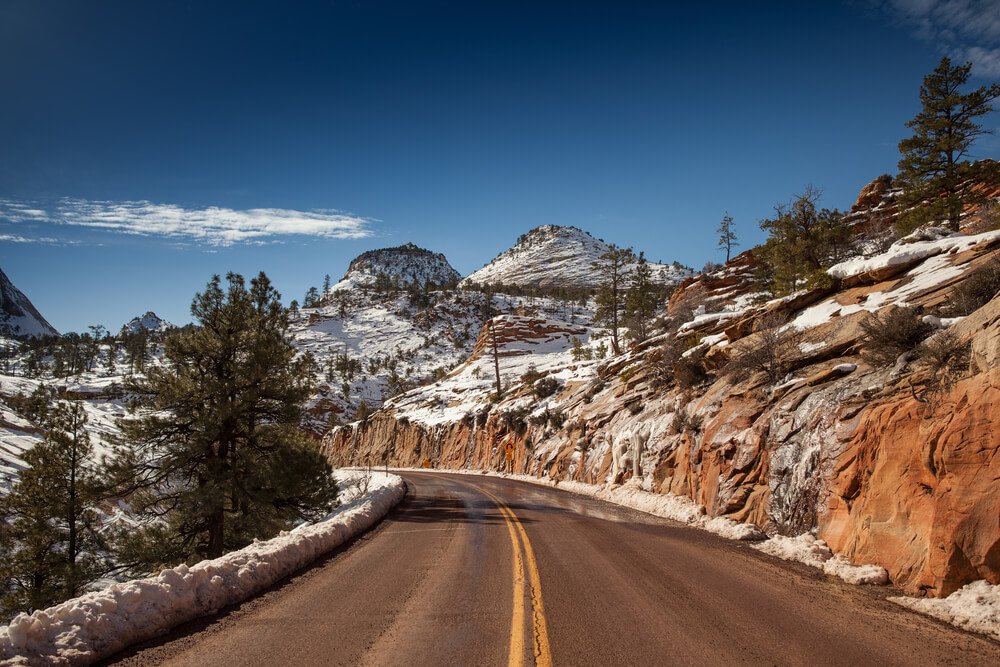 Note: This post contains affiliate links, which means I may receive a small commission if you purchase something through one of these links. Thank you for supporting the free content on this site! For more information on affiliate links and cookies, see my disclosure page for more details.
Zion Scenic Drive
During peak visitation in the summertime and between December 24th – January 2nd, the Zion Scenic Drive can not be accessed by personal vehicle.
All visitors wishing to explore the Zion Scenic Drive by vehicle must use the park's shuttle bus system.
The wintertime buses generally run between 8 am and 5 pm and can be used to access trailheads for hikes like Emerald Pools and the West Rim.
When the shuttle bus is not operating in Zion National Park, visitors can use their personal vehicles to access the trailheads and attractions along the Zion Scenic Drive.
The park service recommends arriving at trailheads early in the day because trailheads do fill up. Once a trailhead is full, there will be no more parking allowed, so it is a good idea to have a secondary plan in place.
Zion Mount-Carmel Highway
For visitors traveling from Springdale, UT to the eastern side of the park near Mt Carmel Junction, the Zion Mount-Carmel Highway is the shortest route. This drive does pass under the famous Zion Mount-Carmel Tunnel, which is just over 1 mile long!
Passenger vehicles can pass through the tunnel at any time, but oversized vehicles do have a few prerequisites and restrictions.
All vehicles 11'4" tall or taller or 7'10" wide or wider, including attachments and accessories, will require a tunnel permit. Tunnel permits can be obtained at the entrance stations and cost $15 in addition to park entrance fees.
The final obligation of oversized vehicles using the tunnel is that the vehicles must use the tunnel during operating hours, which are between 8:00 am and 4:30 pm in the winter.
Semi-trucks, vehicles over 13'1", and single vehicles over 40' long are prohibited. For more information on prohibited tunnel vehicles or using the tunnel, contact Zion National Park at (435) 772-3256.
Kolob Canyons Road
Wintertime conditions such as impassable snow and icy roads can cause frequent temporary closures on Kolob Canyons Road. The road is maintained throughout the wintertime and is open to private vehicles year-round.
Kolob Terrace Road and Lava Point Road
The Kolob Terrace Road is open year-round. However, 4-wheel drive and tire chains may be required to pass safely through the winter driving conditions.
West Rim Road
The West Rim Road closes during the winter season.
Zion Winter Hours of Operation and Facilities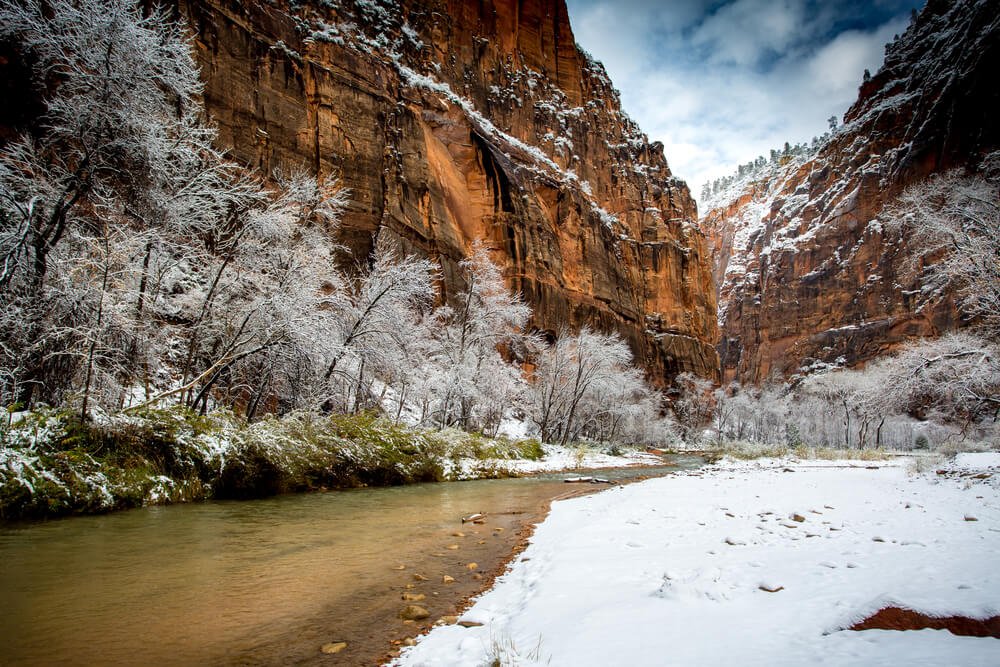 Although Zion National Park is always open to the public, some of the facilities do undergo reduced hours of operation come wintertime.
If you are visiting Zion National Park in the winter, you will want to be aware of these facility hours and seasonal closures:
Zion Canyon Visitor Center: 8:00 am – 4:00 pm
Zion Canyon Wilderness Desk: 8:00 am – 10:00 am and 3:00 pm – 4:30 pm
Park Store: 8:00 am – 5:00 pm
Kolob Canyons Visitor Center: 8:00 am – 4:30 pm
Zion Human History Museum: closed
Zion Nature Center: closed
It is always a good idea to begin a national park trip with a stop at the visitor center. This is a great way to make sure you have the most up to date information, and it allows you to review your itinerary with professional park staff. They may even have some insider tips to share with you!
Winter Camping in Zion National Park
Many who come to Zion National Park choose to camp during their visits. During the summer months, there are three different campgrounds: Watchman Campground, South Campground, and Lava Point Campground.
However, Lava Point and South close in the fall leaving Watchman Campground as the only front country year-round camping option in Zion National Park in winter.
Although there are many other lodging accommodations and campgrounds in the town of Springdale, UT, winter visitors with their hearts set on camping at Watchman Campground should plan to arrive early for first come, first serve camping beginning in December.
The campground capacity does reduce for the winter season in Zion!
Winter Safety in Zion National Park
Icy Trails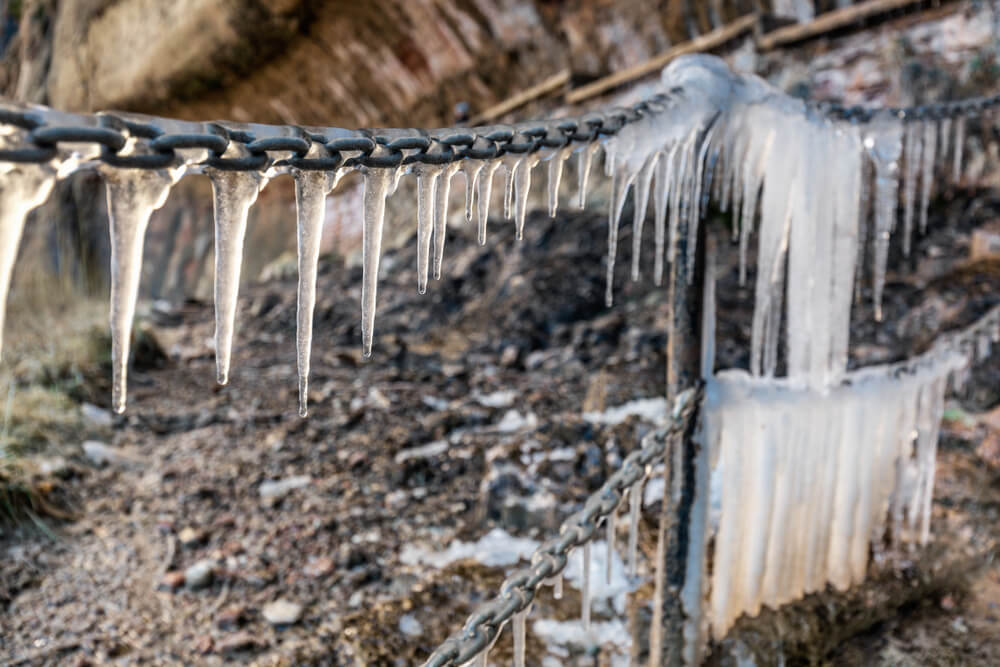 With limited daylight and cold nighttime temperatures in the wintertime, one of the greatest cold season hazard in Zion Canyon becomes icy trails and icy chains.
Many of the most popular trails, including Angels Landing, remain open year-round. It's not uncommon to have clear dry trails.
However, ice may be lingering in the shady sections of high elevation trails, which can be especially dangerous on trails like Angels Landing which have sheer-face drops and require the use of chains for leverage!
To combat icy trails, many hikers choose to carry along Yaktrax or spikes. These handy accessories will help you keep your footing on slick surfaces.
Hypothermia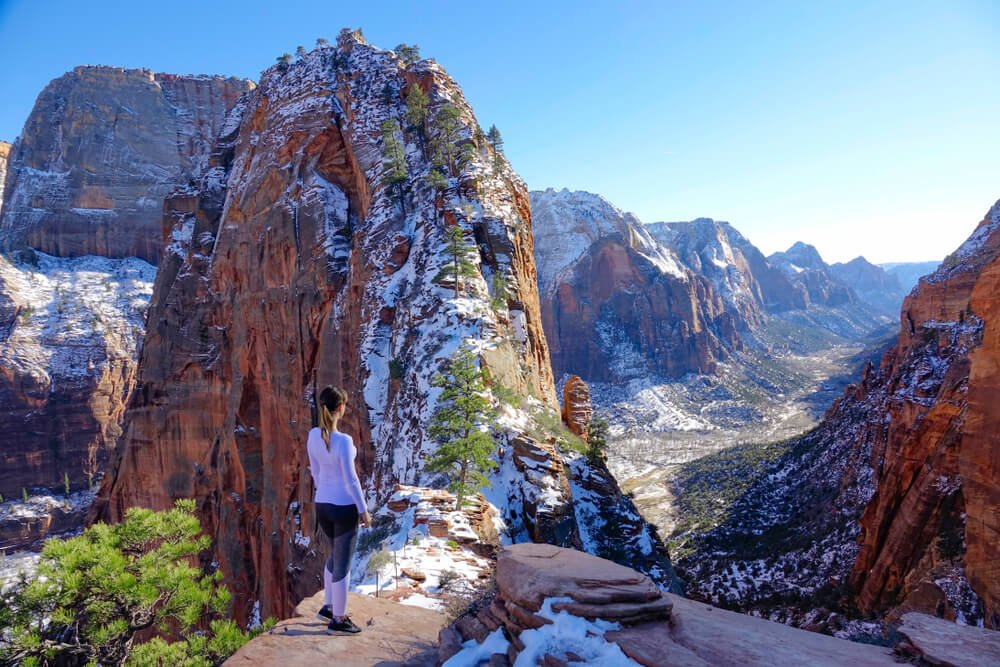 When your body temperature falls to dangerously cool levels, you begin to experience hypothermia.
Although Zion National Park is well-known for its mild wintertime temperatures, wet clothes combined with lower temps found in the narrow canyons can create a high-risk.
To avoid hypothermia, the park service recommends wearing non-cotton clothing and eating high-energy foods before chill takes effect.
Thermal layers and leggings will keep you a lot warmer than cotton, and be sure to also bring a waterproof jacket in case of rain, sleet, or snow.
Rockfall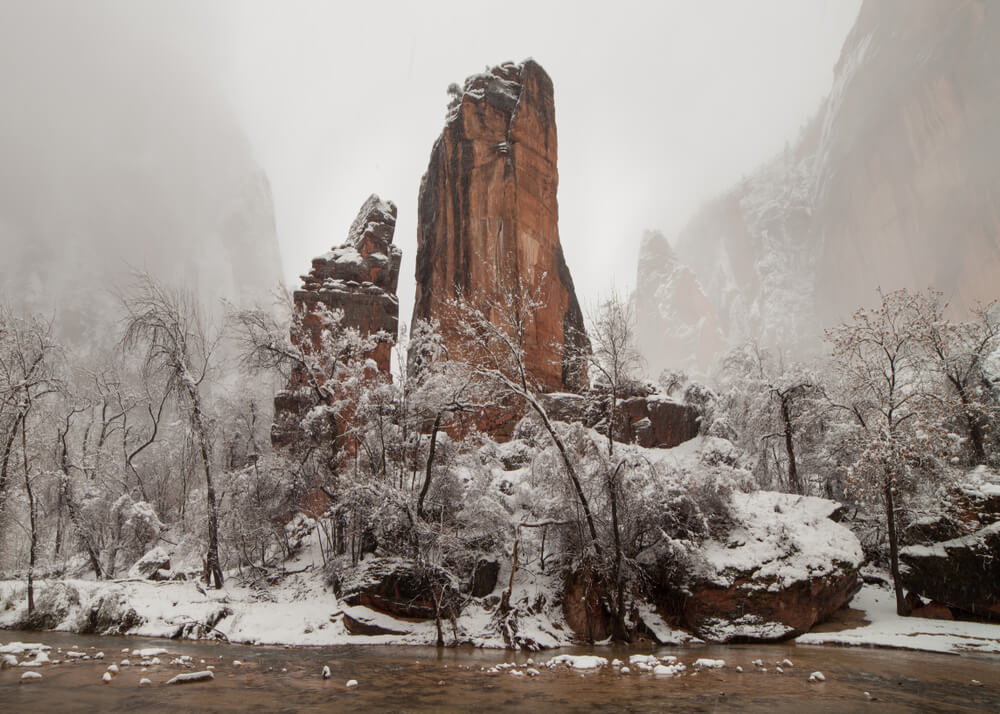 Rockfall is a year-round hazard in Zion National Park. When recreating within the steep canyon, be aware and alert.
If a rockfall occurs, the park service advises visitors to safely move out of the way. If it is not possible to move out of the way of falling rock, seek shelter behind a large and stable rock feature and place your backpack over your head.
Although rockfall can occur at any time, the risk can become increased due to water freezing behind the cliff walls. When the water freezes, it can cause the cracks behind rocks to expand occasionally lodging the rocks out of place.
Rain is also a big risk for causing rockslides, so even if it's not freezing or snowing, you do have to be aware when visiting Zion in the winter!
Things to Do in Zion in Winter
Snowshoe to Observation Point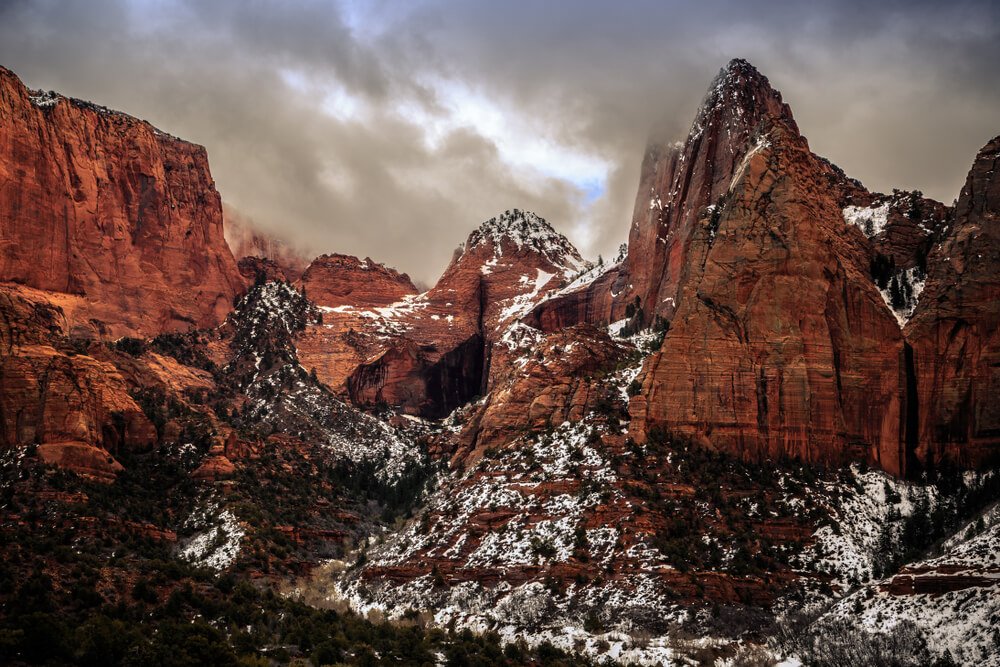 If you are fortunate enough to visit Zion National Park after a fresh snowfall, you may be able to cross country ski or snowshoe on some of the park trails! The higher elevation areas in Zion can hold snow from late October until March.
Kolob Canyons' high elevation makes it a great place to have fun in the snow all winter long. However, if you are looking for a snowshoe adventure in the main part of Zion National Park, you must check out the trail to Observation Point!
Beginning from the Weeping Rock Trail, hike up the switchbacks and out of the deep canyon. You may not need snowshoes at the beginning part of the hike, but the East Rim is known for holding deep snow. Check current conditions with a ranger before departing!
The trail to Observation Point is much wider than the trail to Angels Landing, but it has quite a bit more elevation gain. From Observation Point, you will be 700 feet higher than the summit at Angels Landing! This 8-mile round trip hike includes a look at Echo Canyon as well as one of the most iconic views in all of Zion National Park.
Take a Scenic Drive Through Zion Canyon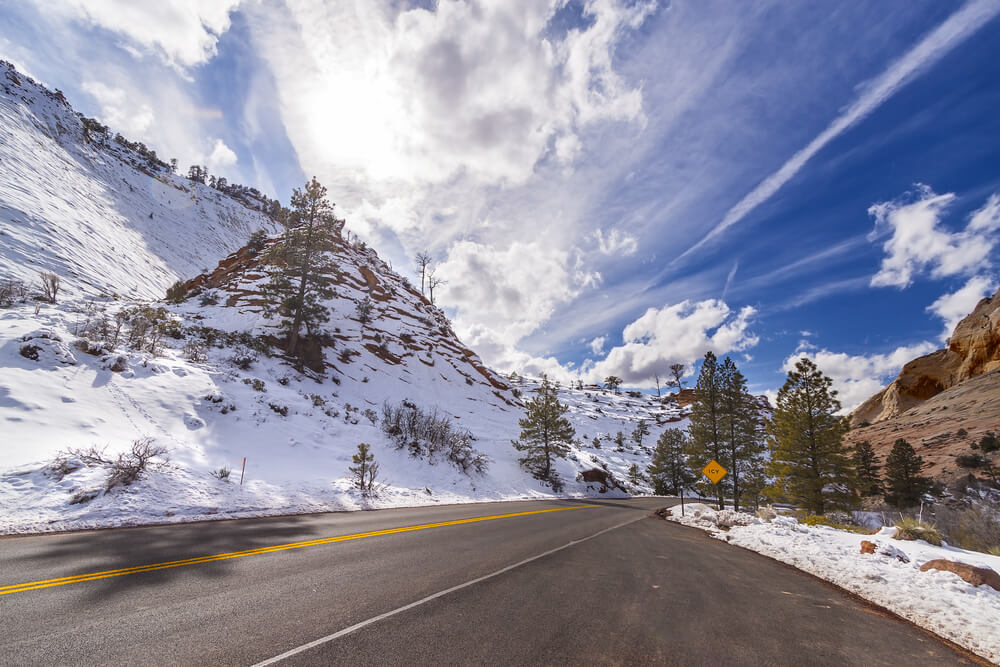 Parts of the Zion Scenic Drive are closed to private vehicles during the summer season. Once the crowds disperse, the shuttle bus shuts down, and visitors are allowed to travel through this section of Zion National Park in their own vehicles.
Traveling this scenic route in your personal vehicle allows for the opportunity to stop as needed and take in the gorgeous canyon views. This 57-mile scenic drive is well worth the trip with chances to see wildlife and the ability to stop frequently for photographs. The drive takes about 1.5 hours depended on the number of detours you choose to explore!
Most travelers begin the drive near St. George, UT, and continue through Zion National Park toward Mt Carmel Junction.
Try for Wildlife Viewing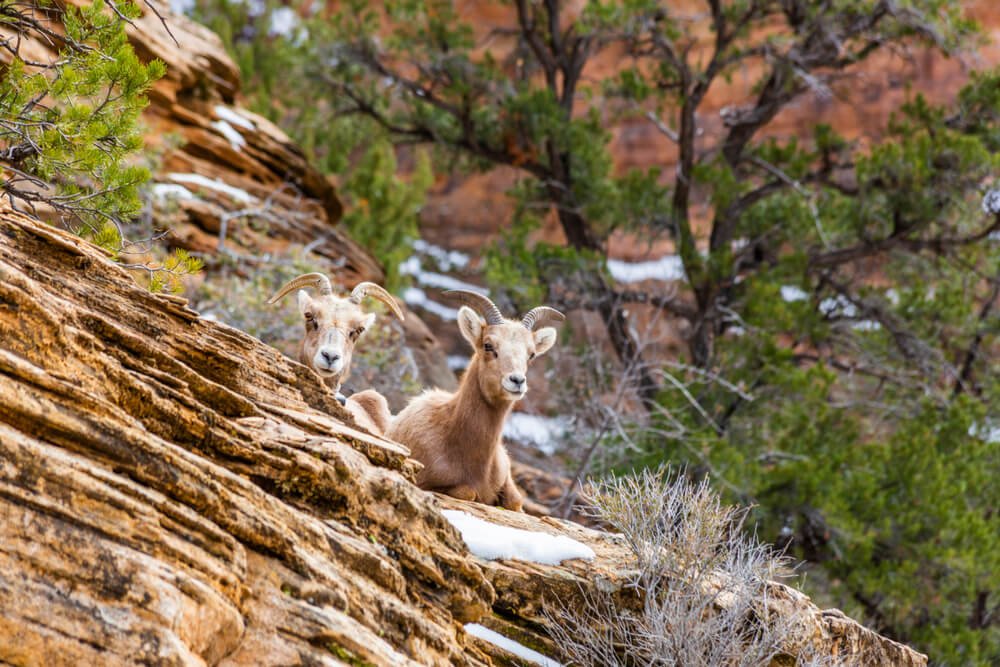 There is no better season than winter to spot some of Zion National Park's wild turkeys roaming the canyon.
Although some of the park wildlife hibernates during the wintertime, it is still possible to spot mule deer, bighorn sheep, and even eagle along the Virgin River!
Binoculars and a keen eye may be necessary to spot some of these well-camouflaged residents. Roaming the park after a fresh snowfall may make it easier to spot deer and bighorn sheep.
Practice Your Wintertime Photography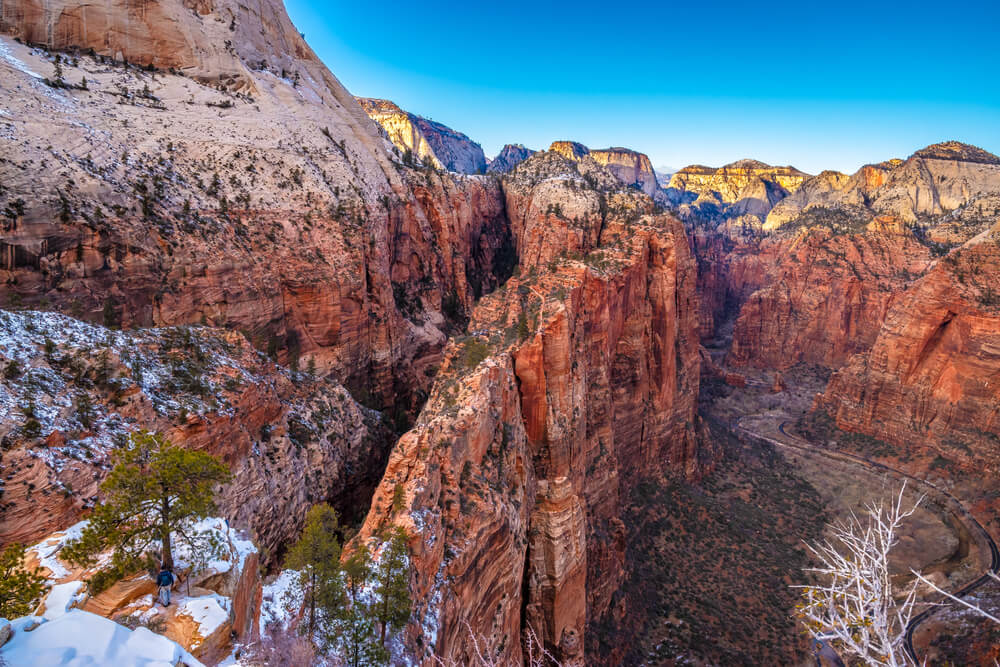 Zion National Park's beautiful landscape becomes something even more picturesque once the snow begins to fall. The tall cliffs become dusted with powdery white snow and the wall's red colors begin to pop.
Visitors hoping to capture Zion's winter landscape can travel the Zion Scenic Drive while using turnouts and designated parking areas to find the perfect angle. Since many of the trails stay open year-round, photographers can also hike to scenic vistas like Angels Landing and Observation Point.
Pin This Guide to Visiting Zion in Winter!
Emily is a freelance travel and outdoor recreation writer from Big Sky, Montana. Her adventurous spirit has led her to the high peaks of the Sierras and the largest wilderness areas in the lower 48. When she's not writing, Emily can be found backpacking, road tripping to outdoor destinations, climbing, or rowing whitewater.