With over 734 miles of scenic hiking trails, Glacier National Park has a wealth of hiking to explore.
There's a trail for every experience level and age group from a family-friendly boardwalk hike around the massive old-growth cedars near Lake McDonald to challenging mountain passes that offer rewarding views of the pristine landscape below.
Pack your backpack, grab your camera, and don't forget the bear spray. These are the best day hikes in Glacier National Park you won't want to miss!
Best Hikes in Glacier National Park
Grinnell Glacier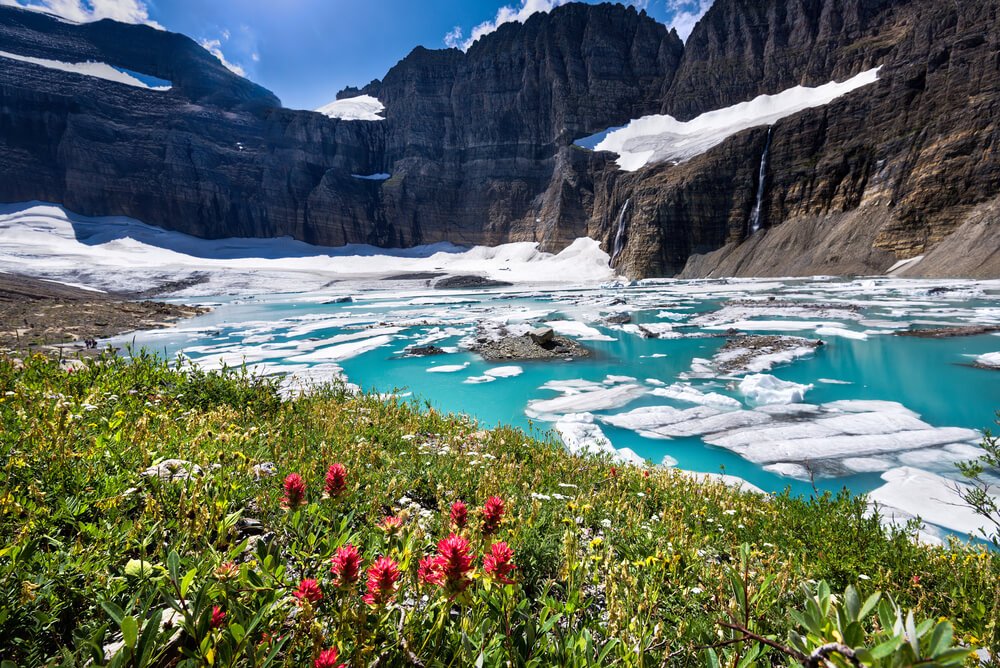 Note: This post contains affiliate links, which means I may receive a small commission if you purchase something through one of these links. Thank you for supporting the free content on this site! For more information on affiliate links and cookies, see my disclosure page for more details.
Mileage: 10 miles or 7 miles using the boat shuttle
Elevation Gain: 1,600 feet
The Many Glacier Valley in Glacier National Park is a true hiking paradise. One of the most commonly suggested hikes in this area is to see Grinnell Glacier.
There are at least 35 named glaciers in the park, and Grinnell is one of the most accessible… and seeing a glacier has got to be on the top of your list of things to do in Glacier National Park.
Now, let's talk about how to get there…
From the Grinnell Glacier Trailhead, hike along the north shores of Swiftcurrent Lake and Lake Josephine. The mountain views from this section of the trail are beautiful!
The trail doesn't begin to gain much elevation until you have passed the lakes. The last 3 miles are fairly steep, but at least there are plenty of wildflowers to occupy your attention as you climb. Seeing a glacier up close is worth the effort!
If you're short on time or can't manage a 10-mile hike, you can shave off 3 miles from the trek by using the park shuttle boats. Taking the shuttle boats costs a small fee and may require advanced registration. The boats can be used to shuttle across Swiftcurrent Lake and Lake Josephine.
Grinnell Glacier Alternative: Grinnell Lake Trail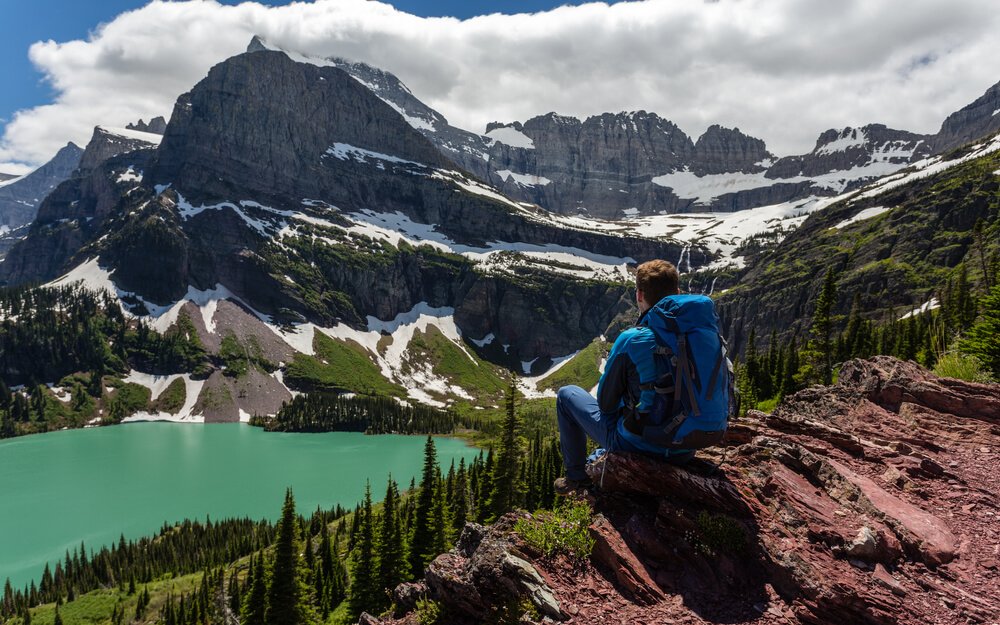 Mileage: 7 miles
Elevation Gain: 1,600 feet
The trail to Grinnell Glacier can hold snow for much longer than the lake trail below.
If hiking through snowfields on a steep trail sounds uncomfortable, you can still enjoy a nice view of Grinnell Glacier from a lower elevation at Grinnell Lake.
Hikers can also use the boat shuttle to eliminate a few hiking miles.
St. Mary and Virginia Falls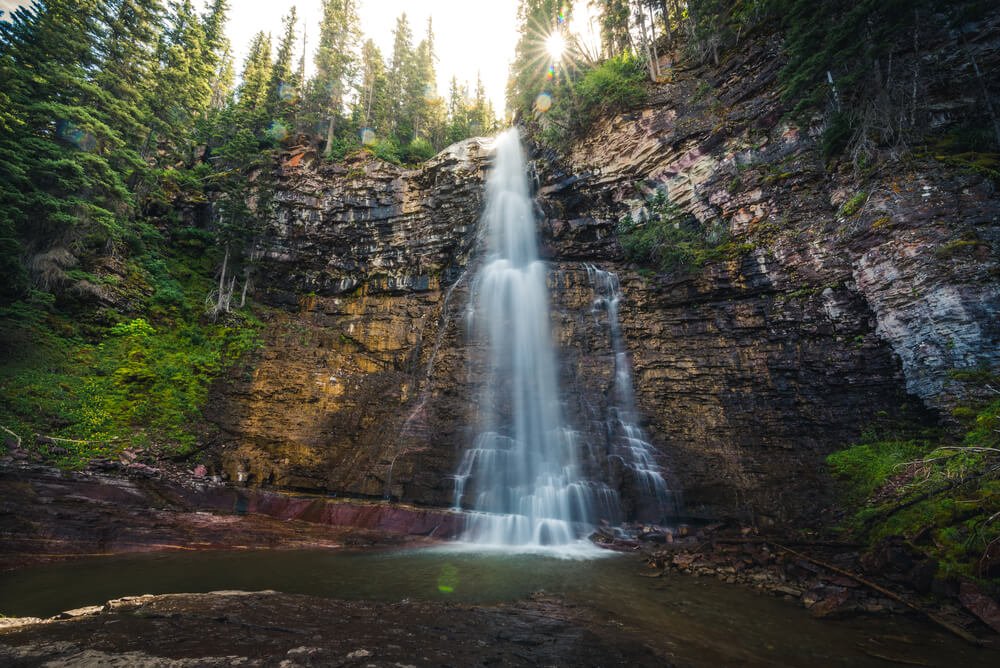 Mileage: 3 miles
Elevation Gain: 450 feet
Hiking in Glacier National Park isn't complete without a trip to St. Mary and Virginia Falls!
At the western end of St. Mary Lake, there is trailhead parking for the falls. You can also use the shuttle bus to get to this scenic waterfall trail.
Once you're at the trailhead, hike downhill toward the St. Mary River. You will mostly be hiking through a historic burn area, which has beautiful wildflowers every spring.
Soon after you reach the river, you will come across St. Mary Falls. Take the bridge across St. Mary River to continue on your way toward Virginia Falls.
You can continue hiking on what is now the Continental Divide Trail for as long as you'd like, or flip around and head back to the trailhead.
Avalanche Lake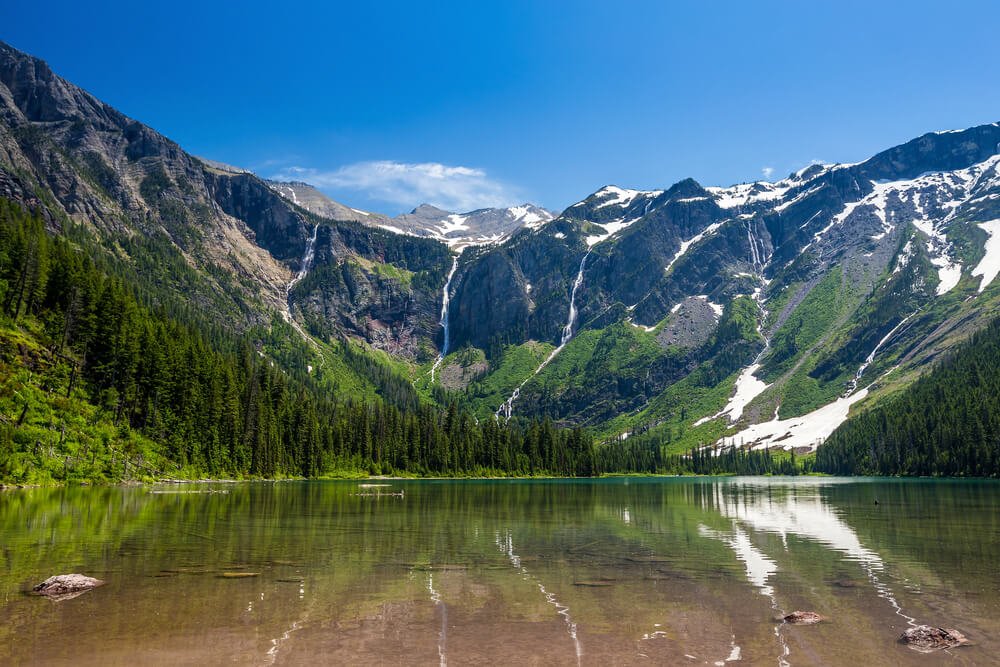 Mileage: 4.5 miles
Elevation Gain: 750 feet
Early in the springtime, many of the park roads are still closed for snow removal. Avalanche Lake is one of the first alpine lake trails to become accessible as the roads reopen!
From the Trail of Cedars Trailhead, follow signs to the Avalanche Lake Trail. The trail climbs steadily uphill while paralleling the icy blue waters of Avalanche Creek.
For a more secluded experience, continue 0.7 miles to the other end of the lake. It's arguably a better view than the main beach!
Trail of Cedars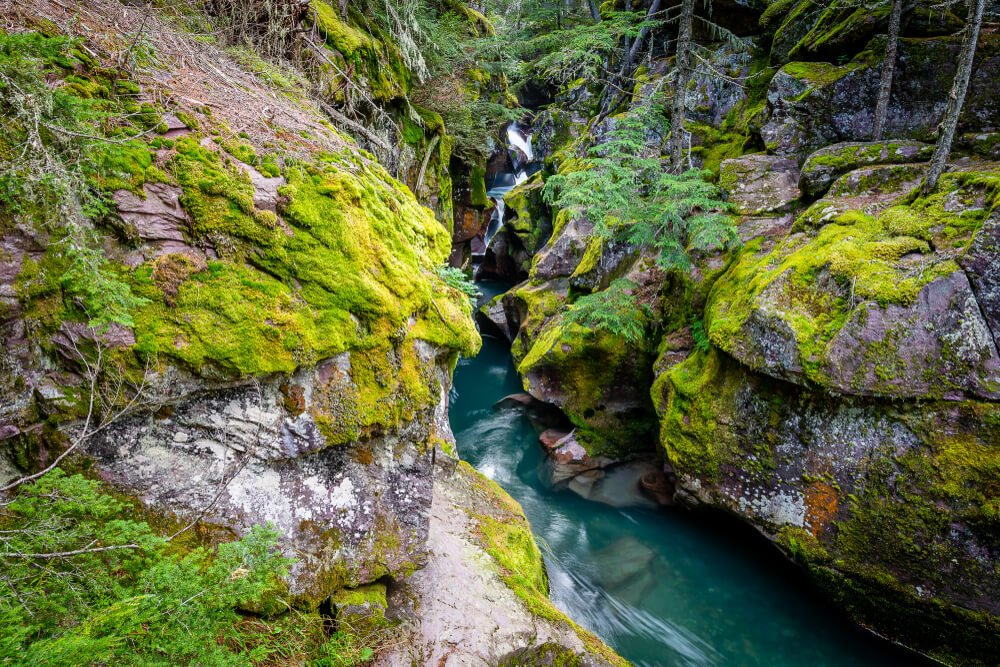 Mileage: 1 mile
Elevation Gain: 50 feet
The Trail of Cedars can be wandered before or after visiting Avalanche Lake.
The area includes boardwalks that weave through the impressive cedar trees.
There are plenty of interesting interpretive displays to read through and if you look carefully you may be able to spot the resident deer roaming around. This is a great place to wander with young or new hikers!
Redrock Falls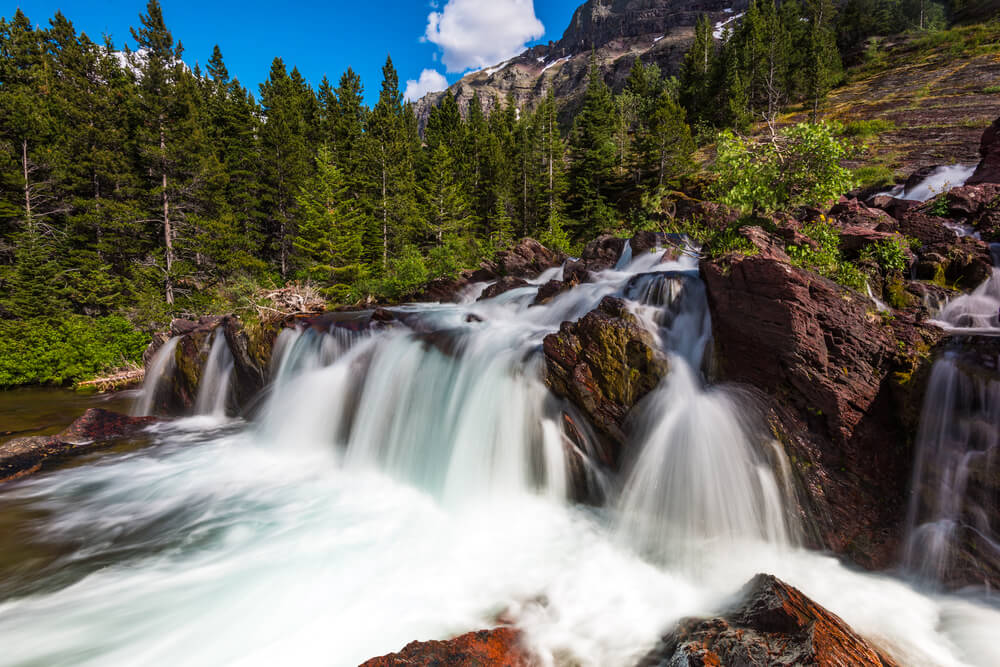 Mileage: 4 miles
Elevation Gain: 285 feet
Head to the end of the road in the Many Glacier Valley to access this scenic waterfall. Park at the Swiftcurrent Trailhead and follow the Swiftcurrent Pass Trail.
You will come to the cascading waterfall after about 2 miles of hiking. Many small side trails wander around the falls offering different viewpoints.
If you were hoping to spot a moose during your trip to Glacier National Park, this is your best bet! Moose frequent the wetland area about 1.5 miles into the trail.
No luck? Take the short detour to Fishercap Lake and scan the shoreline. The best times to spot moose are in the mornings and evenings.
The first best part of this hike is the waterfall, but the second-best is that it ends close to the general store, which sells huckleberry ice cream!
Swiftcurrent Pass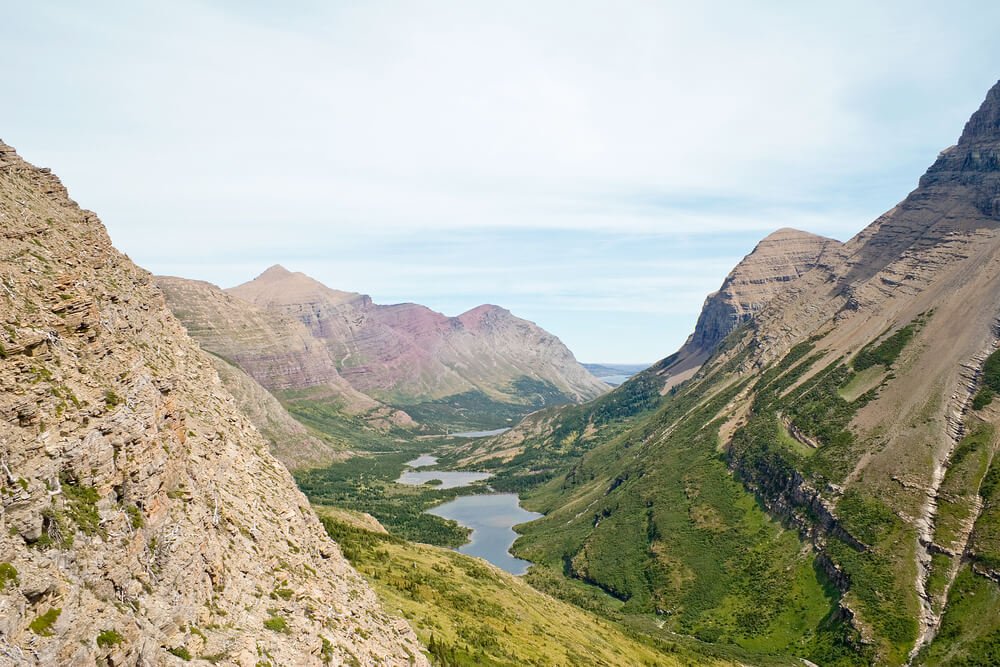 Mileage: 14 miles
Elevation Gain: 3,766 feet
Often considered the most challenging day hike in Glacier National Park, the trail to Swiftcurrent Pass is full of outstanding views, alpine meadows, emerald lakes, and wildlife. If you are rugged enough to take on this trail, you won't be disappointed by the beauty it holds!
As you would if you were hiking to Redrock Falls, park at the Swiftcurrent Trailhead and follow the appropriately named trail. You will get to see Redrock Falls, Redrock Lake, and Bullhead Lake along the way. Both lakes offer great views and provide excellent habitat for moose!
Soon after Bullhead Lake, you will begin your ascent up toward the pass. Make your climb up the many switchbacks for an excellent view of the valley below. The trail is pretty narrow and steep in some spots, which doesn't pair particularly well with a fear of heights.
Iceberg Lake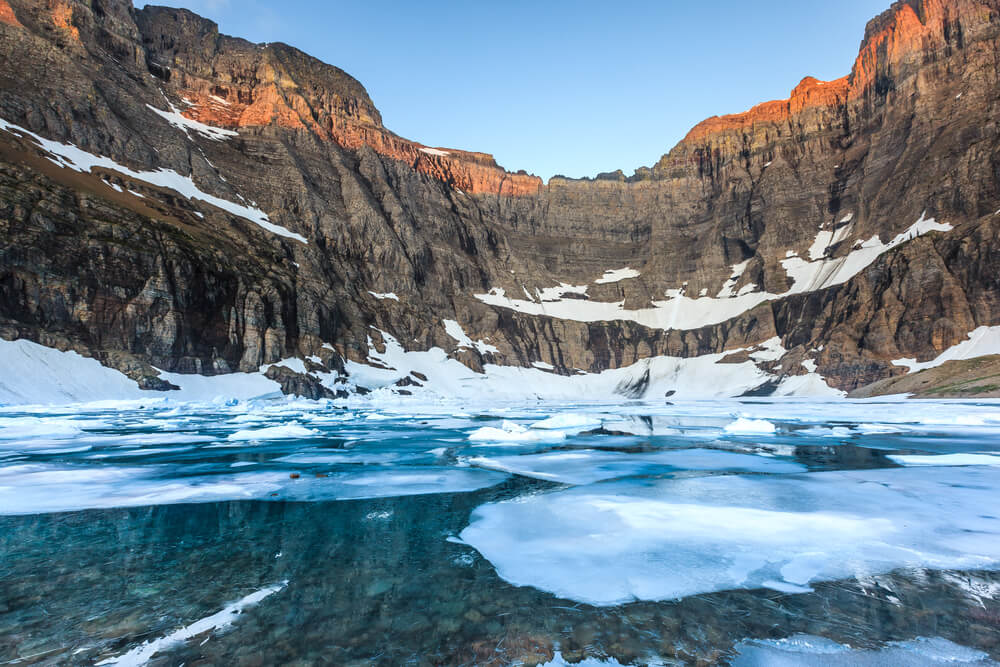 Mileage: 9.3 miles
Elevation Gain: 1,450 feet
Begin your trek to Iceberg Lake from the Iceberg Ptarmigan Trailhead, which is nearby the trailhead used to access Redrock Falls and Swiftcurrent Pass.
From the trailhead, follow signs to stay on the Iceberg Ptarmigan Trail. Soon after you reach Ptarmigan Fall, you will arrive at a junction. Here, you will veer left and follow the Iceberg Trail.
Your efforts will be rewarded with an epic view of the emerald blue lake and floating ice chunks. The lake is surrounded by 2,000' tall cliffs that are frequented by mountain goats.
In addition to the goats and bighorn sheep you will probably see, keep an eye out for moose, bear, and deer. This trail is a wildlife photographer's dream!
Highline Trail
Mileage: 15 miles
Elevation Gain: 2,578 feet
Due to the long mileage and difficulty of this scenic hiking trail, it is often done as an overnight backpacking trip. Although challenging, seasoned hikers could make this particular trek in a single day.
For those wishing to embark on a multi-day adventure, the Highline Trailhead is the starting point for endless miles of exploring, including a popular route that traverses most of the park.
Park at the Logan Pass Parking Area or take the shuttle bus to access the trailhead. You'll want to get on the trail early! Follow signs to Highline Trail and begin your steady climb up. This scenic trail will bring you along the garden wall followed by an opportunity to detour to the Grinnell Glacier Overlook. Adding the detour to Grinnell Glacier makes the total distance closer to 17 miles.
Continuing on, you will eventually reach the Granite Park Chalet, which historically provided accommodations for visitors to Glacier National Park. Now, it is a National Historic Landmark and a comfortable backcountry camp for backpackers.
After taking in the view at the chalet, head back the way you came toward Logan Pass. Keep an eye out for wildlife, there are many reports of hikers encountering grizzly bear and mountain goats!
This trail is very exposed, and anyone with a sensitivity to heights is encouraged to seek other options.
Upper McDonald Creek Trail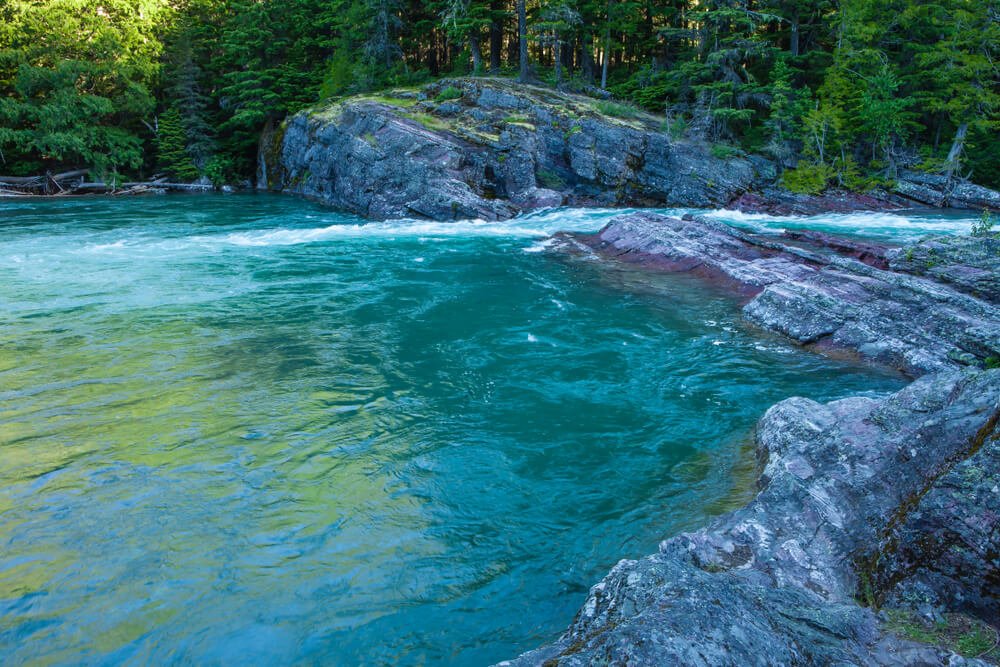 Mileage: 5 miles
Elevation Gain: 278 feet
Hikers of all levels will love this scenic creek-side trail. Beginning from the Upper McDonald Creek Trailhead, which is only a short drive past Lake McDonald.
The trail starts by wandering through an old-growth forest. This section of trail is a common place to spot grazing mule deer. As you continue, you will encounter the glacial-blue Upper McDonald Creek.
This is an out and back trail, so continue as far as you feel comfortable before turning around and heading back toward the trailhead.
Florence Falls Trail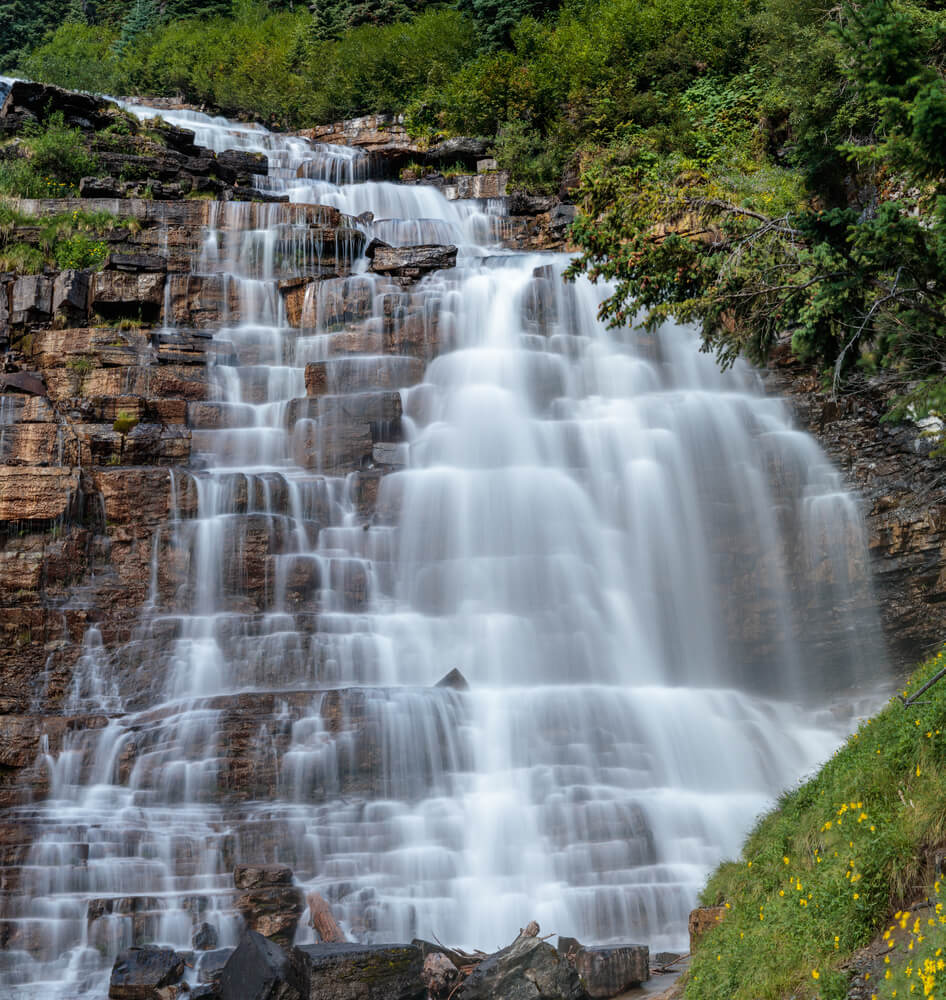 Mileage: 9 miles
Elevation Gain: 1,174 feet
This is just one of the many spectacular waterfalls in Glacier National Park. Begin this out and back hike at the Jackson Glacier Overlook, where there is a good amount of parking available.
Along the way, you'll pass Deadwood Falls. This 10' falls may be stout, but it's quite loud as it spills into Reynolds Creek. The main event is further down the trail.
Florence Falls is a tower of cascading falls. Each cascade ranged in height from 30 to 50 feet! Bear frequent this trail in the springtime because of the abundance of cow parsnip that grows in the area.
Be bear-aware anytime you are hiking in Glacier National Park!
Pin This Guide to Glacier National Park Hikes
Emily is a freelance travel and outdoor recreation writer from Big Sky, Montana. Her adventurous spirit has led her to the high peaks of the Sierras and the largest wilderness areas in the lower 48. When she's not writing, Emily can be found backpacking, road tripping to outdoor destinations, climbing, or rowing whitewater.