For people looking for a unique place to stay in Joshua Tree, you're in for a treat.
This National Park and the adorable small town of Joshua Tree are the perfect escape for those wanting to leave the Los Angeles metropolitan area for a change of scenery.
There are so many incredible Joshua Tree Airbnbs perfect for a desert escape — from airy, design-focused boutique Joshua Tree Airbnbs to unique Airbnbs in Joshua Tree like Airstream trailers, there's so many to choose from!
To help in your search, we've curated the absolute best Joshua Tree Airbnbs. All of the listings below are highly reviewed and hosted by Superhosts and some are even Airbnb Plus listings which meet a higher caliber of stay.
The Best 13 Joshua Tree Airbnbs
Best for the Budget-Savvy: The Phoenix House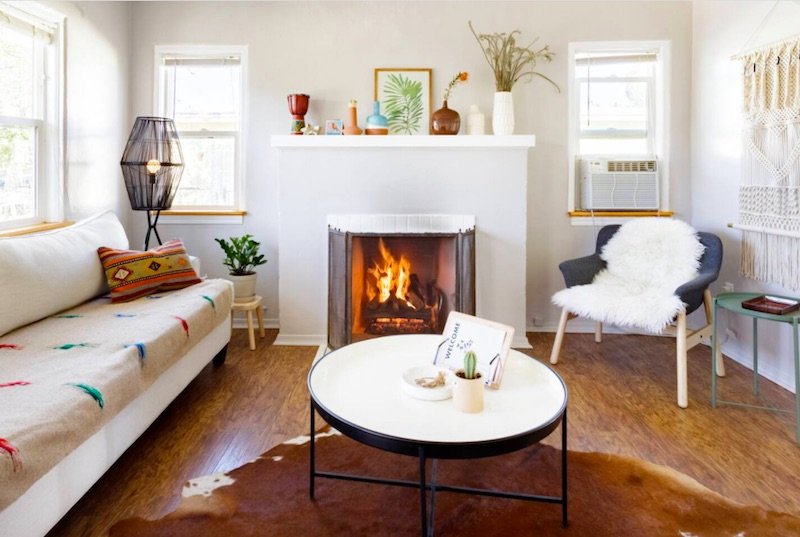 Note: This post contains affiliate links, which means I may receive a small commission if you purchase something through one of these links. Thank you for supporting the free content on this site! For more information on affiliate links and cookies, see my disclosure page for more details.
Price: From $75 USD per night and up
Guests: 4
Bedrooms: 2
Find it on Airbnb: The Phoenix House
The Phoenix House is a beautifully constructed oasis in the High Desert of California, and it's a great fit for those who appreciate 'less-is-more' house design with minimalist touches.
The defining features of the interior are the cloud-white walls and furniture in every room of the house, from the dining and living rooms to the two spacious bedrooms, as well as the occasional wooden shelf and wooden flooring that serve as beautiful design counterpoints.
Further adding to the relaxing atmosphere of the house is the abundance of natural light coming in from every angle, the distinctive artwork that captures the local spirit of the desert, and the indoor fireplace, ideal for a cozy night in.
The exterior of the house perfectly matches the tone of the rooms – the predominance of white and wooden surfaces makes the entrance feel like a natural extension of the interior.
On top of that, the grill and the abundance of outdoor seating make this area ideal for gatherings with friends and family, which are made all the cozier thanks to the outdoor fire pit. Guests seeking some private R&R will appreciate the inclusion of a hammock, as well as additional seating by the entrance of the house.
Guests say:
"We stayed here with our infant and dog and it was the perfect desert getaway. It's steps to town and a short drive to the National Park. The house was designed so beautifully and the space really made us feel like we were in an oasis. We would definitely stay here again!"
Best Indoor/Outdoor Aesthetic: Cactus Jax Cottage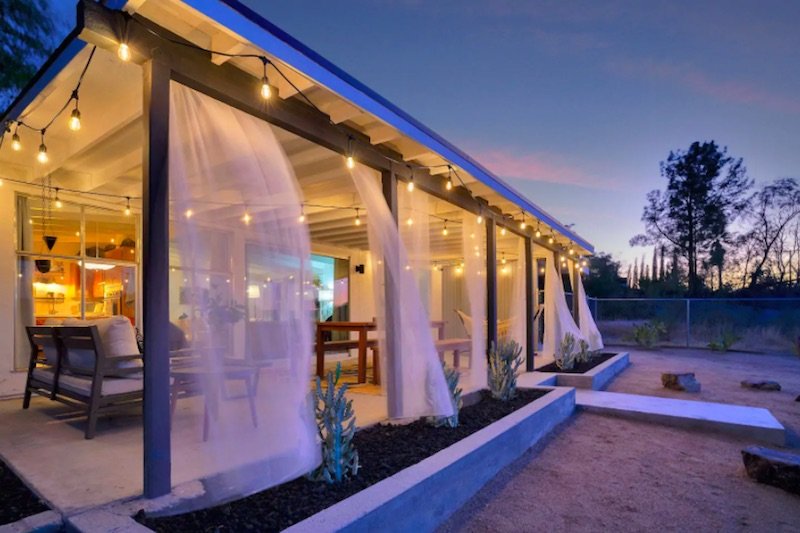 Price: From $156 USD per night and up
Guests: 4
Bedrooms: 2
Find it on Airbnb: Cactus Jax Cottage
With its one-of-a-kind design and emphasis on absolute comfort, Cactus Jax Cottage is the definitive desert retreat resort: the perfect Joshua Tree Airbnb for those looking for a cozy getaway.
Built in the mid-20th century, the cottage has since evolved into a luxurious home that offers everything you could possibly wish for – the house can accommodate up to four people between its two bedrooms, the kitchen and dining areas are stacked with everything you might need, and the ample seating options make the cottage an ideal place for large congregations.
On top of that, the camera on the back patio offers a layer of security seldom found in other relatively remote places, so you'll feel safe and secure in this desert oasis!
While the interior design is in keeping with the ambient of the desert, where Cactus Jax Cottage really shines is in its spacious exterior.
The fire pit in the rather open outdoor area makes the experience of staying at the cottage feel like camping, and it provides a great incentive to spend as much time outside as possible.
In addition, although this resort offers absolute peace and serenity, guests needn't feel as though they're completely isolated – Joshua Tree Village is just a hop and a skip away, so you'd be able to run errands in town and mingle with the locals at any given time.
Guests say:
Best place I've ever stayed at! Every inch of the place is so unique and artsy. If you get an air bnb in Joshua Tree this is the place to stay. The campfire at night was amazing & the hammock was very relaxing. Great view of the comfy cozy rooms to sleep in too! A++
Best Interior Design: The Joshua Tree House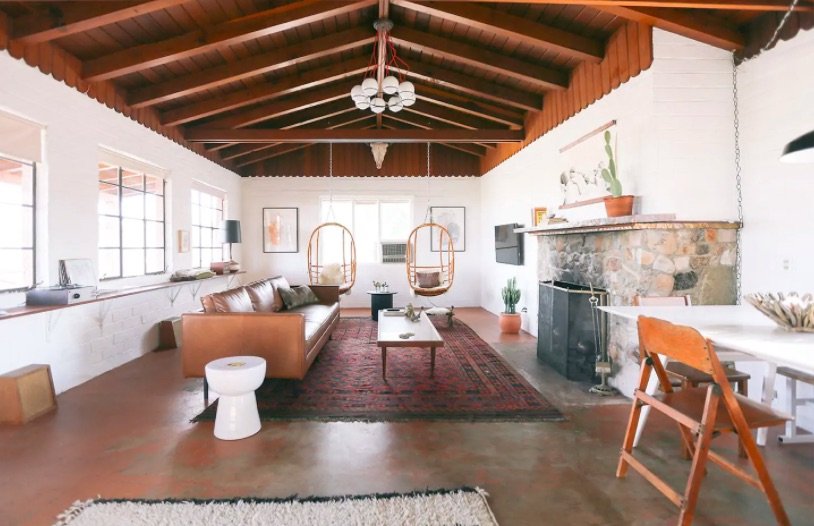 Price: From $300 USD per night and up
Guests: 6
Bedrooms: 2
Find it on Airbnb: The Joshua Tree House
While the unique beauty of deserts is often understated, The Joshua Tree House comes with a view that visitors, and especially early risers, will not soon forget.
Surrounded by dozens of Joshua trees, some of them older than the property itself, The Joshua Tree House is an ideal pick for people looking to wake up to a beautiful view. On top of that, the size of the yard and the house's proximity to Joshua Tree Village make outdoor activities and exploration easy.
As far as the interior is concerned, the house has an elegant dichromatic design, and all basic necessities are accounted for. Personalized details like a vinyl record player and a large record collection add to the house's character and are a great complement to the property's distinctive features.
Beyond the aesthetics, a practical perk of the house is the capacity to accommodate parties of up to six people – the house itself has two bedrooms (one of which is separate from the main house, allowing for maximum privacy), and the hosts are willing to provide additional bedding for up to two more.
Other features of interest include the always-welcome hot tub, as well as a hammock room for daytime relaxation!
Guests say:
"The Joshua Tree House is a little slice of heaven in JT. It is centrally located, minutes from downtown and very convenient to everything you'll need for your stay. There is a great cowboy tub to soak in on the hot summer days and a hot tub for those cool desert nights. The house is immaculately styled – just as shown in the photos. The little details are thought out perfectly – even wires are hidden in a stylish way. We have stayed at many airbnbs, but this one sits near the very top of our list. We hope to be back soon."
Best Joshua Tree Airbnb with Pool: Desert Wild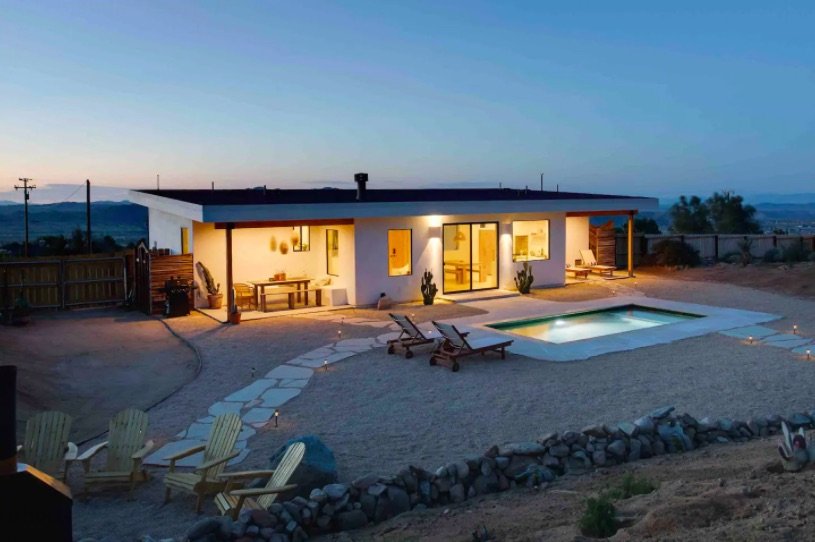 Price: From $440 USD per night and up
Guests: 4
Bedrooms: 2
Find it on Airbnb: Desert Wild
Conveniently located near Joshua Tree National Park and other places of interest within Joshua Tree, Desert Wild is the perfect property for couples and families in the market for a quiet vacation among people.
With its luminous interior and wood-based furniture, the house perfectly captures the spirit of the desert, all while maintaining a high standard of luxury.
Desert Wild comes equipped with a swimming pool, hot tub, projector, and gas adobe fireplace.
The real selling point of this property, however, is the emphasis on maintaining respectful neighborly relations. Guests are advised to remain civil and quiet so as to not disturb the neighbors.
While this might alienate those who are looking to have a good time in large groups, it makes Desert Wild a perfect getaway from the stress and noise of the big city for people who simply want to unwind with their loved ones in peace and are willing to offer their neighbors what they expect to get in return.
This particular feature of Desert Wild doubles as safety assurance for guests who might not want to feel too isolated – while you will be able to enjoy complete privacy, you can rest easy knowing there's always another person nearby.
Guests say:
"If you're visiting Joshua Tree National Park or just looking for a get away outside the city this is the perfect place. We relaxed in the pool during the day, sat in the hot tub in the evening and watch movies at night. You won't want to leave everything is so cozy and beautifully designed!"
Best for Spiritualists: White Cactus House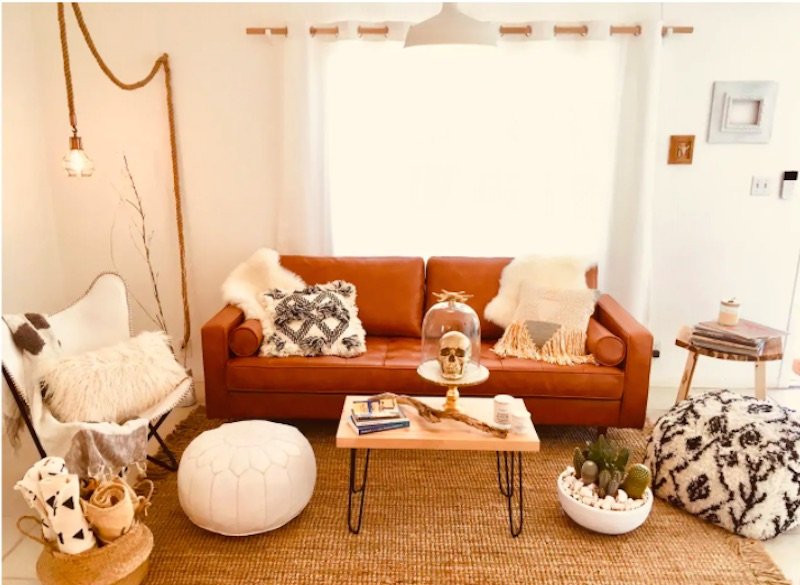 Price: From $150 USD per night and up
Guests: 4
Bedrooms: 2
Find it on Airbnb: White Cactus House
White Cactus House is a dream resort for spiritually inclined visitors and lovers of the outdoors.
On top of being within walking distance of all the major landmarks in Joshua Tree, White Cactus allows its visitors to connect with nature like few other places do, thanks to its all-natural wooden design, an outdoor shower, as well as an indoor shower with a skylight.
Guests who are admirers of Scandinavian design will feel right at home in this house, and aside from having all the rooms and features one would expect, the house comes with a designated meditation area that connects the inside and outside.
The spiritual theme extends over into the yard, but more typical vacation resort commodities are also provided. The yard is nicely shaded, and allows for fire pit sing-alongs, picnics, relaxing in a cowboy pool, and even indulging in some spiritual activities, as this area is home to 5 elemental statues.
In addition, drink carts are provided to all guests free of charge, and given the property's proximity to the Joshua Tree Saloon, there are plenty of options for enjoying the night in the desert in more conventional ways.
Guests say:
"This spot is so stinkin' cute! The backyard and all of the decor is very boho, they definitely nailed the vibe they are going for. Great location, very communicative hosts, clean and stylish space. We'll be back!"
Best for Large Groups: JT Springs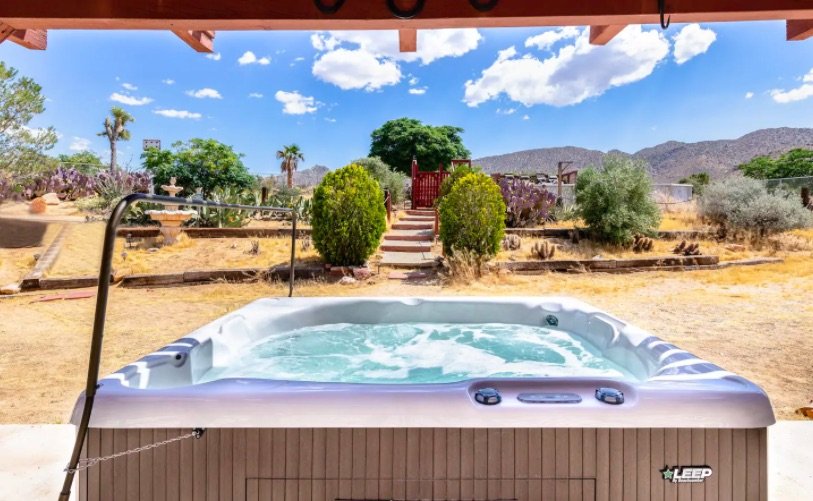 Price: From $148 USD per night and up
Guests: 10
Bedrooms: 3
Find it on Airbnb: JT Springs
JT Springs is a beautiful three-bedroom resort with a stylish wood-and-ceramic design that gives it its unique homey atmosphere.
The property is quite large (around 1800 square feet), and it's a fair distance from the more congested areas in Joshua Tree.
On top of that, the little details like the local decorative pieces, the popcorn machine in the kitchen, and the wide assortment of board games go a long way in making guests feel they're in their home away from home. There's an indoor area for every activity and every time of day, from a breakfast bar and a dining room to a game room for fun group activities.
The view from the yard is beautiful – guests can expect to see a lot of indigenous vegetation and wildlife as soon as they step out into the backyard.
This area is also beautifully furnished and is equipped with a hot tub, a spacious outdoor eating area, and even a swimming pool for a relaxing dip after a long day of exploring the desert.
Visitors can fully immerse themselves in the beauty of the area's striking greenery and starry night sky by huddling around the large fire pit.
Guests say:
"Leah's place was absolutely beautiful! Such a gorgeous location and view outside as well as being stylish, spacious, and cozy on the inside. Leah was very quick with responding and all instructions were clear and easy. I would definitely recommend staying here!"
Best for Being Close to Town: Casita Bonita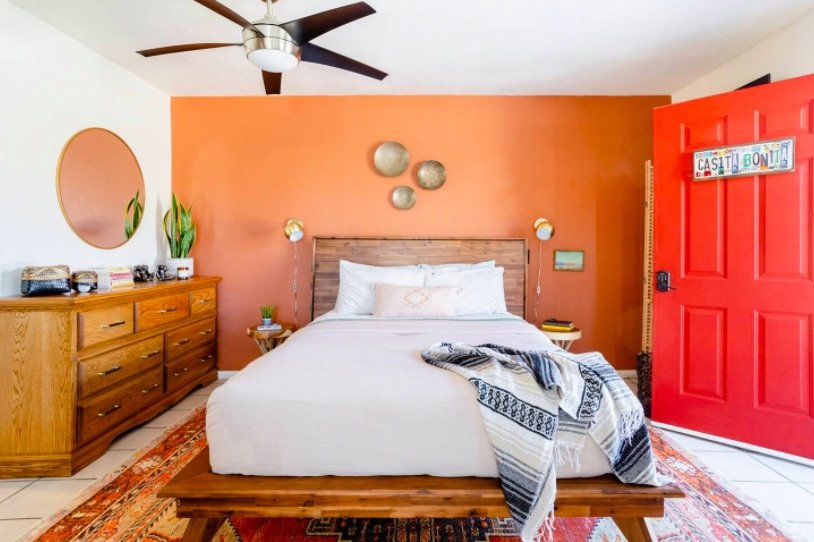 Price: From $100 USD per night and up
Guests: 4
Bedrooms: 1
Find it on Airbnb: Cozy Desert Escape – Casa Bonita
Casita Bonita is a very inviting Joshua Tree Airbnb with a lot of personality and a practical layout, making it the perfect holiday retreat for up to two couples or a small family.
Do note that one bedroom is in the shared space, so it does involve compromising on privacy a bit — but for the price, it's fantastic.
Those who love the tone of the desert will appreciate the warm colors of the interior and the occasional black tiles in the kitchen and bathroom, giving the house both a modern and rustic feel – every detail in every room is simple, yet purposeful.
The living room is equipped with a pellet stove for the sometimes unpredictable desert nights, and there's plenty of sunlight coming into every room.
The backyard is quite spacious and is great for outdoor get-togethers. The minimalist layout of the yard leaves visitors with plenty of room to get creative with their outdoor activities, and the inclusion of a fire pit allows one to relish in the beauty of the starry desert sky whatever the temperature.
The yard is also surrounded by Joshua trees from virtually every direction – this, along with the massive mountains in the distance, makes the view from the yard quite impressive. Furthermore, conveniently for those who want to explore, the resort is very close to Joshua Tree Village.
Guests say:
"This place is amazing. The hosts are wonderfully accommodating and check in was a breeze. Very close to the national park and had all the amenities needed for a trip. The mattress was especially comfortable, the water pressure in the shower was great, and the decor was beautifully thought out to fit the desert aesthetic. Will be staying here again!!"
Best for Instagram: Magical Airstream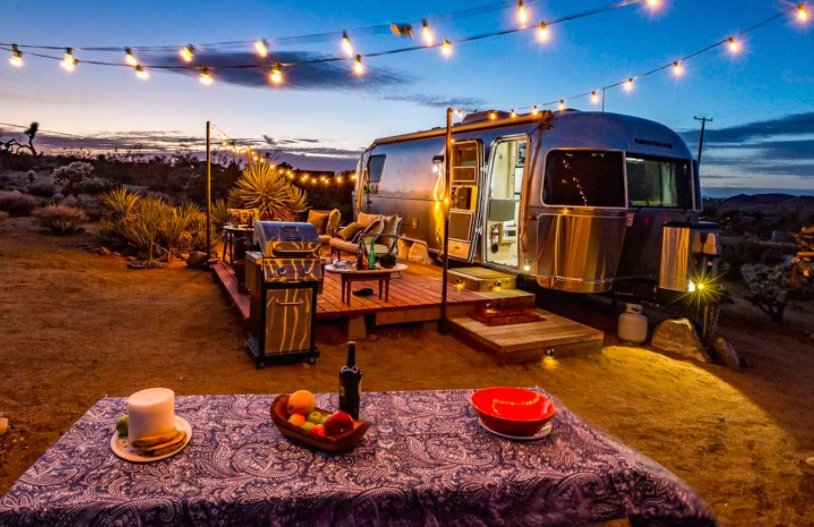 Price: From $227 USD per night and up
Guests: 4
Bedrooms: 1
Find it on Airbnb: Magical Airstream
Campouts and luxury seldom go hand in hand, but the Magical Airstream will subvert all your expectations of how a night spent camping in the desert could look.
Located near the very entrance of Joshua Tree National Park, and even closer to downtown Joshua Tree, this RV manages to fit every amenity guests could possibly need, including a fully-stocked kitchen, two sinks, and convertible seating, allowing for up to 4 people to sleep inside.
Given its proportions and quiet location, it makes for an amazing solo retreat spot as well! The interior is exceptionally cozy for its size, and what the RV lacks in indoor space, it makes up for with its spacious deck and dipping pool.
Chances are that if you're considering Magical Airstream, you're not looking to spend much time indoors anyway – you'd likely be interested in taking in the beautiful desert scenery and exploring the desert canyons, and you'll find no shortage of that in this area.
Magical Airstream also has a gas grill, allowing you to round off your long day of exploration with a delicious evening meal under the stars, and the conveniently placed picnic table will help turn the surrounding desert area into your very own dining room.
Guests say:
"It truly was magical. The best experience that I have had with an Airbnb. The hosts were so great and the place had all the amenities and then some! I'm so glad we were able to get away from the craziness and have a few days of leisure and nature!"
Best for Artists & Color Lovers: Beavertail Loft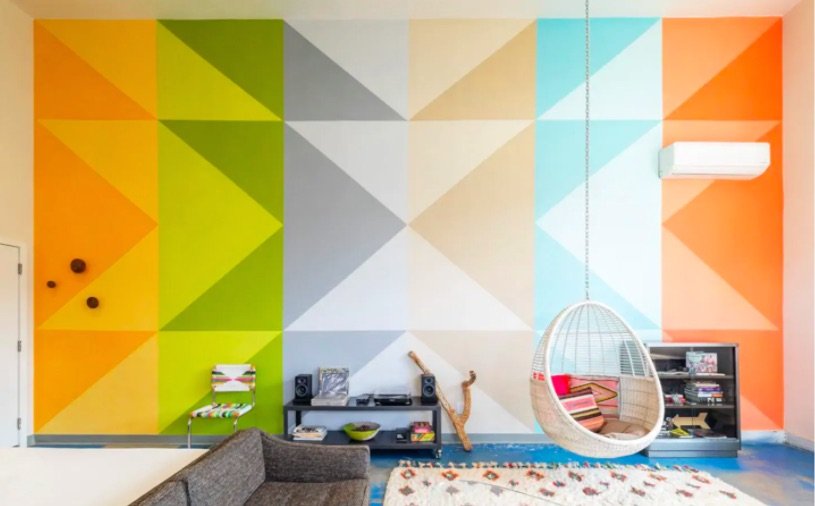 Price: From $187 USD per night and up
Guests: 4
Bedrooms: 1
Find it on Airbnb: Beavertail Loft
A beautiful, artsy resort located just a few minutes from Joshua Tree Village & JT National Park, Beavertail is a dream come true for those wishing to take full advantage of the peace and quiet of the desert.
The wall of the spacious loft room is decorated by a beautiful mural in a kaleidoscope of different colors, making it an ideal place to lie back and set your mind at ease, all while basking in natural light.
A turntable and record collection are provided, adding to the retro, hippie-like aesthetic of the loft. The sleeping loft contains 2 twin beds, so Beavertail is a great option for parties of up to two couples.
The relaxation options don't end there – the exterior is equipped with a yoga patio and a hammock circle, ideal for nighttime relaxation with friends and family.
Beavertail even comes with its an outdoor spa, perfect after a day of exploration. For those who enjoy the company of strangers, there's even a communal fire pit and plenty of room to just sit back and look at the scenery, as well as a grill for an old-fashioned American cookout. The hosts recommend taking full advantage of this arrangement, as you're bound to catch some beautiful sunrises and sunsets.
Guests say:
"Our stay was wonderful! Jonathan and Patty were so helpful and responsive – they even checked in the 2nd morning to make sure our stay was going smoothly. The space is artistic and beautiful – perfect for a romantic getaway! I loved our private patio with the grill, outdoor dining area, and hammock. BBQing while watching the sun set against a backdrop of Joshua trees was such a dream! The location is also super convenient and close to downtown JT and the park entrance."
Best for Minimalists: The Joshua Tree Tiny House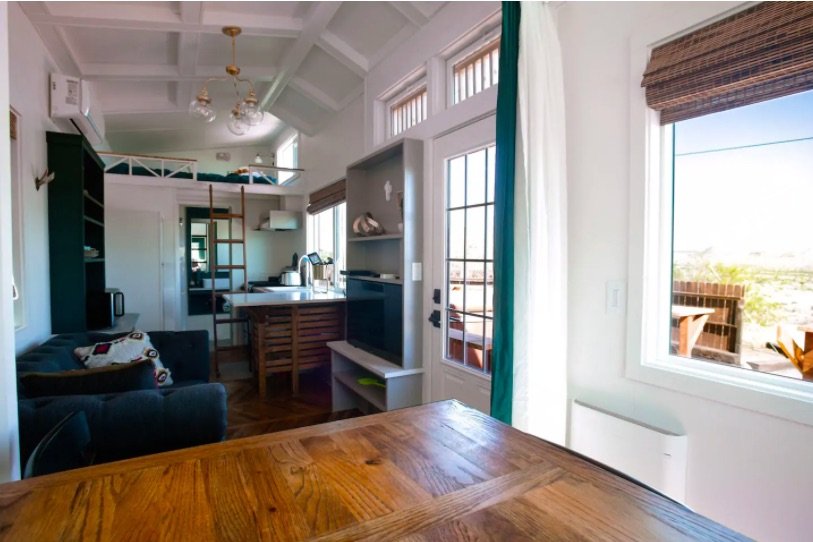 Price: From $187 USD per night and up
Guests: 4
Bedrooms: 2
Find it on Airbnb: Joshua Tree Tiny House
If you're interested in vacationing at an environmentally friendly house where everything you need is within reach (literally!) The Joshua Tree Tiny House was made just for you.
Despite the not-so-spacious interior, every section of the house looks great – the house's wood-and-beige color style is beautifully accentuated by an abundance of dark blue-green furniture, and there's essentially a second bedroom which is elevated above the living room area and accessible via ladder, making productive use of the compact space.
Needless to say, the window from this 'second floor' overlooks the mountains and the vast expanse of desert land, which is a beautiful view to start your day with.
The large wooden deck (larger than the house itself) is likely where you would be spending most of your downtime, as this cozy area has a hot tub and a barbecue grill.
Visitors are encouraged to explore the immediate surroundings of the house – the area is very rich in flora and fauna you can only encounter in the desert, and Joshua Tree & its National Park are mere minutes away. After you've had your share of exploring for the day, you can light a fire and stargaze for the rest of the night.
Guests say:
"We stayed one night in the tiny house and got a beautiful view of the sunset over the desert. With the new moon, we were able to see lots of stars from the deck too. The house feels spacious and we had everything we needed for a quick stay. It was a bit too hot for us to need the hot tub in July, but we were happy to have the option! Overall, the home is exactly as pictured and we are glad to recommend."
Best for Design Heads: Casa Joshua Tree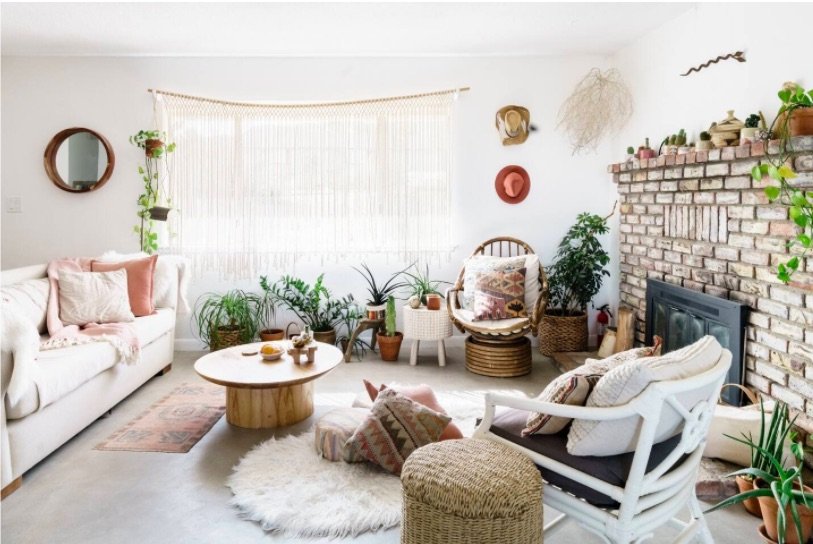 Price: From $134 USD per night and up
Guests: 5
Bedrooms: 2
Find it on Airbnb: Casa Joshua Tree
Casa Joshua Tree is an elegant property that ticks all the boxes – the predominance of white, the constant exposure to sunshine, and the tasteful, modern furniture selection make the interior beautiful to look at. It was even featured on Design*Sponge and Apartment Therapy!
On top of that, the house has two luxurious bedrooms (one even comes with an en suite bathroom) and two full bathrooms for the ultimate group vacation experience.
There's virtually no wrong time of year to visit Casa Joshua Tree, as the living room has both air conditioning and a beautiful stone fireplace – taken together with the smart TV and Netflix access, this room is the perfect hangout hub for friends, couples, and families.
What's more, the open floor design gives the interior a lot of room to breathe, and there's plenty of space for everyone to move around.
The exterior of the house includes a patio that has ample seating and a swing, and the greenery in the yard area only adds to the relaxation effect produced by the climate and the barrage of white.
Most importantly, Casa Joshua Tree is very close to town and the JT National Park, so there are plenty of sights to see if you can get yourself to leave this lavish desert haven for a few hours.
Guests say:
"A beautiful home for a nice getaway. If you're looking to cook a lot during your trip this is the perfect place. She has an abundance of supplies ready for cooking! The back patio was also great for looking up at stars at night and relaxing."
Best for Groups of Couples: The Caravan House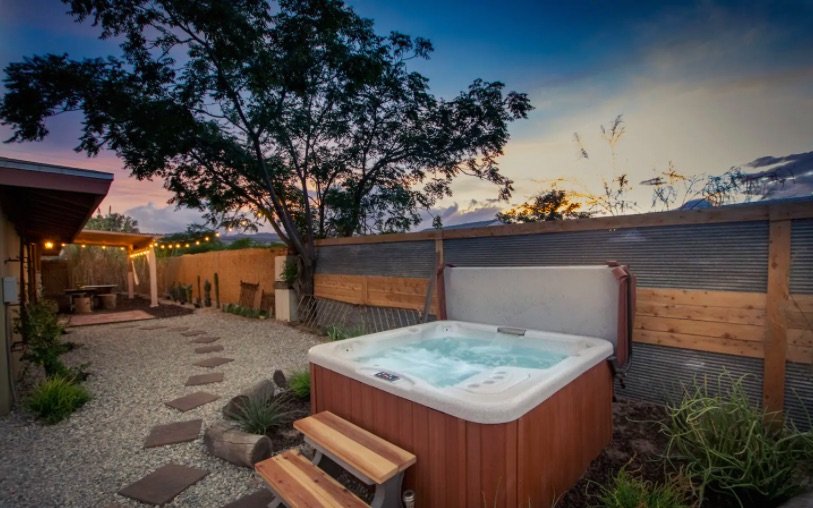 Price: From $151 USD per night and up
Guests: 6
Bedrooms: 3
Find it on Airbnb: The Caravan House
The Caravan House is a beautiful resort in the heart of Joshua Tree Village, and its unique configuration makes it a great place for large groups of up to 6 guests, like 3 couples or families with grown kids.
The house's main selling point is its undeniable character – the placement of every single feature and decorative piece feels thoughtful and deliberate. The vintage furniture complements the walls and flooring beautifully and was obviously chosen primarily to accommodate and not to impress, making the Caravan House feel so much like a proper home (with a retro twist).
Several parts of the house bear a resemblance to North African design — think Morocco — and there are even an old record player and a variety of records to choose from.
The beautifully lit outdoor dining area screams also character; for example, the dining table is surrounded by makeshift log-chairs, and different types of desert flora are planted at equal intervals.
The pyramid-shaped fire pit and the nearby jacuzzi make for a great nighttime combo, but even just walking around the property and taking in the intricacies of the layout can be a great way to kill time.
Also worth noting are the mid-20th century mechanics trailer and camper van, which serve as decoration, as well as the motor home (a.k.a. bedroom #3) with a skylight.
Guests say:
"5/5 for me! Jason and Ella have a beautiful home, very chic/boho/desert feel. I loved the special touches they had and the backyard was so open and fun to be in! Already recommended this bnb to two of my friends!"
Best for Close Access to the National Park: Casa Linda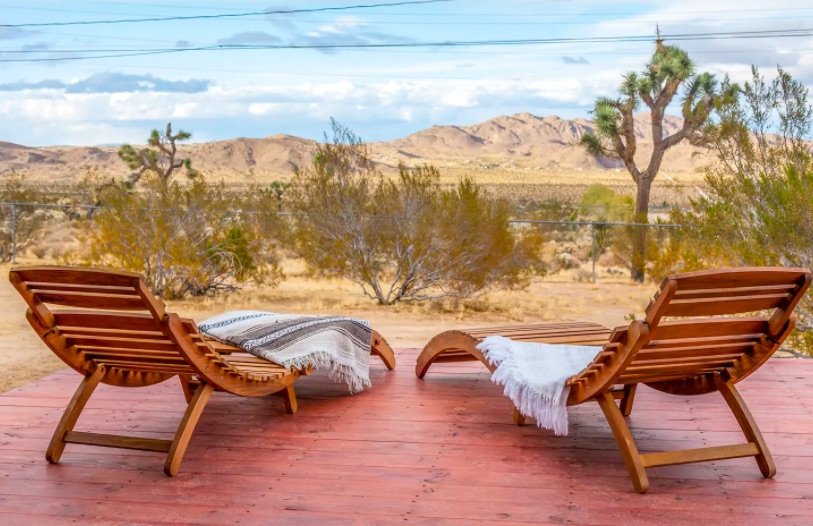 Price: From $145 USD per night and up
Guests: 5
Bedrooms: 2
Find it on Airbnb: Casa Linda Near National Park
Joshua Tree National Park offers some beautiful sights, and Casa Linda is a great Joshua Tree Airbnb for people looking for accommodation only a few minutes from the park.
The house is very cozy, so whenever you're not exploring Joshua Tree and the JT National Park, you can spend time playing some of the provided board games with your loved ones or relaxing in the extremely comfortable bedding in one of the two bedrooms.
The house is very colorful for a property in this area (thanks to the carpeting and decorative cushions), which is bound to make visitors from more urban areas feel more at home.
The kitchen has been thoughtfully stocked with a variety of condiments, beverages, and other amenities, including a popcorn machine in case you decide to browse Netflix for a movie or to pop one into the DVD player.
Relaxing on the lawn chairs on the back patio and watching the sunset is a great way to unwind after a day of exploring the area, as the view from the property is mesmerizing.
The wide-open area surrounding Casa Linda is perfect for a barbecue and a gathering of family and friends, and the back patio comes equipped with a propane grill.
Guests say:
We loved our stay – the place was right next to the park, very adorable, and super clean. Would highly recommend to anyone looking to stay near the park.
Pin this Guide to Joshua Tree Airbnbs!
Allison Green is a former educator turned travel blogger. She holds a Masters in Teaching and a B.A. in English and Creative Writing. Her blog posts merge her educational background and her experience traveling to 70+ countries to encourage responsible, enriching travel. She has been a speaker at the World Travel Writers Conference and her writing, photography, and podcasting work has appeared in National Geographic, CNN Arabic, CBC Canada, and Forbes, amongst others. Now a full-time traveler, she has lived in Prague, Sofia, New York City, and the San Francisco Bay Area.