With canyons, red rock peaks, plateaus, and more than 10,000 years of archaeological history, Zion National Park is an ideal destination to hike your heart out, pitch a tent, or relax in luxury at one of the rural rustic lodges.
Better yet, why not park at Kolob Canyon, at 8,726 feet in elevation, to watch the sunset over this 100+-year-old park founded in 1909 by President Taft.
Zion National Park lies close to the city of Springdale, near Kolob County, and covers over 229 miles of valley riverways, scenic dirt trails, red-rock cliffs, forged canyons, and rock formations, all of which can be seen on a quick weekend trip, but would be best navigated for a week or more to milk the most of each magnificent mountain landscape.
Averaging about 2,000 feet deep and boasting some of the world's most beautiful scenic natural rock arches, Zion National Park lays exposed rock layers that uncover millions of years of geologic history. Hiking Zion is the best way to see this history, and for some, the chance to escape the city and enjoy a rustic return to nature.
While there is no shortage of breathtaking trails and wildlife viewing, the following hikes, ranging from easy to moderate to strenuous, are some of the most popular, and they come highly suggested if you have as short as a weekend to visit Zion. Are you ready? Dive in!
5 Must-Have Things to Pack for Zion Hikes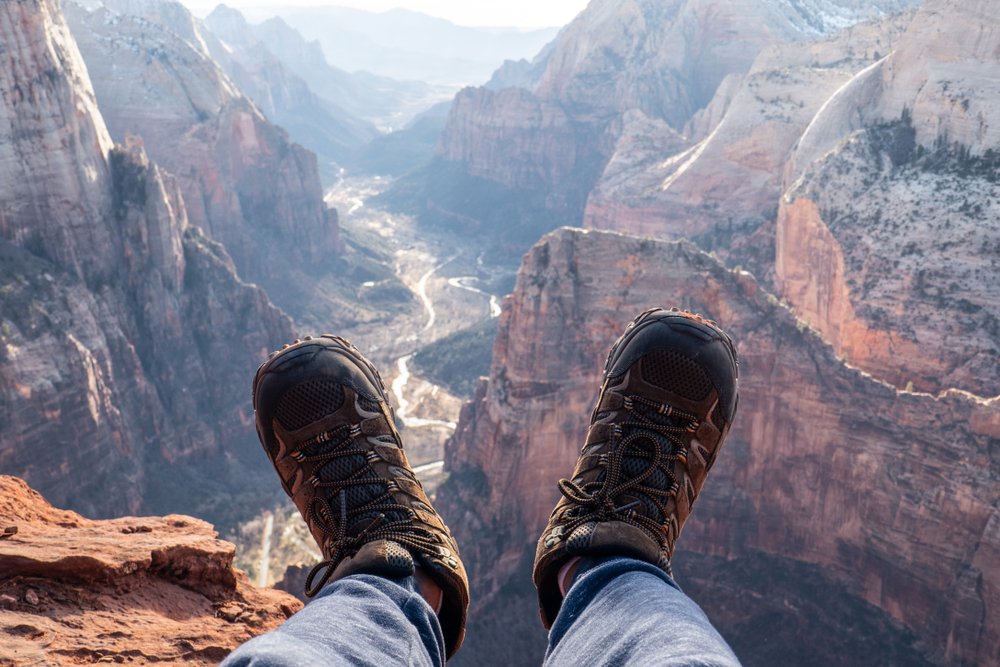 Note: This post contains affiliate links, which means I may receive a small commission if you purchase something through one of these links. Thank you for supporting the free content on this site! For more information on affiliate links and cookies, see my disclosure page for more details.
Before we get started on these Zion hikes, let me just warn you that it pays to be prepared here. Hiking in Zion is strenuous and difficult at times, and many trails have very limited shade. At a bare minimum, you need water and ample sun protection.
Here are my recommendations for what to pack for Zion.
1) Proper Hiking Boots: Do not attempt to hike any strenuous hikes in Zion without proper hiking boots. Angels Landing, Observation Point, and the Narrows, plus a handful of other hikes not listed here, are all too difficult and potentially dangerous to do without proper footwear. If you're doing only easier hikes like Lower Emerald Pools and the Grotto, you'll be fine with sneakers.
For hiking the harder trails, I recommend these Ahnu boots for women and these Keen boots for men. Both are waterproof in case you want to tackle the Narrows, but they're great for any of the Zion hikes.
Water Bottle with Filter: You will want way more water than you anticipate when you are hiking in Zion! You can either carry liters upon liters of water, which can be heavy, or you can pack a backup water bottle and use your water bottle with a filter to refill anywhere along the trail — streams, rivers, springs, anywhere! I use the Grayl for its ease of use and to reduce my plastic footprint.
Headlamp: If you're planning to do any hikes in the afternoon or any hikes that have even the slightest chance of getting you back after dark, you'll absolutely want to pack a headlamp like this one. It's safer than a flashlight or using the torch on your phone since it still gives you both hands free, and it's an absolute lifesaver (sometimes literally) if your sunset hike has you hiking down in the dark.
Sunscreen, hat, and sunglasses: You'll absolutely want all the sun protection! This means a broad spectrum SPF 30-50 sunscreen (I recommend a mineral sunscreen like this CeraVe to avoid polluting nearby runoff water when you shower), a sun hat or baseball cap, and sunglasses. Also, don't forget lip balm!
Trekking poles for the Narrows: If you're doing a section of the Narrows, you'll definitely want to bring a pair of collapsible trekking poles with you! I wouldn't recommend bringing these on hikes like Angel's Landing, where they'll get in the way more than help, but other hikes welcome these trekking poles as well.
The 7 Best Hikes in Zion National Park
While not exhaustive of all the hikes in Zion, the below Zion hikes include a taste of the diversity of the majestic peaks of Southern Utah rocks and all that Zion National Park offers.
The Grotto Trail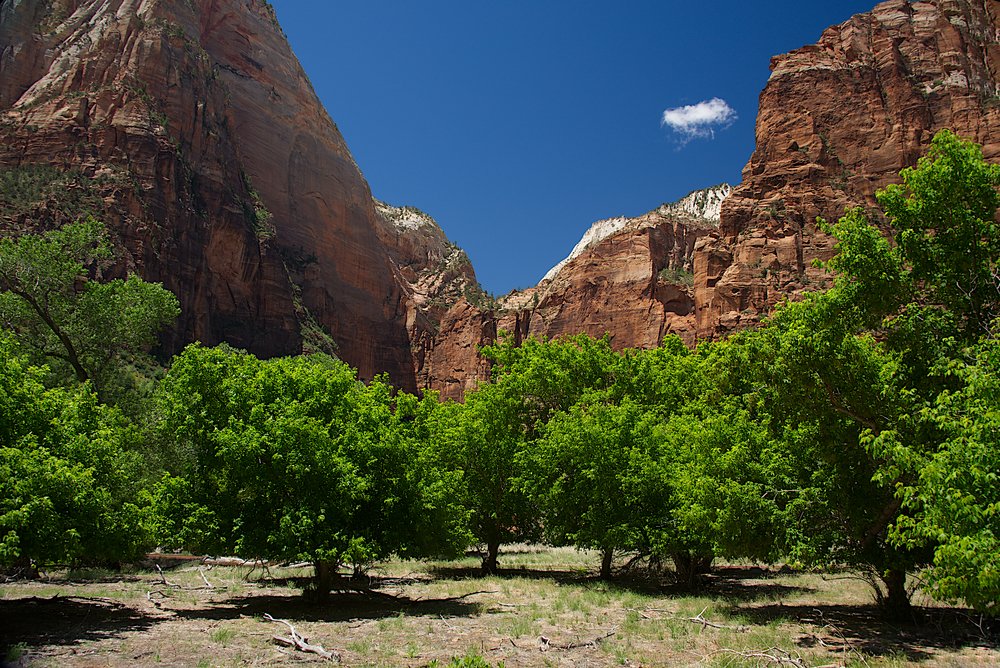 If you only have a short weekend and are aiming to see as much of Zion National Park as possible, Grotto Trail clocks in at just 0.6 ½ miles, a quick easy 30-minute round trip.
This fairly flat, sand-packed trail is a family-friendly hike that is fun for all ages. Whether you are carrying a baby on your back or are allowing your little ones to run ahead, this wide-sand packed trail is good for families. With an elevation change of 35 feet, it parallels the Zion shuttle roadway, connecting you with the Zion Lodge, making this a safe and convenient trail to try with tykes.
Fortunately, with Zion National Park running a shuttle service from 9 AM to 4 PM daily, Grotto Trail is easily accessible by shuttle between the fifth and sixth shuttle stop.
At the beginning of the trail is a small picnic area and bathroom stop should you or the children want to take a short break before you gear up for the walk.
The Grotto Trail lies in a valley star-studded with peaks on both sides of the trail. Famous for its red-rock canyons, you can view cliffs of up to 2,000 feet in elevation on either side of the trail, all the while walking by a dry river-bed, and most importantly Emerald Pools, while on this path.
The Grotto Trail is an easy, family-friendly, and quick hike if you are looking to wet your pallet with all of the scenic variations that Zion National Park offers. After the hike, stop at Zion Lodge for some water, souvenir shopping, and food at the restaurant located inside the lodge.
Kayenta Trail & Upper Emerald Pools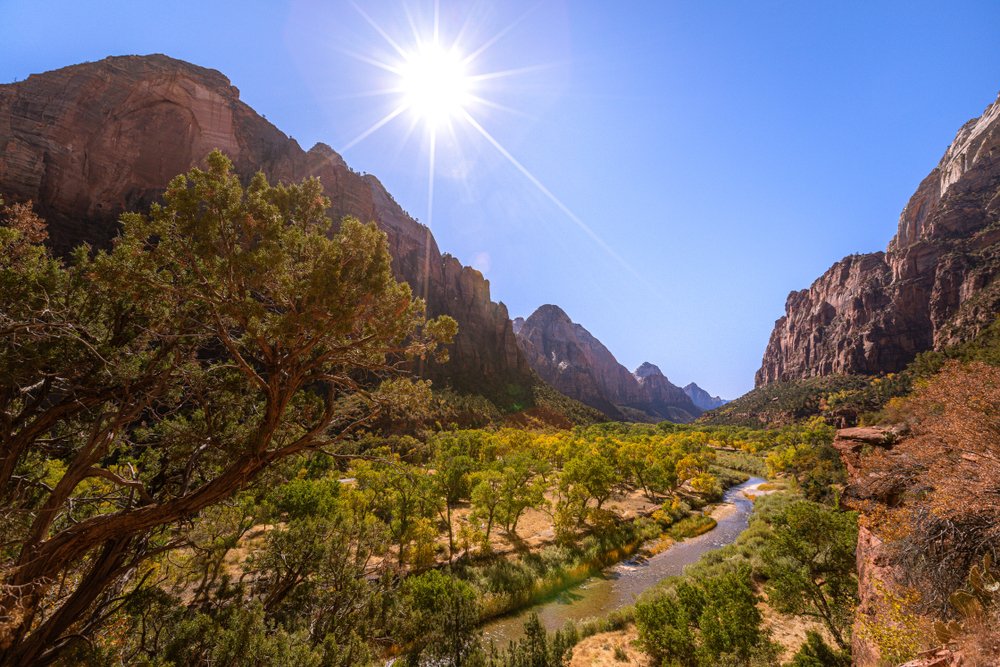 If your children have some more energy, or you aren't traveling with young ones in tow, hikers can extend their hike by making a loop from the picnic area down to Zion Lodge.
After walking past the picnic area, cross the dry riverbed by taking Kayenta Trail, a winding zig-zagging trail that is located in a low-lying walking area at the base of Mount Moroni.
You'll enjoy stunning views of the river and canyon, but keep in mind the trail is rather steep with a few drop offs on the side, so always keep your eyes on the track ahead of you and don't get distracted. The last 500 feet or so are rather difficult, but the reward at the end — a stunning waterfall and the Upper Emerald Pools — are well worth it.
It's a 3.1-mile out-and-back trail to the Upper Emerald Pools, and you can also make a loop via the Lower Emerald Pool trail below, which recently reopened after being shut down after mudslides.
Lower Emerald Pool Trail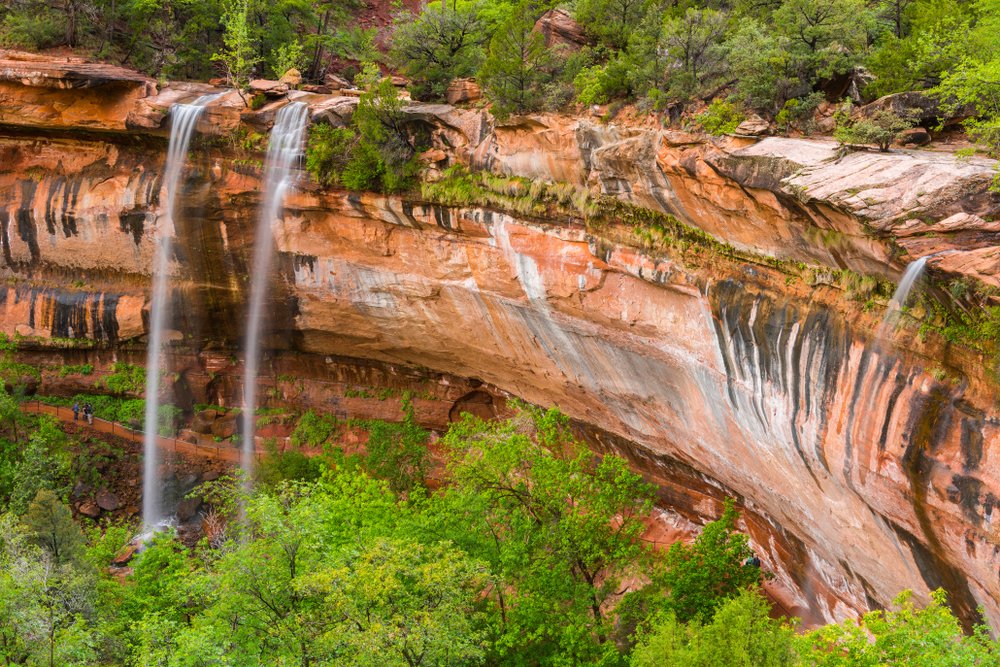 This is a rather easy hike in Zion if you're not particularly fit or if you're traveling with youngsters or elders.
At only 1.2 miles in length round trip, it's a perfect hourlong hike if you want an easy hike in Zion to balance out more difficult hikes, or if you're traveling with less experienced or less mobile hikers. This path is paved all the way through, so it's great if you're traveling with someone in a stroller or wheelchair.
You'll see waterfalls, pools, and beautiful scenery along this easy stroll. Do keep in mind though that the waterfalls are season-dependent so if you visit in the height of summer you will likely not see much more than a trickle!
Angel's Landing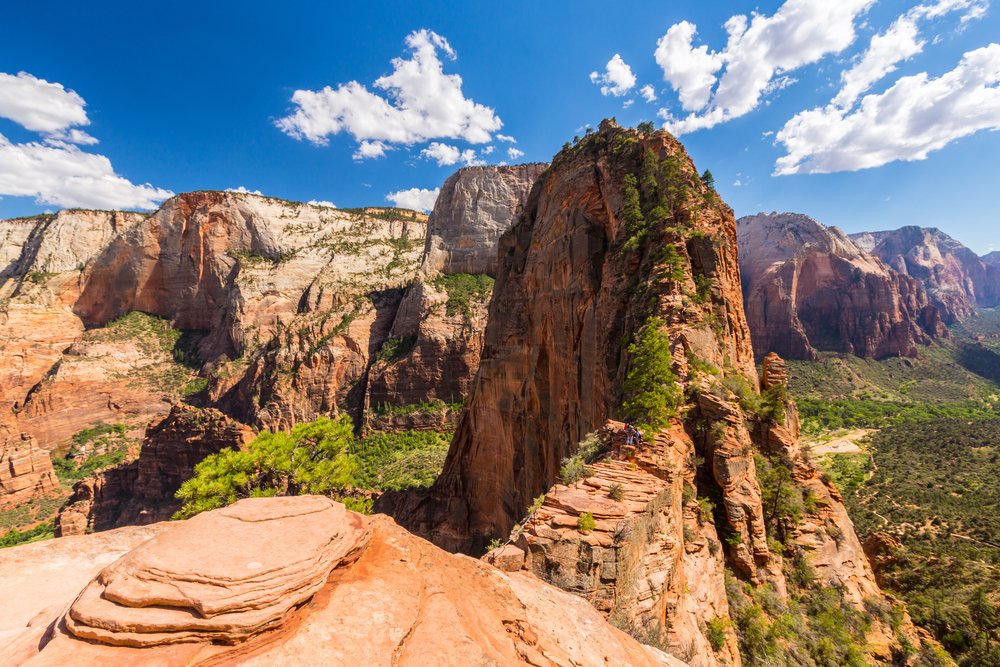 If you are looking for a hike that will give you a real workout, located near the Grotto Trailhead is Angels Landing, a 2.4 mile, one-way, exposed and strenuous hike that winds its way up a dirt and rock-studded trail.
Angels Landing starts in the valley of Zion National Park and scales up an elevation change of 1,500 feet, leading to the peak at 5,790 feet. Expect about a 4-5 hour roundtrip hike.
If taking the Zion Canyon Shuttle, stop at the 6th stop at The Grotto Trailhead. Located just near the stop is a bridge over the Virgin River where hikers can follow a paved trail to the West Rim trailhead.
After walking for five minutes, hikers can find the trailhead at a split in the road, with the right side of the split beckoning towards Angels Landing.
Expect for legs to burn and shake, as hikers will wind up a sand and rock trailhead with chain-links connected to metal posts along steep precipices overlooking drops into green-fern valleys. As hikers wind up the final 500 feet of narrow switchback trails, be prepared for a slow crawl but well-worth the walk. Do not despair! Once hikers pass this last narrow climb, they can find the cliff's edge, sit on top of it, and look over the 5,000 feet of canyon below.
After baring the sun and strain of muscles, hikers are rewarded with breathtaking views of green covered valleys, exposed red-rock, centuries of rock-eroded mountain faces, and a view of the river below. Now is the time to whip out those peanut butter sandwiches, Clif bars, and cameras and enjoy the breathtaking perspectives of the 229-mile expanse that is Zion National Park.
Warning: Please bring at least 3 liters of water with you to keep you well-hydrated and fully aware while hiking. Be very aware that this is a strenuous hike that is for those who have stamina and a healthy thirst for adventure — and not for those with a fear of heights!
Observation Point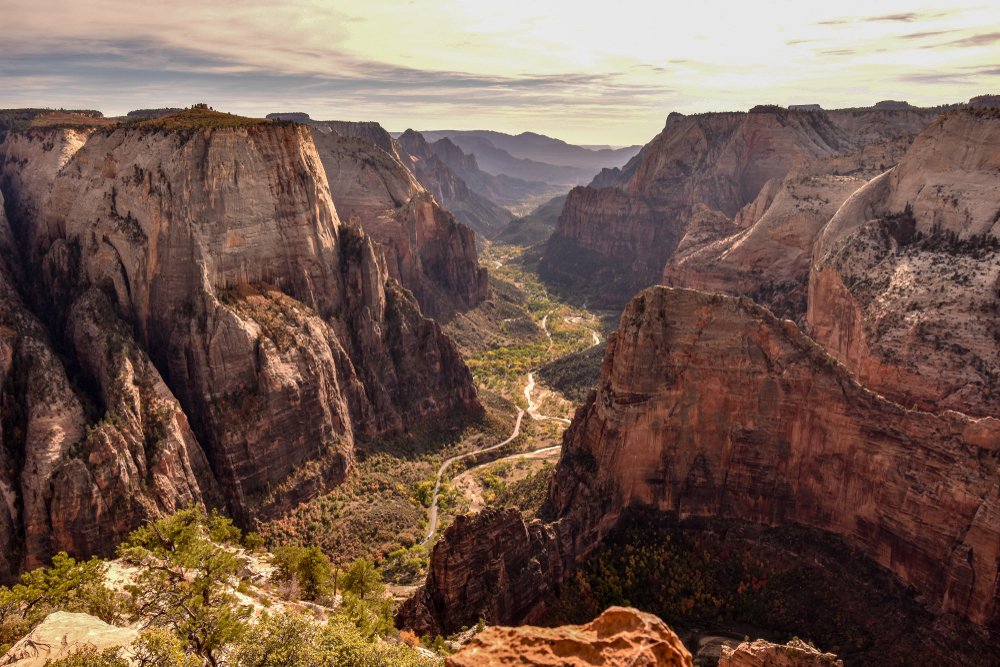 While Angel's Landing is an absolutely epic Zion hike, it's also one of the park's most popular — making it rather crowded at times, which can be a pain especially on the parts where you have to use chains to traverse the ridges and you have to pause a lot to allow for hikers to come down as well as you coming up.
If you want similar views of Zion as you'd get in Angel's Landing, but on a less crowded and more strenuous hike, head to Observation Point. This hike is at a higher elevation than Angel's Landing, but it gives you those sweeping views in the same direction.
Start at Weeping Rock, which is available on the Zion Shuttle Stop #7. The hike is 8 miles return, and it involves a strenuous elevation gain of 2,100 feet — so expect the hike to take at least a solid 5-6 hours or more, depending on your skill level.
The Narrows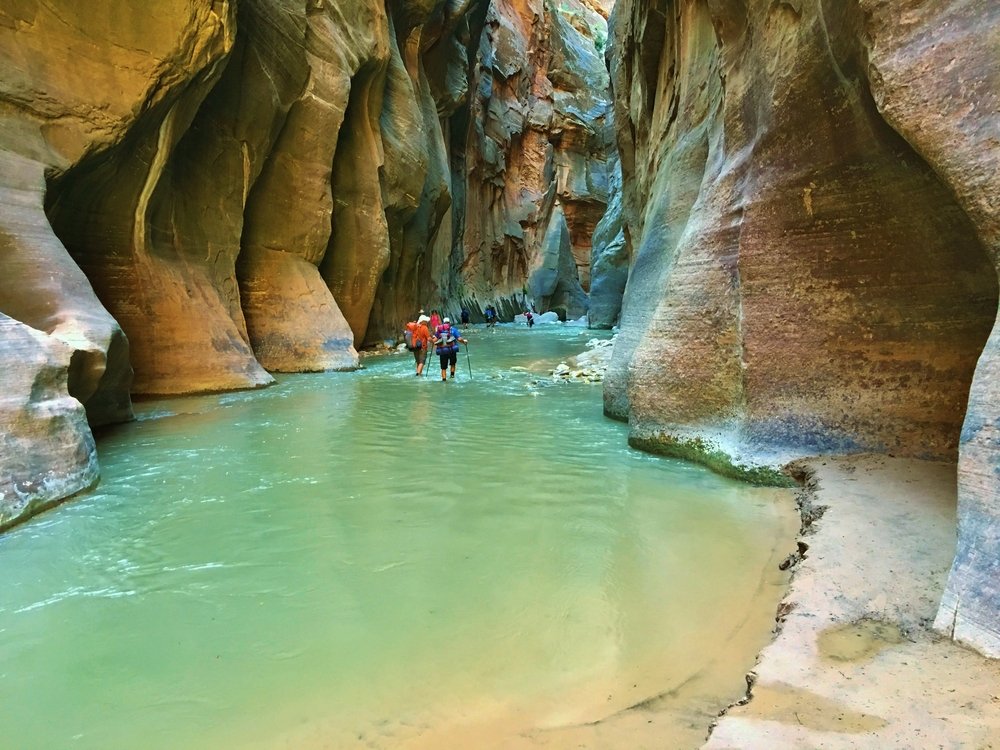 The Narrows is a great hike for both easy, moderate, and strenuous hiking, depending on how far you take this Zion hike.
Located at the base of the Zion Canyon valley, this 9.4-mile total long hike can take as short as 30 minutes or as long as eight hours, depending on how deep hikers desire to explore these hollowed-out caverns.
The trail is located at bus stop number 9, Temple of Sinawava, the last shuttle stop on the Zion Canyon Shuttle route. The last shuttle of the day leaves at 8:15 PM, so be sure to return in time.
Once hikers arrive, they can expect to walk a third of a mile along a sand trail before reaching a gorge and dry riverbed. If needing wheelchair access, the one-mile Riverside Walk from the Temple of Sinawava is available to those seeking an accessible way to see the beautiful Narrows.
If continuing past the first mile, hikers can expect to wind through ankle to calf high water flowing downstream. The rest of the nearly eight miles of this hike includes wading through gentle downstream water, and one can expect to marvel at the blasted-out stone created by years of changing ecologic and geologic activity.
A sign and placard posted by the Zion National Park ranger service, and near the shuttle stop, is posted to help hikers plan the time of day when to hike. Hikers can use these signs to determine when the tide of the stream is lowest in order to gauge how far and deep hikers would like to walk into the narrow 20-30 feet wide caverns.
Suitable for all ages, the Narrows winds along the canyon floor of Zion National Park and is generally open during all seasons. During heavy rain, the caverns can flood, and therefore it may be closed for day-use. Hike at your own discretion, and do pay attention to the Park Service announcements and tide placards located at various places in the park.
So long as hikers are mindful of their safety, the Narrows via Riverside Walk will reward hikers with a delightful reprieve from Utah's heat. The hike also serves as a fascinating archaeological exploration, as hikers are literally hiking along thousands of years old riverbeds.
If going in the summer, the gorge and riverbed tend to fill with crowds (and sometimes algae), so be mindful of when you go, bring sturdy hiking or water shoes for those slippery rocks below the surface, and make sure to bring plenty of water and a filtered water bottle (I use a Grayl), that is, if you choose to fill your canteen from the riverbed.
Note: There are two ways to hike the narrows, 'top down' or 'bottom up'. The hike listed is the latter. If hiking 'top down', you need a wilderness permit (secure yours online here) and to arrange a private shuttle to its starting point 1.5 hours outside the park.
If you just want to hike a stretch of the Narrows, or do the 'bottom up' trail, there is no need for permits.
The Watchman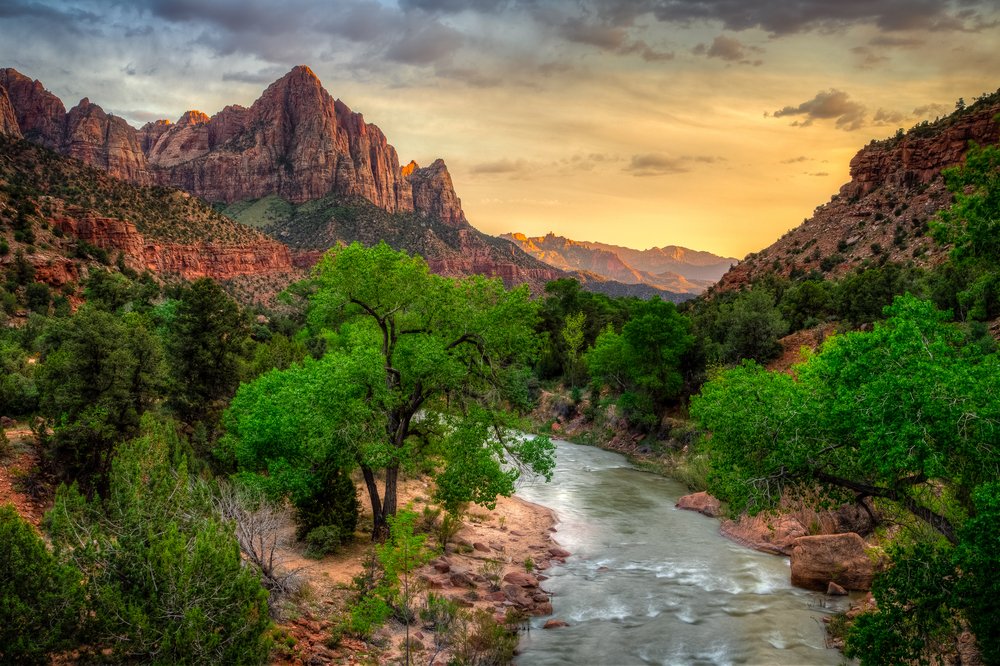 The Watchman Trail is an easier, 3.3-mile roundtrip starting at the Zion Visitor Center. With short drop-offs along the trail, this hike ends at a viewpoint of the Towers of the Virgin, as well as lower Zion Canyon and the town of Springdale.
With an elevation change of 368 feet, this two-hour roundtrip hike is often overlooked by visitors who are gung-ho on visiting the larger-than-life views of Angel's Landing or the archaeological variety of the Narrows.
The Watchman Trail, located a half-mile from the South Entrance to Zion National Park, is host to desert flora and fauna, ponderosa pine, prickly pear cacti, and small shrubbery.
This easy Zion day hike has very few areas of shade, so hikers will want to bring a liter of water for every mile hiked.
The trail itself provides breathtaking views of the Watchman Spire, Watchman Overlook, and Bridge Mountain. With little elevation gain, this hike is perfect for a quick detour and a short introduction to the vastness that is Zion National Park.
Where to Stay When Hiking in Zion National Park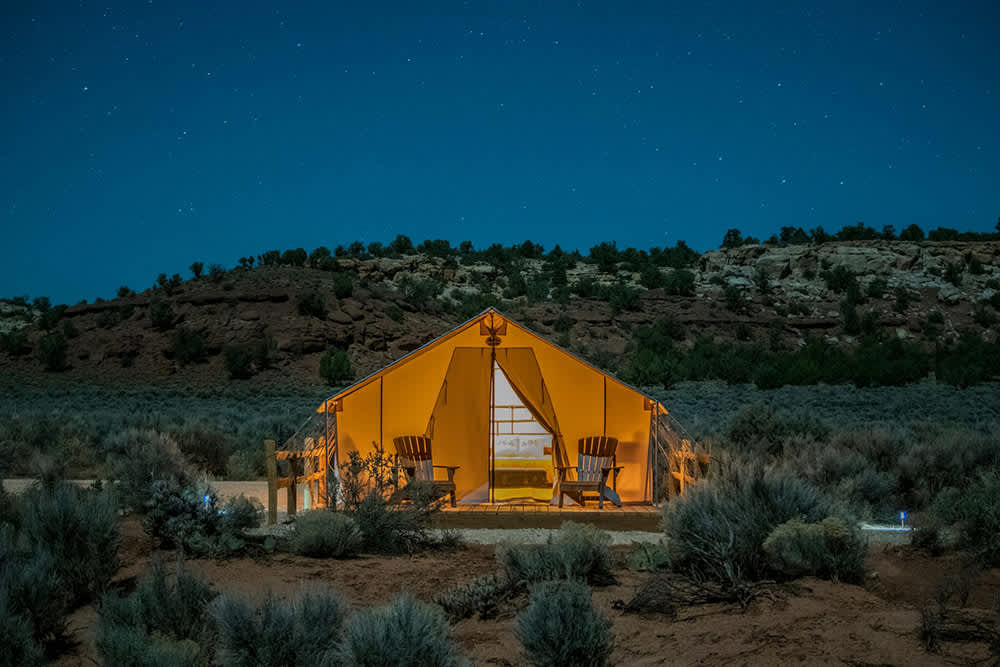 With more than ten hiking trails, over 124,000 acres of protected wilderness, and 1,000 different types of plants, Zion National Park boasts more than 90 miles of hiking.
For those with a quick weekend getaway and an itch for the great outdoors, there is plenty of camping or even lodging.
For those on a mid-range budget, opt to stay at Zion Canyon Lodge or in nearby Cable Mountain Lodge, located in Zion's closest neighboring city, Springdale, a five-minute walk from Zion Canyon Visitor Center — perfect for catching the Zion shuttle and hiking without needing to worry about parking.
Traveling on a budget? You'll likely want to head to Hipcamp for the best options, and you'll want to stay a bit outside of Springdale for the best prices. My top choice would be the glamping tents at Zion Family Ranch Campground, which starts from $59/night, located a couple of minutes off Highway 89, this is the perfect stopover between Zion and Bryce Canyon National Parks.
Find this property on Hipcamp. First time booking with Hipcamp? I have a bonus for you! Get $10 off your first stay using my code: ALLISONG61751E or booking through my link.
Want to travel in luxury? Springdale has a number of ultra-luxurious properties, but my top two choices would have to be the stunning Springhill Suites (just look at that wall of windows and view! Absolutely incredible!) or the super-luxe Zion Ponderosa Ranch Resort to reward yourself after a day out hiking in Zion.
Pin These Hikes in Zion!
Allison Green is a former educator turned travel blogger. She holds a Masters in Teaching and a B.A. in English and Creative Writing. Her blog posts merge her educational background and her experience traveling to 60+ countries to encourage thoughtful travel experiences that both educate and entertain. She has been a speaker at the World Travel Writers Conference and her writing, photography, and podcasting work has appeared in National Geographic, CNN Arabic, CBC Canada, and Forbes, amongst others. Now based in the San Francisco Bay Area where she grew up, she has also lived in Prague, Sofia, and New York City.