Let's set the stage:
You're flying over a lagoon with countless shades of cerulean and turquoise, dotted only by a few small islands. The islands are so small that from this height, they almost don't even look like islands– just ribbons of electric blue paint on the dark blue canvas of the Indian ocean. The earplugs in your ears muffle but don't drown out the rhythmic thrum of the propeller plane outside your window. You're seated so close to the pilots you can practically smell their aftershave.
For the first time in your life, you actually don't ever want this plane ride to end.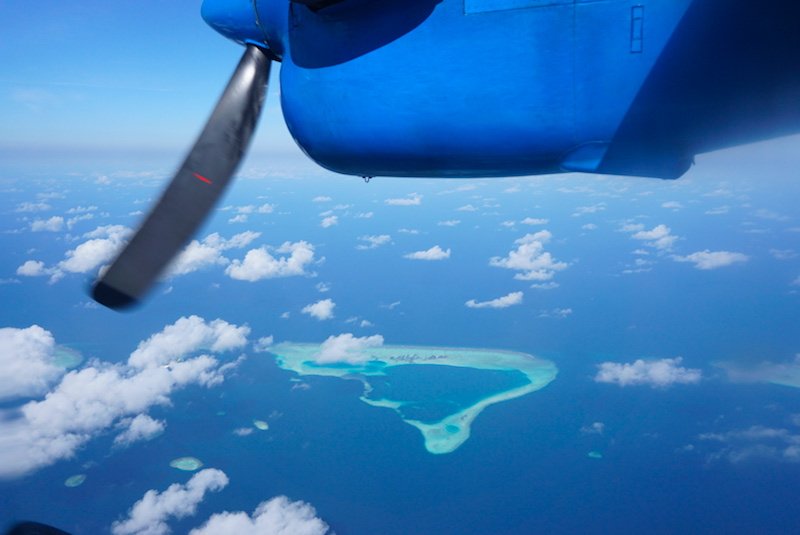 Note: This post contains affiliate links, which means I may receive a small commission if you purchase something through one of these links. Thank you for supporting the free content on this site! For more information on affiliate links and cookies, see my disclosure page for more details.
But, as with all good things, it's over quickly, a mere 30 minutes after departing Male's seaplane airport. The barefoot pilots kick their sandals back on as they begin fiddling with the controls and preparing for landing. The color of the water changes dramatically as you get closer and closer to the surface. Finally, with a controlled skid of a landing on the turquoise water, you've arrived at your island home paradise for the next few days.
A smiling staff is waving, alluring fresh coconuts adorned with purple-specked orchids cradled in their arms for your arrival.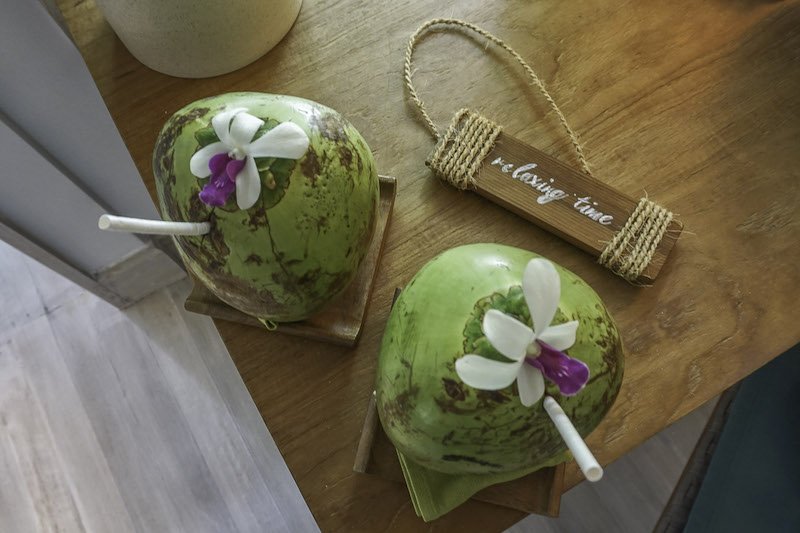 …. Raise your hand if you could use a tropical vacation right about now.
***
The Kanuhura Experience:
Let's backtrack a bit here: how did I, a former New York City public school teacher, end up at one of the Maldives' top 5 star resorts?
I was invited to speak on the subject of storytelling and authenticity in destination marketing at the inaugural World Travel Writers' Conference. Naturally, I extended my stay so that I could explore a bit more of the Maldives after the conference. I stayed at four resorts during my two weeks in the Maldives, all lovely in their own right, and each perfect for a different kind of traveler: one for the budget-conscious, another for the trendy and nightlife-centric, another for surfers.
Yet of all the places I stayed, I can definitely say hands-down that Kanuhura is the most luxurious and boutique-feeling option. With a small size of only 80 villas (other places I stayed numbered well into the hundreds), the attention to detail in Kanuhura is unmatched.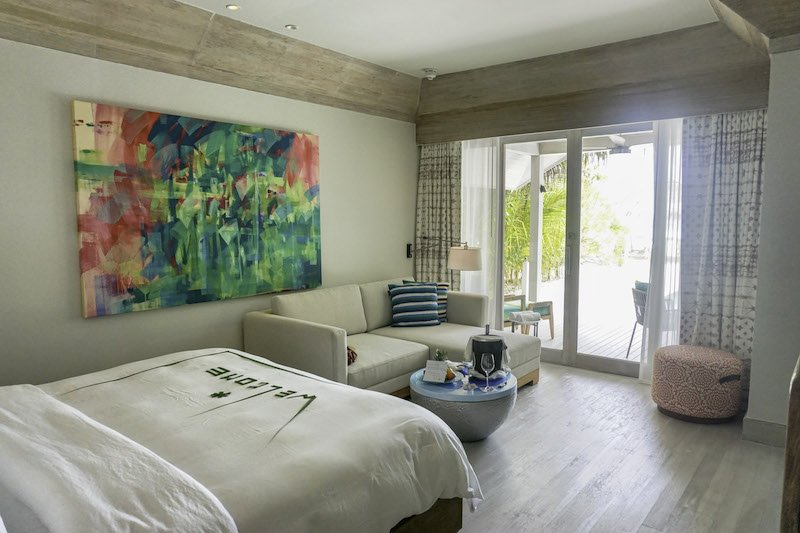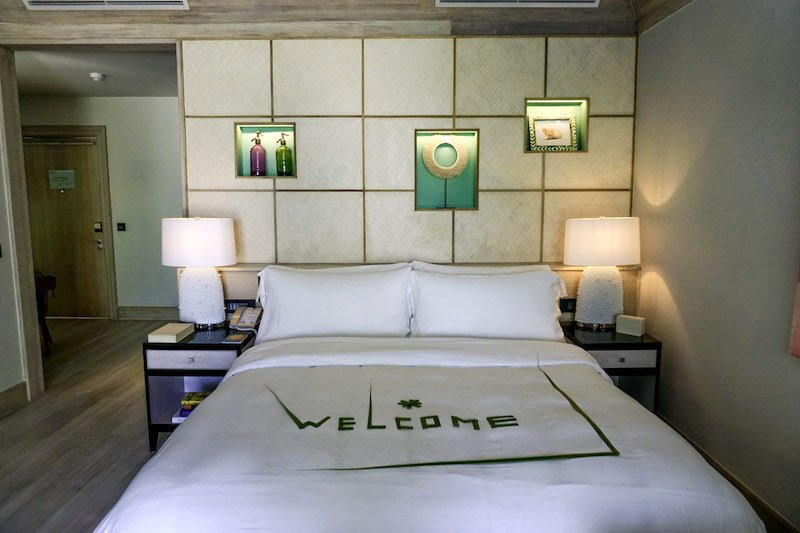 In addition the beautiful rooms, our villa came with a private plunge pool just a few minutes walk from the white sand beach. On the beach, we had two private lounge chairs and umbrella, also just steps from our villa.
This was one of the best locations on the island because we had sunset views every single night. This being the Maldives, there are — of course — overwater bungalows as well, which face the sunrise. But I quite loved our little private pool facing the beach, particularly because of those fiery Maldives sunset shows.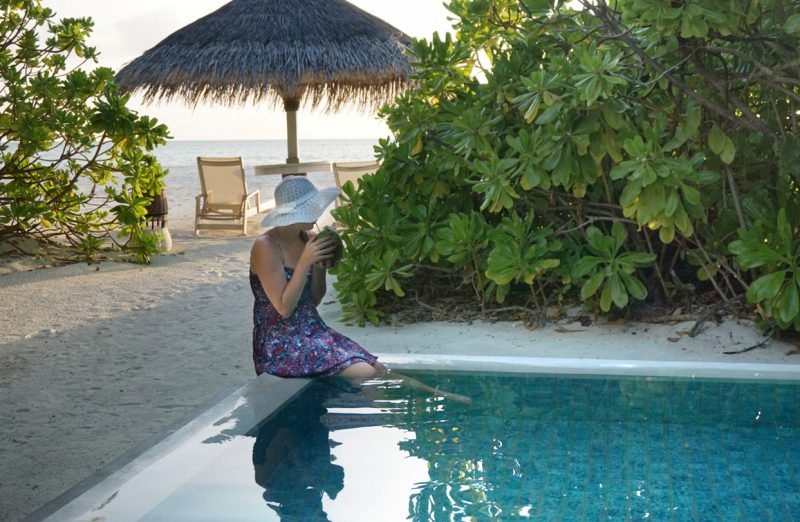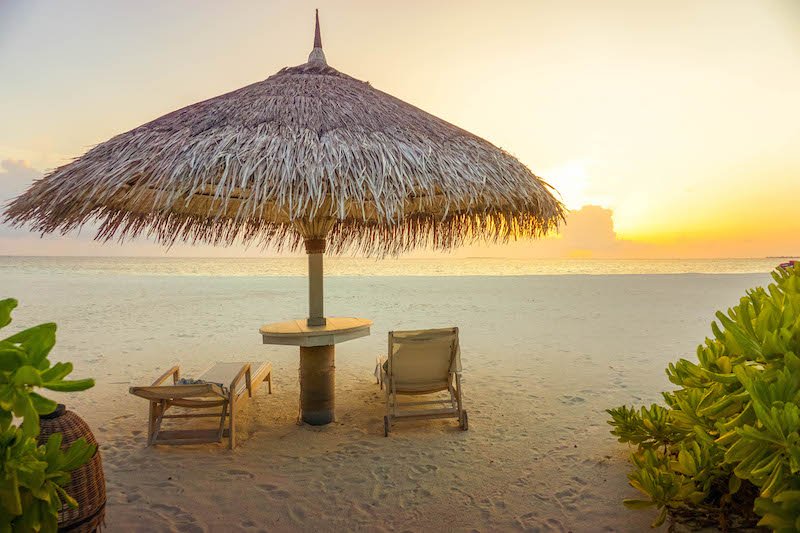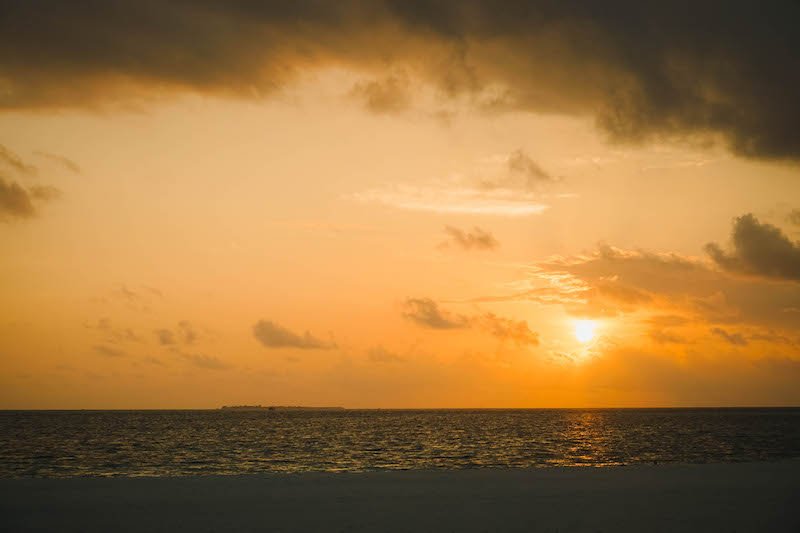 All the villas are all attended by a personal villa host and cleaned twice a day. At first, this seemed excessive, but I grew to greatly appreciate how there was never any sand in the villa — one of my biggest pet peeves about being in beachy locations. Oh, and the nightly dessert treats definitely didn't hurt 😉
What I loved most about Kanuhura was how it provides luxury without pretense. Ultra-luxury can make me a bit uncomfortable — afraid I'm going to break something or do something uncouth (both very probable). But Kanuhura is laidback; its mission to is balance the carefree spirit of bohemians and the understated sophistication of the jet set. They have an official "no news, no shoes" policy — going barefoot everywhere along the island is encouraged — even to dinner.
They offer a balance of luxe and adventure, from a range of holistic and ayurvedic treatment options in their spa as well as a variety of land- and water-based adventure activities.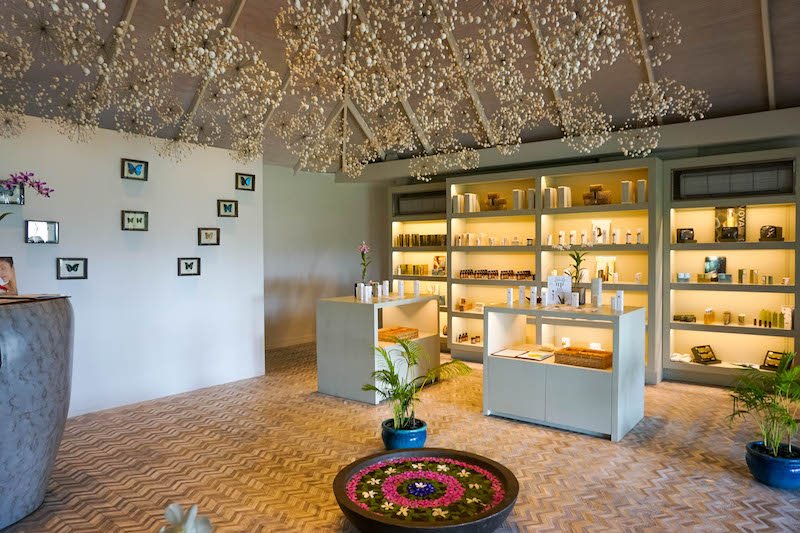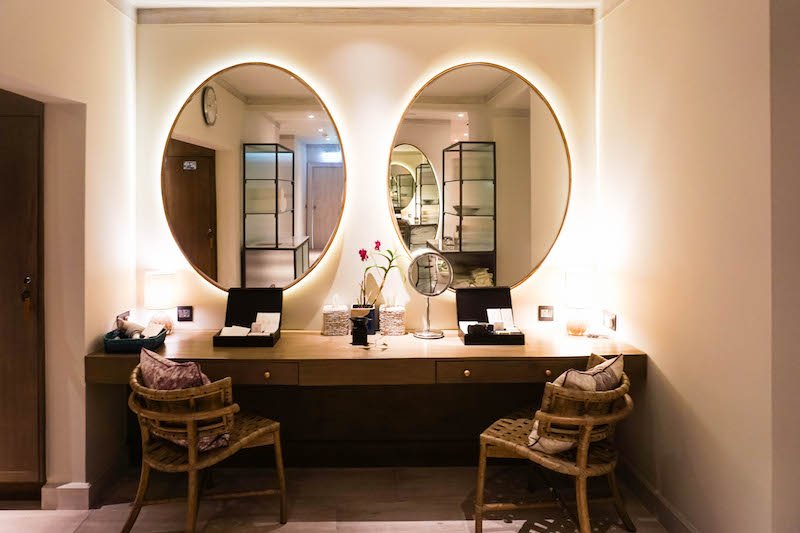 Let me say that while I don't typically live an exceptionally luxurious lifestyle, I am an absolute fiend for massages and no matter what my financial situation is, I always schedule at least one monthly massage. I've gotten massages all around the world — in probably well over 20 countries at this point — and I can say that hands down, the massage I had at Kanuhura's spa was the best of my life.
If you're more into adventure than massages and spa treatments, Kanuhura's still got your back. Snorkle in the vibrant house reef or take a boat dive with their on-island dive school. The more adventurous amongst us can even try jet skiing, wakeboarding, or windsurfing. I prefer what I've deemed "soft adventure," so I stuck to exploring their pristine house reef and doing sunrise yoga.
The pain of waking up early for sunrise yoga was quickly fixed by an amazing in-villa breakfast (or should I say in-pool breakfast?) complete with champagne and tropical fruit because hey, you only live once.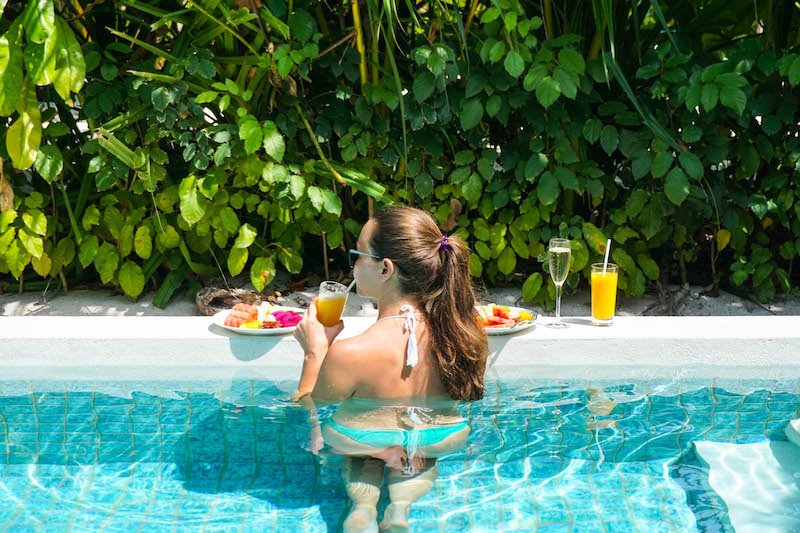 The food at Kanuhura is a whole different level as well — easily my favorite of all the 4 resorts I stayed at. The breakfast selection was insane: I literally had sushi for breakfast every day, complete with miso soup, fresh fruit, and of course — mimosas!
There are 8 restaurants, ranging from Asian fusion (we had some delicious curries and sushi there), to amazing Italian pastas, to fresh fish, to more casual salads, sandwiches, and juices.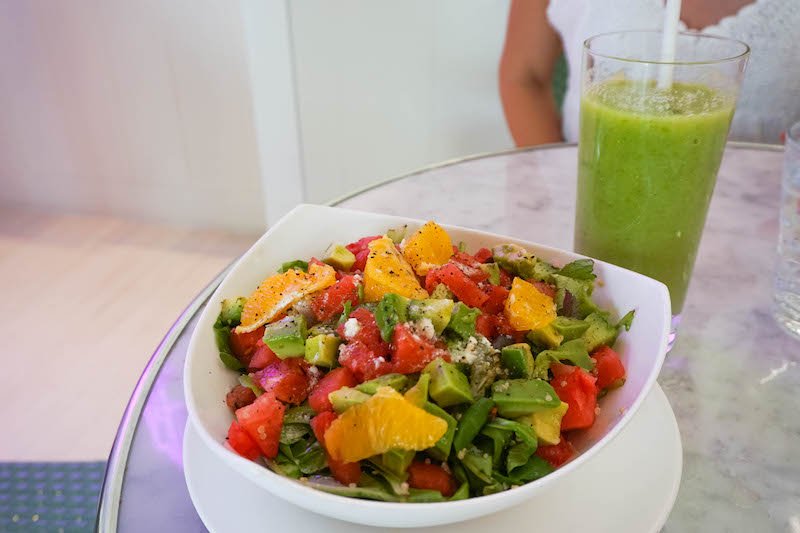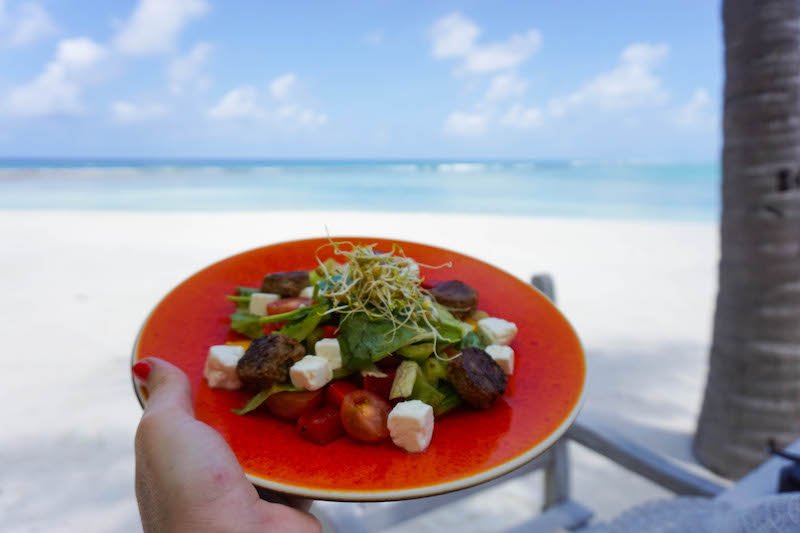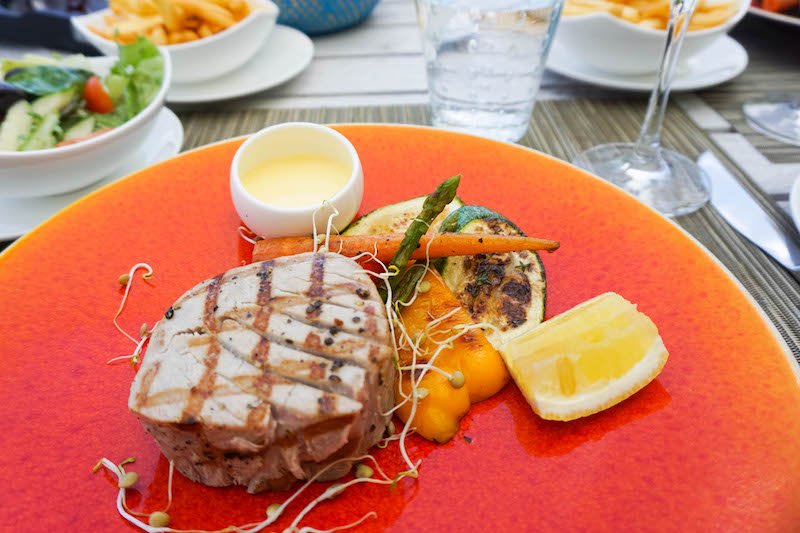 My favorite of all the restaurants was probably Drift, their deserted island restaurant — the tuna shown above was ordered there.
When Yulia and I went, we were literally the only two people dining on the island — and with the chefs and waiters, there couldn't have been more than 6 people on the entire island! It's easy to get there — just a short 5 minute boat ride from the main island of Kanuhura — but it feels a world away.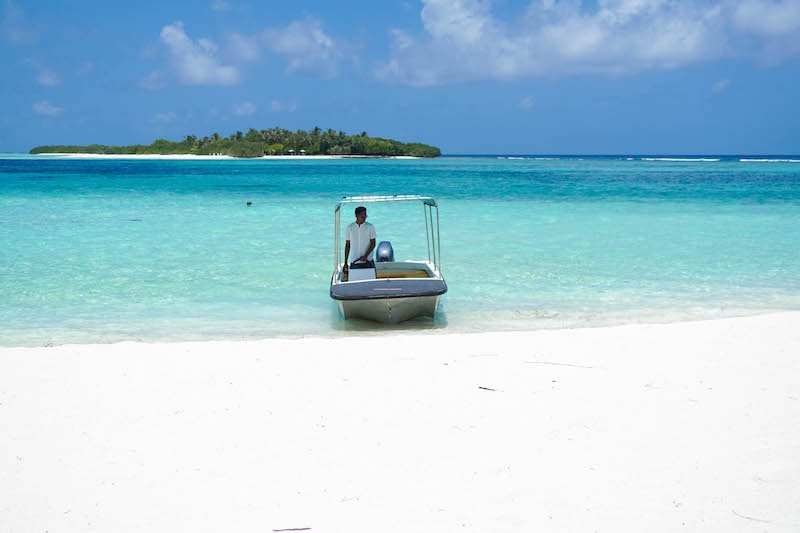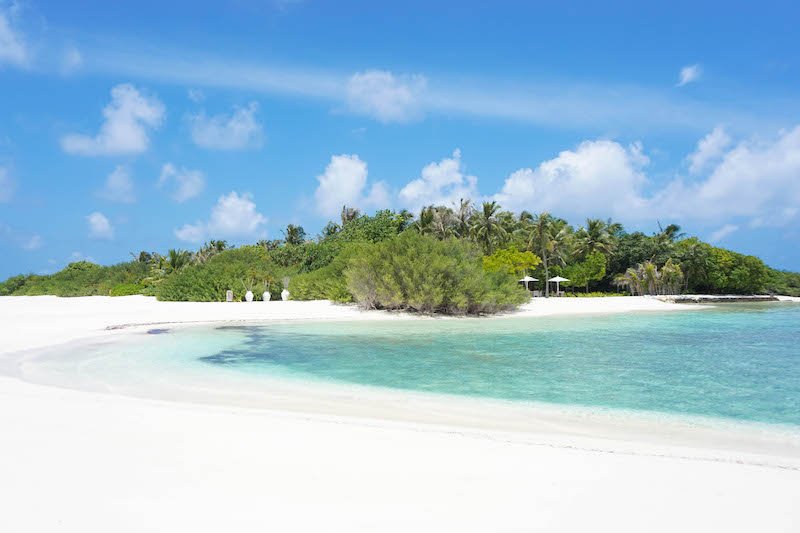 I'd be remiss not to mention all the amazing places to relax and lounge around the island. While you could very easily and very happily shut yourself in the privacy of your own pool or overwater villa — there are so many wonderful places to get some sun, swim, or socialize with a drink all around the island.
The main pool has a swim-up bar — of course! — with some delicious and insanely creative cocktails made with herbs from Kanuhura's very own garden. And of course, the pool has an ocean view as well.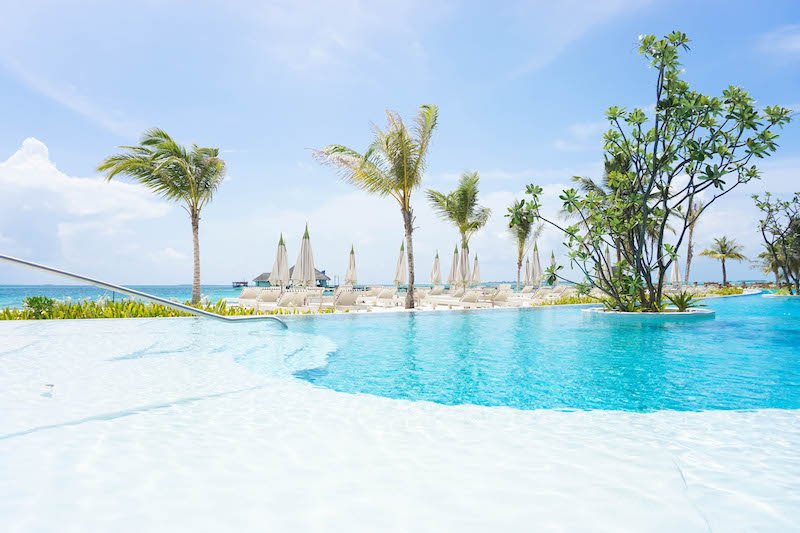 The sunset bar area is also fantastic and definitely worth mentioning. There are countless areas to lounge and relax here and the aesthetic is simply gorgeous.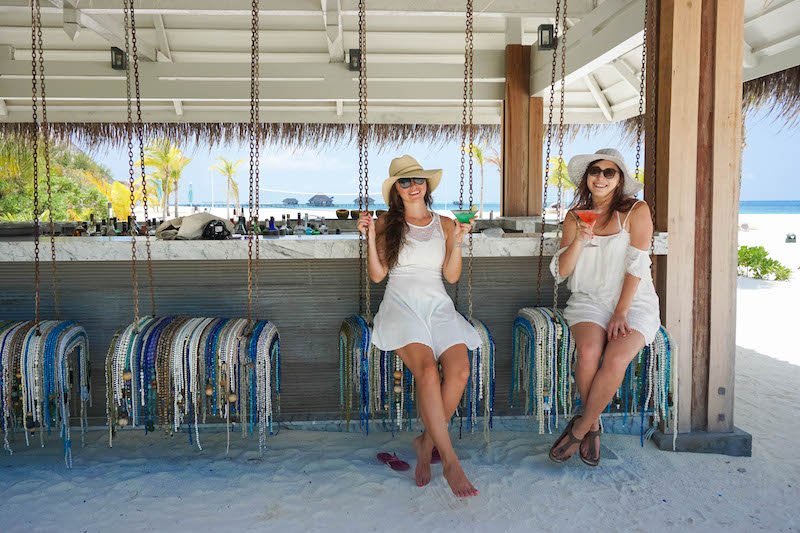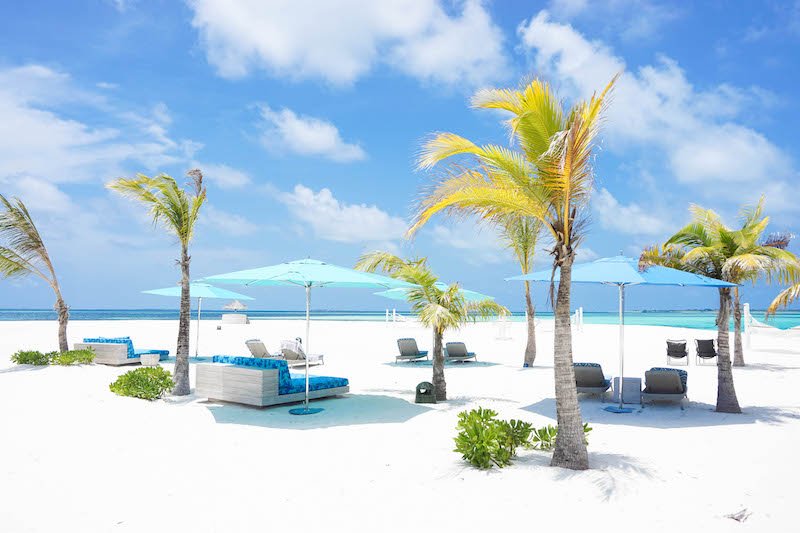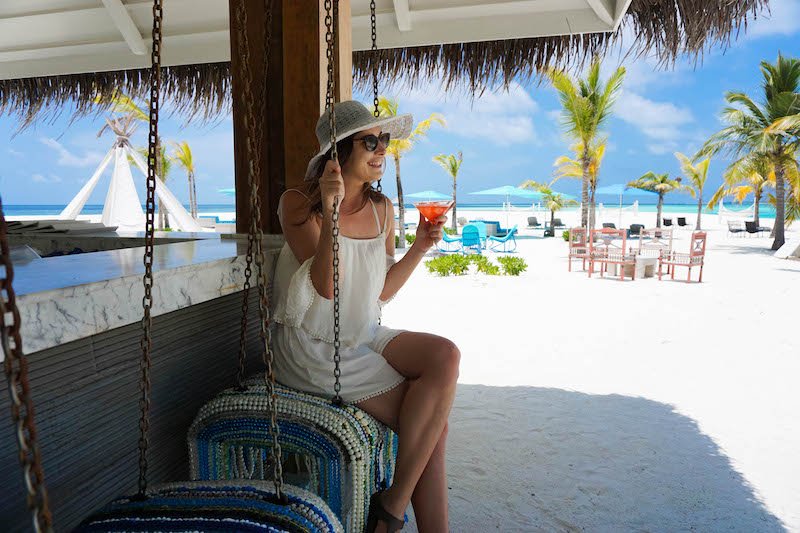 One of my favorite and most unique touches about this bar area is that you can organize a "make-your-own-mojito" station in one of the little teepee-style covers. A bartender will come and show you how to make all different sorts of flavored mojitos — we tried the standard mint, pineapple, and passionfruit — before allowing you to strike out on your own.
In the spirit of full disclosure, we were both pretty awful at making our own mojitos — the ones our bartender made us were far, far better! But it was fun to make it ourselves nonetheless, and I'm sure that people who go a little less rum-crazy than we did would have a much better shot at making their own mojitos.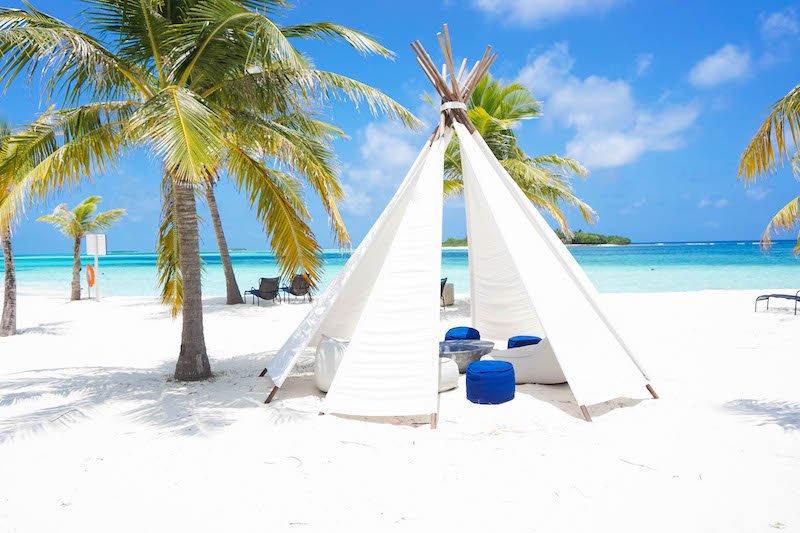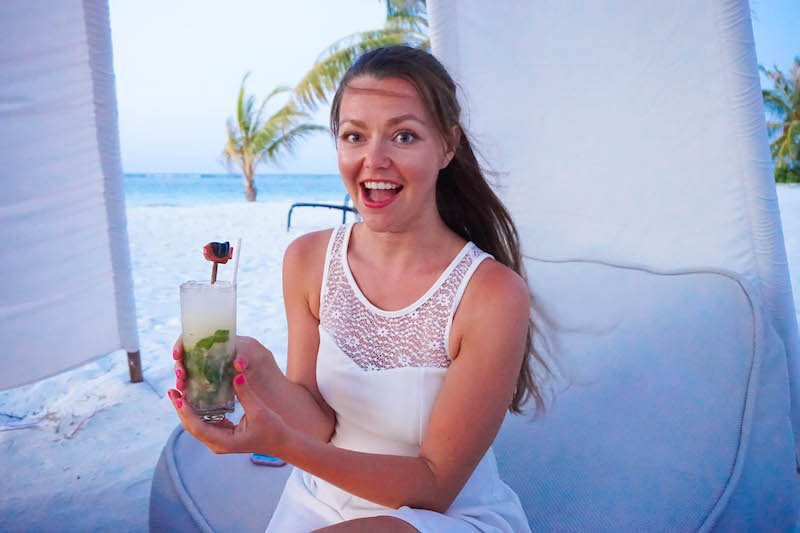 For parents who are traveling with kids, they'll be happy to note that Kanuhura has a kids club on the island, so there's plenty of fun to be had by little kids and adults alike.
A Note on Sustainability:
As with many hotels in the Maldives, Kanuhura is taking drastic steps to decrease their carbon footprint. In particular, they are doing an excellent job at reducing plastic usage across the board. I can't recall seeing a single piece of plastic during my stay.
The straws are all made of sturdy paper — a major improvement over plastic straws, which often end up stuck in sea turtle noses and inside fish and shark stomachs. They've also completely eliminated plastic water bottles by having an on-site water desalination and purification plant on site. They're also making an effort to reduce reliance on cargo ships bringing in produce from overseas by growing their own herbs and some fruits in their on-site Chef's Garden.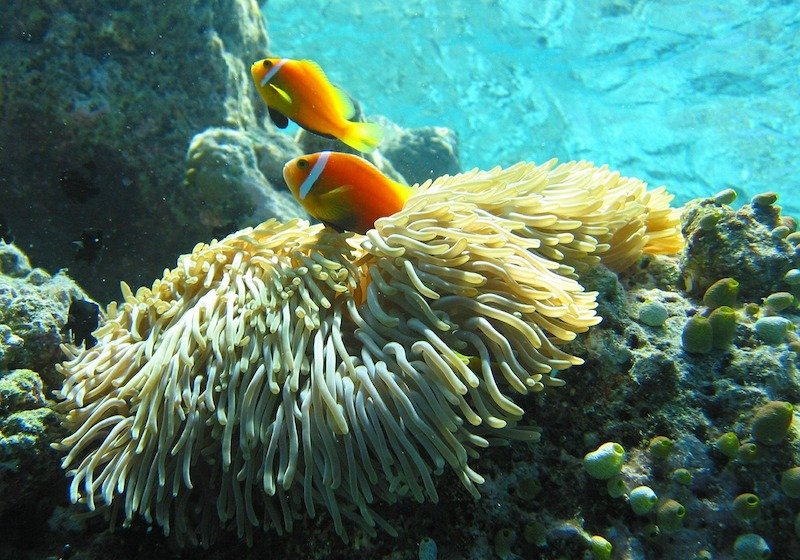 They're also doing great work to reduce pollution and ensure the health of their in-house reef. I saw many beautiful and healthy fish during our snorkel around the reef, which I feel is testament to the work Kanuhura is putting into keeping these reefs pristine for future generations of guests to enjoy.
Cost:
Offering 5* luxury in the Maldives, Kanuhura does not come cheap — nor is it as expensive as its some of its fellow 5* neighbors. Doing a quick search, I was able to find prices in March as low as $865 per night, half board (breakfast & dinner) and June for as little as $661 per night (room only). While this isn't cheap, it offers a great value compared to other 5* resorts in the area. I recommend booking directly through their website as that's where I found the best prices. Keep in mind this does not include the return seaplane transfer, which costs an additional $550 per person.
Their peak season is Christmas, so don't expect to find any reasonable prices in this time period, when rooms soar up to $1700 per night!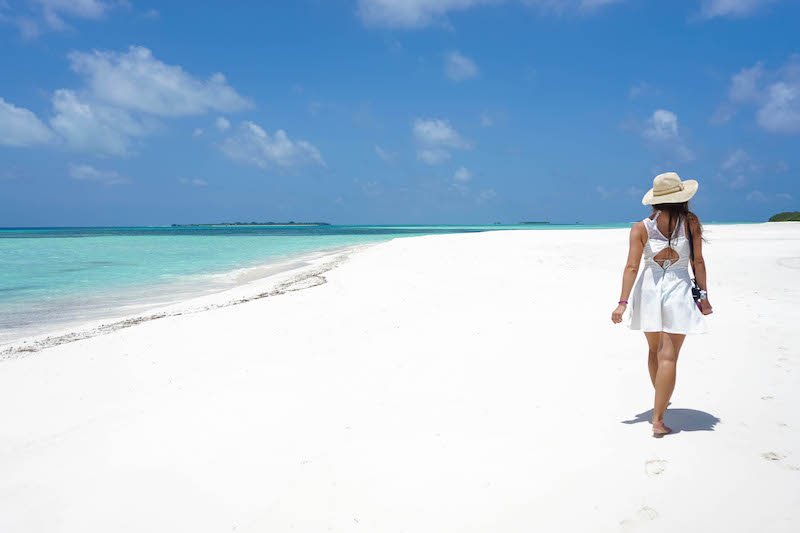 I'd recommend traveling in the shoulder season. I spent two weeks in the Maldives in mid-September, which is technically the rainy season (it runs from May to November). However, it barely rained at all during my 2 week stay. Most of that is luck, but in general, the rainy season in the Maldives is incredibly unpredictable — now moreso than ever due to climate change. You can have storms for days — or you can have perfectly blue skies nearly all day with an occasional shower for a few minutes.
It's a risk to take (and Kanuhura plans for rainy day contingencies with a lot of indoor activities) but if you are dreaming of a 5* Maldives experience — there's no better time to get a good deal.
Are you planning a Maldives trip? Let me know in the comments!
Note: I was a guest of Kanuhura and the World Travel Writers' Conference during my time in the Maldives. All experiences and opinions are entirely my own.
Allison Green is a former educator turned travel blogger. She holds a Masters in Teaching and a B.A. in English and Creative Writing. Her blog posts merge her educational background and her experience traveling to 70+ countries to encourage responsible, enriching travel. She has been a speaker at the World Travel Writers Conference and her writing, photography, and podcasting work has appeared in National Geographic, CNN Arabic, CBC Canada, and Forbes, amongst others. Now a full-time traveler, she has lived in Prague, Sofia, New York City, and the San Francisco Bay Area.