Montenegro is a small country and one of the newest in Europe (and even the world), having only declared independence in 2006. While often overshadowed by Croatia, its neighbor to the North, Montenegro is more than worth a visit.
For one, it has the same coastline as Croatia – yet with a fraction of the tourists: 2 million to Croatia's 12. For another, the prices are about 30% lower.
But most importantly, it's got some of the most amazing terrain of any country in Europe. From the fjord-like slopes of Kotor to the beautiful mountains in Durmitor and the deepest canyon in Europe, Montenegro may be the 10th smallest country in Europe, but around every corner I feel like I found a view more beautiful than the last.
Top Things to Do in Montenegro
1. Get epic views from the Castle of San Giovanni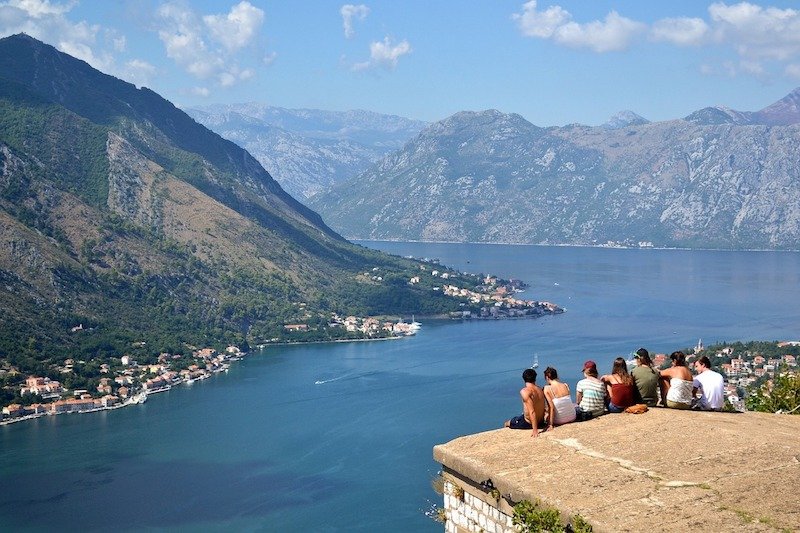 Note: This post contains affiliate links, which means I may receive a small commission if you purchase something through one of these links. Thank you for supporting the free content on this site! For more information on affiliate links and cookies, see my disclosure page for more details.
The Castle of San Giovanni (written Tvrđave Kotora in Montenegrin) has one of the best viewpoints in all of Montenegro… but you have to work for it.
You've got to climb nearly 1,400 stairs up to a height of 1,200 meters above sea level. It's not as bad as it sounds – I was sore from having climbed Bobotov Kuk the day before and it still only took me about an hour each way.
While it sounds romantic to go there for sunset, I'd actually recommend doing it closer to sunrise, or at least early morning. When the sun sets behind one of the mountains, the bay quickly gets dark and you lose the best of the views. The shadows also aren't favorable for photos at that time.
Entrance costs 2 euros, as far as I recall, and is worth every cent!
2. Take an early morning walk around the streets of Old Town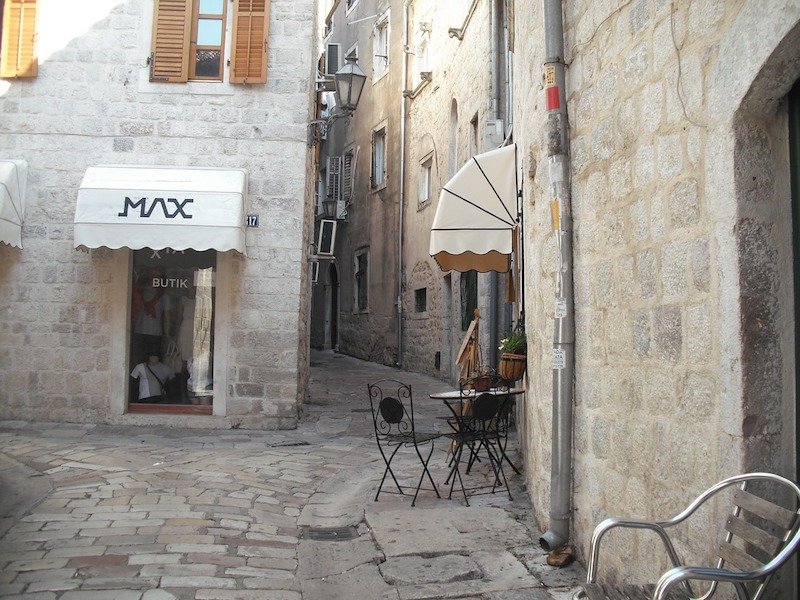 Kotor's Old Town is beautiful but it can be packed in the afternoon — especially if there's a cruise ship in the harbor, which there often is in the summer.
If you want to photograph the Old Town without a hoard of tourists, your best bet is to get an early start and go for a stroll while people are still snoozing. I noticed it didn't start to get busy until around 9:30 or 10 in the Old Town.
3. See the old city walls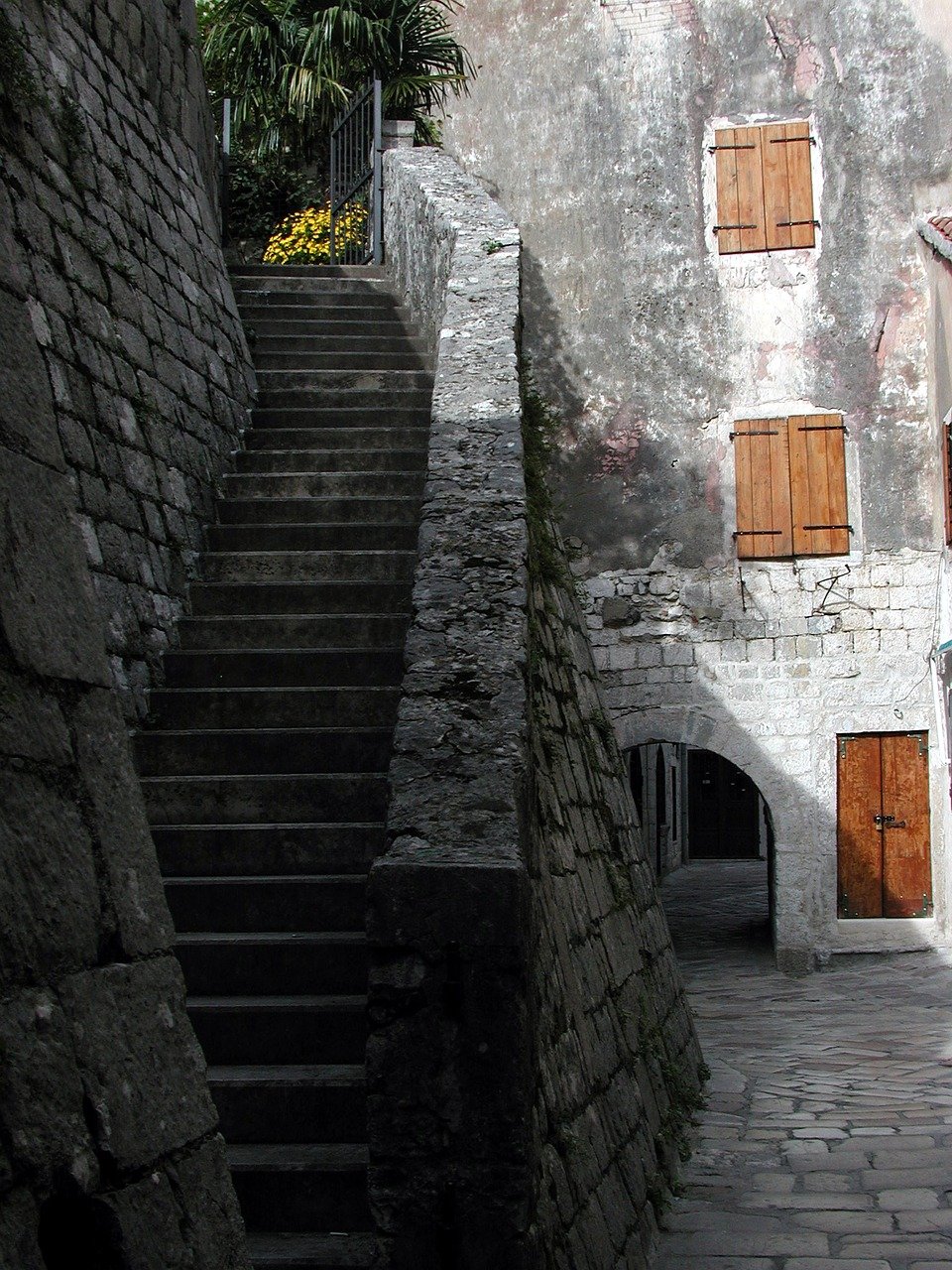 The Old Town of Kotor is surrounded by medieval fortifications up to 10 meters thick. Combined with the natural borders of the rugged terrain, these fortifications protected this ancient city from countless invaders over the centuries.
While earthquakes have damaged some of the walls, they've since been restored to their medieval glory, and are one of Kotor's main attractions.
Staying in the Old Town is a must when visiting Kotor, and of course, Kotor figures highly on any list of the best places to stay in Montenegro.
4. Stroll around the Arms Square (Trg od Oruzja)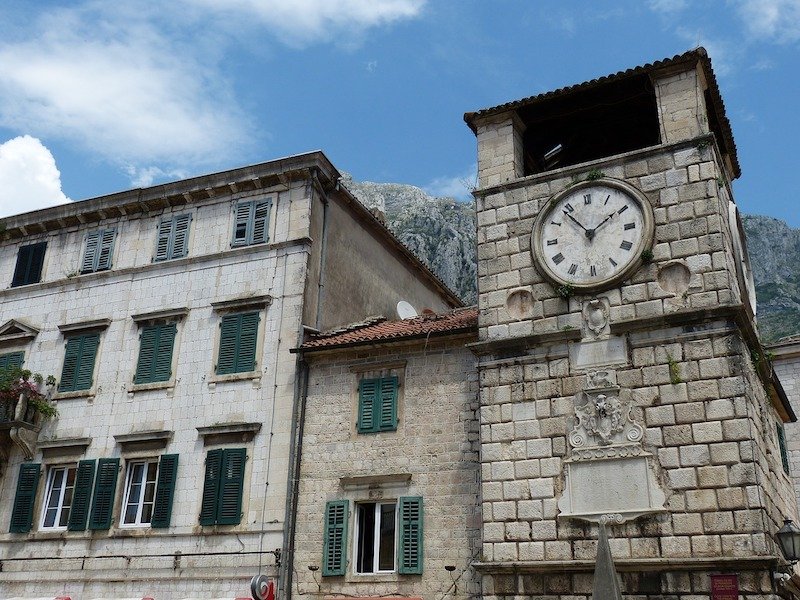 Just off the main gate to enter Kotor is the main square filled with cafés, stone buildings with adorable shutters, and a few landmarks.
The clock tower isn't as famous as, say, Prague's astronomical clock, but it sure is beautiful. There's a little pyramid statue called the "Pillar of Shame." The story goes that people who were caught doing shameful things would be pilloried here, where the entire town could see.
These days, it's not much more than a plaque and small statue, but it's worth a quick peek given its central location.
5. Visit a cat museum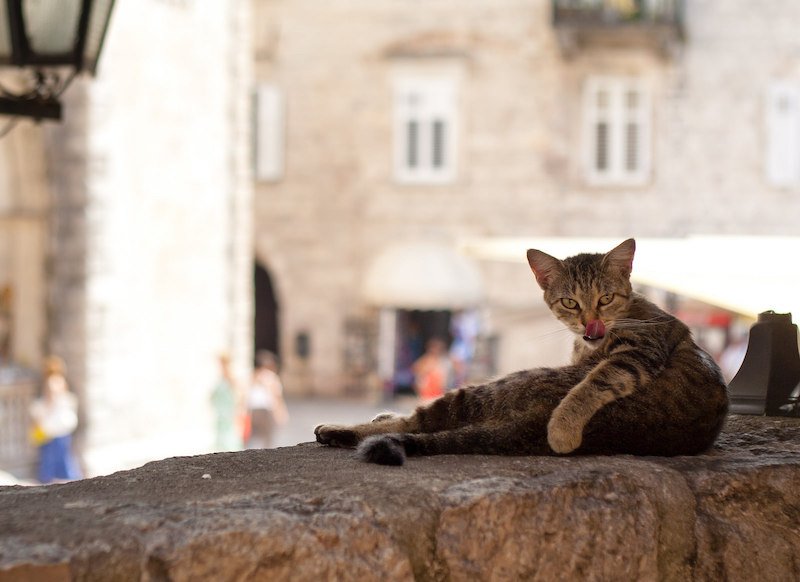 Kotor is full of cats everywhere, lounging and making this historic city their own – like they've been doing for presumably the last 2,000+ years. It's like the whole city is an open air cat café.
For just one euro, you can visit a quirky, weird museum dedicated to cats and support the local cat population all in one swoop. Just two rooms, you'll find a small but modest assortment of prints, postcards, and literature dedicated to cats. It's worth a short visit – maybe about 20 minutes – but given its central location, it's one of the can't-miss things to do in Kotor for animal lovers.
6. Stroll along the Bay of Kotor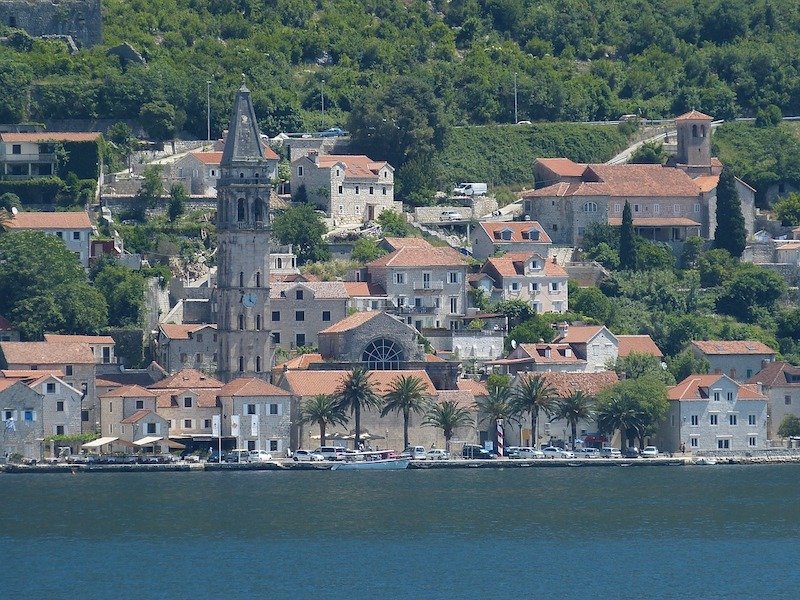 Most of the photos you'll see of Kotor are from a high-up perspective… but don't forget that it's equally lovely from sea level.
Strolling around the Bay of Kotor – which has been a UNESCO World Heritage site since 1979 – is a must. It's especially nice to do around midday when tourists are thronging the Old Town.
7. Check out Montenegro's "Horseshoe Bend" at Lake Skadar
Lake Skadar straddles two countries, Albania and Montenegro. I've seen it on both sides of the border and while it's stunning to behold on either side, Montenegro by far got the better end of the deal.
Similar to Arizona's Insta-famous Horseshoe Bend, the lake curves in a near perfect semi-circle around the mountain. It's on your way to Rijeka Crnojevica, the town mentioned below. It's easiest to get here on a tour – I did the Full Day tour from Kotor and checked a ton of things to see in Montenegro off my list in one easy day. I normally am not a tour person, but it can be a bit tricky to get to some of the smaller towns in Montenegro and the roads aren't for the faint of heart.
Check out the tour I did here for prices and further information. It also includes visits to Rijeka Crnojevica, Lovcen, Cetinje, and Budva.
8. See the famous stone bridge in Rijeka Crnojevica
Rijeka Crnojevica is a small town of less than 200 people near Lake Skadar. It's best known for its super-photogenic double-arched bridge with a small arch window between the two. On a day when there's little wind and the water is still, you can see a near-perfect reflection.
Built in 1853, this bridge has been untouched by the Balkan Wars and is still in pristine condition. It's definitely worth seeing as part of a tour or as a stop on your way to Lake Skadar.
9. Explore Skadar Lake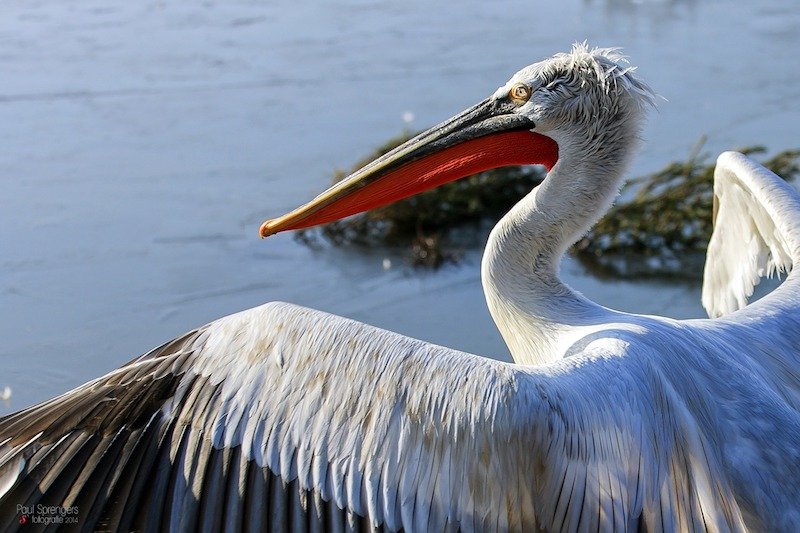 Skadar Lake is considered to be one of the best places for birdwatching in all of Europe, with over 280 species calling the lake home.
One of the most sought-after sightings is the Dalmatian pelican — no, not named for the dog with its black and white spots, but rather for the Dalmatia region of neighboring Croatia.
10. See a floating ruined fortress in Lake Skadar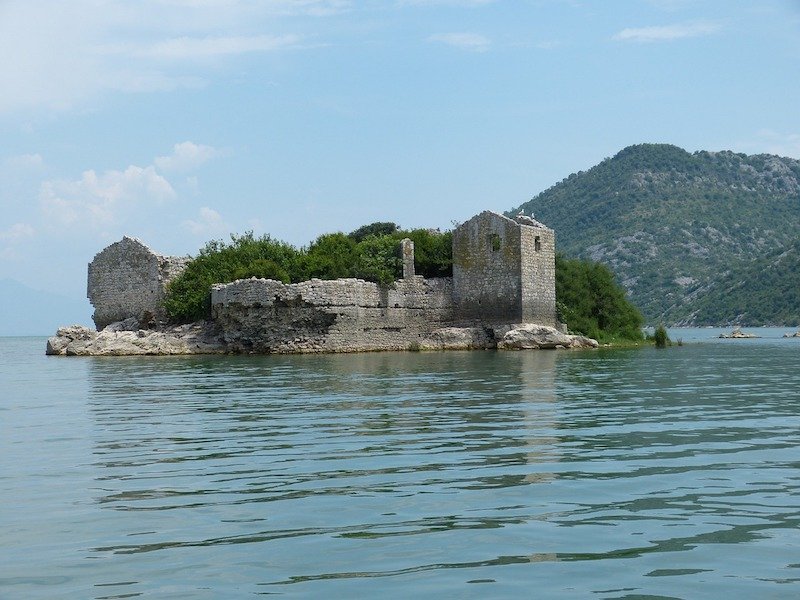 When in Lake Skadar, try to find the ruined fortress. You can hire a boat or ask a local and kayak to it.
11. See the "floating church" of Our Lady of the Rocks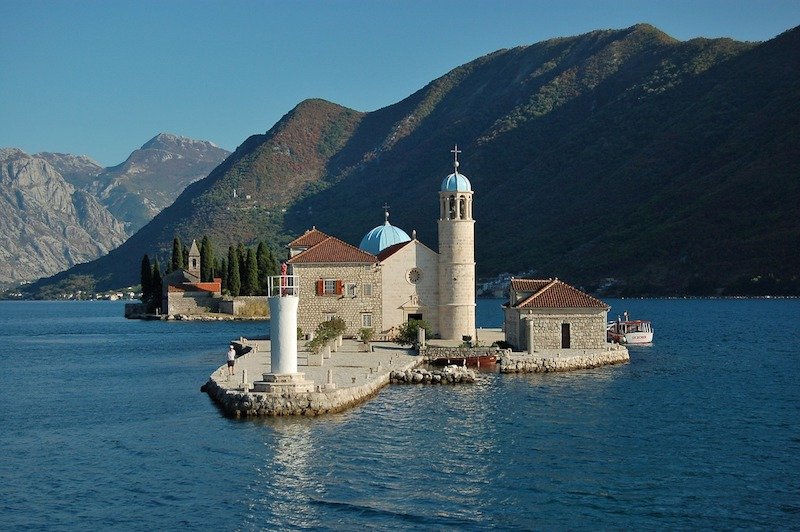 One of the most memorable things to see in Montenegro is the Catholic church floating in the middle of the Bay of Kotor, called Our Lady of the Rocks in English. Trust me – you don't want to try to pronounce the Montenegrin (it's Gospa od Škrpjela, if you're curious/masochistic).
The island was artificially created, apparently over 500 years ago, by Croatian fisherman (hence why there's a Catholic church in a majority Orthodox country). To get there, you have to go via boat (duh) so I'd recommend doing a tour that combines it with the nearby Blue Cave, which is definitely worth seeing — check prices here.
12. Check out the quaint seaside town of Perast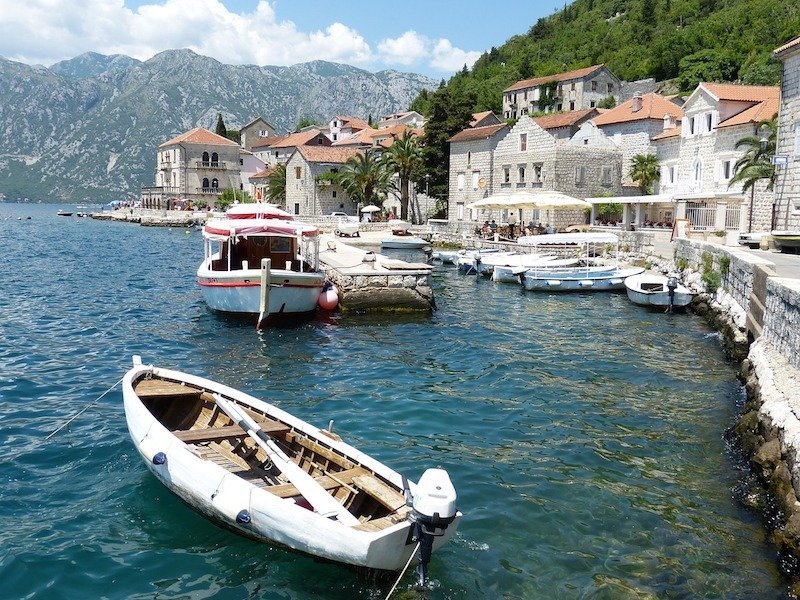 If Kotor is too packed with tourists, nearby Perast, Montenegro is also super picturesque and makes a perfect day trip from Kotor (or even the place to overnight and visit Kotor from by day).
It has similar views of the Bay of Kotor, but with fewer tourists, giving you a better idea of what daily life is like for Montenegrins. The prices are a bit better than in Old Town Kotor, which can feel like a bit of a rip-off if you're used to Balkan prices (I balked — no pun intended, though I'm certainly proud that I made it now — at nearly paying 10 euro for a pizza).
13. Visit the colorful, often forgotten town of Cetinje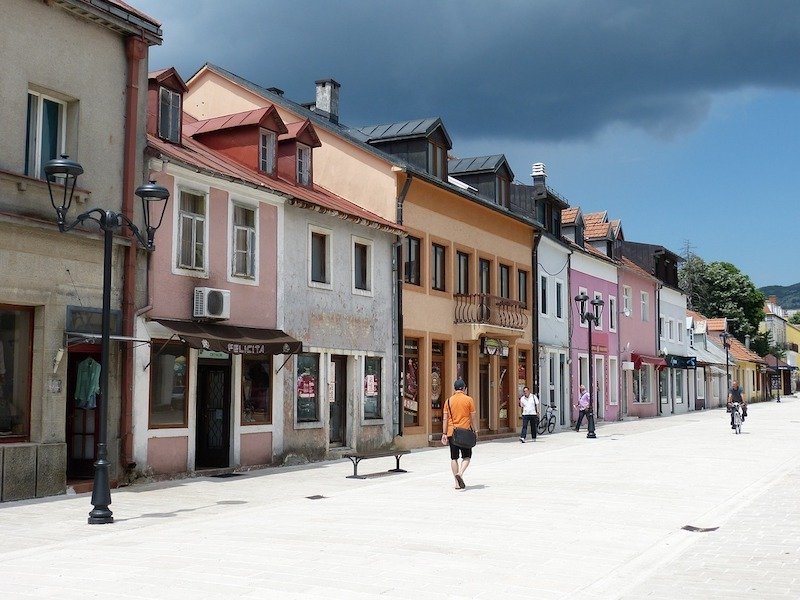 Kotor gets a lot of love, Budva gets a lot of partiers, and unfortunately, a lot of the rest of Montenegro gets short shrift.
The town of Cetinje, which is actually the old royal capital of Montenegro, is one of these overlooked places. In my opinion, it has a lot more charm and history than its actual capital, Podgorica, which sorry to say is one of the most boring capital cities I've ever been to.
If you have an extended amount of time in Montenegro, it makes sense to stay in Cetinje for a day or two to see some of what it has to offer and do some nearby day trips, like the trip to Lipa Cave below. But if you're on a short timeline, the tour I mentioned that brings you to Lake Skadar will also stop by Cetinje.
14. Visit the Lipa Cave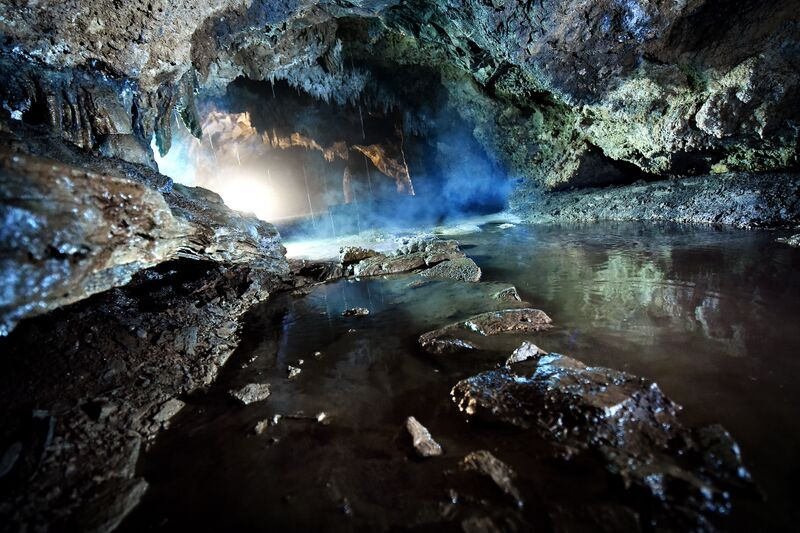 There's something I love about exploring caves, and I'm kicking myself for not making time to visit the Lipa Cave on my trip to Montenegro.
This is a perfect side trip if you stay overnight in Cetinje, as it's located just a few miles outside the city. There are affordable tours you can do or you can arrange for entrance upon arrival if you have a car.
15. Check out the Cetinje Monastery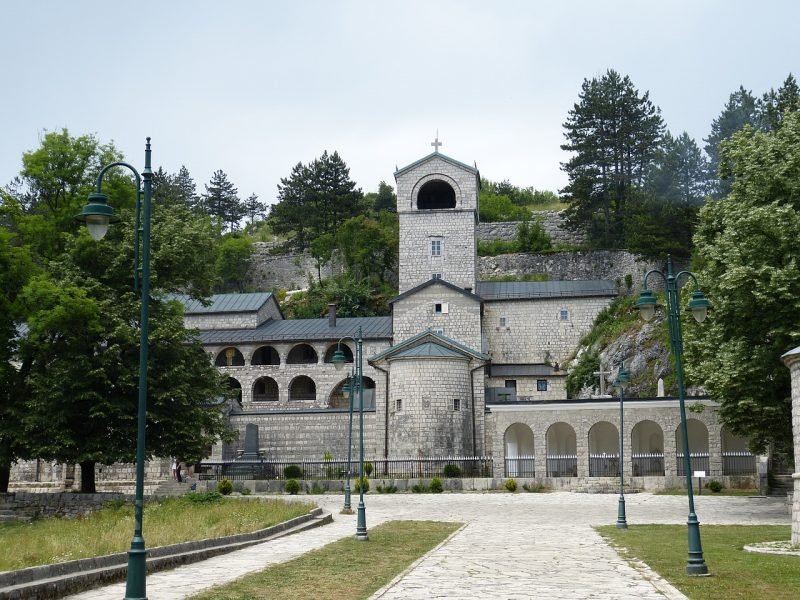 The Cetinje Monastery is just a brief walk from the center of Cetinje and is definitely worth a visit when in this former capital city.
If you've never been to an Orthodox monastery or cathedral before, you're in for a treat — it's very different than Catholic and Protestant styles that you might be used to, with ornate iconography and lots of rich colors and gold.
Don't be surprised if you see men, women, and children tenderly kissing photos of saints. This is pretty much the equivalent of Catholics making the sign of the cross and is part of the prayer rituals. Also, I noticed that it's frowned upon to take photos in most Orthodox churches in the Balkans. Even times when there was no "no cameras" sign, I often was chastised by locals for taking photos inside the church. So do so with caution and respect all signage.
16. Visit the Negjoš Mausoleum on Mt. Lovćen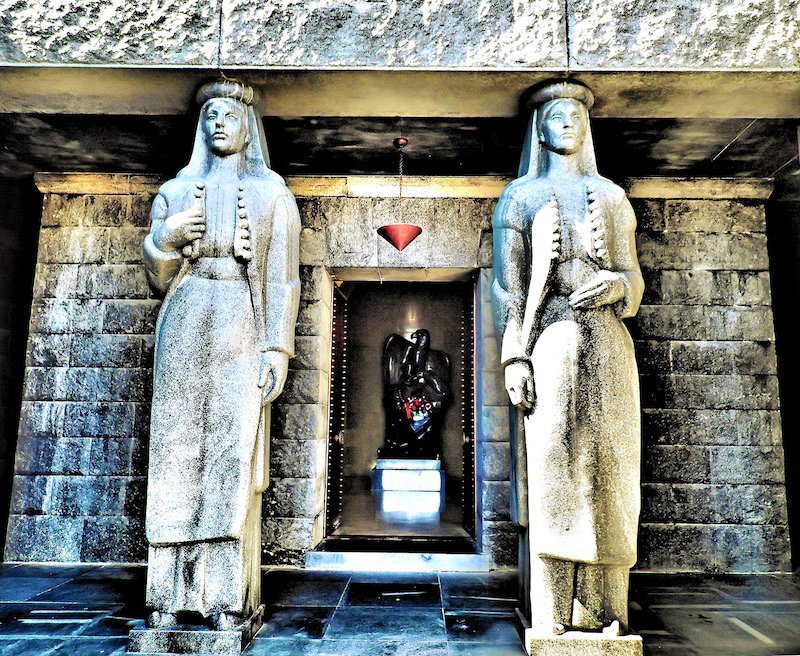 No one can say Montenegrins don't know how to honor their dead. You have to check out the mausoleum to Petar Petrović, one of the most revered national heros, a former prince, poet, and philosopher. On one of the peaks of Lovćen National Park, they've constructed one of the most ornate mausoleums I've ever seen.
A 28-ton statue of Petar Petrović rests literally under the wings of a freakin' eagle, and if that wasn't enough, he's chilling underneath a gold mosaic rooftop, protected by two badass statues that remind me of the ancient Egyptian style.
17. See 7 countries (maybe) from the viewpoint on Jezerski Vrh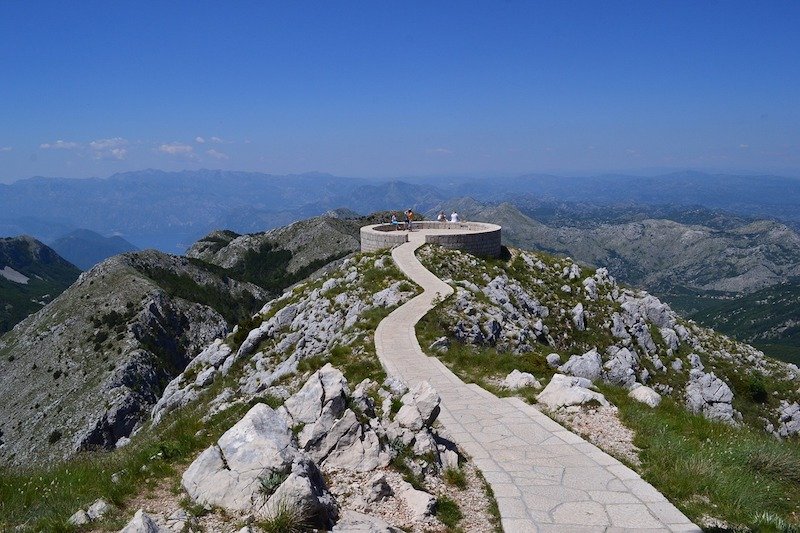 Just behind the Negjoš mausoleum is one of the best views in all of the Balkans. In fact, my guide claimed that this viewpoint has views of 7 countries on a clear day: Croatia, Italy, Montenegro, Albania… and some others I'm forgetting.
While I'm not convinced this is true as I couldn't corroborate it anywhere… it certainly is one of the nicer views in Montenegro!
18. See weird architecture in Podgorica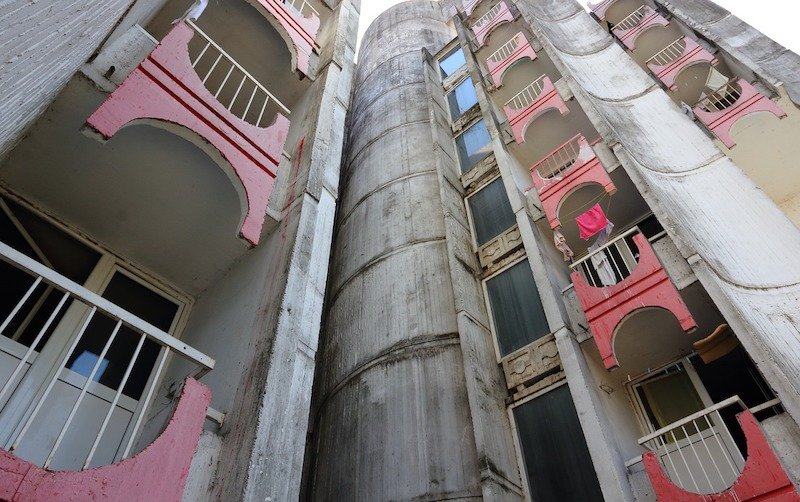 While Podgorica is – in my mind at least – one of the more boring capital cities in the world, it does have a few interesting things to see there. Sorry Podgoricans – I'm sure it's a perfectly fine place to live, but it just doesn't offer too much to the tourist. That said, it's worth a day trip or a one night stay.
To be totally honest, for me, one of the selling points of Podgorica was its strange architecture. What can I say, I'm a sucker for weird buildings — bonus points for a bit of Communist-era decay.
19. Check out the funky radio tower outside Podgorica
Looking a bit like a UFO rising above Podgorica, the Dajbabska Gora tower is one of its more famous landmarks for tourists looking for interesting photo opps.
I could have sworn that the Dajbabska Gora tower was built in the Communist times – but turns out it was built in the 21st century. If you're interested in architecture, it's worth a quick look.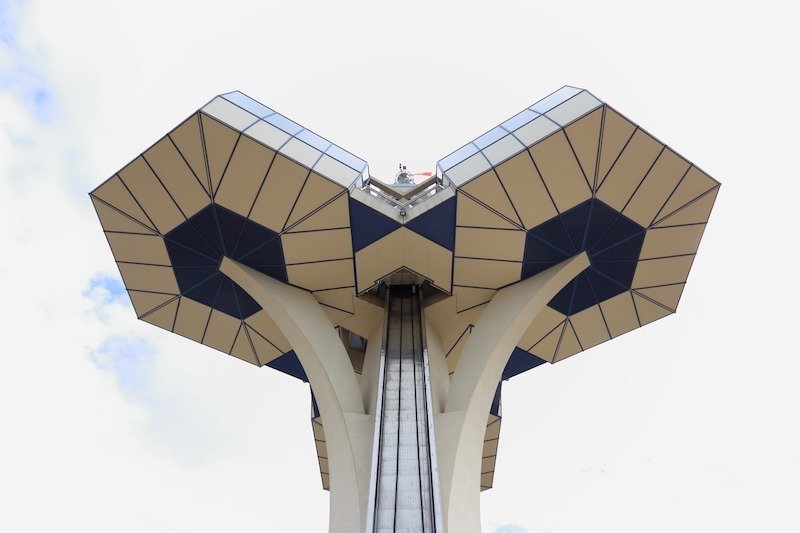 20. See the Cathedral in Podgorica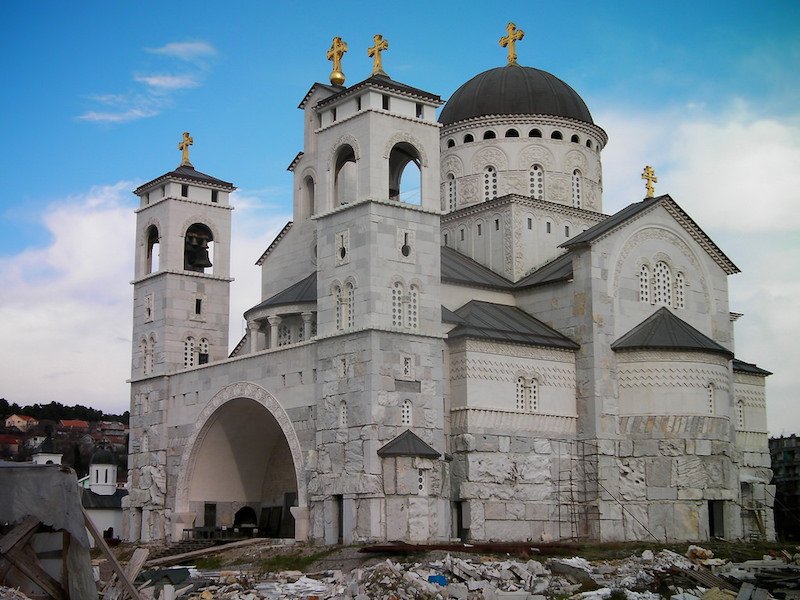 I'm a huge fan of Orthodox cathedrals – I love the blinged-out gold interiors and ornate mosaics. What can I say — I'm a bit extra.
It's a new cathedral (construction started in 1993), as many in the region are. After decades of state-imposed atheism, I've noticed that it's pretty common for Balkan countries to celebrate the end of Communism by building new religious monuments.
While countries in former Yugoslavia like Montenegro never so bad as say, Albania, where countless historic churches were destroyed, there's still been a resurgence of new and ever more ornate cathedrals throughout the end of the 20th and beginning of the 21st century.
21. See the picture-perfect Black Lake
Located in Durmitor National Park, Black Lake is one of the most famous sights in Montenegro for a reason. For one, it's super easily accessible: a simple 30-minute walk from the center of the town of Žabljak.
Despite that, while there are a few tourists taking photos at the most accessible edge of the lake, if you walk around the perimeter a bit further it's incredibly peaceful and people-free.
22. Wander through the town of Žabljak
I continued hiking on from Black Lake to another less exciting lake, whose name I've forgotten now. On my way back, I got a bit lost – but it ended up being a great thing as I wandered through the rural backroads of the town of Žabljak.
The rolling hills, peaceful houses, and rural landscape are especially beautiful in this rugged part of the country, one of the most beautiful places to visit in Montenegro.
23. Hike the Sedlo Trail
There are lots of beautiful trails in Durmitor National Park but my favorite one was the trailhead starting in Sedlo, a town about a 20-minute drive outside of Žabljak.
The landscape was carved by receding melting glaciers over tens of thousands of years — and as a result, it's left a beautiful variety to the landscape. I kept thinking to myself — "this looks like Iceland!" — "this looks like Scotland!" — "this looks like New Zealand" — before realizing that maybe it's just a one-of-a-kind place that looks like itself.
24. Hike to Durmitor's highest peak – Bobotov Kuk
This one isn't for the faint of heart. It involves about a 4-6 hour roundtrip hike, including a bit where you pull yourself up via cables attached to sheer, steep rock. A whole couple kilometers are up nothing but loose rock, making twisting an ankle a definite possibility if you're not careful.
That said, I'm a pretty amateur hiker, and I found it possible – though utterly exhausting – to summit Bobotov Kuk. At 2,500 meters, it's not quite the highest mountain Montenegro, but it does have one of the best views — looking over into Serbia and Bosnia as well as a glacial lake right on the final ascent up.
25. Go rafting in Tara Canyon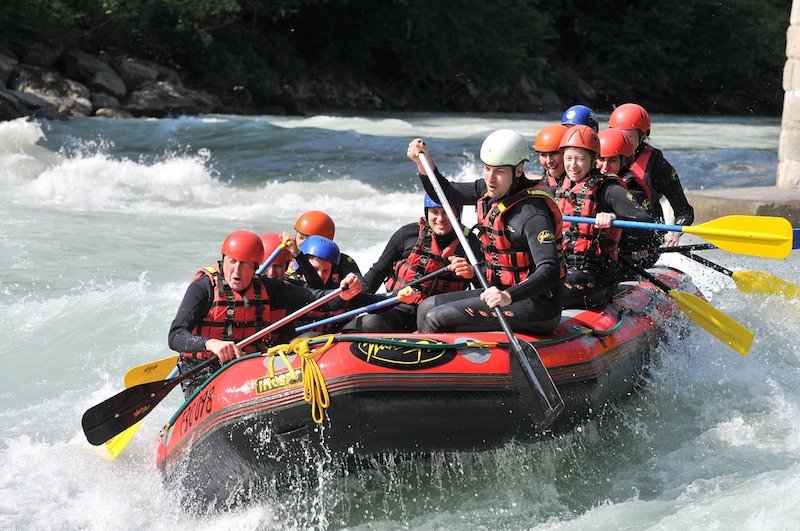 While near Durmitor, you can't miss Tara Canyon: the deepest canyon in Europe and one of the most majestic things to see in Montenegro. And what more fun way to go about it than by an adrenaline-pumping rafting adventure through it?
Unfortunately, when I was in nearby Žabljak, some seriously bad weather prevented me from getting to give it a go. I'm hoping to return to Montenegro this year and finally give it a go!
There are plenty of tour options for rafting the Tara Canyon. I recommend staying in Žabljak and basing yourself there for a couple days, and taking a rafting tour from there (check here for prices). You can also do it as a day trip from Kotor, but that will involve a lot of time in transit and be a lot more costly (check prices here).
26. See the most famous bridge in Montenegro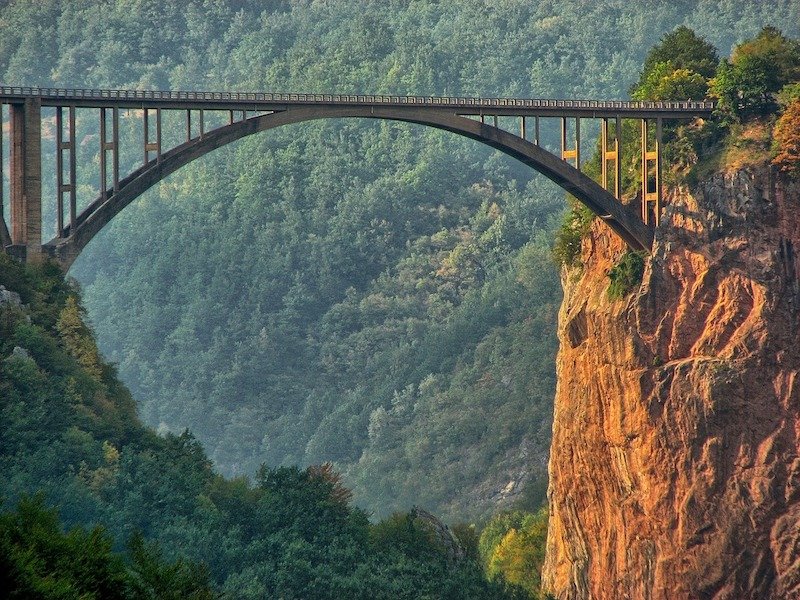 The Tara River bridge is Montenegro's most famous, and with good reason: I mean, just look at that landscape and that perfectly arched bridge.
The especially brave amongst us (read: definitely not me) can even bungee jump off it. In fact, it's one of the top 10 highest jumps in the world. But I'll keep my feet firmly planted on the ground, thank you.
27. Check out the nightlife capital of Montenegro, Budva
I'll be honest — I didn't really love Budva. It felt like a less quaint but just as touristy version of Kotor.
However, different strokes for different folks and yada yada yada. I'd rank going to a nightclub as just above jumping off a bridge on my own personal things to do in Montenegro bucket list. But if you're into the party scene, Budva will supposedly deliver the best nightlife in Montenegro.
28. See a calmer side of Budva in the morning
That said – Budva's Old Town is undeniably full of charm, especially if you wake up early enough to see the fortified island Old Town from an inland vantage point.
The contrast of the blue, blue water of the Adriatic against the red-tiled rooftops and rock structures is breathtaking and definitely worth waking up for. It's like a smaller, less crammed version of Dubrovnik.
29. See the famous "Dancing Girl" statue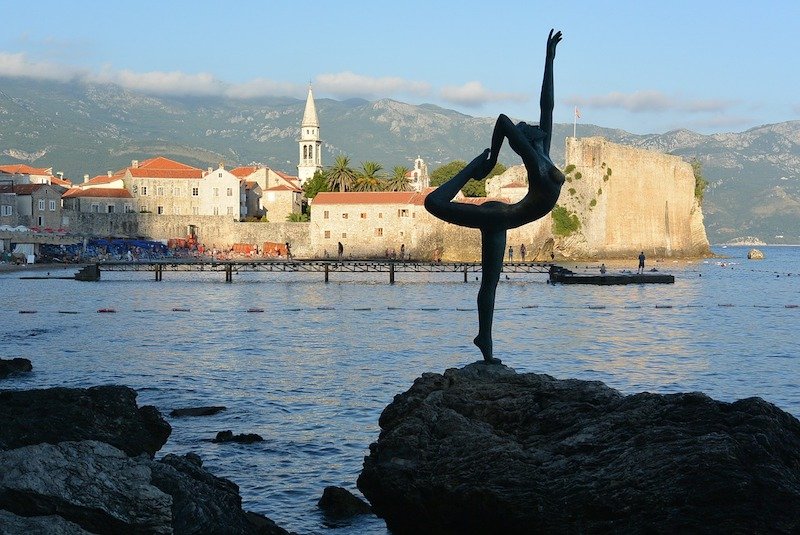 Near Mogren Beach just outside Budva's Old Town, you'll see the iconic "Dancer of Budva."
This is a great place to take photos during sunset, as the light over the Adriatic casts beautiful pink and purple glows on the water and Old Town behind it.
30. Check out Jaz Beach
One of the most famous beaches in Montenegro for a reason, Jaz Beach is just outside of Budva and is definitely worth a visit.
While it can get quite crowded in the summer, if you're there in one of the shoulder seasons, it can be busy but still peaceful. I was visiting Montenegro in the end of September and found the weather to still be pretty lovely with fewer crowds.
31. Party on the beach at the Sea Dance festival
I am decidedly not a music festival person, but my goal in writing a mega-post like this is to show the diversity of things to do in Montenegro – not necessarily show you everything that I personally want to do or did.
While you'll never catch me dead at Sea Dance, it's on every July and takes place on lovely Jaz Beach. An offshoot of Novi Sad's EXIT festival, Sea Dance has gotten acclaim as the "best medium-sized festival in Europe," and is likely to be slightly less of a shit show than Croatia's Ultra festival.
32. Visit the lesser-visited beaches of Ulcinj
If you're going to Montenegro from Albania or vice versa, you'll likely transit through Ulcinj. But don't think of it as just a transit point — Ulcinj is beautiful in its own right and is worth stopping for a few days.
The Old Town, the promenade, and nearby Long Beach are all worth a visit!
33. See some of Europe's only flamingos
Despite being the 10th smallest country in Europe, Montenegro hosts an impressive 50% of all of Europe's bird species – and surprisingly, one of them is the adorable flamingo.
Yes, you heard correctly – flamingos in Europe. About a 15 minute taxi outside of the town of Ulcinj, Solana Ulcinj is home to salt pans where hundreds of flamingos make their home. Apparently, springtime is their breeding time, which makes it the best time to visit, but you have a good chance of seeing them year round.
34. Ski Montenegro's mountains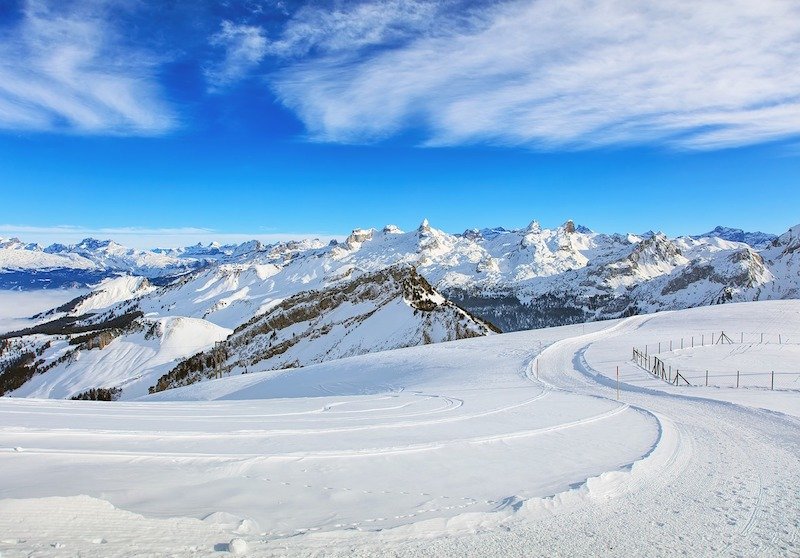 Unsurprising considering its name means "black mountain," Montenegro has tons of beautiful mountains perfect for winter sports. I visited in the late summer season, but the town of Žabljak where I stayed when hiking in Durmitor National Park is a great winter base.
I'm no skier, but apparently the mountains are perfect for skiing and come at a fraction of the cost of other popular ski destinations. Montenegro's no Switzerland or Austria – I can tell ya that.
35. Visit a monastery built into a cliff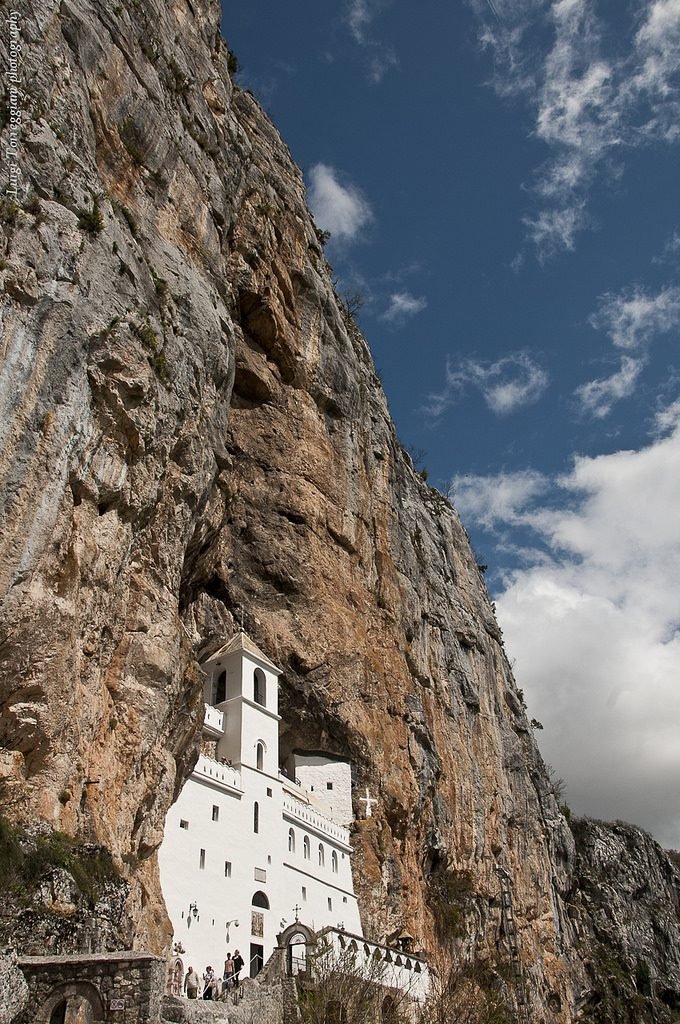 The Ostrog monastery is probably the most photographed church in Montenegro – if not all the Balkans – for its stunning location quite literally carved into sheer rock face of a cliff.
To go independently, it's best to take a bus to Nikšić (making this a good stopover to go on your way to Durmitor National Park). From there, cabs cost about 10 euro to get to the monastery. There's also supposedly a train from Podgorica, but I've never taken a train in Montenegro and generally favor buses to trains in the Balkans. You can also take a tour from Budva but predictably, that'll cost ya.
36. Indulge in café culture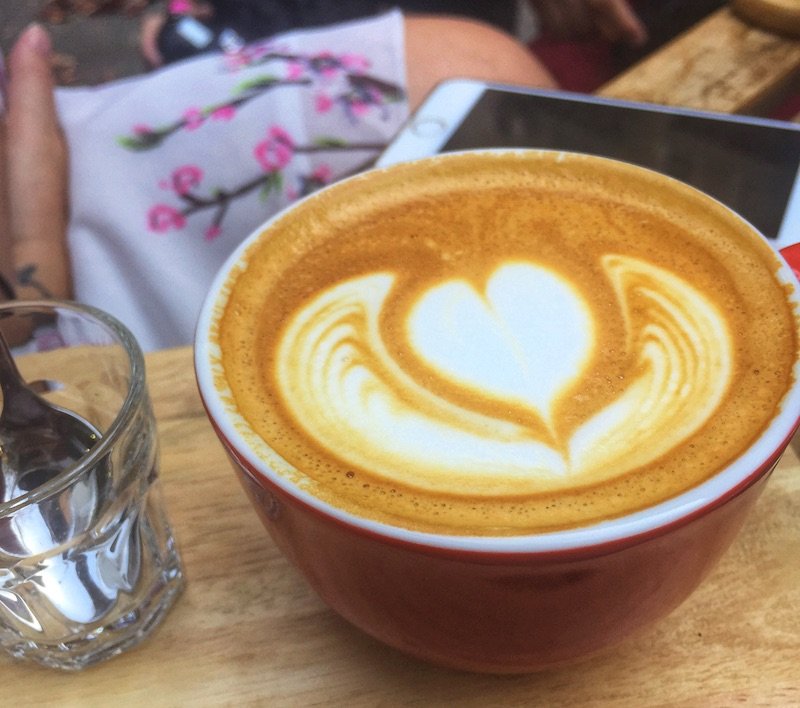 All over the Balkans, café culture is huge. Centuries of Ottoman rule in the Balkans left their mark in many ways – most noticeably seen by the presence of mosques in many places – but also on the food.
Turkish coffee (turkska kafa) is popular, but I'd reckon that espresso has surpassed it in popularity. Either way, coffee is pretty cheap all throughout Montenegro – usually around a euro or euro fifty.
37. Try ćevapi, one of Montenegro's most famous dishes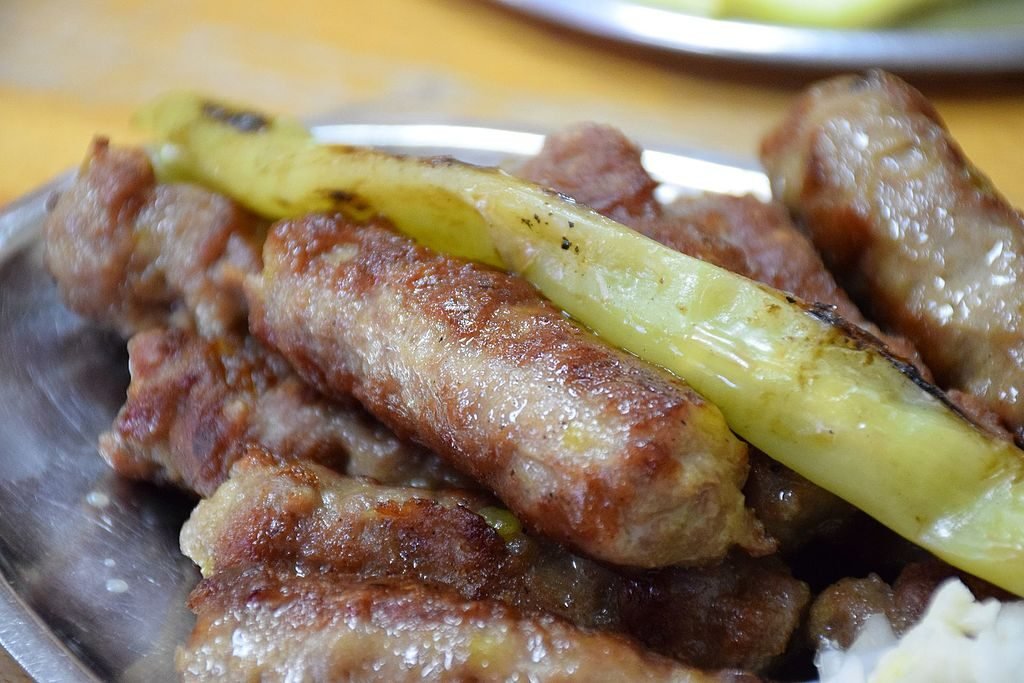 All over former Yugoslavia, you'll find ćevapi (sometimes written ćevapčići in other countries). It's basically a mix of ground beef and pork shaped into skinless sausages, spiced and grilled to perfection. They're served with anything from fries to pita to grilled or raw veggies (often raw onion, tomato, and cucumber).
I'll admit, it can get a bit tiresome after a while of traveling through the Balkans, but if you have a short holiday in Montenegro you've absolutely got to try it (assuming you're not a vegetarian — you'll have a bit of a tough time here).
38. Try Montenegrin wine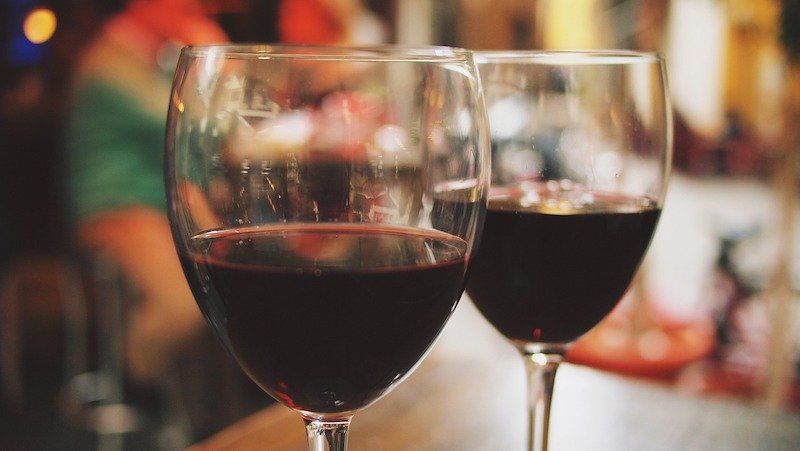 Montenegro isn't known for its wine, but I suspect that'll change soon.
Their most famous grape is Vranac, a red wine grape, and it's really delicious. Even wine connoisseur extraordinaire Jancis Robinson is in agreement. The stuff you'll find in the supermarket for just a few euros is quite delicious, but if you're a huge wine fan I'd seek out some smaller vineyards and arrange a tasting.
39. Or, go a little harder with some rakija
Rakija is pretty much synonymous with traveling the Balkans. Wondering what it is? It's essentially a moonshine distilled from fruit, often suspiciously served surreptitiously from a plastic bottle.
Basically every family in the Balkans grows their own version of rakija. In Romania, it's called tuica; in Hungary, palinka; the rest of the Balkans call it rakija or rakia (note: I know that Hungary is not Balkan but due to its interaction with Romania, it's absorbed some of Romanian culture and vice versa).
40. Take a day trip to Albania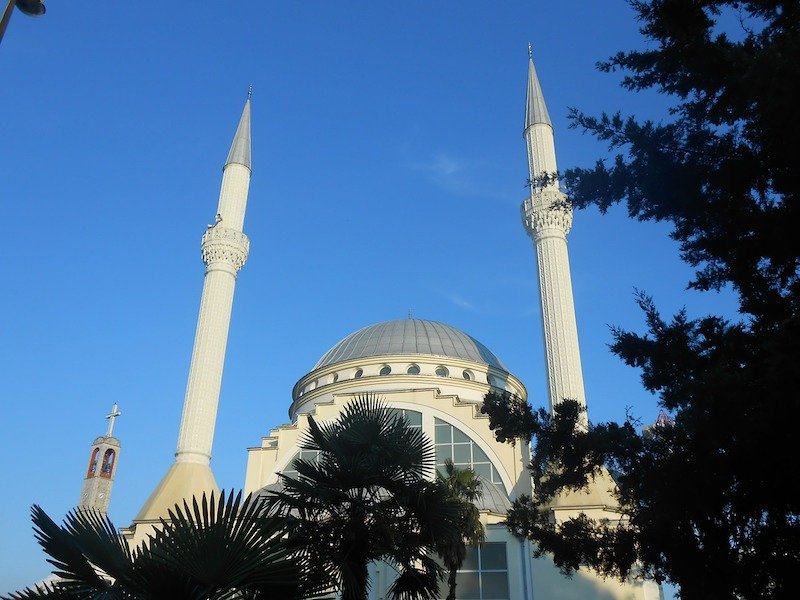 Perhaps this is cheating a bit – as it's not in Montenegro per se – but a day trip to one of the most interesting countries in the Balkans isn't out of reach from the southernmost beach town of Ulcinj.
Shkodra is a mere 2 hours from Ulcinj and is one of the more developed-feeling cities in Albania. People bicycle everywhere, everyone sits outdoors sipping cappuccinos, and there are a wealth of great museums in town.
Where to Stay in Montenegro
When it comes to deciding how to spend your time in Montenegro, I recommend picking some places along the coast (where that be the relatively quiet town of Perast or Herceg Novi, the lively but peaceful Kotor, or the buzzing party-hub of Budva) during your stay, and a few days in the mountains if you plan on doing some hiking. Here are a few recommendations for each major tourist spot in Montenegro:
Perast: The perks of Kotor without the crowds
Travelers on a budget who want a bit of comfort will be enamored with Vila Perast Boutique Hotel, which offers clean, high quality accommodation in one of the most gorgeous towns in Montenegro for an affordable price. Click here for rates, photos, reviews, and availability.
For a luxury option, the Monte Bay Retreat can't be beaten – I mean, just click here and look at that infinity pool overlooking the Bay of Kotor. It's practically Instagram gold. The rooms are also beautifully decorated, tasteful yet comfortable. Check rates, photos, reviews, and availability here.
Herceg Novi: Kotor views, Dubrovnik proximity, & quiet nights
How often can you stay in a hotel that's been converted from a historic train station by a famous director – without paying a fortune? Budget-conscious travelers should run, not walk, for Stanica B&B – Hotel Aurora. Incredible design details plus windows opening up onto the Adriatic -yet a price tag that is surprisingly affordable. Click here for rates, photos, reviews, and availability.
For those looking for luxury, I recommend Boutique Hotel Casa del Mare – Mediterraneo. It has beachfront access, a luxe pool, lovely hammocks where you can swing away the day with a great book, and peaceful white-toned rooms with tons of space to feel at ease. Check rates, photos, reviews, and availability here.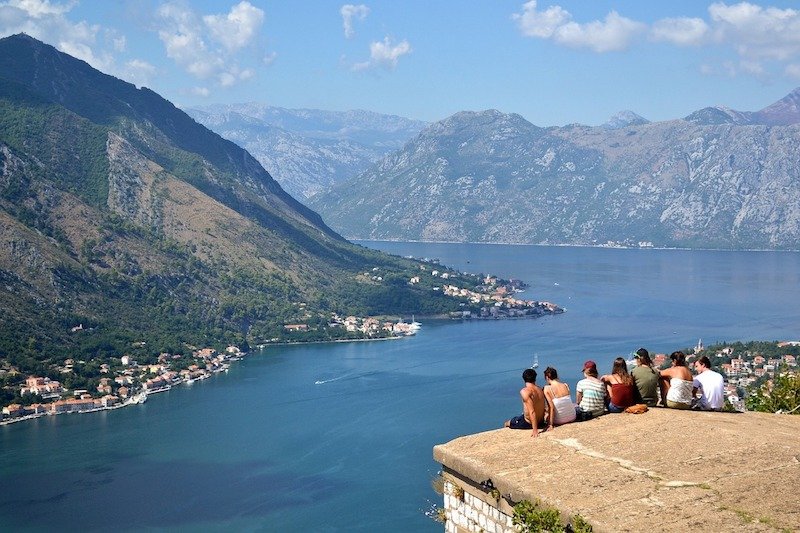 Kotor: The most iconic place in Montenegro
Kotor is one of the most desirable locations in Montenegro but even that being said you can still find some great options in the city for an affordable price. Hotel Marija is simple yet comfortable for couples or solo travelers, and offers affordable prices right in the heart of Old Town. Check rates, photos, reviews, and availability here.
For luxury seekers, the Boutique Hotel Astoria in the heart of Stari Grad (Old Town) is a perfect choice. The rooms are dramatically decorated but gorgeous, all the amenities are modern, and the location can't be beat. Check rates, photos, reviews, and availability here.
Budva: Party with a side of beach
Budva is where Montenegro goes to party, and so you'll find cheap crash pads as well as ultra-luxe hotel offerings here. Hotel Aruba is a bit outside the city center but offers perks like a pool and cheap rooms (check rates and availability here).
Meanwhile, if you have money to spend, one of Budva's luxury options is better suited for you. The luxe Hotel Moskva right in the city center is a great option. The rooms are enormous, classy, and luxurious – Check prices, reviews, and availability here.
Zabljak: Quaint mountain escape
Durmitor Bungalows are ultra-affordable, super cute mini-chalets right in the heart of mountainous Montenegro. Check prices & availability here. If you're looking for more typical hotel, I recommend Hotel Soa, which you can check out here.
Note: This post contains affiliate links, which means I may make a small commission – at no extra cost to you – if you purchase something using these links. I visited Montenegro in 2016 and to my knowledge the information in this article is accurate – but please feel free to update me if not. Unfortunately, I lost all my photos due to a hard drive corruption (who knew you had to back up your backup?) and so all photos in this article are sourced from Creative Commons or Instagram.
Allison Green is a former educator turned travel blogger. She holds a Masters in Teaching and a B.A. in English and Creative Writing. Her blog posts merge her educational background and her experience traveling to 60+ countries to encourage thoughtful travel experiences that both educate and entertain. She has been a speaker at the World Travel Writers Conference and her writing, photography, and podcasting work has appeared in National Geographic, CNN Arabic, CBC Canada, and Forbes, amongst others. Now based in the San Francisco Bay Area where she grew up, she has also lived in Prague, Sofia, and New York City.