There's perhaps no city in the United States begging to be photographed as much as Las Vegas.
From its neon lights to its quirky sights, Vegas is Instagram gold. The whole time I was there, I saw so many insane photo opportunities that it was hard to even go anywhere without my camera glued to my face.
And there is no Vegas hotel that's more true for than The W, a brand new boutique hotel within the larger SLS Hotel & Casino. Equal parts quirky and glamorous, The W combines tongue-in-cheek décor with luxury amenities for a picture perfect, 5 star Vegas experience.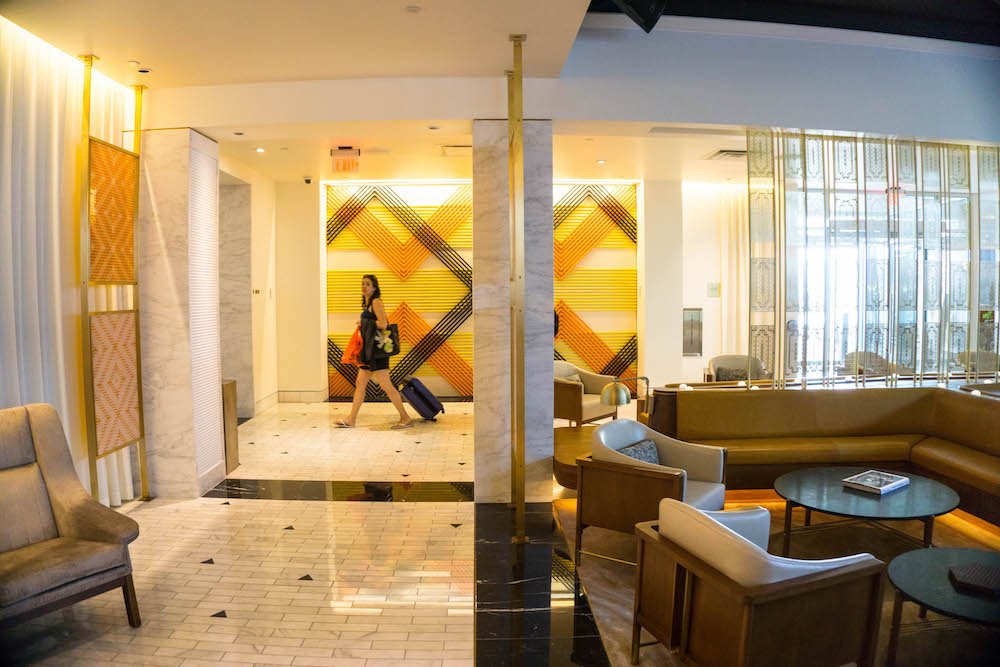 Note: This post contains affiliate links, which means I may receive a small commission if you purchase something through one of these links. Thank you for supporting the free content on this site! For more information on affiliate links and cookies, see my disclosure page for more details.
A "hotel within a hotel," The W is actually attached to the same building as the famous SLS Casino & Resort – but with a secret entrance away from the crowd. So secret, in fact, that most of our Uber drivers didn't even know about it!
The best thing about this concept is that you have access to all the SLS amenities: their casino, their pool, their restaurants (I've heard ravings about Bazaar Meat, a steakhouse inside the SLS, but lacked the funds to see for myself) — while still having a more bespoke boutique hotel experience.
Whereas in the larger casino hotels you can easily feel like a cattle in a herd, The W pays impeccable attention to detail to make your experience feel personal: an important distinction in a city as capitalism-on-steroids as Vegas.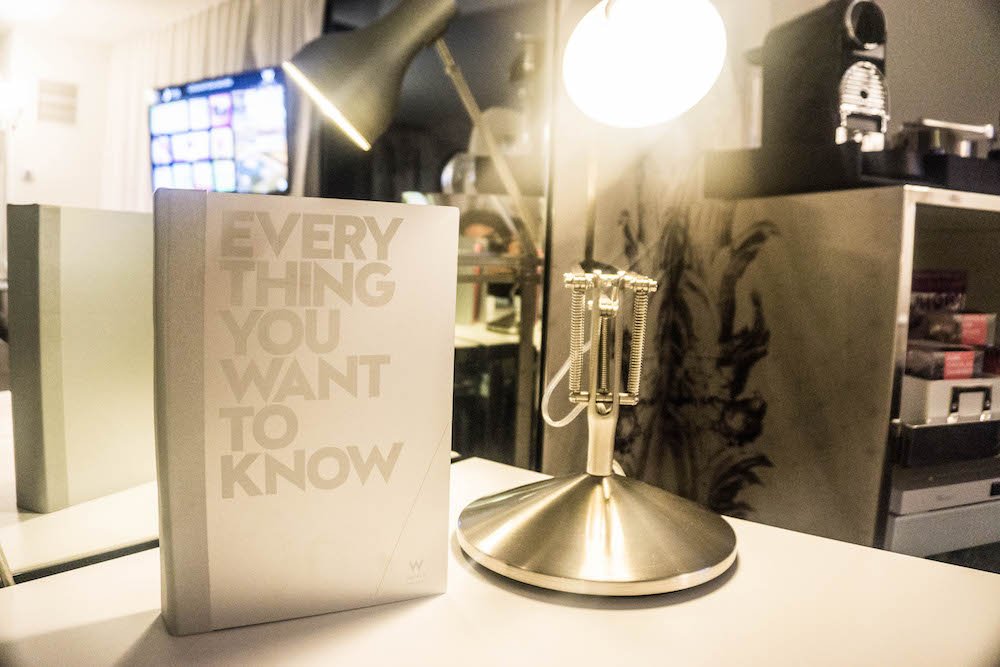 Every guest at The W has their own Insider – a concierge who tailors unique suggestions to your personal tastes. Taking advice from Romeo, our amazing Insider, was one of the best things we did in all of Vegas!
Per his recommendation, we ended up at the most unique and funky bar in Vegas, dancing the night away to 80s music videos projected on the wall, in the company of an off-brand Edward Scissorhands and a bunch of locals. It was an experience that was much more my style than one of the $16-for-a-Budweiser nightclubs littering the Strip.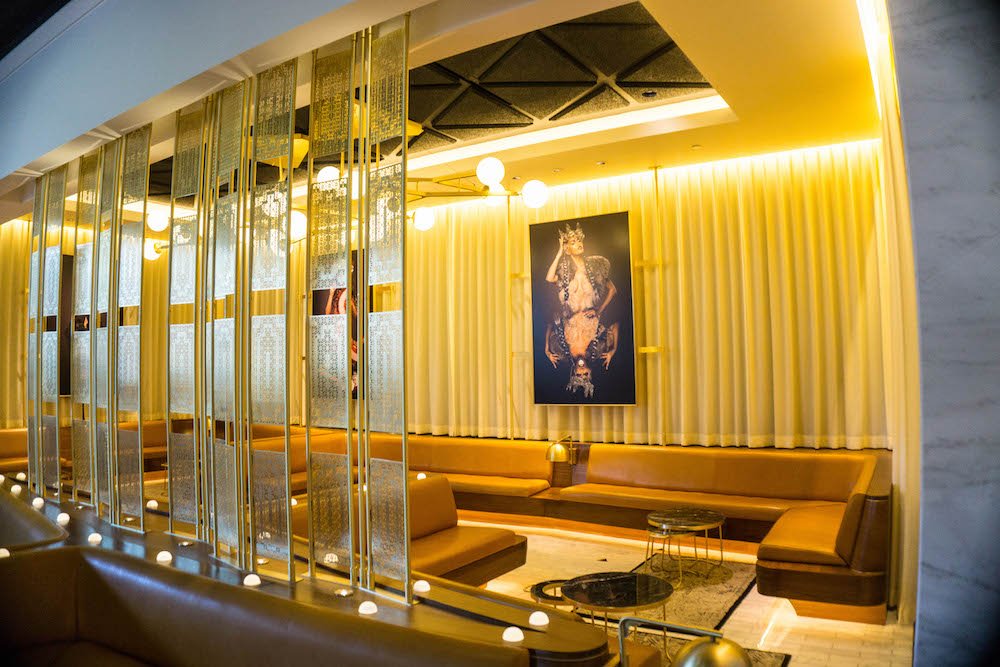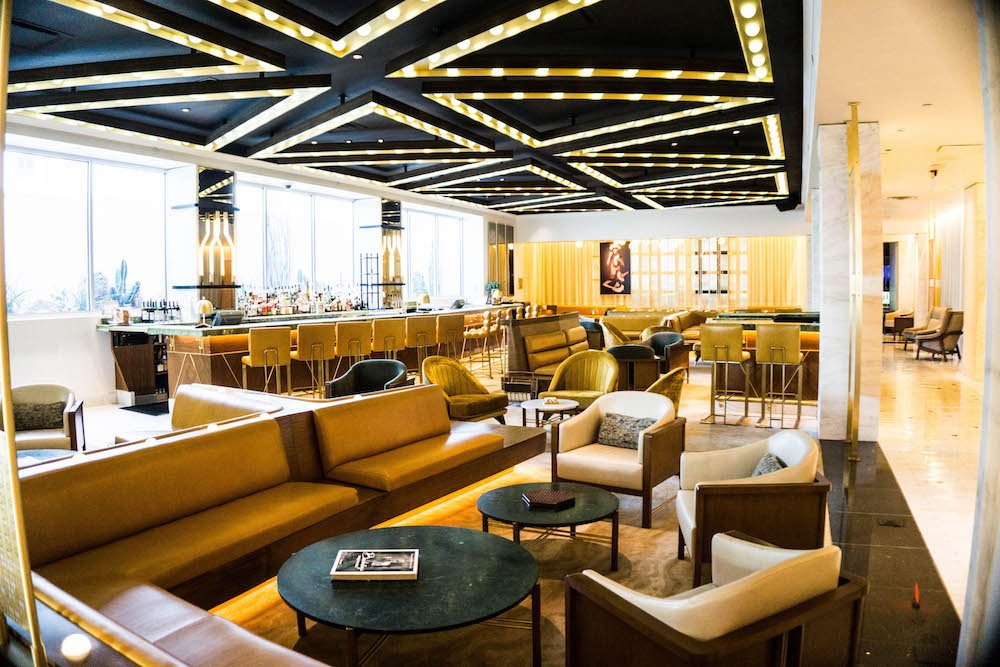 Though with the gorgeous bar and lounge areas in The W proper, you'd be forgiven for never leaving the comforts of your hotel. Experienced bartenders will mix you up any cocktail you fancy or you can choose something from their specialty cocktail menu. Meanwhile, the design just begs to be photographed.
I mean, where else do you get a gold coin upon check in, good only for getting your fortune read?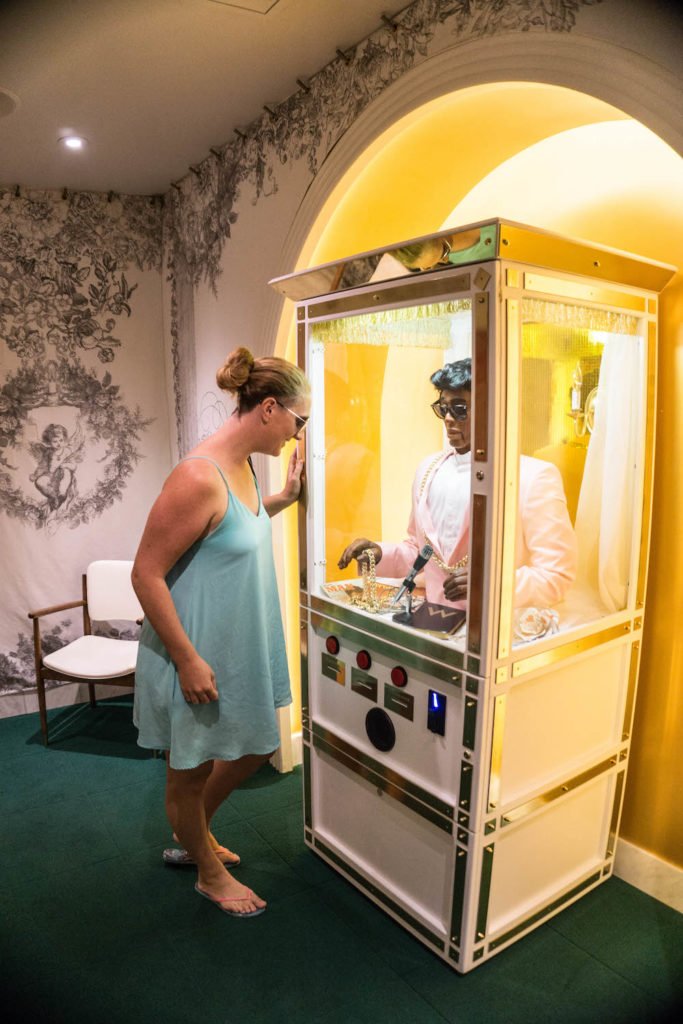 The design of the rooms is delightfully quirky, with crossdresser-bedecked pillows, a wraparound chaise couch, and stunning Stratosphere views.
… Yes, I said crossdresser pillows!
The wallpaper has a funky Marie Antoinette meets Andy Warhol vibe… livened up by the peep-through shower which you can close with a simple curtain if you're not feeling like giving the room a show.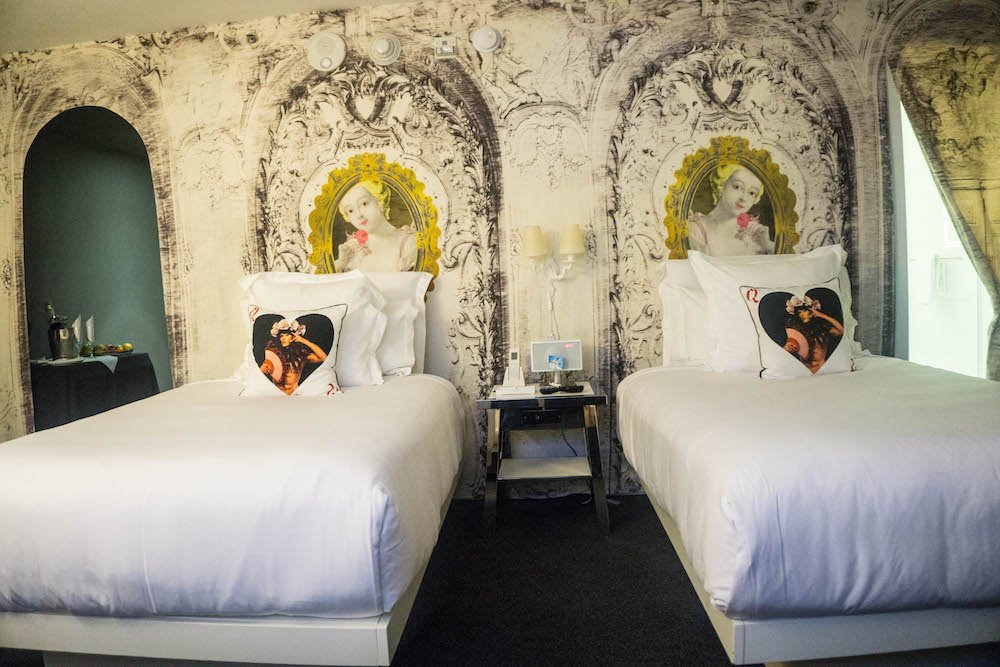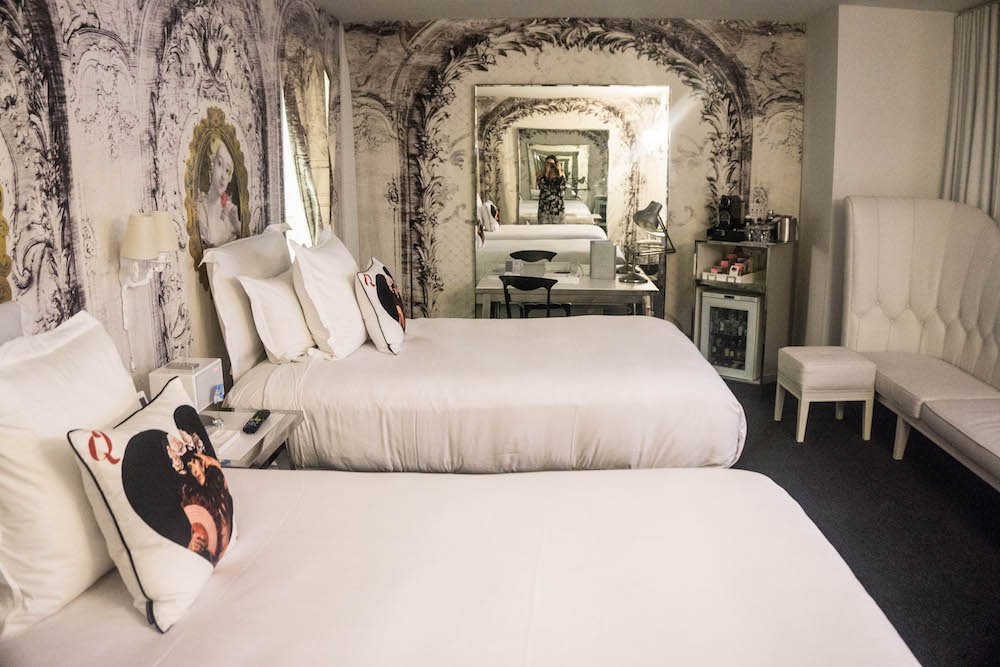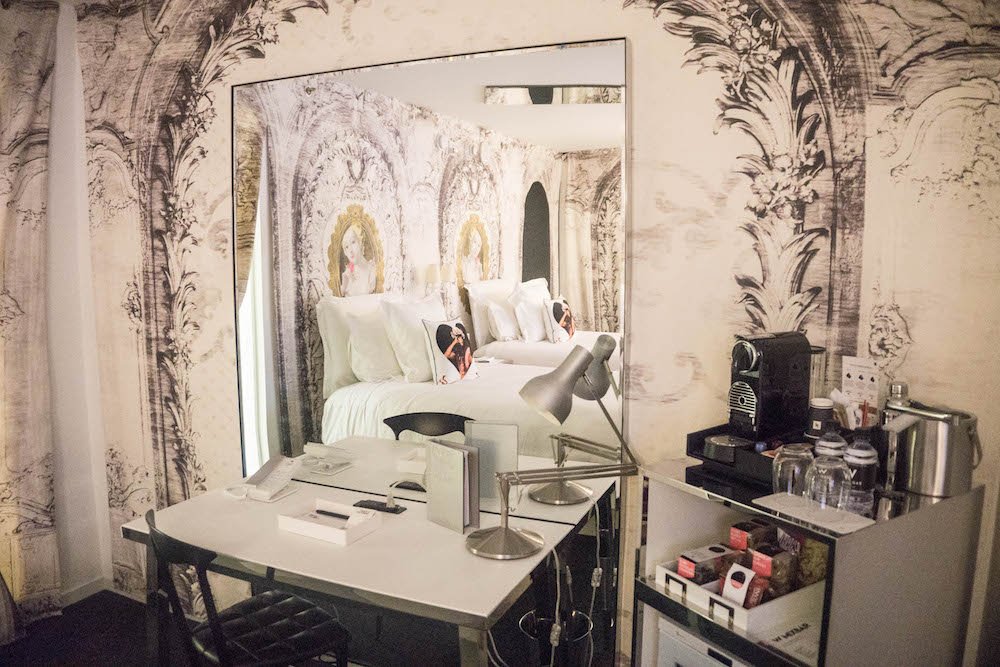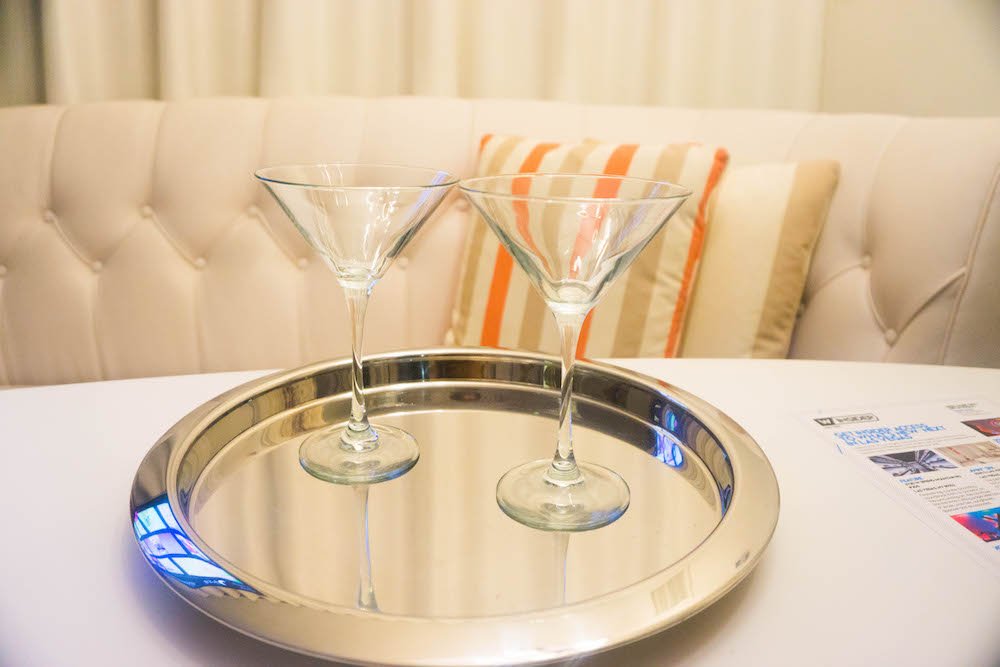 As a guest of The W, you have access to their private pool club Wet, calmer by far than the pool at the SLS, which you can also access by showing your room card. As for what's better, it really depends on what kind of pool experience you want.
I much preferred the quiet atmosphere and modern decor of Wet at The W, but if you're into meeting other people and drinking in a pool all day, the SLS is your spot.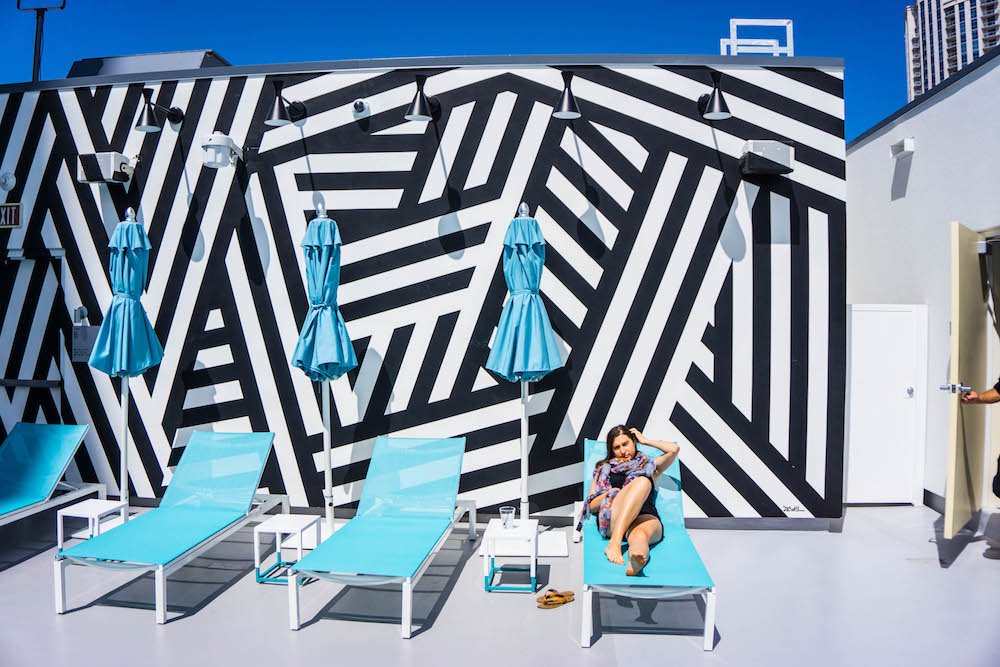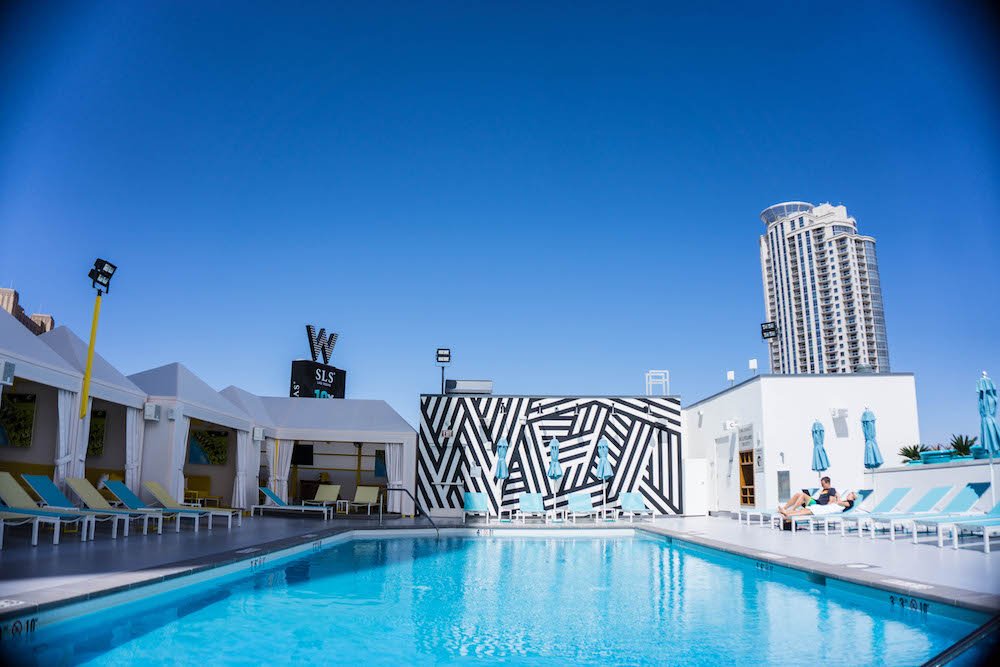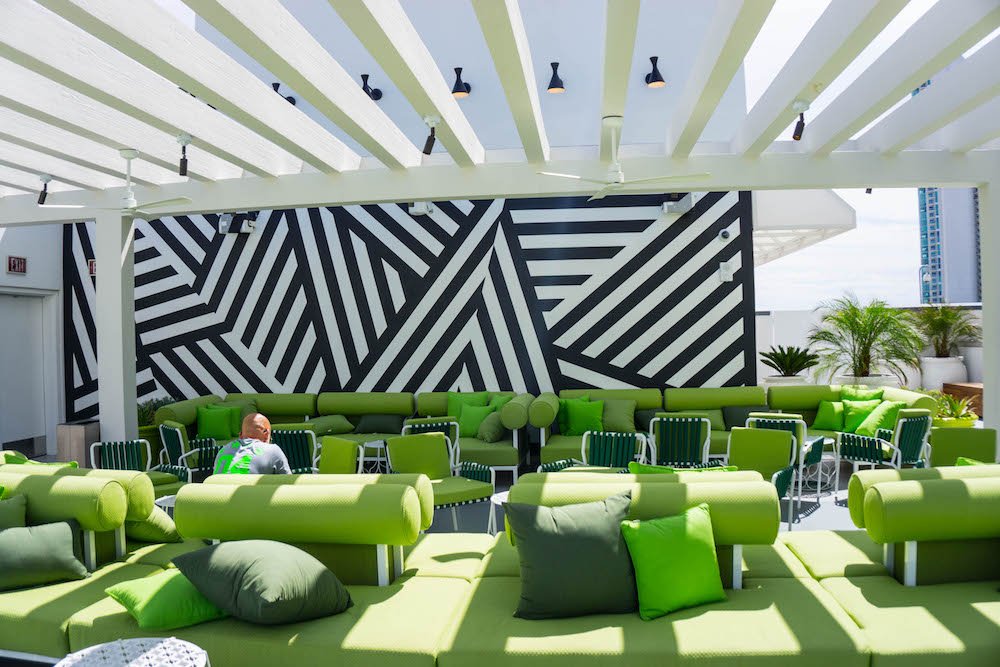 If you're looking for something different than the faceless rooms of the big casino-hotel hybrids littering the Strip, I don't think you can do any better than The W. Boutique customer service, quirky decor, and all the amenities of a big casino without the impersonal feel — I'd go back in a heartbeat.
Check out today's best deals on The W
Note: I was a complimentary guest of The W in order to write this review. As always, all opinions are entirely my own.
Allison Green is a former educator turned travel blogger. She holds a Masters in Teaching and a B.A. in English and Creative Writing. Her blog posts merge her educational background and her experience traveling to 60+ countries to encourage thoughtful travel experiences that both educate and entertain. She has been a speaker at the World Travel Writers Conference and her writing, photography, and podcasting work has appeared in National Geographic, CNN Arabic, CBC Canada, and Forbes, amongst others. Now based in the San Francisco Bay Area where she grew up, she has also lived in Prague, Sofia, and New York City.