If you're planning to go from Stockholm to Abisko, let this be your guide…
… as I completely and utterly failed doing it with information I patched together off the internet, and know what not to do.
My story of trying to get to Abisko from Stockholm is one of embarrassment and woe and wondering where it all went wrong.
Note: This post contains affiliate links, which means I may receive a small commission if you purchase something through one of these links. Thank you for supporting the free content on this site! For more information on affiliate links and cookies, see my disclosure page for more details.
It culminated in me dashing for the last train to Abisko, soaking wet in sub-freezing temperatures having just trudged my way through a giant snow drift, and just barely making the last train (and avoiding a $200 taxi.)
Read and learn from my mistakes below… or skip ahead to quickly learn how to actually get from Stockholm to Abisko without nearly losing your sanity and your toes to frostbite.
In a rush? Here's the TL;DR

The overnight train from Stockholm to Abisko is the easiest way and likely the most affordable. It takes some time, but you'll be sleeping during much of it anyway. Tip: The 6:10 PM sleeper is better since there is no transfer!

Tickets start around 105 Euros for a second-class seat and 130 Euros for a sleeper car.

Flying from Stockholm to Kiruna and then going on to Abisko is faster but likely won't be cheaper or easier once you factor in the need to transfer from Kiruna to Abisko, which isn't the most straightforward journey.
How Not to Get from Stockholm to Abisko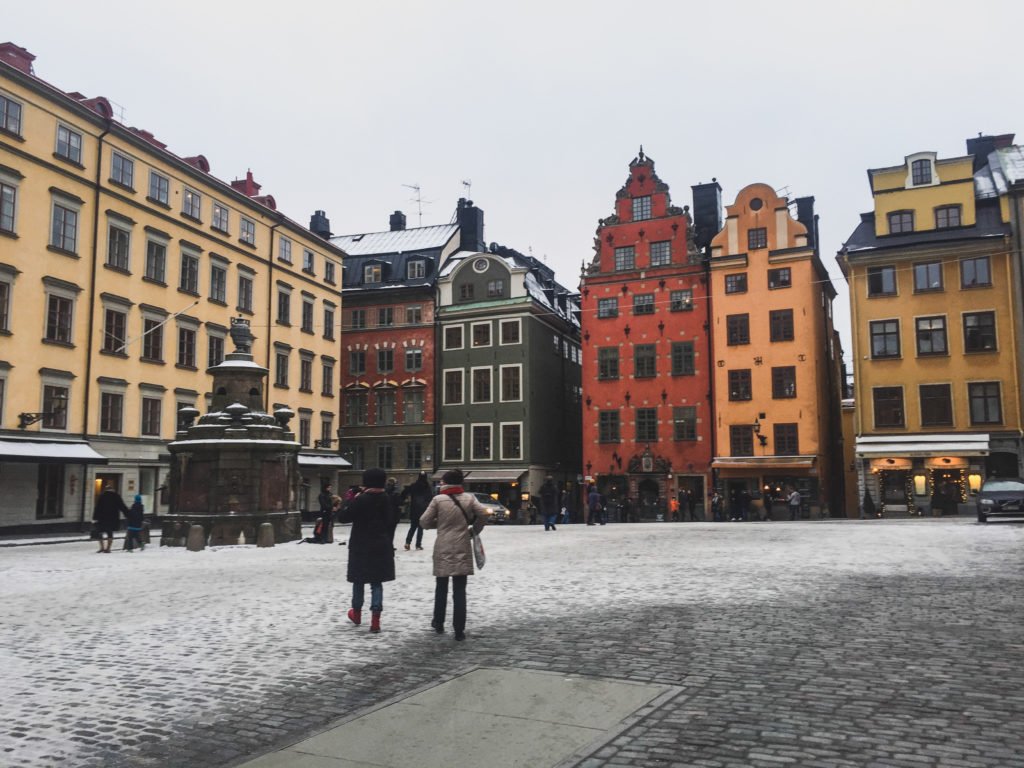 When planning my Sweden winter trip, the plan was simple.
We were supposed to land in Kiruna around 10 in the morning and take a taxi to the the train station to drop off our luggage (as my lovely friend may have overpacked just a bit).
Then, we planned to take a bus or a taxi 2 kilometers back to town to while away four or five hours before taking the 3:30 train to Abisko to see the Northern lights.
After all — Abisko is the best place in Sweden to see the Northern lights!
It was nicely written out with bullet points — bullet points!!! — times, and costs. What could possibly go wrong?
Spoiler: Only everything.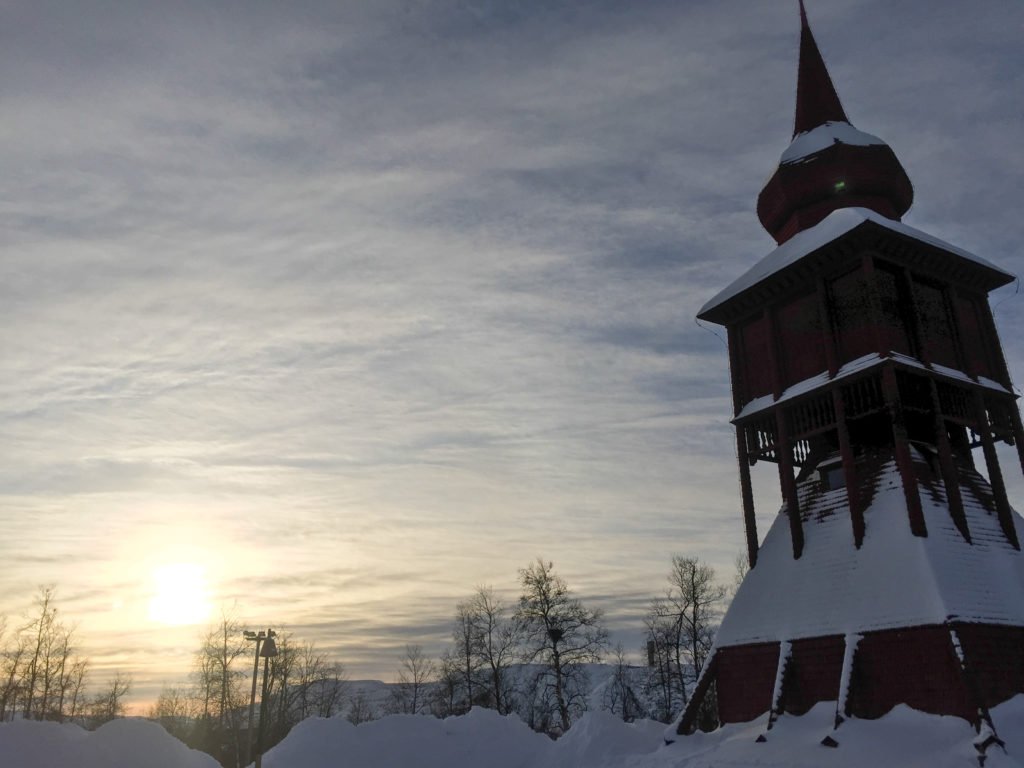 When we got to the Abisko train station, we arrived to a completely empty train station with not a single human to be found, which our taxi driver failed to warn us about before he drove off.
It was utterly eerie, like a scene from Steven King's The Langoliers, where the survivors of a Twilight Zone-esque time rip wander a deserted airport.
While we didn't manage to find a living soul, we did find the promised luggage lockers. The problem: they only took 10 kronor coins and there was no one around to help us combine smaller coins or make change.
Luckily, my friend managed to find one 10 kronor coin, and we were able to store her *cough* enormous *cough* suitcase, but there was no room for my heavy backpack or her other bags.
(She clearly hadn't read my guide on how to pack for Sweden in winter!)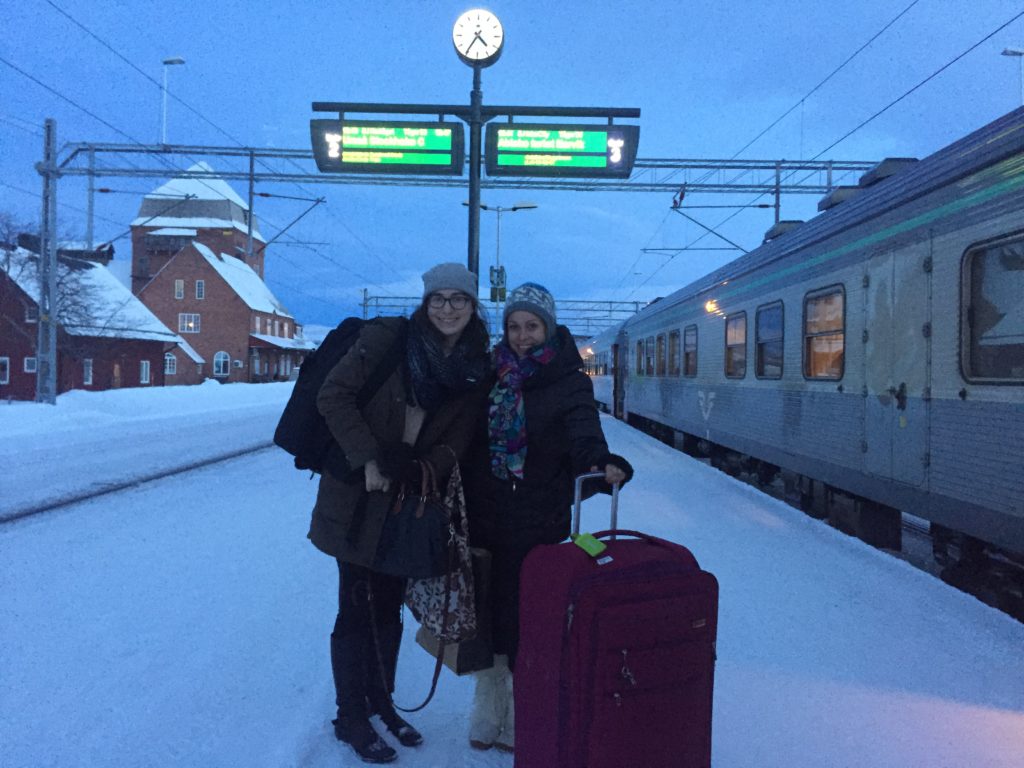 Still, we could at least traverse the town at this point, so we gave up and brought the rest of our belongings with us. Then, we had to decide how to get back to town.
There was no one to ask about the bus schedule, and online information was scarce.
There was also no taxi stand, nor anyone to ask to call a taxi, and neither of us wanted to rack up roaming charges.
So we decided to walk towards town on the icy highway and stick out our thumbs to any passing cars.
About five or ten minutes into our walk, an official looking vehicle pulled over for us.
My heart jumped to my throat for a second as I imagined the worst: hitchhiking is illegal and I just solicited a cop.
Lucky for us, our Good Samaritan ended up being a really really ridiculously good-looking fire ranger who drove us the 5 minutes to town and dropped us off at his favorite lunch place, Spis Mat & Dryck.
We warmed up and enjoyed a delicious buffet lunch for about 90 SEK, a little under $11 USD. Highly recommended!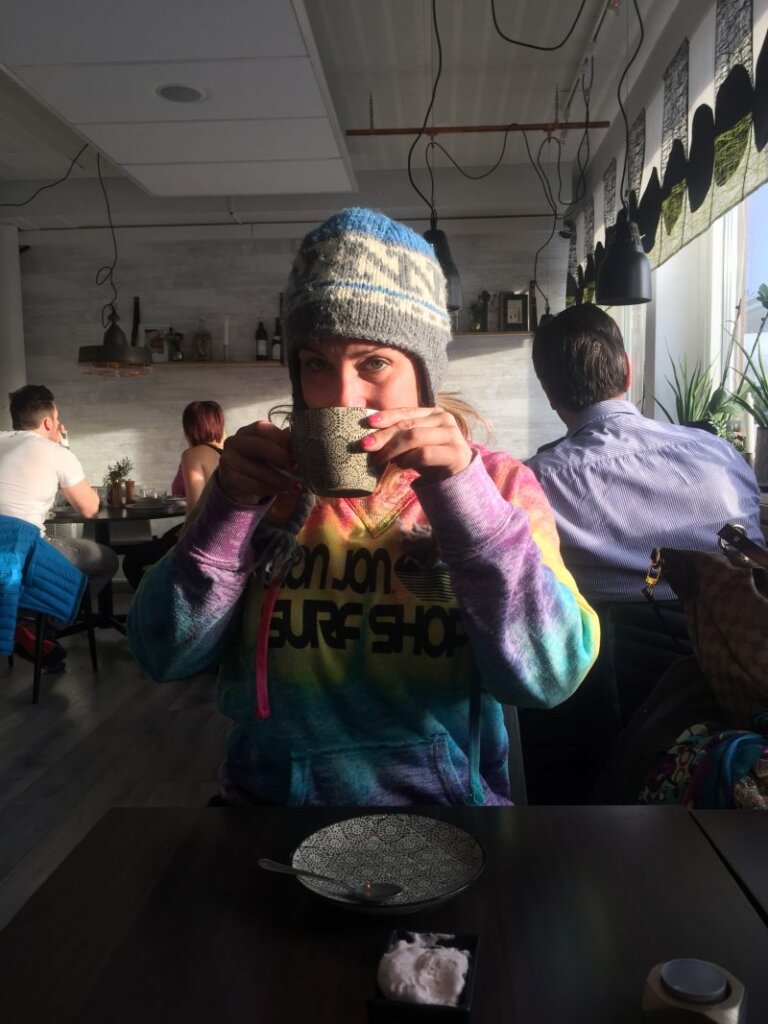 And we loved it. Kiruna is absolutely stunning in mid-February.
The fact that the sun never gets that high in the sky means that basically every hour of the day is golden hour, when the sun begins its descent towards the horizon and casts a beautiful glow on the world.
We walked to the church and marveled at its interiors, visited a cute little design shop, and decided to fika at Cafe Safari.
We asked them to call us a taxi to the train station, but they told us there was no need, that a free bus went from the town center to the train station every 20 minutes before the train.
We found the bus station, only to find a friendly bus driver who told us that the one bus that was scheduled to take us to the train had already left a few minutes ago.
OK, a taxi it is. We had 30 minutes to go 2 kilometers, which initially seemed like ample time.
Only when Good Samaritan #2 kindly called for us, every single taxi the town had was in use. Sh*t.
We began to panic. We decided to walk towards the road and hitchhike again – it had worked the first time…. right? Right?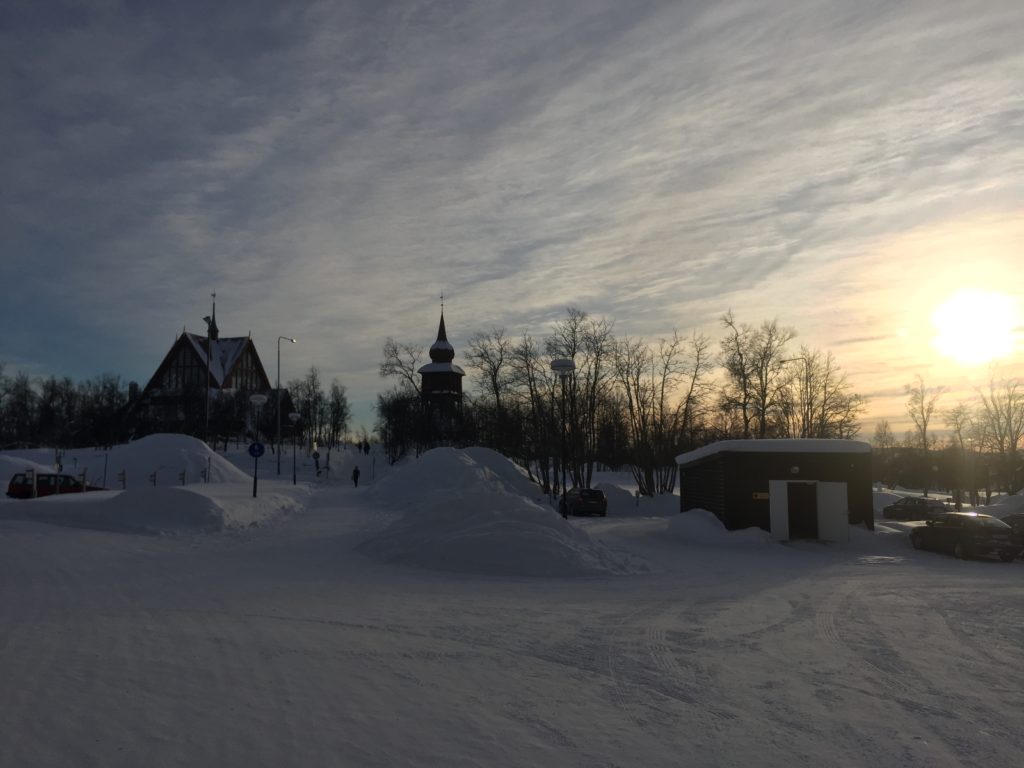 The bus driver called us over again, telling us he had an idea. He pointed to a bus on the street and told us to get on that bus, and ask them to let us off "near the train station."
He said it wouldn't bring us all the way there, but it would be close. We boarded and explained to the driver that we had missed our bus to the train station.
Good Samaritan #3 didn't even ask us to pay, which would have been yet another kink in our terrible transit plan, as we lacked small bills and coins of all kinds.
With about 7 minutes to spare, my trusty blue dot on Google Maps indicated we were incredibly close to the train station, and I looked at the bus driver and asked if this was it.
By way of answering, he stopped the bus to let us off and pointed to the train station, about 500 feet in the distance.
We started trudging as fast we could through the knee-deep snow in what only could have been someone's backyard (another thing to be grateful for: Swedes lack the American trespass-and-I'll-shoot mentality).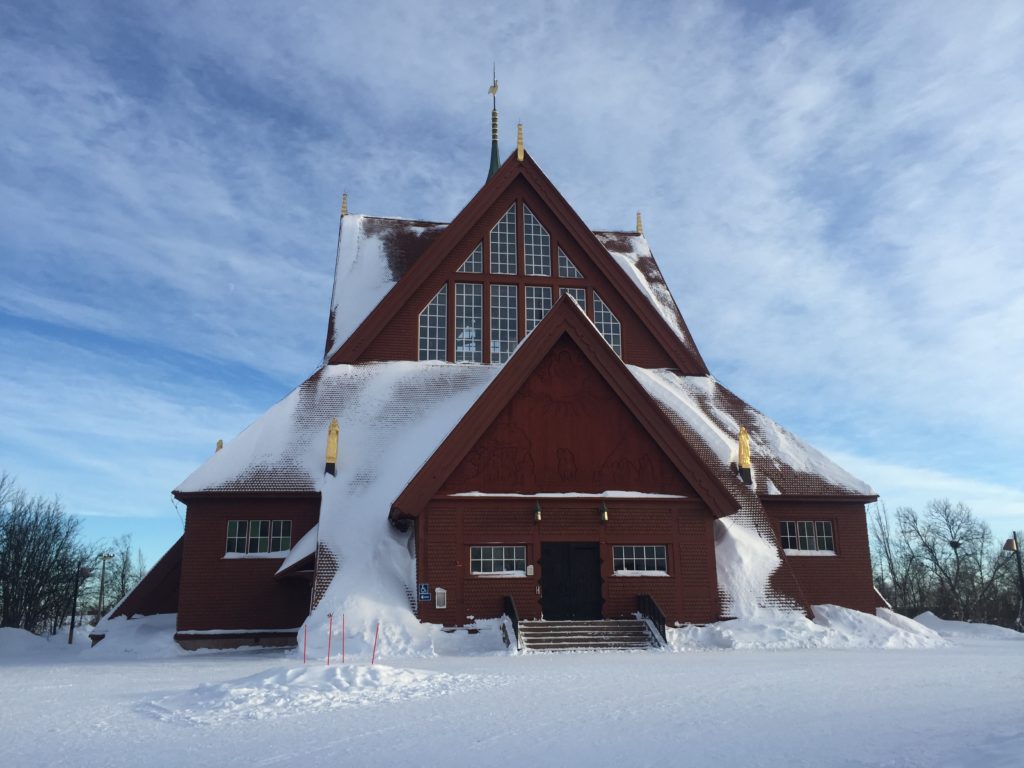 It was all going well, until the knee-deep snow suddenly became waist-deep snow.
We had reached the end of the packed snow and entered a drift of completely loose powder.
Each step in any direction just got us mired deeper and deeper in snow. A sort of animal energy crept into my blood, adrenaline pumping from the cold.
Motivated by the horror of a $200 taxi ride, I threw myself forward on my belly, scrabbling with hands (ungloved, mind you, because if the last thousand words haven't convinced you, I can be a bit of a fool) and knees towards the highway.
It was like the inverse of an oasis, seeking the one waterless spot in a sea of snow. My friend wasn't far behind me, literal Ironman that she is.
Hands tingling with cold, we threw ourselves over the final snow bank, bags first, then slid down on our backsides like penguins onto the highway. I never felt happier to be on solid ground.
We skidded across the icy two-lane highway into the train station, quickly collected her giant suitcase, and boarded the train, laughing deliriously in our soaked clothing and blowing on our needling fingers to warm them up.
How to Get from Stockholm to Abisko by Train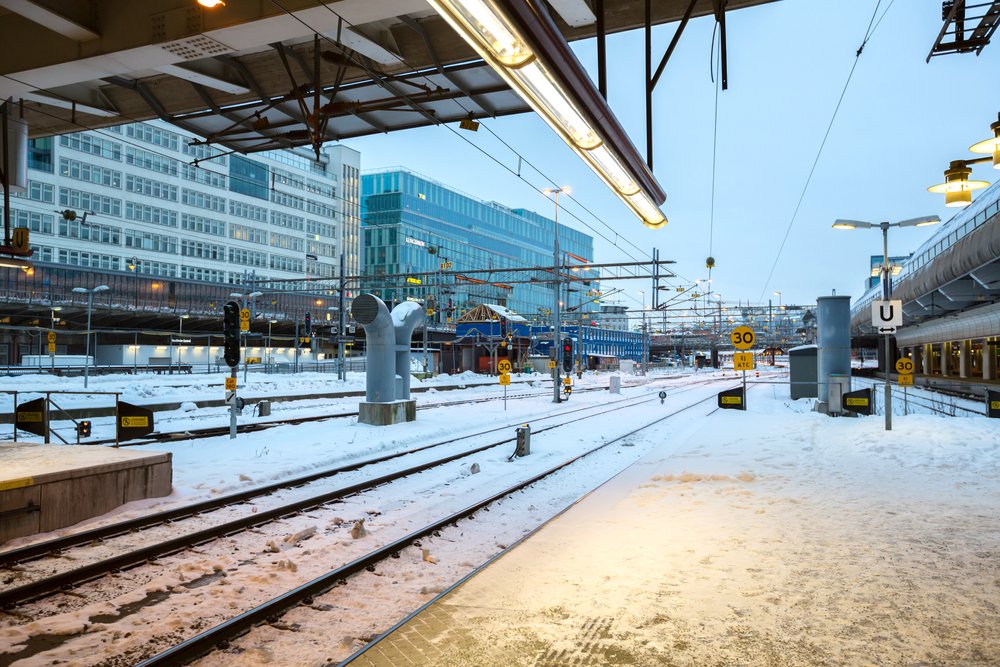 If you'd like to visit Abisko with less hysterics and risk of hypothermia, the easiest idea and the one I am kicking myself for not doing is by train.
On paper, taking the train from Stockholm to Abisko seems rather expensive.
It's around $100 USD for a compartment with a bed, depending on the exact exchange rate at the time and how far in advance you book).
It also seems time-consuming, but there are a few things to keep in mind.
For one, you are traveling overnight, which means that you save on a night's accommodation, which is no small impact on your Sweden budget.
Another is that you don't have to pay to get to the airport or to make the annoying connection between Kiruna Airport and Abisko, as the train will just drop you off straight in Abisko, making it the easiest option.
Plus, Swedish trains are quite comfortable, so it's easy to do an overnight train and get a good night's sleep and start your first day in Abisko off on the right foot.
As of 2023, there are two overnight trains that bring you to Abisko.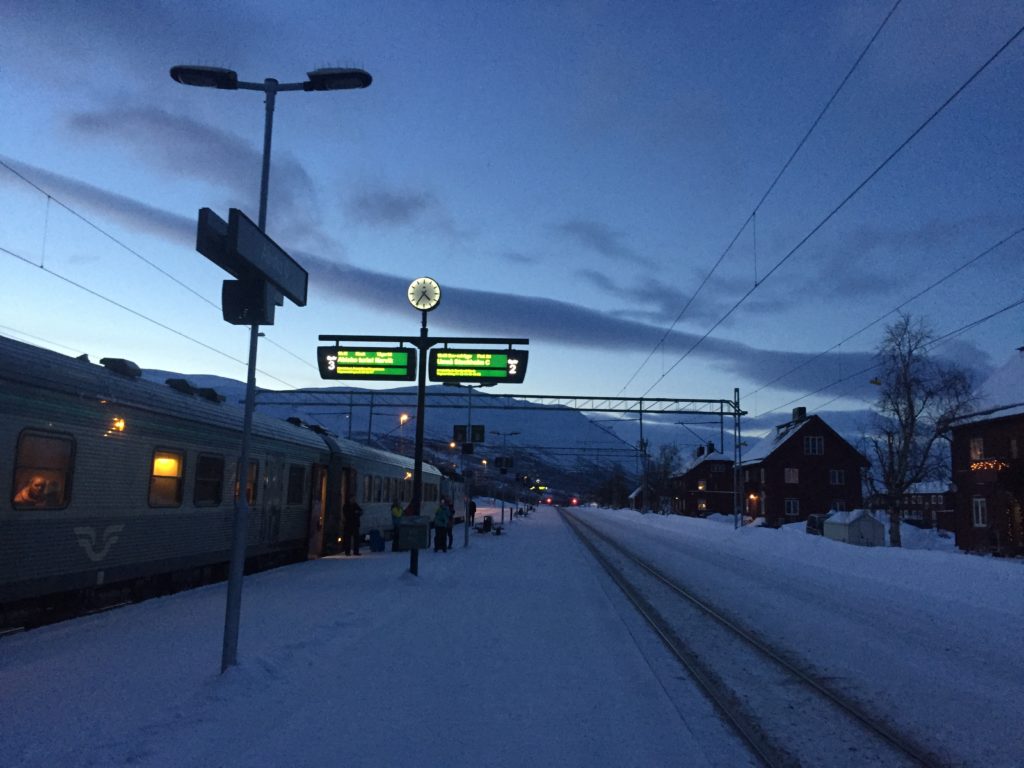 Note that there are two stops in Abisko, Abisko Ostra (where most hotels and guesthouses are) and Abisko Turiststation (where the STF hostel and national park is).
The first overnight train from Stockholm to Abisko leaves around 6:10 PM, arriving in Abisko Ostra at 10:30 AM, taking approximately 16 hours and 30 minutes. This train is direct and there are no transfers.
The other Stockholm to Abisko train leaves around 9:55 PM, arriving in Abisko Ostra just before 4 PM, taking about 18 hours as one transfer is required in Boden.
The tickets start around 100-105 Euros, but upgrading to a bunk in a couchette car is another 23 Euros or so — a fantastic use of money, I'd say.
🚂 Best Way to Book Trains in Europe: Omio

The way I look for trains in Europe is via Omio, which centralizes all the different rail and bus companies.

Their interface makes it easy to find the best, cheapest fare and book it through their platform (rather than trying to work out every country's train system platform, which can get frustrating and confusing).

➜ Check train availability from Stockholm to Abisko here
How to Get from Stockholm to Abisko by Plane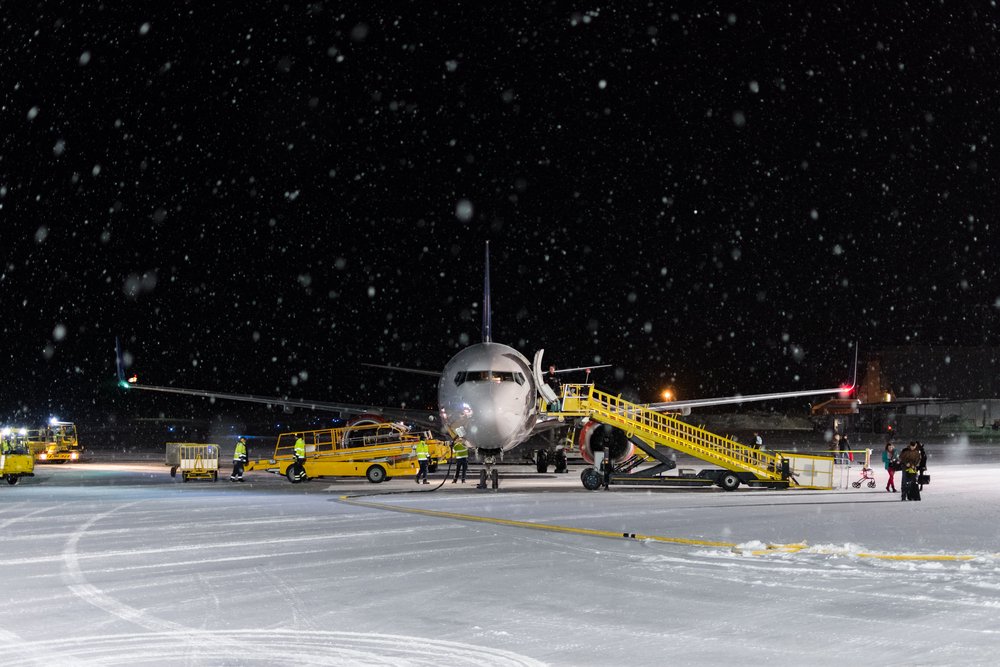 On paper, flying may look like the cheapest way to get from Stockholm to Abisko. Depending when you fly, flights on Norwegian can be as low as $69 one way and on SAS, around $109.
However, keep in mind that it can be a huge pain in the butt to get between Kiruna Airport and Abisko… so you will likely not actually save any money by flying.
While you will save time, it may not be much "active" time, as you'd likely just be sleeping a lot of the time that you'd be on the train anyway (especially if you book a sleeper car ticket).
The downside of flying to Kiruna in winter is well, you're trying to fly to the Arctic Circle in winter.
There's a non-zero chance that your flight will be canceled or delayed, whereas trains are more likely to be able to run in all sorts of weather conditions.
✈️ Best Travel Insurance: SafetyWing

I use SafetyWing Nomad Insurance for all my trips as it is both travel insurance (coverage for trip delays, cancellations, interruptions) and travel medical insurance (coverage for things like accidents, illnesses including Covid, etc.)

Plus, coverage is really affordable — for me, it costs roughly $11 USD for a week of coverage outside of the U.S., with a policy max of $250,000 after a deductible of $250. Not bad!

➜ Check SafetyWing for a quote here
So keep all those factors in mind when picking between the train and the plane for your Stockholm to Abisko journey.
I flew on each airline, one way on Norwegian and the other on SAS. Keep in mind baggage requirements, as this also may impact the cost of your journey and could be another point in favor of the train!
Were I to do it again, I definitely would have taken the train after enjoying a few days in Stockholm in winter.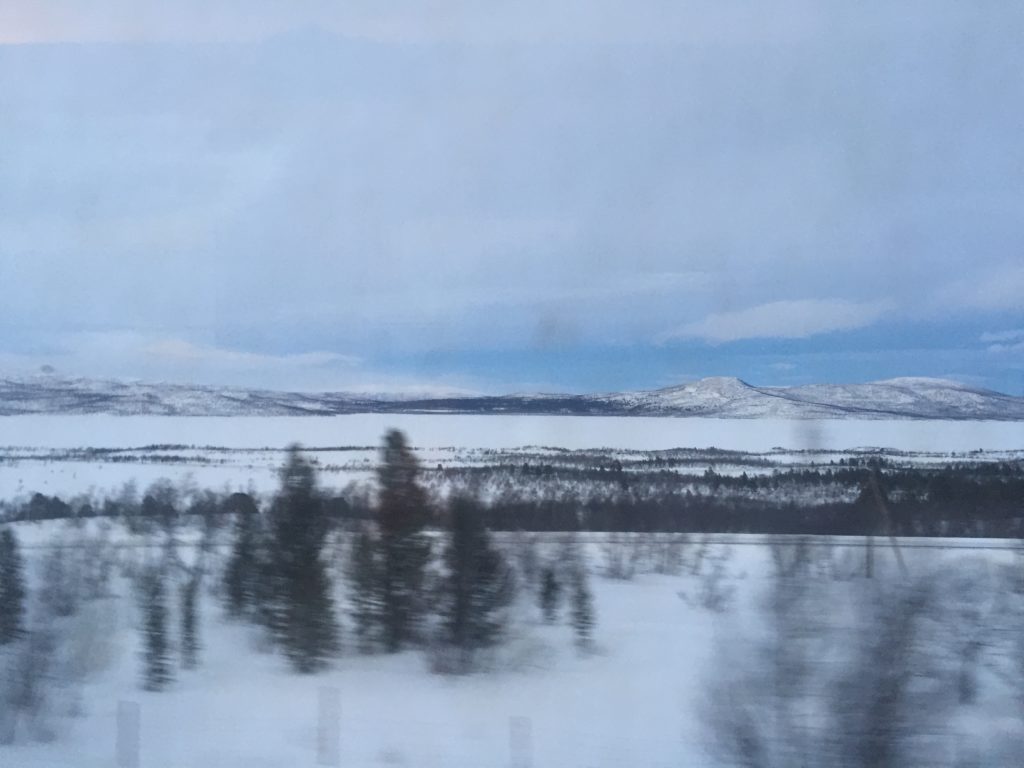 Once you arrive at Kiruna airport, you have four main choices for then getting to Abisko in winter.
1) Book a private transfer from the airport straight to Abisko. This will cost you about $215 USD for up to 4 people. If you are a party of 4 or more, this actually isn't a terrible option.

2) Book the Abisko bus for around $45 USD (449 SEK) per person. This is your best option if you are traveling solo and have no desire to see Kiruna. We took this on the way home from Abisko and it was super comfortable and convenient…. no snow drift navigation required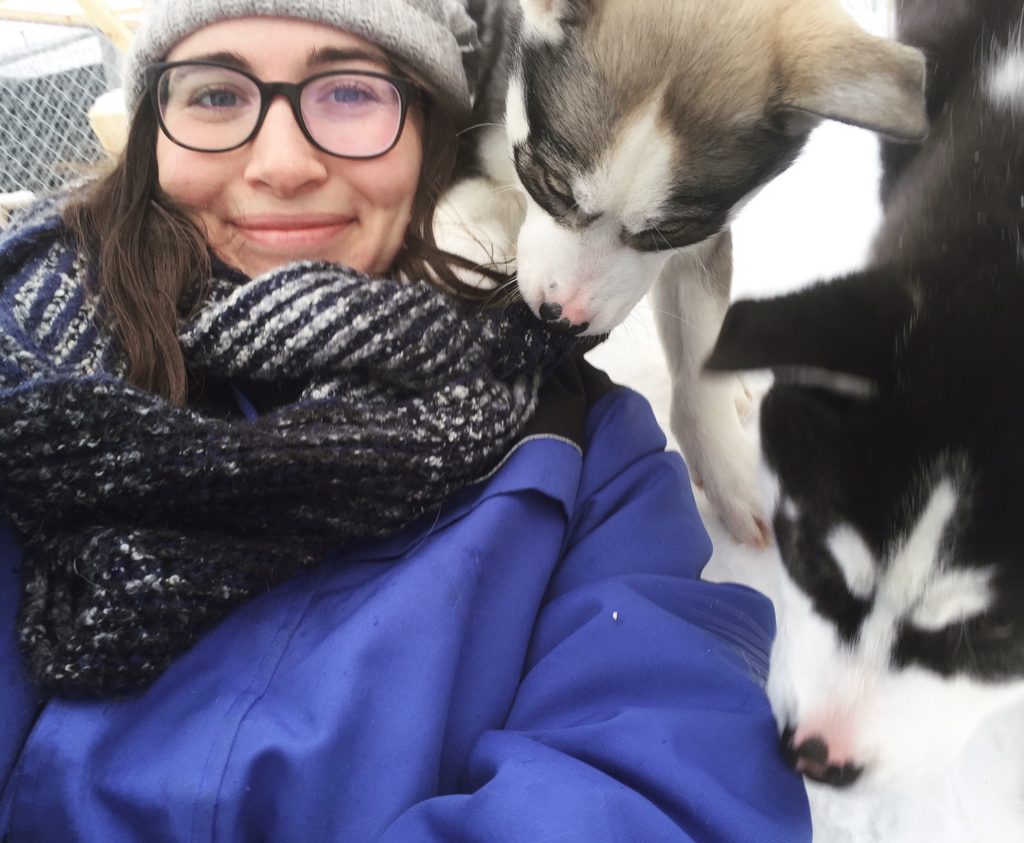 3) Rent a car and drive from Kiruna to Abisko. This isn't the cheapest option, but if you want to go Northern lights hunting independently vs. booking tours or to do independent day trips, this could be the most convenient. I use Discover Cars to find the best prices when searching for rental cars in Europe.
4) Travel via train from Kiruna to Abisko. Book tickets online for the train (about $8 USD per person, more expensive if you buy on board). You'll need to take a bus ($13 USD per person) or take a taxi (about $35 USD for up to 4 people) to downtown Kiruna.
From there, you can stay in Kiruna overnight and catch a train in the morning, getting the chance to enjoy Kiruna and spend the night in the largest city in Swedish Lapland.
Or, you can just spend a few hours there if your timing allows, but be sure to give yourself lots of extra time to get back to the train station.
It's only 2 km away, but it takes about 40 minutes to walk because it's basically a sheet of ice on a highway, so not the best place for speed-walking.
You will want to figure out the bus to the train station or call a cab well in advance… unlike us.
Where to Stay in Abisko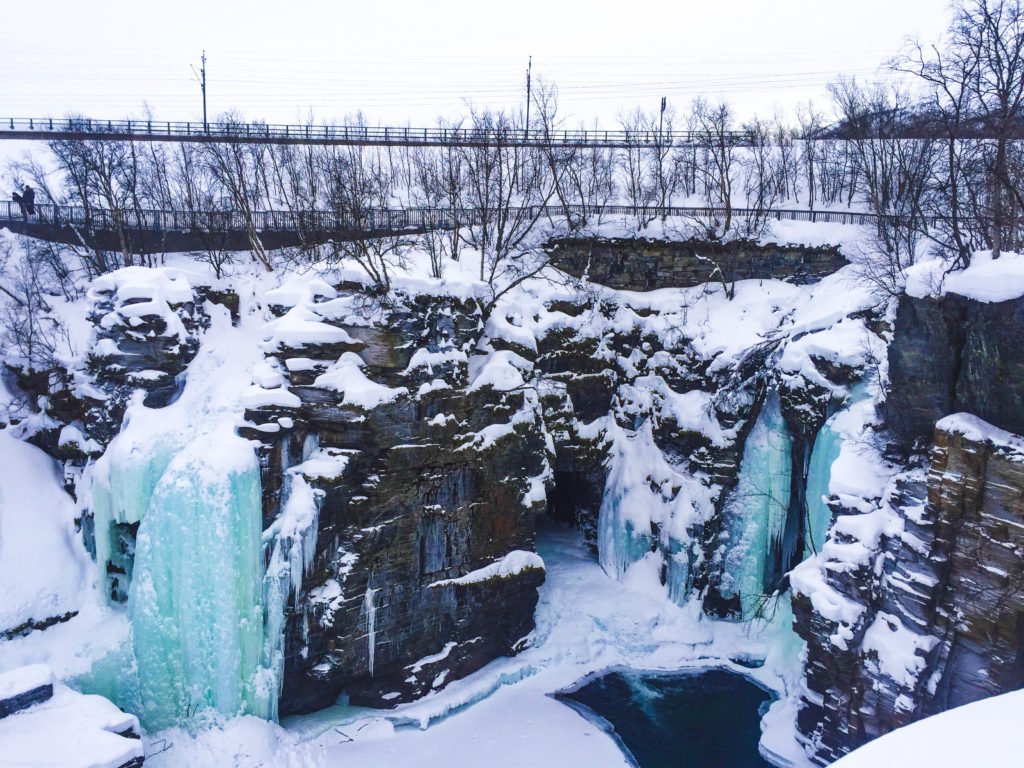 I personally stayed at STF Turiststation and can highly recommend it!
Their amenities are great: one but two incredible shared kitchens, a free sauna, and an incredible restaurant with excellent breakfast and lunch buffets (great value) and a high-end dining experience available for dinner.
Best of all, you're actually in Abisko National Park, where you're just a 10-minute walk from the frozen lake or ice-blue waterfalls frozen in time.
Talk about location, location, location!
While true luxury isn't really what Abisko is all about, I'd pick Abisko Mountain Lodge for a low-key but luxe stay in Abisko.
While STF Turiststation is great, it is more a traditional hostel in that it's mostly bunk bed rooms, with limited twin room options.
On the other hand, Abisko Mountain Lodge is more of a traditional hotel with a variety of rooms from singles to doubles and even full cottages that sleep four.
There's a sauna, the delicious Brasserie Fjällköket restaurant, a cozy lounge area, and breakfast is included with most rooms!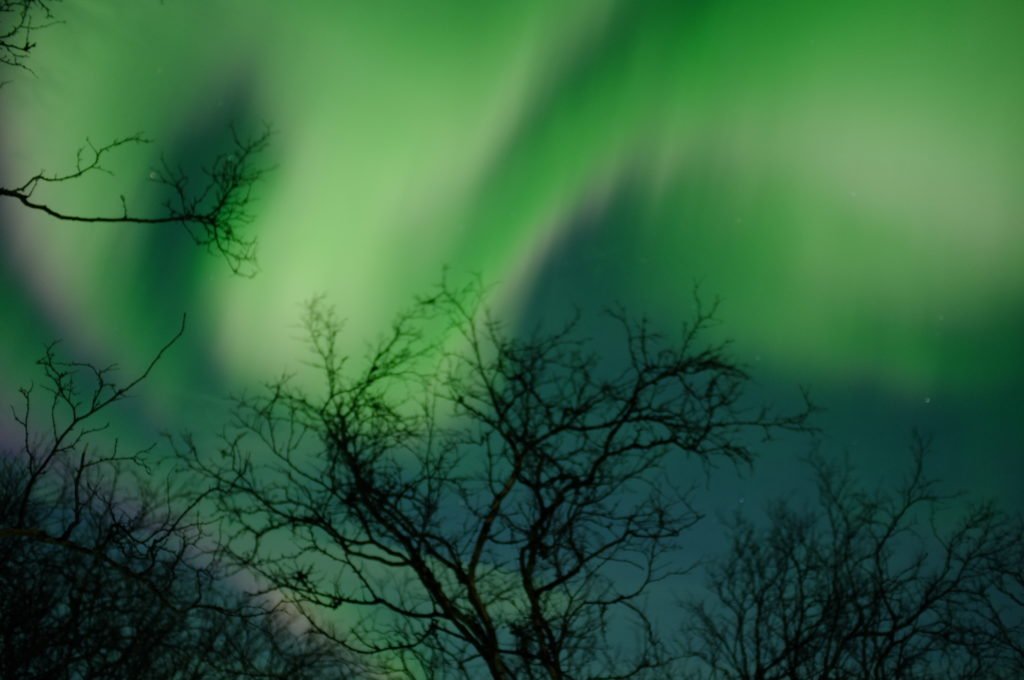 Want to stay on an actual husky farm? Abisko Hostel & Huskies is the clear choice here (as long as you don't mind a hostel!)
This is actually where I had booked to stay in Abisko in 2016; unfortunately, the hostel ended up having an unforeseen issue and wasn't able to host guests.
Luckily, they rebooked us at STF Turiststation, a more expensive place and with a better room, at no extra cost to me and gave us a transfer to STF from Abisko Ostra for free.
That sort of above and beyond mentality was really encouraging, and while I didn't get to see their facilities firsthand, I loved the dog-sledding tour I did with them!
What to Do in Abisko
I have a full guide to the best things to do in Abisko in winter here, but I'll list my five favorite ideas below!
Packing for Abisko
I have a full guide to what to pack for Sweden in winter here!
Here's a quick summary of my top 5 essentials:
Allison Green is a former educator turned travel blogger. She holds a Masters in Teaching and a B.A. in English and Creative Writing. Her blog posts merge her educational background and her experience traveling to 60+ countries to encourage thoughtful travel experiences that both educate and entertain. She has been a speaker at the World Travel Writers Conference and her writing, photography, and podcasting work has appeared in National Geographic, CNN Arabic, CBC Canada, and Forbes, amongst others. Now based in the San Francisco Bay Area where she grew up, she has also lived in Prague, Sofia, and New York City.