Picture this: warm sandy beaches, striking natural beauty, and gorgeous coastlines as far as the eye can see.
If this sounds like a dream come true, then read on, and learn about one of Europe's most perfect summer vacation destinations, the Algarve.
The Algarve is the southernmost region of Portugal and the country's most popular summer destination.
The region draws thousands of visitors each summer, especially from Northern European countries, and for good reason! I'd want to escape those frigid winters too.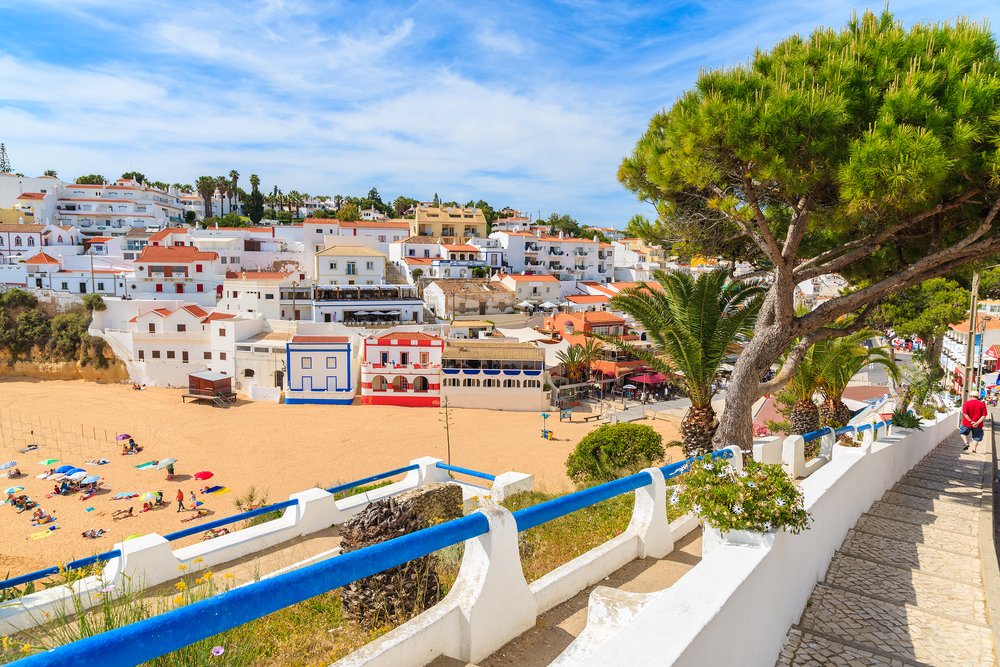 Note: This post contains affiliate links, which means I may receive a small commission if you purchase something through one of these links. Thank you for supporting the free content on this site! For more information on affiliate links and cookies, see my disclosure page for more details.
The Algarve is blessed with beautiful weather almost year-round, with hot summers and pleasant winters.
Dramatic coastline, wonderful sandy beaches, unique rock formations, and charming seaside towns make the Algarve a must-see European destination.
I visited the Algarve twice while living in Lisbon, and was absolutely delighted to explore its beautiful towns and stunning beaches.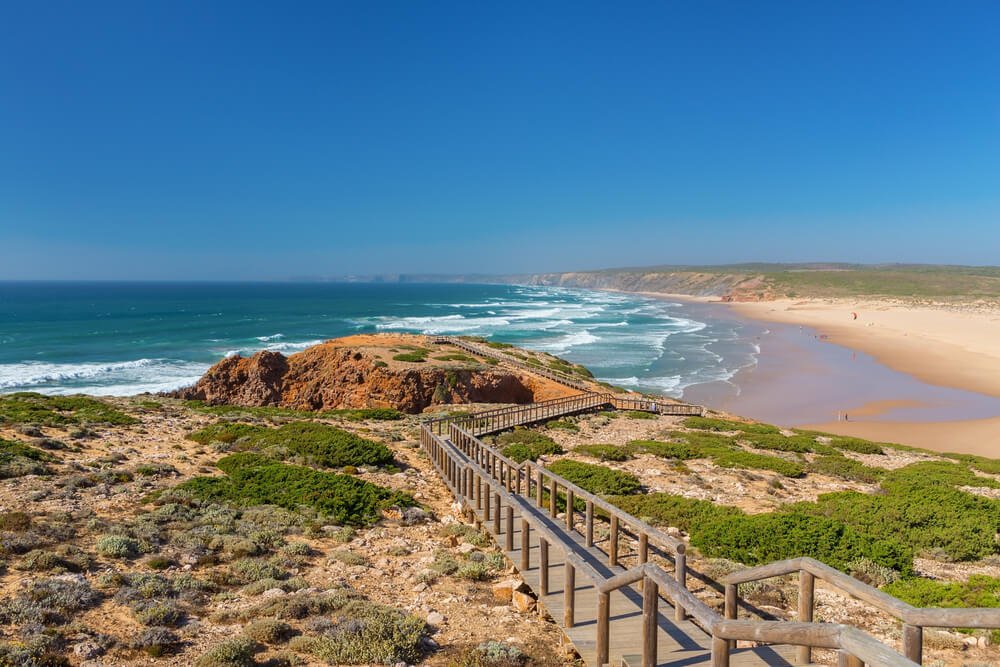 On these trips, I also explored the lovely Alentejo region between Lisbon and the Algarve, which is just full of hidden gems well worth a quick detour on your way to the Algarve's sunny shores.
What better way to explore this lesser-known region of Portugal than a road trip?
This Lisbon to Algarve itinerary will guide you through the highlights between Portugal's capital and the popular Algarve.
My Top 3 Algarve Experiences
Things to Know Before Doing a Road Trip from Lisbon to the Algarve
Before diving into this itinerary for a road trip from Lisbon to the Algarve, let's cover some of the basics.
Driving from Lisbon to the Algarve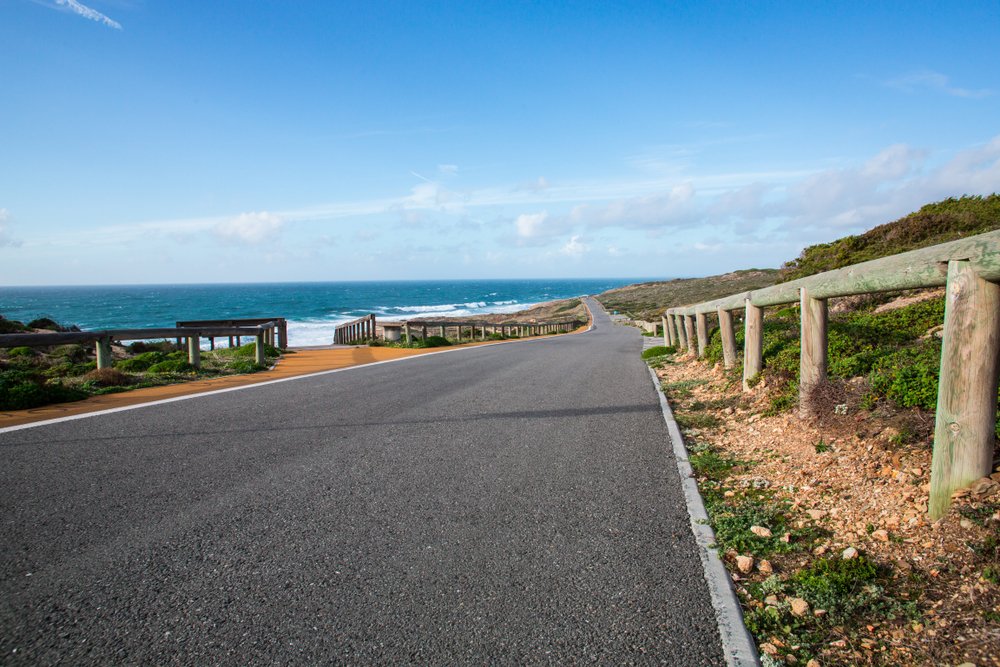 Let's start with some good news: the scenic drive from Lisbon to the Algarve couldn't be easier.
The roads are in good condition, and you can find your way around with the help of Google Maps or any other navigation app.
As an international traveler, you'll want to ensure you meet the document requirements to drive in Portugal.
US citizens don't need an international driving permit for Portugal, but citizens of other countries may need this.
In any case, nearby countries like Spain require the IDP of all foreign drivers, so it might be worth looking into it if you're looking for adventures beyond Portugal.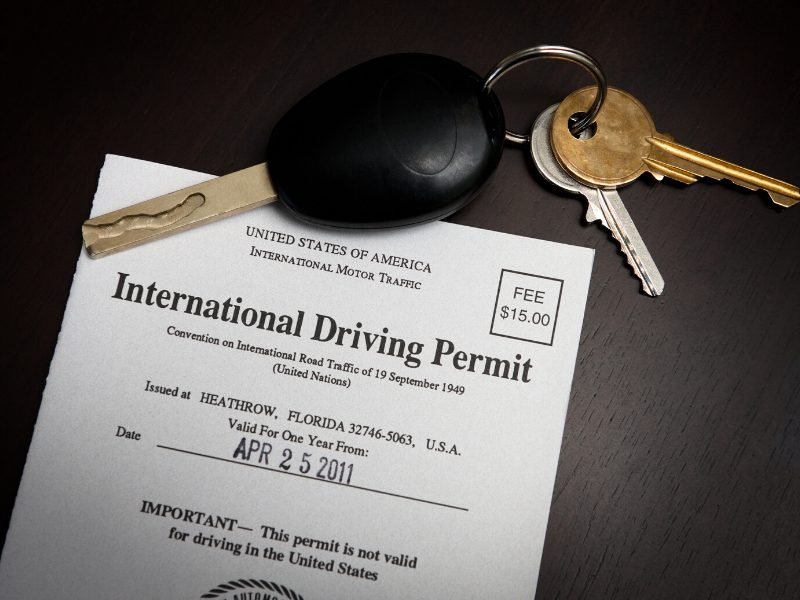 The biggest thing to keep in mind when driving in Portugal is the toll roads.
For the most part, it's fairly easy to pay tolls as you go. Most toll booths will take cards too, but always carry some cash, just in case!
If you're looking for an easy way to avoid any toll road issues, go ahead and get a Via Verde transponder in your rental car.
This system allows you to pass through toll booths without paying anything at the booth. All tolls are automatically collected from your credit or debit card.
Renting a Car in Portugal
Tip: I have a full guide to renting a car in Portugal here — but here's the the quick tips
When looking for a rental car, I always use Discover Cars to search for the best deal for multiple reasons.
I also always search from the airport as my pick-up destination, because the prices are usually the best here… inside the city center, it can be a lot pricier.
It's also best to plan to return to your original pick-up point via car to avoid hefty one-way fees!
Tip: Make sure you book your car rental with full coverage insurance for peace of mind — it starts at only $7 per day, cheaper than you'd get at a rental agency!
🚗 Best Portugal Rental Car Prices: Discover Cars

This search engine not only looks at the typical rental car agencies (which can be $$$), it also looks at local, small Portuguese rental agencies that may offer better deals. Their pricing is straightforward (no bait-and-switches) and they offer free cancellation if you need it.

➜ Check rental prices in Lisbon with Discover Cars here!
Best Time for a Lisbon to Algarve Road Trip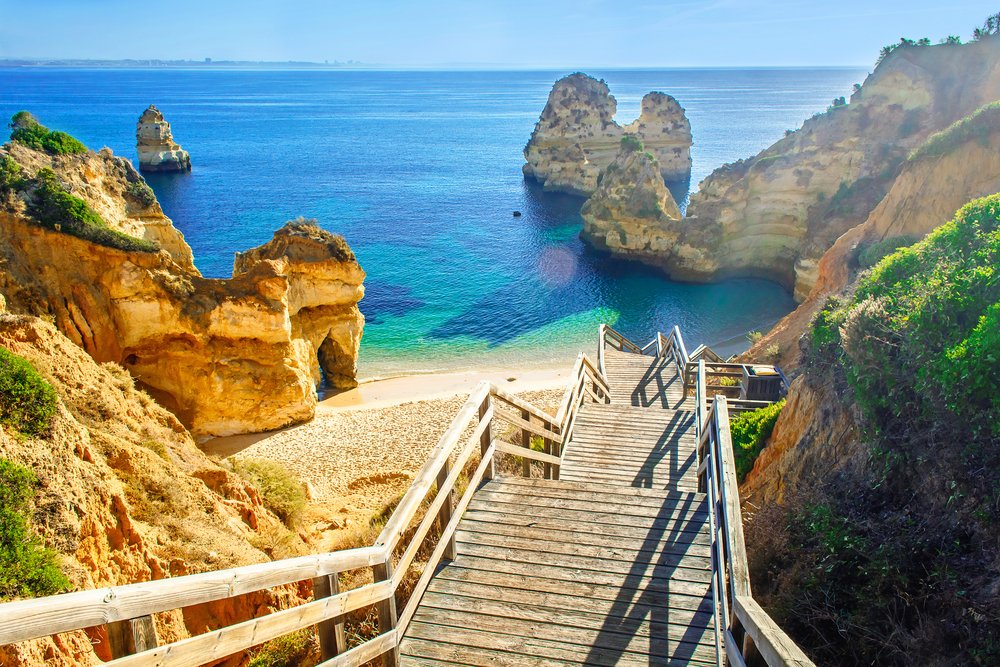 As you can probably imagine, with its gorgeous beaches and beautiful landscapes, summer is the most popular time for visiting the Algarve.
From June to September, the whole region can get quite crowded with international visitors, so if you're looking for a less hectic experience, be sure to plan your trip outside these months.
With that said, the shoulder seasons are the best options for a road trip from Lisbon to the Algarve, especially mid-March to May, or October.
You'll find nice weather to enjoy the beaches of the Algarve, all while avoiding traffic along the way and crowded attractions at your destinations.
You could even do this road trip in winter, but I'll be honest, it's not the best time to really appreciate the Algarve. While the weather's usually pleasant for walking around, you won't be able to enjoy the beaches, which are the region's highlights.
How Long Does it Take to Road Trip Lisbon to the Algarve?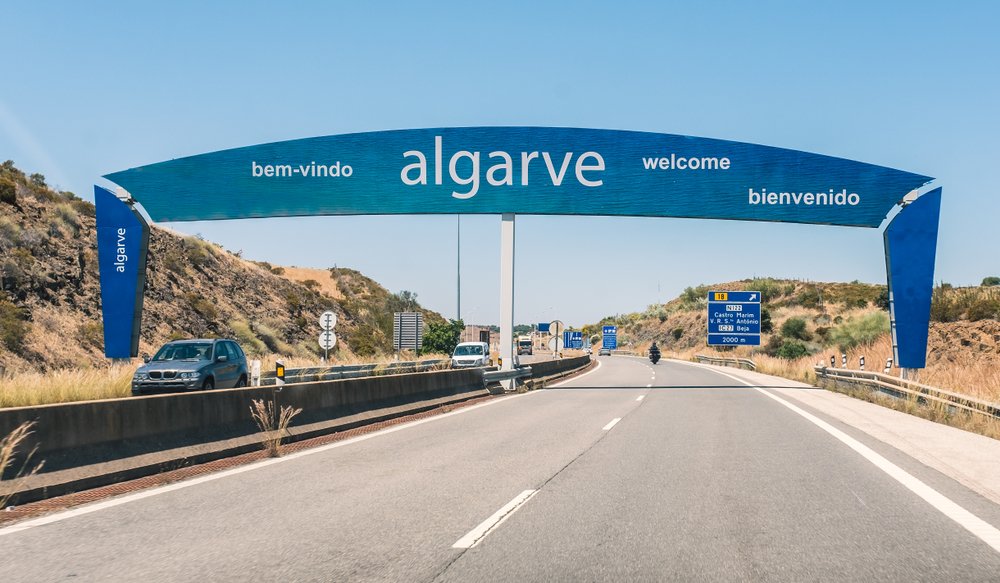 How far is Algarve from Lisbon? The short answer is it depends!
If you take the trip in a straight shot, driving from Lisbon to the Algarve can be a fairly short journey.
Without stops, you can complete the Lisbon to Faro drive in a little under three hours.
If your goal is the western Algarve, you can get to Lisbon to Faro by car in just around three hours as well.
However, that speed would come at a high cost, as you would be missing many gorgeous places along the way.
For just a couple examples, you'd be missing the Setúbal Peninsula, the city of Évora, and the spectacular coastline of the Alentejo region.
If you can't pass up a good detour or three, taking two days can be the perfect amount of time to drive from Lisbon to the Algarve, with an overnight stop in Évora and some time to explore Alentejo.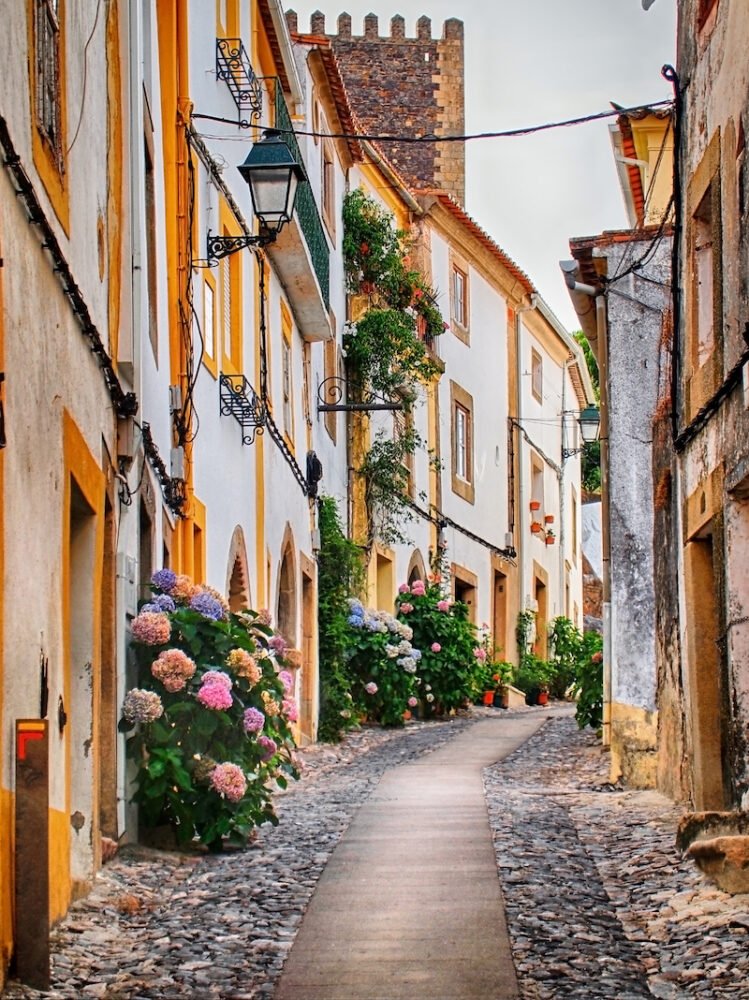 Many people tend to drive straight to Lagos, Albufeira, or Faro, skipping the westernmost part of the Algarve… which is one of my favorite parts of the region!
However, this Lisbon to Algarve itinerary includes a third day to see a path less taken, and some of the amazing sights this Algarve route has to offer.
If time's not an issue and you're still hungry for more adventures, you could even take longer than three days to road trip Lisbon to the Algarve.
The Alentejo region is home to some of the wildest and most spectacular beaches, so you could plan a few extra stops along the way and really enjoy some luxurious time on their sunny sands!
This itinerary includes the stops you should not miss between Lisbon and the Algarve.
Depending on the season and weather, you may want to skip some beaches, but be sure to stop by Évora, Sines, and Sagres.
Day 1: Lisbon to Évora
Drive from Lisbon to Costa da Caparica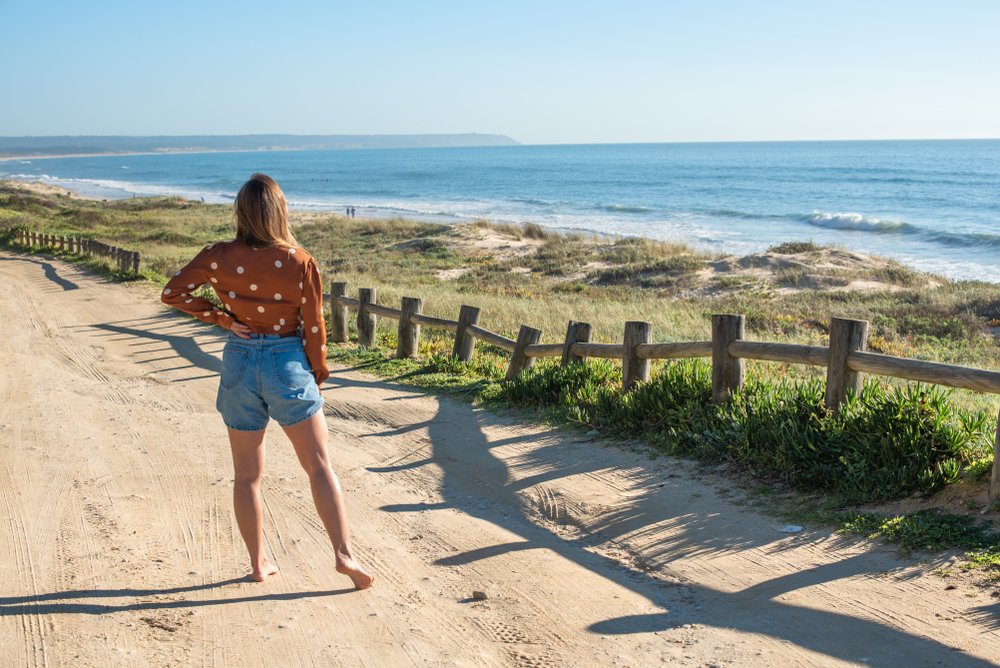 Start your Lisbon to Faro road trip off on the right note with a quick drive from Lisbon across the river to Costa da Caparica.
The cozy little coastal town boasts a long beach with a lovely promenade. In summer, Costa da Caparica is a popular beach destination.
If you're traveling during the off-season, it's still a lovely place to go for a walk along the ocean and have a coffee while admiring the view.
The long sandy beach continues south for roughly 30 kilometers until the estuary of Albufeira Lake.
Have breakfast, spend some time strolling along the beach to stretch your legs, then get ready to drive south to your next destination.
Drive to Cabo Espichel.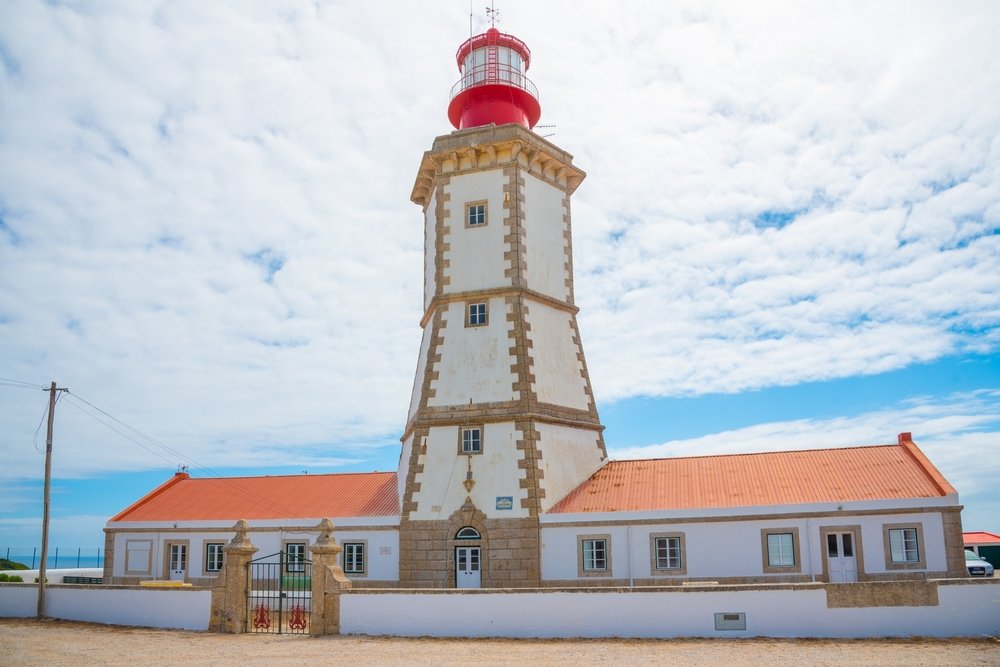 From Costa da Caparica, drive to Cabo Espichel, a stunning headlands area overlooking the Atlantic Ocean with a historical lighthouse and beautiful church.
The observation point at Cabo Espichel offers spectacular views of the dramatic coastline and the gorgeous Praia dos Lagosteiros.
Spend some time walking around the lighthouse and visiting the Santuario de Nossa Senhora do Cabo Espichel.
The area is a bit isolated, but the views are breathtaking. Just be sure to bring an extra layer, as it can get very windy!
Explore Sesimbra.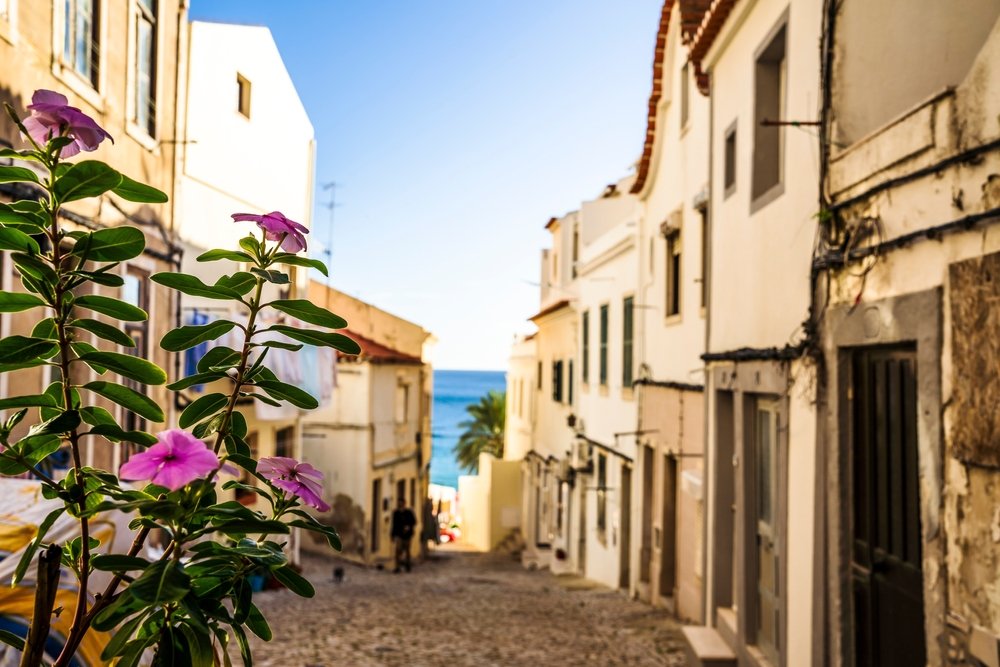 From Cabo Espichel, it's only a short drive to the small and charming seaside town of Sesimbra.
A truly unique destination, the town lies within the Arrábida Natural Park, a protected coastal park occupying the south of the Setúbal Peninsula.
The natural park is known for its lush vegetation and gorgeous secluded beaches, such as Praia do Ribeiro do Cavalo, Praia de Galapinhos, and Praia da Figueirinha.
The beaches are popular among locals but not extremely crowded due to the complicated access of its out-of-the-way beaches.
However, if you're up to the challenge, you can take in the beautiful expanse of nature without all the crowds!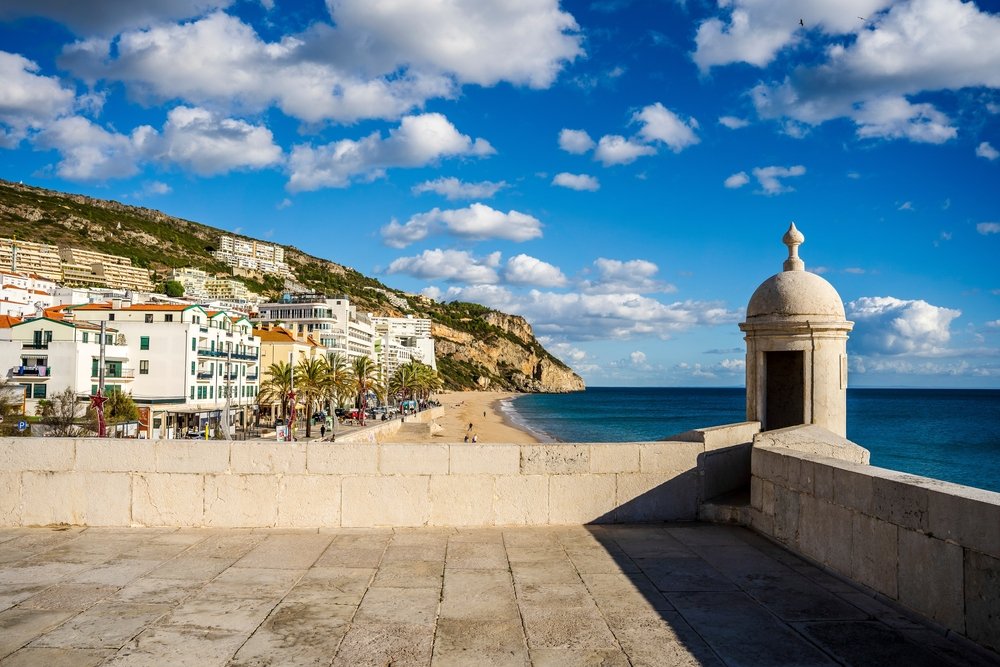 While you're in Sesimbra, be sure to spend a couple of hours exploring the small town, checking out the views from the Forte de Santiago de Sesimbra, and visiting the hilltop Sesimbra Castle.
Access to the historical monuments is free, but bring some cash if you want to stop at the castle's café.
If you decide to stay for lunch in Sesimbra, you absolutely have to try the Portuguese specialties at Casa Mateus.
If you don't eat fish or meat, Aloha Café serves tasty vegetarian dishes and has a lovely terrace overlooking the sea.
Stop by Setúbal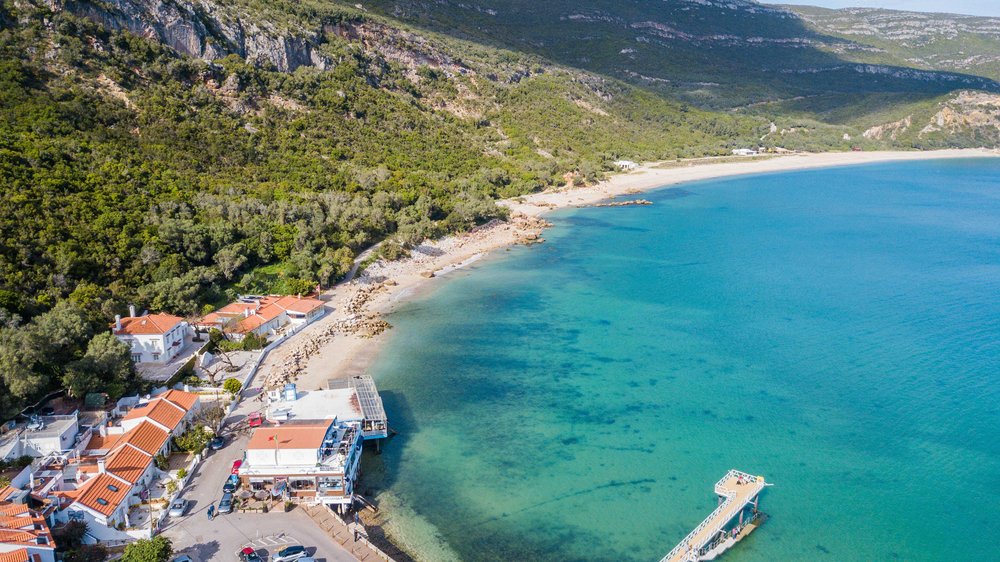 From Sesimbra, make your way along the coast to Setúbal.
Along the way, as if the views from the road weren't enough, you can stop by the picturesque little bay of Portinho da Arrábida.
If you didn't eat back in Sesimbra, or just want to have a bite in a quaint place with gorgeous sea views, stop by O Farol.
Keep on driving for roughly half an hour until you reach Setúbal. The city is quite big, but you can explore the historical center in around an hour.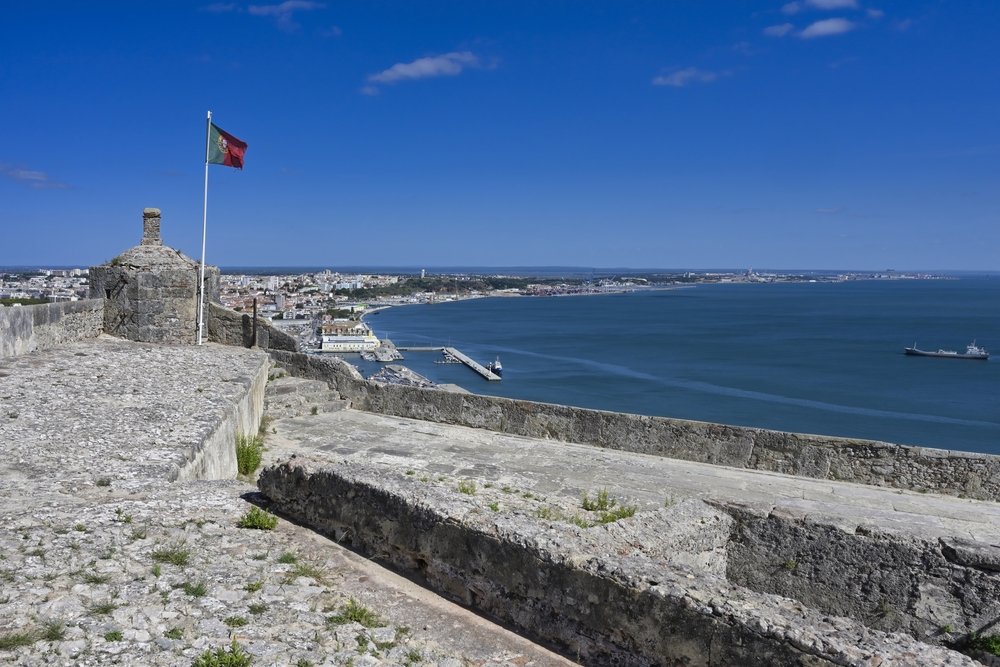 First, stop by Forte de São Filipe, a 16th-century castle overlooking the city, and check out the beautiful chapel covered in the traditional Portuguese azulejos.
The entry is free, and the lovely on-site café is perfect for a coffee with a view.
In Setúbal, stroll through the port, check out the colorful dolphin sculptures, and visit Our Lady of Grace Cathedral.
If you have extra time, check out Praça do Bocage with its lovely Church São Julião.
Drive from Setubal to Évora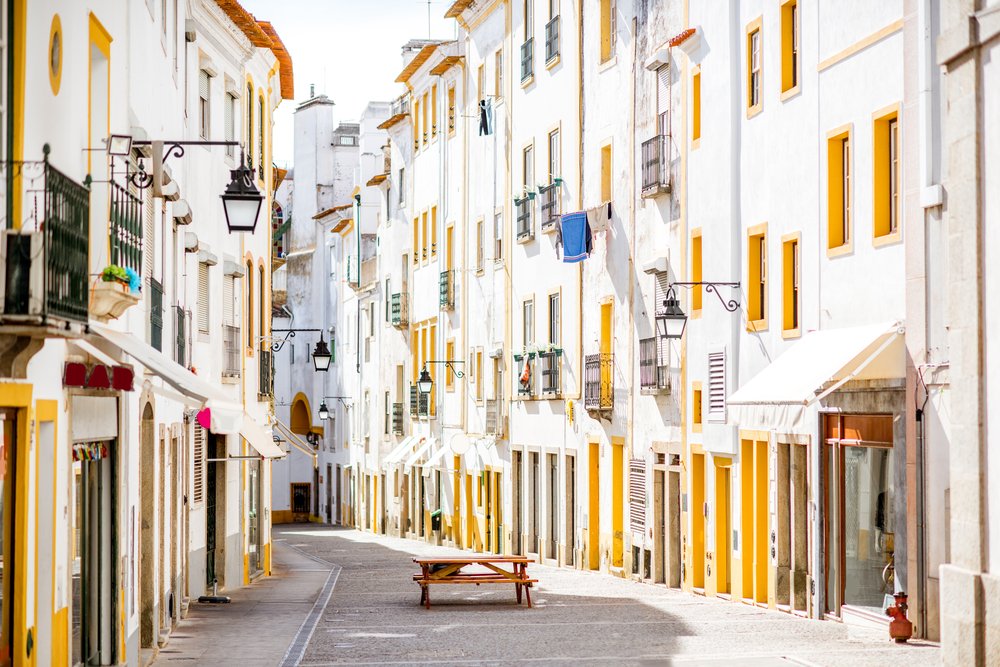 From Setubal to Évora, driving takes roughly an hour.
You'll likely get to Évora in the afternoon, giving you a bit of time to explore the city before dinner.
Évora is best known for its well-preserved ancient Roman temple, also known as the Temple of Diana.
The beautiful temple is within Évora's historical center, which became a UNESCO World Heritage Site in 1986.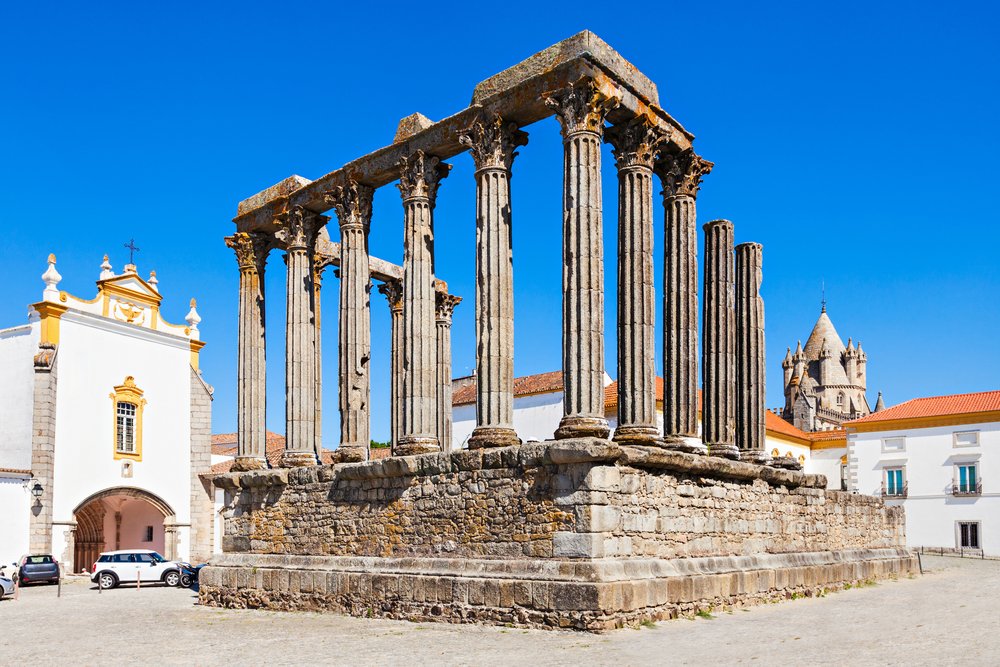 The Roman Temple of Évora is in a square near the cathedral, and there's no fee to enter so you may as well check it out!
The temple dates to the 1st century CE and was built in what used to be the city's main public square.
Over the course of the Middle Ages, the temple was incorporated into the structure of a castle, but in the late 19th century, the medieval structures were demolished and the temple restored to its former beauty.
After admiring the temple, explore Évora's stunning historical center.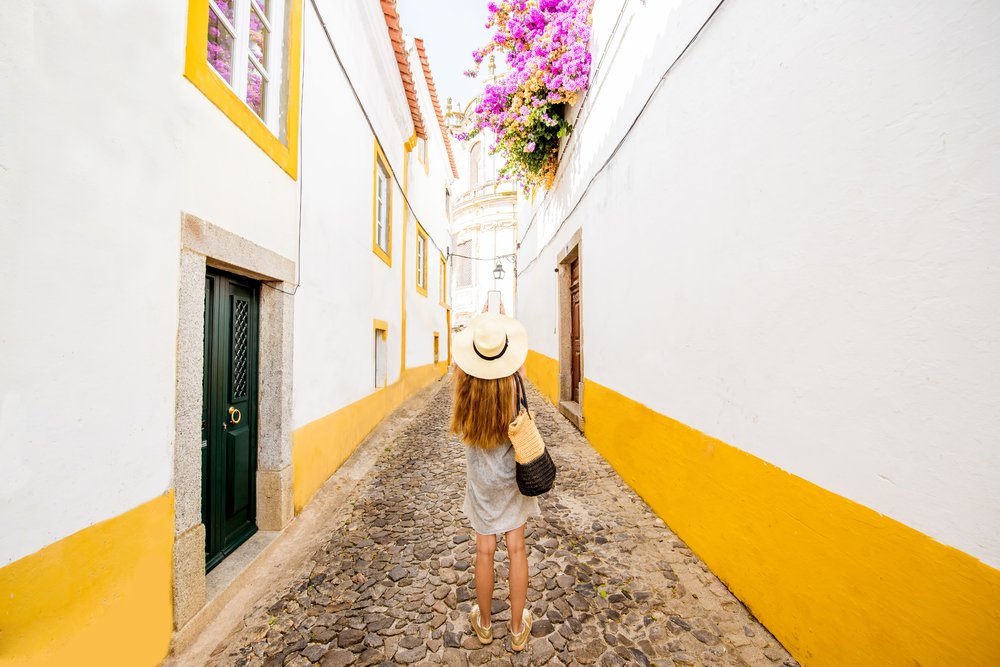 You will likely arrive too late to enter any of the monuments, but you can walk around and visit everything the following morning.
Discover the lovely Praça do Giraldo with its iconic fountain and the Santo Antão Church and go for a stroll in the charming park Jardim Público de Évora.
Grab a delicious Alentejan dinner in Évora.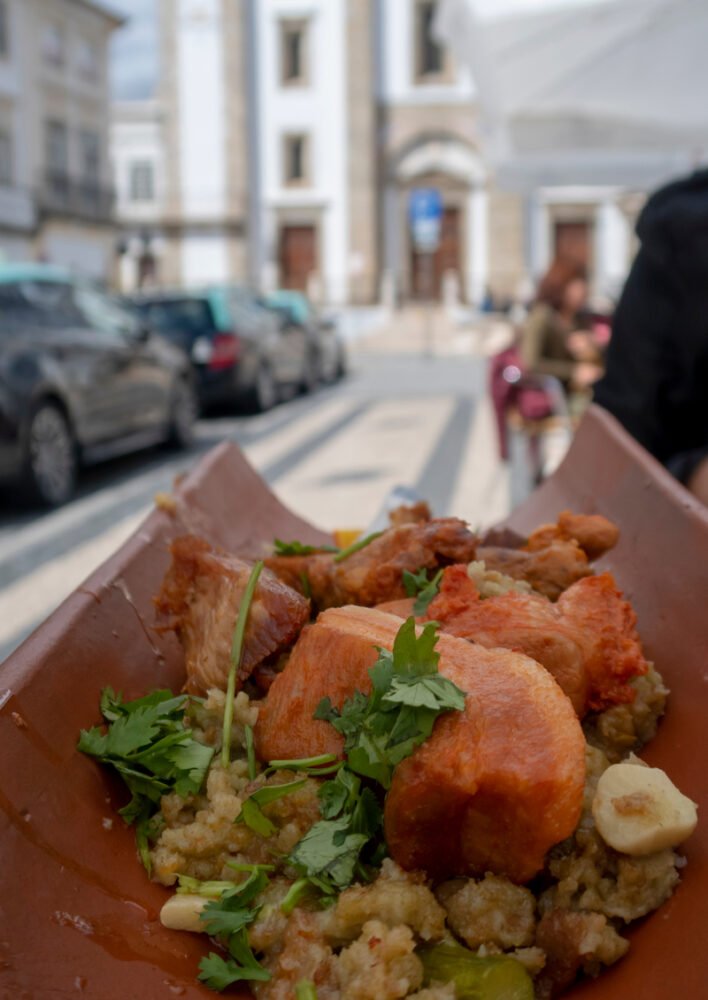 After that, go ahead and check into your accommodation for the night and head out for dinner.
Lucky for you, Évora is a great place to try Alentejo's cuisine!
Check out TascaTosca & Wine Restaurant or the lovely outdoor terrace at Páteo.
Migas de porco preto (black Iberian pork) and favada real de caça (bean stew with meat) are among the most traditional dishes, and they're both delicious.
For the vegetarian traveler, Açorda à Alentejana is a great option.
Day 2: Évora to Sagres
Visit Évora's landmarks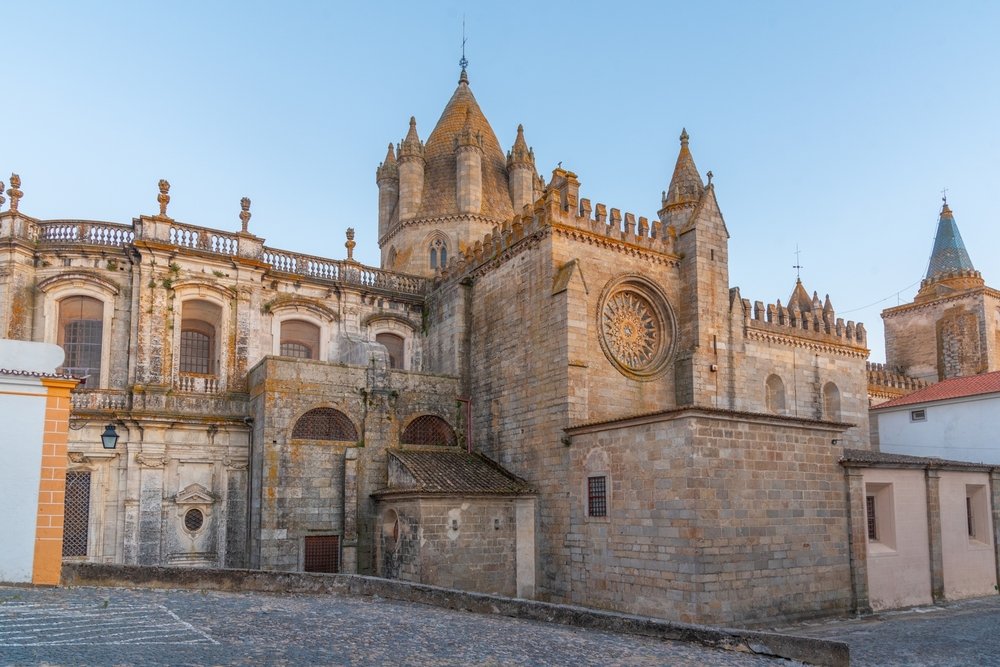 After a good night's sleep, it's time to spend the morning of your second day visiting Évora's key landmarks.
The first place to visit is the Cathedral of Évora, a stunning cathedral that took centuries to finish.
Construction started in 1280 but wouldn't be finished until 1746! As a result, you'll find an eclectic blend of architectural influences that reflect its many centuries of renovations and additions.
For just €4.50, you get full access to the cathedral, the museum, the cloisters, and the rooftop, which offers sweeping city views — not a bad deal at all!
Next, head to the Church of St. Francis, better known for housing the Chapel of the Bones.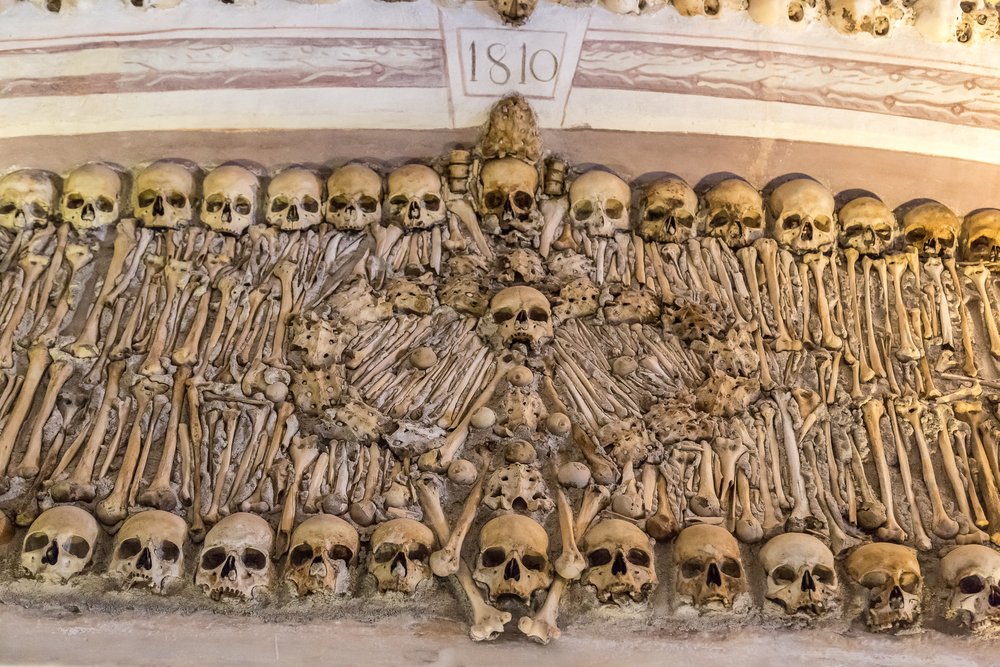 Truly a macabre sight to behold, the interior of the small chapel is covered with human bones belonging to five thousand skeletons!
These skeletons were exhumed by the Franciscan monks during the medieval times to free up the land taken up by cemeteries.
After that grim bit of local history, you can visit the beautiful Gothic church and the monastery on the same site.
All these sites are included in a mere 6€ entry fee which also includes access to the terrace and the museum.
Although the bone chapel is the main attraction, don't miss the other areas of the church!
Drive from Évora to Sines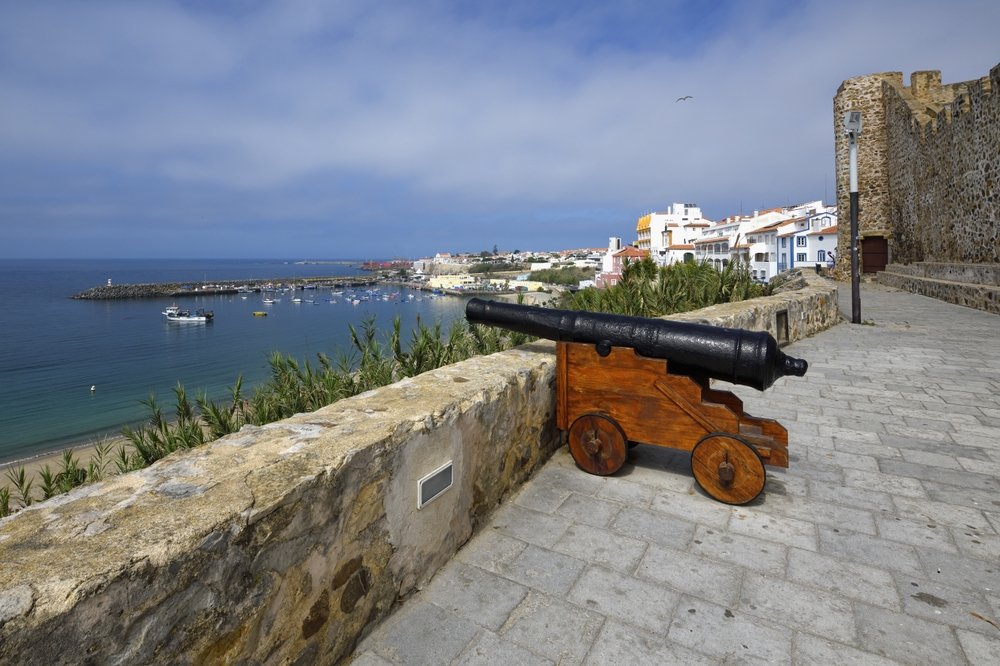 After visiting Évora's key landmarks, it's time to keep driving south toward the Algarve.
Your first stop along the way is Sines, a city on the coast of Alentejo, around 1.5 hours from Évora.
The city is home to long sandy beaches and a charming historical center, as well as several attractions worth stopping by and giving yourself a break on this drive from Lisbon to Algarve.
You can visit the castle of Sines for free and admire the lovely sea view from its terraces.
Within the castle, you can also check out the collection of the Sines Museum.
Sines is better known as the birthplace of Portuguese explorer Vasco Da Gama, whose statue stands looking out to the sea next to the Castle of Sines.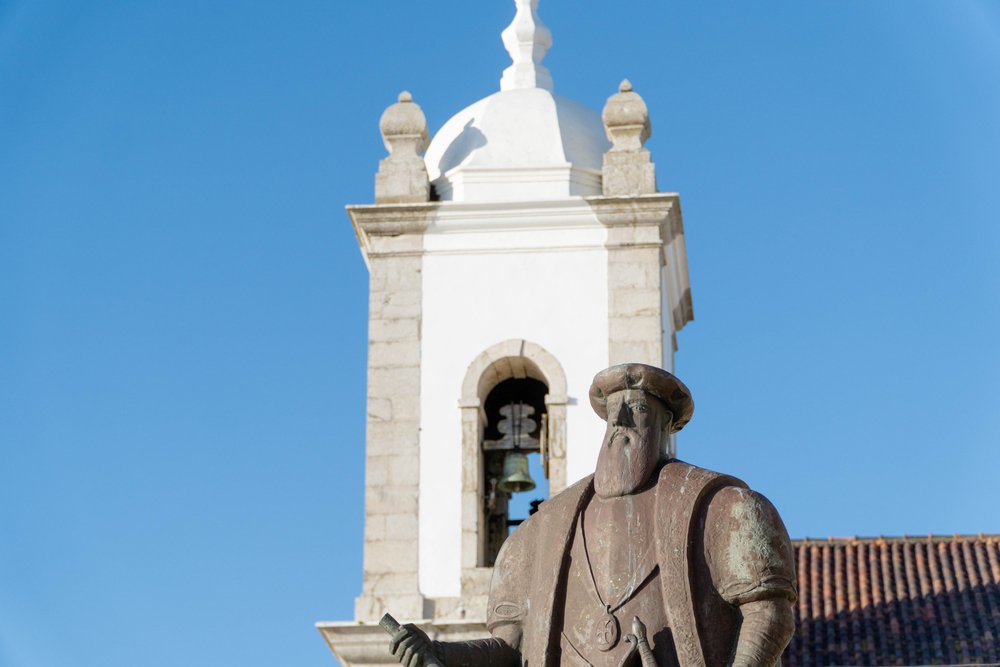 The main beach by the city center is also dedicated to Vasco da Gama. Go for a stroll, or lie out in the sun for an hour or two if the weather is nice.
Spend any extra time exploring the historical center of Sines and stop for lunch.
For a delicious meal, you've got a couple great options – you can have an authentic meal at the family-run little restaurant Adega de Sines or try the vegetarian dishes at Veg&tal.
If you have extra time after lunch, drive to the lighthouse, Farol de Sines, and check out the coastal view.
Stop in Azenha do Mar and Bordeira.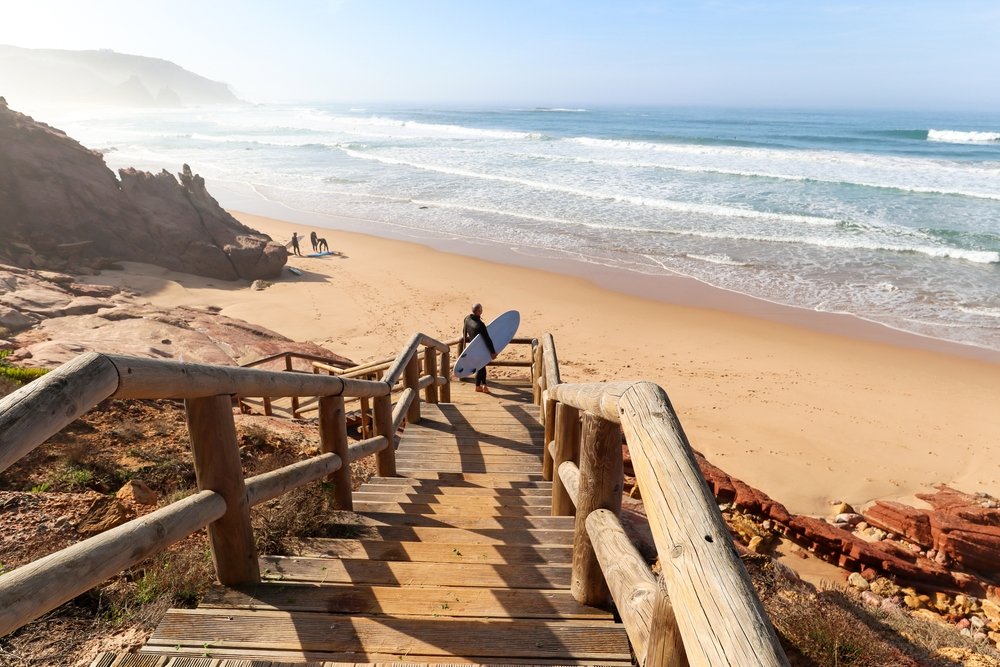 From Sines, start driving south toward Sagres.
You'll drive through the beautiful Parque Natural do Sudoeste Alentejano e Costa Vicentina, a spectacular natural park that's home to some of the most beautiful beaches in Portugal.
You'll have no shortage of options for places to stop along the way and enjoy beautiful coastal walks.
Stop by Azenha do Mar to admire the dramatic coastline and rock formations, and stroll along the lovely coastal path to check out more gorgeous views.
Just south of Azenha do Mar, you can also stop by the stunning Praia de Odeceixe, a sliver of sand at the mouth of the Ribeira de Seixe river. This is also a popular spot to watch surfers!
Stop for a drink at Bar da Praia or head down to the beach for a walk or a swim.
Further south, you can also stop by Bordeira and admire the coastal view from the observation deck Pontal da Carrapateira.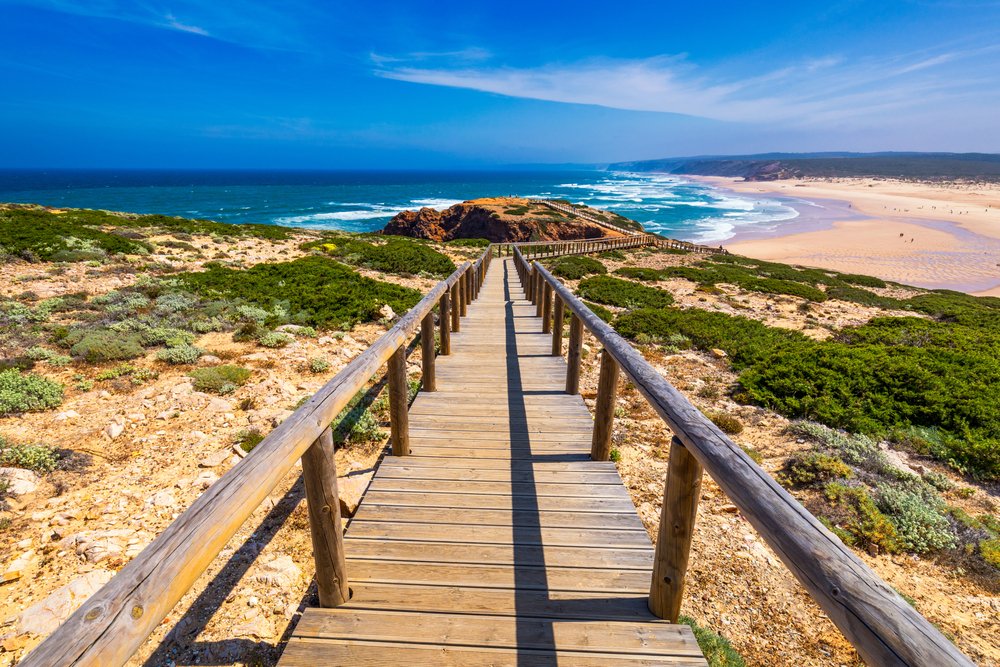 A beautiful walkway along the cliffs will allow you to check out breathtaking views of the coast and the nearby Praia da Bordeira.
The spot is also great to take in an unforgettable sunset!
From Bordeira, you'll only need to drive for about 20 minutes to Sagres, your stop for the night.
The entire drive from Sines to Sagres takes around two hours without stops, so plan accordingly if you want to stop and enjoy any of the coastal walks.
Have dinner and spend the night in Sagres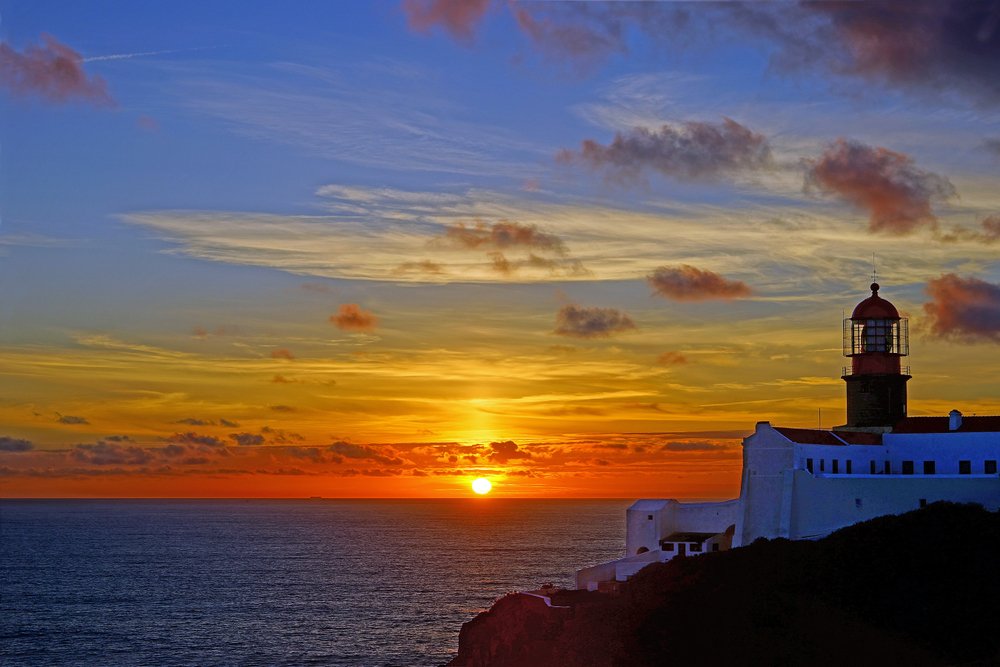 Sagres is at the far southeastern point of continental Europe.
The coast is marked by two important points, Cape St. Vincent to the east and Sagres Point to the south.
Spend any time you have left in the evening exploring the small town of Sagres and have dinner at one of the many great restaurants in town.
The local specialties are fish and seafood dishes, so be sure to try them at A Sereia or Adega dos Arcos.
Now get some rest, because we have a busy final day of our Lisbon to Algarve road trip tomorrow!
Day 3: Sagres to Faro
Explore some more of Sagres by daylight.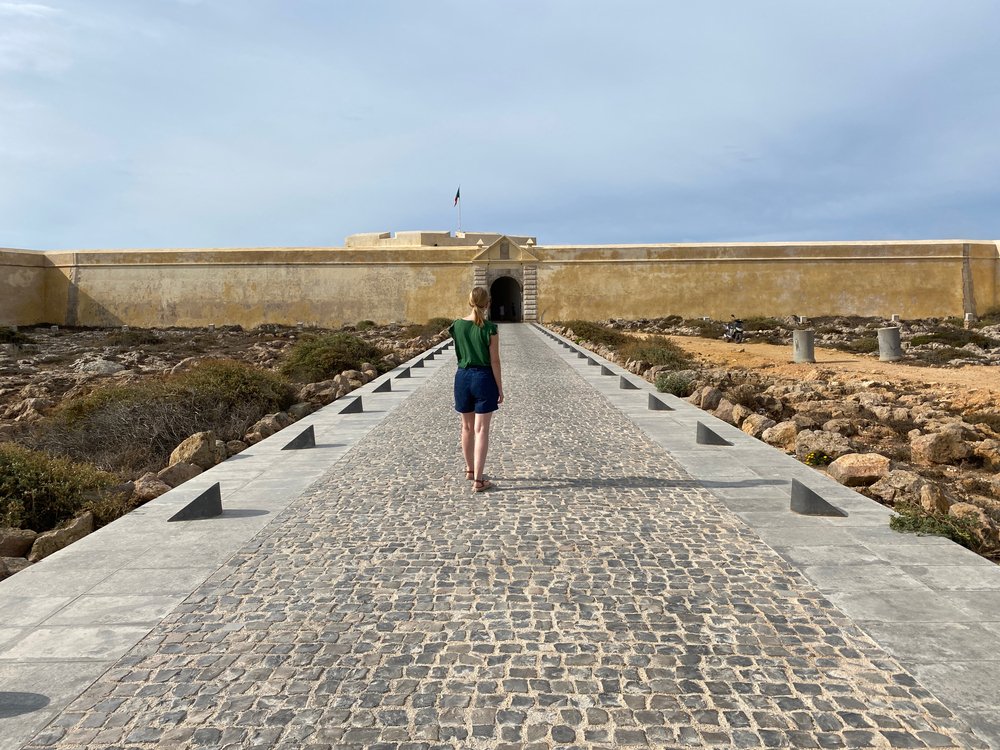 Begin the last day of your road trip by exploring the two viewpoints in Sagres, Cape St. Vincent and Sagres Point.
At Cape St. Vincent, check out the lighthouse and the Fort of Santo António de Belixe.
At Sagres Point, walk to the Cape Sagres viewpoint, check out the lighthouse, and visit the Igreja de Nossa Senhora da Graça.
If you want to visit the Sagres Fortress, it has a €3.50 entry fee for adults. Close to the fortress, check out the massive Compass Rose.
In the nearby maze-like structure, A Voz do Mar (The Voice of the Sea), you can listen to the crashing sound of the waves roaring in through an opening in the cliff!
Drive from Sagres to Lagos.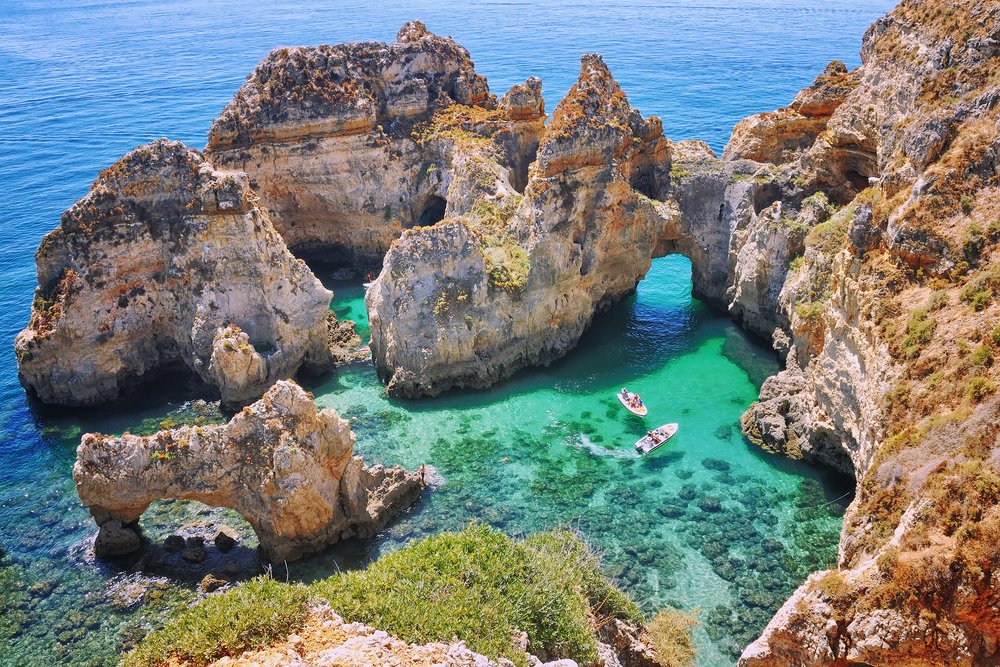 Driving east from Sagres, you'll explore the famous coast of the Algarve, with its beautiful coastal towns, impressive rock formations, and enchanting beaches.
The first town you'll reach is Lagos. This is a popular end point for some Algarve routes, like a Lisbon to Lagos road trip, though we'll end this particular road trip in Faro, further east.
The charming city of Lagos is best known for its stunning scenic spot, Ponta da Piedade.
Its name, literally 'piety point', will make sense when you see how a view this beautiful would inspire even the most secular among us to murmur in wonder!
Head over to Miradouro da Ponta da Piedade to admire the impressive cliffs and rock formations emerging from the crystalline waters.
The spot is also popular for boat tours through the grottoes, caves, and rock formations around Ponta da Piedade.
The boat tour costs about €20 per person (book online to reserve your spot!), but it's well worth it — it's such a memorable way to explore the stunning coastline!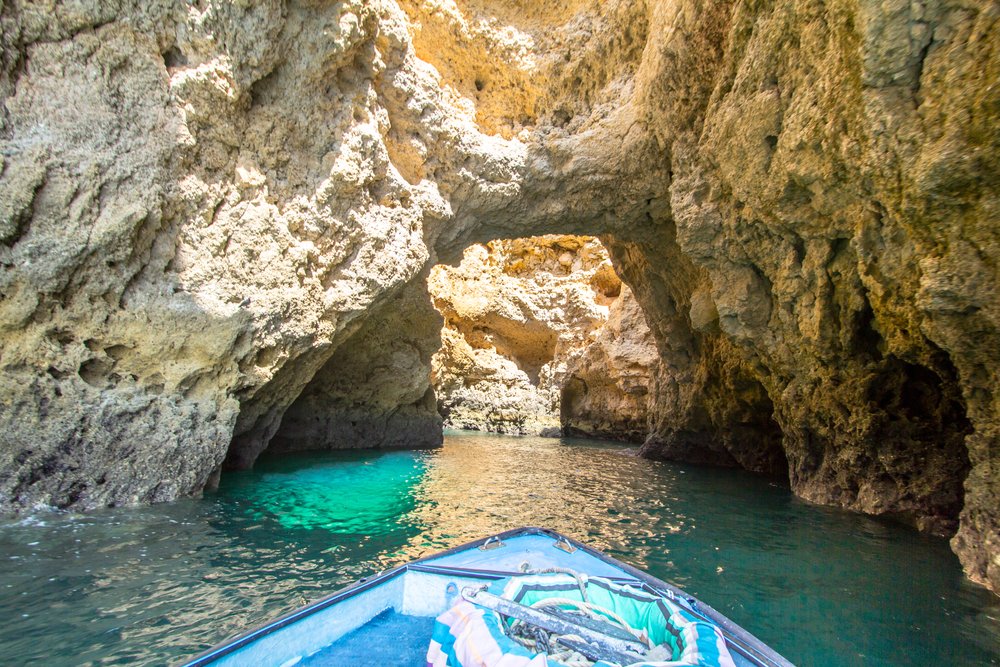 Close to Ponta da Piedade, you'll find two of the most popular beaches in Lagos, Praia do Camilo and Praia de Dona Ana.
Both beaches are impressive to see from above and just as beautiful to sunbathe and swim, but be warned!
They tend to be extremely crowded during peak summer months.
Even if you decide not to brave the crowd, or just don't feel like descending hundreds of steps to the beach, it's still worth checking them out from above.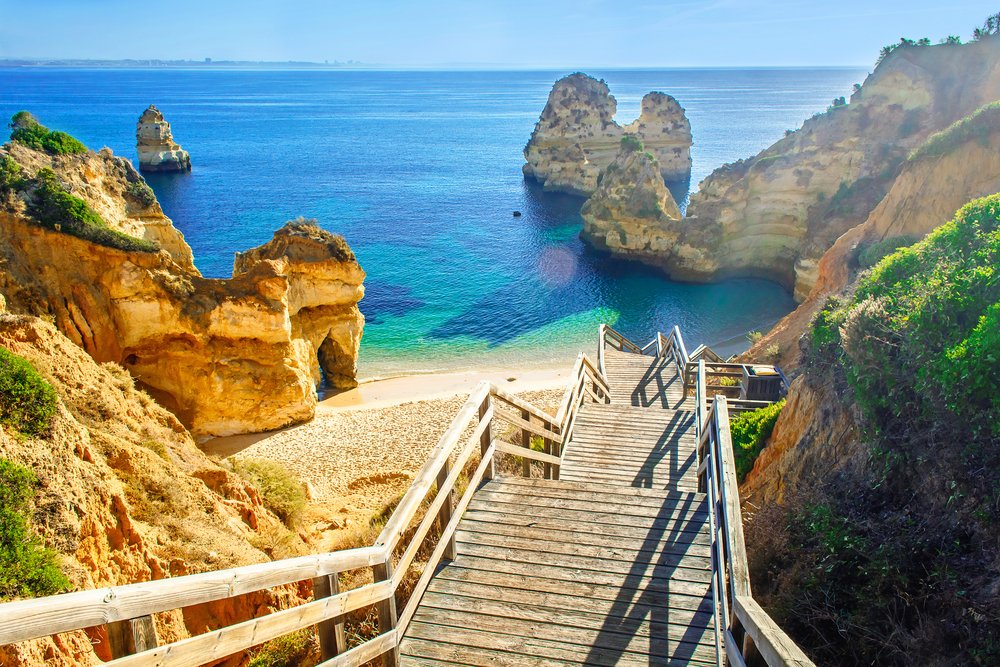 After exploring the coast and admiring the spectacular views, head to Old Town Lagos and get delightfully lost in its small alleys and charming squares.
While you're there, be sure to visit Igreja de Santa Maria de Lagos and walk around the seaside Castle of Lagos.
Don't linger too long though — get ready to move onto our next (and almost final) stop on this Lisbon to Algarve drive, where we'll have a delicious lunch.
Stop for lunch in Portimão.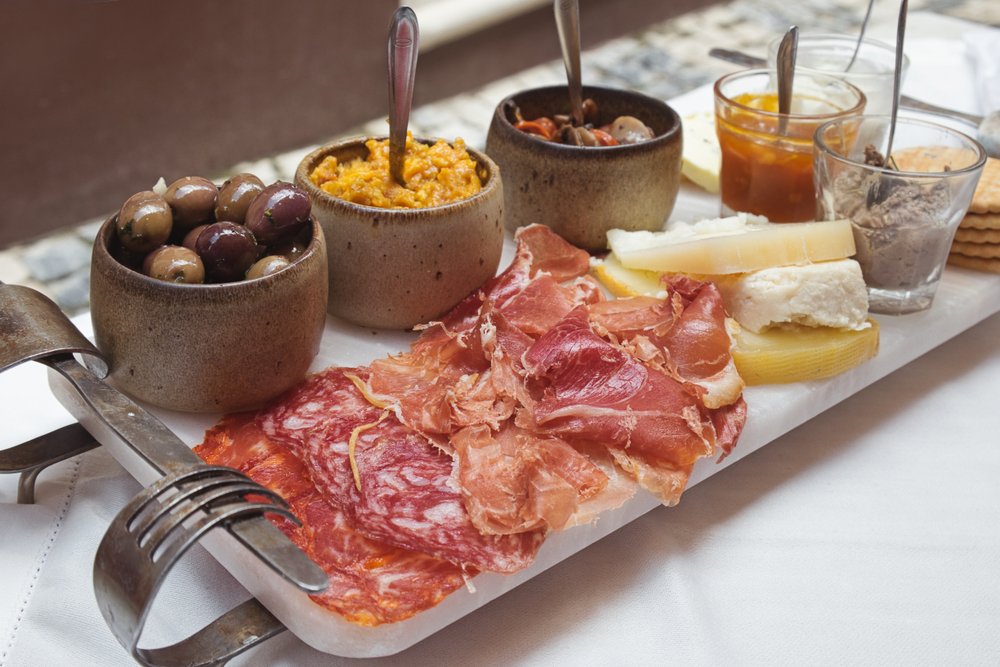 From Lagos, drive half an hour to the nearby town of Portimão to have lunch and check out a few more gorgeous beaches.
If you're feeling hungry when you get into town, head to the lively area right behind Praia da Rocha for lunch.
You can't go wrong with tapas at Tapas ò Destapas or try the seafood dishes at Branquinho.
Praia da Rocha is by far the main attraction in Portimão!
The huge sandy beach features spectacular rock formations at the far eastern end, where it meets Praia dos Três Castelos.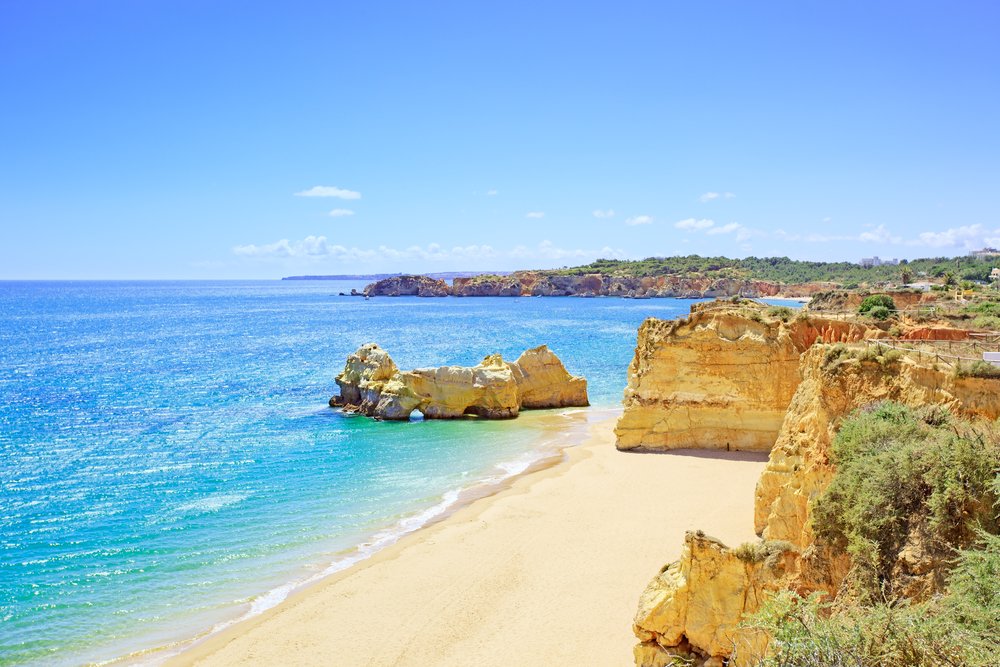 As much as it can be tempting to spend all your time in the sand and the surf, be sure to check out the gorgeous scenic spot Miradouro dos Três Castelos for a picture-perfect view of the beach from above.
In the historic center of Portimão, check out the lively town market selling everything from fruits and vegetables to fresh fish and pastries.
Lastly, before getting back on the road, visit the 15th-century Igreja de Nossa Senhora da Conceição with its Baroque gilded altar.
You can also take a 1.5-hour speedboat ride to the Benagil Caves from Portimão, take a 2.5-hour kayak tour of the caves, or wait to see them from Albufeira.
Drive to Carvoeiro.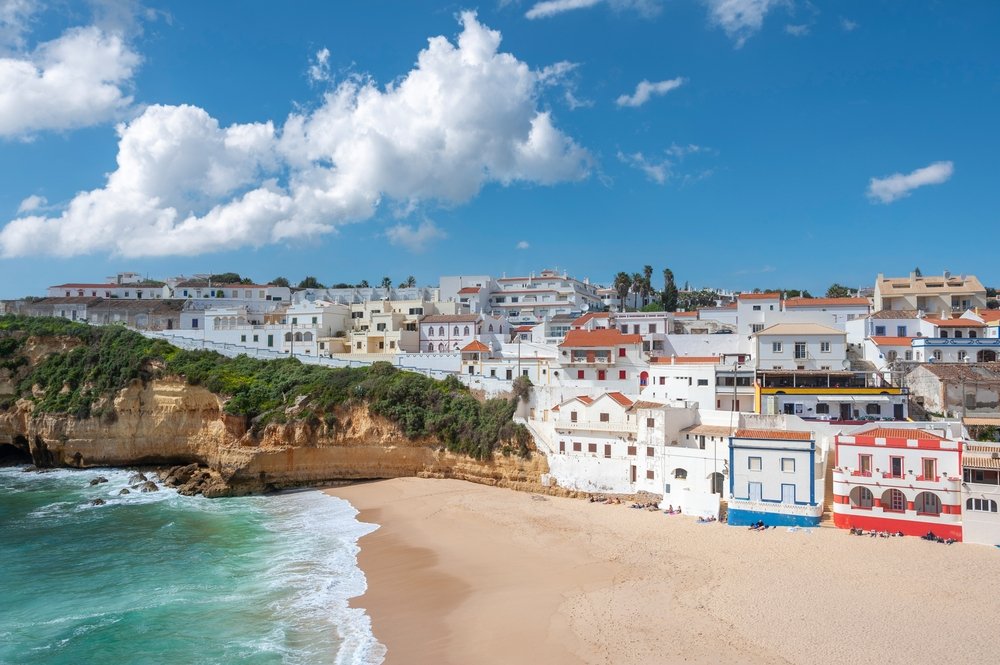 For your next stop along the beautiful coast of the Algarve, check out the small town of Carvoeiro and its spectacular rocky coastline.
Stroll along the to reach Algar Seco, where you can discover hidden caves and spectacular viewpoints over the sea.
Carvoeiro has a small but charming historic center and a beautiful sandy beach enclosed within the cliffs.
The nearby Miradouro da Senhora da Encarnação offers lovely coastal views of the beach and the white houses on top of the cliffs.
Stop by Albufeira.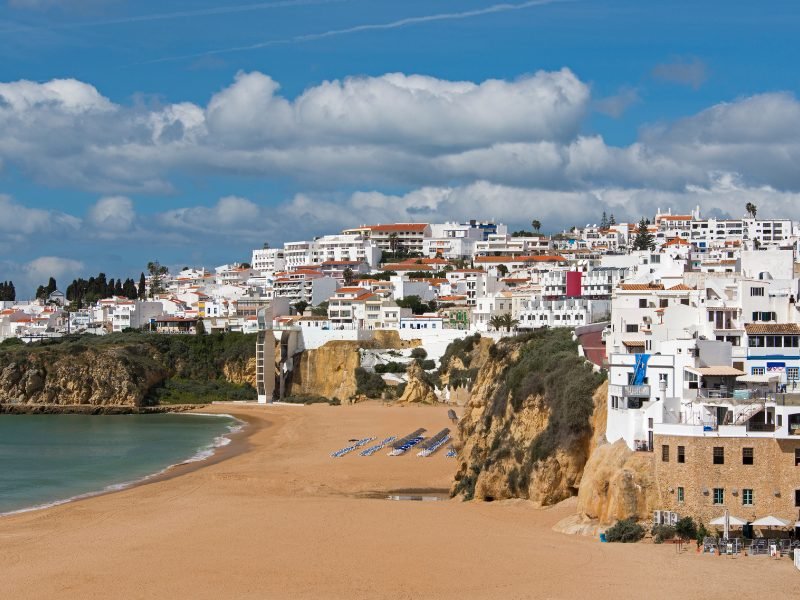 Albufeira is your last stop before reaching Faro, the capital of the Algarve, which you can use as your home base for your stay in the region.
Albufeira is only half an hour from Carvoeiro and roughly 40 minutes from Faro. The town is a former fishing village turned popular vacation destination.
If you're interested in a coastal base, you can also stay in Albufeira for all your explorations.
Albufeira is also a great place for activities such as this Caves & Dolphin Watching Boat Tour and this Benagil Caves Tour by Kayak or SUP.
The town boasts gorgeous beaches within walking distance and lively nightlife, but it can be extremely crowded during summer.
However, if you're able to handle the crowds, it is conveniently located roughly halfway along the Algarve coast, so it's ideal as a base.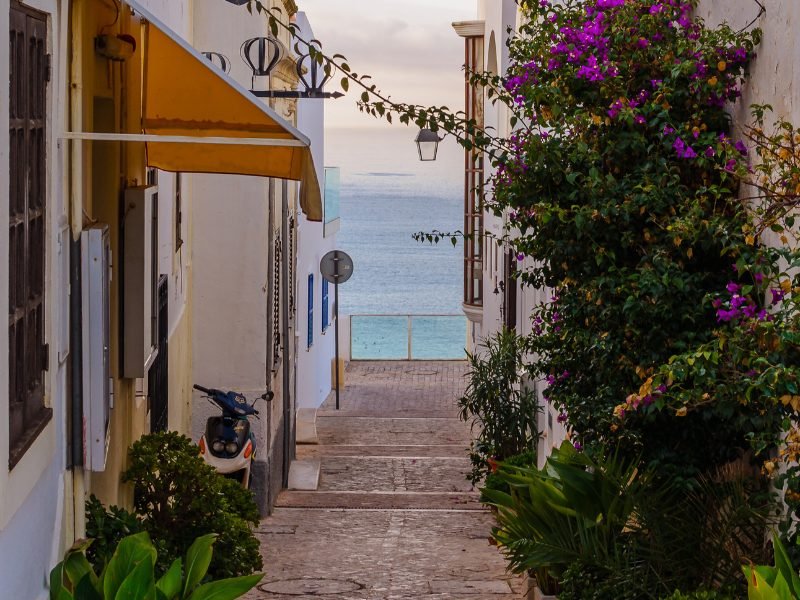 To start off your time in the city, wander around Albufeira Old Town with its beautiful architecture and narrow alleyways.
After, check out the viewing platform at Elevador do Peneco, and stroll along the sandy beaches.
Praia do Túnel is connected to the old town by a tunnel, while Praia dos Pescadores extends to the west until Miradouro do Pau da Bandeira, a scenic viewpoint overlooking Albufeira and its beaches.
You can stay for dinner in Albufeira or continue driving to Faro, depending on where you're staying for the rest of your vacation in the Algarve.
In Albufeira, you'll find a diverse offering of restaurants, with many international options.
Both Prazeres and Três Coroas are wonderful restaurants offering a delicious mix of Portuguese and international dishes.
Drive to Faro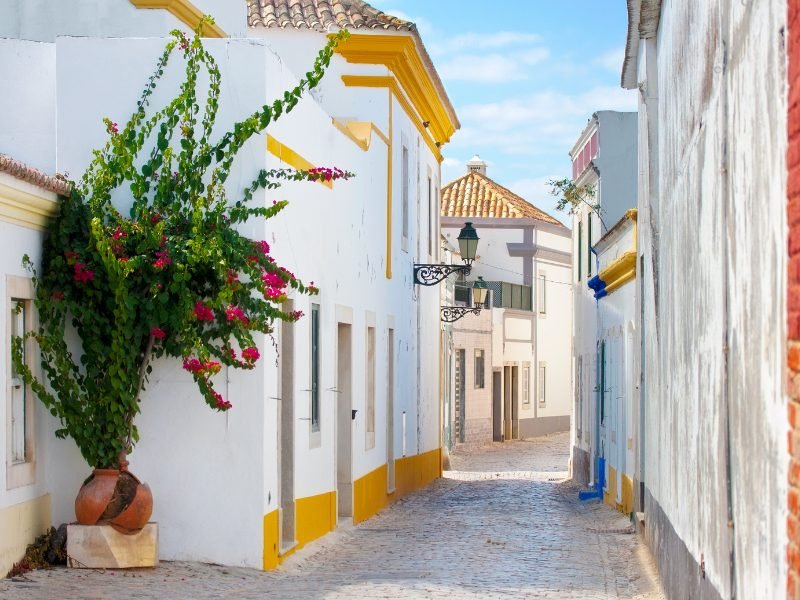 Time to wrap up this Lisbon to the Algarve road trip by heading to our last destination!
Luckily, Faro is just a short drive west of Albufeira and is the main city in Algarve.
Unlike most nearby towns of the Algarve, Faro is a bit inland, separated from the sea by the Parque Natural da Ria Formosa.
The city is known for the 19th-century gateway Arco da Vila, along with beautiful churches, and cool museums.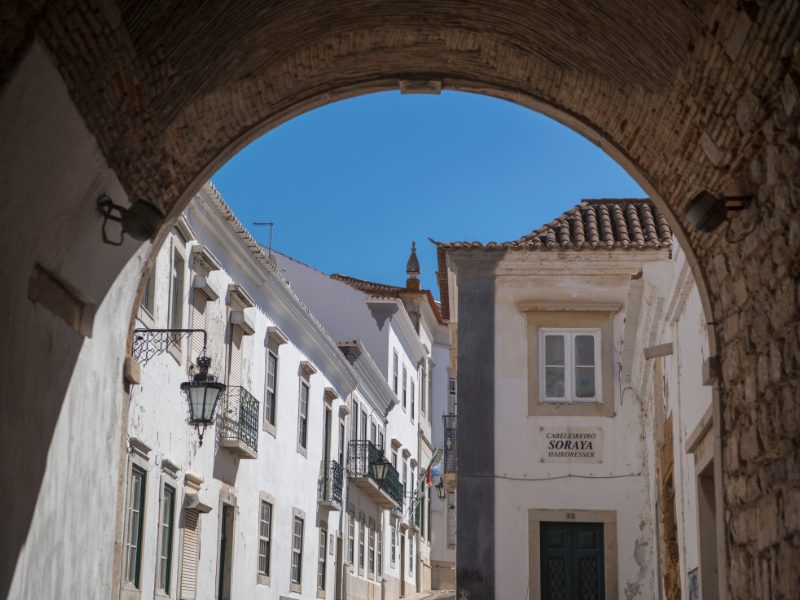 While you're there, visit the cathedral of Santa Maria and check out the exhibitions at the Municipal Museum of Faro.
If you enjoyed the prior bone church, you can also take a peek at the small bone chapel and ornate altar inside Igreja do Carmo.
Faro Marina and the nearby Jardim Manuel Bivar are lovely spots to go for a walk while enjoying the gorgeous weather that the region is famous for.
For delicious Portuguese dishes, try Tasca do Ricky and Tascaria Chafariz. Faro also has many international dining options.
Suggested Faro Accommodations:

Hotel | Hotel Faro & Beach Club has stunning amenities like a rooftop bar, fitness center, outdoor pool, & in-house hammam-style steam room & sauna. It's central to town & has a free shuttle to its private beach club 5 miles away in Praia de Faro.
➤ Check availability and rates here

Luxury Guesthouse | Opus One enjoys beautiful rooms (some with multiple floors!), air conditioning, lush furnishings with individualized design, an outdoor pool/hot tub, & a sauna.
➤ Check availability and rates here
Other Must-See Places in the Algarve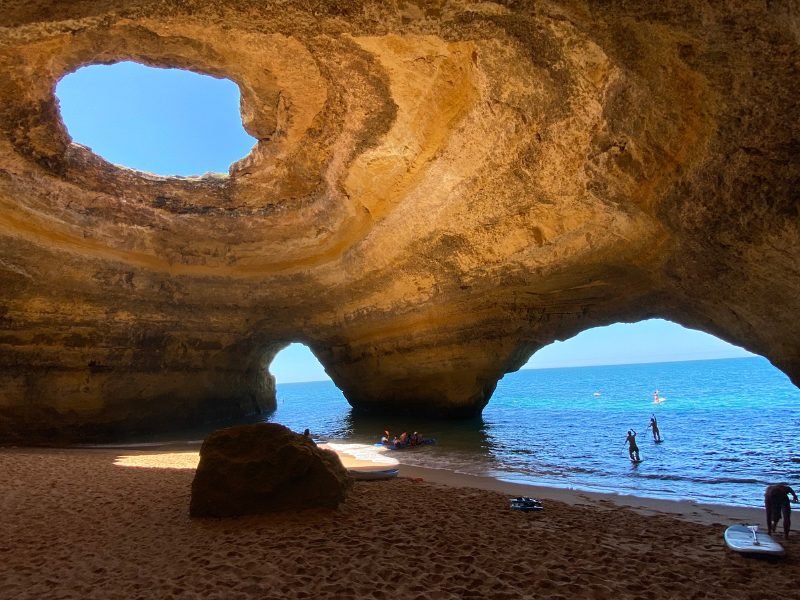 The coast of the Algarve west of Faro is the most popular and where most of the vacation attractions are.
Aside from the places you may have already seen along the way, be sure to check out the beautiful Benagil Cave, and the spectacular beach Praia dos Três Irmãos.
Other can't-miss spots include the small town Armação de Pêra with the nearby beaches, and Praia da Falésia, a long sandy beach backed by tall, red cliffs.
East of Faro, visit the charming town of Olhão and the city and beaches of Tavira. This last stretch of coastline before the Spanish border is a succession of long sandy beaches and small towns.
This area is great if you want to escape the crowds of the more popular places in the west.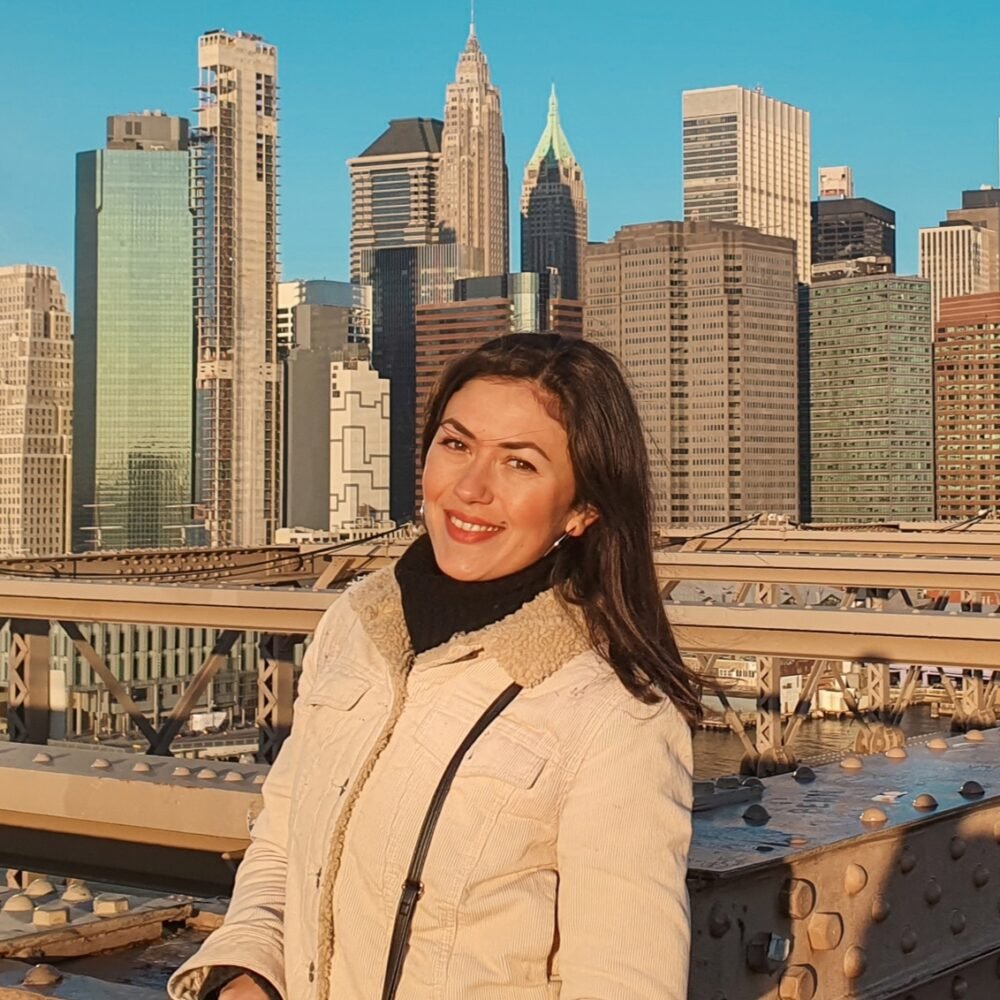 Roxana is a Romanian-born freelance travel writer who has lived in Italy for over 15 years. She has a Master's in Journalism and a Bachelor's in Film Studies. Her mission is to find hidden gems, even in the most popular travel destinations, and to inspire people to explore new places and cultures with the same curiosity! When she is not traveling, writing, or planning her next trip, she is either binge-watching TV shows or reading books.