Exploring Portugal on a road trip is one of the best ways to discover the country and reach remote places you wouldn't otherwise visit.
Despite its small size, Portugal overdelivers everywhere: stunning coastal and mountainous landscapes, cities out of a storybook, and picturesque villages tucked away and seemingly untouched by time.
Living in Portugal for over two years gave me the chance to to explore the majority of the country, from the big cities like Lisbon (where I lived) and Porto to pristine Algarve beach towns and tiny Central Portugal villages.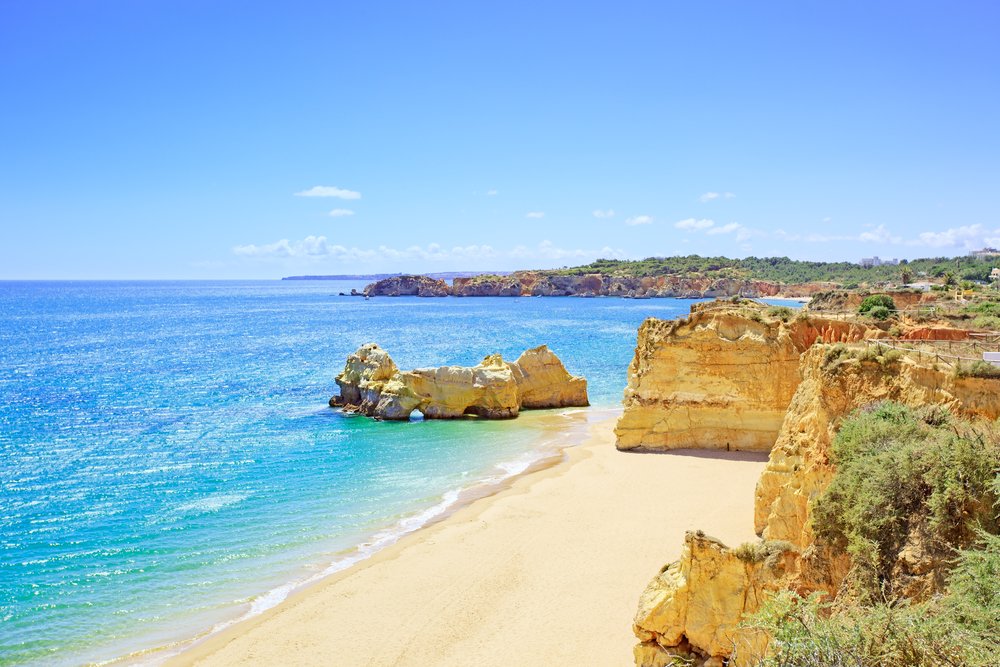 Note: This post contains affiliate links, which means I may receive a small commission if you purchase something through one of these links. Thank you for supporting the free content on this site! For more information on affiliate links and cookies, see my disclosure page for more details.
Since I lived in Lisbon, owning a car didn't make sense (can you imagine parking in that city, on those hills? No thanks!).
However, when it came to exploring the coast up to Porto and down to the Algarve, as well as more remote parts of Portugal, renting a car was absolutely necessary, and I'm here to share what I've learned with you!
This guide will cover everything you need to know before renting a car in Portugal, from important driving rules to car rental tips — plus, the places you really shouldn't miss on a road trip around Portugal!
Should You Rent a Car in Portugal?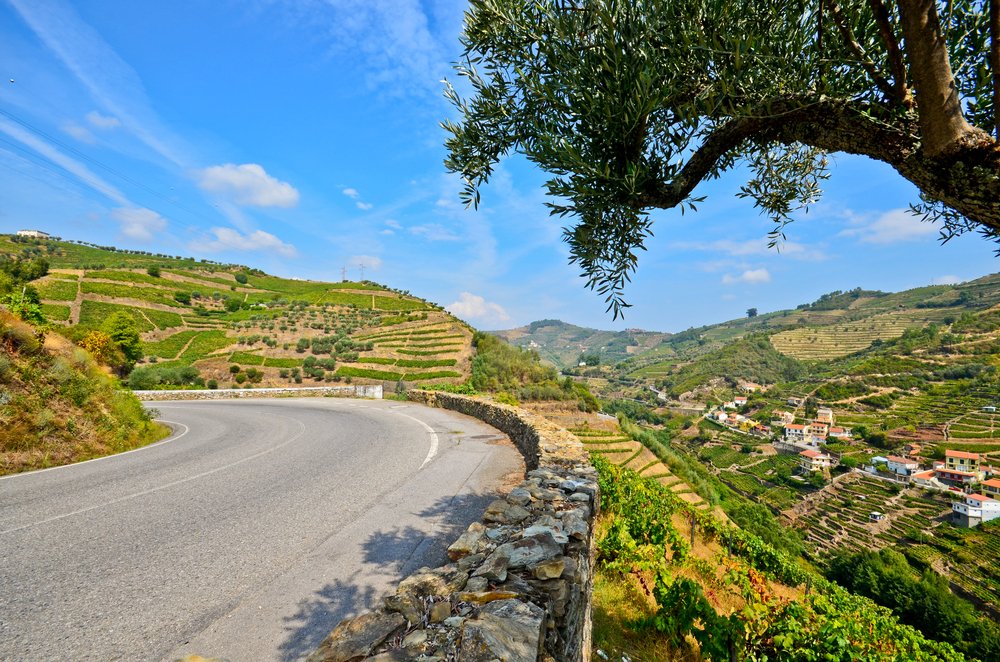 Well, it depends on your overall Portugal travel plans and what places you want to visit.
Portugal's main cities are well connected by public transport, so if your goal is to visit Lisbon, Porto, and a few other major cities, you can get around easily by bus or train — no rental car needed.
However, the historical villages of Central Portugal, the beaches on Alentejo's coast, and even many places in the Algarve are easier to explore if you have a car.
Certain small villages are impossible to reach with public transport, despite being absolutely worth exploring.
Bottom line: if you want to get off the beaten track and discover authentic villages and spectacular natural landscapes in Portugal, you should rent a car.
Where to Rent a Car in Portugal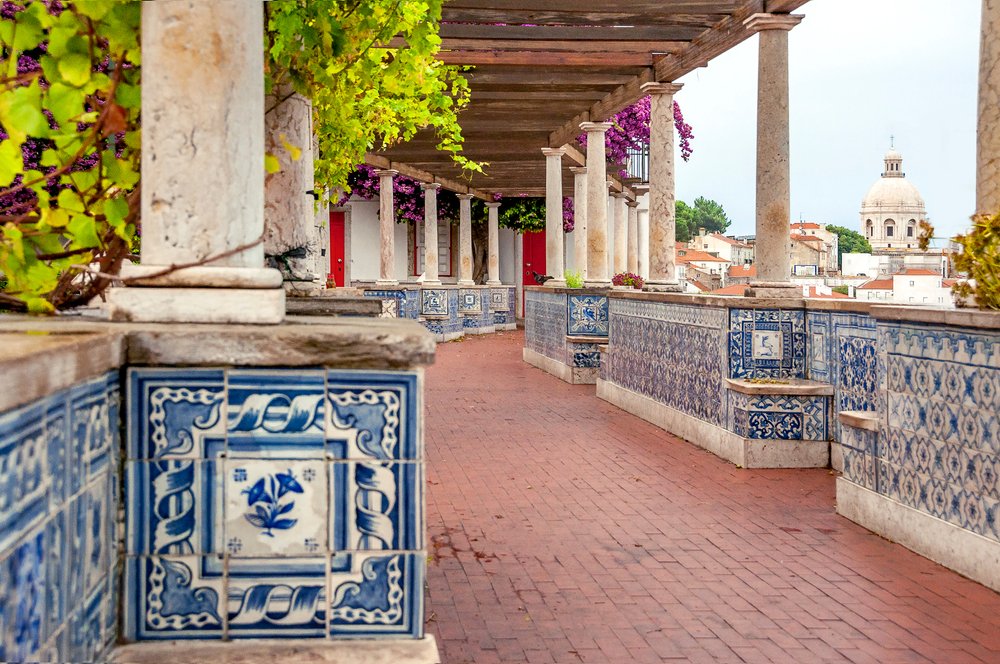 You can rent a car in most big cities in Portugal, such as Lisbon, Porto, and several towns in the Algarve.
Airport rentals can be slightly cheaper, but overall, there isn't much difference from city center rental agencies. The three international airports are located in Lisbon, Porto, and Faro.
Lisbon is by far the city with the most options and the most affordable prices. Your best option is to fly to Lisbon and rent your car there.
Ultimately, though, unless you want to rent a car last minute in summer, you won't have any trouble finding rentals near any of the most important airports in Portugal.
Wherever you choose to rent your car, the best option is to book in advance.
Don't wait to arrive at your destination and go straight to a car rental agency. Chances are, you'll pay much more if you wait to the last minute!
Who to Rent with in Portugal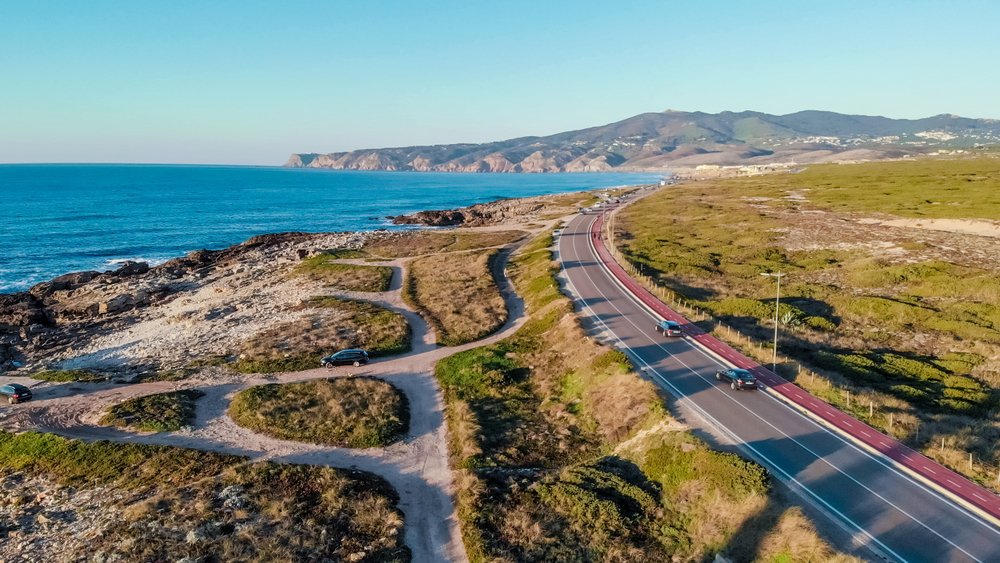 When looking for a rental car in Portugal, I always use Discover Cars to search for the best deal for multiple reasons.
It's easy to search, includes 500+ agencies (including smaller local ones, not just the pricey international ones), and is very clear about what the costs are, so there are no hidden fees or surprises.
You can also look at each individual's agencies ratings, so you can avoid any company that has less-than-stellar reviews.
Plus, their cancellation policy is generous, so you can book in advance to lock in a good rate, and cancel or adjust if you end up needing to.
Tip: Make sure you book your rental in Portugal with full coverage insurance for peace of mind — it starts at only $7 per day, cheaper than you'd get at a rental agency!
🚗 Best Portugal Rental Car Prices: Discover Cars

This search engine not only looks at the typical rental car agencies (which can be $$$), it also looks at local, small Portuguese rental agencies that may offer better deals. Their pricing is straightforward (no bait-and-switches) and they offer free cancellation if you need it.

➜ Check rental prices in Portugal with Discover Cars here!
Tips for Renting a Car in Portugal
Renting a car in Portugal is a pretty simple process. If you have the necessary documentation, you won't encounter any difficulties.
Nevertheless, we want to make sure you have as easy a time as possible, so here are the most important things you need to be aware of.
Prepare the necessary documents.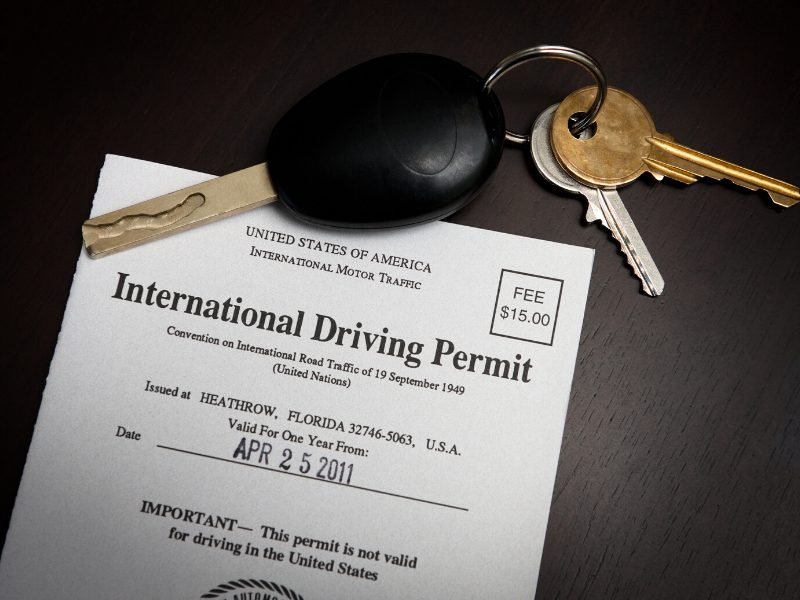 This might seem obvious, but make sure you have all the necessary documents for renting a car in Portugal before your trip.
The documents everyone needs to rent a car are a passport and a driving license. 
Additionally, you'll need a debit or credit card. While most rental companies require a credit card, you may find a few local ones accepting debit cards, but it's best to check ahead and confirm which you'll need.
Lastly, check whether you need an international driving permit.
Recently, Portugal has passed a law allowing citizens of multiple countries to drive just with their country's driving permit.
These include the US, the United Kingdom, and most European countries. However, some travelers may still require an IDP.
Buy car insurance.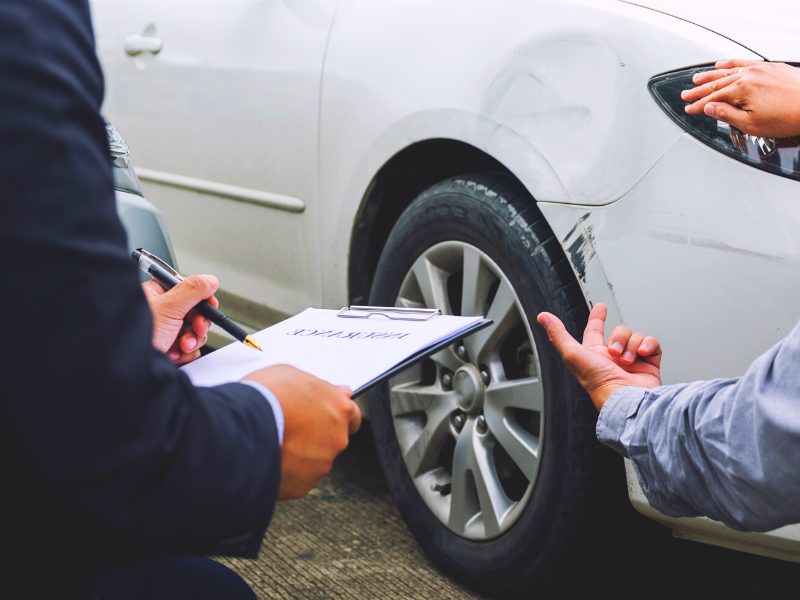 All car rentals include the basic CDW (Collision Damage Waiver) policy. However, this often comes with a high deductible.
You can purchase additional insurance to cover the car's excess, theft protection, damage to mirrors, windows, and wheels, and any charges in case of breakdown or key loss.
The full protection is optional, but you should really consider buying it. It's so much easier to pay a little extra for peace of mind rather than risk paying the high deductible or cover for any charge, such as towing or key replacement.
Choose the right car type.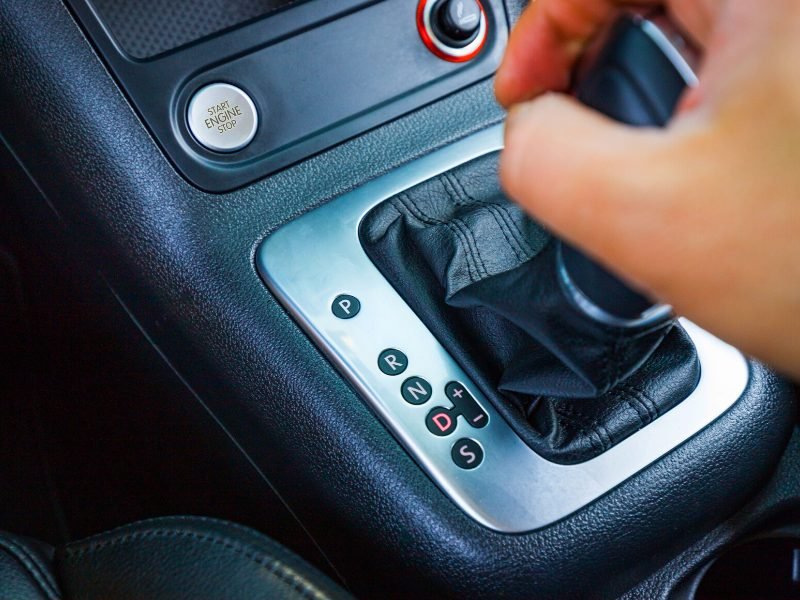 The first thing you have to check when renting a car in Portugal is the transmission type.
Manual transmission cars are the most popular and affordable option available.
If you're not used to driving with a manual transmission, you may want to pay extra for the automatic one to make your life easier.
If you plan to spend any time driving within the cities, you'll likely wind up driving uphill and through narrow streets quite often.
Having a car with automatic transmission can save you the stress of driving in hilly places like Lisbon and Porto.
Secondly, pick the right car size. Very often, a small car is a better option, which might be a bit of a surprise for American readers!
As long as you've got enough space for all the passengers and your luggage, you don't need a big car.
A smaller car will make driving in Portuguese towns and finding parking so much easier!
Choose where to pick up and drop off your car.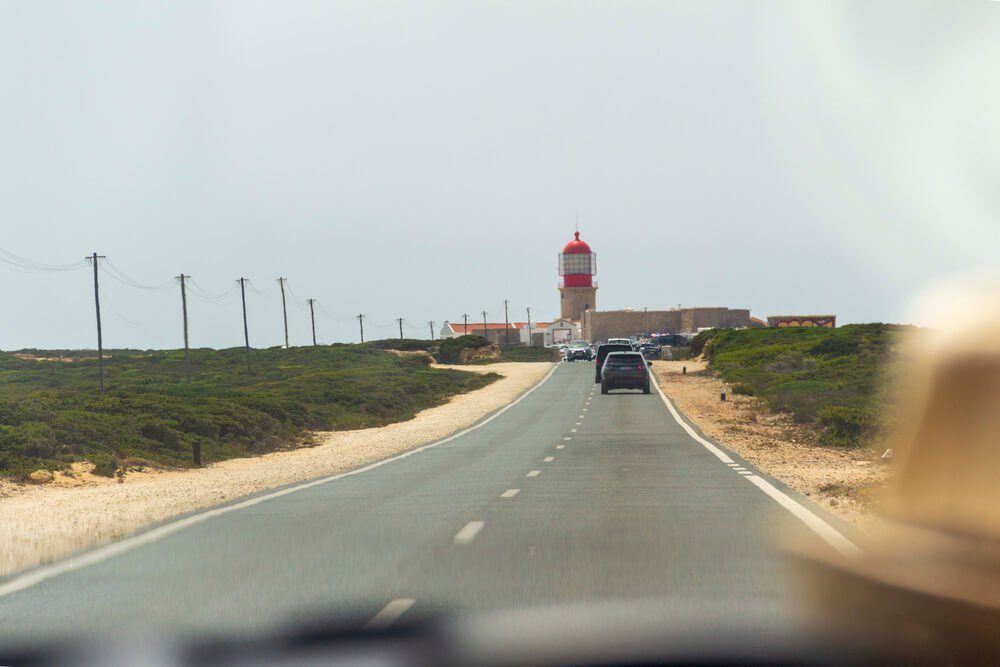 When renting a car in Portugal, the cheapest price will always be when you drop it off as the same place as where you picked it up…. otherwise, you'll pay a (sometimes hefty) one-way rental fee.
Even after factoring in for the extra gas and tolls to drive back to the initial location, one-way rentals are usually a pretty bad deal.
However, for the most time-crunched of travelers, the convenience may outweigh the cost.
Luckily, since Portugal is such a small country, you can easily plan a road trip that starts where it ends.
Picking up your car in Lisbon is the most convenient idea to avoid this hassle.
Lisbon is very centrally located — 3 hours to the Algarve, 3 hours to Porto — so it's not too much of a time suck to return your rental car in Lisbon in order to avoid this one-way charge.
Avoid driving in the big cities.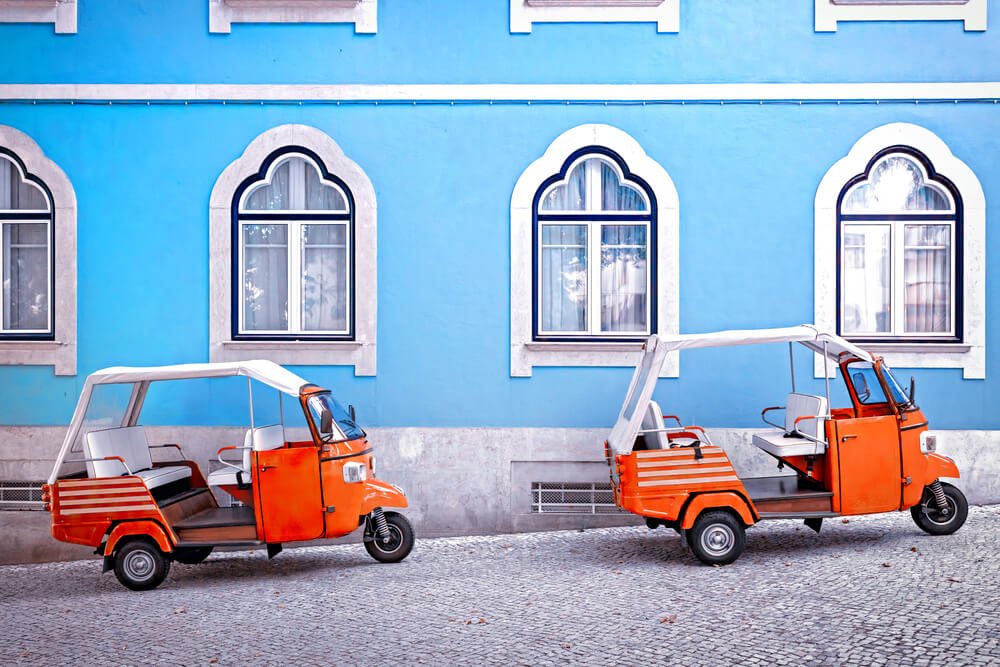 The typical advice is to rent a car as soon as you get to the airport. After all, airports have the best deals right?
Well, yes and no. If you plan to spend some time in the city you're flying into before starting your road trip — whether that's Lisbon, Porto, or Faro — it's actually probably a better idea to rent your car in the city center (or return to the airport to pick up your rental car).
Driving in Lisbon and Porto can get complicated quickly. With many uphill roads and narrow streets, driving is no fun.
Besides, both cities have very good public transport and cheap ride-hailing apps like Uber and Bolt, so you won't really need the car until you get outside the city proper.
Always carry some cash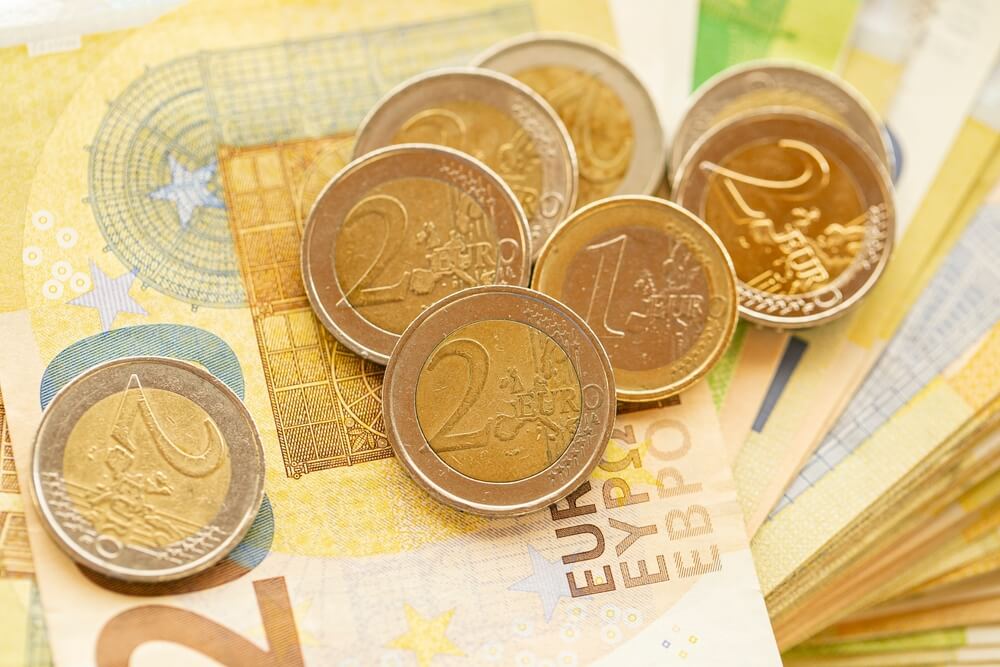 Whether you use it for tolls, parking, or gas, it's always a good idea to have some cash on you.
While you can pay by card at most gas stations, you may occasionally find some that only accept Portuguese cards or have the card payment out of service.
The last thing you want is to find yourself stranded between destinations with no way to refuel your rental!
Use proper navigation tools.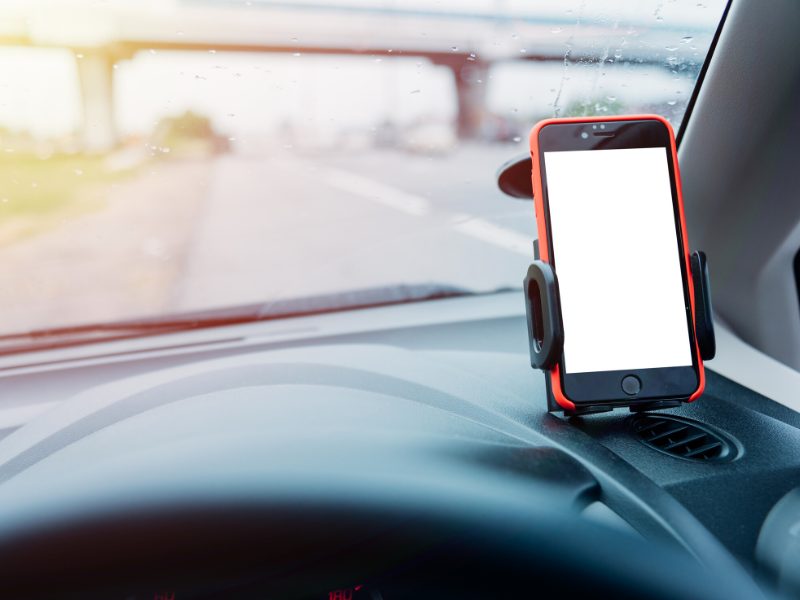 Google Maps and other navigation apps are usually accurate for directions around Portugal…
But problems can arise if the route takes you through an area with no service and then it tries to reroute you but has no data available.
Worse, sometimes the maps are a bit out of date.
One way to avoid getting lost driving in Portugal is to download an offline map that you can use even without service.
Another way is to have a backup paper map that you can consult in emergencies like running out of phone battery.
Lastly, always pay attention to road signs. Especially in cities, roads may change due to ongoing construction or other reasons.
Always follow traffic signs instead of relying on your GPS directions.
Rules & Tips for Driving in Portugal
Driving in Portugal is similar to most continental European countries — driving on the right side of the road, adhering to posted speed limits etc.
Even if you don't read Portuguese, traffic signs are pretty straightforward, and the roads are mostly in good condition.
Generally, driving in Portugal's cities and navigating tiny streets of its small towns can get a little more complicated compared to the highways.
That said, keep your wits about you and pay attention to all the street signs!
Still, there are a few important rules and tips to know when renting a car in Portugal.
If you keep these in mind, you're practically guaranteed to have a smooth Portugal driving experience.
Parking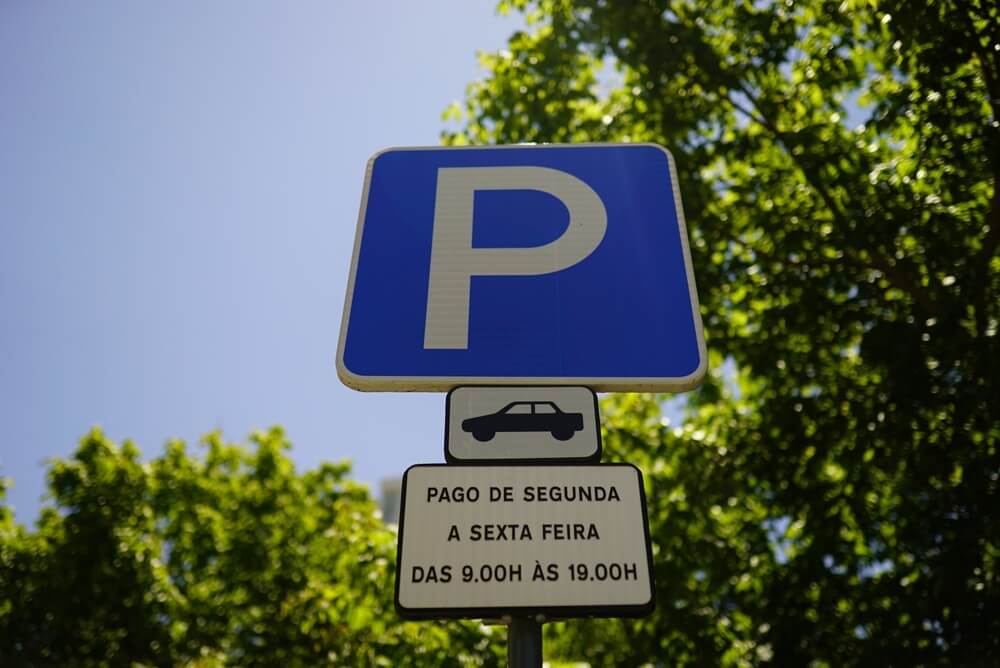 Finding free parking in Portugal isn't always easy.
Most parking spots are metered, so always check and pay for parking to avoid a fine.
You may want to know a few Portuguese words, such as the days of the week, to help you with street signs (e.g., the above says that parking only needs to be paid between Monday and Friday, from 9 AM to 7 PM).
If you do get a fine, the car will be clamped (booted), and you must call a number and pay the fine before it gets towed.
To avoid these headaches and complications, always pay for parking… no one wants to come back from lunch and find their car booted, just as you're ready to go to your next destination.
Also, beware of no parking signs!
If parking is not allowed, you'll see a sign with a round white or blue sign with a red line across.
Avoid parking there, or you'll face the same penalty as above.
Road Tolls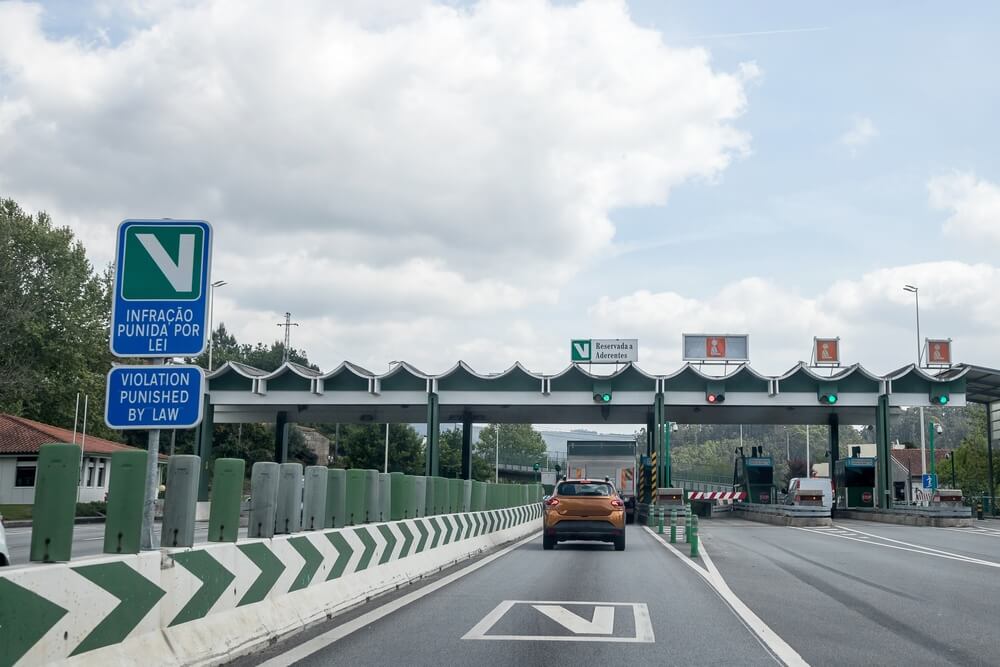 Unlike some countries where most highways are free, be aware that you have to pay tolls to drive on highways in Portugal… and the payment process is not always so straightforward.
Most toll booths work like in every other country. You get a ticket when you enter the highway, and pay the toll when you exit.
However, Portugal has a system called Via Verde.
You shouldn't pass through booths dedicated to Via Verde unless you have the system in your car.
This transponder allows you to pass through these dedicated lanes faster.
If you pass through the Via Verde lane without a transponder, you'll end up paying the fee for the length of the entire highway (even if you didn't drive that far yourself)
How to avoid this? Well, simply have a Via Verde transponder in your car.
When you rent the car, the rental agency will probably ask if you want to pay to include the transponder in your rental. If they don't, you can inquire yourself.
While most rental agencies will charge a small extra fee to rent you this device for your car, it's worth it: it'll make everything easier.
Simply connect your credit or debit card to the Via Verde system online, and all tolls will be charged automatically to your card.
Plus, if you get charged fines for not using the toll system properly, you might get slammed double with fines by the rental agency for 'processing' the fee.
Speed Limits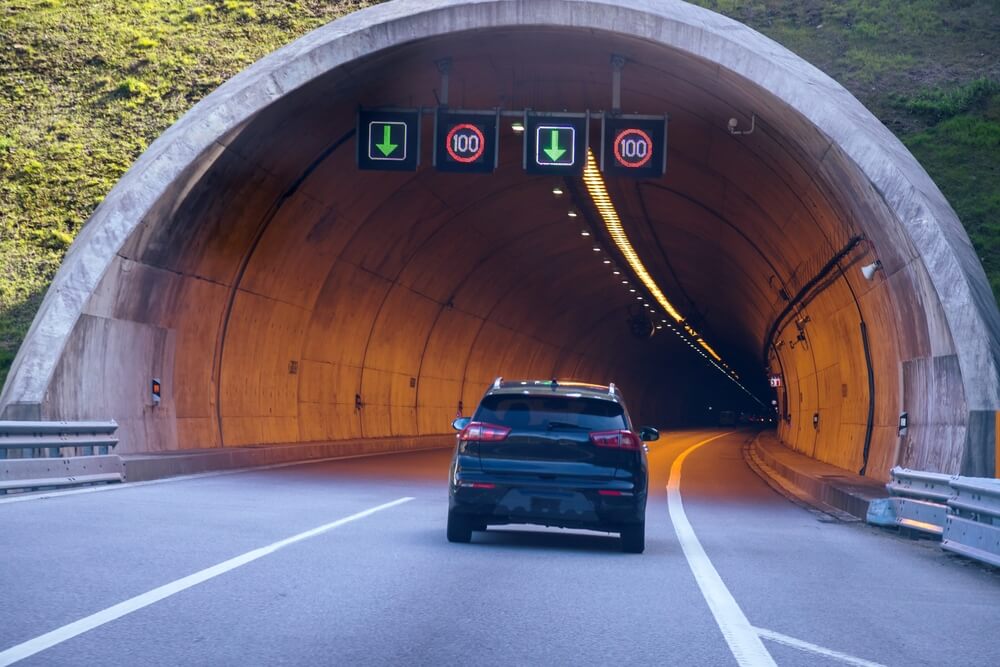 Another aspect of driving in Portugal is adhering to the speed limits.
Americans, take note: everything — from the posted limits to the car's speedometer — is measured in kilometers, not miles!
If you don't see a posted sign, adhere to the following general rule of thumb: below 50 km/hr in urban areas, below 90 km/hr on most public roads, and below 120 km/hr on highways.
Although these are the basic rules, road signs may indicate something different, and that takes precedence over everything.
While speed cameras are almost nonexistent in Portugal, always respect speed limits for your safety and that of other drivers.
Drinking and Driving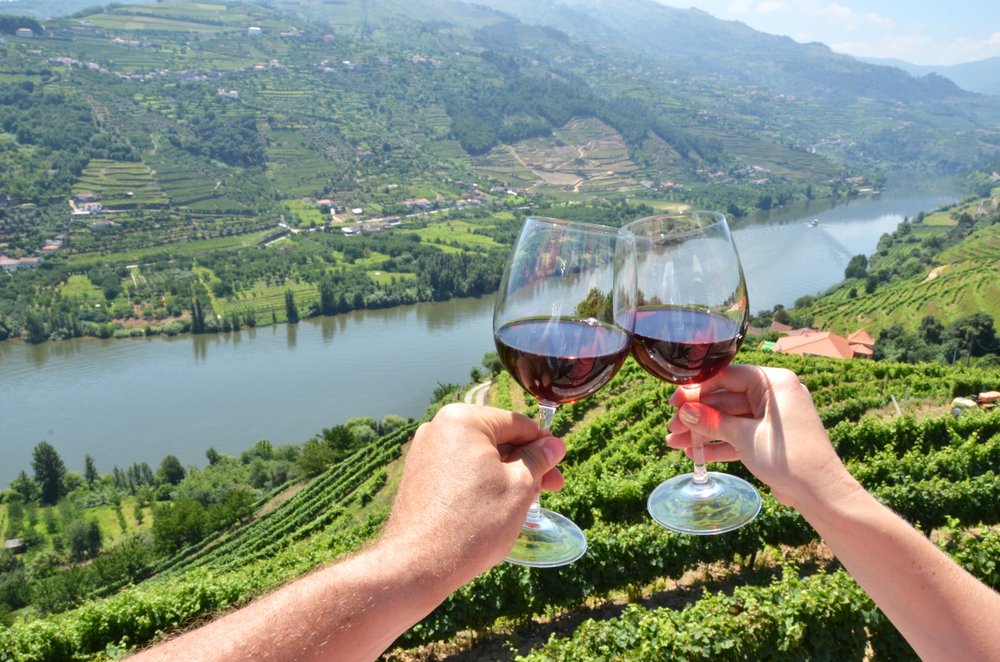 Last but certainly not least, you need to keep in mind of the alcohol limit for driving in Portugal: 0.5 grams per liter (which is lower than the US limit, 0.8).
That's about one glass or wine or one beer, but it depends on a complex equation that is hard to give one easy answer to.
Food helps soften the blow of alcohol; typically having one drink with your meal will allow you to stay below this limit.
However, the best option is to avoid alcohol altogether.
Having food with your drink and waiting for some time before driving can also help you stay below the limit.
If you want to do some wine tasting, it's a good idea to do so on a tour, such as one of these Douro Valley wine tours from Porto, rather than risk drinking and driving!
Best Time for a Road Trip in Portugal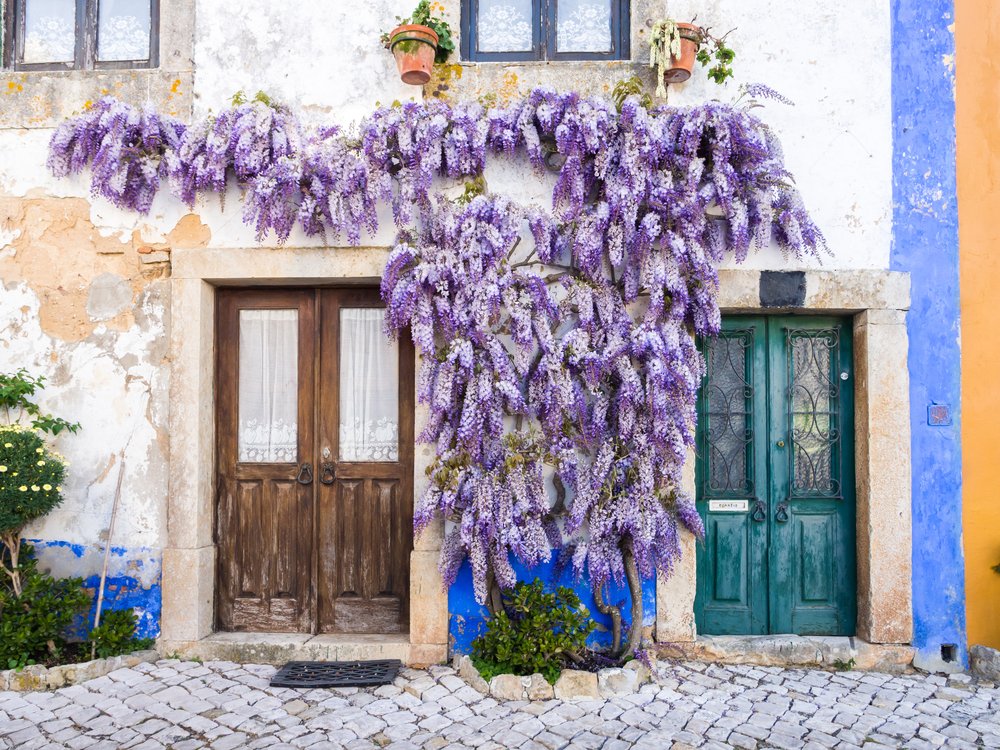 The best times to take a road trip around Portugal are spring and autumn.
The shoulder seasons allow you to avoid the crowds and traffic of the summer months and the potential rain of the winter months… especially in Northern Portugal, which is notoriously rainy.
In spring, late March (March in Lisbon is amazing!) to the beginning of May is the best time, excluding Easter.
In autumn, your best bet is from late September to the end of October.
After that, the chances of rain increase substantially and make driving more of a challenge.
Winter isn't necessarily a bad time to go on a road trip in Portugal. The weather tends to be pleasant nearly everywhere south of Lisbon, but you may get the occasional cold and rainy days.
In the north, it tends to rain a lot, so winter may not be the best time to drive to Coimbra, Porto, the Douro Valley, and the surroundings. (Did you know Porto has more rainy days than London?)
Places You Must Visit in Portugal When Renting a Car
Most of Portugal has pretty good public transportation, but there are quite a few remote places in Portugal that you can only reach by car.
Here are some out-of-the-way places that are worth the detour while you drive through Portugal.
Aldeias de Xisto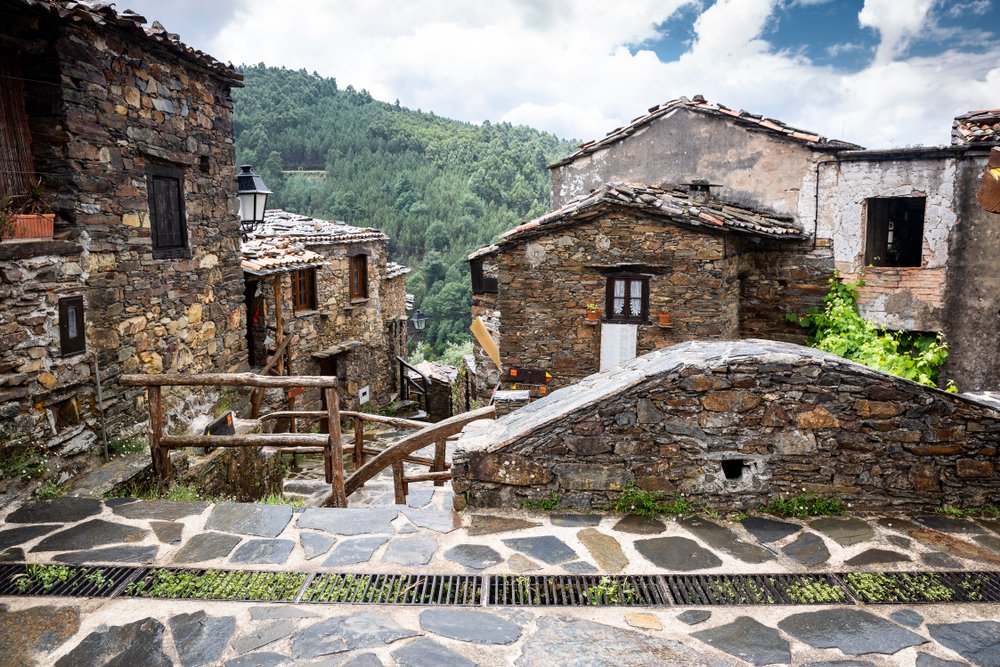 These small schist villages are nestled within the remote hills of Central Portugal.
Most villages are in the Serra da Lousã and Serra do Açor, two forested, mountainous areas not far from Coimbra.
Some of the prettiest villages are Talasnal, Fajão, and Chiqueiro.
Aldeias Historicas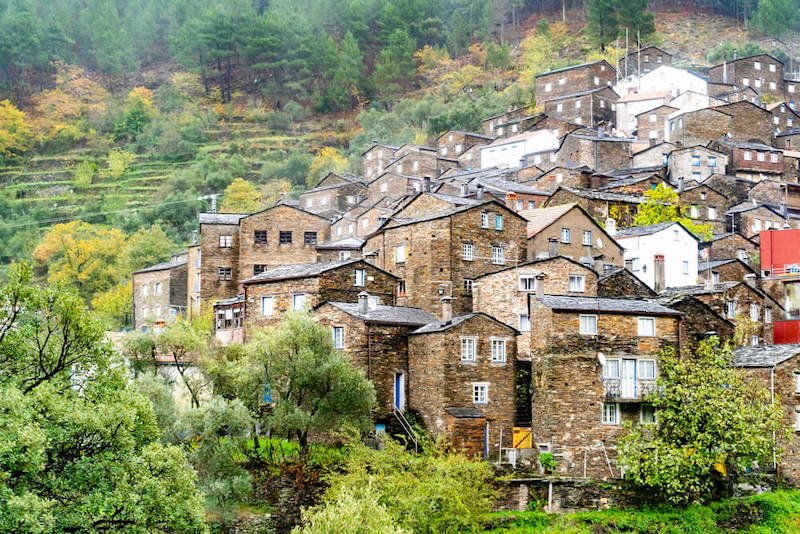 The Historic Villages of Portugal is a program aimed at restoring and promoting ancient villages across Portugal.
Since the program started in 1991, 12 villages were classified as historical villages.
Piódão, Monsanto, Castelo Rodrigo, and Belmonte are among the most charming.
Alentejo Beaches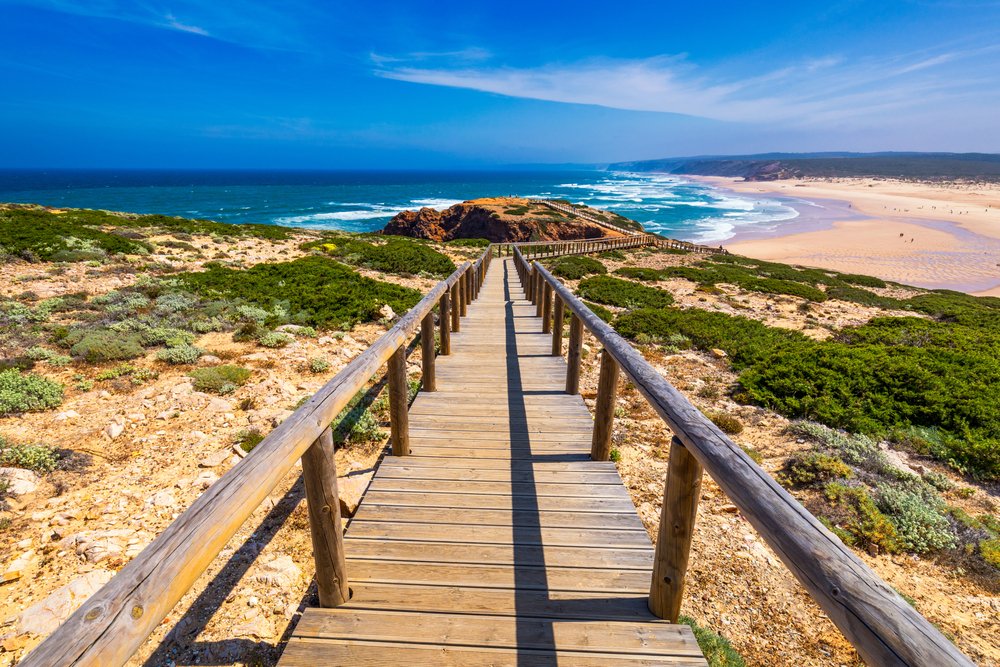 Another area worth exploring by car is the coast of the Alentejo region, between the Algarve and Lisbon.
This area is not easy to reach by public transport, so if you rent a car in Portugal, you'll get the chance to discover some wild beaches!
Praia da Amália, Praia de Odeceixe, Praia da Amoreira, Praia da Bordeira, and Praia do Castelejo are just a few spectacular beaches you can explore in Alentejo.
Peneda-Gerês National Park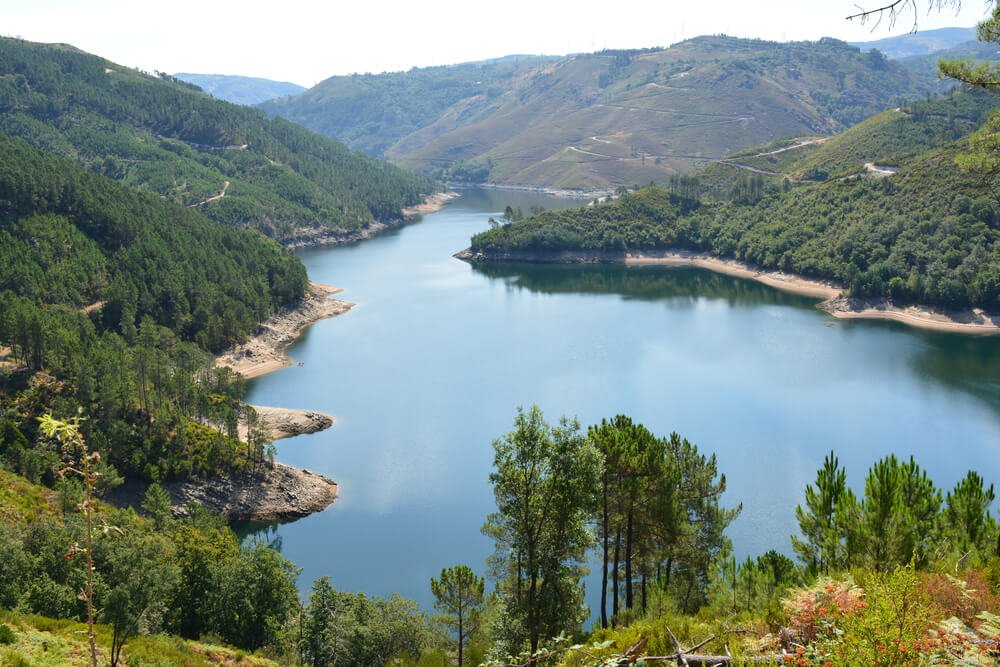 Located in Northern Portugal, bordering the Spanish region of Galicia, this national park is worth the side trip.
It's just one hour from Porto, but its stunning lush forests, thundering waterfalls, and wild rivers feel like they're much further away.
My Final Recommendation:
Searches 500+ rental agencies (including small local ones) to find the best price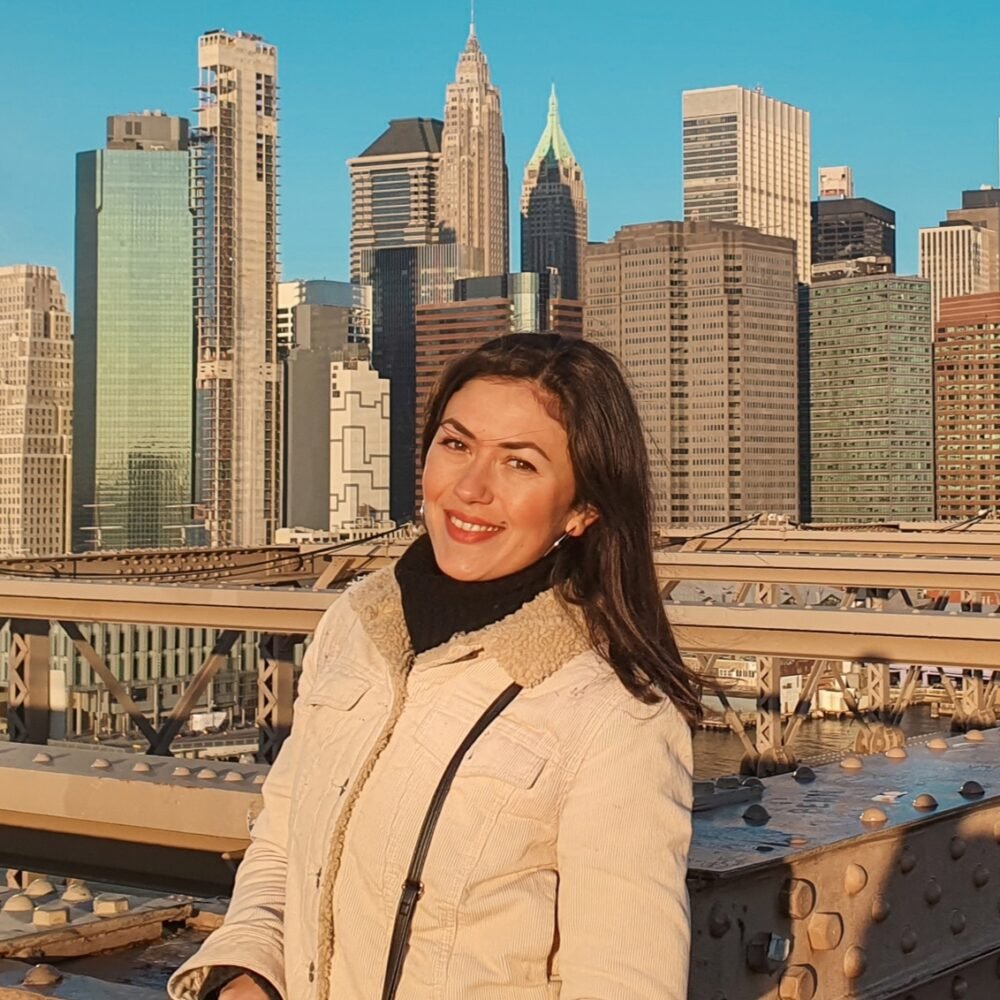 Roxana is a Romanian-born freelance travel writer who has lived in Italy for over 15 years. She has a Master's in Journalism and a Bachelor's in Film Studies, and she studied at Università degli Studi di Roma Tre. Besides her native Romania, Roxana has lived in Rome, Lisbon, and Berlin, and she has traveled through much of Europe in search of hidden gems, history, and culture.