I've taken more long-haul flights than I can count at this point.
My most epically awful travel day clocked in at over 36 hours of transit spanning 6 airports, all because I was trying to save a few bucks… an experience I really don't recommend you try for yourself.
Unless you enjoy rocking back and forth in an airplane seat trying to remain sane. Not that I've done that, of course.
The past several years have seen me taking flights all around the world, crisscrossing 6 continents to tally up more than 60 countries. I've been on flights as long as 14 hours in one go… on a handful of occasions!
Long haul flights are never fun, but they can be slightly less hellacious depending on how you pack for a long haul flight.
What you bring and what you wear on a long flight both make a huge difference in your comfort, your ability to sleep, and most importantly — your ability to not lose your f#(*ing mind on the plane.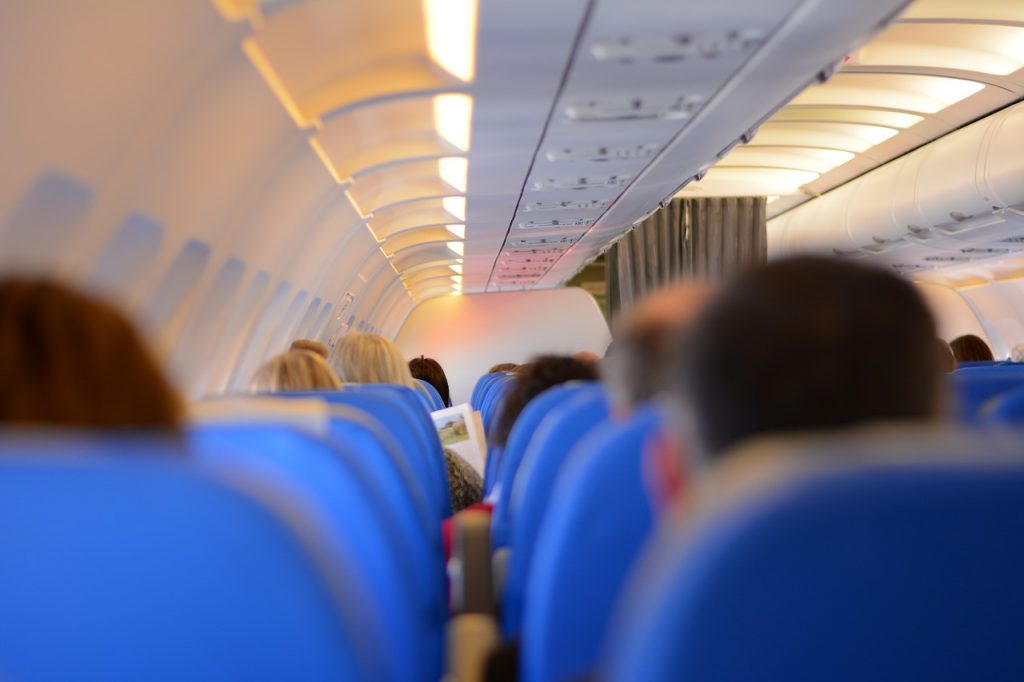 Note: This post contains affiliate links, which means I may receive a small commission if you purchase something through one of these links. Thank you for supporting the free content on this site! For more information on affiliate links and cookies, see my disclosure page for more details.
What to Wear on a Long Haul Flight
Am I the only one who gives people the serious side-eye when I see them dressed to the nines on a plane?
While you won't see me in my onesie on a plane, I always wear soft and comfortable pants or leggings, a T-shirt, a comfy sweater, and a scarf that is big enough to double as a tent.
What I wear on a long haul flight doesn't change much depending on the destination, because no matter where I'm going, I can guarantee that the plane will alternately be boiling hot and freezing cold.
I can also guarantee that even in the most hellishly hot of climates, I'll end up using my scarf or sweater at some point when faced with some particularly aggressive air conditioning.
There is no one perfect outfit to fly in. The trick to putting together the perfect long haul flight outfit is choosing something with layers you can easily add and subtract.
Bonus points if they're lush and cozy and make you feel like you're nestled in a pillow fort (while crammed into a seat with 30 inches of pitch)
Warm cardigan or hoodie
Even if you're flying to a warm weather destination, trust me: you're going to want to bring at least one warm cardigan or hoodie for the flight.
The airplane cabin's temperature will fluctuate a ton throughout the flight, especially after take-off when all the air conditioning seems to roar to life.
There are a few requirements for my perfect flight hoodie: 1) a soft cotton blend that won't wrinkle, 2) floaty and loose enough that it can hide the plane bloat I get from the sodium overdose that is airplane 'food', and 3) stylish enough that it makes me forget that I look and feel like death and will actually wear outside the plane.
This one from Ninedaily ticks all the boxes and is pretty much my perfect plane hoodie.
I tend to prefer a hoodie when picking what to wear on a long haul flight because it also is helpful when it comes time to sleep, providing a sort of pillow-like barrier between me and the outside world and shutting out some of the light, but a soft cardigan will also do.
Even if you're flying to a warm weather destination, trust me: you're going to want to bring at least one warm sweater for the flight.
The airplane cabin's temperature will fluctuate a ton throughout the flight, especially after take-off when all the air conditioning seems to roar to life.
Comfortable cotton T-shirt
Underneath my hoodie or cardigan, I like to wear a simple and comfortable short-sleeve cotton T-shirt just in case the cabin temperature gets really hot (which, in all my flying experience, I've noticed tends to happen on take off and landing).
Basically, I like to have a comfortable T-shirt that I can strip down to if needed if the plane gets warmer than expected. I choose black or navy because it shows pit stains less (long haul travel ain't glamorous, guys). I don't have anything fancy, just a bunch of Hanes T-shirts that I've had for forever.
Comfortable pants/leggings
I'm going to get a bit controversial here and say that leggings as pants are a perfectly acceptable answer to the question of what to wear on a long haul flight.
If it covers your body and keeps your skin from touching me as we're squeezed in together unnaturally close quarters, I really don't give a flying f(*# what you wear.
I prefer jean-look leggings aka jeggings – make sure they're actually leggings that look like jeans, and not jeans that look like leggings (this makes sense in my head – basically, one is soft and lush, the other is scratchy demon material).
These denim-look leggings from HUE, my favorite leggings brand, fall into the heavenly former category.
That said, just regular matte black leggings work too. I used to buy a ton of leggings in bulk from H&M each season until inevitably each pair would end up in the trash as my thunder thighs ripped the seams to shreds.
I've since invested in higher quality leggings, also from HUE, and they last for ages. At just twice the price of H&M leggings, they last at least 10x longer, so it's a no brainer for me.
Slipper socks
I always bring some fuzzy slipper socks so I can take off my shoes, as I can't fall asleep with my shoes on. Sorry if this is a major plane faux pas, but we all gotta make sacrifices, y'all. As I once said to my friend regarding the indignity of flying coach, "you can't hurdle through the sky on a throne".
I bought my house socks at a German Christmas market, but I'm ridiculously tempted by these cute panda socks.
The question is do you need compression socks for a long haul flight? I've never in my life worn a pair and I've never had a problem, especially because my tiny bladder means that I get up to use the bathroom every few hours so that I give my legs a stretch.
If your legs get achy and sore on shorter flights, I'd definitely invest in a pair of compression socks but it's not something I use personally.
Slip on shoes
I can't fall asleep when I'm wearing shoes, so I have my fluffy slipper socks, but I definitely don't want to step foot into a plane bathroom in those – yikes. Planes are basically flying germ boxes and you need proper shoes (or perhaps a hazmat suit) to brave the toilet there.
Therefore I try to make sure that the shoes I bring on the plane are easy to slip on and off as needed without needing to zip or lace much. I love these Skechers pull on sneakers (I have them in red) for flying – they're super simple to take on and off without any fuss.
The biggest freaking scarf possible
My other biggest long haul flight essential is an enormous scarf that you can practically build a shelter with.
Basically, anything that goes under the search term 'blanket scarf' will do you good. I have something similar to this blanket scarf that I bought at Zara.
Not all airlines give you a blanket anymore – and those that do come wrapped in plastic. Which I understand, because ew bedbugs, but also I feel like it's so wasteful…. says the person emitting carbon out the wazoo on a long haul flight.
Anyway, bring your own scarf/blanket/pillow combination. Armed with this and your travel hoodie, you'll feel cozy as hell and ready to take on an awful flight.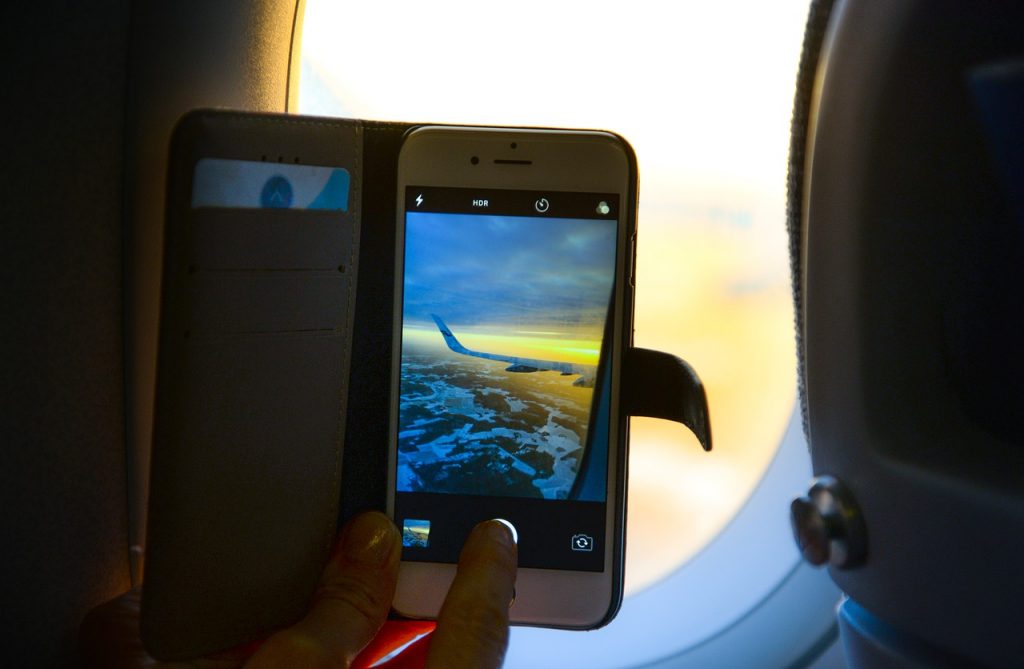 Long Haul Flight Essentials to Pack
A carry on bag
I travel carry-on only 90% of the time for a few reasons: the primary reason being that I'm cheap as hell and typically fly lost-cost carriers long haul like Norwegian or Level whenever possible. They don't always include a bag, so I pack carry-on only to avoid the extra $40+ that can get added onto each ticket price.
The other reason is that I am impatient and hate lines, so I hate checking in my bag at the airport when I arrive.
The few occasions that I checked a bag, I found it extremely rare for an airport to have seamless bag drop processes.
I also just want to get the hell out of the airport as soon as the wheels hit the ground, so I love not having to wait for my bag or worry that it got lost.
Side note, I may have some trust issues after having my bag lost a handful of times, the worst being a 32 DAY DELAY courtesy of freaking Greyhound. How you lose a bag on a bus, I have no idea, but they tried it and boy did they ever succeed.
So, for those reasons, I recommend investing in a good carry-on bag. I estimate that traveling carry-on only saves me about $300+ per year as a frequent flier, so investing in a higher quality bag is a no-brainer for me.
I've been a paying customer of Tortuga Backpacks for years. They recently sent me their newest edition, the 45L Setout, to try, and I love it to pieces — except not literally because it's insanely well constructed and I expect it to last the better part of a decade.
It is really well constructed, with three main compartments: one for a laptop and other flat objects, one giant rectangular compartment perfect for packing cubes stuffed with clothing, and one smaller compartment with pockets for passports, pens, odds and ends, etc. that I stash all my extras in.
It also has one small outer zipper pocket for anything you want quick access to, a water bottle holder on the outside as well as buckles so that you can strap something like a yoga mat to the outside.
Plus, it's quite comfortable to wear, with a padded hip belt and comfort-molding shoulder straps complete with a chest strap so that you can distribute weight perfectly across your body in the event that you need to wear your backpack for longer than usual. Check out more specs and details here.
I also carry a personal item sized bag because as much as I pretend I'm a light packer I actually always find more ways to squirrel things away. I have a full review of my favorite under-seat bag here.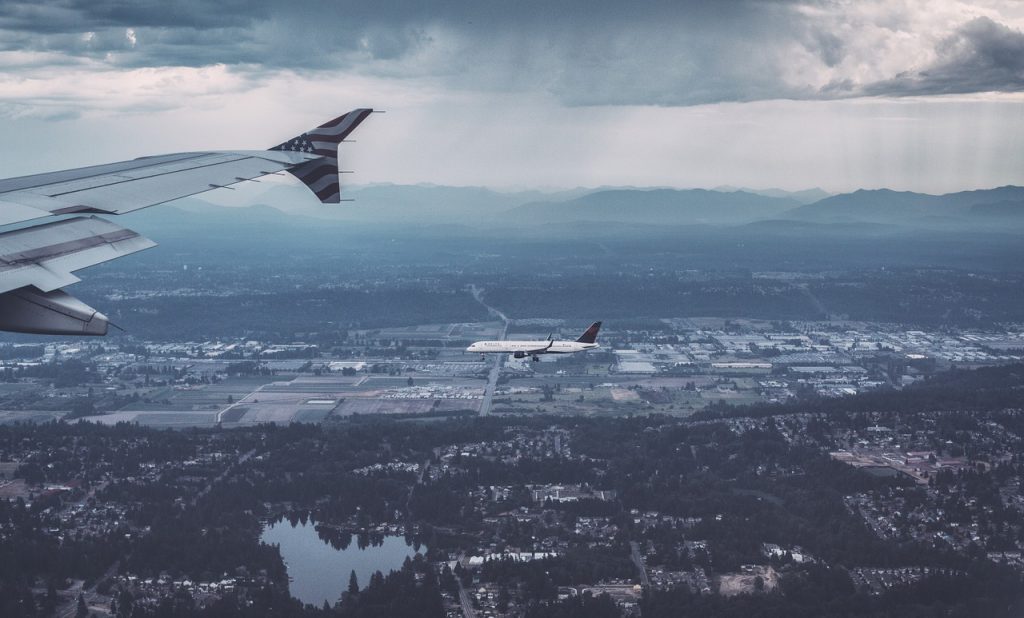 A change of clothes
Having fresh, clean clothes I can change into once I finally get off the plane makes me feel human once again.
And just in case you didn't heed my advice to only pack a carry-on and your luggage gets lost, you have clean clothes waiting for you at your destination, no matter what.
Snacks
I always have a ridiculous amount of snacks on my person at all times for every possible contingency – they're my number one long haul flight essential. Don't stock up at the airport, where they tack on about 200% to the price.
A few of my favorite snacks? Trail mix (make sure it's peanut free as a lot of people have really serious and sensitive allergies and you don't want to be that a**hole), granola bars, pretzels, and fresh fruit like apples.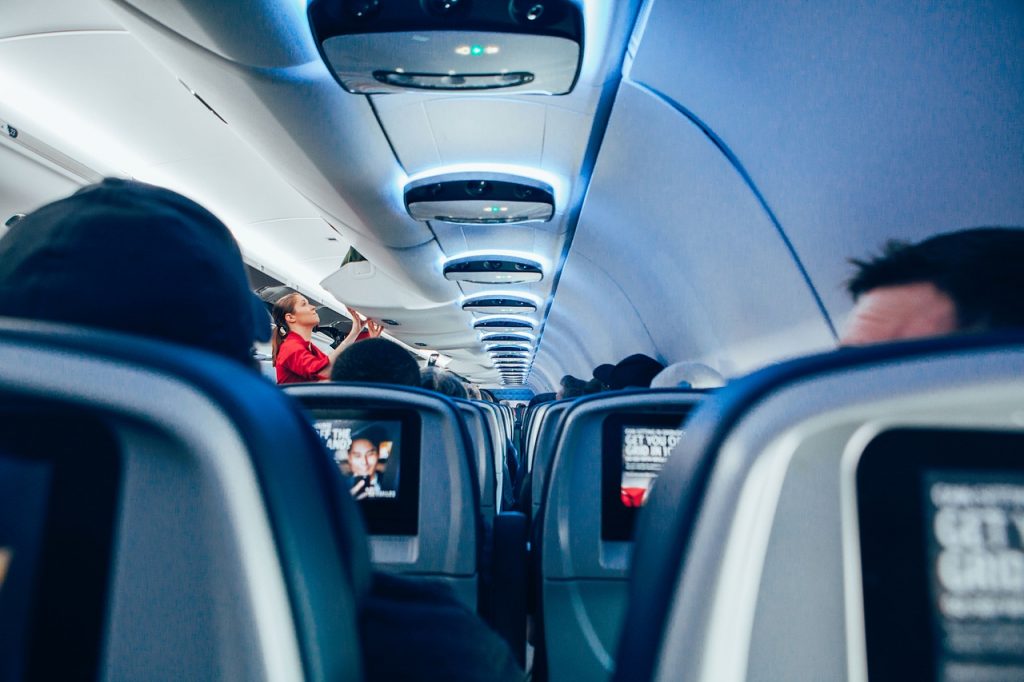 Entertainment
There are few things worse than settling into your seat on a long haul flight only to discover that your in-flight entertainment system is broken (or, in the case of a recent 6 hour Sofia to Doha flight, just plain doesn't exist).
Stock up your phone, laptop, or tablet before you fly with a ton of podcasts, music, and movies or TV episodes.
Netflix actually has a selection of shows you can download on your phone, no streaming required – I recommend downloading some of Netflix's best travel shows before you go!
I also bring a Kindle loaded with e-books (I love the Kindle Paperwhite, as it's gentle on my sensitive eyes).
Lip balm + moisturizer
I really don't know what they do to the air on long haul flights, but every time I get off the plane I feel like every cell of water in my body has been replaced with sand. I am constantly reapplying heavy-duty lipbalm.
Generic chapsticks actually make my lips worse somehow, but I am obsessed with the ultra-cheap yet ultra-effective Aquaphor Lip Repair which have rescued my lips from oblivion on many a long flight.
I also moisturize every few hours – I love this pricy but ridiculously hydrating matte moisturizer from Shiseido.
It's expensive, but you only need a tiny drop at a time to get your skin back to baby soft.
Neck pillow
I've trialled many different travel pillows over the years and now I've finally found the best neck pillow for long haul flights – the TRTL.
Yes, you look and feel like a total doofus using it but it is by far one of the most comfortable pillows I've used, PLUS here's the clincher for me – it actually travels well.
I used to buy those big beanie-filled U-shaped neck pillows that you buy for $20 at the airport, but always got frustrated carrying them on longer trips and ended up tossing them out eventually having been used once.
I then bought an inflatable U-shaped neck pillow and absolutely despised it. I had kind of given up on finding the ideal travel pillow when my dad gifted me a TRTL travel pillow for Christmas a year ago and holy crap, this pillow rocks.
It's perfect for side sleepers like me who need pillow support to feel comfortable.
It also keeps your neck in an ergonomic position to avoid the cricks in your neck, which prior to owning this pillow always struck me after a long haul flight.
Most importantly, it packs down relatively flat or easily dangles off your backpack so that it's not heinous to carry around when you're not flying.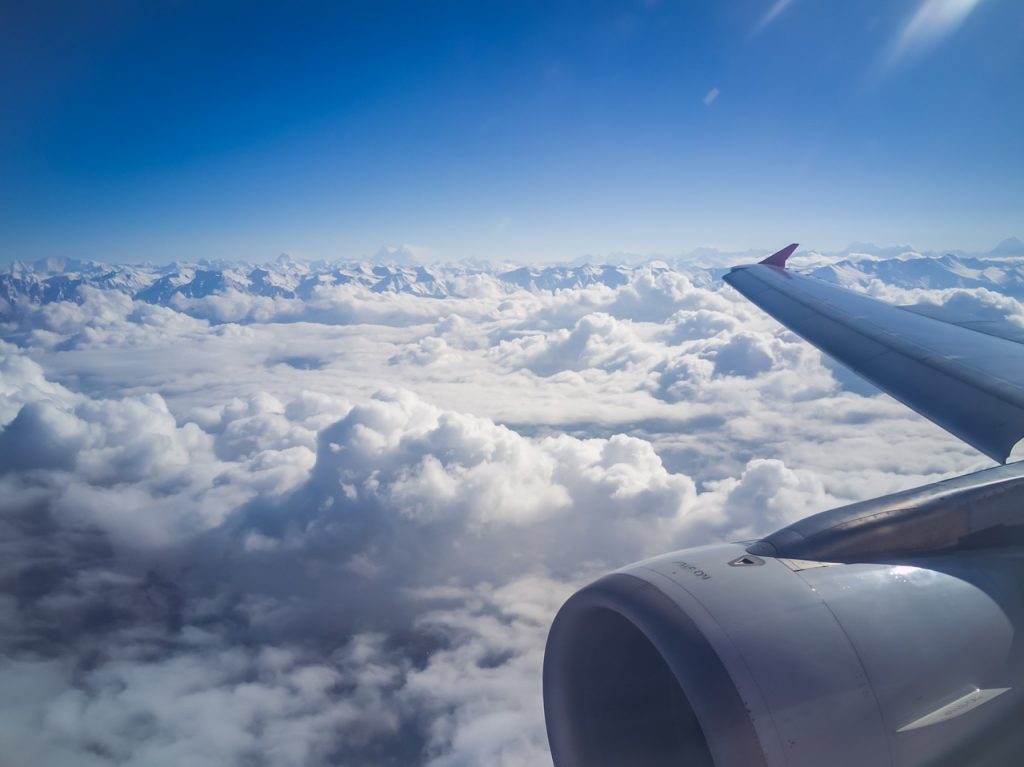 Baby wipes
For everything from taking off makeup to refreshing your face to cleaning your tray table (which are literally never ever cleaned) and wiping down the seat in the bathroom after a man who had a few too many mini bottles of wine went to town in there… you'll want to BYOB(W).
Most baby wipes contain plastics that take hundreds of years to break down so I recommend these biodegradable ones instead.
Yes, they're wrapped in plastic, but it's a huge improvement over the alternative (plastic wipes wrapped in plastic). You can buy them here.
Pen
I can't tell you the number of times I've been surprised that I don't have a pen in my carry-on and I have to fill out a paper customs or immigration form. It's annoying every single time – so make sure you bring a pen.
Also, make sure it's a simple crappy ball point pen and not the lovely, glide-y inky pens that will immediately burst upon pressure in the air. I've definitely lost quite a few of my favorite pens (and had some really inky hands in the process) to this.
Reusable water bottle
I try to reduce my single use plastic intake, so I bring my own water bottle. I bought mine from IKEA but this one from Klean Kanteen is great.
If you don't want the extra weight and want something that packs down light, I recommend this Nomader water bottle which folds up when not in use.
I fill up my water bottle before a flight and make it a point to drink it throughout the flight. For refills, don't use the plane water in the bathrooms as it's not potable and is barely fit to wash your hands with.
Portable charger
My Anker portable charger (I have the PowerCore 13000 has saved me from tears and near disasters many a time.
This portable charger can charge a phone nearly 5 times, plenty for even the longest of long haul flights.
More and more planes these days have USB charging ports, but since I recommend a portable charger for travel anyway, it's a no-brainer to have it in your long haul flight essentials kit.
Once I lost my portable charger and didn't replace it, and trying to coordinate my arrival to my Airbnb with no way to contact my host with a completely dead phone and a screaming taxi driver was one of my worst travel moments of 2018.
A high-quality sleep mask
I hate, hate, hate those fake satin airline sleep masks they give on long hauls more than I hate most things, except maybe bananas and itchy wool sweaters.
I purchased this amazing Bedtime Bliss sleep mask for my 5 month Europe backpacking trip and was so obsessed.
For one, it rests gently on top of your eyes with its contoured shape, not squishing your eyelids so that you constantly feel pressure.
It blacks out light completely, which is great when you're trying to trick your body to adjust to a new time period and there's still sunlight out where you are.
Not only is it great to combat jet lag with, it also blocks out light in hostels and on buses. I'm so obsessed with this eye mask that I quite literally had tears in my eyes when I realized I left it behind tangled in a hostel bed sheet. When I returned to the US, I made sure I bought two on Amazon for my next trip, that's how in love I am.
Comfortable wireless headphones
Am I the only one who wakes up with shooting ear pain if I fall asleep for too long with plastic earbuds in my ears, or am I just a baby?
I need comfortable wireless earbuds that don't have an annoying cord to get in the way and catch on things, jarring me awake as they get yanked out of my ears.
I love to listen to podcasts, audiobooks, meditation recordings, and that sort of thing to help me drift off to sleep on long haul flights.
A tip for helping you sleep on long flights: be sure you're not staring at your phone or even your Kindle within an hour or so before you want to sleep.
The blue light will mess with your sleep cycles and make it hard to sleep, thus forcing you to be conscious for more hours of your flight. Ugh.
Sleep medications
As a citizen of the overly litigious United States and the daughter and niece of lawyers, lemme just say: I AM NOT A DOCTOR AND THIS IS NOT MEDICAL ADVICE. This is just my experience!
I always take some sort of sleep aid during my long haul flights. Usually, this is one of my sleep medications prescribed by my psychiatrist, as I have chronic insomnia unrelated to travel.
Over the counter pills like Benadryl, Dramamine, or Tylenol PM will work for people who, unlike me, do not require the human equivalent of elephant tranquilizers to sleep. 
There are lots of herbs I like that help me sleep: valerian root (may cause problems for some, but works for me), passionflower extract, kava kava (may cause funky dreams, you've been warned!), hops, and California poppy.
As always with any medicine, herb, or supplement, consult with a doctor about your specific health before use.
For me, the best sleep aids for long haul flights for me is something that combines herbs, amino acids (like trytophan, the protein in turkey that makes you sleepy), and natural hormones like melatonin.
Personally, Jarrow has an amazing sleep aid that works virtually as well as my sleeping pills.
It's called Jarrow Sleep Optimizer and it is literally one of the best things I've ever spent money on.
If you just want the melatonin, be aware that most melatonin is dosed way too high according to recent research.
I've learned that 0.1 mg of melatonin taken 2-4 hours before sleep is ideal (most melatonin pills are 3-5 mg, which is 30-50x the ideal dosage!).
Each Jarrow pill has 0.15 mg, which is close enough for me (I take 1 pill instead of the recommended 2 so that I don't take too much melatonin).
More won't technically hurt you, but it's apparently not the ideal, as your brain produces melatonin naturally in nanogram amounts, and having a full few milligrams will overwhelm your brain. Science!
Fiber supplement
This may seem weird, but it's one of my top long flight essentials, and here's why. One unfortunate but common side effect of jet lag induced by long haul flying is constipation. For example, once I flew from Toronto to Tokyo in one go, and the subsequent jet lag totally wrecked my digestive system.
Eight days later, I finally was able to use bathroom, but not without several days of agony.
A better choice would be to bring along a fiber supplement to easily add into my water and keep me regular despite the flying!
Allison Green is a former educator turned travel blogger. She holds a Masters in Teaching and a B.A. in English and Creative Writing. Her blog posts merge her educational background and her experience traveling to 60+ countries to encourage thoughtful travel experiences that both educate and entertain. She has been a speaker at the World Travel Writers Conference and her writing, photography, and podcasting work has appeared in National Geographic, CNN Arabic, CBC Canada, and Forbes, amongst others. Now based in the San Francisco Bay Area where she grew up, she has also lived in Prague, Sofia, and New York City.