More than 41 million visitors flock to Las Vegas each year, and for very good reasons!
Las Vegas offers visitors an average of 310 sunny days year-round, and to put it briefly, an escape from reality.
When in Vegas, there is no going home in the saying, "go big or go home!"
Grand, world-class casino hotels, big-name entertainment and attractions, and an always booming food scene fill 4.2-miles worth of the city's major street: South Las Vegas Boulevard, which is famously known as the Las Vegas Strip or the Strip.
But wait! There's more. Head north of the Strip to downtown Las Vegas and you'll enter the original Las Vegas Strip otherwise known as Fremont Street.
This area is also called Old Vegas where historic casino hotels and an eclectic entertainment and arts district saturate the scene.
Head west into a reclusive part of Vegas and you'll be surrounded by a natural wonderland full of towering red rock formations and unique desert plants and wildlife.
Las Vegas is where curiosity and exploration is encouraged, and there is no shying away from letting loose and getting a little crazy here, especially if it's your first time in Vegas
This 2-day Las Vegas itinerary will ensure every hour of your time is spent absorbing all the spectacular sights and sounds that make Las Vegas such a fabulous city!
Travel Tips for this Las Vegas Itinerary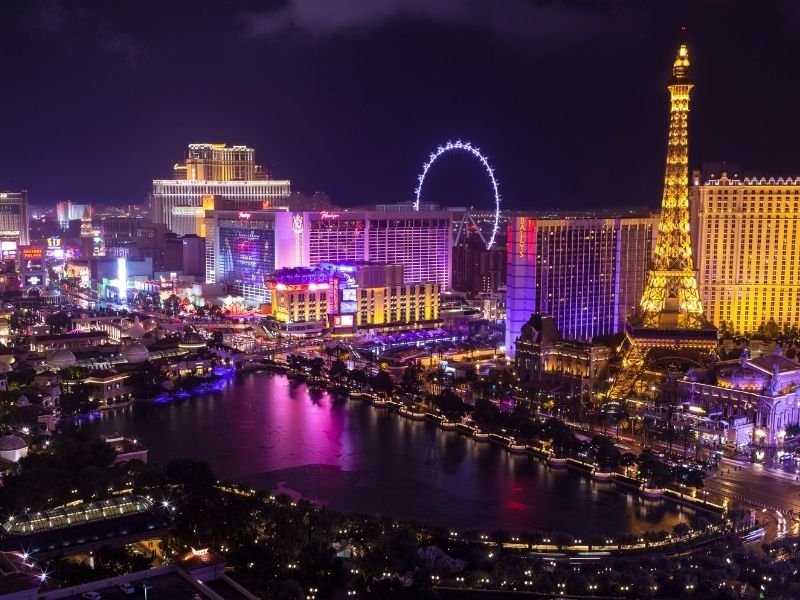 Note: This post contains affiliate links, which means I may receive a small commission if you purchase something through one of these links. Thank you for supporting the free content on this site! For more information on affiliate links and cookies, see my disclosure page for more details.
Vegas is essentially an adult playground. Although there are kid-friendly activities, this specific weekend in Vegas itinerary is for everyone ages 21 and over!
If you're staying at a hotel on the Strip, download the hotel's app onto your smartphone for easier, faster, and contactless check-in.
Make dining reservations in advance (at least a week or two in advance). Same goes with booking tickets to attractions and events. Don't mess up your Vegas trip by waiting too long!
If you want to gamble on the Strip, sign up for the casino players club (for free) to reap the benefits of the rewards that the programs offer like discounts and comps on hotel rooms, dining, and entertainment, and more.
You can't hail a taxi anywhere on the Strip (see the "How to get around" section below)
It is legal to walk around outside on the Strip or in downtown with an open alcoholic drink in your hand (as long as the drink is not in a glass container), so cheers to that!
Best Time to Visit Las Vegas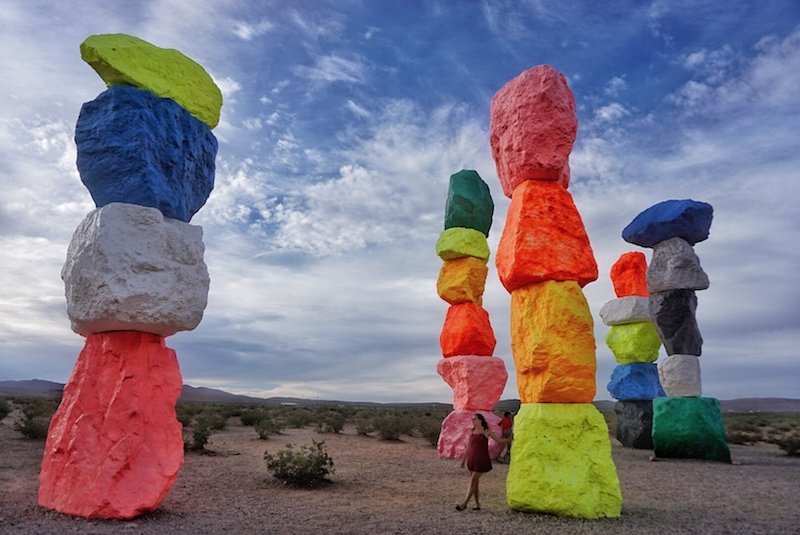 Las Vegas is an improbable oasis in the midst of a desert.
The average high temperature between June and August is 102 degrees Fahrenheit — so unless you have a good tolerance for heat, it's best to stay away from Vegas during these times.
For the most bearable weather, visit between March and May or September and November. The weather won't be either too hot or too cold.
Keep in mind that the famous Vegas 'pool parties' typically open March through October. For an events calendar, check here.
Visiting Las Vegas on a Budget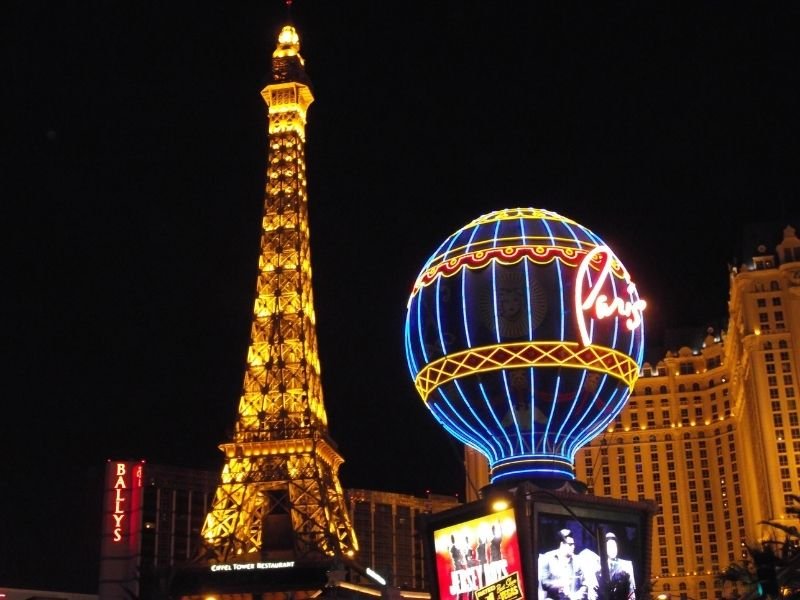 If you are trying to save money, look for travel dates from Sunday to Thursday for lower hotel and airline prices. Booking on a weekend (Friday to Sunday) will usually always cost more.
The cheapest months for flights and hotels are typically mid-June, mid-to-late July, and August (keep in mind it's very hot in Vegas during this time).
Other popular times to visit Vegas on the cheap are in late November; December (before Christmas and New Years); and January (after New Years).
Avoid visiting during federal holidays and during annual events that happen in the city (e.g., EDC festival, World Series of Poker, NASCAR, etc.). Check here for a list of all yearly events.
What to Pack for a Weekend in Vegas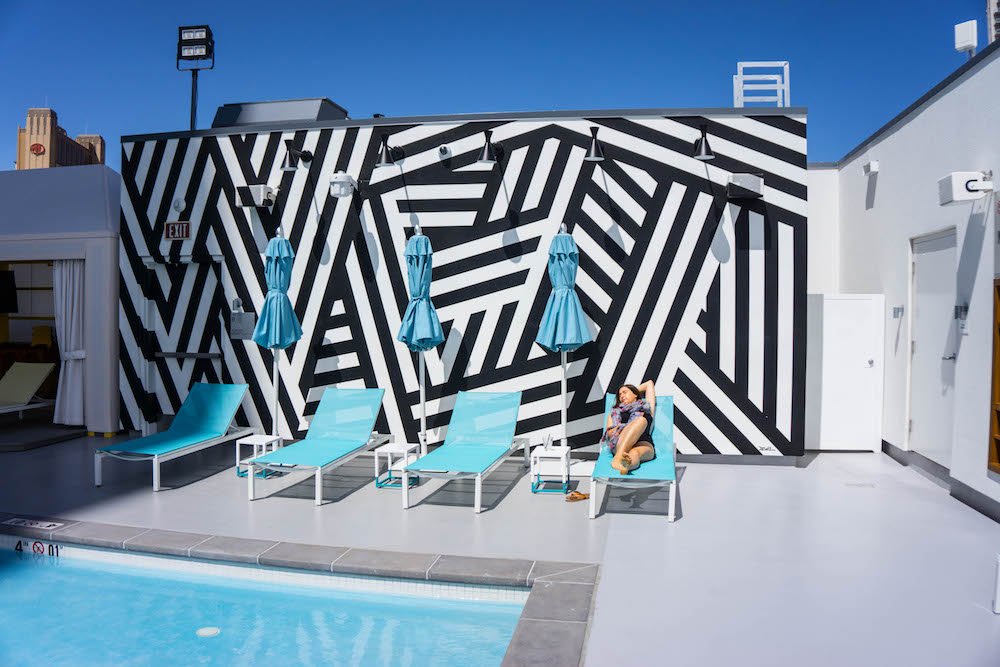 Comfortable walking shoes: You will be doing a lot of walking!
Light jacket: While it is hot in Vegas for most of the year, all indoor spaces will have the AC on blast and you will likely find yourself feeling cold after a while! And if you visit outside the summer months, temperatures can drop quite drastically by night and it can feel chilly.
Sunscreen, hat, and sunglasses: The sun is bright and strong in Vegas!
Swimwear and sandals: If attending a Vegas pool party!
Summer clothes (e.g., tank tops, t-shirts, dresses, shorts).
Water and snacks: If you're driving into Las Vegas, purchase this beforehand to bring with you as these items are pretty overpriced on the Strip.
Lotion/moisturizer: Because between the dry climate and the likelihood of drinking alcohol (which will further dehydrate you), your skin will be very dry.
A couple of nice club outfits (for women: a nice dress or skirt and top, and heels; for men: nice fitting pants or jeans, a button-up shirt, and dress shoes): Yes, there is a dress code requirement for the nightclubs on the Strip! The places in downtown Vegas do not have a strict dress code.
Where to Stay for a Weekend in Las Vegas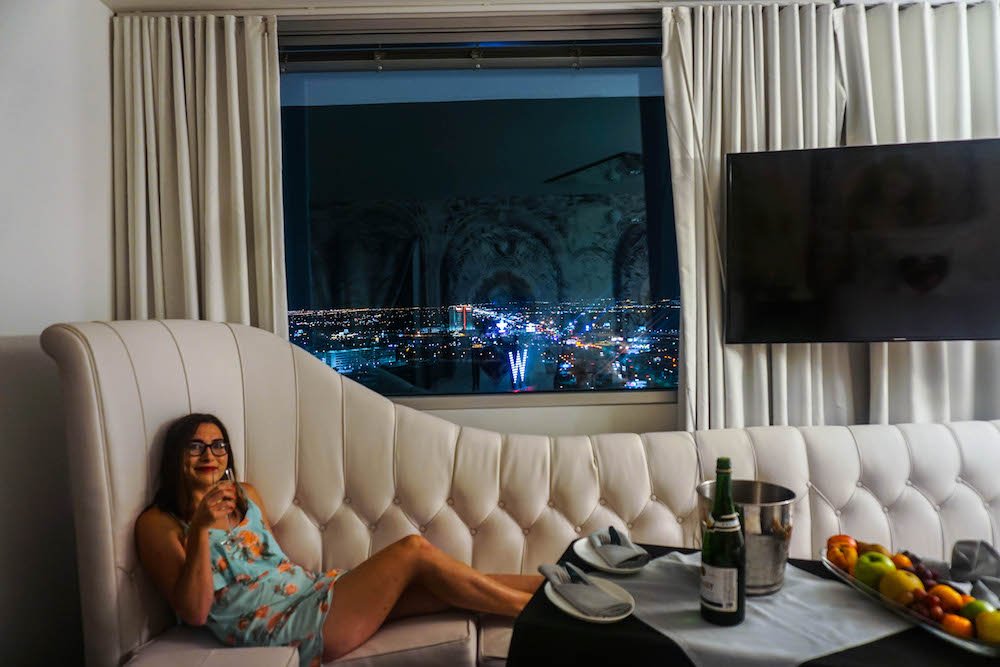 For this itinerary, staying on the Strip is highly recommended for convenience as it is where you'll be for all of the first day, and you can find both affordable or luxury hotels depending on your preference.
Some of the most affordable hotels are The Mirage, Excalibur, New York-New York, Flamingo, and The LINQ.
If you're looking to splurge, book a stay with MGM Grand, Bellagio, The Venetian, or The Wynn.
Getting Around Vegas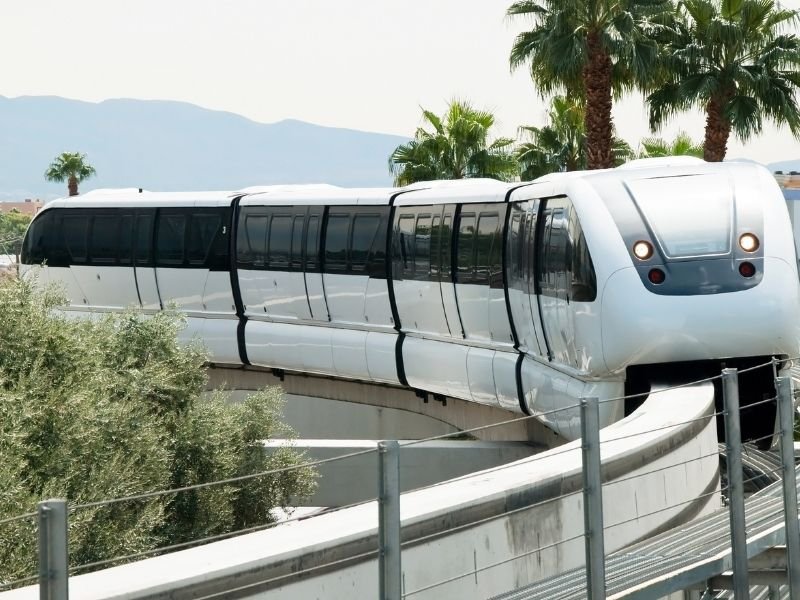 Walking: For the first day of this Las Vegas itinerary, you'll be walking the Strip, so a good pair of walking shoes is highly recommended.
Car rental: For the second day, you may want to rent a car (but you can get away without it and use rideshares or public transportation). I use Discover Cars to find the best price on my car rental.
Uber/Lyft/Taxi: Depending on where you choose to stay on the Strip relative to the locations of the activities listed on the first day (or if you just get tired from walking), Uber, Lyft, or taxi is a convenient option for getting around.
If you don't rent a car for this itinerary, you can get around on day 2 of this trip by using rideshares or public transportation
Note: When on the Strip, you must go to a designated pick-up spot at a hotel if you want to take a taxi or use Uber or Lyft.
Bus: For the first day, the cheapest option besides walking is by bus. The local double-decker Deuce bus has a route that goes directly along The Strip. The Deuce offers frequent services approximately every 15 minutes. A 2-hour pass is $6 and a 24-hour pass is $8. To buy a pass and plan out your route, download the rideRTC app on your smartphone.
Monorail: For the first day, another option for getting around is by riding the Las Vegas Monorail. After you've finished touring the Strip, you can ride the Monorail straight back to your hotel from one end of the Strip to the other end.
A single ride costs $5 while a 24-hour pass costs $13. You will have to walk a fair distance to get to the monorail stations, but considering the Monorail can get you to your destination in less than 15 minutes, this is a true timesaver!
Plus, trains arrive every 4-8 minutes at each station. The Monorail map can be found here and tickets can be purchased online here.
RTC Bike Share: For the second day, riding an e-bike is a great alternative when you're in downtown if you don't want to deal with driving around everywhere (if you decide to rent a car).
You can buy a dasher pass for $5, which gives you 24 hours of access and unlimited 30-minute rides. Check out the map of all the bike share stations downtown here.
Day 1 of Your Las Vegas Itinerary: On the Strip
The first day is about being at the heart of where all the hustle and bustle is in Las Vegas—the Strip!
See the iconic "Welcome to Fabulous Las Vegas" sign.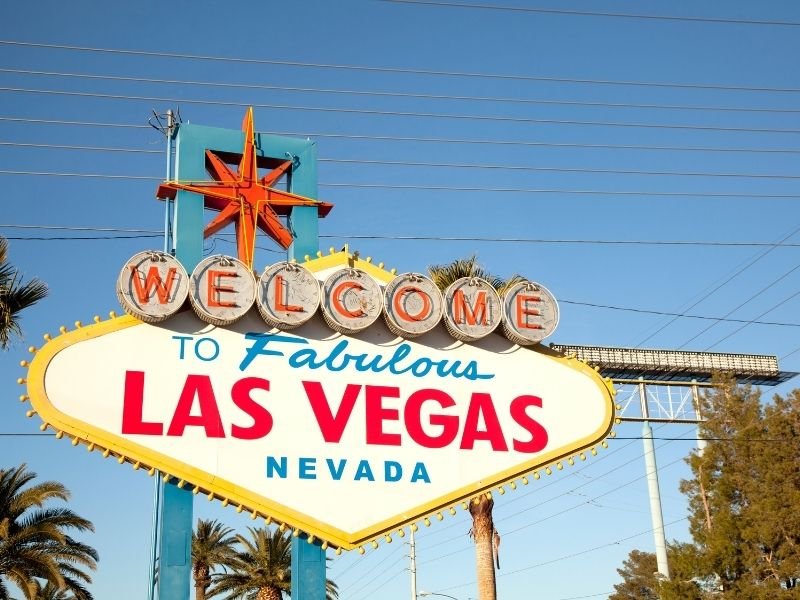 Kick off your trip with a warm welcome from the "Welcome to Fabulous Las Vegas" sign! Fill up your camera reel with some fun photos in front of the sign.
There may be a line to take a close-up photo with the sign, but you can always step to the side of the sign to snap a photo if you don't want to wait.
There will also be workers by the sign offering to take your picture for tips, but feel free to decline this. There is a designated parking lot for this attraction if you have a car rental with you.
Address: 5200 Las Vegas Blvd S, Las Vegas, NV 89119
Grab breakfast on the Strip.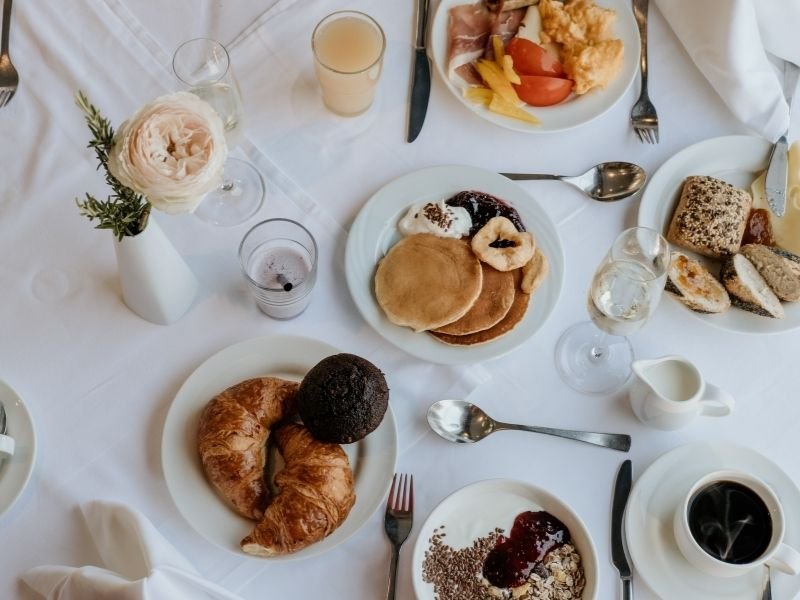 The one unfortunate part of the Strip is the overpriced food and drinks. So if you're on a budget (or you're just trying to save when you can), grab a bite at The Egg Shop.
You can buy breakfast for roughly $10 to $12 and choose from a menu that includes delicious classics like pancakes, French toast, and scrambled eggs and toast!
Now if you're here to splurge, head to the Four Seasons Hotel and dine at Veranda.
The restaurant offers a variety of egg dishes like steak and eggs, eggs benedict, and omelets. If you prefer a sweet breakfast, they have several pastries to choose from and of course, pancakes and waffles.
The service is top-notch, everything is perfectly cooked, and the portions are filling. Don't shy from adding a mimosa or bloody mary with your meal too, it's never too early when you're in Vegas! Breakfast averages at $23 per dish.
The Egg Shop ($)Address: 3961 S Las Vegas Blvd, Las Vegas, NV 89119
Veranda ($$$) Address: 3960 S Las Vegas Blvd, Las Vegas, NV 89119 (inside the Four Seasons Hotel)
Soak in all the splendid sights and sounds of the Strip.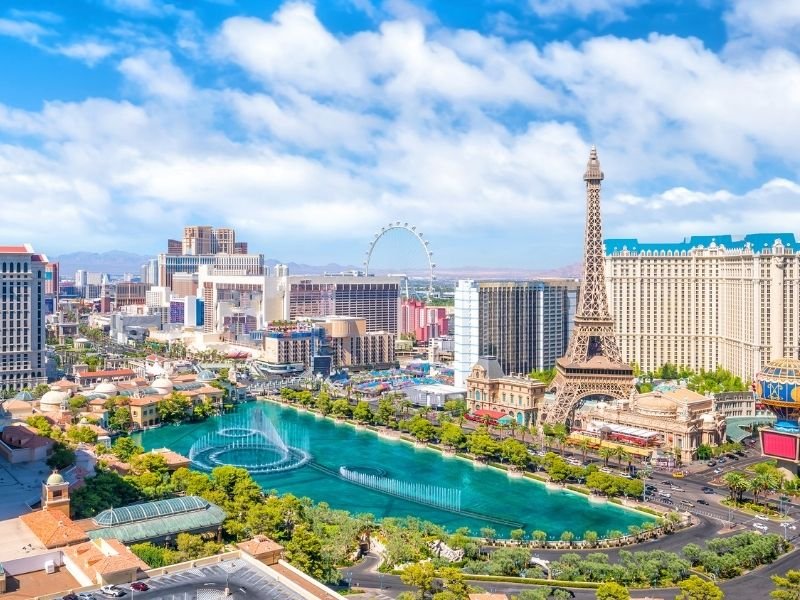 After enjoying a hearty breakfast, spend the afternoon enjoying the Vegas playground!
It's extravagant, lively, and full of spirit—and the best way to experience all its splendor is by immersing yourself in all the action located directly on the Strip.
The Strip is about 4.2 miles long and takes roughly an hour and a half to walk it at a steady, moderate pace.
But since you're here to explore and absorb your surroundings, you should take your time (at least 3 to 5 hours, about a half-day). The afternoon is yours to roam, sightsee, shop, eat, and drink!
And while the Strip can be expensive (when it comes to buying certain food and shopping), there are many free and affordable things you can do! Here are some free and low-cost things to check out during the afternoon:
Watch the Bellagio fountain show. Enjoy the choreographed music and lights in front of the fountains of Bellagio Hotel!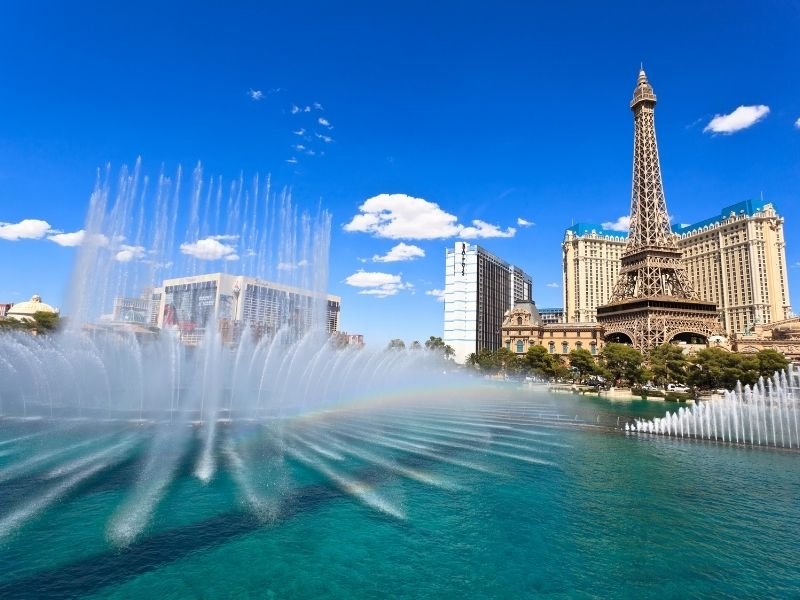 Check out the architecture (exterior and interior) of each hotel. You'll see each hotel has its own theme (e.g., Caesars Palace looks like an Italian palace, Paris Las Vegas has its own Eiffel Tower, the Luxor and its pyramid, etc.) and the construction and design of each hotel is something to admire.
Tour the Bellagio Conservatory and Botanical Gardens. The remarkable part of this conservatory and garden is that it changes seasonally (e.g., during winter, the displays transform into a breathtaking holiday theme). You'll definitely be taking a lot of photos here!
Window-shop your way through Vegas. You may not have the cash to burn, but you can spend some time enjoying drooling over the luxury items at the designer shops in Aria, The Forum Shops at Caesars, Grand Canal Shoppes at The Venetian, and the Wynn Plaza at the Wynn—there is a lot to gawk at that will keep you intrigued!
Walking the Shark Reef Tunnel at the Mandalay Bay. While not free, this activity is on the cheaper end of Vegas attractions. Admire more than 2,000 different animals — ranging from sharks to piranhas to giant rays and sea turtles, and even Komodo dragons!
Book online in advance here to skip the ticket purchase line!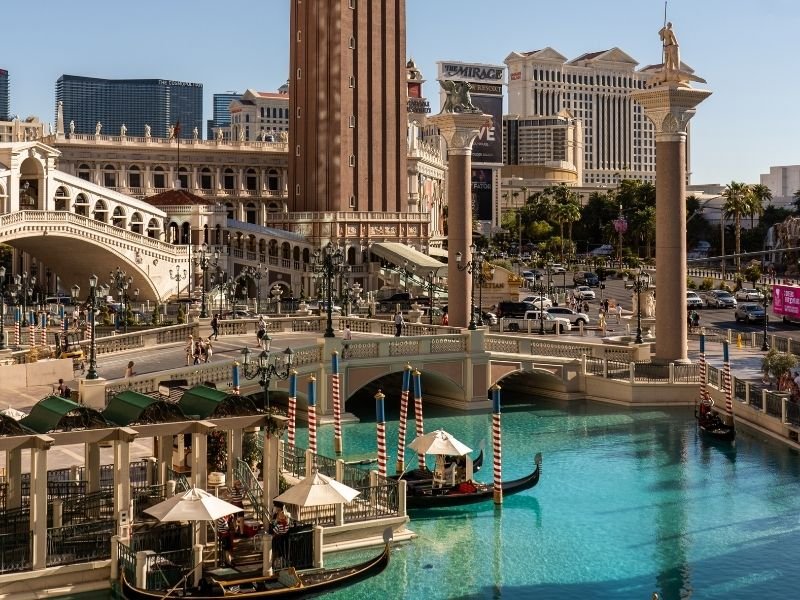 See the gondola rides at The Venetian. Even if you're not paying to ride a gondola, it's a sight worth seeing as the Venetian itself is a stunning, intricately built hotel full of marble columns, arch bridges, painted ceilings.
Walking around here will feel like you've arrived in Venice, Italy. You may catch the gondoliers themselves belting out a song too, it's quite the performance!
Wanna gondola? Book this combined ticket for a gondola ride and entrance to Madame Tussaud's to save some money!
Book your combination gondola ride + Madame Tussaud's ticket here!
Visit the Flamingo Wildlife habitat at the Flamingo Hotel. Here, you can see a variety of wildlife like Chilean Flamingos, pelicans, hummingbirds, turtles and an impressive array of fish.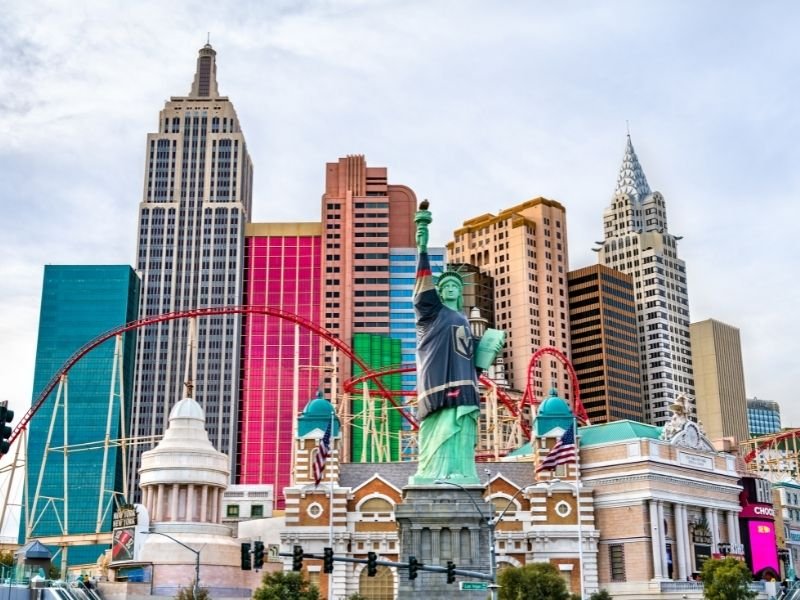 Take the Big Apple Coaster at the New York-New York Hotel. Another lower-ticket item, a ride on the famous roller coaster in front of the New York-New York Hotel is a fantastically fun way to spend a bit of one day of your Vegas trip!
Book online in advance here to skip the ticket purchase line!
Have dinner on the Strip.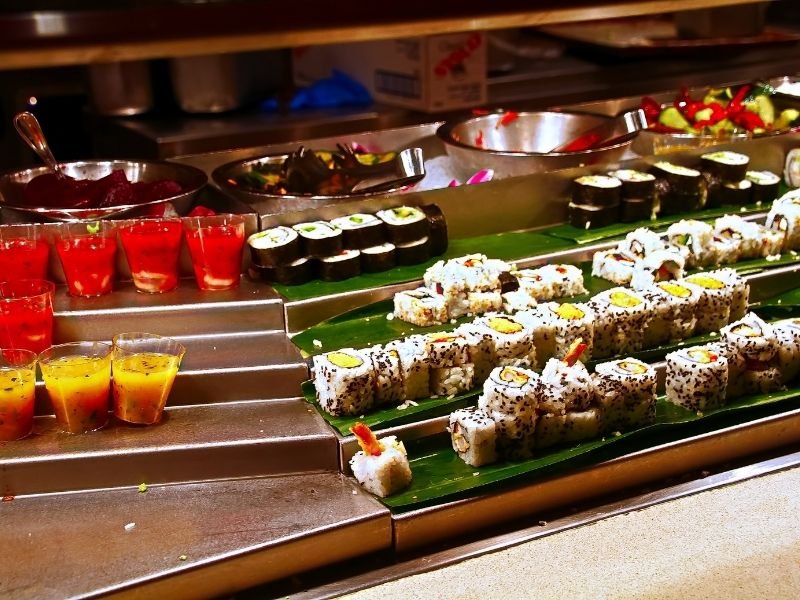 After a full afternoon of exploring the Strip, it's time to eat!
Here are a couple of highly-rated places to eat on the Strip, with one budget-friendly option and a pricier option for those who want to splurge:
Budget: They're not the cheapest tacos you'll find in the world, but for a meal on the Strip, Tacos El Gordo is a very affordable option.
They serve Tijuana-style tacos like suadero (beef brisket) and abobada (spiced pork) with handmade corn tortillas, and they also make their own fresh guacamole and salsas. Be prepared to wait in line here, this place is popular for a reason! Each taco is approximately $3-$5.
Splurge: An absolute must when in Vegas is dining at a buffet! The buffets in Vegas are next level in terms of food quality, interior design, service, and ambiance.
There are dozens of buffets on the Strip that offer some exquisite, mouth-watering food, and among the most popular is the buffet at the Wynn.
Dinner is $64.99 per person Monday through Thursday and $69.99 per person on Friday and Saturdays. It's a worthwhile dining experience as there is nearly every type of cuisine here (vegan and vegetarian options included). Add an open bar tab for $27.99 per person!
If you're a fan of seafood, be sure to pile your plate high with their Alaskan Opilio crab legs! The dessert section is huge, so make sure to leave room for this too.
There is also a server at your table who attends to you for drinks. Make a prepaid reservation online here.
Tacos El Gordo ($) Address: 3041 S Las Vegas Blvd, Las Vegas, NV 89109
Buffet at The Wynn ($$) Address: 3131 S Las Vegas Blvd, Las Vegas, NV 89109
Watch the Las Vegas skyline light up the night at 1,149 feet high.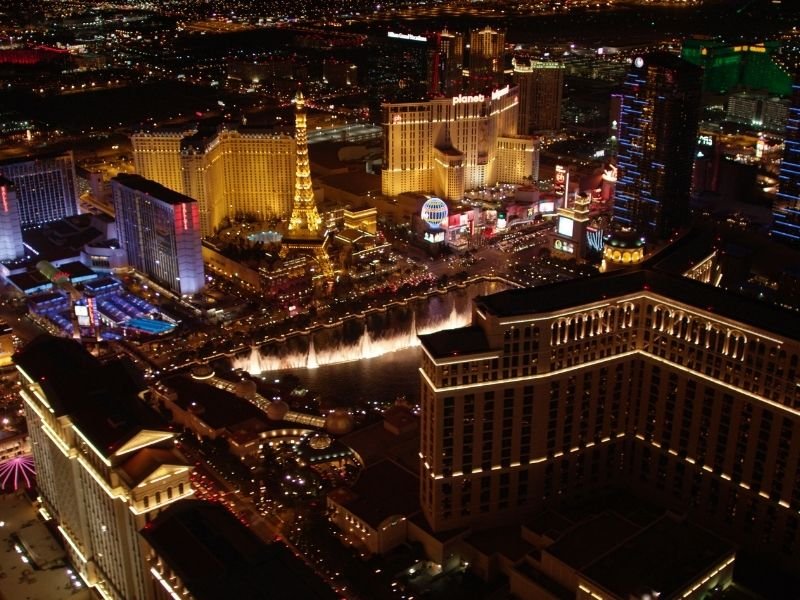 Hopefully, you're not afraid of heights, because you're about to be standing in the tallest freestanding observation tower in the U.S.!
Head to the SkyPod at the STRAT Hotel (previously The Stratosphere) for breathtaking, 360-degree views of the Las Vegas Strip and Valley.
Las Vegas is considered the brightest spot on Earth, and since you can't fly to space to see this spectacular view (though of course, you could take a helicopter tour!), this is the next best thing!
Buy tickets and book your dates in advance online here. Tickets are $24 and include access to both the indoor and outdoor observation deck.
And if you're an adrenaline junkie, purchase the package for skyjump, which allows you to bungee jump from 829 feet above the Strip!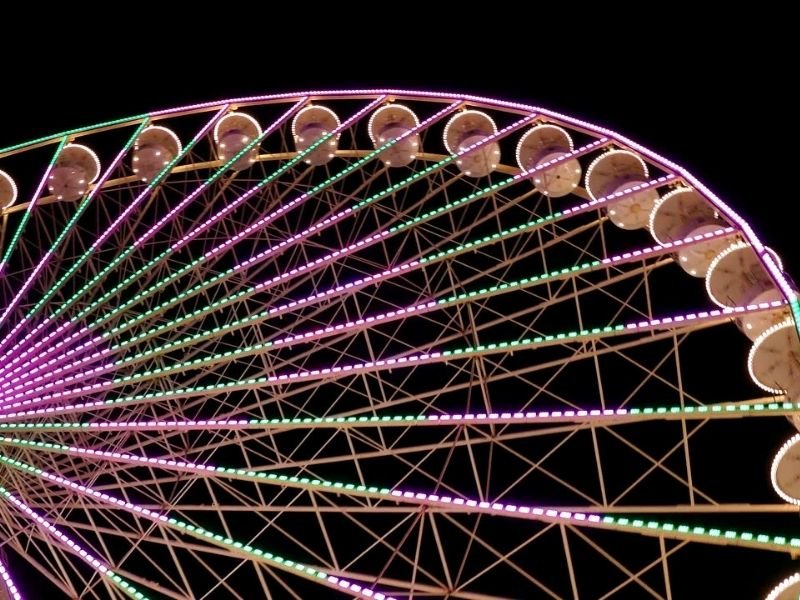 Alternately, take a spin on the High Roller at the LINQ, which is a less intense option.
If all that height is a bit much for you, there's also the High Roller observation wheel which is a great alternative, where you slowly ascend 550 feet in your own air-conditioned pod.
The LINQ also has its own zipline experience, where you can zoom over 1,000 feet down a zipline towards the base of the High Roller, over 100 feet in the air!
This is a good introductory activity if you want something in between bungee jumping and a Ferris wheel.
Experience an unforgettable Las Vegas party.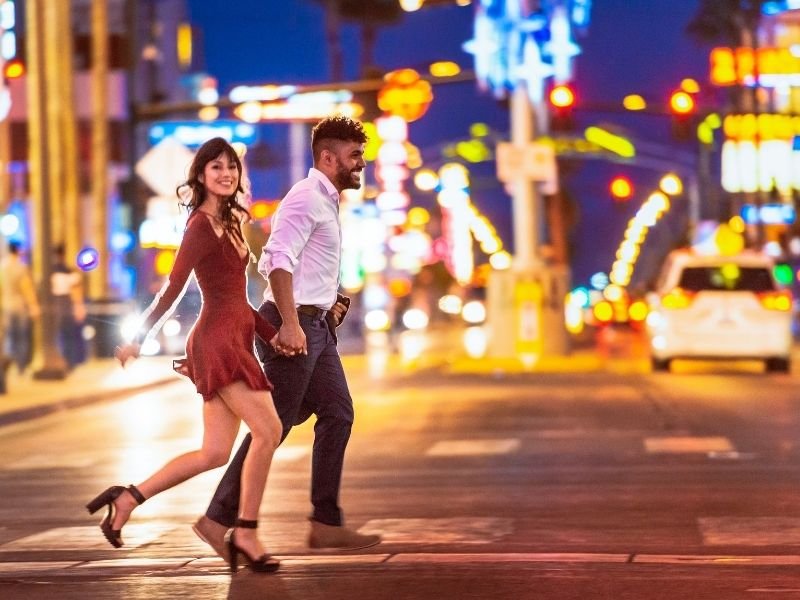 Alright, time for bed! Just kidding.
Another "when in Vegas" experience is about to unfold—time for a night out of partying at the club!
The exciting part about the party scene in Vegas is that many clubs feature big-name DJs as the headliners and sometimes celebrities as their special guests for the event.
To get into any club event, you will need to put your name on the guestlist. To do this, add your name to one of the free guest lists here for the club you want to go to (you can also check the calendar on this website to see who is the DJ at each club).
Not all clubs offer a free guestlist, so alternatively, you can purchase tickets directly on the club website. Unfortunately, ticket prices are not the same for males and females (it costs more for males). Ticket prices vary per club.
Note: All clubs have a strict dress code, so make sure to check the club's website to make sure you are wearing the appropriate attire or else there is a chance you might be declined entry!
Tip: Some of the best parties are held at XS Nightclub, EBC (at night), Drais, Omnia, Marquee, and Hakkasan.
Not into partying? There are a plethora of Vegas shows worth seeing to see Sin City, minus the sin part! Cirque du Soleil is a Vegas classic, but there are all sorts of shows for every kind of taste.
Day 2 of your Las Vegas Itinerary: Exploring Off the Strip
For the next day of our weekend getaway in Las Vegas, it's time to go on an adventure away from the Strip.
Your second day in Las Vegas will take you to other parts of the city that often do not get the attention it deserves—Vegas has a lot more than just sightseeing along the Strip!
Have breakfast at Café Lola.
Enter this pretty-in-pink cafe and it's as if you've sat down for a traditional afternoon tea, but with a modern twist.
At Café Lola, every food and beverage item is adorable, aesthetic, or to put it simply—Instagrammable.
Beyond the presentation, their items are freshly made and a delicious treat to start your morning!
Try the breakfast croissant (their house-made croissant served as a sandwich with an organic egg, roasted turkey, and havarti cheese).
For something sweet, go for the strawberry shortcake waffle served with fresh strawberries, white chocolate, cookie crumbles, housemade whipped cream and strawberry syrup—is your mouth watering yet?
Address: 4280 S Hualapai Way #109, Las Vegas, NV 89147
Take a scenic drive through Red Rock Canyon.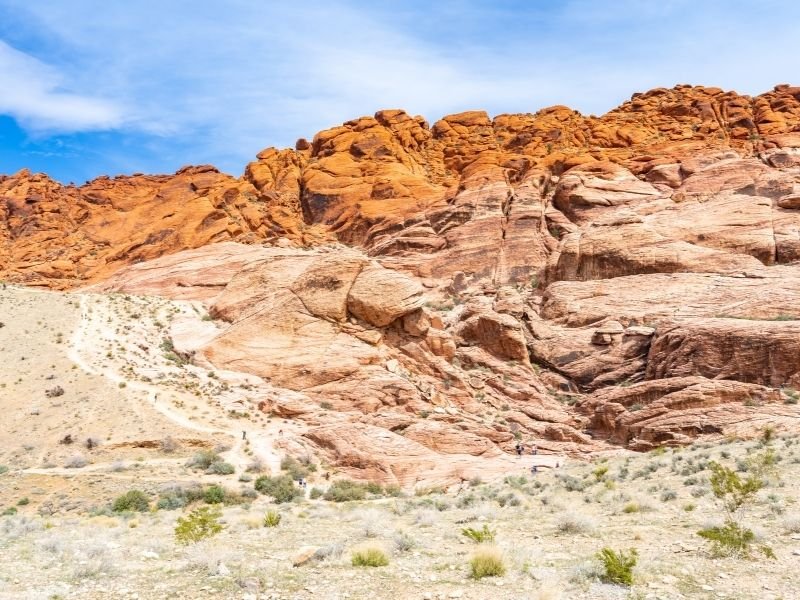 Take the 13-mile scenic drive through Red Rock Canyon in Nevada's Mojave Desert and it'll appear as though you've been transported to another planet!
This rugged and brilliant red landscape contains 600 species of plants like Joshua trees, and wildlife like desert bighorn sheep (usually seen at higher altitudes if you can spot them from afar).
The drive offers spots where you can pull over to take photos, and you can take your time driving through the entire route—there is no time limit.
You will need to book a time to enter the canyon. Make a timed-entry reservation online here. It's $15 per car, and $15 + $5 per person for commercial tour vehicles (e.g., taxi, rideshares, etc.).
Address: 1000 Scenic Loop Dr, Las Vegas, NV 89161
Wander and wonder inside AREA15.
At AREA15, you'll be invited to engage in many mind-bending and mesmerizing experiences.
This venue is full of various immersive entertainment and games, psychedelic art displays, and unique food and beverage options that provide you a full-sensory experience.
One of the highly raved about exhibits is their interactive and immersive art experience, Omega Mart—you have to buy tickets here, you don't want to miss out on this while you're here!
Address: 3215 S Rancho Dr, Las Vegas, NV 89102
Check out downtown Las Vegas.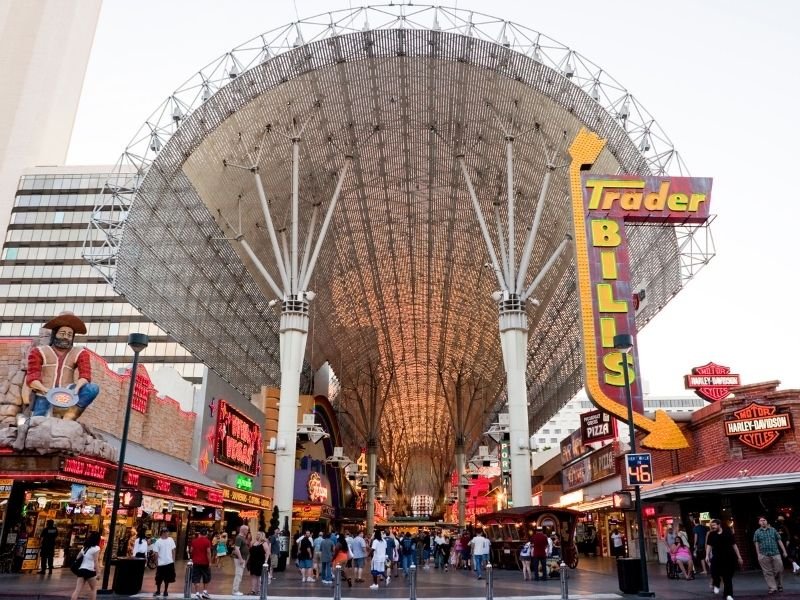 In 1906, the first hotel, Golden Gate Hotel & Casino, was built in downtown Las Vegas on Fremont Street.
This marked the beginning of what the city is known for today—glamour, endless entertainment, gambling, brilliant lights, sleepless nights, and ultimately, a place to stay and play.
Thereafter, Fremont Street flourished and became a hotspot for visitors!
Covering five blocks of downtown, the Fremont Street Experience is where you can see free concerts, watch the Viva Vision Light Show for free (the world's largest digital ceiling display), and ride the SlotZilla Zipline, which is 11 stories high and takes you on a thrilling ride over Fremont Street.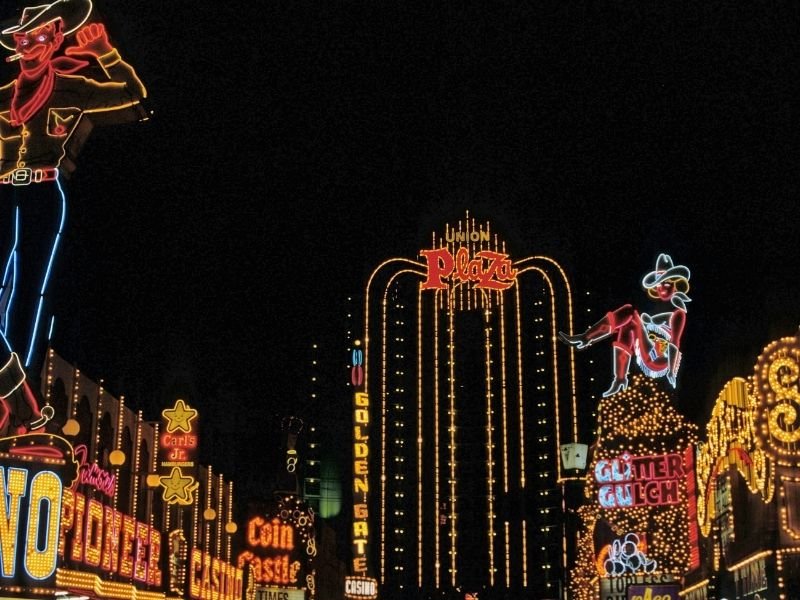 After you've explored Fremont Street, check out The Neon Museum and tour its exhibit full of dazzling neon signs—some date back to the 1930s! Buy tickets online here.
Another interesting museum is the Mob Museum, which focuses on the history of organized crime in the United States and housed in a historic courthouse. Buy tickets online here.
Another cool area to visit when you're in downtown is the Arts District.This district is brimming with both contemporary and antique art galleries and shops.
Bars, pubs, and a variety of restaurants and cafes also fill the scene. Keep an eye out for all the beautiful murals throughout the district too!
Fremont Street Address: E Fremont St, Las Vegas, NV 89101
The Neon Museum Address: 770 Las Vegas Blvd N, Las Vegas, NV 89101
The Mob Museum Address: 300 Stewart Ave, Las Vegas, NV 89101
Arts District Address: 1001 S 1st St, Las Vegas, NV 89101
Dive into the downtown food scene.
There is no shortage of culinary choices in downtown Las Vegas, so if you've decided to explore the Arts District, dine at Esther's Kitchen for some superb Italian cuisine made from farm-to-table ingredients.
Their housemade sourdough bread (with your choice of spread) may be the best sourdough you'll ever have.
Paired with any one of their pasta dishes (also made from scratch), you'll be blown away at how perfect it tastes!
If you've stayed around the Fremont Street area, eat at Carson Kitchen where you can indulge in elevated, re-imagined New American cuisine.
A must-order is their "Devil's" Eggs, Black Rice & Oxtail Risotto, Cocoa-Espresso NY Strip, and of course, dessert —the Glazed Donut Bread Pudding.
Esther's Kitchen Address ($$): 1130 S Casino Center Blvd #110, Las Vegas, NV 89104
Carson Kitchen Address ($$): 124 S 6th St Suite 100, Las Vegas, NV 89101
Finish off the night with round 2 of dancing.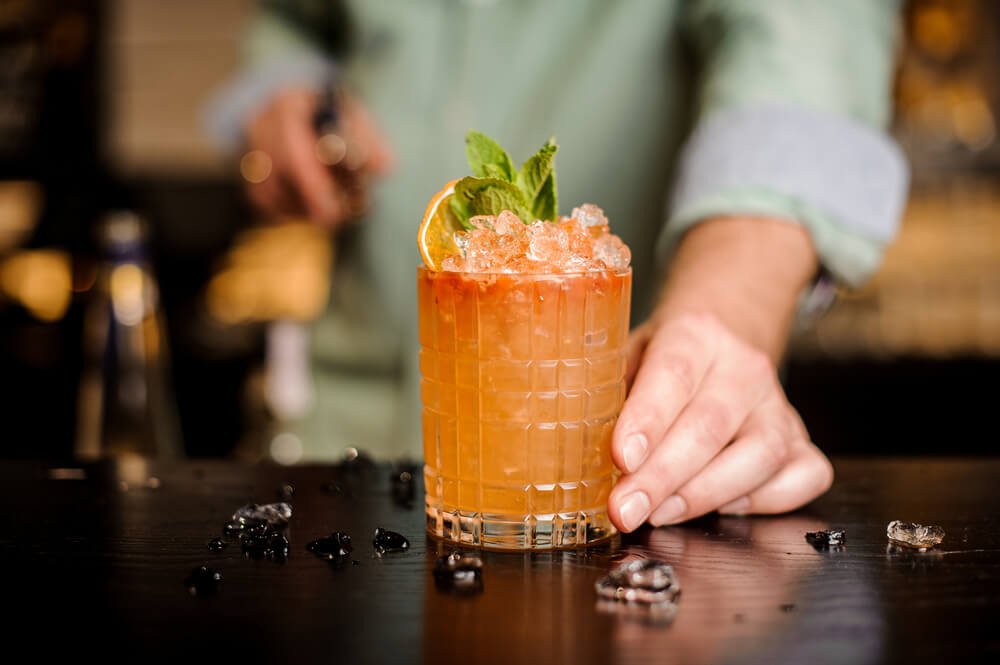 In Vegas, the nightlife is always buzzing. End your trip with a bang with another night out on the town. Bar or club, there are endless spots to choose from!
Still in the Arts District? Check out Millennium Fandom Bar where you can play board games and trivia or sing karaoke.
Looking for a good cocktail? Head back up to Fremont Street to the Downtown Cocktail Room.
Or if you want, go back to the Strip, and dance the night away at one of the clubs. The night is yours, so make it count!
Millennium Fandom Bar Address: 900 S Las Vegas Blvd #140, Las Vegas, NV 89101
Downtown Cocktail Room Address: 111 S Las Vegas Blvd, Las Vegas, NV 89101
Extending Your Weekend in Las Vegas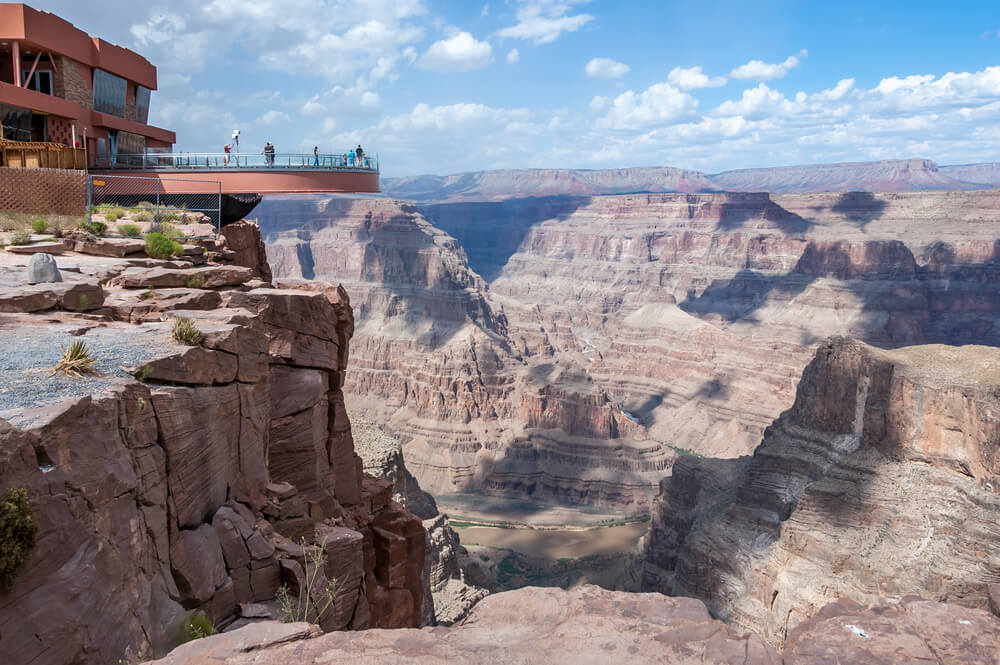 If you have three days in Vegas, allocate one for a day trip to see some of the nature that surrounds Las Vegas!
Grand Canyon and Hoover Dam: See two of the USA's biggest bucket list items on one easy day trip from Vegas! This tour takes you to the West Rim of the Grand Canyon (where you can do the legendary skywalk) with a stop at the Hoover Dam along the way. Check tour itinerary and more details here!
Note that the west rim is the closest part of the Grand Canyon, and while it is the Grand Canyon, it is not the national park's land; this land is part of the Hualapai Reservation and is sovereign native land.
Antelope Canyon and Horseshoe Bend: See two classics of the American Southwest all in Page, Arizona! Antelope Canyon is a beautiful slot canyon that twists and turns through narrow rock, and Horseshoe Bend is a scenic bend in the Colorado River that has to be seen to be believed.
This tour includes pick-up, transit, and drop-off, as well as a guide, all the fees, and lunch included. Check tour itinerary and more details here!
Unhappy with her life, Lianne quit her 9-5 job in 2018 and moved to LA to begin her personal growth journey. After engaging in a mass of self-improvement resources including research, principles, and practices from science, psychology, and philosophy, she took control of her life and transformed her health. Her mission is to help people overcome their adversity and empower them to take action toward improving their well-being. She shares her personal stories and insights on how to navigate life in her blog.