Note: This is a guest post by Stacey Wittig
So many hike-worthy trails exist in the national parks and national forests between Santa Fe and Albuquerque that it's difficult to choose.
When you find yourself in such a situation, it's always smart to tap the locals' knowledge for their faves. Not only are the following seven some of the most popular hikes near Albuquerque and Santa Fe, New Mexico, but they'll also deliver views or experiences that you won't find in other places across the globe.
You'll meet locals along the way, and they're sure to tell you that a helpful rule of thumb is to do lower elevation hikes in the winter and higher ones in the summer. In the summer, hike early in the morning to avoid the heat of the day.
With that in mind, here are the top 7 "must-do" day hikes between Albuquerque and Santa Fe, New Mexico:
Easy Hikes in New Mexico
Main Loop Trail, Bandelier National Monument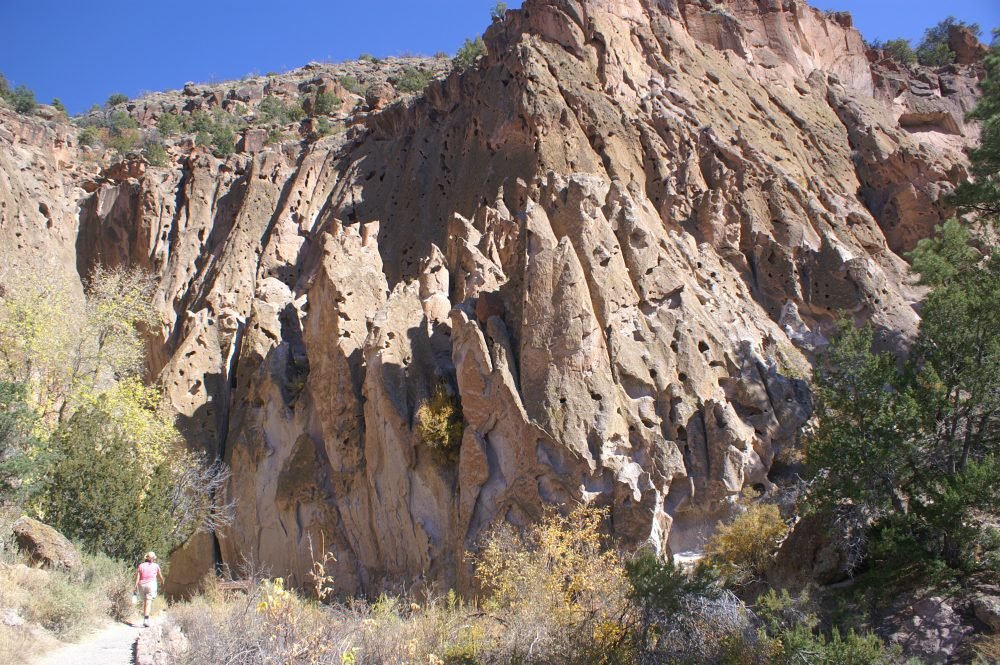 Note: This post contains affiliate links, which means I may receive a small commission if you purchase something through one of these links. Thank you for supporting the free content on this site! For more information on affiliate links and cookies, see my disclosure page for more details.
Adventurous hikers, campers, and archaeology-buffs all love Bandelier National Monument. The 1¼-mile/ 2-kilometer Main Loop Trail takes approximately one hour to complete.
The first part of this easy trail is paved and level, but soon you leave the valley floor and head up to the ruins along the cliff face.
Ancestors of today's Pueblo people fashioned their homes from the volcanic tuff, which makes up the cliffs. You'll use hand-hewn log ladders to reach the homes just like the original inhabitants did.
But be careful not to touch—oils from your hands will impact the petroglyphs and other features made from the soft rock. Also, please don't sit on the walls!
Insider Tip: Bring binoculars for viewing the petroglyphs. Rock art is nearly invisible in some particular lights, but binos will help you see glyphs otherwise overlooked. If you're up for exploring more archaeological sites, at the far end of Bandelier National Monument you find the Tsankawi Village Trail that takes you to unexcavated ruins.
Paseo del Bosque Trail, Albuquerque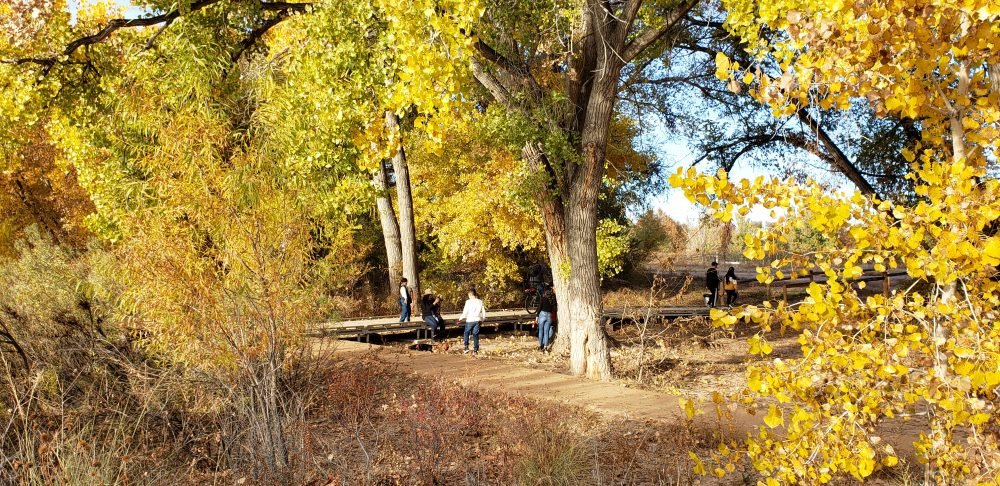 Known as "The Bosque" by locals, this 16-mile/25.8-kilometer trail has seven access points as it follows the Rio Grande through the city of Albuquerque.
No matter where you join the path, your journey will be uninterrupted by roadways. You can walk as much or as little of the open space trail that passes through Rio Grande Valley State Park.
This easy trail is perfect for acclimating to the altitude if you've just arrived, and you can spend as much time as you wish to walk. The trail is paved and used by bicyclers, hikers, runners, and families with strollers, so be sure to "share the trail." Get off paved paths to explore dirt trails that follow the acequias, or irrigation ditches established in the 1700s.
Insider Tip: 'Bosque' means 'forest,' and so you'll be under shady cottonwood trees much of the time, but in this high and dry climate, bring sunscreen and plenty of water. After your hike, be sure to check out Albuquerque's foodie scene for après-hike refreshments!
Moderate Hikes in New Mexico
Slot Canyon Trail, Kasha-Katuwe Tent Rocks National Monument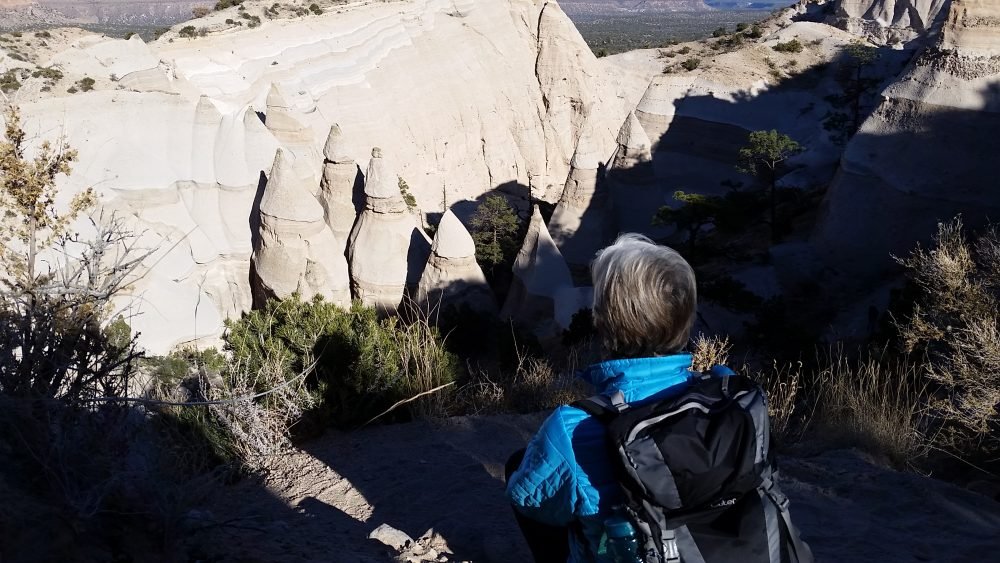 Walk among rock hoodoos that look like tipi tents! Amid the unusual rock formations, you'll likely imagine yourself in another world.
The Slot Canyon Trail is a 3-mile/4.8-kilometer roundtrip hike into a narrow canyon shaped by geologic processes seldom seen on this lovely planet. Switchbacks around the bisque-colored cone-shapes make the steep—630-foot/192-m— climb bearable.
Vistas of the Sangre de Cristo Mountains towards Santa Fe and the Sandia Mountains outside Albuquerque at the mesa top are oh-so-worth the hairpin ascent!
At Kasha-Katuwe Tent Rocks National Monument, you'll learn about the geologic processes that shape this natural landscape on educational displays. Spoiler alert: boulder caps on top of the tapering formations—some up to 90-feet/ 27-m tall—protect the softer rock below from erosion. Allow one to two hours for hiking and exploring this moderately rated hike.
A sacred site for the people of Pueblo de Cochiti, the monument is sometimes closed for cultural observances. Check www.blm.gov/visit/kktr for closures before you go. The fee area does not allow dogs, except service dogs, of course.
Tip: Bring plenty of water and arrive early during busy summer months to get a parking spot, necessary for park entry.
Bandelier offers over 70 miles/ 112.7 km of trails, check with park rangers for permits and possible closures for longer routes that require overnight stays. Warning: it is a felony offense to remove or damage pottery pieces, obsidian flakes or anything else from government lands.
Piedra Lisa Trail, Cibola National Forest
On this well-defined trail, you won't get lost, but there is a steady uphill elevation gain of 1229 feet / 374.6 meters.
We recommend that you start at the Piedra Lisa Trailhead and turn around at the top of Rincon Ridge—a sign for the Rincon Spur Trail marks the turnaround point.
That makes this a scenic 4.2-mile/ 6.8-kilometer out-and-back hike to granite formations and forested canyons.
Spectacular views overlooking Juan Tabo Canyon are the reward on this narrow, rocky trail that is moderate with some challenging sections. Expect to spend 2-3 hours. Find directions to the trailhead here.
Tip: Arrive early to get a parking spot (no fee.)
Tree Spring Trail, Cibola National Forest
This moderate hike is one of the shortest routes by foot to the top of the Sandias from the backside, and so as you can imagine, it is sometimes busy.
You'll hike up 2 miles / 3.2 kilometers to the intersection of South Crest Trail for an elevation gain of 1039 feet /316.7 meters.
Turn around and go back the way you came for a 4-mile/ 6.4-km roundtrip hike. Trees shade about 80% of the popular trail. Find a map and directions to the Tree Spring Trailhead here. The fee area allows dogs on leashes.
Insider Tip: Hiking poles are recommended, and cellphone coverage is not guaranteed.
Bonus Tip: While you are in the Southwest, make sure to check out the unique Native culture found in this region.
Advanced New Mexico Hikes
La Luz Trail, Cibola National Forest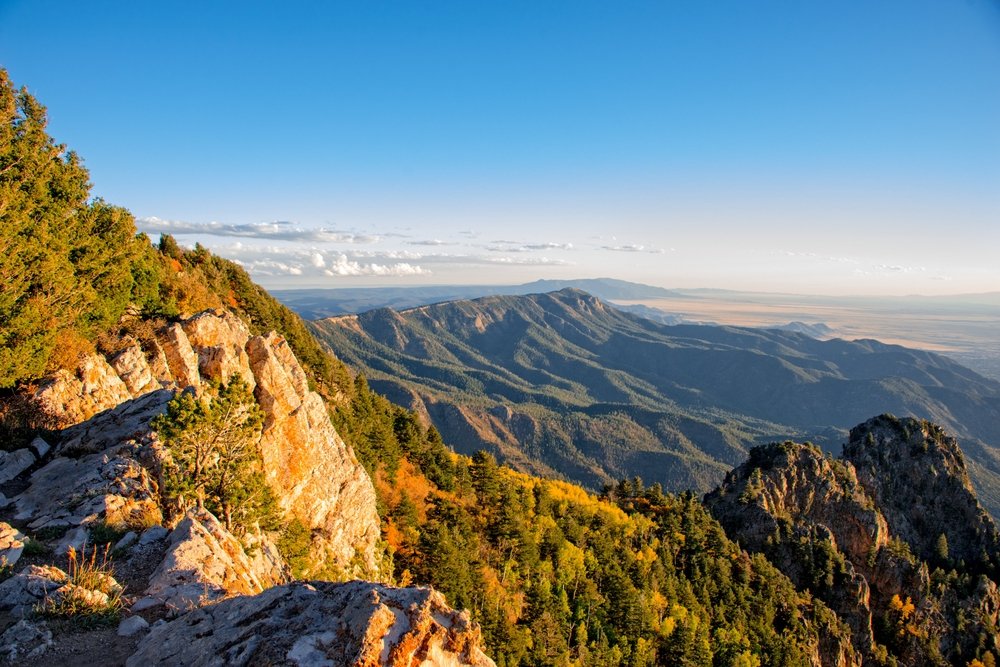 La Luz Trail is one of the most acclaimed hiking trails in the Sandia Mountains. The 15-mile / 24.1-kilometer out-and-back trail goes from Juan Tabo picnic area to near the Sandia Peak Tram Upper Terminal. 
With an elevation gain of 3,200 feet / 975.4 meters, the mountain trail is challenging but, as its popularity attests, rewarding.
If you don't have the six or more hours to hike the whole way, there are several places where you can turnaround. Or once near the top take a right at the fork to go to the Sandia Peak Tramway.
Many opt to take the Sandia Peak Tramway back down the mountain for a 7.5-mile /12.1-kilometer one-way, uphill hike. Locals recommend taking two cars and parking one at the bottom of the tram (fee area) before continuing to La Luz Trailhead at Juan Tabo picnic area.
Then when you exit the tram after your downward ride, you won't have to hike the 2.6 miles / 4.2 kilometers back to the trailhead. Note: this all-season trail can be hot in summer on the lower sections, and icy and snow-covered in winter on the upper part.  Get directions to La Luz trailhead here.
Pro Tip: In the mountains, the weather can change fast. Bring plenty of water, snacks, and extra clothing.
Sandia Crest Trail, Cibola National Forest
Sandia Crest Trail—considered the 'backside of the Sandias'—follows the entire length of the Sandia Mountains from Canyon Estates in the south to Placitas in the north. 
Only very hardy walkers would attempt to do the whole 26.5 miles / 42.7 kilometers in one day. However, the trail is divided into the North Crest (10.6 miles / 17.1 km) and the South Crest (16 miles/ 25.8 km).
Both are rated difficult, and each has a roughly 4100-foot/ 1249.7-meter elevation gain. In the summer, you'll see wildflowers galore during either of the all-day hikes.
From the parking lot (fee area) at the top of Sandia Crest, it is possible to have a beautiful hike going either north or south on the trail. Check out the Cibola National Forest website for details on getting there.
Be sure to pack water, snacks, and extra clothing for changing weather conditions.
New Mexico Hiking Safety Tips
In the dry Southwest USA, it matters not how much water you carry in your backpack, but more importantly, it's all about the water you have in your body.
Two hours before your hike, drink plenty of water and then continue drinking water during and after your trek. Forest Service safety guidelines recommend bringing two or three liters of water on any hike. Moreover, you must remember to drink the water that you bring.
The American Hiking Association recommends that you bring the following ten items on every hike:
Hiking Essentials
Appropriate footwear: hiking boots or trail shoes
Map and compass to back up your GPS
Extra water
Extra food in case you end up spending an unexpected night in the woods
Rain gear including extra clothing and a hat
Safety items including light, fire and a whistle
First aid kit
Knife or multi-purpose tool
Sunglasses and sunscreen
Daypack for all your essential items
Get the whole scoop here.
Check out the weather before hiking the canyons and mountain trails, as flash floods in canyons can be deadly, and weather conditions change fast in the mountains. Temperatures near the peaks can drop quickly during brief rain or snow showers. If you encounter deep snow on the trail, turn around and go back.
Before you begin your hike, tell a trusted person where you will hike and when you plan to return. If an unfortunate event arises, which leaves you detained by injury or other problems, your friend can alert the authorities.
Hiking with Dogs
Here are some canine trail etiquette guidelines:
Hikers with dogs should yield to hikers without dogs.
Greet other walkers, so your pooch understands that they are not adversaries.
Bring a plastic bag or two to clean up after your pet.
Pack dog snacks, extra water, and a water dish for your four-legged hiking companion.
About the author, UNSTOPPABLE Stacey Wittig
I'm called "UNSTOPPABLE Stacey" because I don't let age, gender, or family stop me from traveling. You see, my hubby prefers not to travel, so I typically go solo. I've lived in the USA Southwest for over 25 years and authored hiking books including New Mexico's Bandelier Walking Tour: A Self-guided Pictorial Sightseeing Tour.
I blog at UNSTOPPABLE Stacey Travel, and you can find me on Facebook, Twitter, and Instagram.
Pin These New Mexico Hikes For Your Bucket List!
Allison Green is a former educator turned travel blogger. She holds a Masters in Teaching and a B.A. in English and Creative Writing. Her blog posts merge her educational background and her experience traveling to 60+ countries to encourage thoughtful travel experiences that both educate and entertain. She has been a speaker at the World Travel Writers Conference and her writing, photography, and podcasting work has appeared in National Geographic, CNN Arabic, CBC Canada, and Forbes, amongst others. Now based in the San Francisco Bay Area where she grew up, she has also lived in Prague, Sofia, and New York City.