Not only is New Zealand a dream destination for most travelers, but it's also a place you will want to visit over and over again.
The land of the long white cloud has many sights to discover. Whether you have plans for a return trip or you intend to backpack throughout NZ for a couple of months, you will want to take in all that the island has to offer.
Before you pack up for an adventure, you have to consider the wild and beautiful landmarks that New Zealand has to offer. Here's a list of the best New Zealand landmarks you should visit.
The Bay of Islands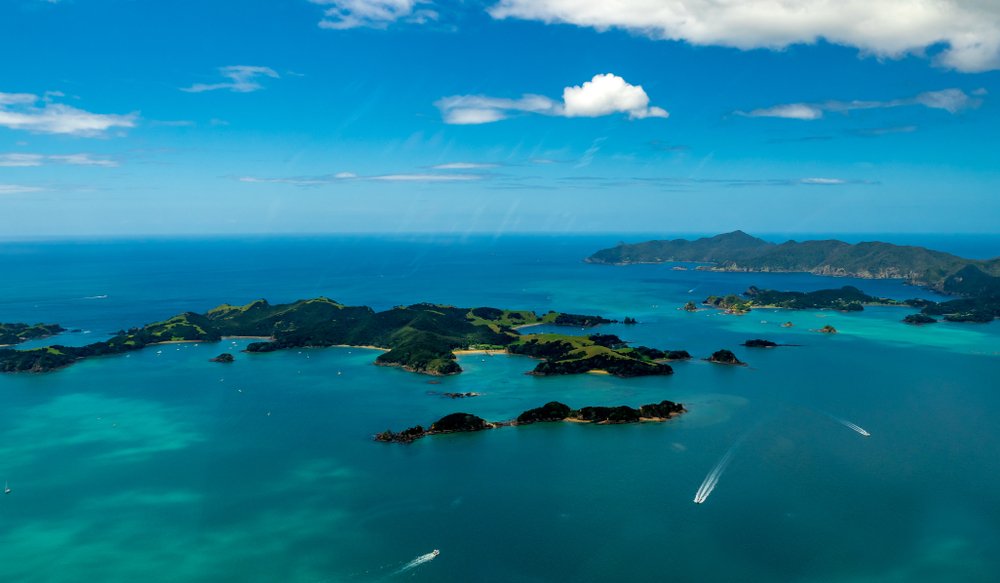 Note: This post contains affiliate links, which means I may receive a small commission if you purchase something through one of these links. Thank you for supporting the free content on this site! For more information on affiliate links and cookies, see my disclosure page for more details.
For people who love water activities and stunning beaches, the Bay of Islands is the perfect NZ landmark to visit. If you're exploring by car, it's a three-hour drive from Auckland. This breathtaking sub-tropic has more than 100 islands found between the Perera Peninsula and Cape Brett.
There's a lot to do in this history-rich region, and you're bound to catch a glimpse of dolphins and whales on a good day. Discovering marine life while on a cruise isn't the only thing to do in the Bay of Islands. If you love exploring, you can always try it underwater after a short diving class.
One of the most famous sights in the Bay of Islands is the Hole in the Rock. When the tide is just perfect, sail through the rock formation, which opens up into a peculiar opening. If you prefer to explore dry land, you can always voyage into the awe-inspiring subtropical rainforest and catch your breath under the majestic Kauri Tree.
Milford Sound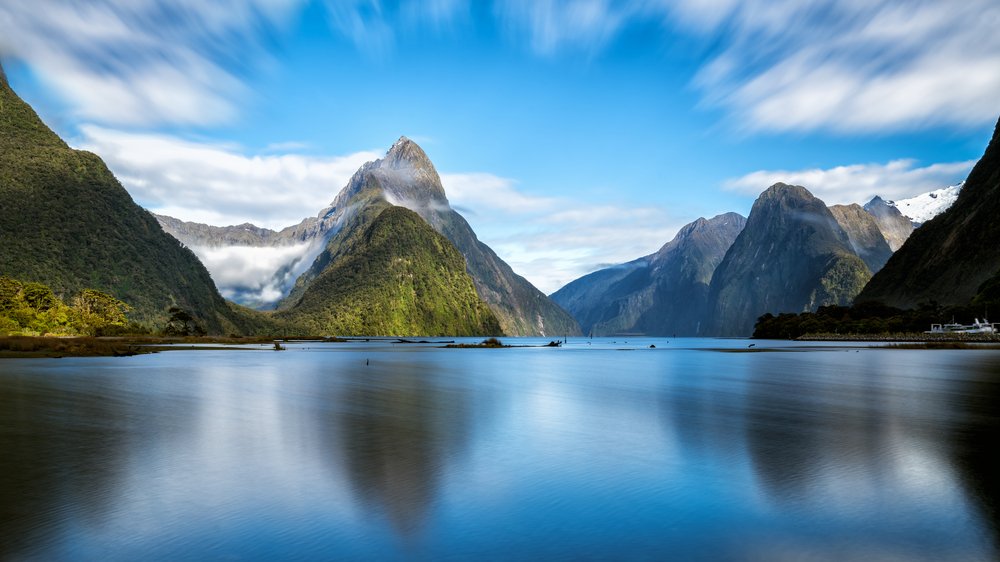 To the southwest of South Island, NZ, lies a fjord that's known as Milford Sound. It's most popularly known for rainforests, waterfalls such as Bowen Falls and Stirling, and the towering Mitre Peak. Milford Sound is home to penguins, dolphins, and fur seal colonies.
There's a reason why Rudyard Kipling referred to Milford Sound as the "eighth wonder of the world." The region is made of gigantic glaciers formed in the Ice Age and manifests itself in the area's epic scenery. The fjords give rise to a majestic crown of cliffs, mountains, and waterfalls.
Any visitor to Milford Sound should know that the best way to see the scenery is via boat. There's a lot of wildlife for you to discover, including penguins and dolphins. If you like, you can take the adventure into your own hands and go kayaking.
Alternatively, you can go down to the Milford Discovery Centre and Underwater Observatory for satisfying views of more marine life and rare black coral.
Hobbiton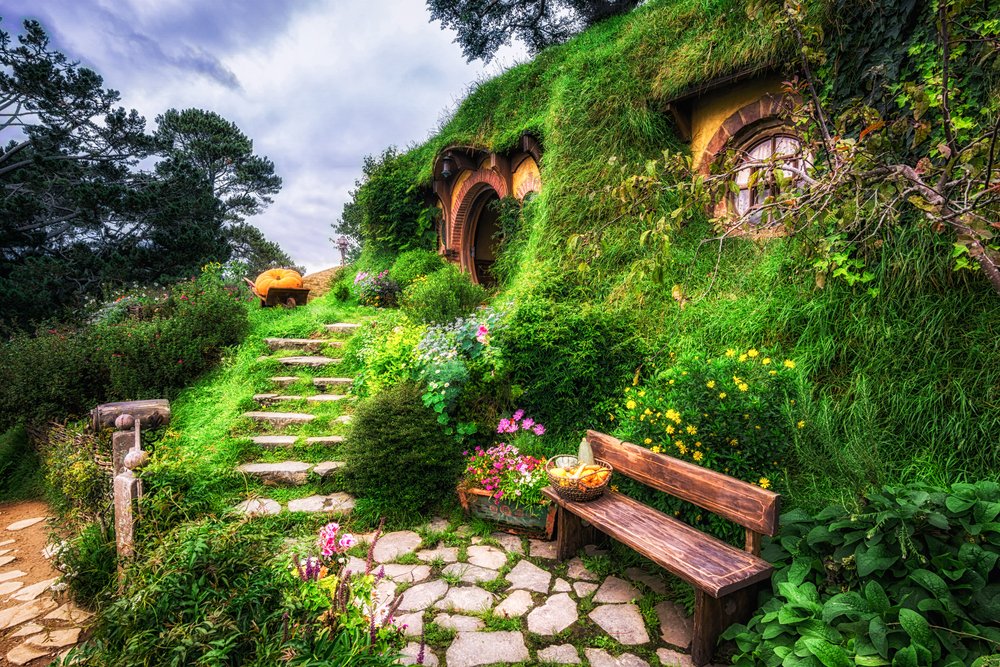 Hobbiton is popularly known as the movie set for The Lord of The Rings Trilogy and The Hobbit.
It's located in the Waikato region, North Island, in the Matamata grassy hills. You can access the area from Taupo, Rotorua, or Auckland.
Unfortunately, as much as Hobbiton is one of the best New Zealand landmarks, you cannot just drive up to the movie set. Visitors have to book the guided experience to enjoy the movie set and experience Hobbiton!
Mt.Cook/Aoraki National Park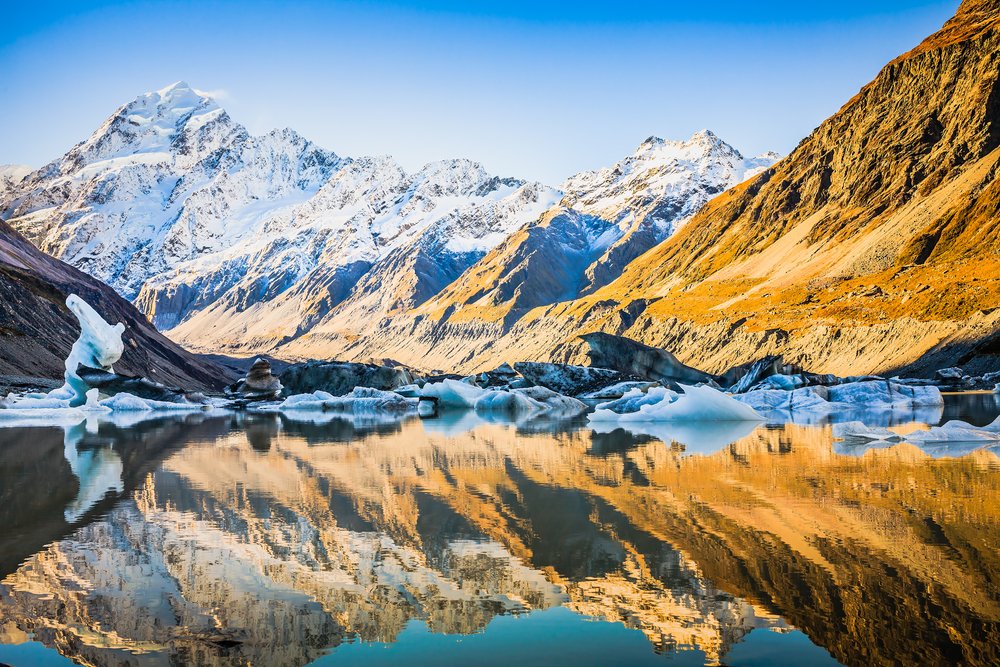 Mt. Cook National Park is home to some of the longest glaciers and the highest mountains in New Zealand. The region has alpine sceneries, high peaks, and never-ending snow peaks. Aoraki Mt. Cook is made of 23 peaks that are more than 3000 meters high.
The region is very accessible and allows for the perfect stargazing opportunities. In addition to stargazing, one of the best activities anyone can do in Mt. Cook is mountaineering, hiking, and exploring this New Zealand landmark on foot.
The Sky Tower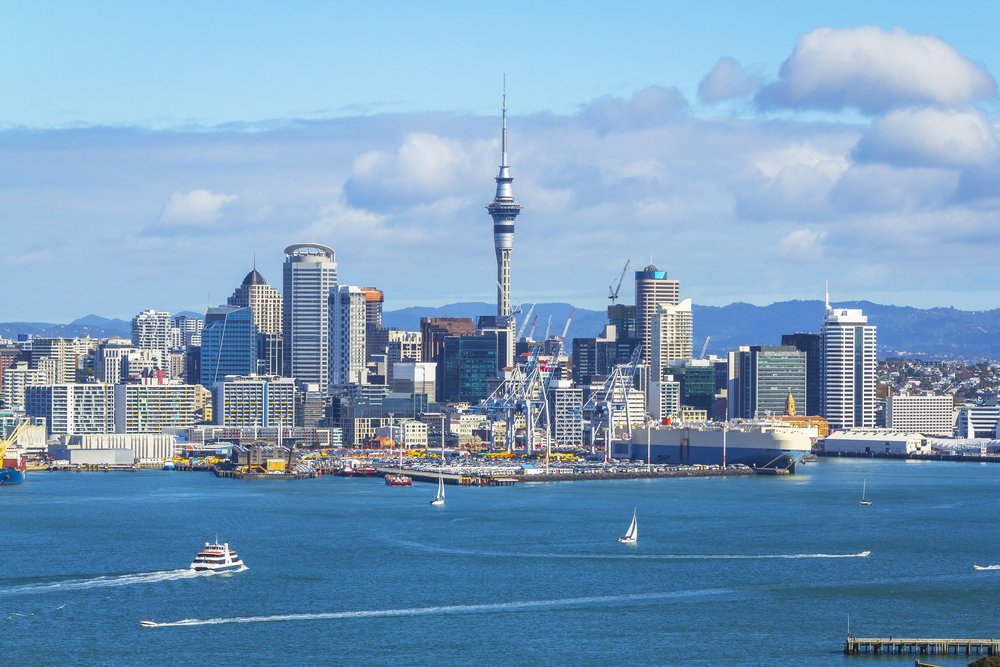 Construction of the Sky Tower in Auckland was completed in 1997 after three solid years. It is one of New Zealand's most noteworthy human-made landmarks and was designed by Architect Gordon Moller in partnership with Fletcher Building.
It is a popular destination for tourists and locals alike who love fine dining and thrill-seeking. Also, the tower serves as a center for transmission for radio stations, tv channels, and weather forecasting providers.
Tane Mahuta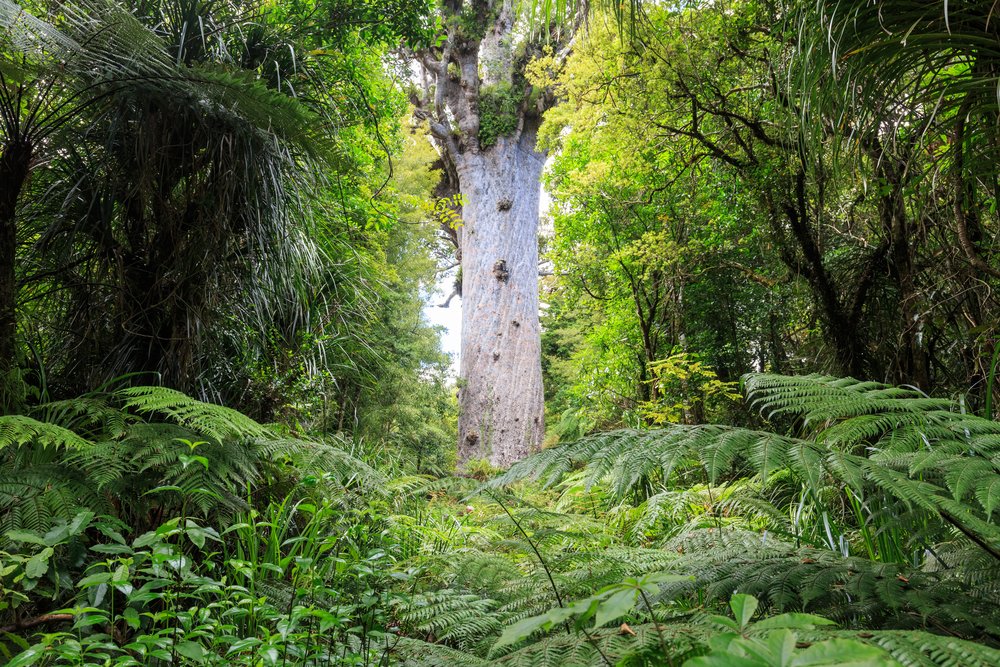 In Maori, Tane Mahuta means King of the Forest. If you visit this New Zealand landmark, you can quickly tell why.
The tree is 13 meters wide, has a height of 51 meters, and is 2,300 years old. You can find the ancient native New Zealand tree after hiking into the Waipoua Kauri Forest Sanctuary in the North Island.
If you like, you can stretch your adventure further and camp in the forest. Once you meet Tane Mahuta, there'll be no doubt as to why it has its name.
Tongariro Crossing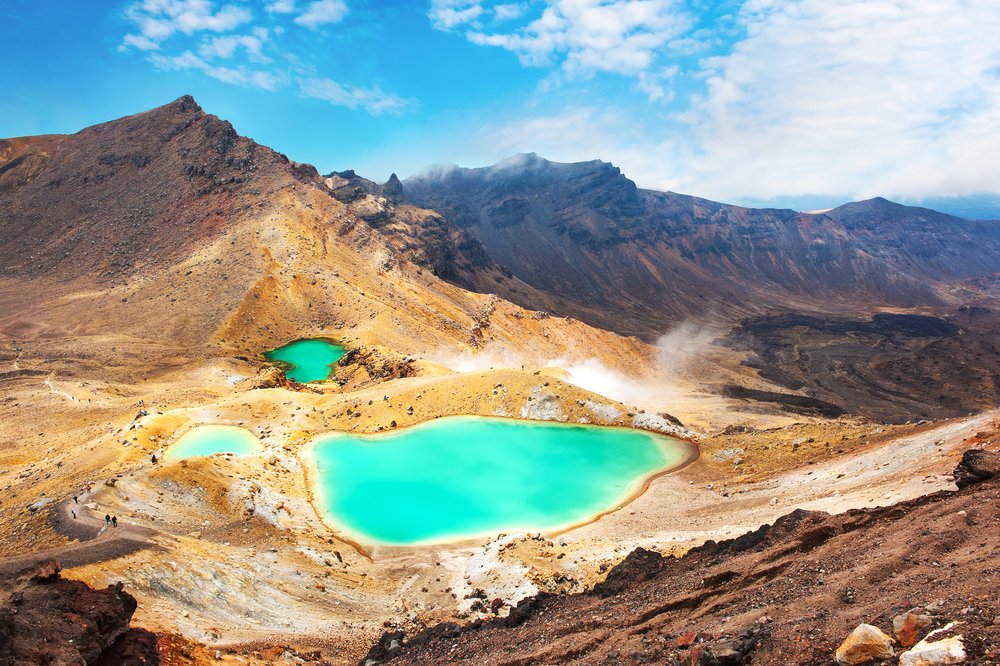 Tongariro Crossing makes up the second landmark in New Zealand featured in The Lord of the Rings Trilogy.
New Zealand's oldest national park offers visitors hiking opportunities over the vast 19.4 kilometers spotted with lava flows, craters filled with water, hot springs, and awe-inspiring views.
The peculiar landforms are sure to make you feel like you're walking on a different planet!
One Tree Hill/Maungakiekie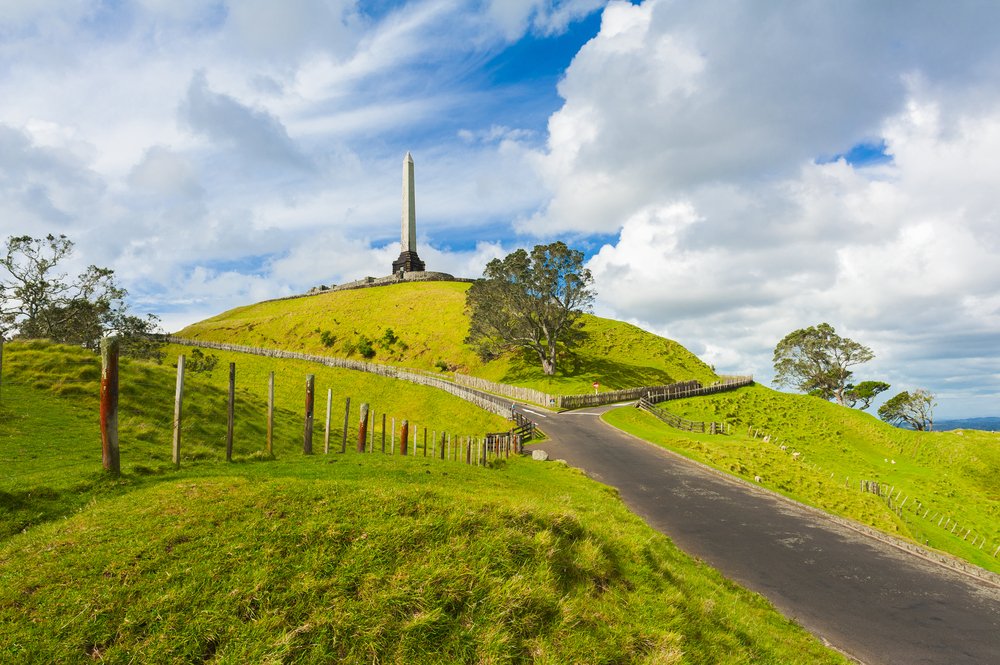 One Tree Hill is a historically significant volcanic peak that is a memorial site for European New Zealanders and the Maori.
On the top of the hill, there is an obelisk commemorating the Treaty of Waitangi, which the Indigenous Maori population signed with the British Empire.
The site is picturesque, and together with Cornwall Park, it is the most significant parkland in Auckland — a must-visit whether you have just a day in Auckland or several. 
Huka Falls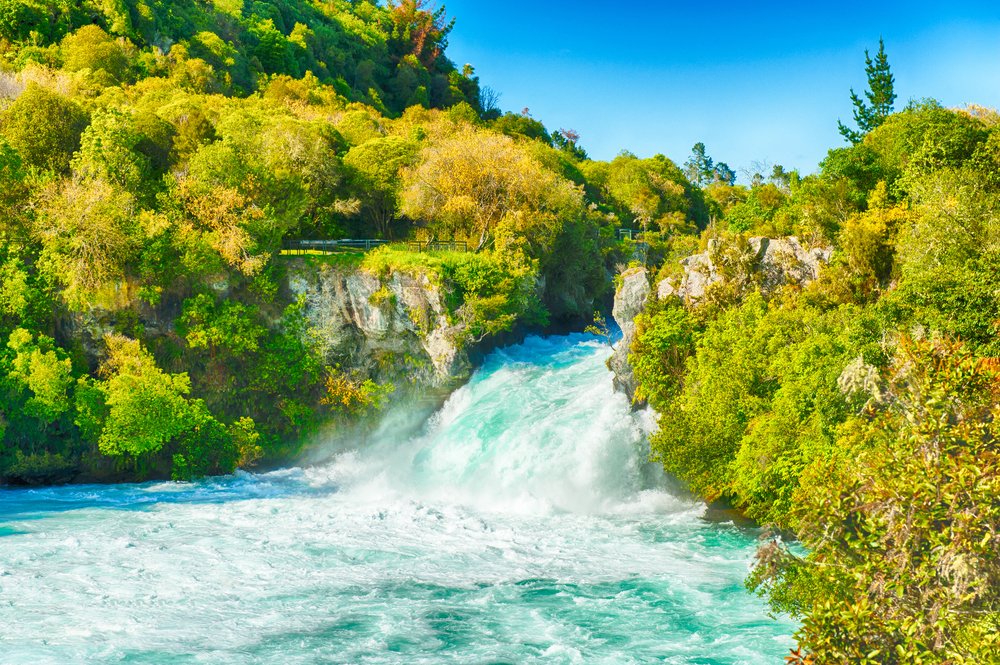 The Maori were not wrong when they named this landmark Huka Falls! Translated into Maori, the name means "foam."
Huka Falls is one of the most popular natural tourist attraction sites in the country. The amount of water that pours from the waterfall is mind-boggling. With a force of 220,000 liters of water per second, it is understandable why the water would look like foam!
The water comes from Waikato River, a long lake in the country that releases its flood into Lake Taupo.
If you would like to enjoy a different view of the waterfall, you can do it via a boat ride that will take you to the base of Huka Falls. There are various activities to indulge in at Huka Falls, such as swimming, canoeing, bird watching, and mountain biking.
Conclusion & Additional Resources
New Zealand is a land that radiates beauty and wildness that is not only mind-boggling but awe-inspiring.
With the number of must-see landmarks in the country, it is not enough to plan a return visit. To get the most out of New Zealand, you must choose to visit again and again.
If you are planning to visit New Zealand at some stage as a backpacker I recommend checking out the following guide: 40 Tips for Backpacking New Zealand. You can also check out my guide to the best hikes in the South Island.
Safe travels!
Pin These New Zealand Landmarks for Later
Allison Green is a former educator turned travel blogger. She holds a Masters in Teaching and a B.A. in English and Creative Writing. Her blog posts merge her educational background and her experience traveling to 60+ countries to encourage thoughtful travel experiences that both educate and entertain. She has been a speaker at the World Travel Writers Conference and her writing, photography, and podcasting work has appeared in National Geographic, CNN Arabic, CBC Canada, and Forbes, amongst others. Now based in the San Francisco Bay Area where she grew up, she has also lived in Prague, Sofia, and New York City.